Summer is festival season and my husband and I usually try and get along to at least one each year (this year it is the Green Gathering which is this weekend and I'm very excited).  I have never yet been to a festival themed wedding though and they always looks so much fun.
Katey and James got engaged in Las Vegas and married on the 9th of July 2016 at Lazy Daisy's Farm on the edge of the Peak District National Park.  The couple planned their day around the beautiful tipis they hired from Totally Tipi– turning the fields into their very own miniature Glastonbury for the weekend.  The couple planned and made everything themselves, but hired Gemma of Rosy Apple Events as support on the run up and as coordinator on the day.
"We wanted a fun and relaxed day, with lots of food, music and an affordable bar.  We planned our day around a festival theme, taking our favourite bits from Glastonbury. The venue is a cottage hire, which comes with the field and facilities.  This was perfect for us as it meant we could all stay on site and the teepees were free to go up in plenty of time for us to have some fizz, test the music and get decorating with our friends and family the day before. We obtained our own events licence for the wedding and had the freedom to do whatever we liked and use our own suppliers for everything."
Photography by York Place Studios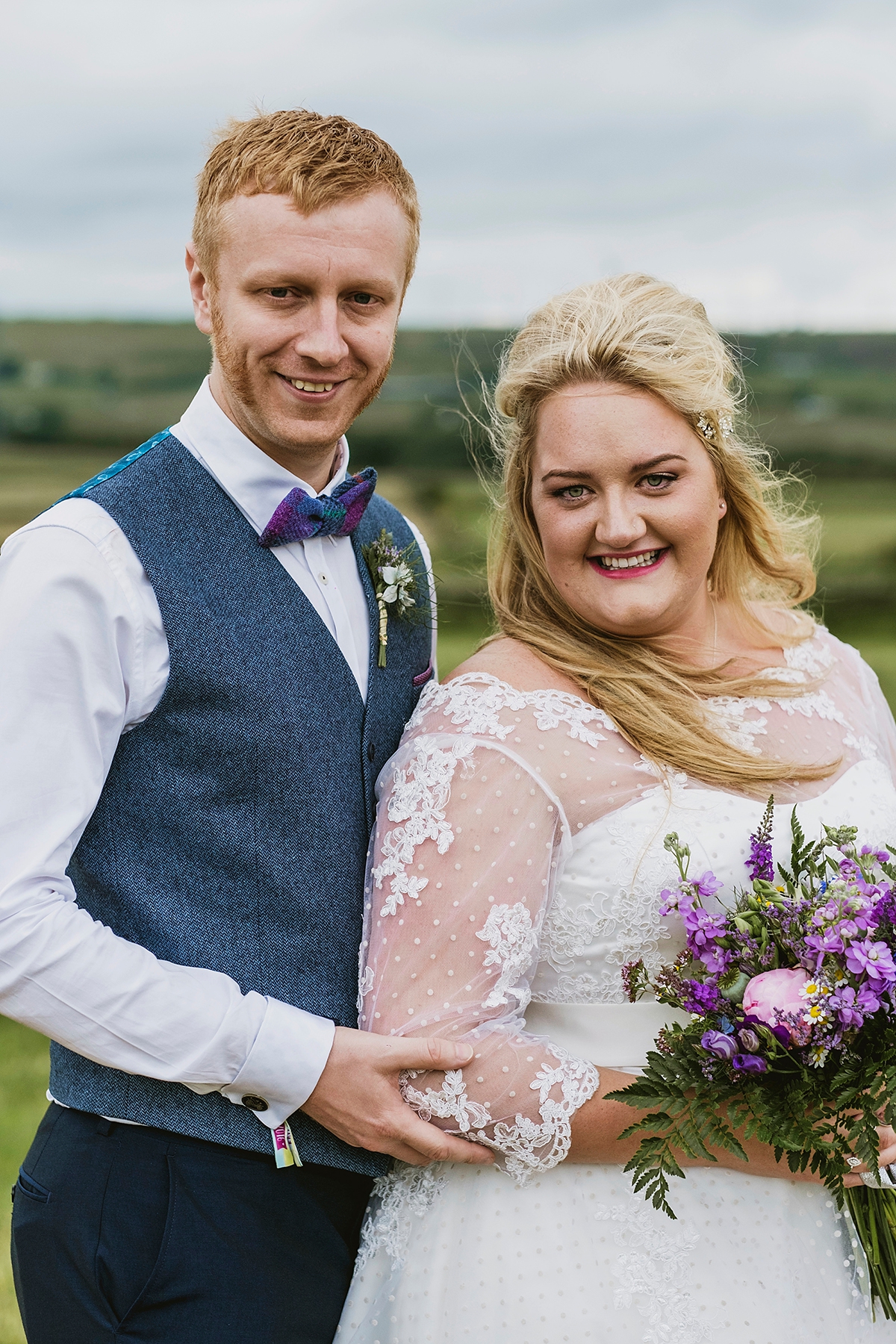 "Our wedding just wouldn't have been the same if it wasn't for the family at Totally Tipi.  We fell in love at first sight and with Laura and Jay it was just so easy to get everything in our heads brought to life.  The whole team were just so relaxed and go above and beyond to help."
Katey wore a gorgeous customised 'Claire' gown by House of Mooshki which she purchased from Lace & Co near Wakefield.  I especially love the lace sleeves.
"I loved the party feel and the spotted lace just made it a little more fun and quirky.  I also loved that I could have a poofy ballgown style that wouldn't end up covered in mud and meant that I could dance all night.  The original Claire dress has a capped sleeve and a full button down back, which I swapped for a longer sleeve and a corset ribbon back.  The end result was so beautiful."
On her feet Katey wore heels by Miss KG, Kurt Geiger, followed by dark pink Converse to which she painstakingly added hundred of diamante jewels.  In her hair she wore a delicate headpiece by Lottie Da Designs and for jewellery she chose a pair of diamond earrings and a white gold cubic zirconia necklace that her Gran and late Grandad bought her for her 13th birthday.
Make up was by Kristi Arabskyj, a family friend from Spa 493, while Nicola Luskiw, Katey's usual hairdresser, worked her magic on the girls' locks.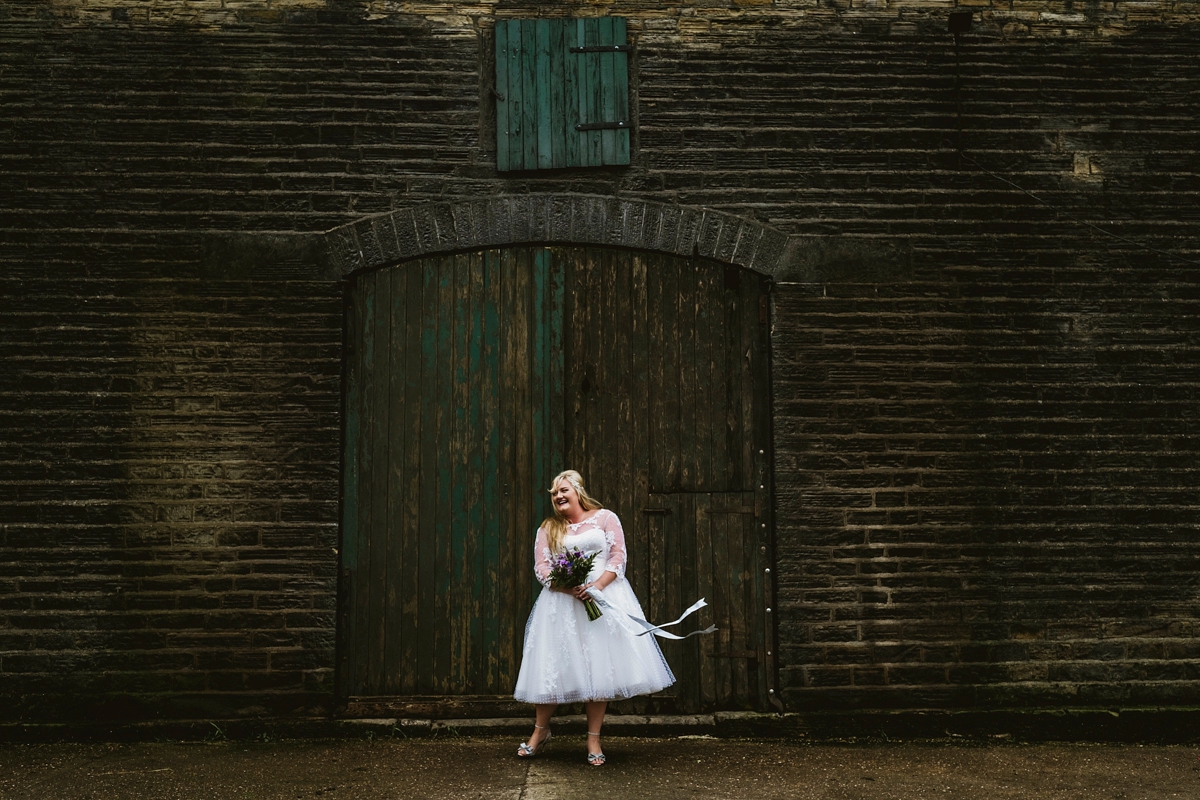 The bridesmaids looked lovely in dresses from Coralie Beatrix on Etsy, worn with their own shoes (and later, wellies), while the flower girl wore a dress from John Lewis paired with Converse to match Katey.
"Our nephew wore navy shorts and a shirt from Next, with a bow-tie in Harris Tweed and baby Converse."
Both photography and film were the work of Dom and Matt of York Place Studios.
"Our photographers and videographers were absolutely amazing.  We'd seen a lot of their work online and after a Skype chat we felt so comfortable with them and excited that they would be part of our special day.  We both felt really nervous about being 'papped' but we had no need to worry about it as it was almost like having some extra friends around.  I think the fact that no flash is used makes a huge difference, as not only does it reflect exactly how the day was, you are much less aware of photos being taken."
"We are so impressed with the results.  We had really unpredictable weather, with rain and wind whilst we were getting ready and then stormy skies with warm air and sunny spells – these added to the photos and video and just made it so accurate when we look back."
James wore blue trousers from Next, a blue tweed waistcoat with blue goldfish on the back from Ted Baker, a white shirt, his Dad's cufflinks, a bow tie that Katey made from Harris Tweed and Ted Baker shoes, as well a new Ted Baker watch that Katey sent him to open on the morning of the wedding.
Jane Corbett from Blooming Yorkshire (sadly no longer trading) created the bouquets, corsages and button holes, and then sent large buckets of homegrown flowers for Katey and James to decorate the teepees.
"Katey's auntie dressed two rustic step ladders for them to stand between during the ceremony which they ended up having on the dance floor underneath the giant disco ball as the weather looked dodgy.  It ended up having such a cosy and romantic feel, and the opening of the teepees at the front just made for a framed view of the countryside."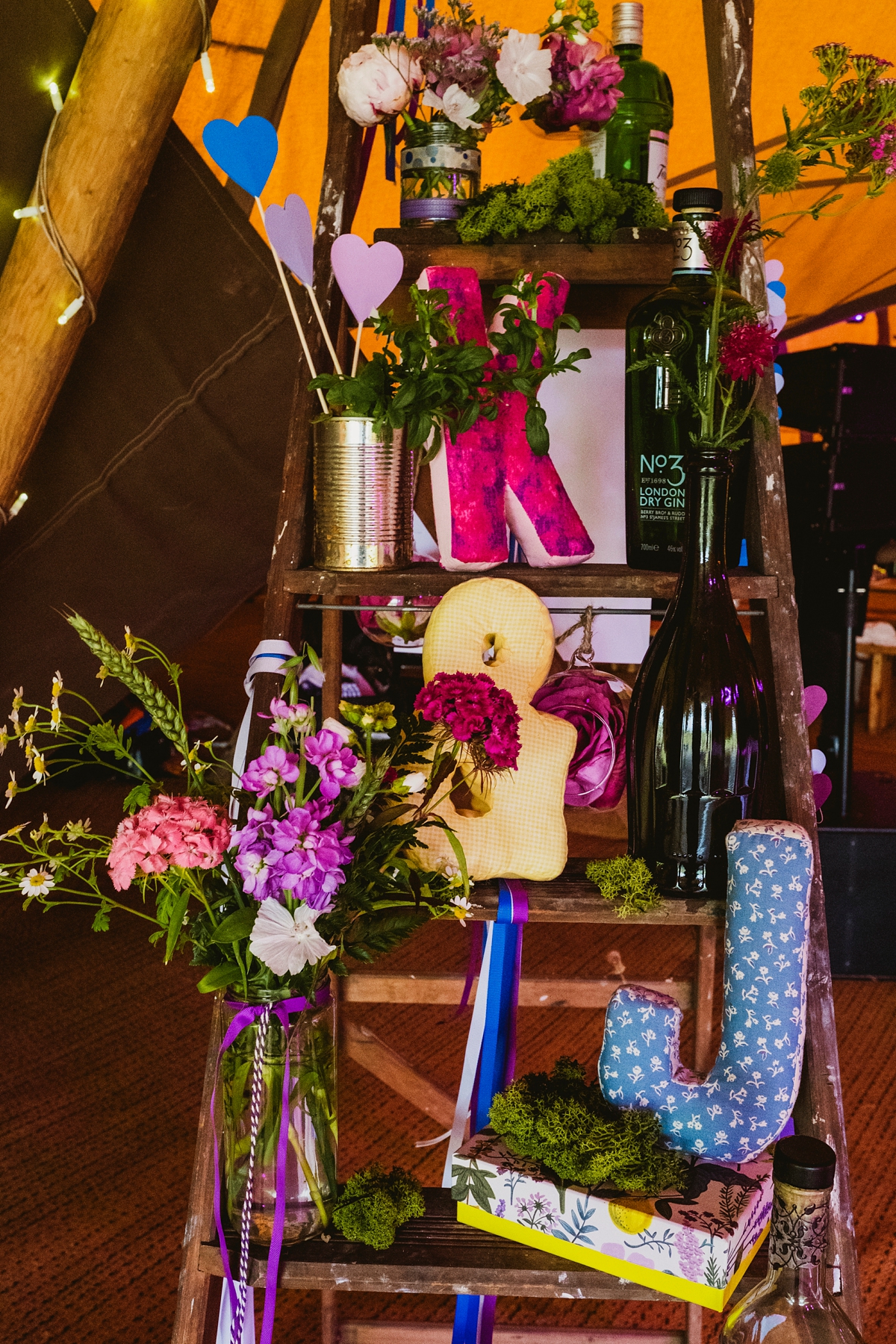 "My dad walked me down the aisle and I'm grateful that it was such a long walk as it gave me time to take in the moment and actually have a few proper minutes with my dad, which I treasure.  I walked down the aisle to a long version of 'I heart NYE' by Badly Drawn Boy, played by The Distance."
"As we legally married at the Town Hall earlier that week, it gave us the total freedom to do whatever we liked on the day.  We didn't like the idea of writing our own vows so instead we wrote the whole ceremony together, pinching some of the traditional religious vows and added in some humanist wording and little bits that are personal to us.  It meant that we could say and promise exactly what we wanted to with our friends and family as our witnesses."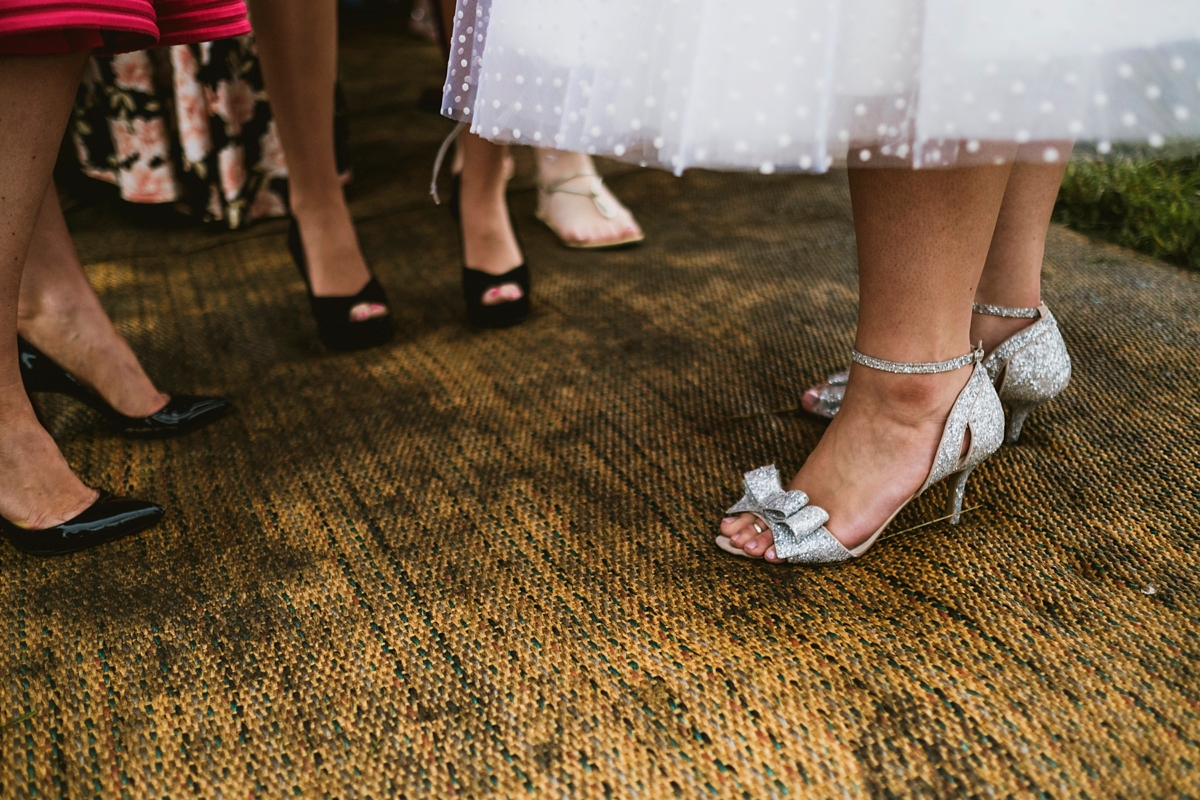 Kate's engagement ring was from Ernest Jones, so she used them again for her wedding ring.  James chose a carbon fibre ring with a mahogany insert from Ring Creator on Etsy.
"Our friends, Karl and Lenny of Bar Hire Solutions provided our bar, with brilliant service and reasonably priced drinks and we ate the amazing 'gold menu' from Big D's BBQ which went down really well and really added to the relaxed, casual feel of the day."
"Our evening food was pizza made fresh in a wood fired oven on site by the Pizza Pod – they smelled amazing and we hear they tasted amazing but sadly we never even managed to taste them!"
"The Distance  played to welcome our guests to the venue, played our ceremony music and entertained our guests whilst we had our photos taken. Their acoustic set and twist on modern songs really gave the day a festival vibe."
"One of our favourite moments of the day was when we were cutting our pork pie cake from Chidswell Farm Shop and New York Brass Band just appeared playing across the field.  They learnt our first dance for us and really got our guests up and dancing, with James even up on people's shoulders with his trumpet joining in."
James and Katey also hired Booth Revolution to entertain their guests, which went down very well.
"Our friend, Liz Kay, is an illustrator and created our Wedfest logo and all of the amazing stationery that came with it.  As soon as we were engaged we knew we'd need Liz's help and she created something even better than we imagined.  When our guests arrived they were given a Wedfest wristband to wear for the day. Our main favours were the bespoke 'can koozie slappers' with our Wedfest logo on."
Words of Wedded Wisdom
"If you're planning an outdoor wedding, try really hard not to get hung up on the weather.  Some of our original plans didn't come off because of the drizzle, but actually what we ended up doing instead was so much better.  Prepare to love your day in wellies and you'll have an incredible time whatever the weather!"
"We invited our friends to join us in the fields around the teepees and glamp in bell tents which was amazing.  After the music finished we moved benches outside and sat around the fire chatting, drinking and laughing.  Glampit were brilliant, they just turned up, pitched the tents, labelled up who was staying where and our guests just turned up to the wedding with their overnight bag – couldn't have been easier."
Huge thanks to Katey and James for sharing their beautiful wedding with us today. Is wedding in festival style your thing? Take a look here for lots more fabulous tent-based inspiration.
Love Shona x