Hands up, lovely ones, if you're currently planning your big day and can't decide upon a theme or style? This simply divine summer wedding you're about to view of Lucy, who works in public relations in the property industry, and Stephen, a freelance music producer and video editor, will certainly provide a ton of inspiration.
Two of the wedding suppliers involved in this beautiful day, are members of our most helpful Little Book for Brides go-to resource –  and the emotion-filled images by Alexander Newton Photography. The couple married on the 2nd of June 2016 at Gaynes Park in Epping, Essex – a relaxed barn venue that could host 160, was close to their home and the tube for London-based friends, and fitted with the woodland theme with huge rustic tree trunks inside.
"We had a woodland inspired wedding, with each table named after a different woodland creature like deer, foxes, rabbits, badgers – the top table were 'unicorns'! For colours we decided to do a peach, cream and mint green theme for the flowers, bridesmaids, ties, and cake – just so pretty and fresh for the early English summer."
Photography by Alexander Newton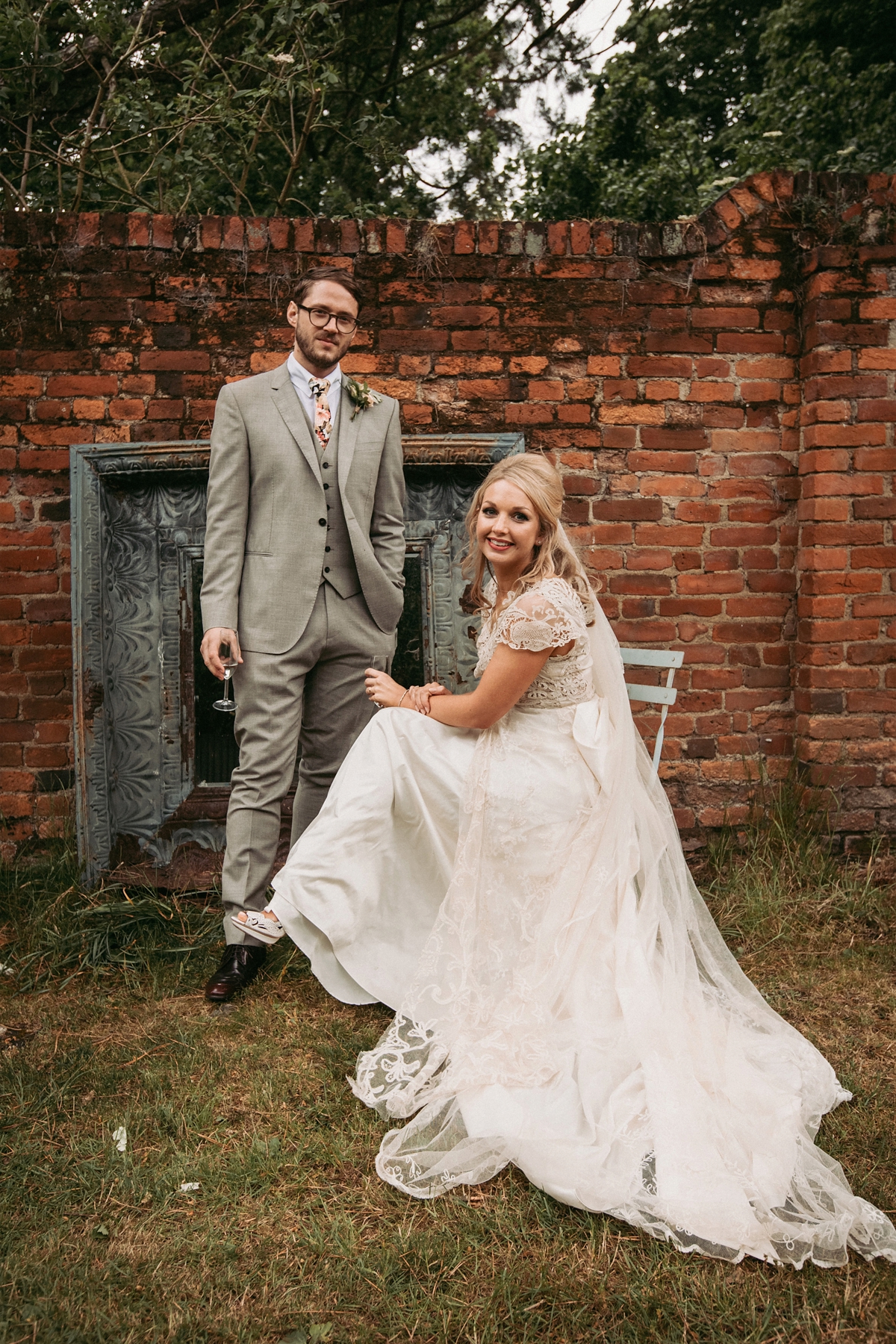 Lucy chose an exquisite dress and veil by the talented Jane Bourvis – an antique one-off in cream Edwardian and Victorian lace. Jane also made the satin underskirt and a large bow for the back of the dress exactly how she had imagined.
"I had been to a few boutiques before I booked an appointment with Jane on a whim. She is based on the Golborne Road in Ladbroke Grove and has the most whimsical, magical shop filled with lace gowns, beautiful silk and tutus – more like backstage at the ballet than a bridal shop. It has a real sense of drama and I just loved it the minute I stepped in."
"I found the process of finding a dress quite stressful (until I met Jane). Being petite at 5 foot 2, I was worried about wearing something long – a lot of my friends and family said they actually thought I might wear a jumpsuit! – so it was nice to surprise them all with something so classic. I am so happy I went for a vintage look in the end."
Philippa Blake was Lucy's hair stylist and make-up artist and created her stylish up-do, adding flowers and lots of hairspray.
"Philippa does a lot of TV work and is very talented as well as being the best fun – exactly who you want around on the morning of your wedding day! She needed two helpers on the day as she also did my mum and the nine bridesmaids."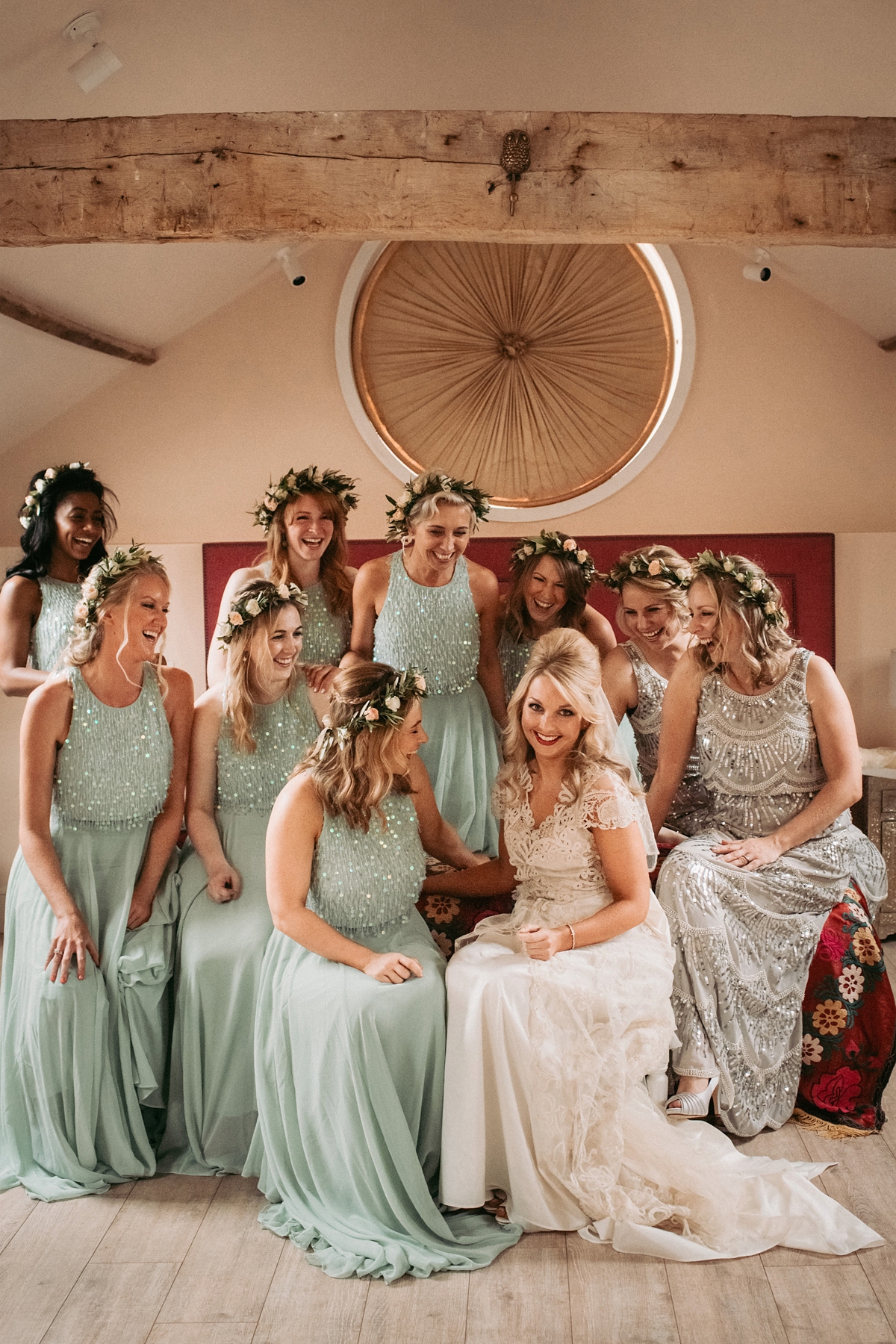 The beautiful bride added a stylish pair of Harriet Wilde heels – a treasured and talented Little Book for Brides member whose listing you can view here – bought by her Auntie Cathy (who shares her love of shoes!), Narciso Rodriguez for Her scent, her own diamond studs and a bracelet that she has had since her 21st birthday, and a nude lace garter found via Etsy.
"My bridesmaids wore their own shoes – I wanted to keep that up to them as everyone is so individual – some wore flat sandals, others Jimmy Choo stilettos! Their long mint green dresses with sequins and mesh cut-outs to the waist were from ASOS."
"I had two maids of honour and they wore more heavily beaded silver dresses from Maya (also purchased from ASOS). This was great because they do 'tall' versions and both these girls are super leggy!"
The floral crowns for the maids were by a firm favourite here at headquarters; the super talented Little Book for Brides member Claire of Lily & May – see the directory listing here – who also designed the incredible bouquets and table arrangements.
"Flowers are hugely important to me and I knew they were going to be a big part of my day. Claire totally understood what I was looking for and I instantly knew when I met her at her workshop in Brentwood that she would do a fabulous job. I had an oversized cascading bouquet with peach Juliet roses. The bridesmaids all had pretty head circlets of roses and eucalyptus and posies of simple hand-tied cream stocks.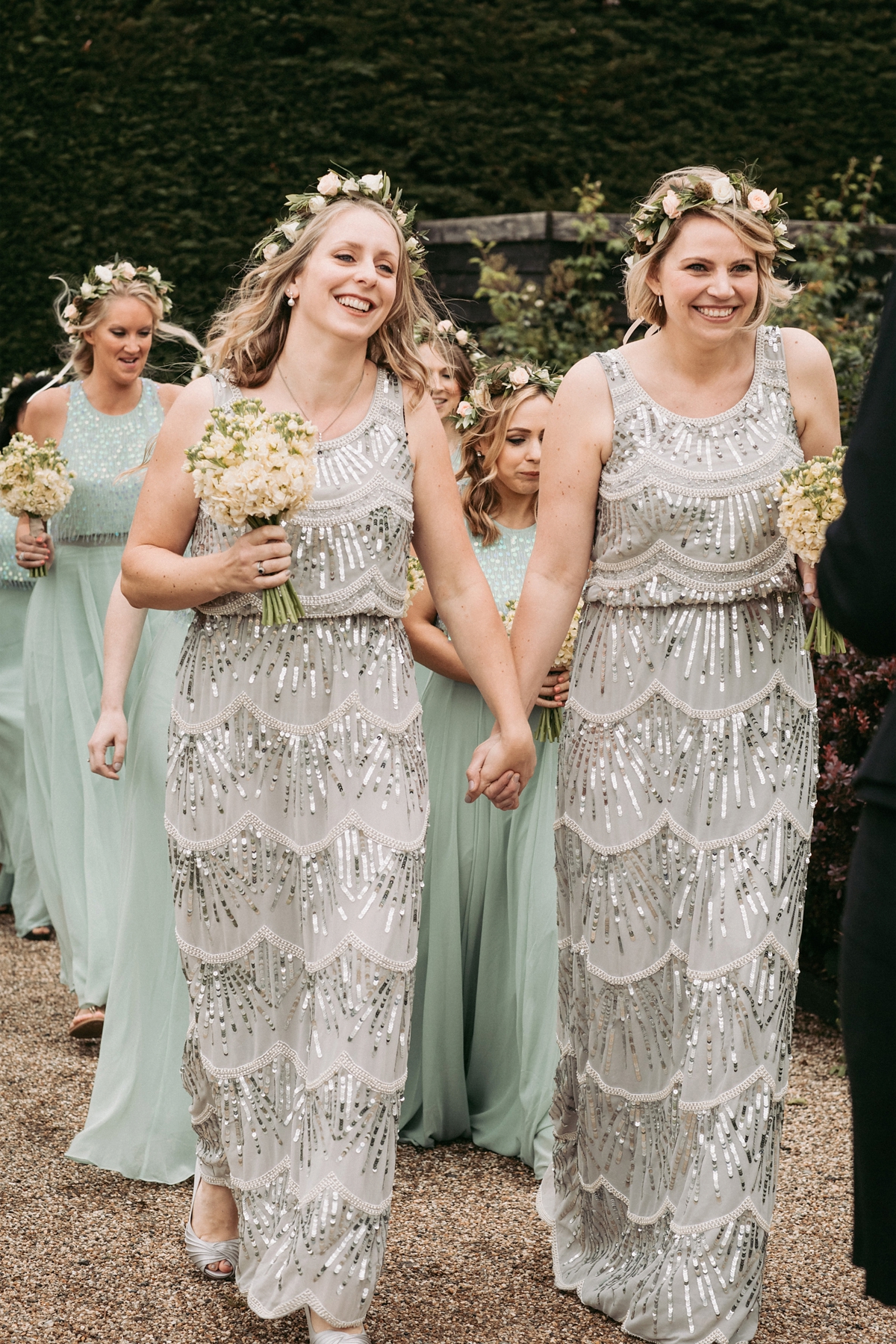 "My darling dad Peter accompanied me for the aisle walk to 'Everybody's Free' by Quindon Tarver (from Baz Luhrmann's Romeo + Juliet, one of my favourite films). The 'aisle' was a very long pathway through the walled garden so a second track was needed which was 'To Build a Home' by the Cinematic Orchestra. At the end of the ceremony we walked out to 'Ritual Union' by Little Dragon."
Steve donned a champagne coloured three-piece Reiss suit, with a funky floral tie and shoes by Dune.
"Steve has done quite a lot of video work for Dune so these were a wedding gift from the marketing team there. The vintage-inspired floral ties were found from an LA-based seller on Etsy – it took us ages to find exactly the right fabric. The groomsmen wore their own suits – a mixture of colours, fabrics and styles for a more relaxed look for the guys who are a bunch of characters!"
"We met at work at a communications agency in the West End in 2010 – Steve was in the digital team and I was in the PR team. Steve proposed on Christmas Day December 2015 so we were engaged for 18 months before the big day."
Lucy's gold ring was originally her mum's wedding band and Steve's silver band was made by one of his ushers Tom, who designs and makes jewellery.
"We wrote our own vows which made our civil ceremony more personal and quite emotional. At the end of my vows I promised Steve that we would grow old disgracefully together. Our reading was 'The Lovely Other Dinosaur' by Edward Monkton – quite an eccentric poem which we both loved."
"Alex of Alexander Newton Photography is one of the nicest guys around and we wanted to have someone who would fit seamlessly into our day and take natural shots so that no one felt uncomfortable. He does a lot of editorial work so has a great eye for capturing personality and emotion."
"Since Steve and quite a few of his friends are camera men by trade, we thought we would just hire some cameras from Shoot it Yourself so that guests could do the filming – then Steve could edit the footage later so we had something very personal and to our taste. Steve is yet to do the editing (it's difficult when he is so busy with work) but I'm holding out hope for our 1st anniversary!"
Creative Steve designed the invitations in grey, peach and mint green with a woodland theme – and this theme continued with the very cool dress code for the guests.
"The dress code was 'fox up, look sharp' for the men and 'foxy and fabulous' for the ladies! Steve did the order of the day (we did a little write up on each of the bridesmaids, ushers and witnesses), menu and welcome sign. I found some gorgeous peach floral envelope liners from 'Greyberry Design' on Etsy – you just download the PDF and then have to print and cut and stick yourself. It took a while but was worth it for the final effect! Steve also prepared a video save the date which was fun."
"The decor was by Mediterranean Occasions who arranged festival-style pontoon fairy lights, white drapes to entrance of the barn and Orangery, vintage style cream lace chair hoods and table cloths to match my dress. Large silver hearts hung from the barn outside and long beaded heart glass drops from the trees in the garden and we also used our own lanterns to line the 'aisle' through the walled garden."
"The favours were carved wooden animal pens shaped as woodland creatures – deer, foxes, squirrels – from Talking Tables. We wanted the meal to be sociable so went for a contemporary take on roast beef from Galloping Gourmet– each table had its own joint and someone was elected 'carver' and had to wear a chef's hat! We also had a wood fired pizza oven in the evening."
"Our florists Lily & May also did the table flowers – statement tall arrangements with green hydrangeas and stocks – and floral styling for the Orangery where we had the ceremony too."
Lucy's food writer mum was put in charge of arranging the delicious cake from Petit Gateau. And a lovely friend sang for the couple whilst they cut the cake.
"We went down the traditional route with four tiers and stunning sugar-crafted flowers. One tier was gold leaf and each layer was a different flavour – one was peach and prosecco sponge, another lemon and passion fruit. So delicious. Having said that I might not have a cake originally, I couldn't resist really going for it and it just kept getting bigger and more elaborate! Our friend Danielle sang for us while we cut the cake. Steve is in a band with Danielle called Aurora Dee Raynes and she sang their song 'Be' – there wasn't a dry eye in the house."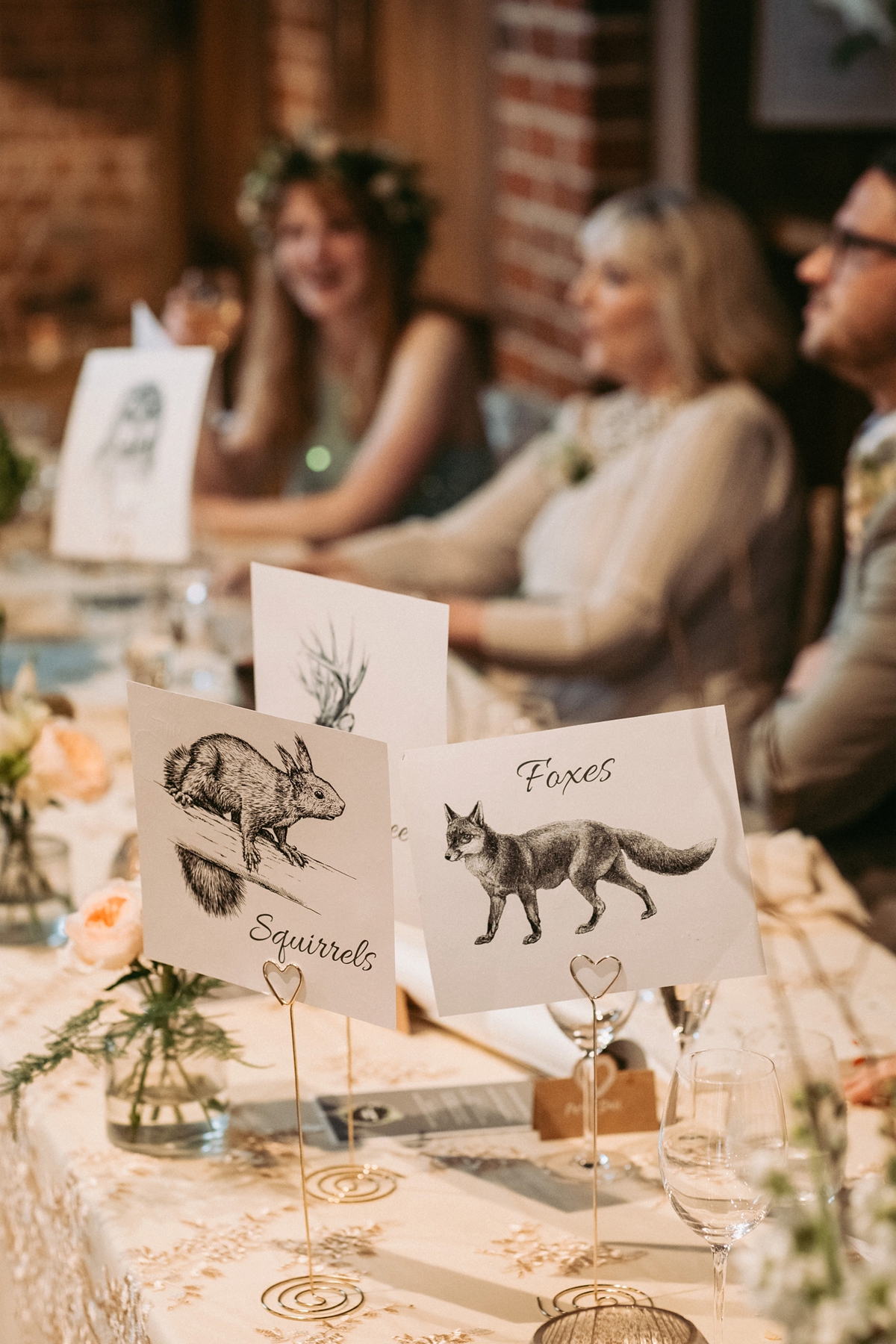 "Music is a big thing for us since Steve is a DJ and music producer. We had a band for the start of the evening – The Low Riders – who played lots of soul and funk classics and then DJ BobaFatt did a hip hop set for the rest of the night."
"The first dance was to The Hot 8 Brass Band version of Marvin Gaye's 'Sexual Healing' – such a good track. We often go to a festival in Croatia called Soundwave where Steve heard them play, literally in the sea, and it reminds us of holidays."
"The best part of the day for me was the speeches – I did a short one as well as Steve, my dad and the best man Ben – and there was so much laughter."
Words of Wedded Wisdom
"Don't listen to anyone who tells you nine bridesmaids is 'too many' and will be 'too stressful'. I was told I was mad but I wanted all my friends involved and it actually worked really well with not much pressure on any one individual. Everyone was very relaxed on the day.
Also be flexible – my original vision for our wedding day was a central London in an urban warehouse style venue and obviously we ended up with something completely different!"
"I loved the very regular updates on Love My Dress, the stunning photography and a huge variety of styles to suit all tastes."
I'm in utter love with everything about this pretty summer woodland wedding. Thank you to Lucy and Steve for sharing your incredible day – and thanks also to Alex for capturing all the special moments so beautifully – and I hope you lovely readers have been inspired by all the little touches.
For even more loveliness, see more divine Jane Bourvis gowns here.
Love Jo -xo-