Good morning lovelies, welcome to a fresh and beautiful and very sunshiny Monday. If you didn't get time to check into Love My Dress over the weekend, you might have missed this glorious wedding, and this one too.
Pop them on your reading list over lunch time, why don't you. These gorgeous images capture couple Laura and Neil on their 13th January wedding day in Scotland earlier this year. Laura, an Oral Surgeon, married Neil, who owns and runs Wilson Street Pantry, at SWG3 Warehouse, a cool events space in the city of Glasgow.
"We wanted the wedding to be intimate, relaxed, in the city, fun and reflect us as a couple and perhaps not entirely traditional. We also wanted our wedding to be in the city, in the winter. We both love winter, the colder weather, winter fashion and the prospect of a honeymoon on the slopes! Those who know me know I love a stylish coat and a sleeve and so the wedding suited to be in winter."
Photographer – Dominic Martin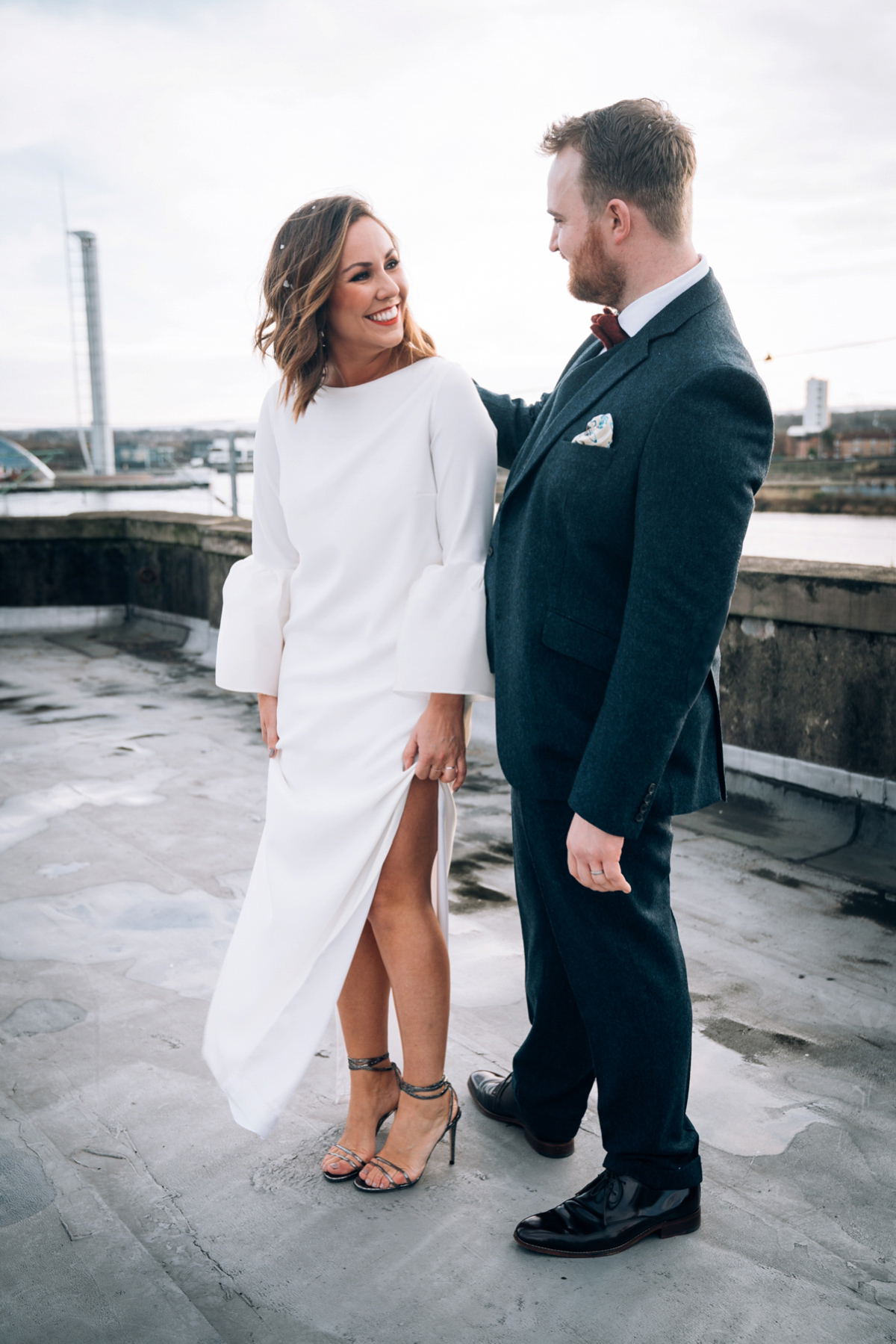 "My dress was designed by myself and my Mum (Karen). The fabrics were from The Silk Society in Soho, London and Broadwick Silks, Soho, London. I had an idea of what I wanted my dress to look like. I took inspiration from Love My Dress, Net a Porter and various brands I like such as Solace, Roksanda, Cos and ASOS WHITE.
My absolute favourite bridal outfit was that worn by Beyonce's sister, Solange Knowles. The crisp, off white, modern caped dress she wore was my inspiration for my dress. She looked modern, chic and cool. Everything about her look is strong, stylish but simple.""Rhona Mitchell and Sarah Jane Macinnes of Mitchell and Macinnes Makeup are award winning Makeup Artists based in Glasgow. I met them many years ago and my mum and I and friends have been to their studio in Glasgow's city centre on many occasions to have our makeup done for events or weddings. It is a modern space where you can relax and have your makeup done over a glass of prosecco before a special occasion."
"My bridesmaids treated me to a private master class in their studio for the five of us on my hen party which was very special. Sarah Jane and Rona listen to their clients and I always leave the studio feeling beautiful and confident. Shortly after Neil proposed I sent them a message, there was no need to look elsewhere. Their makeup is stylish, modern and elegant and I cannot recommend them enough. They are a professional pair. They are also experienced and helpful and gave me advice for the wedding beyond makeup."
"Melissa of Melissa Cherry Mobile Hairdressing was wonderful and gave me exactly the relaxed, fun look I wanted without accessories. I wanted a chopped, tousled bob which I loved. The bridesmaids wanted to all be different which Melissa was so good about. I also didn't want any traditional looks. She helped us with ideas and kindly tried several options."
"We ended up with a stylish blow dry, a top knot, an elegant sleek bob and a tousled hair up. All very different but went beautifully with the dresses and the bridesmaids. I would recommend Melissa to anyone looking for a hairdresser for their wedding day. She was wonderful, friendly and knowledgable. I loved all of our hair and especially loved how different we all were."
"I choose to make the most of my hair and not wear any accessories."
"My mum looked lovely – she was wearing a gorgeous navy Amanda Wakeley dress and her Jimmy Choos, as usual. She too didn't want to look traditional, and I think she looked beautiful. Simple and stylish."
"I like clean fabrics with structure and shape and I love a sleeve. I tend to avoid fitted dresses as I feel they do not suit my shape or my larger bust."
"I visited a couple of bridal dress shops but found there to be absolutely nothing like what I had in my mind and so I sat down with paper and pencil with my mum and started drawing. I am so lucky she had the skills and the patience to make it."
"She made her own wedding dress in 1983 (which had a different kind of statement sleeve) and so she was more than able. We tried various different options with a crew or boat neck, front or side splits and settled on the final design a month or so before the wedding."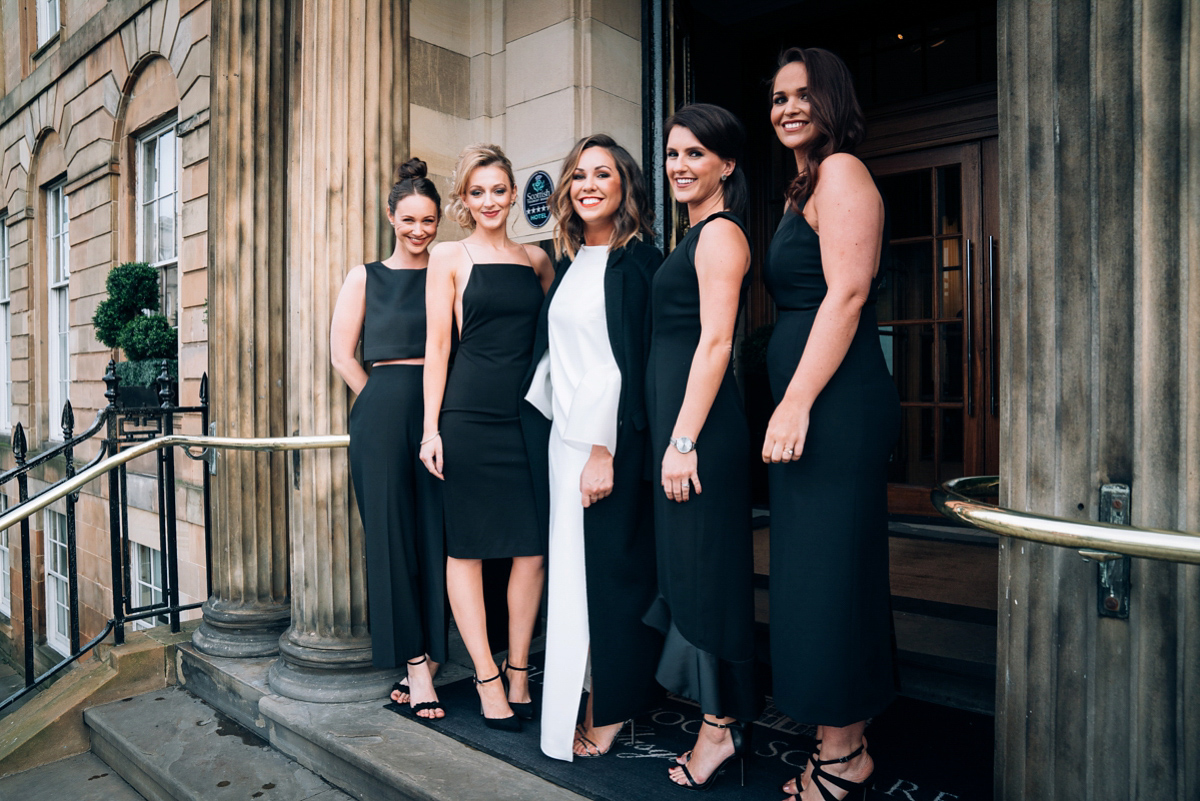 "I wore a pair of earrings designed and made by Sally Morrison, contemporary jewellery designer in Glasgow. They are a mixture of gold and oxidised metals and quite industrial looking. They incorporated the metallic charcoal grey from my shoes, the brushed rose gold from my engagement ring and my metallic clutch bag."
"My bracelet was from Cos which is my favourite shop. I had to wear something from Cos on my wedding day! Unfortunately they didn't make bridal dresses."
"My engagement ring is from Orro in Glasgow. It is my favourite jewellers and is next door to Neil's business, Wilson Street Pantry. It is contemporary and modern, and sells individual pieces from jewellery designers from Scandinavia and Europe. Orro spent time with us choosing a champagne coloured diamond and a tension setting design in a brushed rosewood gold colour which I wore on our wedding day."
"My friend Ruth A Morrison designed four bespoke pairs of Harris Tweed stud earrings in charcoal grey Harris Tweed and silver. Each was a different shape to suit each bridesmaid. They were my gift to them for being such wonderful friends."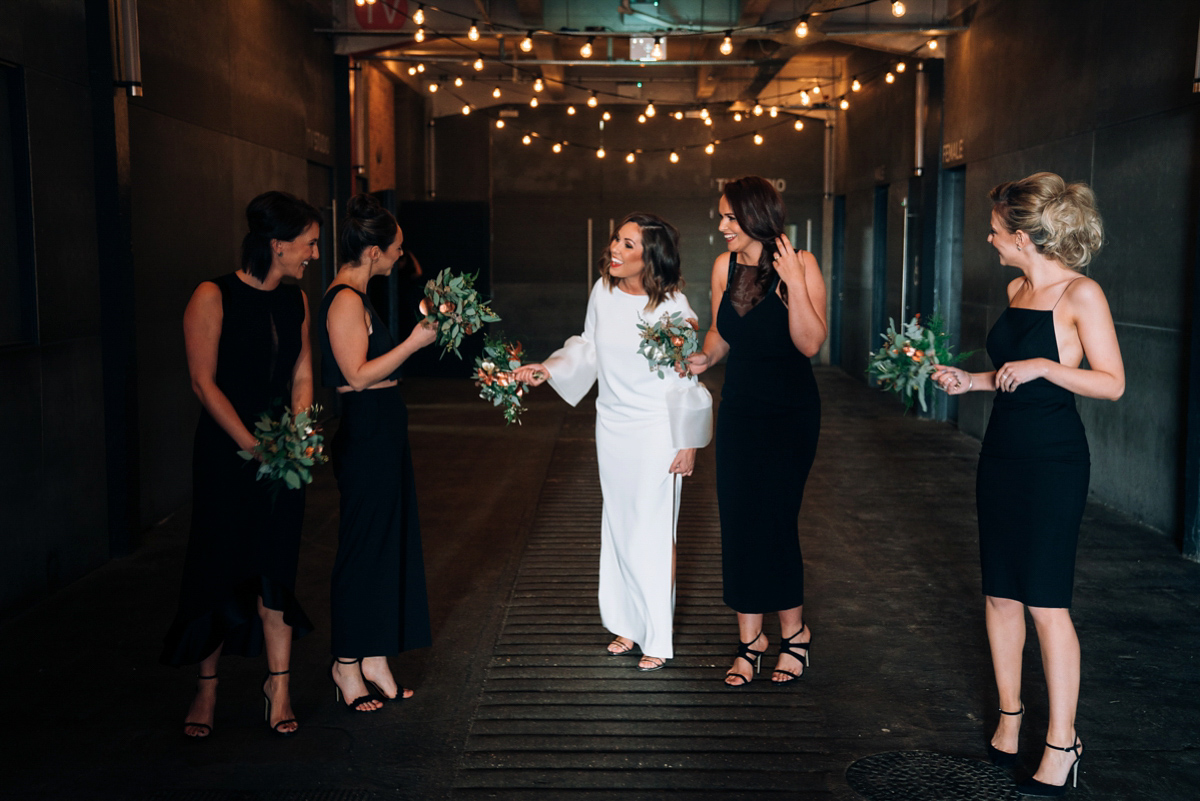 "Ruth is a Scottish Jewellery Designer who as born on the Isle of Harris who incorporates Harris Tweed into her modern designs. I was so grateful to Ruth who designed these earrings, cufflinks for the groomsmen as well as a couple of beautiful custom pieces for my mum for the wedding. I loved bringing an element of Scottish tradition into the wedding this way. I would recommend her jewellery to future Bride and Grooms."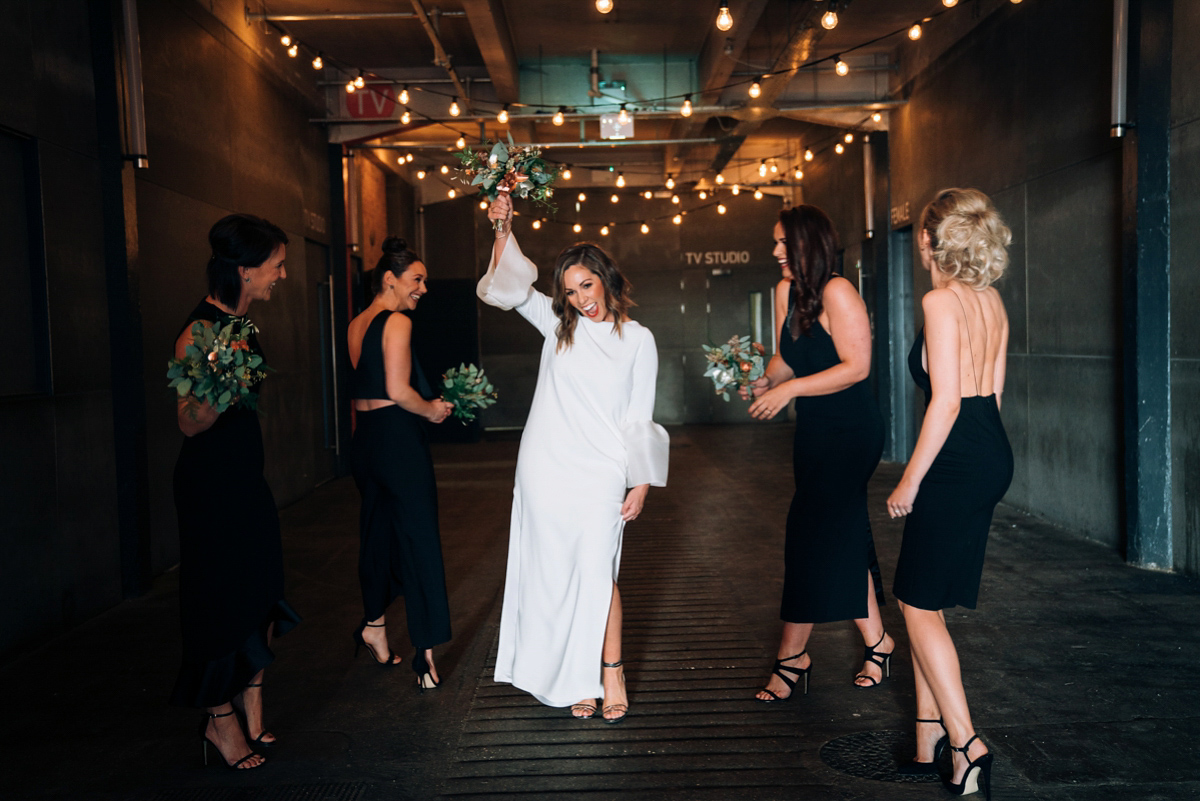 "I wanted a chic and stylish look for my bridesmaids that suited the city, urban venue and I didn't want to go for a traditional floor length dress, especially as I wasn't wearing one myself. I like blacks and greys. The girls are beautiful and I wanted their outfits to be clean and simple without too much detail."
"AQ/AQ is a great brand for clean lines, modern elegance with a bit of an edge. They wore a series of black dresses and trousers from AQ/AQ autumn winter 2016 which worked perfectly together and complemented my dress."
"We found SWG3 Warehouse, an events space in the city to be an ideal space. The photography studio with it's industrial roof top, glass ceiling and white walls was perfect for a bright, intimate and contemporary service and meal. We had access to the roof top with a view of Glasgow's River Clyde and industrial city scape."
"The artists studios were ideal for a drinks reception and the and the TV studio (the former Customs and Excise tobacco bond) with it's exposed brick and concrete were ideal for a large party in the evening."
"This professional quartet provided beautiful strings as I walked down the aisle and for the service. They were wonderful. The very kindly composed an instrumental version of 'Still Dre' by Dr Dre for my walking down the aisle and accompanied my brother who is an Opera singer while  sang 'Parla Piu Piano' during the signing of the register."
"Neil and I have been together for nearly ten years. Neil surprised us all with a proposal in August of 2016 and took me to my favourite jewellers Orro (@orro.co.uk) in Merchant City, Glasgow to choose a ring together. We planned our wedding together over the next couple of months. We were engaged for around four months in all. My engagement ring arrived just in time!"
"We planned our wedding in a couple of months knowing we didn't want a traditional format and venue. We wanted to be ourselves – we wanted to get married in Glasgow, in the city. We didn't want our guests to travel either. After an intimate service, we knew we also wanted to have a big party in the evening with all our friends and family celebrating with us."
"My Dad, Tom accompanied me down the aisle to the sound of an instrumental version of 'Still Dre' by Dr Dre. We both love a bit of hip hop!"
"We had a registrar who provided us with a legal service and we stuck to those standard vows."
"Two of our close friends provided readings. They were hard to choose as we didn't want anything cringe. Our favourite was 'He's Not Perfect', by Bob Marley. I love the whole passage but have highlighted my favourite part below…"
He's not perfect. You aren't either, and the two of you will never be perfect. But if he can make you laugh at least once, causes you to think twice, and if he admits to being human and making mistakes, hold onto him and give him the most you can. He isn't going to quote poetry, he's not thinking about you every moment, but he will give you a part of him that he knows you could break. Don't hurt him, don't change him, and don't expect for more than he can give. Don't analyse. Smile when he makes you happy, yell when he makes you mad, and miss him when he's not there. Love hard when there is love to be had. Because perfect guys don't exist, but there's always one guy that is perfect for you.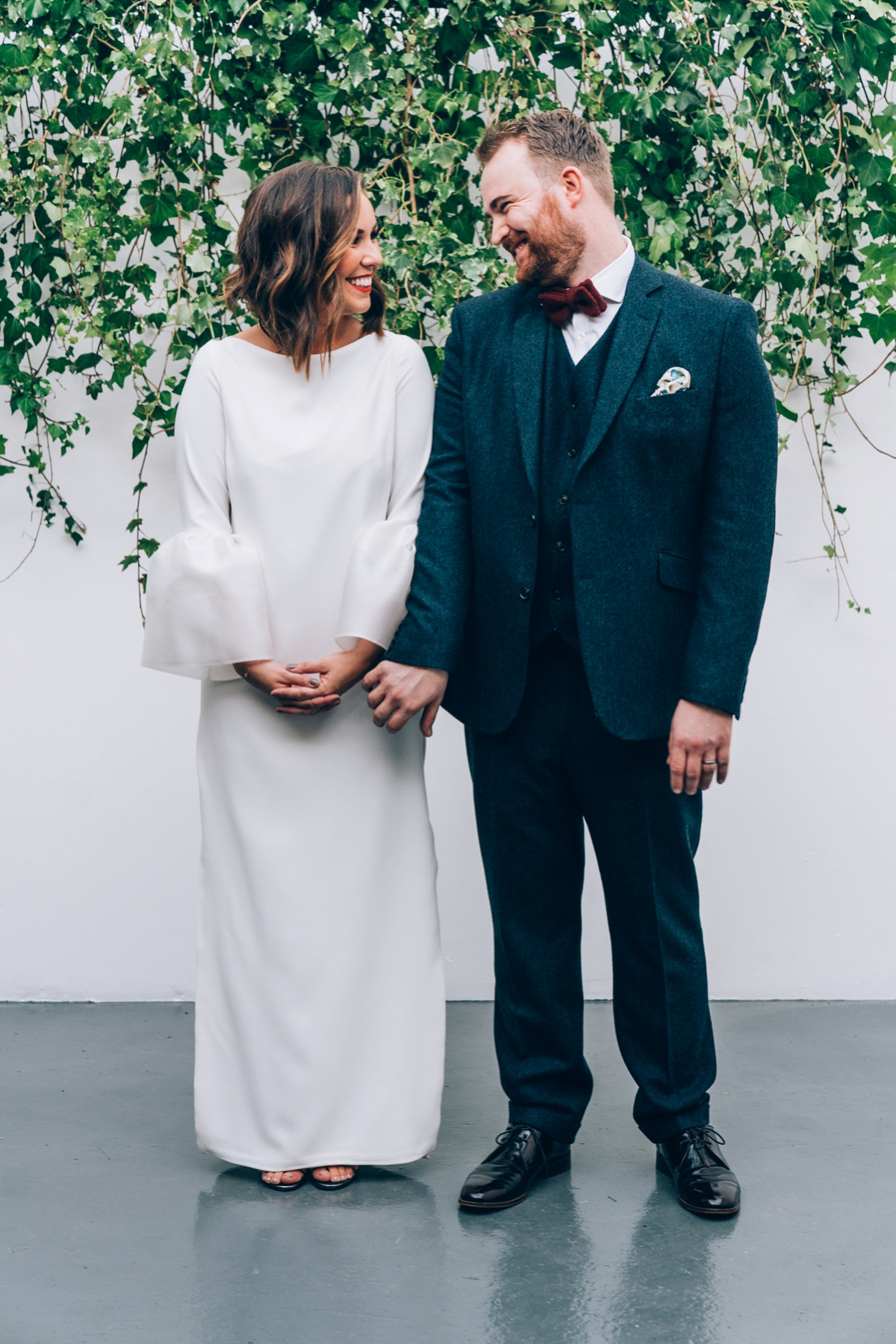 "My brother sang Parla Piu Piano which is one of our favourite songs while we signed the register. He is an opera singer. It was incredible. He sang it in Italian to the live string accompaniment. It was very moving at an emotional moment. I will not forget it."
"Our friend Ruth A Morrison designed bespoke Harris Tweed cufflinks in a range of colours of Harris Tweed and silver for the groomsmen. Each was a different colour to suit each of Neil's friends."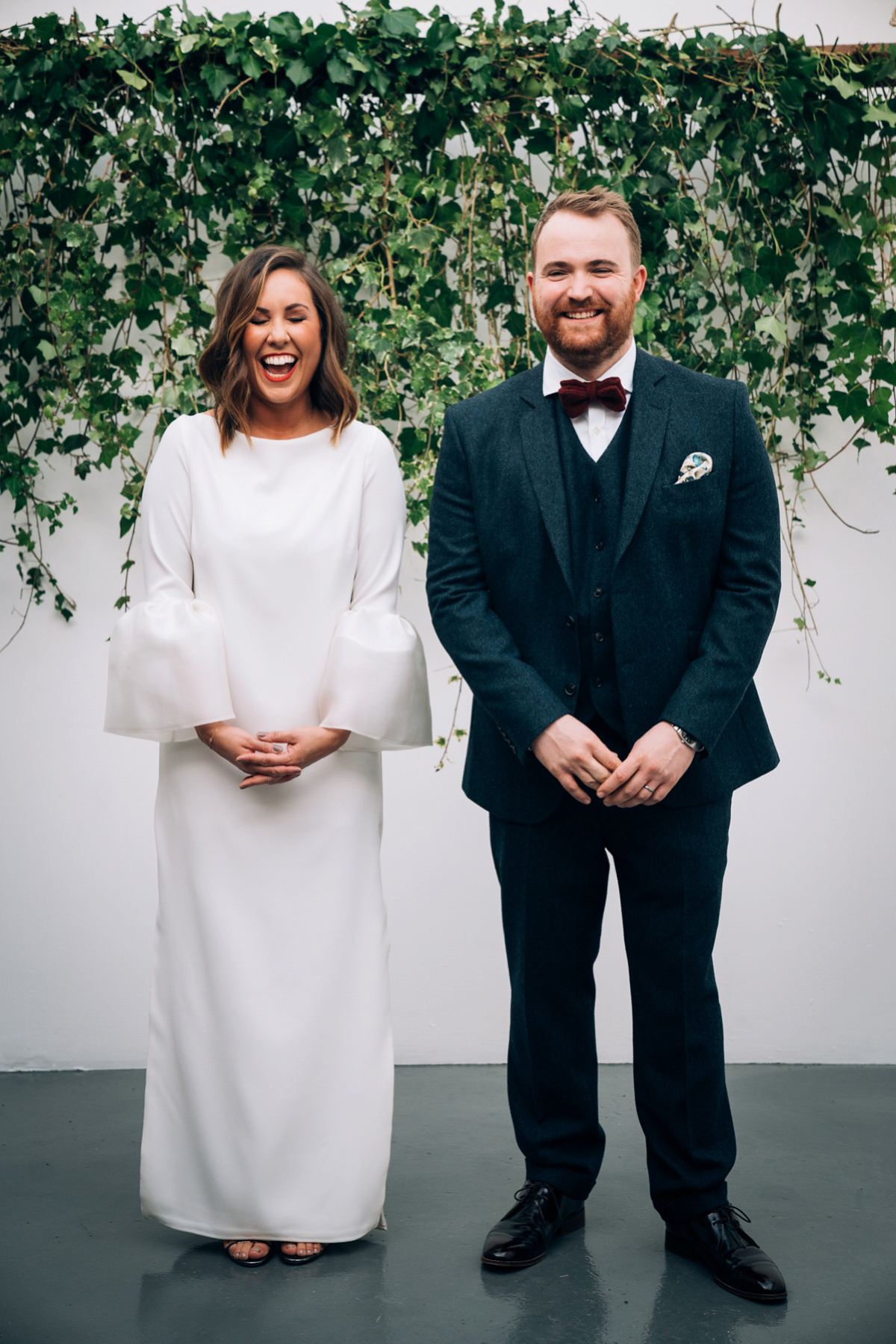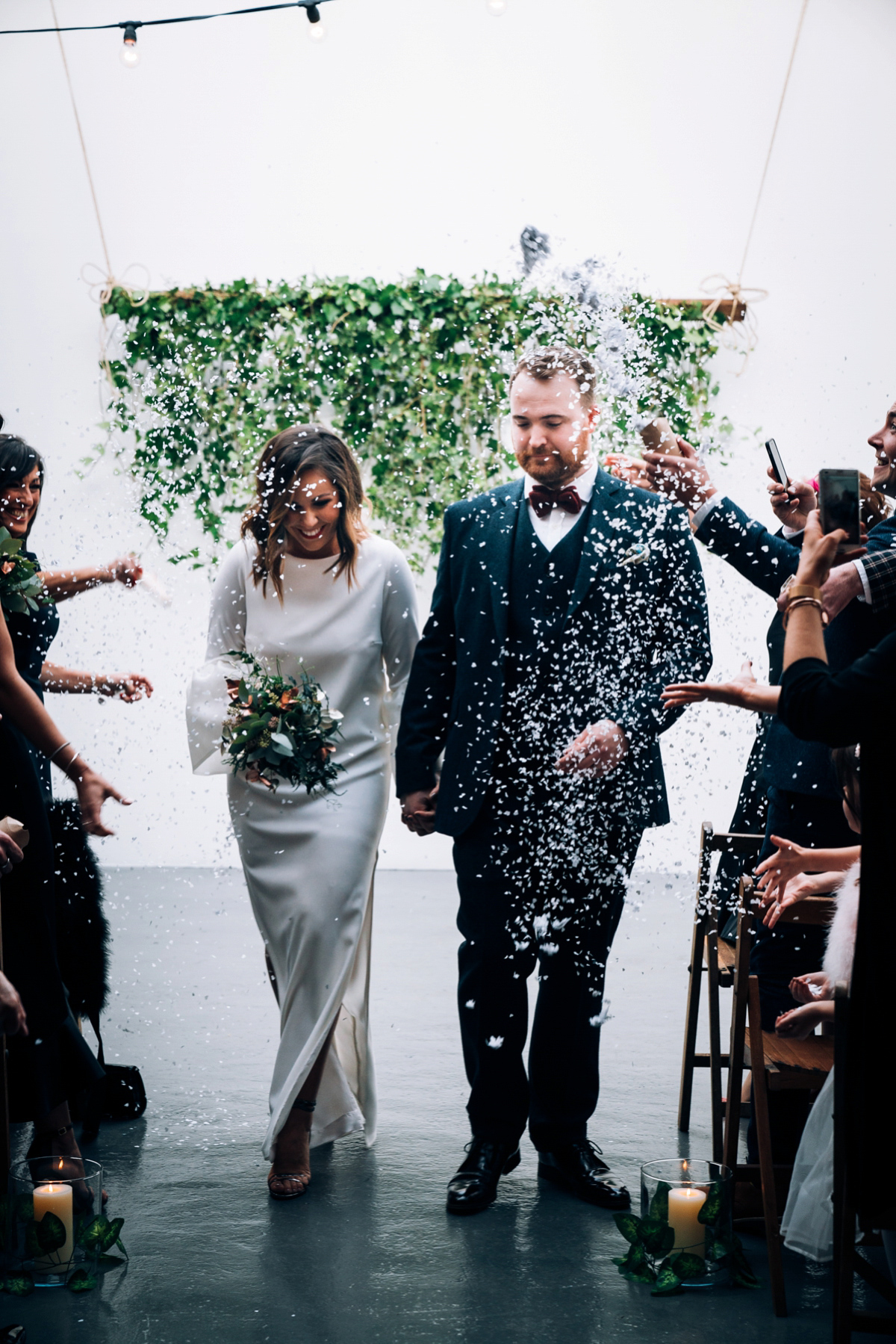 "After we walked back up the aisle we headed straight for the roof of SWG3, just the two of us. We spent a brief time on the roof with peace and quiet above the city, having just been married. The view of Glasgow and a glass of fizz to celebrate before the party began. It was a special moment."
"Neil allowed this one little imitation photo where we posed like Solange and her husband. A little cringe but I think he knows how much I admire her style."
"Our photographer was Dominic Martin. We wanted modern, honest photographs. Our wedding was not particularly traditional, especially in terms of the venue. We also wanted to capture the feeling of the day in our photographs. We both like a more candid shot and wanted to avoid posed situations, which we find awkward."
"We were quite particular in our selection of a photographer and wanted someone with experience of shooting in the studio by day and a club at night. We looked for someone who took candid, natural photographs, which is what Dom did."
"Dom's photographs are better than we could have ever imagined. We love all of them. They are sharp, clean, honest and natural. The ones of us laughing together are our favourites. Not a single photograph of us looks posed. He caught the atmosphere of the day in every photograph."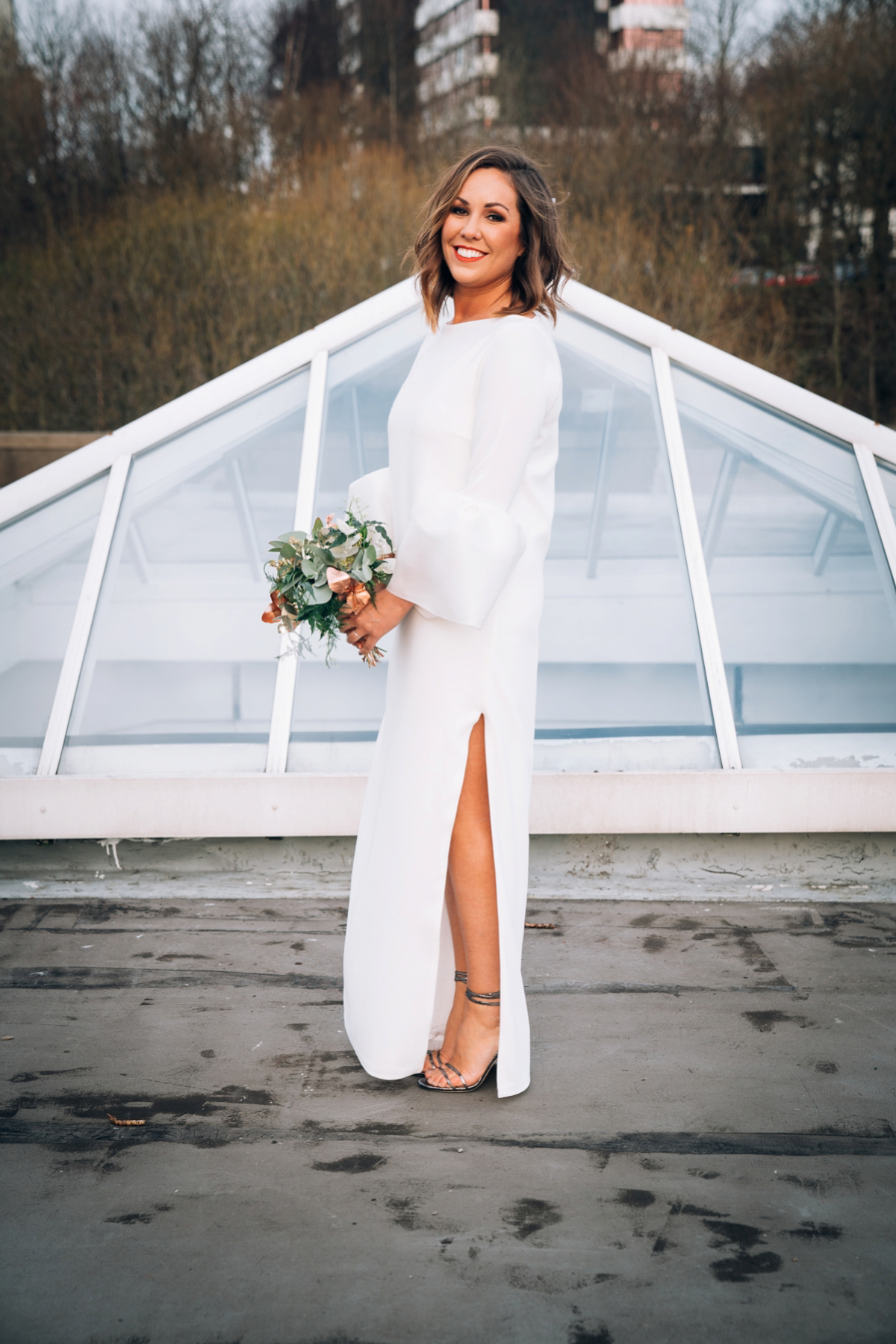 "When I look at them it takes me back to the moment as they are so 'real'. They suited our venue and us perfectly. I would absolutely recommend Dom to future bride and grooms. Our photographs are the perfect memory of the day."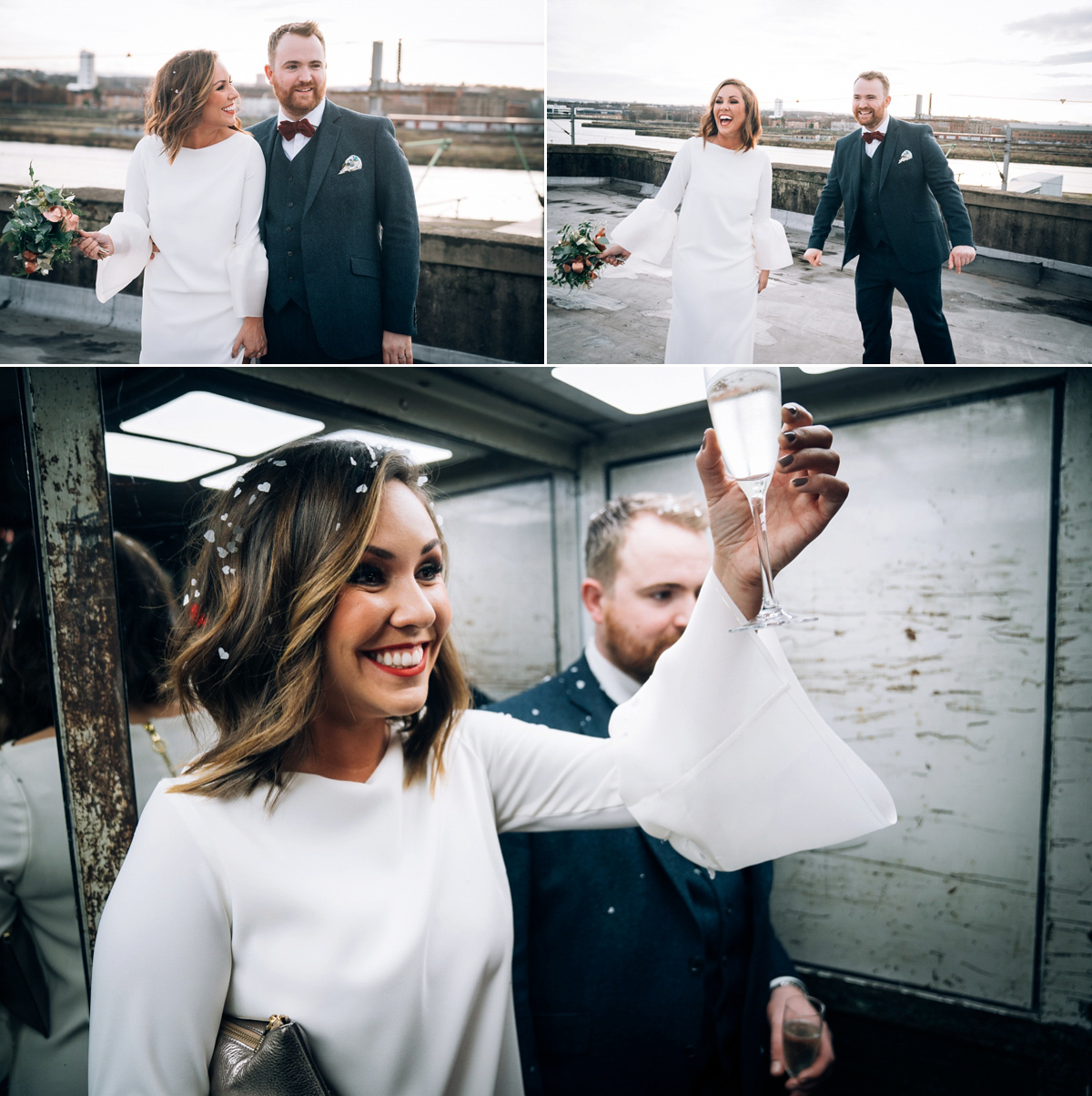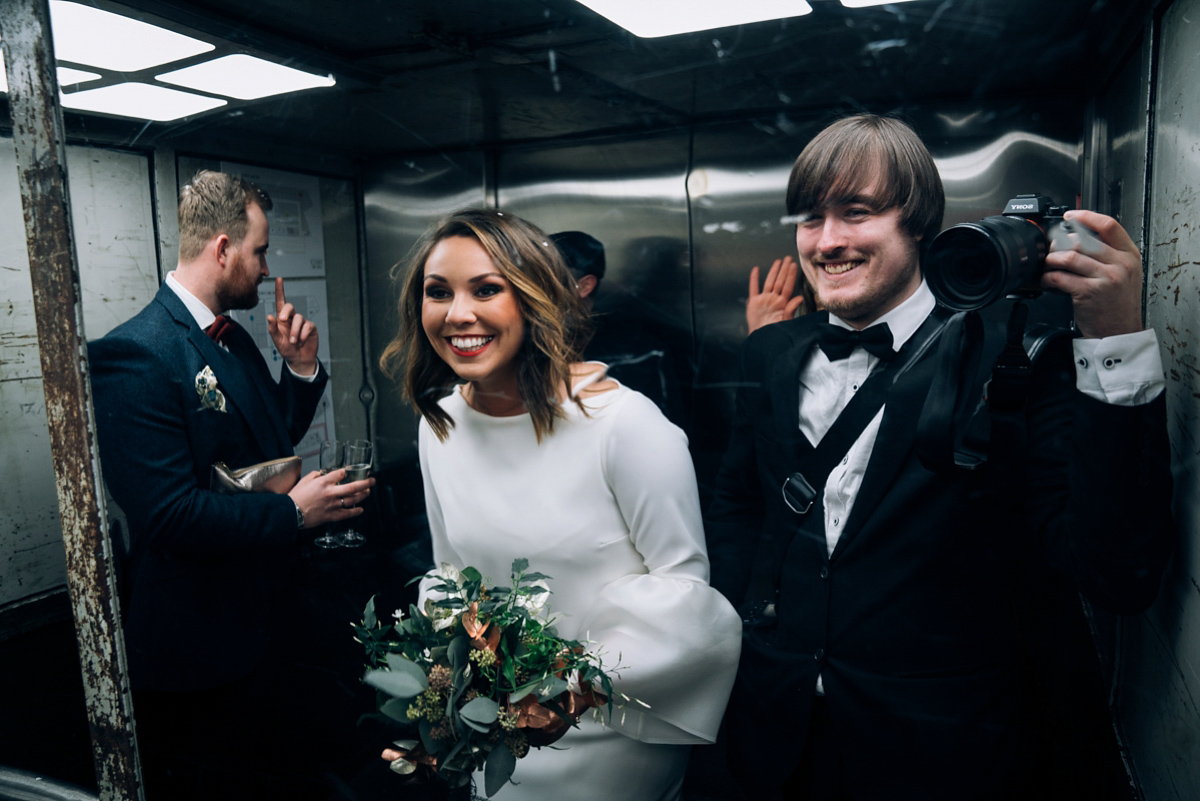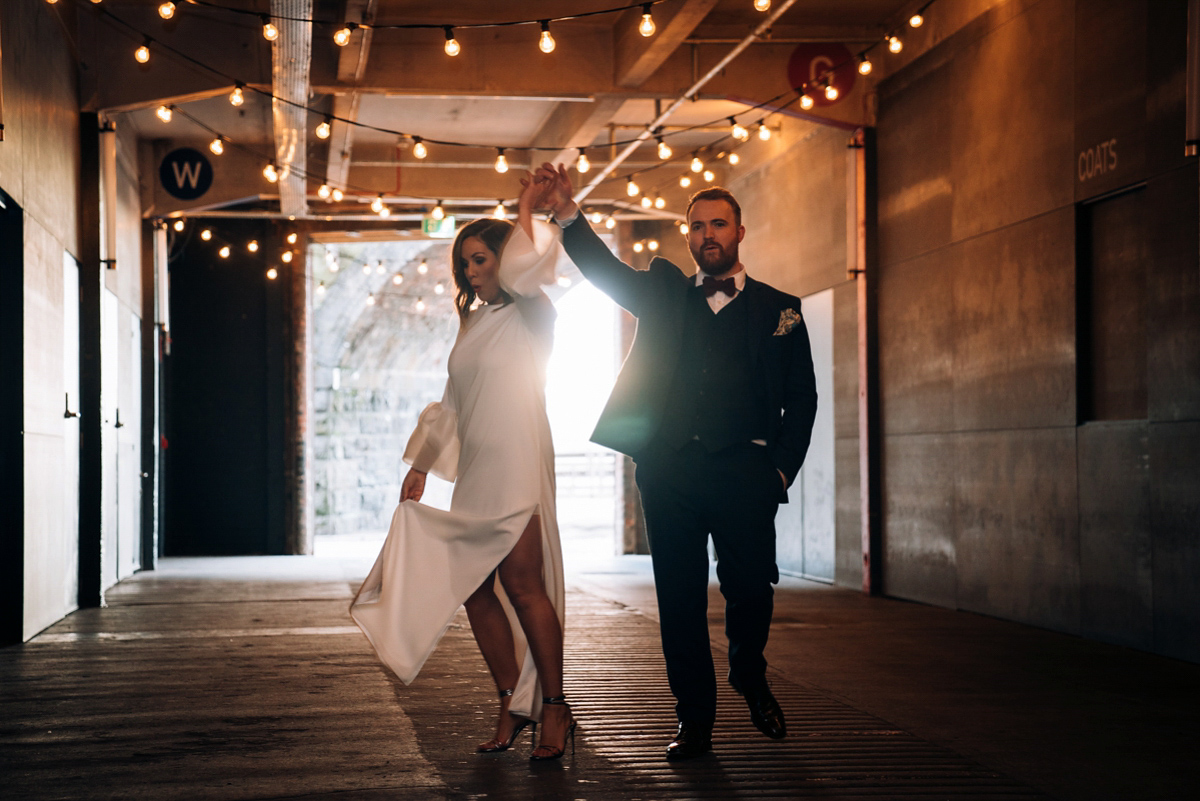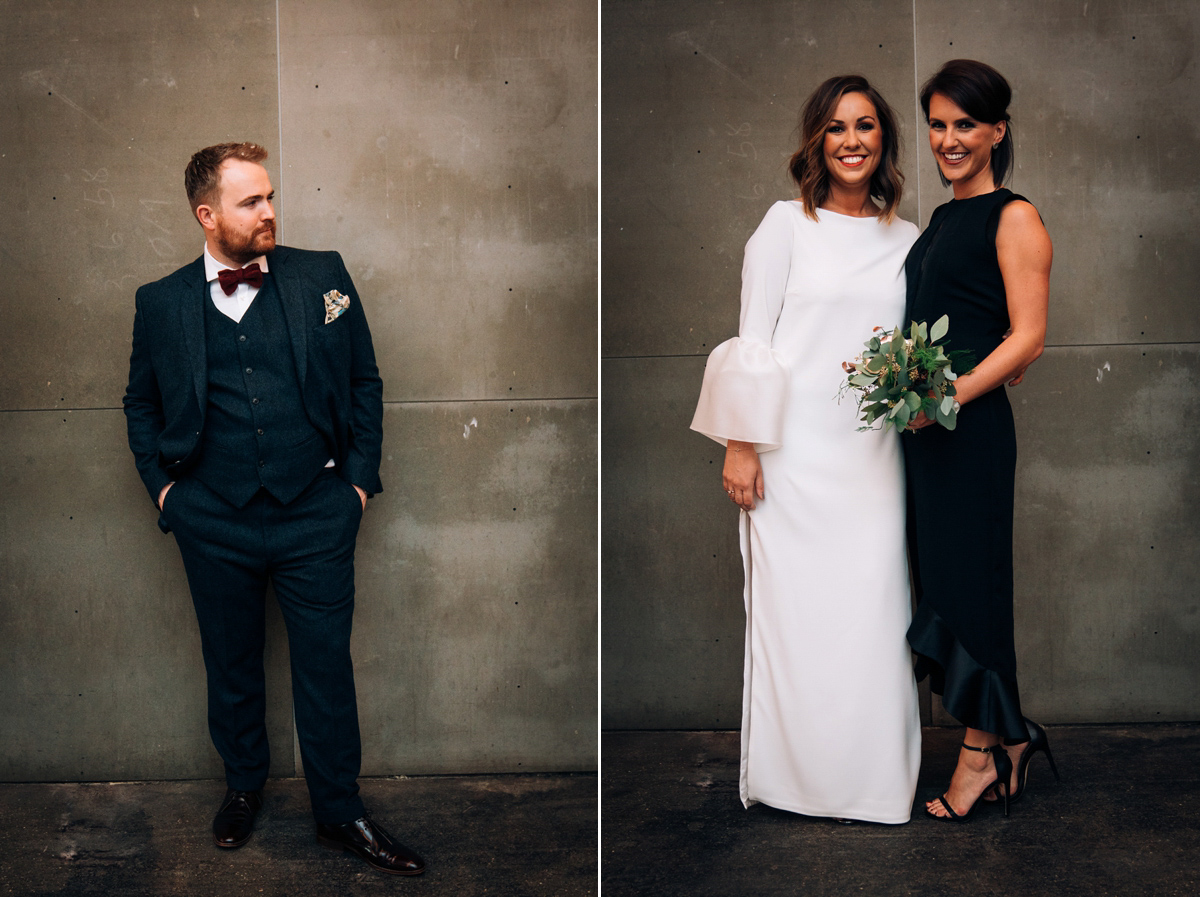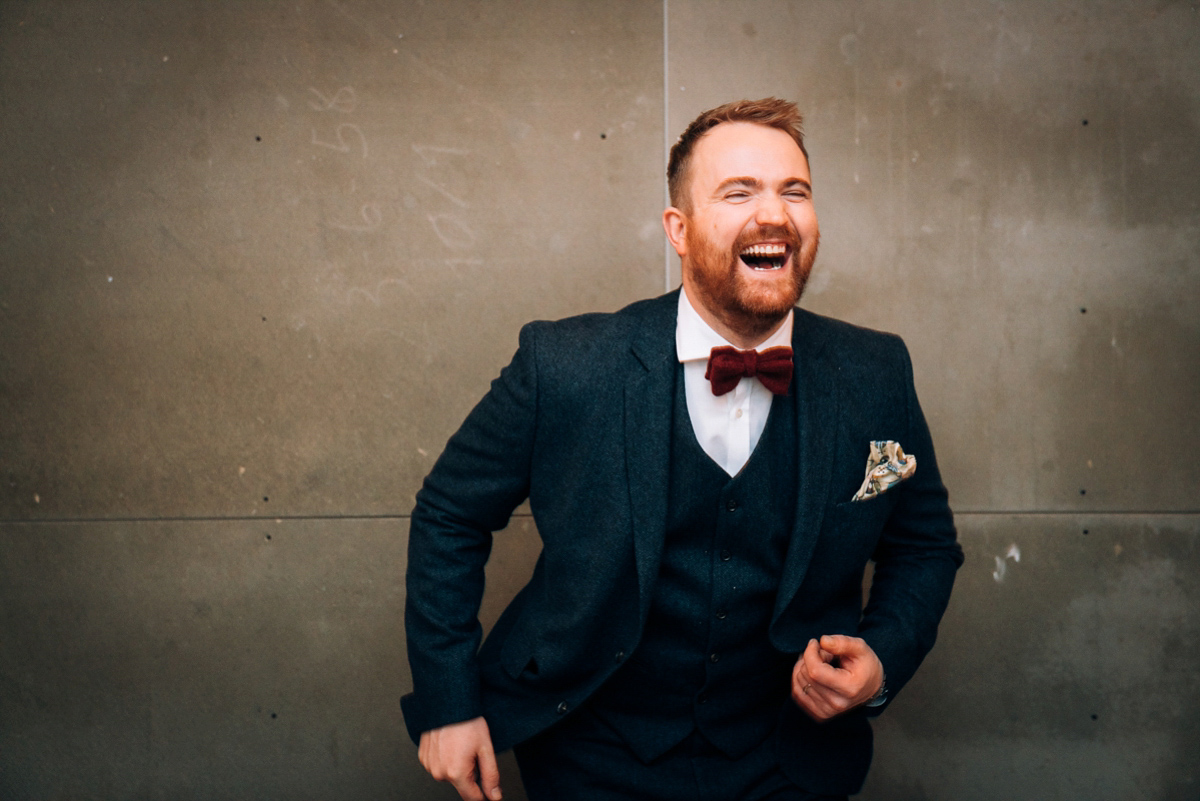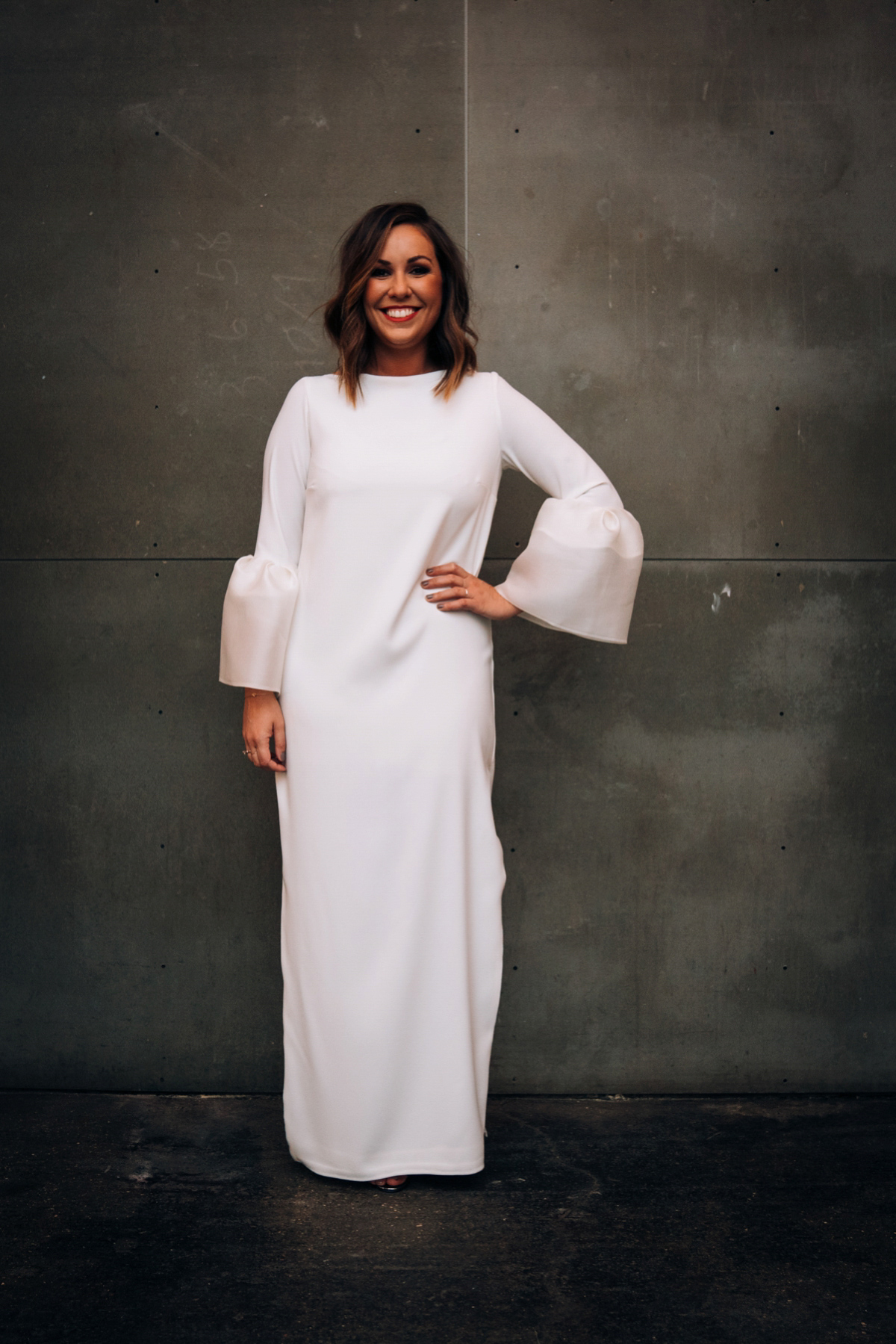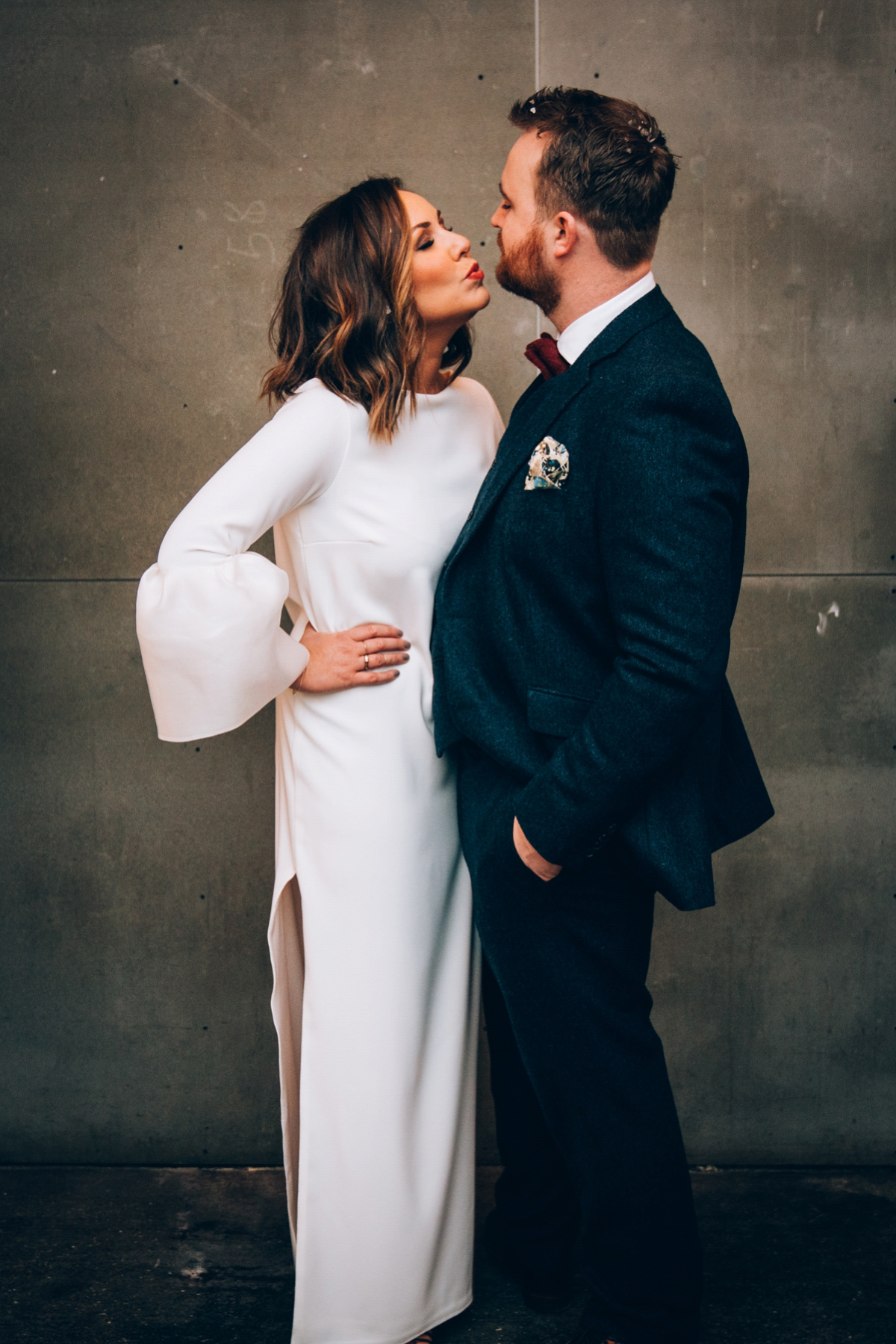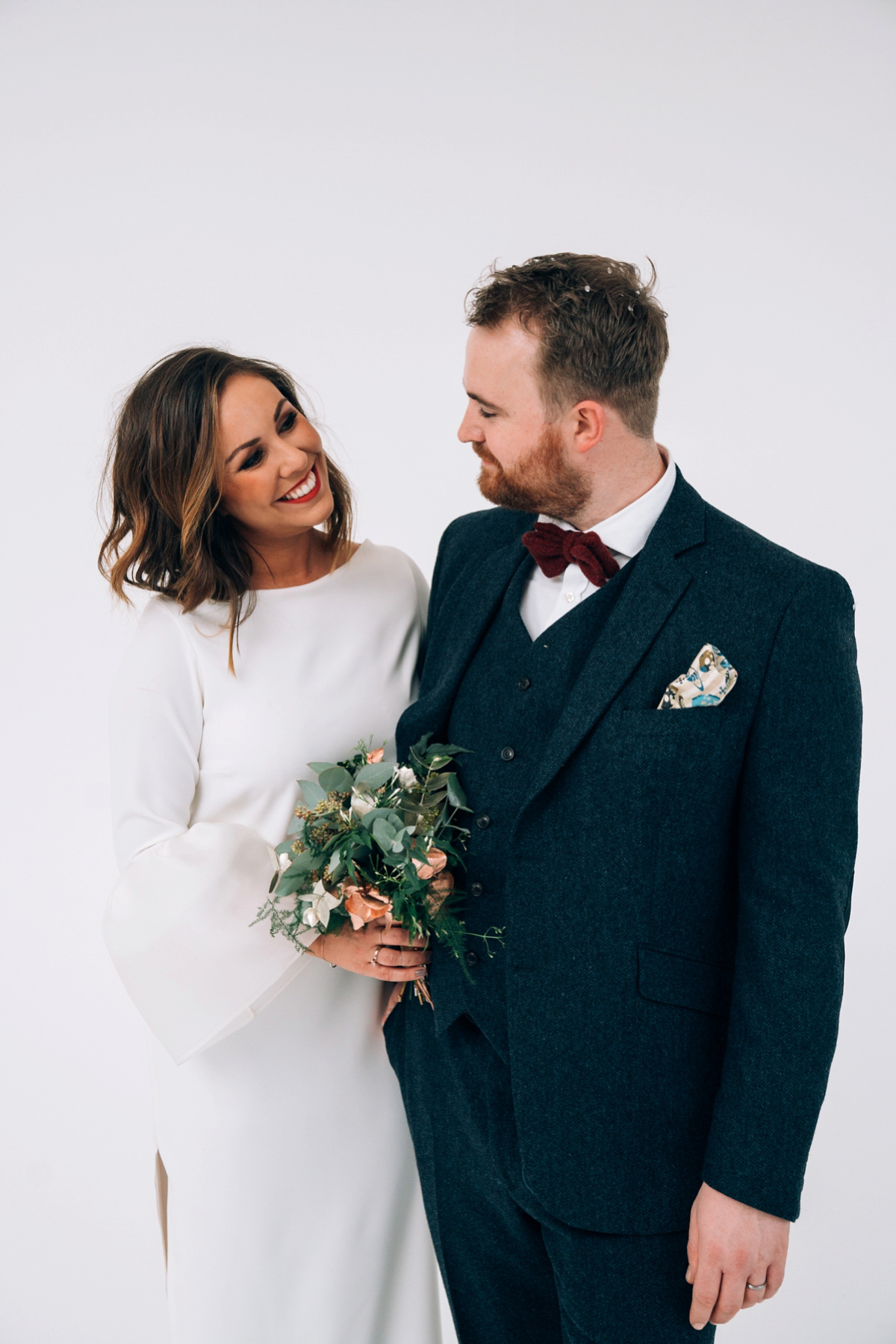 "We decorated the TV Studio and the Photography Studio ourselves. I used wood and ivy plants from our garden to create a centre piece for our aisle which I hung from rope from the walls. For the tables I visited www.jamestaylorflowers.com and bought a rage of foliage which I displayed in glass vases on the table. The beautiful wooden barn style tables were from www.virginiavintagehire.com as were the wooden chairs we used for the ceremony and lunch."
"CPE lighting hung festoon lighting throughout the venue for us."
"The food and wine were almost the most important part of our wedding. We both enjoy and take an interest in food and wine and love eating out and cooking at home. Neil works in the industry as the owner of @wilsonstreetpantry as do many of our friends. This was in part why our venue appealed to us so much. We could choose who did our food and chose our wines.
The Ox and Finch is an incredible restaurant and our friends there helped us choose a menu of small sharing plates including dishes such as crab and crayfish with avocado, confit duck leg, hogget and pomegranate. Our canapés included cod goujons, ox cheek tacos and fresh tuna. The food really was amazing for a late lunch. In the evening they provided street food style burgers and kebab style wraps. We chose a Gavi and a Ripasso as our wine selection, as well as plenty of prosecco."
"We chose not to have a cake but to give our evening guests a doughnut from Tantrum Doughnuts. These were a great fun alternative to a wedding cake."
"With the help of Shaheen at Floral Haven and some very good bridemaids I chose simple foliage with highlights of metallic dipped eucalyptus. Being married in the city centre, in a warehouse, in January I wanted to avoid colourful flowers. The foliage bouquets were perfect for the day and the hints of metallic tied in with my shoes, jewellery and bag."
"We decorated the TV Studio and the Photography Studio ourselves. I used wood and ivy plants from our garden to create a centre piece for our aisle which I hung from rope from the walls. For the tables I visited www.jamestaylorflowers.com and bought a rage of foliage which I displayed in glass vases on the table."
"We used small birch trees with the leaves painted with gold around the chesterfields in the evening in the TV studio and hung festoon lighting throughout the venue."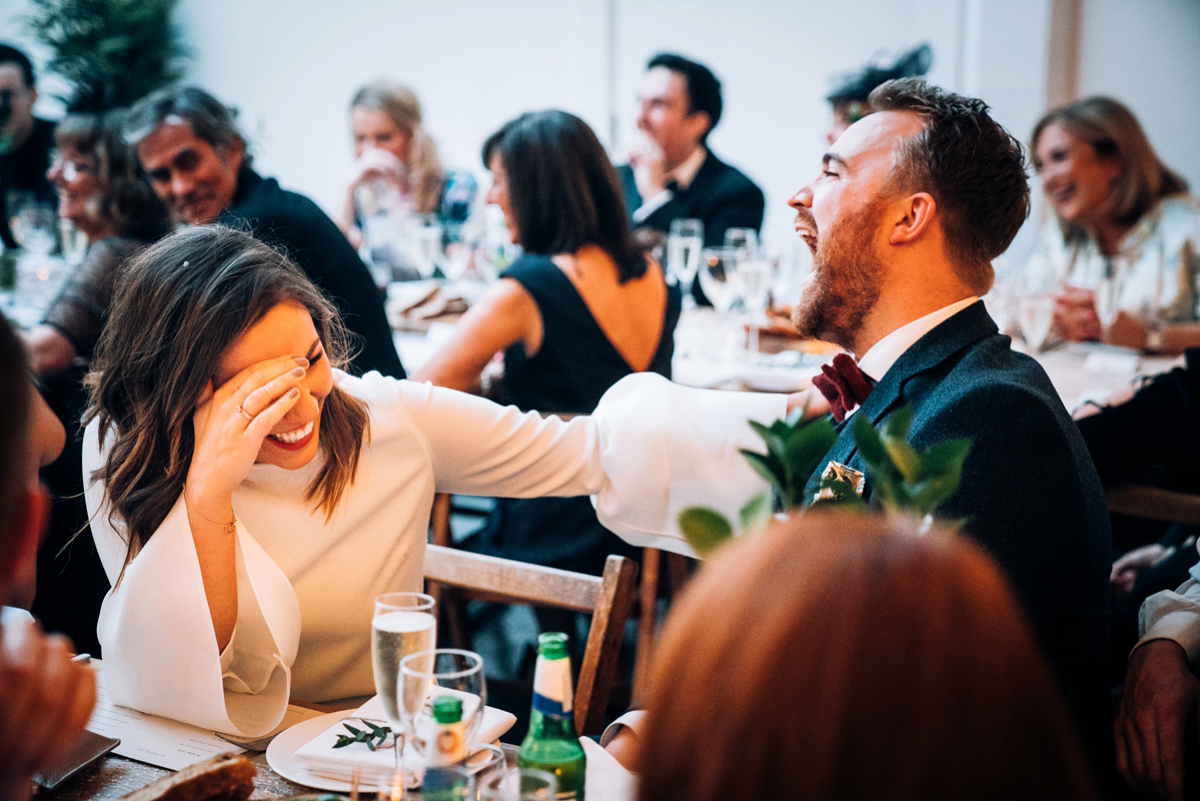 "The Soul Kings provided brilliant entertainment for the 200 evening guests. They were very professional and unforgettable! They sang our first dance for us which was Barry White's The First, My Last, My Everything and many many more disco and soul classics."
"Kilter Ceilidh Band gave us a modern Ceilidh set followed by a brilliant DJ set with some old RnB classics into the wee hours."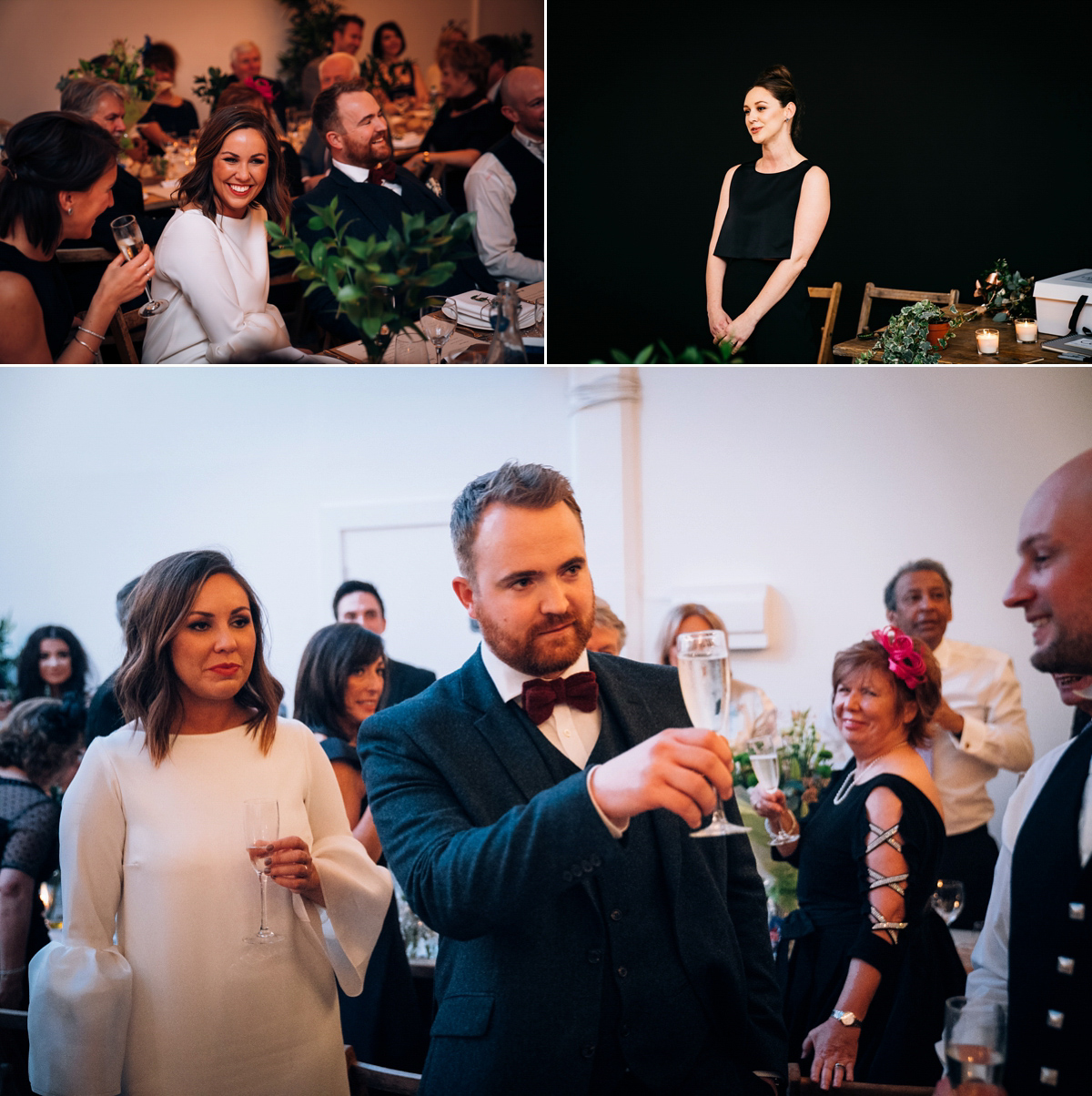 Words of Wedded Wisdom
"Spend time with your partner, together, working out what you both want from a wedding.
Have the confidence to do what you want to do with your wedding day and do not feel you have to conform to what others wants or what you feel you should have. Every wedding is special in it's own way but perhaps the most special ones are the ones where the bride and groom are themselves, comfortable and enjoying themselves!"
"Relax and surround yourself with people who care about you.
Take a moment to take it all in.
I don't think you need to leave your guests and spend a long time on a photo-shoot. We certainly didn't and I love all of our photographs and do not feel anything is missing. We didn't want to miss a single bit of the day, especially not the drinks reception!
Neither of us would change a thing. We loved every minute of the whole day. We feel very lucky to have been able to celebrate as we wanted to."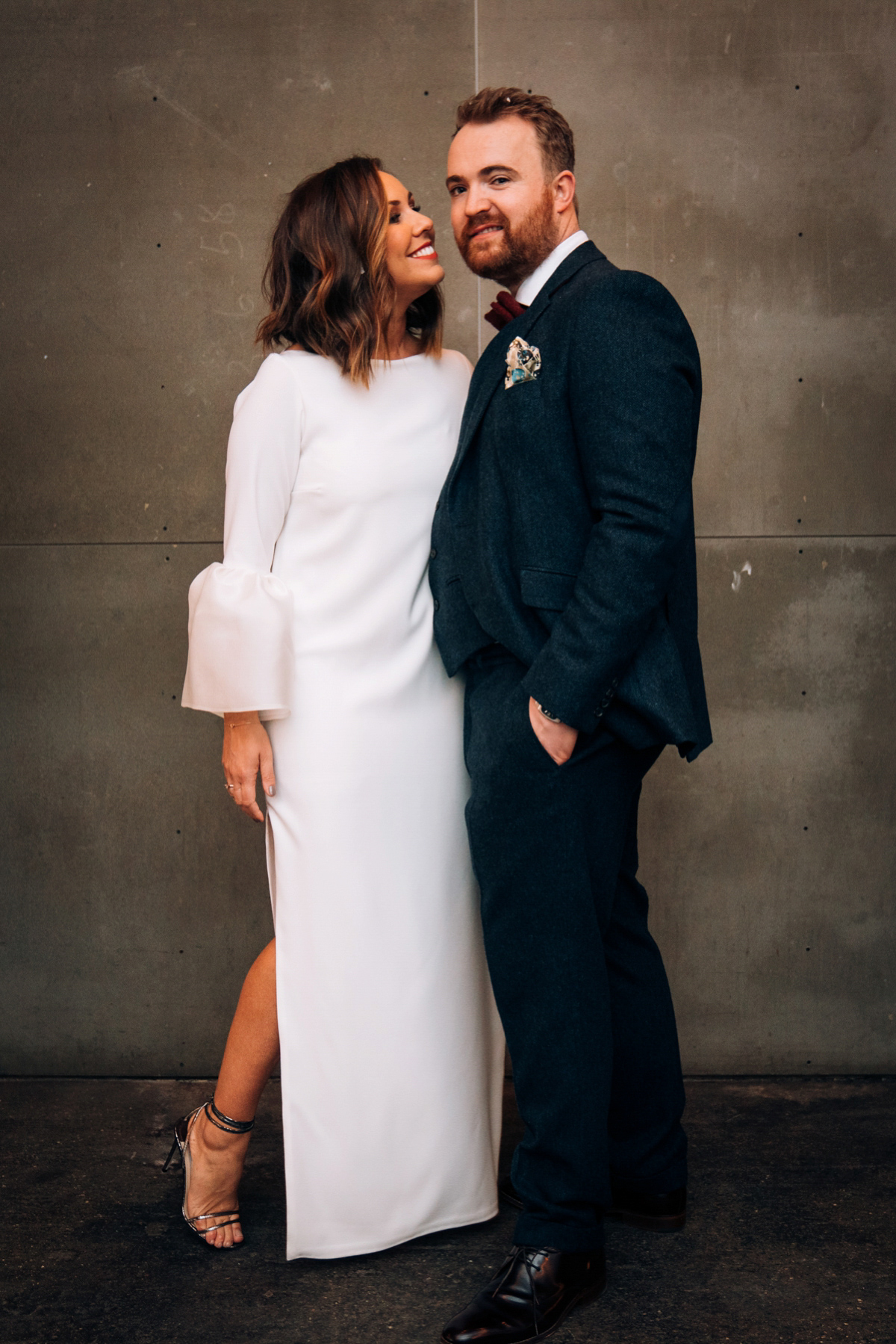 Love and thanks Laura and Neil for sharing your sensationally fabulous wedding day with Love My Dress – and our love and thanks to photographer Dominic Martin too.
Love Annabel x