Good morning lovelies! I'm currently snuggled up in bed writing to you and feeling suddenly overwhelmingly festive – I just love Christmas. Are you eyeing up all the sparkles and coveting rotund fir trees yet?
Today however, I have the French château inspired nuptials of Tom, a market research associate director, and Sacha, a customer experience manager, to share with you. On 9th July 2017 the couple wed al fresco in the pretty gardens of South Farm in Cambridgeshire.
"I had always wanted to get married at a château in France with a vineyard for a backdrop, so when we decided the wedding had to be in the UK, I wanted something informal and rural to mirror what I had dreamed of in France. The first farm wedding venue in Hertfordshire that popped up was South Farm. Driving through countryside to get there, it reminded me of the South of France and as we headed up the drive and the beautiful yellow farmhouse came into sight, my heart honestly skipped a beat and I was in love. I knew instantly that this was the place that I wanted to marry Tom." 
Photography by  Helen Warner Photography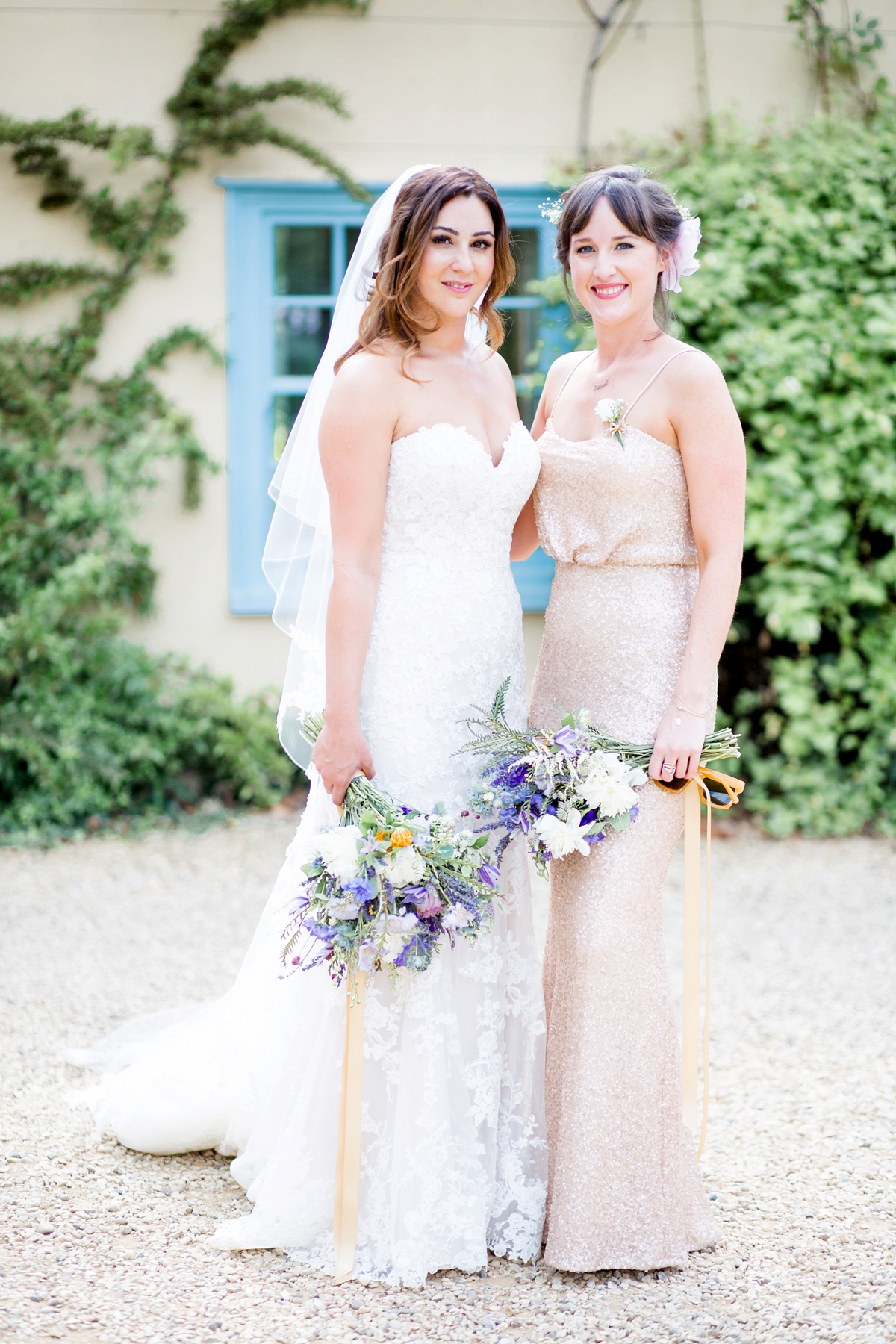 "After seeing the gardens, lily pond, summerhouse and barns, I turned to Tom and could see the excitement in his eyes. There wasn't a theme as such, but the style was in keeping with a rustic, whimsical wedding and I used South Farm and its gardens to inspire me from there. I knew that I wanted a neutral colour palette so it was fairly easy to create things from such a wide range of tones."Sacha chose a strapless, lace gown from Essense of Australia, purchased from Pure Couture Bridal Boutique in Beaconsfield. She paired her figure-hugging beauty with a chapel length veil from Richards Designs, smattered with lustrous lace and pearl appliqué, and the beautiful Mimosa heels from Rachel Simpson Shoes. Check out more of Rachel's stunning wedding shoes over on our curated directory, Little Book for Brides.
"My dream dress was Galia Lahav's Isabella, however with a £9,000 price tag even I had to be realistic that it was far too much money for one dress for one day! It's a lace fit and flare dress with beautiful detailing, so when it came to trying to dresses I wanted something as close to this as possible. True to the tale, dresses like Isabella, with no corseted body, didn't suit my figure. The girls at Pure Couture were amazing and they actually picked out my dress, as they knew what would suit my style but kept it lace with a fit and flare shape."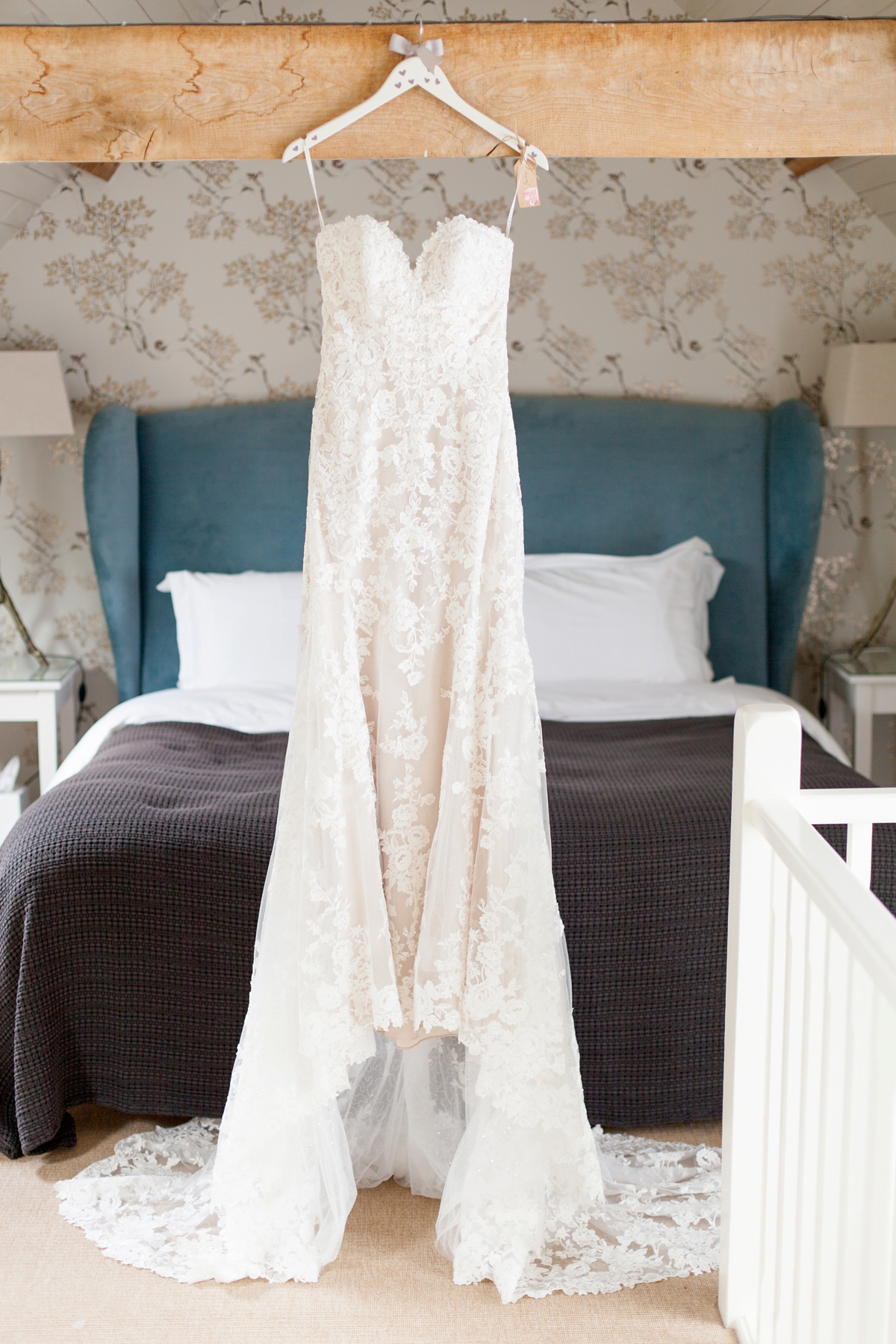 "I chose my 'Mimosa' shoes before my dress and drove to Birmingham especially to purchase them from the Rachel Simpson boutique. They were my 'something blue'. For the evening I had a custom dried flower crown made by Folky Dokey. I am half Greek so I asked for a Grecian style crown that Geraldine created by hand to a tee.  I wore it once my veil had come off and it looked fantastic, so many people commented on it."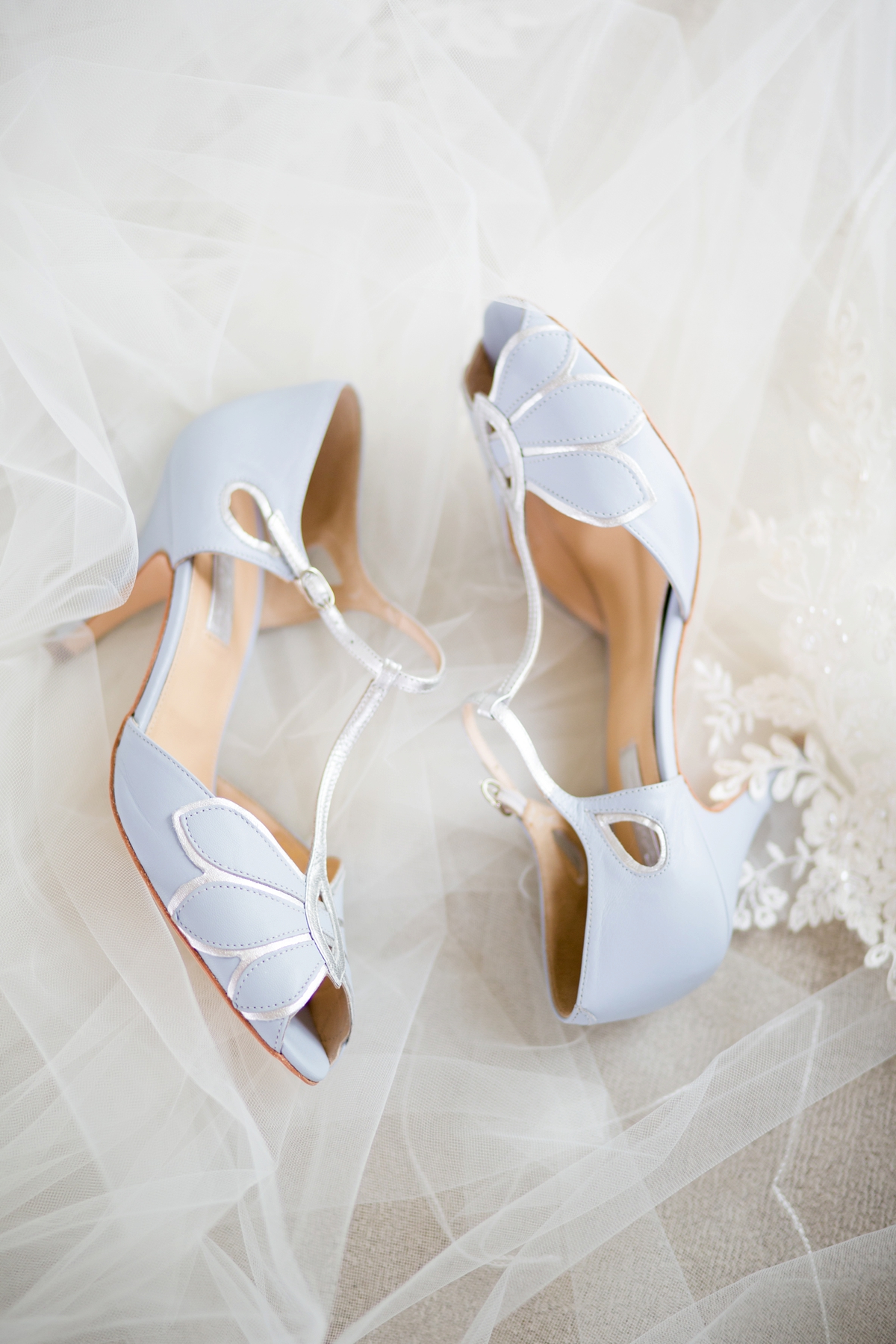 "I picked up Dana's card at an open day at South Farm. She specialises in wild flowers, which was in keeping with my style and venue, and was fantastic, knowledgeable and kept to budget. I asked for a neutral palette of whites and creams with added blues and purples."
"I also wanted lots of herbs so she filled the bouquets and buttonholes with rosemary, sage and mint and they smelled incredible. The bouquets were filled with white peonies, Memory Lane roses, lavender, lilac and purple scabious, white astrantia, blue cornflowers, lilac clematis, white larkspur, blue nigella, flowering mint, pink sanguisorba, rosemary and eucalyptus."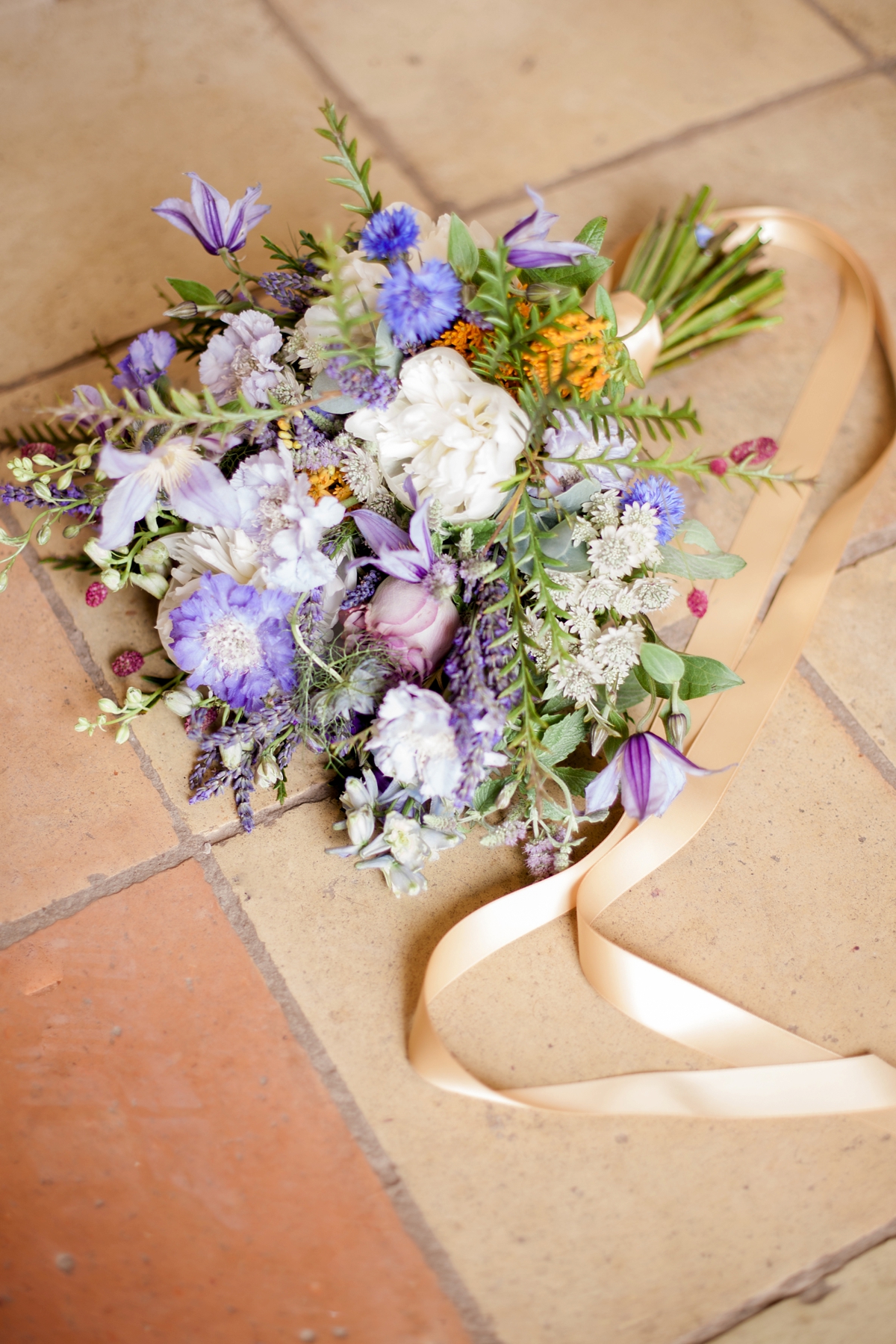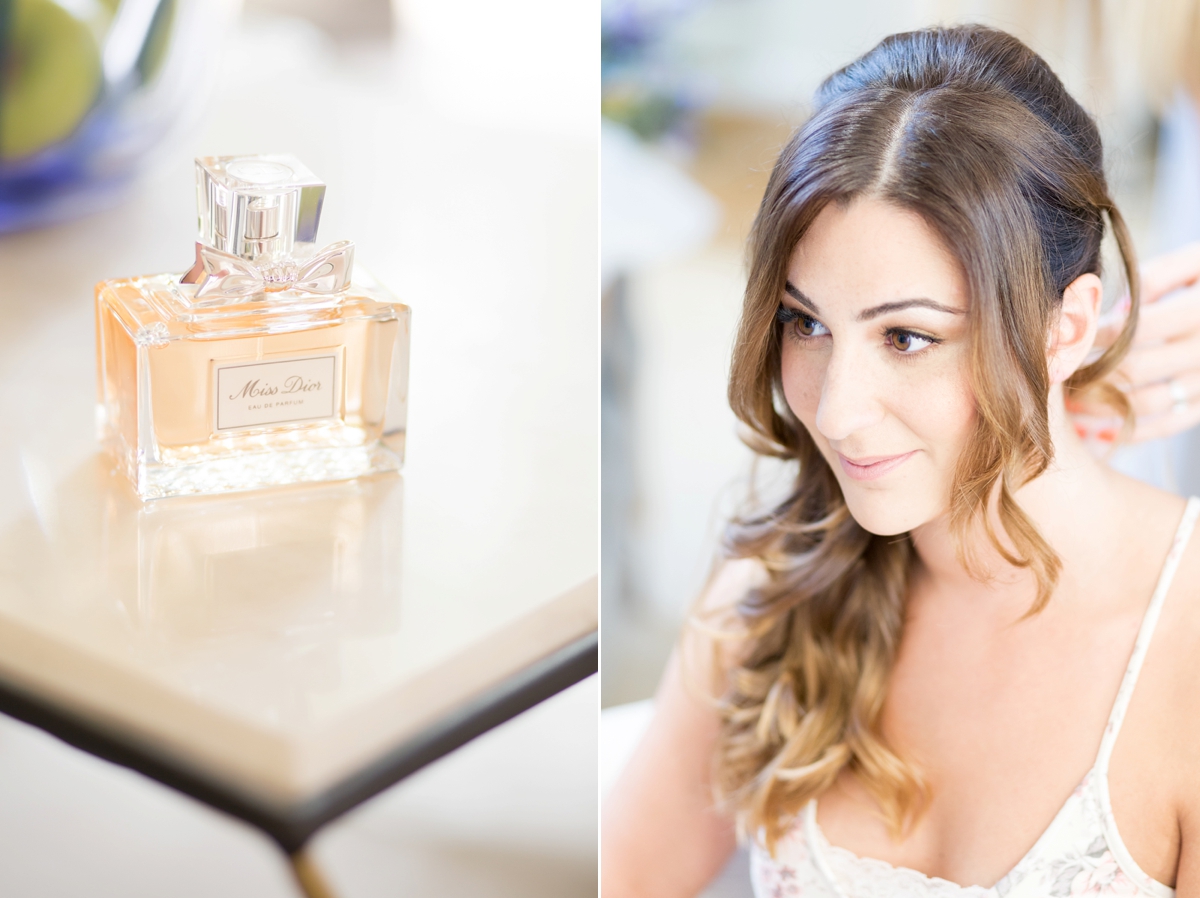 "My dress was beautifully intricate and romantic. I chose a mink matte under fabric to suit my skin tone with a subtle sequin tulle, so that when it caught the light it sparkled. I had some pearl beading placed around the bust and bodice too, which again was subtle but looked beautiful. When I turned around in the mirror and saw the lace train, I knew this dress was the one. I am completely and utterly in love with it and just wish I could wear it again."
Keen to look like herself on her wedding day, Sacha turned to artist Niki Lawrence to style her hair-and make-up. Niki created a natural, beautiful look that both Sacha and her husband absolutely adored.
Flowing tousled locks and a pair of pearl earrings borrowed from her mum completed our bride's look, scented with Miss Dior, which Tom bought his bride as a wedding present.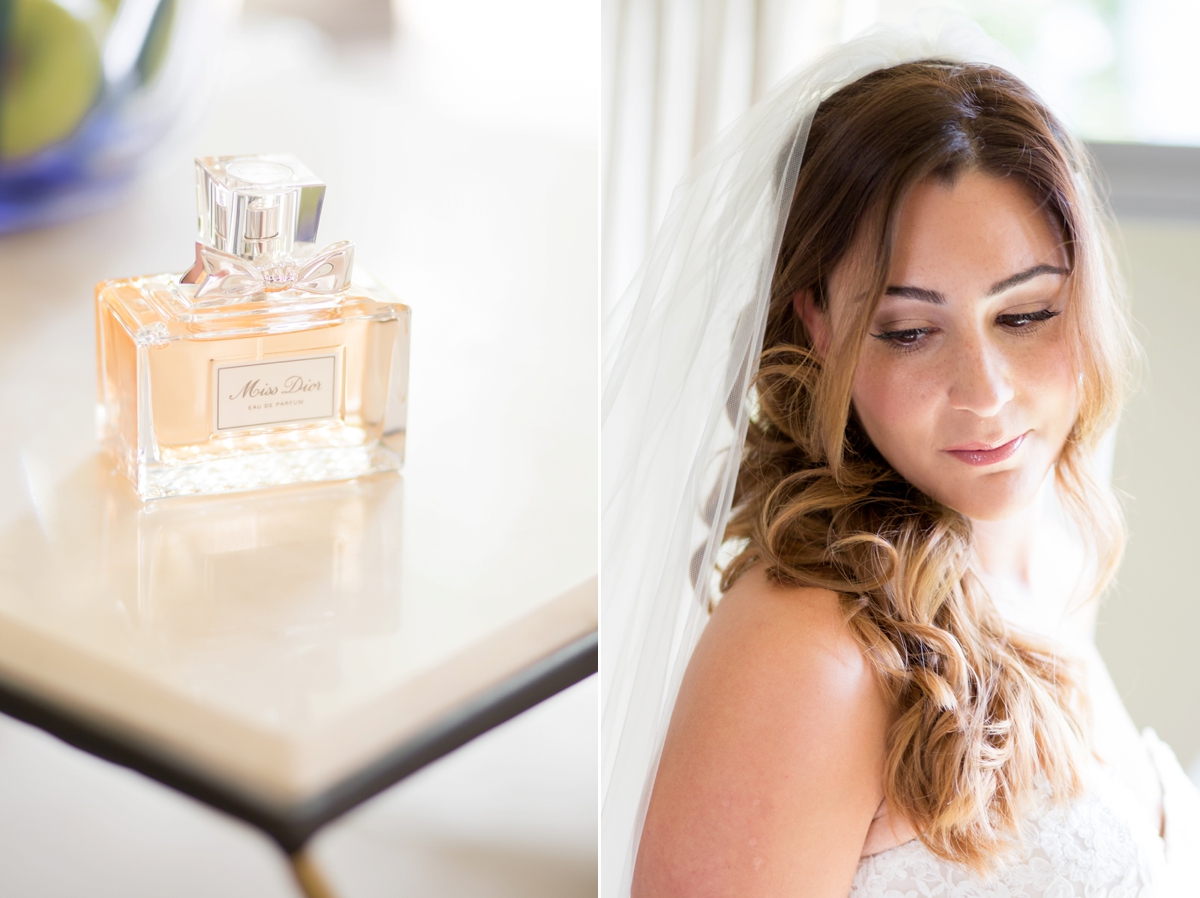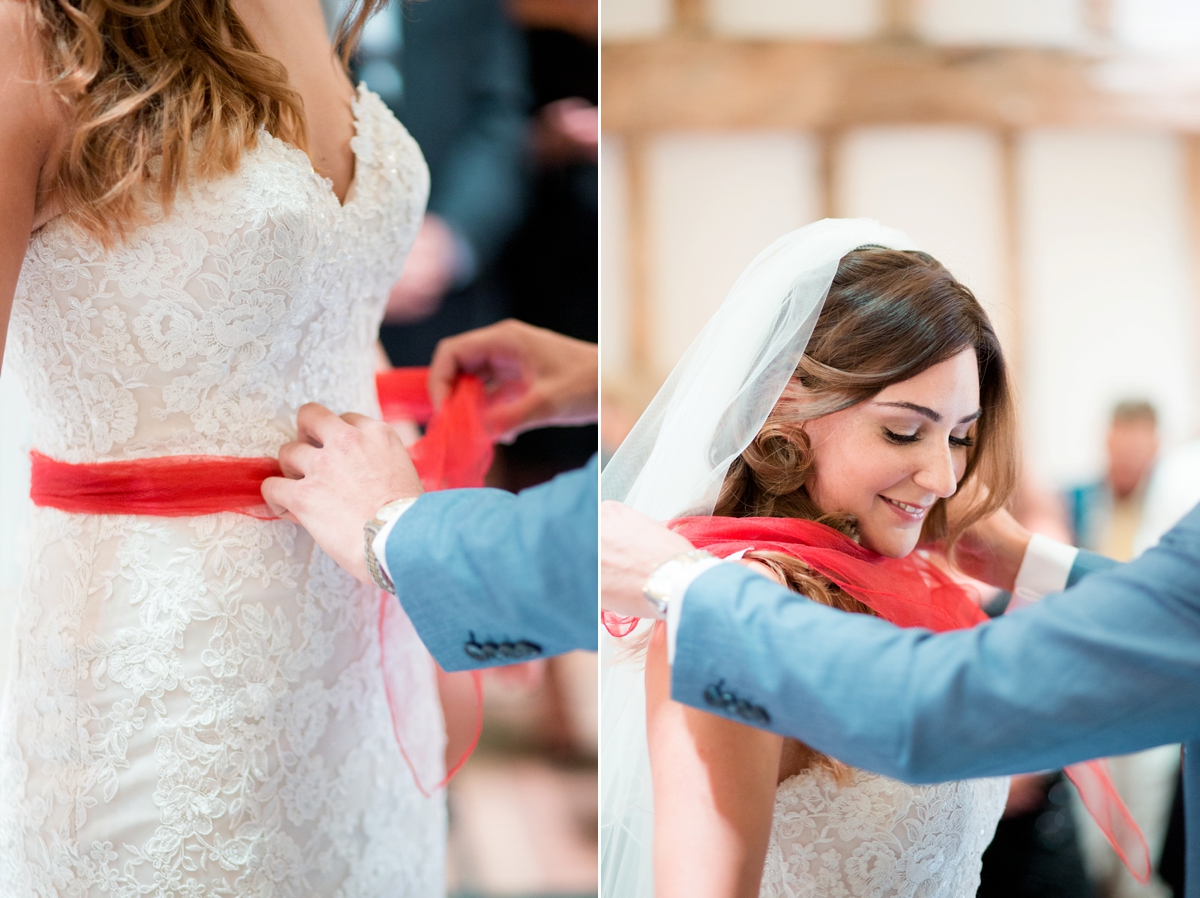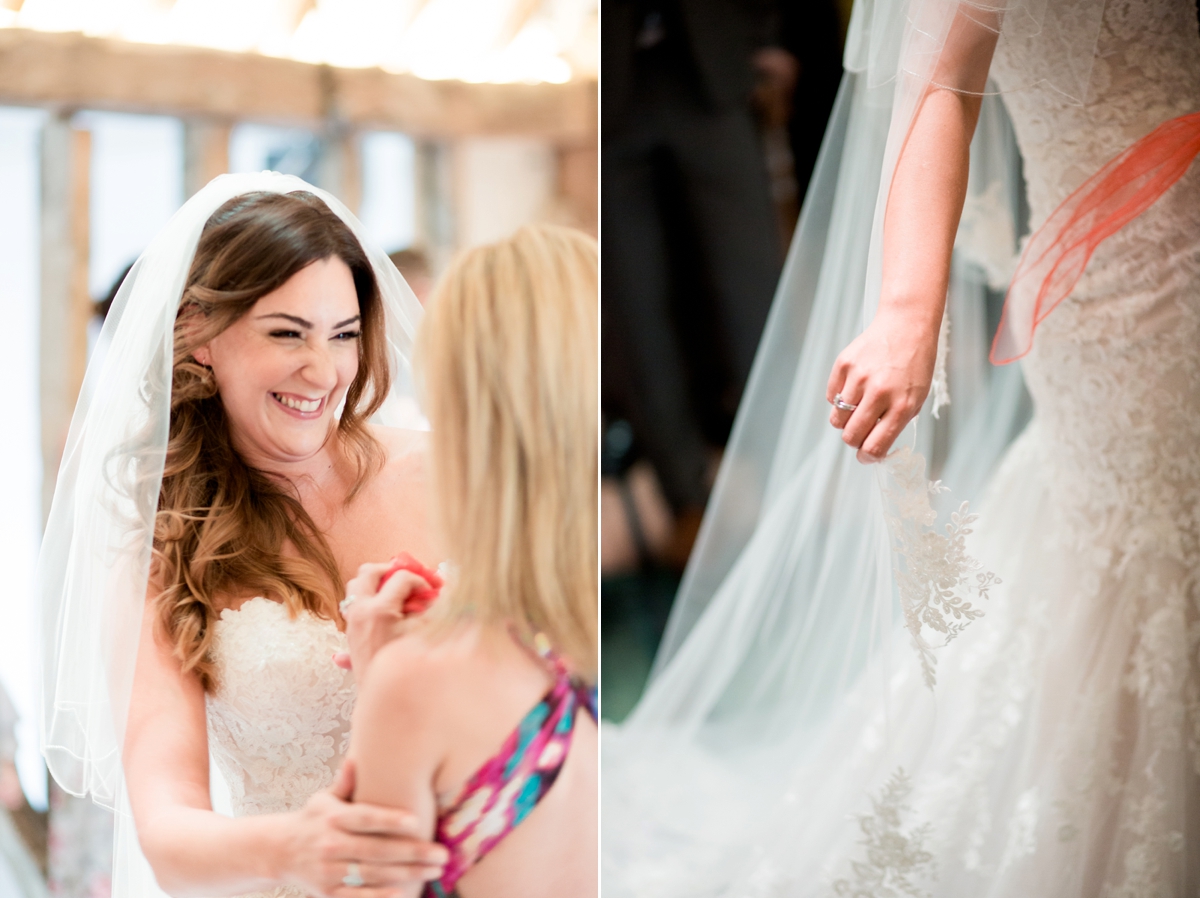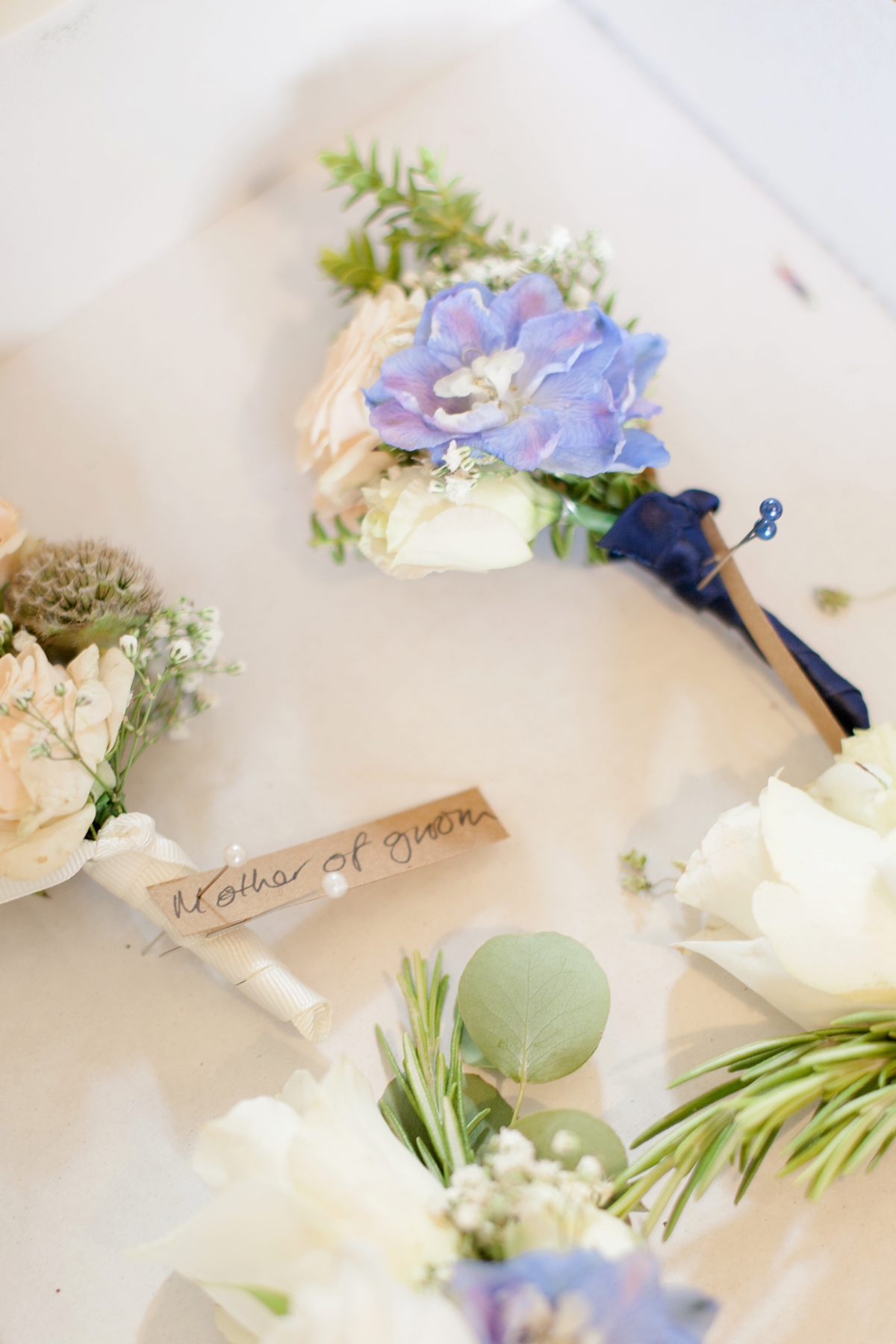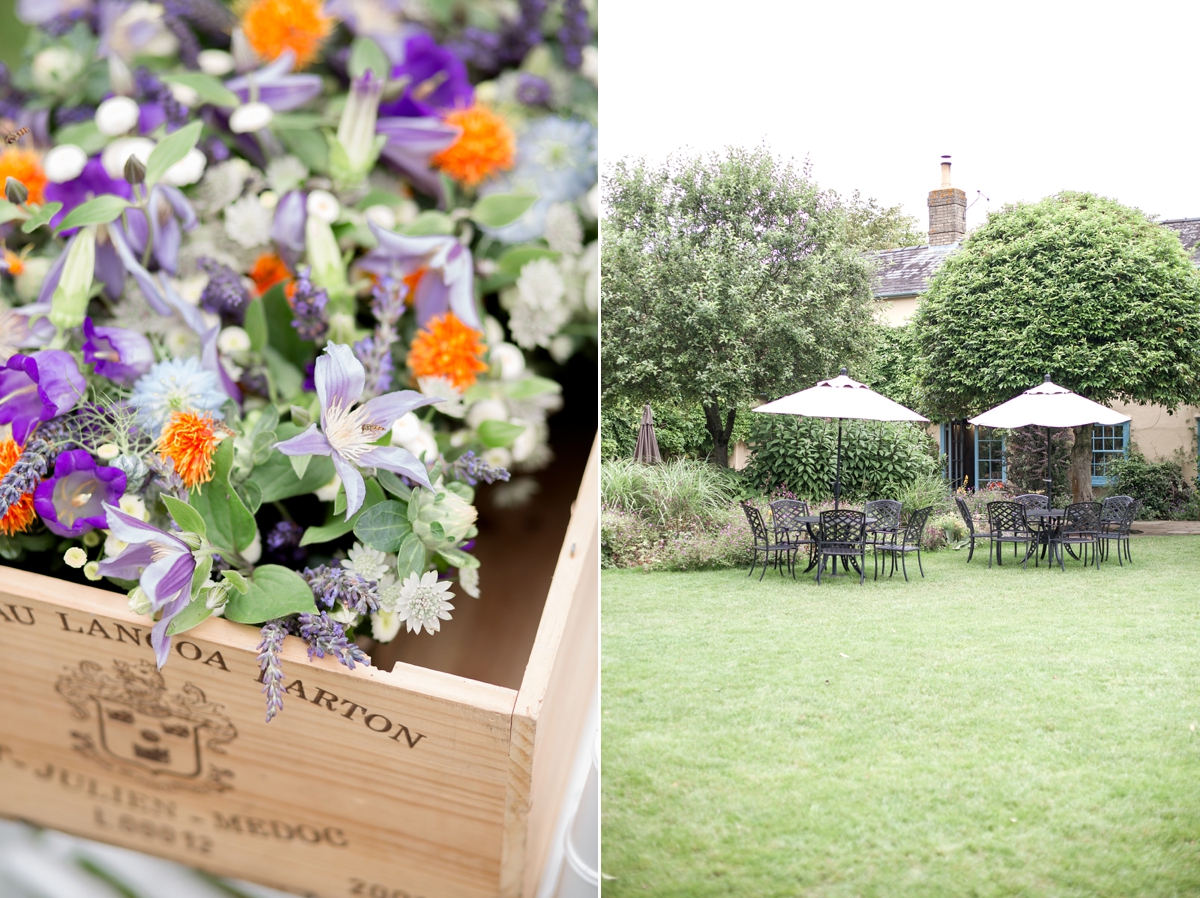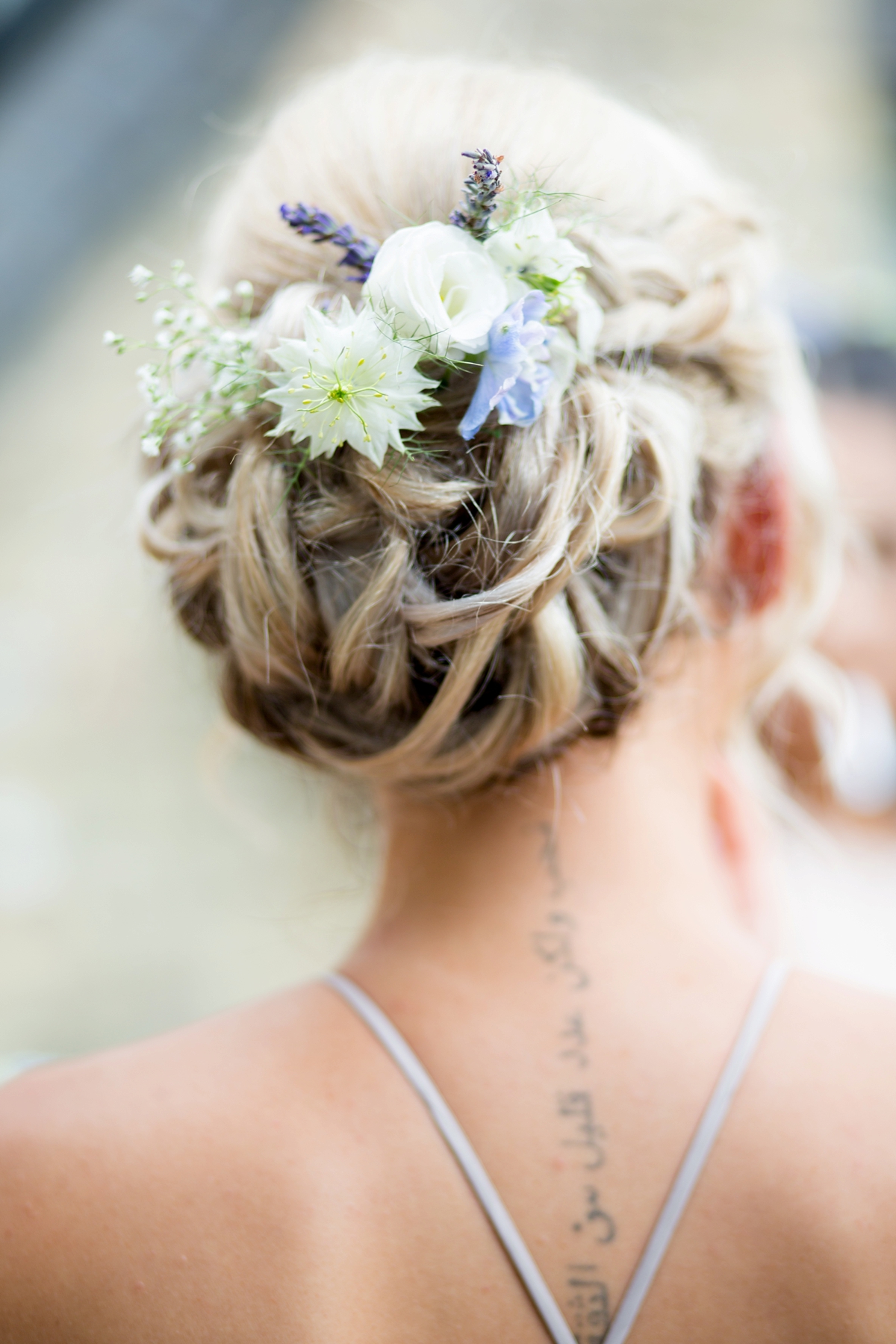 The first thing Sacha crafted were the 'save the dates,' using Kraft paper with white lace and twine. This aesthetic went on to inspire the rest of the stationery, with Tom's graphic designer friend (also one of his best men) lending an expert hand to create a logo for the couple.
"I took inspiration from Pinterest for my page boys and they wore Boden shorts, H&M shirts, Next shoes and powder blue bow ties and suspenders from Amazon. My flower girl Ariana wore a dress from Light in the Box. My florist Dana Young created wired fresh flowers for the girls and a fresh flower crown and wand for Ariana to hold as she walked down the aisle, she looked like a little fairy."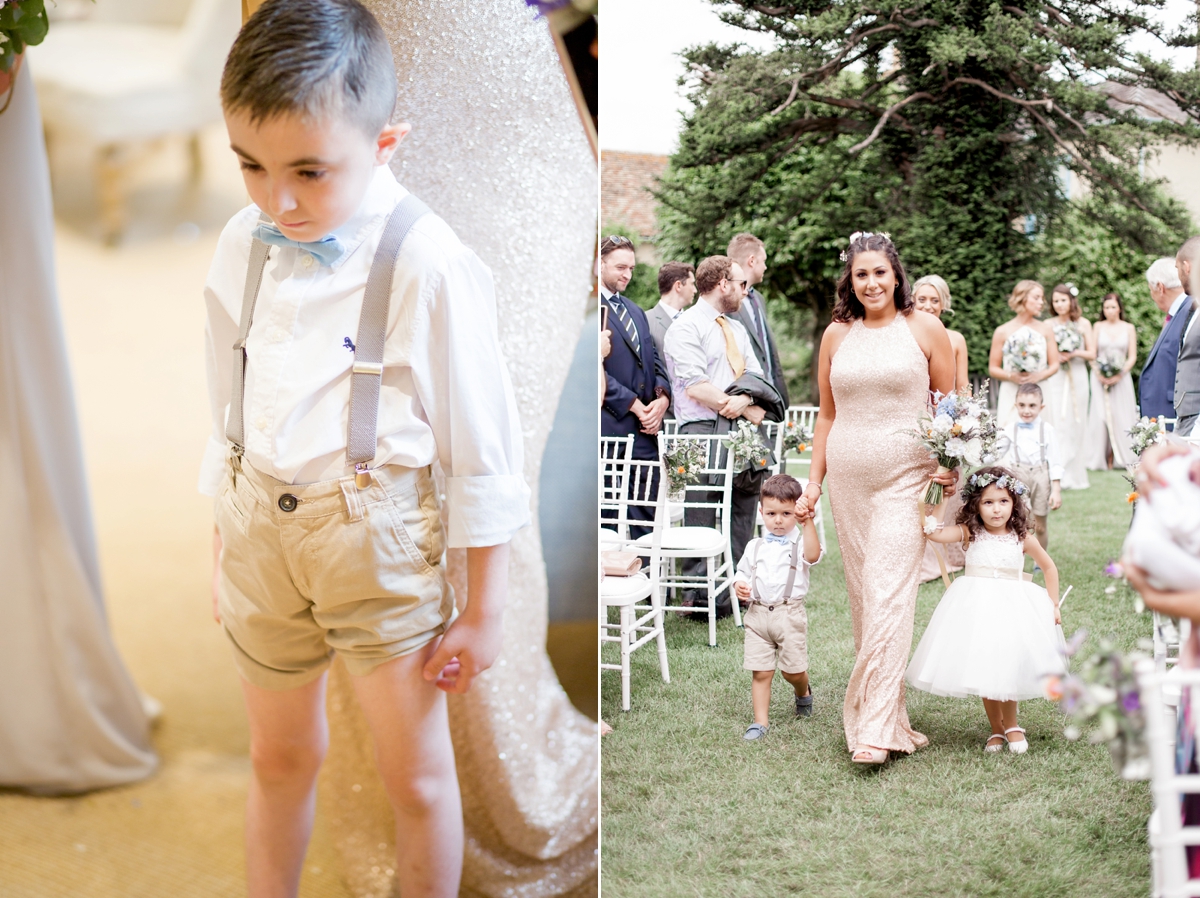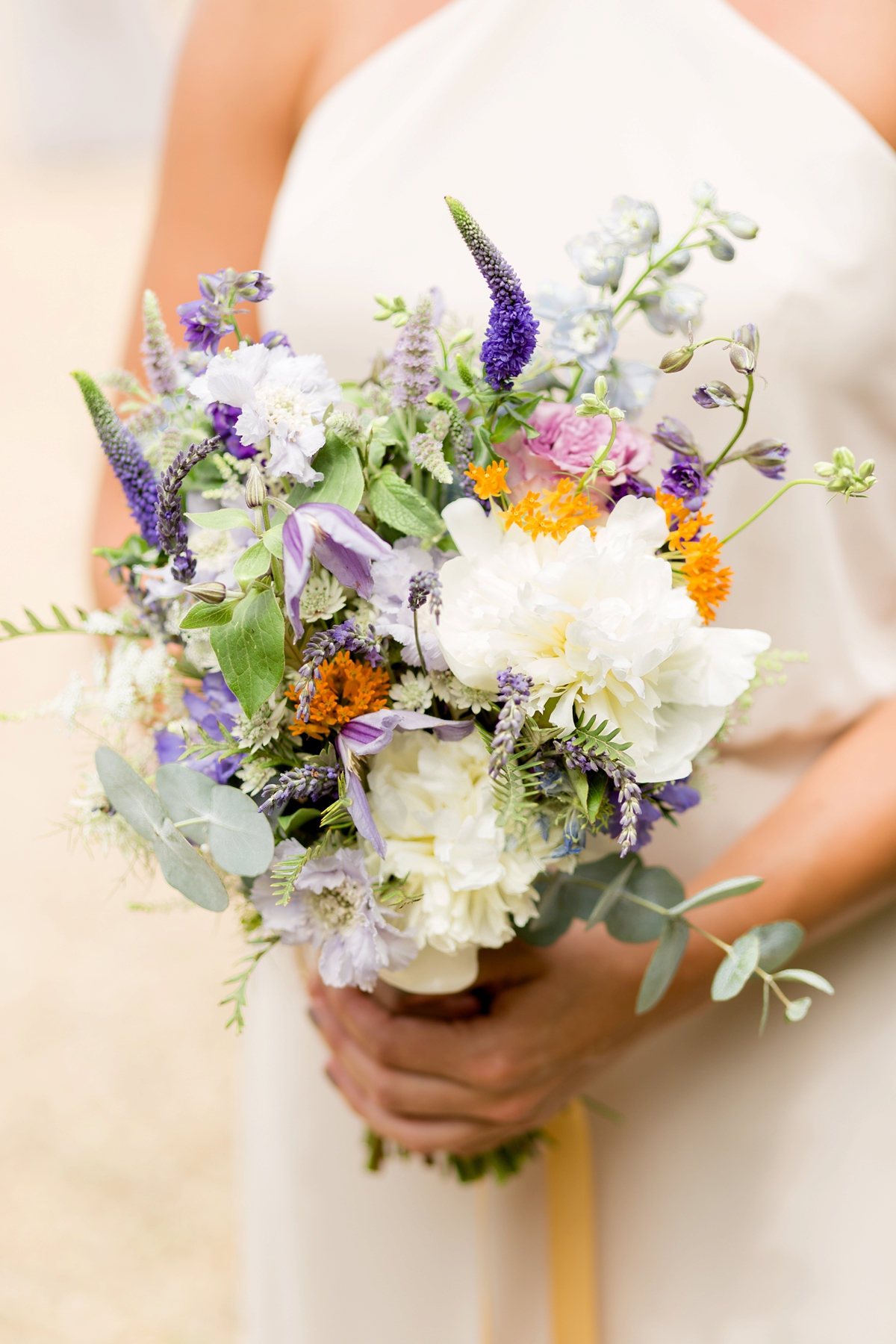 Sacha walked down the outdoor aisle to meet her love on her dad's arm. She chose 'A Thousand Years' by Christina Perri as the soundtrack to this special moment with her beloved father, then joining Tom to exchange rings as well as vows redolent with mutual love and respect, promising to be one another's best friends.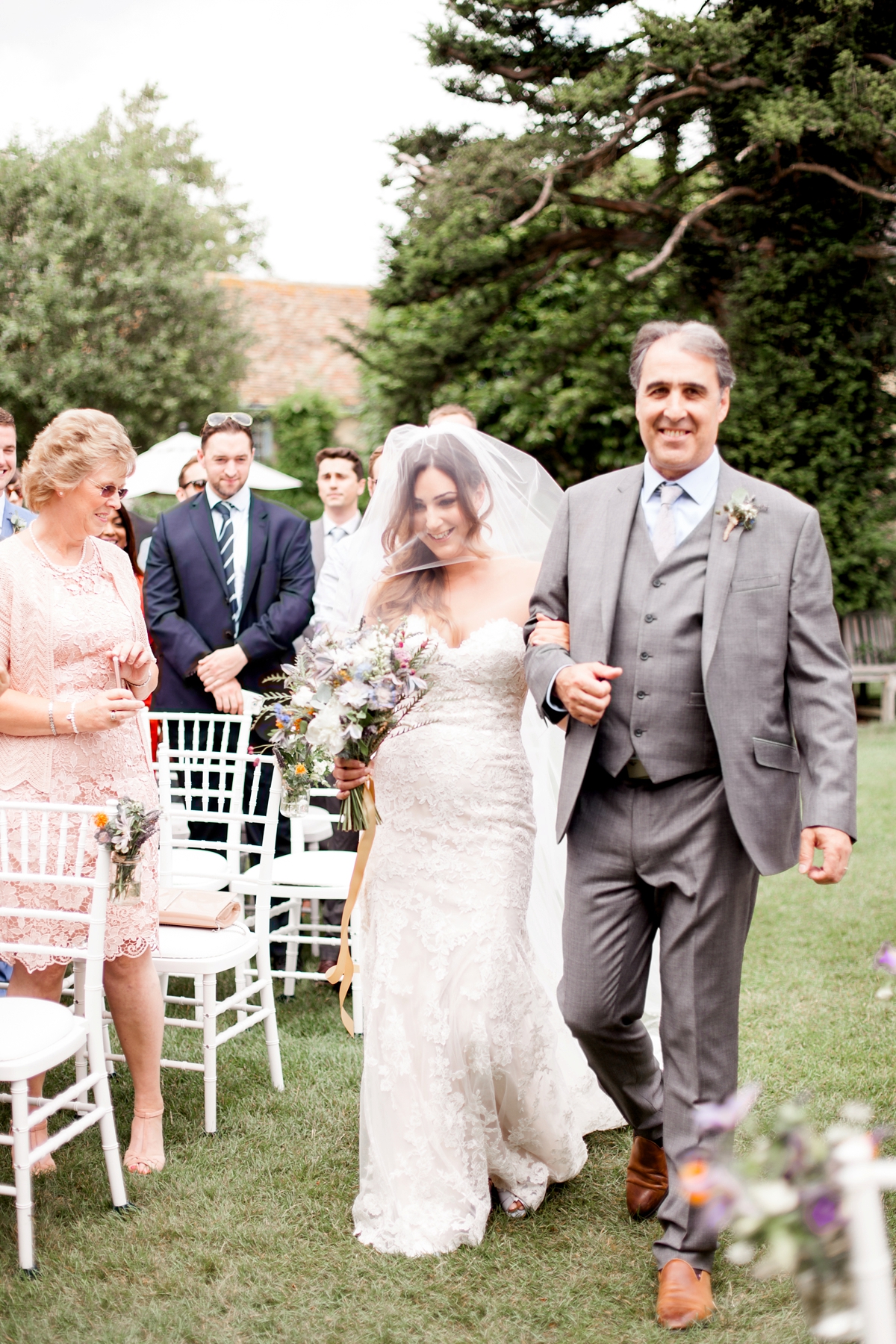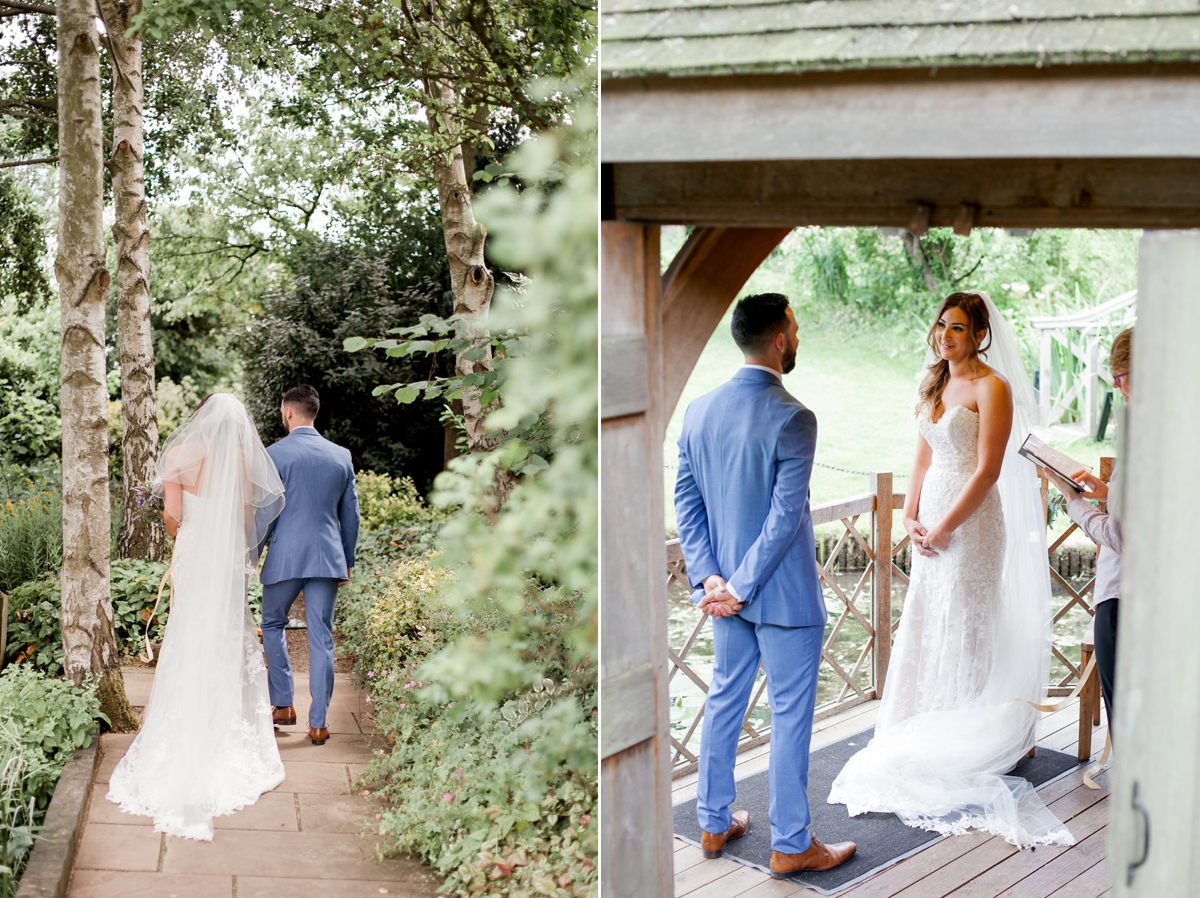 "I am very fortunate to have a wonderful family friend called Gary as my jeweller. When Tom decided to ask me to marry him, he went down to Gary's shop and designed the ring with him. Gary then went on to source the right diamond for my ring and created it. For my wedding band he took my engagement ring and built a band around the princess cut diamond, I love it as it's a one off. Tom wanted just a simple white gold brushed wedding band."
"One of Tom's oldest friends read a poem which literally describes Tom and I and our relationship, called 'He Never Leaves the Seat Up'. My brother, Kristian then read a quote from Bob Marley's 'He's not perfect'. We chose this quote because we felt it sums up what a marriage really is – it's not perfect, it's not going to always be plain sailing and there will be testing times, but if you remember the reasons why you fell in love, stick by one another and love one another for all their imperfections, the rest of it will just fall into place."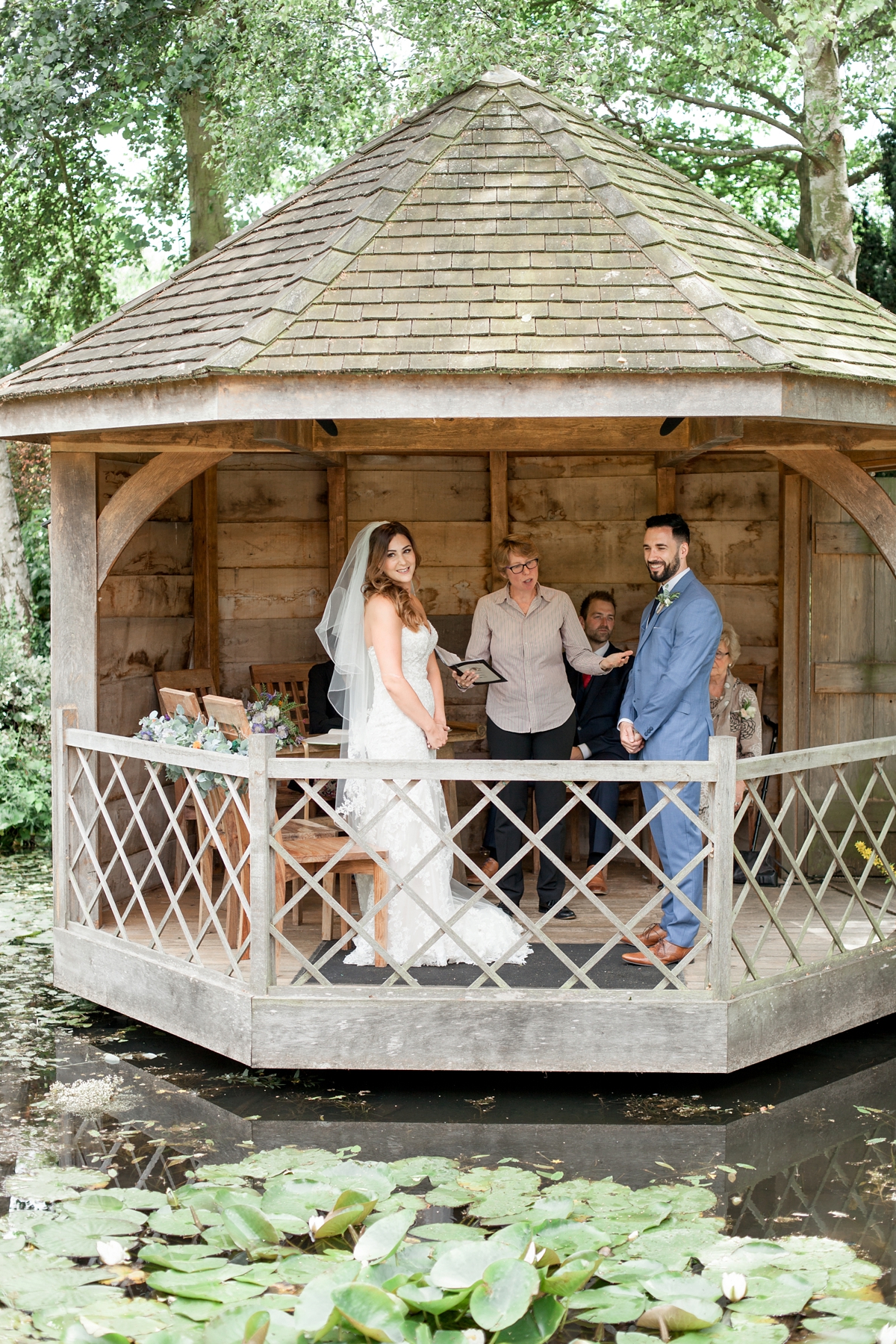 "Tom and I first met when I was 15 and he was 16, we had both been invited to a gig by a mutual friend. We began to chat on MSN messenger and within weeks had split with our partners and went on to date each other for three years before university. We parted as good friends but kept in touch, meeting up each time we went home. Nine years later when the time was right and we were both single again, we accepted that we had a deep bond and gave things another go. A year after that we bought our first house together and added two cats into the mix, then the following year, in November 2015, Tom proposed on holiday in Mexico. We decided that we wanted a summer wedding and set the date of 9th July 2017 after visiting South Farm."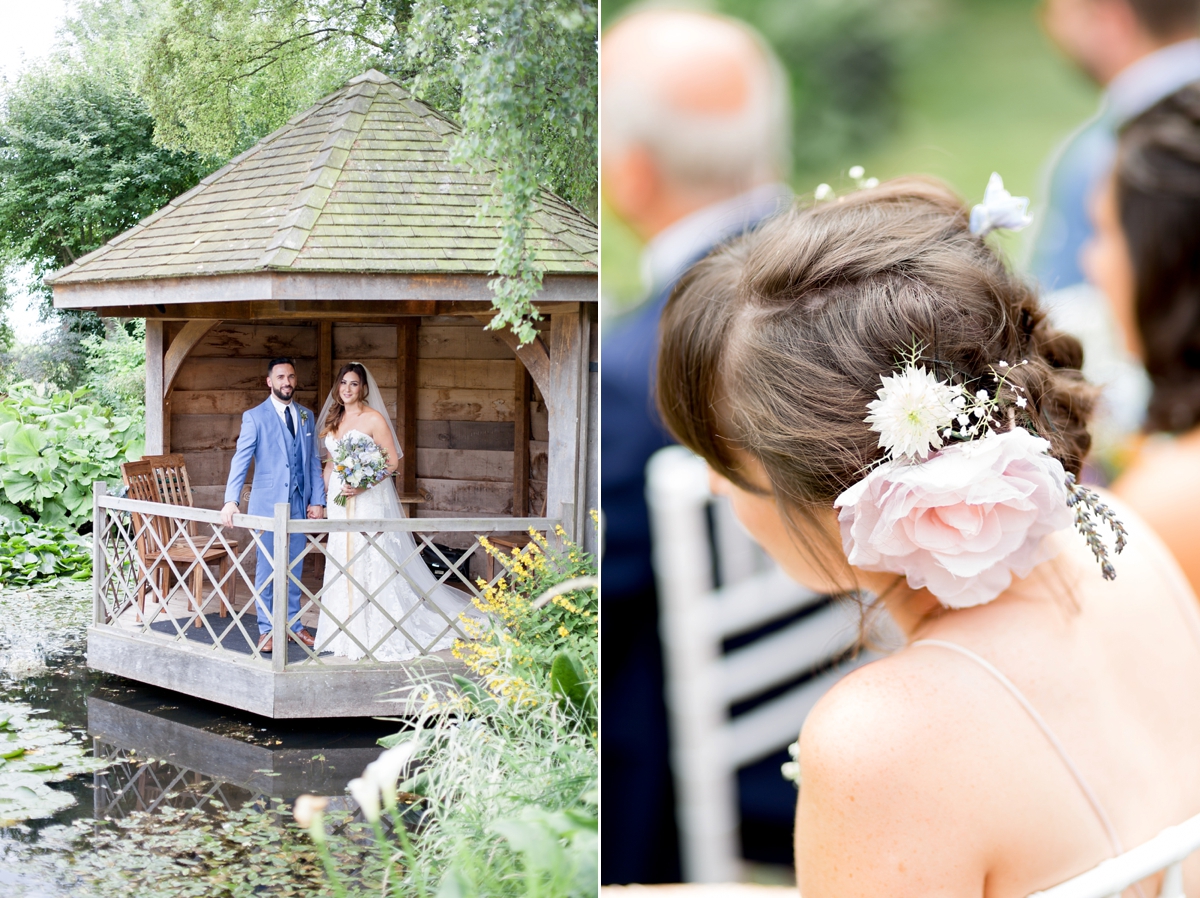 "We had all the guys' suits tailor made by Tux 'n' Tails in St Albans. It was a little stressful, organising eight guys to go down for fittings, but I am pleased we did as they all fitted perfectly. The only other item that Tom wore on the day was his wedding present from me, a TAG Heuer watch. I had naively promised this to him when we were 17 as a present on our wedding day and I couldn't break a promise!"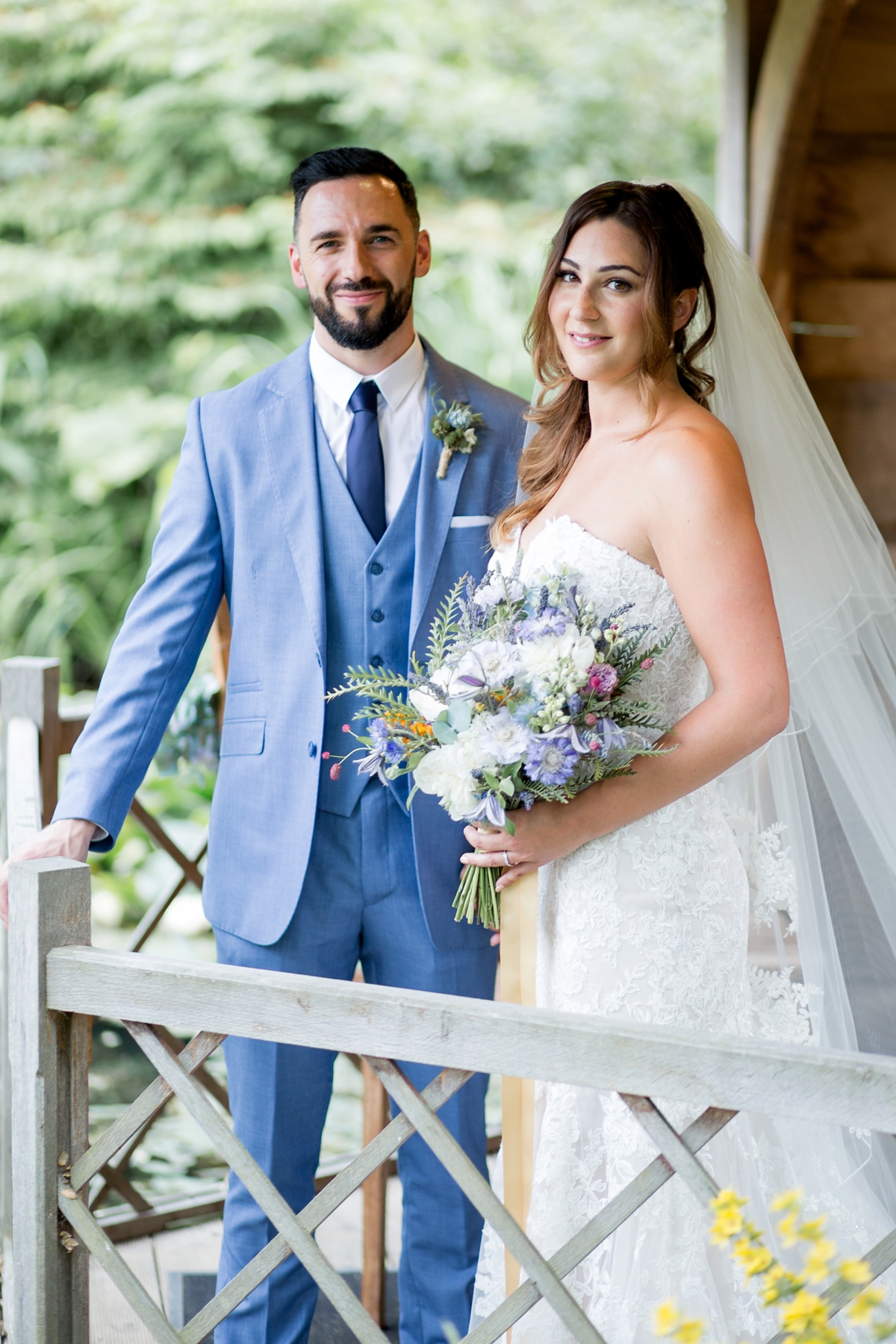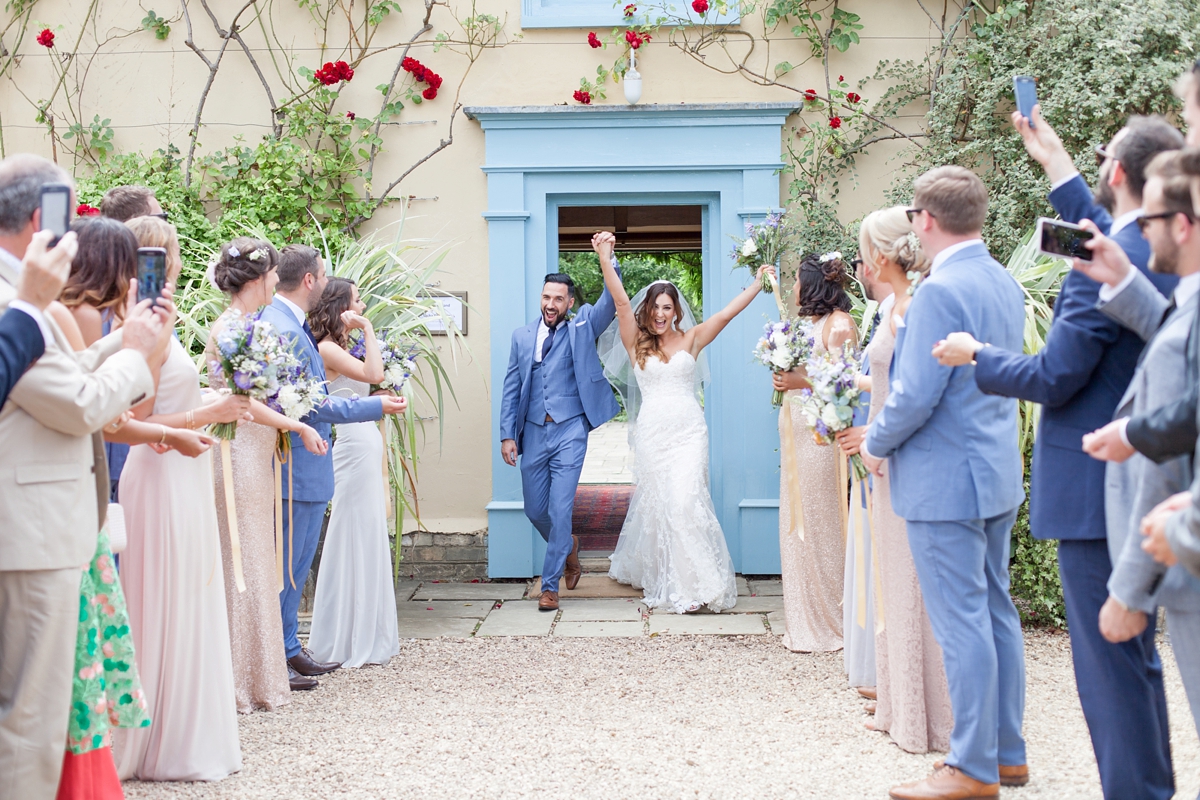 "Our favourite part of the day was after the ceremony. Our wedding planner took us into the house and we got five minutes to ourselves. That was when Tom told me how beautiful I looked and we had time to digest everything that had just happened.  We then walked out the front door to all of our guests cheering and throwing rose petal confetti. The photos that Helen captured at this point show the true happiness on our faces."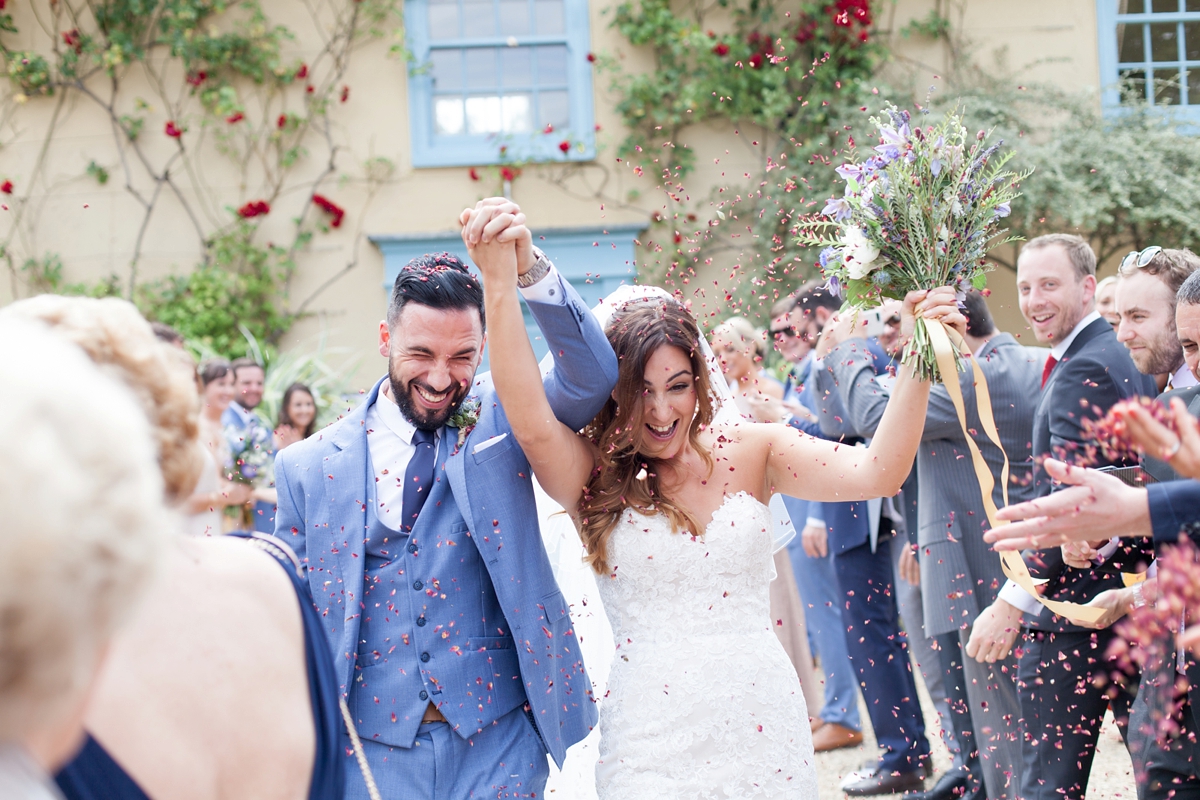 The neutral colour palette was beautifully honoured in the bridesmaids' dresses, a subtle and shimmering mix of rose gold, palomino, oyster and taupe tones picked out of the Sorella Vita range stocked at Pure Couture Bridal Boutique, and paired with a mixture of high street sandals and heels. Bouquets and buttonholes provided pops of colour and fragrance, the bouquets trailing silken ribbons.
"When I walked into the bridal shop and told them that I wanted a different colour and different style dress for each of my bridesmaids I think they thought I was crazy. All of my bridesmaids are different shapes, sizes and skin tones so when we got to the shop I gave then free reign to choose any style that they wanted in a neutral colour to suit their skin tone. It worked perfectly."
"Tom was reluctant to get a videographer, mainly due to the price, but also because he hates to watch himself back on camera. But after speaking to friends I decided to hire a videographer as a surprise for him. I chose Anne, as like Helen, her attentiveness and desire to capture things in the way that suited us shone from the start. As we were getting married outside and the grounds of our venue were breathtakingly beautiful, Anne organised for a drone camera to film everything from above, including my aisle walk.
Anne and her husband run a production company and have worked for the BBC and National Geographic. We haven't had the video through yet, but I can't wait to see it."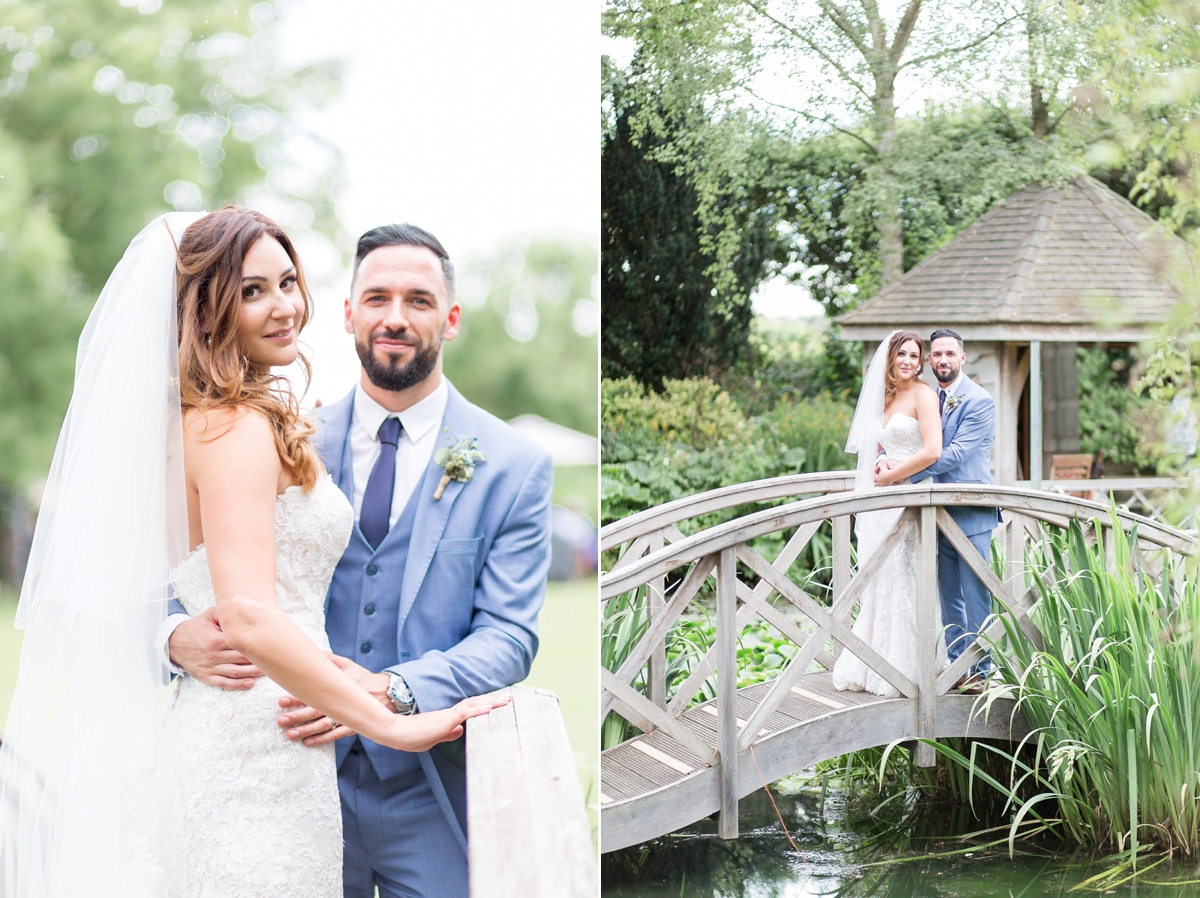 The newlyweds made their jubilant ceremony exit to Arcade Fire's 'Wake Up,' a perfectly informal track for them. Helen Warner has captured this joyful moment perfectly, along with the beautiful colours and tones of the day. Sacha and Tom were delighted with Helen's natural style and ecstatic to receive their photographs just four weeks after the big day.
"I met Helen when our venue had an open day and was instantly taken by her style. Helen got married at my venue herself, so I knew it would be special to her. She works there regularly and so knows all the best places to capture photos. Helen blended into to the day so well and there was nothing staged about any of the photos she took. She was very attentive to what we wanted and I am in love with all the pictures she has taken. It has been so hard to whittle down the photos for our album."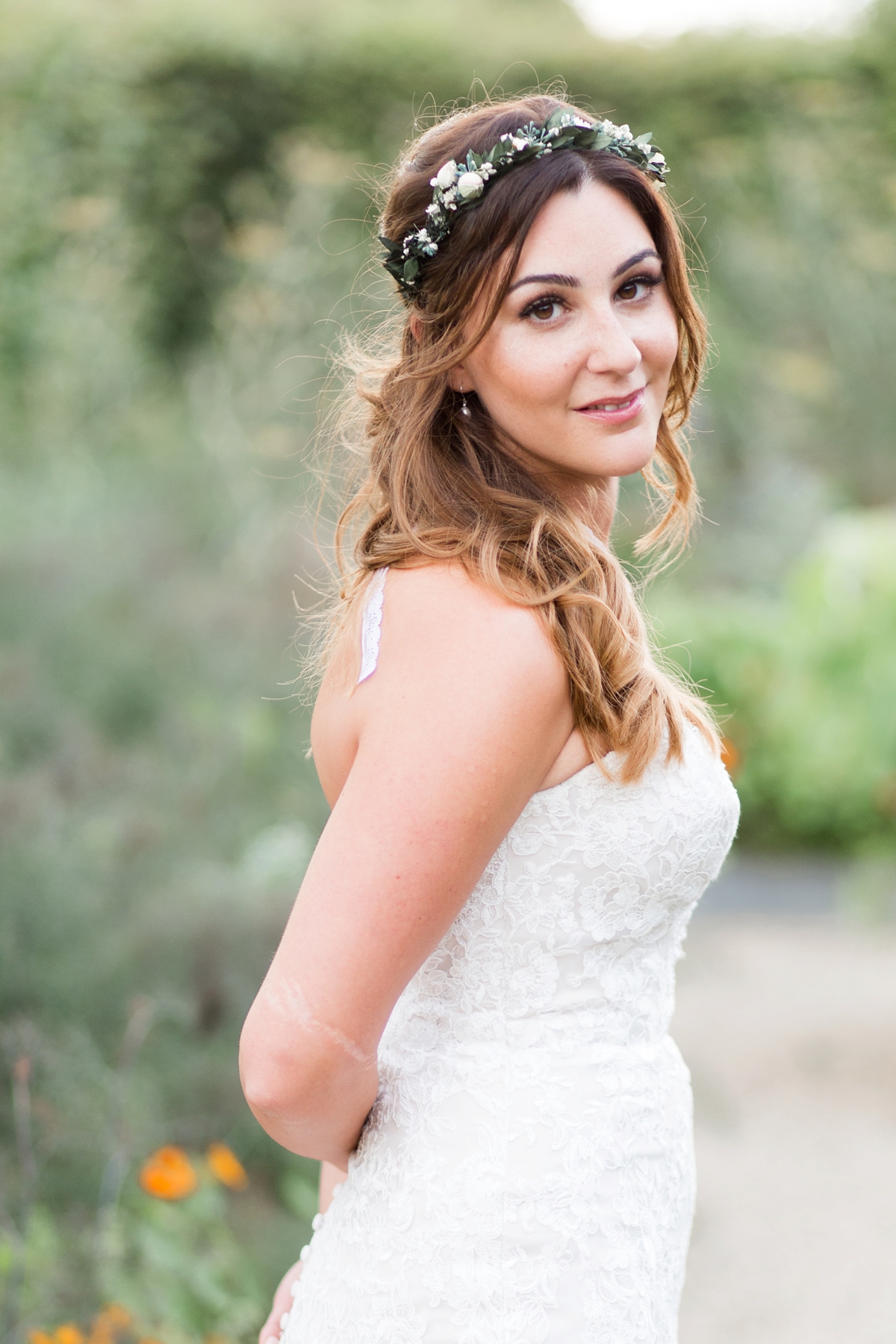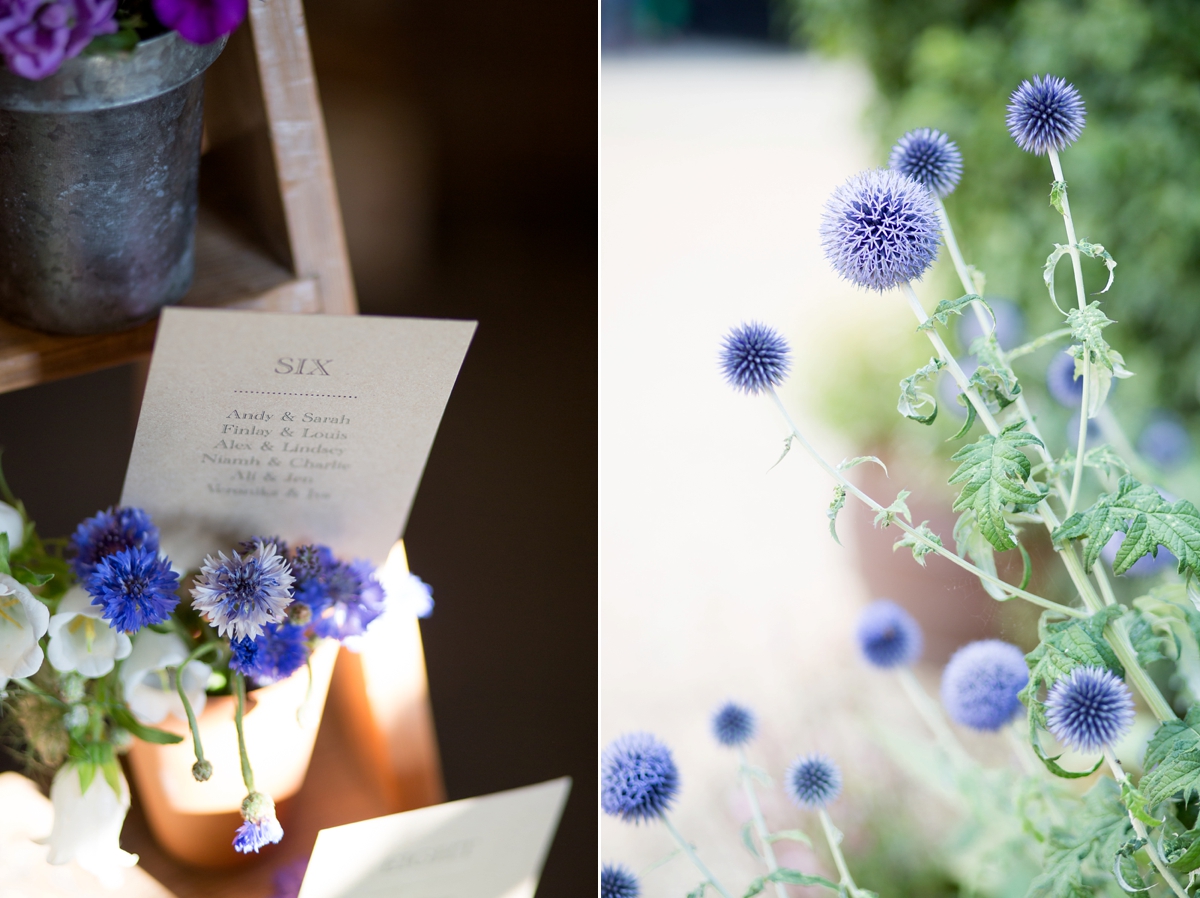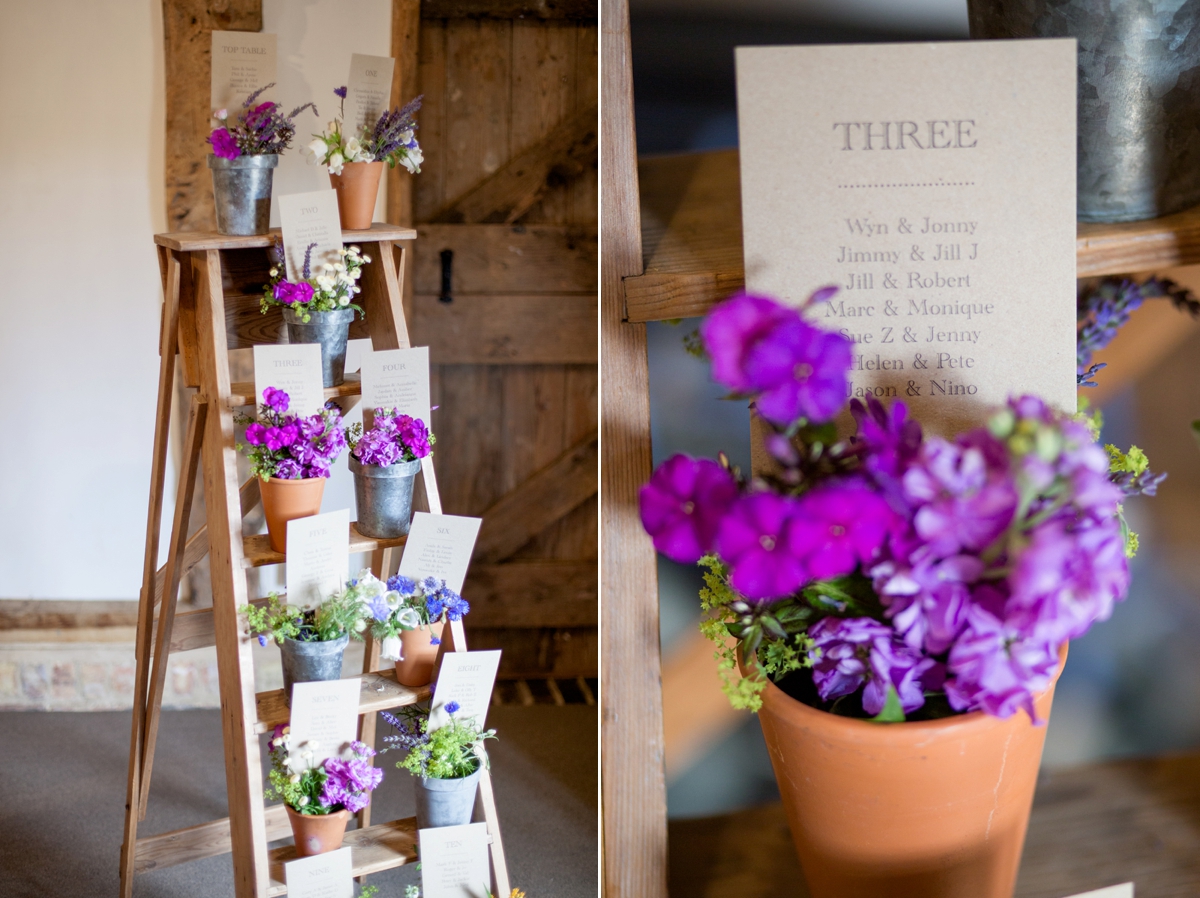 As self-proclaimed foodies, one of the couple's main reasons for choosing South Farm as their venue was that they grow and rear everything on site. Sacha and Tom served canapés and home-made ice cream after the ceremony in popcorn, oreo cookie and cherry flavours, before sitting down to a scrumptious breakfast, fragranced by the aroma of hand-tied lavender place settings. An evening buffet and 11pm bacon and egg butties kept up energy levels for the dance floor, as well as a towering sweet concoction from Pretty Gorgeous Cake Company.
"I decided on a naked cake very early on and we had four tiers of lemon curd, chocolate fudge, pistachio and pink coconut. I have to say the tasting visit was the best part! We went to Cynthia's shop and sat down for an hour eating our way through over 20 different flavours. For our wedding favours we had mini jam jars with a personalised label and in the evening we also had flips flops and hangover kits that I made."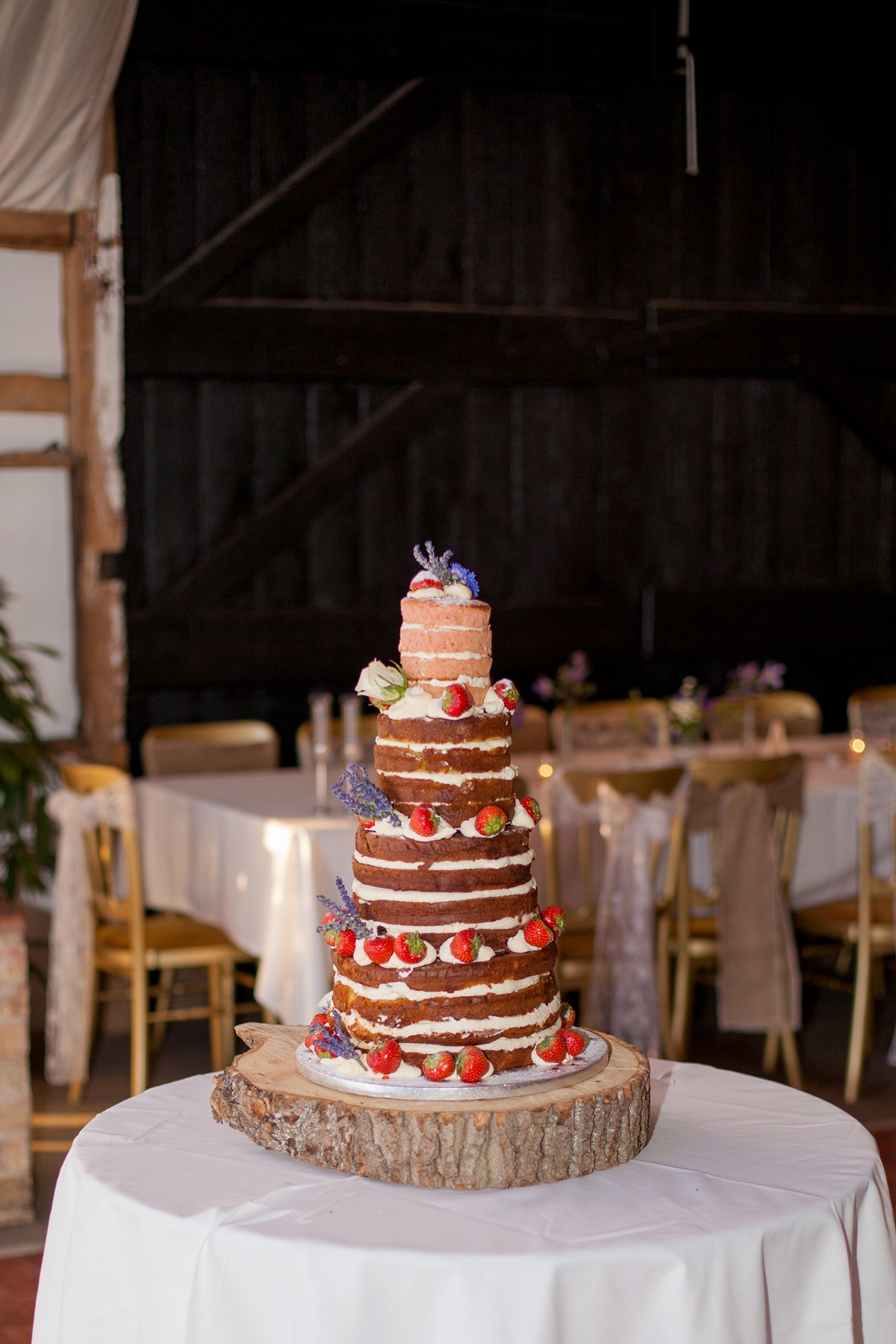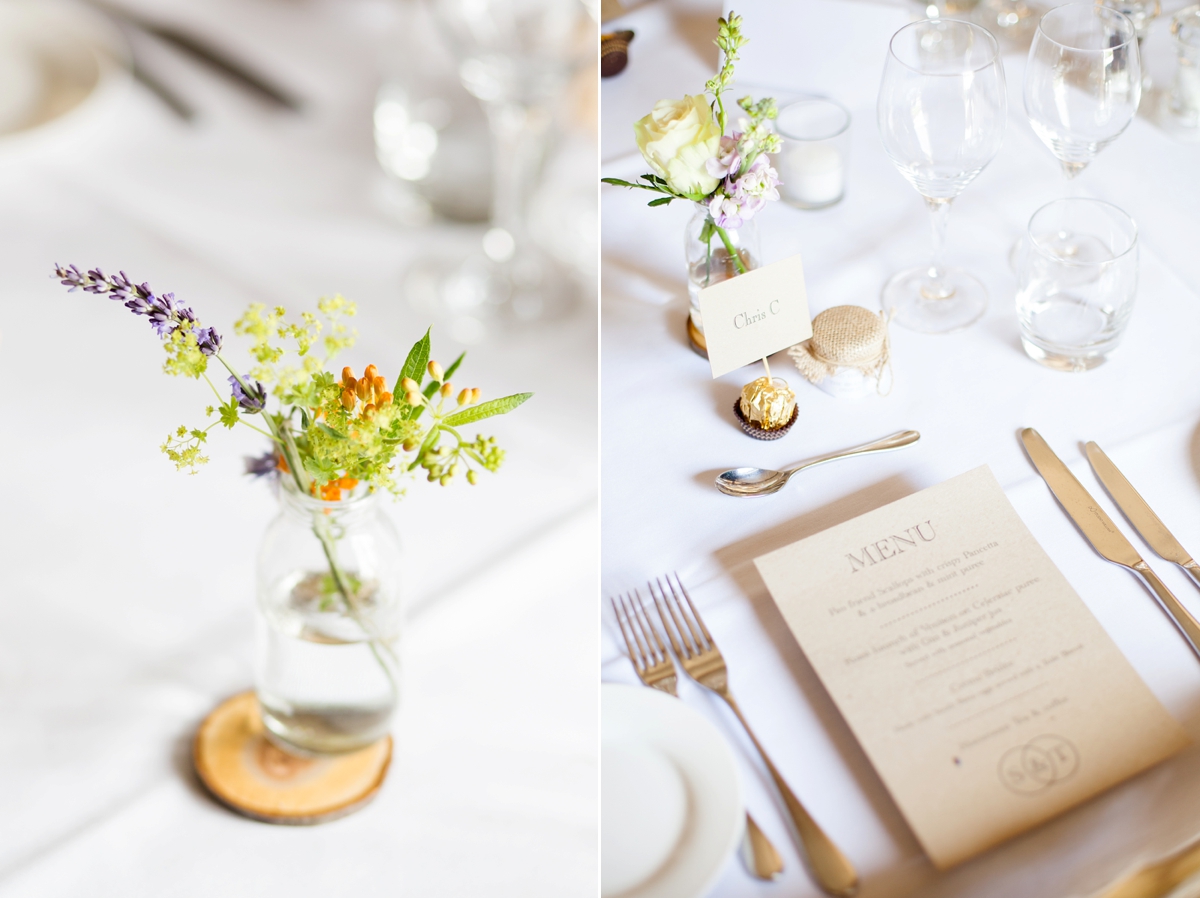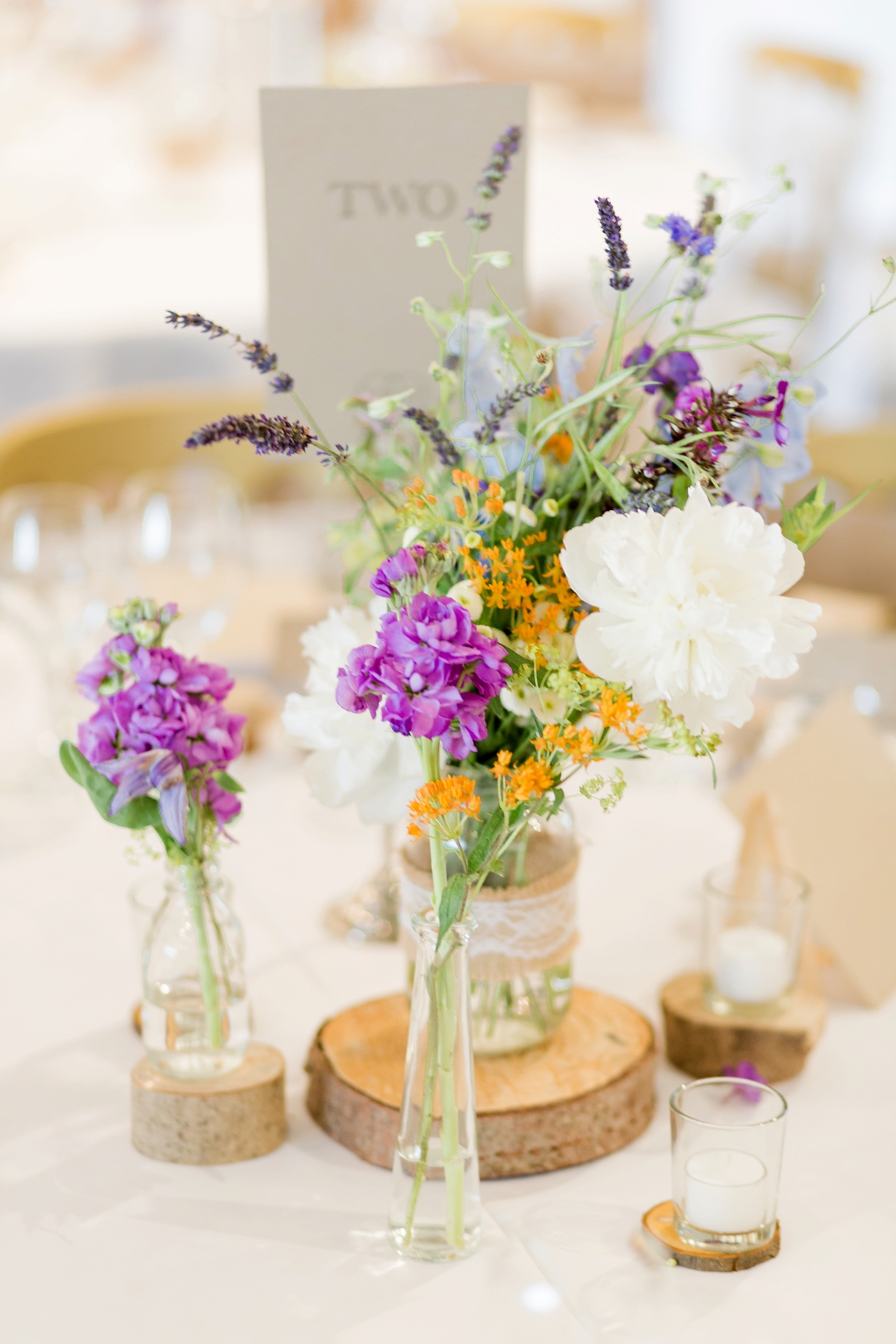 "We hired Lee Smith as a magician who literally blew our guests away from the moment they arrived. I know magic is a slight of the hand, but your mind seriously boggles as to how Lee does his magic. As I am half Greek we wanted entertainment to cater for both Greek and English music. George Sooty came highly recommended and the lengths that he went to (alongside my mum) to make the day incredibly special was unbelievable.
He spent five months teaching my brother and sister a very complicated and special Greek dance just so they could surprise me on the day, it was such a special moment."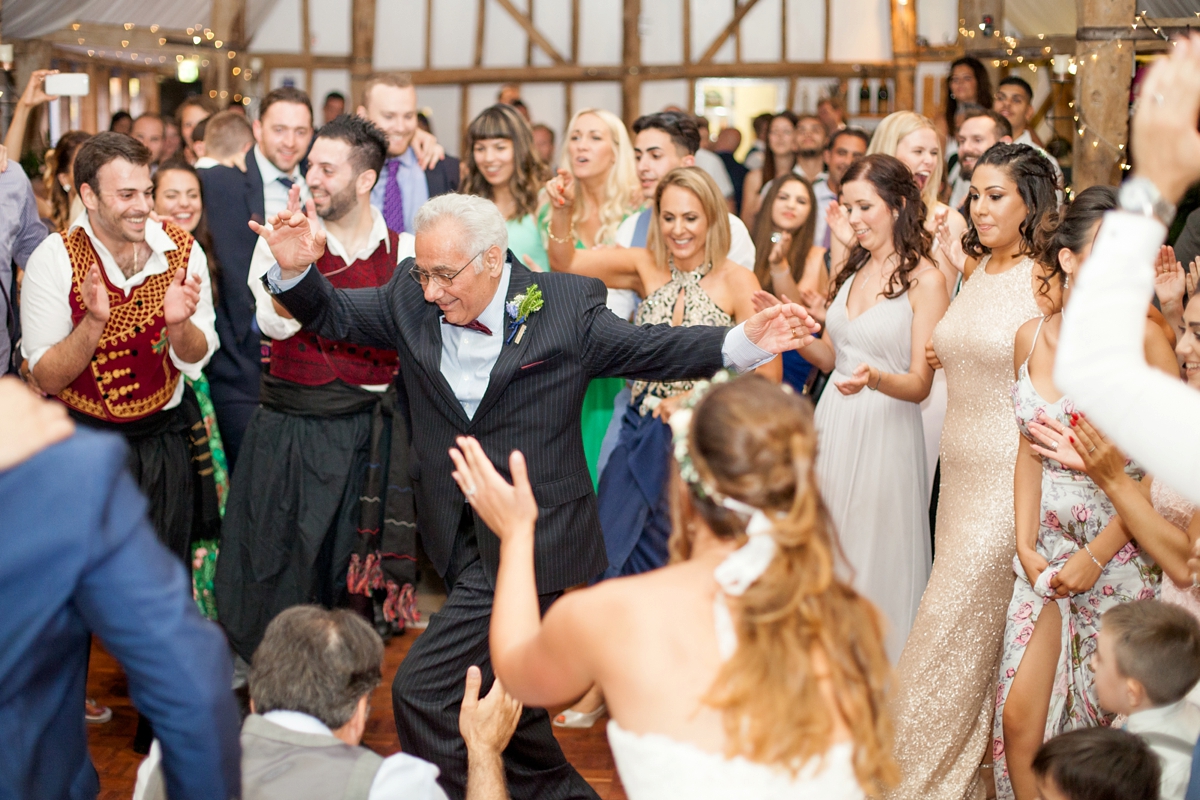 "George also works with a violinist called Christos who played alongside the Greek and English music all day and night long. So many guests have since said was a great touch this was and how it brought the music to life. We did a lot of traditional Greek dancing with which all the guests joined in, and we also did the traditional dance where money was pinned on to us by our family and guests to help us begin our new life."
Plenty of energetic Greek dancing preceded the long-awaited first dance – Sacha and Tom swayed to Ed Sheeran's 'Perfect,' chosen purely for its apt lyrics, which speak of falling in love as kids. The newlyweds felt it almost exactly told their love story.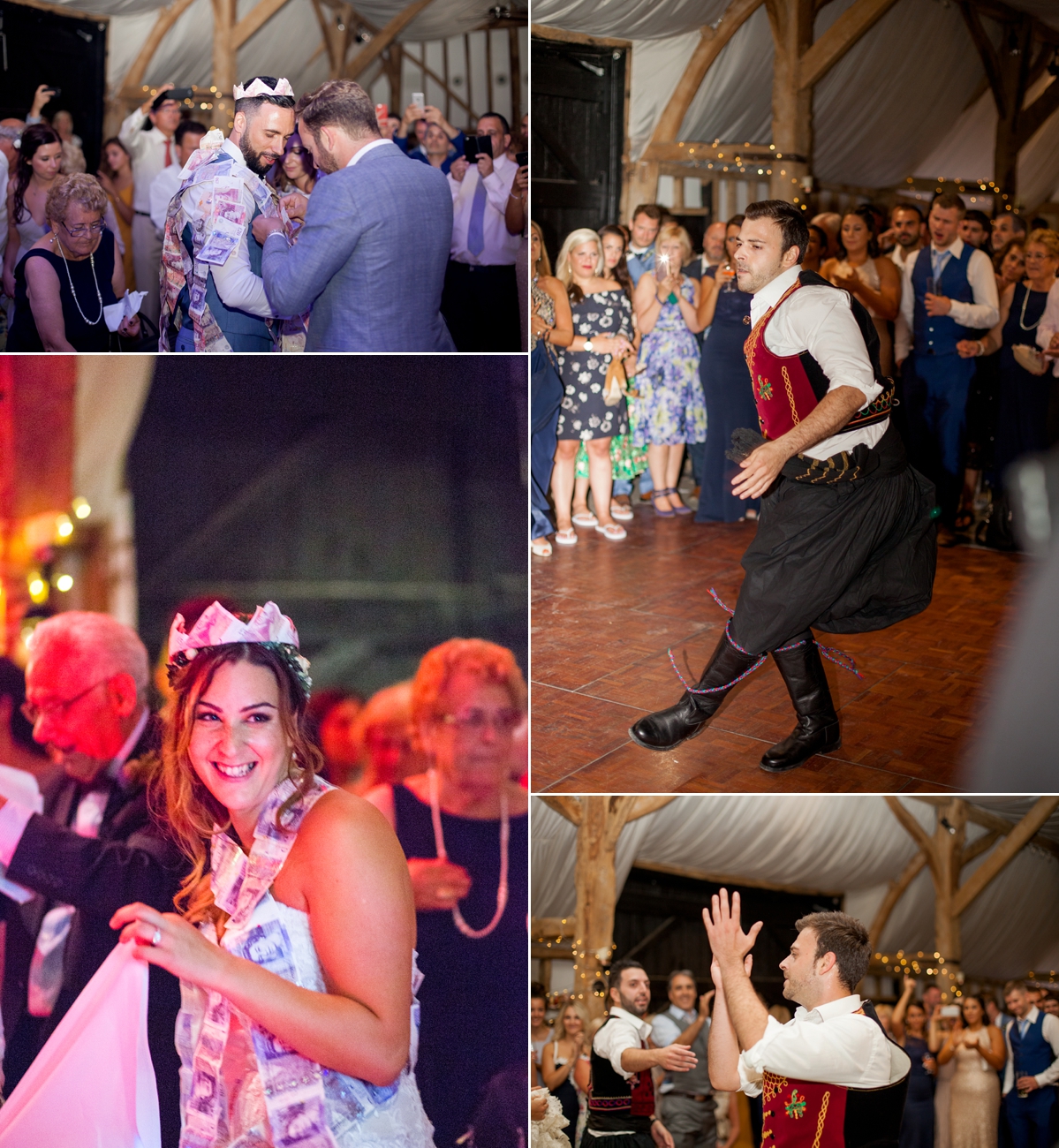 Words of Wedded Wisdom
"Every hour find your other half and stand in a doorway or to the side together and just take it all in – it all goes so fast, everyone says it but it's true. Someone gave me this advice and I am so glad I took it, it was probably the most time we got to spend with each other."
"We shared moments that had happened and had so many laughs in those five minutes. And don't stress, what will be will be. Enjoy, relax and drink!"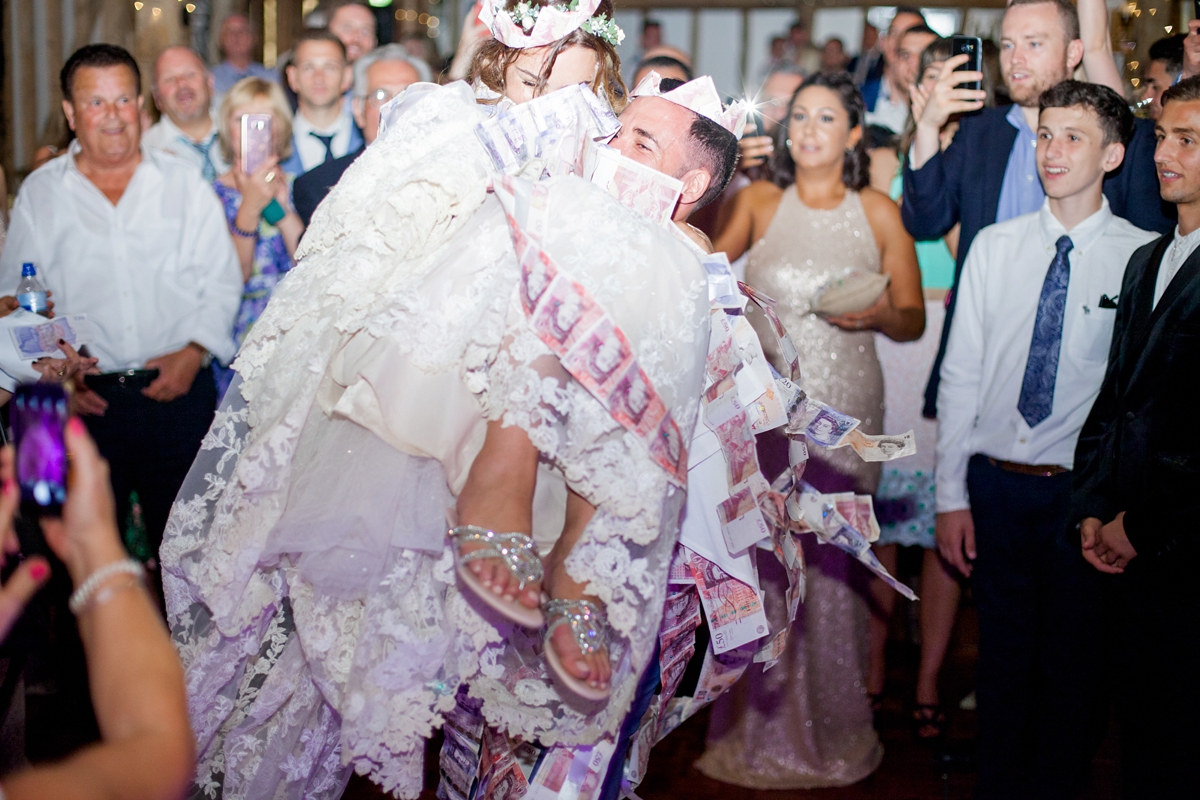 That just leaves me to say a huge thank you to Sacha (who you can find on Instagram by the way), Tom, and of course Helen Warner Photography, for sharing this beautiful celebration with us all. Now I'm off to find my polar Christmas jumper, and not remove it until January, much to my husband's joy!
With love,
Em x