It's Bonfire Night! Have you got any plans to get outside and enjoy fireworks, sparklers and a bonfire? Whatever you decide to do tonight, I hope you stay warm and safe. Now that the clocks have gone back it's hard to recall the light summer evenings, but today's wedding between Heather and Danny should help.
The couple married on 5 May 2017 – a blue-skied day full of sunshine – in a church wedding at the Parish Church of The Blessed Virgin Mary, Hambleton, followed by a relaxed, informal marquee reception at the bride's family farm in Hambleton, Lancashire. Strongly influenced by their local roots, the couple also used lots of fresh green foliage and created a laid-back bohemian feel, inspired by Heather's travels in Australia.
Danny, a bricklayer, and Heather, a beauty therapist, first met at pre-school. They lost touch when they went to different high schools but later got together, and became engaged whilst on holiday in Ibiza in Autumn 2015. A wedding in their home village, using local suppliers, was an absolute must for the pair.
"We chose to get married in our local church as it's next to our primary school and also quite special as both sets of parents got married there within a few months of each other in 1985. I got most of my inspiration from Pinterest and rolled with it, trying my best to find local people to use and take their advice along the way."
Photography Ian Brookes Photography
The family farm, Toulbrick Farm, played host to the beautifully light and spacious tipi from Evans Marquee Hire.
"Danny is very much a country man and loves the outdoors. I've grown up on the farm so it was very special to be able to hold the reception there as I know my grandad, who bought the farm many years ago with my grandma, would have loved every minute of it.""I also travelled in my early twenties, mostly in Australia, so developed a love for their laid-back bohemian styles and all that lush eucalyptus. All I knew was that I wanted to use lots of greenery, moss and make sure all our guests knew to enjoy themselves from the get-go."
I simply love the pastel colours and interesting cuts of the bridesmaids' gowns from Show Me Your MuMu. Paired with the freshness of the eucalyptus crowns and the relaxed styling of their hair – left long in loose curls to match Heather's – they look suitably springlike and boho.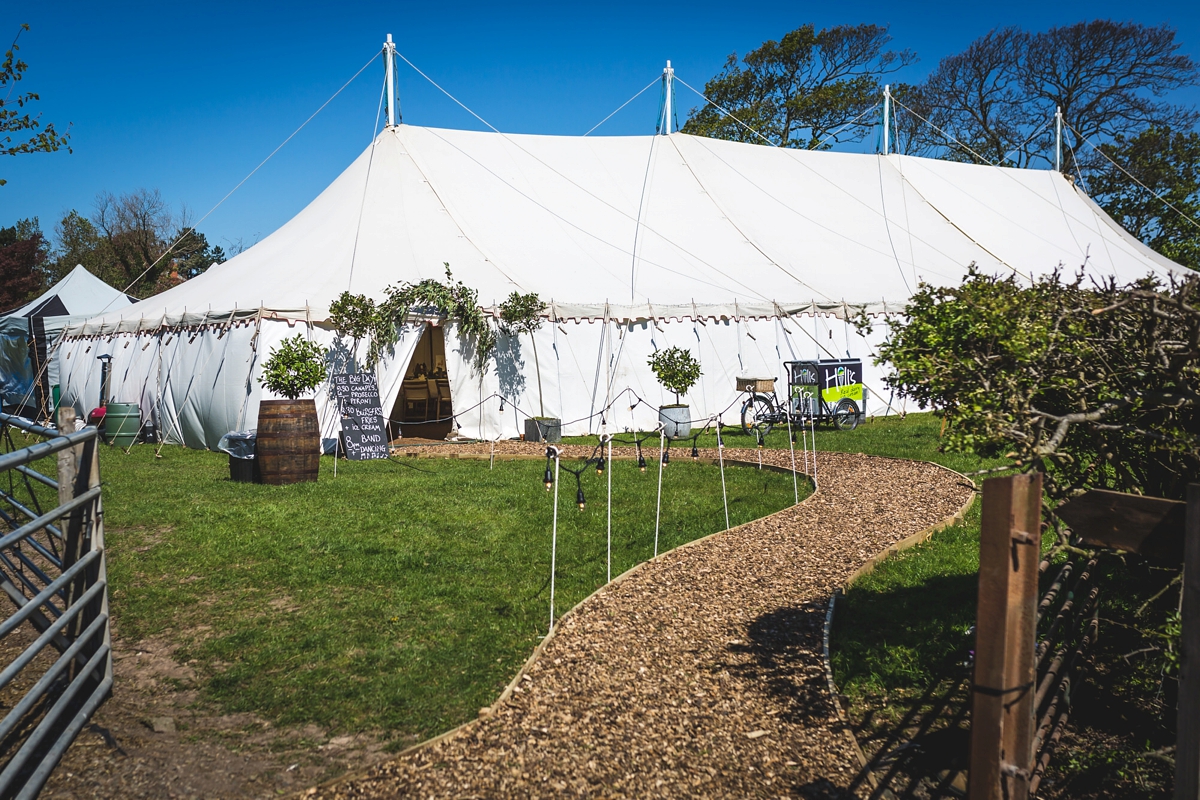 The florist, Four Seasons Florist, is clearly so talented and creative, and delivered Heather's perfect look.
"Hazel knows me very well, as a young girl I helped in the florist. I wanted to keep it very green with hints of cream. We choose a David Austin rose that gave a soft bohemian look and used lots of wax flower that is also an native Australian bridal flower. To add a hint of depth I chose Kangaroo Paws which tied in really well with the warmth in the check of Danny's suit."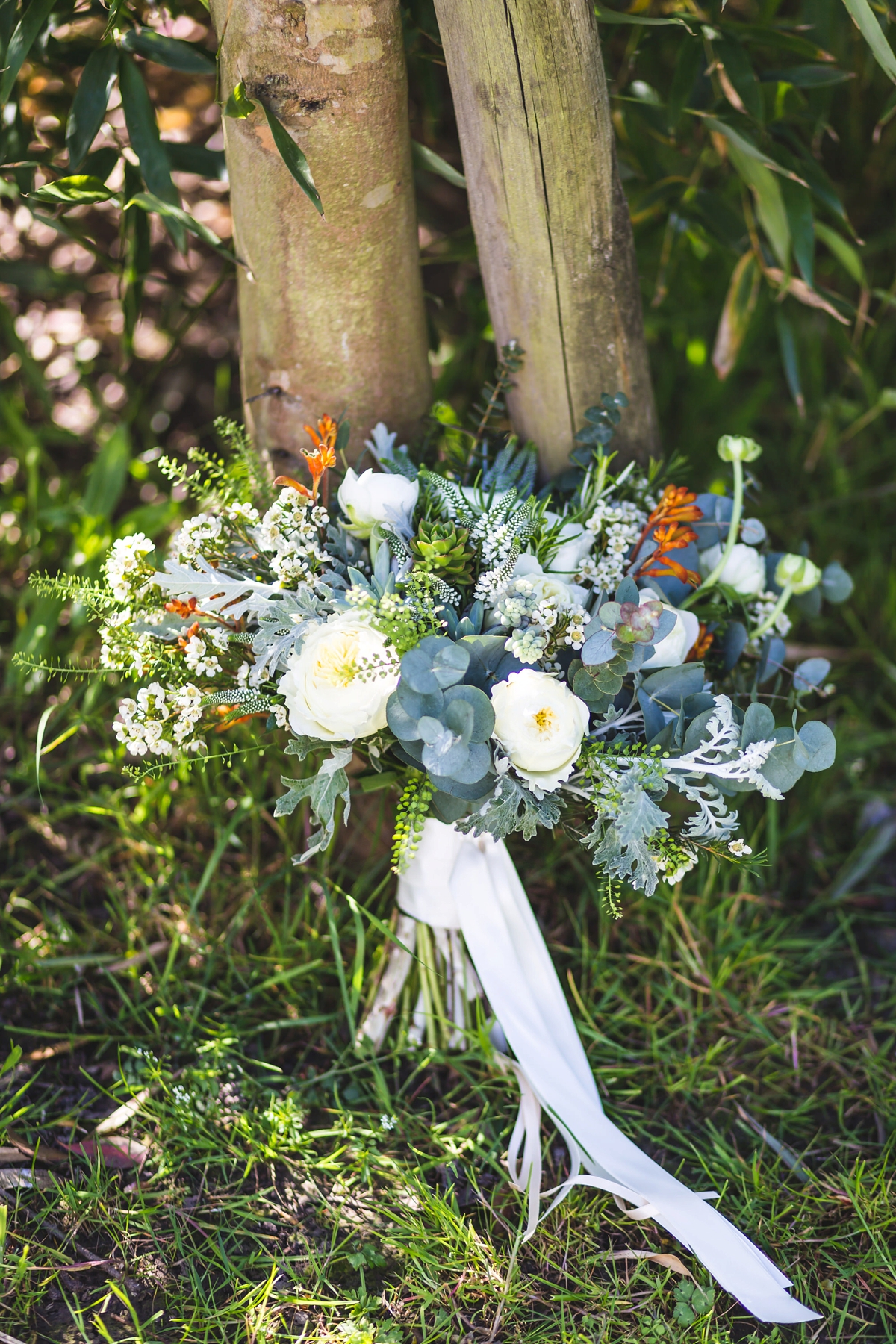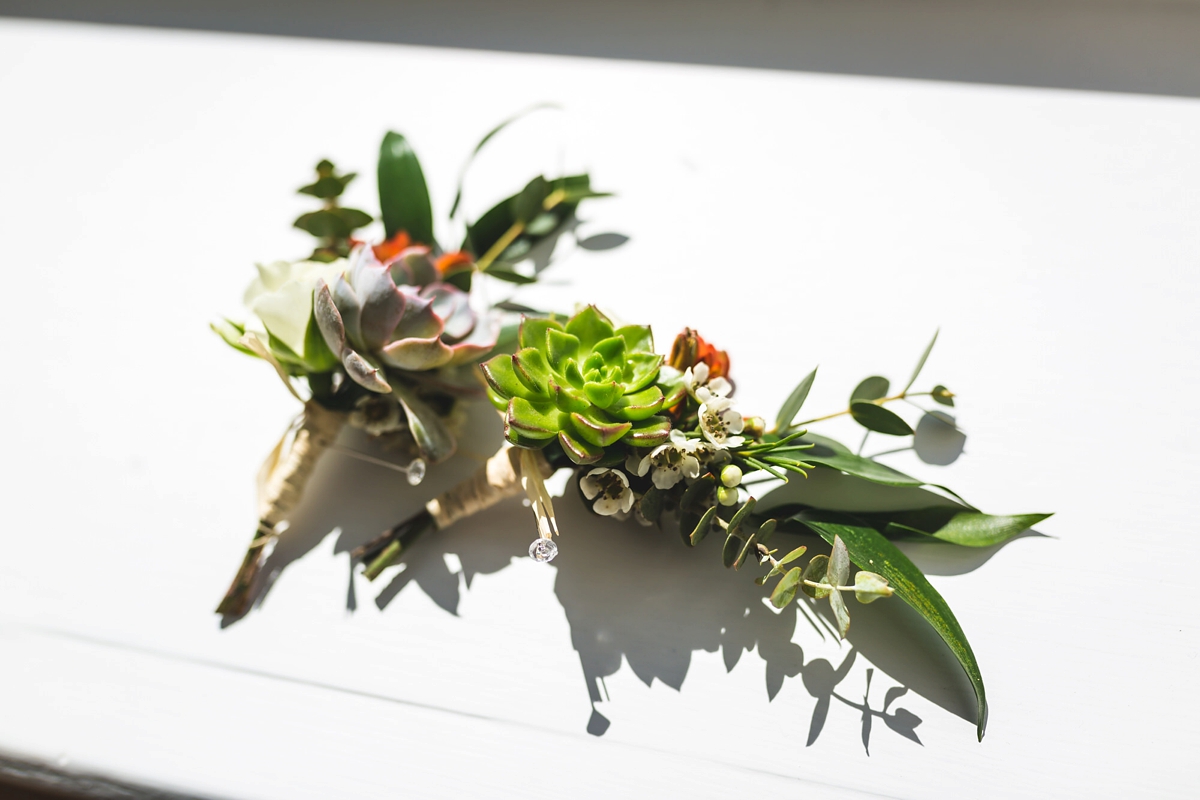 It's so lovely to see these photographs of Heather and her bridesmaids inspecting the marquee before the ceremony. Beautifully styled with a floral chandelier, garlands of foliage, and living table runners of succulents and eucalyptus it looks so fresh and verdant. I love the thoughtful touches which transform the marquee into the perfect venue for an informal gathering.
"There was lots and lots of eucalyptus, moss collected by my kind friend on dog walks, trees and lots of succulents. I found a vintage sideboard, armchairs and sofas to create a chill-out area that also doubled up as a cigar and whiskey bar. I painted a door with a Wilkinsons Cigar and whiskey bar on it and used old crystal decanters and silver drinks tray to finish it off. My dad made us a triangle of ladders that the florist decorated and was hung above the dance floor. Outside were more succulents and rustic tables to stand at and a straw wall for pictures."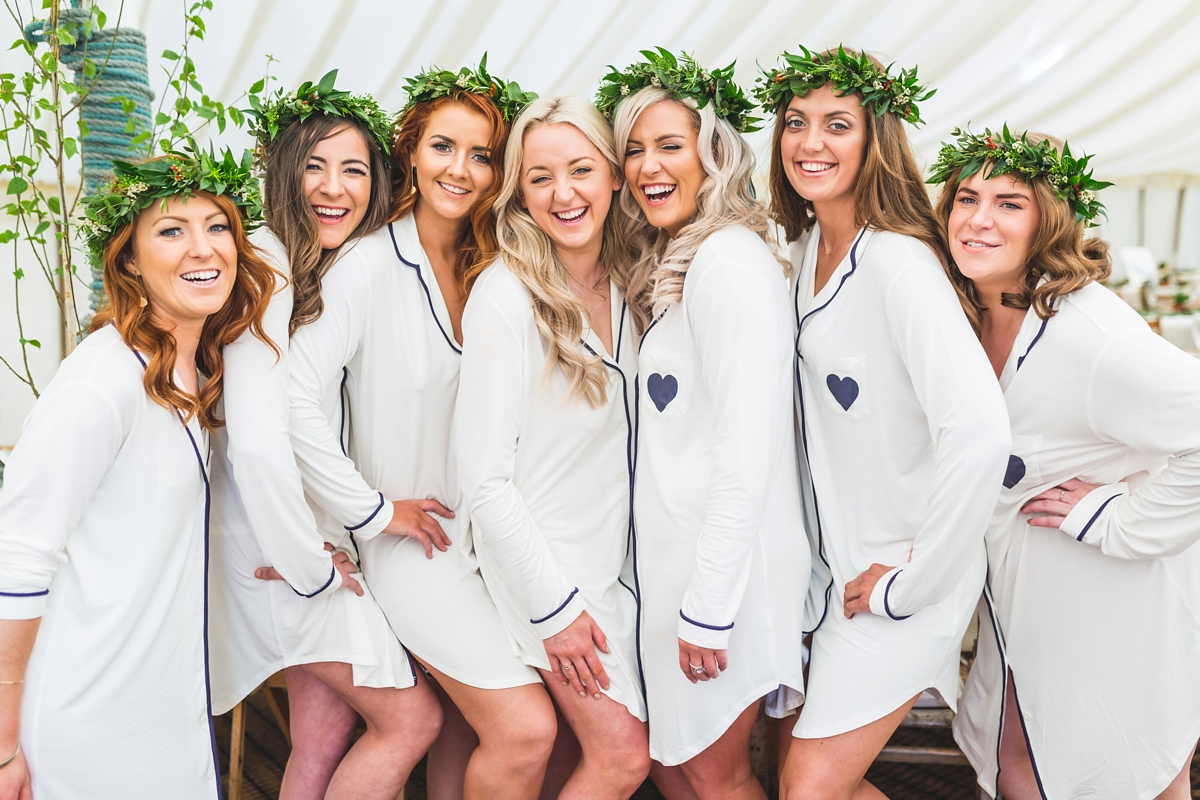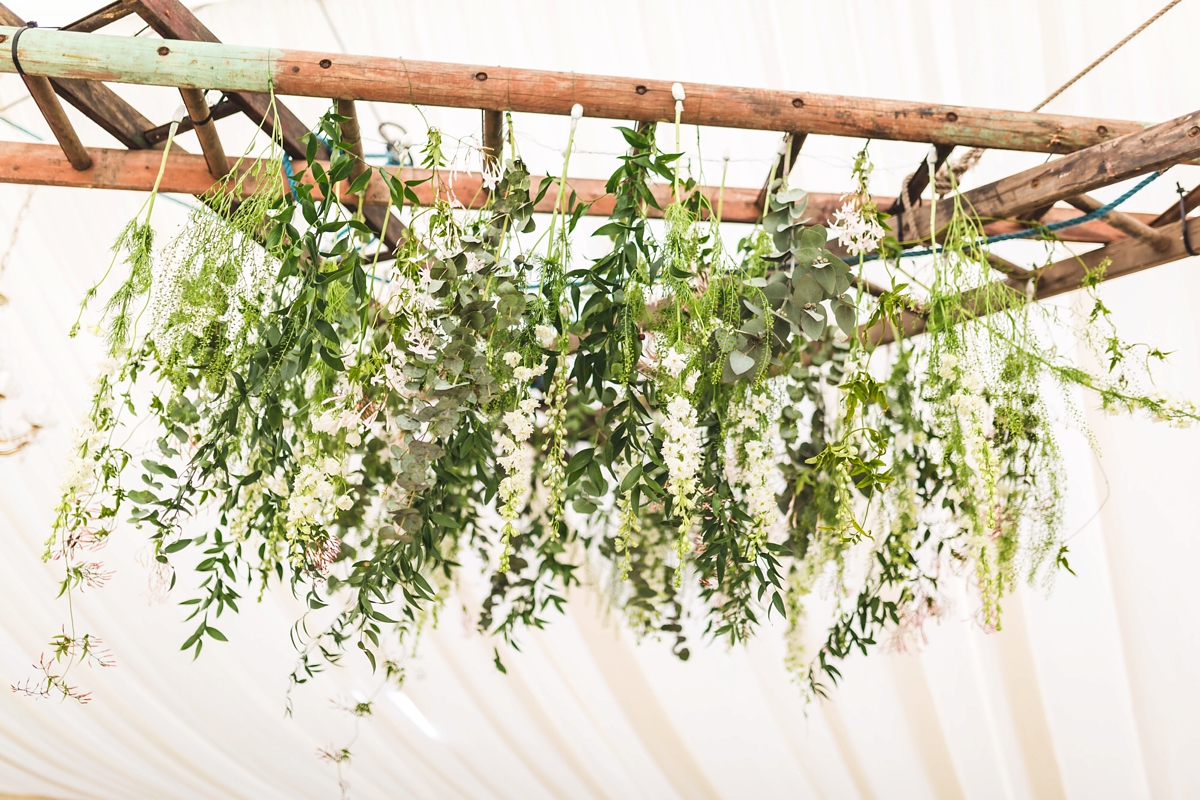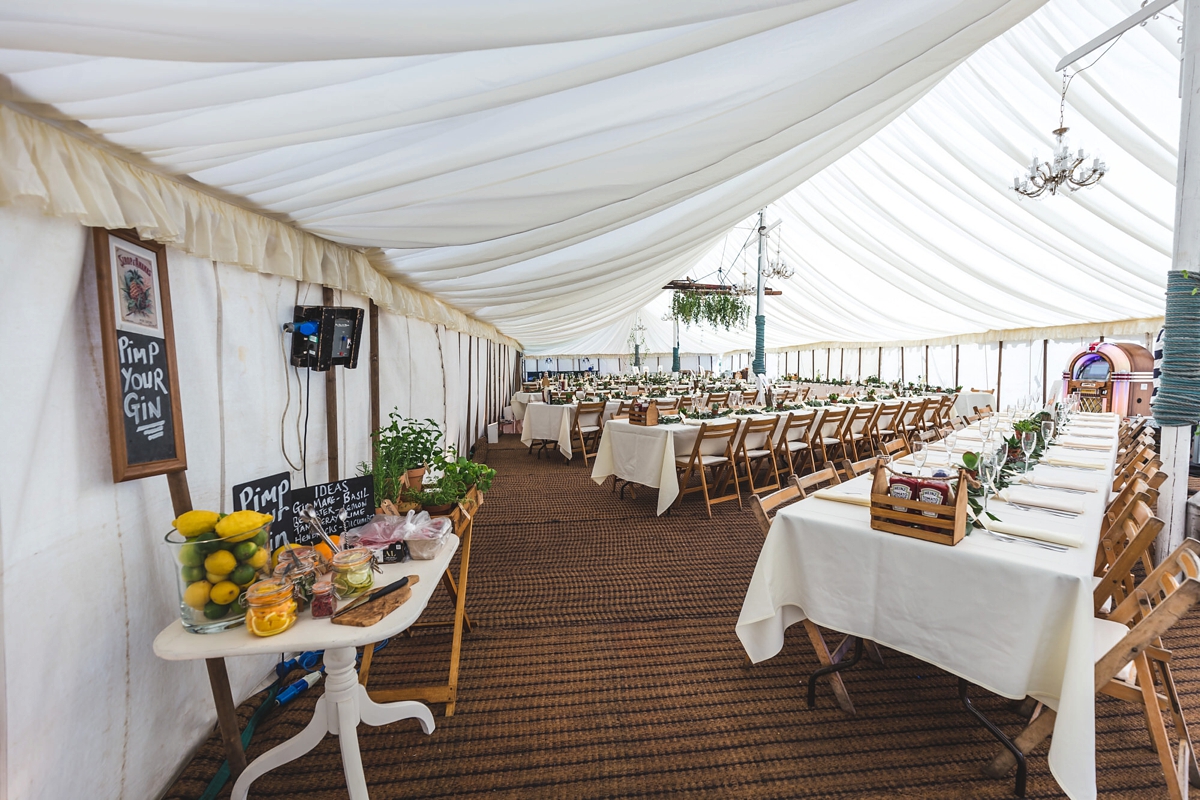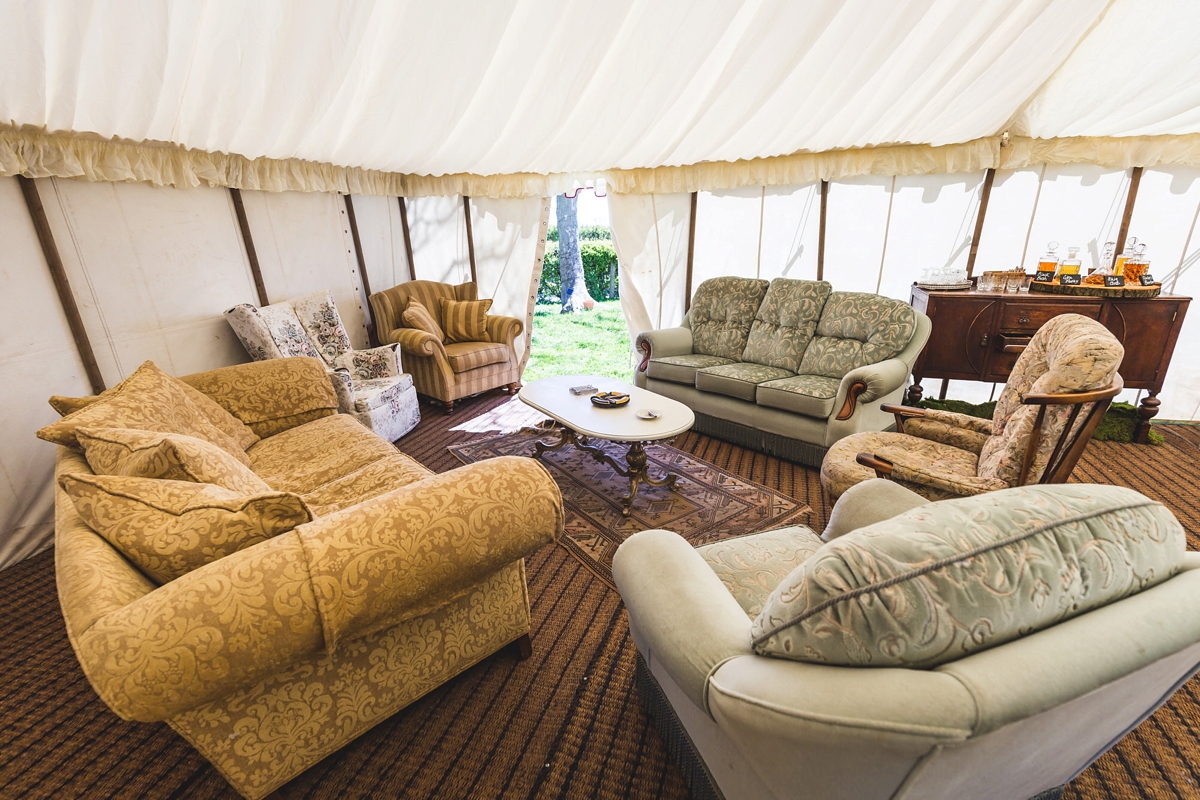 Heather already mentioned that Danny is a real countryman, and he looks every bit the part in his checked three-piece suit. A Thomas Pink shirt, brown tie and shoes and a smart Hugo Boss tie clip finished off the groom's outfit. The Best Man's waistcoat, also from Charles Campbell Bespoke, really ties the men's party together.
"We had the suit made in Ribchester by Charles Campbell Bespoke. The suit is beautiful and we very highly recommend them as tailors. This was the first thing we did so the material set the tone."
Over the past couple of months I've seen so many images of intricate macramé, crochet and boho tassels on Instagram. Heather's Rue de Seine gown combines all of these for a relaxed and elegant style which suits the outdoors reception wonderfully. I love the open-shoulder design with the high neck and cut-out back.
"I was overwhelmed by the whole range of Rue de Seine dresses at Jean Jackson Couture and honestly never thought I was going to find a dress I loved as much. The detail and work in each dress is amazing. I loved the crocheting pattern but the fringing and arm pieces are what did it for me."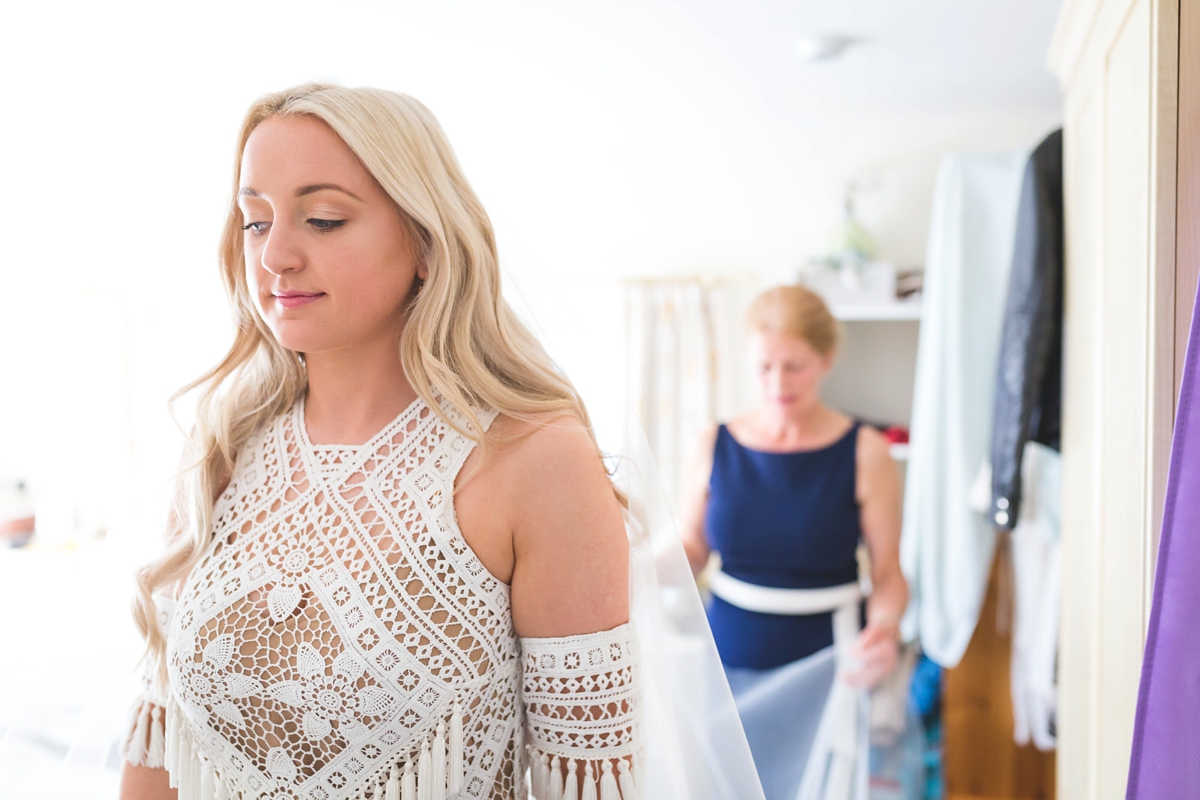 The heavier fabric of the gown was offset by her blowsy veil – a Jean Jackson Couture design – and pretty jewellery. She wore a Monica Vinader bracelet given to her by Danny especially for the day and her bridesmaids clubbed together to give her these sparkling earrings from Samantha Wills. Brown suede All Saints mules completed Heather's boho look.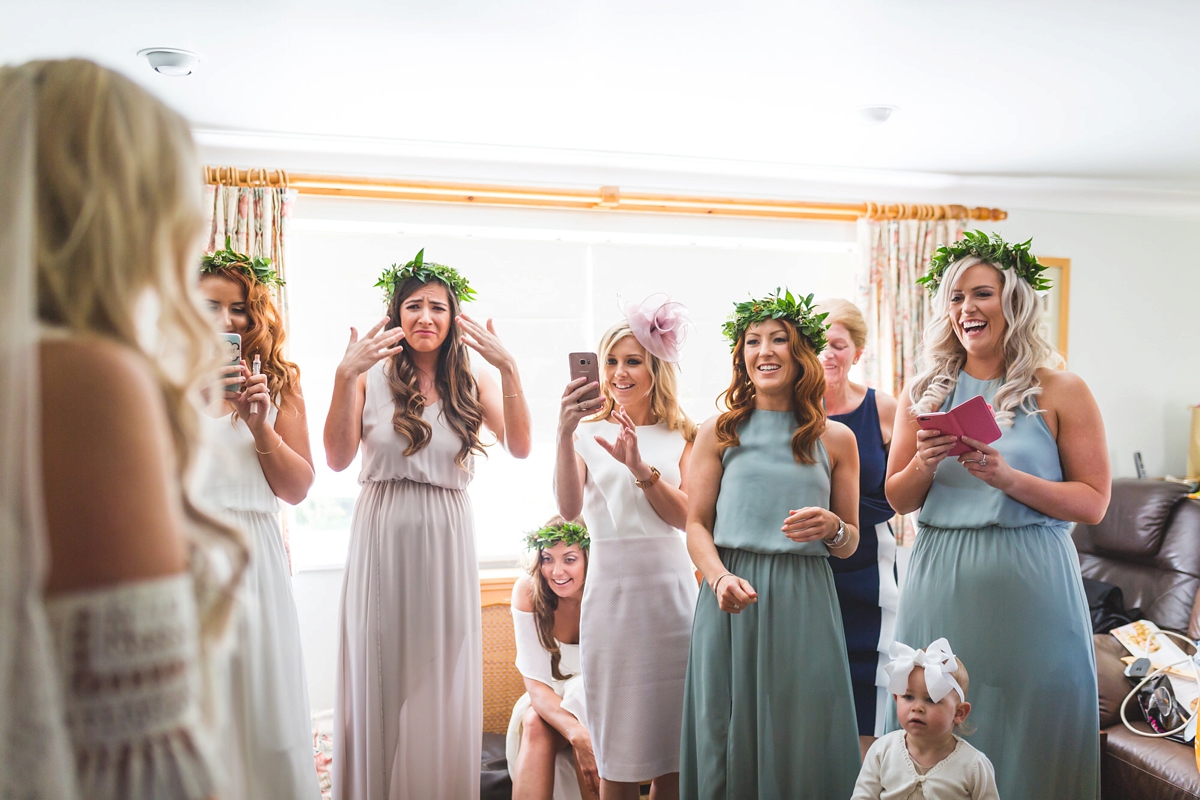 Heather's transport to the church was her father's Land Rover, dressed up for the occasion, whilst the bridesmaids travelled in this charming Morris Minor, lent by a family friend. The bride walked down the aisle with her dad to Wagner's 'Bridal Chorus', played on the organ. After traditional vows were exchanged, Danny's sister read 'A Lovely Love Story' by Edward Monkton.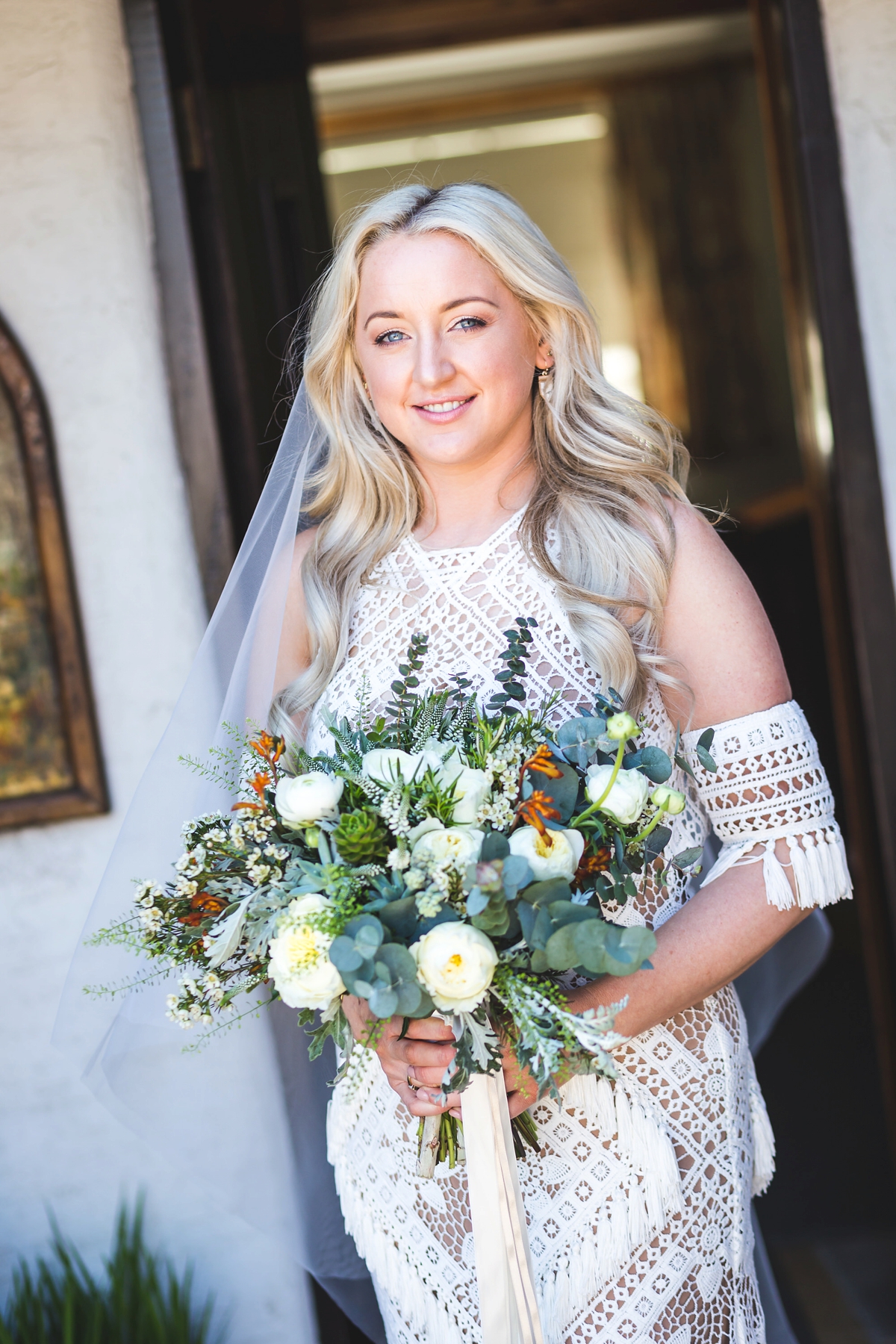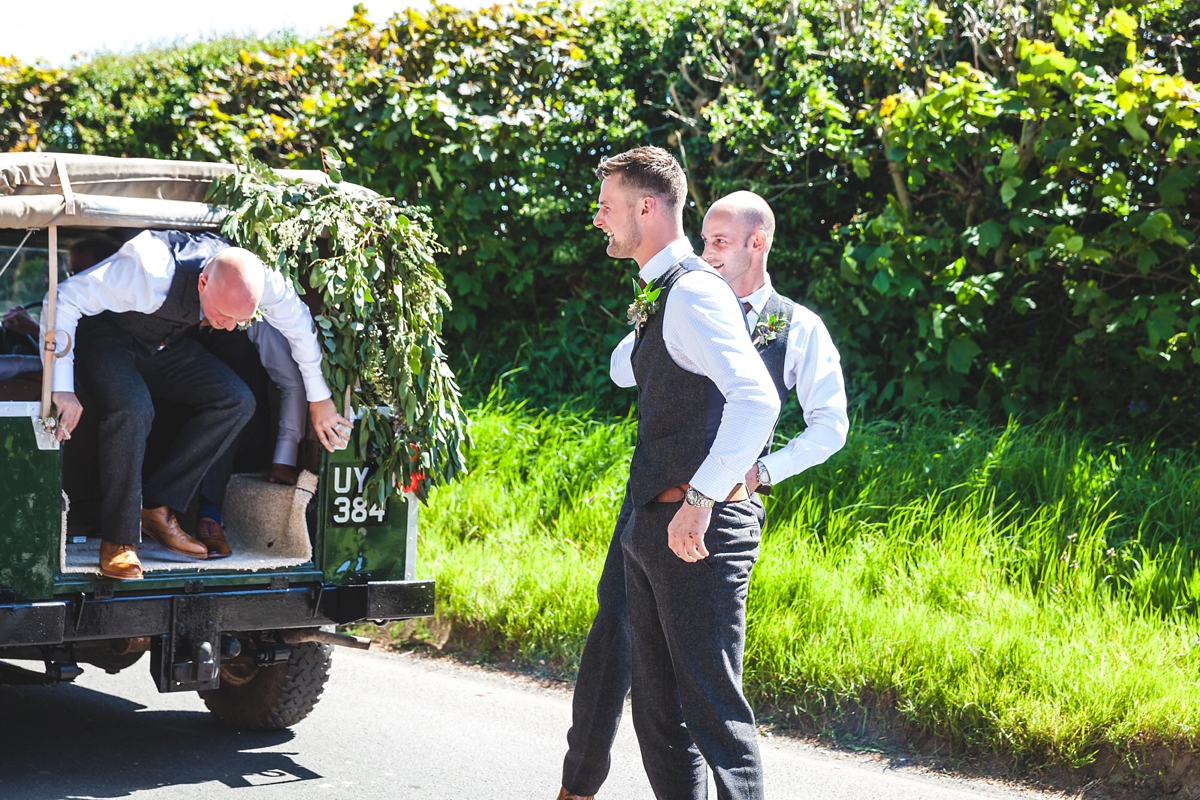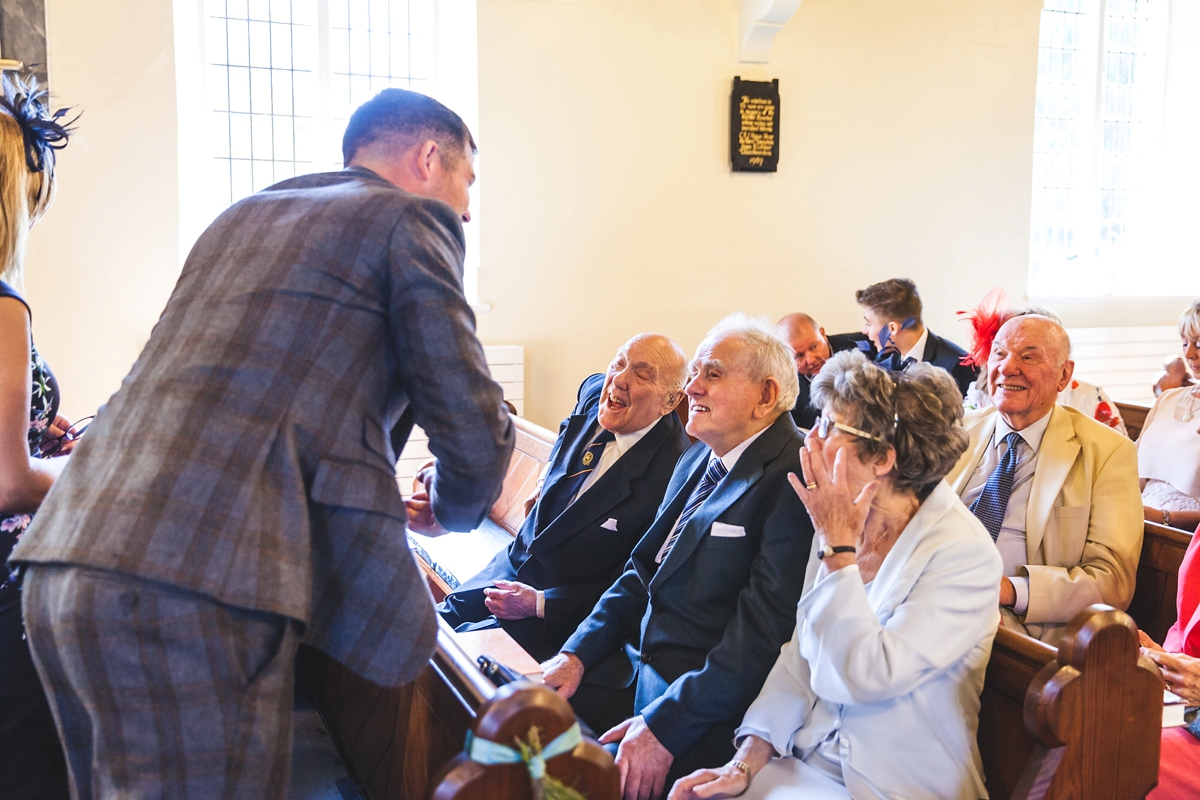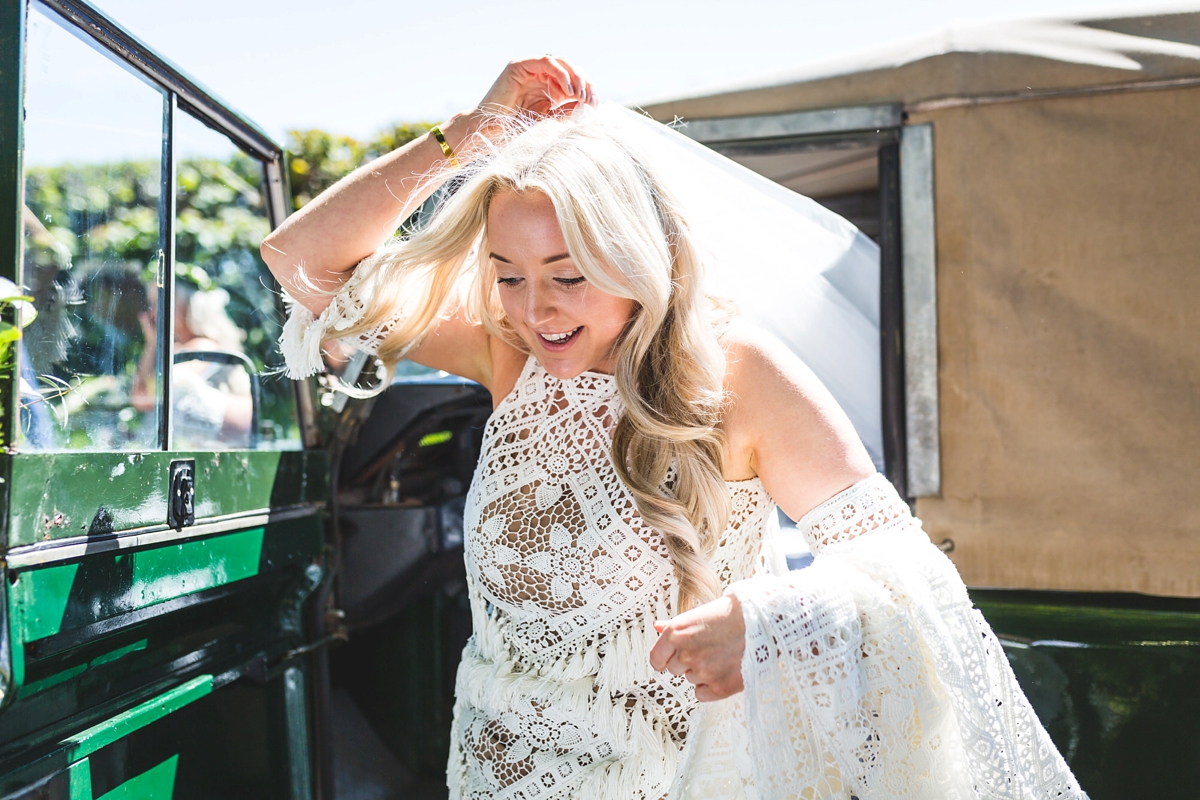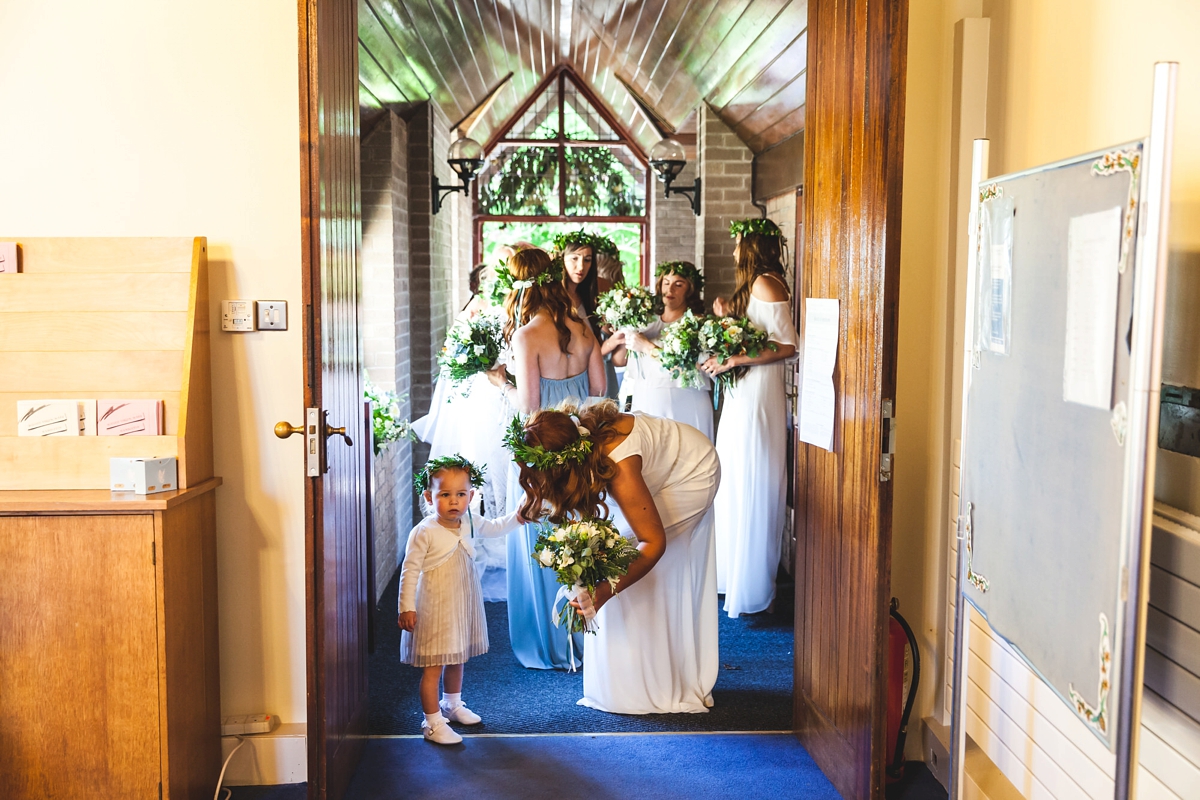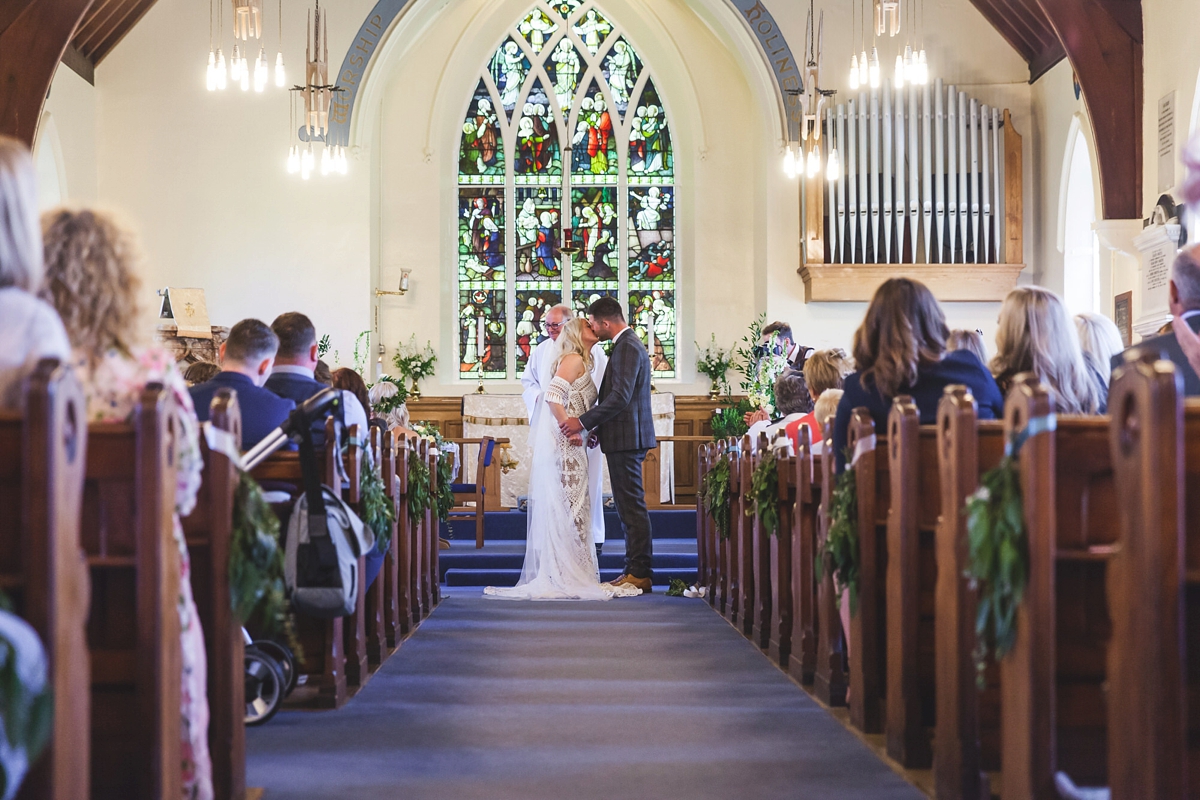 Keen to support local businesses, Heather had her wedding band made by friend and local jeweller Selina Whittaker. Selina also helped them to find Danny's ring at A B Christie in Blackpool.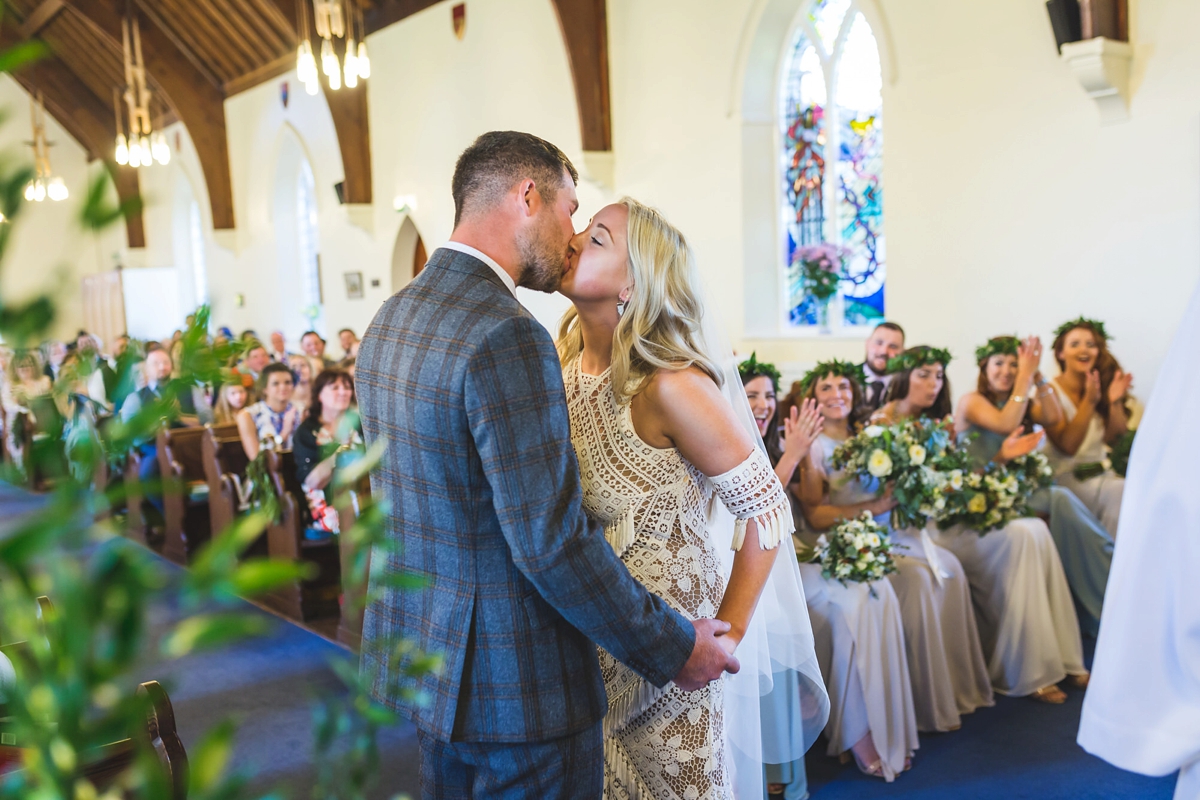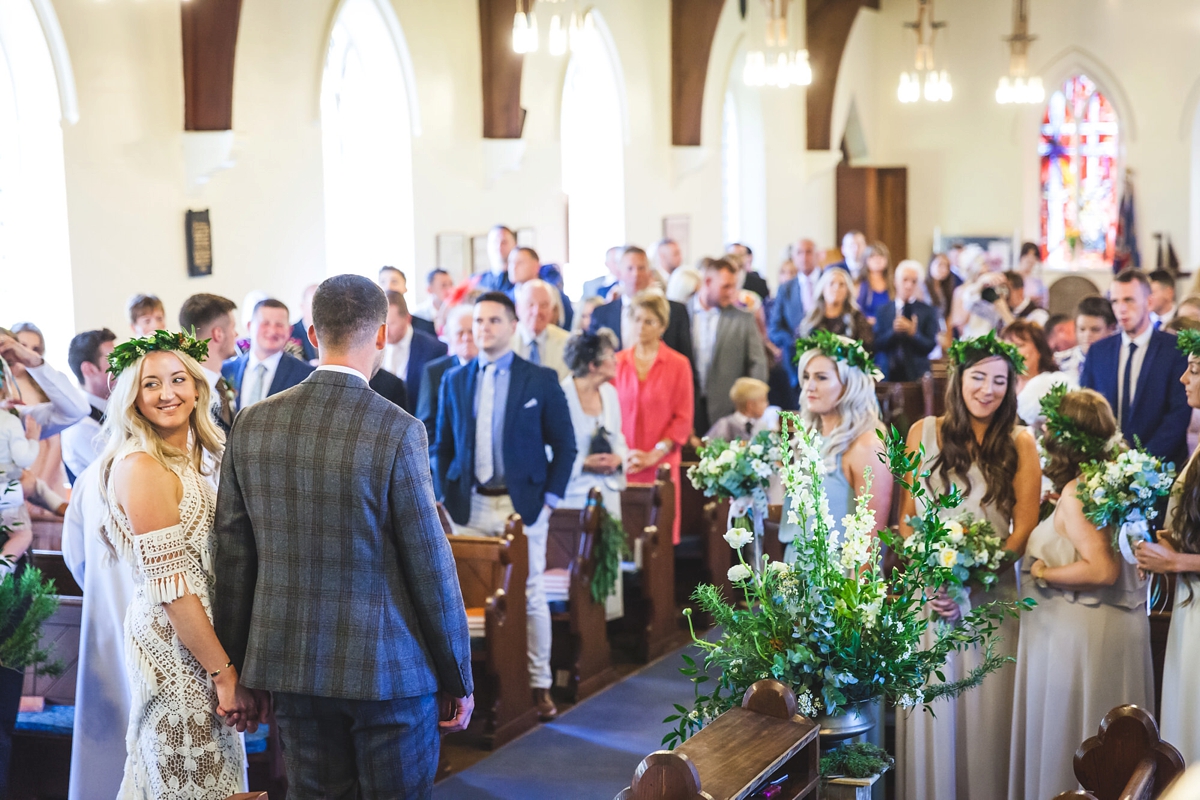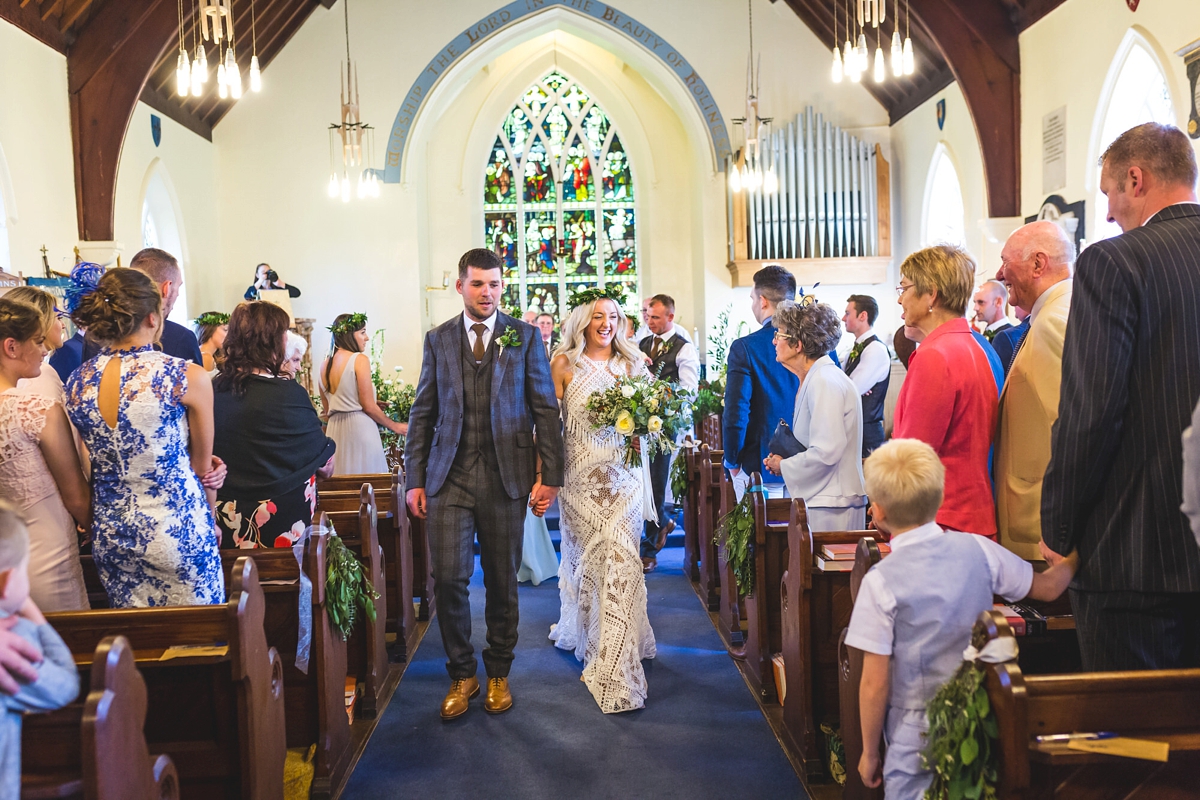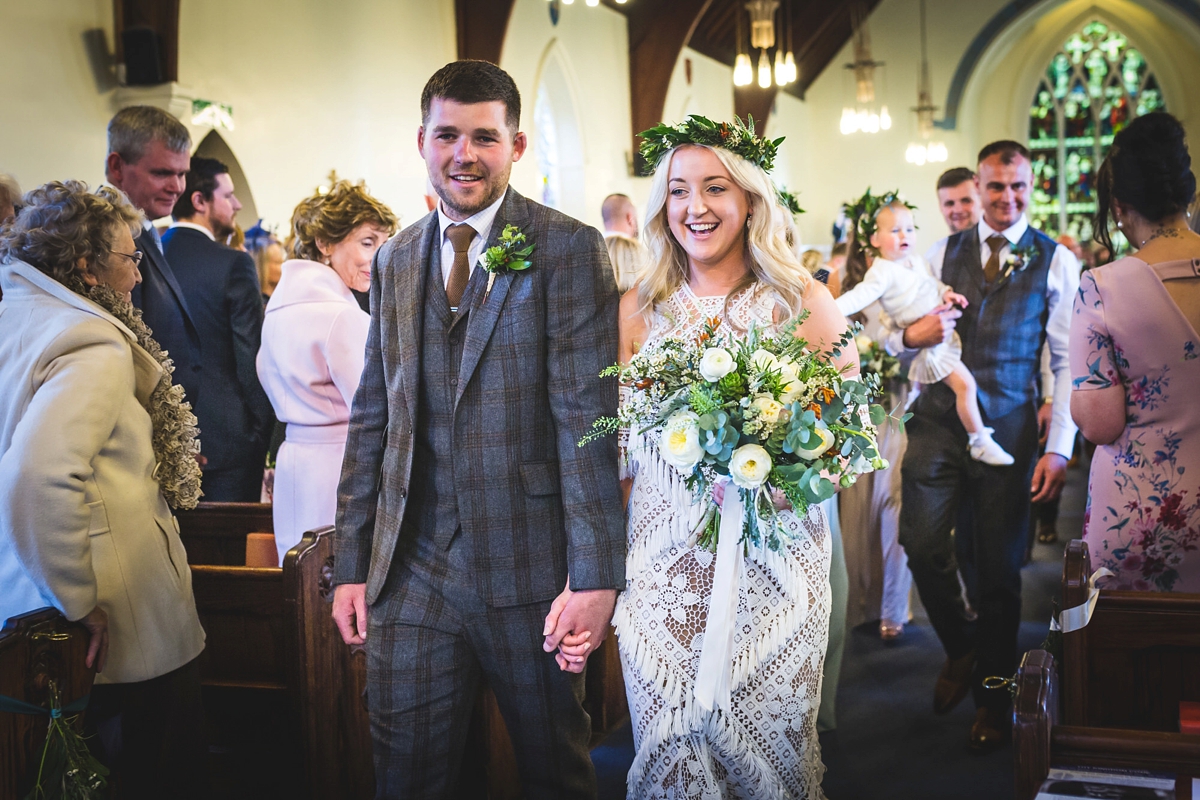 Musician Salvatore Iacono provided extra music in the church, and the newly-weds walked out as man and wife as he played Bill Withers' 'Lovely Day'.  Salvatore also played at the reception, travelling from London for the couple's day.
"I found the most incredible musician I saw years ago at another wedding. We were very lucky as he was in between touring."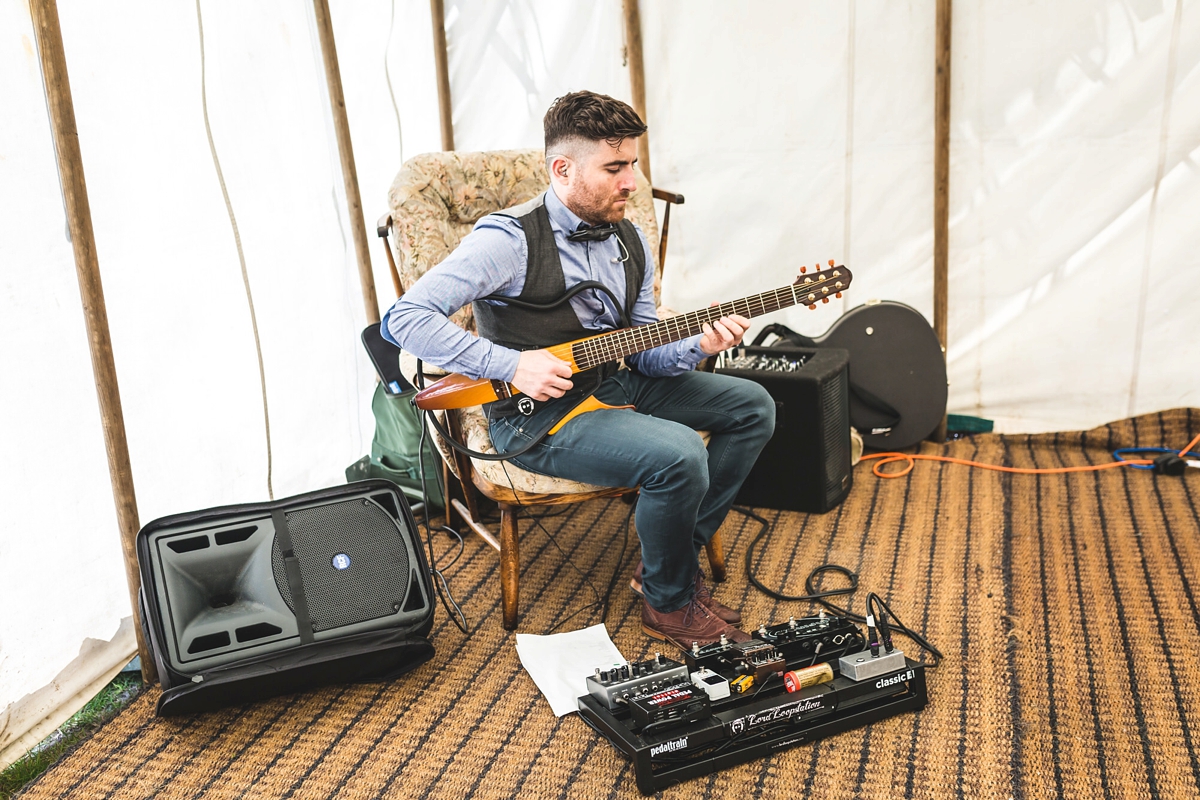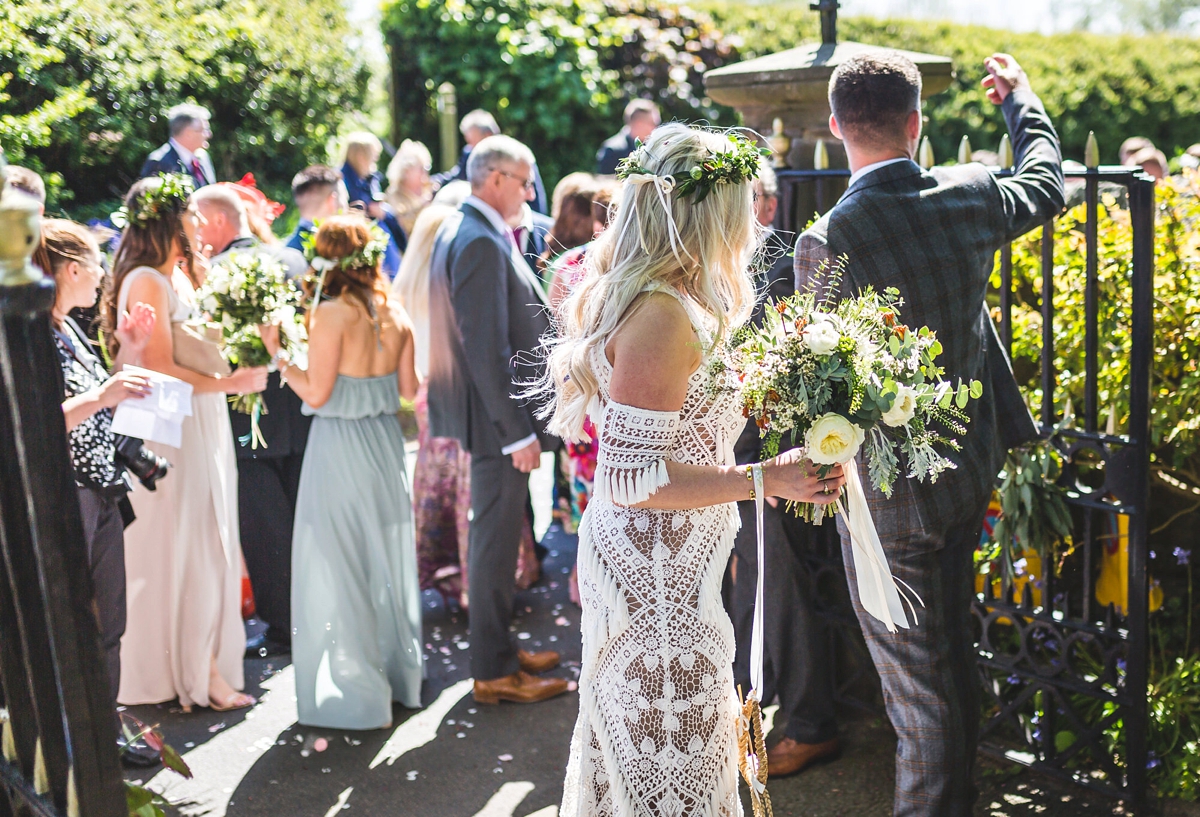 These beautiful, natural photographs are the work of Ian Brookes Photography.
"We would highly recommend Ian and his wife who were both brilliant on the day. They were very professional but not in our faces. We have so many fantastic pictures to remember the day by and loved that they got to enjoy the day with us."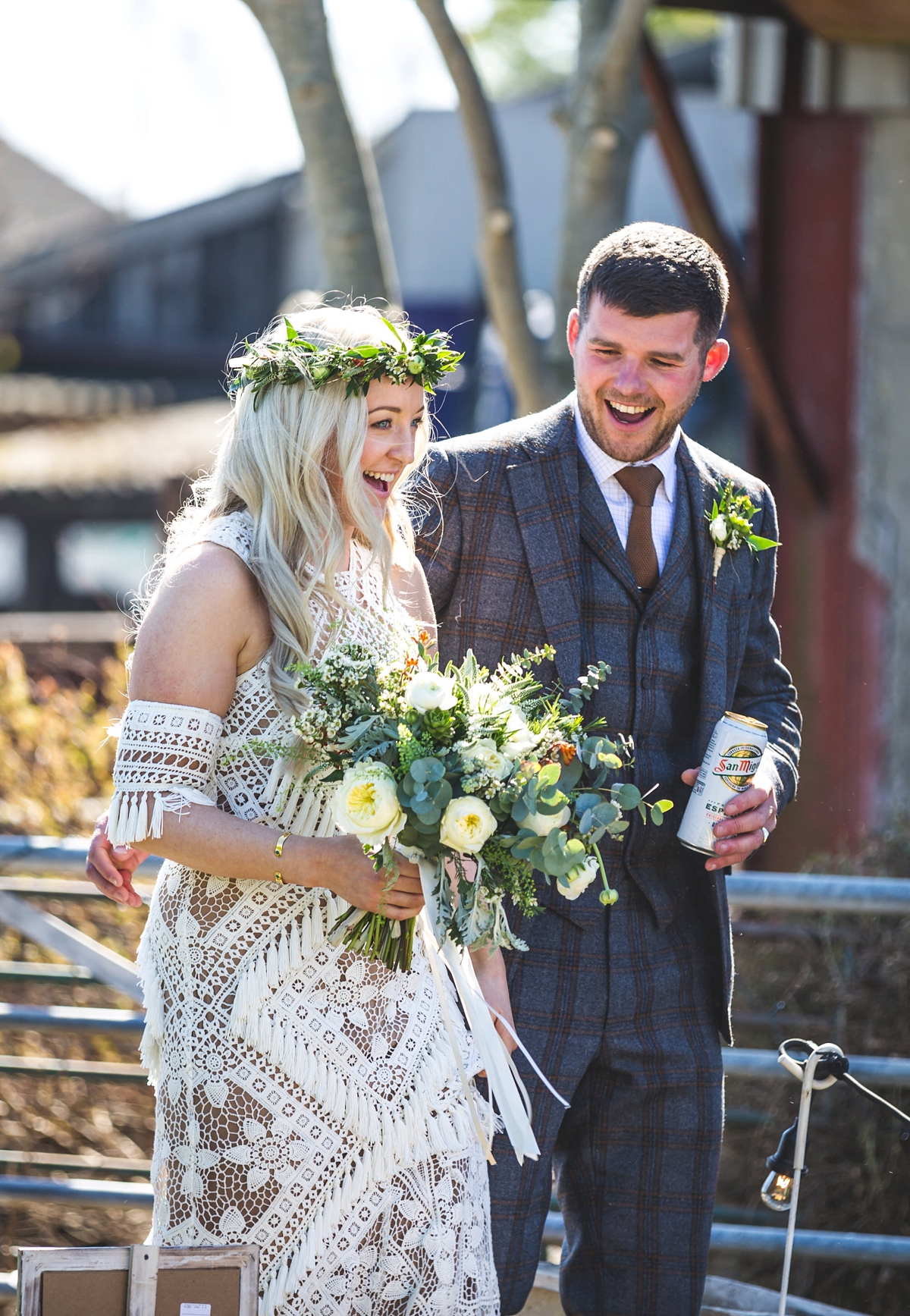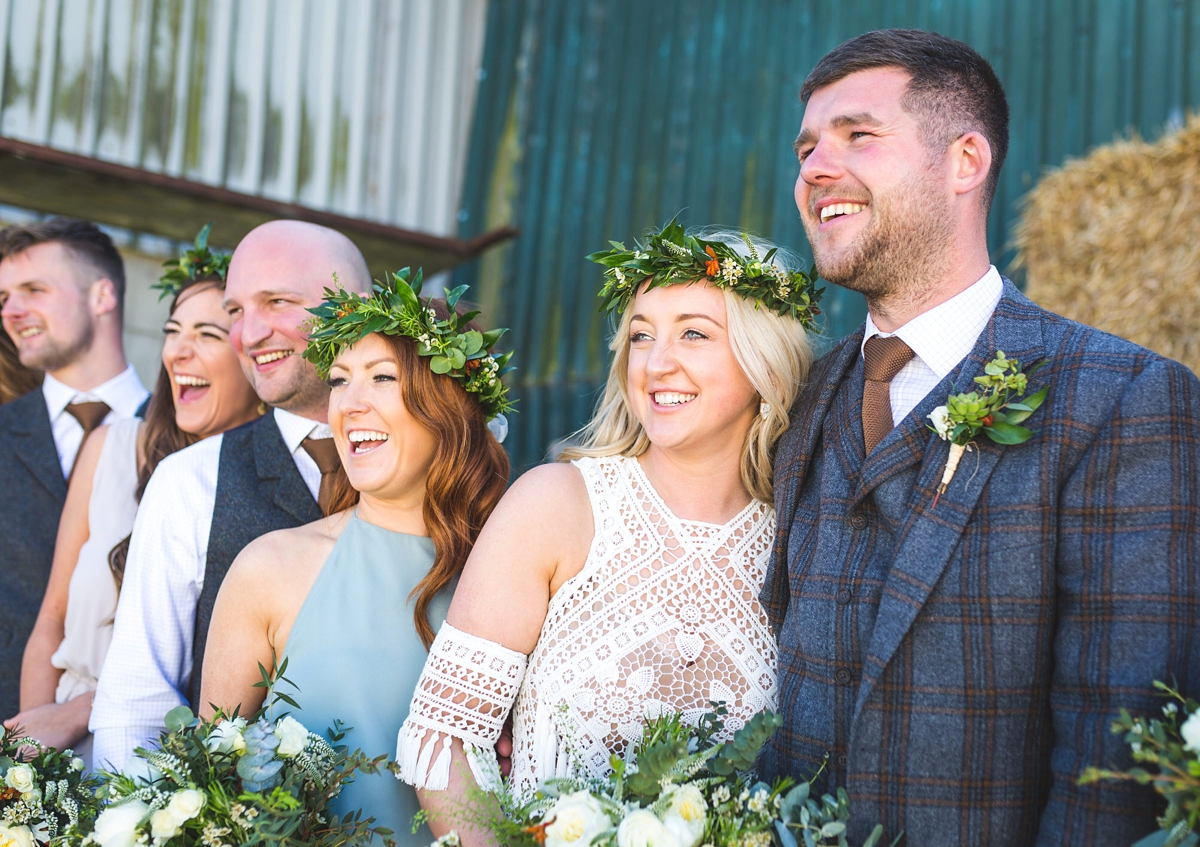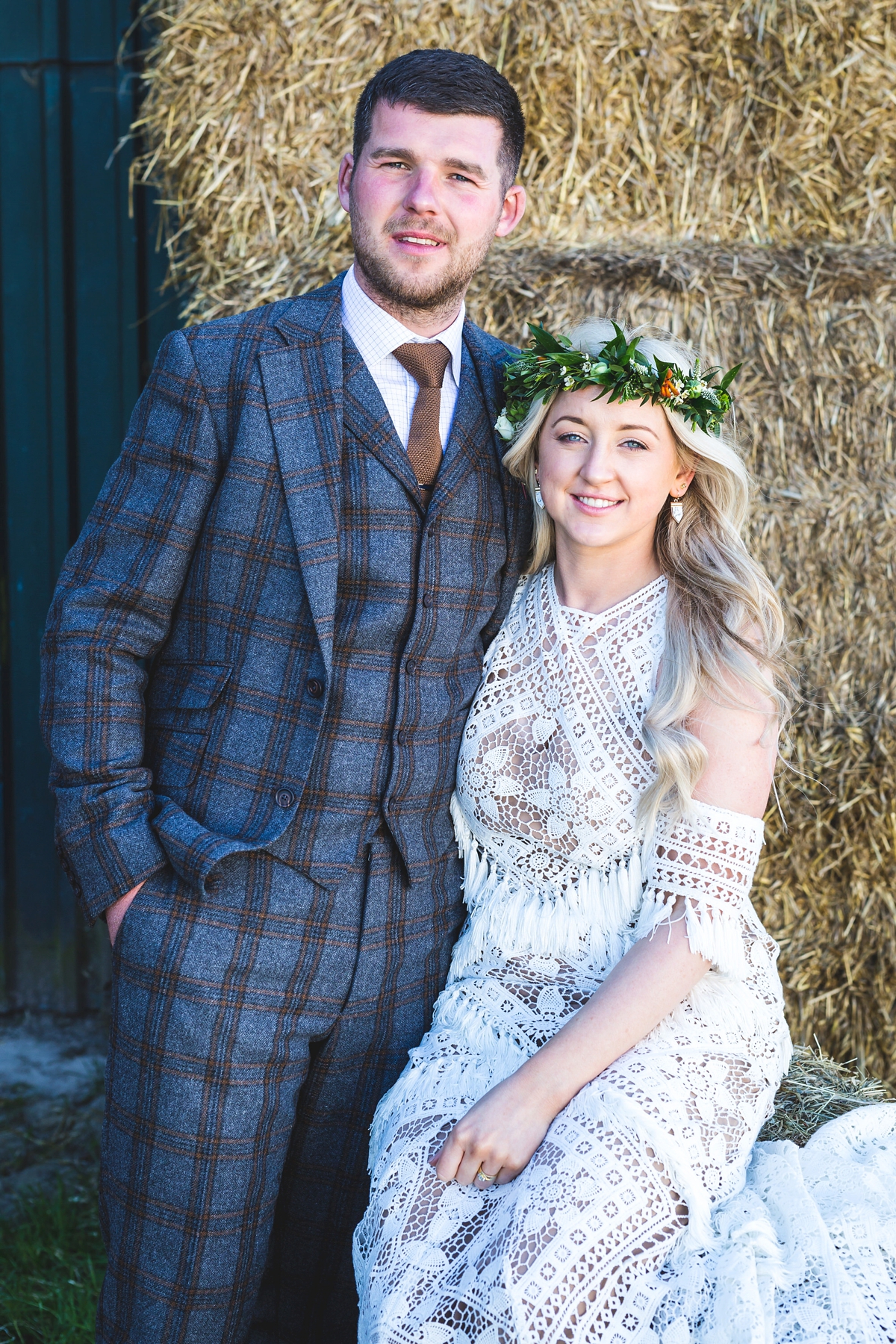 Back at the farm, the sun was shining beautifully so all of the guests were able to kick back and relax in the fresh countryside air, free to help themselves to drinks from the wheelbarrows which lined the marquee wall. To match their goal of a boho day, the wedding food was informal but super-delicious. Local caterers Twelve Restaurant provided these incredible-looking canapés, followed by gourmet burgers and fries.
"Caroline and her whole events team were so professional and made the day breeze by with her fantastic experience in the business. They went above and beyond what we expected."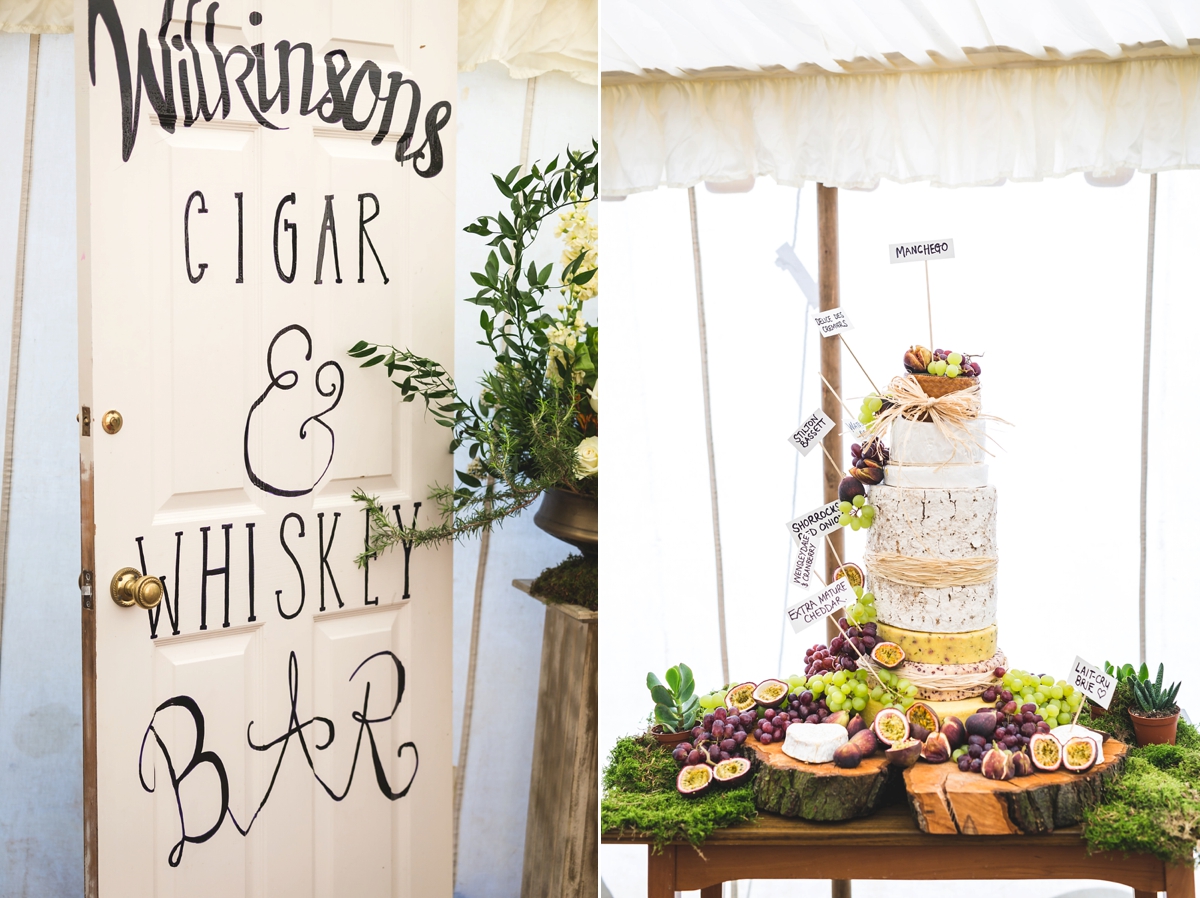 I love that this couple do everything their own way. Favours were in the form of ice-cream tokens, to be redeemed at the visiting Hill's Fine Foods ice-cream cart. Vanilla ice-cream and mango and passionfruit sorbet with cherry or butterscotch sauce, anyone?
"My very talented Auntie Marg did all the ice-cream tokens and table names, designed the invites for me and I had them printed at Forsyth and Steele, another local business near us. Instead of table names I asked Danny to choose all his favourite animals and a school friend and local artist, Holly Landless, made the table plan and the perfect table markers with individual logs matching each animal."
Heather and Danny did the evening food themselves, creating a cake of cheese using local varieties from Shorrocks Cheese of Preston and Hill's Fine Foods. Danny's father, a butcher, provided meat and it was accompanied by delicious vegan salads and cheeses by Healthy Healing Habits.
Later on a local Irish band, Thistle, got all of the guests jigging, and also unexpectedly played the couple's first dance.
"I'm not one for slow dancing so I left it to Danny and he choose 'Is This Love?' by Bob Marley, but due to the jukebox not actually working at the crucial time we actually did our first dance – a jig – to a song I don't even know played by Thistle! It was such a laugh, couldn't have worked better and everyone thought we did it on purpose."
Words of Wedded Wisdom
"Don't be afraid of choosing what you like and sticking with it. It's your day and in the end everyone sees that and enjoys it even more. We still get so many people telling us what an amazing wedding, and day it was, which means so much as it was all our ideas. Doing a marquee yourself is a lot of work and I started slowly, just doing one thing every week about six months before then really went for it in the new year. It's so worth it and is special to see family and friends getting involved in the process making it all happen in the end."
"We were so lucky with what we managed to pull off due to the help of all our family and friends that really nothing could have gone wrong or needed changing. We were spoilt with beautiful sunny weather and had such fun from start to finish."
Heather and Danny, thank you so much for sharing your sun-drenched day with us. I really love your boho style, and commitment to supporting local suppliers. Thank you also to Ian Brookes for your gorgeous photography. We have plenty more bohemian-style weddings to inspire you on the Love My Dress pages, so I really hope you enjoy browsing through them.
Ele xx