I have an extra special wedding that will tug on your heartstrings today lovelies. Meet Katie and Ben, who married on the 8th of September 2017 at Breedon Hall in Derby.
Ben is a Japanese to English video game translator, whilst Katie is a marketing coordinator at an engineering software company. They chose Little Book for Brides member Georgina Harrison Photography to capture their summer day. Georgina's talent in fine art photography was the right choice for Katie and Ben's stunning art-inspired nuptials. The wonderful Swallows and Damsons prepared the sensational florals with pops of red, which beautifully complemented the maid's stylish floor-length gowns.
"Georgina of Georgina Harrison Photography is such a delight to work with. We ended up hiking up a trail to the top of this hill to get photos and the whole time, she was just so excited and effusive about her work. Honestly, being around someone who takes their art so seriously and loves it so much is the best and that passion came through in the photos."
"My degree is in Art History, so my wedding was always going to be inspired by art. Aesthetically, I channeled Pre-Raphaelite painting, particularly Arthur Hugh's Ophelia and Rossetti's Lady Lilith, with their softly flowing fabric, candles, wild climbing greenery and lush flowers in saturated, moody colours. I love the restrained sumptuousness and unabashed idealism of the Pre Raphaelite Brotherhood. It's so English, so romanticised and the paintings simply glow when you see them in person, and I wanted all of that to come through visually on the day."Elizabeth Gopal at East Made Event Company helped out with the plans for the couple's intimate day.
"We only had 30 guests and my family and many of our friends were coming from overseas. We wanted somewhere we could stay together for the weekend, that wouldn't feel like a venue, but like a home. Breedon Hall was the perfect fit."
Are you an absolute softie when it comes to hearing meeting and engagement stories, just like me? Just you wait until you hear Katie and Ben's tale.
"Ben and I first met when I was visiting my parents in Frankfurt for the holidays. We met online and the date was supposed to be platonic, as I was about to return to my nonprofit job in the Middle East. We went on the longest, best non-date ever, and it ended with us singing karaoke at 1am."
"We both knew we'd found something special. We arranged a "real date" and in a twist of fate, the day after, I found out I wouldn't be returning to my job, as my visa had been denied by the politically unstable and unpredictable country where I lived. We had no idea if we'd be able to stay in Germany together, but a week after meeting we knew we'd found our soulmates and we would do anything to make it work."
"We got engaged a year and a half later while visiting his family in the Midlands. He asked outside the dairy where they make my favourite cheese (I'm a food nerd) and we celebrated with his parents at a pub down the road where they had their first date. We married a little more than a year later."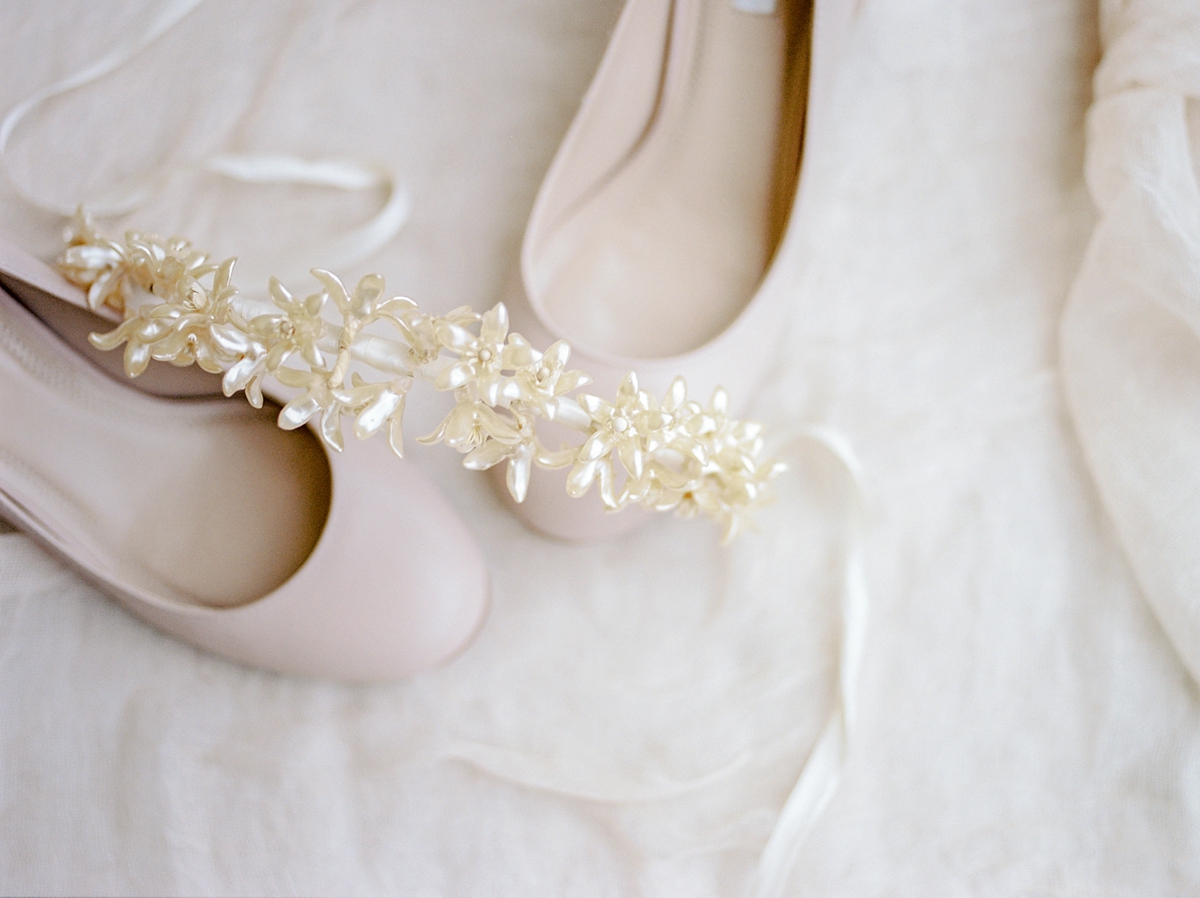 "I found most suppliers on my own, but Love My Dress was quite useful when I needed to find examples of their work in action. Vintage Gold China was used in an inspiration shoot which was helpful, I looked up Swallows and Damson's past work and I referenced what different dresses looked like while I was looking for one."
The envelopes and place-card calligraphy were by Kayleigh Tarrant and wedding invitations via Vistaprint.
Future brides-to-be – you're about to hear utter fabulously helpful hints from the gorgeous bride when it comes to your dress hunting experience. Thank you Katie for your brilliant advice!
"By the time I went shopping, I was honestly dead-set on a nontraditional dress. I flew to London to go dress shopping and my wonderful best friend had set up several appointments at bridal salons, but I wasn't sure. I'm a size 16-18 and I had really been made to feel like wedding dresses weren't made for me."
"I chose the 'Natalie' design by Truvelle from Heart Aflutter Bridal in London. As soon as I put the dress on, we all knew it was the one. I felt like a queen, the fabric's folds danced with every movement and it reminded me of the draping on classical Greek statues. I felt beautiful in it and since it has a corset top and flowy bottom I didn't have to worry about being sewn into the dress."
Katie added a pair of heels from Dune, diptyque Do Son scent, borrowed diamond and pearl drop earrings from her mum and a ring her mother-in-law lent her that belonged to her beloved mother, whom she lost many years ago – and a very special heirloom hair accessory.
"I wore a wax orange blossom crown that was attached to my late grandmother's veil. The crown looks like it was probably from the 20's so we think it was also my great-grandmother's. I removed the veil and hand wrapped the crown in ribbon so I could wear it."
"I had been feeling pressure to lose weight because it's so common, people just assume you want to "trim up for the wedding" and I was determined not to. Not only did I feel gorgeous, it let me stick to my principles and fight the societal pressure to change myself for a dress. That was so important."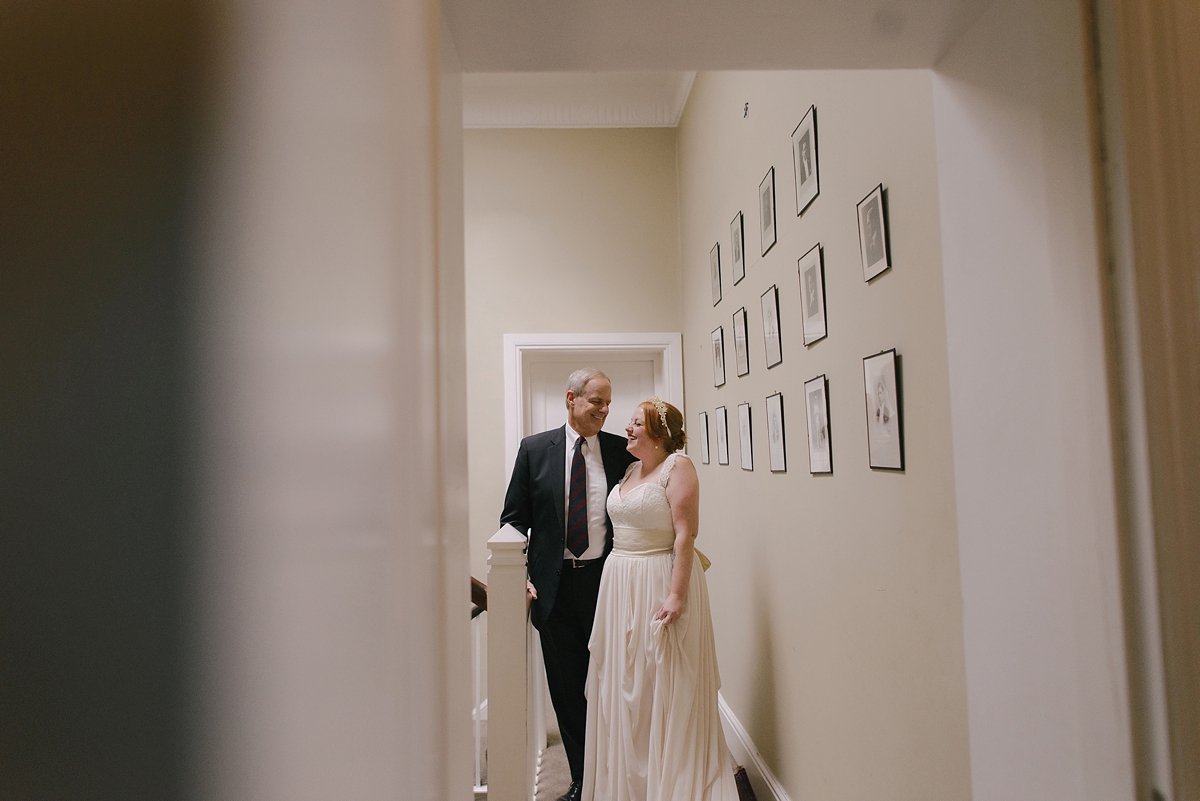 The groom wore a suave Magee suit from Brigdens – adding a tie and pocket square from Peek & Cloppenburg in Germany and Bally shoes.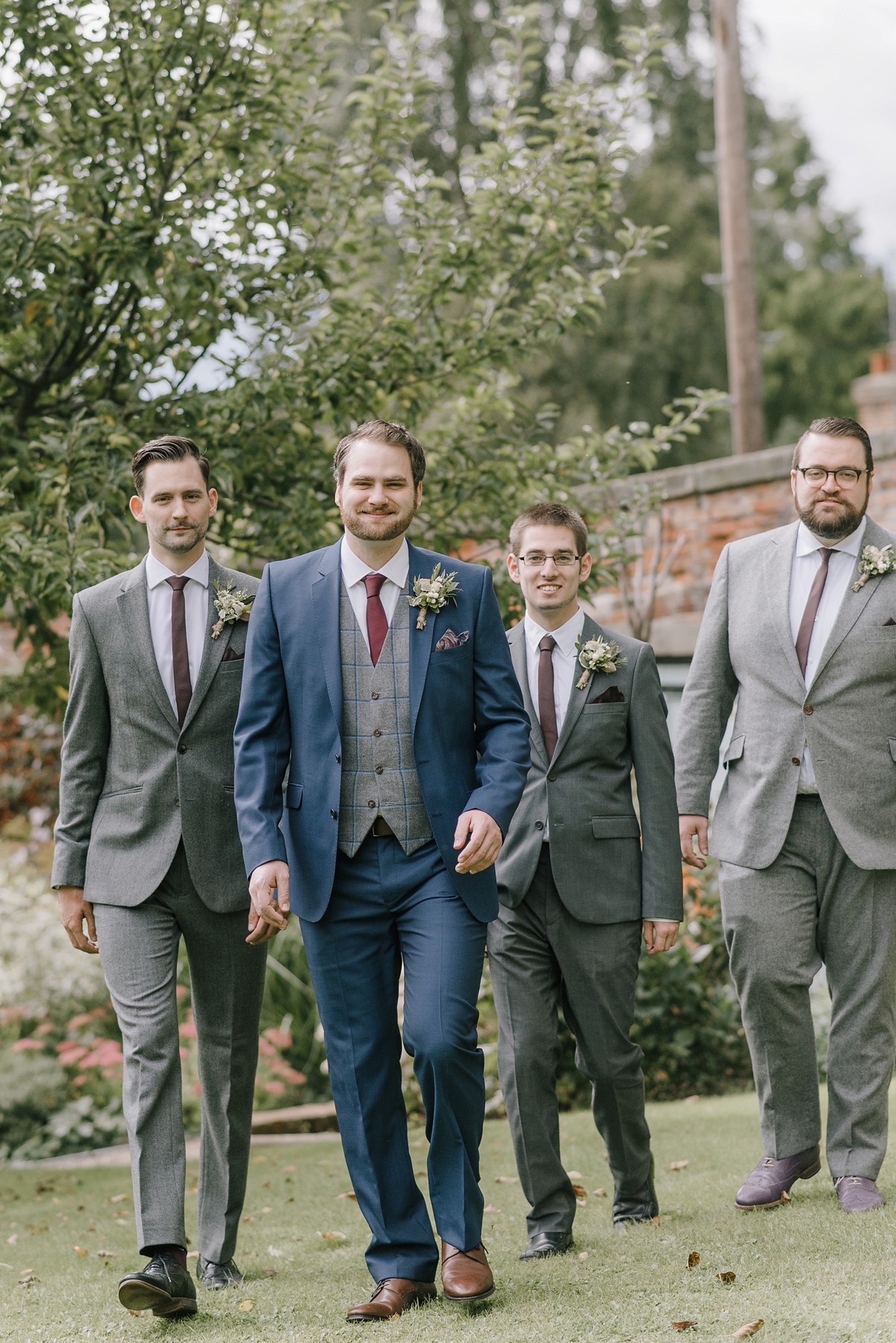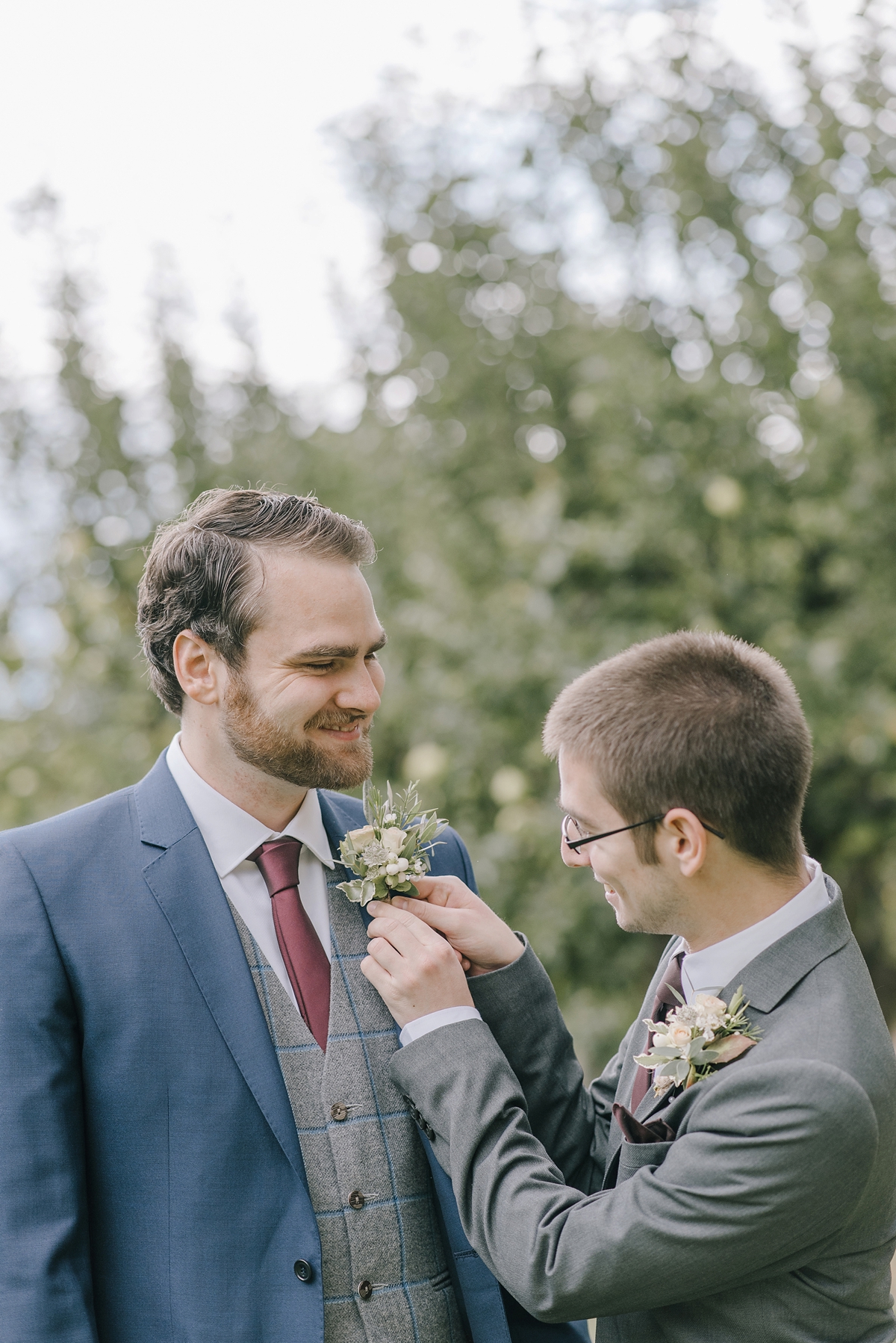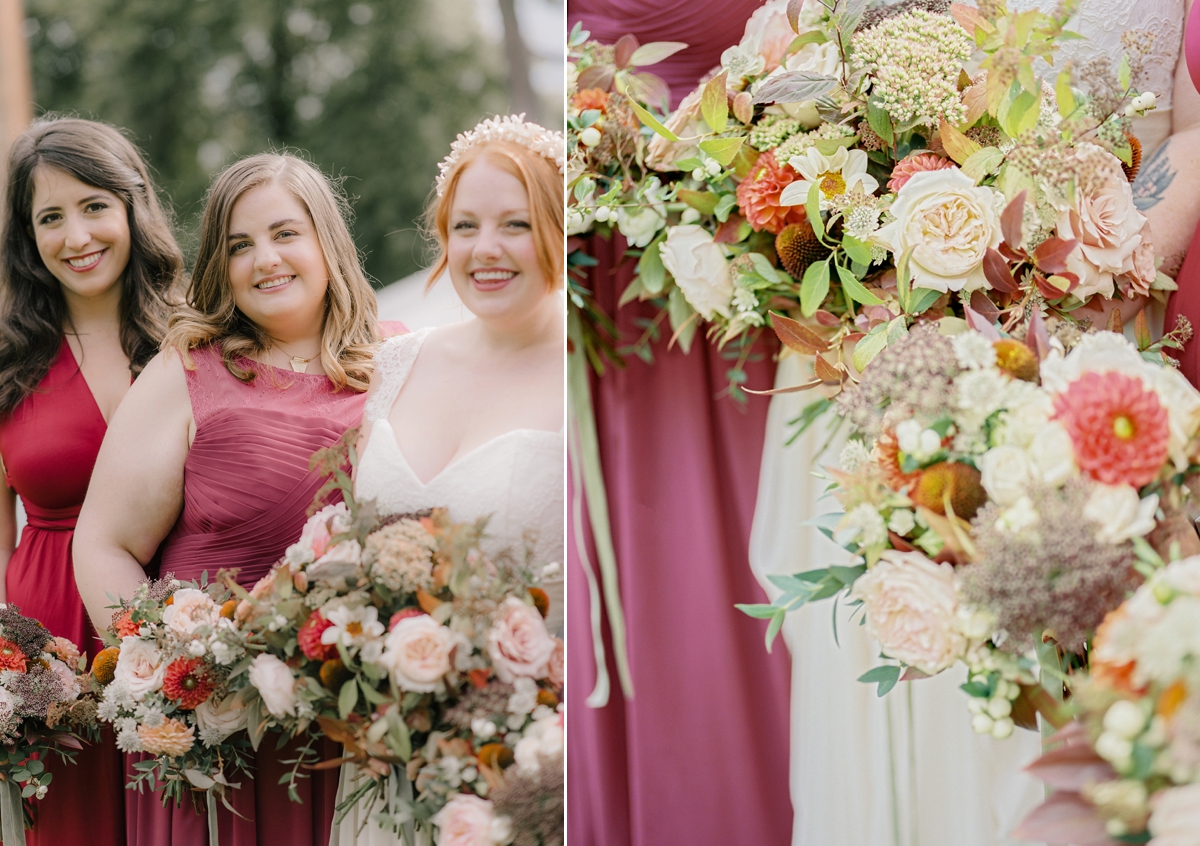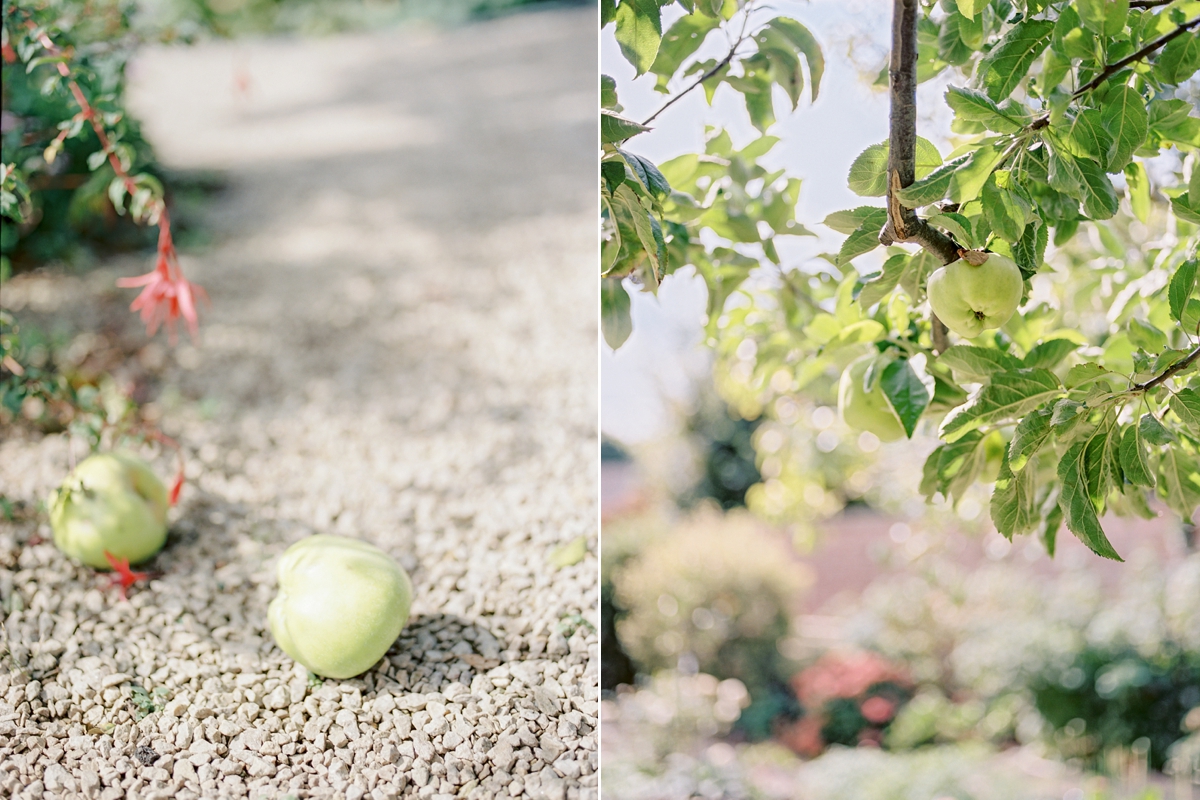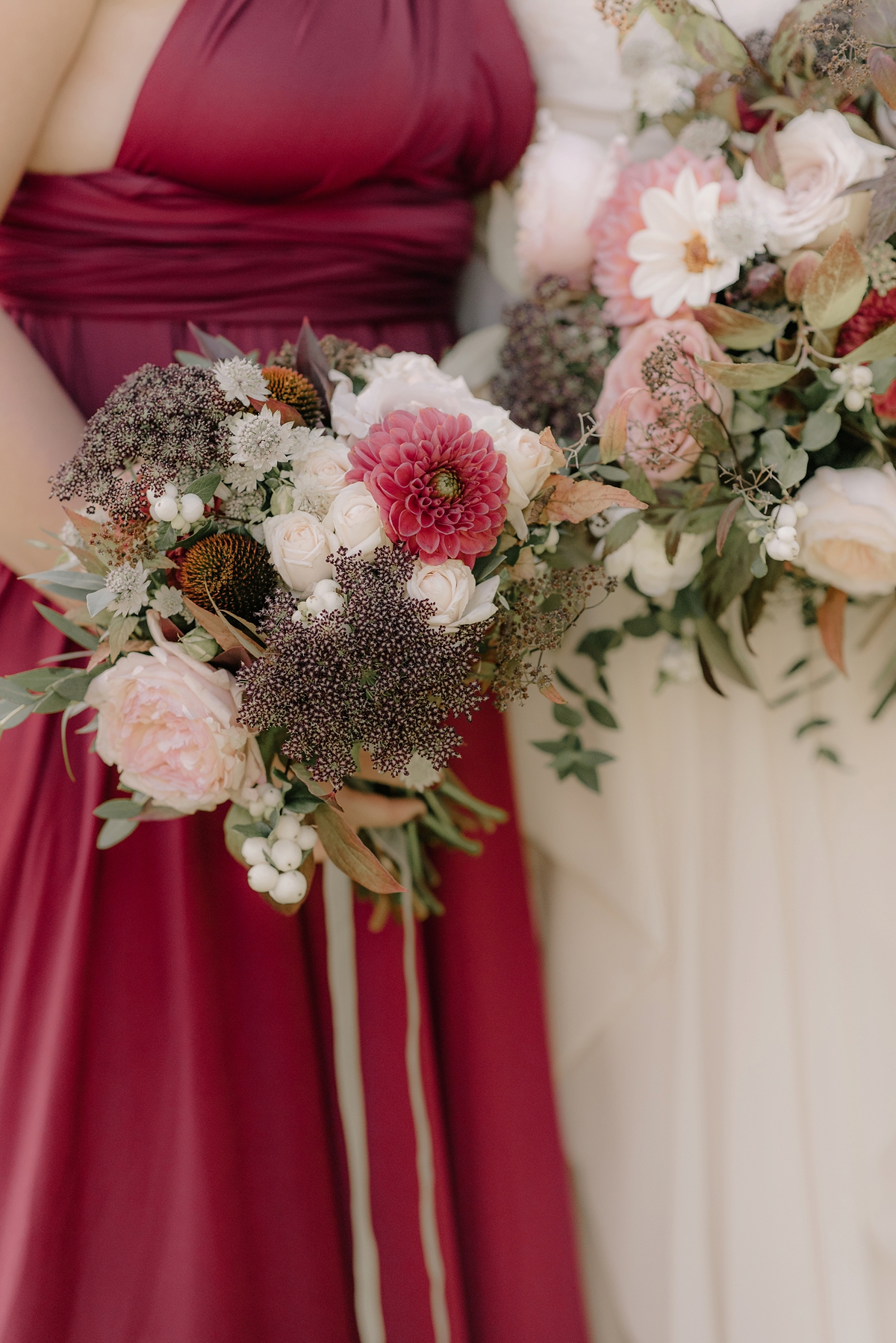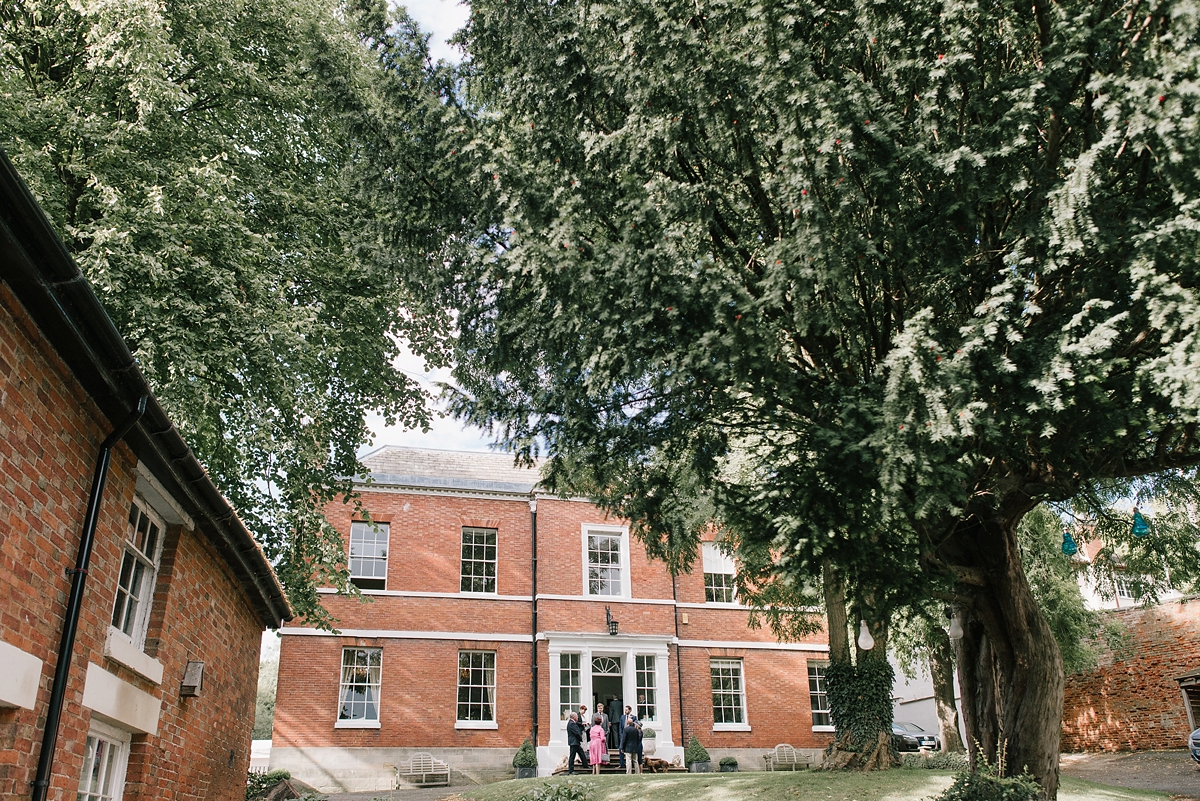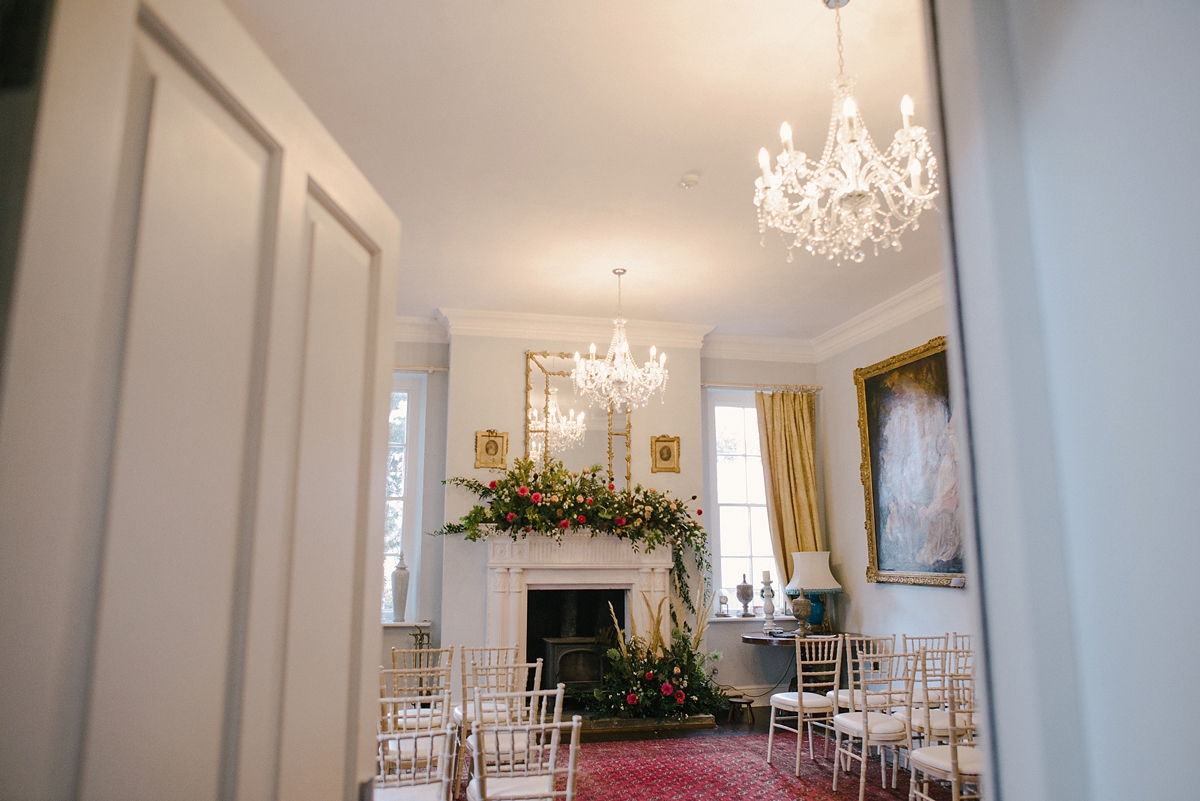 "We were each walked down the aisle by our parents – with Ben to the tune of 'Questions' by Old 97s, whilst I walked to 'This Side' by Nickel Creek."
"We wrote our vows to each other, we wanted to be sure we were making the same basic promises to each other so we took the widely used protestant vows (richer and poorer, sickness and health, ect.) as a framework to guide us."
"Ben included a description he had written of our love just a handful of weeks after we met, I knew it was coming but it was the most magical moment to share this glimpse of just how much we knew even then. Even the registrar was speechless, we've weathered some real challenges together we were vulnerable and honest and I think that made our vows powerful."
Katie's mum read an excerpt from 'Captain Corelli's Mandolin' that sums up the couple's hopes for their marriage. Ben's mum read an excerpt from 'The Velveteen Rabbit', as both of their mums read to them often when they were kids and so it seemed fitting to read from a children's book that holds a special place in their hearts.
"What is REAL?" asked the Rabbit one day, when they were lying side by side near the nursery fender, before Nana came to tidy the room. "Does it mean having things that buzz inside you and a stick-out handle?"
"Real isn't how you are made," said the Skin Horse. "It's a thing that happens to you. When a child loves you for a long, long time, not just to play with, but Really loves you, then you become Real."
"Does it hurt?" asked the Rabbit.
"Sometimes," said the Skin Horse, for he was always truthful. "When you are Real you don't mind being hurt."
"Does it happen all at once, like being wound up," he asked, "or bit by bit?"
"It doesn't happen all at once," said the Skin Horse. "You become. It takes a long time. That's why it doesn't happen often to people who break easily, or have sharp edges, or who have to be carefully kept. Generally, by the time you are Real, most of your hair has been loved off, and your eyes drop out and you get all loose in the joints and very shabby. But these things don't matter at all, because once you are Real you can't be ugly, except to people who don't understand."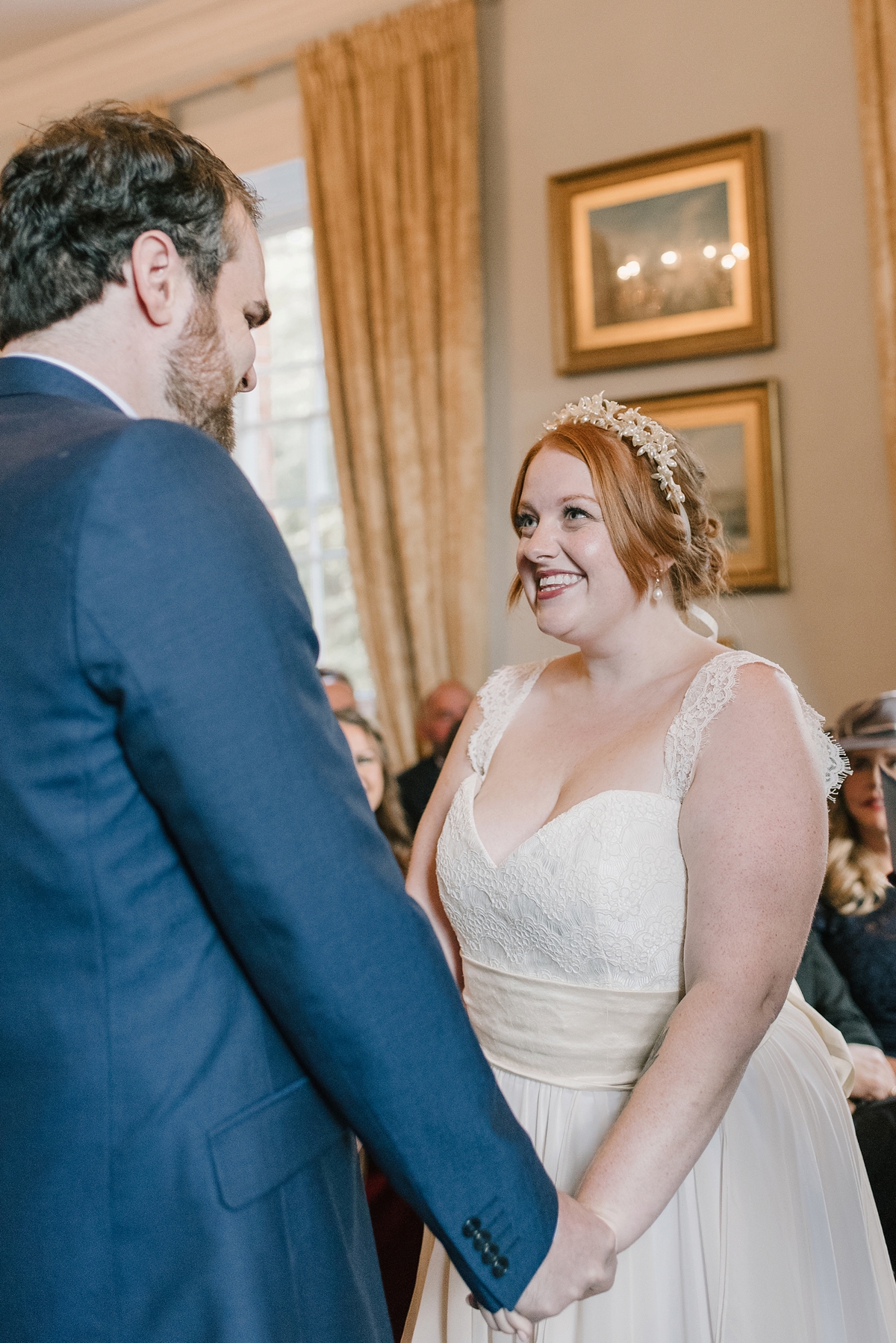 "My rings were via Artemer – I've admired their work for years and I love their delicate stacked style. They use ethically sourced materials and make everything to order in their studio outside Tel Aviv. Ben's ring is from a local jeweller here in Frankfurt, Johannes Lueg."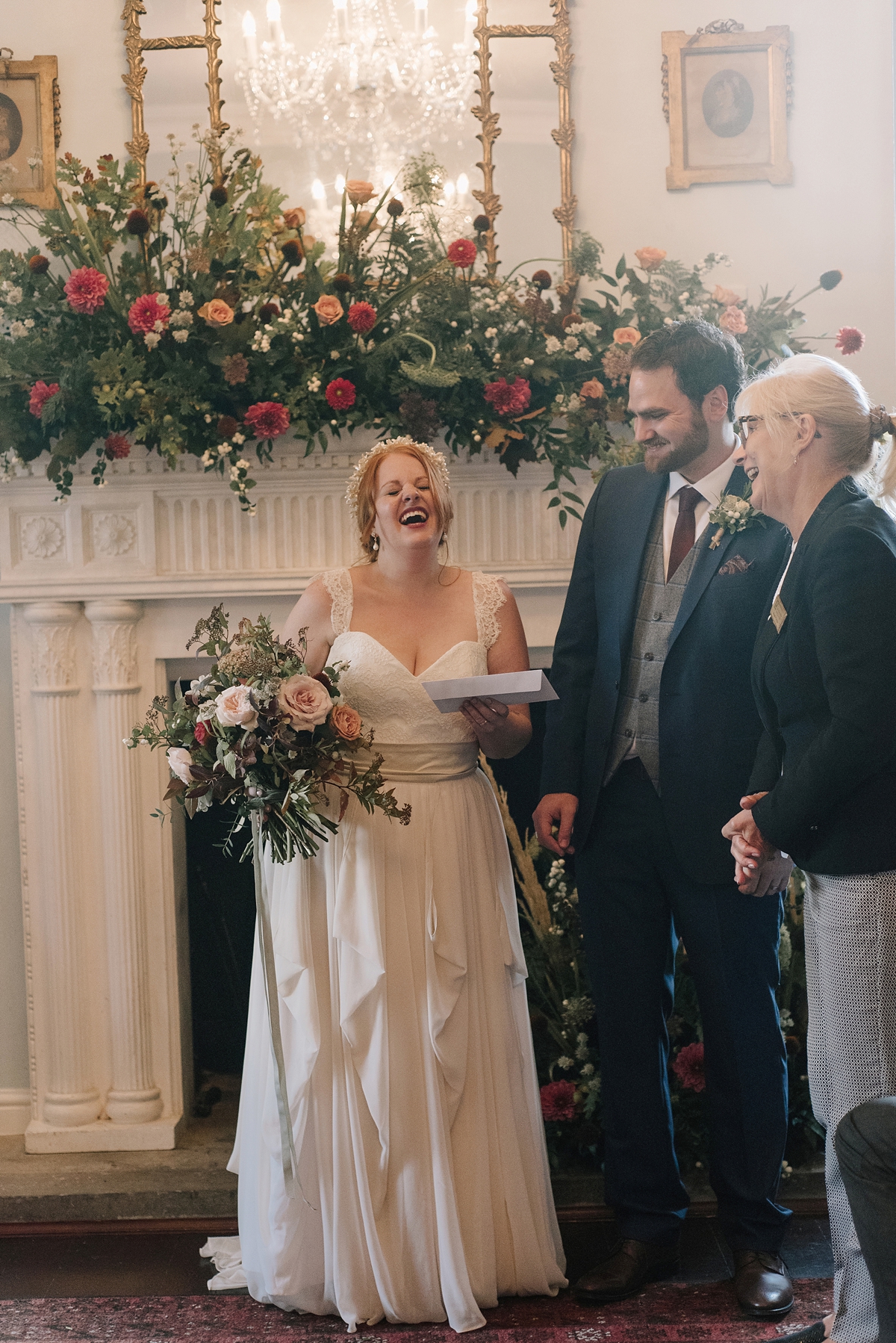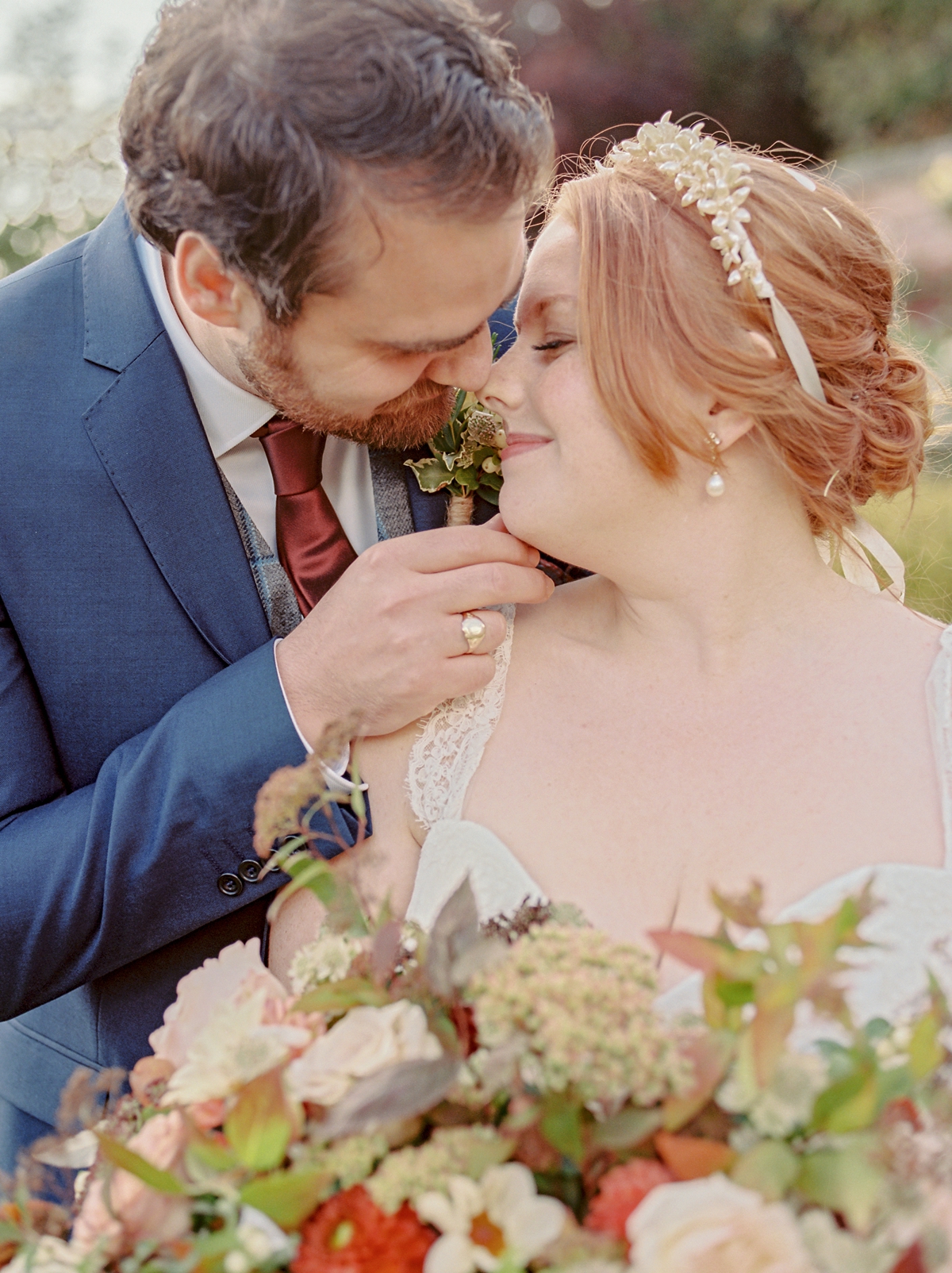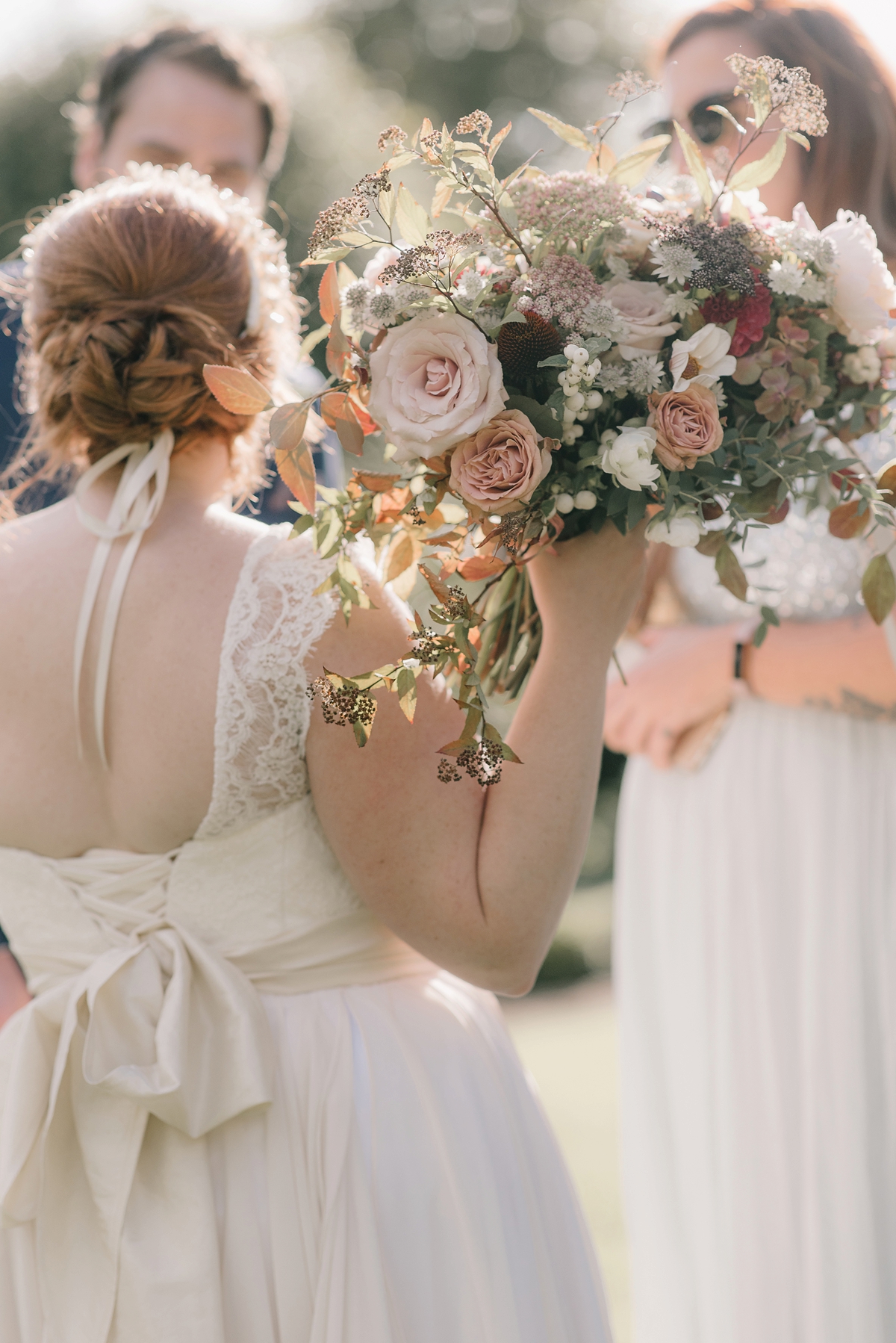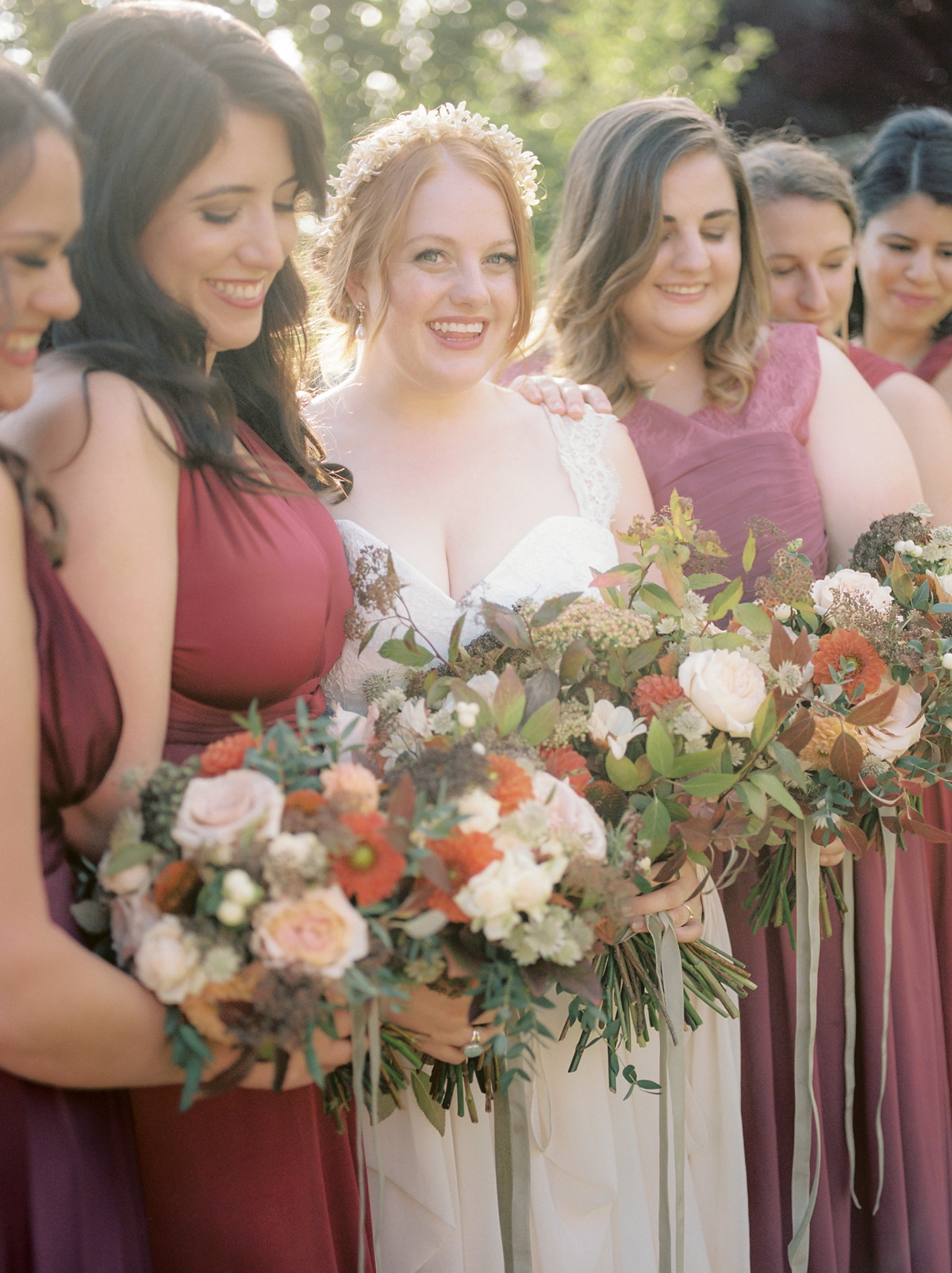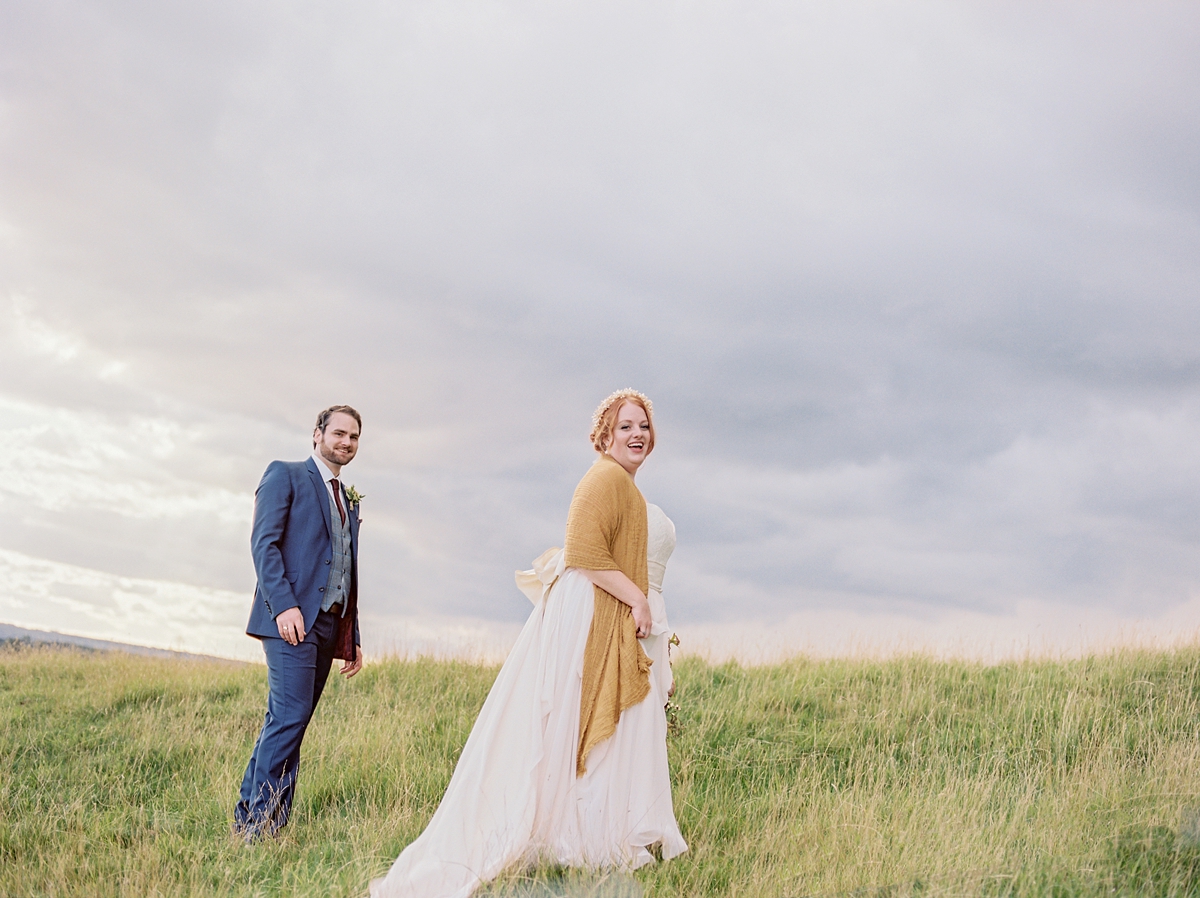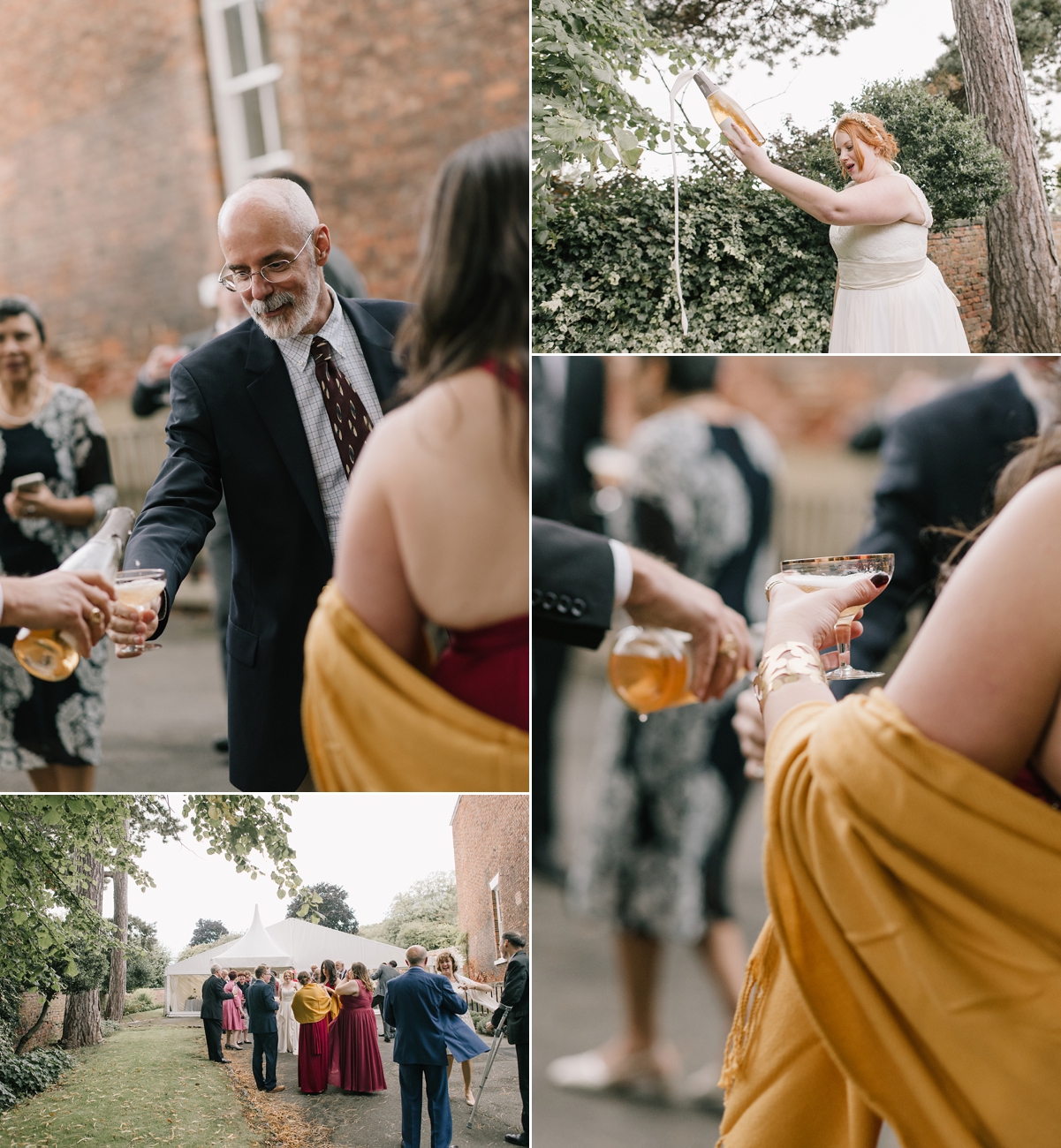 Prepare to be inspired by the styling lovelies – I'm sure Katie won't mind if you go inspiration board mad! To accentuate the romantic art-filled theme, a range of decor was included. The silk grey table runners were from Rustic Wedding Company, the vintage lounge furniture from The Poppy Trading Company, and the lovely antique, mismatched gold china from Vintage Gold China – and lots of assorted fall fruits were arranged to run down the tables. Just beautiful!
Charlotte of Charlotte's Kitchen at Breedon Hall prepared tasty cuisine for the guests – and the couple's delectable three-tiered cake was from Melody Cakes.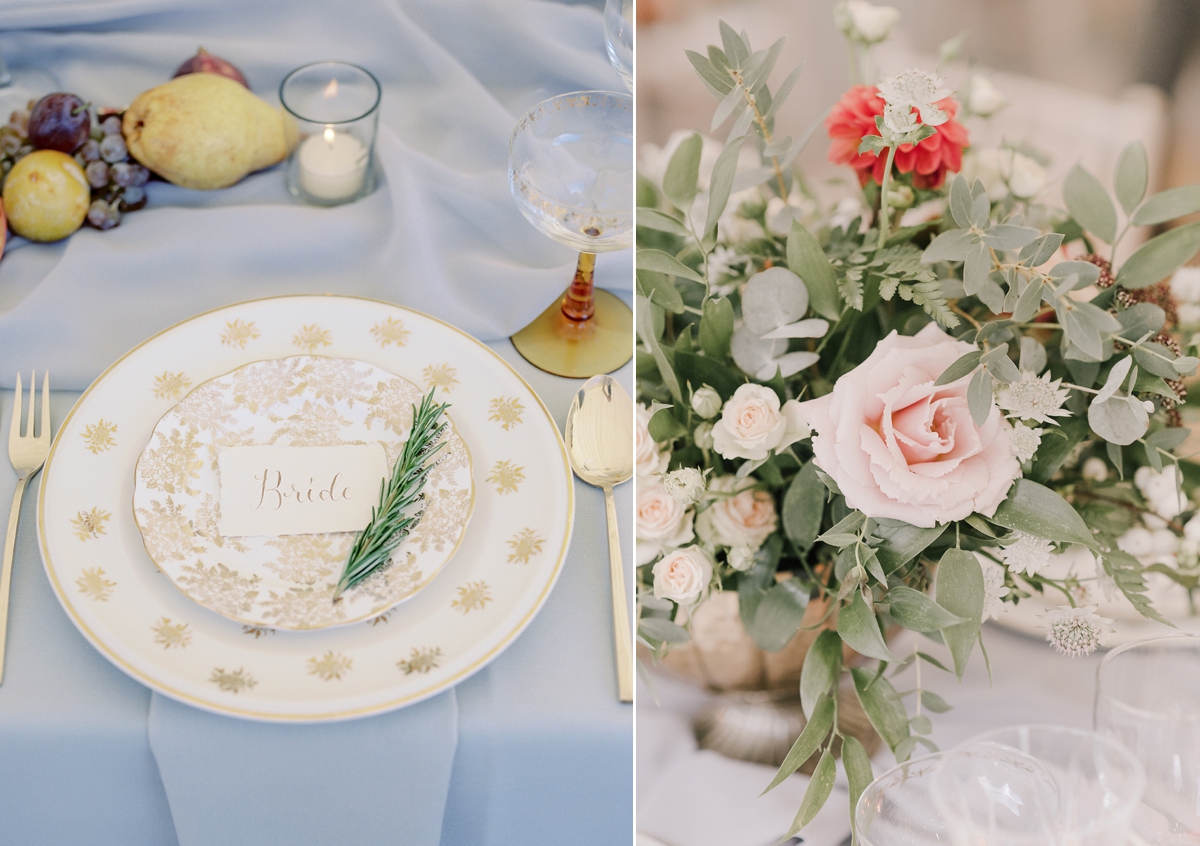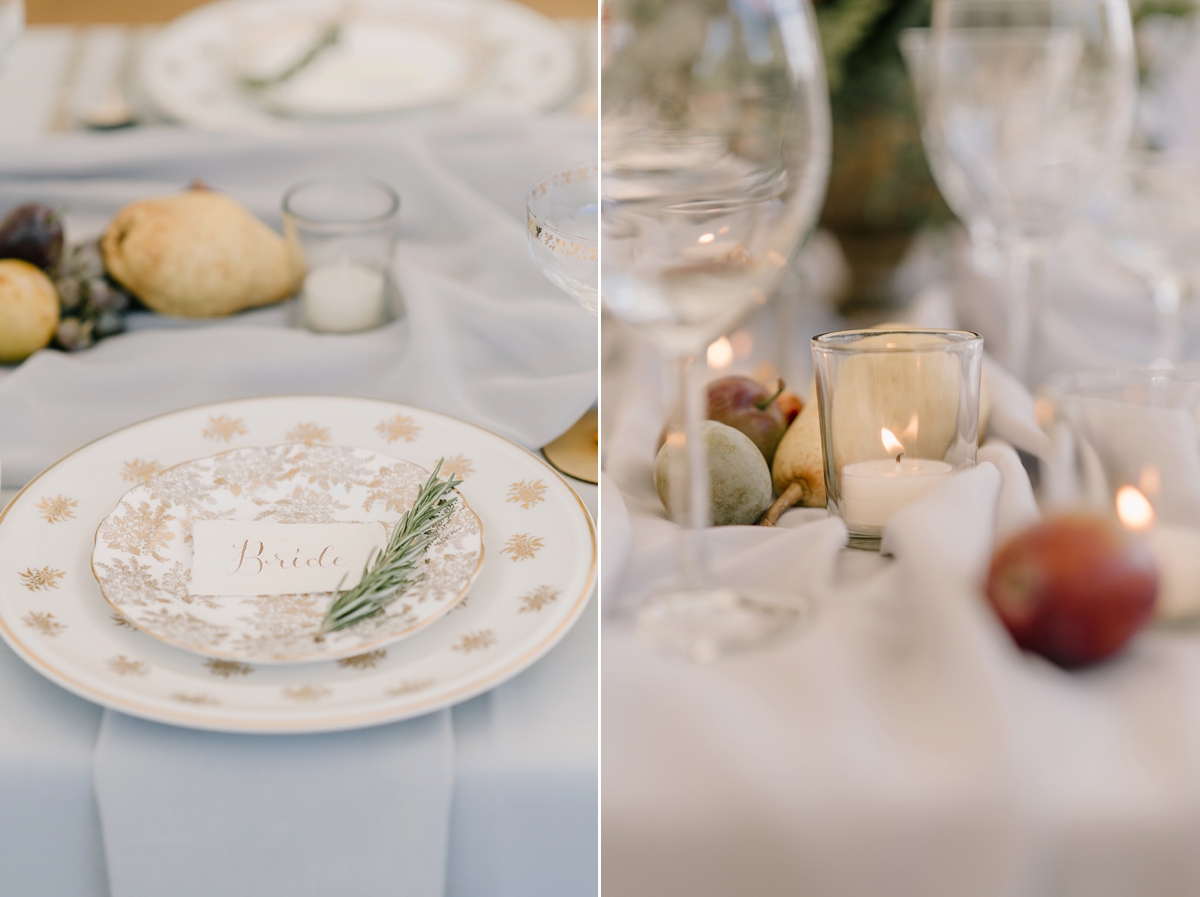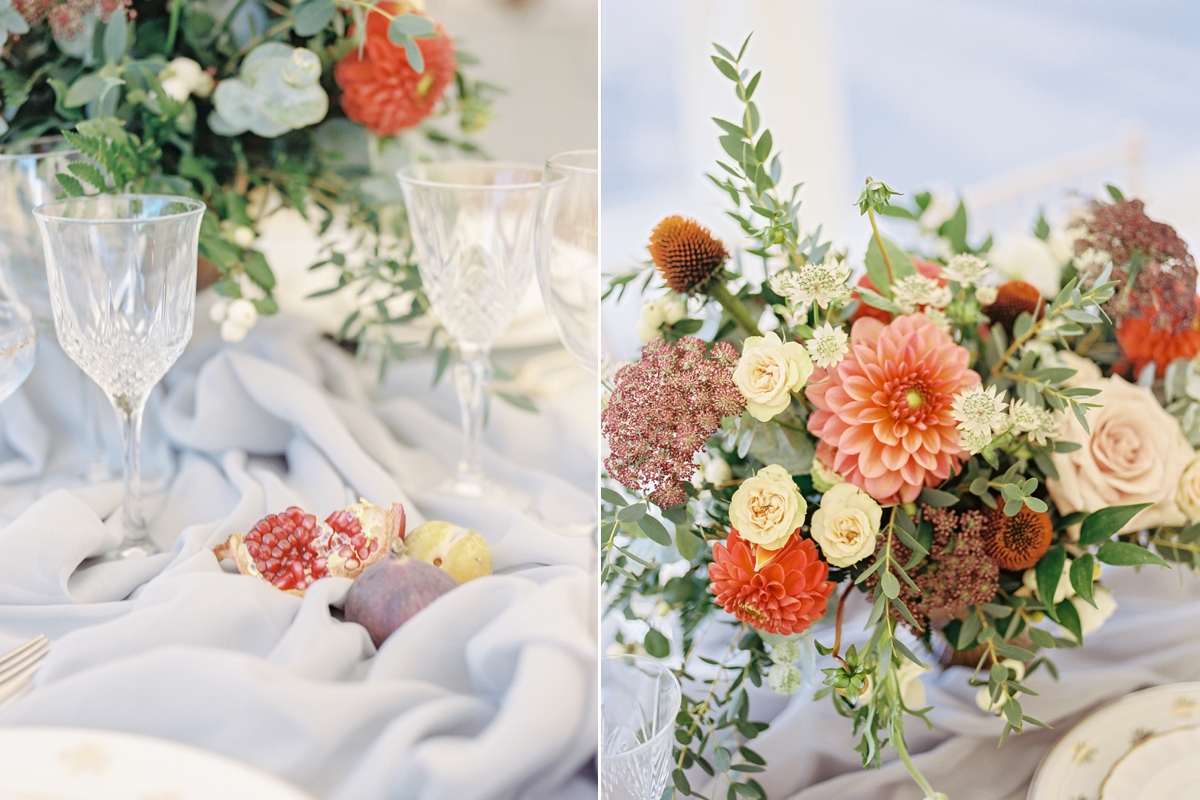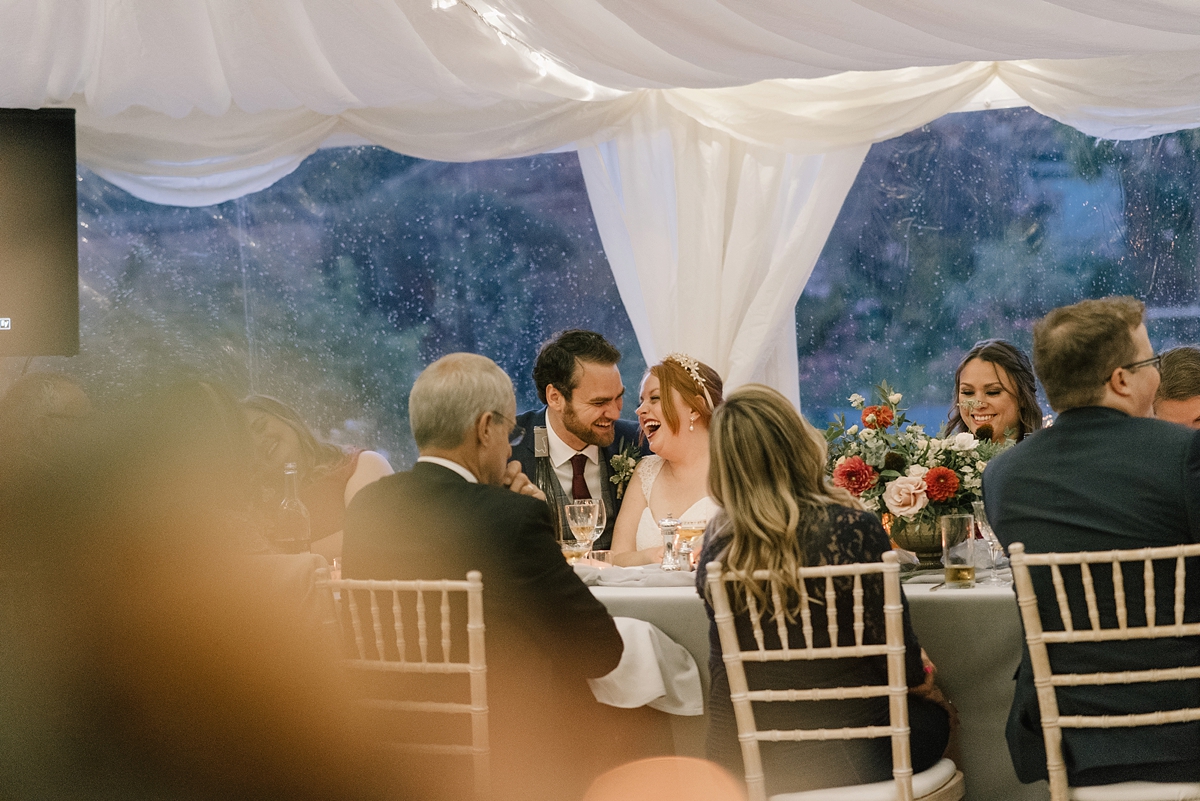 The couple danced their to 'They Bring Me to You' by Joshua Radin for their first dance – a special song that resonated so many feels for both Katie and Ben.
"When we first met, we both kept blogs and of course I would scour Ben's to learn more about this incredible human I was falling for. One day, he posted the song simply saying "This song gives me a feeling I struggle to put into words". I pressed play, my heart stopped, time stopped. I listened to it on repeat those first months, we would stay up at his apartment singing it together as he played guitar. It's so much more than our song, it holds all of the infinite love and wonder of meeting my soulmate."
"I didn't expect it to be such an incredible experience, but it blew me away. Getting ready with my best friends, sisters and mums with a 2013 single vineyard Riesling, seeing Ben's face standing in the early autumn rain when we had our first look, reading our vows, seeing my sister tear up out of the corner of my eye, every moment Ben and I looked at each other and just revelled in the awesomeness of being married to one another, the triumphant joy as we emerged to see our guests, grabbing a sword and sabering a bottle of bubbly, climbing country trails holding Ben's hand, crying at the speeches and dancing until the DJ had to leave. Every single second was a universe unto itself and they were all perfect."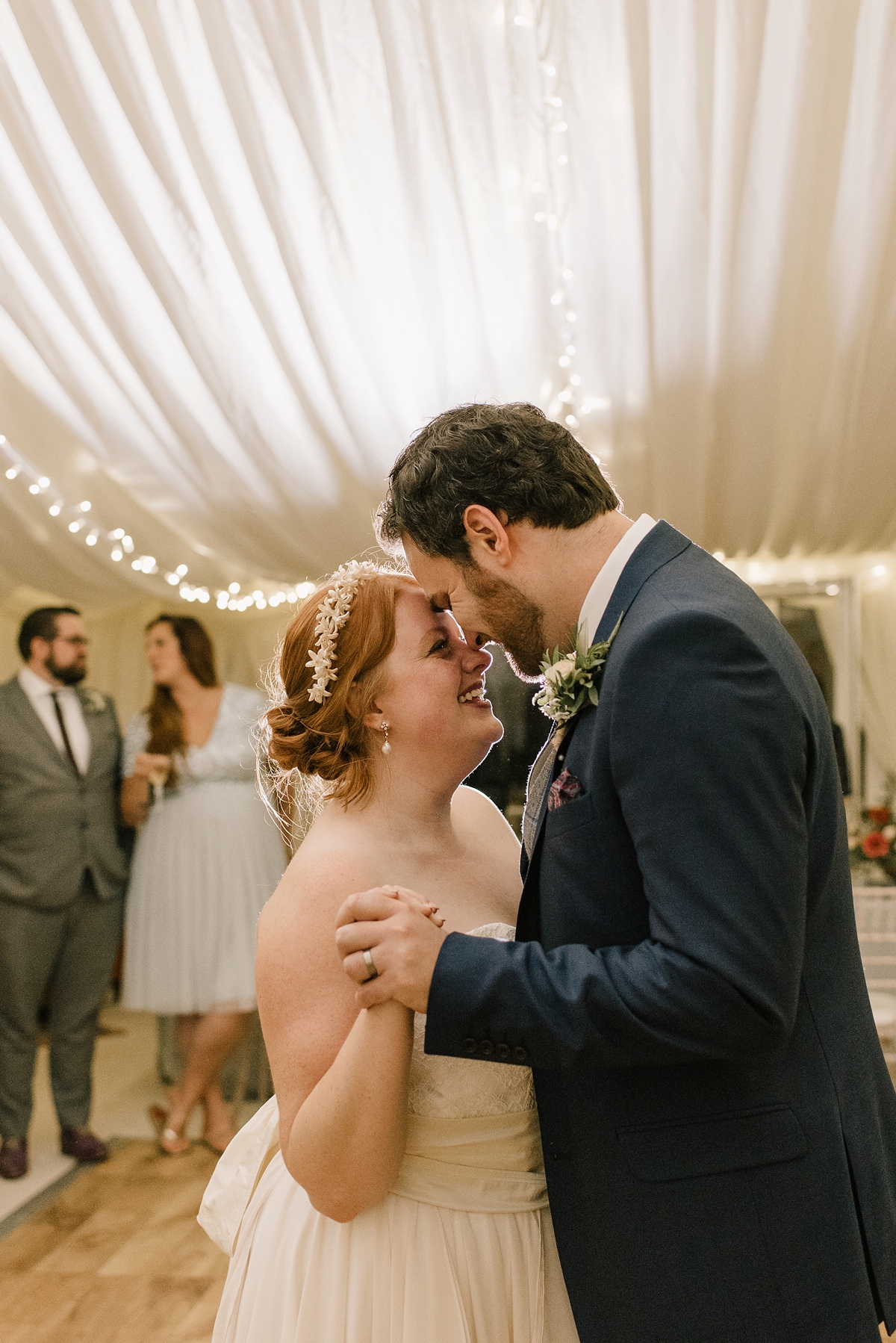 Words of Wedded Wisdom
"Do what feels right, only if it feels right. I promise that the things you think matter when you are planning aren't what matter on your wedding day. Also, if you are struggling emotionally and mentally with the process and you think "but this is supposed to feel good", know that it's normal not to love it all, it's normal to struggle with the stress and the pressure. I definitely did and I know so many women who have. There's no wrong way to feel, and I promise that if you fill your day with the people and the values that mean the most to you, you can't go wrong."
"If I could do things differently, I wouldn't have been so worried and stressed out about every detail. I didn't trust my gut and it caused so much more anxiety than was necessary. I adopted a "Screw it! It'll be fine!" mentality right before the wedding and I could have used that 9 months earlier."
"We originally budgeted £20k for everything including flights when we were planning and accommodation- we got it down to £18k but there were a number of last minute odd and ends that we didn't bother adding up for our own sanity. I'd say £20k all said and done."
I'm yet to meet a bride who sailed through their wedding planning with zero issues, so I know our engaged couples currently sorting their big days will be reassured with Katie's very wise words! Thank you so much to Ben and Katie for allowing us a sneaky peek into your most delightful day.
Also, a huge thank you to Georgina and taking such beautiful images of the couple – you can view more of her stunning fine art photography we've previously featured on the blog here.
Have a wonderful rest of week everyone.
Love Jo -x0-