Brides-to-be, have you considered whether or not you'll  wear a veil on your wedding day? If you're not sure or want something a little bit different, then I hope today's bride inspires you, with her elegant choice of Juliet cap by Britten.
This fun-filled celebration is a day filled with 1920s glamour, a slim-fitting, totally elegant gown and some of the most creative old-fashioned, travel-inspired details I've seen. The bride and groom are Lucy, a Vet and Will, a Firefighter, Painter and Decorator. They married in a house party-style wedding at Dillington House, Ilminster, Somerset on 22 July 2017. Taking inspiration from the Golden Age era, they wove in a colour palette of blush pink, gold and sequins inspired by Lucy's Claire Pettibone gown. The couple wanted a wedding venue that was fairly close to their home in Wells, which offered space for the civil ceremony and reception, with accommodation for guests and no noise restrictions or curfew. Enter Dillington House! They married in the beautiful hall inside, then headed to the adjoining Mews Theatre for their wedding breakfast and party.
Lucy wore the most glorious Claire Pettibone gown (more on that shortly) but for extra vintage feel, she visited veils and accessories designer Britten's studio for her Juliet cap. We are so incredibly proud to support the Britten team on both Love My Dress and Little Book for Brides, and the pieces they make are just exquisite. I really love the ethereal feel of the veil and how it frames her face, and it's made so special teamed with the Britten 'Luna' headband, custom-made in blush and gold.
"We wanted a vintage kind of feel to the day – a bit of a 20's weekend house party atmosphere. This was cemented when I fell in love with a vintage-style dress in an unusual colour palette, which inspired a lot of the look of our day. As for my veil – I live not far from the Britten studio in Bradford-on-Avon, so I was lucky enough to be able to go along with my dress and try things on. They made me a Juliet veil in a custom Champagne tulle to match my gown."
Photography Pete Cranston Photography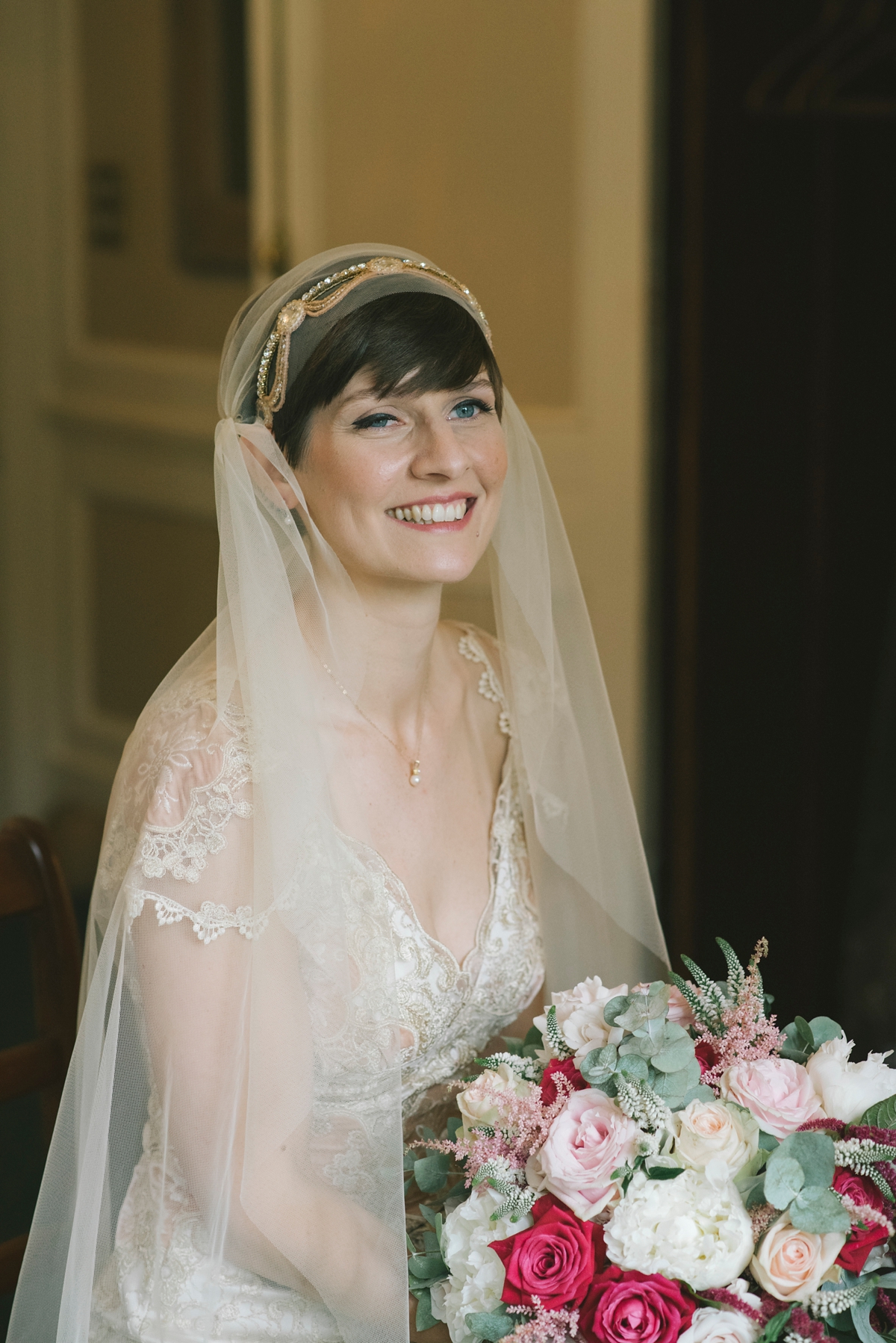 Isn't Lucy's gold Claire Pettibone gown so incredibly beautiful with its draped, beaded sleeves and that fine detailing on the back? She found it on Preloved.
"I've loved Claire Pettibone dresses since I first saw one, which was probably before I got engaged. I loved their unusual look, the use of colour and the vintage styling. I'm really not a typical ivory lace wedding dress kind of girl! The Genevieve gown I wore was actually the only dress I ever put a picture of in a scrapbook but not only was it outside my budget, it was also discontinued when I got engaged. Luckily, keeping an eye on Preloved paid off when an unworn, unaltered Genevieve was advertised in my size, two hours away from me.""My wonderful sister bundled her husband, toddler and newborn into the car and also drove two hours to come and give me a second opinion when I tried it on. The first thing I said was "I can't wait to show Will" though I did manage to restrain myself. I loved everything about the dress – the beautiful golden and blush colours, the texture of the embroidery and velvet inlay, the dramatic low back, and how light and comfortable it was. Not to mention the vintage look – I felt like someone from 'Downton Abbey'."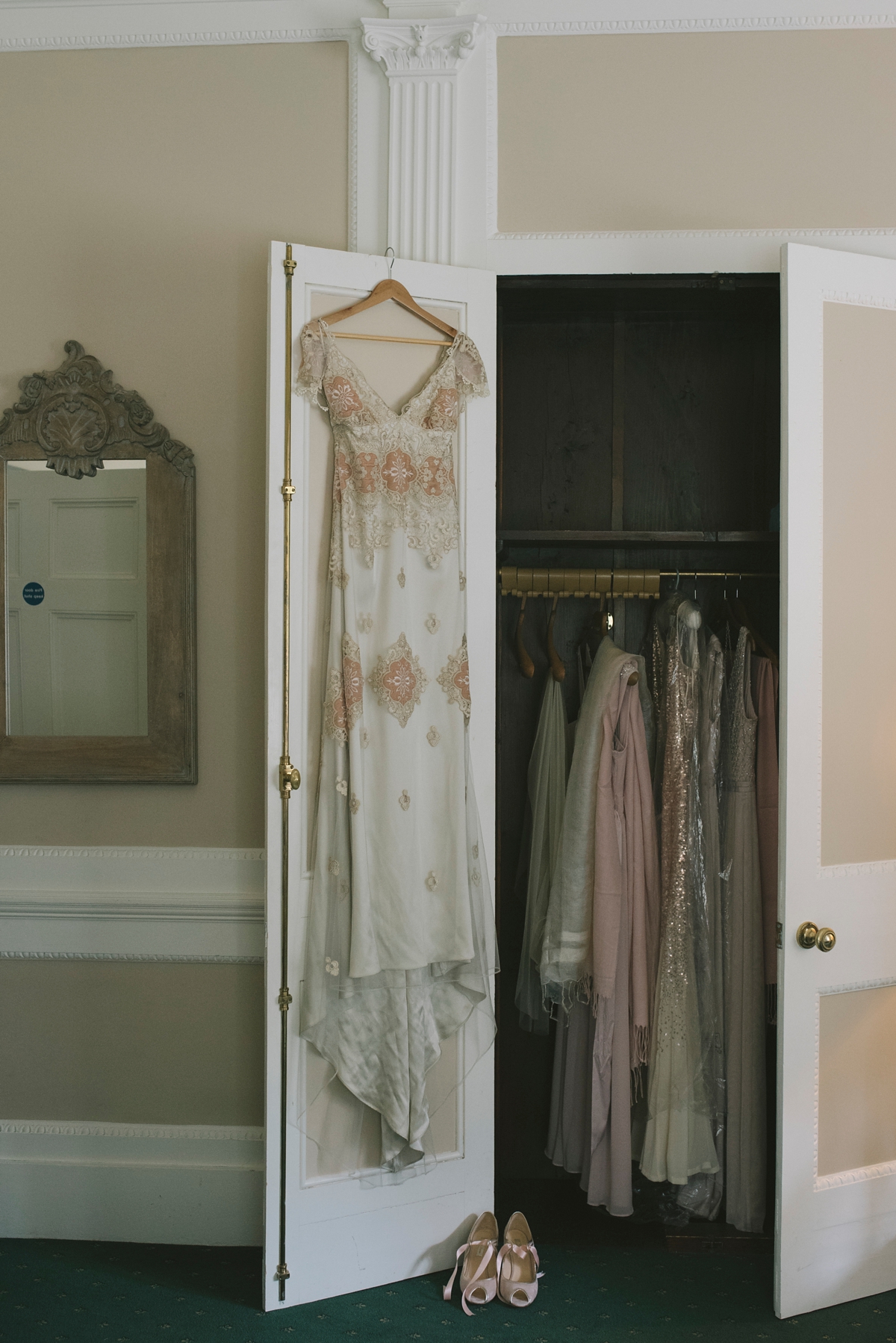 Her shoes were the Art Deco-inspired blush and gold high-heeled peep-toes 'Agnes' shoes from Rachel Simpson, tied with organza ribbon in blush pink. Just so elegant.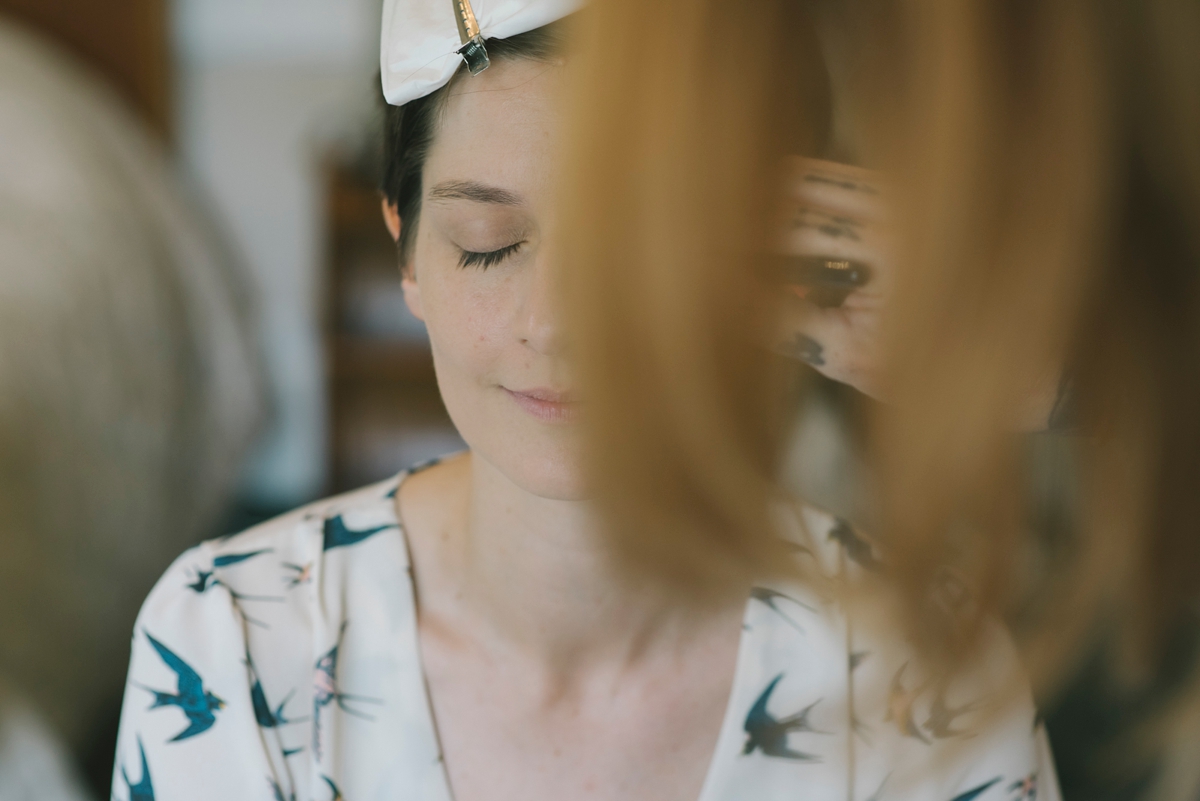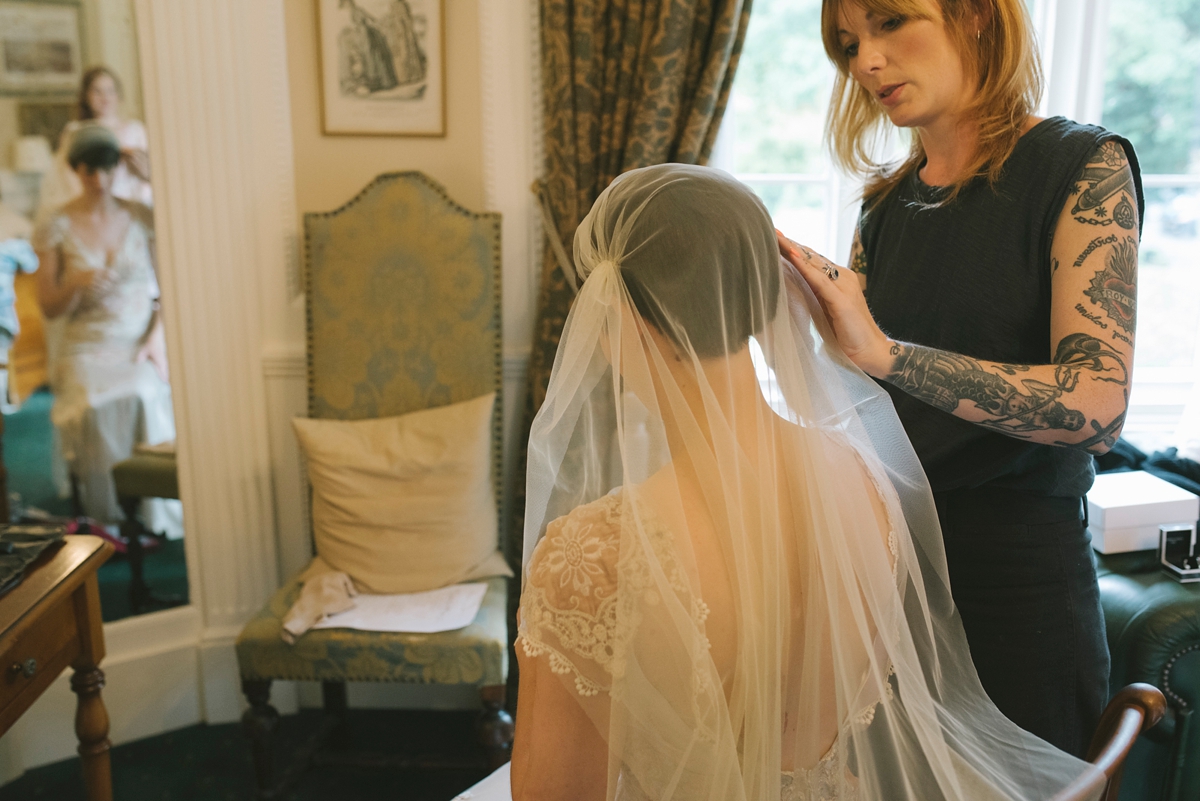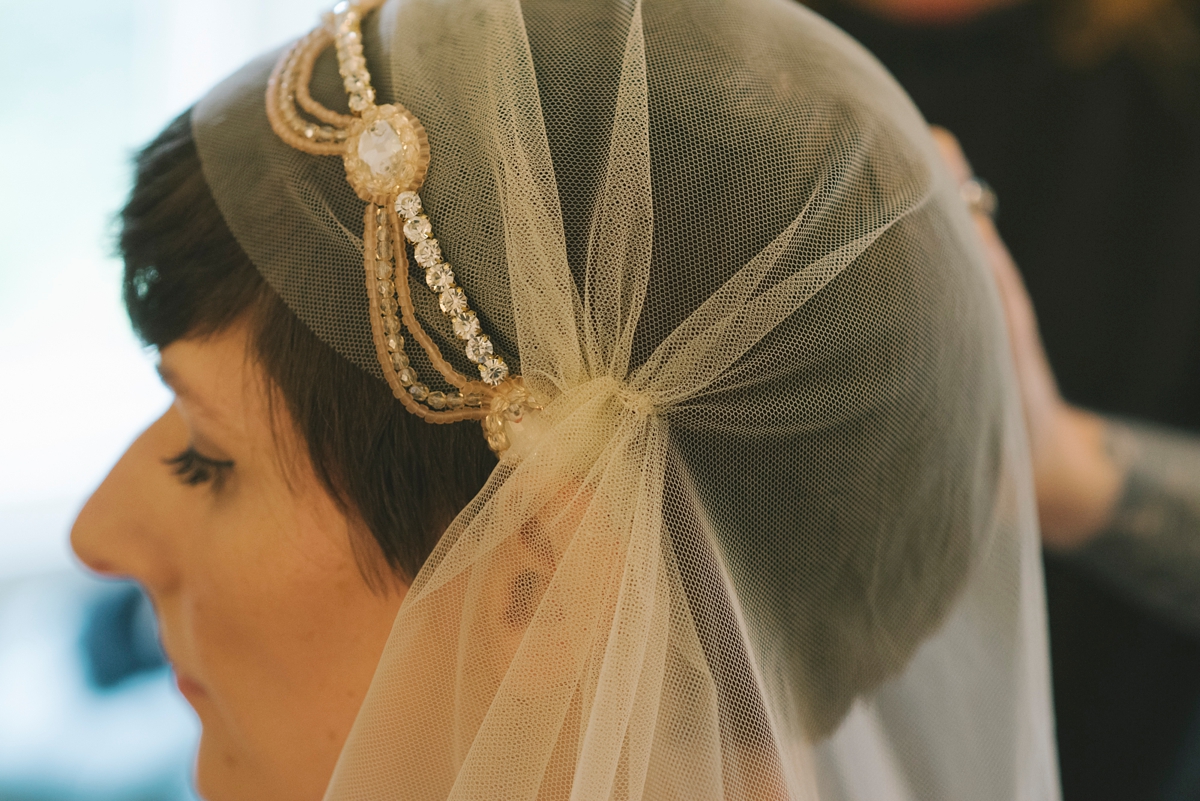 Lucy's pixie crop looked glamorous and chic, styled by Kate Roe. Her make-up was discreet, but I love the subtle feline flick which enhances her eyes.
"Hair for myself and bridesmaids was by Kate Roe, who I was put in touch with by Heartfelt Vintage in Bristol. I very rarely wear make up, but wasn't brave enough to be bare-faced on the day. Kate did a brilliant job of keeping the makeup light and natural, as well as supporting me in my decision to cut several inches off my hair a few months before the wedding!"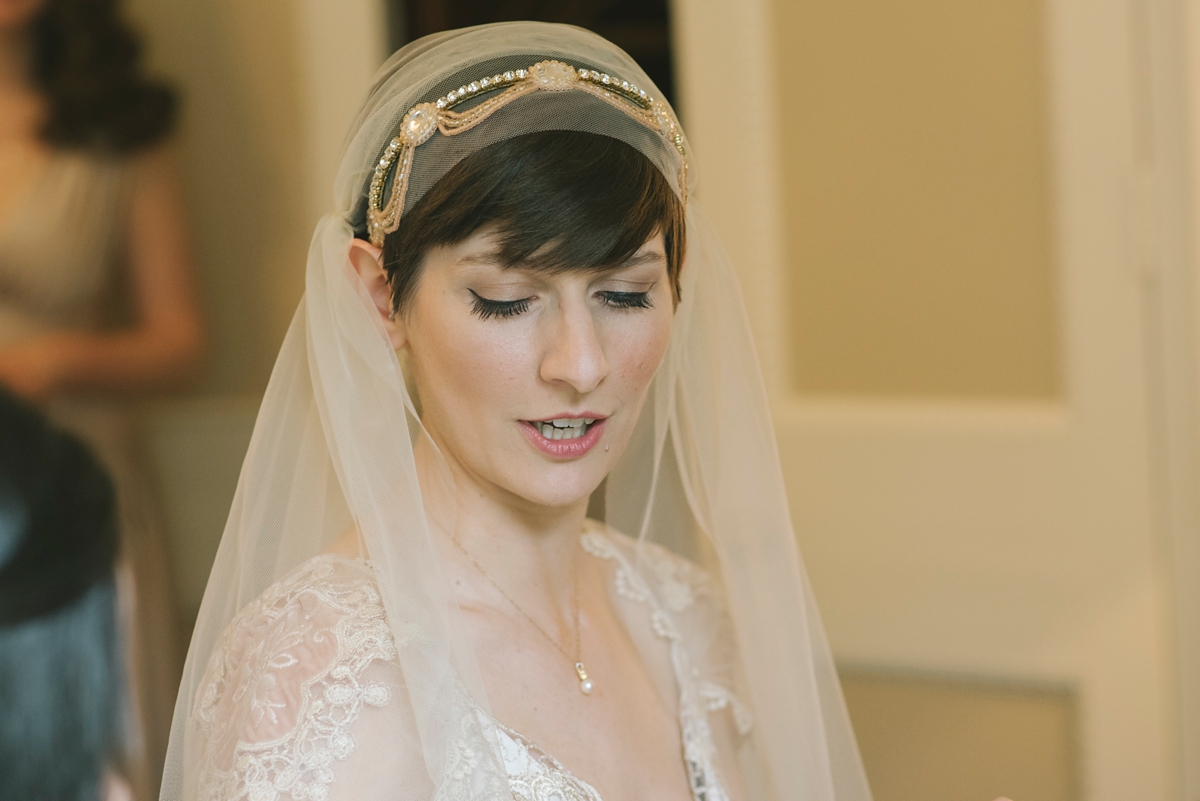 "During the day, I wore a set of pearl drop earrings that my mum bought for me the day before the wedding from Studleys Jewellers where Will and I had bought my engagement ring and a pendant to match that my sister lent me, which had originally belonged to my aunt." 
"In the evening I changed to a rose crystal pendant and earrings from Etsy seller LuluSplendor and wore the bracelet from this set all day."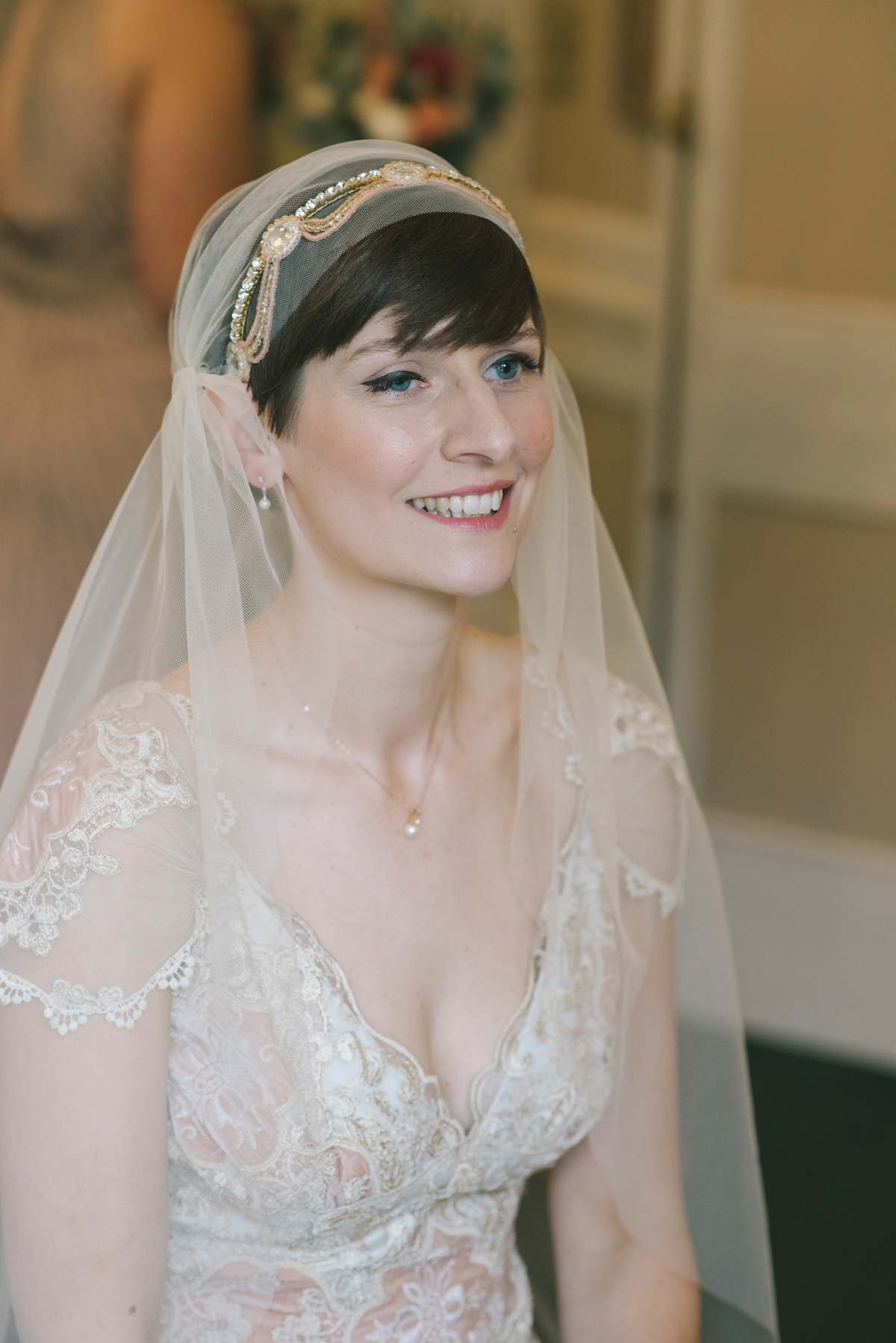 I am always so interested in how couples met and this pair first crossed paths when Will shared a flat with one of Lucy's work colleagues.
"After our Christmas party, when I had only been in the job about six weeks, Will was persuaded to give me a lift home on the way back to their flat. To tell the truth, as it was dark, I didn't really remember him much from that meeting. A couple of weeks later he tagged along to the most boring New Year's Eve party ever at my house and we started chatting and getting to know each other. Eventually, we both plucked up the (Dutch) courage to admit that we liked each other and started dating."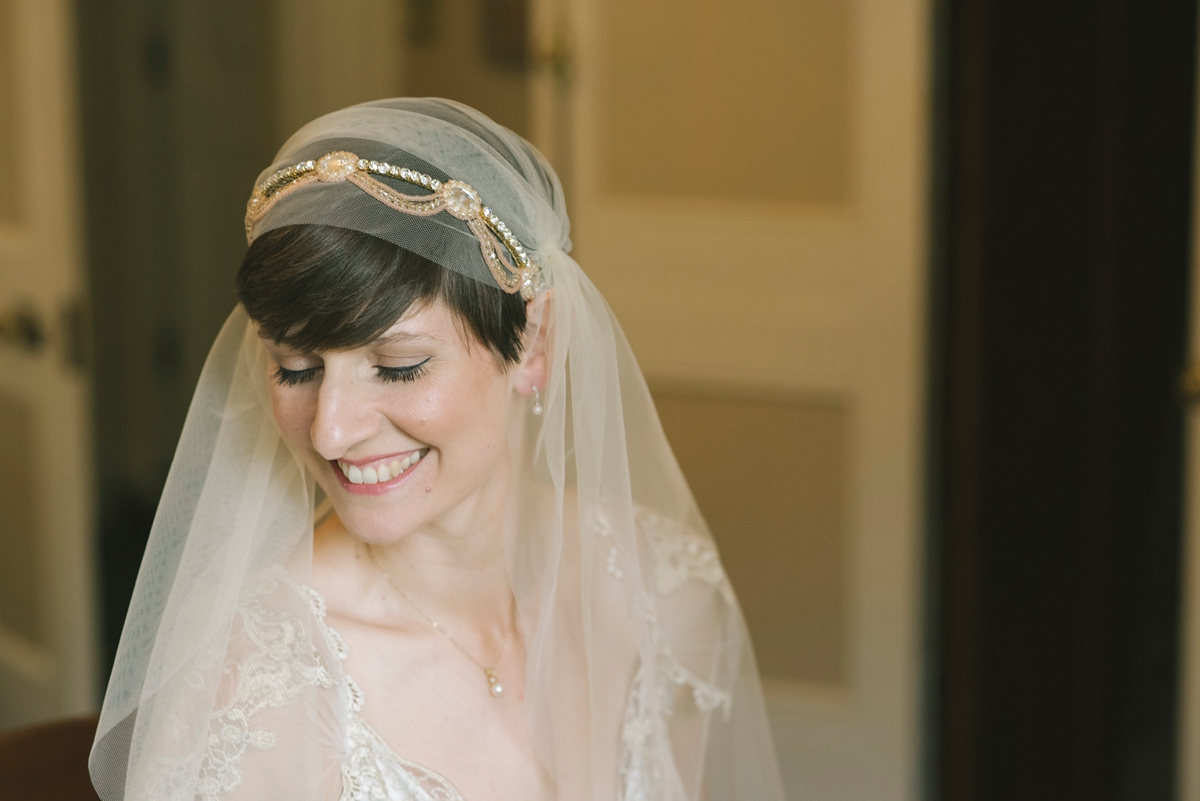 "Our engagement was not the most romantic! After years of fielding 'you'll be next' comments at various family weddings we finally started discussing the idea of marriage, which felt a bit like me telling him to propose! He kept dropping hints (perhaps not considering that I might want at least an element of surprise) and told me he wanted to ask my dad for his blessing beforehand. That he duly did, on the last night of a trip up to visit them in North Berwick."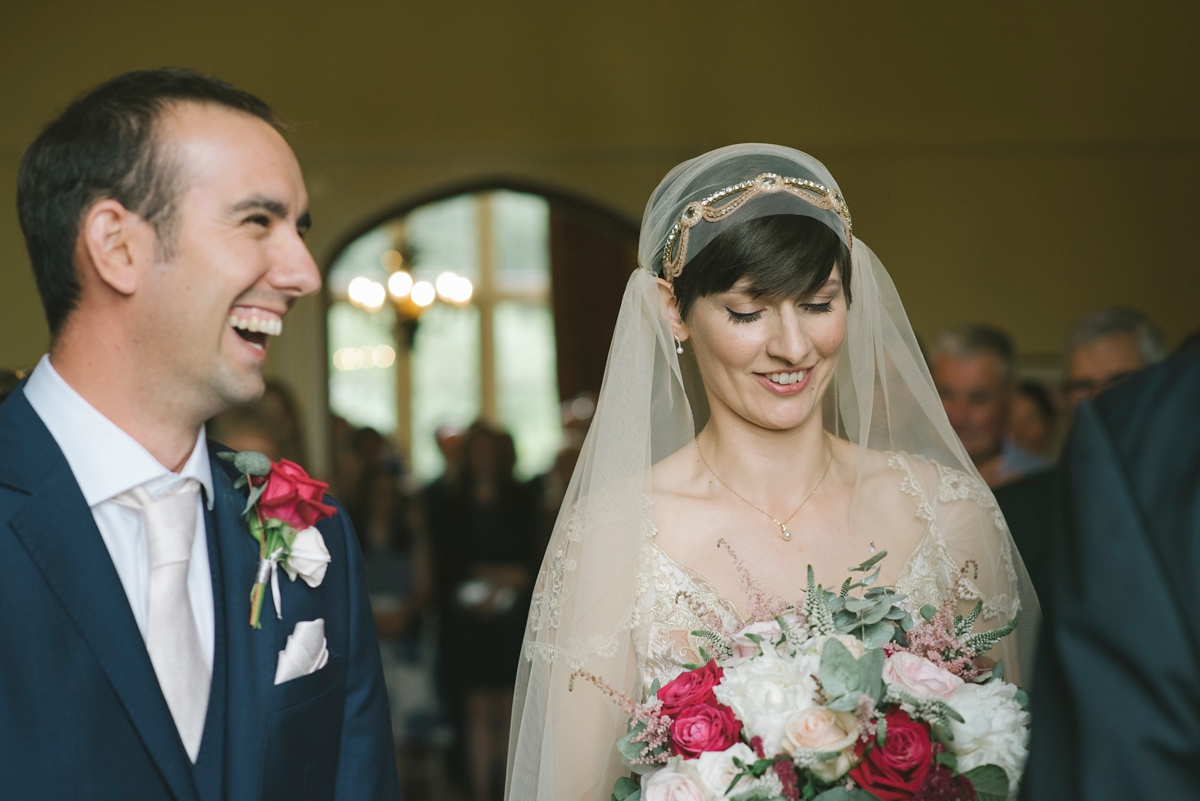 "Unfortunately, misunderstanding that Will hadn't actually asked me yet (officially anyway) dad cracked some Champagne, got my mum out of bed, and offered congratulations all round. So any chance of surprise was pretty thoroughly blown! We returned home and I think my mum texted me every day for about a week asking if we were 'officially engaged' yet, so the pressure was on Will."
"In the end, he did manage a pretty good job of asking me when I wasn't expecting it – by surprising me when I got home one evening after roller derby training, very sweaty and more than a bit smelly!"
Lucy's dad walked her down the aisle to meet Will, as a recording of 'Because' by The Karlins played.
"We chose a recording of a song called 'Because' performed by my mother and aunties. My mum is one of identical triplets and with her sisters used to sing professionally as The Karlins in the 1960s and 70s so we used one of their recordings. The lyrics are beautiful, and the song was particularly poignant, as my Auntie Linda sadly passed away in November 2016. As she and my mother were so close, she was a huge part of my life (she actually gifted me the money that paid for my dress, though unfortunately she never saw it in person). It meant a huge amount knowing she had, in some way, been present on the day."
The couple exchanged vows in a civil ceremony, and wrote their own words.
"I wrote mine first and Will fitted his to match, and to reference one of our readings – 'A Lovely Love Story' by Edward Monkton."
Will: "I promise to love and respect you even when we are old, like dinosaurs. I promise to walk with you to our triumphs and help guide us from tribulations. I promise not to steal the duvet or annoy you too much. I give you this ring as I give you my promise – to create a life together, and a joyful home filled with love and laughter. Let us be friends and lovers, and grow old disgracefully together."
Lucy: "I promise to love you quietly, deeply and permanently. I promise to be by your side for our successes – which I hope are many – and our struggles – though I hope they are few. I promise to occasionally at least consider the idea that you might be right, and I might be wrong. I give you this ring as I give you my promise – to create a life together, and a joyful home filed with love and laughter. Let us be friends and lovers, and grow old disgracefully together. "
Their rings were bespoke designs from Gold & Platinum Studio in Bath, Lucy's made to match her 1950s engagement ring which they chose together at Studleys Jewellers in Wells.
"The ring is a very delicate vintage ring from the 1950s and was almost impossible to match a wedding ring to. In the end we had a matching ring made by Gold & Platinum Studio. Will also got his ring there – a palladium band in a satin finish."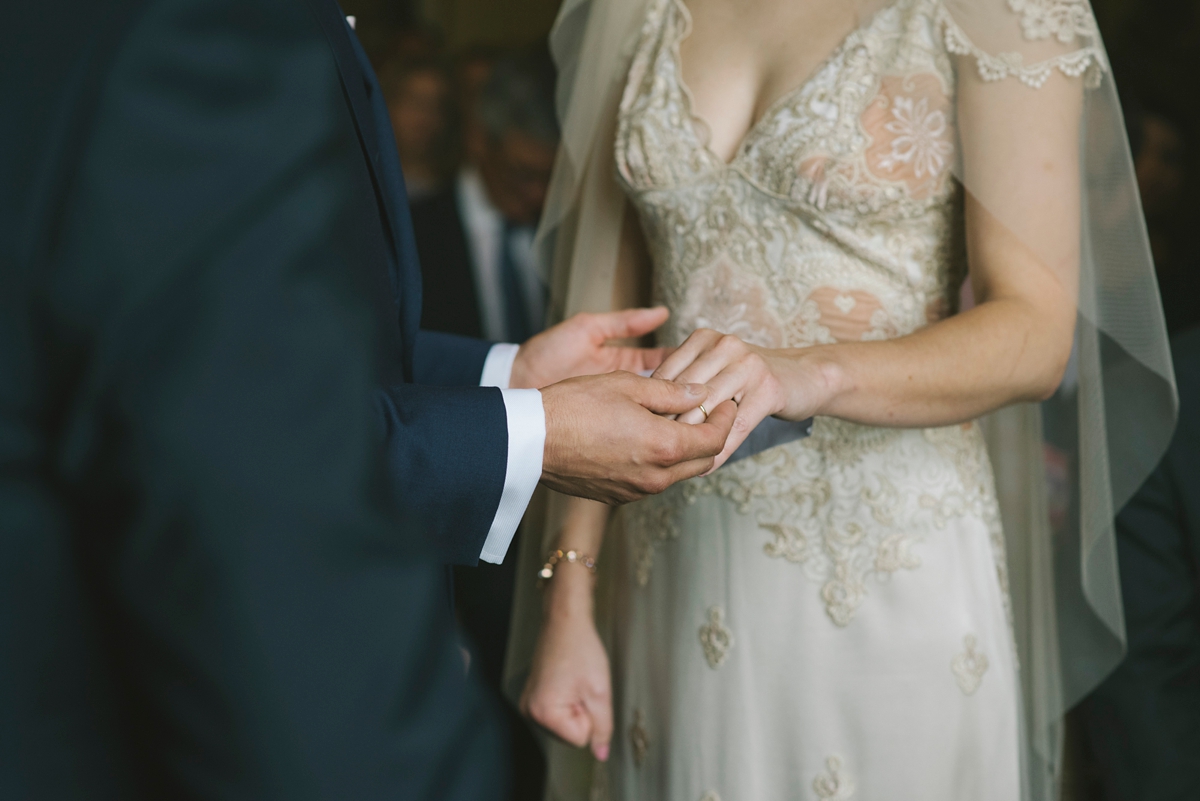 As well as Edward Monkton's 'A Lovely Love Story', Will's sister read 'Love' by Roy Croft.
"I love the line that reads "I love you, Not only for what you are, But for what I am when I am with you. I love you, Not only for what you have made of yourself, But for what you are making of me". I really love the idea that a good relationship can actually lead to both partners being better people if they are open to the strengths of their other half."
Will chose his grey suit at Slater Menswear, adding a tie and pocket square from Mrs Bowtie – a real favourite for grooms looking to add a personal touch to their suits – and wore it with Jones the Bootmaker shoes.
"The father's of the bride and groom had custom ties and pocket squares made by Mrs Bowtie in the same pattern as Will's champagne tie but in a soft blush pink."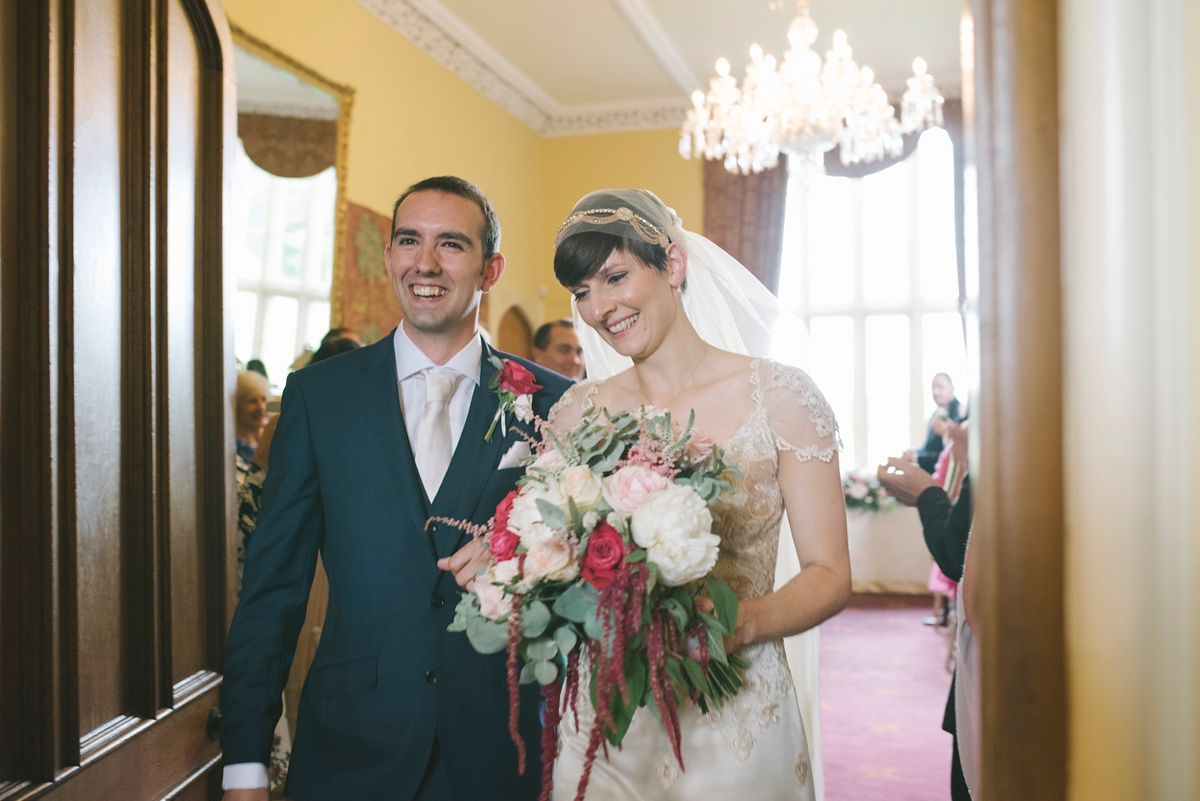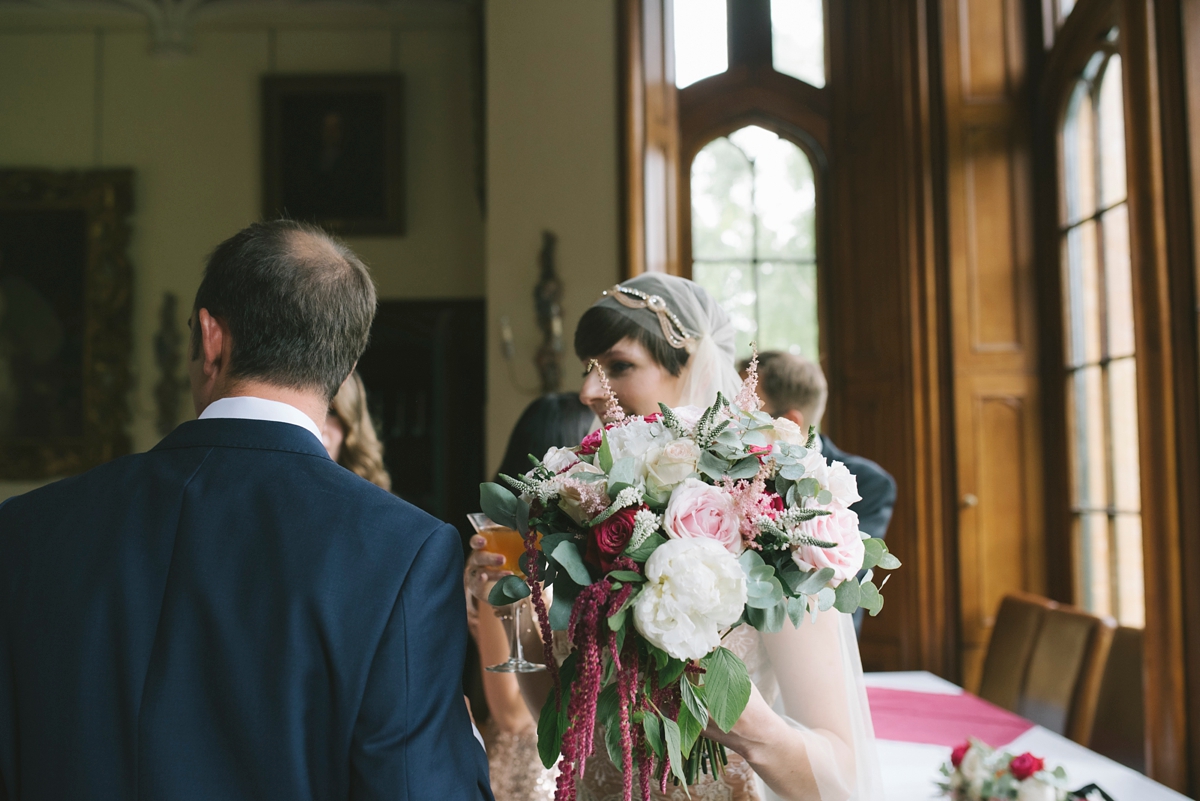 As for many brides, the choice of photographer was super-important for Lucy and Will, and they were able to secure their first choice – Pete Cranston. Pete has captured the joy and enjoyment of the bride and her bridesmaids so well in these 'getting ready shots'.
"I can't say enough good things about Pete! I actually first met him years ago (probably 2012) when I went to a wedding fair with my sister during her engagement. She nearly booked Pete but sadly he was unavailable on her wedding date. When I got engaged myself, I emailed him like some kind of crazy bridal stalker."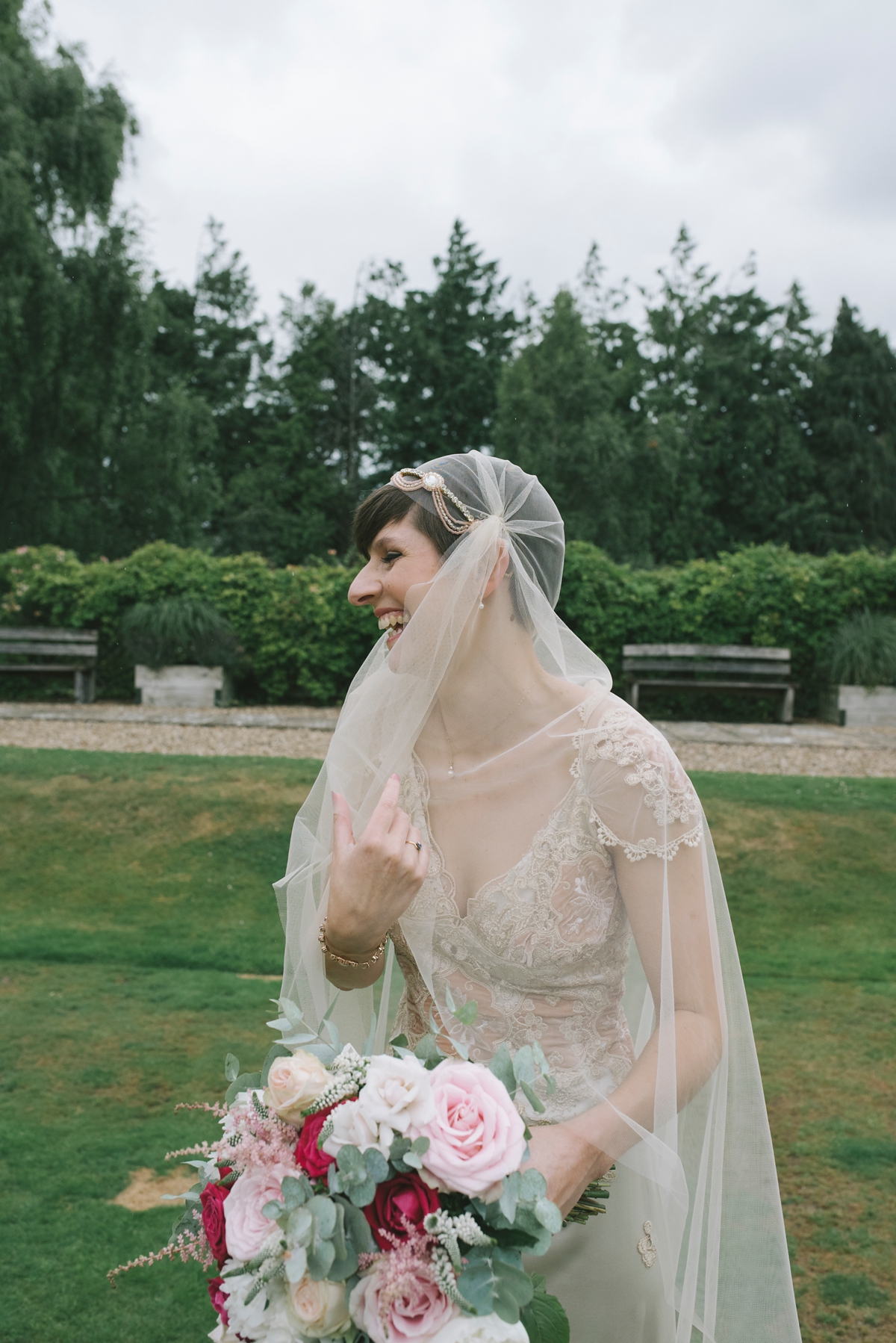 "Getting photographs we loved was one of the most important things to us. Neither of us like getting our photo taken so we didn't want too many posed photos, and we loved Pete's use of beautiful natural light and reportage style. It helps that he's a great guy to hang out with as well – he really puts everyone at ease."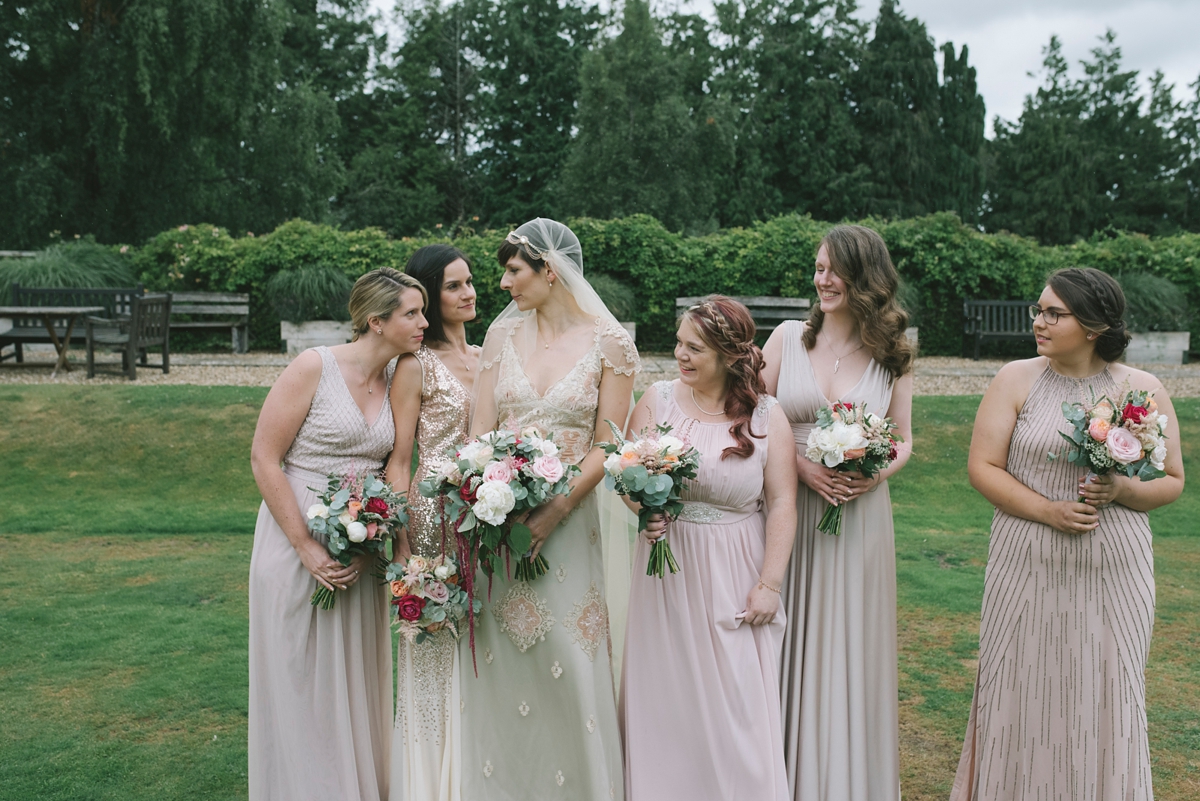 To complement the blush and gold of the gown, Lucy's bridesmaids wore a variety of dresses in nudes, golds, sequins and soft pinks from high street shops including Monsoon, Dorothy Perkins, Biba at House of Fraser and Quiz at Debenhams. They wore their own shoes and accessorised with rose crystal stud earrings from LuluSplendor.
The overall look of Lucy with her bridesmaids is elegant and chic but fun all at the same time. Have you thought about mixing and matching bridesmaids' gowns in this way?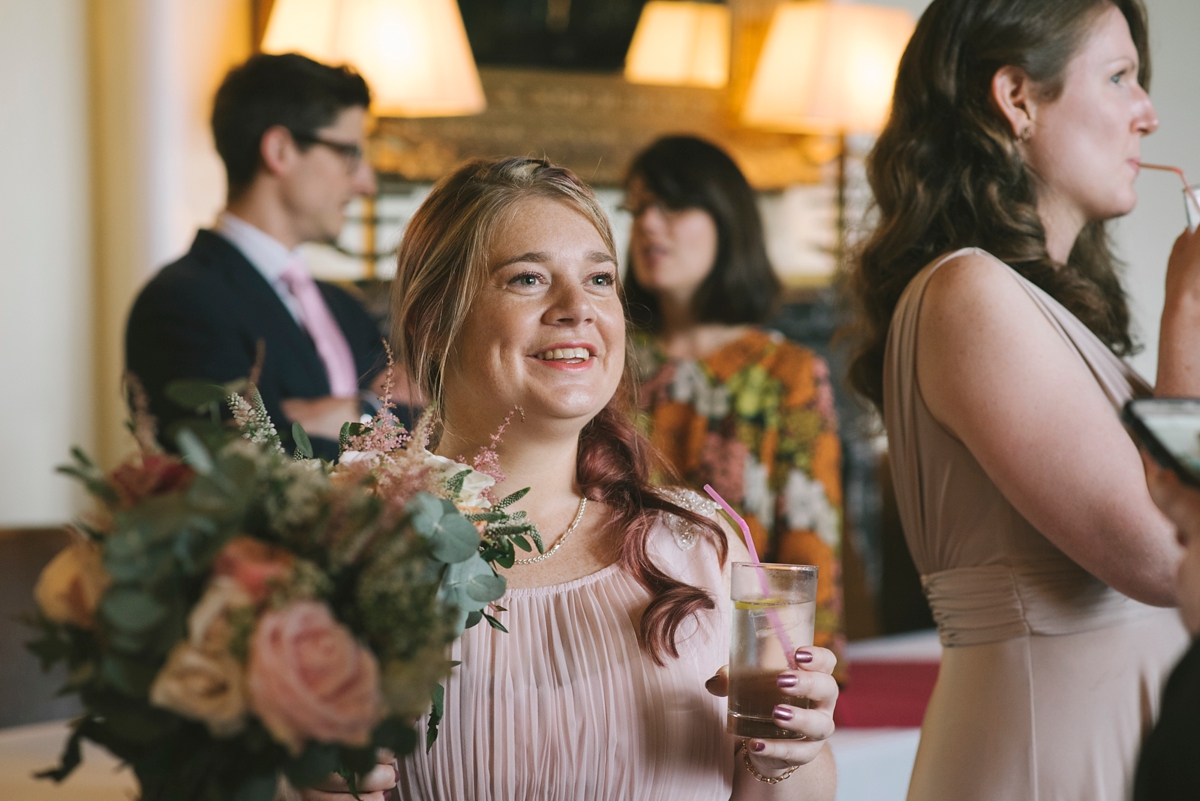 A splash of colour came from his lovely buttonhole of deep pink roses, made by florist Emerald and Jade Flowers.
"I met Fiona Lafon at a wedding fair, and my decision to choose her as a florist definitely had nothing to do with the fact I won the raffle she was running (the prize wasn't even a discount on services!). To be honest, it was probably more to do with the mermaid green sequin tablecloth on her display – anyone who liked sequins that much was my kind of florist. Originally I really hoped to have deep jewel-toned flowers."
"The choice of dress and change of colour scheme meant a change to much paler, pastel pinks, but Fiona still managed the occasional pop of beautiful deep pinks. We wanted a loose, hand-tied look to the bouquets – like they might have been picked from the gardens at the venue. Fiona also included lots of roses – my favourite flowers. In fact, our confetti was all dried petals from my roses in my garden at home. Fiona understood instantly the look we wanted and was such a reassuring presence at all times."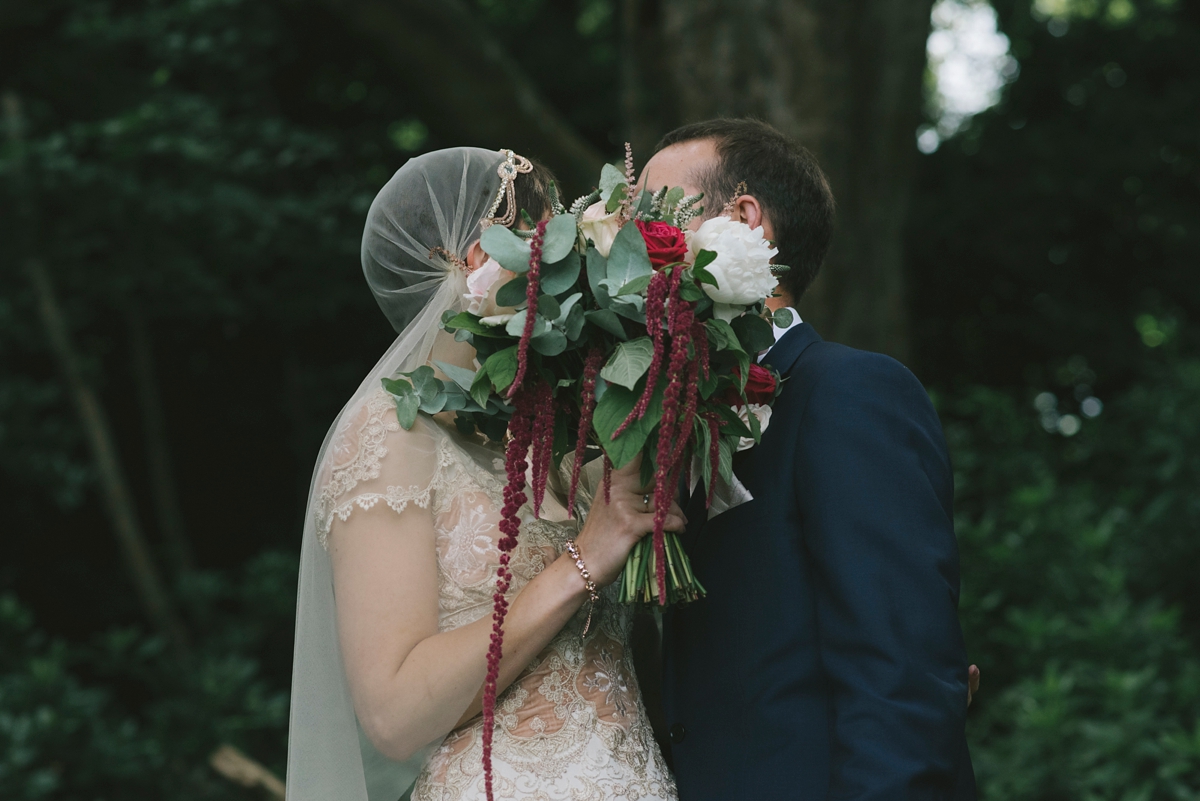 "The team at Dillington were so welcoming and accommodating from our very first meeting – nothing was too much trouble. We also loved the fact that, though they provide an excellent wedding service, it isn't the main thing that they do. As a result, we were the only wedding on our weekend. We had access from the afternoon before to set up the decorations in the reception venue (a Godsend for a control freak bride like me) and there was no pressure to get out the next day."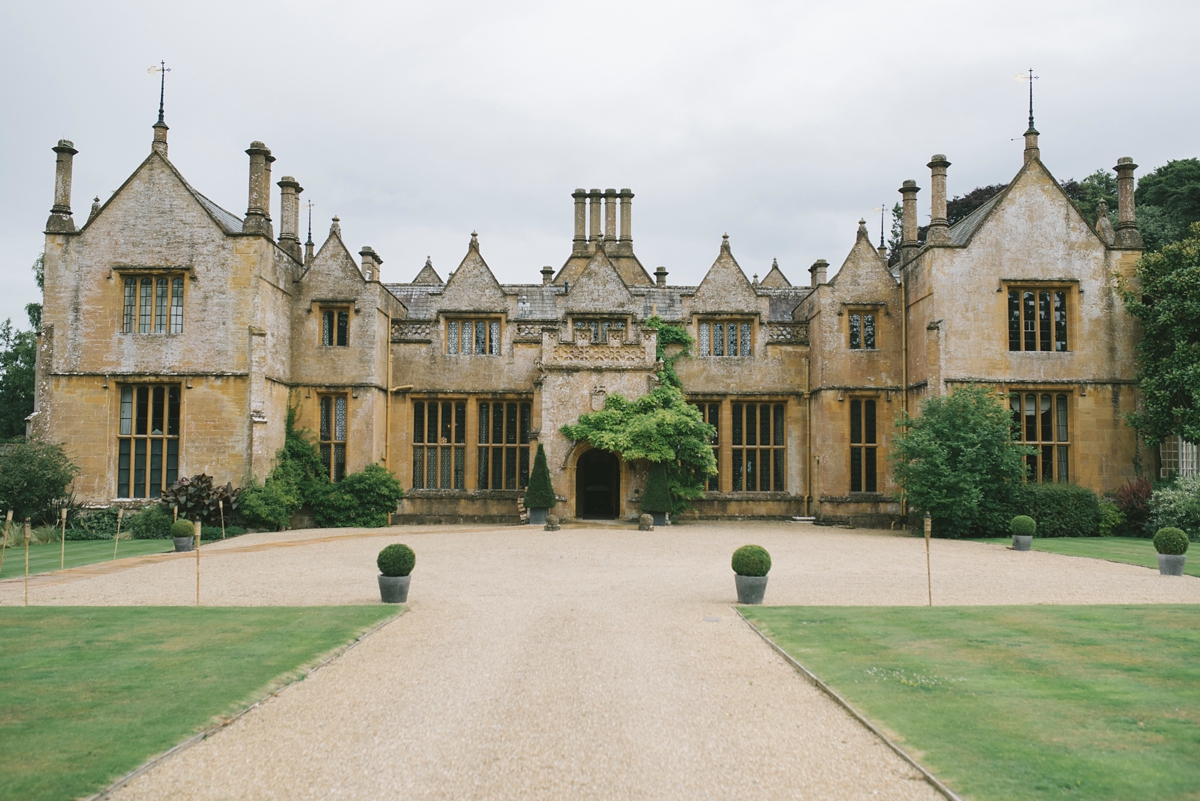 After the ceremony, the guests and the just-married couple piled outside to enjoy the gardens of Dillington House. The wedding breakfast and dance was held in the Mews Theatre, which was transformed by the couple's use of flowers and quaint travel-inspired touches. Just look at those handmade hot air balloons which sway from the rafters.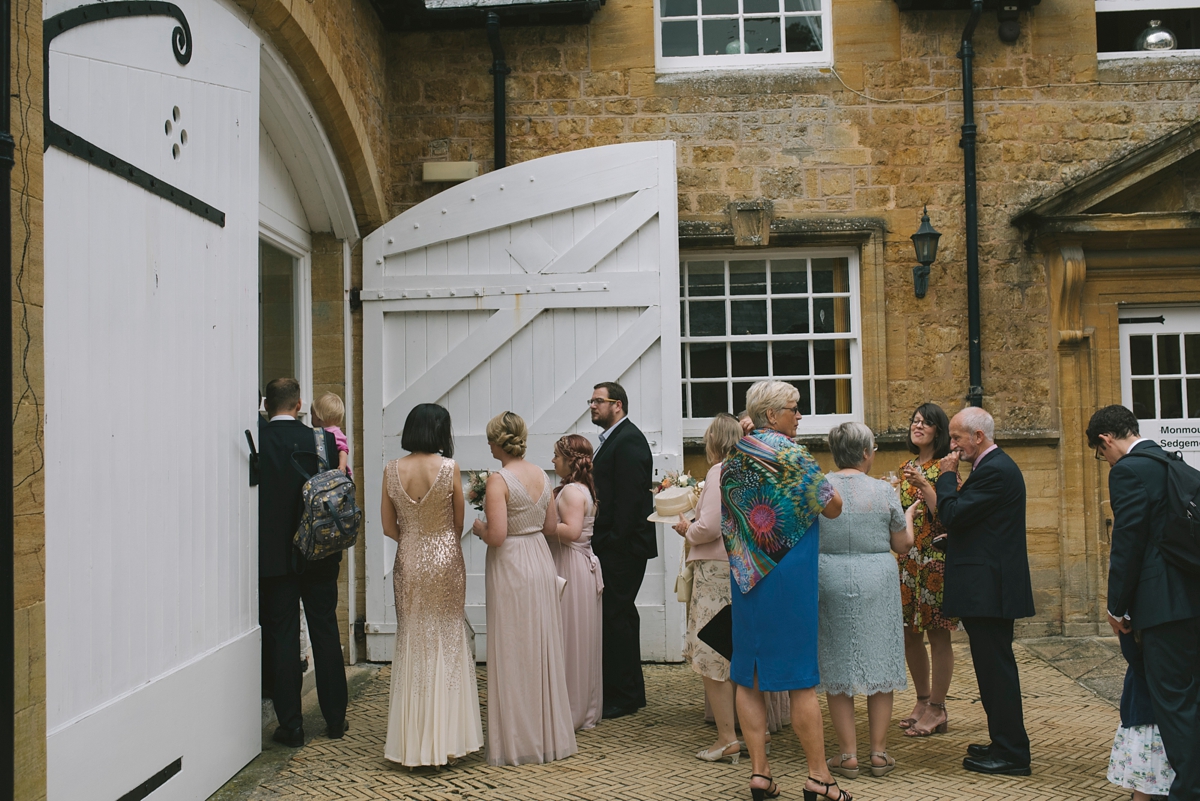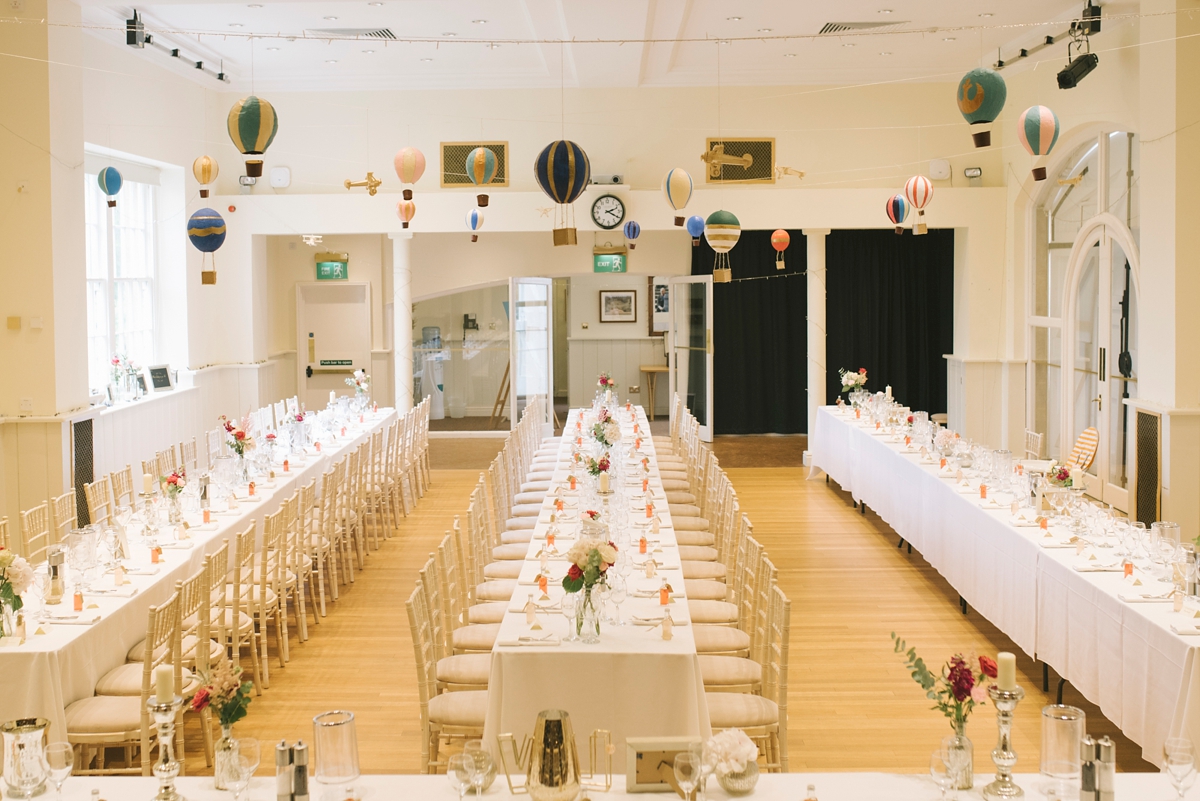 "The beautiful Mews Theatre was the perfect reception venue and the inside is very plain so provides a great blank canvas. We love to travel and decided to add little 'old-fashioned travel' touches here and there. Will and I spent months in the run-up to the wedding making papier mache hot air balloons, and the night before the wedding assembling model vintage aeroplanes with the help of my lovely bridesmaids and their long-suffering partners."
"Fairy lights added a warm glow in the evening. Framed chalk boards were painted with quotes about love from favourite films and books, and a collection of mercury glass vases and candle holders added a luxurious feel."
"Fiona provided lovely flowers for small arrangements, in a slightly deeper colour palette than the bouquets, and we also scattered lavender from our garden around which added a lovely scent to the venue. Our guest 'book' continued our travel theme; I upcycled a globe with chalk paints for our guests to sign. That way it is on display at home, rather than tucked in a drawer!"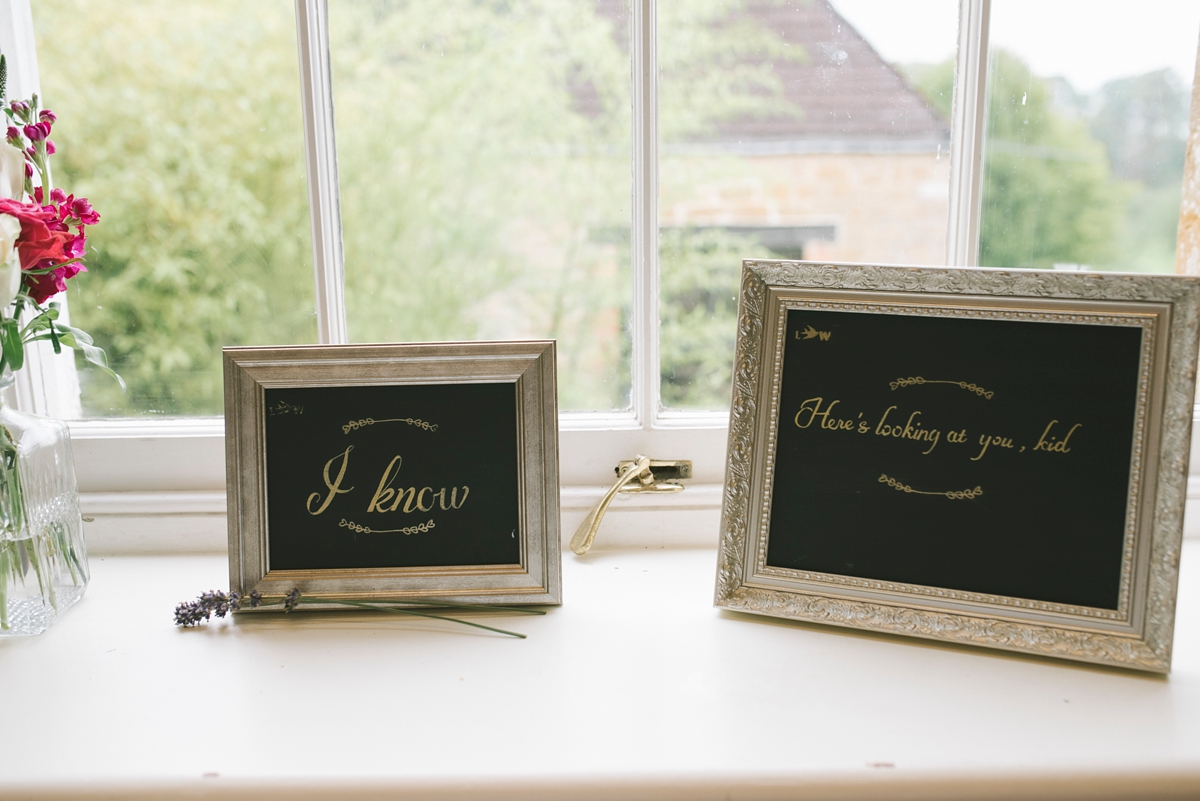 The venue's in-house caterers, Dillington Kitchen, served a hearty meal which sounds fabulous.
"They created a bespoke menu of Southern American barbecue food – pulled pork, brisket, mac and cheese and baked beans, which was delicious. They also made us welcome cocktails in place of prosecco or Champagne – Dark and Stormys and Earl Grey Mar-tea-nis."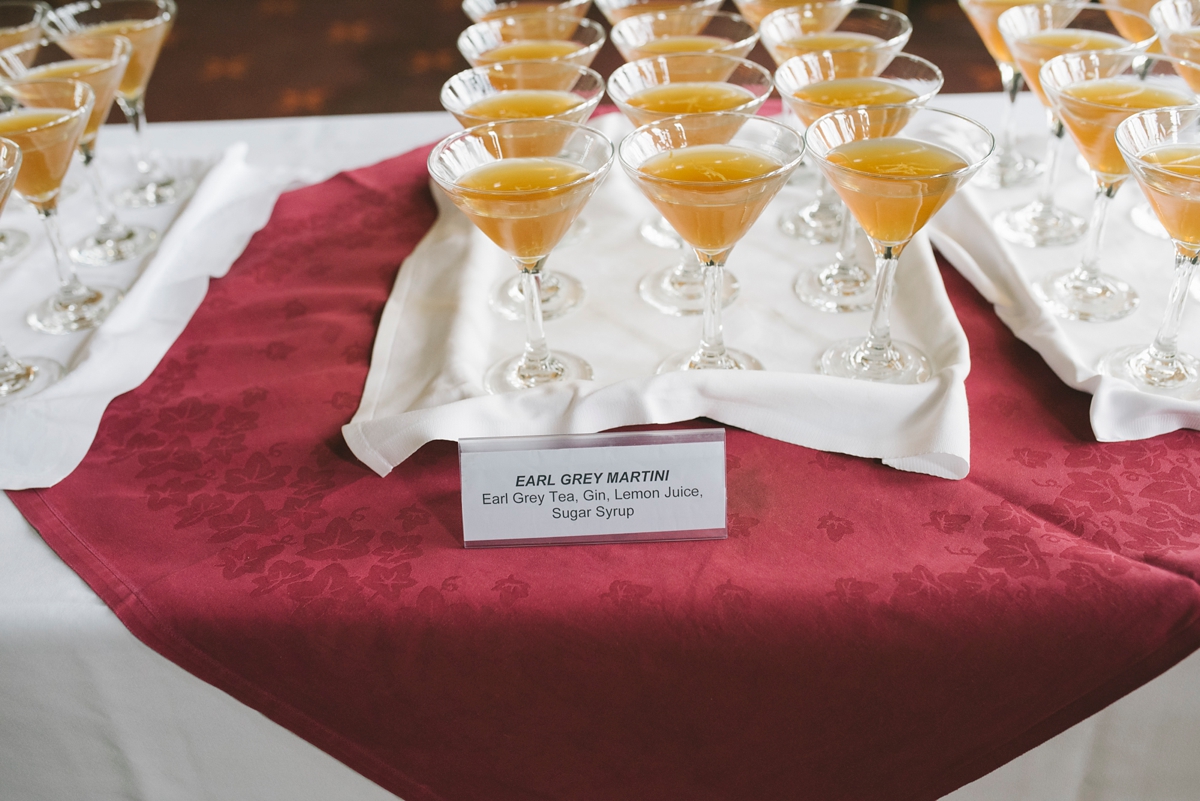 The favours also had an Art Deco feel – home-made infused rhubarb gin and raspberry and nectarine gin.
"Most of them were drunk on the night rather than taken home, so they must have tasted ok."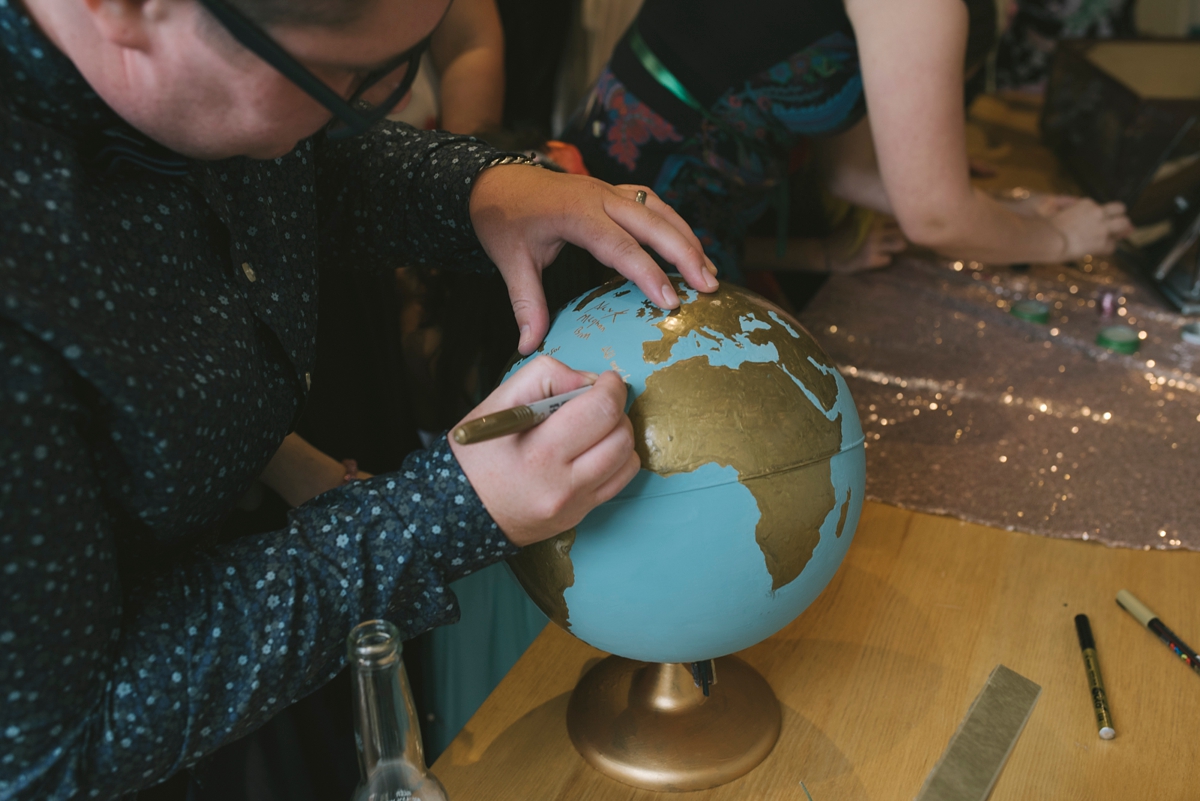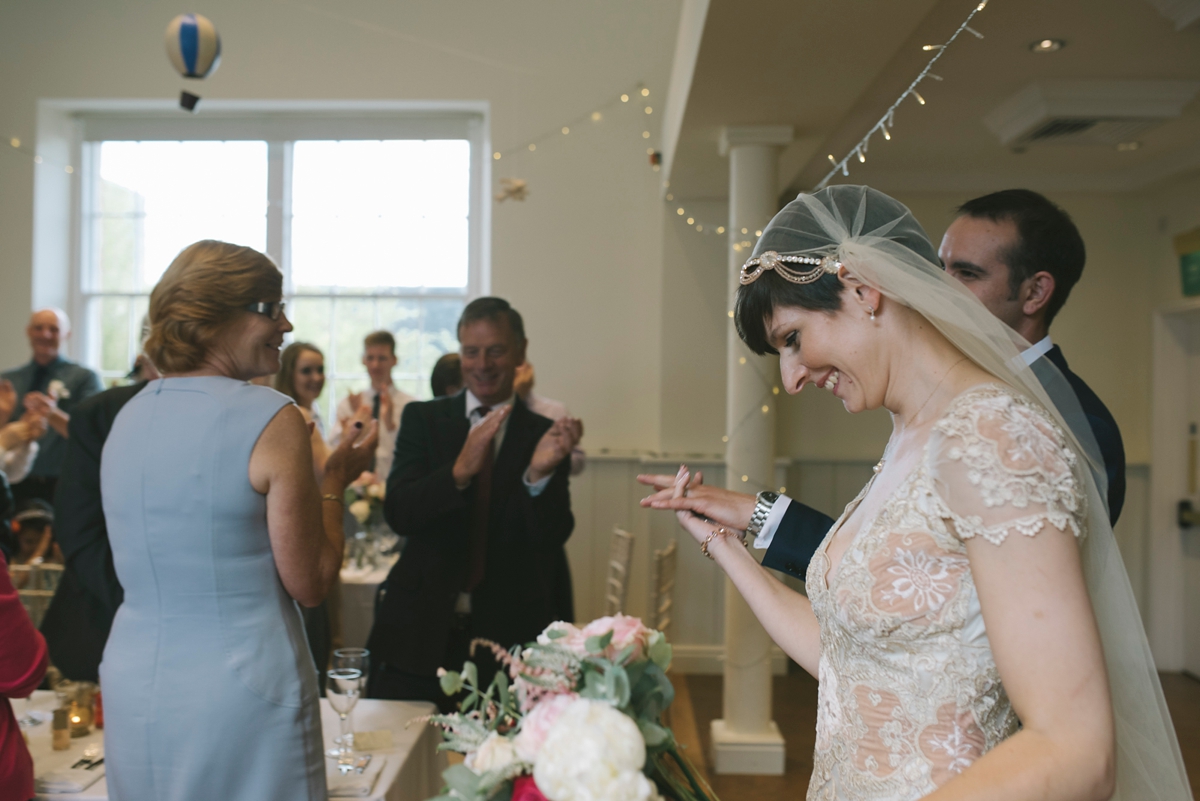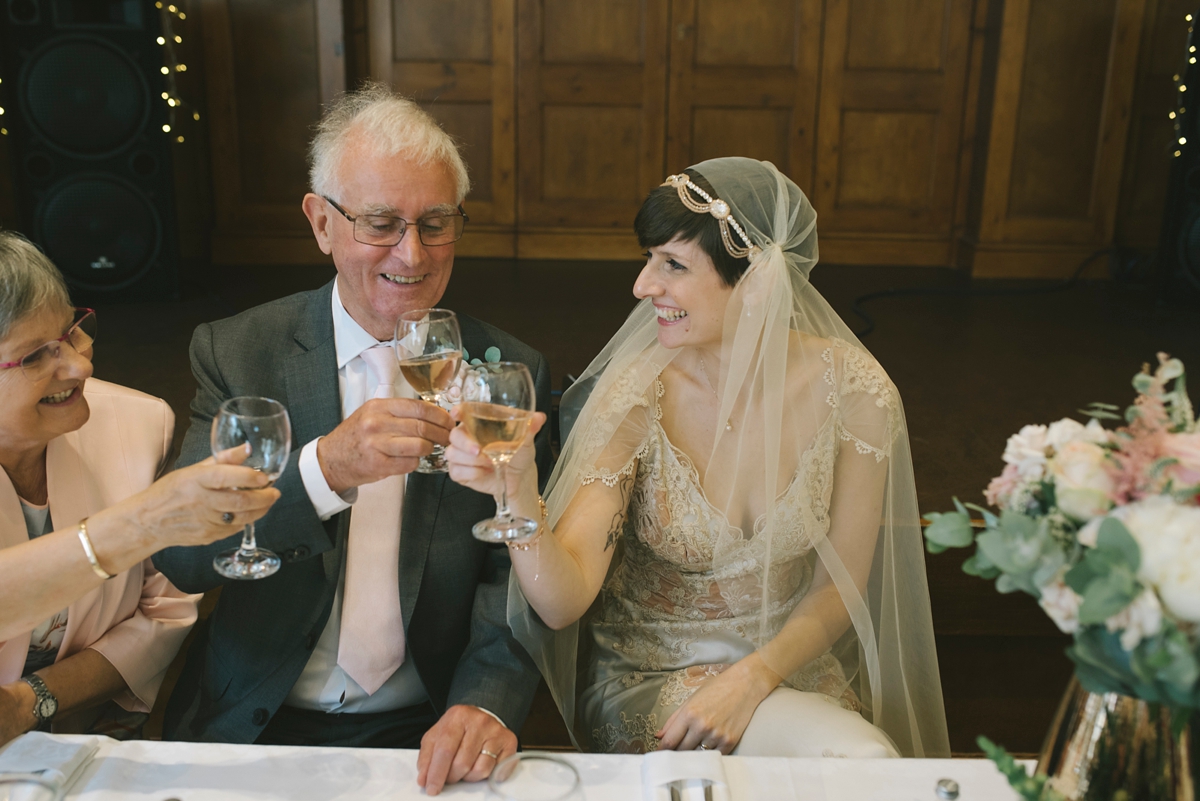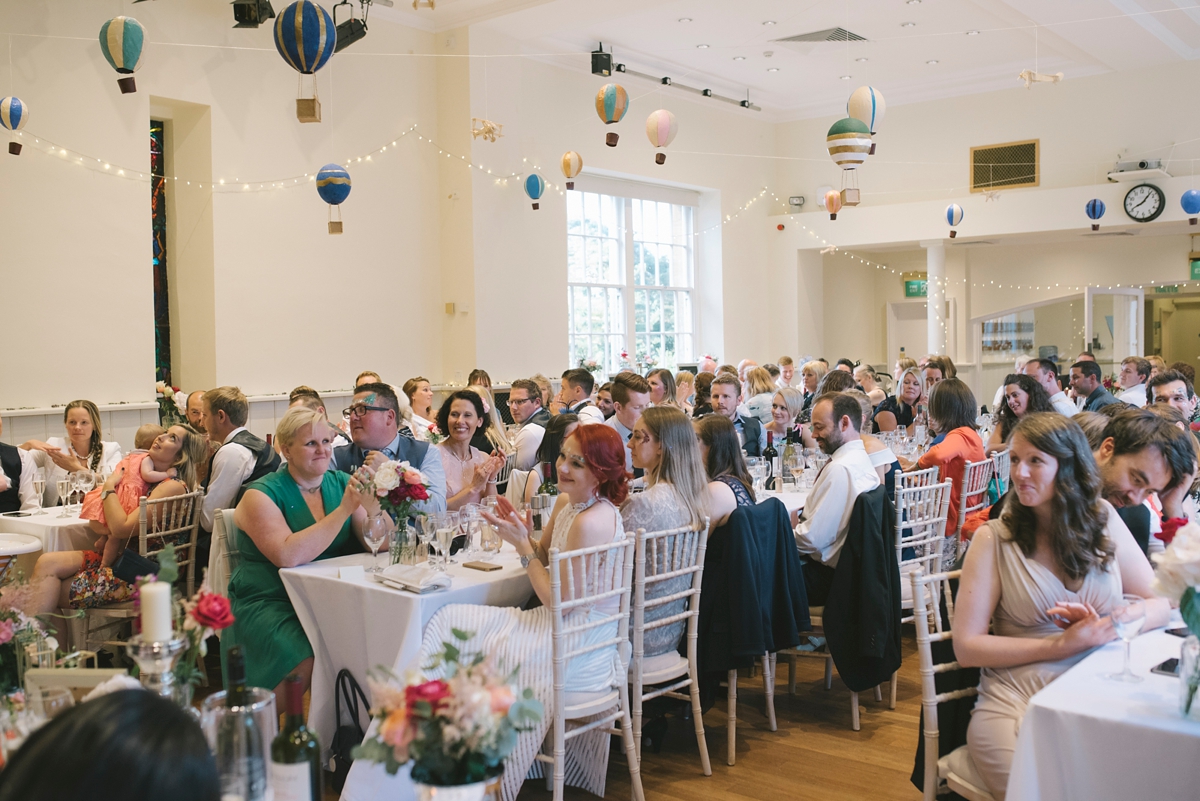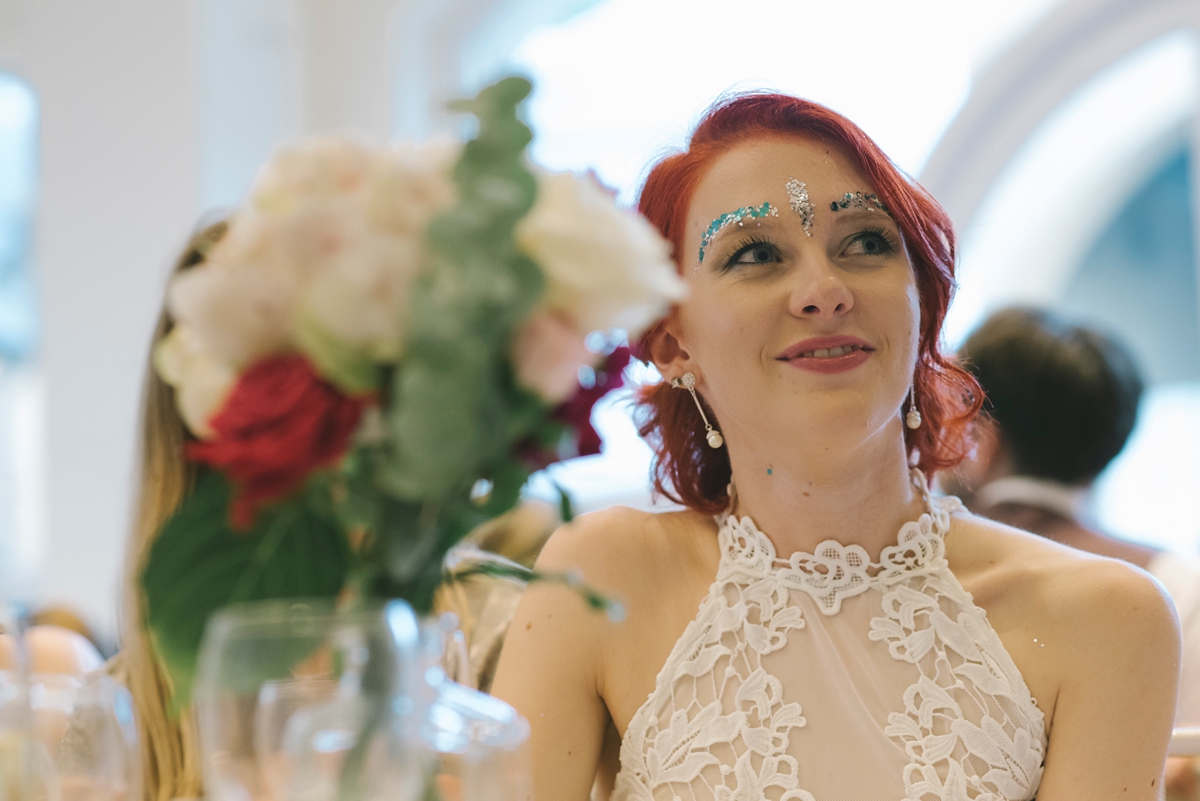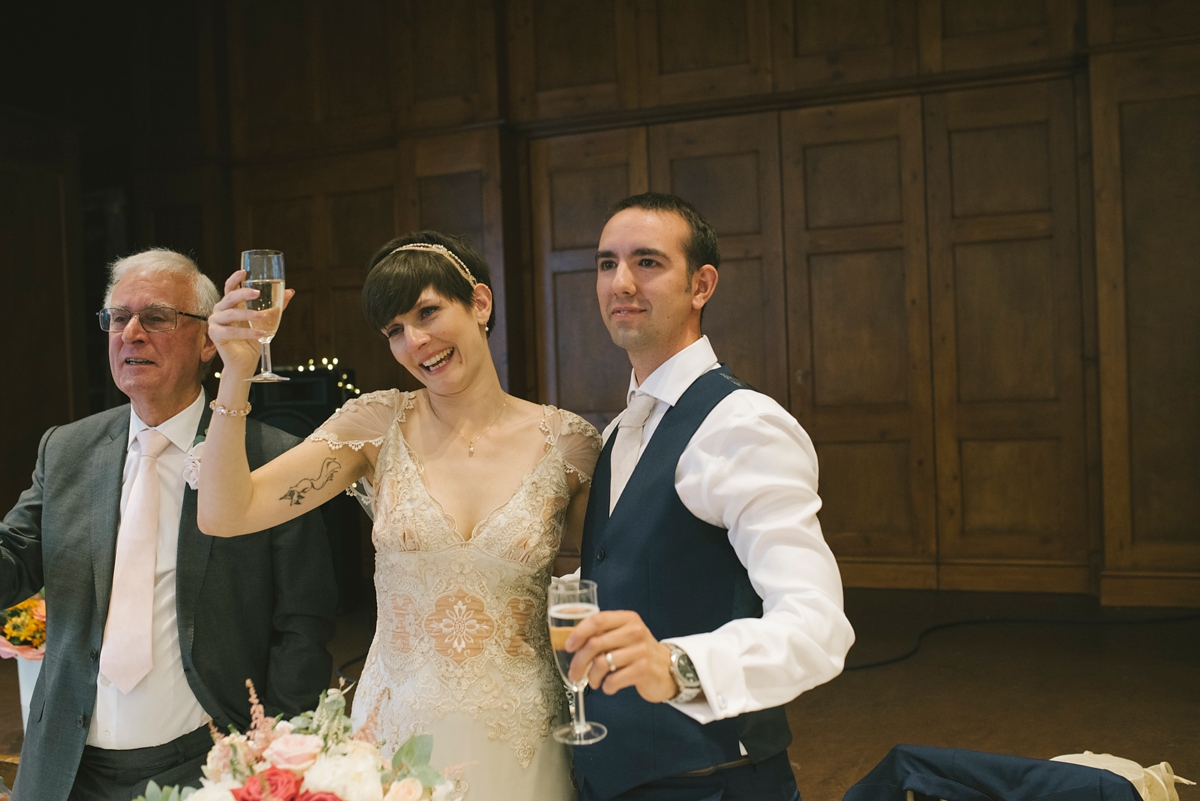 My eye's been caught by the glitter station, and the resulting sparkling guests along the trestle tables.
"Glitter! People flipping love glitter!! We popped some out as a last minute addition (I had some left over from Glastonbury Festival) and almost everyone got glittered up. Just don't put it on a table on the way in to your dinner venue, as it caused such a hold up! And to our venue – I'm very sorry about all the glitter in the carpet."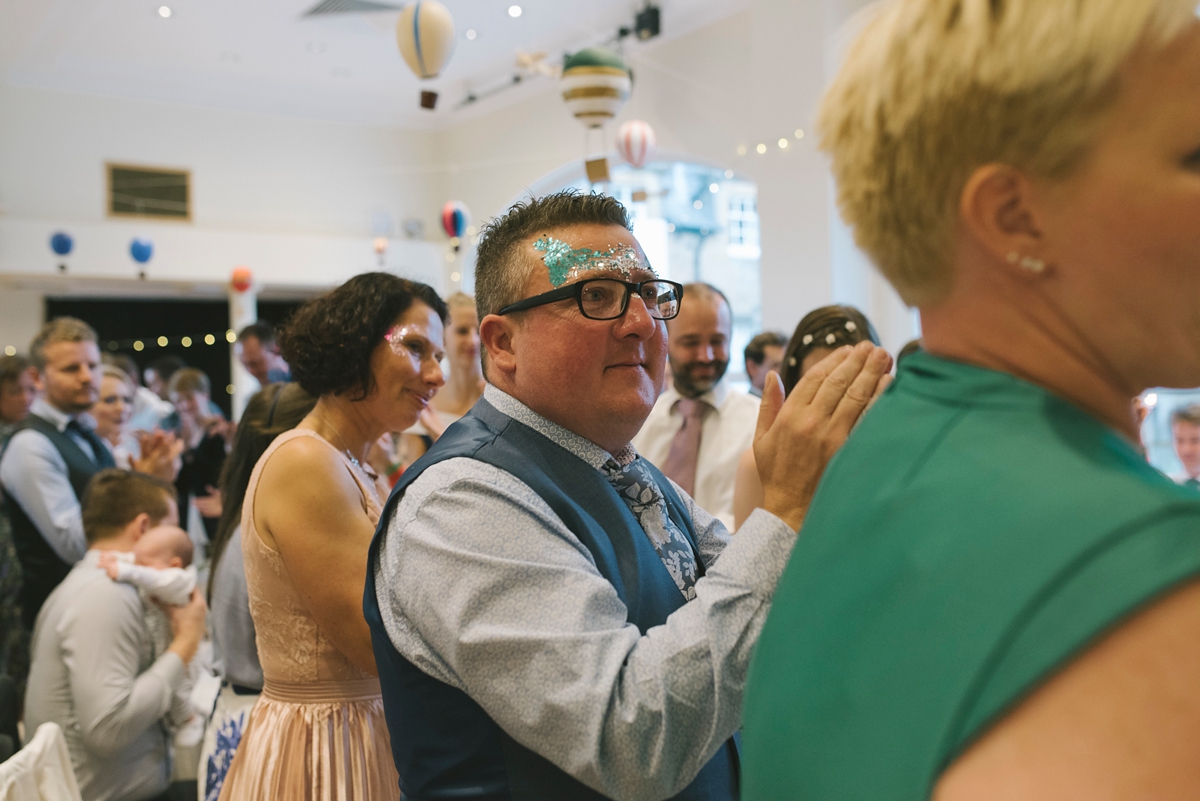 The wedding cake was intricately decorated by friend Charlotte, aka The Cake Lady, to tie in with the travel theme, with old-fashioned maps wrapped around the tiers.
"One of my roller derby team mates happens to make delicious and beautiful cakes. I knew Charlotte Crews' cakes are delicious having been lucky enough to try them before, so we never really looked anywhere else. Charlotte made us a beautiful three tier cake decorated with vintage maps and metallic rose gold, to add a contemporary look. The lemon, chocolate orange and red velvet cakes were delicious."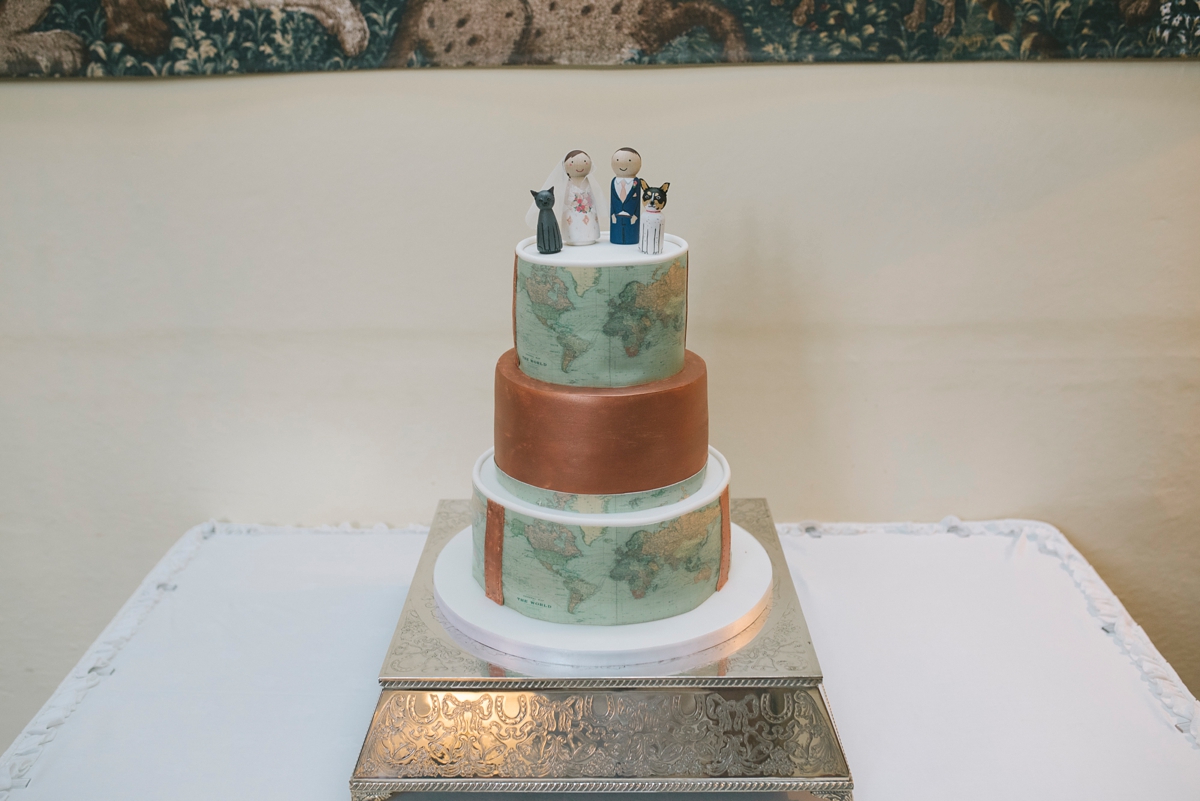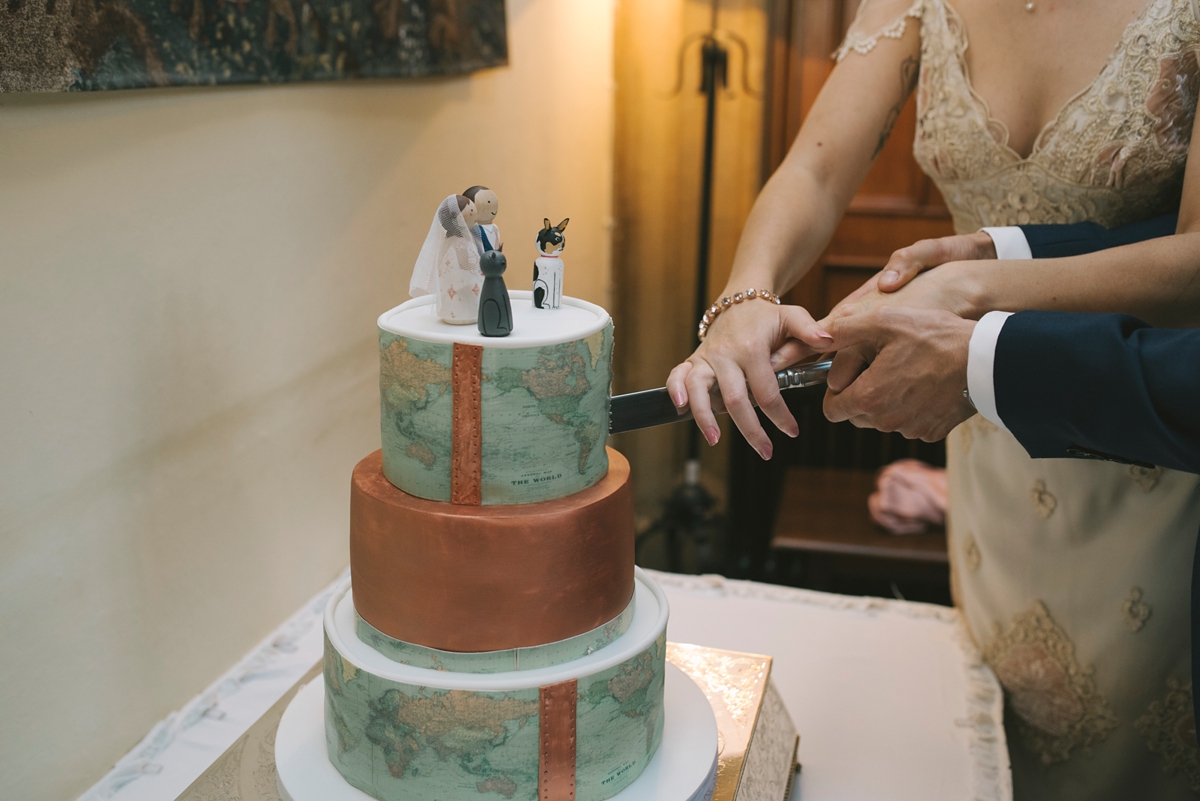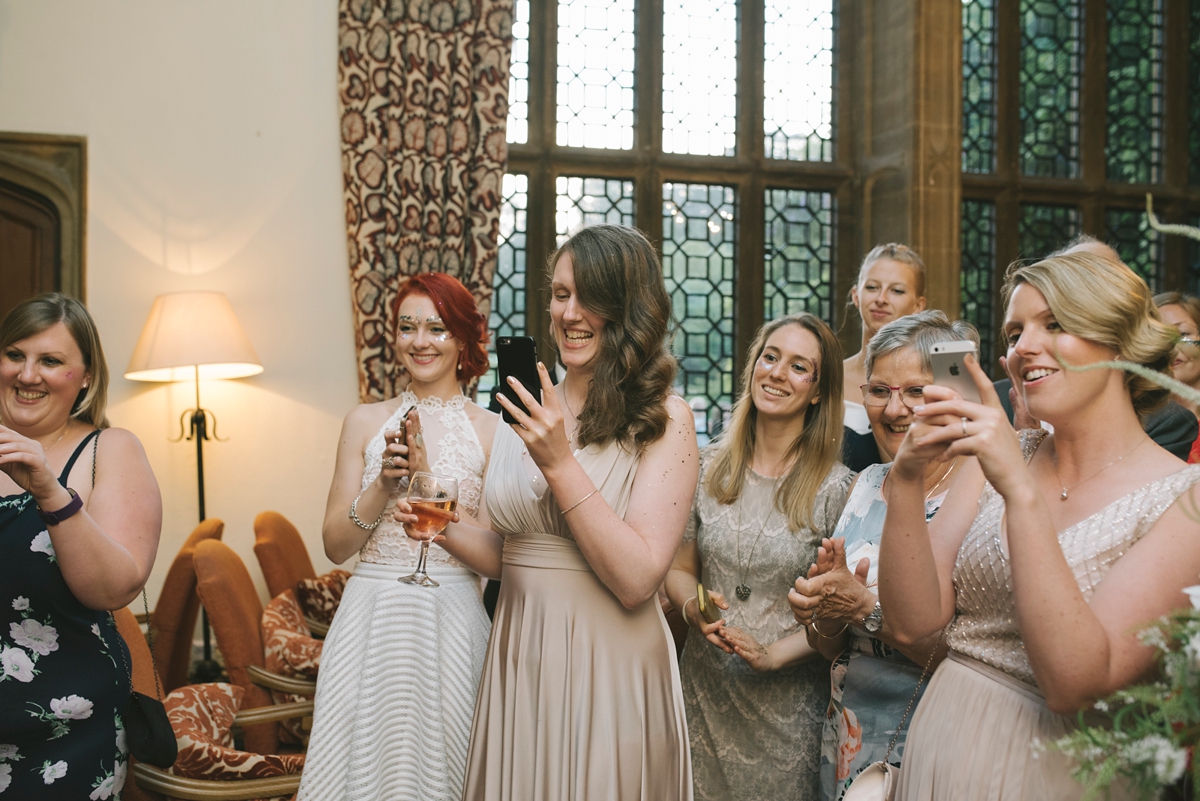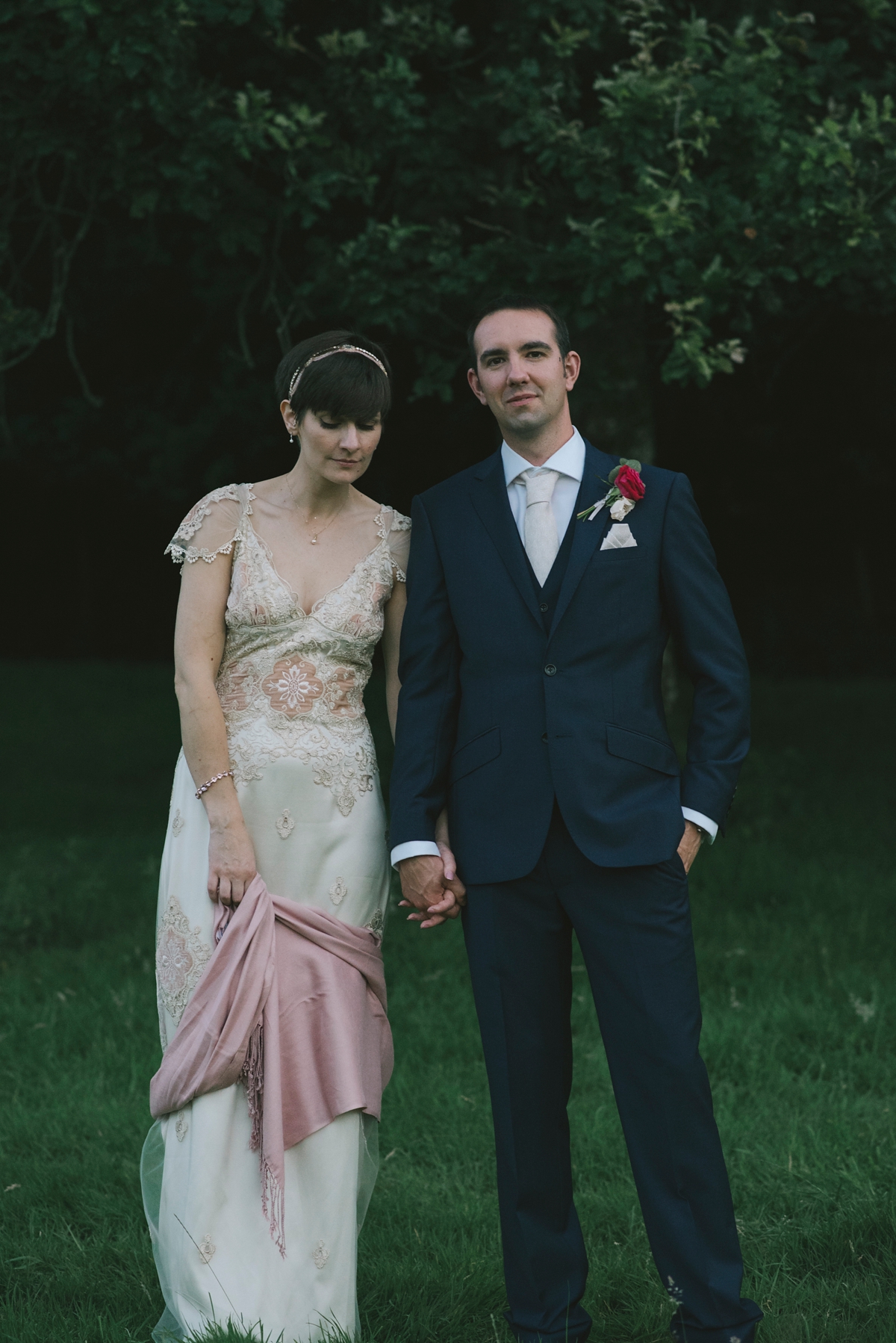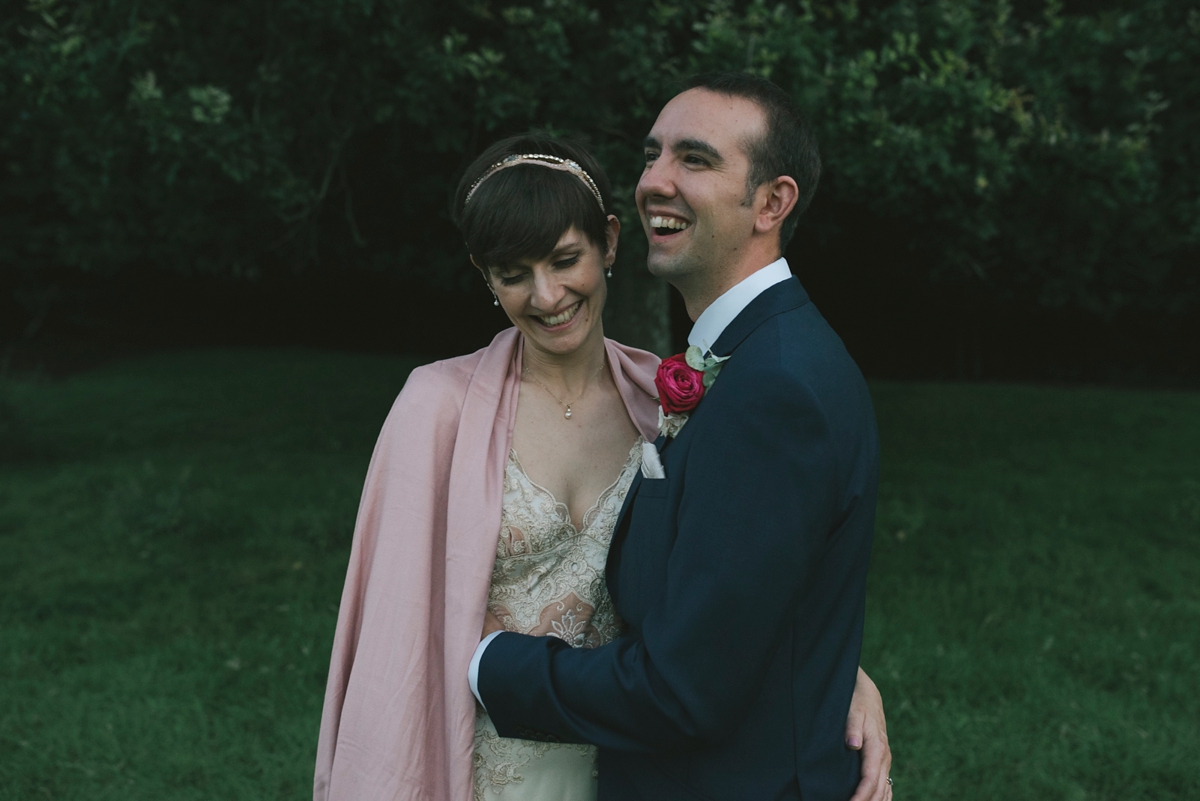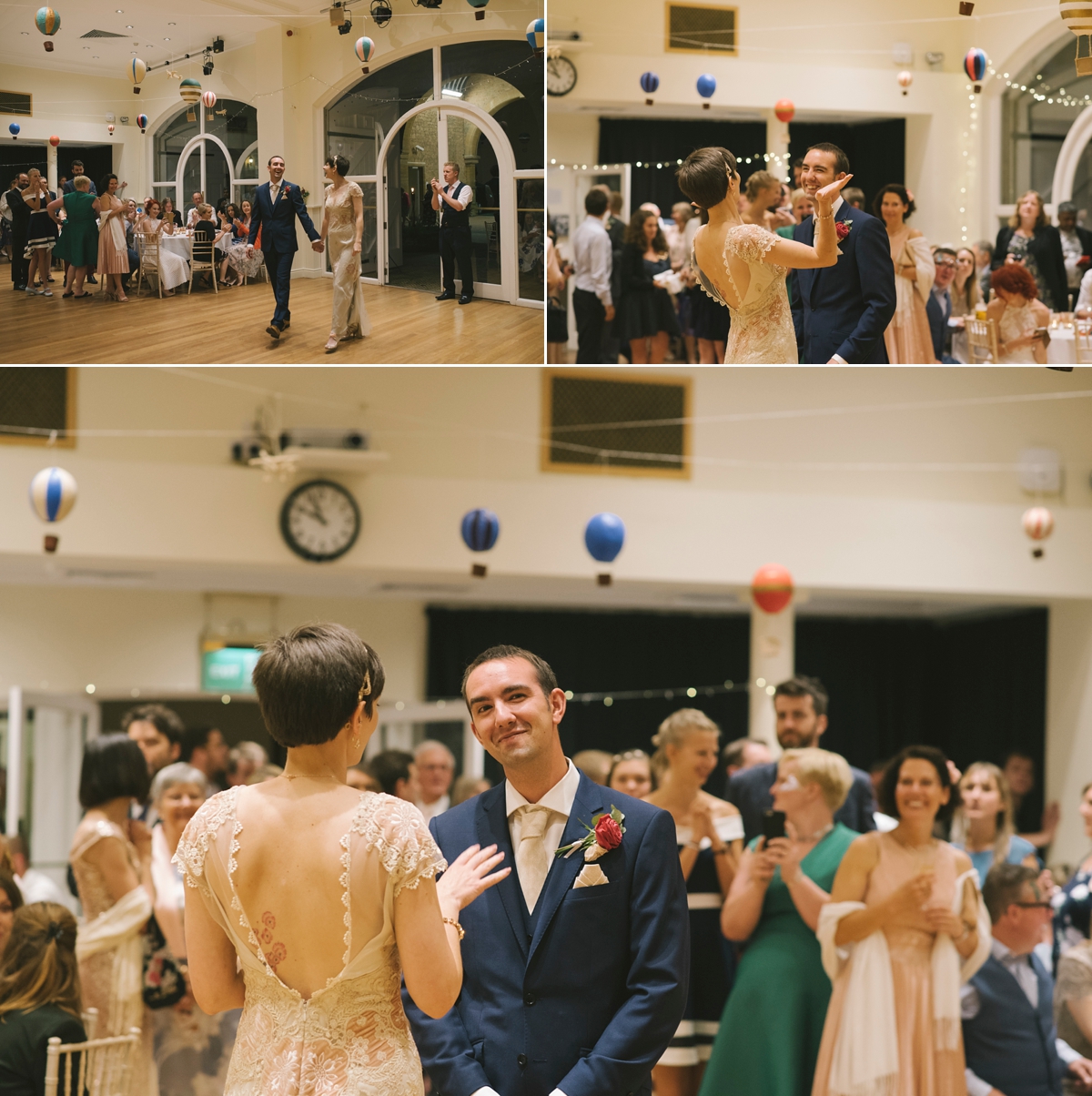 To surprise her new husband, Lucy booked their favourite local band, Nick Parker and the False Alarms, to play.
"They aren't really a wedding band but luckily a friend and wedding guest is a band member. They did a fantastic mix of their own songs and covers, and were one of the two things we got most positive comments about (the other being the food!) Despite the fact that no one apart from the venue staff, band members, myself and the wife of one of the band members (another roller derby team mate) knew the secret, I was so convinced Will would find out! The most stressful bit of planning!"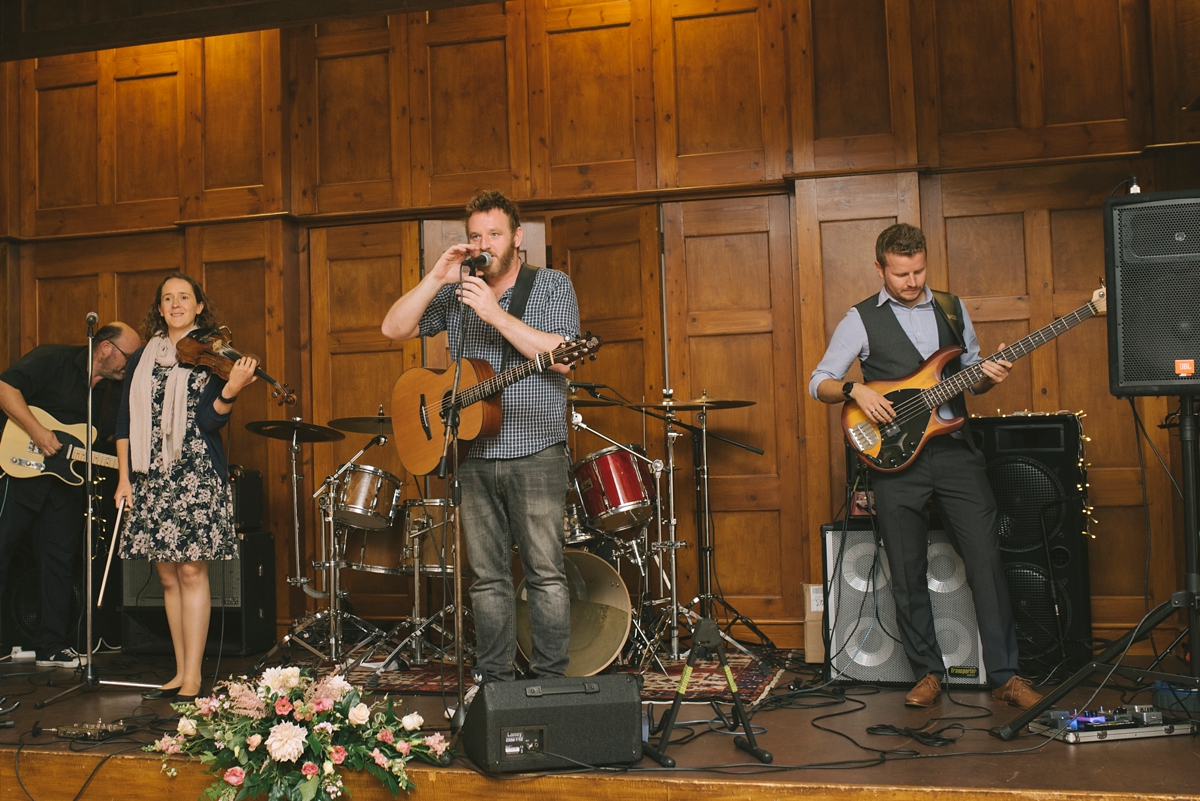 "We wanted something a bit different for our first dance – I took charge of this because I think Will's taste in music is terrible! We chose 'Say It Again' by Frances. Her voice is just beautiful, and the song sums up the joy of falling in love."
Words of Wedded Wisdom
"Don't let anyone else's expectations of 'a wedding' stress you out. If you want all the tiny touches, great, but if you don't want or can't afford matching dressing gowns, decorated hangers or a new scent for the wedding, you really don't need them."
"We were able to have so much of our day 'our way'. Will and I didn't spend the night before apart and in fact spent most of the morning together before our 4pm ceremony. We had laughs in the ceremony, walked out to our favourite rowdy pop song, had non-traditional food and cocktails instead of Champagne. My dad walked me down the aisle but he definitely didn't 'give me away', and I gave a speech for myself at the reception, rather than letting my husband speak on my behalf. Seriously, even if you are scared of speaking, consider doing this! You can't beat thanking people yourself, and saying a few words about the love you and your husband share."
I can just feel the warmth of Lucy's personality shine through her words. Thank you so much to you and Will for letting us feature your wedding day on Love My Dress. It's been wonderful to hear about how you put together your vintage-inspired day, and that gown…! Thanks also to Pete Cranston for your photographs of the day; I've really enjoyed them.
If you're keen to see more Britten loveliness please take a look at this feature which showcases their beautiful bridal accessories.
Ele xx