One of the moments I cherish the most from the long, hot summer of 2018 is seeing one of my very best friends marry and walk down a sunlit path bordered by her friends and family, showered with petal confetti.
The happiness that I, and all of my friends felt, was brought to mind as soon as I saw the beautiful photographs of today's wedding. The absolute joy and love that photographer Claudia Rose Carter has captured is exquisite. I hope that all of you lovelies enjoy what we're about to share; On 15 July 2018 café manager Angelique wed Chris, a project manager, on South Farm in Royston, Cambridgeshire. 
"Boho and ethereal is what I'm attracted to, and I really love the look of autumn/winter-inspired weddings."
Photography Claudia Rose Carter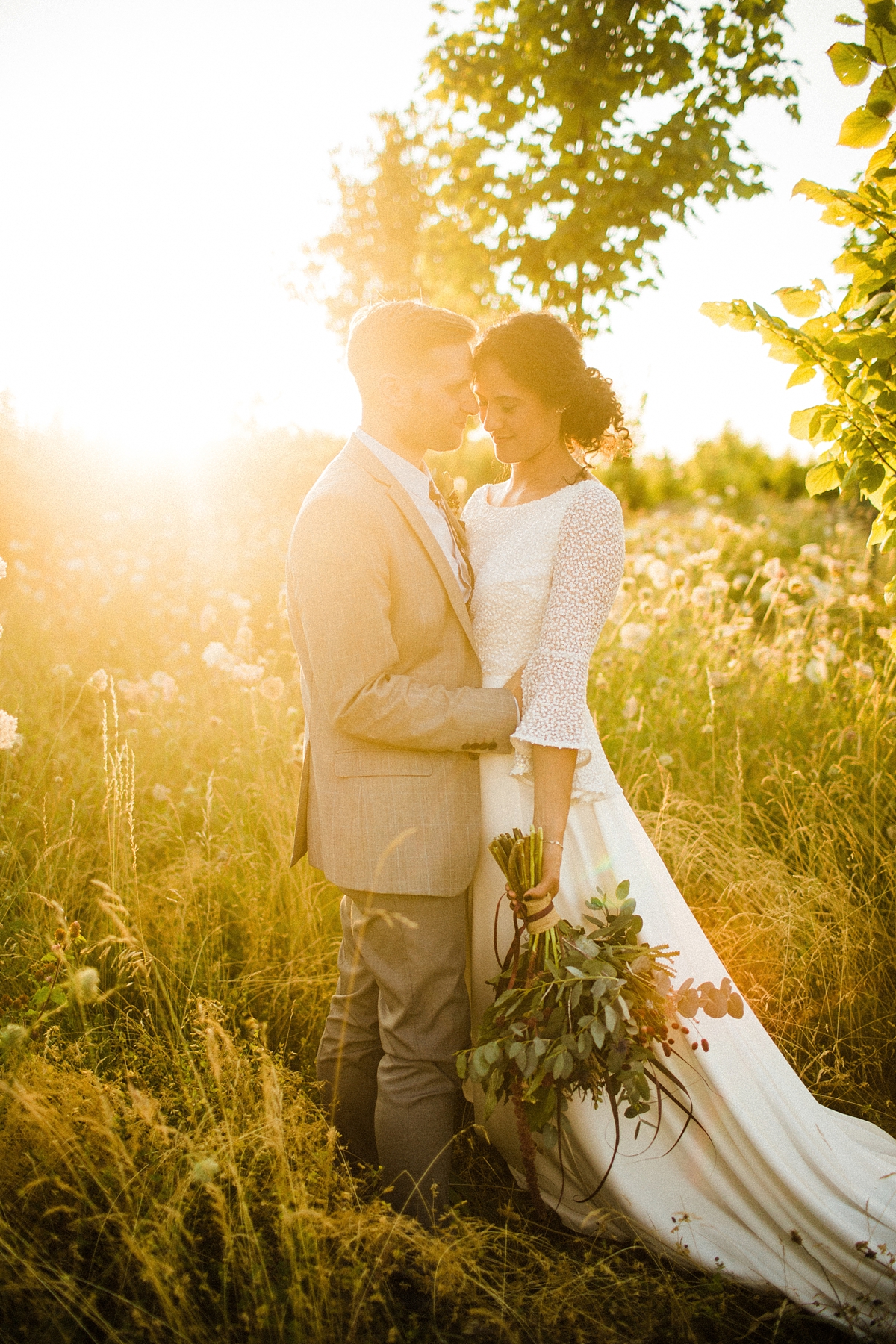 The hot summer's day celebration was inspired by a passion for all things boho and ethereal. The couple loved that South Farm, with its exclusive-use barn, was a self-sufficient venue with its own farm and gardens and plenty of room for the whole party to relax and kick back to enjoy the glorious weather. Throughout the day there were also a few surprise nods to the bride's Māori descent and Chris's Greek-Cypriot heritage.
"South Farm is a wedding venue who pride themselves on being distinctly different. They had the most genuine and relaxed service we encountered, on-site accommodation including the cutest gypsy caravans, and they are almost completely self-sufficient with their own farm and garden."
The day was planned with the help of the on-site planner.
"South Farm provides a planner who gives you a structured time-frame to fill out prior, offering the most genuine and helpful service and who, on the day, manages all the timings to make sure everything runs smoothly – which means you can truly focus on enjoying your day."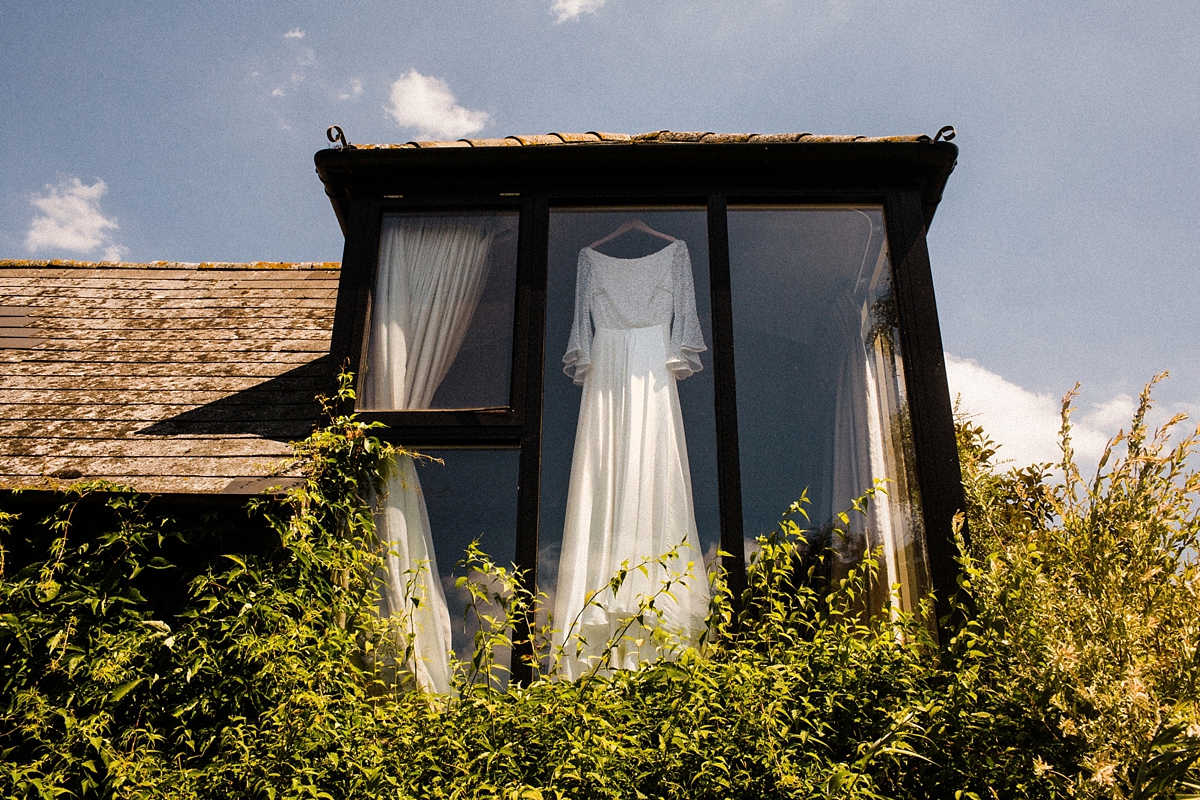 For a long-lasting scent, the bride layered up Jo Malone Wild Bluebell body cream with Jo Malone Nashi Blossom.
Her long dark curls were pulled back into a low bun by Hair By Cristina, and make-up artist Ellie Lobo created a flawless skin and emphasised her eyes and lips. Fresh flowers woven into her hair completed her ethereal look.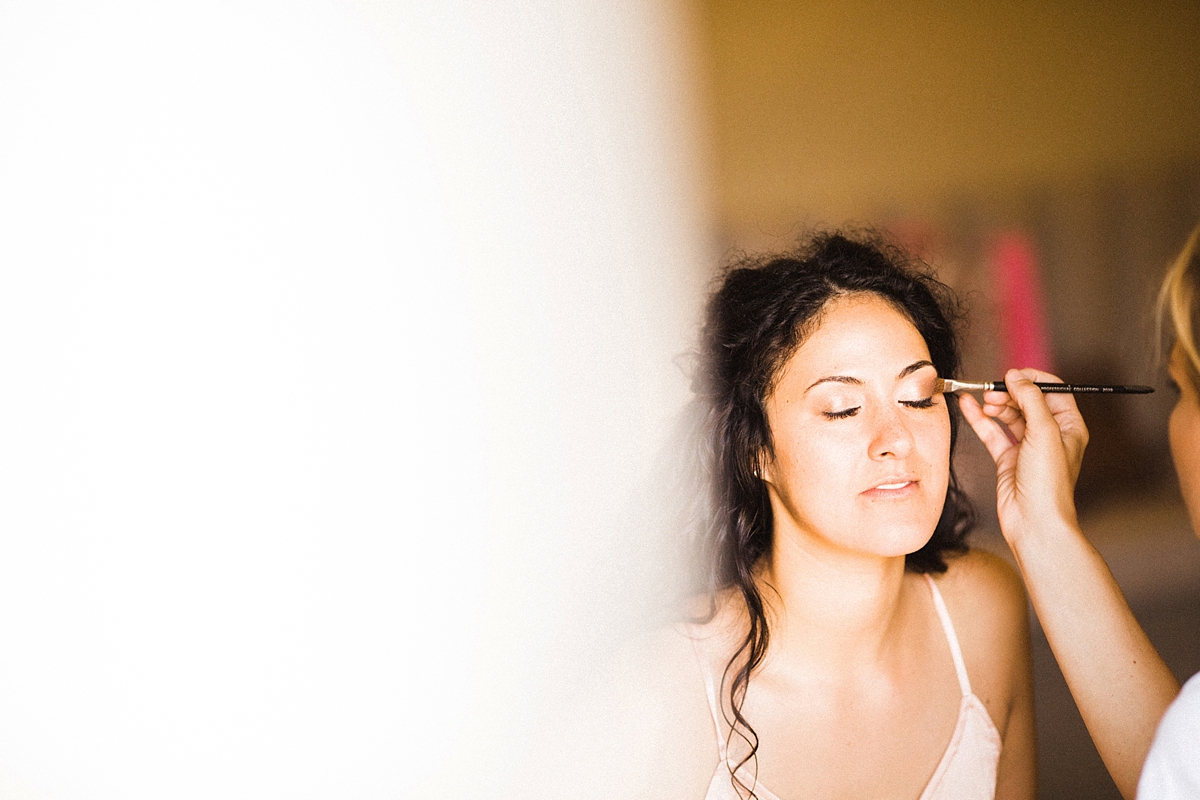 For a relaxed and boho bridal style, Angelique chose an angel-winged, almost medieval, gown by Rolling In Roses.
"I purchased it at A Most Curious Wedding Fair in Shoreditch, London. Hayley, the designer, is so talented and lovely. It was the first dress I looked at and tried on."
"It stood out from the rest! I love sparkles and angel sleeves and the back detail is just stunning."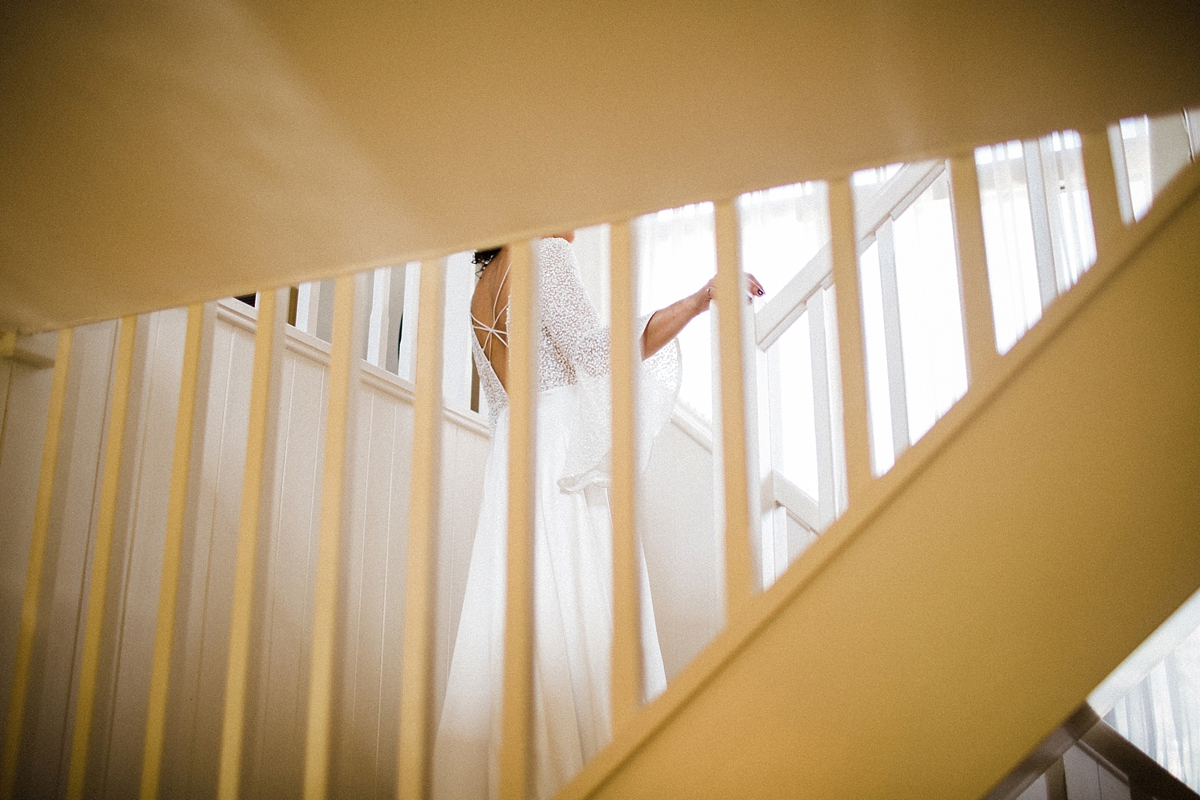 As well as being just a little bit different, this gown looks so comfortable and easy to wear. The fitted bodice is balanced so perfectly by the flowing sleeves and a modern touch comes from the dainty straps across the open back.
Gorgeous sparkly heels from Anthropologie mirrored the bodice's shimmer and she added silver vine earrings, also from Anthropologie, a bracelet from her mother in law and a silver lion ring for courage, gifted to her by Chris.
Chris and Angelique met on holiday in Queenstown, New Zealand in 2007 and Chris proposed on a snowboarding holiday with friends in Courchevel, France in 2016.
Angelique turned to Pinterest for inspiration for the day. With such a naturally beautiful venue, the decor was kept simple. Plenty of fresh flowers and foliage, along with Kraft stationery, bay leaves and touches of gold and brass was enough to create a magical vibe.
Whilst 'Arithmetic' by Brooke Fraser was played, the bride started her walk down the outdoor aisle.
"Brooke Fraser was my favourite NZ artist as a teenager; she's such a romantic. My dad walked me halfway, and I walked the rest on my own – Meghan Markle style."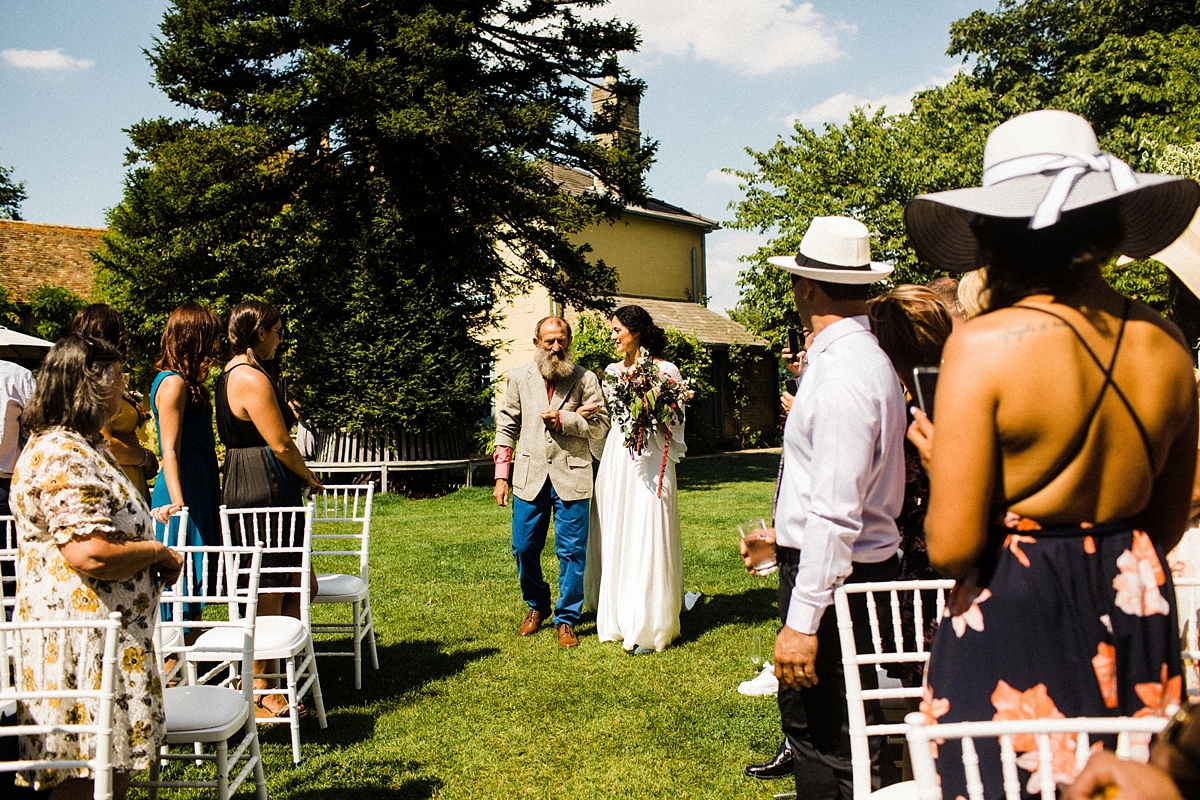 The beautiful weather meant that the couple could marry outside beneath the wooden pergola. The ceremony was led by the couple's dear friend Vicki Robinson who flew all the way from New Zealand. She waited under the pergola with Chris, who had donned a light and summery suit and a Paisley tie, all from ASOS.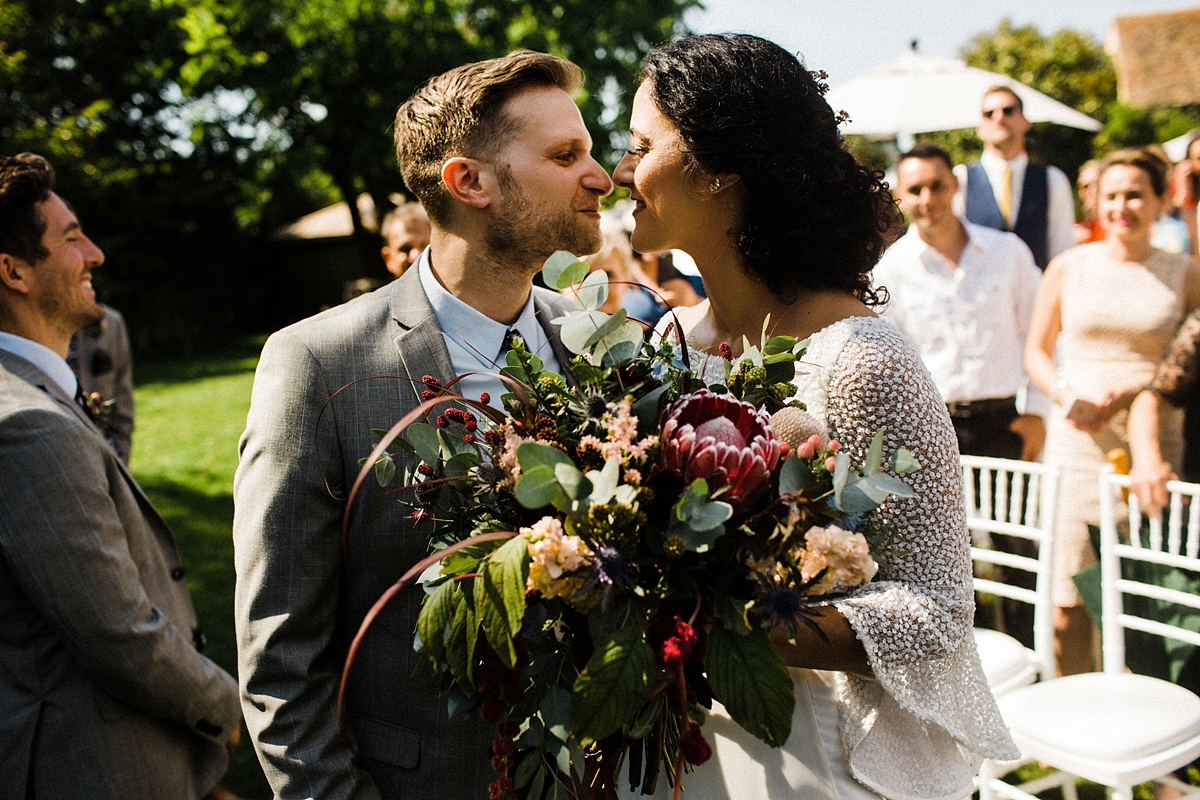 The couple married in a civil ceremony and their own vows, written with the helpful guidance of Vicki. Angelique's ring was ordered from The Beautiful Company whilst Chris chose to wear his father's.
"I ordered mine online because it was one of those last-minute details I'd put off for too long and it was so convenient and affordable. Chris's was his fathers, who is happily married but never had it resized to fit again."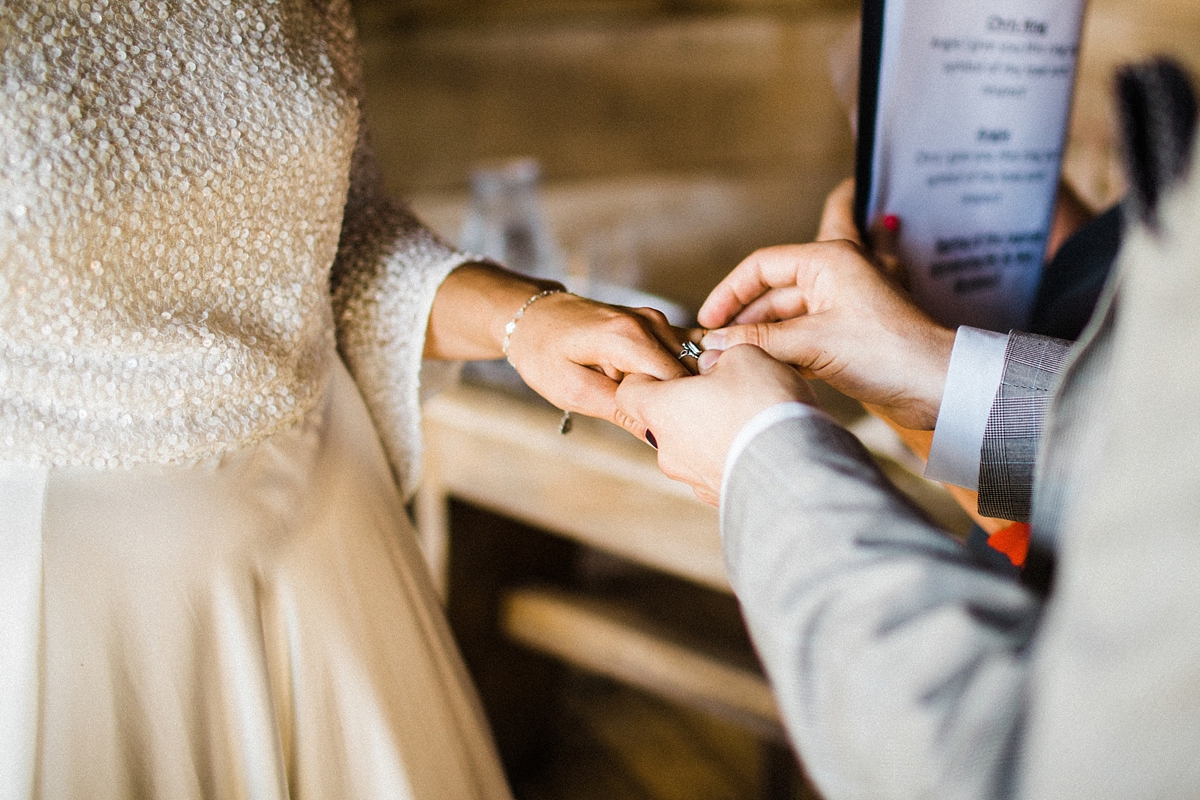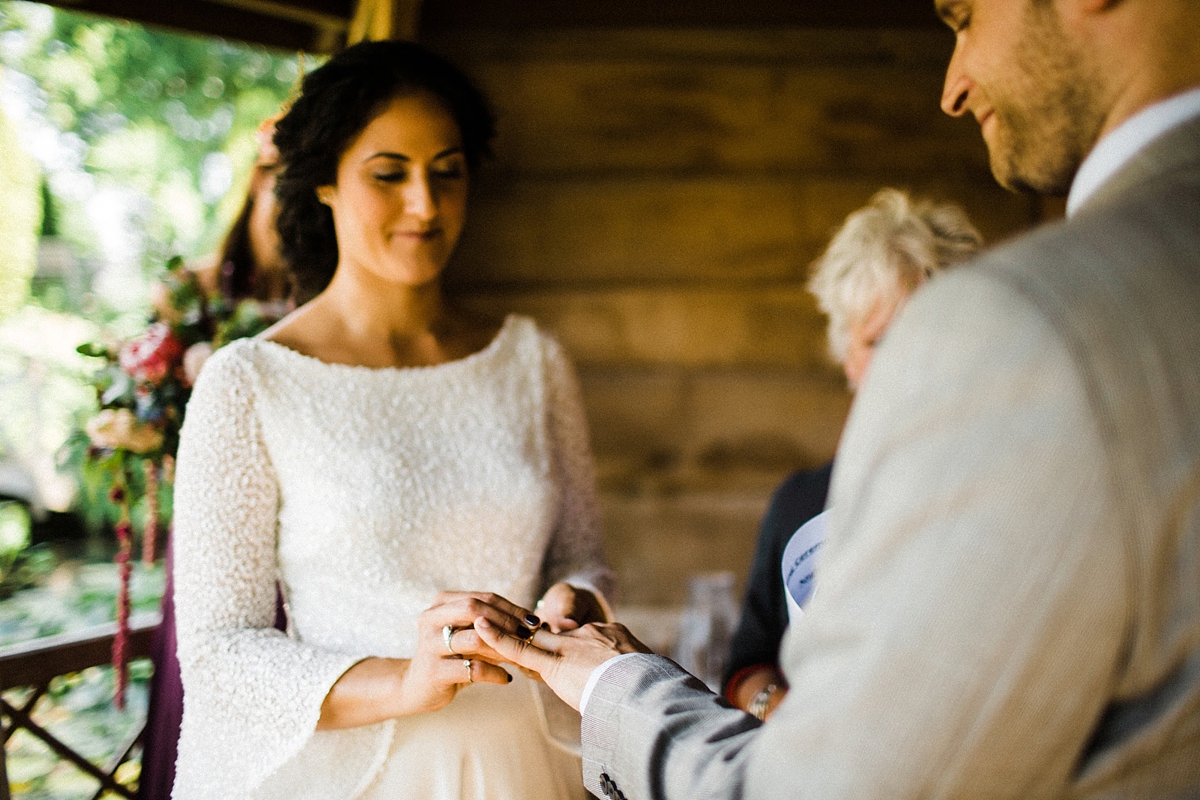 In a really lovely touch, the couple's mums did a reading together – an excerpt from 'Captain Corelli's Mandolin' by Louis de Bernières.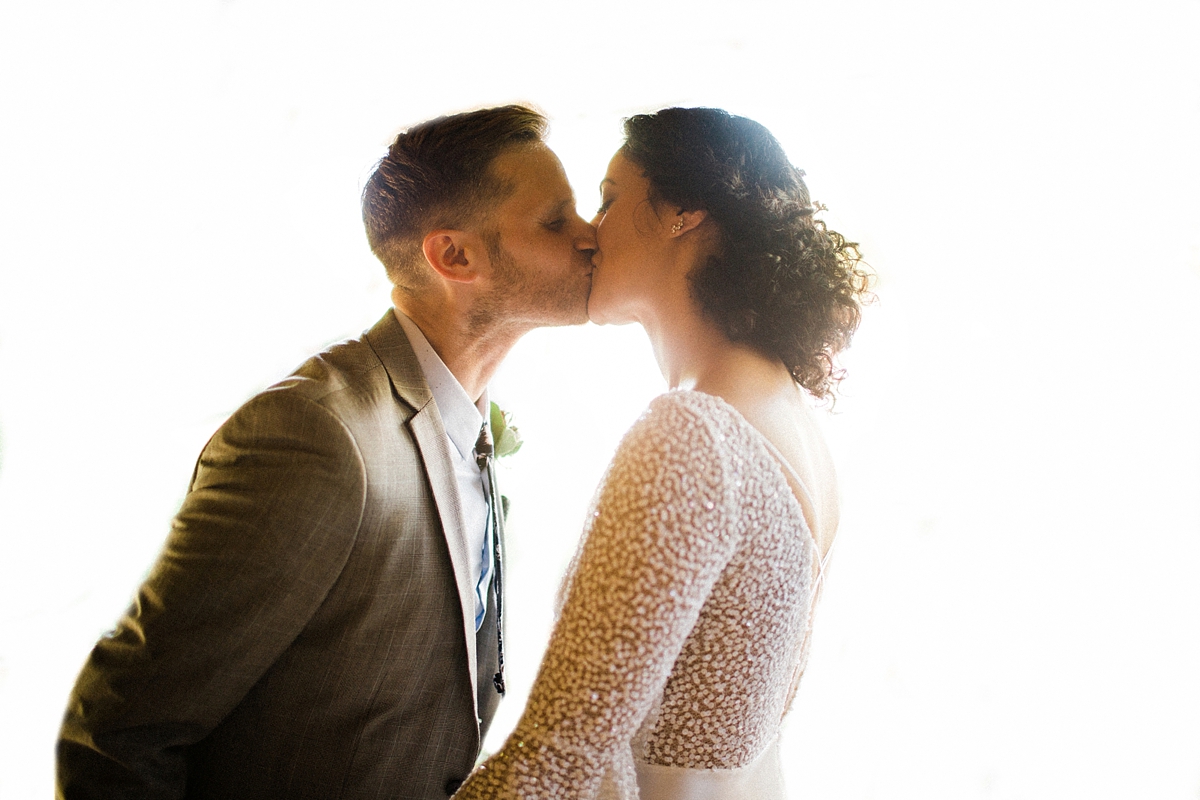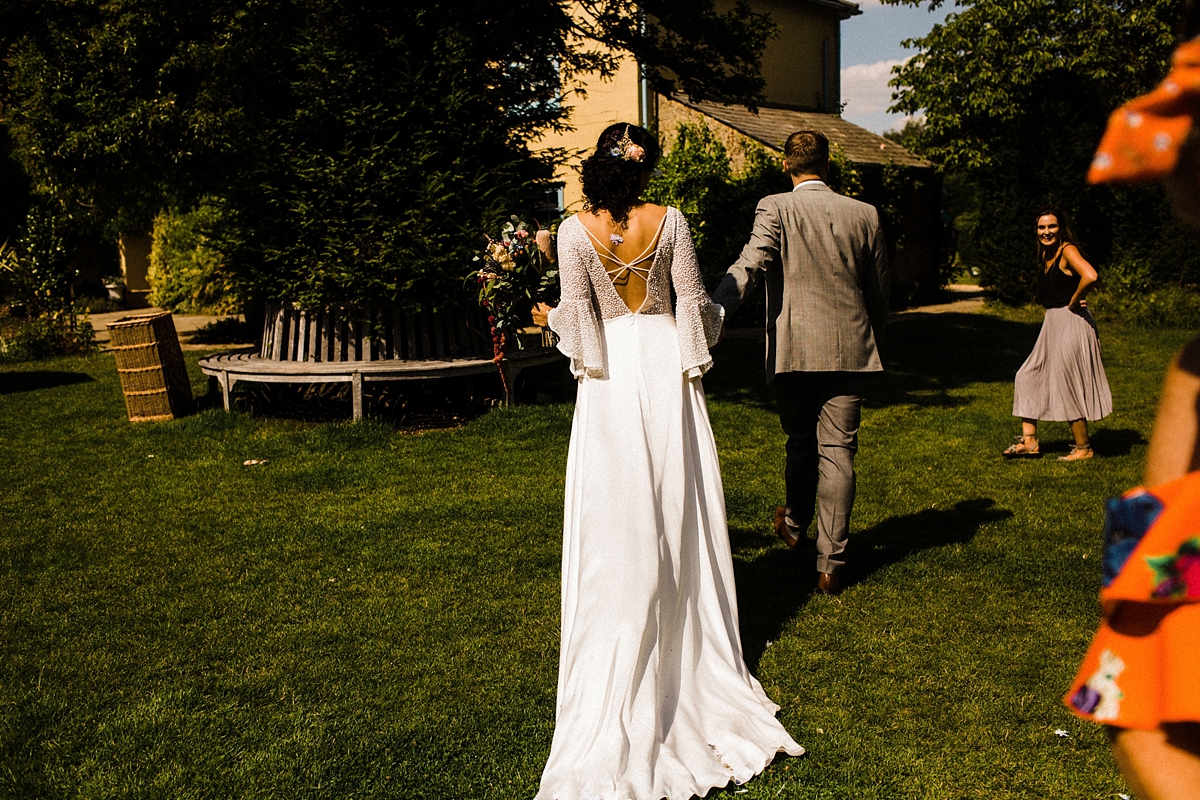 I nearly forgot to mention the gorgeously wild, hand-tied flowers. Angelique put her trust in florist Hayley, who created such a wonderful style.
"I've always wanted a king protea and succulents. I just told her the colour palette I liked – lots of green with hints of berry and burgundy – and she did the rest."
After the ceremony there was plenty of time for the whole bridal party to relax and enjoy the beautiful countryside that surrounds South Farm. The couple had gathered together giant garden games, including giant Jenga and croquet, for everyone to enjoy in the sunshine.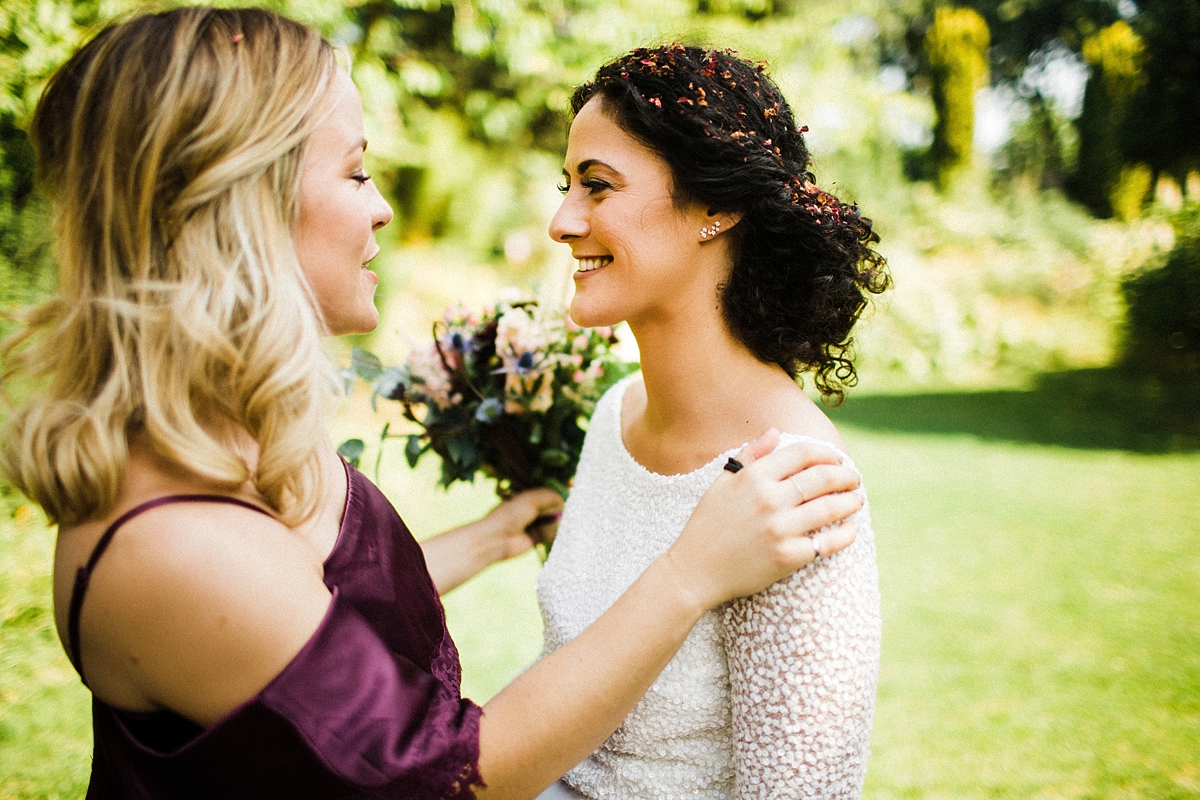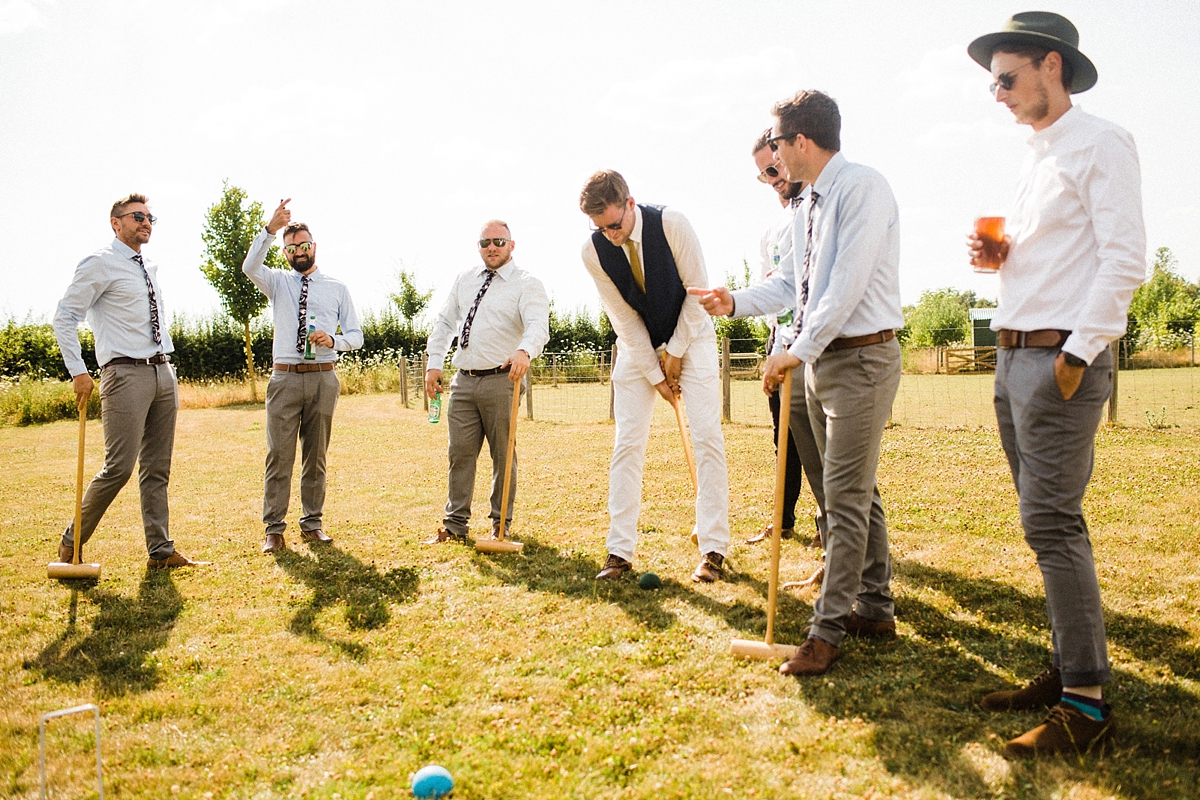 The beamed barn at South Farm was the banqueting hall for the day. The table plan was made by the bride and groom and pinned with wooden pegs to a wire grid. For place settings, names were hand-written on fresh bay leaves – such a simple yet so beautiful detail.
"South Farm is already stunning so we kept it simple. We found some cute brass and silver goblets on eBay for table centre-pieces. We also had a helping hand from our talented florist Hayley who filled these with stunning succulents and flowers."
The wedding breakfast was provided by South Farm, and the wedding cake took the form of a spread of treats.
"My sister Rosie made cheesecake and also gifted us a cake from Mr Cake with the graphics from one of my favourite snowboards. Jamie Lynn Phoenix is the artist. Chris's mum and dad also surprised us with cute Mr & Mrs cupcakes."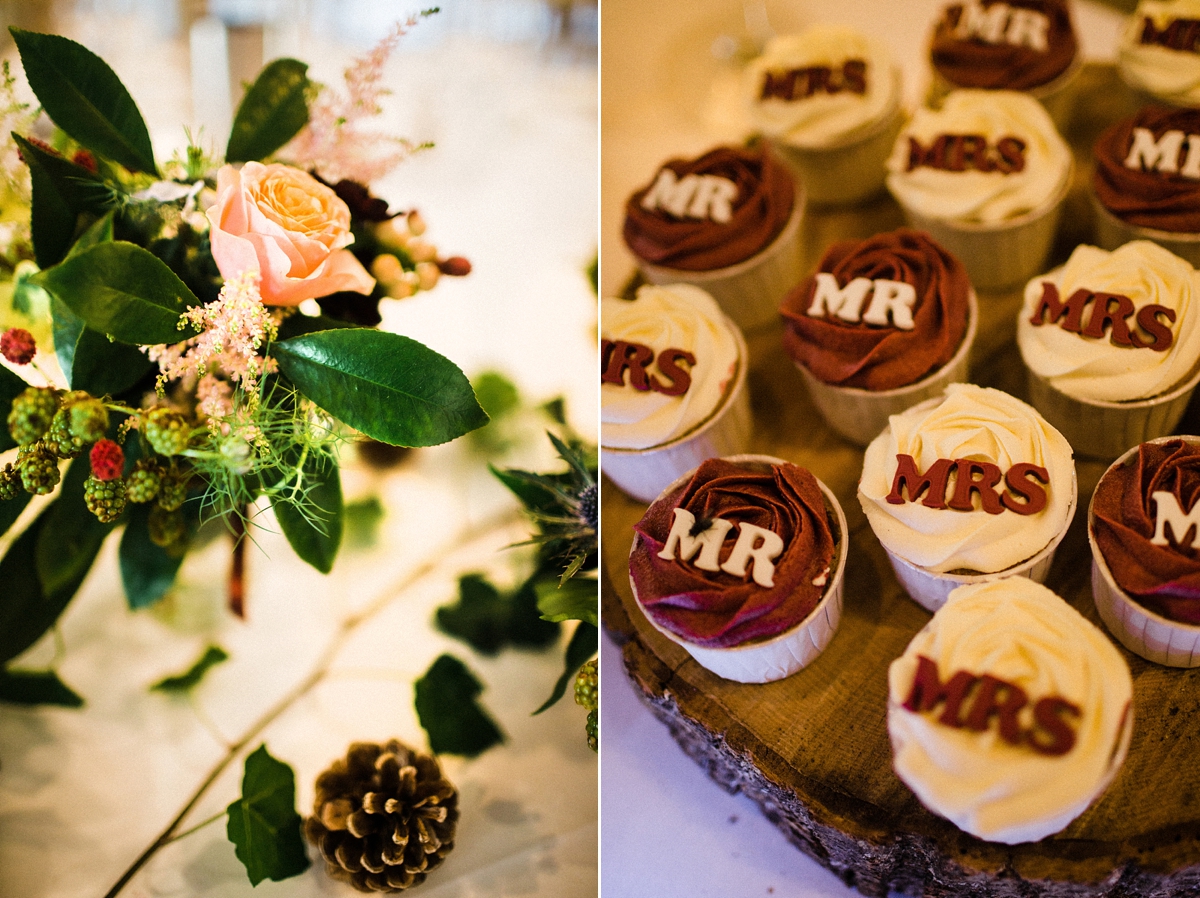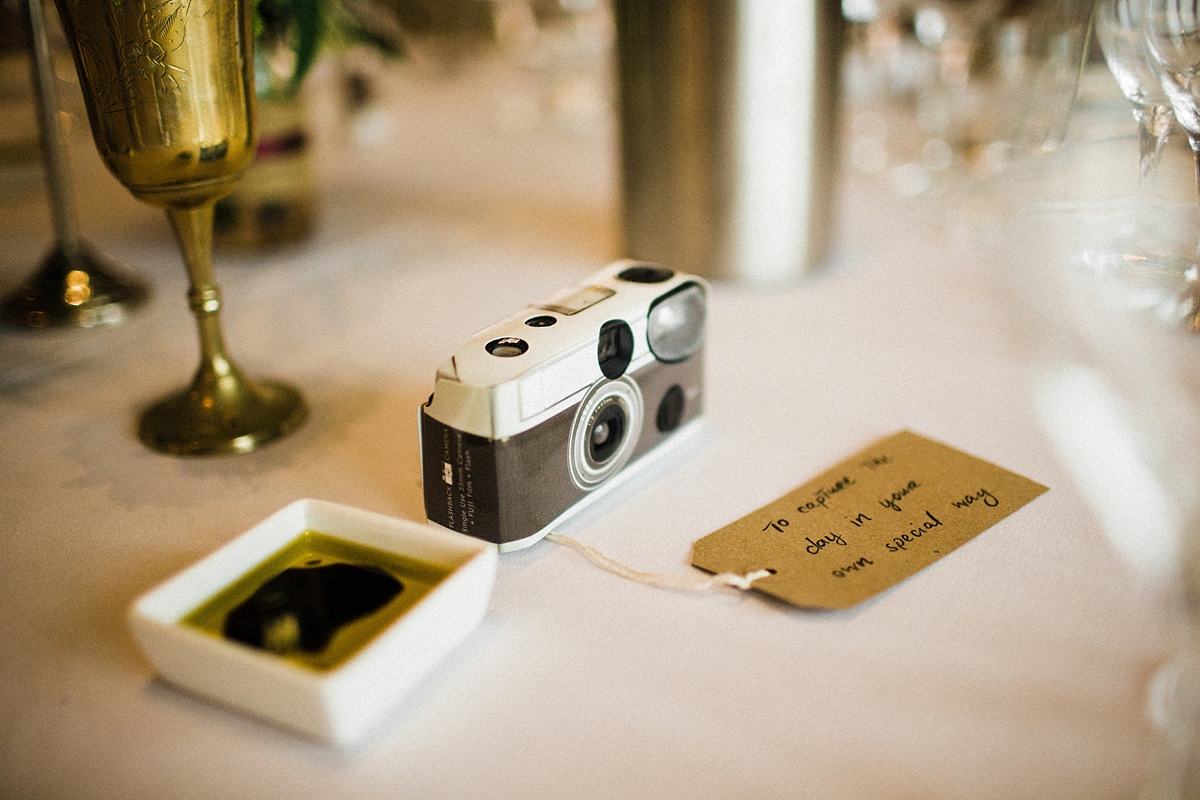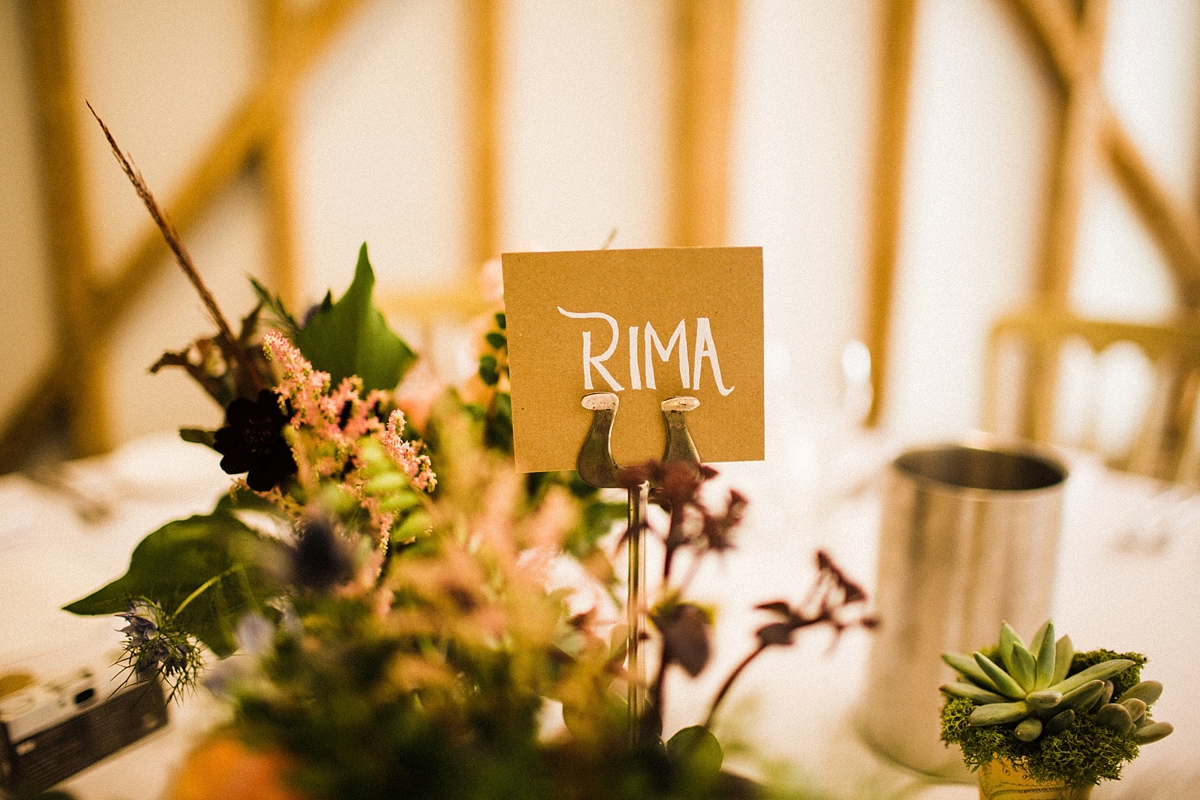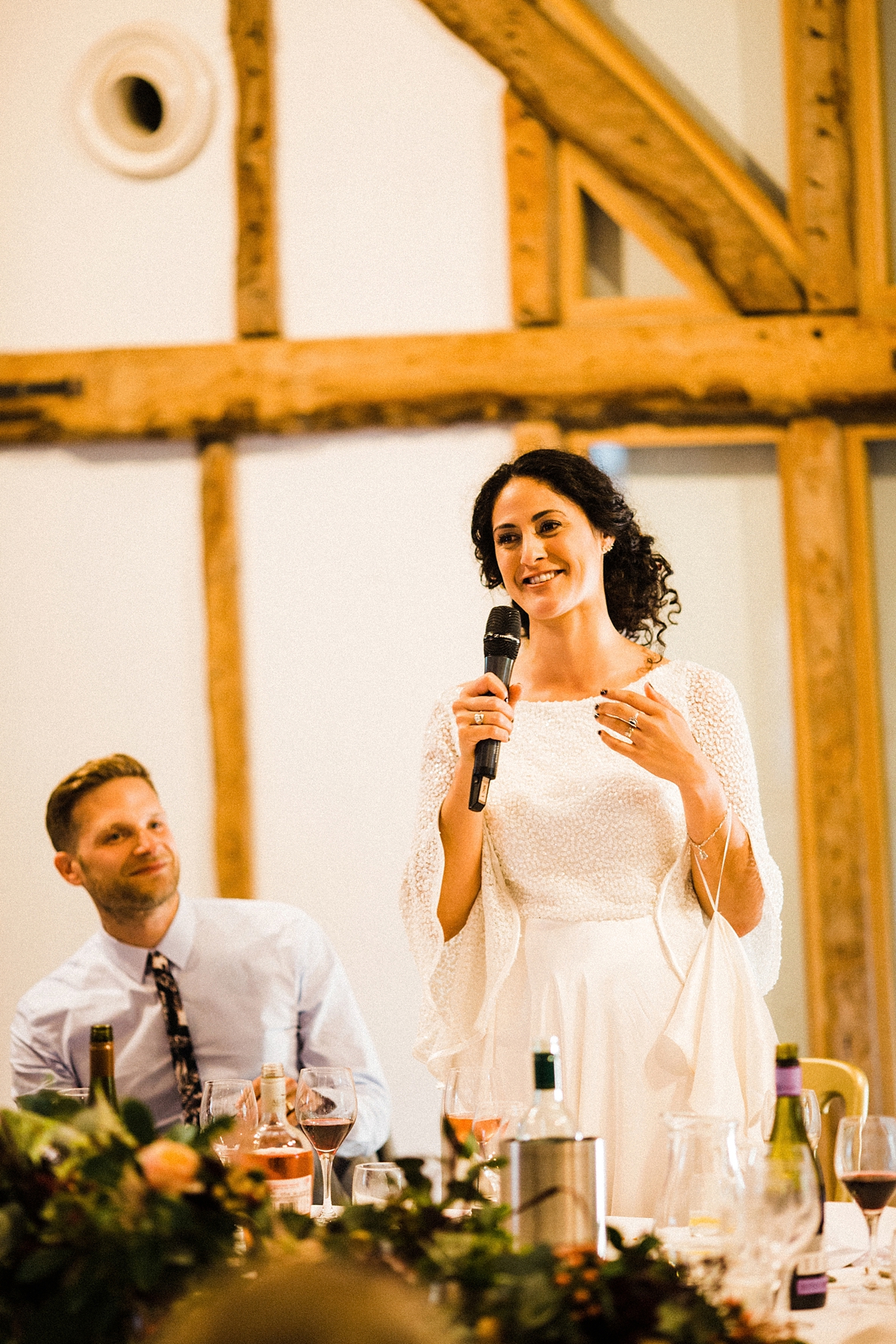 "The whole day was magical but to choose a few favourite moments in particular to sum it up:
Getting ready with my girls – the music and company was on point; the ceremony – we wrote our own vows and it was so us; the speeches – Chris basically declared his love in front of all our loved ones and then performed the Haka with my brother and our close friends in homage to my Māori ancestry and our home New Zealand."
"Such a proud moment!;  when my family sang a waiata (song) in Māori; when we all danced Zorba in homage to his Cypriot-Greek ancestry; being with all our favourite people and not wanting the day to ever end!"
"On reflection I think I should have invested in a time machine so I could re-live the day over and over!"
A nod to the bride's love for autumn style came through the vibrant burgundy of the bridesmaids' drop-shoulder gowns which came from ASOS. I love these midi-style gowns which also look light and fun to wear.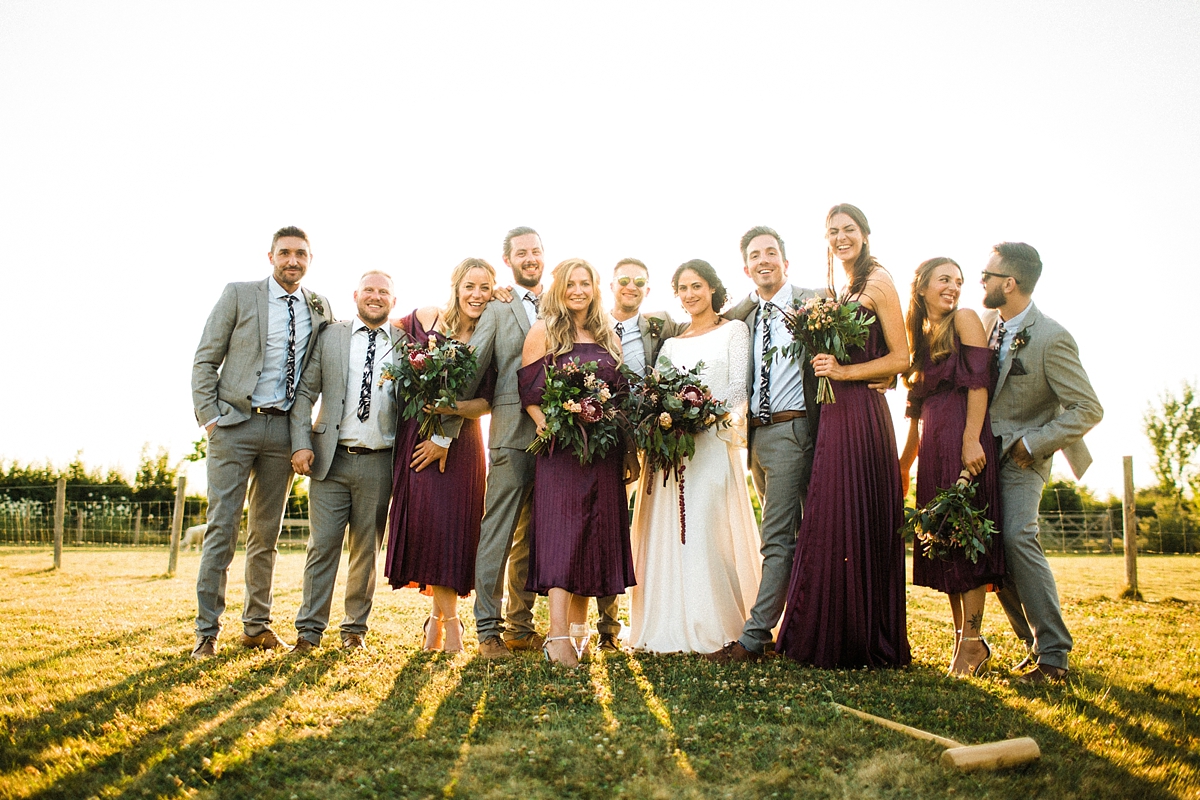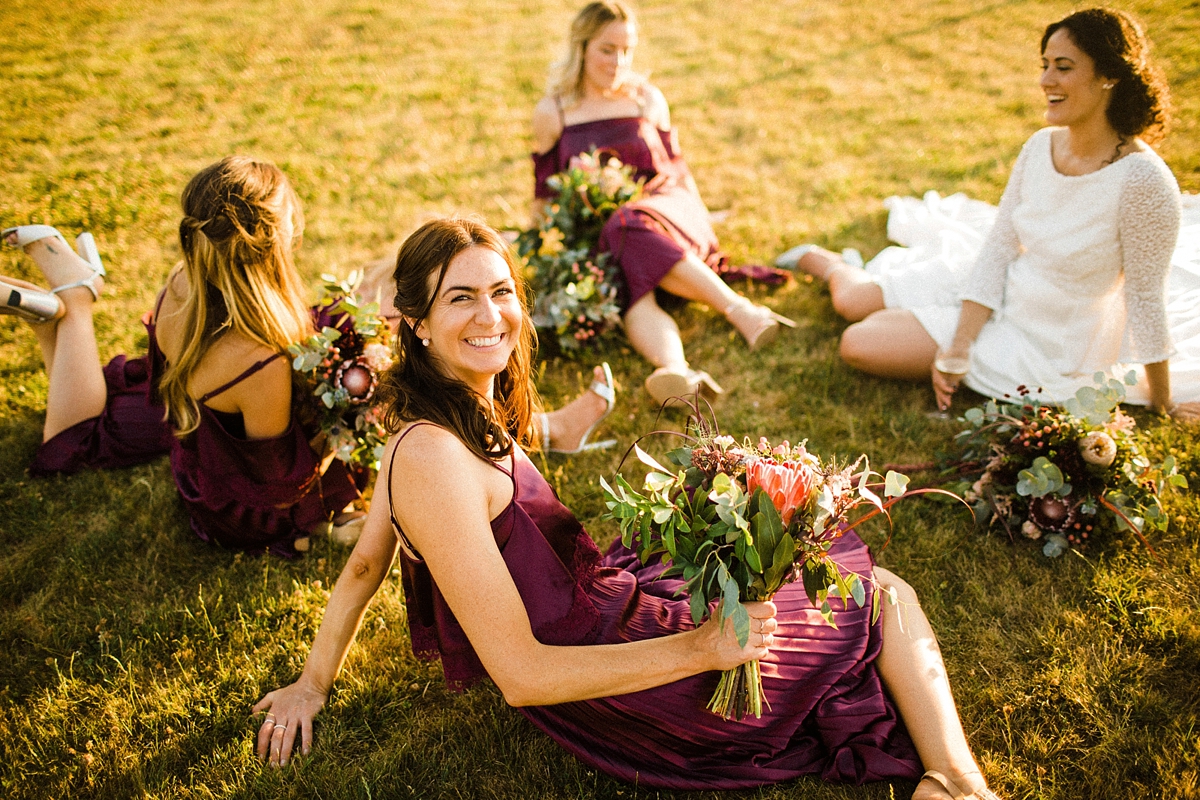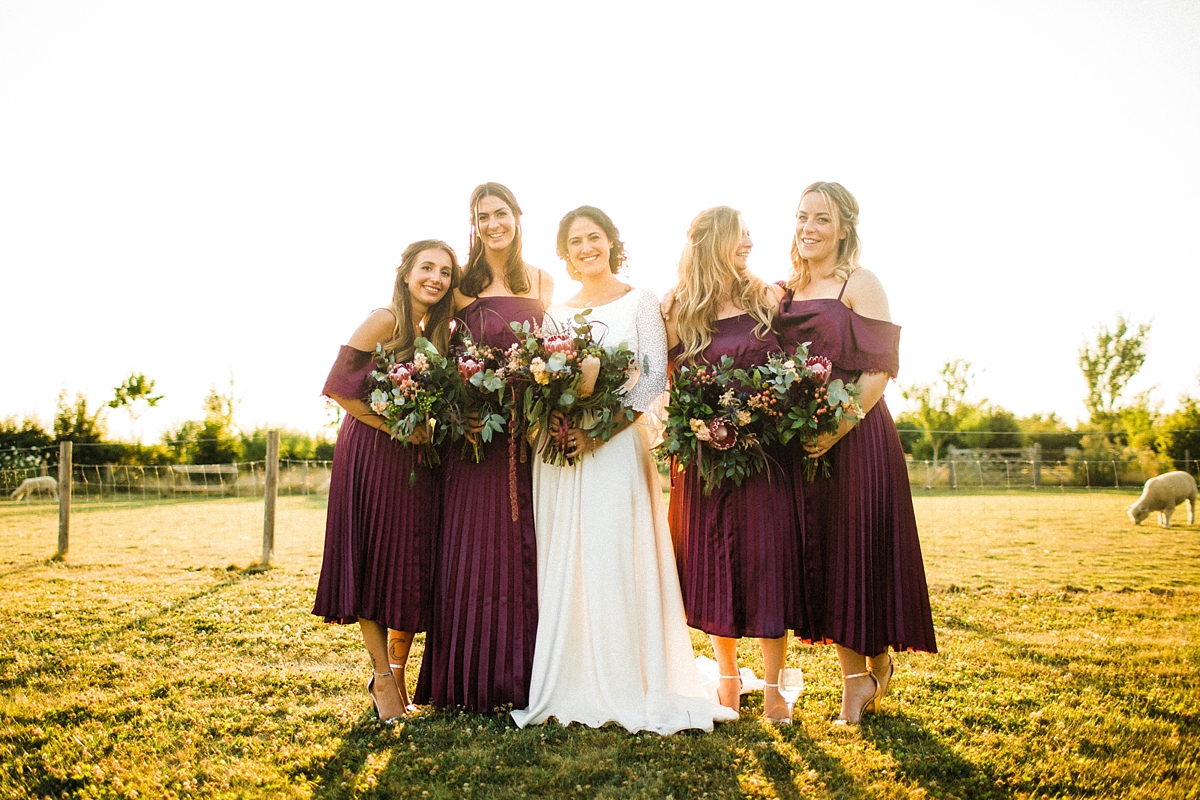 I really feel that Claudia Rose Carter has captured the ethereal feel so wonderfully in these fine art photographs. Claudia is such a pro at using natural light at exactly the right time (those sunlit photographs of Angelique and Chris…). And what more could you want from a photographer than them slotting right in?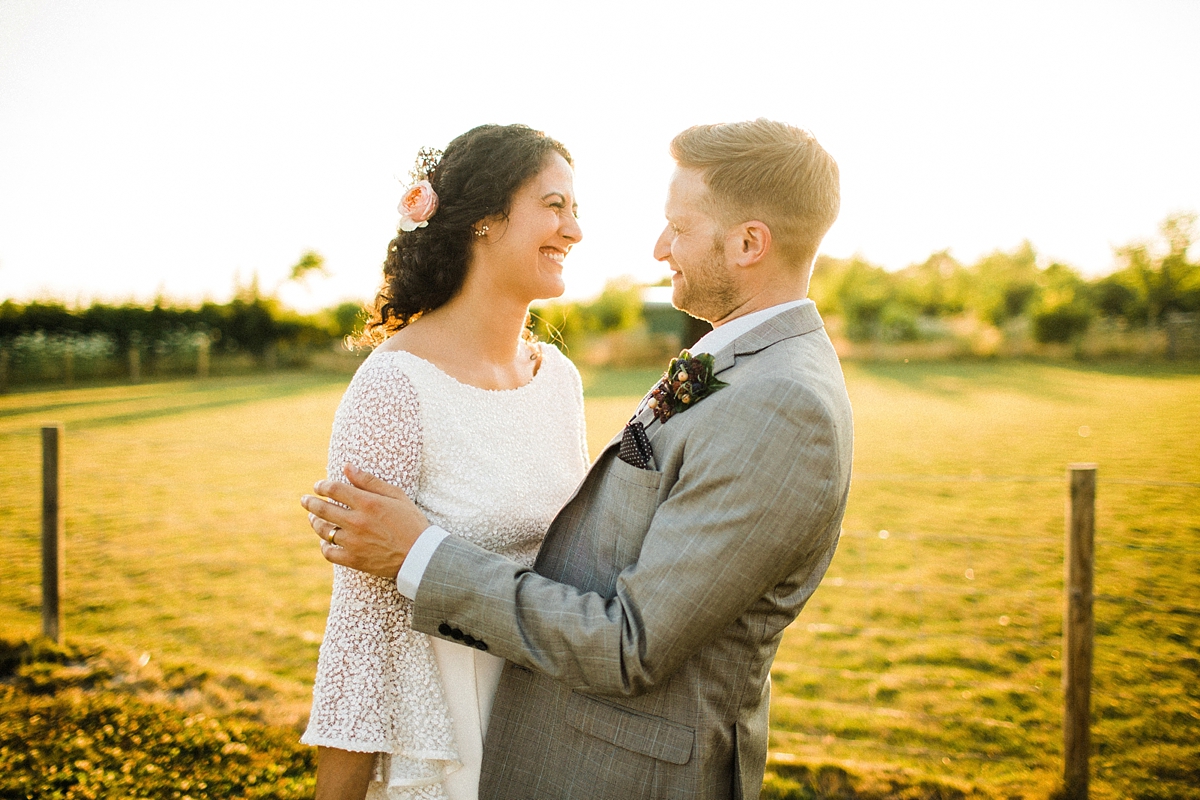 "From the get-go, Claudia felt like an old friend. She has the ability to make you feel relaxed and yourself at all times. She also has the ability to hold a drink and take the most incredible pictures at the same time – talent right there! We are both naturally quite hospitable people and it was very important to us that Claudia felt like she was part of our day."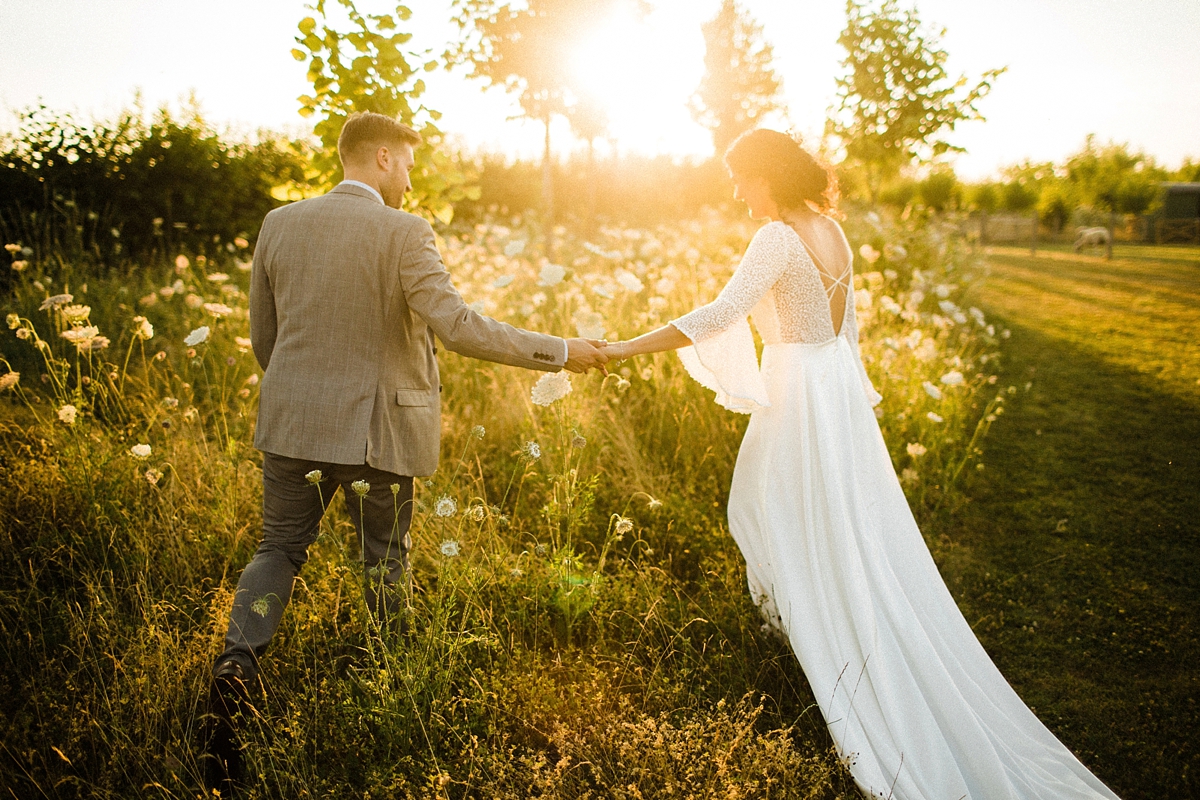 "She has captured the true essence of our day so perfectly that I relive it every time I look at them. When most of your family live on the other side of the world, it's such a special feeling to have all your loved ones in one space celebrating love and embracing all the feels."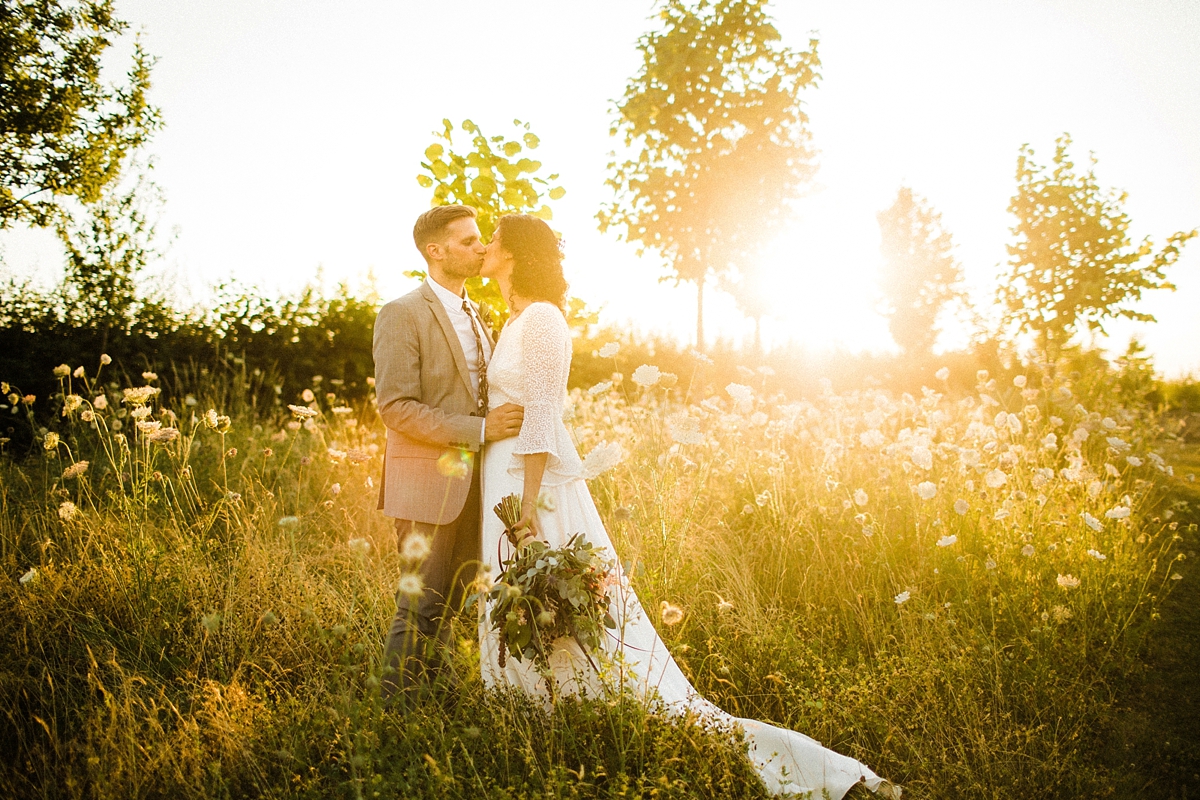 "Thank you Claudia for helping to make our day so memorable and for being so talented at what you do. On a side note, she makes the most fun wedding guest and knows how to party till three in the mornin' like a boss."
If you'd like to find out more about Claudia please do visit her Little Book listing which features many more examples of her work.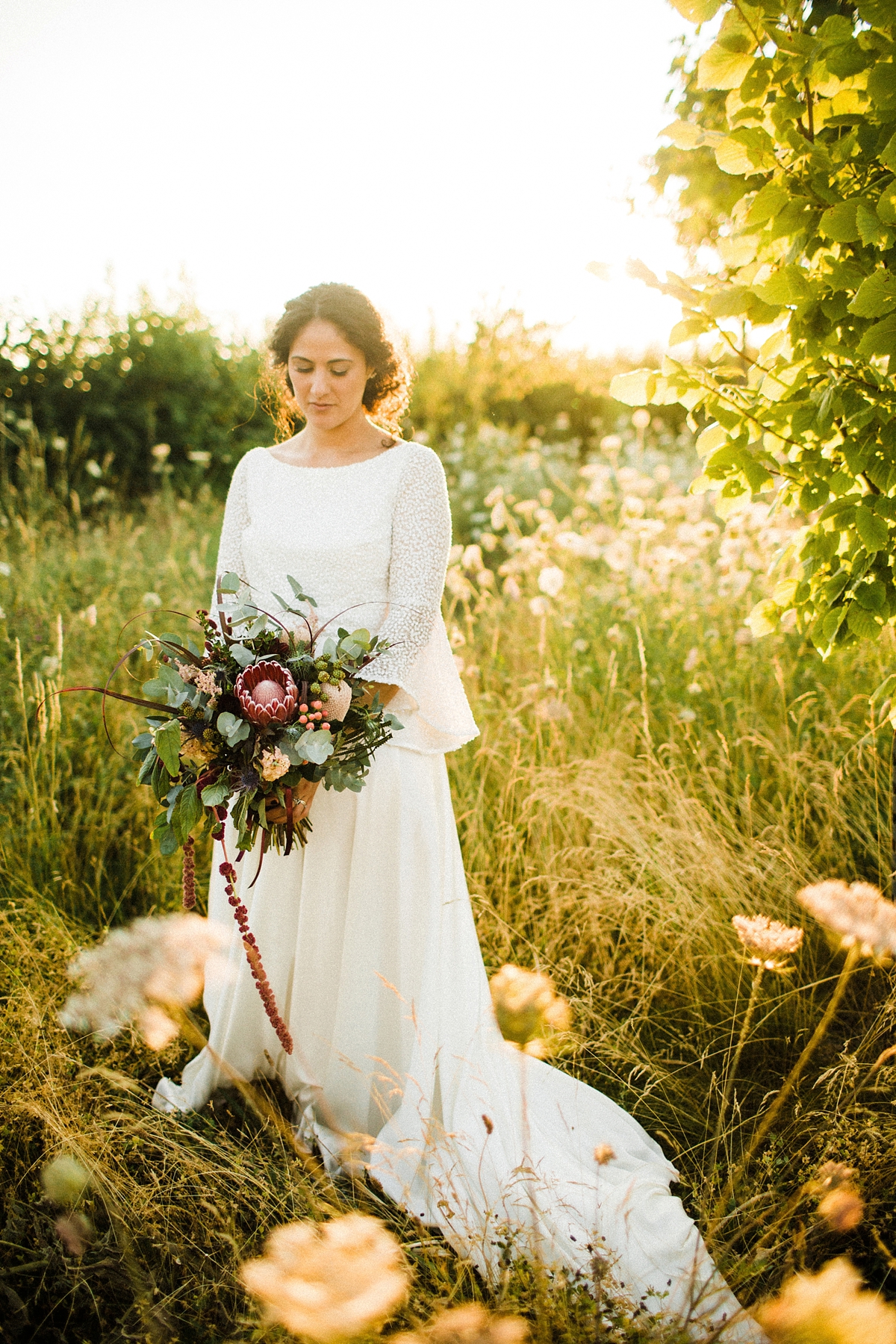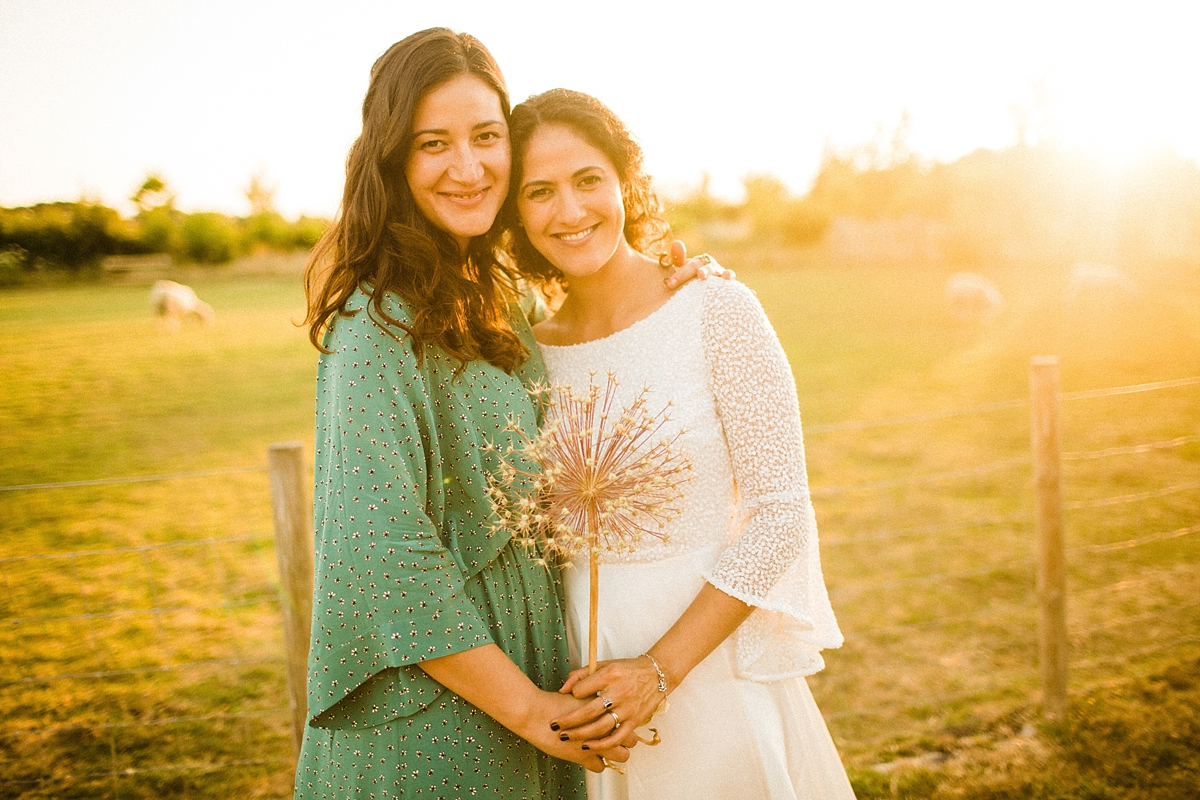 South Farm's house DJ Gary was on hand in the evening for the party, after an alternative first dance.
"We are both big old school hip hop and R&B fans, particularly Biggie fans. So we the choice was easy really; Big Poppa all the way!"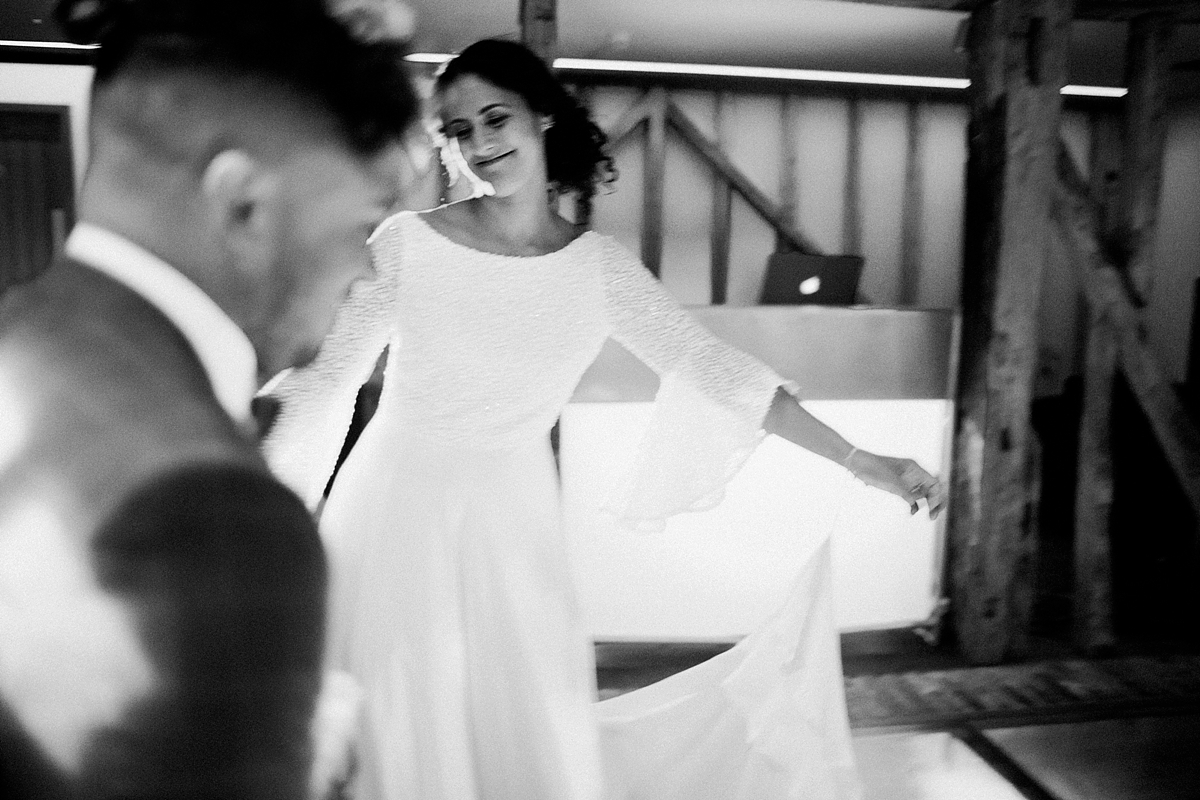 Words of Wedded Wisdom
"It's okay to change your mind, all the time. Just don't sweat it!"
"Take your time – enjoy it and make sure you have a few moments to yourselves throughout the day to take it all in."
"Make sure there's an invisible string between you and your hubby so you can capture all the candid moments together."
Thank you so much to Claudia Rose Carter as always for these divine images. We've thoroughly loved having them grace our pages, and for more of her work on Love My Dress please do click here. Want to know more about A Most Curious Wedding Fair? We profiled this creative, quirky, sassy fair here.
Finally, many thanks and congratulations to Angelique and Chris for sharing your day with us.
Ele xx