Hello lovely ones, we've the most delightful treat for you today and I'm so thrilled to be the one to share it with you. The designer of this gown has untold talent and is someone that Love My Dress has supported and whose exceptional designs we have been sharing for several years now.
Today's French destination wedding celebration is a magnificent feast for the eyes, and one with magic and enchantment at its heart. Here we have a couple inspired by the beloved folk and fairy stories of childhood, and of beautifully illustrated books containing these tales; capturing the elegant aesthetic of times past. Perfectly crystallising this romantic idea was the wonderful historic chateau chosen as the venue, overlooking a lake, nestled in the Loire Valley. Sarah, a HR Manager, and Mark, an Accounts Assistant, were married on the 5 May at the Chateau Allure du Lac, Angers, after being together for almost seven years, and engaged for two years.
Images by Zephyr & Luna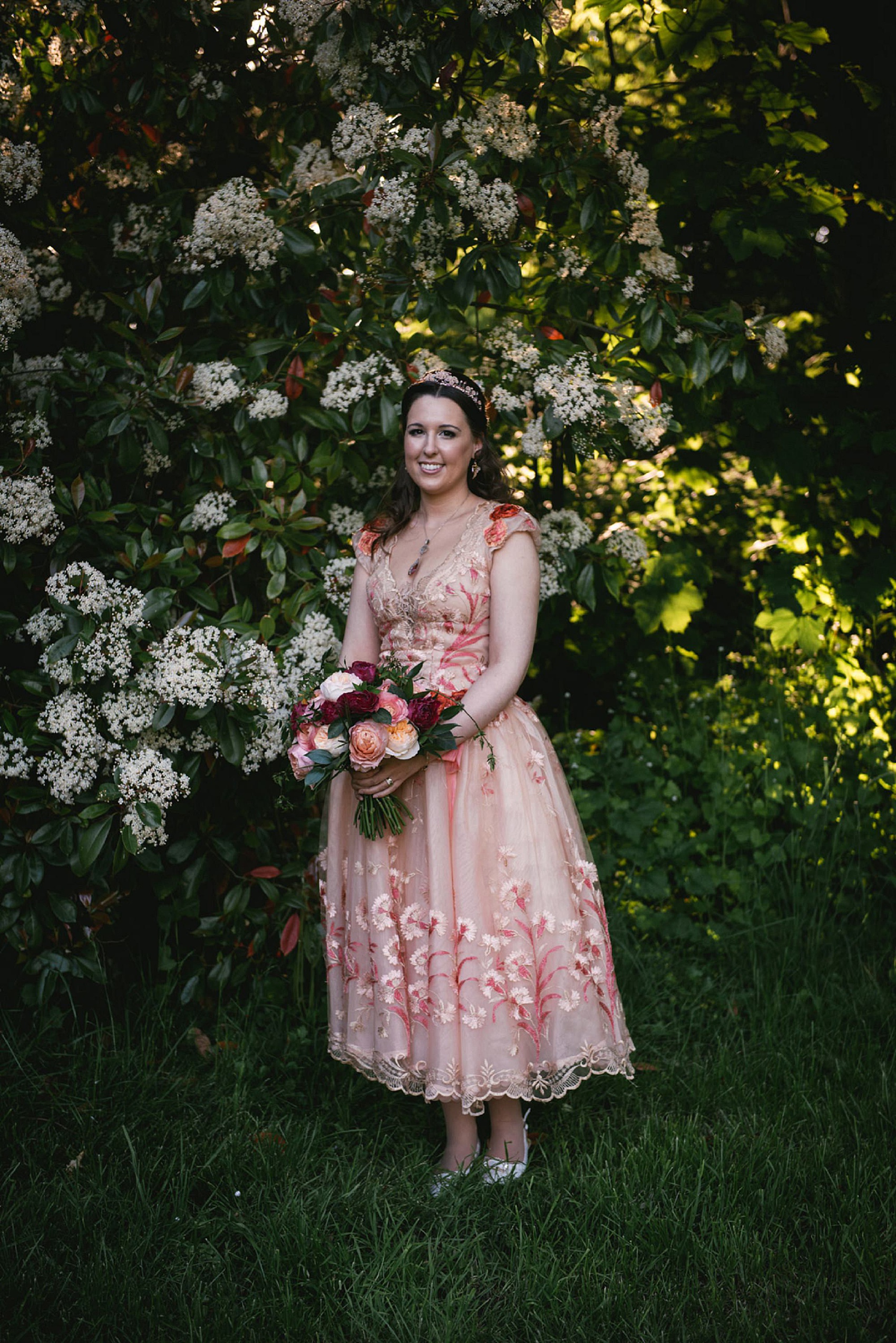 "Like most couples, we really wanted our wedding to reflect us. We both love fantasy stories and history, but I grew up listening to traditional fairy and folk tales, from books with amazing Art Nouveau or Rococo inspired illustrations. We wanted our wedding to capture some of the elegance, mystery and magic I had found in my favourite stories growing up.""My family took me on holidays to France as a child, and I loved the chateaus. I used to want to buy a chateau as a little girl and to live in it with my extended family. When it came to choosing a venue, I thought I'd just see if we could stay in one for our wedding and how much it would cost compared to UK venues. I came across Chateau Allure du Lac, with its incredible antique furnishings."
"Mark loved the idea of getting married there, especially if we could have a traditional French wedding cake –  a croquembouche."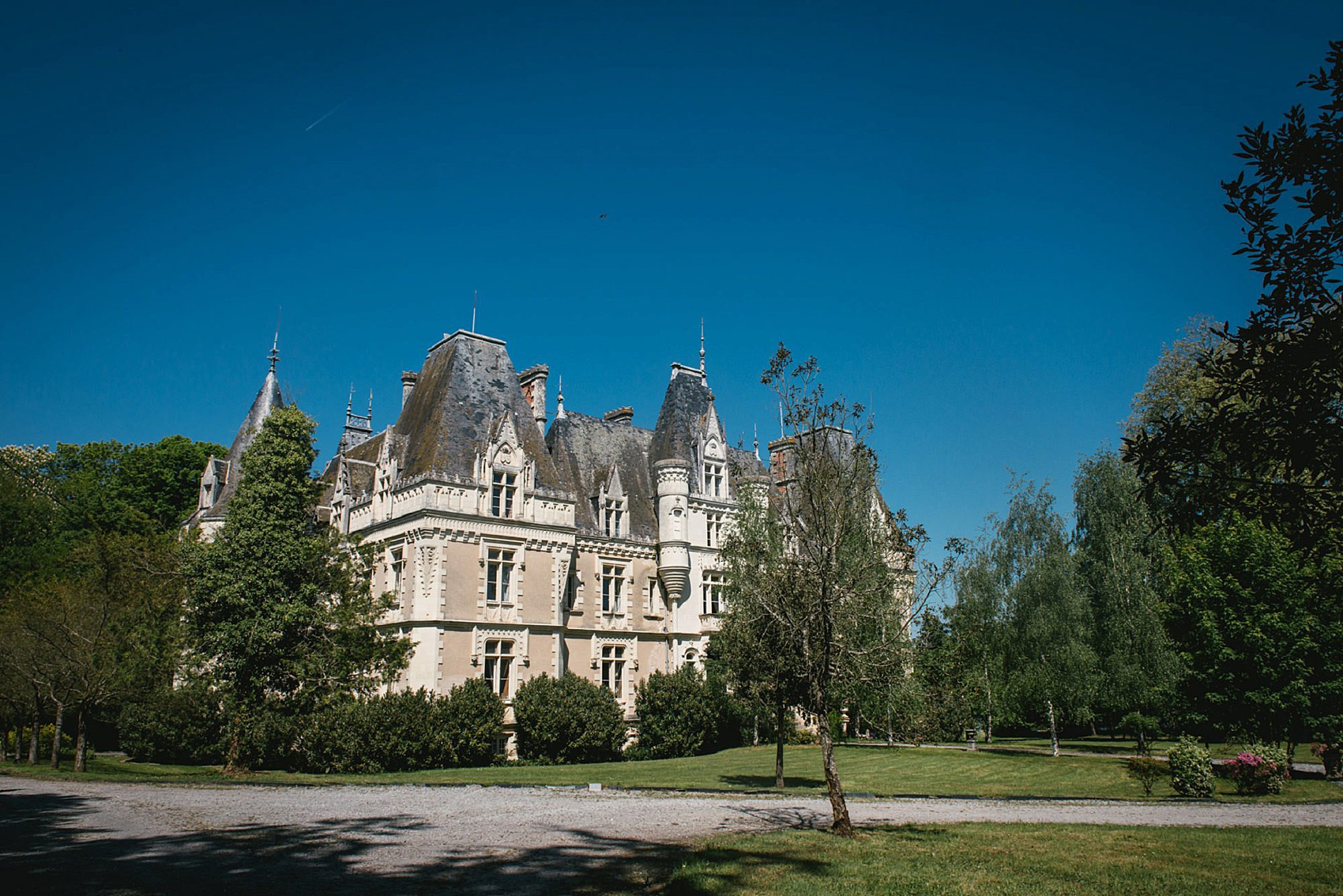 Debbie Mac Hair and Make-up Artist was on hand to style hair for Sarah, her mum and bridesmaids, and for Sarah, she created a romantic and softly curled half updo, which perfectly complemented her look, and her radiant make-up by Mel Kinsman.
"Mel and Debbie are amazingly talented and it was lovely to have them with us as we were getting ready. I have such lovely memories of them chatting with myself and my bridesmaids as we got ready in the tower suite above the chapel."
In her hair, Sarah wore a beautiful tiara with a delicate floral design, made from Swarovski crystals and a re-purposed demi-parure of 1940s jewellery, which she chose at Crystal Heirlooms.
"I love vintage Czech glass jewellery, and the tiara reminded me of this, whilst perfectly matching my dress. I added a silk butterfly comb for a bit of extra magic. It came from Flutter Designs, via Etsy."
I completely adore the work of Little Book member Joanne Fleming, whose exquisite and beautifully crafted designs are inspired by history, literature and art. Sarah chose the incredible shell pink and coral 'Coraline' dress, which was inspired by Marie Antoinette, and the panniered silhouette of late eighteenth century gowns.
"I really struggled to find the right dress for me. I desperately wanted a dress that reflected my usual sense of style, and that would suit our venue, which had prominent eighteenth century decorative features. I tried so many dresses on, but I felt more like someone playing dress up as a bride than myself preparing to get married. I realised I was going to have to try something less traditional."
I love the flattering tea length, different layers of delicate organza and tulle, the embroidery of flowers and coral branches and the colourful silk flowers. This is a dress of pure enchantment, and just perfect for Sarah and Mark's fairytale inspired day.
"I knew as soon as I saw my dress that it was exactly what I had been looking for. When I first tried in on, my mum said 'That's such a Sarah dress.' It was the first time she'd said that about any of the dresses we had looked at."
"It is timeless yet modern, detailed but not overwhelming, feminine yet practical, and the most comfortable thing I have ever worn. I could not believe how light it is. On the day, I felt like my best self, as if I'd just walked out of an oil painting or one of my favourite story books. It is incredibly romantic and more than a little magical."
There was a further, lovely nod to eighteenth century Rococo style with Sarah's brocade shoes, complete with sparkly buckles, by Rainbow Club.
Sarah's necklace was a spectacular 1920s Czech glass pendant, which she wore as her 'Something old', and her freshwater pearl earrings were chosen at Picturesque Gallery.
"I also wore an opal and lapis lazuli bracelet that belonged to my late grandmother, who I was very close to growing up. I wanted to feel like she was there with me. It was my something borrowed and something blue, as my mother lent it to me for my wedding day."
"My perfume was Noir by The White Company. One of the best holidays Mark and I went on together was to Vienna. We stayed in an amazing Art Deco hotel, and the complimentary toiletries were Noir scented. I loved the fragrance as it is subtle, sophisticated and a bit mysterious. I bought the perfume when we got back and wore it for my wedding day as I associate it with happy memories prowling around art galleries, salons and palaces with the person I love."
"It was really important to me that I walk myself down the aisle, as I don't belong to anyone but myself! I walked down the aisle to Salut d'Amour, composed by Edward Elgar. We chose it as it is wonderful song about greeting someone you love, and was composed as an engagement gift, making it especially romantic."
The couple's ceremony was conducted by celebrant Alison James, of Celebrants in France, and Sarah and Mark worked with her to put together personal, meaningful vows.
"We chose the reading, All I Know About Love by Neil Gaiman. We selected it as Neil Gaiman is one of our favourite authors, and the words resonated with both of us. It felt beautiful and relatable and real. During the ceremony Alison shared on my behalf that I knew things were special with Mark, and I worked this out when on our second date, as he took me to a book shop and showed me his favourite Neil Gaiman comics. I really saw then how much he wanted me to know him and how much we had in common."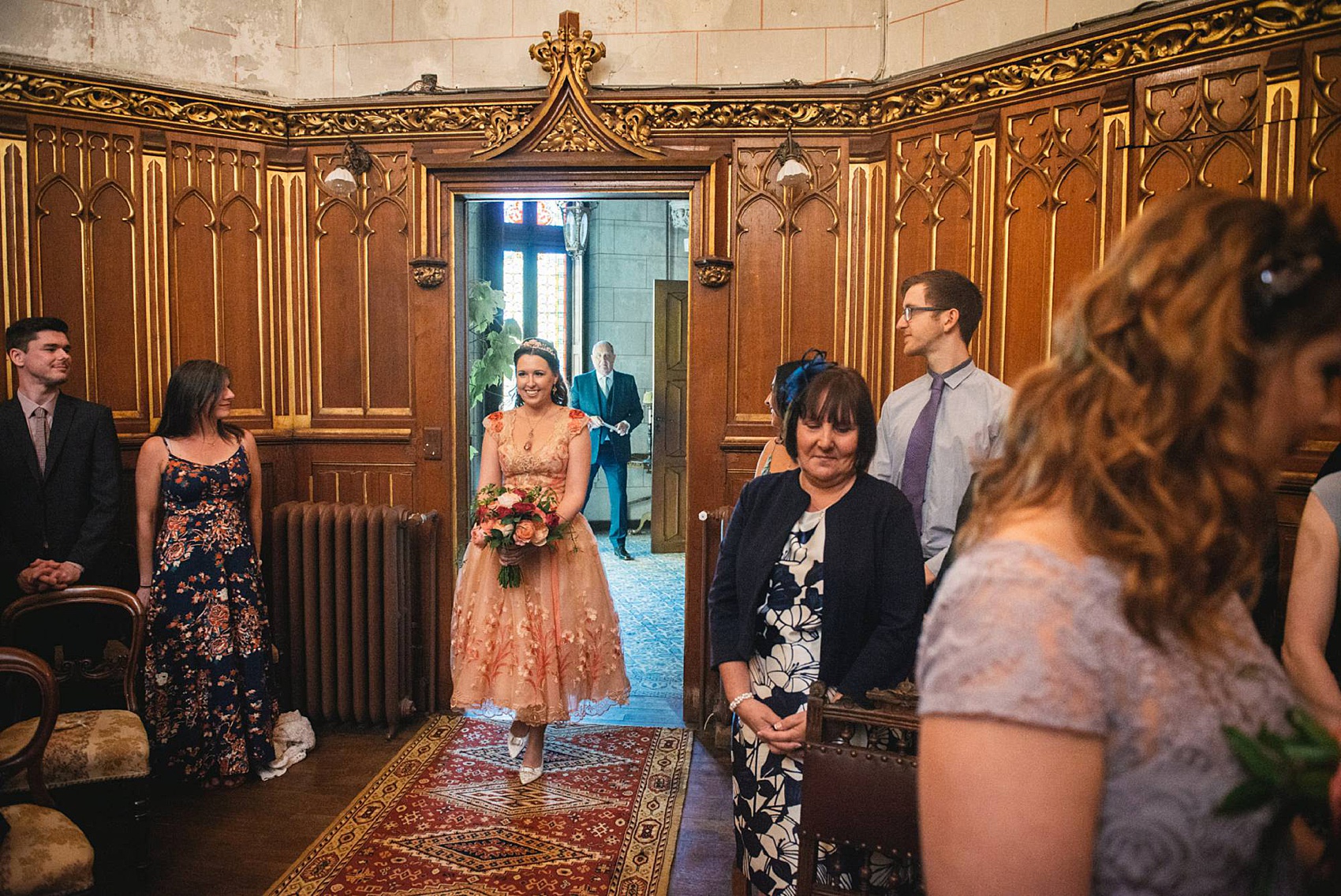 During the ceremony, Sarah and Mark also gave each other rings, which they chose at Belfontaines' Jewellers, a family business Sarah's grandmother used to visit.
"My engagement ring includes peridot and diamonds. My favourite gemstone is peridot, and I love that it is one of the only gemstones to come to Earth from outer space, sometimes being found in meteors. Because the body of my engagement ring is made of white and yellow gold we chose white and yellow gold bands as our wedding rings. It was really important to Mark that they matched and showed we are a pair."
"We asked our celebrant to include this quote at the close of our ceremony: 'But what if there isn't a happy ending at all? There are no happy endings, because nothing ends.' – Peter S Beagle, The Last Unicorn."
"In a fairytale, the ending is normally a marriage, but actually we are just at the start of our lives together. There will be good times and hard times during the adventure that is our married lives, but we'll have each other to help us get through the challenges we face."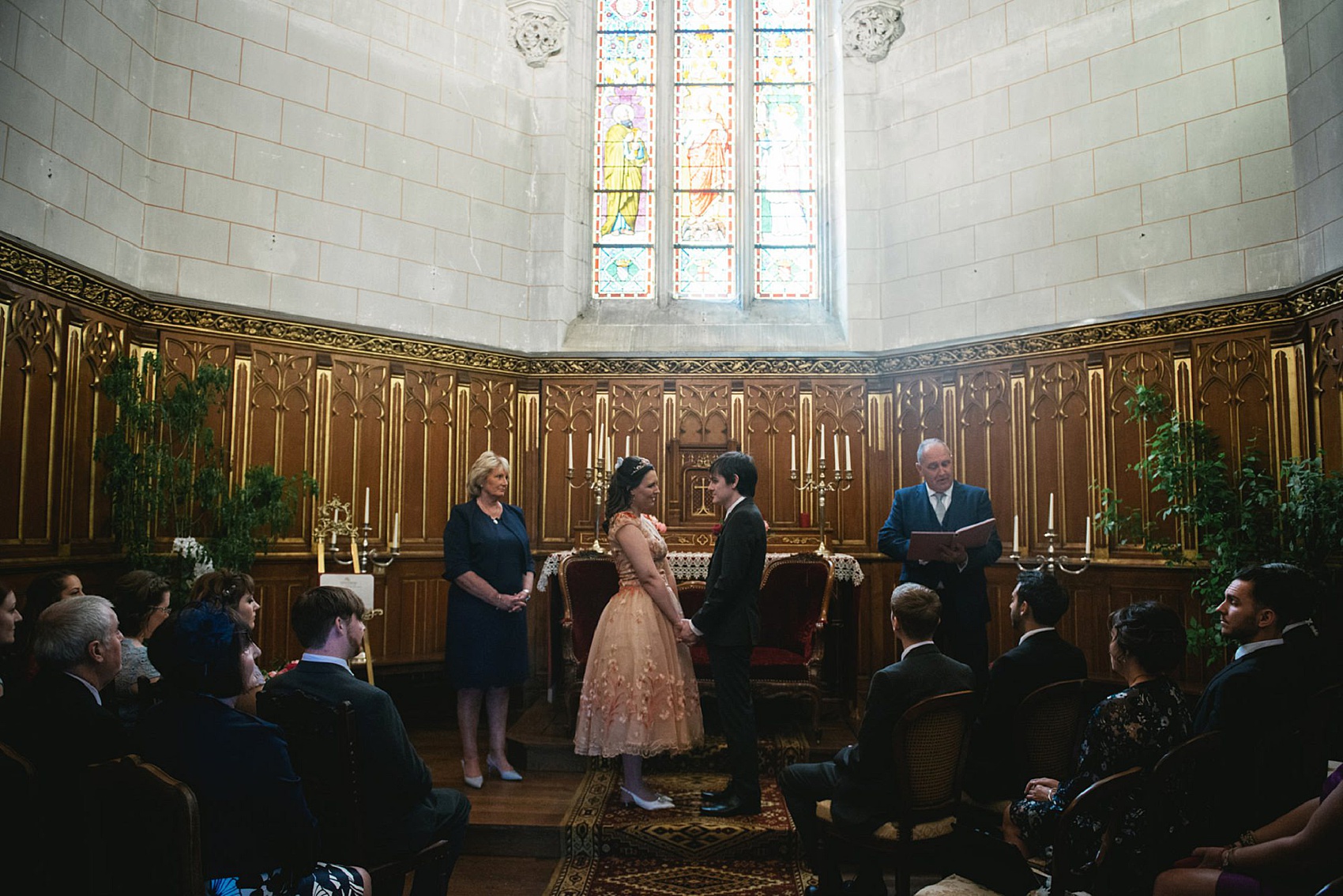 he joyful ceremony was followed by an elegant outdoor drinks reception in the chateau's courtyard, with time for the newly-weds and their party to slip away with photographer Zephyr & Luna, whose enchanting, fine art work I'm excited to share with you for the very first time on our pages.
"Amber has such an incredible sensitivity to lighting, emotion and composition. The sense of depth, light and shadow in her photography is what first drew us to her, but what most impressed us is how she has captured our little quirks and love for one another."
"If I had to choose one word to describe her work it would be atmospheric. I can't imagine another photographer who could represent the atmosphere of our venue and the emotions on the day as well as she has. There is such mystery, romance and natural beauty in her work."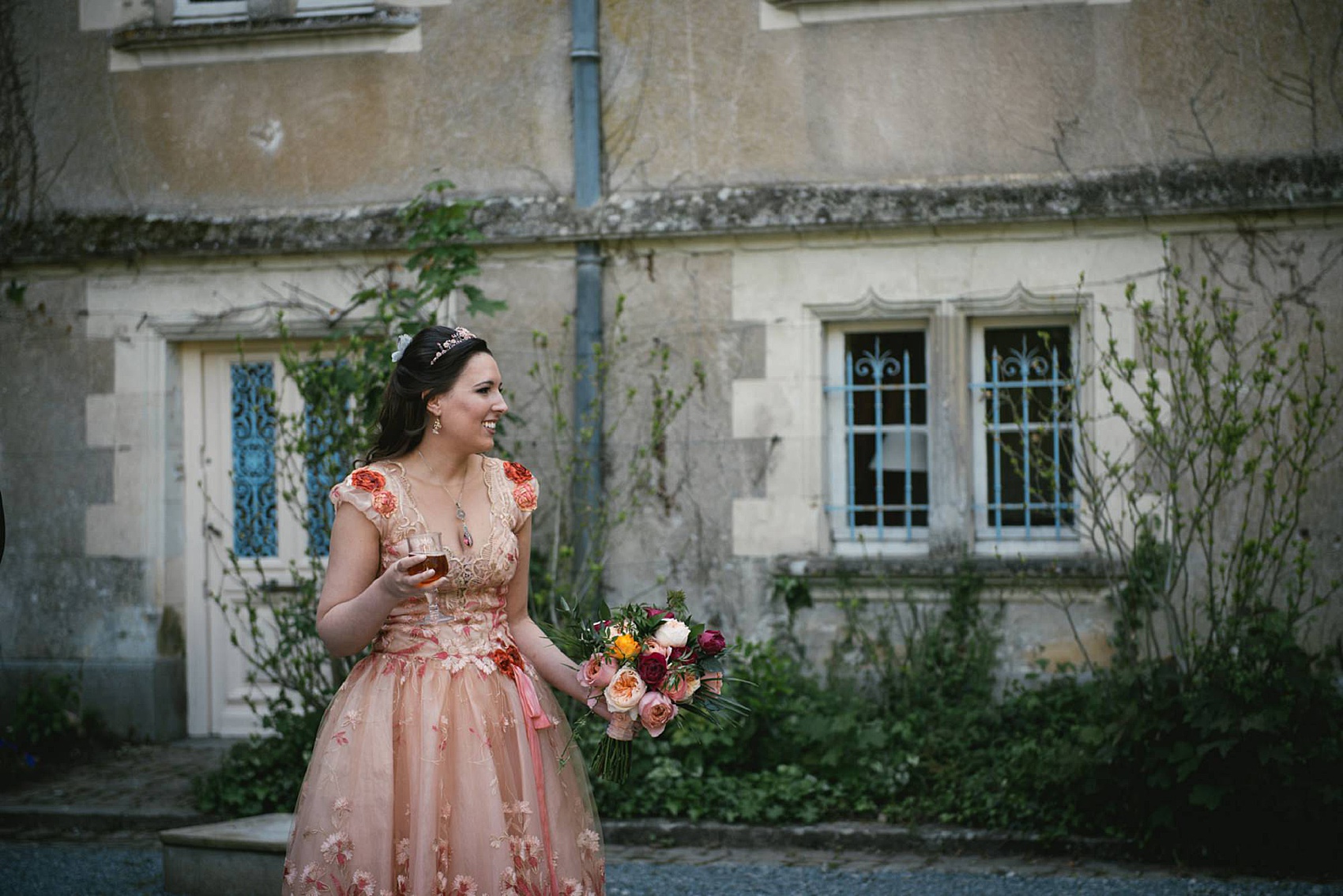 Sarah's three bridesmaids looked amazing in embroidered tulle dresses in lavender, red and sky blue, from Chi Chi London, and the colour combination, together with Sarah's own dress, is spectacular. These lovely dresses were worn together with Rainbow Club shoes, white butterfly hair clips from Flutter Designs, and a silver moth hair slide from Etsy-based Cuddollz.
"I loved the style and how the dresses complemented my wedding dress. The different colours added vibrancy, and fitted with the hint of eighteenth century French style."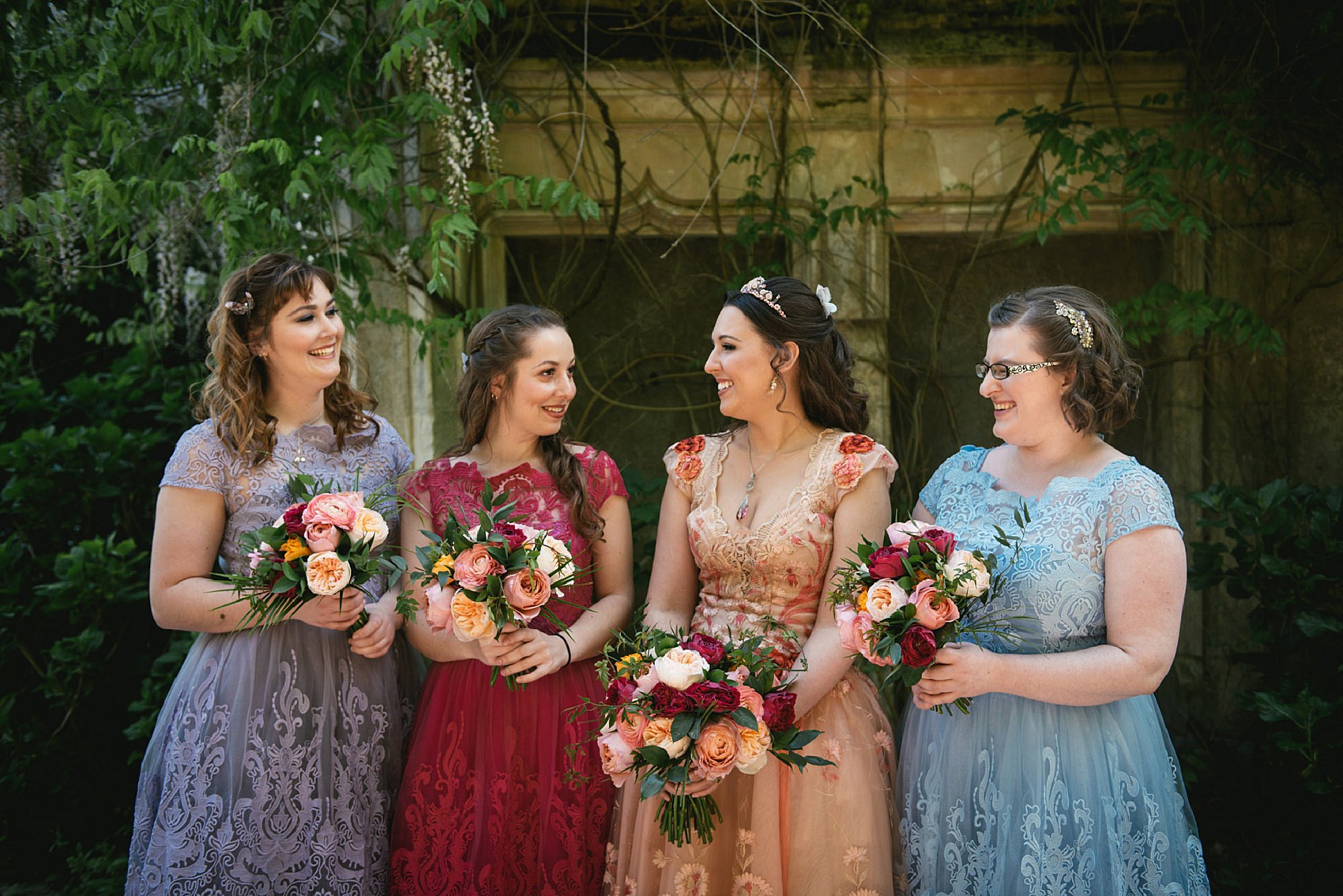 The gorgeous colour palette of soft pink, peach and coral, with pops of crimson was carried through into the charming bouquets carried by Sarah and her bridesmaids – created by French Flower Style.
"I had roses and peonies in my bouquet. I wanted my wedding flowers to be seasonal and to look like the flowers from an oil painting. Because I was wearing a coloured wedding dress I asked for extra greenery so the flowers would stand out against the champagne and blush fabric."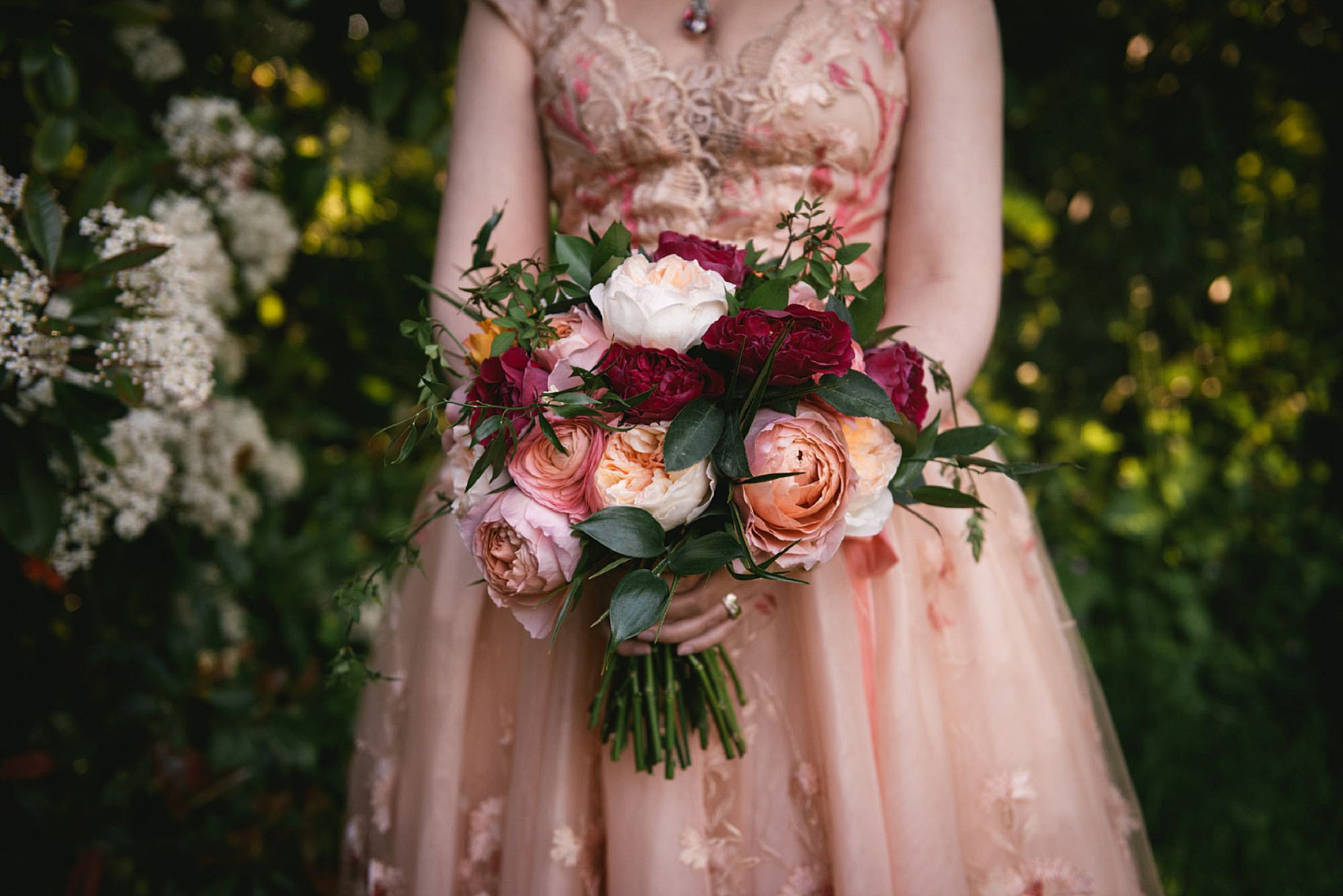 "I sent our florist images so she could see the colour palette, requesting a hint of white to tie in with my shoes and the rest to match the dress. I could not have been happier with the end result and the way the peonies so perfectly matched the reds and pinks of my trousseau."
The chateau's many rooms were a treasure trove of delights, filled with elegant wall coverings, antiques and glittering chandeliers. It's little wonder that Sarah and Mark felt that very little additional decor was needed to dress this already lovely place.
"My eldest cousin and I had a lovely time adding a few finishing details to the tables in the form of fairytale postcards to match the table names (Sleeping Beauty, Snow White, Red Riding Hood and The Juniper Tree), alongside butterfly place names and the flower vases prepared by our florist."
Tables were set for dinner, with crystal candelabras and jewel toned place settings, as well as beautiful antique crystal and vintage tableware, all provided by Chateau Allure.
"As favours, we gave British Dyslexia Association badges, because we liked the idea of giving something back from our wedding celebrations and the charity is very meaningful to us. I am dyslexic, so growing up I struggled to read the books I loved and my mum was even told by one of my teachers that I'd never learn to read or write. I ended up studying English and Creative Writing at university, but I still love it when Mark reads to me (luckily, he seems to like it, too)."
"We also gave silver charms from Flower & Fable to the bridesmaids and our mothers. Each charm is cast from real flowers and represents a different quality, such as luck, loyalty or patience. They also come with cards explaining the folklore or mythology attached to each flower. We chose the charms with the personalities of those receiving them in mind. They are blessings from us to the special women in our lives."
"We gave sets of small marble paperweights shaped like Dungeons and Dragons dice to the groomsmen. Mark has played Dungeons and Dragons with them since university and I often take part in their games now, too."
Instead of a top table, Sarah and Mark instead had one large table filled with their family, and friendship groups together on other tables.
"I also gave a speech as I didn't want all the wedding speeches to be by men and I wanted to personally thank all the people in our lives who had made the day so special for us with their presence."
"The venue owners were fascinating people who really made our day, especially Susy. I will never forget her regaling us with stories of her time as a debutante. She has an incredible sense of style and could not have done more for us."
Mark wore a three-piece charcoal grey suit from Next, opting for this classic look over black, or a brighter colour, to look just right next to the vibrant bridesmaid dresses.
"We were careful where we spent our wedding budget, prioritising the things that really mattered to us and getting creative in other areas. For example, we found the groomsmen's silk ties that so perfectly matched the bridesmaid dresses through our local Oxfam. We let them know we were looking for wedding items, especially ties, and they called us when a wedding shop dropped off a massive bag of ties and waistcoats."
For their first dance together, Sarah and Mark chose the beautiful Butterfly Waltz by Brian Crain – as Sarah loves music for the violin, and Mark wanted to waltz with his wife.
"Butterflies appear a few times elsewhere in the wedding as they are meaningful to me, and it's a beautiful, romantic song that fitted perfectly with our venue."
"Our entertainment was a tablet computer that we asked guests to download songs onto to be played over the venue's sound system. We downloaded the songs the morning of our wedding, and whilst a bit last minute, one of my favourite memories is of friends and family calling out or critiquing each other's song suggestions whilst I was having my hair and make up done."
"We also had a simple card Talking Tables photo booth in the drawing room, on a chaise surrounded by antiques. Guests could take photos using their own phones or cameras. I love the photos from this and how well the props fitted the setting. We put out a guestbook in the same room. I will treasure the lovely messages within for the rest of my life."
"It's impossible for me to choose a favourite part of the day as it was all so special. My mother told me it's the happiest she has ever seen me."
"Moments that stand out include how earnestly Mark looked at me as we said our vows, or when everyone applauded after our celebrant Alison pronounced us husband and wife, walking down from the chapel as everyone smiled and threw confetti, and the quieter moments we spent together in the chateau grounds."
The team at Chateau Allure du Lac created a memorable feast for Sarah, Mark and their loved ones, as well as the all-important croquembouche.
"Our wedding cake was one of the most important parts of the wedding for Mark. He wanted a traditional croquembouche French wedding cake, with a milk chocolate covering. This was sourced by our venue from a local patisserie."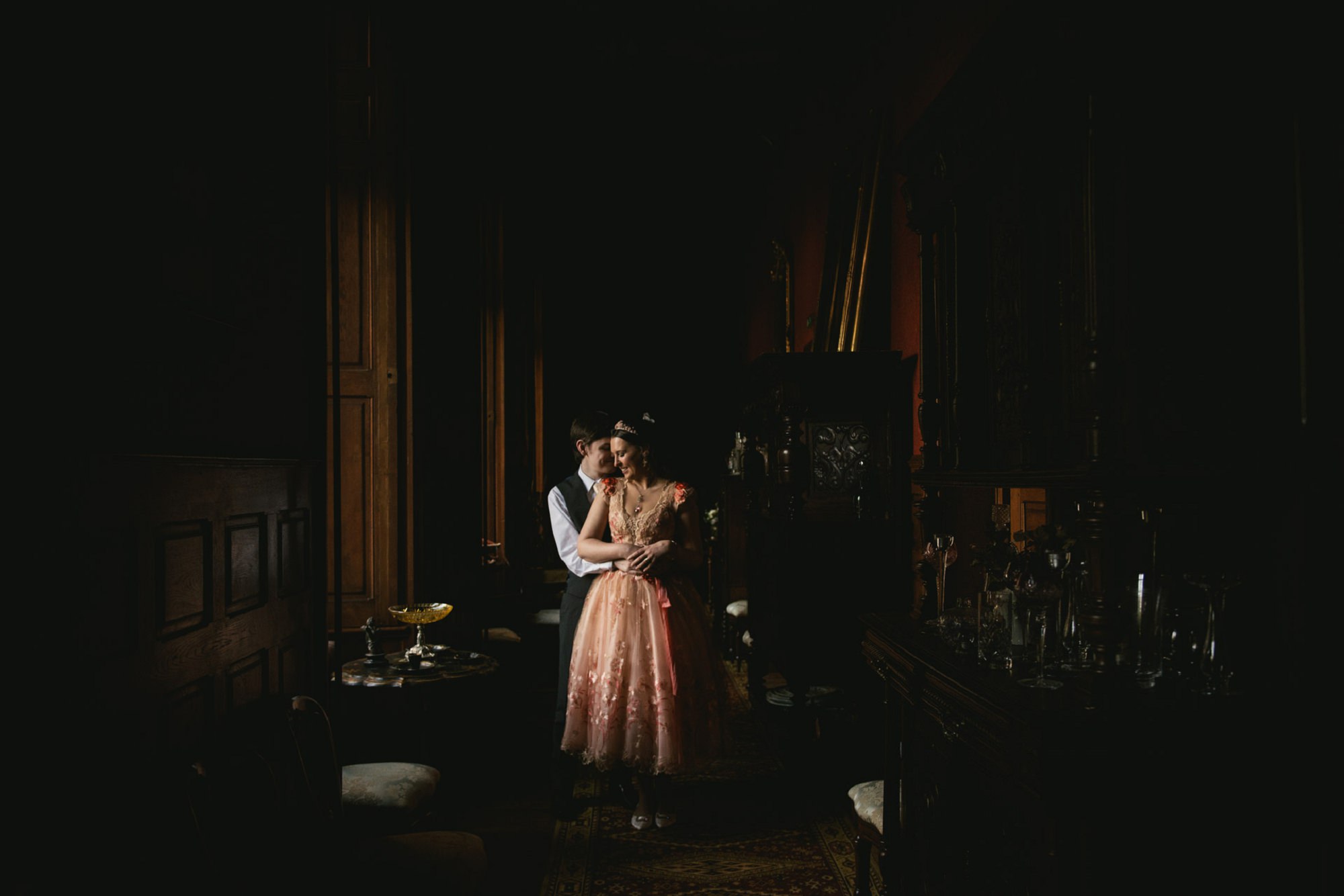 Words of Wedded Wisdom
"Don't be afraid of doing something a bit different if that is what you and your future spouse want to do. The people at your wedding will be those who love you best, and they will take pleasure in the touches that most reflect you both and your values."
"Don't feel you have to spend a lot of money or have everything, either. We spent more on the things that most mattered to us and less on the areas that were nice 'to haves' because we were saving towards buying our first home. We have no regrets about holding back in some areas or getting a bit creative, as many those elements became particularly special as they were part of what made our wedding unique."
"If you are planning a wedding abroad, though, definitely take out wedding insurance and anticipate transport issues. Keep some money aside to cover unexpected travel disruptions for you or key guests and think about what you will do if you have problems getting to the venue."
"There were good transport routes to the chateau, but after we booked our wedding the local airport closed. Then, during our wedding weekend there were both rail strikes impacting Eurostar and Air France collapsed. Luckily, I'd remembered seeing wedding parties on the news who were stranded following the Icelandic volcanic eruptions, so we were somewhat prepared."
"We'd taken out wedding insurance and arranged to travel to France a few days early, so that if something went wrong we'd have more time to get there before the wedding and a chance at getting some of our money back if we couldn't make our own ceremony. I also had a back up plan involving designated drivers collecting other guests and taking them into France via ferries (which my mum pre-booked as a precaution)."
"In the end, although we and my amazing mum had to help some guests change their originally chosen transport, and notably the Maid of Honour had to fly in the morning of the wedding due to flight cancellations, everything turned out okay, but already having some contingency plans meant that we avoided a lot of potential stress."
"We didn't have a massive budget as we were saving towards our first home. Partly due to this and the wedding being abroad, we only had a small number of guests. This meant everyone who attended were close friends and family. It was so special to be surrounded by the people who knew us best and loved us most."
T hank you so much for these thoughtfully considered, honest words of wisdom, and many thanks to you both, Sarah and Mark for filling our pages with such beauty and magic. What a complete treat this has been, from one history and literature lover to another! Many thanks to Zephyr & Luna for these gorgeous, evocative images, too.
Until next time, dear ones!
With love,
Laura