Conversation. It's a word that you'll be hearing much more of at Love My Dress over the coming weeks and months, because it forms such a huge part of our strategy as we move into our second decade of inspiring thousands of people planning weddings, the world over.
Conversation provides fascinating insight – it helps us to learn and discover new things. It helps strangers form bonds and find common ground, it helps a person tell their story in a way that can create meaningful connections, even if one of those people is behind the screen you're reading now, and the other person is you!
Through our new venture, LMD Collective, we're going to be producing a lot more of our own content – with conversation and even our very own Podcast right up there at the top of the agenda for 2020.
We'll share further details about this very soon, but in the meantime, today we'd like to share a conversation we had with one of the hottest bridal headpiece and accessories designers we know right now, a lady who achieved almost instant cult status when she launched her debut collection last year. I'm talking, of course, about the incomparable Victoria Percival.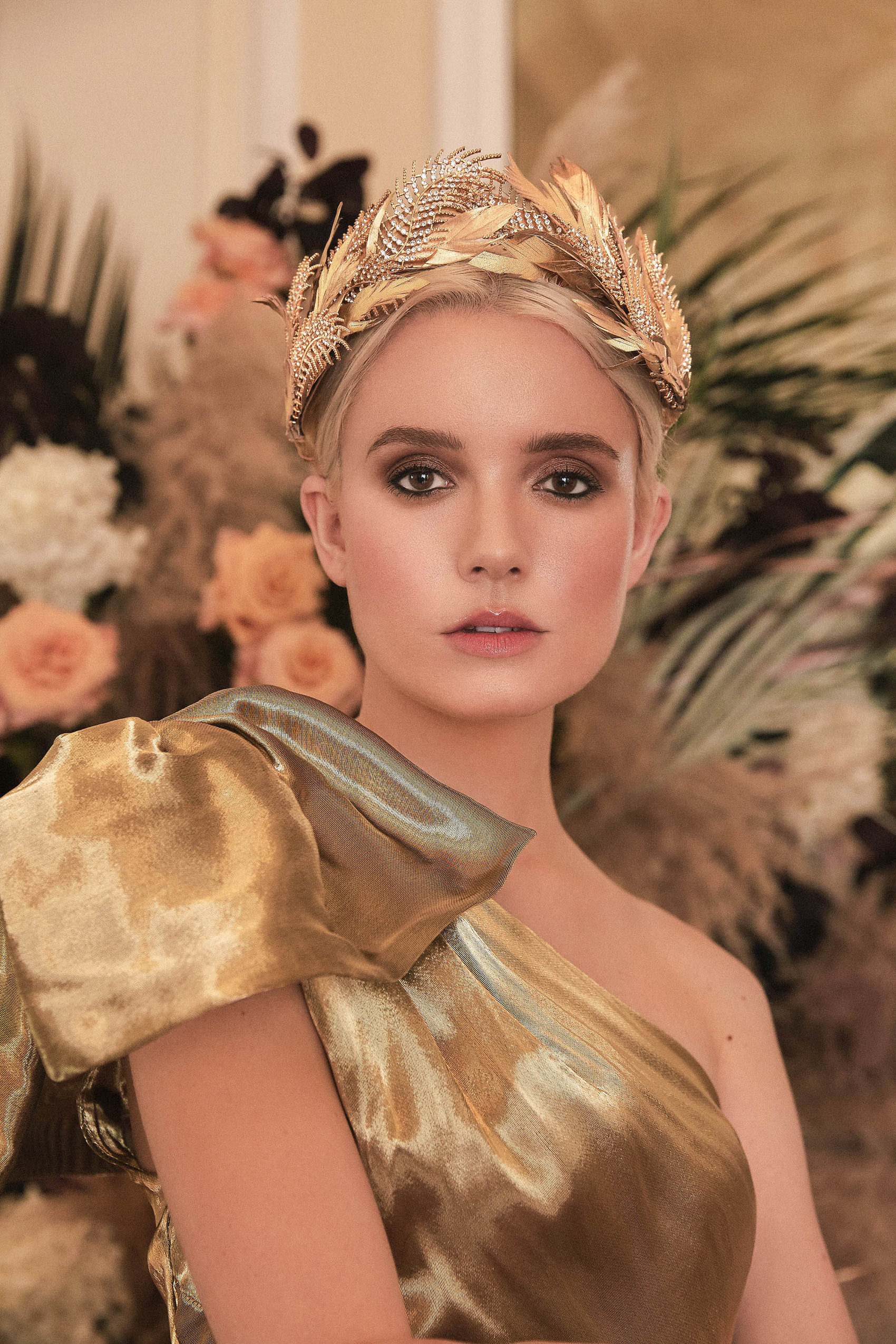 Victoria, tell us what you do
I create beautiful bohemian-chic hair and make-up for today's fashion-forward discerning brides and I specialise in providing an all-day styling service for my clients. I also design and curate a collection of statement, modern accessories for celebrities, red carpets and of course beautiful brides-to-be.
When you become a Victoria Percival bride you benefit from the complete bespoke, luxury styling service with me.
Tell us how you started out in creating accessories and what drew you to the world of bridal in particular?
I actually began my design career studying fashion design at London College of Fashion and my collections were always focused on evening wear with a lot of hand-beaded and crystal elements. After progressing into hair and make-up and working with brides for almost 10 years, I found a lot of my brides were asking me to find accessory pieces for them to try during their hair trials. I began by sourcing some beautiful pieces in from all around the world and charging a personal shopping fee – and very quickly my small collection sold out.
When a bride clicks on our website I want her to be wowed. Victoria Percival
So, I began to experiment and create a few pieces myself – which got such a huge reaction from my brides I knew I was onto something! The idea of offering a complete bridal styling service for my clients just made total sense to me and allowed me to really connect with my bride on every element of her look and how she wanted to look and feel on her day. Plus creating something beautiful and tangible for her to cherish as a keepsake of her day was incredibly special to me.
What do you love most about working in the bridal fashion world?
I am surrounded by so much beauty every day. I love seeing how bridal trends are translated from the couture runway shows and working with the most exquisite crystals, beads and fabrics on the planet. When the sun streams through my studio window and everything inside is sparkling and glittering it is just so uplifting and magical.
I feel so honoured and proud of what I'm creating.
Can you describe your signature style?
My signature style incorporates lots of hand-beaded elements using stunning Swarovski crystals and oversized pearls, with celestial touches. Most of my pieces are statement hairpieces that are incredibly sparkly and use invisible thread to allow the crystals and beads to float throughout the piece and maximise the way the light hits them.
I use mix of metallics and luxurious velvets and suedes to create pieces that are elegant but modern. My earring collection focuses on statement jewels with a bohemian feel that can be worn again and again.
What do you think makes your brand so appealing to brides?
I think today's bride wants to feel beautiful and elegant but still on-trend and current. Finding that balance between classic and modern is really hard and translating that through our brand imagery and editorial shoots is so important to me. I'm very particular about every image we use, the style, look and feel of every shoot – because ultimately it has to be totally stunning and represent my vision. Every single image on the website is also hair and make-up designed by me to keep that quality and aspiration consistent throughout.
When a bride clicks on our website I want her to be wowed.
I only design or source pieces that I am totally in love with and would wear myself.
As the brand has grown I think that personal element and passion really resonates with my clients. It's often very difficult for a bride to imagine how to wear a piece, or how her look will come together. Providing personal styling recommendations, product images and 360-degree videos for every piece really helps to give her a clearer vision.
When I got married four years ago, it's what I would have wanted to see – so I've really tried to stay true to that.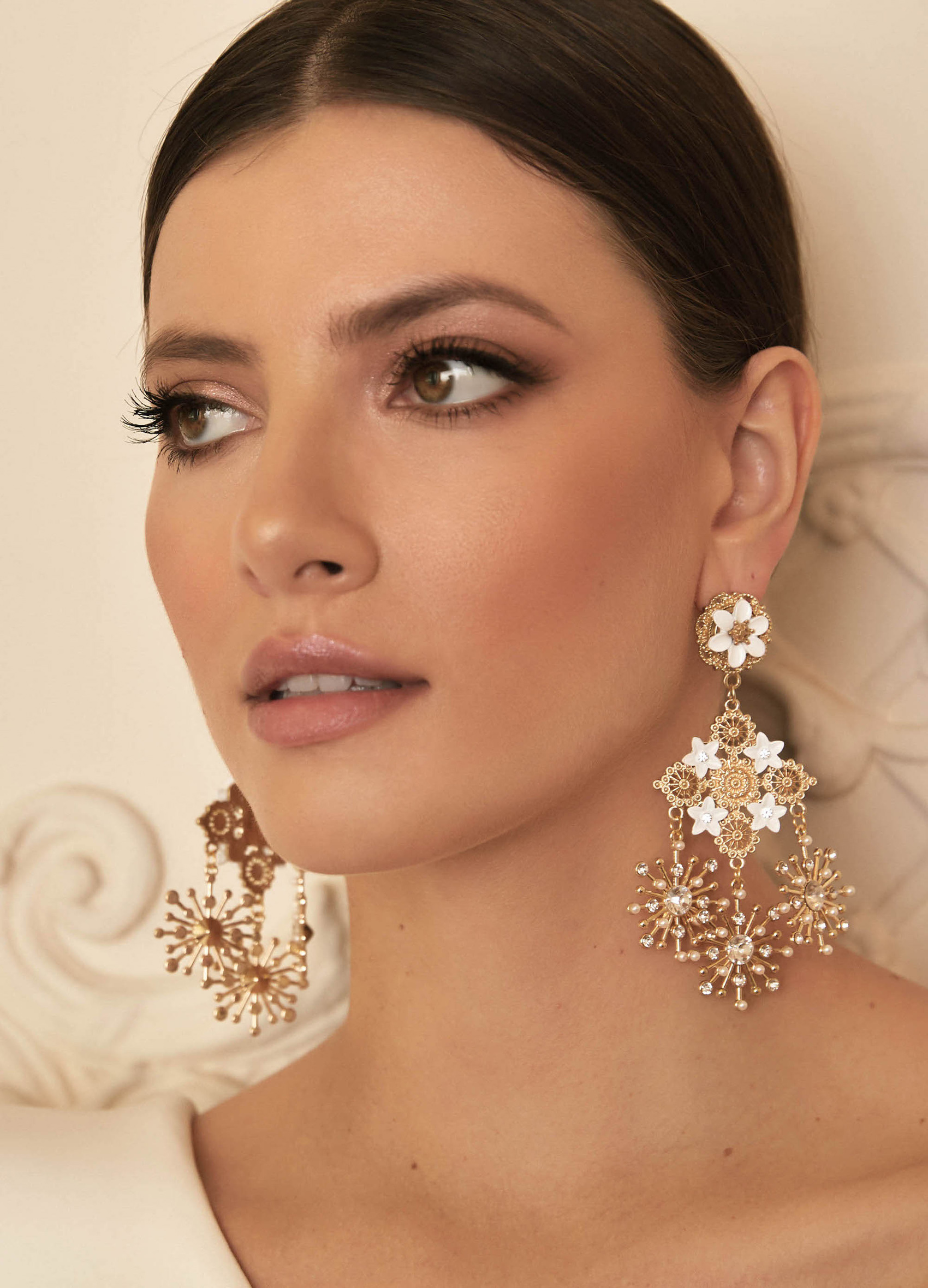 How would you describe the typical Victoria Percival bride?
She usually knows what she wants and has honed her personal style ethos. She wants to create a style (whether it be hair or make-up or accessories only) that has impact and wow-factor, but without masking her natural beauty. Style-savvy and successful in her career, she is aware of modern trends and excited to look a little bit different and standout from the crowd. Above all, she wants to look fresh and chic and get the absolute best luxury service for her wedding journey, with someone who totally 'gets' her.
Where do you start with each new design? Can you talk me through your design process?
The design process always starts with a vision in my mind and then I create a mood board of colours and inspirations, usually including textures and swatches.
When I curated the new collection shoot I imagined a beautiful free-spirited woman running through the streets of Paris at dawn, wearing her crown of pearls and carrying her heels in one hand. Victoria Percival
After that I start to play around with individual elements, crystals and colours, experimenting with form and the technical aspects. Once I have a clearer idea of physical composition I will then sketch my ideas fully and move to mocking up the piece, which may take several attempts before it's perfect.
Tell us about your latest collection and what inspired you to create it?
The Demi-Couture collection was inspired by a recent trip to Paris, where we passed a shop window adorned with a huge installation of cut layered oyster shell and chainmail crystal shimmering in the sunshine. I was totally awestruck by how gorgeous the textures looked against the aged stone walls of the Paris buildings and I was really drawn to create a collection inspired by the colours and luminescence of the interior of shells.
We use Swarovski, genuine freshwater and mother of pearl shell pearls (which are made from ground oyster shells) to create our pieces. We use hundreds of shades of cut, multifaceted crystals to give depth of colour and use invisible nylon thread to hand sew our beadwork, so that the crystals literally float before your eyes.
Each piece takes over 10 hours to sew and every headband is lined with hand cut super soft leather or suede for luxurious comfort, which we do all in our small studio just outside London.
Do you have a favourite design in your collection, and why?
The Aphrodite Halo uses various shades of Ivory, blush, nude and caramel are just so beautiful and I love the semi-precious Rose Quartz crystals nestled within, which are reported to encourage unconditional love and feelings of peace. It looks absolutely amazing with a modern cape veil or equally with a black evening dress.
Can you share a bit about your work/creative space with us?
My studio is in an old Victorian building with a leafy outlook. It has a big bay window with a hot pink painted working fireplace, adored with a huge flower drape and old wooden floors. I love the history and grandeur of the space which is decorated with soft blush walls and rich jewel coloured soft furnishings and an emerald green velvet sofa which is to die for! We have a lot of gold shelving units stacked with thousands of beads and crystals, a machine sewing area and a wire work area for the crowns and earrings.
We are a small all-female team (for now) so the space is elegant and light, but with feminine touches.
What does an average day for a successful makeup artist and accessories designer look like?
Really busy! The biggest struggle honestly with launching the accessories brand is learning how to split myself in two! Not to mention I also have a toddler, so being a working mum is also a massive learning curve. My day starts at 6am with lots of coffee and once I've done the mum thing I arrive at the studio we go through the orders and write everything on our huge strategy board – then its everyone making and creating with me overseeing every detail of the finished product.
I spend a lot of my day talking directly with my clients, handling PR requests or designing bespoke requests, supplying videos of mock ups and sketches to my customers – or managing the social media and imagery. As a small business I still have to wear lots of hats and spin many plates, but it means that I can be across everything, which is what keeps the brand so exclusive and true to my vision.
What would you be doing if you weren't running your own business?
I honestly think in whatever industry, I would always end up doing my own thing eventually…I'm just not that good at being told what to do!
What do you love most about working with brides?
I have love seeing the look in their eyes when they see themselves truly as a bride for the first time. It's so special to have been trusted to be part of their big day.
What's next for your business and brand?
A lot of hard work to come but 2020 is going to be a really exciting year for us. My new bridal collection being released in February and we have some very exciting celebrity projects coming soon (which are top secret) so watch this space! As we grow, I'm really excited to see what the future brings.
I'll be trying my best to take over the world, one beautiful hairpiece at a time!
_________________
To find out more and maybe treat yourself to one of Victoria's luxurious headpieces or accessories, please visit victoriapercival.com.