As the world adjusts to lockdown and seeks to rebalance their lives, individuals and businesses all over the UK and globe are exploring creative solutions, including meaningful and reassuring ways that they can stay connected with their clients.
It's been a tough time for brides – the 'guilt' factor that they shouldn't be worrying about a day they've poured their hearts, energy and precious time into for months when there are 'more important' things happening – the stress of having to postpone their weddings and the all-round levels of uncertainty. Firstly dear brides, I want to say this: you have every right to grieve the postponement of such an important day. Weddings represent the very essence of love, family, gatherings, togetherness and celebration – everything we're missing right now due to lockdown, and all the things we're coming to realise how very much we hold dear. 
Secondly, there are many wonderful businesses out there trying to make things easier for you right now and I want to introduce you to one of them today – the incomparable and absolutely wonderful Hermione de Paula.
Follow Hermione's new Instagram account

+ Follow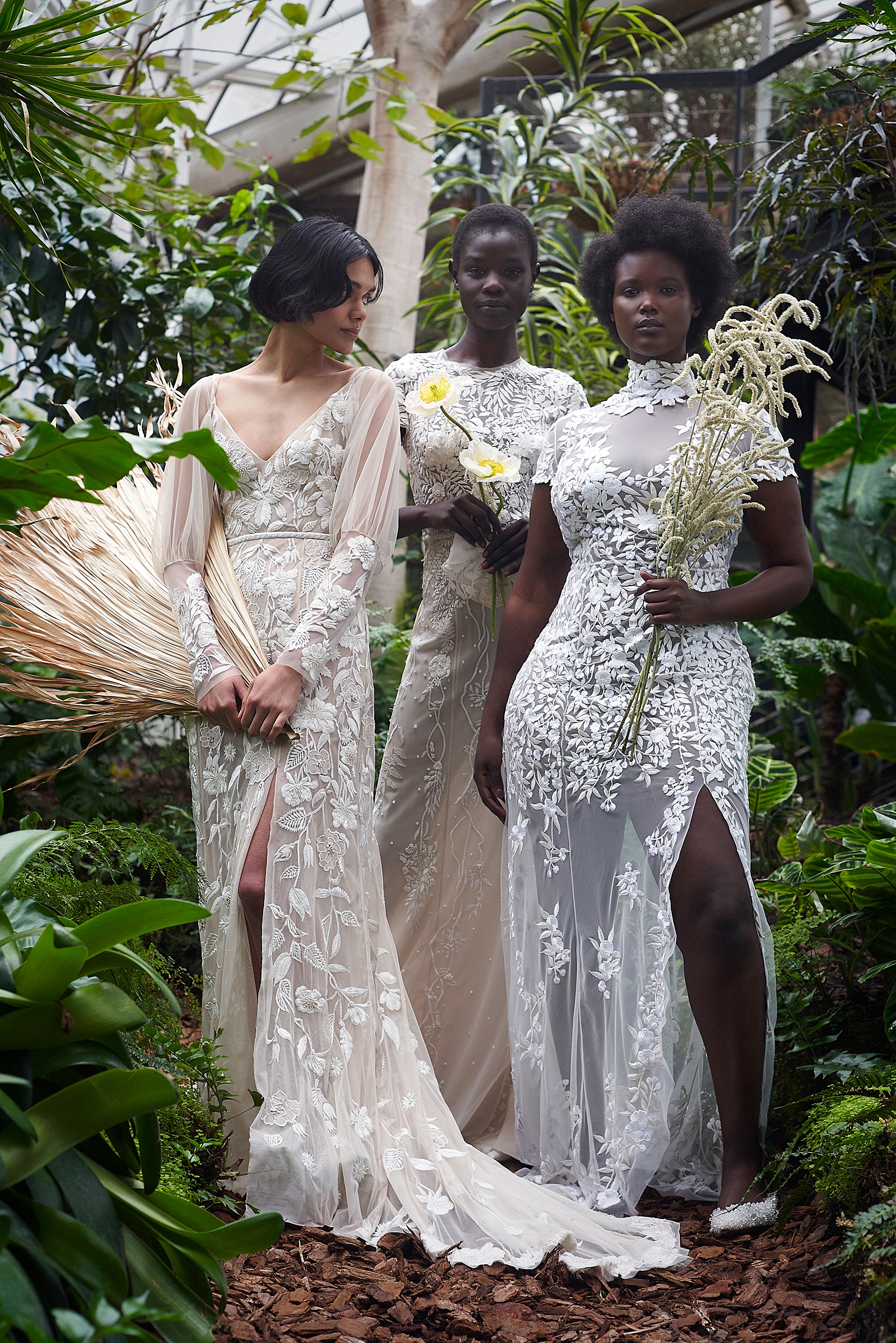 Hermione de Paula is a British designer like no other, a natural born artist and talented couturier who has established a cult following for her magical translation of flowers and nature into the most sublime and exquisite silk and delicate fabric masterpieces. She is a personal idol of mine and as lovely in character and personality as everything she creates.
Hermione has been working closely with her team for several months now in the creation of a beautiful new virtual bridal boutique. The team are currently busy testing and tweaking and refining this new development which will launch next month (and you will be the first to hear about it through Love My Dress, of course).
I was lucky enough very recently to have been invited by Hermione to visit her Shoreditch townhouse-turned atelier. It was a magical experience for me and a genuine career highlight. First of all, the designer herself is lovely, so so lovely and down to earth – softly spoken, gentle natured – everything I had hoped she would be.
Hermione personally showed us around the multiple floor levels of her townhouse atelier, which is filled with beautiful plants and nature.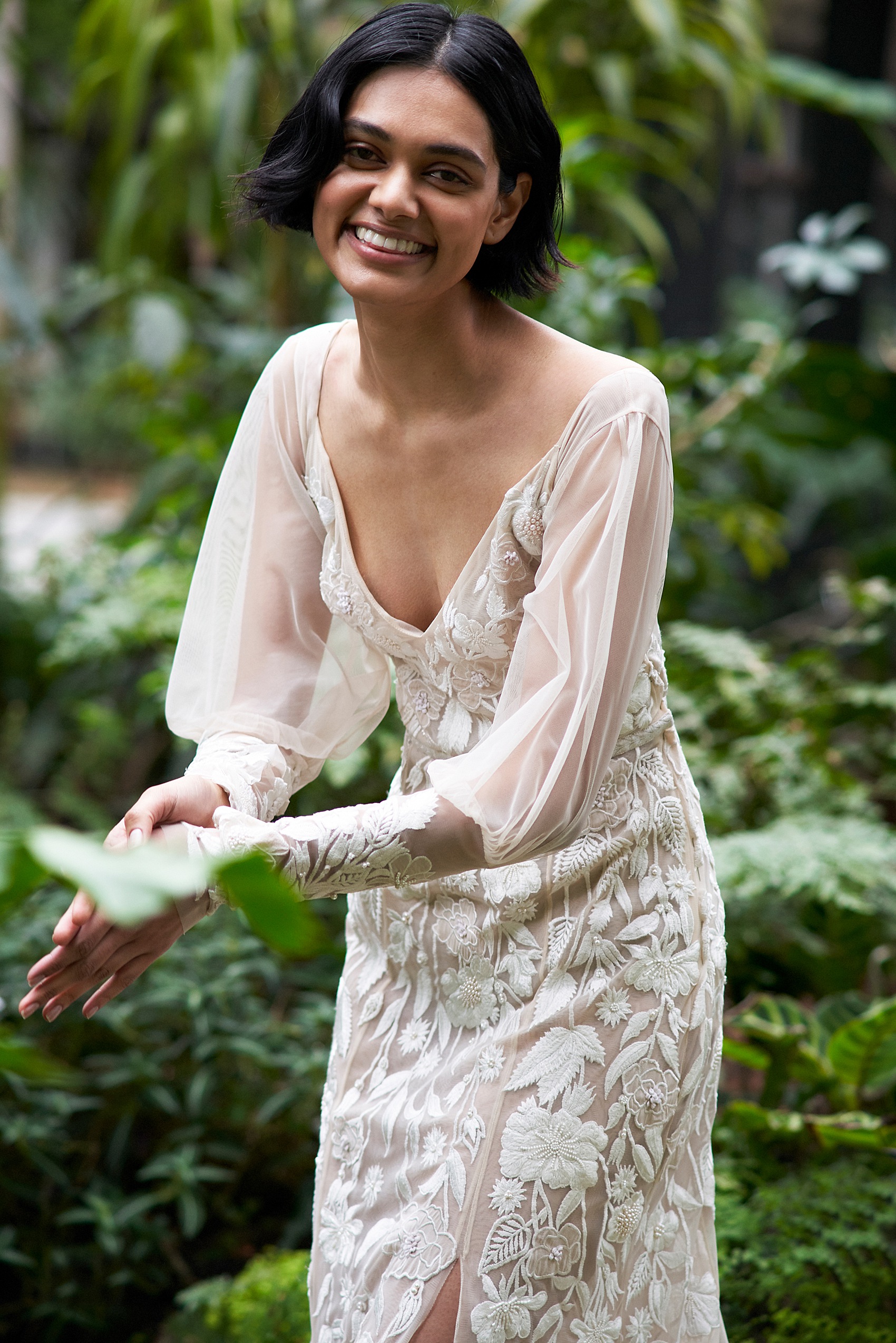 I have two favourite moments from my visit and want to share them briefly with you; the first involved us entering a room whose space was almost entirely filled with a giant pattern cutting table, around which were various members of Hermione's couture team, each carefully hand sewing the most beautiful fabric lilies and roses together.
But my favourite moment of it all was witnessing the work being undertaken on what I think was the top floor of the atelier – where one of Hermione's couture masterpieces (in indescribably stunning work of art/wedding dress with a very large train) was laid out on a meticulously clean floor/work space with another of Hermione's team lying on her side next to it, delicately hand sewing a collection of embroidered elements onto the train. The embroidered symbols represented places, travel, flowers, trees, plants, people and nature – all things that meant something to the bride and her groom.
As I looked around (in actual awe), I was surrounded by the most stunning 3d silk cherry blossom, peonies, roses and orchids, that would eventually be adhered to the dress on the morning of the wedding. My words here aren't near enough to describe the design alchemy I witnessed that day. It was breathtaking to  see couture up close like this. Completely captivating.
Have you ever questioned the provenance of your wedding dress? Where it's made? How it's made? Who makes it? I was witnessing all this right within that room and it was enchanting. It felt almost fairytale – like I'd entered the same magical space where the shoemakers elves also work their magic!
Virtual Boutique
I'm hoping know without any doubt by now that I'm a huge Hermione de Paula fan girl, and I know for a fact that many of you reading this are too, which is why I'm excited to share this little bit of exciting news with you today.
Next month, Hermione will be unveiling her brand new, virtual boutique – an interactive, online showroom, where you'll be able to:-
Explore and order from the new Garden collection (a preview of which is pictured in this article), with prices ranging from £2,065 – £2,595.
Speak directly with Hermione and/or one of her experienced stylists to explore your dreams and visions for your own wedding dress.
Work directly with Hermione in creating a bespoke design.
Book out sample gowns that can be sent to you at your home to try on before ordering (and then Zoom with Hermione so that she can advise you on fit from the comfort of your own home).
Rent Hermione's designs with options to click and book out via a calendar – a service that will be fully supported with virtual consultations.
Escape into a world of beauty.
Zoom, Whatsapp & Skype
We will be sharing all the details here as soon as the boutique is live and ready to visit. In the meantime and whilst this wonderful new development is completed, brides, you can access an existing virtual consultation service with Hermione via Zoom, Skype or Whatsapp call.
I highly recommend Zoom! It is a fantastic way to bring together multiple people into the same conversation via one single screen. Hermione and her team are currently trialling Zoom calls with brides and bridesmaids all together, meaning friends and family can be a part of the conversation – a perfect solution during lockdown. The whole idea is that the Zoom sessions are fun as well as inspiring and informative (and thus I suggest you add a bottle of Prosecco to your next online shop in preparation, with Hermione's full encouragement of course!)
To enquire about a virtual consultation by Zoom, Whatsapp or Skype, please email [email protected] or visit this page
Whilst we're in lock down, these consultations are completely complimentary and provide a wonderful opportunity to chat with Hermione and her team and to keep dreaming about your wedding.
You can follow this new development on Hermione's new boutique account at @hermionedepaula_boutique.  Hermione's main account, through which. you'll find inspirational art and inspiration can be found at @hermionedepaula.
I'm so excited about this and can't wait to share full details with you very soon.
For now, you can enjoy all these weddings on Love My Dress of real brides wearing their dreamy and drop dead gorgeous Hermione de Paula gowns.
Love Annabel x