If you're looking for ideas on how to do a winter wedding (especially around Christmas) that celebrates the season with a cool and contemporary twist, then you're going to really enjoy this festive affair we're sharing today, which took place in East London.
Sophie is a Fashion PR Account Manager, and Luke is a Company Director, and they were married on the 20 December 2019 at the magnificent Clapton Country Club. We're also extra delighted that these image were taken by our Little Book members, the talented and super cool September Pictures.
September Pictures

+ Follow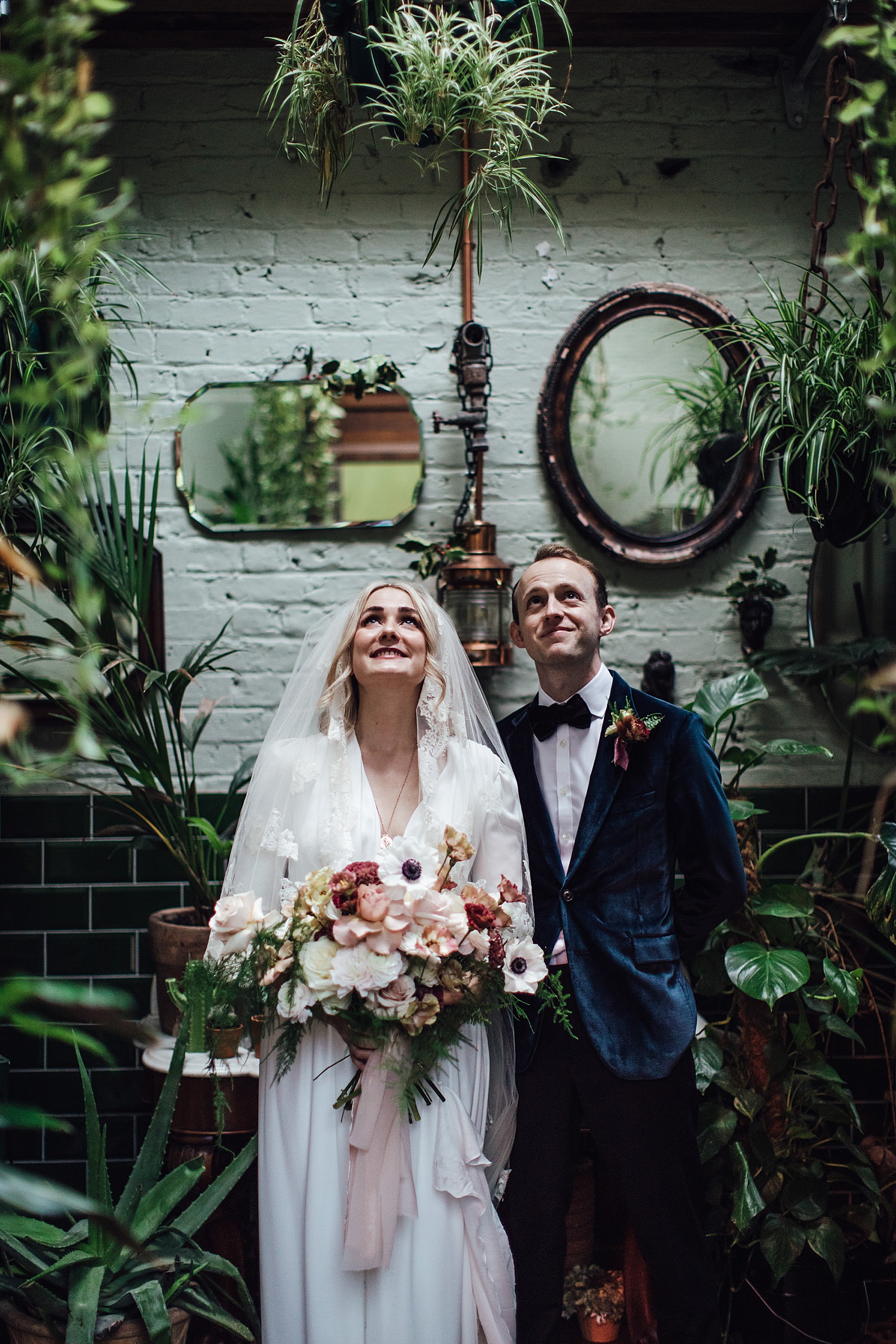 Housed in a former tram depot, the Country Club has been decorated with reclaimed and recycled materials, breathing new life into the inherent industrial beauty of the historic building.
"We wanted a London venue with character, and somewhere that would suit a winter wedding. Clapton Country Club matched our tastes perfectly. Luckily it has fantastic perks including two loft style apartments, which I stayed at with my bridal party and family."
"With my line of work I'm used to planning events, and Luke is also incredibly organised. Additionally, the venue has amazing chefs/caterers, and managed deliveries, set up tables, stage and production seamlessly."
Sophie met florist Elspeth of Blume at A Most Curious Wedding Fair, and she created spectacular floral arrangements and festive installations for the day, including bouquets of roses, ranunculus and anemones in dreamy pastel shades of blush pink, peach and ivory, together with fronds of ethereal asparagus fern.
"I felt like Elspeth really engaged with us and our plans for the wedding,  sending a detailed proposal before we finally booked her. Elspeth provided her expertise and vision for the table plan and wreath. My bouquet and display flowers on the day were the most beautiful I had ever seen, they couldn't have been any more perfect."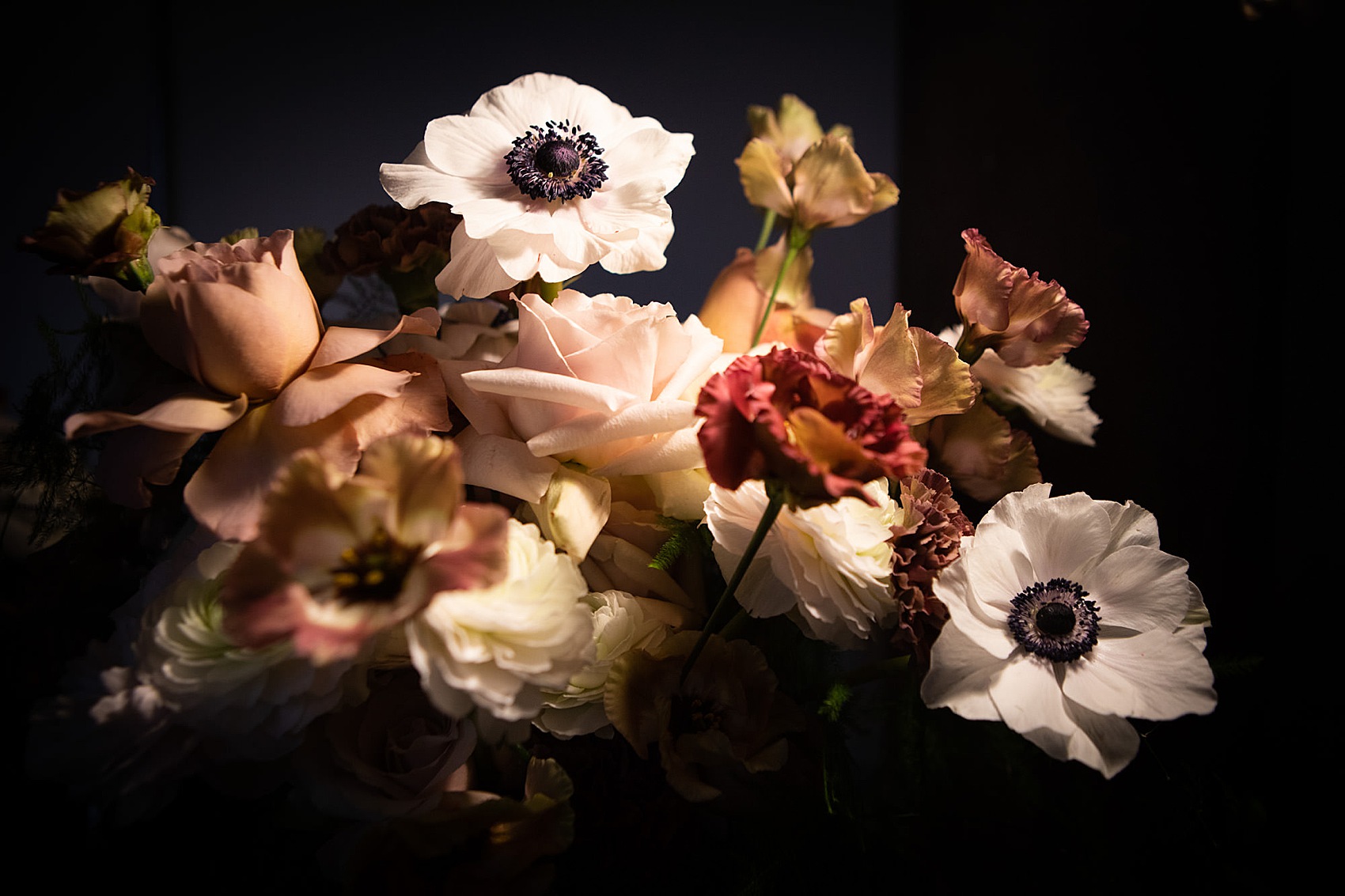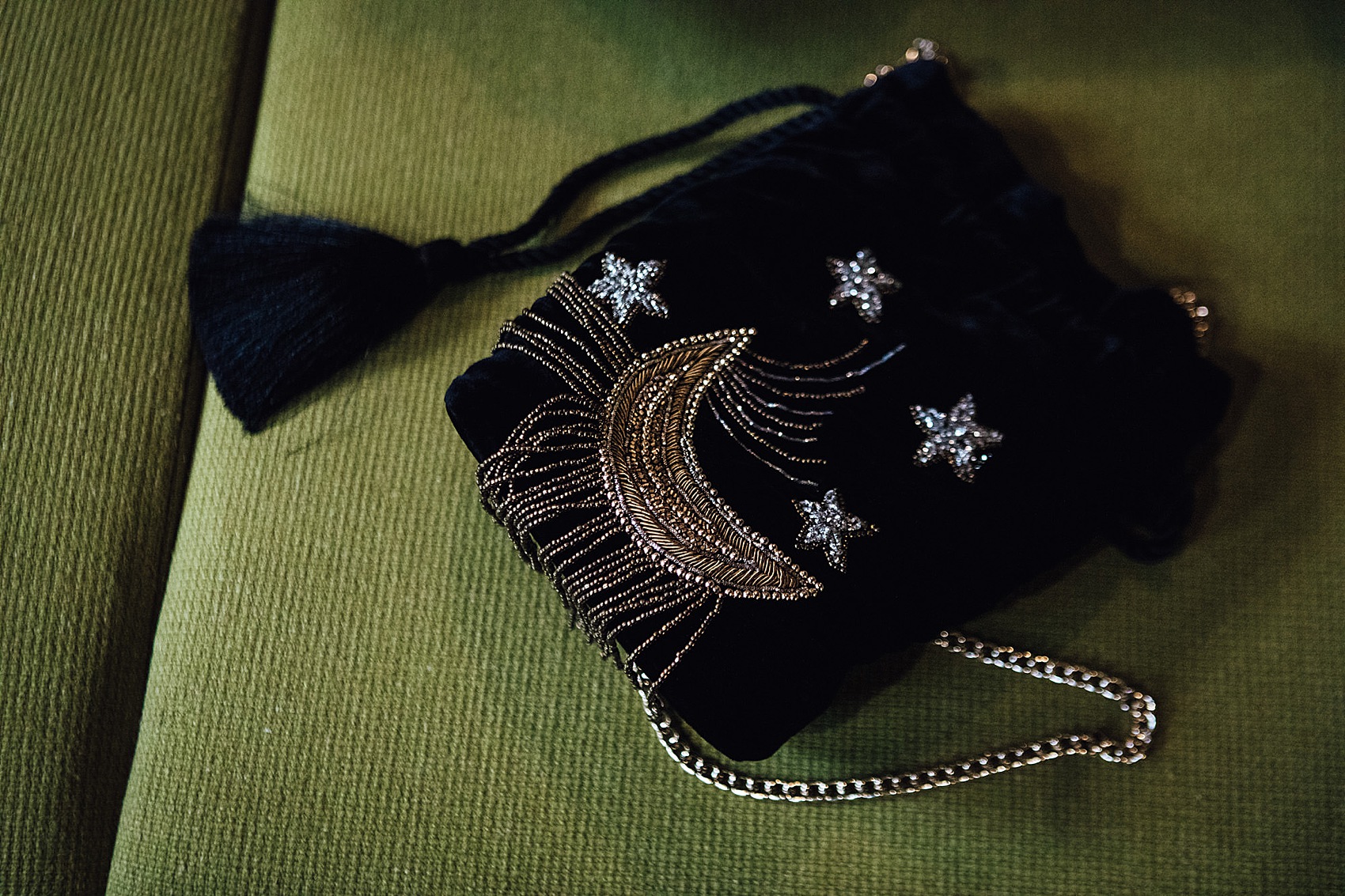 Sophie and her bridal party had their hair styled at Clapton salon Blue Tit, five minutes away from the venue, and Sophie took care of her own make-up using an array of new products she'd treated herself to.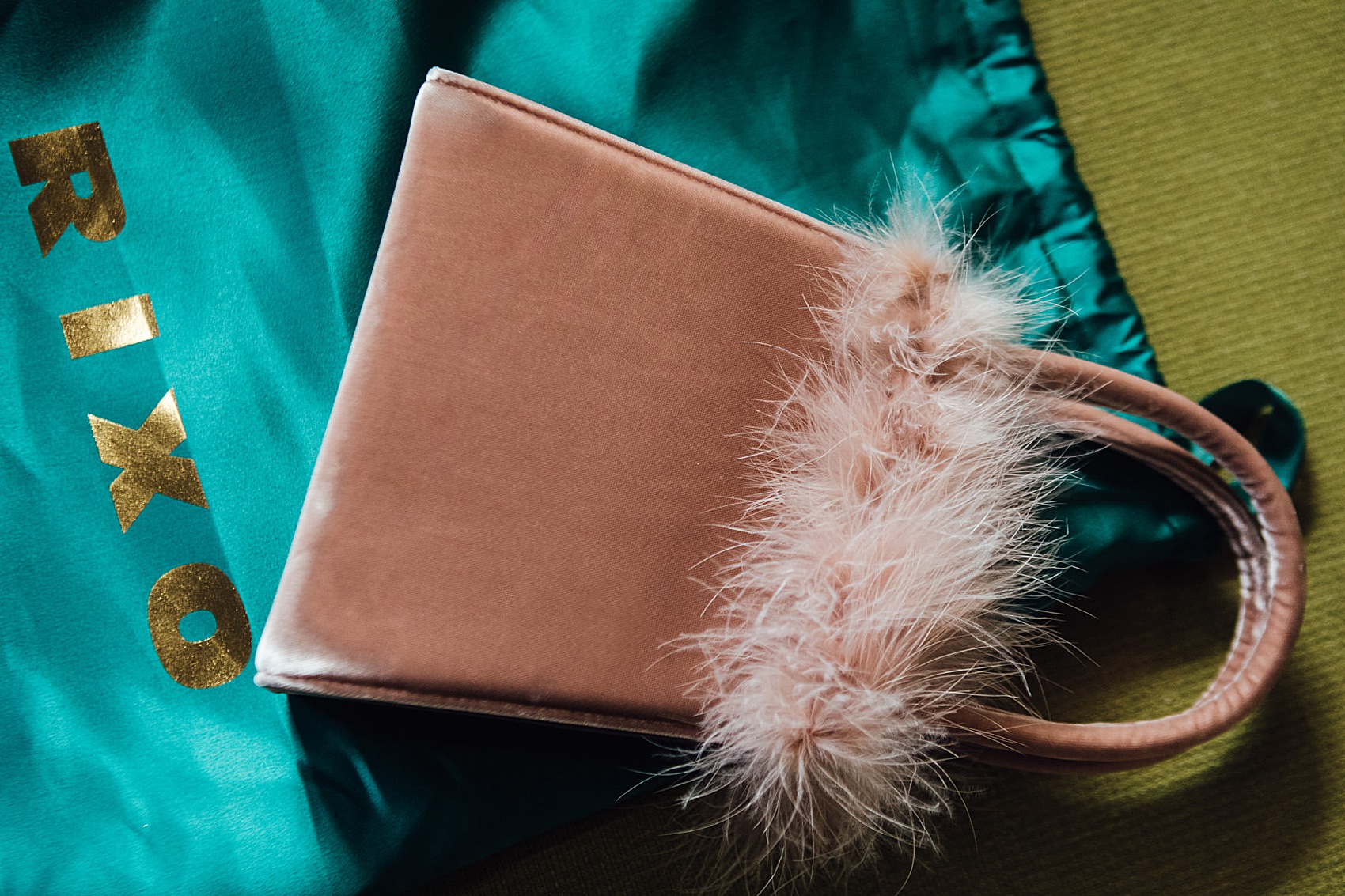 "I wore Loeffler Randall mules in coral pink. I really wanted pink shoes, and these had a bow that reminded me of present wrapping. Another subtle Christmas nod. The heel was also only 2 or 3 inches and so comfortable! I danced all night in them."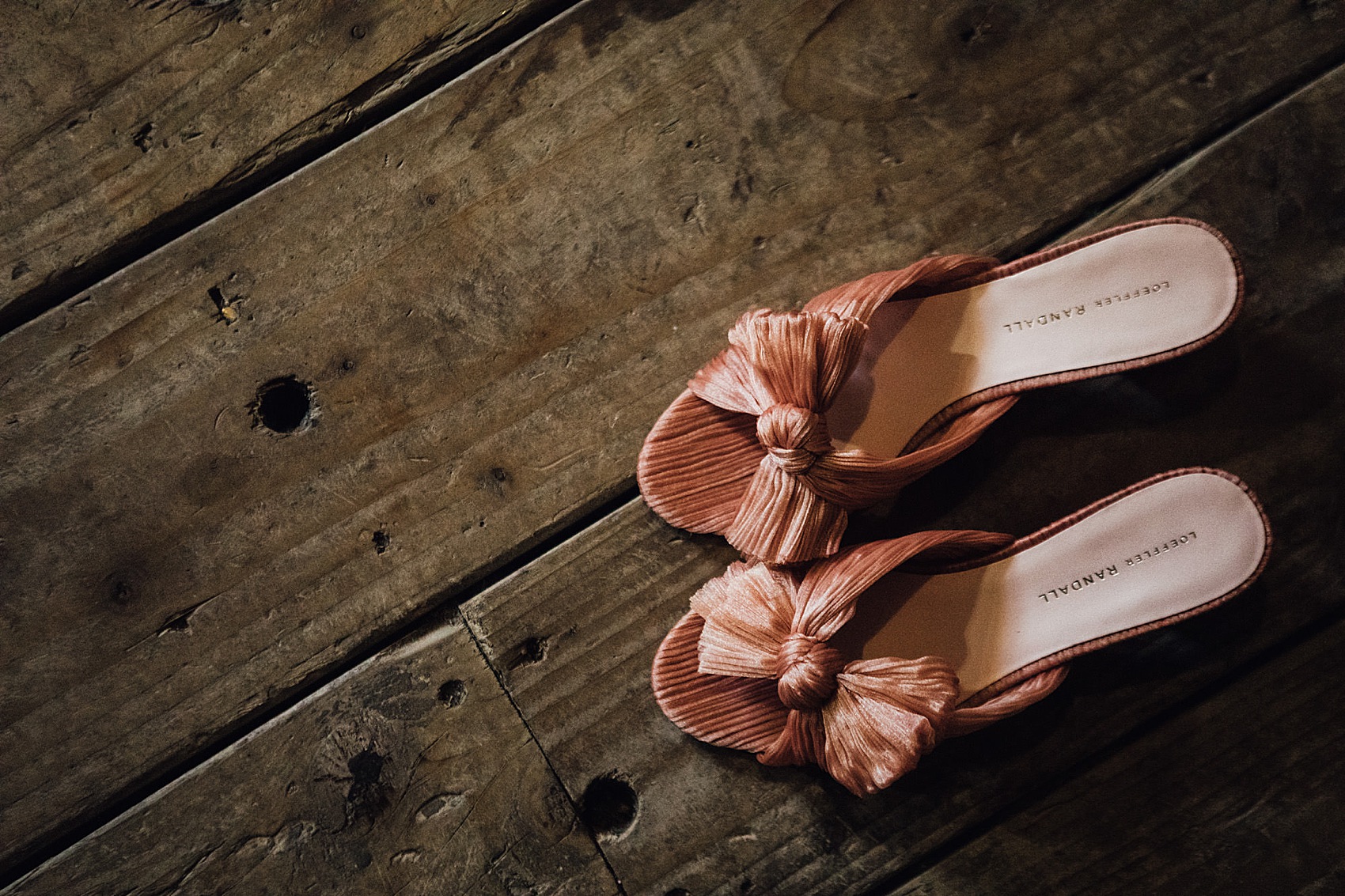 Browsing the pages of Love My Dress, Sophie came across excellent boutique The Mews Bridal, Notting Hill, beloved of many of our brides over the years, and who specialise in French bridal designers.
Sophie visited, and there she discovered her elegant dress by Donatelle Godart, with a deep V neckline, beautifully draped to the waist, with a long, buttoned skirt.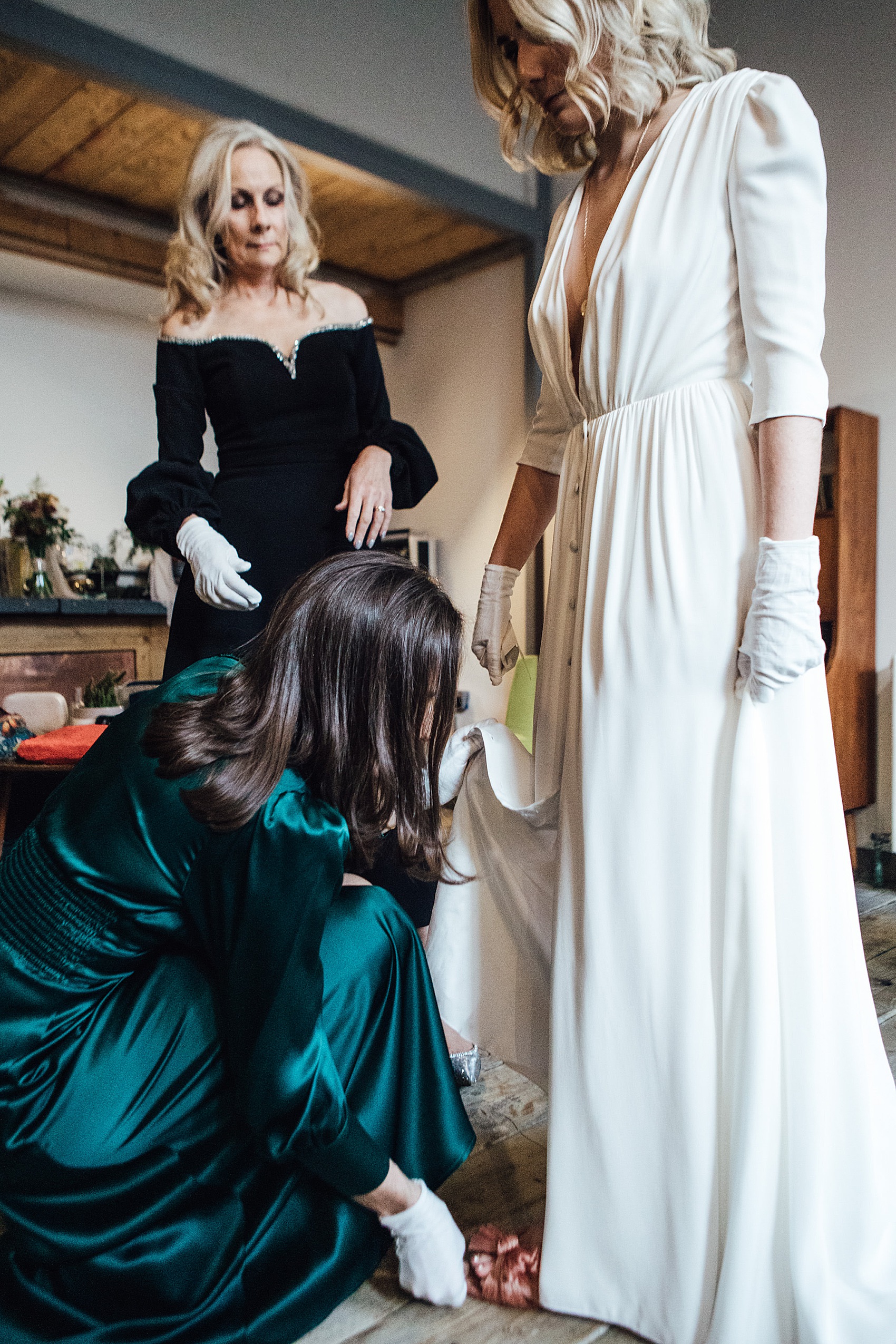 "The Mews Bridal were wonderful. As well as being a beautiful store, the experience was stress free with the kindest of staff. I didn't envisage I would fall in love with a dress as simple as mine, however I loved the elegant silk material that fell effortlessly."
"Also the button down skirt that I unbuttoned halfway for the party, to show off some leg! I also felt the dress was very London, and I could accessorise it with jewellery, a detailed veil, and a big bouquet!"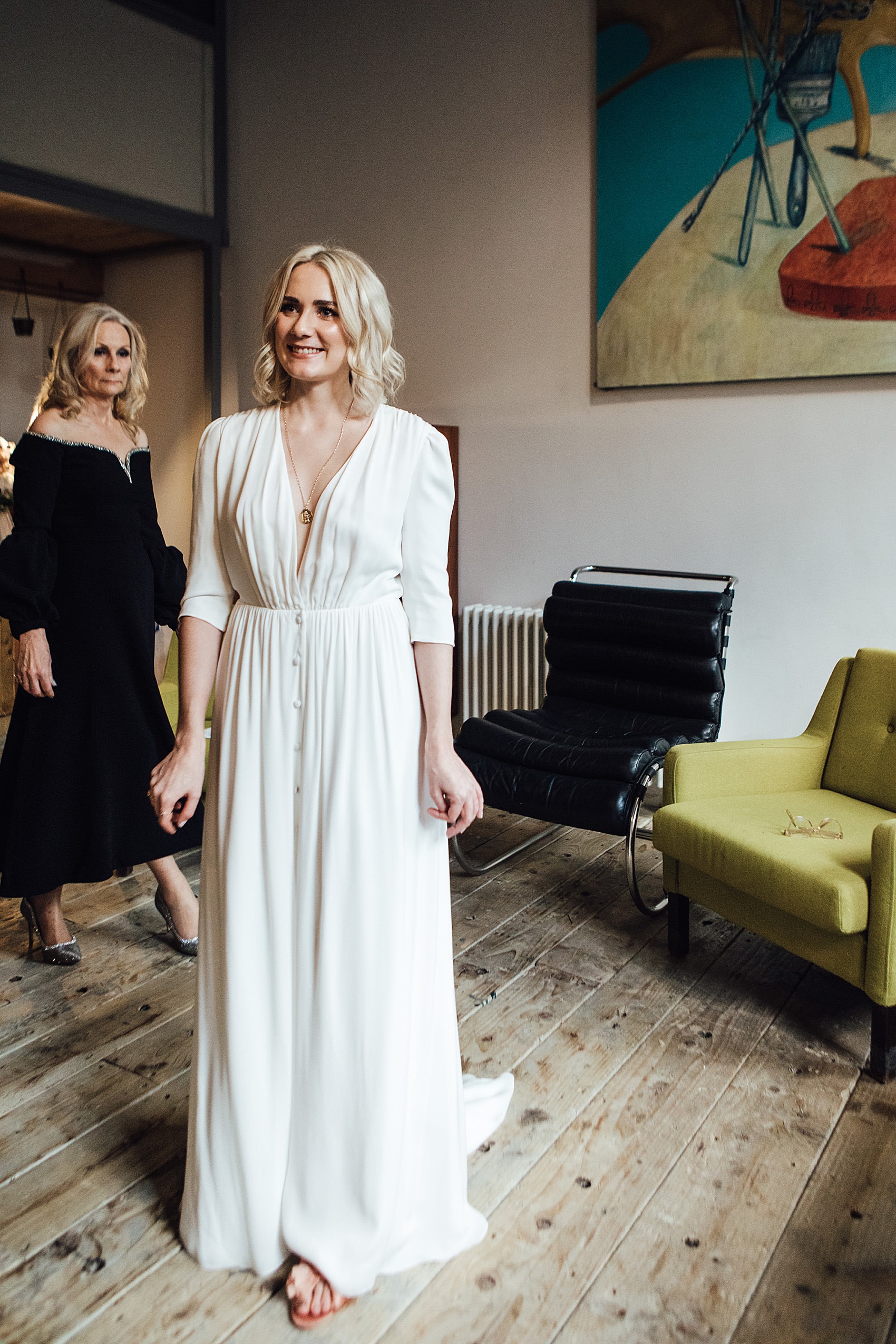 For jewellery, Sophie wore earrings by Oscar de la Renta, and a St. Christopher pendant necklace belonging to her late nanny. Adorning her hair and framing her face was a lovely tiered veil of delicate tulle and lace, which her mum wore 36 years ago when her parents were married.
"My mum and dad got married 36 years ago, and are still very much in love, so it felt lucky to wear it. We hadn't thought of it until only a few months before the wedding. I was struggling to find the perfect veil – I wanted one that had detailed lace, as my dress was so simple, but none were jumping out to me."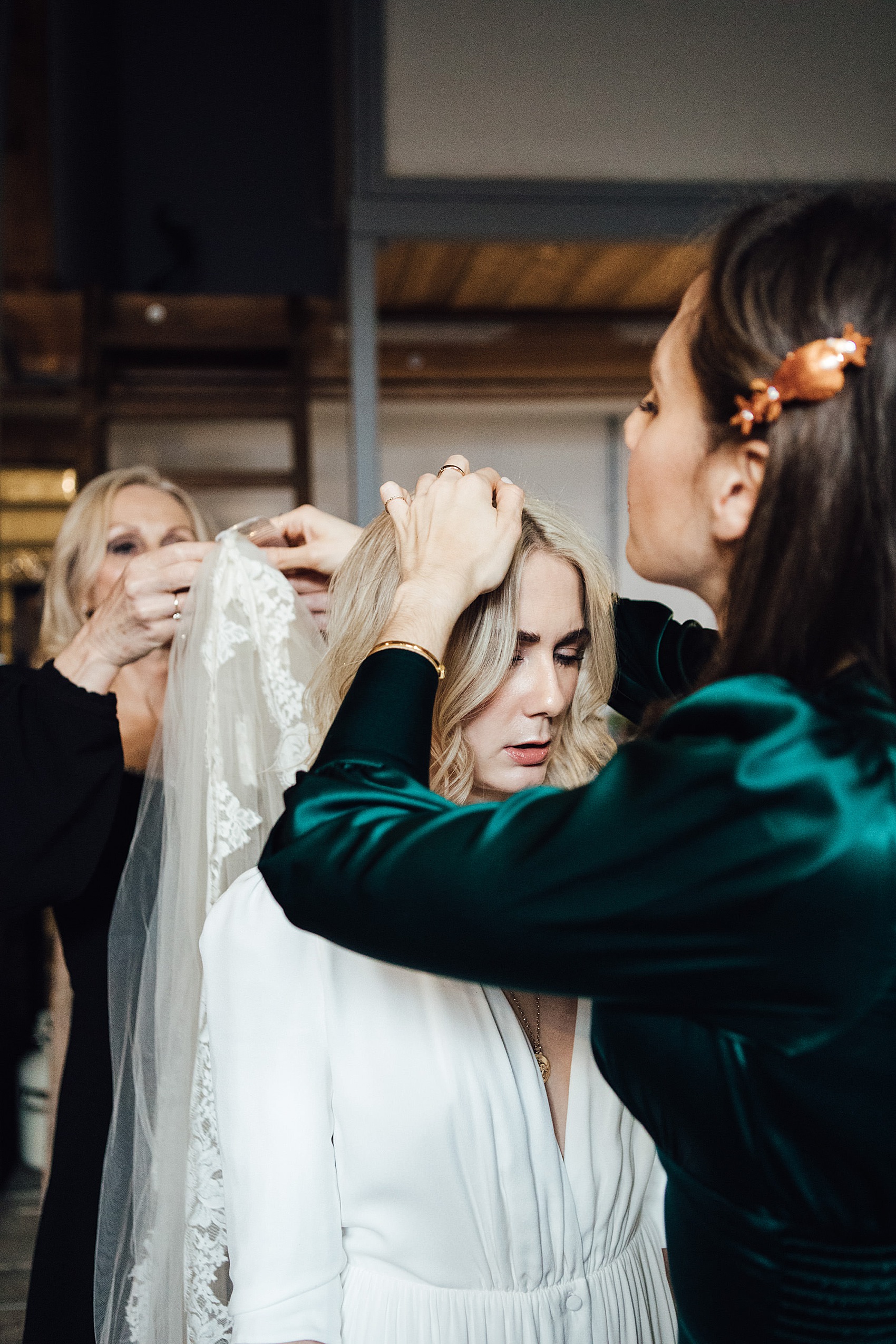 "My dad then found the veil in storage, and when we unpacked it, it was still in perfect condition with 36-year old confetti tangled in it! It had the detailed lace and cathedral length I wanted, as well as volume around the comb."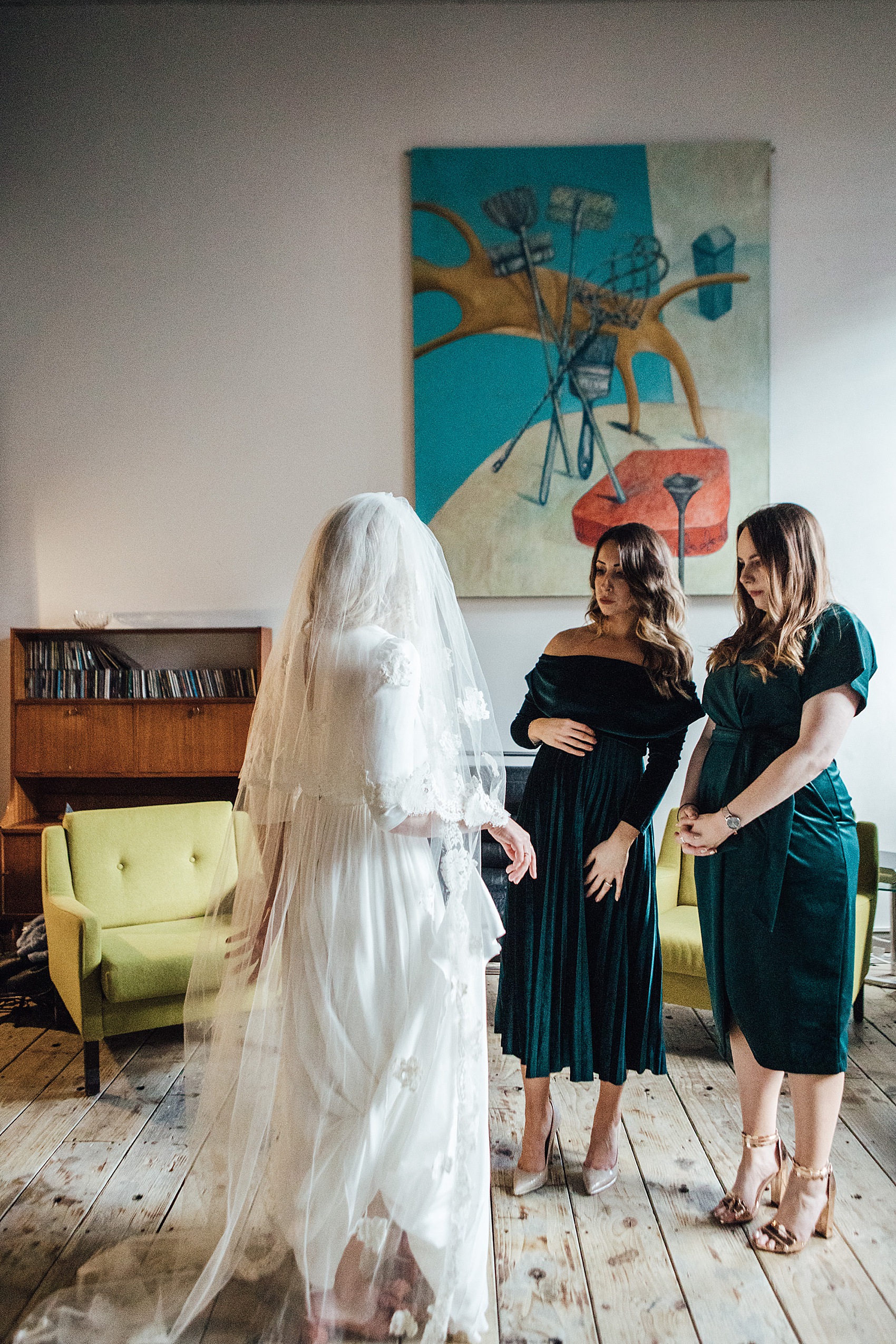 All that remained was to add a little perfume, and Sophie wore Le Labo Santal 33, which felt very fitting as it was Luke who had bought her very first bottle a few years ago.
"I gave my bridesmaids a jewel colour palette, and said they could wear whatever they liked and felt comfortable in. I wanted them to choose something they could wear again. My sister/MoH chose a Reformation dress, and my two best friends selected ASOS and ASOS Maternity. I gave them engraved Tada & Toy bracelets, which they all wore on the day."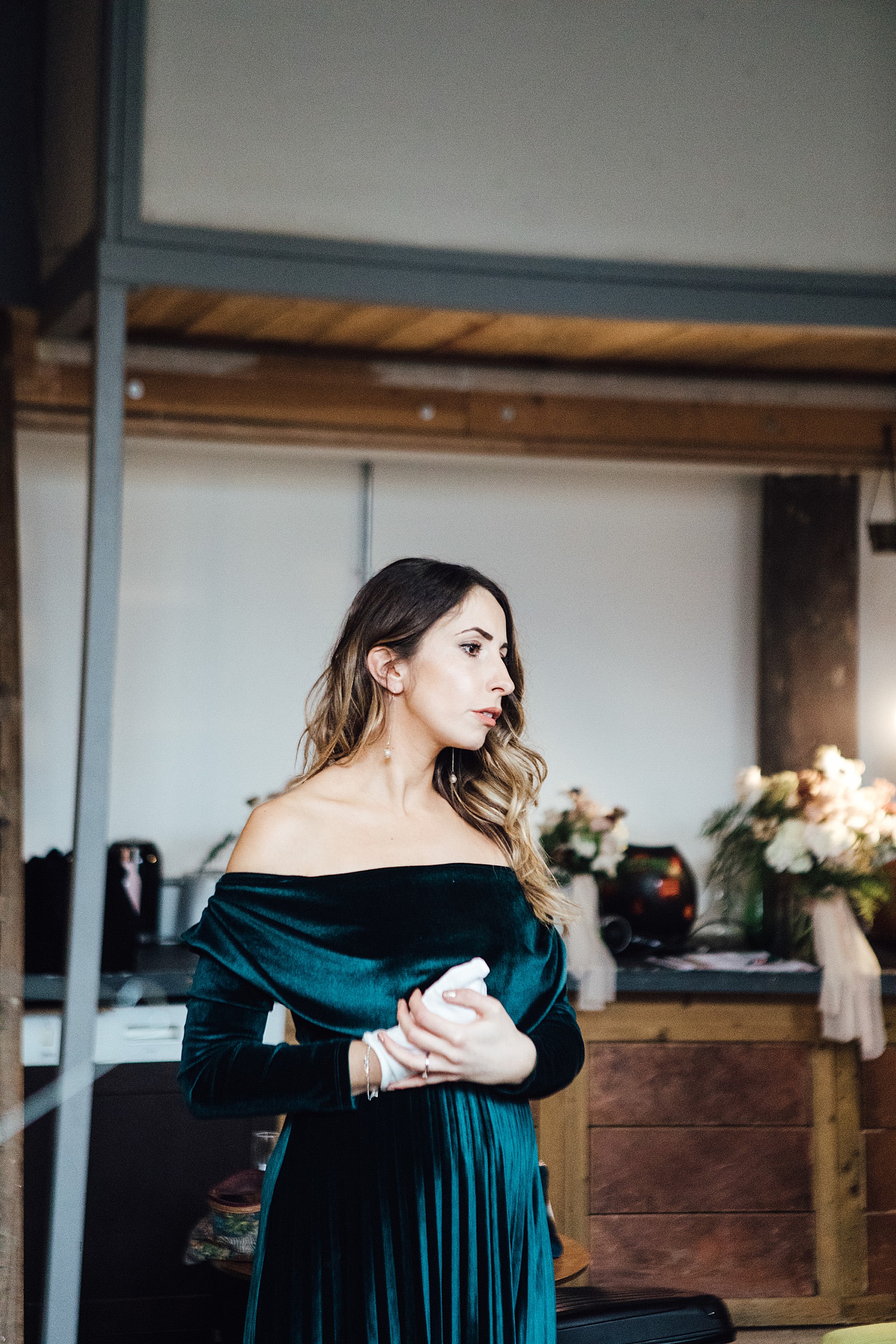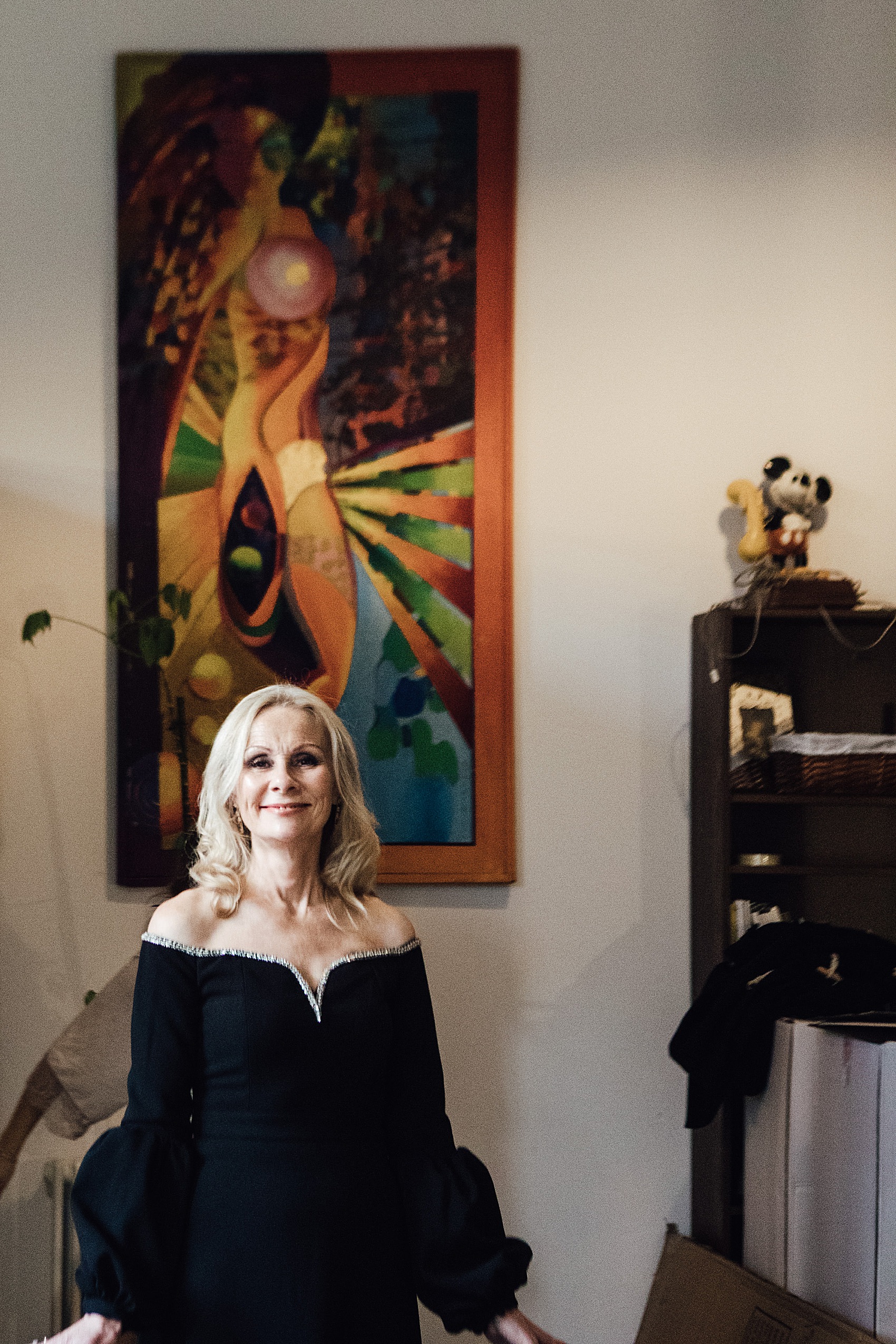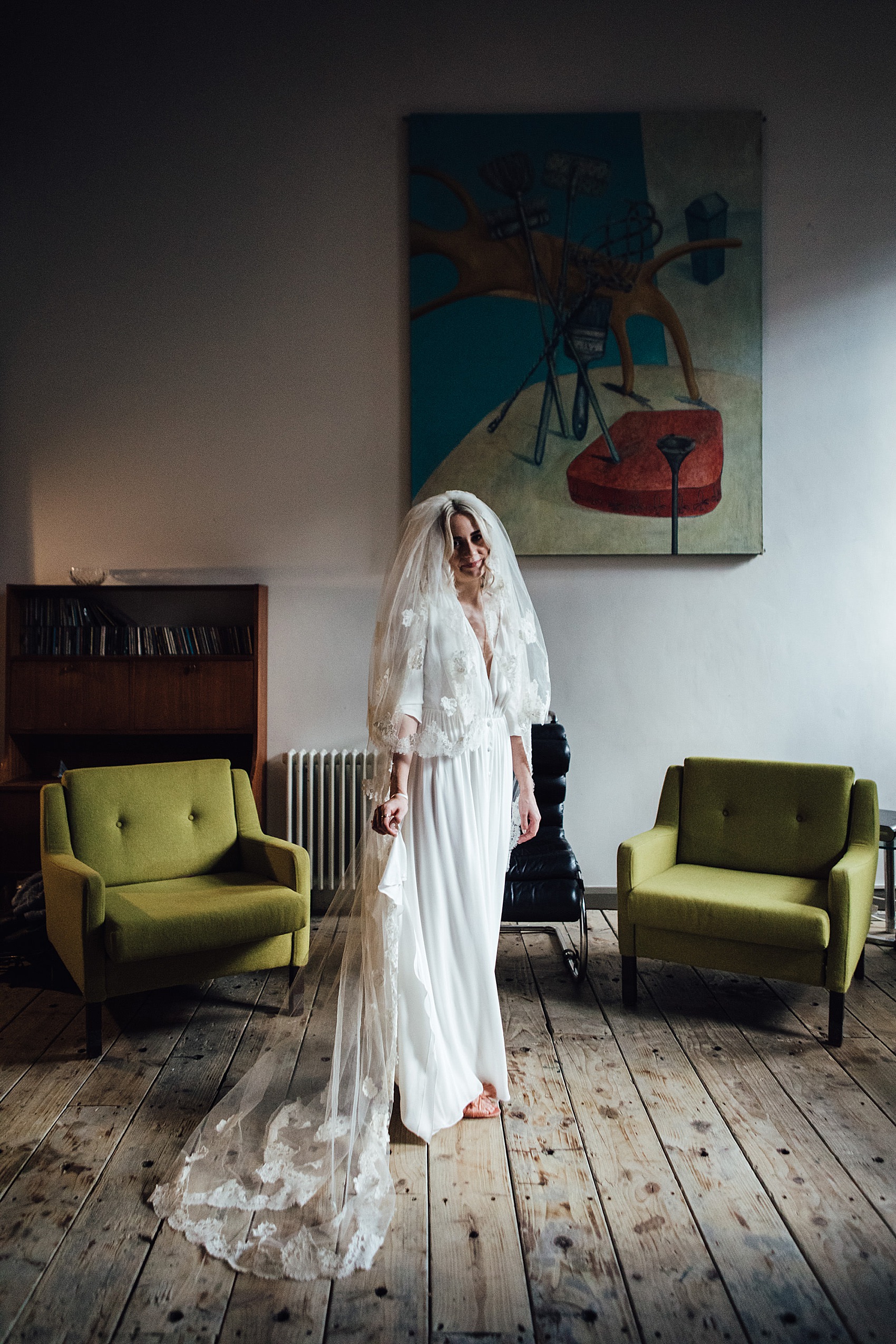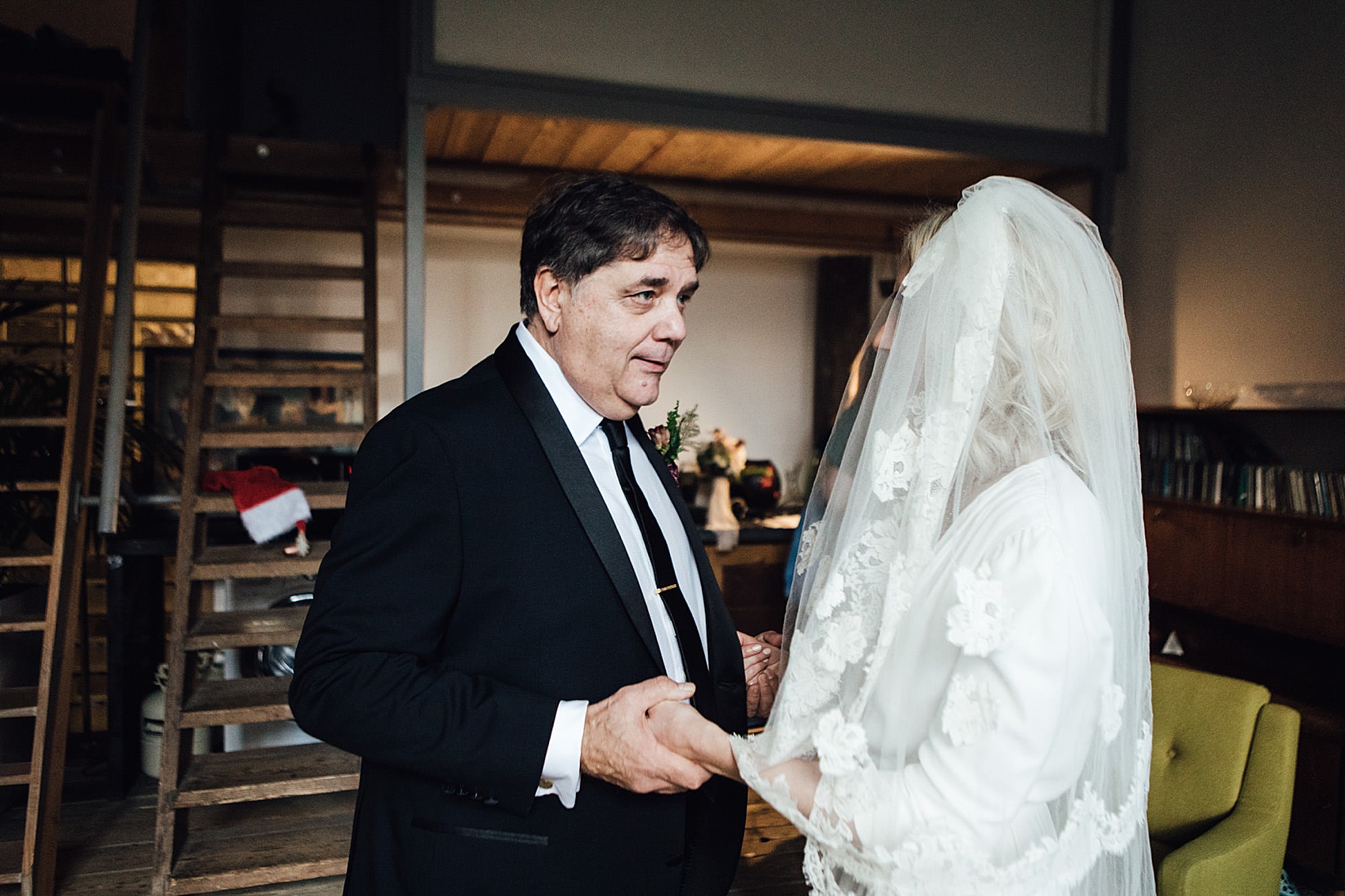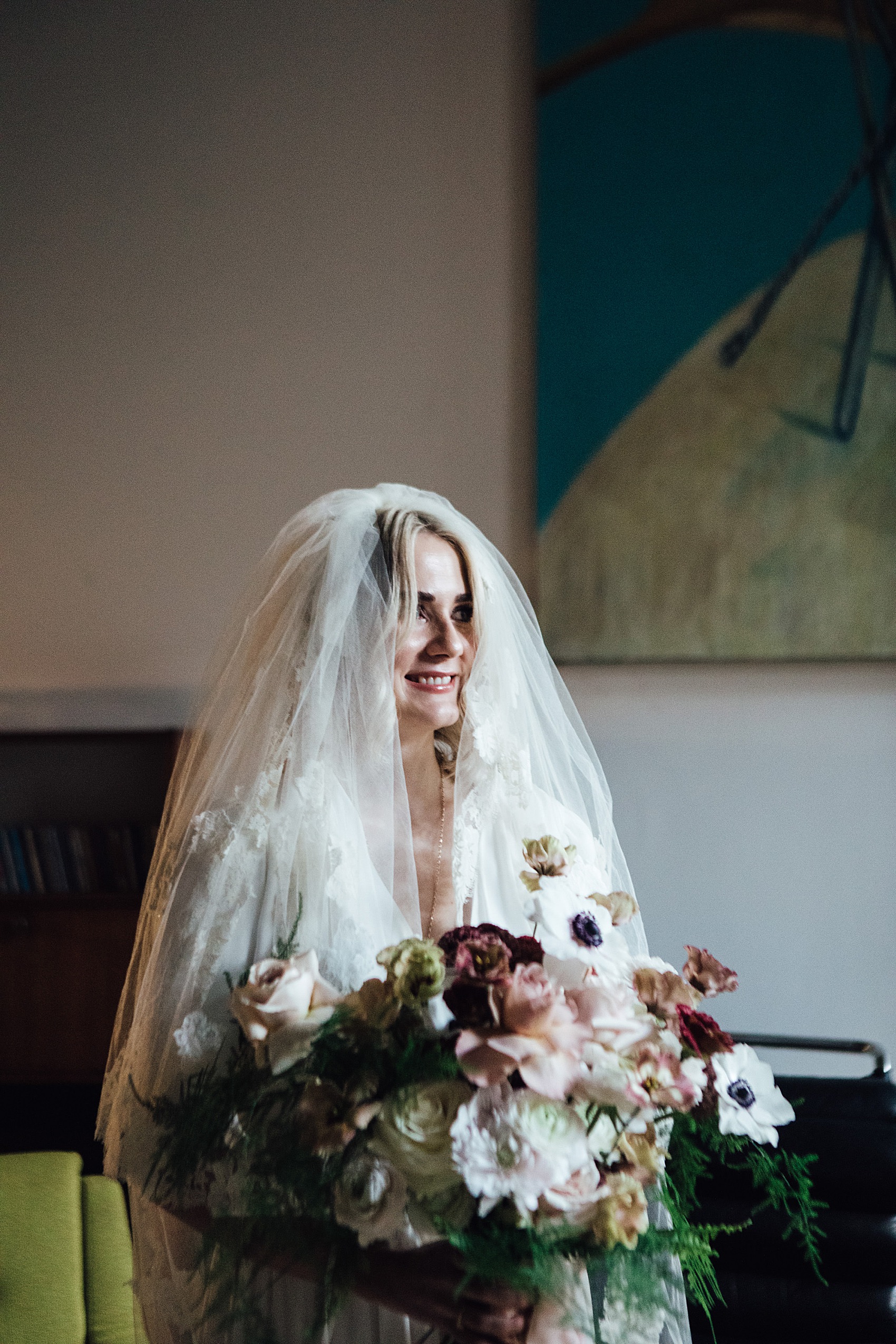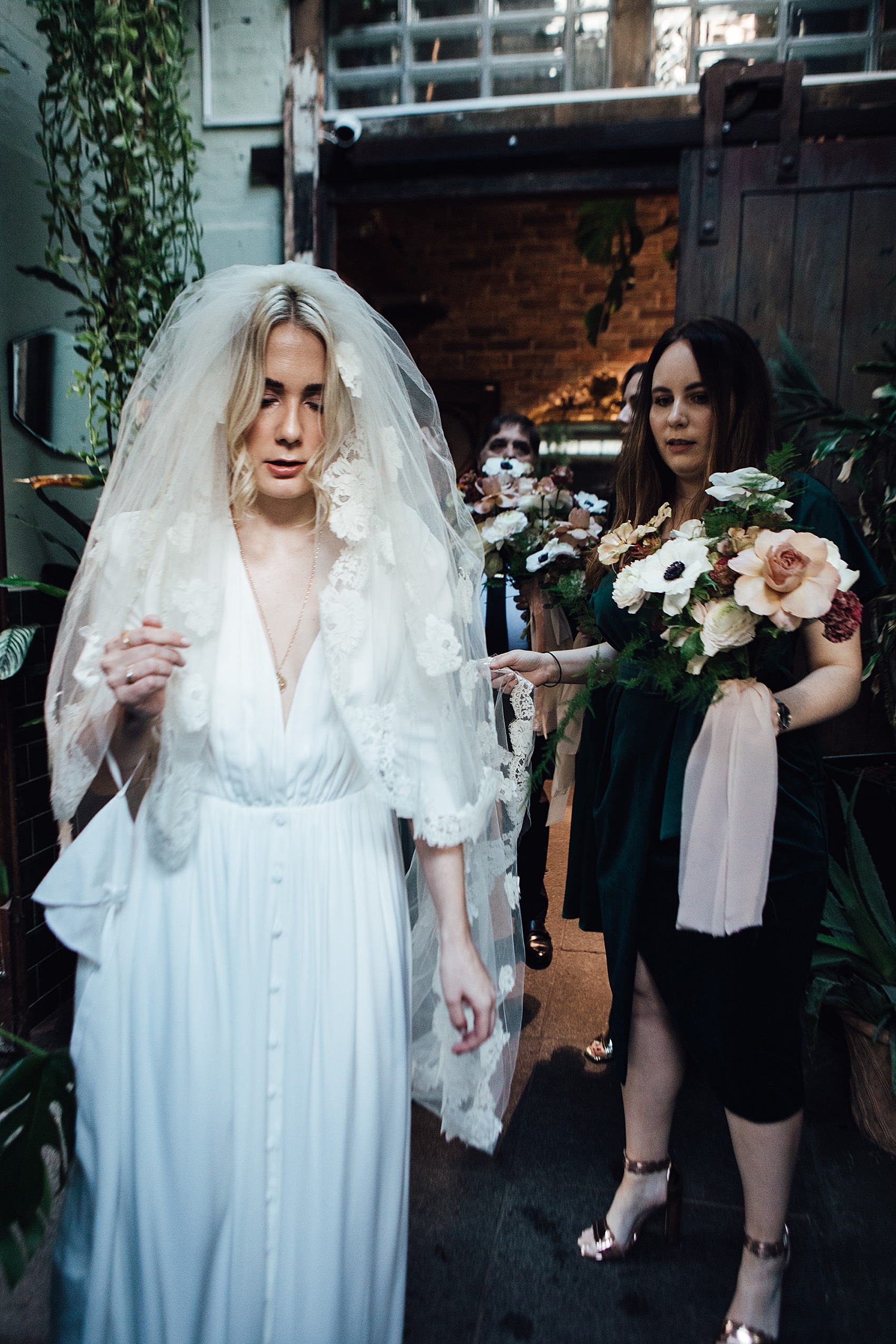 Perfectly in keeping with their cosy winter wedding, Luke wore a sumptuous navy blue velvet dinner jacket, with trousers, shirt and bow tie by Paul Smith, and the team at the Covent Garden store gave brilliant advice, and arranged all necessary alterations. Luke also wore lace-up shoes by Dries Van Noten.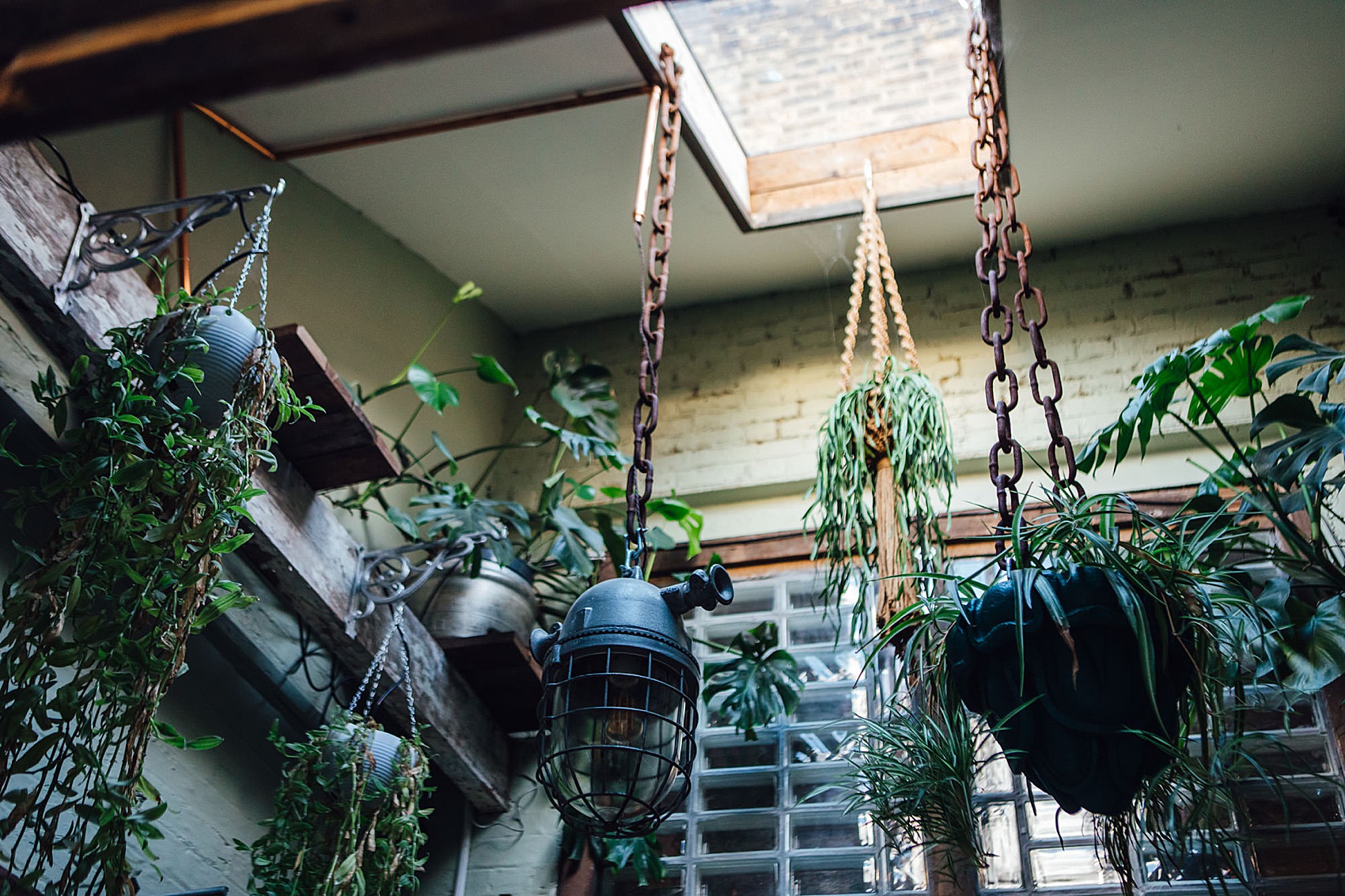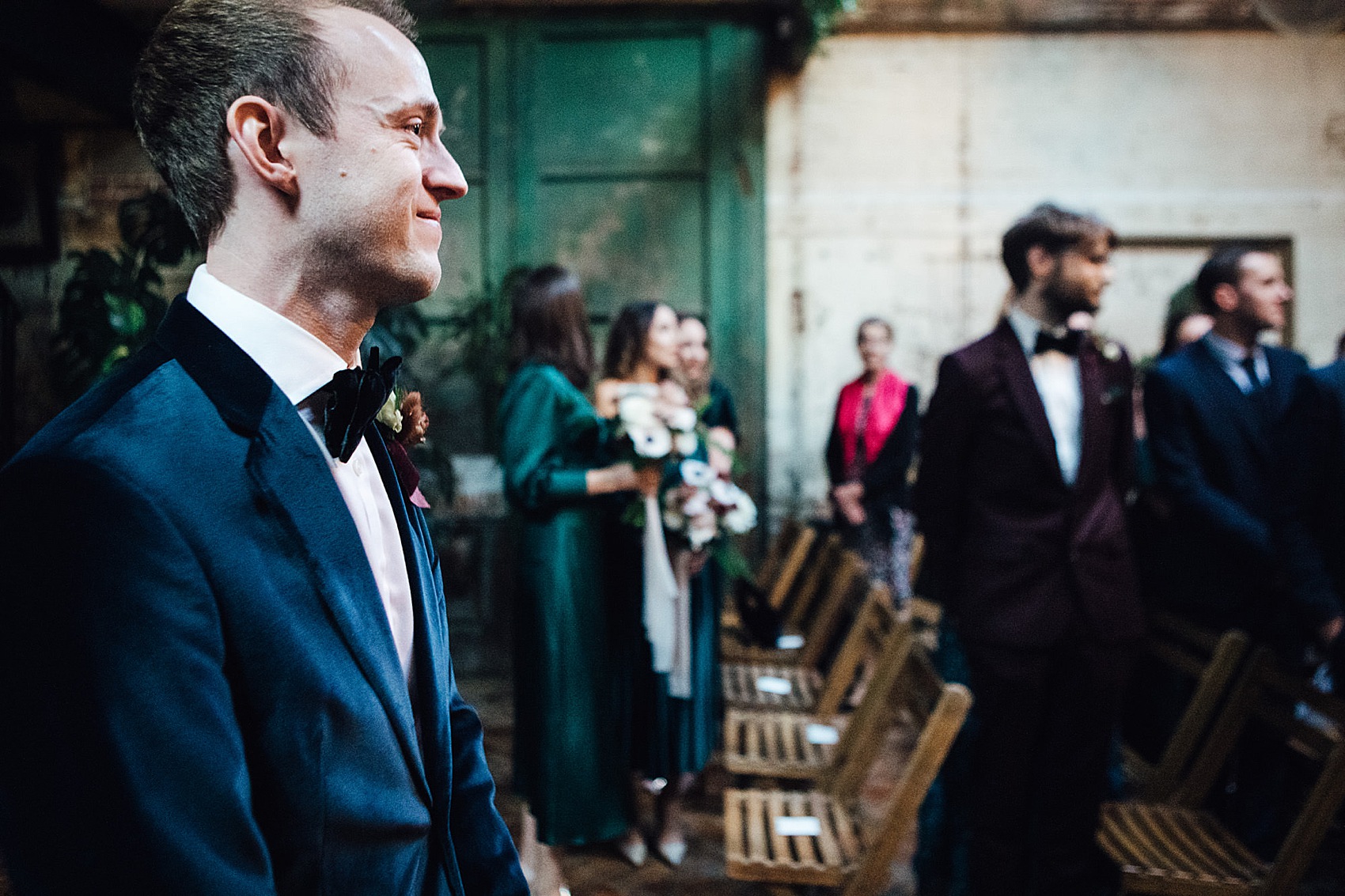 Sophie walked down the aisle together with her dad, choosing the song Andante, Andante by Abba as her entrance music.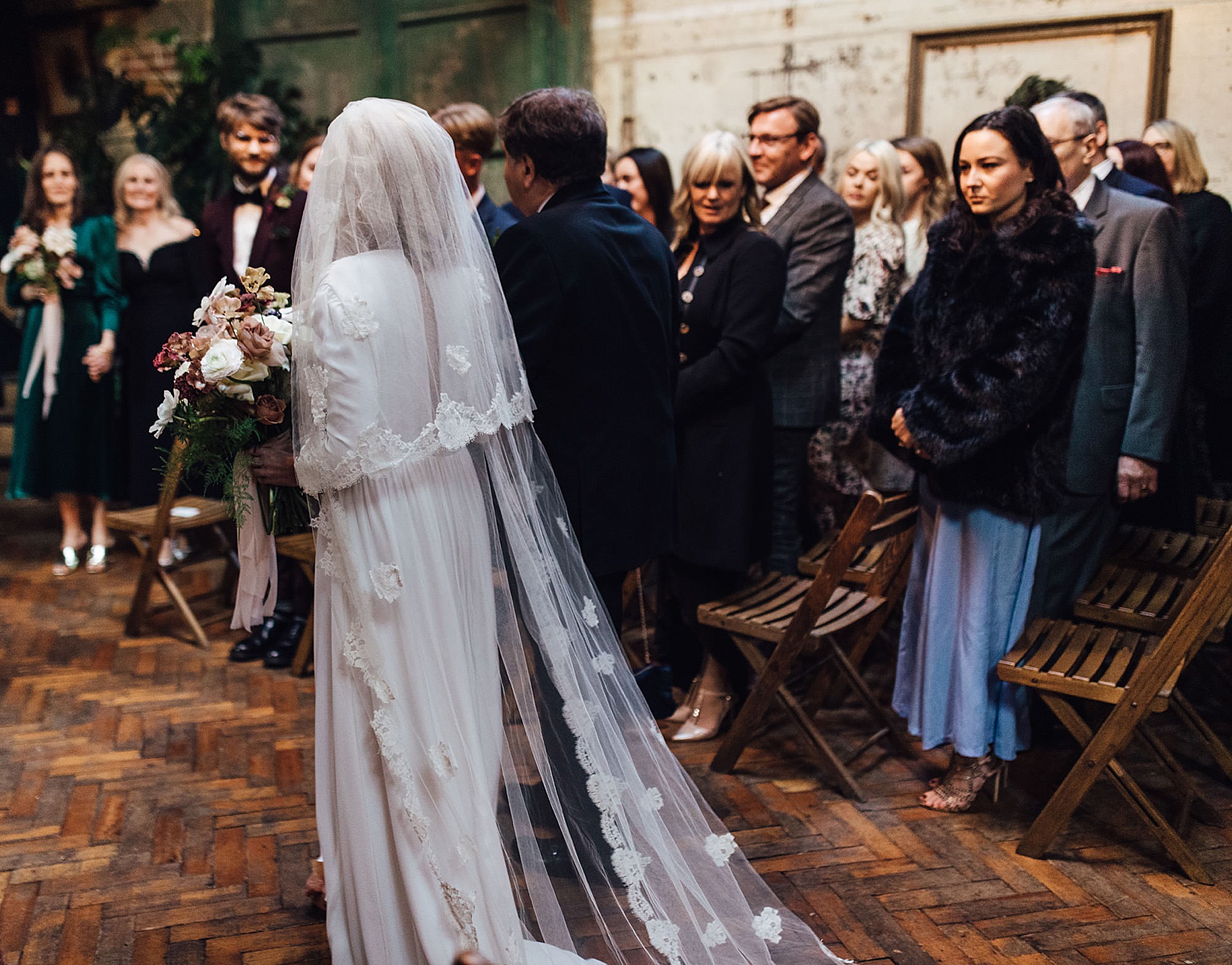 "We got together at 18, just as we were about to graduate sixth form. We went to different schools, but had mutual friends and lived in the same area. Luke proposed the day before what would have been 10 years since our first date."
"It was on a remote, hard to access beach in Ulawatu, Bali with not a soul in sight. Very romantic! We were engaged for 18 months before we got married, but pretty much started planning straight away."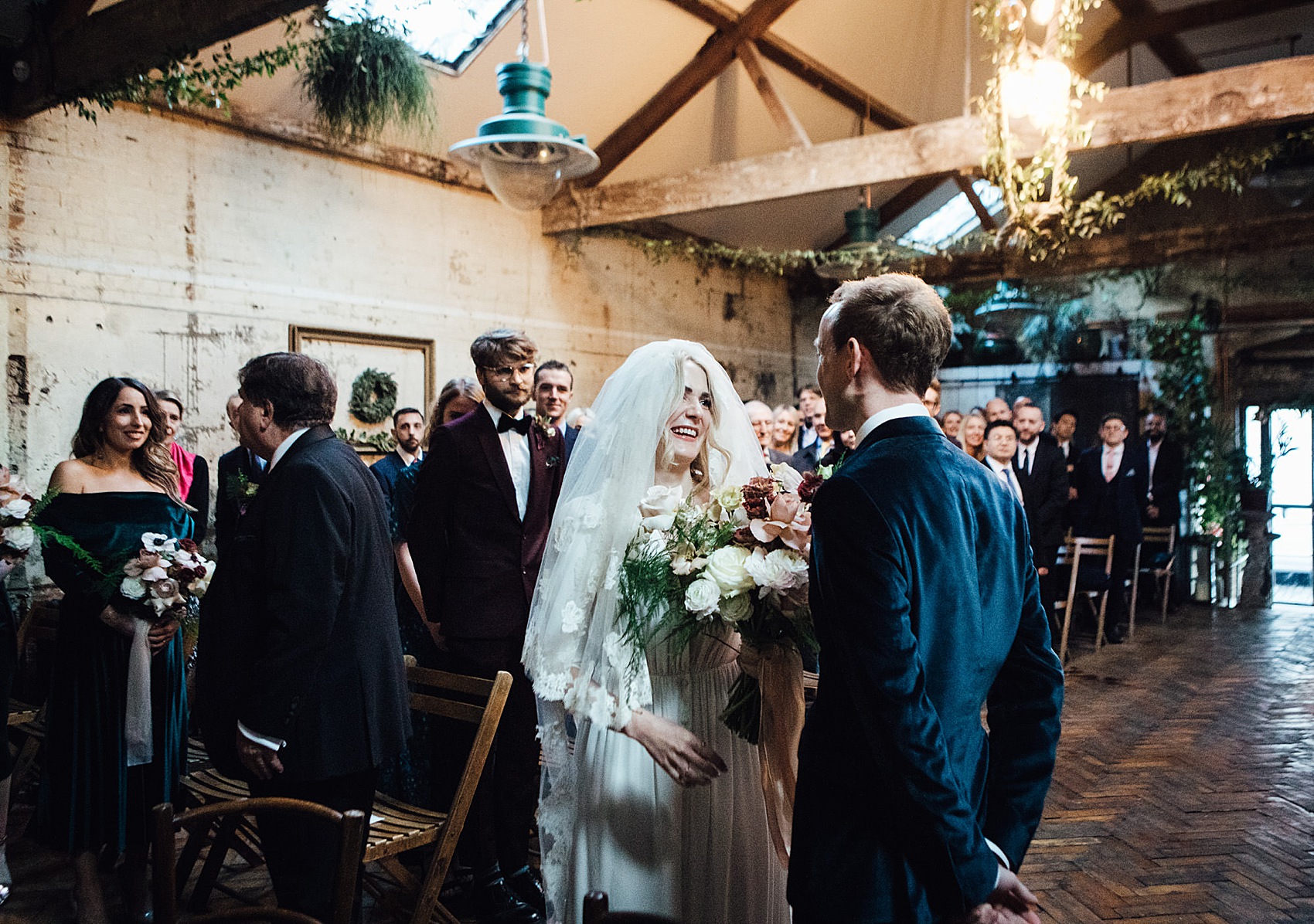 As the couple faced one another and made their vows, they also chose to exchange rings. Sophie's yellow gold wedding band was by Anna Sheffield (who also made her engagement ring) which she chose at department store Liberty, and Luke chose a ring at jewellers Steven Stone in Marylebone.
"My brother Jacob did a beautiful reading; the lyrics from the song Love's Enough by David Ackles. He choose it himself, which made it all the more special."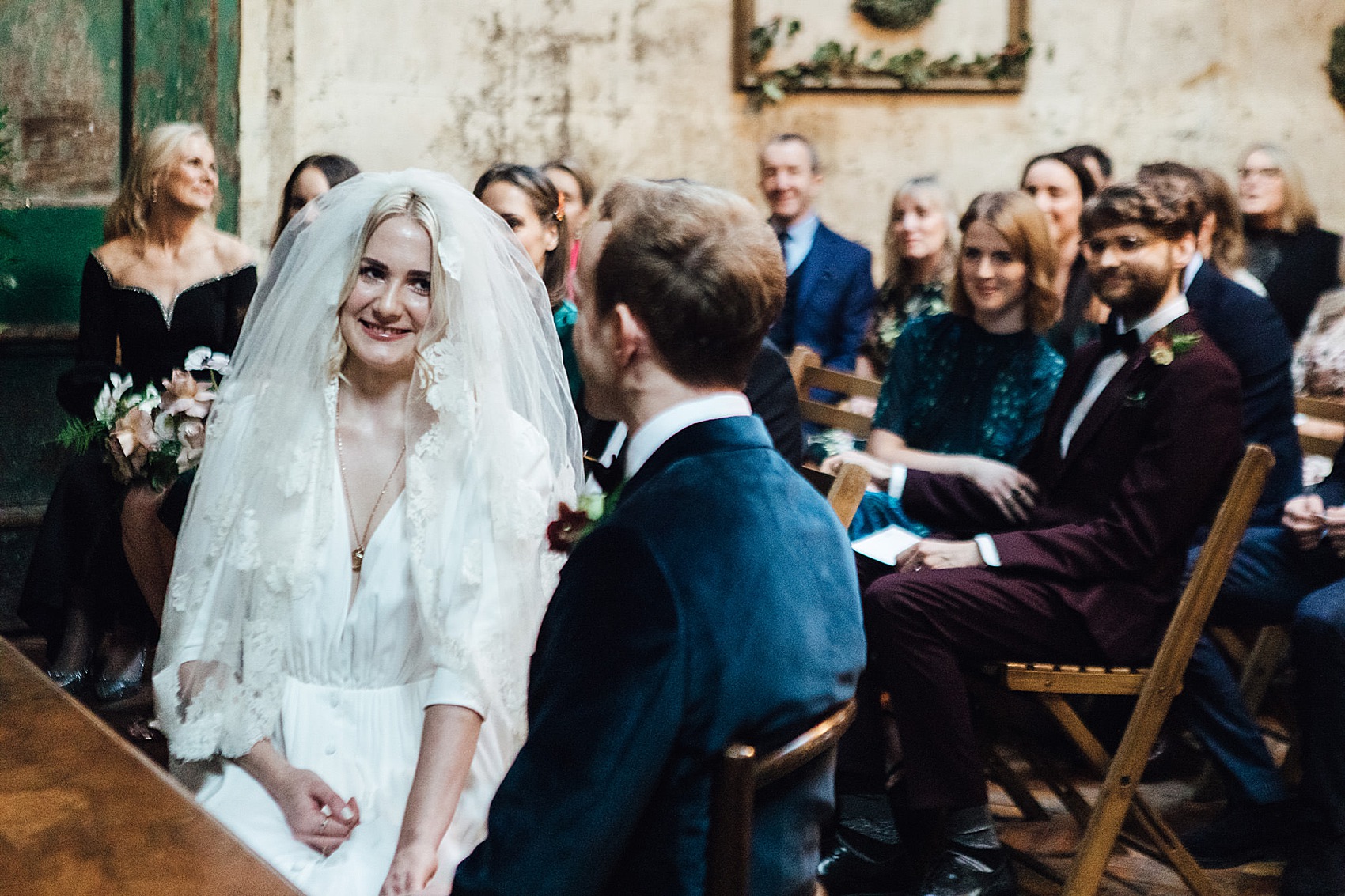 I'm so pleased to be sharing more work on our pages by duo Rachel and Chris from September Pictures. Based in London, but also able to shoot weddings in LA, too, the pair did a brilliant job in capturing Sophie and Luke's day with honesty and heart. Do take a look at other real weddings they've photographed here, too.
"We were first drawn to choose September Pictures as our photographers based on their website design, and of course, beautiful portfolio. After talking over email we really felt their enthusiasm and passion for their jobs."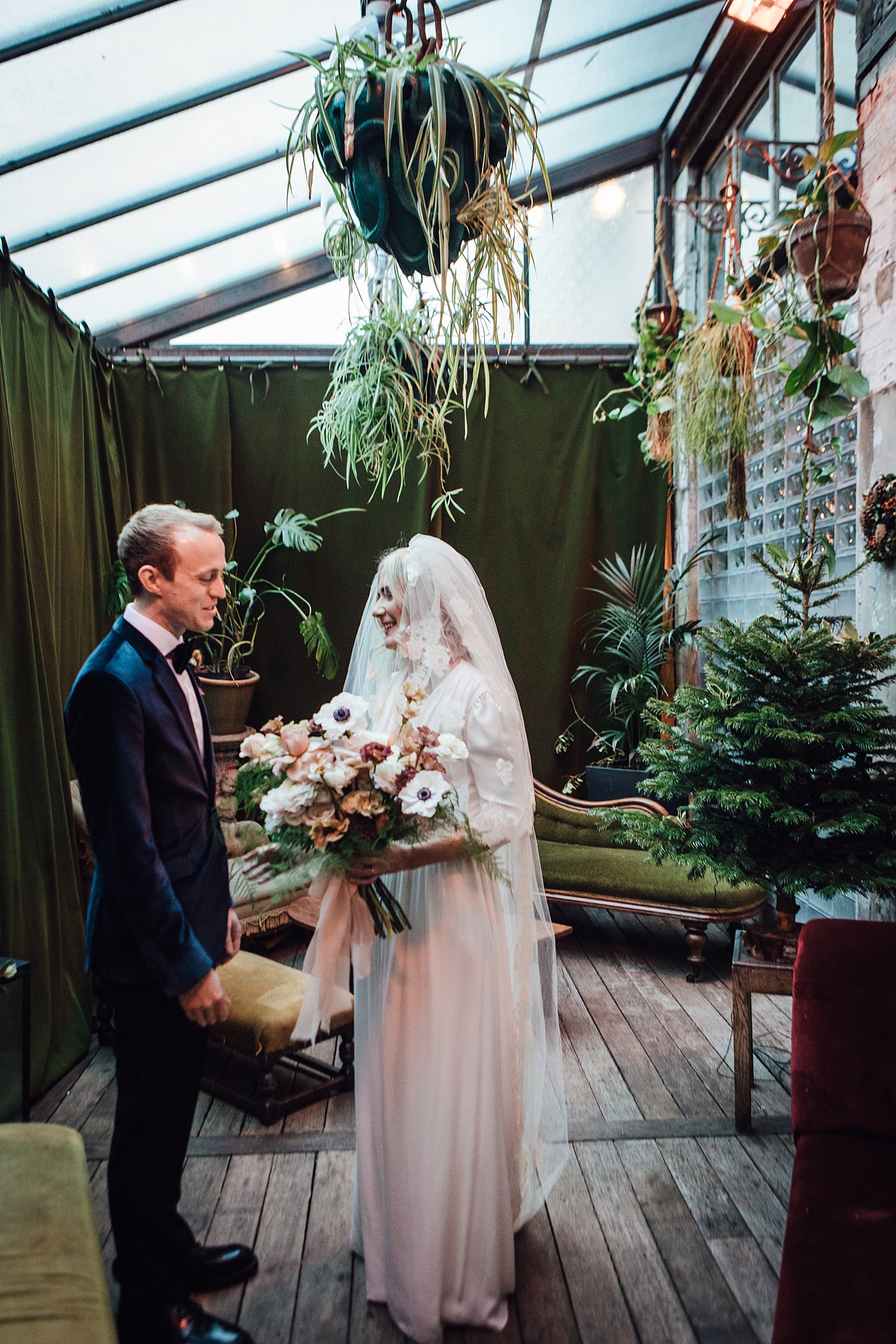 "They, like us, also don't like posing for pictures, and we loved how much of their portfolio are natural images that capture the true magic of the day."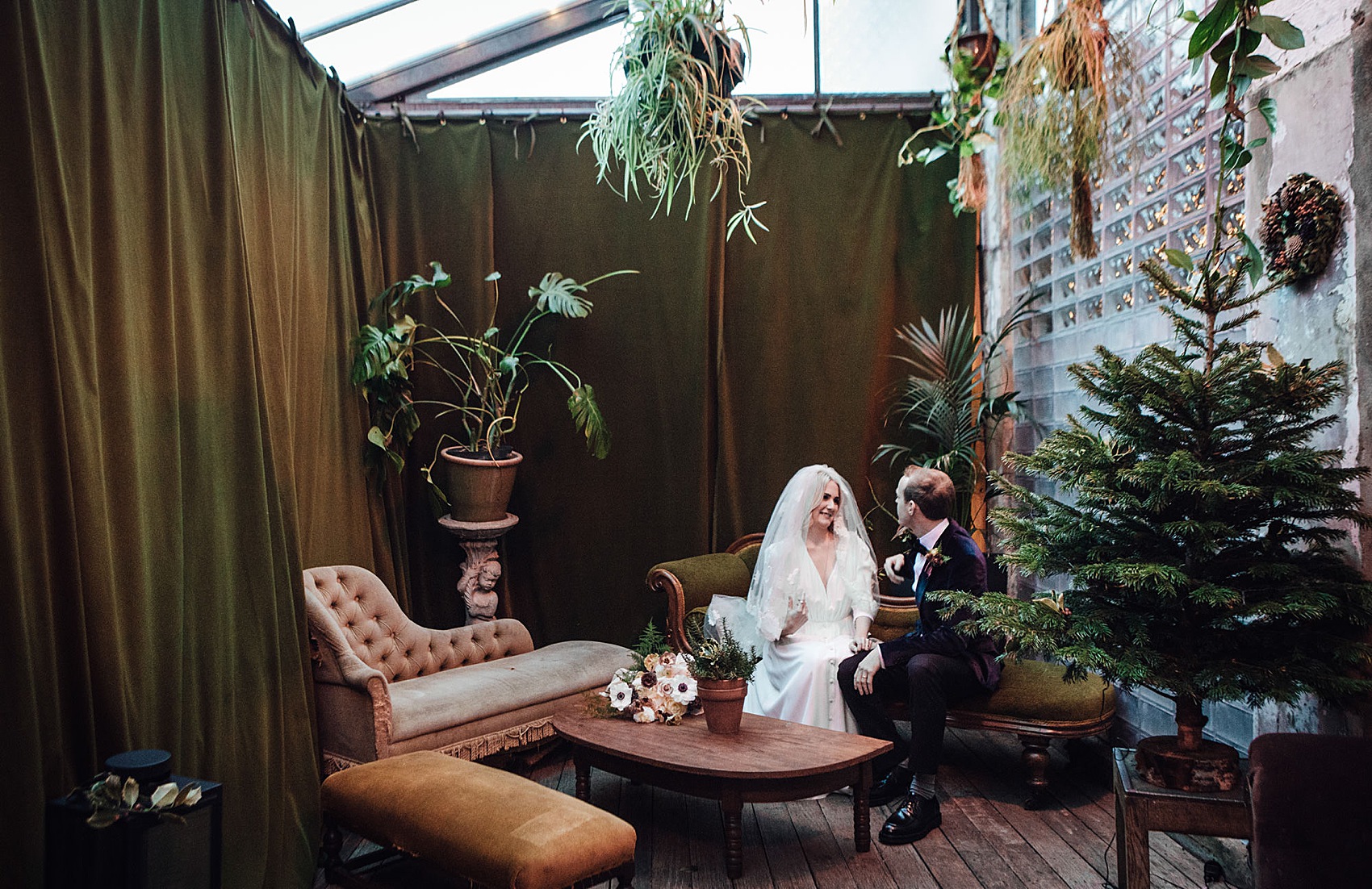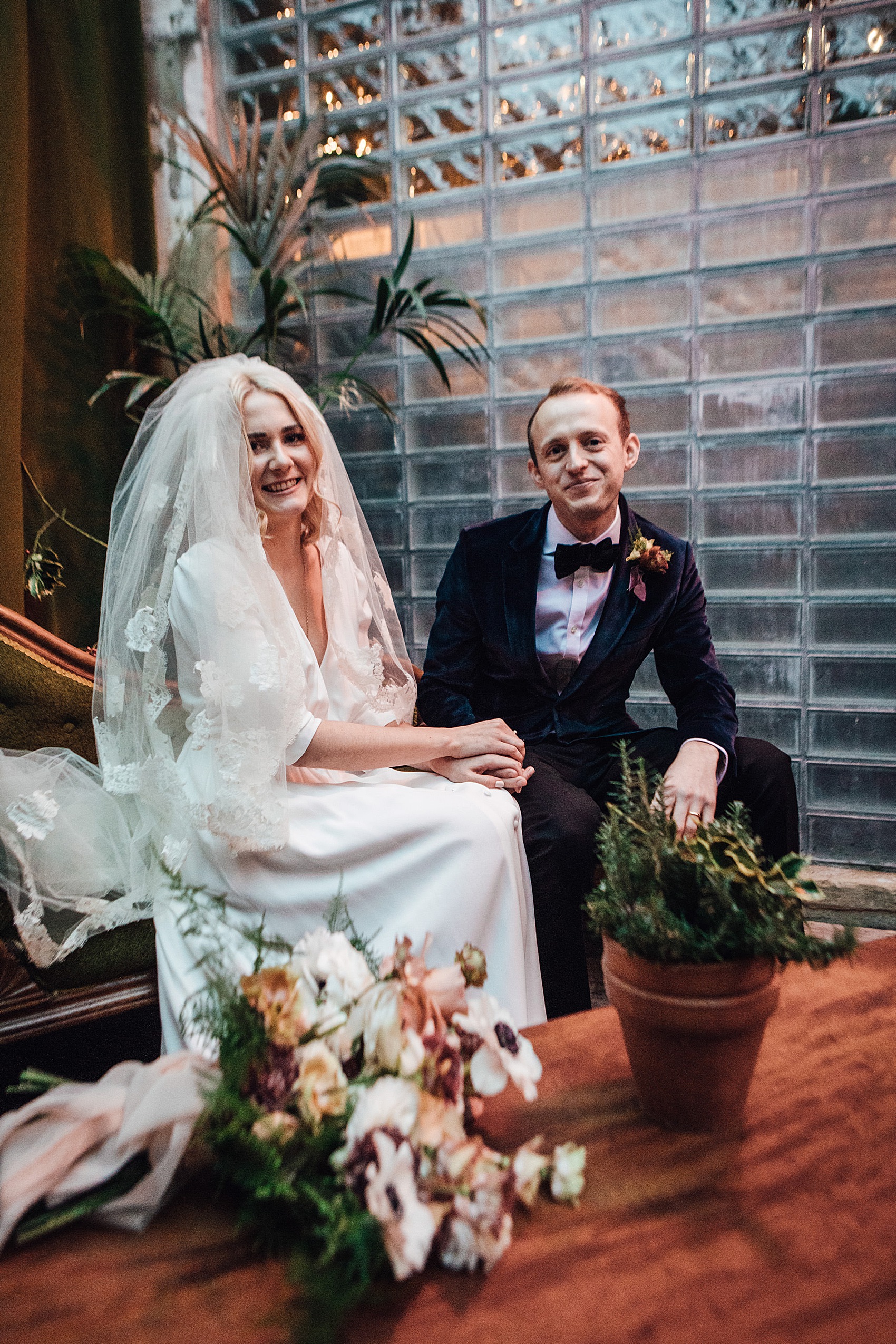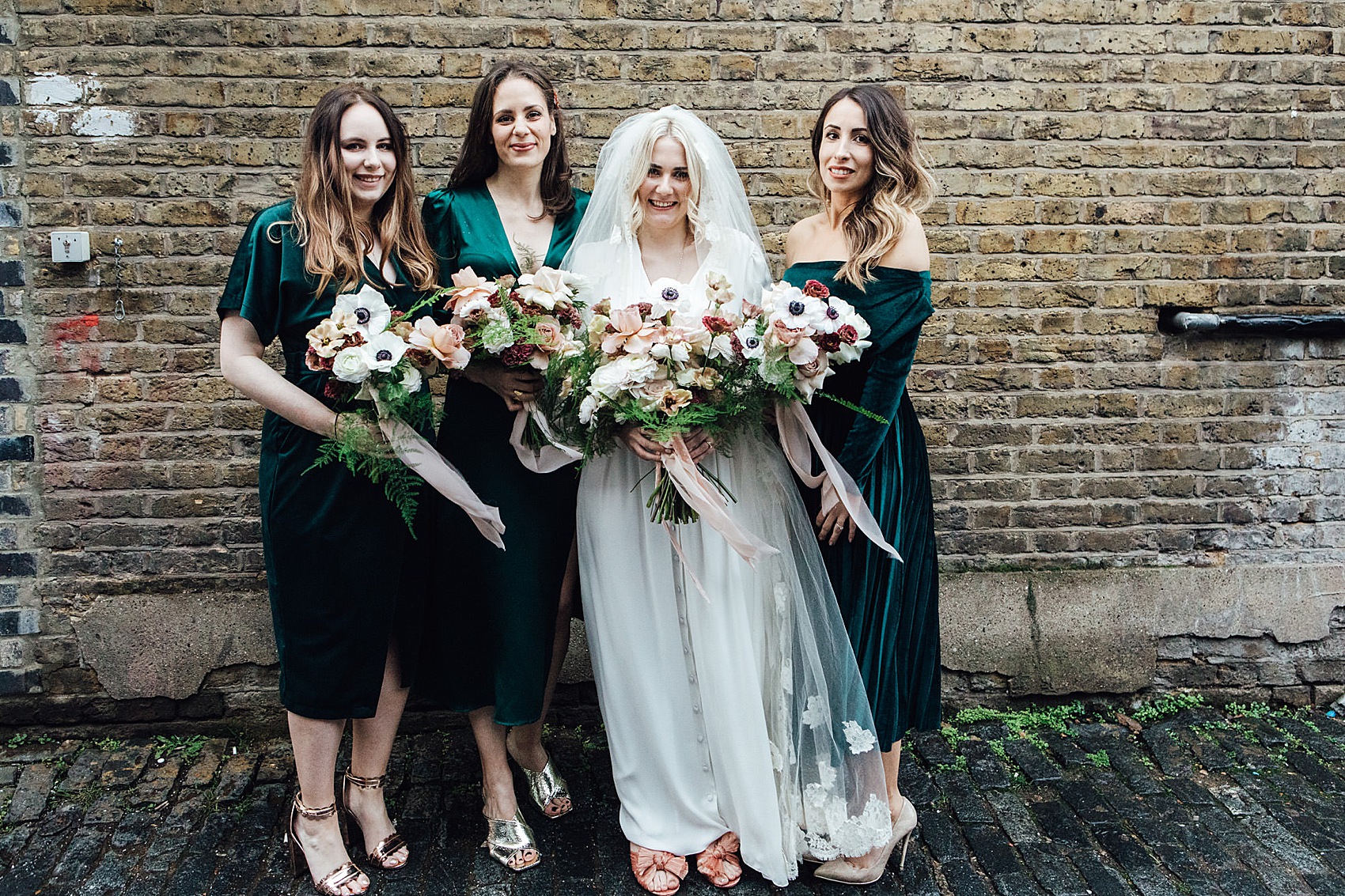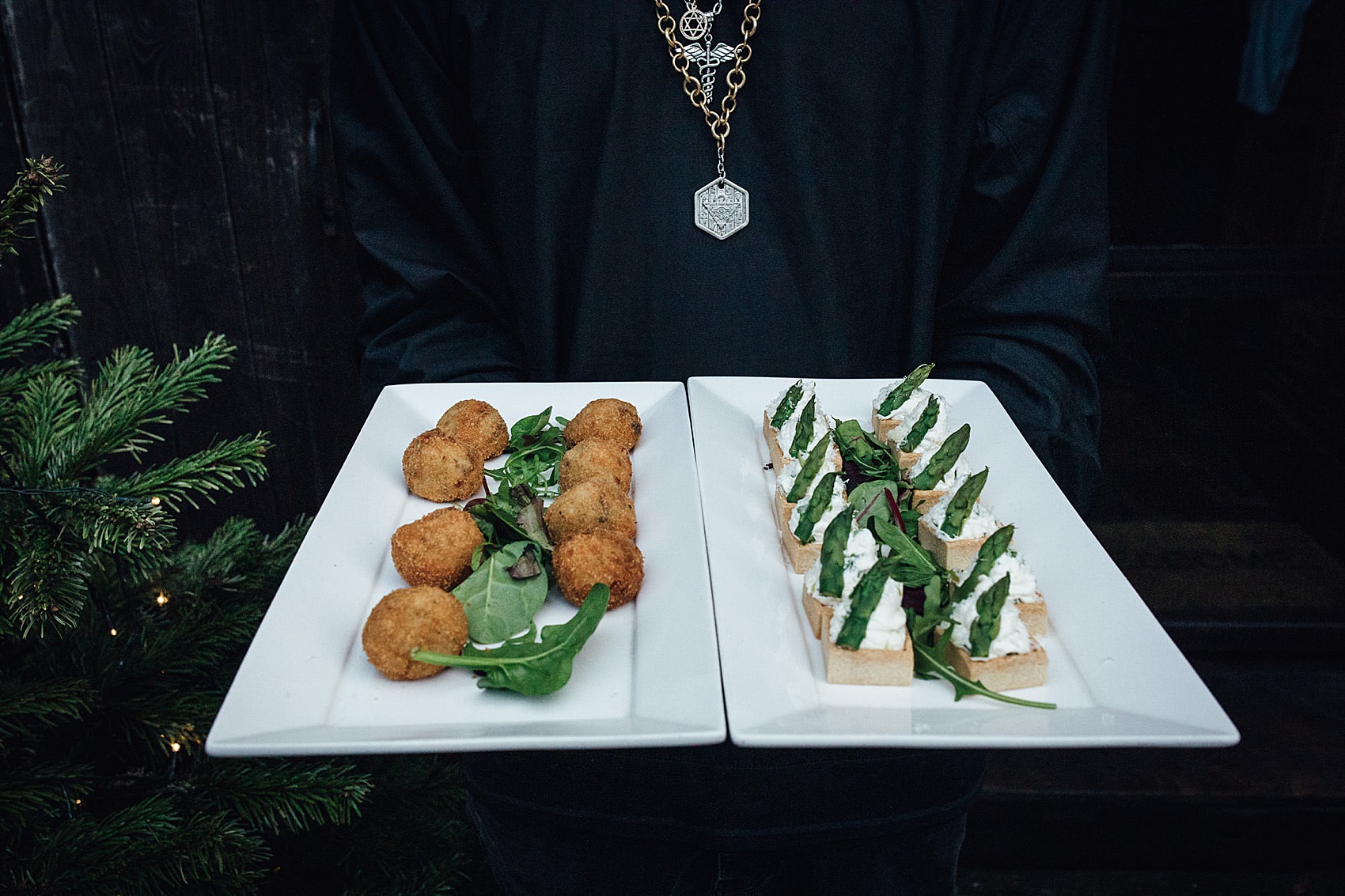 Sophie's sister and Maid of Honour Olivia is an artist (sadly not details supplied for Olivia) and designed all of the couple's stationery, with a nod to Christmas in a mistletoe motif throughout.
"We also commissioned Alex May Hughes, an artist and sign painter, to create a glass sign to welcome guests at the entrance, reading 'Smoothy Est. 2019' and a George Michael lyric. We now have it hanging in our living room – a lovely reminder of our perfect day."
There are lots of potted plants dotted around Clapton Country Club, and to this gorgeous green space, Christmas trees and garlands of winter greenery were added, too.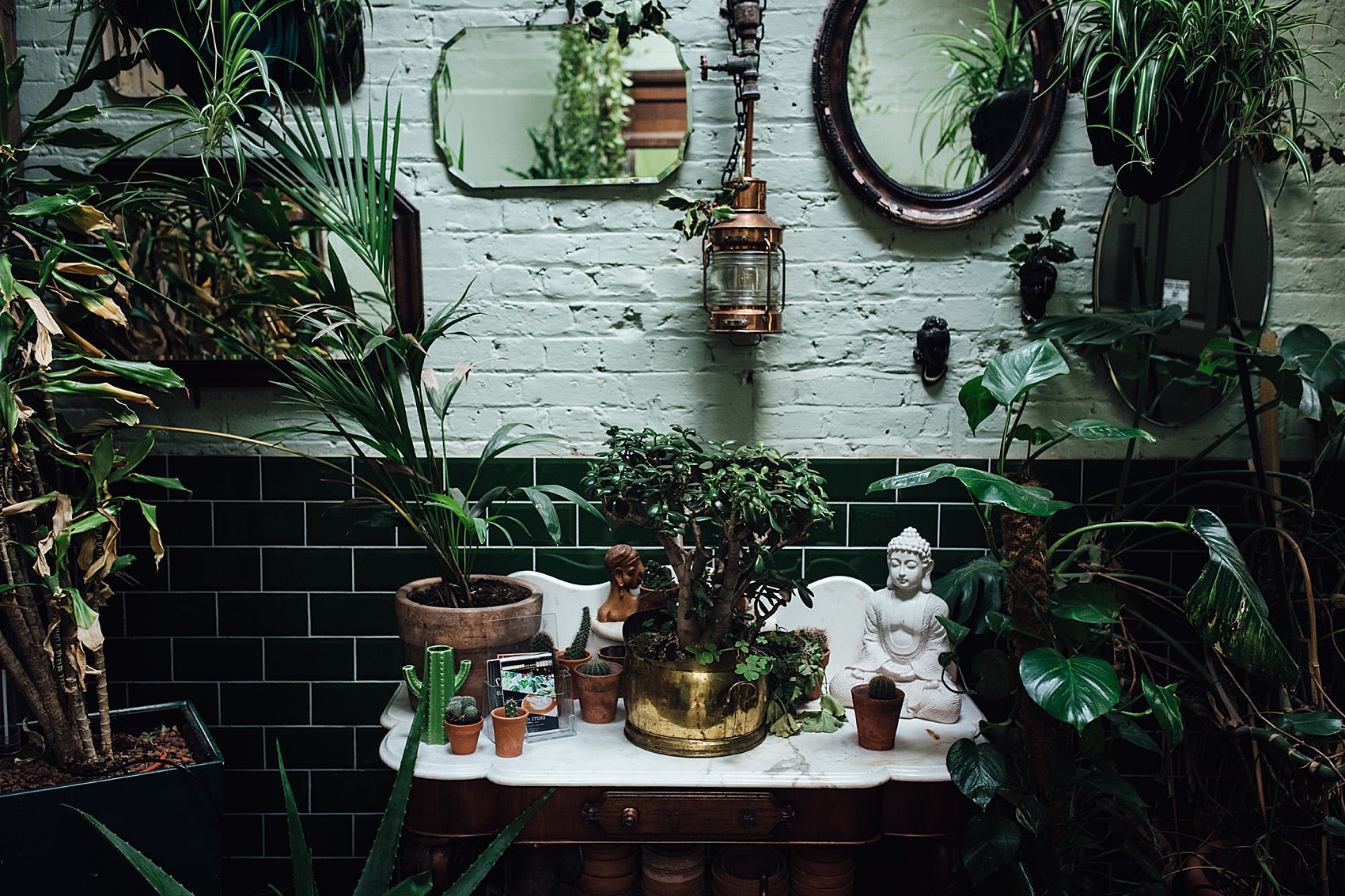 As a dinner backdrop, florist Blume also made a giant Christmas wreath that looked absolutely amazing! There was also a retro 'Merry Christmas' lit sign, and a few candy cane balloons, too.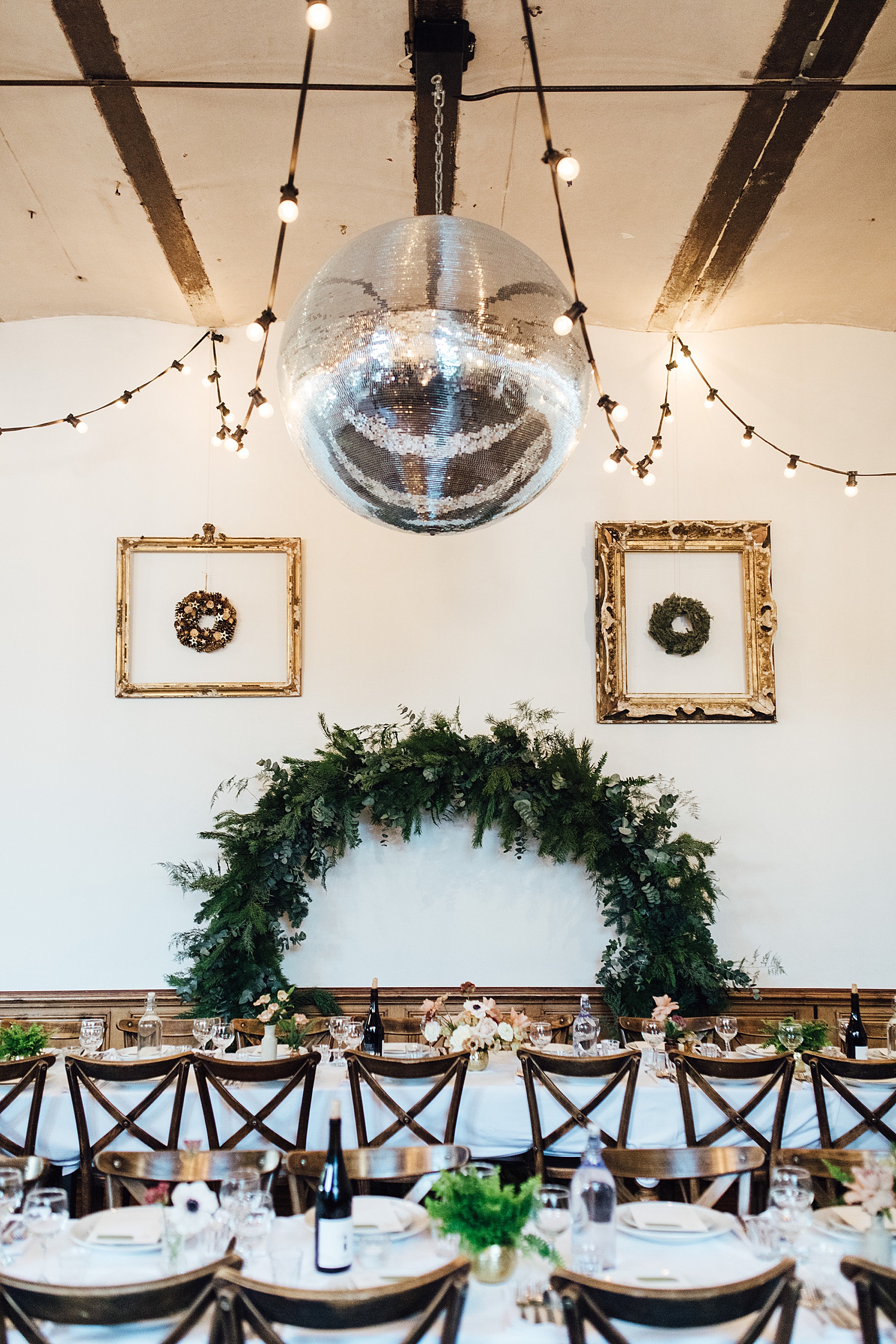 "Clapton Country Club provided the catering, and their food is delicious! Many guests commented that the food was the best wedding breakfast they have eaten. We were really impressed with the tasting ahead of the wedding, but had already eaten at their Sunday lunch service a couple of times in the build up. An excuse to visit the venue, too!"
The venue's chef team also made Sophie and Luke's delicious wedding cake, which was a semi-naked orange drizzle flavour, decorated with flowers and dried clementines.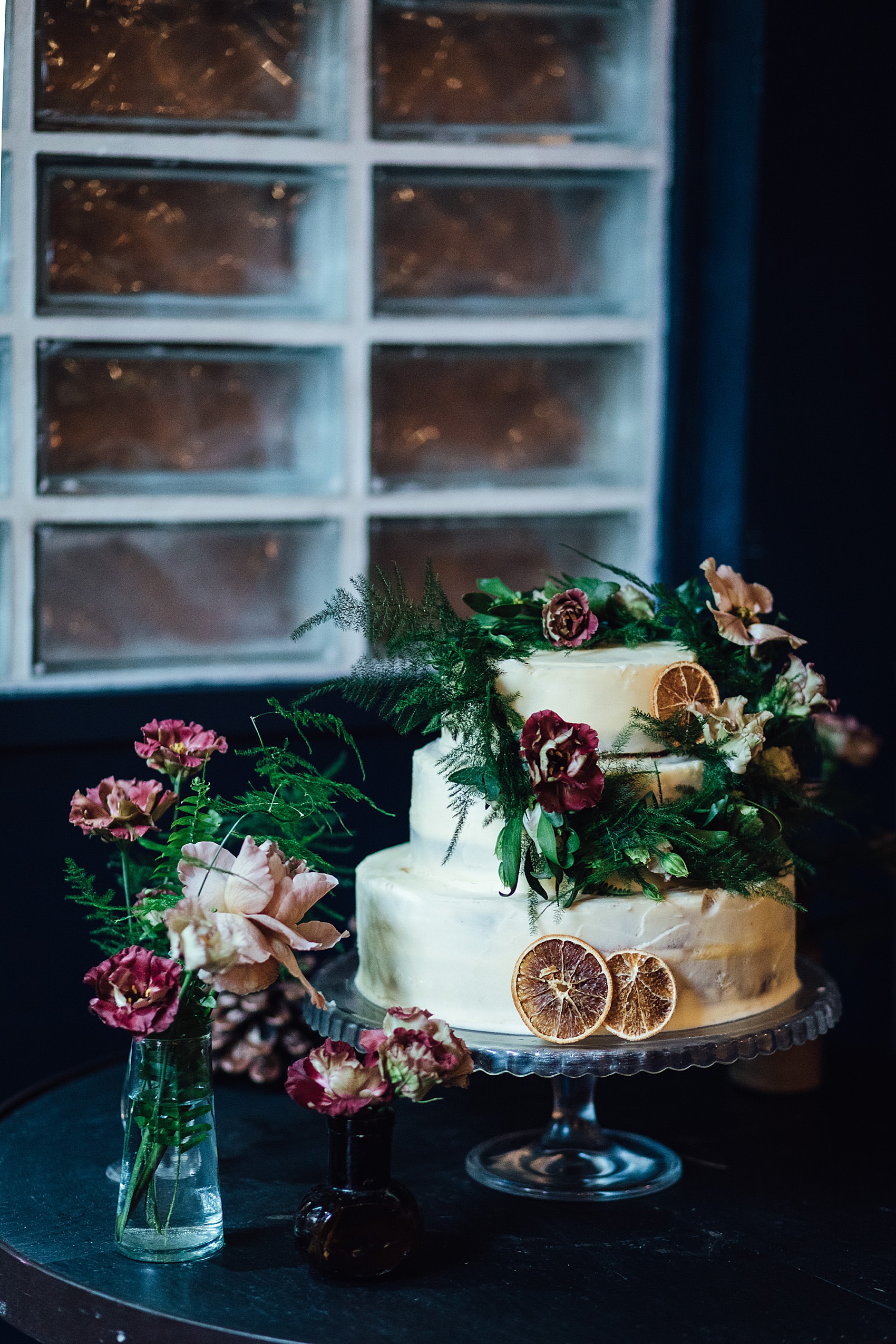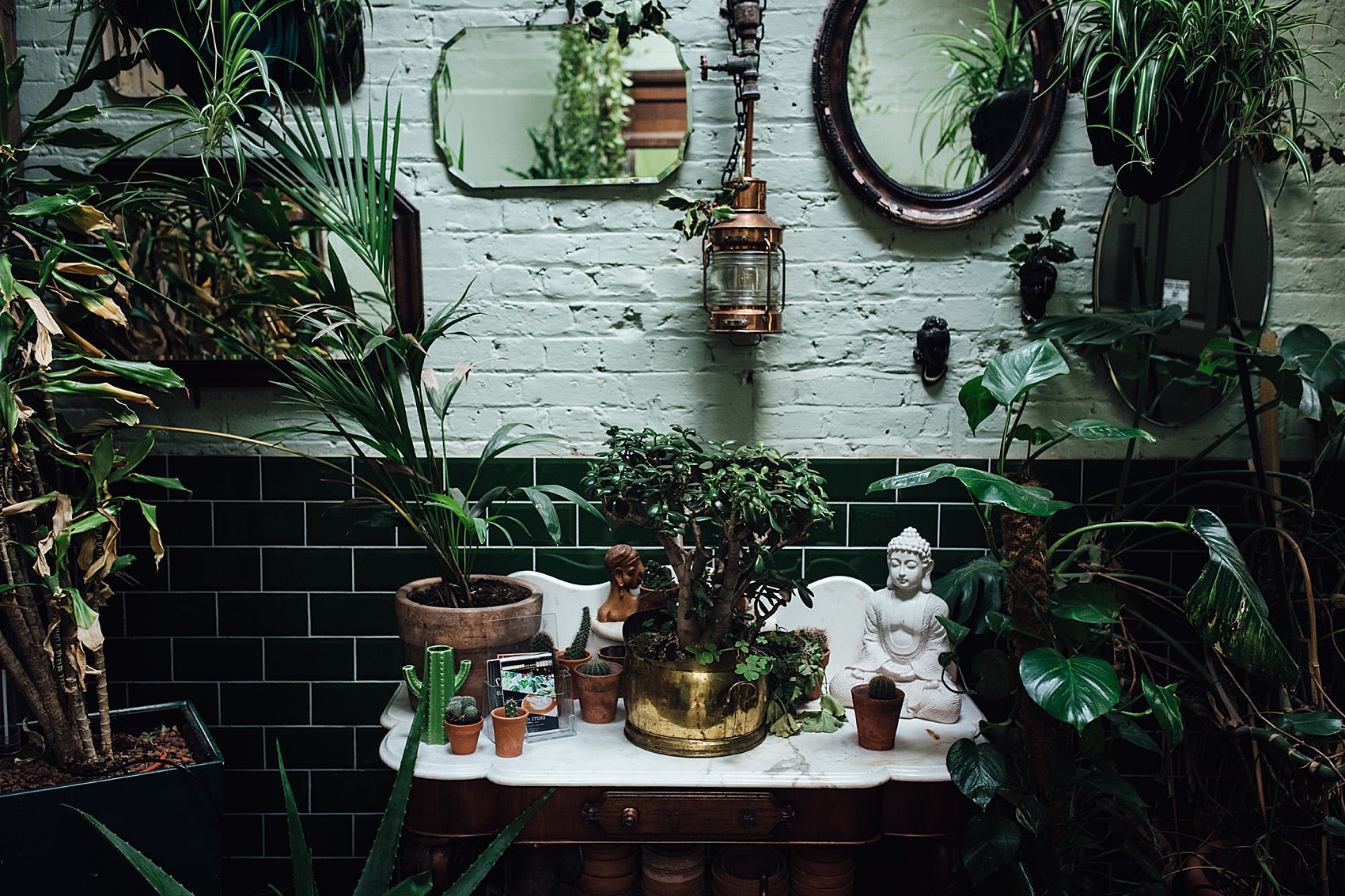 "I wore a Luna Bea headpiece in the evening, which sat on the back of my head. I loved how the gold stars reminded me of Christmas, and the delicate detail complemented my simple wedding dress."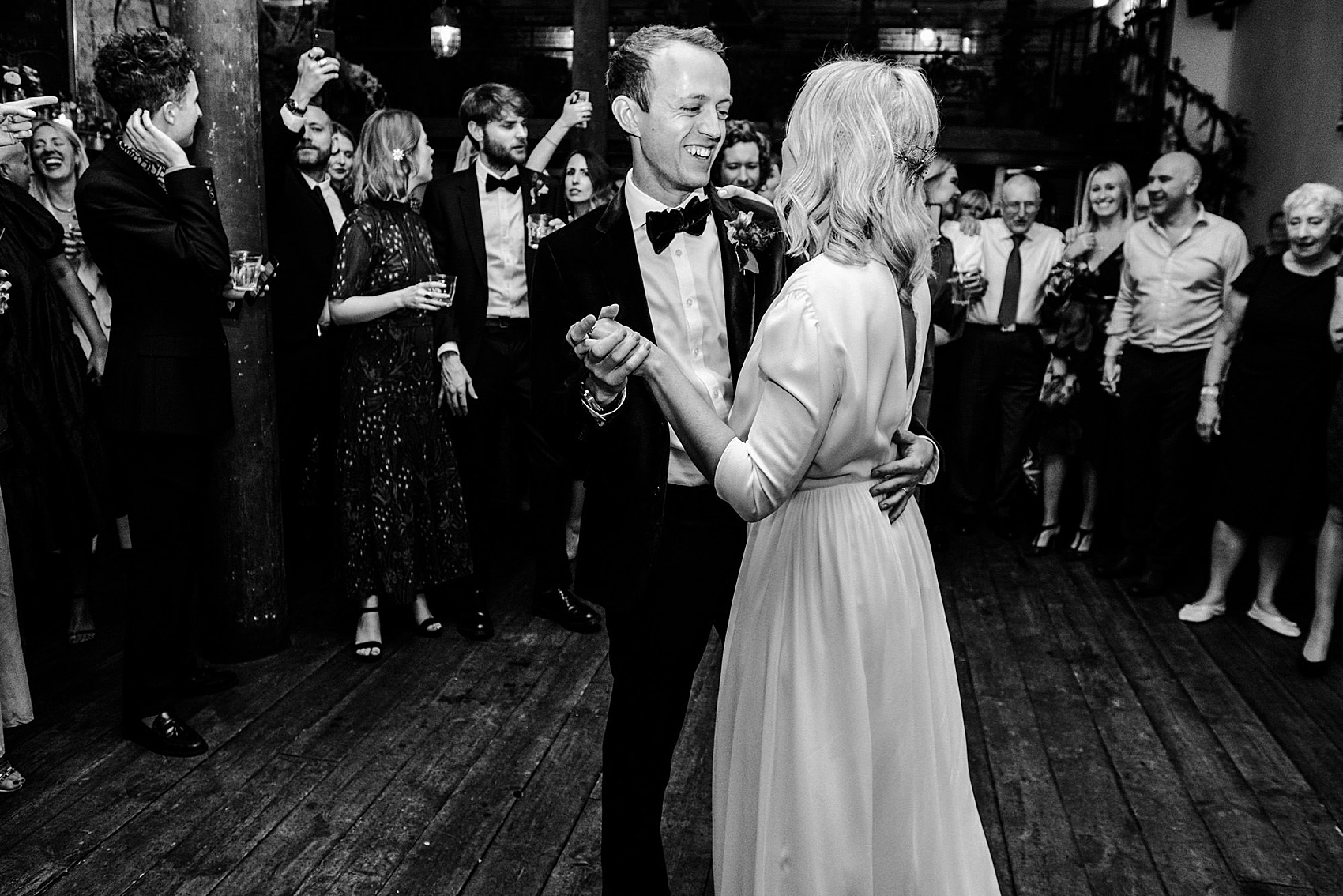 "We're huge George Michael fans, and wanted our first dance to be a George Michael song. We booked an amazing tribute, Johnny Mack, who surprised our guests entering the room while we took the floor for our first dance. We decided on A Different Corner. The lyrics are very romantic and fitting. We know so many people who say it's their favourite George song, so it felt like the right one for us."
"I was so happy and on a high for the entirety of the day, so it's hard to pinpoint a favourite part. I loved getting ready with my bridal party and family, seeing Luke for the first time, and how he fluffed his vows. I loved the speeches, and of course dancing to George Michael."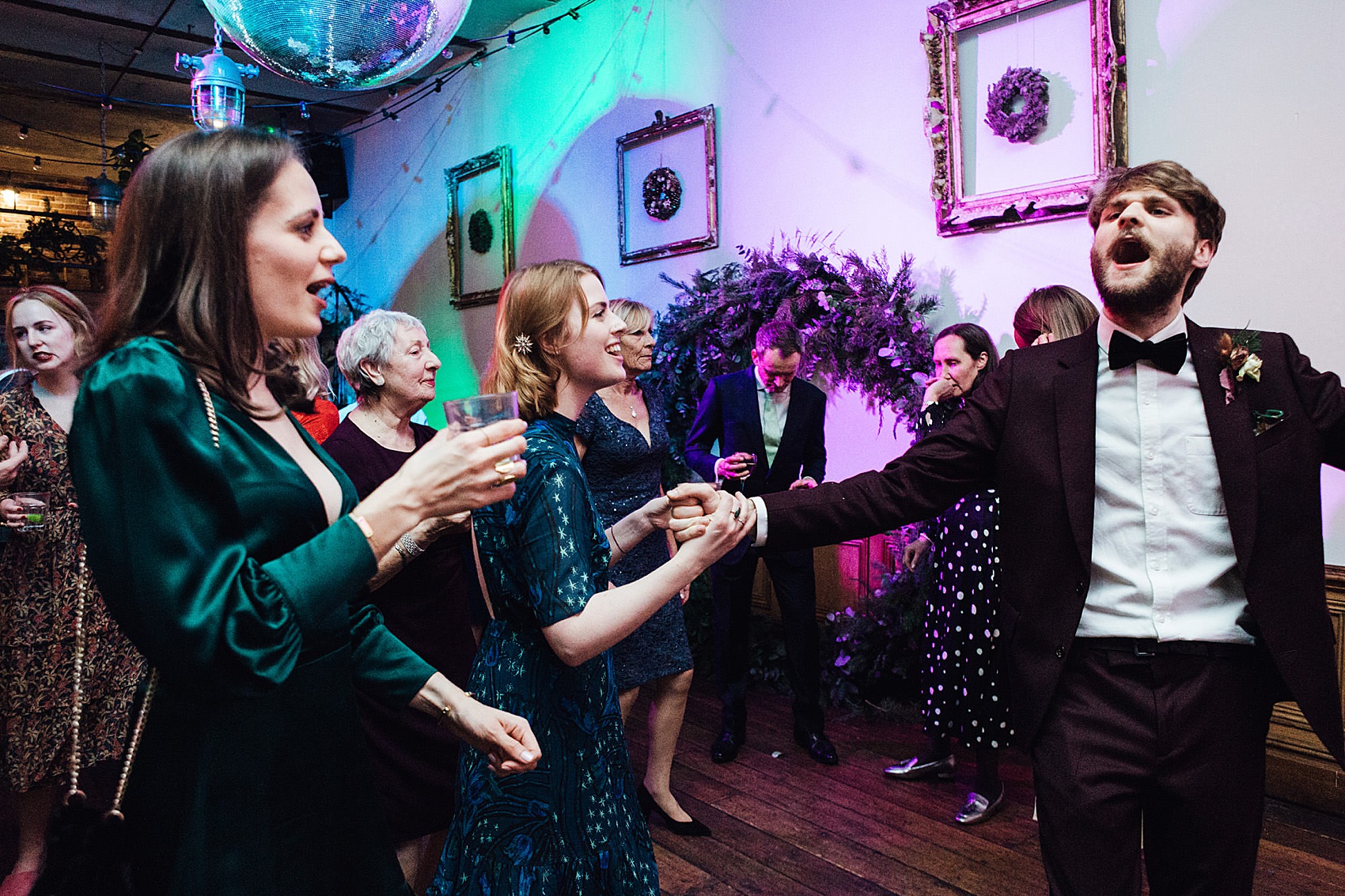 "All our guests sung and danced to George for a one and a half hour set. We didn't leave the dancefloor for it's entirety, and he of course finished his set with Last Christmas."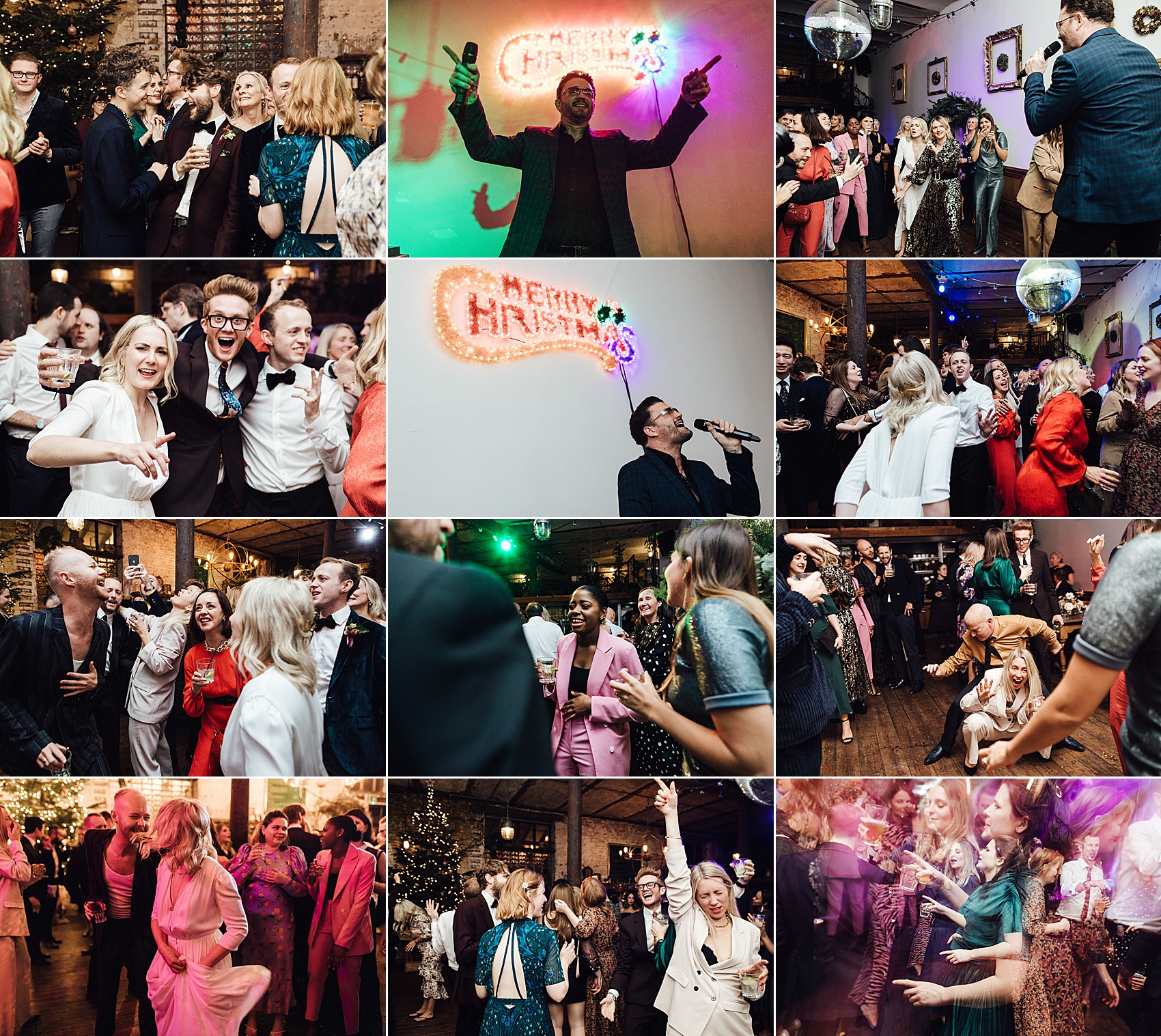 Words of Wedded Wisdom
"We loved organising our wedding together, and it was the best day of our lives. Many friends who have gotten married or part of weddings remarked at how stressful the organising is, however we just took it in our stride. Now that we are married, we talk about our wedding every week, and say how we wish we can do it all again!"
"Don't worry about the small details. We had guests that let us down in the final weeks and days, which screwed up our table plan, and of course it's frustrating when you've already payed for their presence. However you don't even notice that they're missing on the day as you're too wrapped up with each other and your other guests."
"We did put together a PDF file of timings of the day, when suppliers were arriving / any deliveries, etc, as well as visuals of how we wanted staging to look. We shared this with the venue management, and it gave us peace of mind. However, you need to relax and let the experts handle the logistics on the day. Enjoy every minute, and make sure you get one-on-one with your husband/wife every hour or so, and take it all in together."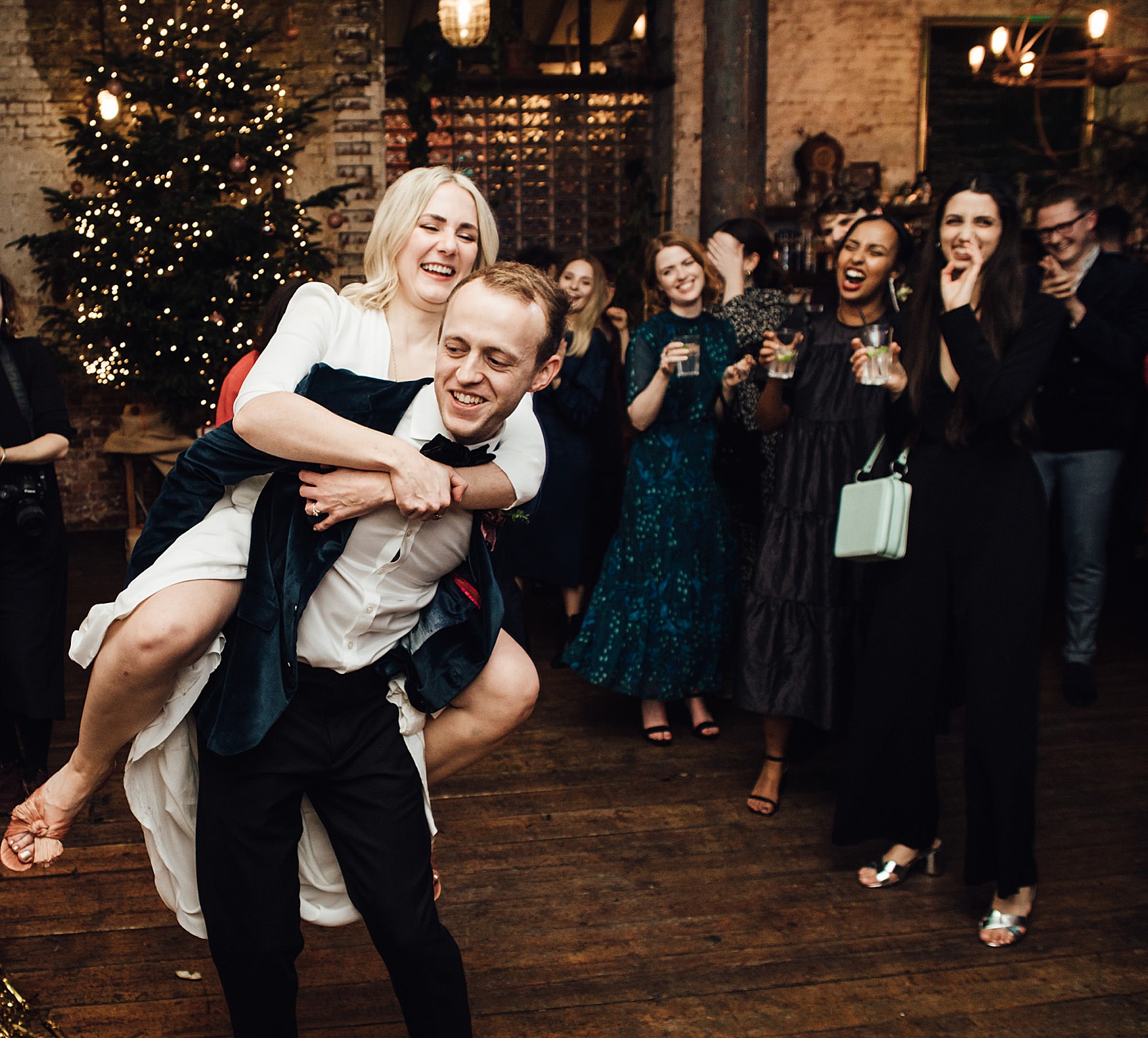 Sophie and Luke, I can't thank you enough for sharing your merry and bright day with us all. As a self-confessed Christmas lover, it was such a wonderful treat. Many thanks to Rachel and Chris from September Pictures as well – your images are beautiful.
Until next time. With love,
Laura