We are super thrilled that our gorgeous directory member, Ink & Paper, headed by designer Grania, participated in this beautiful editorial, in producing the most beautiful, contemporary wedding stationery.
These images are are a result of a creative collaboration last year in between lockdowns, where a group of British wedding suppliers came together to reimagine wedding day style and tradition.
Words by Michelle of the very talented Kernwell Photography follows.
Kernwell Photography

+ Follow
Purpose and Inspiration
This year has brought so many challenges for brides and grooms to be. Wedding plans have had to be changed, delayed and downsized in many cases.
With upheaval, however, comes opportunity to rethink traditions.
We wanted to explore how a couple might find a silver lining in reimagining wedding traditions to create an intimate wedding that truly reflects their journey together, through thick and thin.
We imagined a fun, modern couple, who have been together for a number of years. On their day, they throw out superstitions, waking up and getting ready together. They walk down the aisle hand in hand and read their heartfelt vows to each other.
Although they cannot travel, they've brought the best of a destination wedding to life through their mid-century Palm Springs inspired styling, which features palm leaves, billy palls, proteas, and a breezeway block inspired cake.
Our couple ends a day of celebrating their love by chilling together on the couch.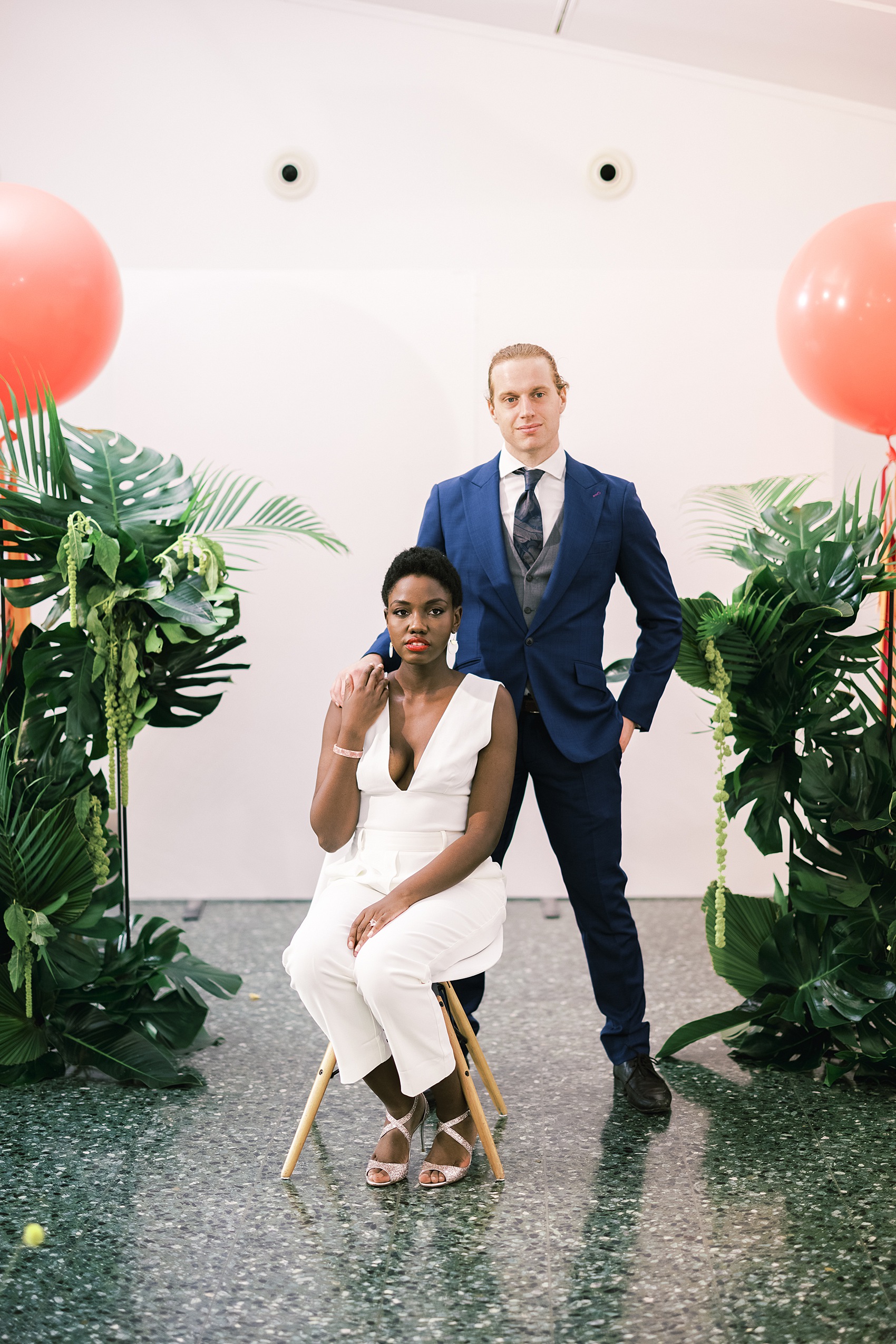 Design/Style & Suppliers
Michelle (Kernwell Photography) and Katrien (South Event Specialists) worked together to develop a concept of a fun, modern couple remaining wedding traditions with a playful and vibrant Palm Springs-styled wedding.
We wanted to create a mid-century feel based on the vibe and colours of Palm Springs. Nestled in southern California's Coachella Valley, Palm Springs is an icon of mid-century modern design.
Houses are flanked by crisp white breezeway blocks and contrasted with vibrant coloured doors and palm leaves.
Our primary palette was composed of a combination of palm leaf green and bright yellow, offset on white. Secondary pops of peach and grapefruit mimic the playful colours of the Parker and Saguaro hotels. Grania of Ink & Paper created a stationery set which played with these colours, as well as used bold, curved shapes. She also created vow booklets, including the custom vows written by our celebrant Caroline Lambie.
Our modern bride, Chish, is dressed in a gorgeous high street jumpsuit from Reiss. With a plunging neckline and open back, it is sophisticated and cool.
We paired it with a white suit jacket for formal moments, and a hat and veil from Sash and Veil for moments of sunshine. Bev of Makeupology kept her makeup classic to emphasise model Chish's features, but with a bright red lip colour.
Our groom James wears a stylish, yet relaxed blue three-piece suit from Keye London. The peak lapel adds vintage detailing and his tie incorporates the large leaf patterns from the ceremony.
Catherine of Catherine Short Floral Design incorporated the mid-century vibe into the ceremony with the emphasis on the unique shapes of large palms and monstera leaves.
The aisle markers and table florals carry this feel through the use of billy balls and orange proteas. We used oversized coral balloons from Bubblegum Balloons to mark the ceremony space and add playfulness with their pop of colour.
Katrien took inspiration from modern interior design for the table designs. Dark plates were used to offset the bright stationery and green napkins, as well as the white vases and candle holders.
The folds of the white vases mimicked the texture of the palm leaves to continue the design throughout. The iconic Eames DSW chairs from Yahire complete the mid-century look.
Meera Makes created a cake which incorporates a classic breezeway block design as the middle tier. We wanted sharp lines on the cake, with a stucco styled texture.
Biscuit favours incorporate the palm leaves and coral colours, while providing a tasty party snack for guests.
With the photography, we wanted to capture a joyful, connected and intimate wedding – full of love but not overly serious. Phil and Michelle of Kernwell Photography captured the shoot in a hybrid of digital and analogue film to give it that film lightness and colour.
Hanh of Hanh Made Films  created a joyful video that captures the mood of the day beautifully.
Location
We were looking for a venue that could bring to life the feel of a Palm Springs destination wedding in London. To us, Palm Springs is all about the architecture and unique design, with bold white buildings offset with vibrant accents of colour.
The Ecology Pavilion was the perfect fit to achieve this vision. The clean white walls, curved roof and distinctive skylights evoke the mid-century architecture of Palm Springs, while the glass wall provides beautiful natural light.
These unique features together with the venue's neutral palette provided the perfect canvas for us to add colour and style.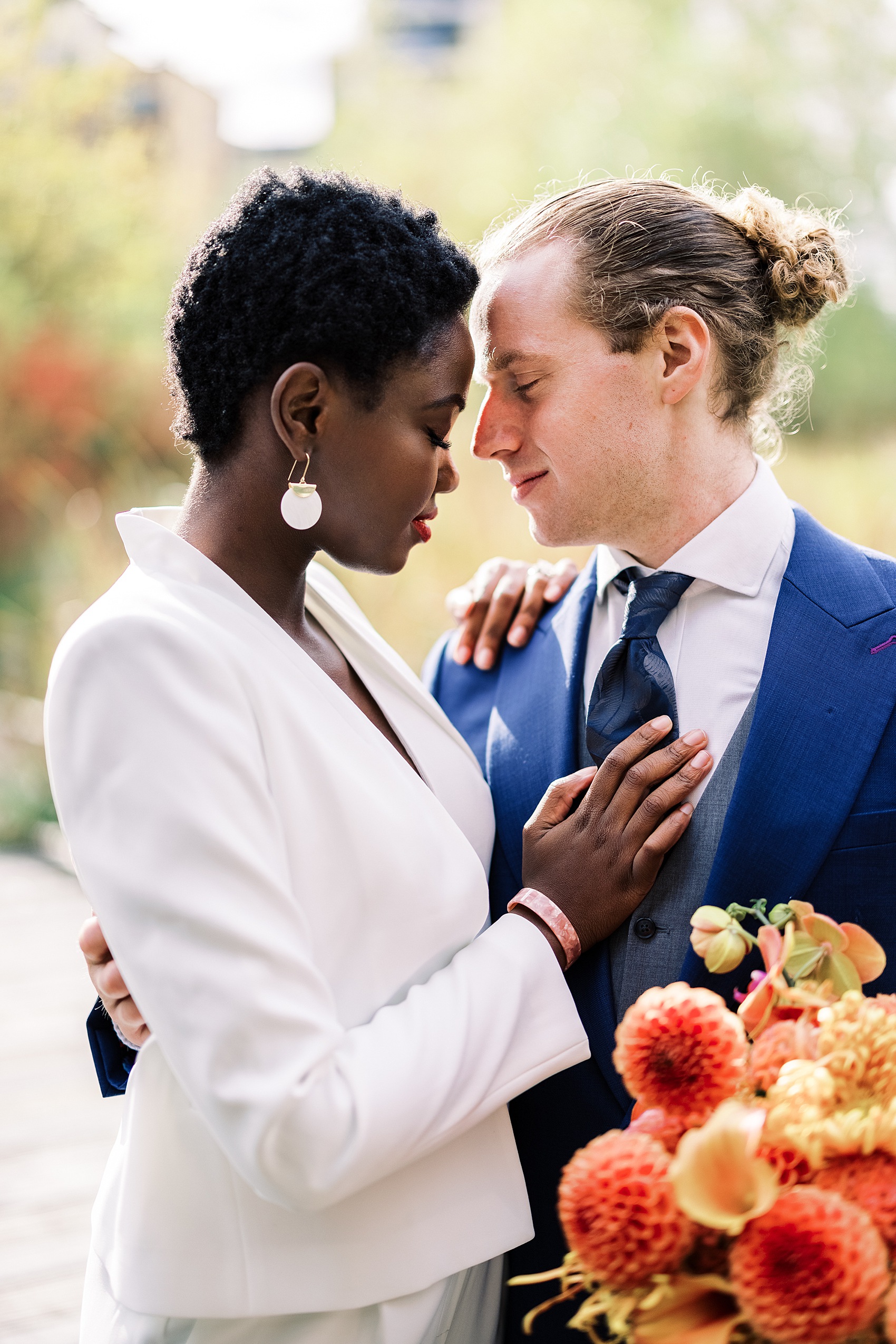 As a bonus, it also provides ample outdoor space, perfect for capturing beautiful wedding portraits, including a nearby pub appropriately named The Palm Tree.
On a sunny day, you might be forgiven for thinking you've been transported to California!