Hope. Never before, at least, not in many many years, has our nation woken, feeling such collective hope. It's electric.
It's not just the longed for win, ahead of the UEFA EURO 2021 final this evening, but the incredible, bright light of optimism that we've dared to let enter our thoughts and creative spaces, ahead of our much anticipated 'Freedom Day', on 19th July.
Each & Every Moment

+ Follow
As I wake myself to a peaceful morning (it certainly won't be peaceful after kick-off this evening), I can't help but feel a sense of pride. Not only for our beloved England team, but for my brilliant and exceptional friends and colleagues in the wedding industry.
The past 16 months have been beyond any measure of merely 'tough' .They have been unquestionably traumatic. To have spent so long with so much uncertainty around our livelihoods and financial security has at times been mentally crippling. But creative individuals find hope through even the most debilitating of experiences and this beautiful film and exquisite images you see here today, represent such creative hope.
Benjamin Wheeler

+ Follow
These images today were a special project, a collaboration between a collective of talented souls our industry should be incredibly proud of.
They represent artists and designers at the top of their game, who came together with one focus in mind, hope, and a desire to visually project their feelings of hope through beautiful imagery and film.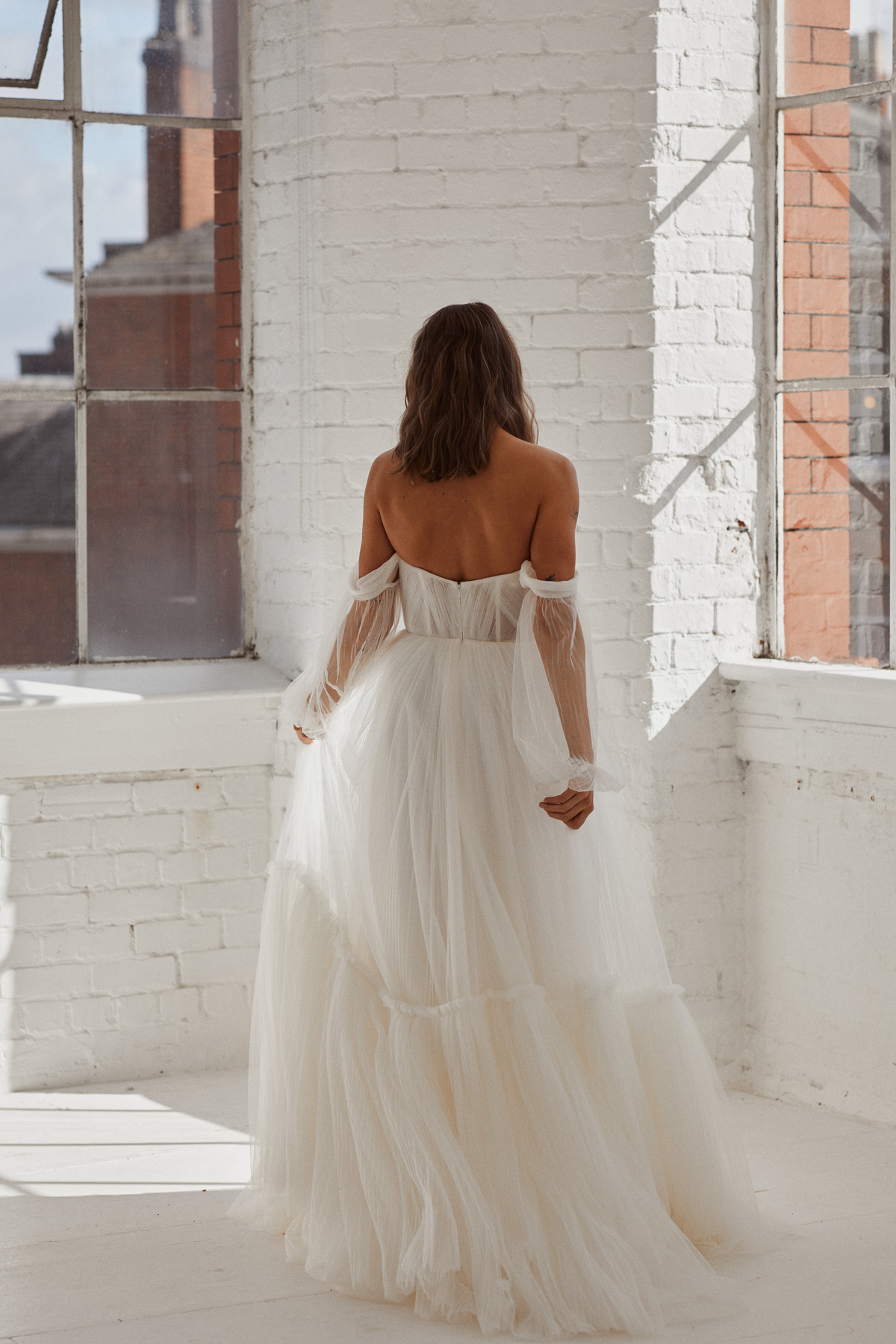 Leading this collaboration were destination wedding planners, Isla & Smith, who teamed up with floral designer extraordinaire Jennie of Liberty Lane, the incredibly talented film maker Angel and Taiba of Each & Every Moment and photographer Benjamin Wheeler.
I will leave you to enjoy the fruits of their creative labours…
"It had been a long old winter – the third and lengthy lockdown weighing so heavily on us all."
"We were craving something fresh and hopeful-for a year of weddings to go ahead, impossible restrictions to be lifted and otherworldly beauty to be created."
"That's when we got our heads together with photographer Benjamin Wheeler and floral designer Liberty Lane, to produce a studio based shoot of simplistic beauty, flooded with delicious natural light."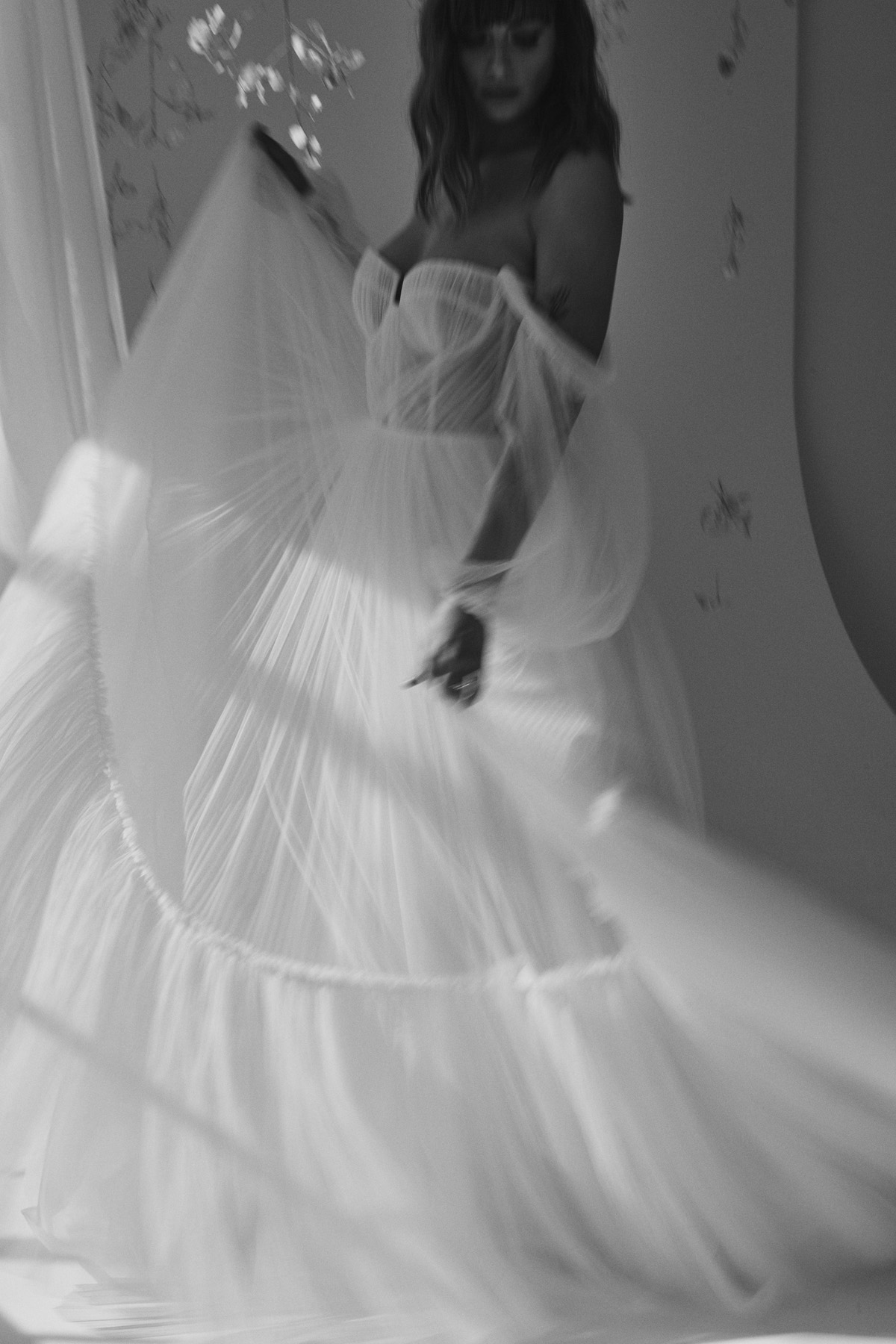 "Using one of Manchester's stunning converted warehouses, we were blessed with incredible sunlight (thank you Manchester for turning on the charm) dancing through the sculptural honesty installation Jennie at Liberty Lane had produced."
"Delicate, strikingly simple and offering a purity like no other flower could, we chose it for it's symbolism – known for being protective and keeping away (covid!) monsters."
"In the middle of a hellish pandemic which had turned most bride's world's upside down, it felt utterly appropriate."
"We gathered breathtaking tulle, buttery metallic silks from New York and playful ruffles from the amazing Ghost Orchid Bridal Boutique and The White Closet-both flying the flag for the north's upcoming fashion forward scene, paired with Miu Miu and Cecilile Bahnsen for an unconventional take on life celebrations."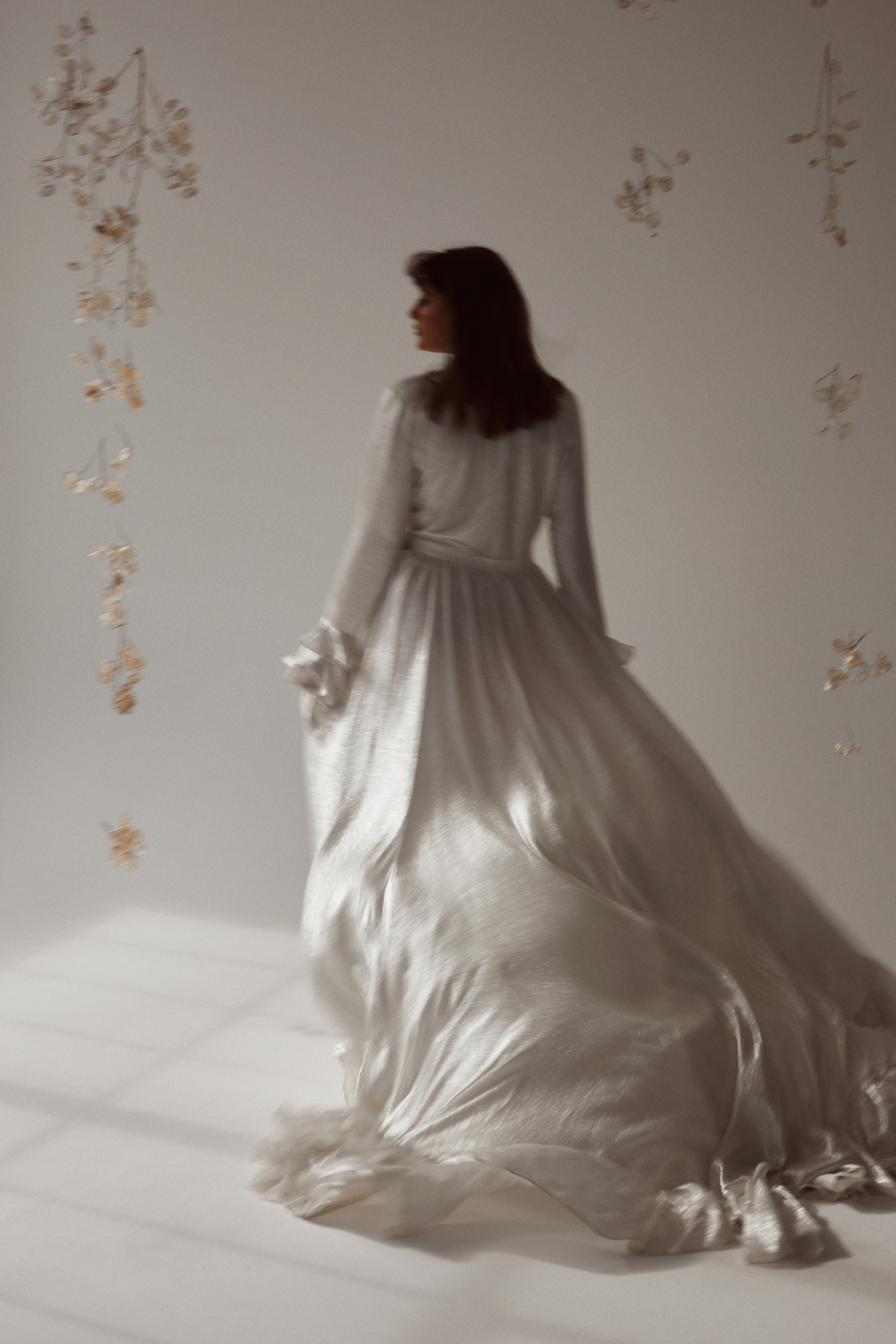 "Plump glowing skin by hair and makeup artist Amy George, and the softest hair waves added the final pizazz we needed to set this studio based shoot alight."
"Showcased against the white washed walls of the studio, it's all we needed to press reset on a fresh, clean start in 2021."
My love and thanks to the incredible team behind this sublime film and images, it truly is an honour to share your work.
Ahead of this evening and ahead of tomorrow and whatever they may bring, lets hold our thoughts of hope together. I hope you feel that collective energy today. I certainly can.