Right now, bridal fashion designers around the globe are launching new collections.
There is a flurry of daily activity in my inbox – PR managers reaching out asking for coverage, invites to shows in New York or digital invitations to join the runway  presentations via Zoom. For me, this is an exciting time – a revival of creative spirit after a life altering period that has impacted every one of us around the world.
One might think it would take an audacious designer to step forward with a collection of just 3 designs at this time. I say it takes someone fearless, courageous and someone who has learned hard from the lessons of the past 18 months. Today, I am over the moon to be able to share this breathtaking collection of new designs from my friend and internationally renowned designer, Kate Halfpenny of Halfpenny London.
Halfpenny London

+ Follow
Film & Photography by Zach & Grace
"There have been many times in my career as a fashion designer which have felt significant in the moment, times I knew I'd look back on as moments of change, the bridge between the past and future, old and new."
"This new collection, 3, is exactly that."
Orchid Puff Sleeves, Hyacinth Dress
"We've had an intense, incredibly exciting summer of brides finally tying the knot and they have been our main focus."
"Our atelier team have excelled themselves, going above and beyond to ensure every bride's outfit was perfect for their big day."
"Personally, I was also forced to slow down too after a knee operation and I was reminded, yet again, of how important it is to take care of ourselves."
"With this in mind, we made a decision to rest, reflect and re-charge instead of going full steam ahead into a new collection, creating lots more newness which isn't needed right now. However, the urge to inspire is strong."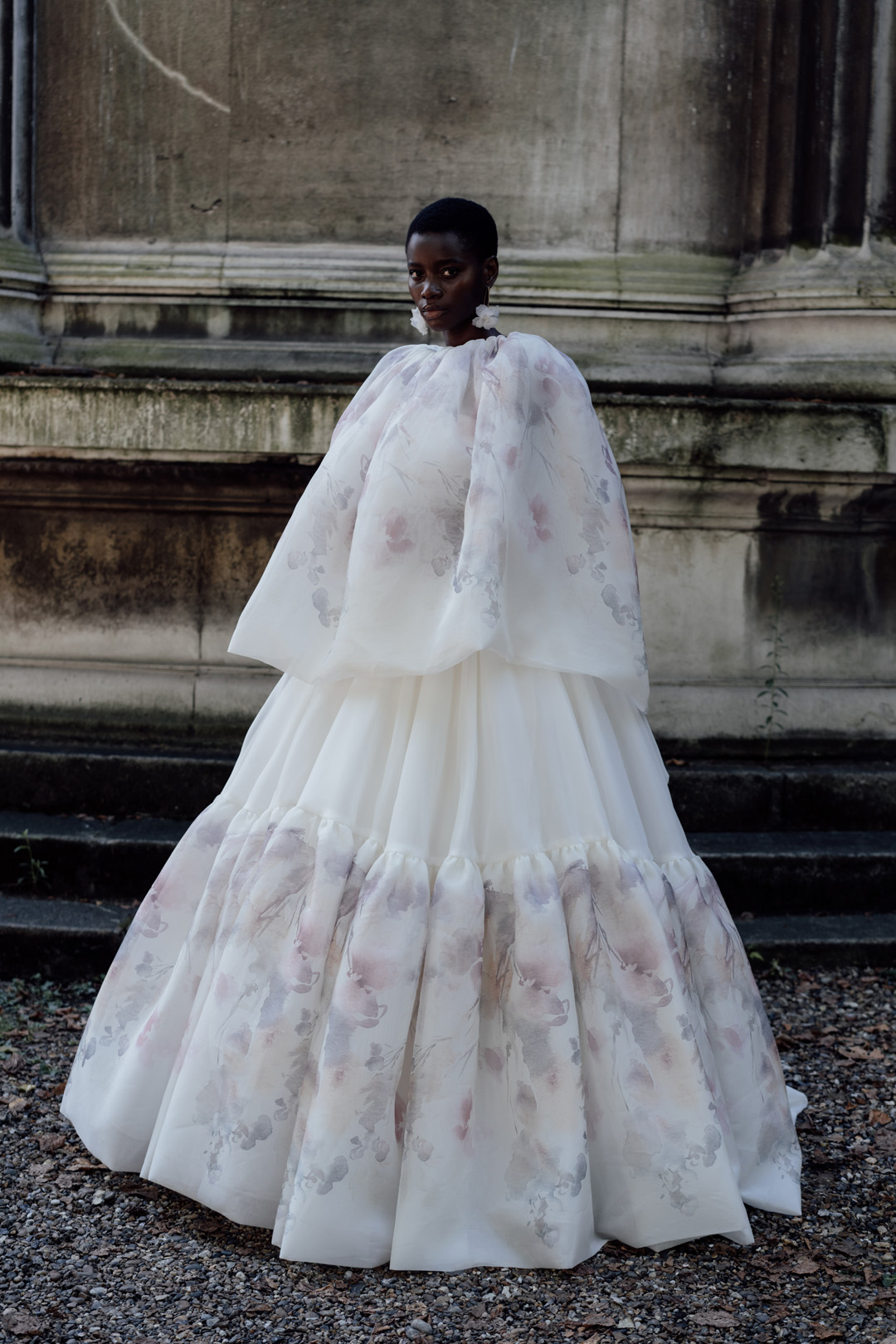 "This season, we focussed on a small number of pieces, relishing the opportunity to immerse ourselves in craft, indulging in the process of sculpting these designs into their final, striking form."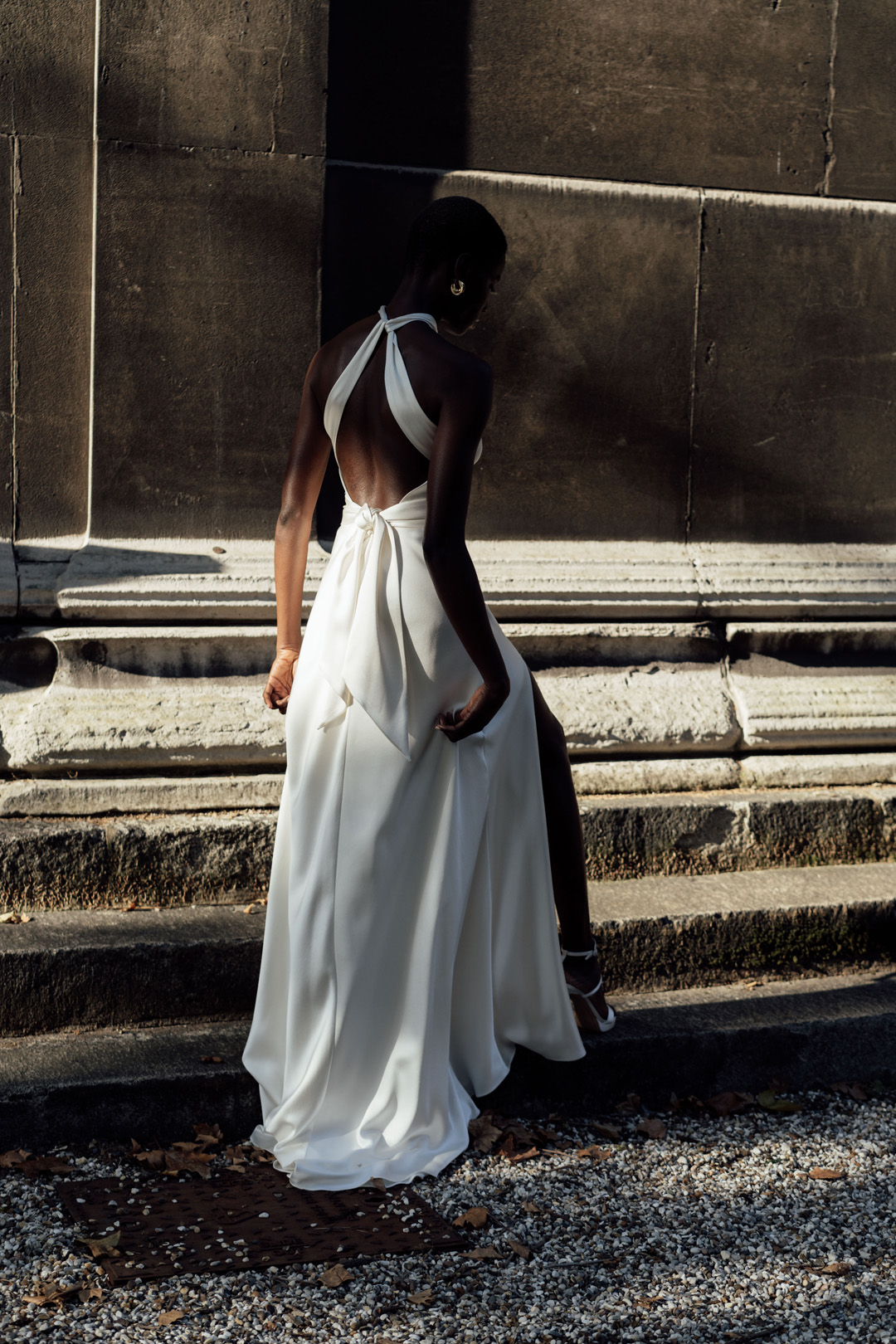 Kate Halfpenny started her career as a costume designer and celebrity stylist before founding Halfpenny London in 2005. Since then, Halfpenny London has become one of the UK's leading luxury bridalwear brands, crafted in England.
Kate's exquisite and highly distinctive pieces transcend the world of bridal and have become coveted by the fashion elite with impeccable red carpet style. She is also a passionate advocate of body confidence.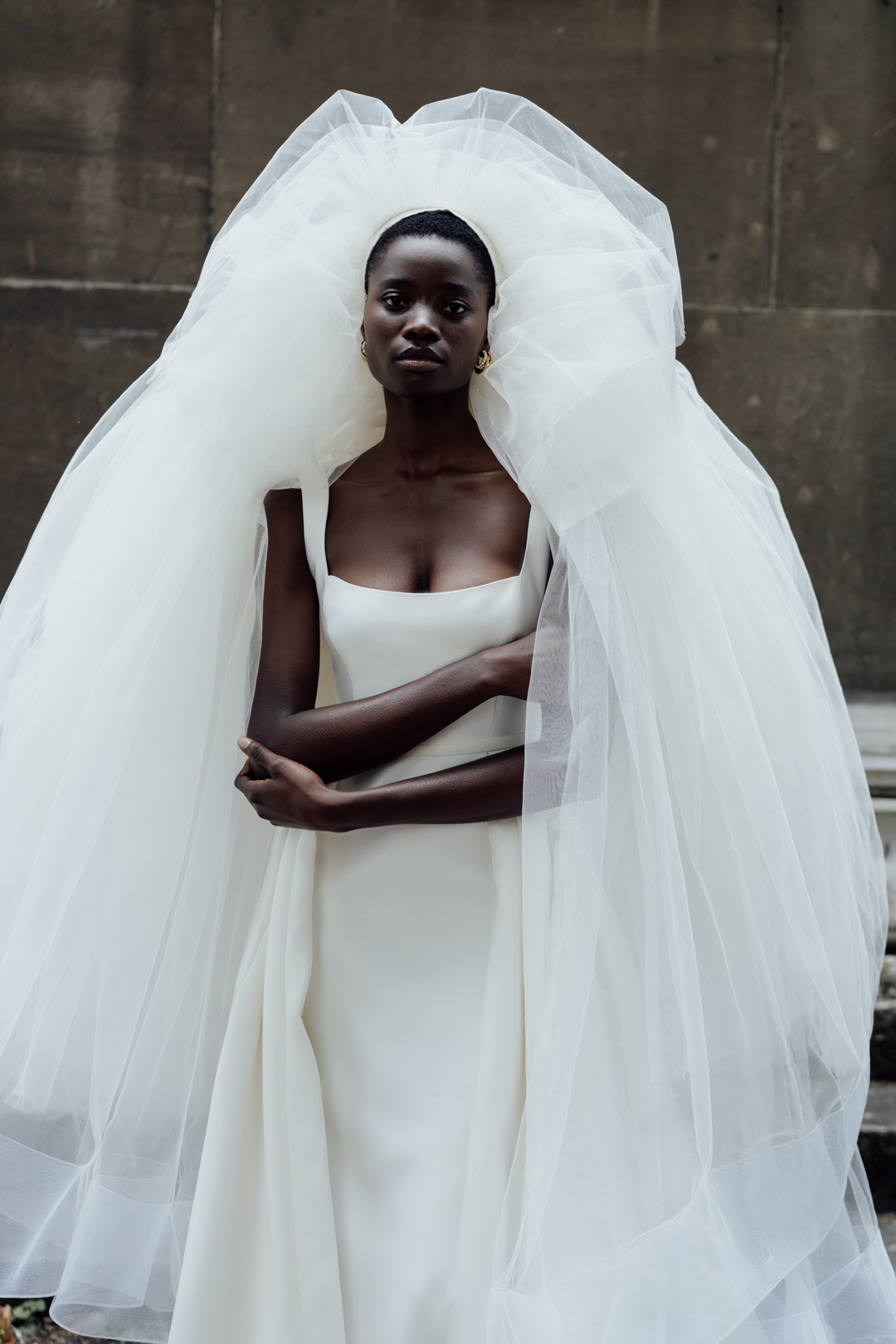 Cheryl Split Dress
All fabrics are responsibly sourced and all off cuts are recycled into design details and added onto gowns to avoid waste.
Where this isn't possible, Kate ensures she donates end of line fabrics and samples to schools and universities ensuring no fabrics are landfilled.
Dahlia Dress
"My team and I have explored the boundaries of our fabrics in new and exciting ways, using their capabilities to perfect construction of these simple, beautiful garments for our brides to enjoy and style as they wish."
"As always, each piece can be worn with heritage Halfpenny London styles, allowing our brides to express themselves fully and be the bride they want to be."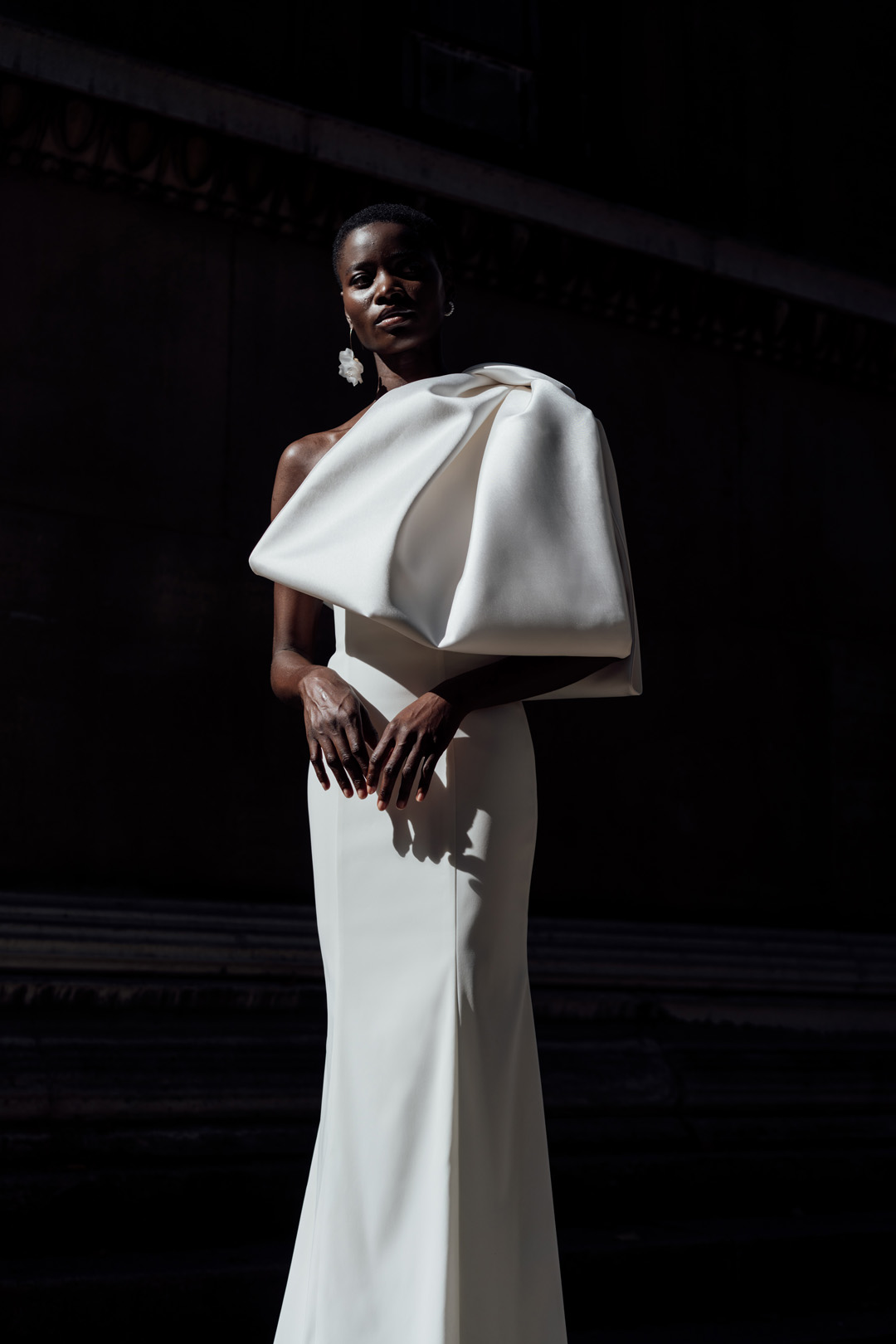 Dahlia Bow, Hyacinth Dress
Breathtaking. Moved. Emotional. Connected. Aligned.
These are just a few of the feelings and emotions I felt when I first saw these beautiful images.
Foxglove Dress
Kate's words that resonate most deeply with me are as follows:
We made a decision to rest, reflect and re-charge instead of going full steam ahead into a new collection, creating lots more newness which isn't needed right now. However, the urge to inspire is strong. Kate Halfpenny
f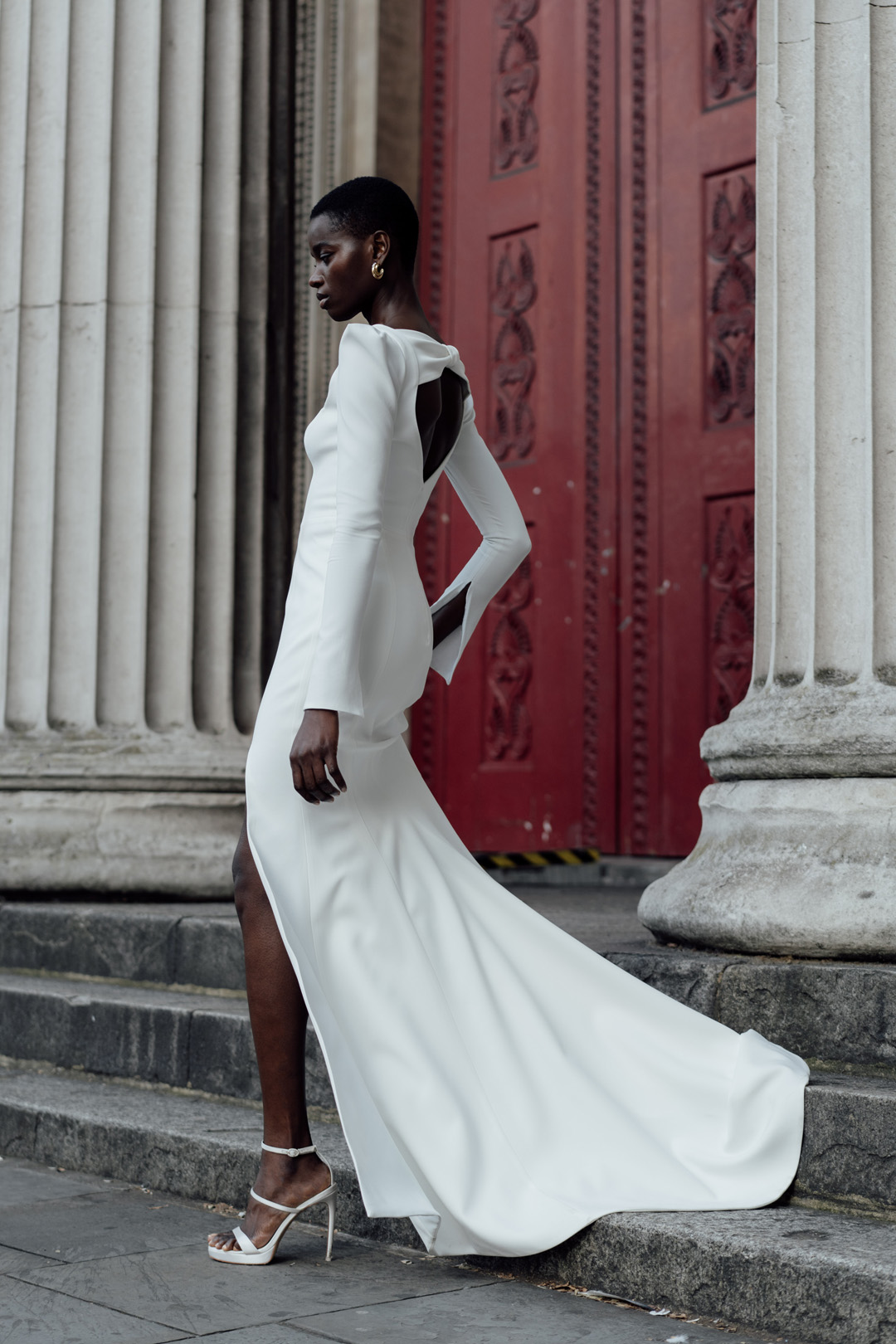 I absolutely love what Kate has done here. 3 is a heart-led response to the need for a creative to create in these strange and special post pandemic times, when we are all, and especially those of use who work in the world of weddings, trying to find time to reflect on it all, process and find meaning.
Foxglove Dress, Tulle Cape
Next month, Love My Dress turns 12 years old. Within all of that time, and right from the very off, there has been one designer who has been a constant – a loyal friend, supporter and believer in the work I do.
But also, an ambassador of British bridal fashion, an innovator and talented creative soul who has continually evolved her brand in her own unique way.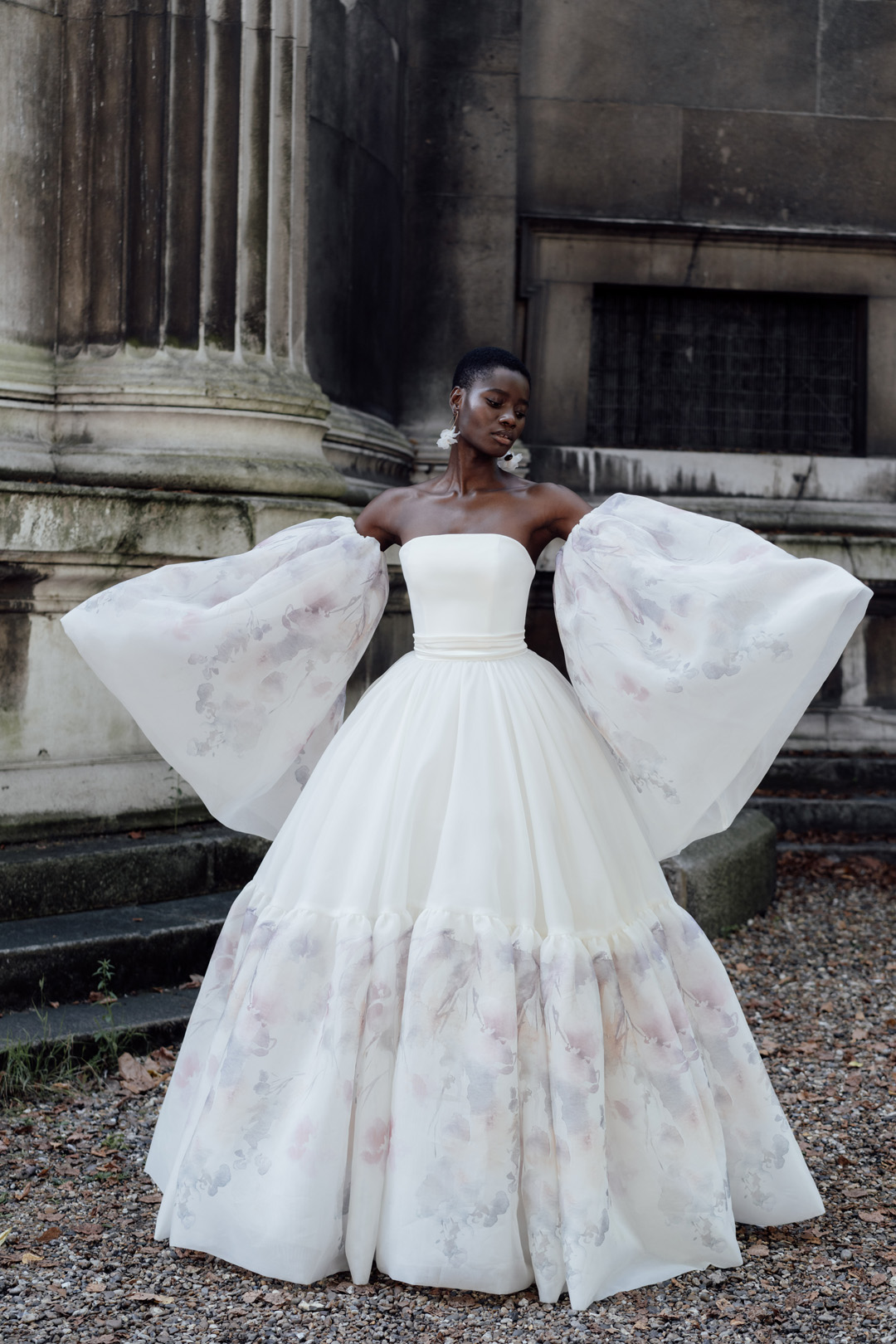 Kate, I salute you. Keep being you my friend. Keep evolving in the way that you do. You are a complete inspiration.
To find out more, visit halfpennylondon.com, email [email protected] or telephone the boutique directly on +44 (0)20 7388 7300. Kate's boutique is located at No.10 Woburn Walk, Bloomsbury, London, WC1H-0JL. Her designs are also available to try on at some of the best British bridal boutiques. You will find a list of stockists here.
Respect and love to my dear friends Zach and Grace for producing these spectacular images and video for Halfpenny London. As well as being the most incredibly talented editorial content producers, Zach & Grace are also the most superb wedding photographers and wedding film makers. I encourage you strongly to check out their work via their website and Instagram page.
Both Halfpenny London and Zach & Grace are members of our recommended supplier directory. We cannot recommend them more highly and are extremely proud of them.