Dried flowers and grasses are in abundance at the moment and I am here for it, especially having seen the way they've been styled and woven into the wedding day of Alex and David. Please, join me in Clapton, London for this simple yet vibrant celebration.
Client director Alex married creative director David on 9 October 2021 at Core Clapton, a former Parish hall which is now an exquisite, light-filled blank canvas venue in East London.
Photography A Thing Like That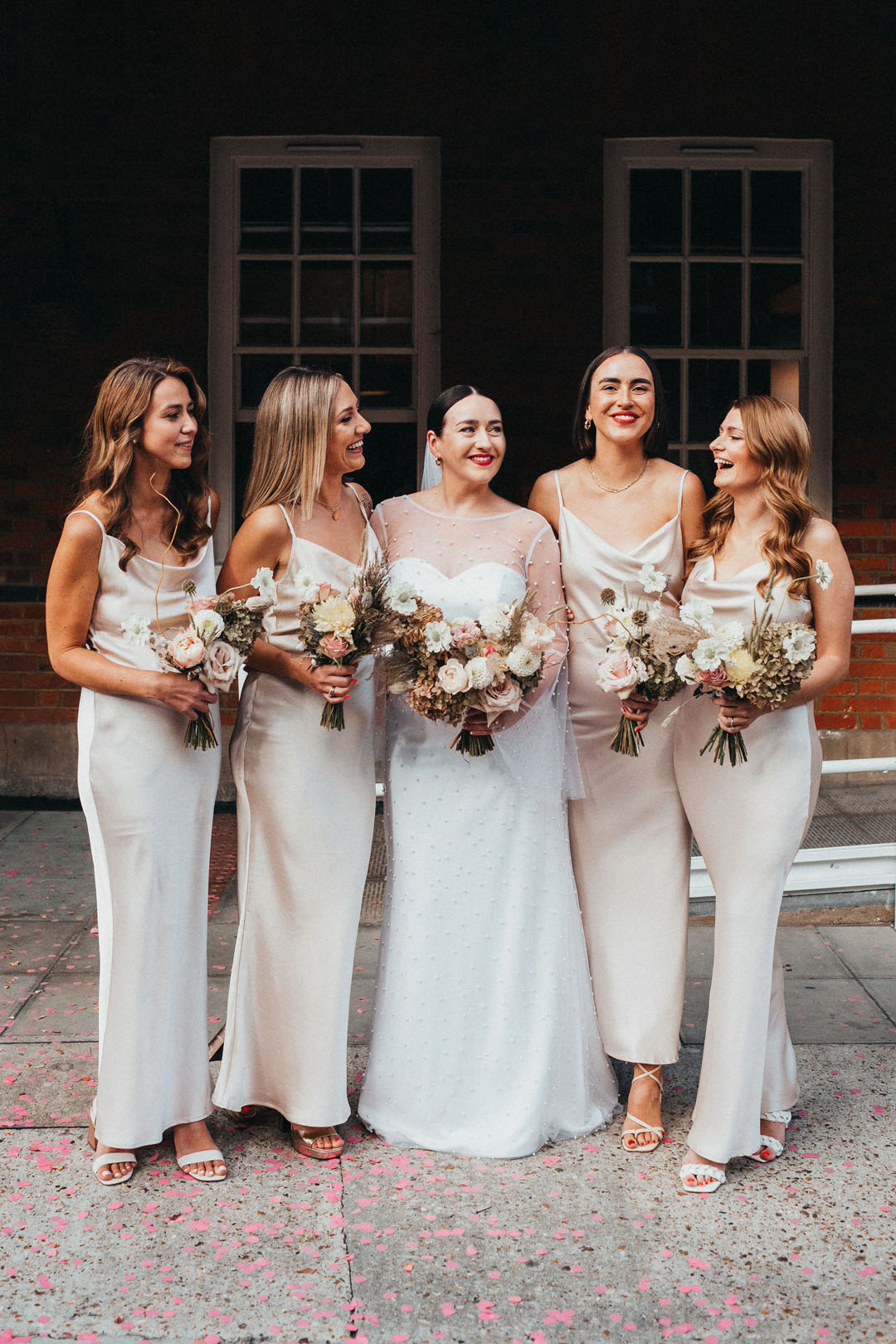 In keeping with the neutral colour palette, the bridesmaids wore oyster-coloured, slip dresses from SilkFred.
"The girls all wore different shoes and I wanted them to choose something they would wear again so not to be wasteful. They all wore pearl jewellery from Alighieri."
Matching the pearl embellishment, the bride chose chunky Charlotte Mills shoes with pearls scattered on the heel.
She kept her veil simple to let the bridal separates sing, choosing it at Story of My Dress.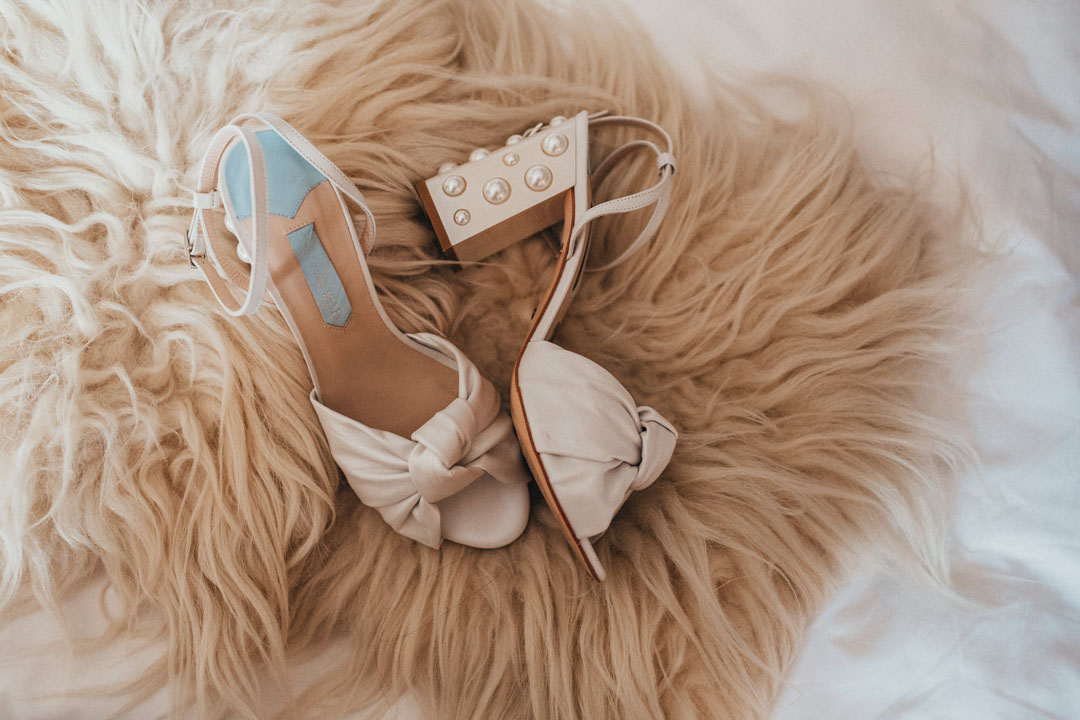 "I took off my veil following dinner and clipped in a cute ivory bow from Gigi & Olive."
"I wore Alighieri earrings and David bought me the matching necklace as a wedding gift."
"My bridesmaids bought me a pearl bracelet from Monica Vinader which complemented the dress perfectly."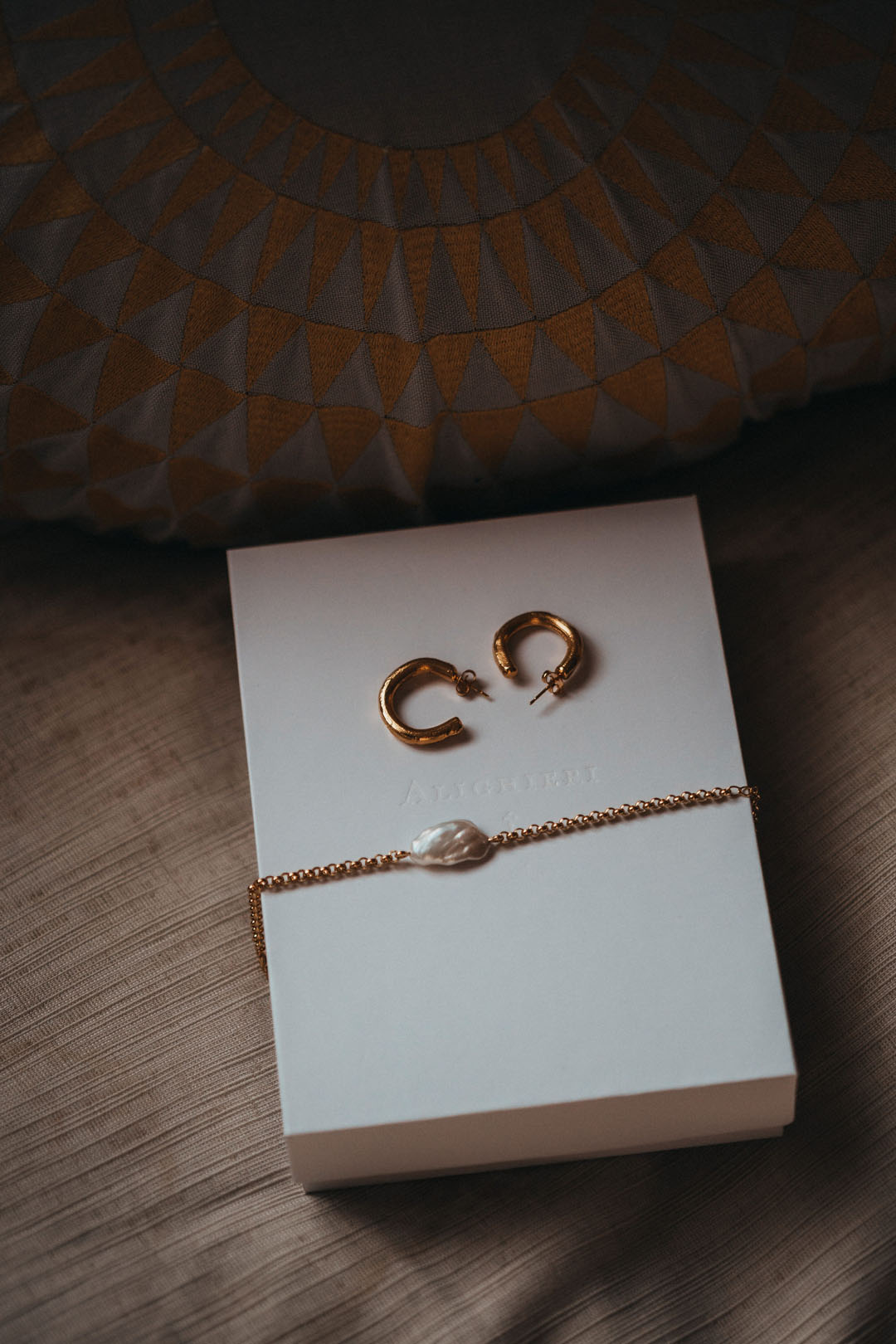 After David and Alex got engaged, they went to Liberty together to choose a fragrance that they could both wear and would represent their wedding journey.
"We both love Byredo and chose Black Saffron which we then wore at every event leading up to the wedding – hen and stag, bridal fittings, food tastings etc."
"We wanted to make sure every time we wore the scent in the future it would remind us of our wedding and all the fun we had in the lead-up."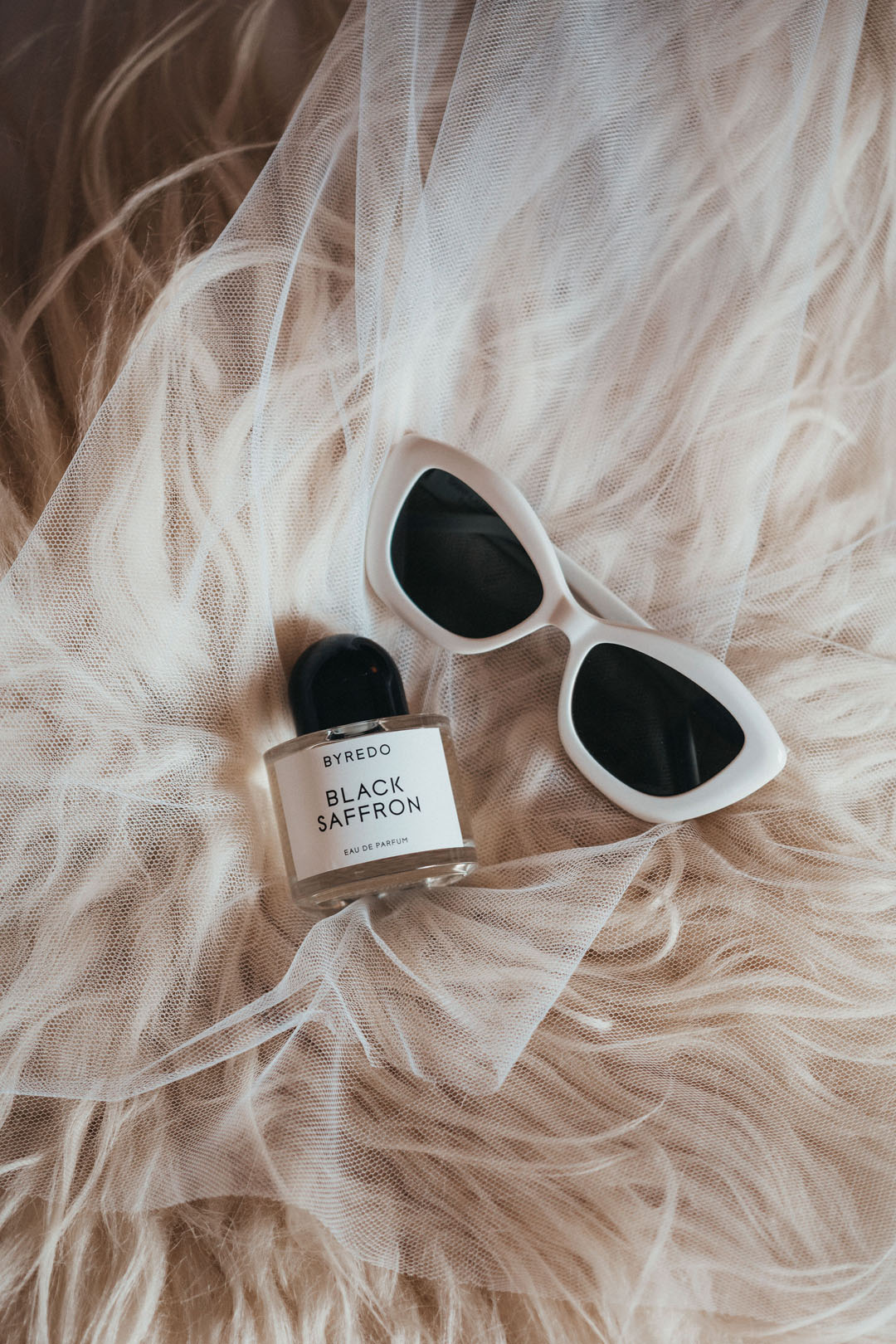 Abi Taylor created the bride's clean and fresh bridal look, adding a pop of bright lipstick.
Alex wore the most fabulous modern bridal separates covered in pearls, which she discovered at Love My Dress recommended supplier, Story Of My Dress bridal boutique in Kent.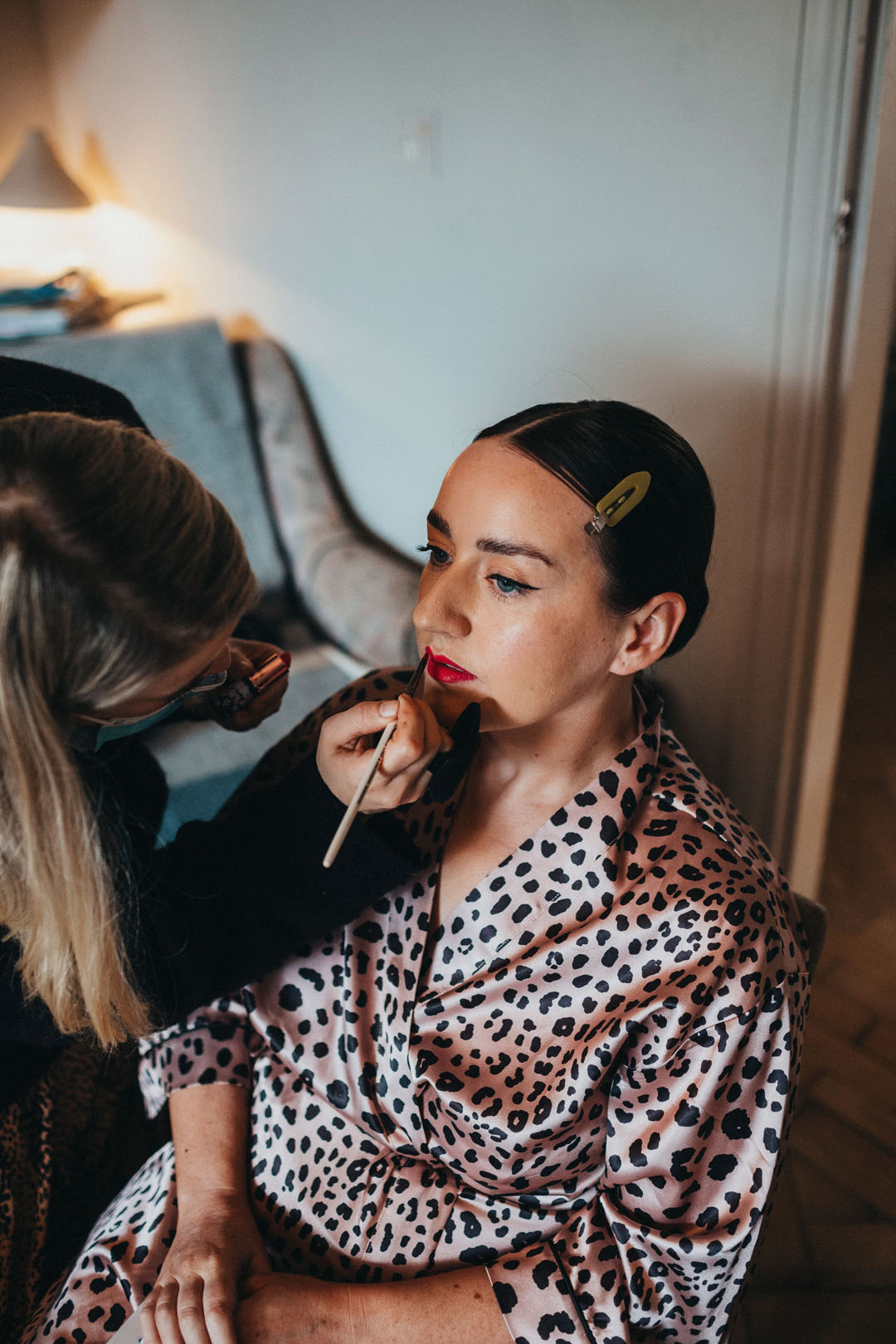 "My experience with Story Of My Dress was my favourite part of the wedding process. Shopping for wedding dresses during a pandemic is so difficult and can be crushing to find out you can only bring one guest, no Prosecco and of course, having to keep your mask on during the appointment. It's surprising how difficult it is to get a true idea of how you look in each dress with a mask obscuring half your face."
"Story Of My Dress made the experience so special, allowing my mum and I to try on all of the dresses alone in the studio so we could take our masks off."
https://www.lovemydress.net/directory/supplier/story-of-my-dress-west-malling-kent-wedding-dress-boutique/
"The team were on hand with styling assistance or tips but it was low-key and friendly." 
"I loved visiting the boutique in West Malling for my fittings and had so much fun during every appointment."
"During lock-down, we did a virtual measurement on Zoom, where David took all my measurements under the guidance of the Story Of My Dress team. It was really nice to have him a part of the process!"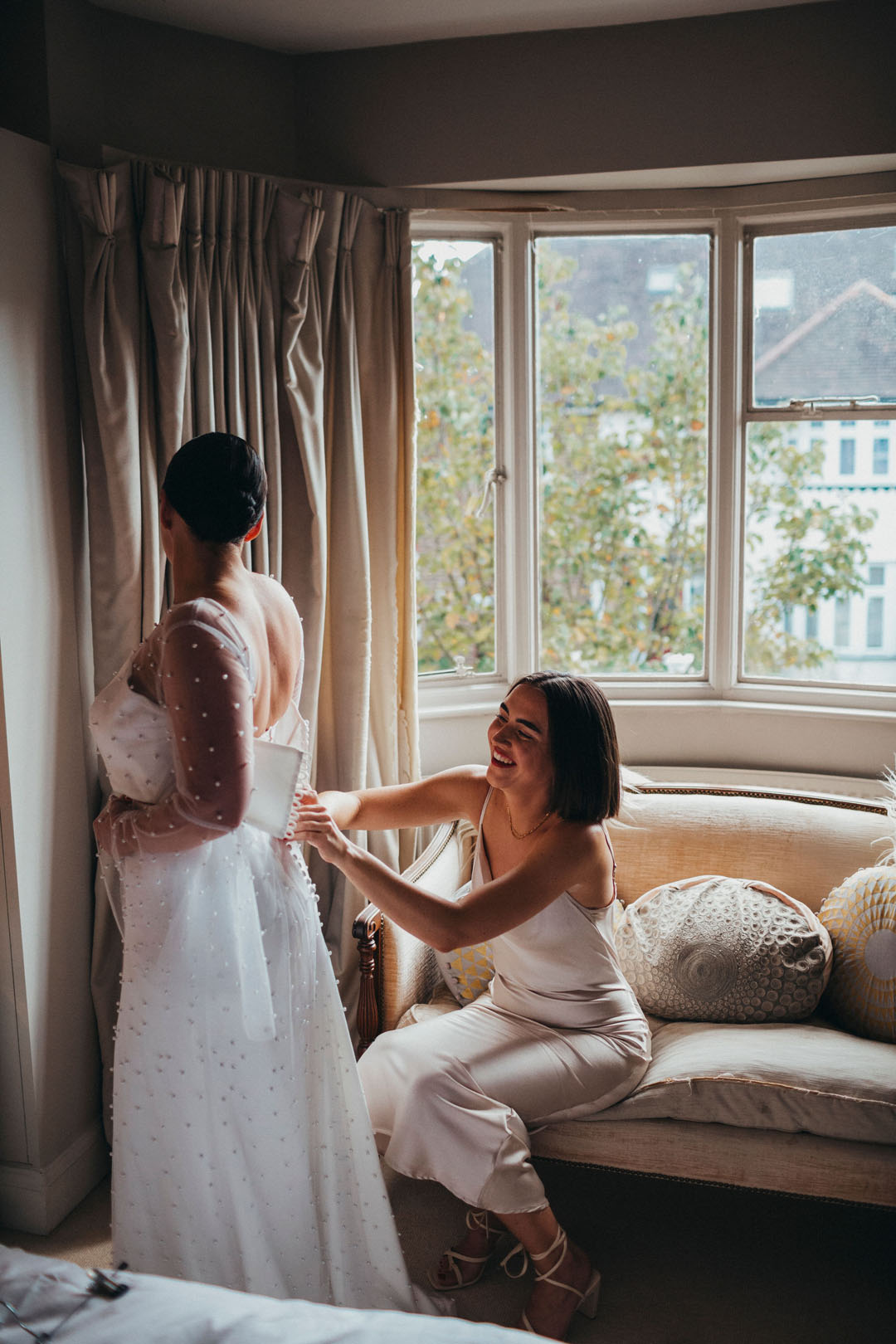 "I always knew that I wanted to wear separates rather than a dress. I wanted to wear something that was an elevated version of my everyday-style."
"I was always up for wearing something a little bit trend-led and was never interested in 'classic' bridal style."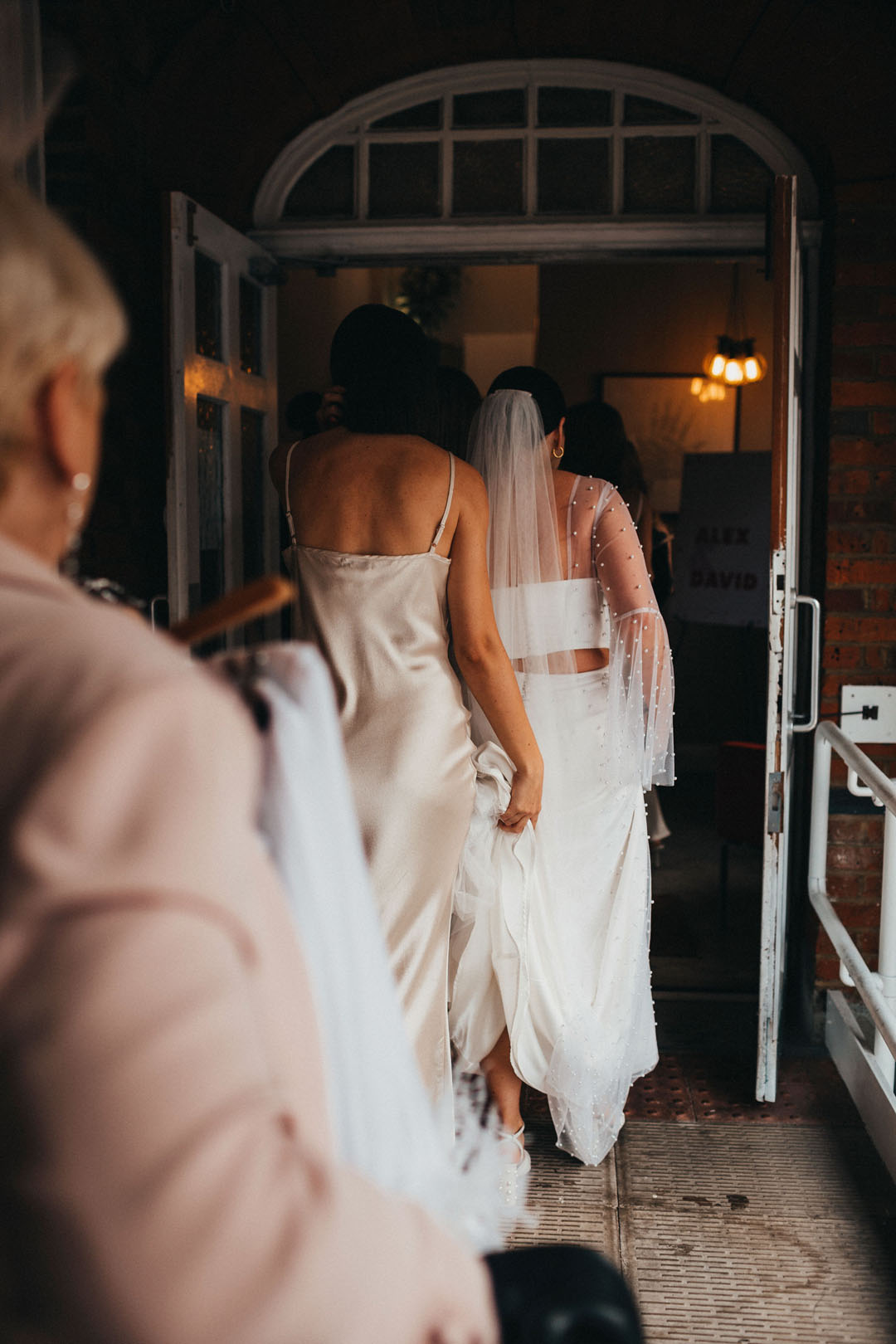 "I was so in love with my outfit and it represents me so well, with the pearls and big sleeves."
I am excited about the idea that in 20 years' time when I look back at our wedding photos, my teenage children might ask 'what the hell were you thinking!?'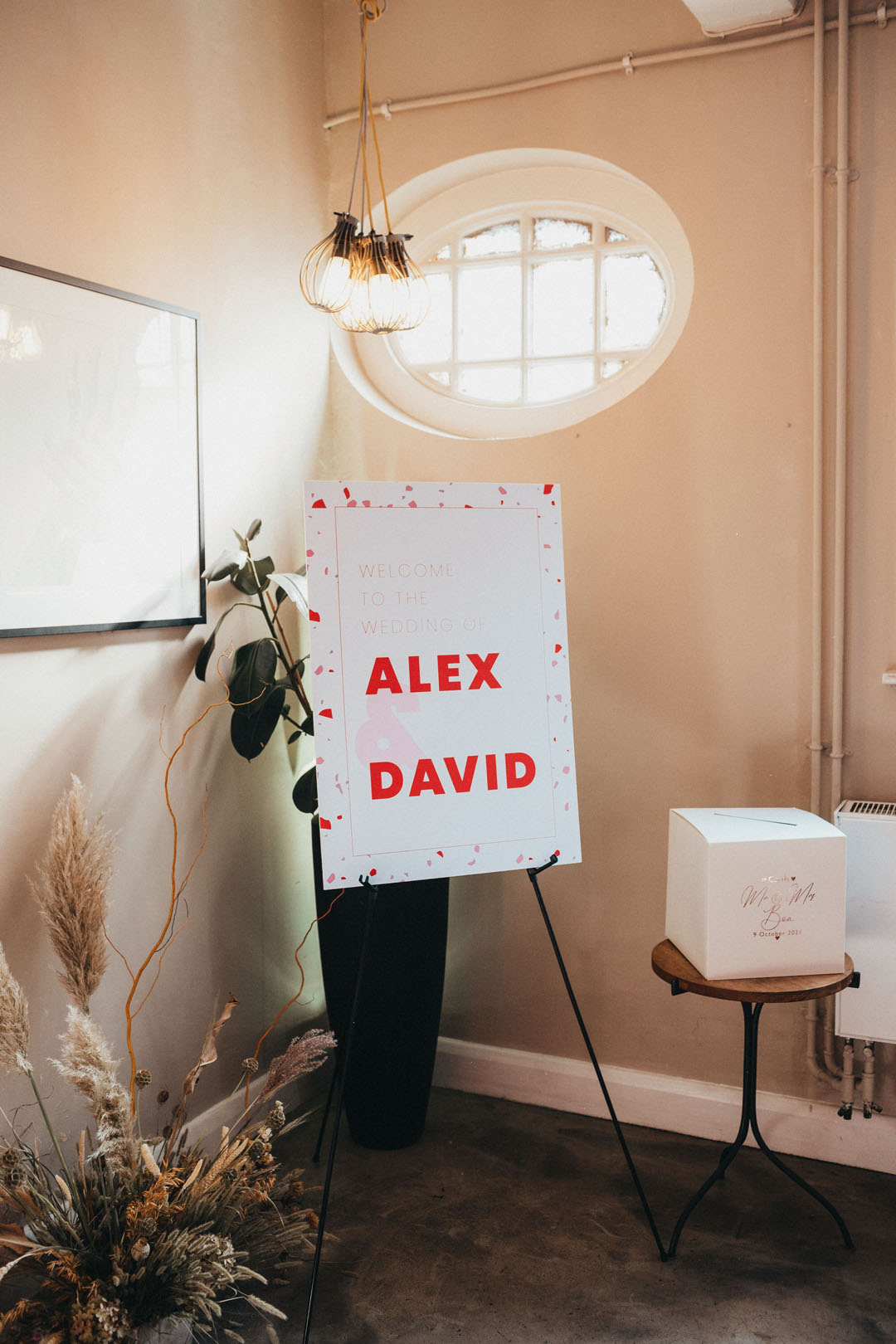 The couple fell in love with the story and style of Core Clapton.
"We chose it because it was a beautiful, bright white space which really encapsulates our style. The building is an old parish hall with an osteopathy clinic downstairs which is charity-run. The fee you pay to hire the space goes straight back into the charity and service the local community. It was a no-brainer. We only went to see one venue and we were in love."
https://www.lovemydress.net/directory/wedding-venue/shoreditch-studios-london/
"We love bright, white spaces. Our house is painted white throughout and we wanted a clean, simple aesthetic with pops of pinks and neutrals."
"The space has beautiful high ceilings and we were conscious that we wanted it feel cosy and not too sparse, so our florist created amazing strings of delicate dried flowers hanging from the ceiling."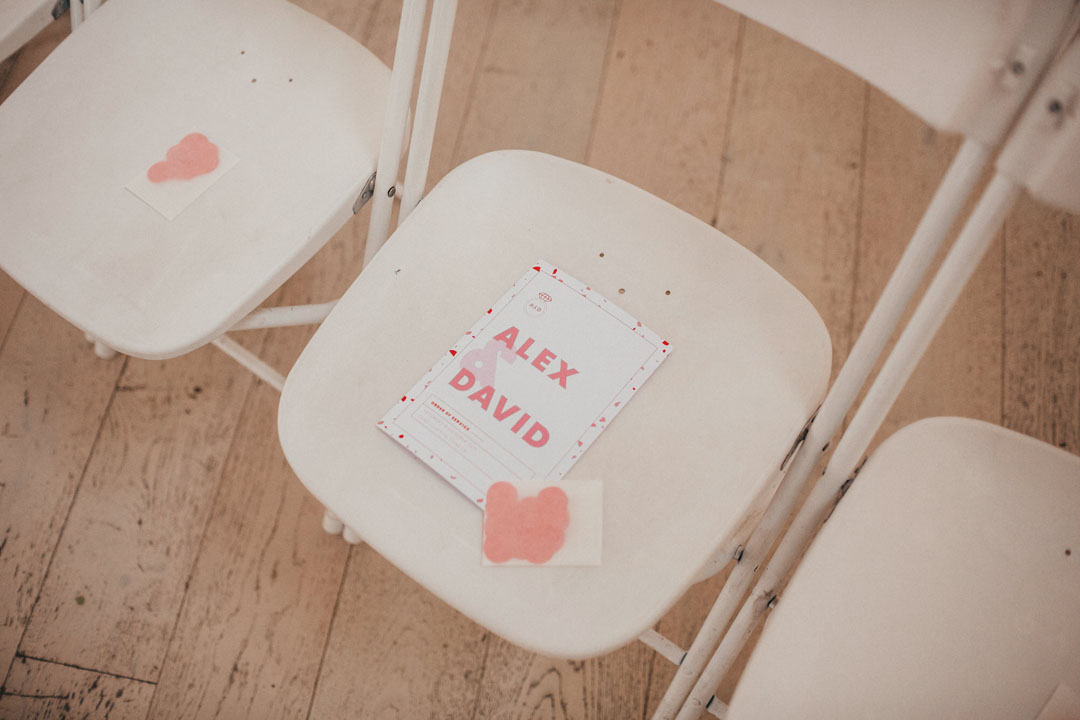 The ceremony room was beautifully decorated with delicate dried flowers and grasses by Design By Nature.
"We wanted a mixture of dried and fresh flowers and wanted to enhance the gorgeous white space at Core, whilst making it feel cosy and fresh at the same time."
"Emily is a creative genius and the flowers were unreal. I wouldn't have changed a thing."
"It was complete heaven and I screamed when I walked in to the room and saw what she had done."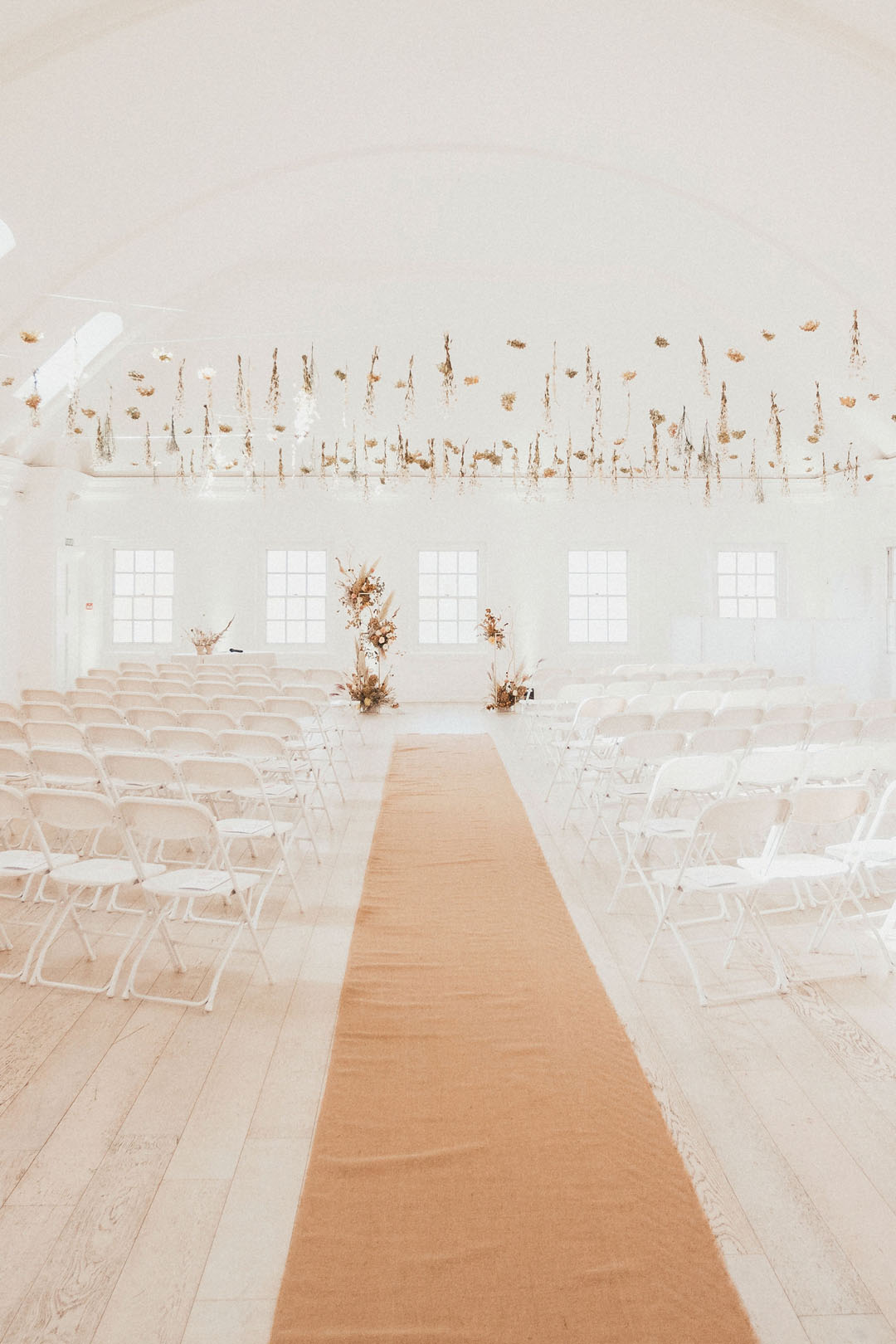 David wore a sharp suit from Paul Smith.
"David bought his suit from the Paul Smith boutique in Mayfair. He tried on a few options with his best men but I came along to help make the final decision."
"The experience and the attention to detail was amazing; David even had our initials stitched onto the cuff of his shirt."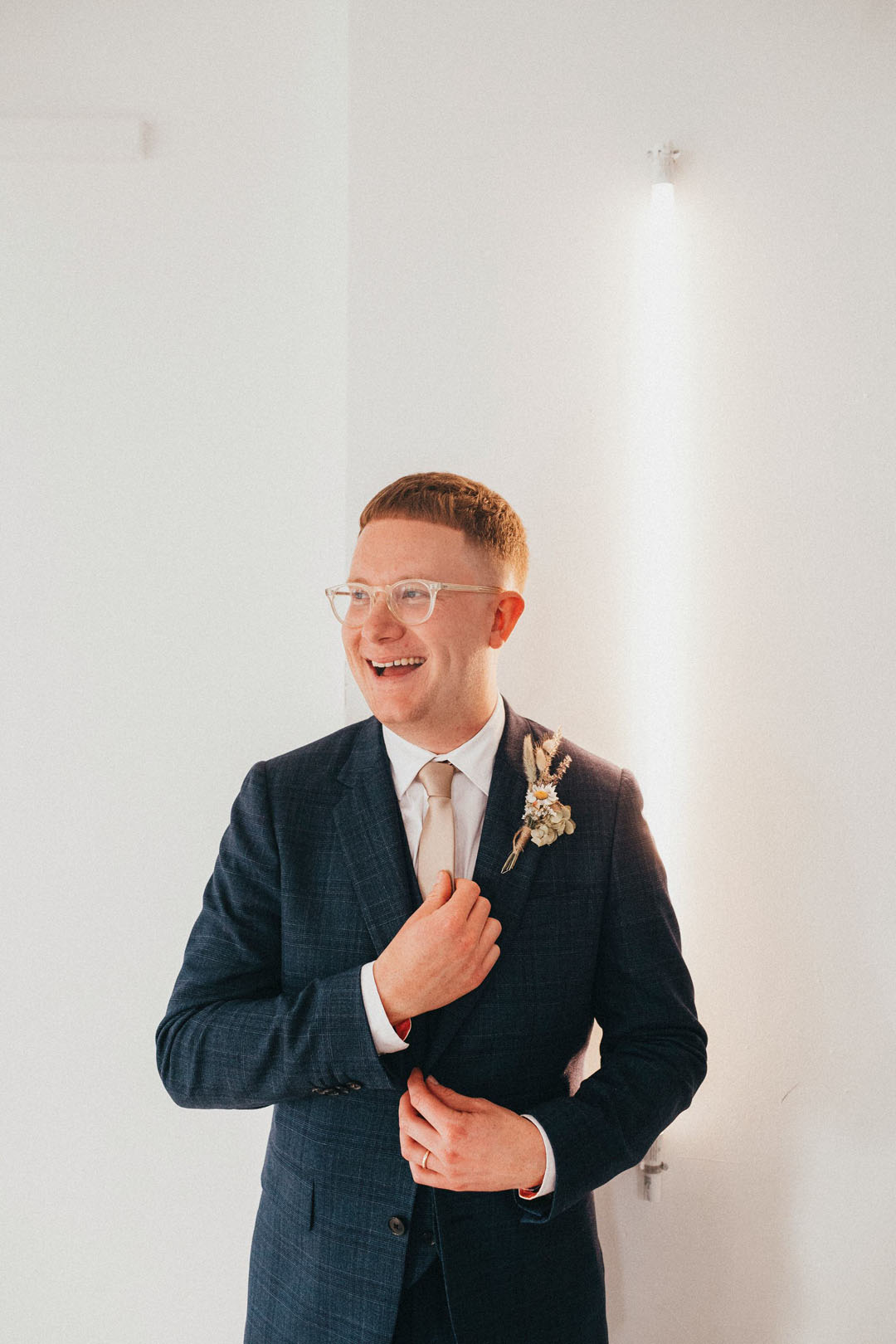 Alex took an Uber to Core Clapton before walking down the aisle with her father.
Bex the Celebrant led the ceremony and Alex entered to Bon Iver's '8 (Circle)', a special song for the couple.
"My favourite part of the day was walking up the aisle with my dad and seeing David at the front waiting for me."
"Having all our friends and family around us to celebrate was surreal and super-emotional."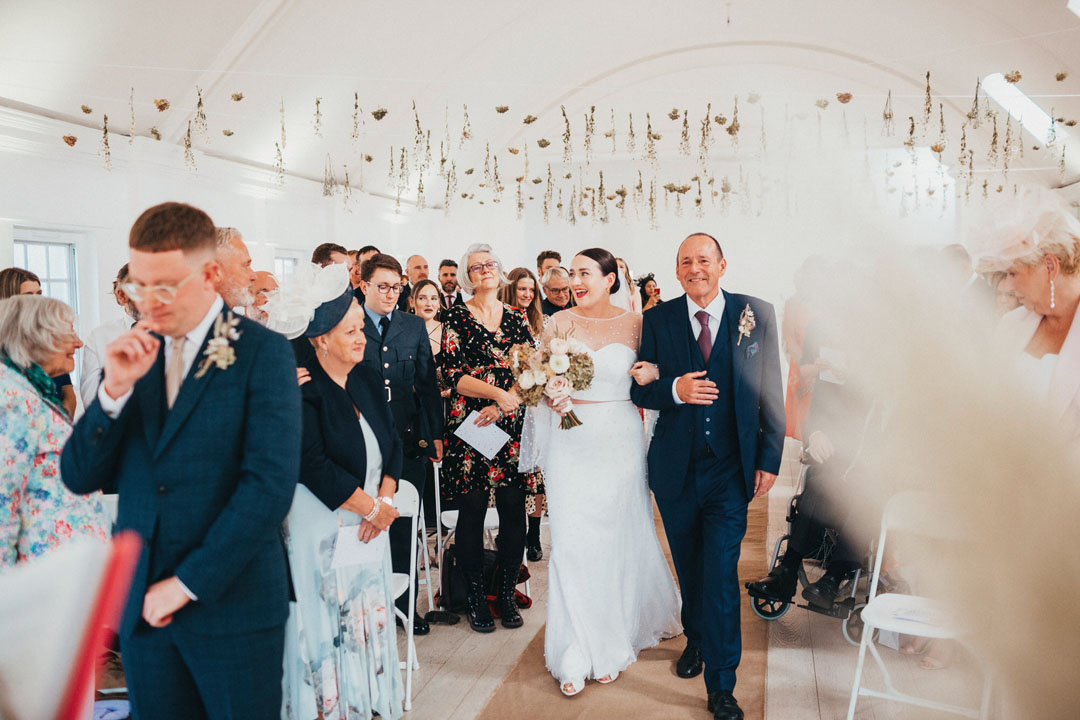 "Bex was divine! We had lots of chats and went for dinner in the lead up to the ceremony so she could really get to know us."
"She crafted a personal, emotional and hilarious ceremony which re-told our story. All of our guests said it was the best ceremony they had ever experienced."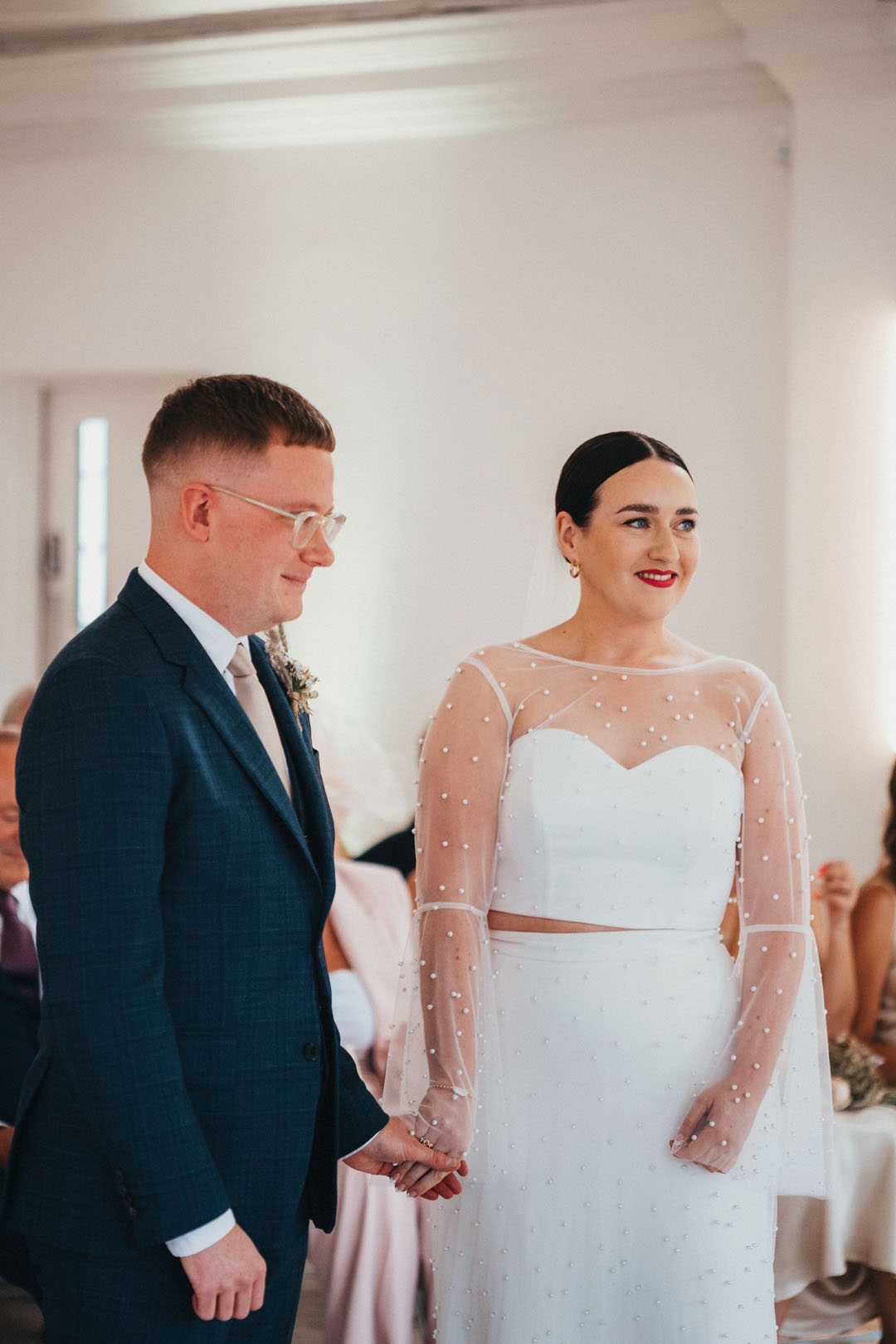 For their legal wedding ceremony, the couple kept their original arrangements but postponed their party celebration until October 2021.
"We were due to have our big day on 12 June 2021 but moved everything but the legal ceremony to October. It worked out really well as we had our legal ceremony at Stoke Newington Town Hall in June with just 15 guests; we call this our first wedding."
"In October, we wanted to make sure we had everything both us and our guests missed out on in June. We hired the incredible Bex The Celebrant and we had an amazing ceremony where my dad was able to walk me down the aisle (which he wasn't allowed to do in June). We did our vows and promises in front of all our friends and families and even had a sing-a-long to Celine Dion."
https://www.lovemydress.net/directory/supplier/the-wedding-day-co-ordinators/
Alex has more details to share about their summer ceremony.
"We didn't know if October was going to happen, so I wore my wedding dress just in case. My dad wasn't able to walk me down the aisle because of Covid, so David and I walked together. It was really special and I loved every second. After, we went to the local pub garden for beers and lunch and it was absolutely perfect. We feel really lucky to have had two wedding days!"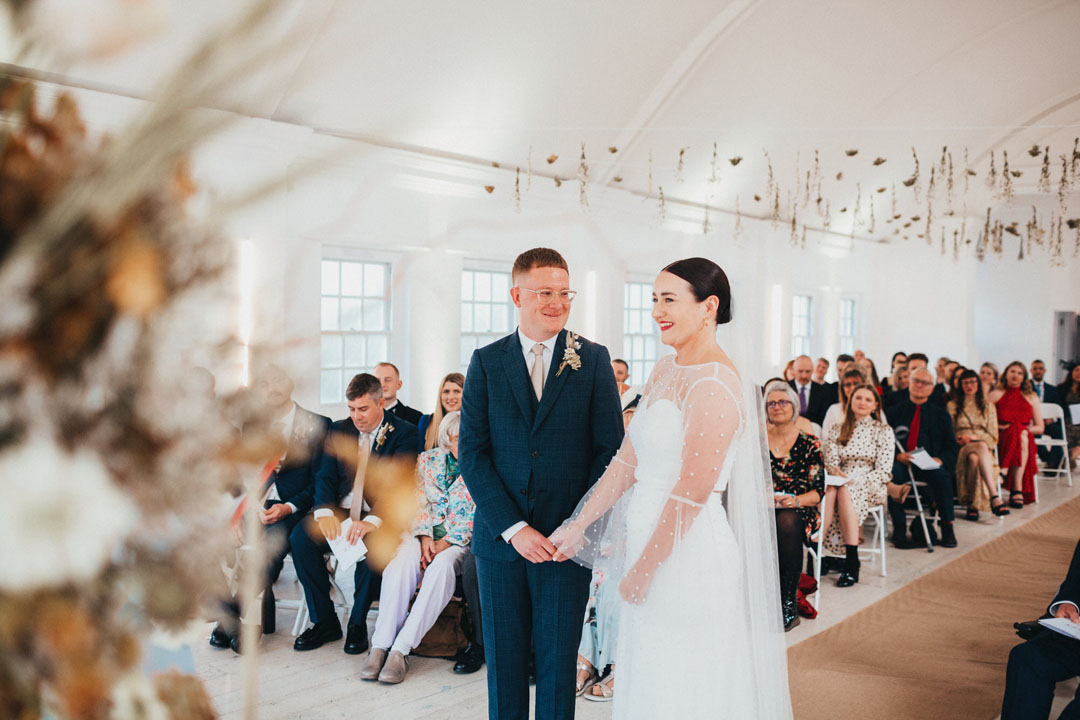 The couple exchanged personal vows and rings from Victoria Maloney.
"David designed and worked with Victoria Maloney for my engagement ring and so we knew we wanted her to make our wedding rings too."
"She is so cool and effortless and we both loved the whole process."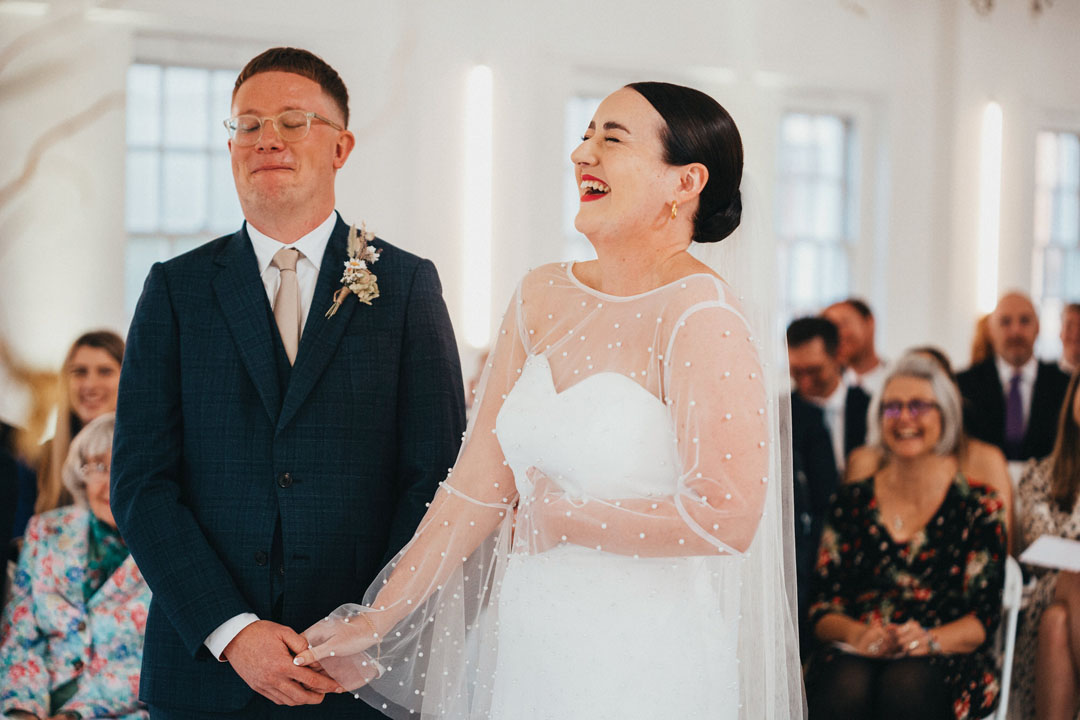 The guests were surprised by a sing-a-long to 'My Heart Will Go On' by Celine Dion.
"We didn't tell any guests before they arrived so watching their faces as they opened the order of service to see the lyrics was priceless."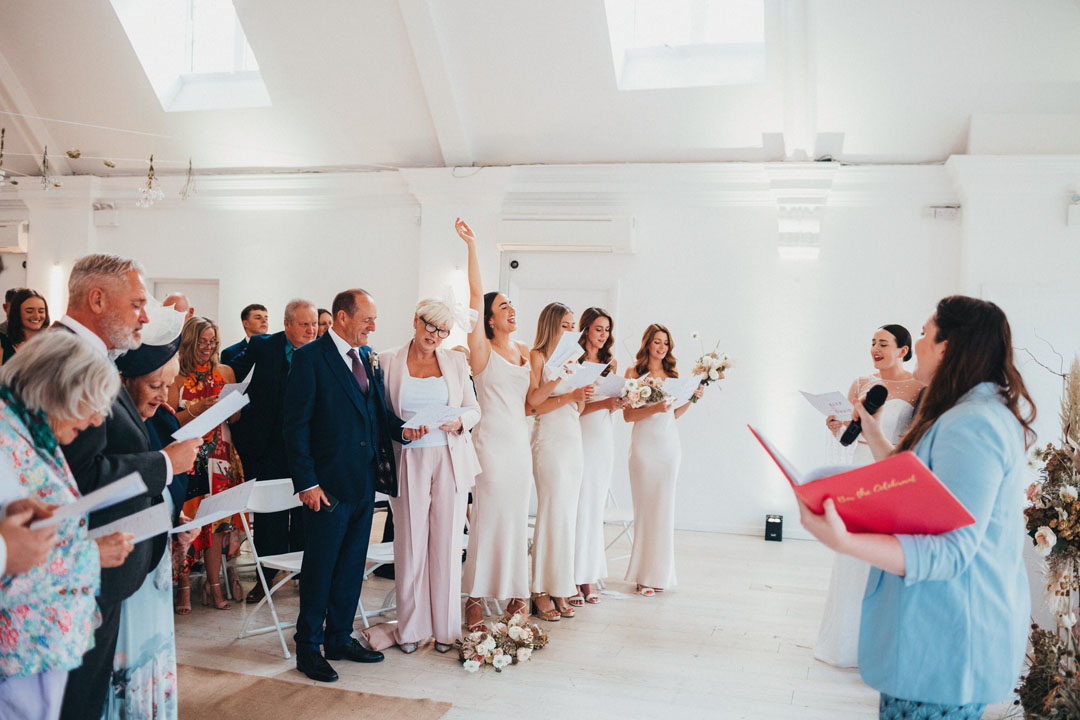 "The whole congregation sang at the tops of their voices and my sister even took the microphone for a solo!"
"My sister read the lyrics to one of our favourite songs, 'That's Love' by Oddissee."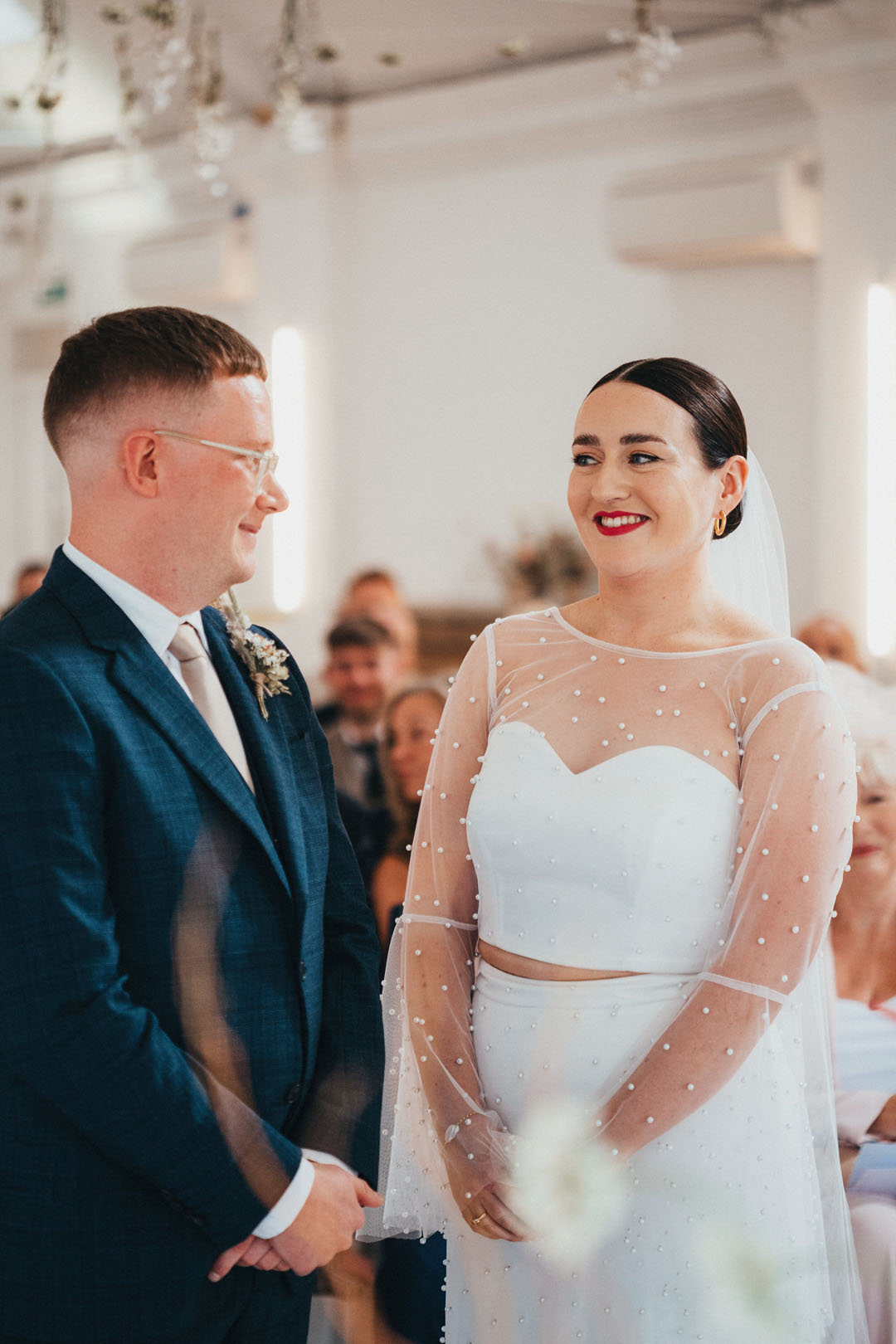 "We listened to this a lot when we first started dating and there is a key line it about love 'starting off as friends' which was really poignant."
"The second reading was from our friend Tigana who wrote a poem especially for us. It was a surprise and it didn't disappoint."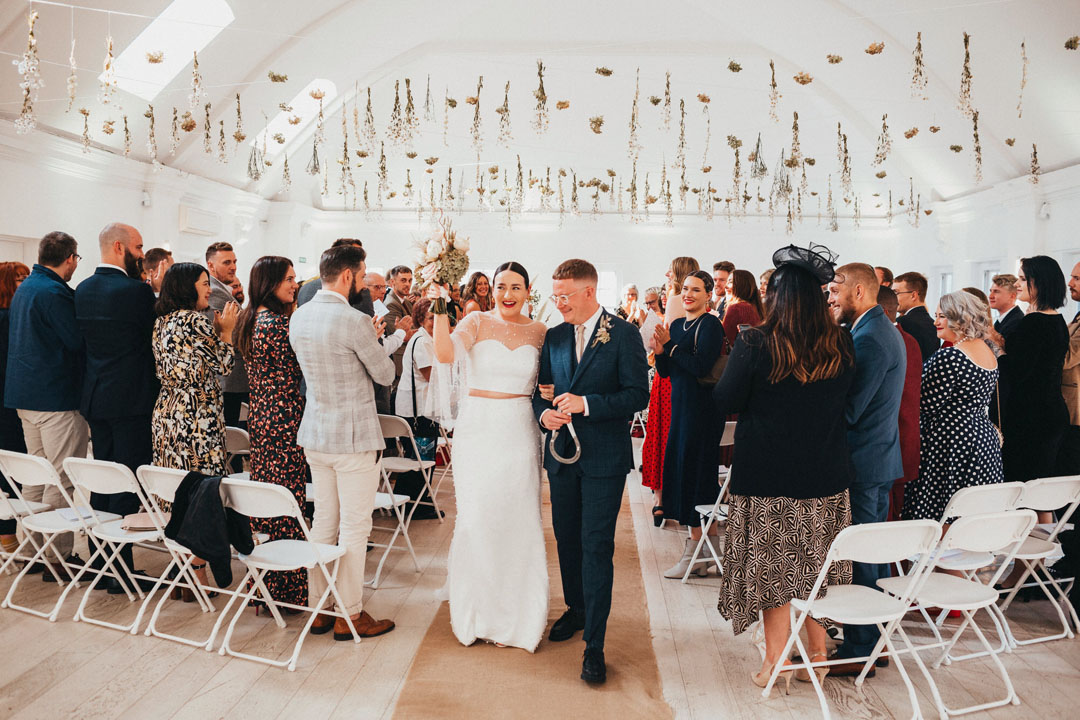 A Thing Like That's cool and contemporary photography style was a wonderful match for the couple and their quirky style.
"We both work in the creative industry and so photography was important to us and we were quite particular about what we were looking for.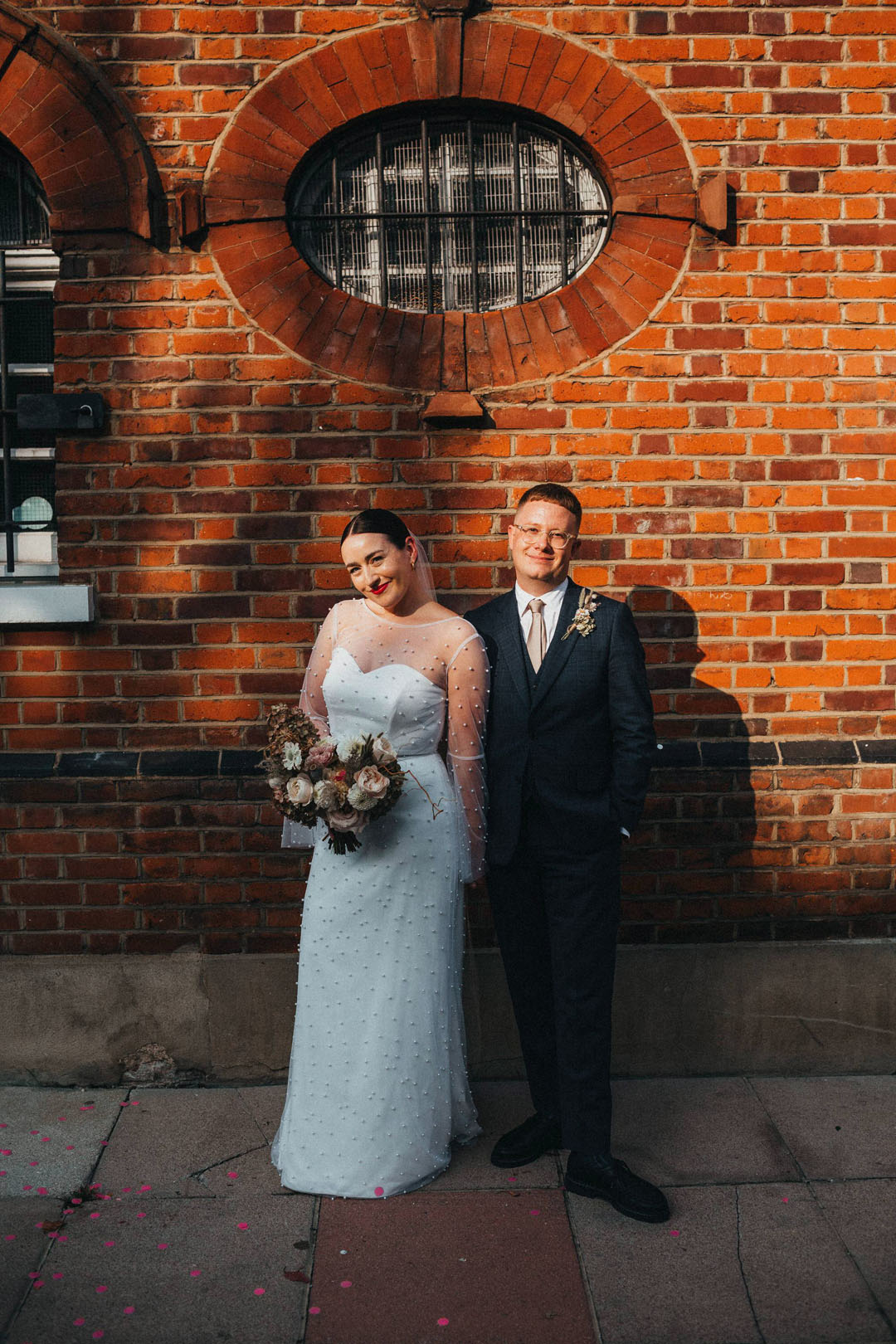 "Rebecca was perfect for us; a cool and effortless style without any super harsh vignettes or filters. We definitely didn't want anything cheesy either."
For more about Rebecca and her work please visit her Love My Dress Wedding Directory listing here.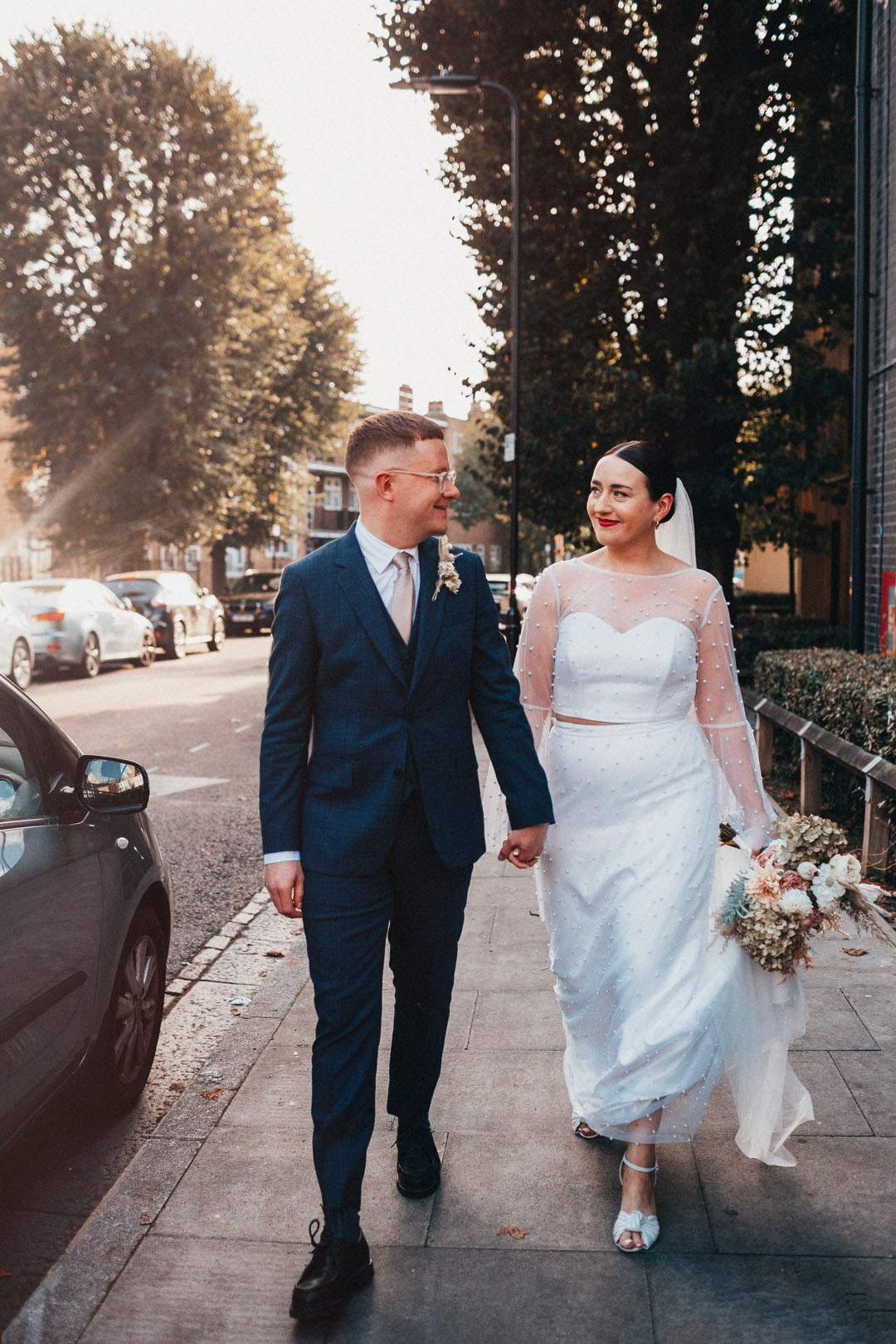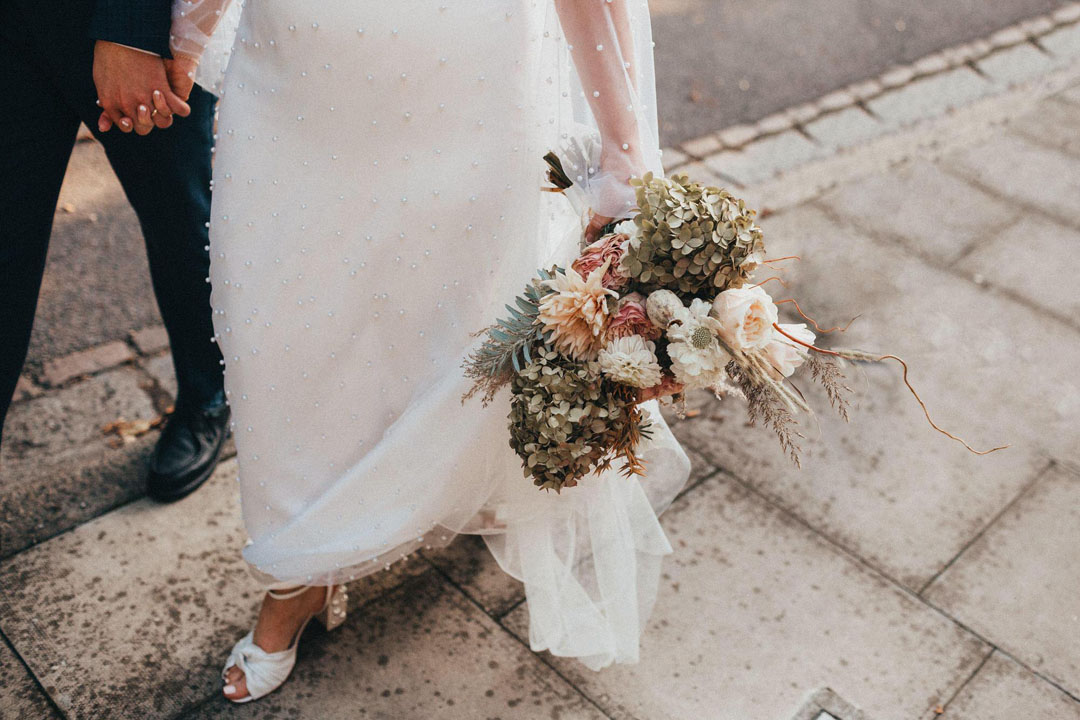 The couple also selected Wild Love Films for a moving record.
"Matt was so great on the day – very chilled and he blended in with our guests perfectly. We didn't want anything cheesy – just someone who would capture the feeling and mood of the day and since we both have terrible memories, a way of remembering the key moments."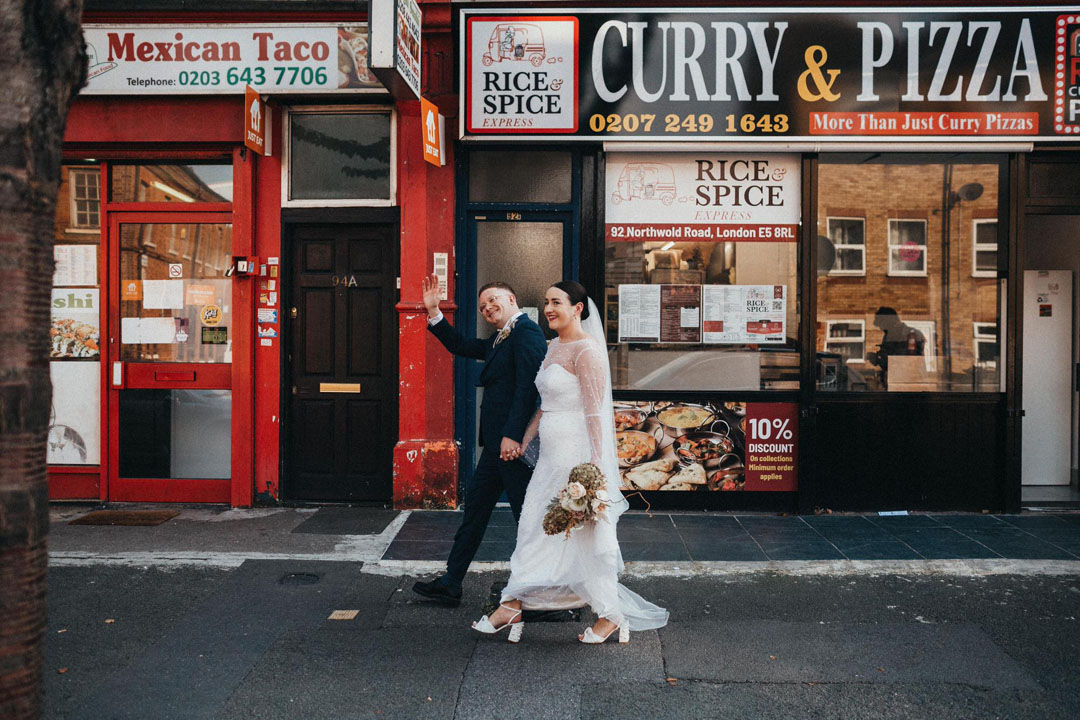 With strings of delicate dried flowers, dried grass installations and bright pops of pink and red (Alex's favourite colour combination,) the space was transformed into a fun and welcoming wedding venue with a subtle 80s vibe.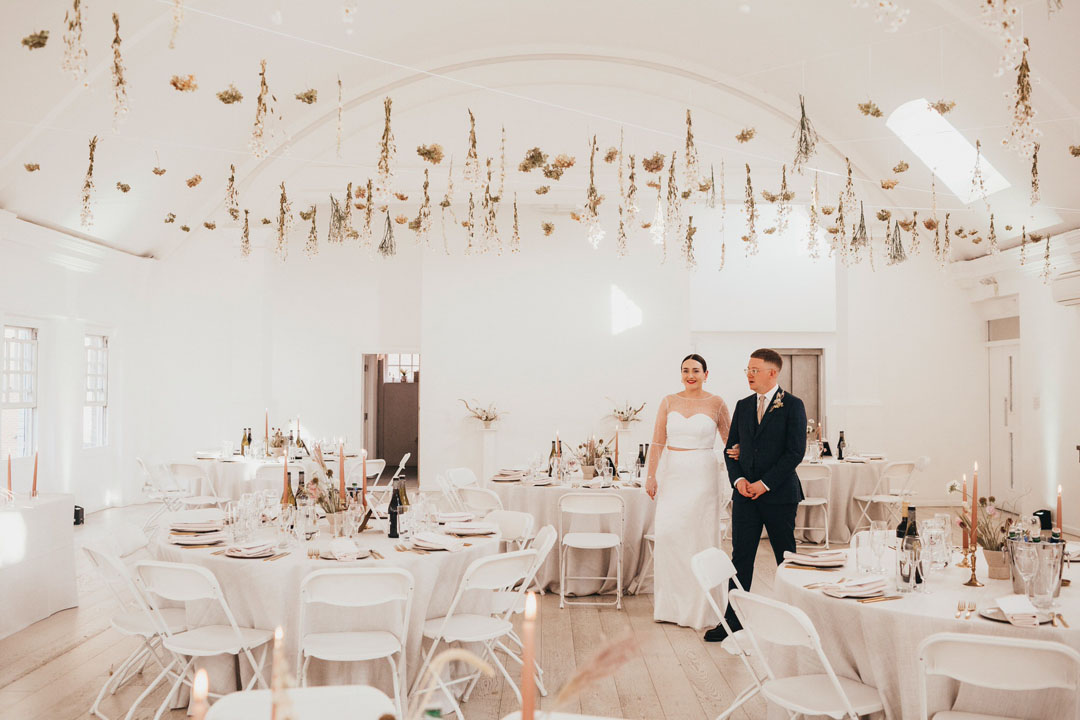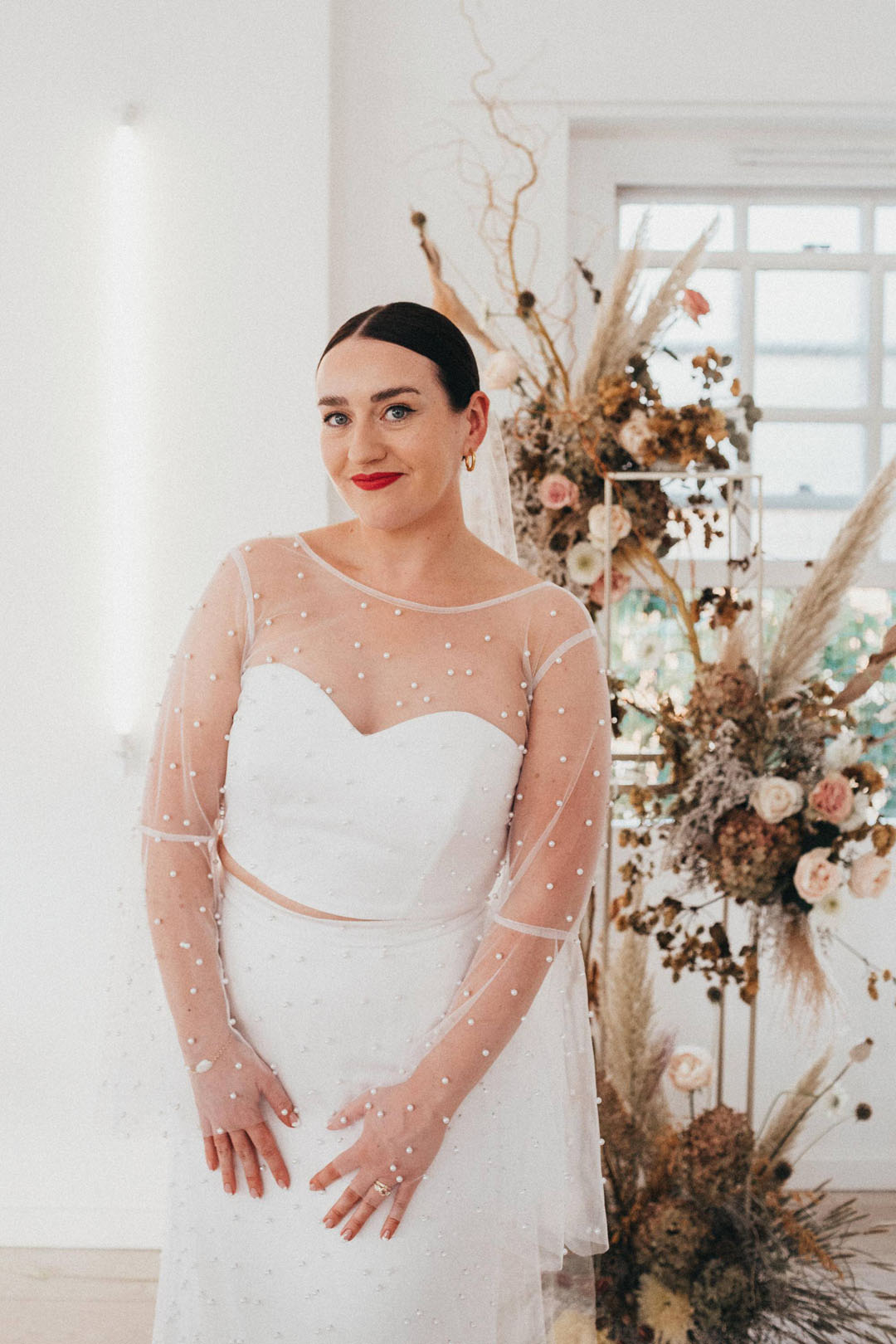 Alex and David met at work and were friends for a while as David was already in a relationship.
"David knows all of my dating horror stories – far too much information was shared, poor guy."
"Once we did get together, we were seeing each other for a long time before anything official. I knew it was a slow burner but I 100% knew it would be worth the wait."
"We got engaged on holiday in Cape Town over Christmas. It was really private in the garden of a restaurant on Christmas Day. I think David just wanted to get it over with after carrying it in his bag for a few days."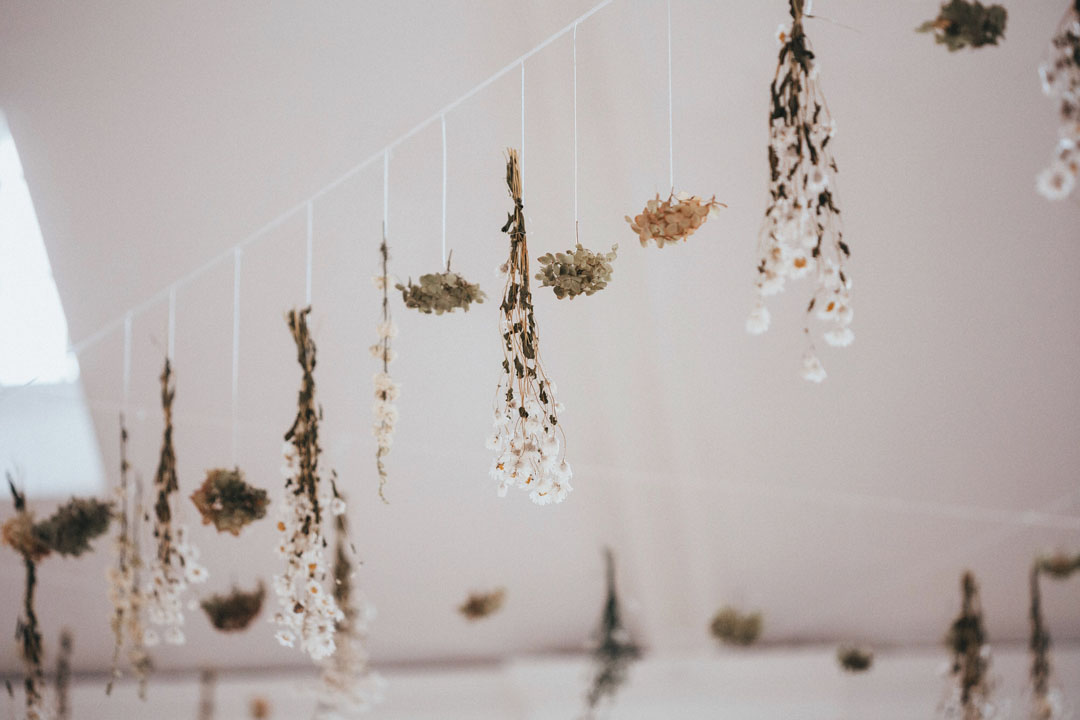 I absolutely love the kitsch style of the wedding cake from The Pink Cooker, something totally fun and unique.
"We were so close to not having a cake but when I saw her cakes we had to have one!"
https://www.lovemydress.net/directory/supplier/sugar-plum-bakes/
"We booked last minute, just five days before the wedding, and I couldn't have been happier."
"The cake was three-tier with pink, white and red icing in a vintage-style with glace cherry decoration. It was me in cake form."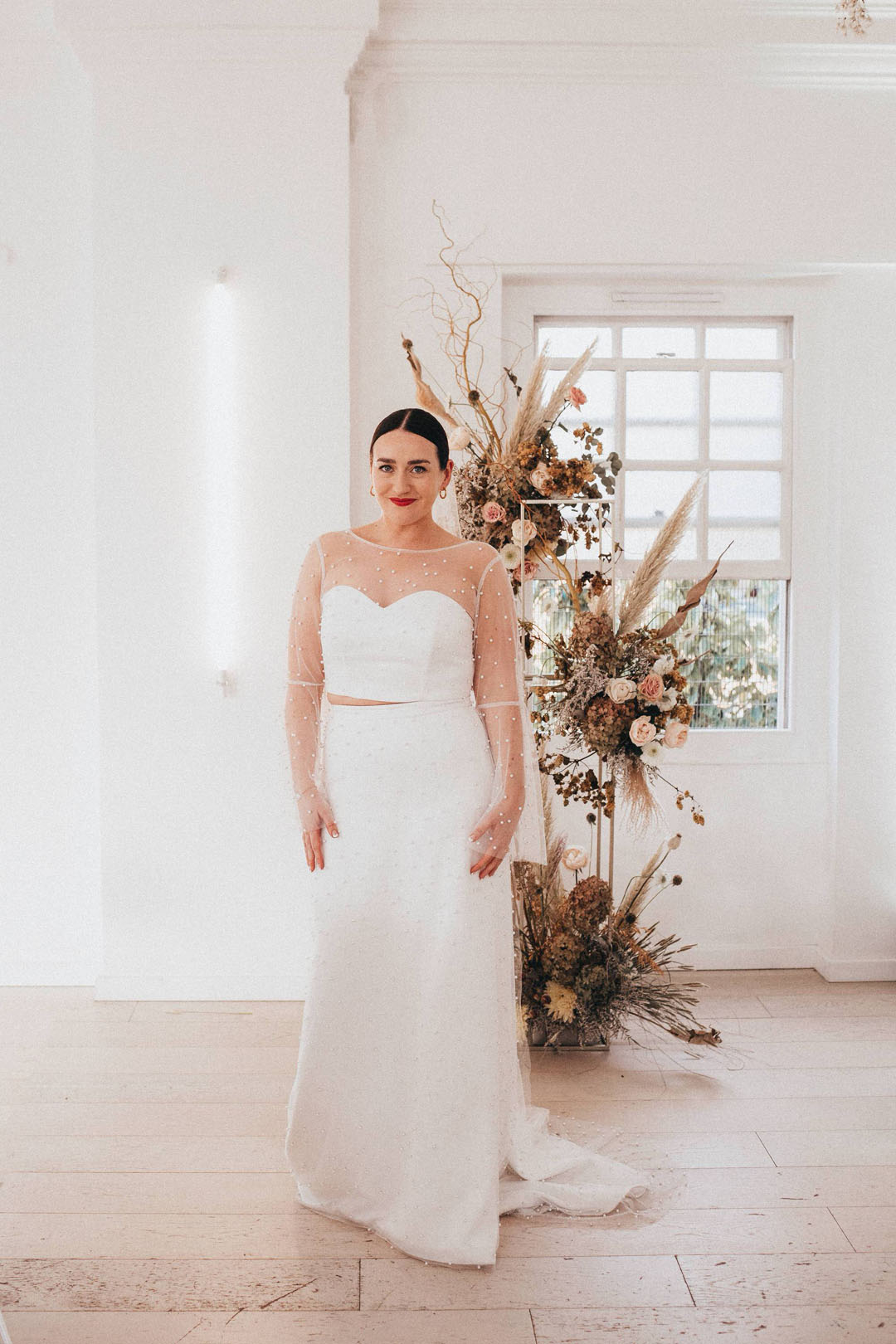 The wedding breakfast was held at long tables and was provided by Dinner Ladies, who also styled the tables.
"Our amazing caterers, Dinner Ladies, helped us by hiring all of our crockery, linens, candles, cutlery etc. and did a stunning job of styling and dressing all the tables."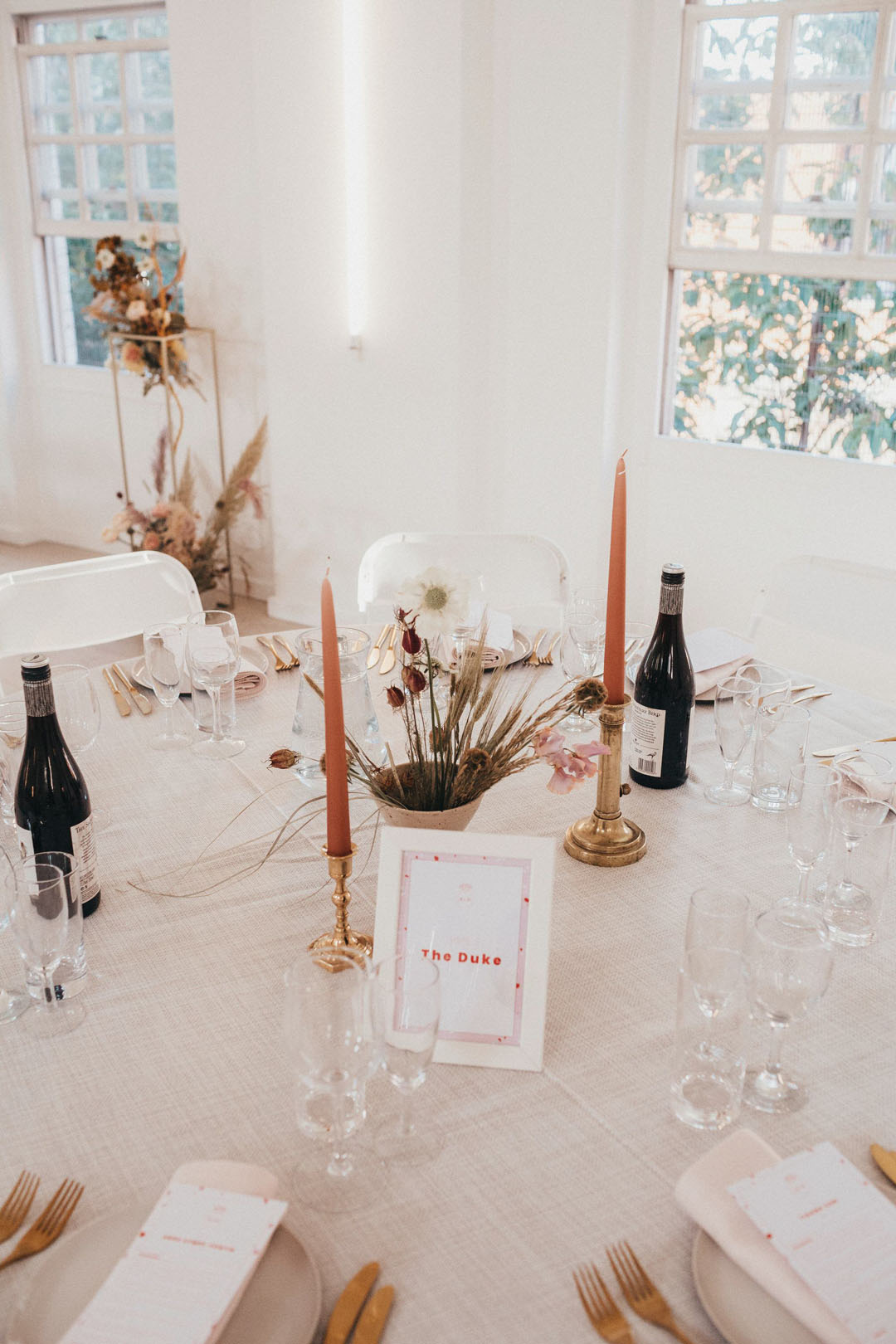 "We chose pasta for our meal with insanely delicious sharing boards for starters. Zoe at Dinner Ladies was my rock during planning."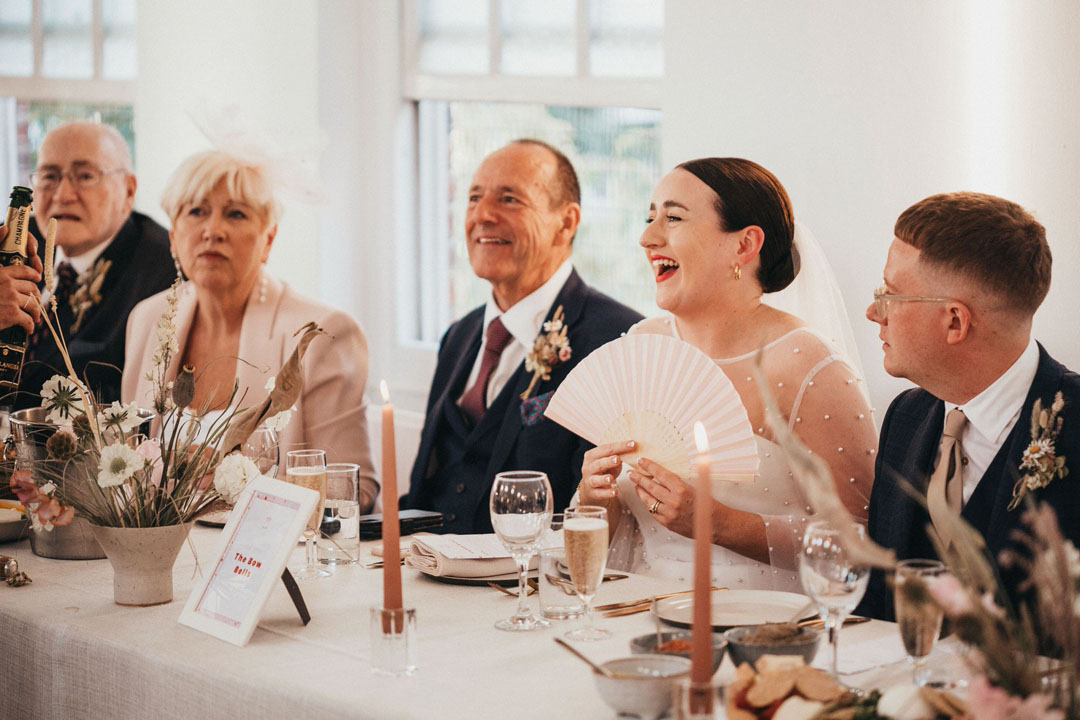 "She organised all the linens, crockery, cutlery, candles and the table settings were divine, not to mention the food which all of our guests still talk about now."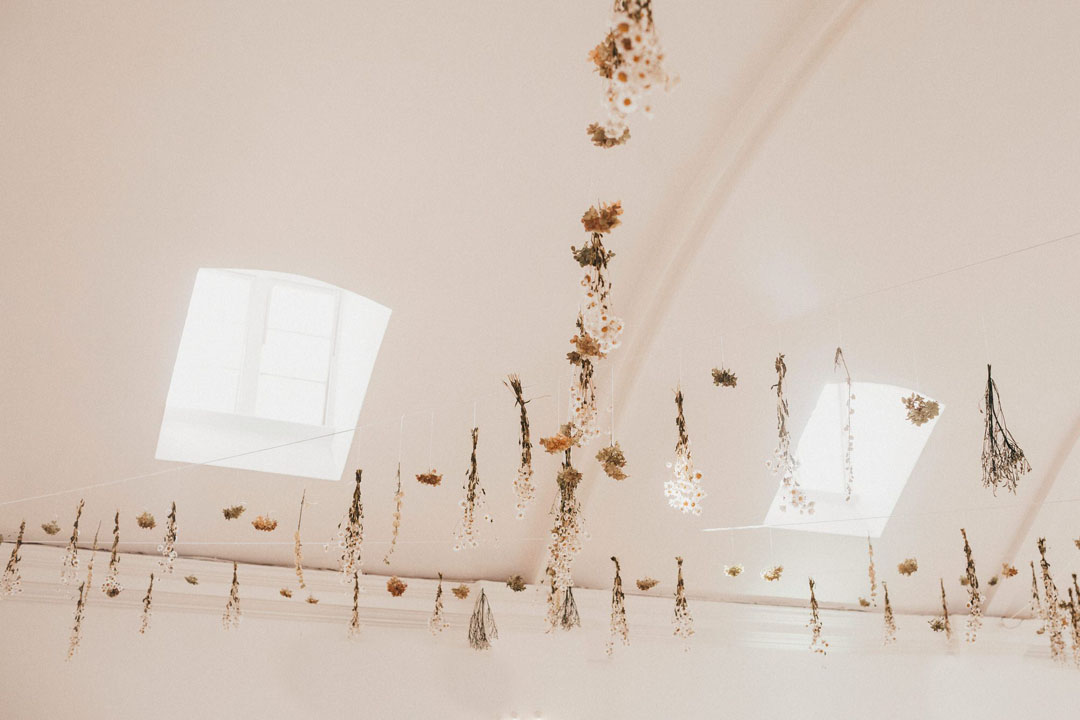 "We hired uplighters for the evening do and set them to pink, so the whole room was bathed in a pink, slightly 80s glow once the disco started."
"We also had a vintage disco light which added an extra dimension to the room and the party atmosphere. David designed all the stationery in my favourite colour combo – pink and red."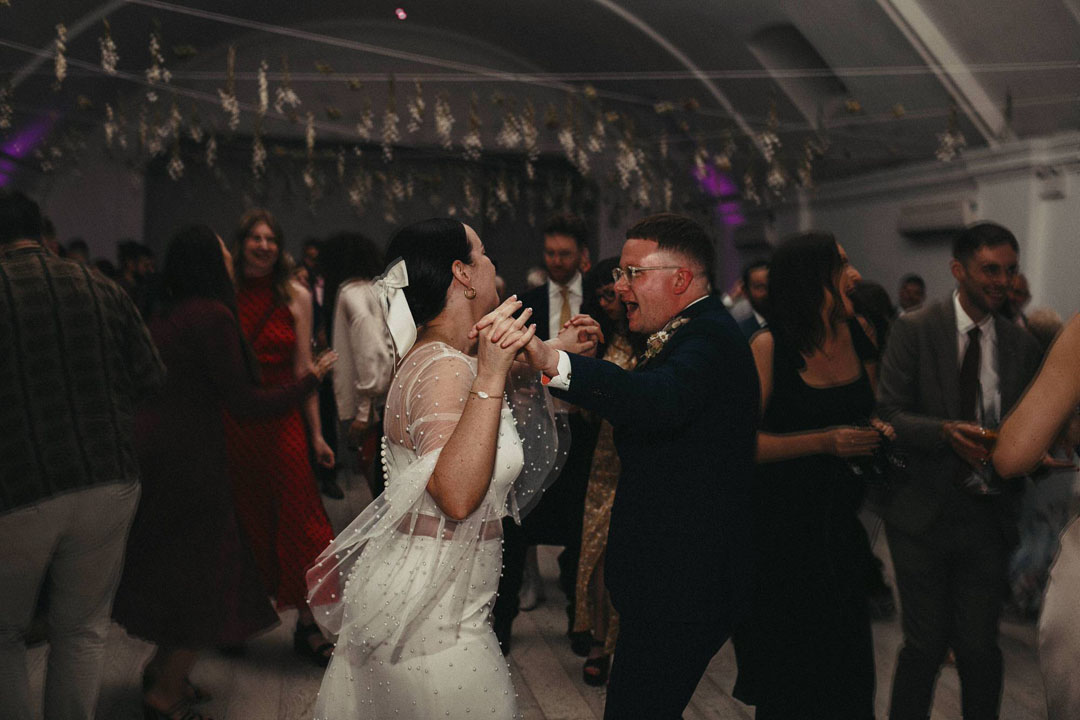 With clever lighting and music from DJ Nick Mills, Core Clapton became a party venue.
"We loved the party as it had been so long since people had been able to celebrate so freely."
"Our first dance was to Frankie Valli's 'The Night'. It's always been one of our favourite songs and it kicked off the dance floor perfectly."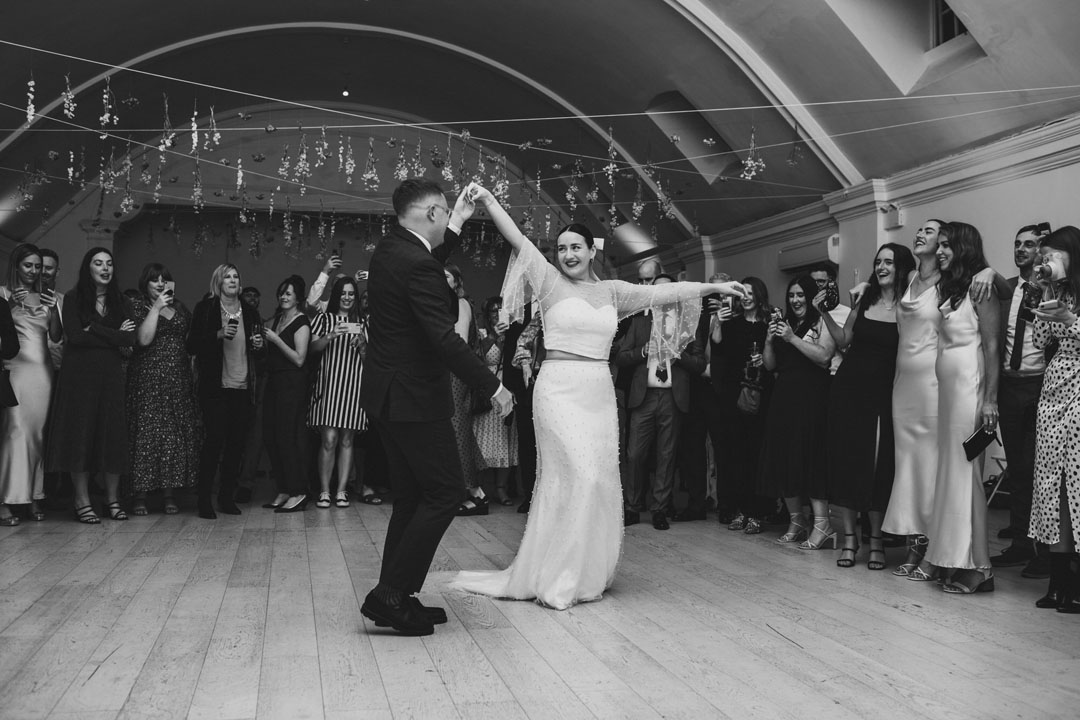 Words of Wedded Wisdom
"Don't worry about timeless style. Choose what you love right now and don't feel pressure to look a certain way just because it's traditional or you've seen it in a bridal magazine."
"There are no rules!"
"I visited Love My Dress for the Real Weddings section. I love to see how real people bring their visions to life."
"The website is also stylish and chic and I could immediately see it was the place for us."
So many thanks, Alex and David, and to you too A Thing Like That Photography. It's been wonderful to be a part of this beautiful, unique day.
Ele xx