Yeslin in Needle & Thread, for her Intimate, Autumn, City Wedding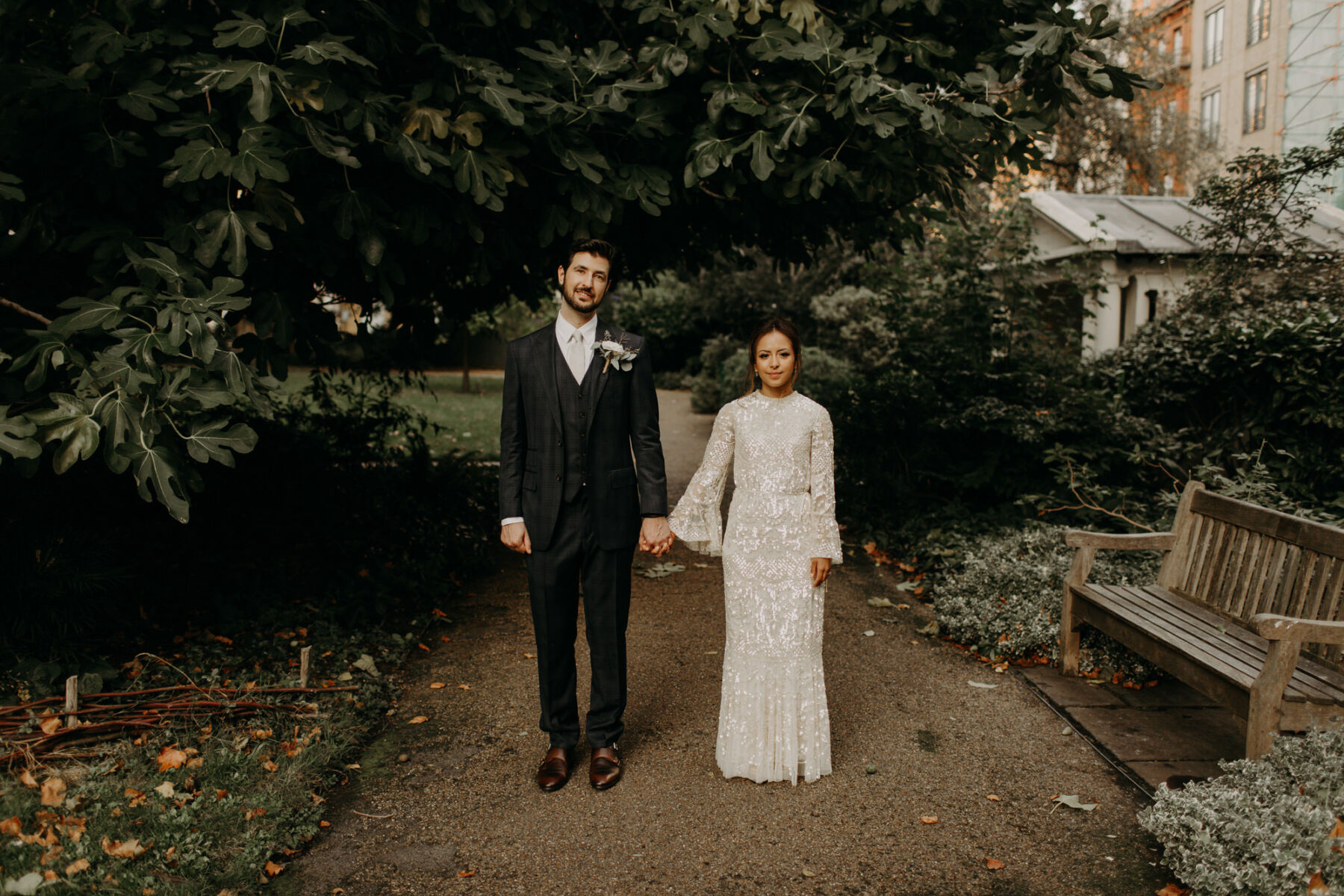 Today's wedding celebrated autumn in the city, with a classical, historic setting of a military club in central London.
On 10 October 2021 Yeslin, works in hospitality wed Elliot, a project manager, at The In & Out Naval and Military Club, Nancy Astor's former house, in St James's Square, London. The intimate ceremony and reception featured nod's to the groom's Jewish faith, against a backdrop of lush foliage and autumn blooms, for an elegant, chic vibe.
Photography Jonathan Ellis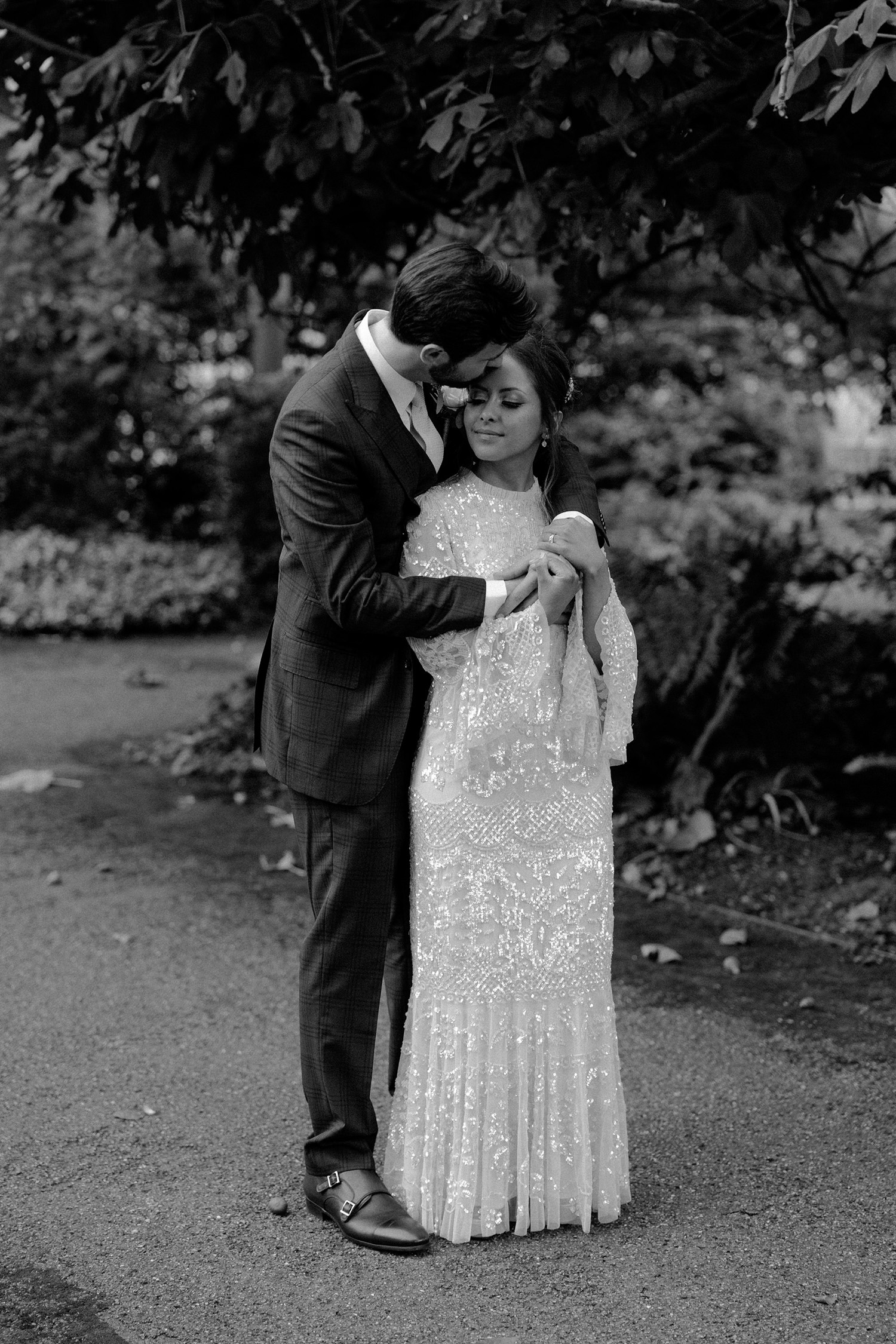 The bride's mum, Rocio Dove, is a hairdresser in central London, so she styled the bridal party's hair. Make-up was by Nour Takrouri.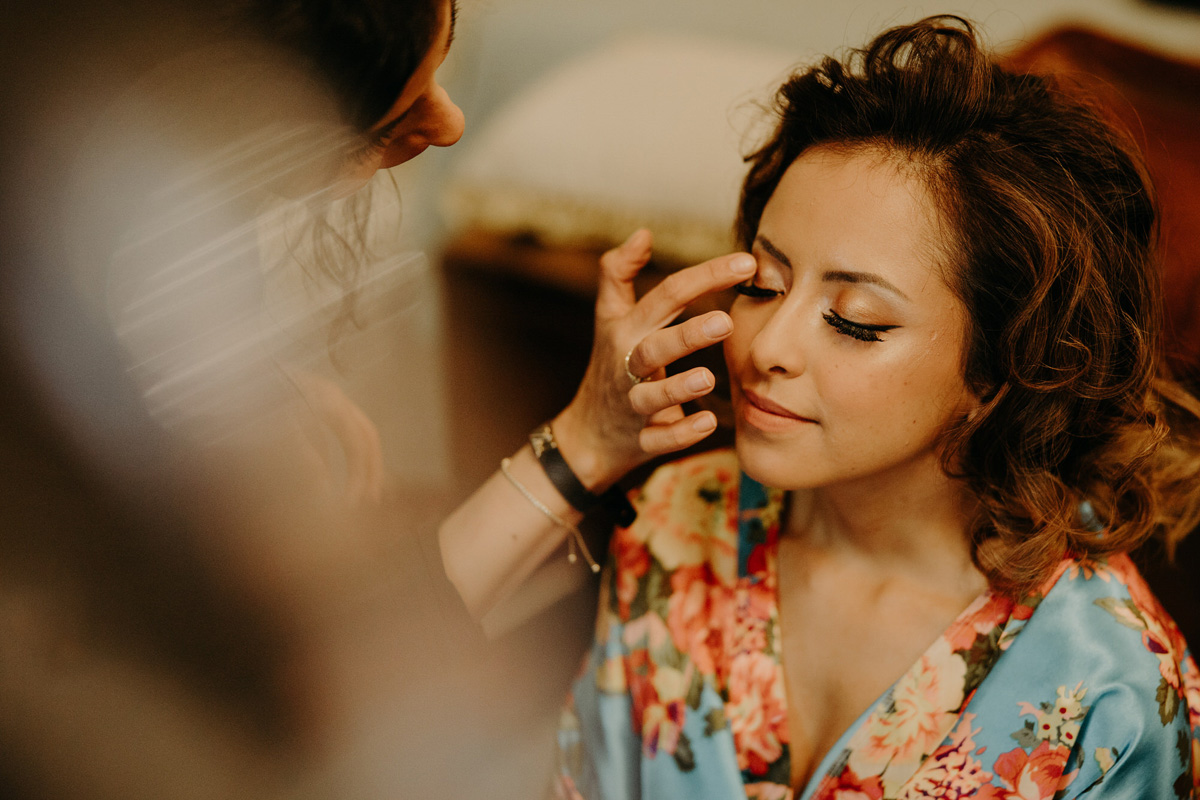 The bride looked effortlessly elegant in a long-sleeved, sequinned, embellished dress from Needle & Thread via Harrods, featuring a high neck and angel sleeves.
Yeslin added platform heels from Pretty Small Shoes and wore fresh flowers in her low bun.
"The dress was different and felt unique to me."
"My scent was Carnal Flower by Frederic Malle. I've always loved the brand and it was a present from my mother."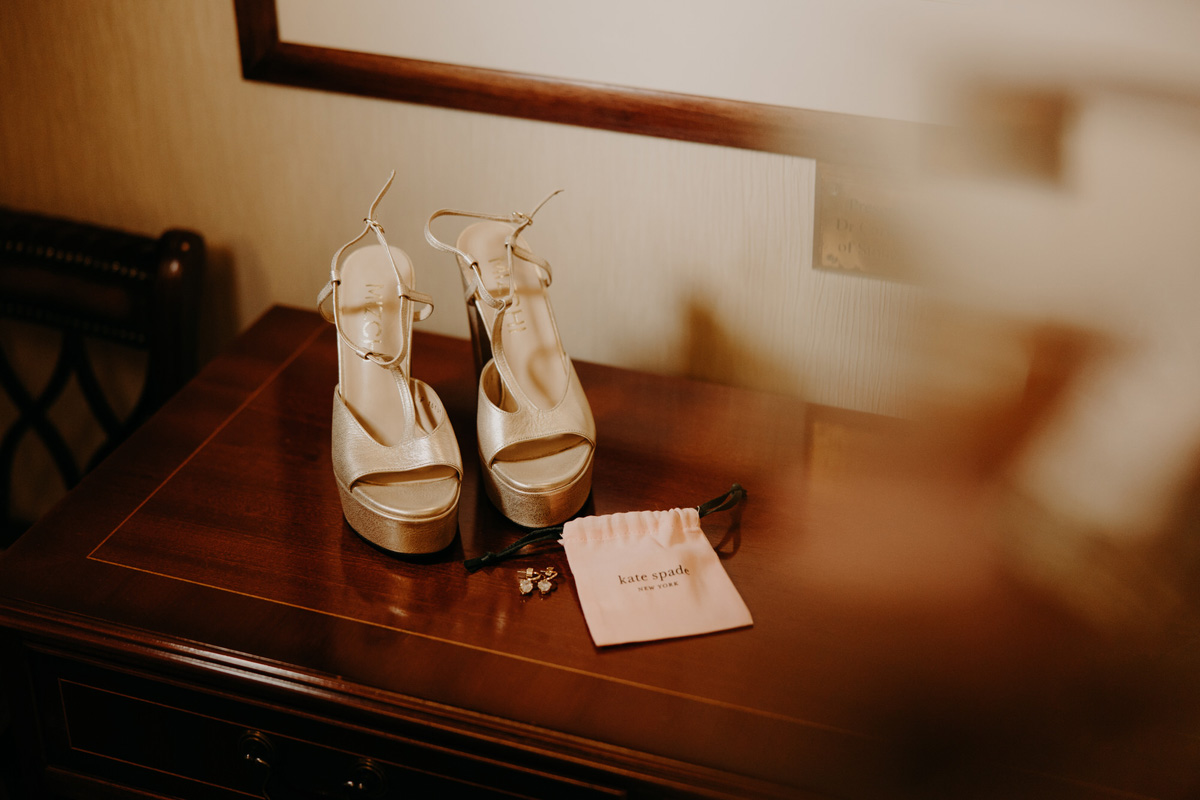 "We met online in 2015. We got engaged in October 2020 at Cliveden House, a year and a week prior to the wedding. We loved the style of Cliveden House and when we came across the In & Out Club, which used to be Nancy Astor's home, it felt like fate."
The couple selected their wedding date around the lifting of UK restrictions and it went ahead with no Covid restrictions in place.
To plan and design their day, Yeslin and Elliot worked with Wild About You Weddings, keeping the décor simple and elegant with the addition of seasonal, autumnal blooms and garlands of rich, green foliage.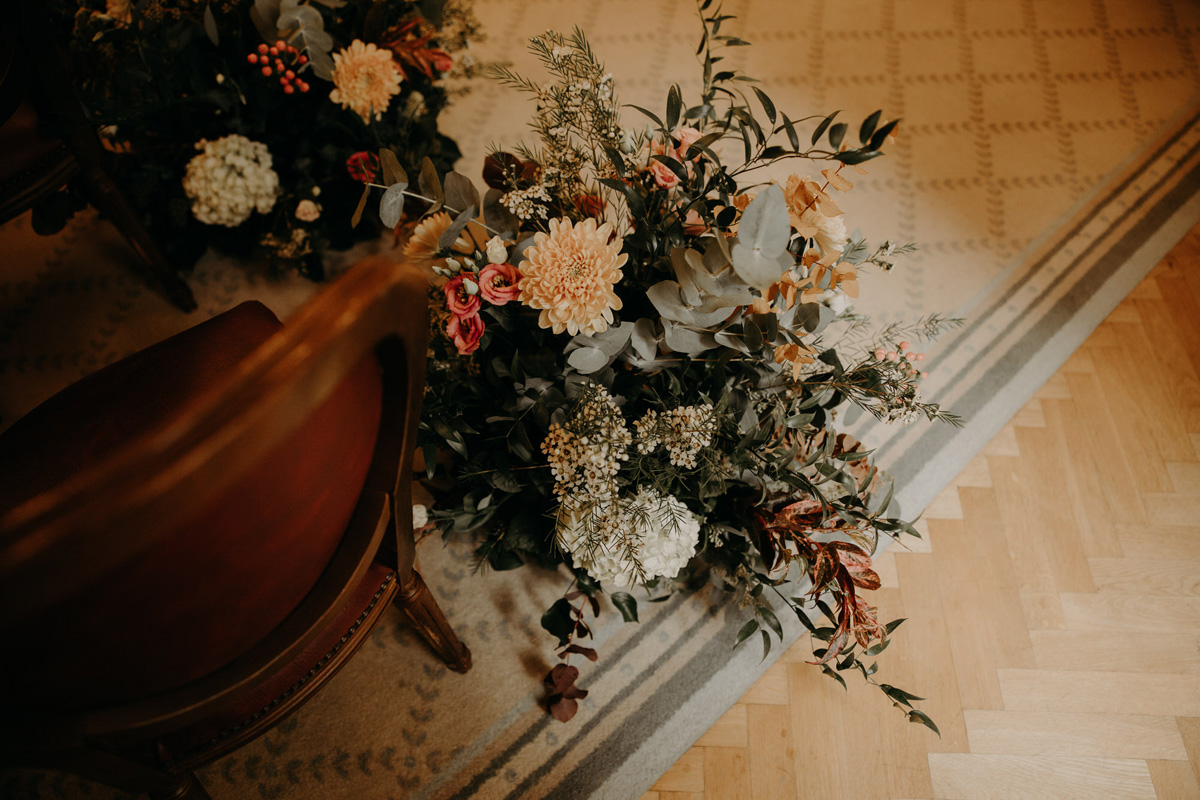 "The space spoke for itself so it needed little added, other than flowers."
Here's Liz of Wild About You Weddings with more on the styling and inspiration.
"Yeslin and Elliot's autumn wedding took place at the grand rooms of the In & Out Naval and Military Club in central London."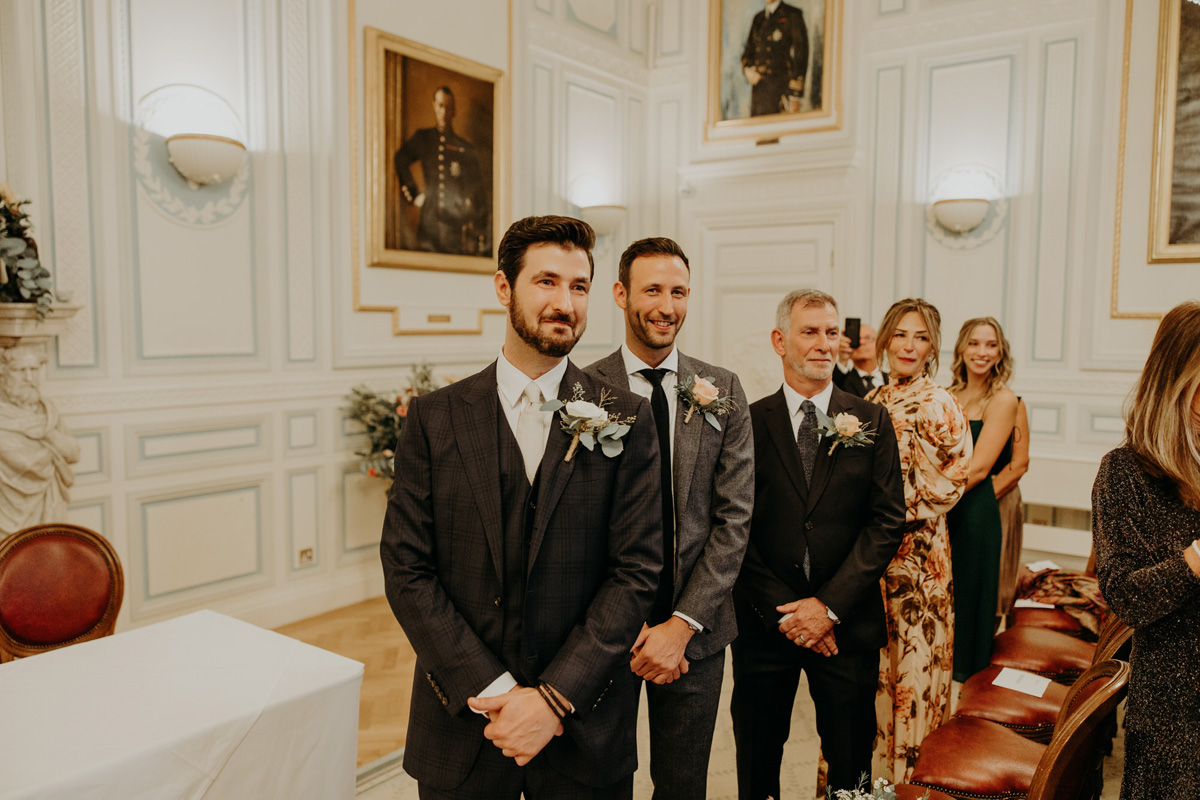 "This wedding was organised within six months, showing that a heartfelt and beautiful celebration can be created within a relatively short time-frame."
"The backdrop to their nuptials with fifty guests was set amongst an adorned fireplace and aisle of lush foliage and autumn blooms."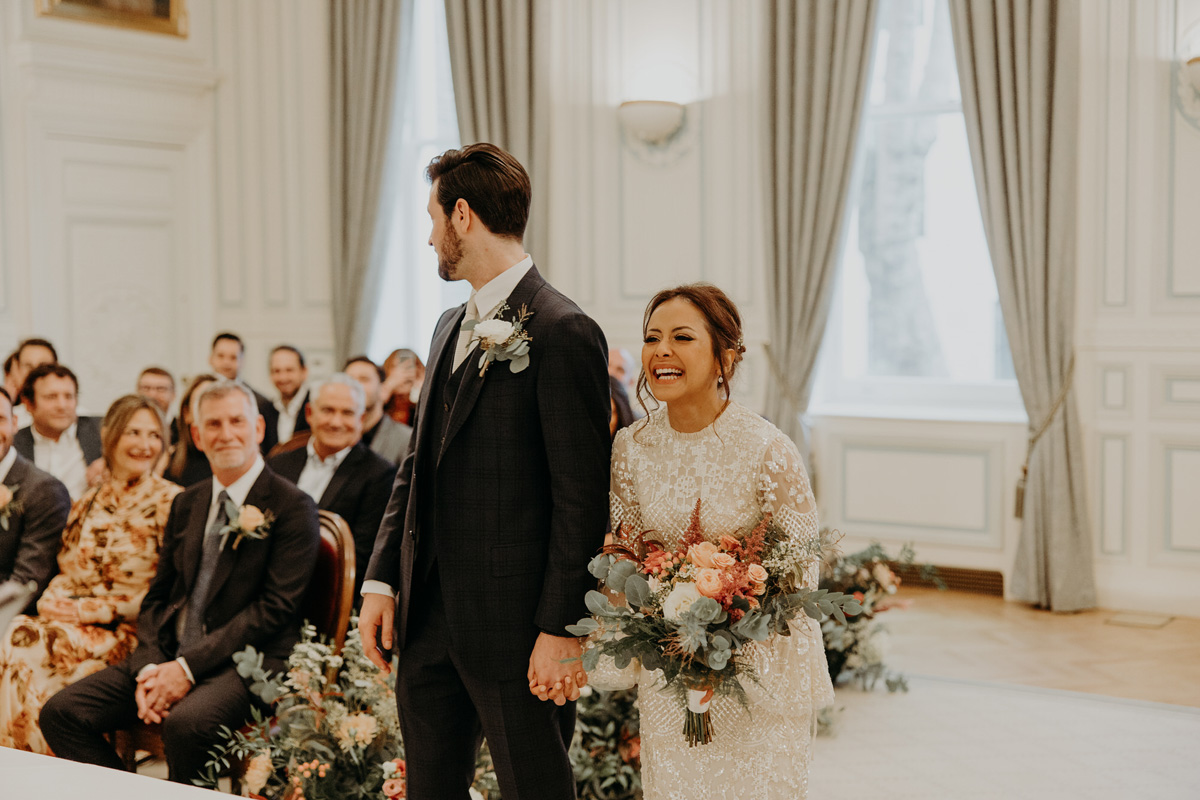 In Jewish tradition, the bride and groom entered the ceremony room individually with their parents to different songs, preceded by the best man (Elliot's brother) and the maid of honour (Yeslin's best friend).
The groom chose 'Sea of Love' by Cat Power and Yeslin walked in to 'For You' by Laura Marling.
The marriage ceremony was led by a local registrar and included a reading of Edward Monkton's 'A Lovely Love Story'.
Yeslin and Elliot exchanged their wedding bands, the bride's from 77 Diamonds to match her engagement ring and Elliot's from Alighieri.
"We've always loved the style of their jewellery."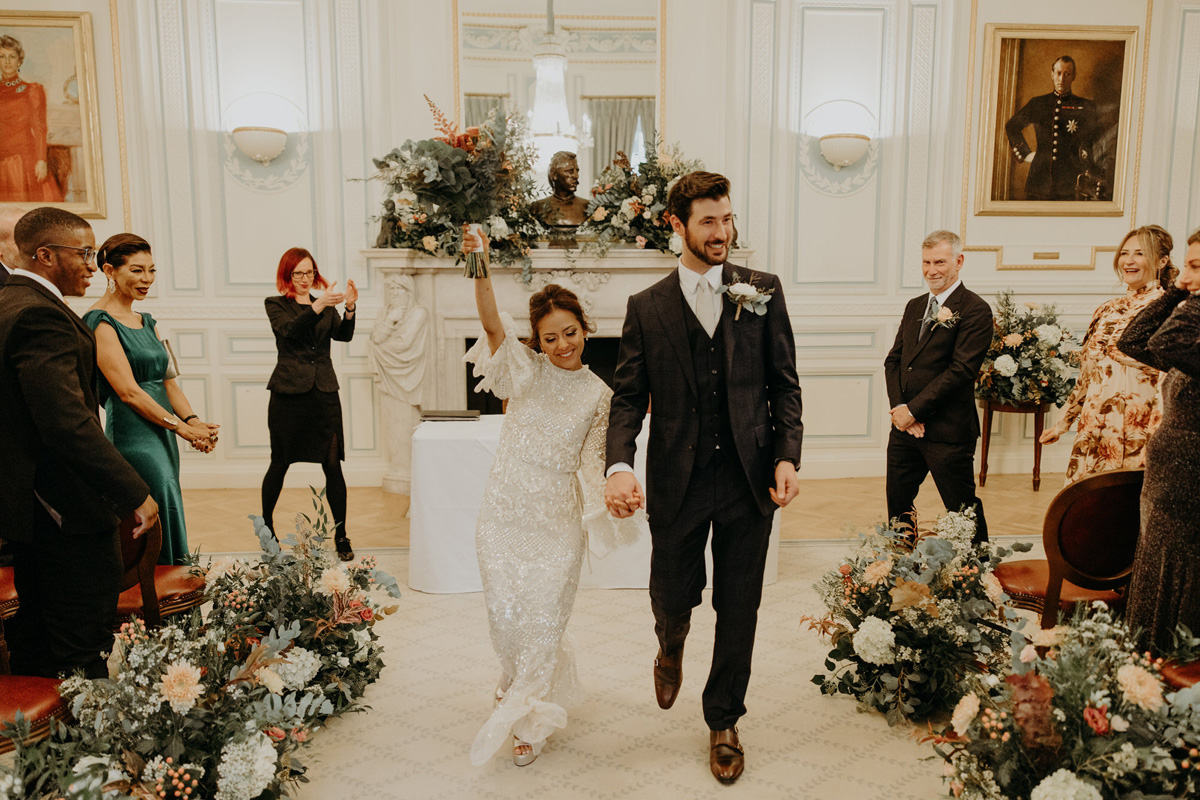 After the ceremony, the couple headed into St James's Square Park for some time together and portrait shots, their favourite part of the day.
"It was lovely to have some time to each other before the madness of the party."
The bridesmaid wore an elegant, floor-length gown from Ghost, with her own jewellery.
The wild, lush bouquet was by Indeco Flowers, who also did the garlands of foliage and other floral arrangements.
The wedding breakfast was held around intimate, circular tables, beautifully styled with tall, floral arrangements and gold cutlery.
"The bespoke table plan, table names and name place cards were provided by Wild About You Weddings."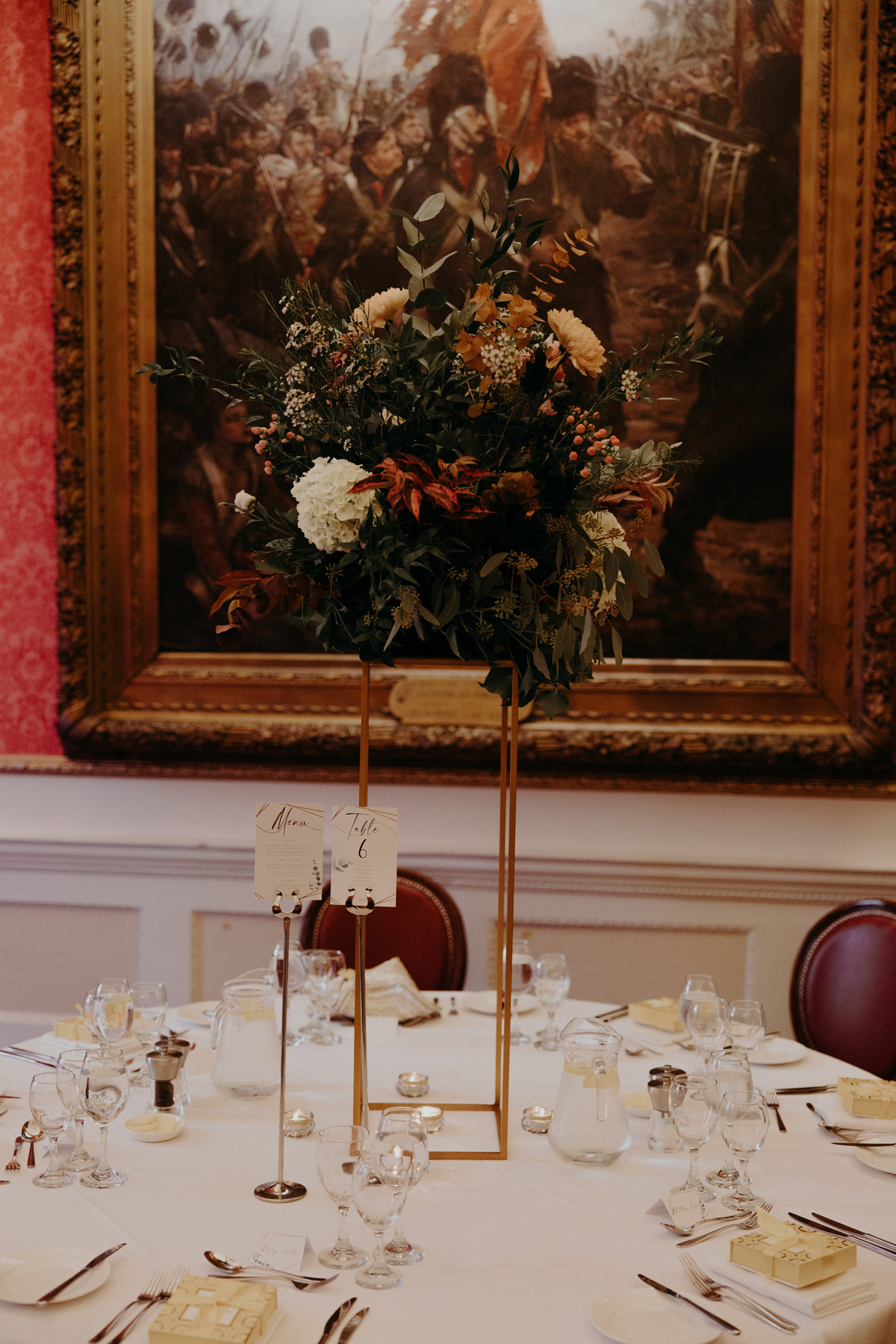 Liz at Wild About Weddings: "All the ceremony flowers were re-purposed for the evening meal by being placed on high, gold stands on each table and placed around the top table where the couple sat with both of their parents."
"The stationery was personally designed to reflect the theme with a simple gold and eucalyptus graphic."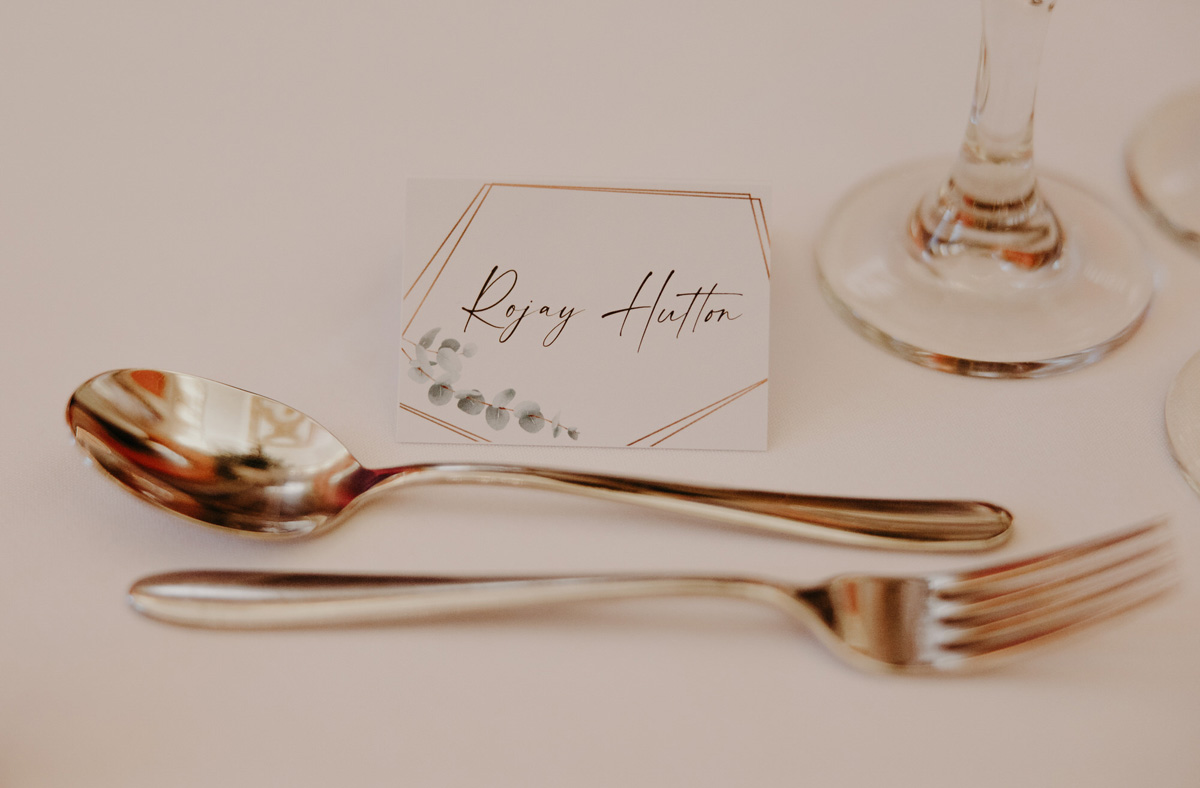 Each guest received a personalised box of chocolate biscuit bonbons from Biscuit Boutique with the couple's initials on the biscuits.
The In & Out Club provided the wedding breakfast and the bride's uncle, James Dove, designed and made the elegant, two-tier wedding cake.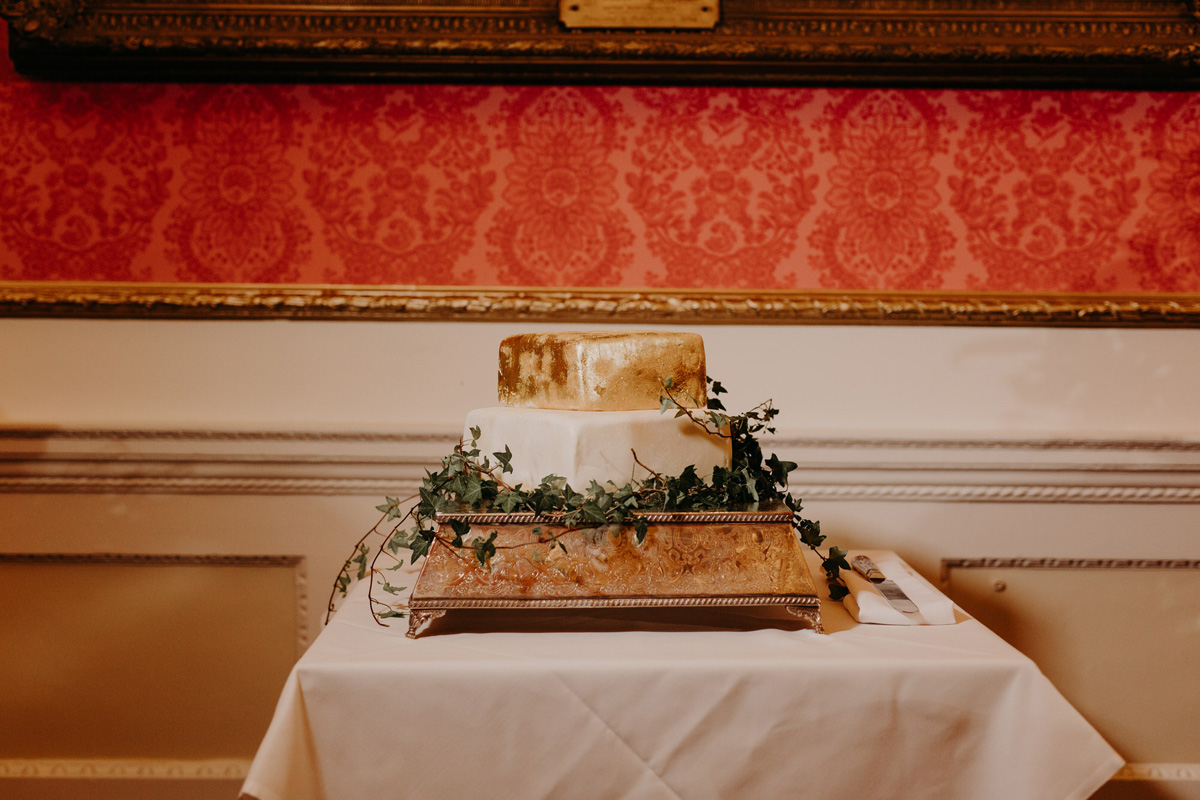 The wedding speeches came from the bride's father, groom and best man, with a surprise speech from the bride's mother.
As night fell, the party got started with music from a DJ from Wedding Jam. The couple's first dance was to 'All The Way' by M. Ward.  Then, the newly-weds and guests hit the dance-floor for traditional Jewish dancing, followed by salsa dancing for the bride's Colombian roots.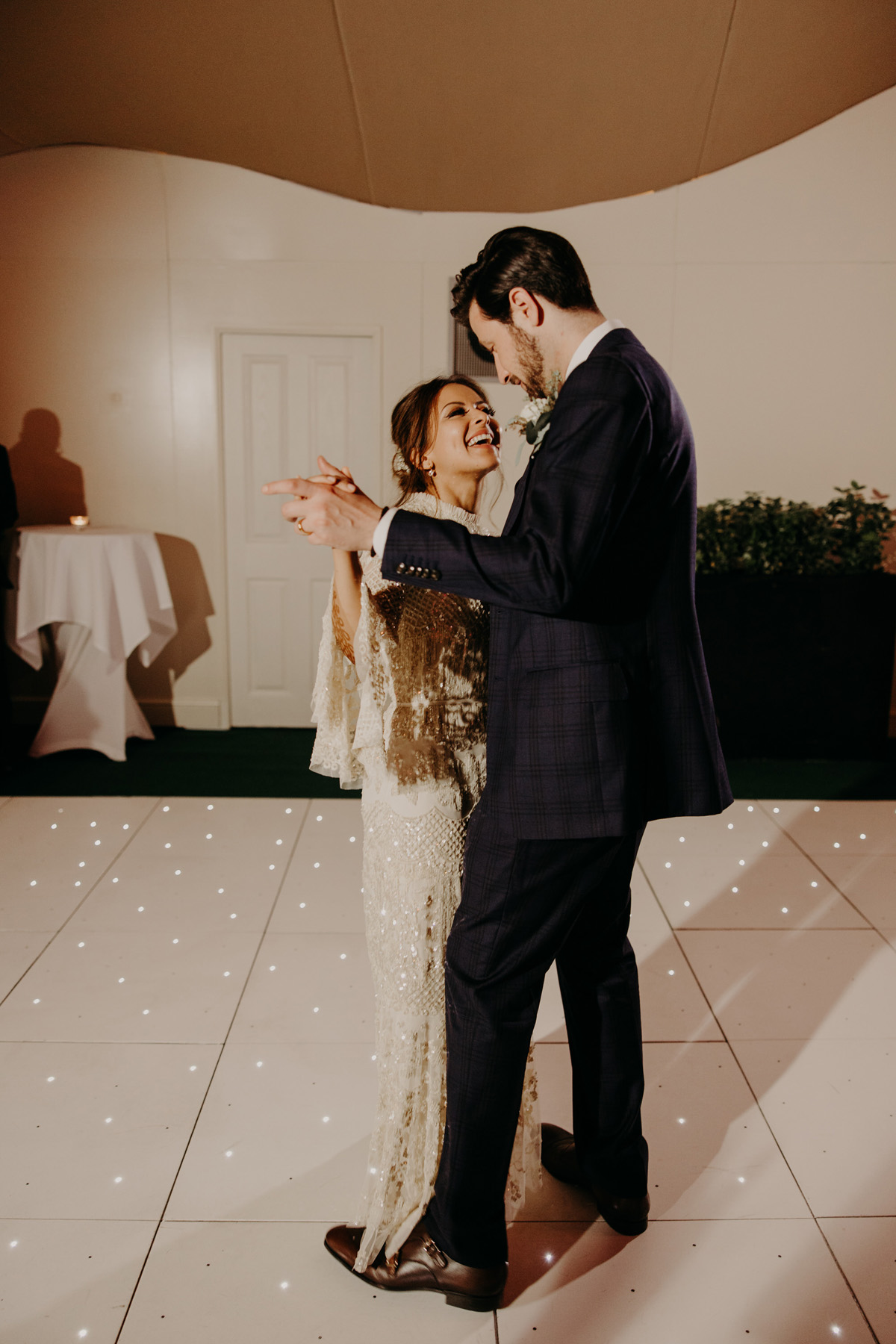 Words of Wedded Wisdom
"Don't stress over every little detail, there are some things that are sometimes out of your control."
Thank you Yeslin and Elliot, and many congratulations. What a joy to share your celebration here today. Sending so many thanks to Jonathan Ellis Photography too for your vibrant, warm work.
For more City wedding inspiration, take a look at these Love My Dress features.
Ele xx