A Nature-Inspired Tipi Wedding On The South Devon Coast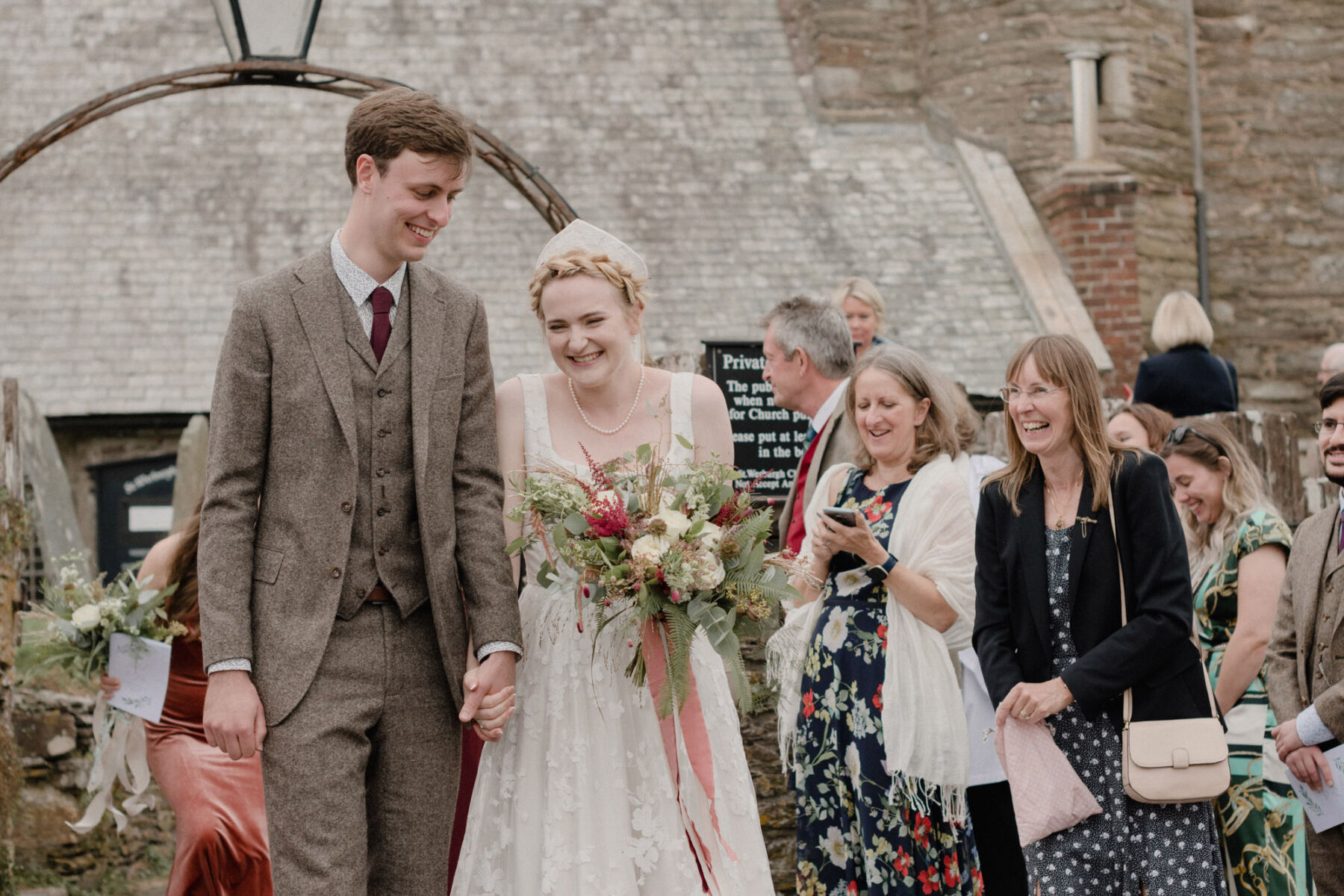 Regular visitors to Love My Dress may remember the enchanting, woodland wedding of photographers Sarah and Jon, which we shared here a short while ago. Today, it's the ultimate honour to share some of their own work, full of ethereal light, dreamy romance and utter joy. Oh, and the bride's ethereal, beautiful gown was made by her talented sister, Ailsa Munro.
Please meet midwife Ishbel and data integration officer Tom, who chose St Werburgh's Church near Wembury in Devon for their nuptials on 17 September 2021. After the church ceremony which overlooked the magnificent Devon coastline, an area of outstanding beauty, the newly-weds and their guests took a short walk up the lane for a magical tipi reception, with decor inspired by nature.
Photography Lyra & Moth Photography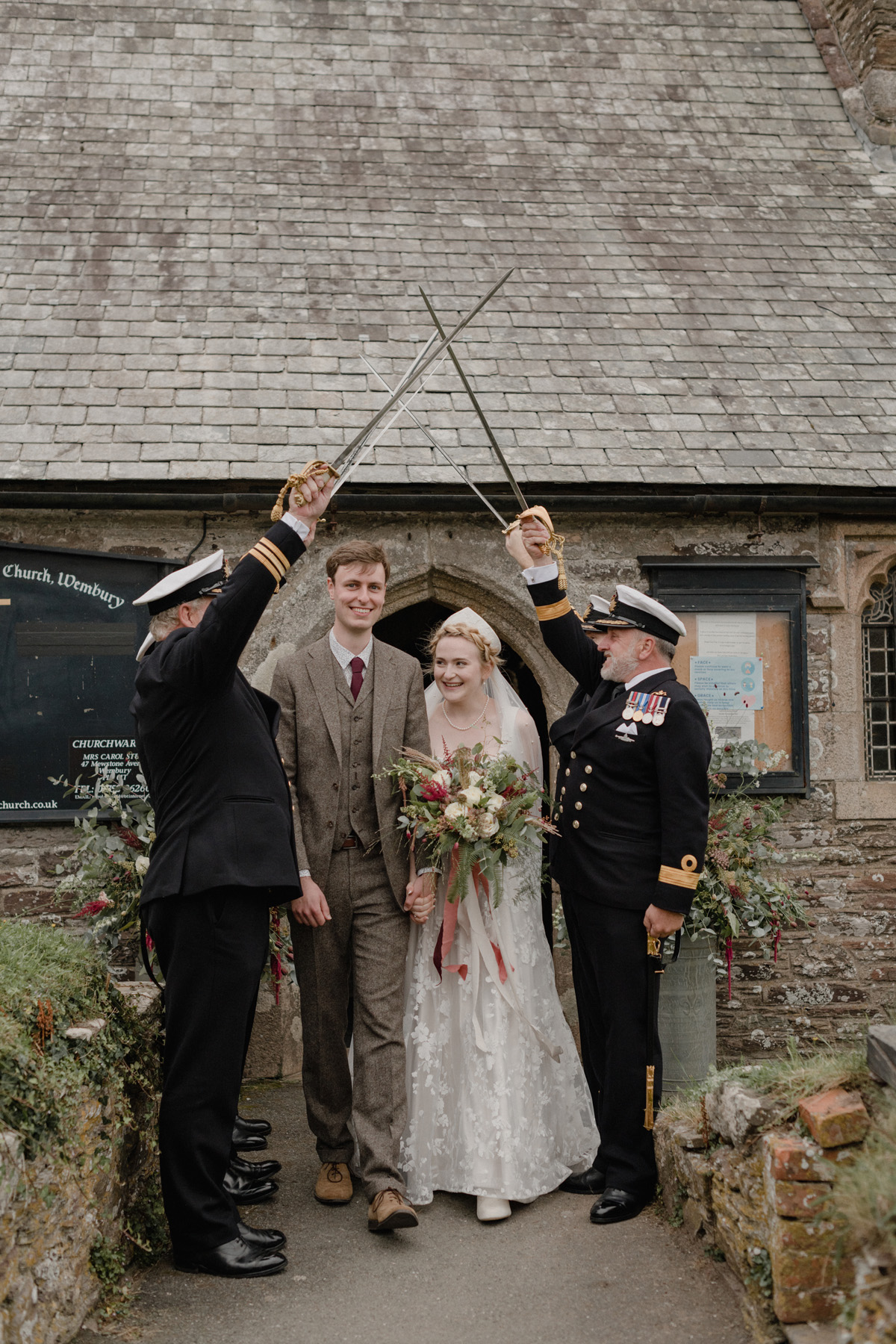 The couple aimed to create a relaxed day in the great outdoors in which they could enjoy each other's company, and that of all the people that are important to them. For the styling of their Wild Tipi tipi, many elements of the day were home-spun.
The bride looked like a fairy-tale in her handmade, embroidered gown by her sister, Ailsa Munro Dressmaker, with its period vibe and delicate accents of lace. She wore it with a kokoshnik – a traditional Russian headdress.
"I had very clear ideas of what I wanted my wedding dress to look like but really struggled to find something like I was picturing. I know sometimes the dresses women like don't always suit them, so I went to try on plenty to see what suited me. Trying to buy the perfect wedding dress on a budget isn't easy."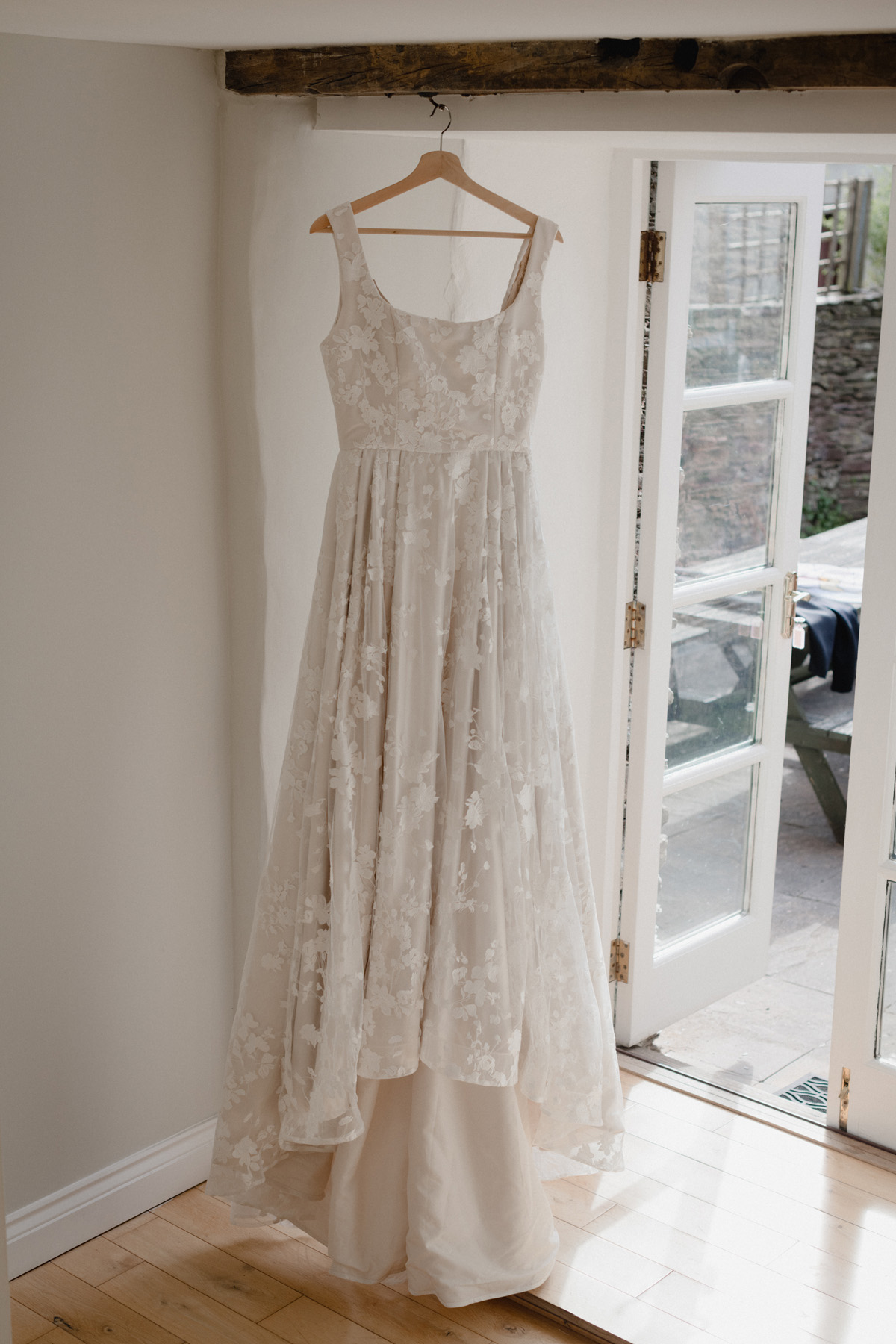 "Luckily, my sister is a small business owner who designs and makes bespoke wedding dresses. It actually costs the same to have a one of a kind, made-to-measure dress as it does to buy one in a shop."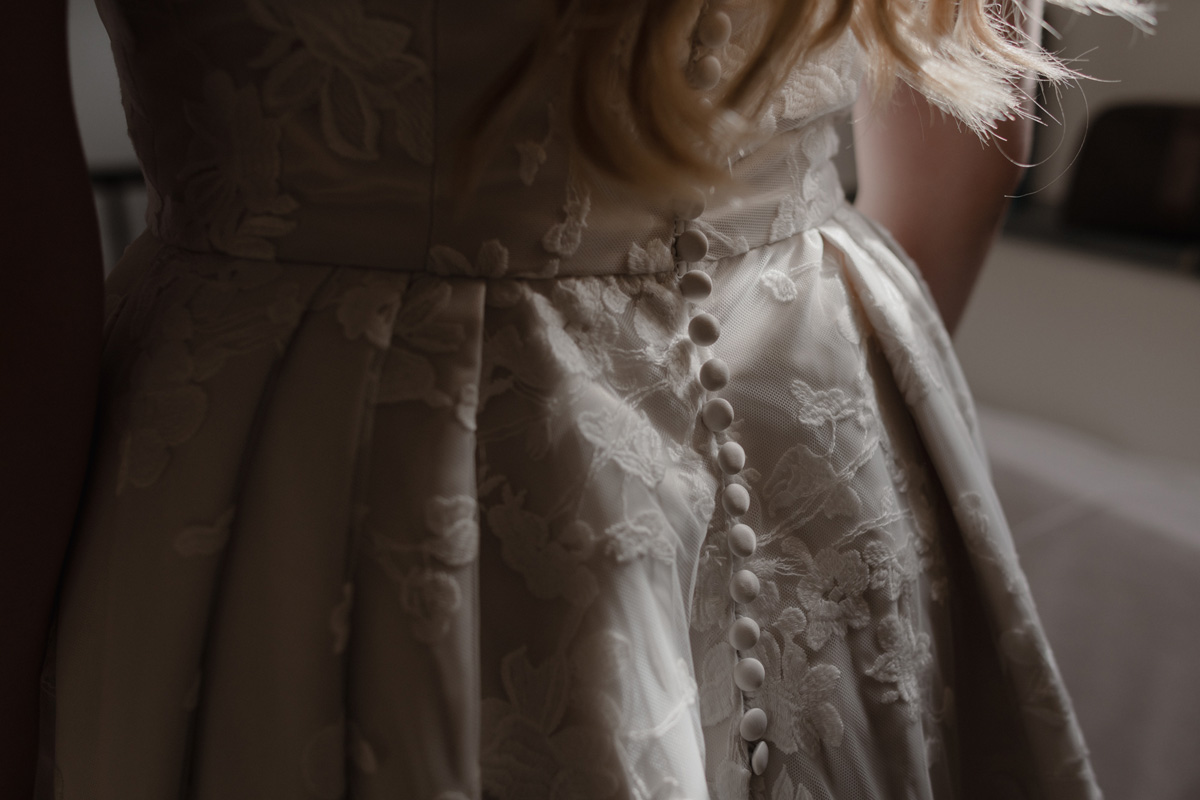 "I got to plan every detail with her, pick fabrics and lace, and had fittings at different times to get the size perfect. It was such a lovely experience that not only got me the dress of my dreams, but also gave me a lovely time with my sister."
"I felt incredible, like the best me I could be. Even though some of my choices aren't for everyone and might be a bit ridiculous, it was just right for me. I remember leaving the house walking past a mirror thinking, 'I look like a character in a period drama.'"
"The dress and the kokoshnik were exactly what I wanted. My family thought I was joking when I said I wanted to wear a kokoshnik, but I'm so glad I did. I got so many compliments on it on the day and even now, when people see pictures."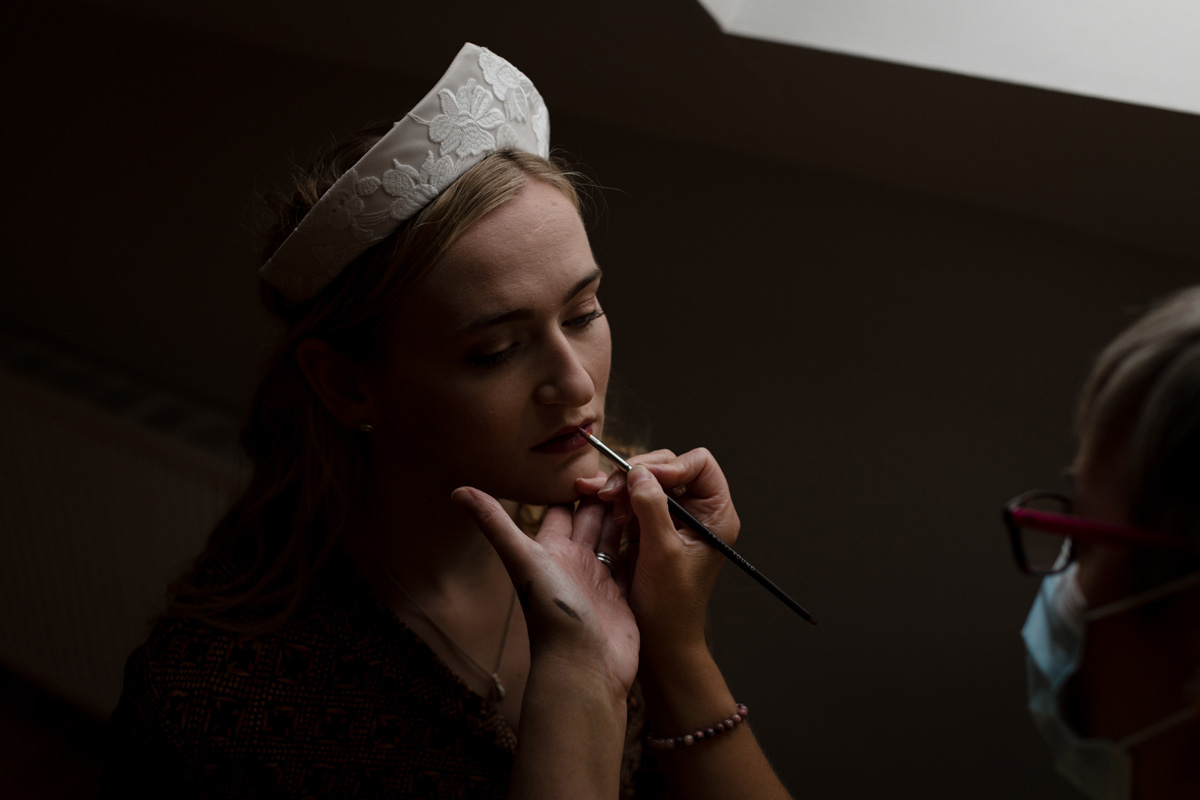 Ishbel added a chapel-length veil sprinkled with pearls, from Etsy shop WhiteSwanDesign and pearl jewellery.
"I really wanted to wear pearls on my wedding day and Tom found a lovely set in  T T Jewellers, the local jewellers in our town. My mum then found a really delicate pair of pearl earrings in a jeweller near her home in Scotland."
Ishbel wore the vintage-inspired 'Leona' booties from Journee Collection before changing into her favourite Converse trainers.
"I wore Converse with a union flag on the back that I got when I lived in Washington DC for a while as a teenager. The pair I wore was actually my fourth pair because I wore the originals until they fell apart."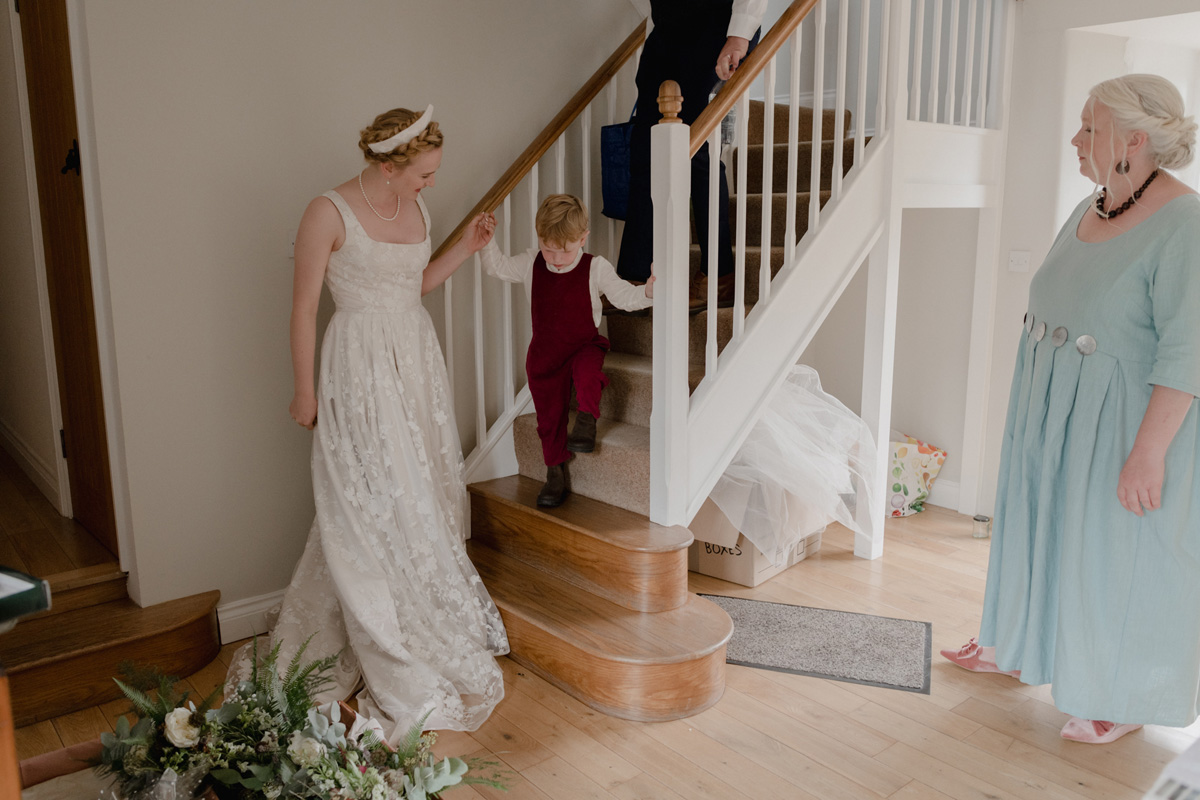 "My first pair I bought aged thirteen, and I remember my family joking that I should wear them if I ever got married as my 'something old' and 'something blue'. As the day crept closer, I couldn't resist. I'm no good at walking in heels anyway and I wanted to be comfortable more than anything, so I could focus on enjoying the day."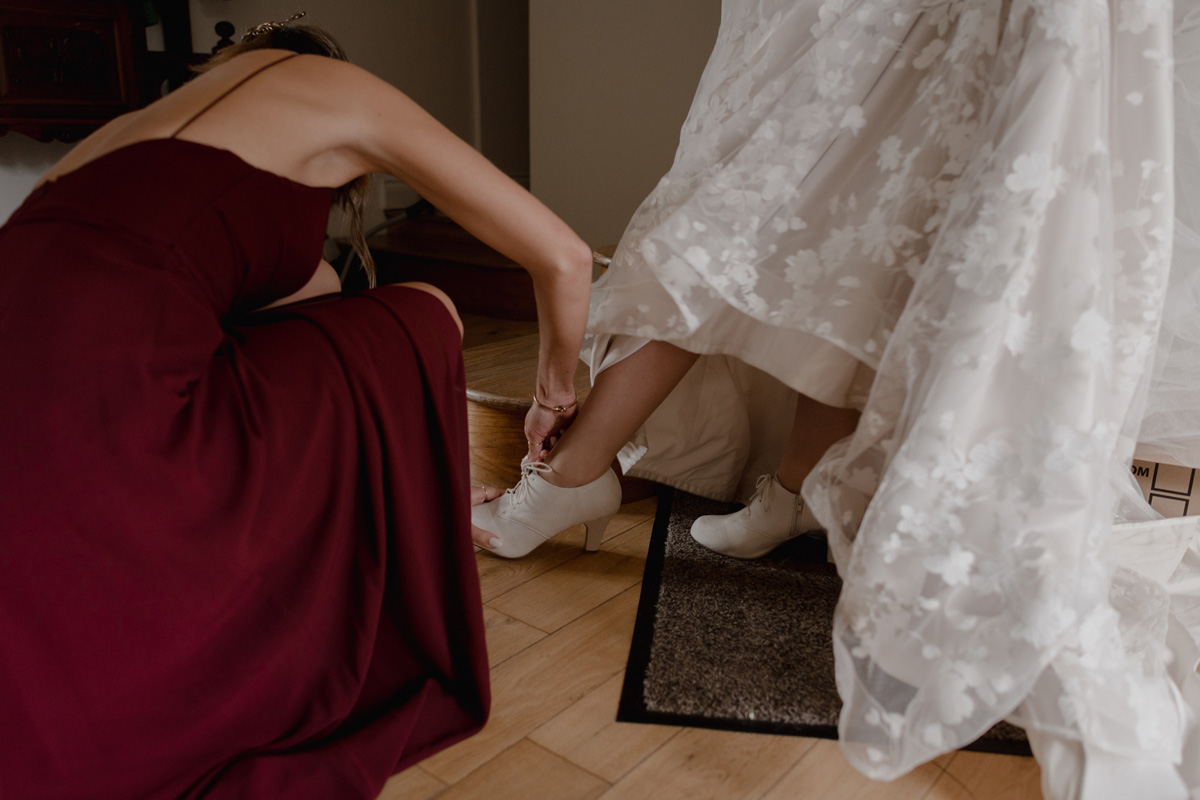 The bride carried a bouquet of natural and wild flowers, with a 'just picked' feel.
"Every year, when I was a little girl, my mum would take me to H. Watts Florist to buy a bouquet of flowers at the end of term for my teacher. They were so kind, letting me go into the back room and pick which flowers I liked."
https://www.lovemydress.net/directory/supplier/amarante-london/
"It turns out they are also incredible wedding florists, which I didn't know when I was a kid. We chose soft flowers, leaves and seed pods for the bouquets. They even arranged for some rosemary to be in the bouquet as a nod towards Tom's cooking and gardening."
The bridesmaids wore opulent and elegant gowns in rich tones of red and orange. Each girl chose her own from Jenny Yoo.
"For shoes, they wore whatever they found comfortable and wanted to wear, but I encouraged them to bring comfy shoes to change into for the ceilidh. They all brought trainers of some variety to dance in."
The bride was driven to the church by her dad in her parents' soft-top VW beetle, called Francis after the ladybird in 'A Bug's Life'.
"My dad drove me to the church, just as he did for my elder sisters. At my eldest sister's wedding, as they got out of the car, he jokingly turned to her and said, 'It's not too late'. It has become a ridiculous family wedding tradition now. As we stood outside the church before going inside, he said the same to me and then we both walked down the aisle, arm in arm."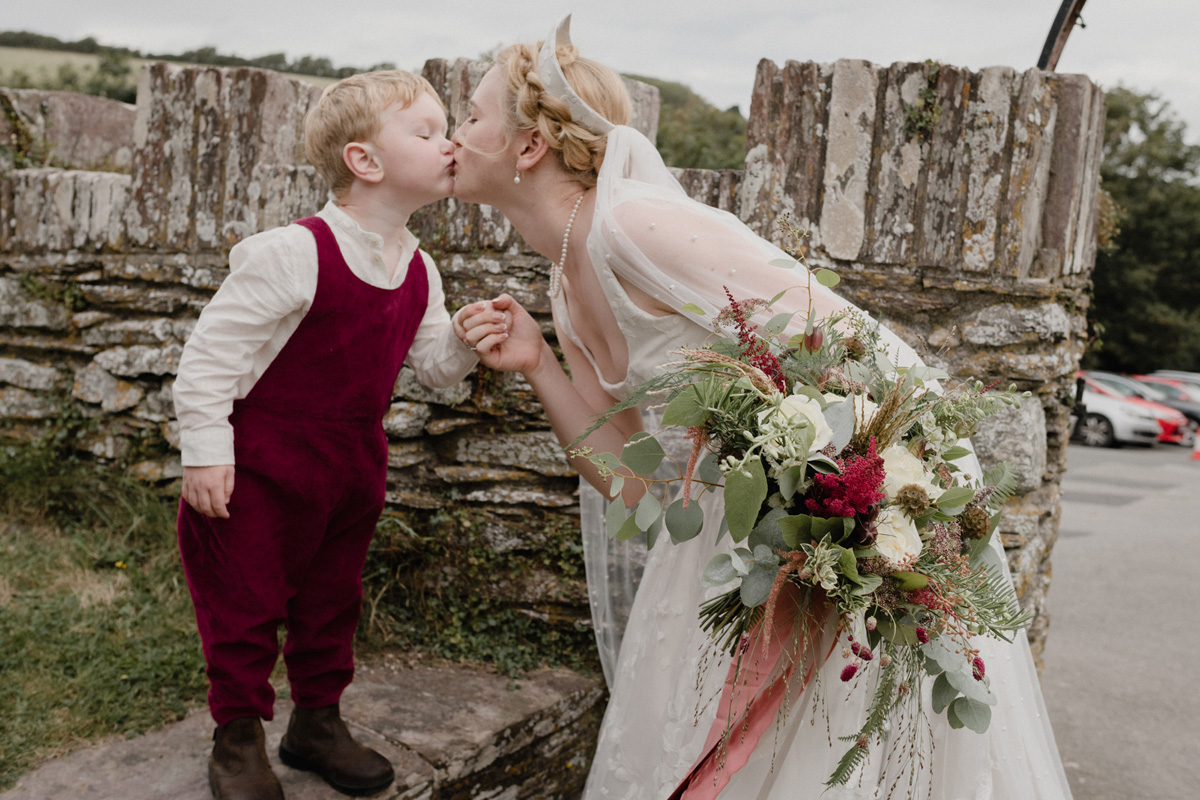 "We got married at Wembury, Devon. This was one of my favourite places growing up and the beach is where we first said we loved each other."
"Our ceremony was in St Werburgh's church, a beautiful, listed building on the hill overlooking the sea."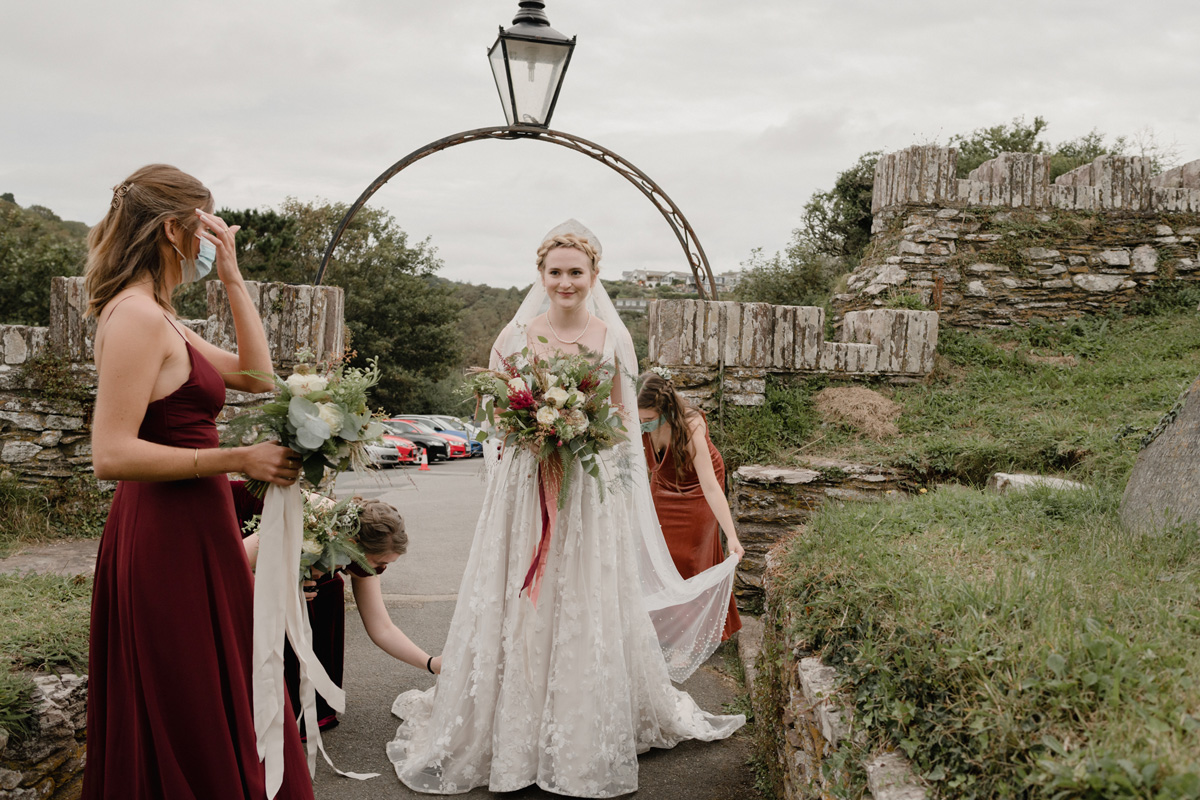 The wedding service was led by The Reverend Sarah Sharland.
"Tom chose all the hymns for the church ceremony as he was in the choir at school and loves singing."
"She officiated our wedding as the usual reverend was away that weekend. This was an incredible coincidence because she was a long-term family friend of Tom's while he grew up, but she had moved away from his village. Tom's sister and Sarah's daughter are still best friends, so we ended up inviting Sarah and her daughter to the reception after we found out."
"We chose readings about how when you stop worrying about details and trying to be perfect, things work themselves out. We both have a tendency to be pretty anxious people, but we have been really lucky and now we have everything we really need."
"I proposed to Tom with matching plain bands from Wearth London, an eco-friendly online shop, with a private message inside them. Tom looked around for a wedding band, but by then his attachment was to his engagement ring, so he stuck with it."
"He had also bought me a bespoke engagement ring from Evorden, so I found a second-hand wedding band on eBay that would match it better than the Wearth band I had bought."
"I quite like having a second-hand wedding ring; either it is from a happy marriage who were together until they died, or it comes from a marriage that ended early and it deserves another chance."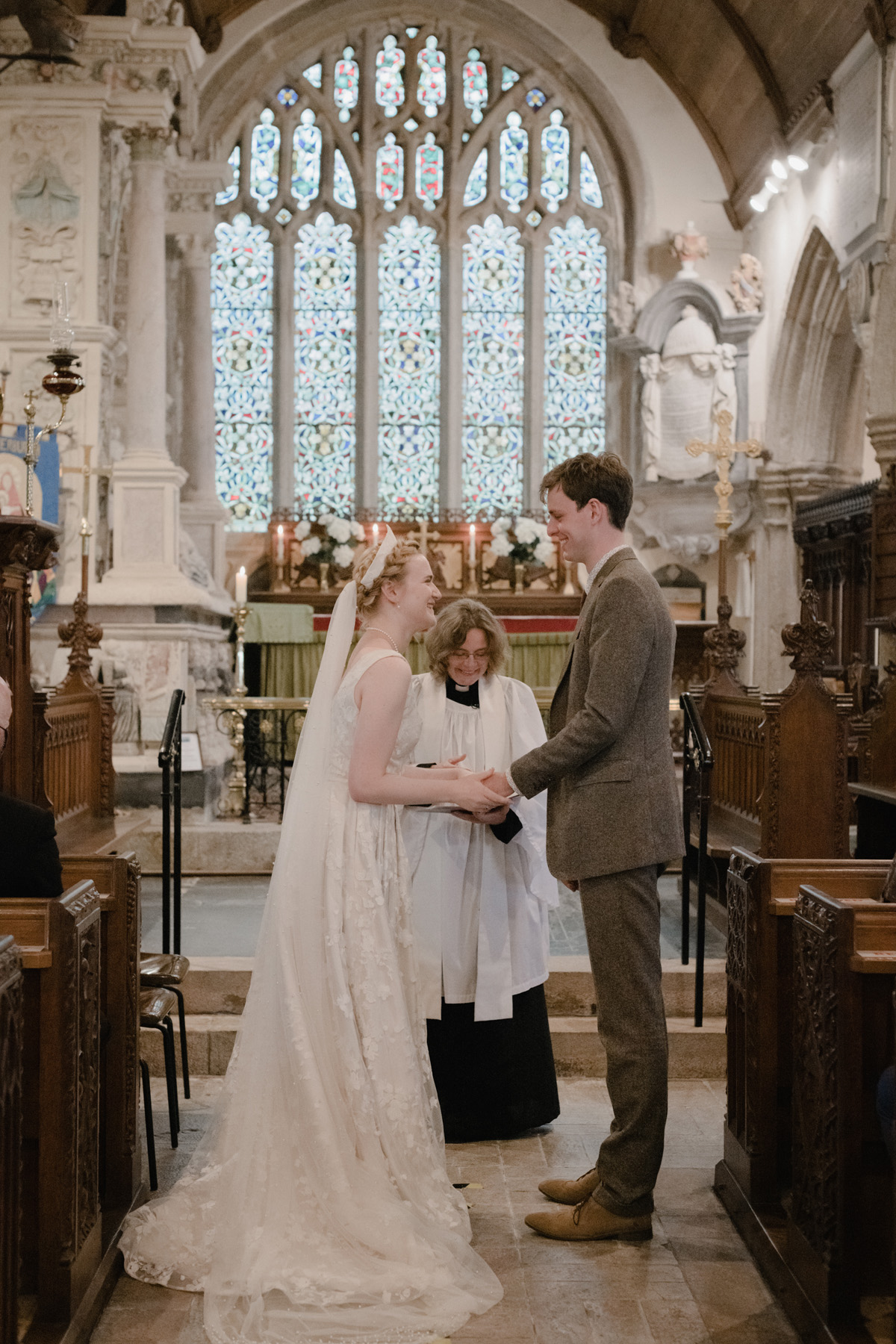 The newly-weds exited the church to a guard of honour, before taking a short walk up the lane to their tipi reception.
Ishbel and Tom met online and the bride proposed a couple of years later
"We didn't hit it off straight away. Our first date was lovely but I left it thinking I probably wouldn't see him again because he lived a bit further away and I didn't want the trouble."
"We went on one more date just to be sure, and that was the day I knew he was the one. A really old Kylie Minogue song came on the radio and he danced so badly, how could I resist? After that, we never looked back."
"In January 2020, we moved in together and on 29 February 2020, I took Tom for a surprise weekend away and proposed to him."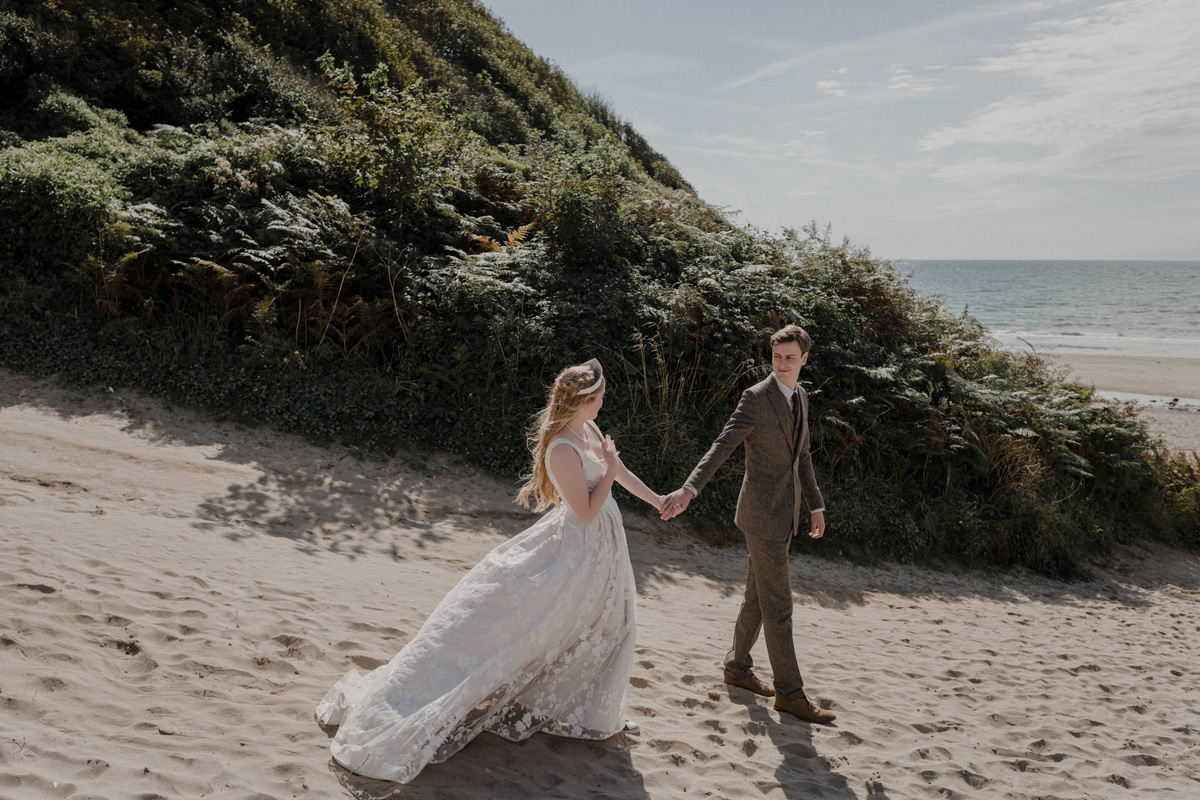 At 6 foot 6, Tom chose to have a bespoke suit made for the wedding day.
"Tom has never had any clothes that properly fit him. We decided that it would be sensible to have a suit made by Adrian Barrows of The Bespoke Tailor, which he can wear again and again. Every weekend leading up to the wedding he would find some new excuse to try it on, like a kid with a new toy; 'I haven't tried it with my new tie' or, 'I haven't tried it with the shoes yet'."
"I saved up for months and bought Tom his dream Nomos Glashütte watch as a wedding present. The footage of him opening it was worth every penny."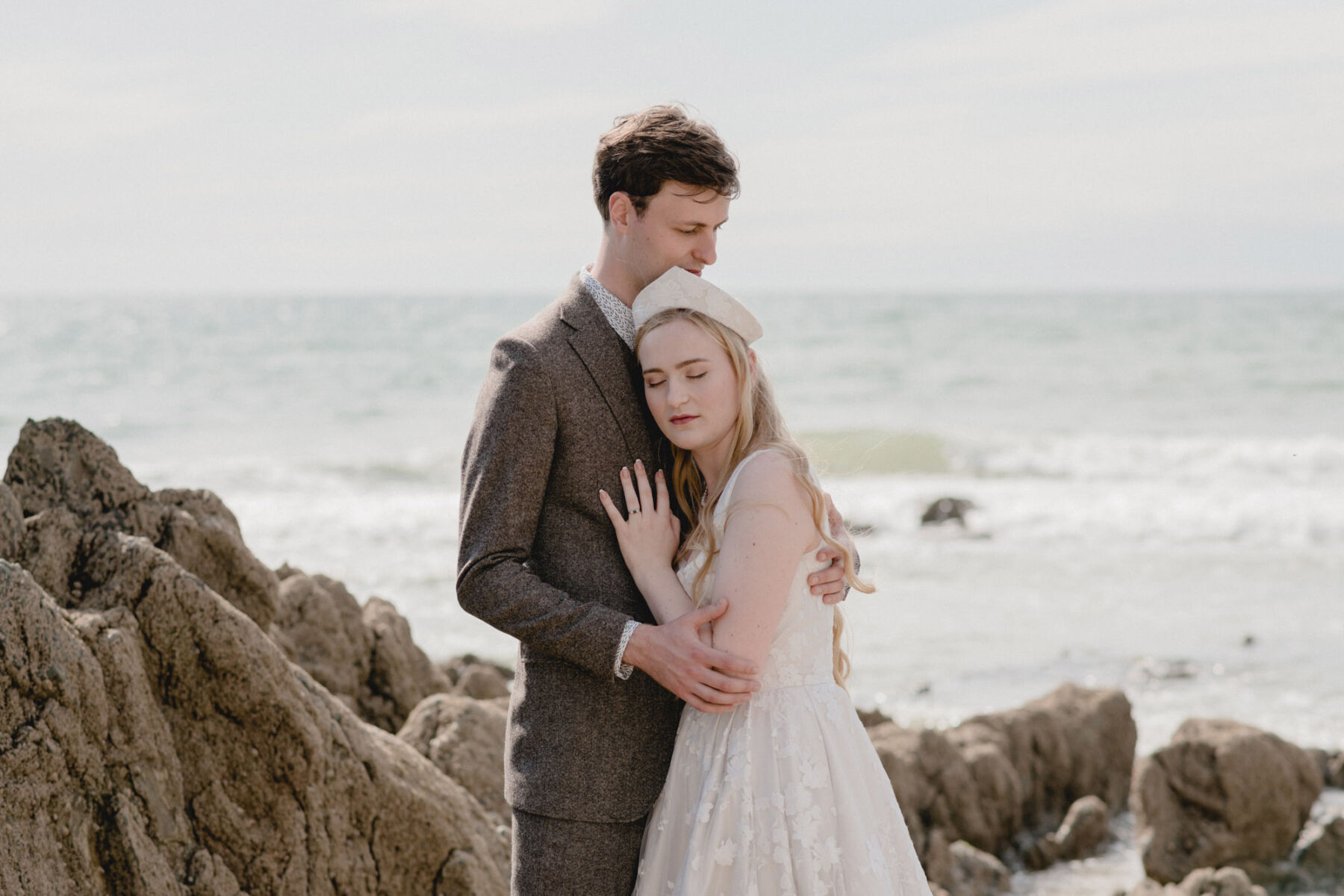 The bride wore her up in a plaited crown, showing off the gown's neckline to perfection.
"Lisa Gadsby Wedding Hair did my hair on the day, absolutely beautifully. She was super-helpful, especially since after the trial I completely changed my mind about what I wanted. She was also super-sweet with my flower girl, who was too nervous to have her hair done but loved the sparkly clip that Lisa gave her."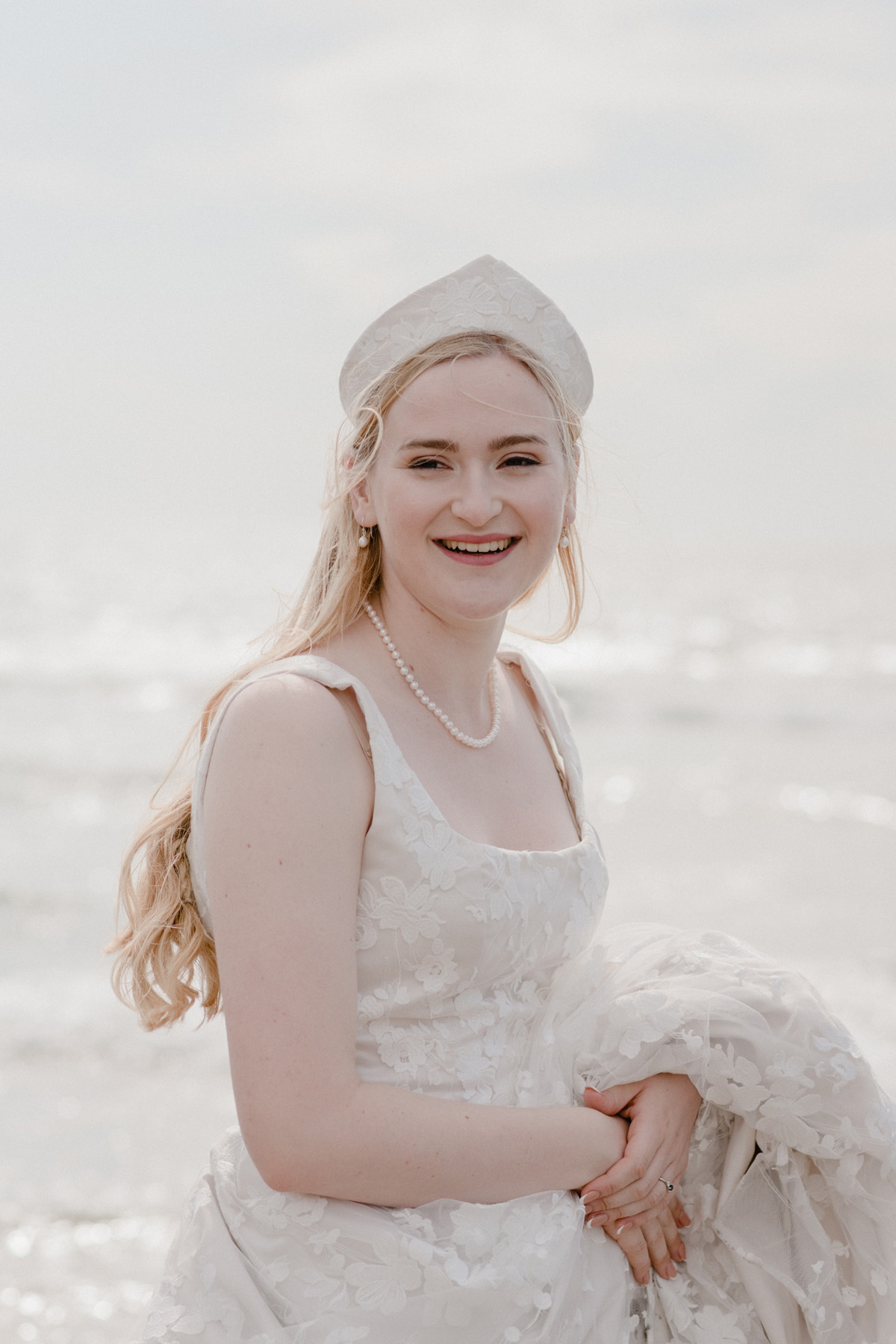 "I'm not somebody who takes any interest in their skincare or wears make-up often. I still use the same mascara I was bought as a gift when I turned sixteen. I wanted to look my best at the wedding but I have very little patience for sitting to have my make-up done, and didn't want to look overdone."
"The lovely Claire Bowring did my make-up and absolutely nailed the balance. We had a bit of a giggle when she saw my tiny make-up bag, looking for any lipstick for me to do any touch-ups during the day once she had left."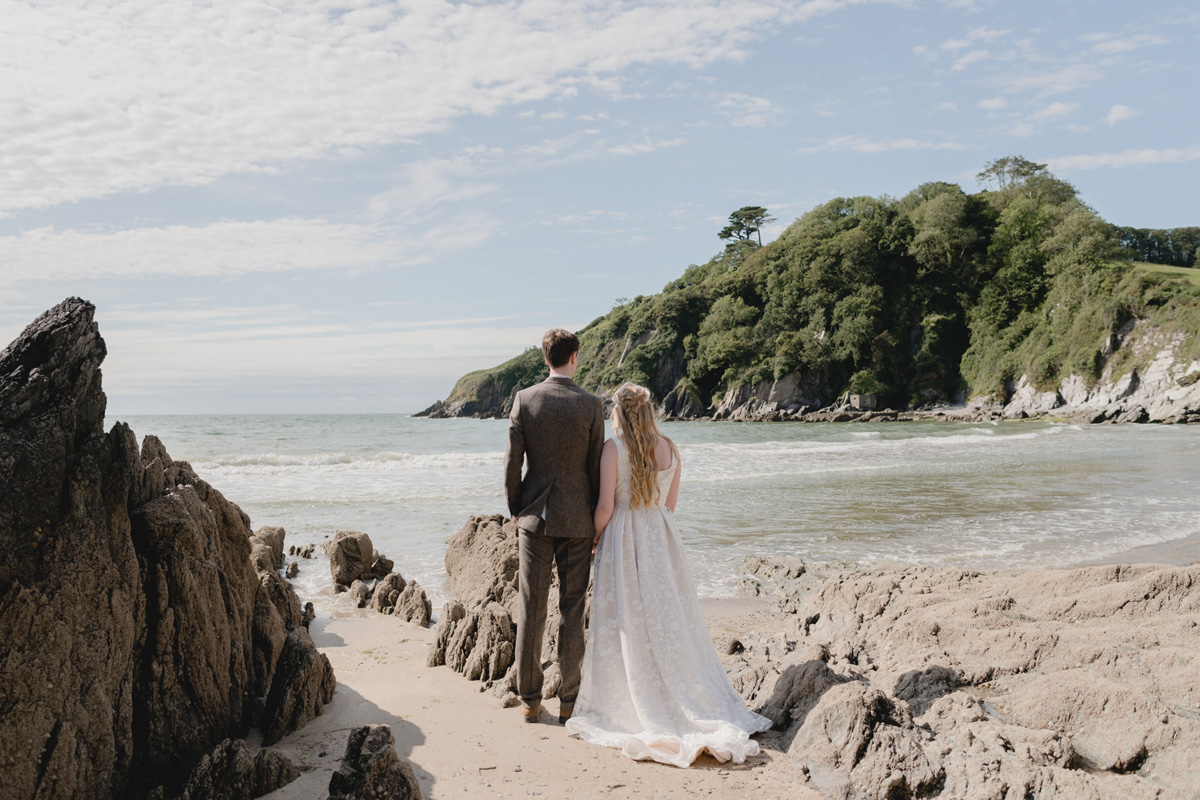 The couple found their wedding photographers, Lyra & Moth Photography, through Ishbel's sister. Their work is so perfectly suited to the clear air of the Devonshire coastline, capturing its beauty so well. Tom and Ishbel chose to have a first look, in the form of portrait shoot on the morning of the wedding.
"My sister has worked closely with lots of wedding photographers in the South West, so I had a really good idea of whose style I liked and who I got on well with."
"Sarah is such a lovely person and her style is really relaxed, which was perfect for us. We are both pretty awkward and uncomfortable having our picture taken but Sarah really helped us relax and be ourselves."
"It means we have some fun pictures which reflect our personalities really well. One of my favourites is a picture of us eating Hula Hoops in sunglasses and wedding apparel."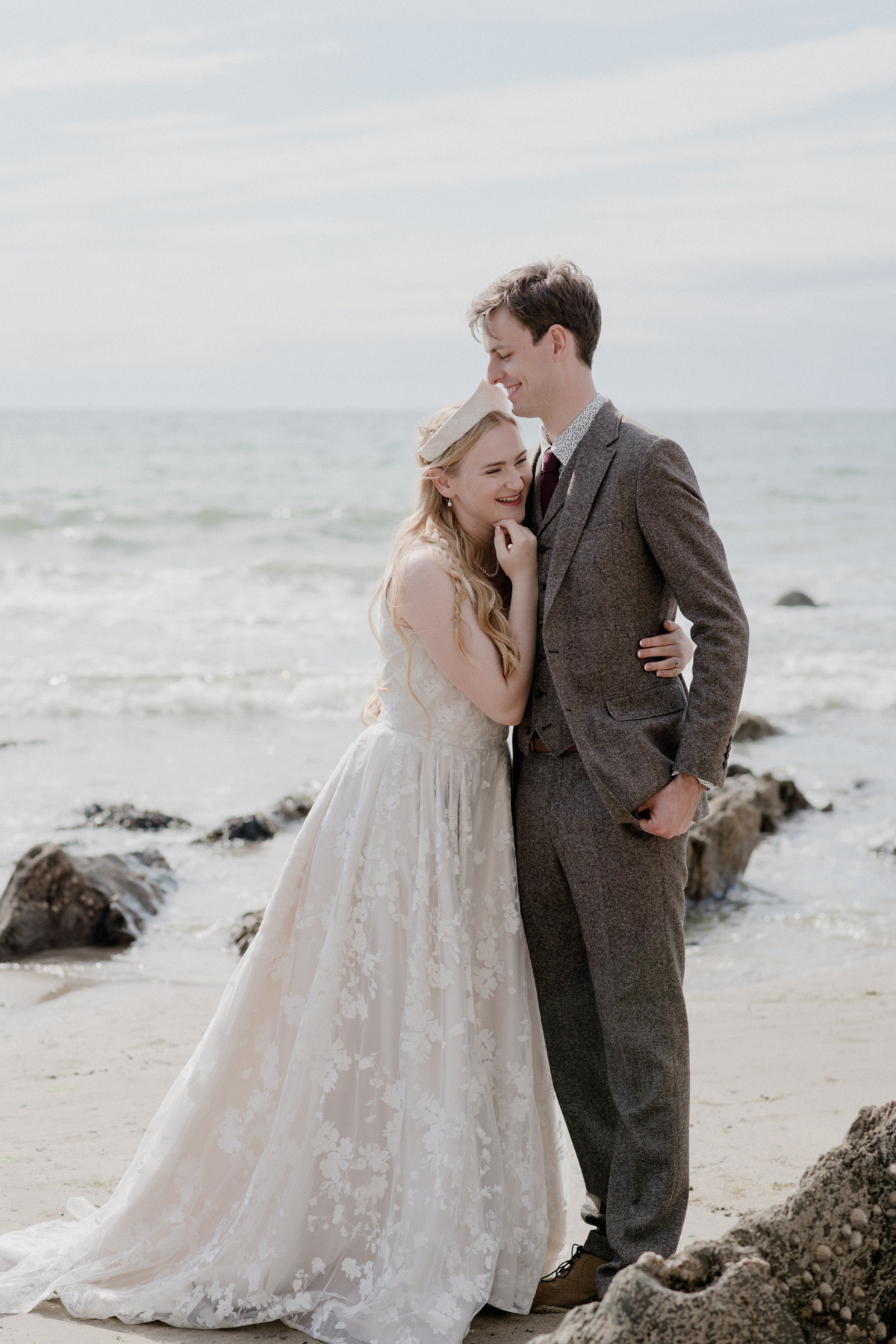 "Tom and I are both pretty awkward in front of a camera, so didn't want to have loads of formal and posed pictures taken on the day. Neither did we want to leave after the service to have our couple shots; we wanted to spend time with our guests. Instead, we went to a secluded beach on the morning of the wedding and it was the best decision we could have made."
"We weren't superstitious about seeing each other before the ceremony, so it meant we had this tiny slice of the day all to ourselves, paddling in the ocean in our wedding outfits, eating hula hoops."
"Having photographer Sarah there was like a day trip with a friend – she was so lovely with us. When we arrived at the beach and I started taking my shoes off to paddle, Tom insisted he wasn't going to go in, but we have photo evidence to prove that he did. It just felt like us, doing what we love doing. It also felt amazing being on our own for a while, just looking forward to finally being married."
After a wedding dinner from PickleShack, there was wedding cake from a family friend.
"For the reception, we hired a field from Wembury Weddings and a tipi on the opposite hill, just a short walk away. My whole family collected every glass jar we used for a year and a half, removed the labels by boiling them and then put tea lights in them for the tables. All the different sizes and styles worked really well together, although I admit there were a lot that were suspiciously shaped like jars of chocolate spread. Tom's mum also grew loads of different herbs in plant pots for the table tops. Tom is really into houseplants and into cooking, so this was a little nod to his passions. My mum made us metres and metres of plain white bunting that we got the tallest usher to put up for us."
"Tom's mum bought small jars in bulk and made jam to give as favours for half of the guests. My mum and I harvested home-grown lavender and sewed small bags with the wedding date on as scent bags for the other half of our guests."
"PickleShack, our caterers, not only served absolutely incredible food, but also lay the tables and provided napkins of our colour choice to help decorate the tipi how we wanted."
"They all set up in a field we hired from Wembury Weddings, who liaised with all our suppliers, helped set up and were absolutely incredible. The owner even helped my hair stylist with a flat tyre as we headed off to the ceremony on the morning of the wedding."
"Our amazing family friend Debs made our cake for us as a wedding present. Despite becoming a grandmother the day before our wedding, she still attended and brought the cake."
On Budget & Covid…
"Our parents were very generous and agreed to put forward £10,000 each, so anything over a £20,000 wedding we would fund ourselves. Thanks to Tom's role in data handling, we had an extensive spreadsheet, showing we ended up spending £20,000.30! We also were lucky to have some friends and family or NHS discounts, a friend made the cake for us, and our grandparents paid for the flowers as a wedding gift. The ushers and bridesmaids kindly bought their own outfits (and also got to choose them), so that helped with staying on budget a lot too."
"Due to Covid, we didn't have any suppliers cancel or have to rearrange the date at all, and nobody came down with any illness before or after the wedding, so we are very lucky on that front. The hardest part was not having some of the special guests we wanted. Our grandparents were sensible and stayed away, which we thought was the right choice but it was hard not to have them. We also have some friends who live abroad who couldn't make it. Our ushers stood at the entrance to the church with hand sanitiser and masks for anyone that had forgotten theirs. Everyone in the church, except the bride, groom and Reverend, had to wear masks. This was obviously very sensible and worth it, but a bit of a shame in the pictures of walking down the aisle with my dad in a mask."
"Our advice would be to discuss what's important to you before you even start booking. Tom and I wanted to be married most of all. We discussed straight away that if the celebrations couldn't go ahead, we would legally marry without the party and consider a party in a few years. It took the pressure off a little bit wondering whether or not we would be able to go ahead with the wedding, because we knew we had a plan and agreed on it."
For entertainment, the couple chose a traditional Ceilidh,
"My family are Scottish so no wedding is complete without a ceilidh. Amber Fire Ceilidh Band were incredible."
Words of Wedded Wisdom
"I have two older sisters already married, so my family has organised three weddings now. All three had 90-100 guests, a church ceremony and a wedding breakfast, followed by a ceilidh. Despite being similar on paper, they all had quite different 'feels' and this was hugely down to the venue. The eldest was in a beautiful old university building, which made the day slightly more formal in tone."
"The middle sister was in a village hall in the Scottish Highlands, so was quite relaxed and friendly. Ours was essentially in a tent in a field, so it felt really informal. We loved that, but my advice would be to carefully consider what you want the wedding to feel like and think about how the venues you are looking at will affect this feeling – and how it will fit with your dress."
"A hooped skirt with a train, lace, beads and sequins might not have been super-practical for my field wedding, just as a relaxed floaty dress might not have fitted at my eldest sister's wedding."
"At the end of the day, remember what you're doing it for. Don't fret about the details if things go a bit wonky on the day. As long as the two of you are there and you are able to get married, the rest will just be memories."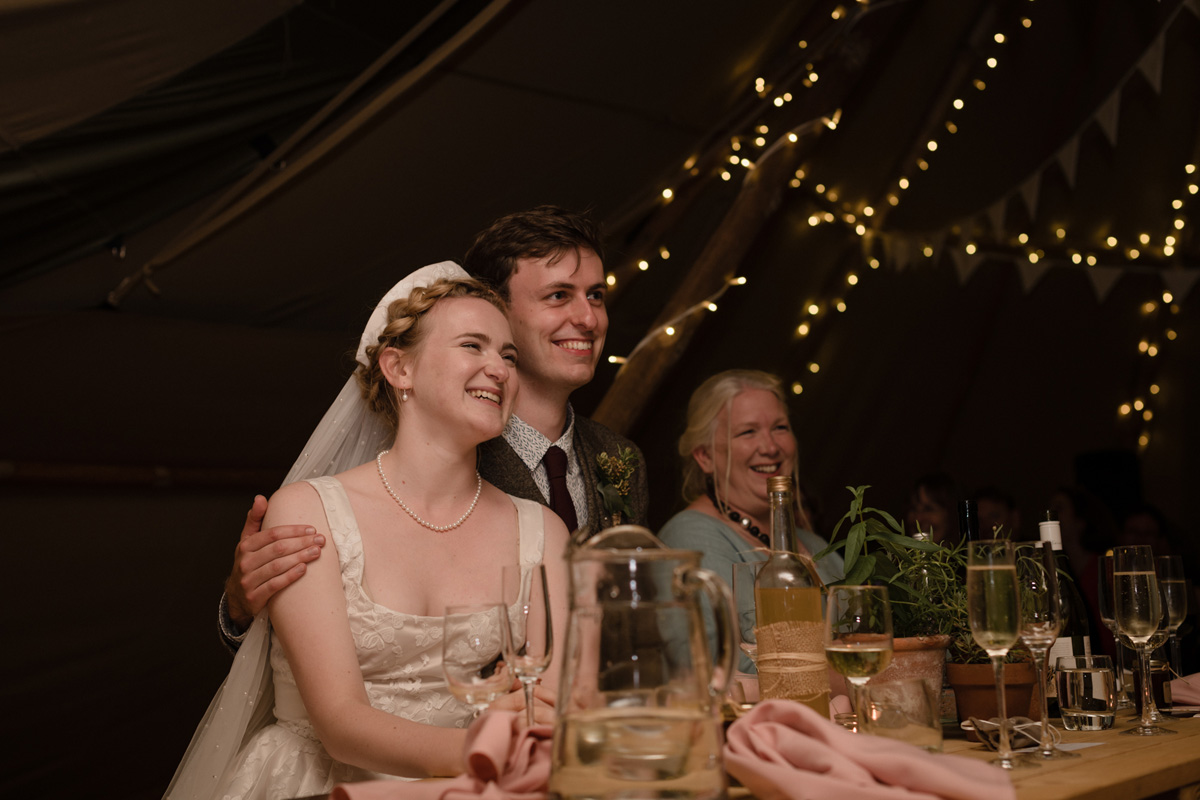 So many thanks, Ishbel and Tom, and thank you Lyra & Moth Photography too. It's been a dream to share this portfolio of images on Love My Dress, and to see this utterly magical, bespoke gown.
For more brides wearing creations by the talented Ailsa Munro, please enjoy this selection and for more ideas for your own nature-inspired wedding, take a look here.
Ele xx