Food Stylist Ella married Lawyer Alex on 14th May last year, at Spring Restaurant in London.
The focus was on keeping everything classic, fresh and easy with a subtle old Hollywood vibe which the bride couldn't resist. A spring wedding at Spring restaurant, meant there was no better time or place for the best flowers – and London floral designers Jam Jar Flowers supplied the most sublime and elegant floral design.
Ella wore a Pronovias gown that she discovered at Mirror Mirror in Islington and the incredibly talented Maja Tsolo, captured these gorgeous images. Both boutique and photographer are much loved, highly recommended Love My Dress suppliers – you can see much more of Maja's gorgeous and inspiring modern wedding photography here.
Enjoy!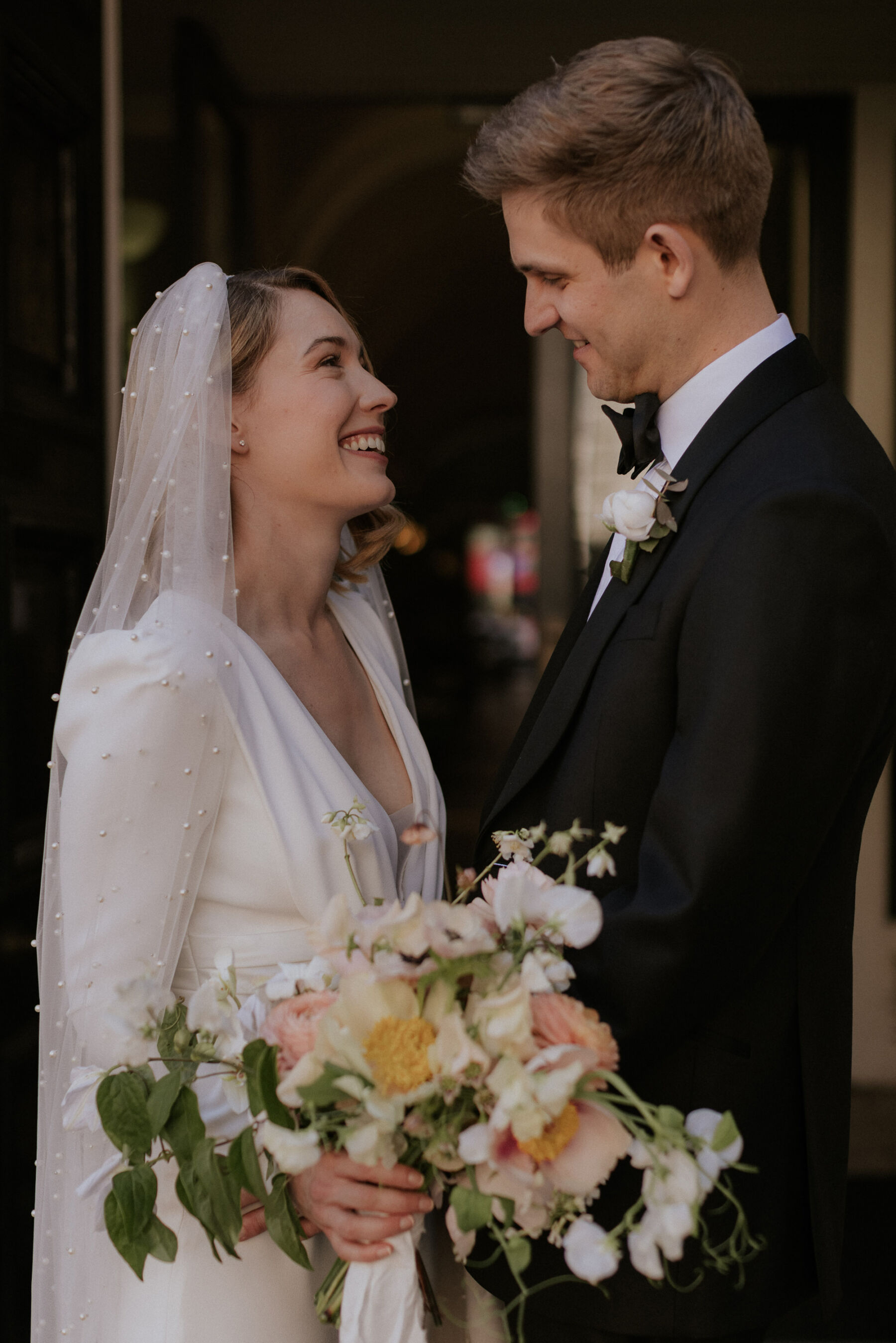 The Dress
My dress was 'Adrienne' by Pronovias, from Mirror Mirror in Islington. Meb was my stylist and she just understood what I wanted from the get go. We made quite a few alterations to my dress as it was originally much more revealing than I wanted and she did them all perfectly.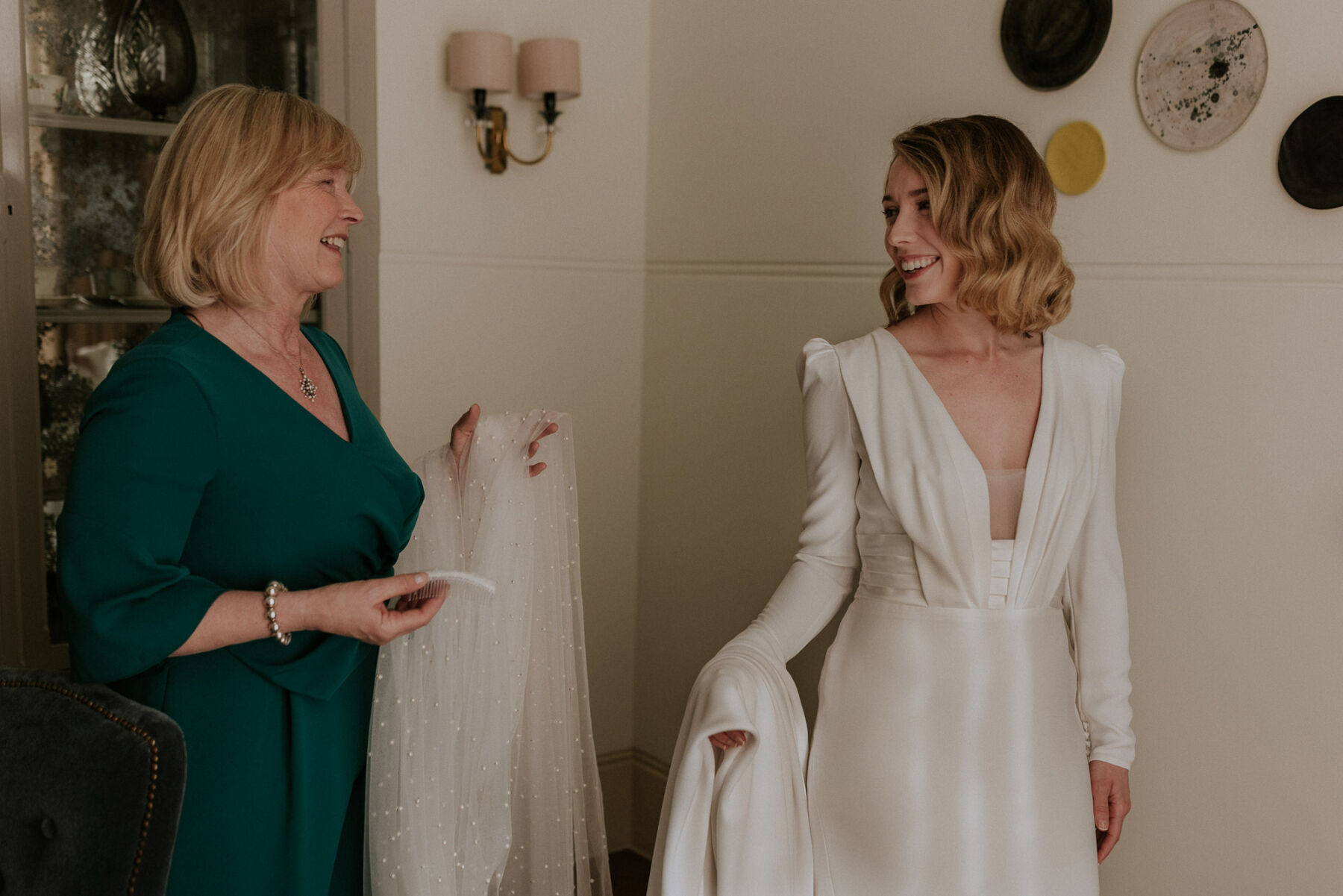 I would absolutely recommend Mirror Mirror. They have something for everyone and they made some brilliant suggestions.
I knew I wanted it to be classic but not too traditional or stiff. I've always loved the 'old hollywood' look but didn't want to look like I was playing dress up and I think the silhouette of the dress achieved that but it was so simple it kept it modern too.
Thirty minutes before we were set to leave, my dad realised that he'd left his trousers at home. Cue chaos. Luckily we were staying at The Nomad in Covent Garden (which might be the most beautiful hotel ever) so someone put him in a taxi to Oxford street where he quickly bought another pair. He walked into Moss Bros half dressed and just shouted "HELP". He didn't make it in the taxi that drove me to the ceremony, but he met me there and no-one was the wiser until he admitted it in his speech. The bride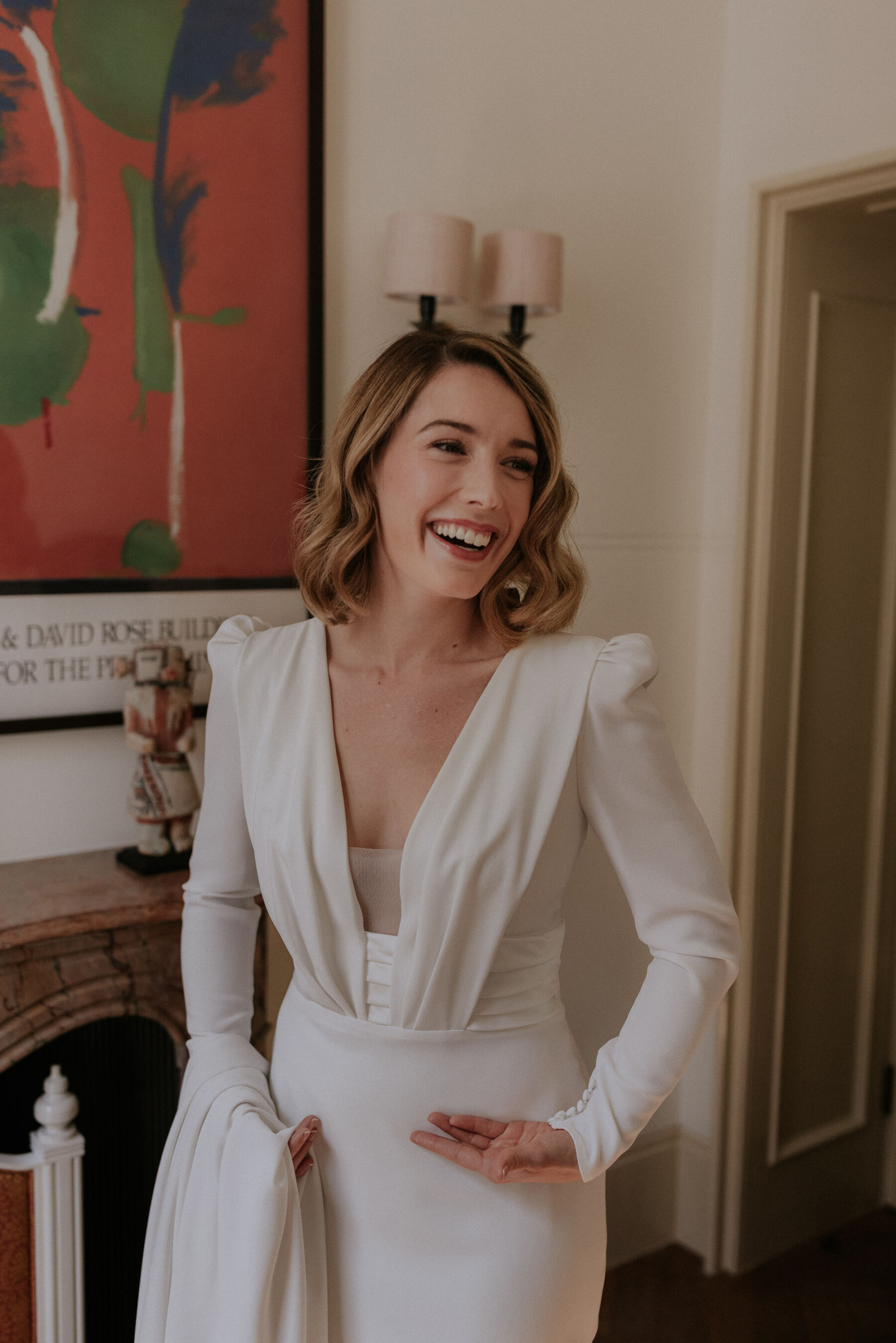 Bridal Beauty and Accessories
I wore the 'Mother of Pearl' veil and 'Dita' hair comb by Dolecka Bridal. I was really set on wearing a veil and never thought I'd pick something like the pearl veil that I wore, but it ended up being my favourite part of the whole look. I also wore the 'Dita' Comb by Dolecka Bridal.
Alex surprised me with a pair of Rachel Boston diamond studs on the day which I couldn't resist wearing. We pinned my great grandmother's earrings to my bouquet as my 'something old' and borrowed'.
My shoes were Manolo Blahnik Hangisi – the blue buckle was my something blue.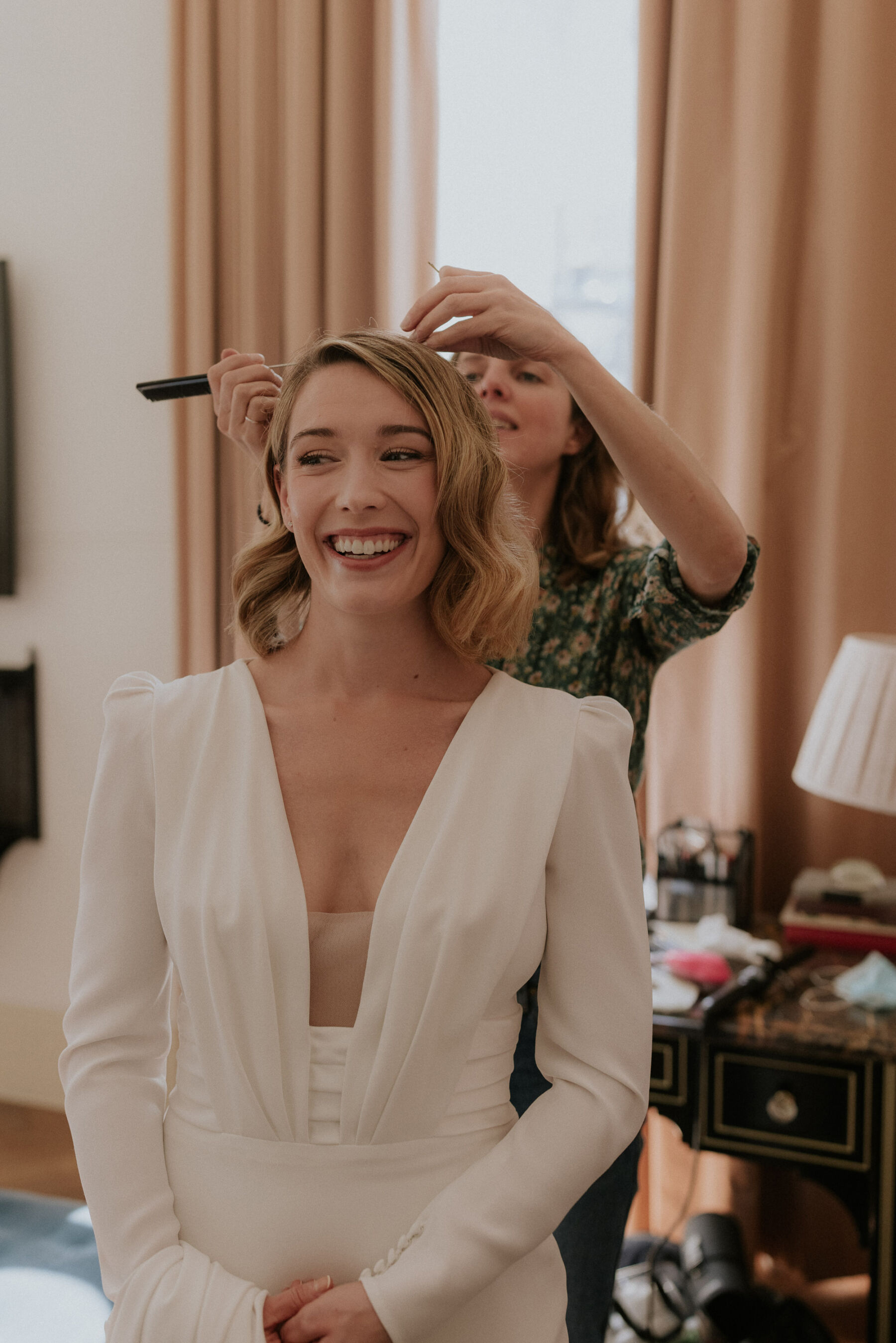 My perfume was Rose of No Man's Land, by Byredo. The light floral scent went perfectly with the Spring vibes of the day and was strong enough to smell when close but not overpowering at all.
My hair and Makeup Artist was Jo Clayton.
I gave my bridesmaids a budget to buy something they'd like and would wear again. I couldn't bear the thought of wasting a dress they'd never wear again. They all toned beautifully with each other and I think it helped them all feel confident.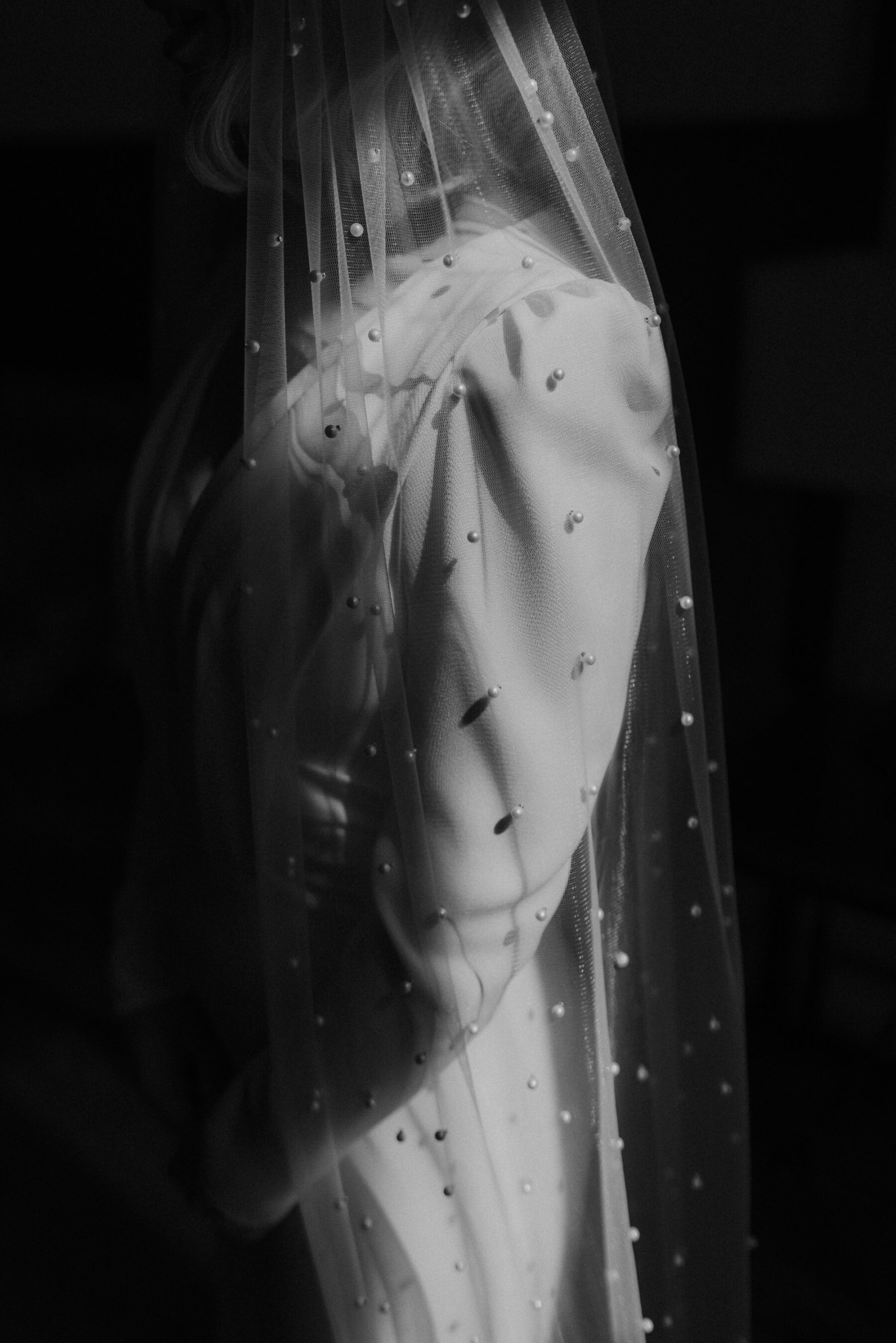 The Groom
Alex wore a bespoke tuxedo rom Richard James on Savile Row. I bought Alex the 'Bailey Quink' cufflinks from Alice Made This for the wedding day as a surprise.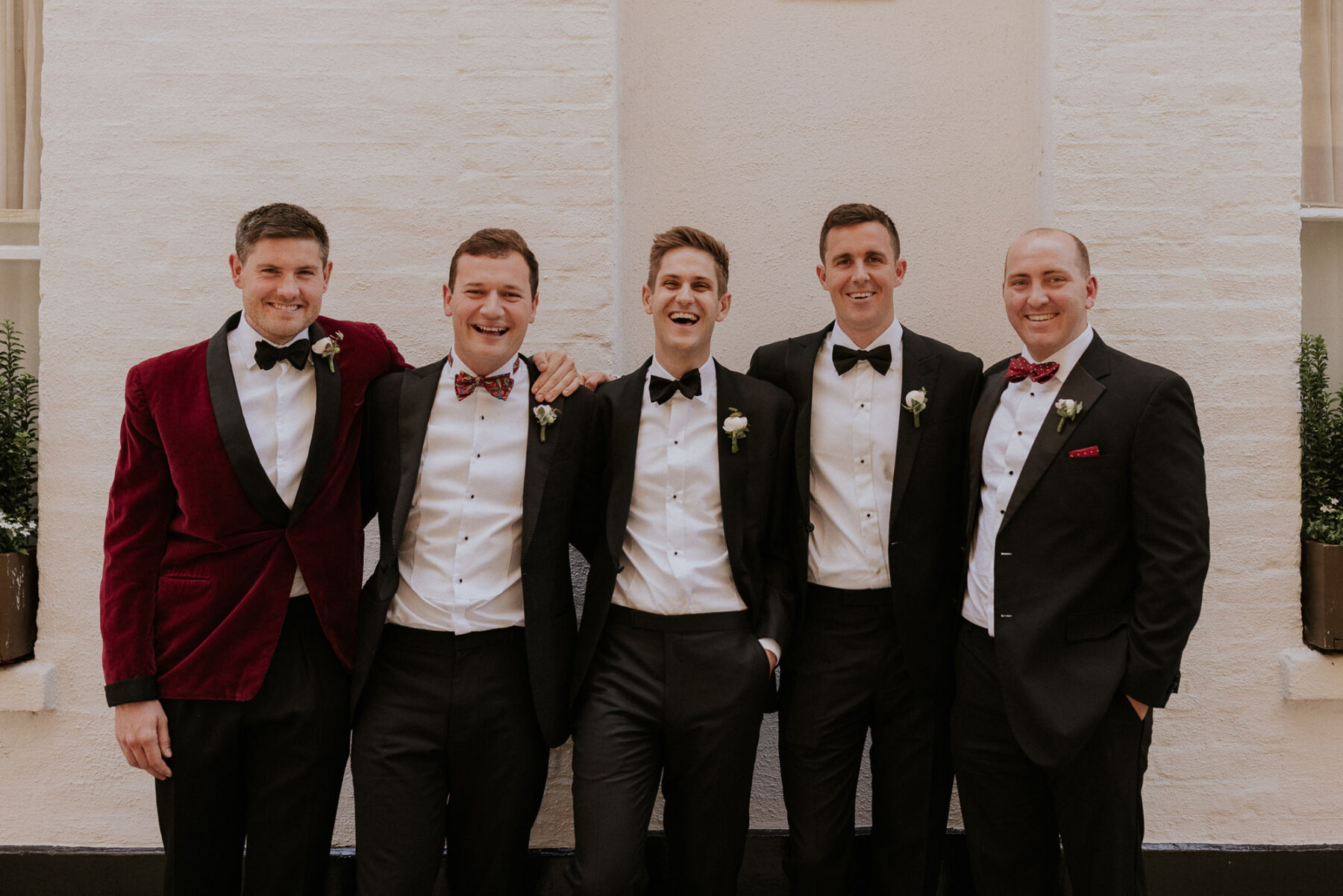 The Ceremony
Spring Restaurant
---
I had a vintage white London taxi take me to the ceremony – the photos in the taxi were some of my favourite!!
My dad walked me down the aisle to the sound of 'God Only Knows', by The Beach boys (a live, paired back version).
Francesca Khan from Westminster Registry Office officiated the wedding and she was so warm and personal, it was perfect. We chose a more traditional/ romantic script. We didn't want to worry about saying our own vows and nerves getting the best of us.
One of my bridesmaids read an extract from Dolly Alderton's 'Everything I know about Love'. I asked her to surprise us with her choice. It was really personal and grounded, and meant a lot to us.
Our rings were from Rachel Boston Jewellery. I had a bespoke trilogy engagement ring and the gold knife edge 'curve' wedding band. I tried lots of sparkly bands on but I didn't want anything to take away from my engagement ring that I love so much. The curve in the band adds a bit of interest without taking away from the engagement ring at all. Alex wore a yellow gold D shape band in a matte brushed finish.
The ceremony. It was obviously amazing to have everyone there with us but we both said we've never felt more connected. It was like we were the only people in the room.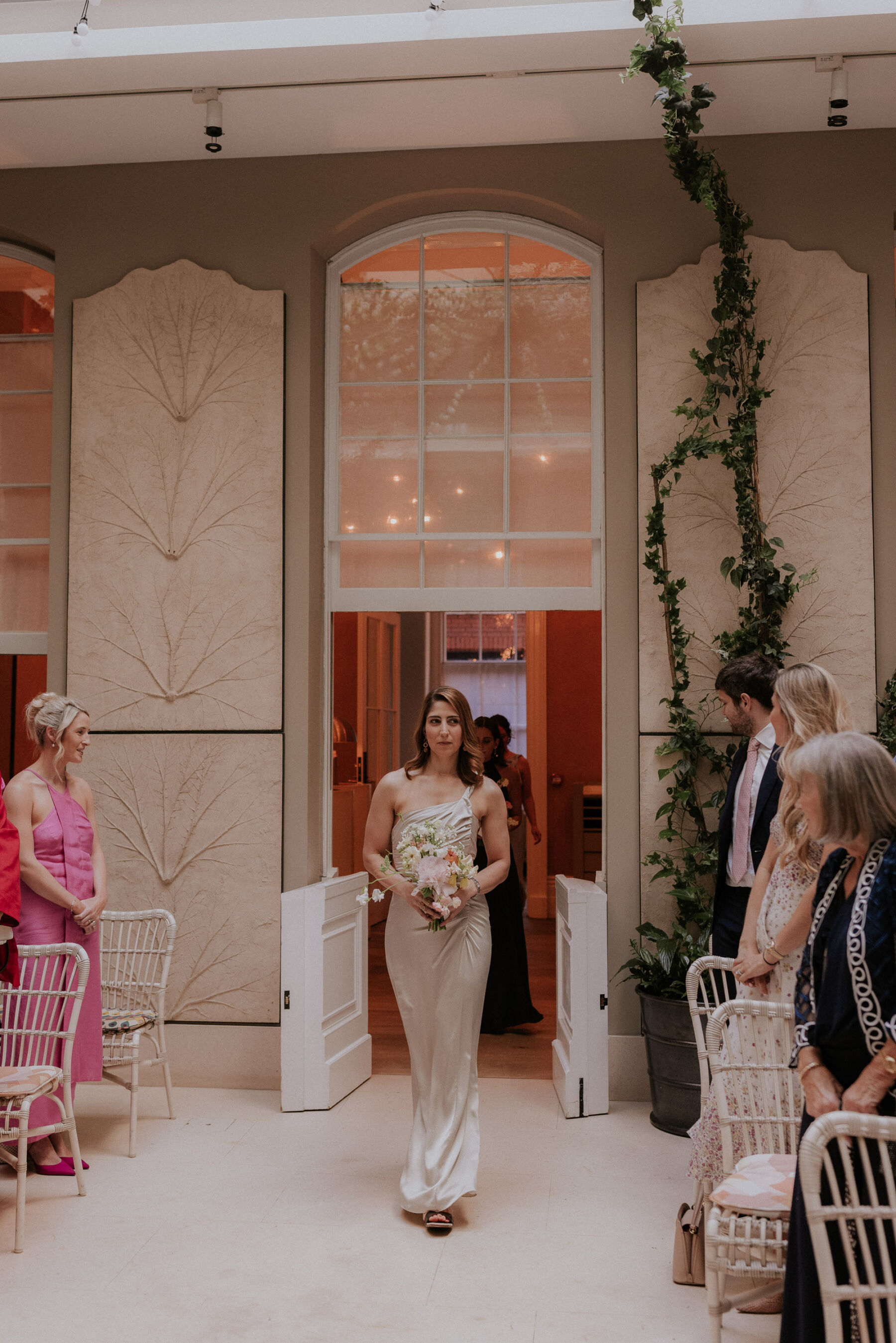 Photography
Our photographer was Maja Tsolo. I fell in love with Maja's style – it's such a personal documentary of the day, but just the right amount of arty.
Until our wedding, I hadn't ever truly liked a photo of myself but these are displayed all round our house! She was an absolute joy to have with us on the day too.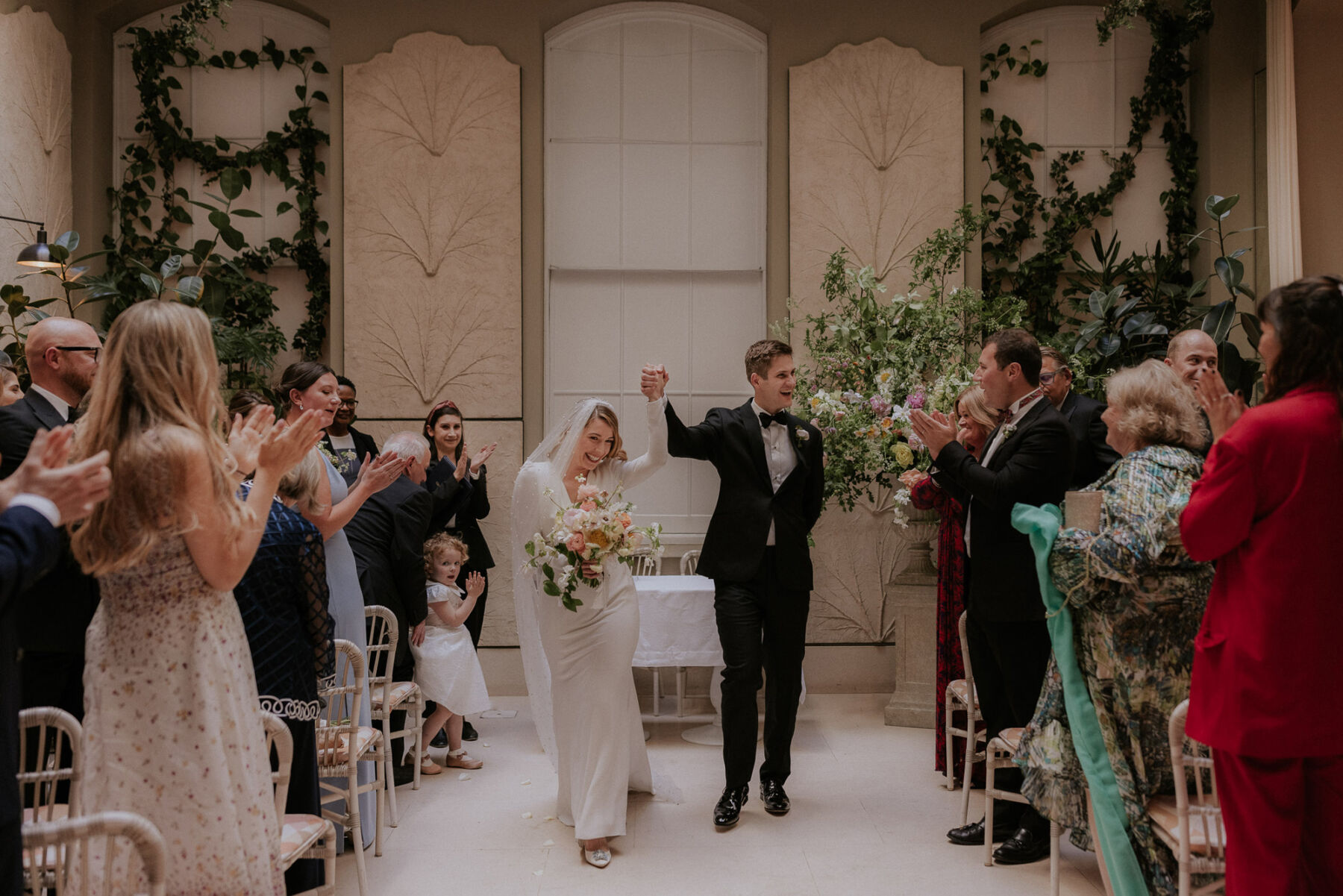 How They Met
We were set up on a blind date by a friend (that never works!). Alex had booked three different restaurants to choose from so I knew he'd be just as big a foodie as I was.
We got engaged at home during lockdown after four years and were engaged for sixteen months before the wedding.
An Elegant Wedding Reception at Spring Restaurant
The space at Spring was just so beautiful it only needed flowers and the menu is one of the best and most sustainable in London.
When we first visited Spring, we absolutely marvelled at the flowers and Jam Jar Flowers provide them for Spring all year round.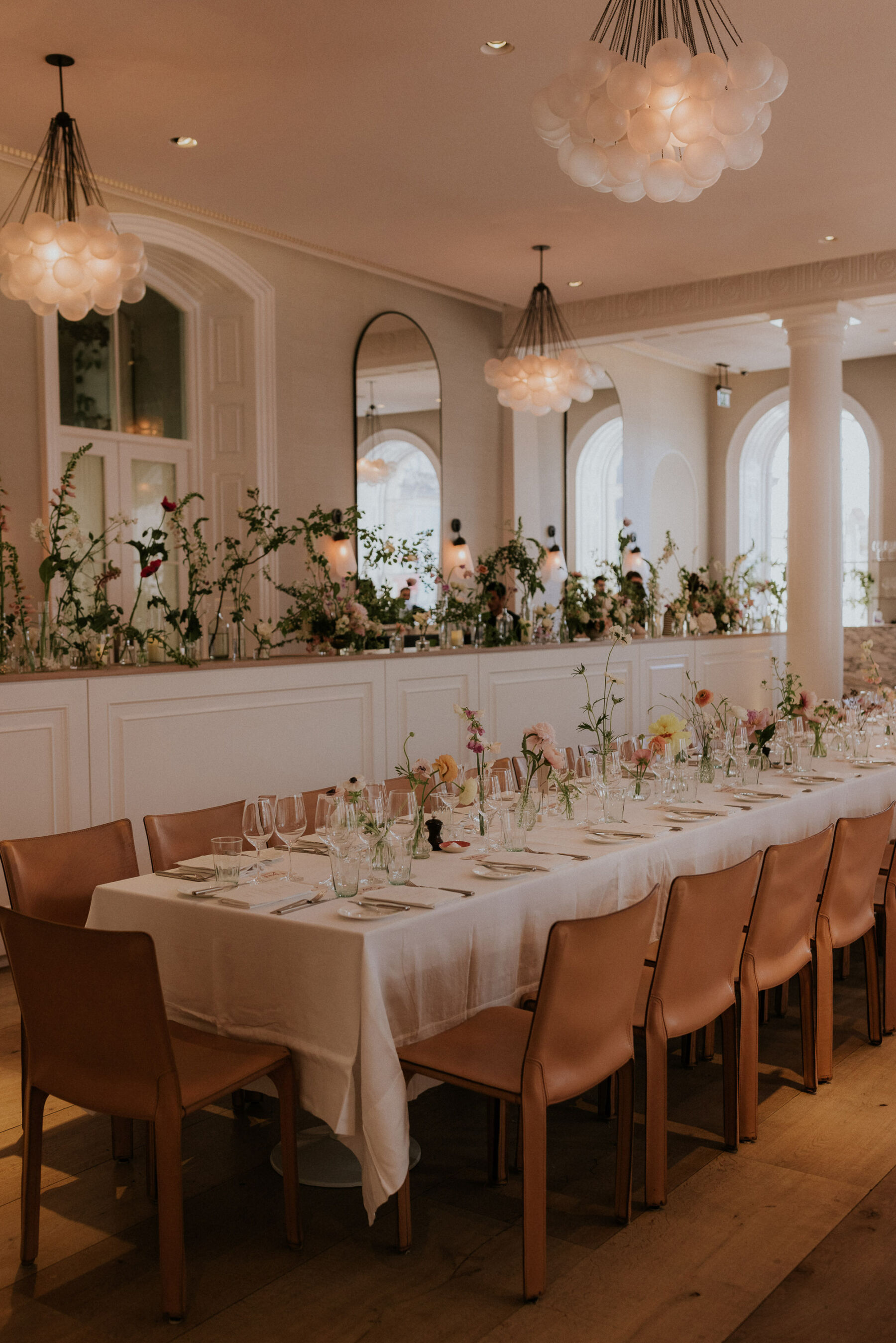 It made absolute sense to ask them to do the flowers as they complemented the venue so well and they already knew the layout. They're very hot on sustainability and minimising their carbon footprint which we also loved.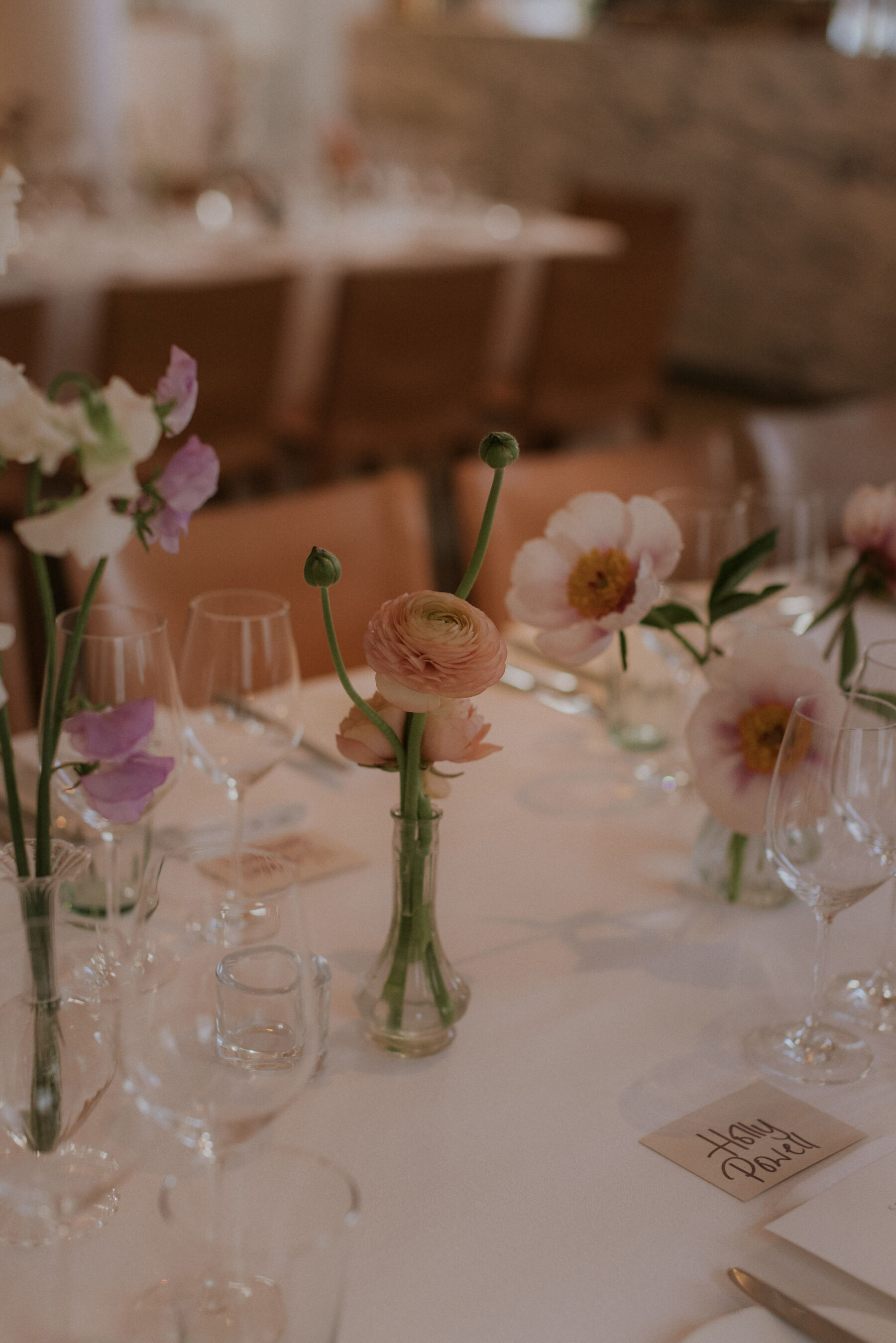 I made a cake to cut (although it ended up being a bit of a last minute disaster/stress – I wouldn't recommend it!) and Spring made a buttermilk and elderflower cake to serve.
Evening & Dancing
We hired The Sparkle Band and danced to 'Beast of Burden' by The Rolling Stones. It's a romantic but upbeat song as we didn't want our first dance to be too serious.
It quickly melted into 'Signed, Sealed, Delivered' by Stevie Wonder so everyone could join us. Our flower girl was the first to run onto the dance floor to dance with us.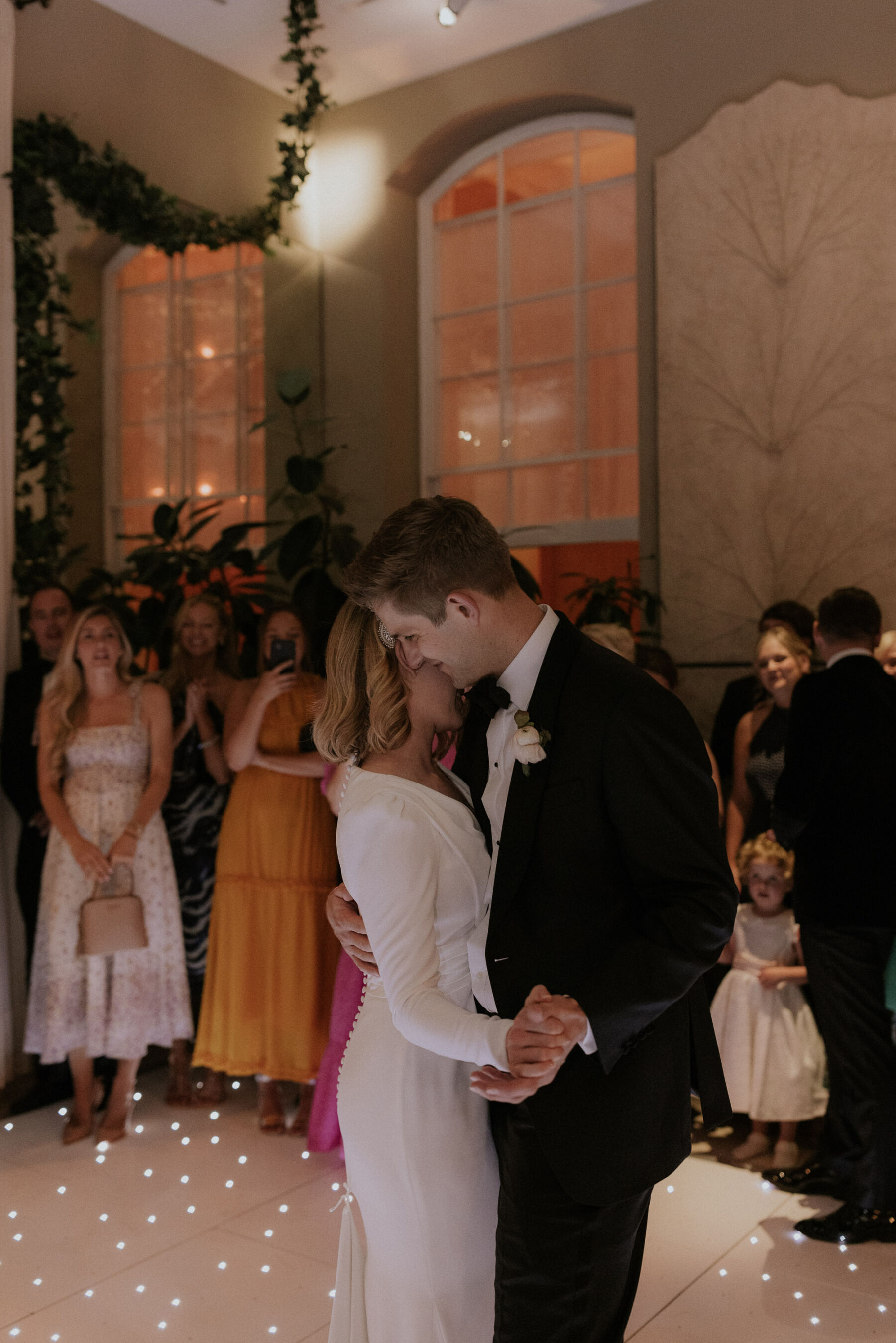 Words of Wedded Wisdom
I might have packed my Dad's suit myself but otherwise, no!
This is so much easier said than done but try not to stress. Something is always going to go wrong (lost trousers etc etc), but it doesn't matter, the day is so magical regardless. Your Dad can always walk you down the isle in jeans.
Those tiny details aren't what people remember, it's the joy of the day.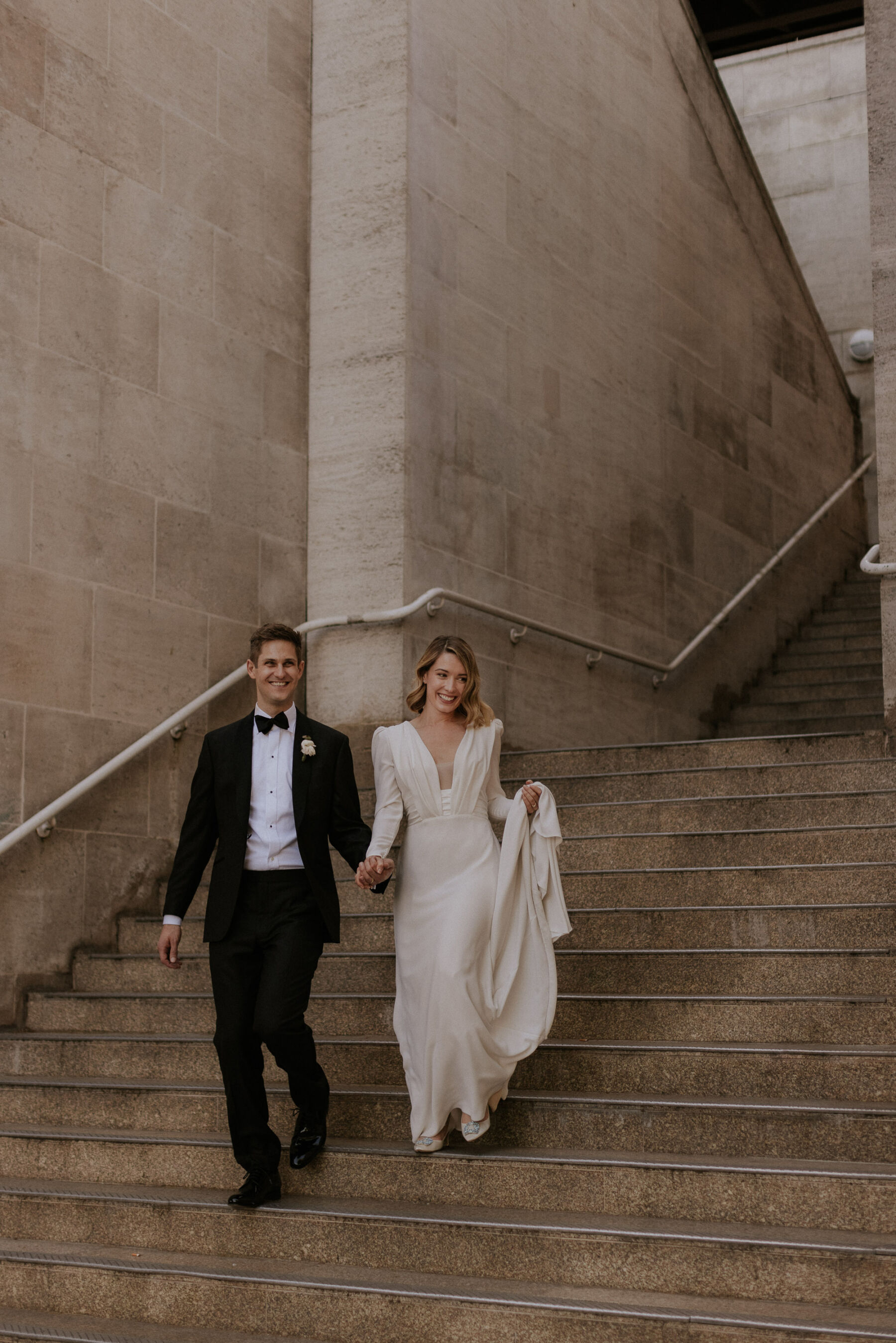 We thought Spring was going to be way out of budget so we were hesitant to go see it, but there were so many ways to tailor it to work for us. We did go a little over budget but for all the right things. I didn't want to look back and think "I wish I'd just spent a little more on this or that" but I didn't want to look back and think I'd spent money on unnecessary things either.
We were happy to spend a little more on food, drink and flowers but other things weren't as important to us like favours and extra decorations.
I spent a long time looking at the Love My Dress Weddings section. There's nowhere quite like an actual wedding to get inspo. You think you've thought of it all until you see a small detail that you've absolutely not even thought about yet.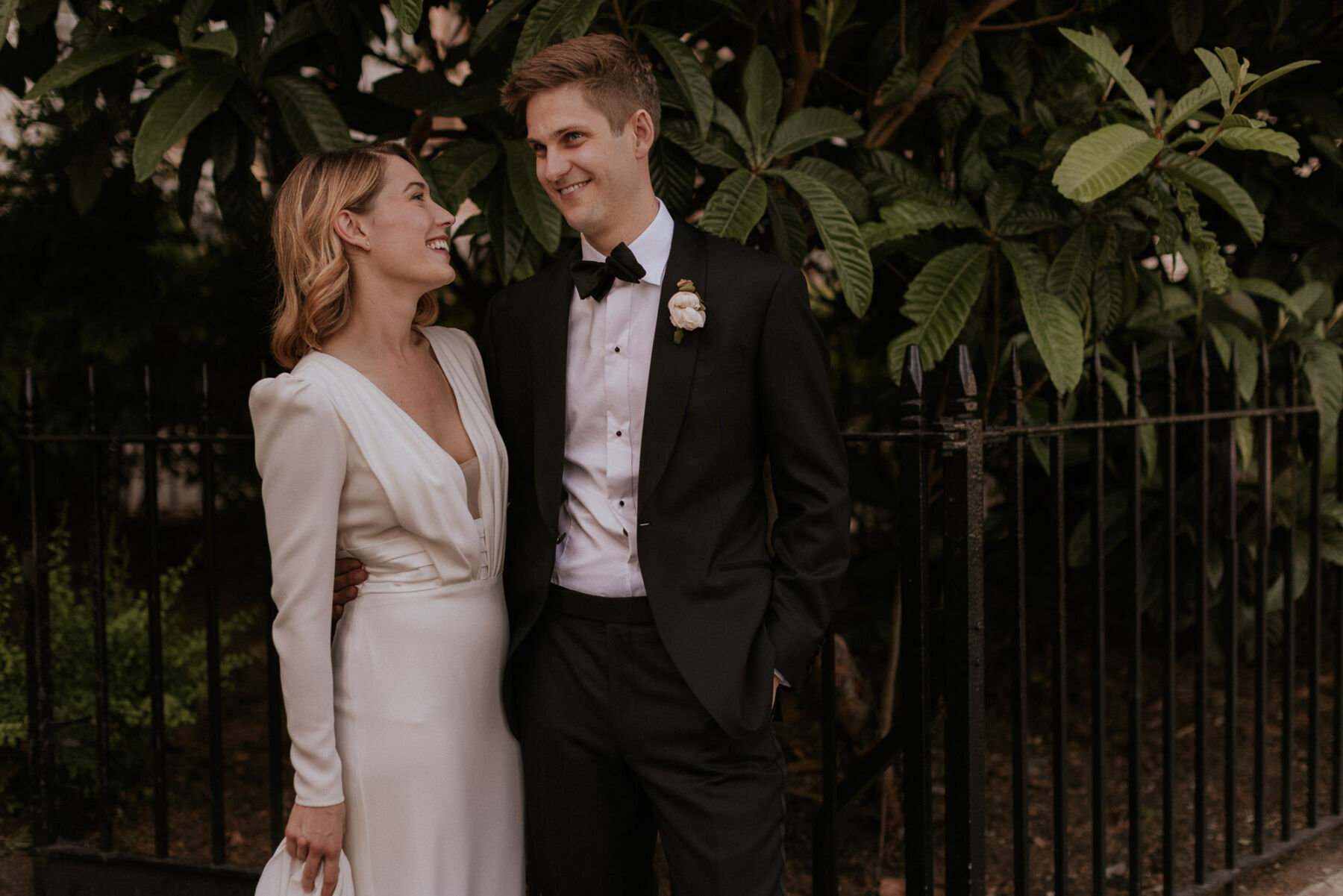 Explore our directory