Jade and Hugh tied the knot in June 2022 at the beautiful Cluny Castle in Aberdeenshire. We're thrilled to introduce Cluny Castle, a venue that stole their hearts and is proudly recommended by Love My Dress Directory.
Bringing their vibrant and joyous vision to life, the couple enlisted the expertise of Esslemont Marquees for their reception – a delightful explosion of colours, overflowing with whimsical flowers and rustic decor. And all eyes were on the bride, who radiated effortless elegance and glamour in the iconic silhouette of an Eva Lendel gown.
Cluny Castle
We knew we wanted to get married in Scotland as this is where I was brought up, but we weren't set on a particular location or area of Scotland. Unfortunately for us, COVID took away the opportunity to visit our venues initially.
Cluny provided us with all the info and a guided virtual tour, it literally had everything we needed, what really drew us to Cluny was that all events of the day, ceremony, drinks reception, dinner and dancing were all in one location with the added benefit, we could stay.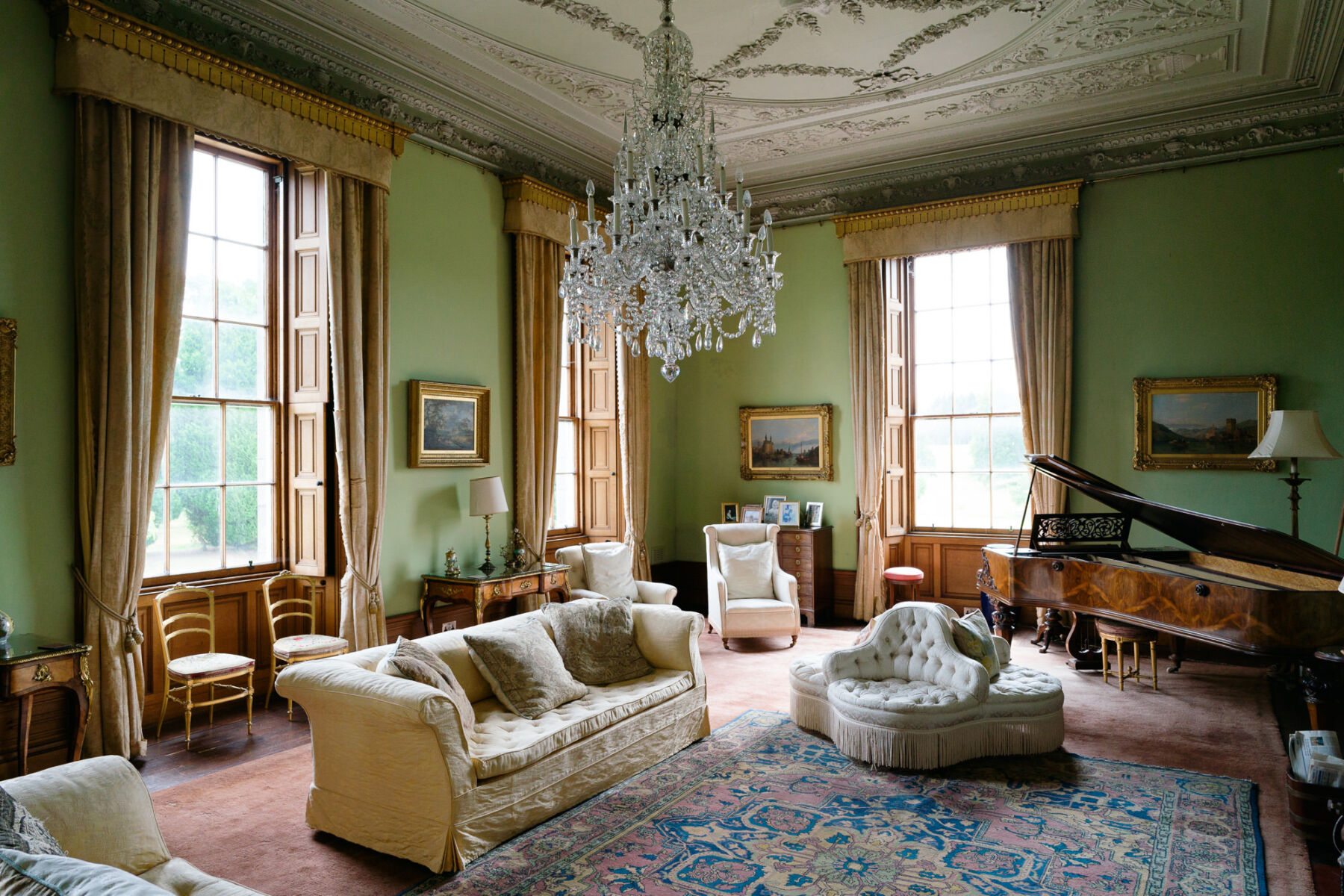 The interiors were impressively beautiful and the team couldn't do enough for us from the beginning. When we eventually got a chance to see the castle in person, we knew we had made the right decision from the moment the castle came into view coming up the driveway. It is breathtaking!
We didn't hire anyone specifically, however Cluny Castle do provide a wedding planner, which was very useful. The team could not do enough for us, every aspect of the day is detailed.
Even when we weren't sure how to execute something or what we would need for a certain aspects then they are there on hand with recommendations and inspiration for how your day could look – we mainly styled the venue ourselves with help from our vendors.
We wanted to go for autumnal colours and themes for our August wedding. Our colour scheme was a selection of greens, oranges and reds to give that warm autumnal feeling to the day. We styled in a very rustic way, choosing rustic round tables and chairs, decorating them mainly with foliage and candles. Our florist was great in pulling our colours together and we had a friend make a selection of jar candles scented with dark honey and tobacco to enhance the vibe. We really just aimed for rustic country vibes.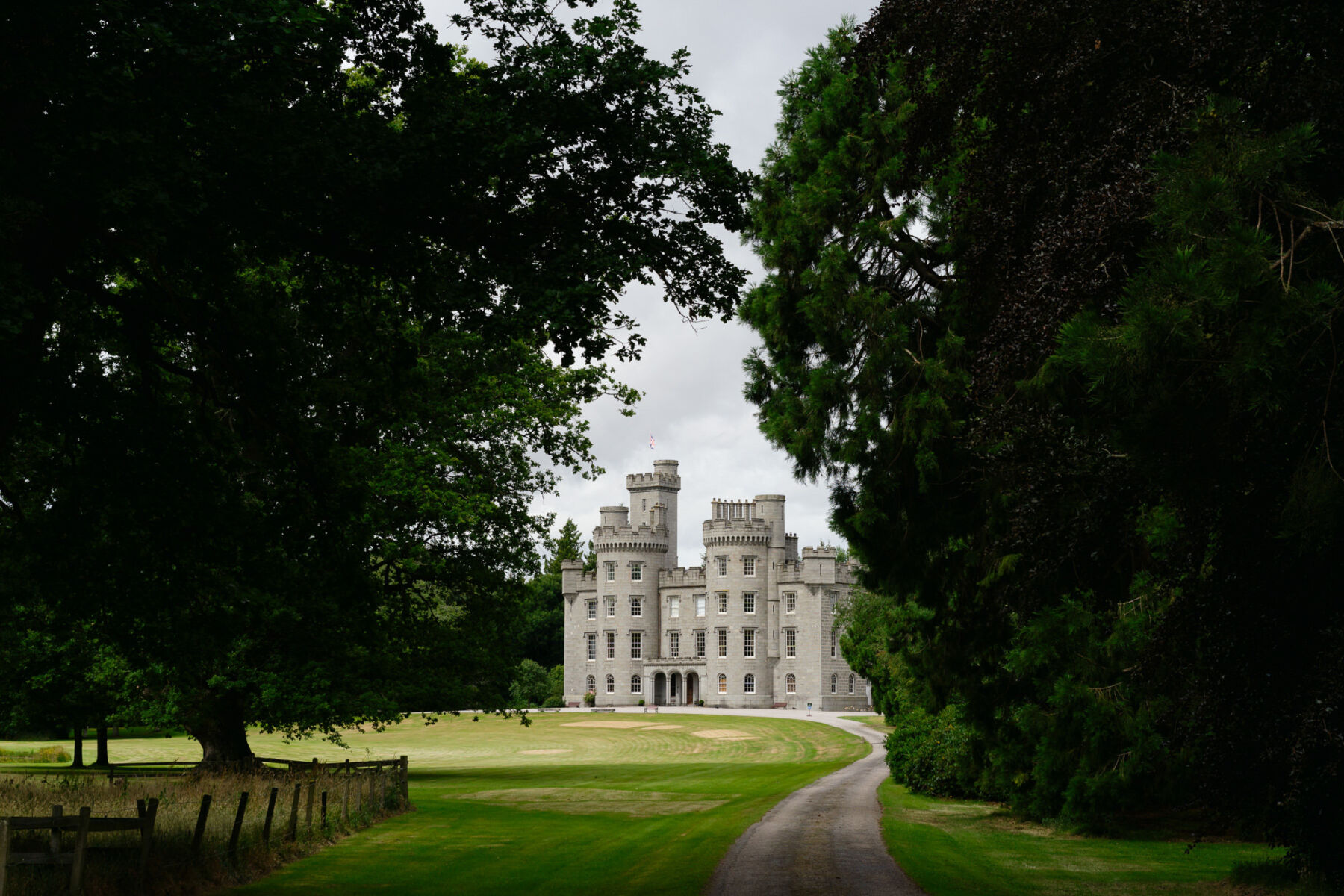 Bridal Beauty & Accessories
My hair was styled by Courtney Forbes and my makeup was by Jade Koemans. With hair I actually have to wear my hair up for my job and really wanted it down and flowing. Courtney was amazing, my hair normally doesn't hold a curl and she managed to nail the Hollywood glam look I was going for and it lasted all day. Jade was so easy to work with, made me feel totally at ease and nailed my make up, making me feel so confident.
I wore the Juniper Pearl shoes by Charlotte Mills. My Etsy hair piece was from Ivy & Pearl Bridal. My perfume was Coco Chanel – I loved the floral tones of the scent. My jewellery was all gifted or family heirlooms.
The Dress
My dress was the Eva Lendel 'Jess' dress. I purchased my gown from the Pretty Woman bridal boutique in Edinburgh. They were incredible in helping me pick my dress.
I wanted something with classic lines and a bit of drama and this dress was perfect as my train could detach, so I had all the drama for the day and was able to make the dress dance friendly for party time.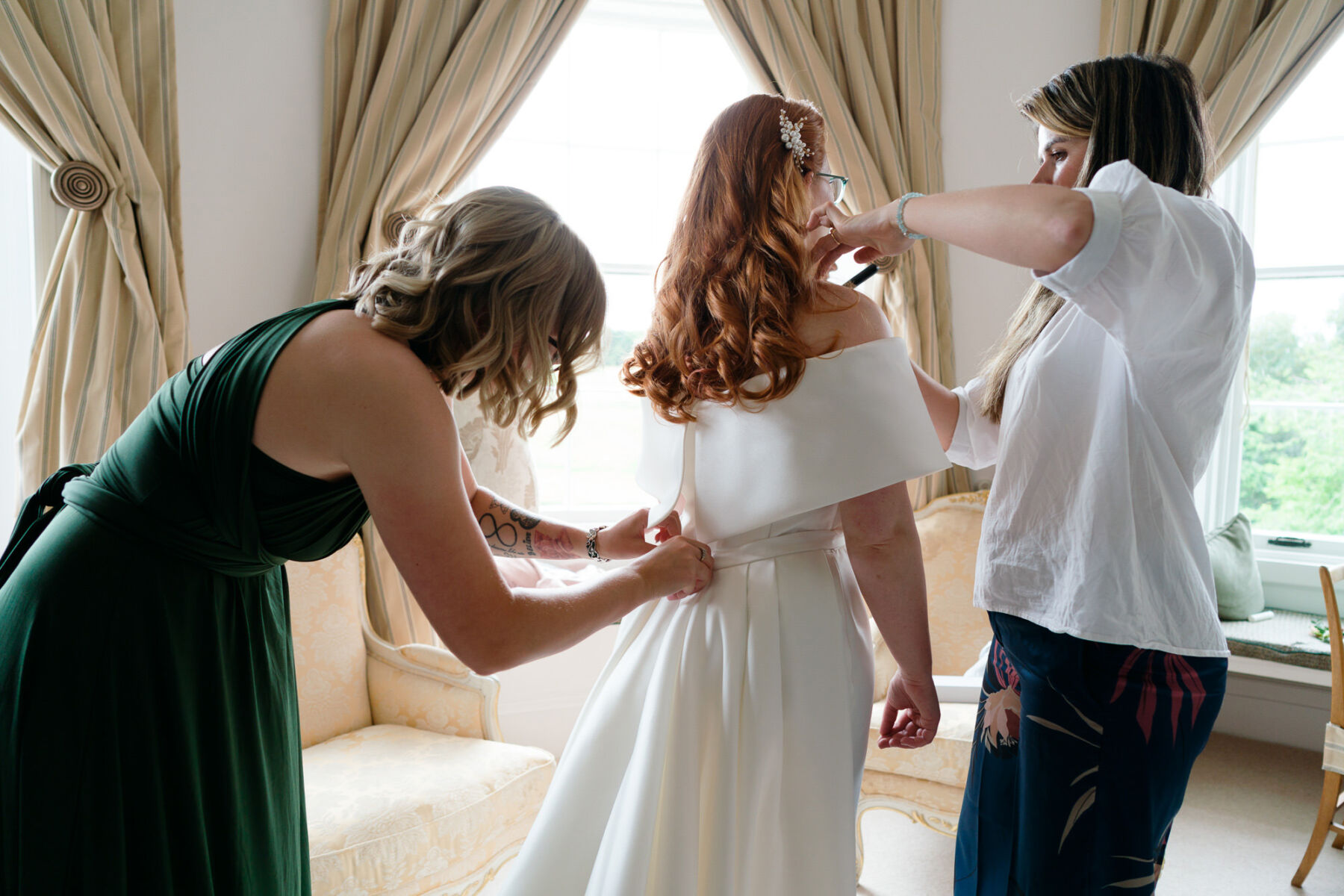 I personally didn't know what I wanted from my dress, but when I found it I knew that it was the dress. I felt so confident in my dress, it flattered my figure and showed my personality.
The thing I loved the most was my removable train, it allowed me to have the drama/ wow-factor without the impracticalities that normally comes with dramatic styles.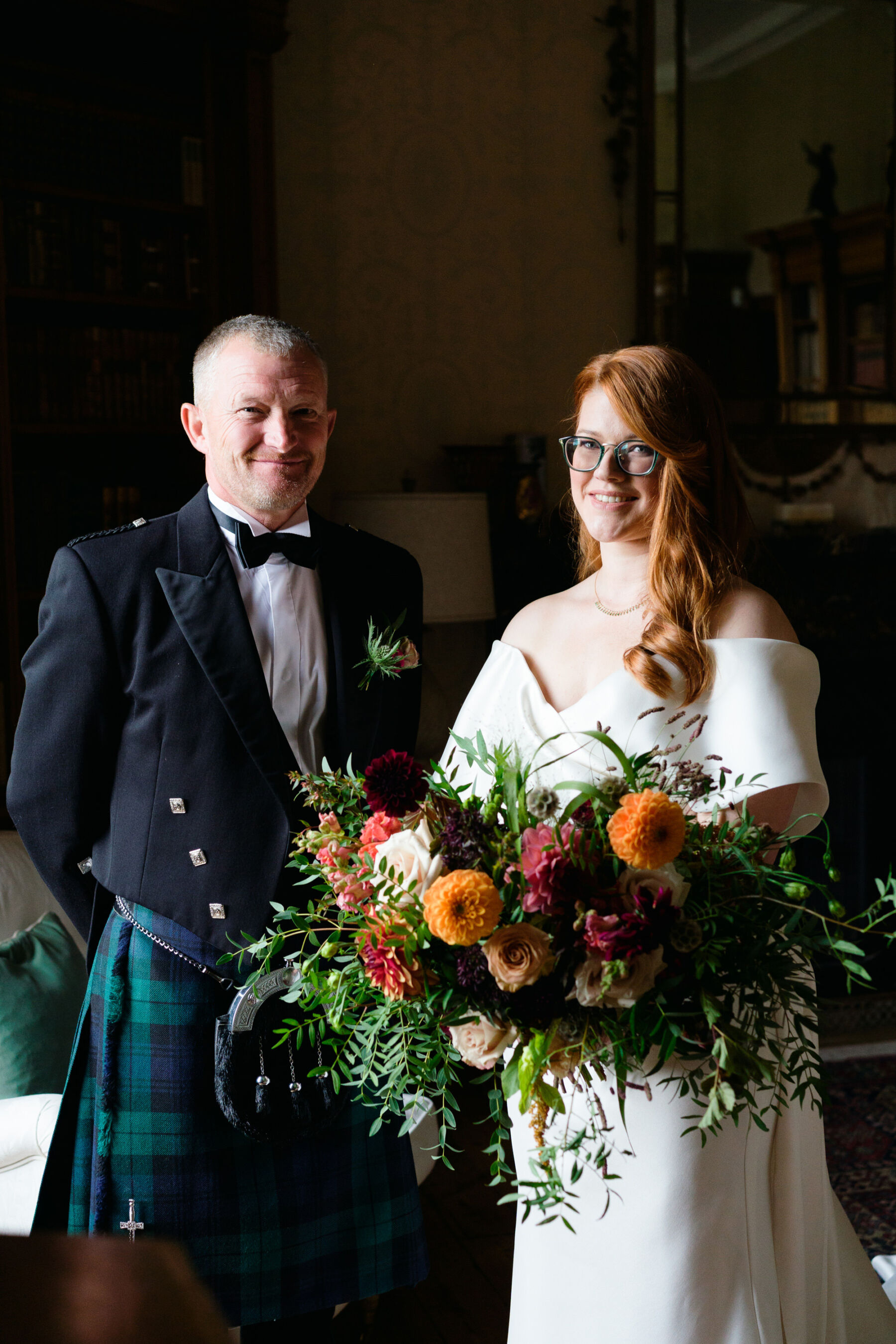 Flowers
We picked Kim Dalglish for our florist. Her portfolio is incredible, she has such an eye for detail and understood exactly what I was going for.
As I did for my dress, I wanted a bit of drama in my bouquet and she smashed the brief. Putting together my husbands boutonnières also with both thistles representing Scotland and Holly to represent my partners family, she created the union in the flowers which was so special for us
She was able to help us save some money too, suggesting to use our pew ends for our table decorations also – which the Cluny team was able to execute for us.
Bridesmaids
My maid of honour, wanted to have a nod to his Scottish heritage and hence decided to wear a kilt suit, which he also got at Macgregor and MacDuff.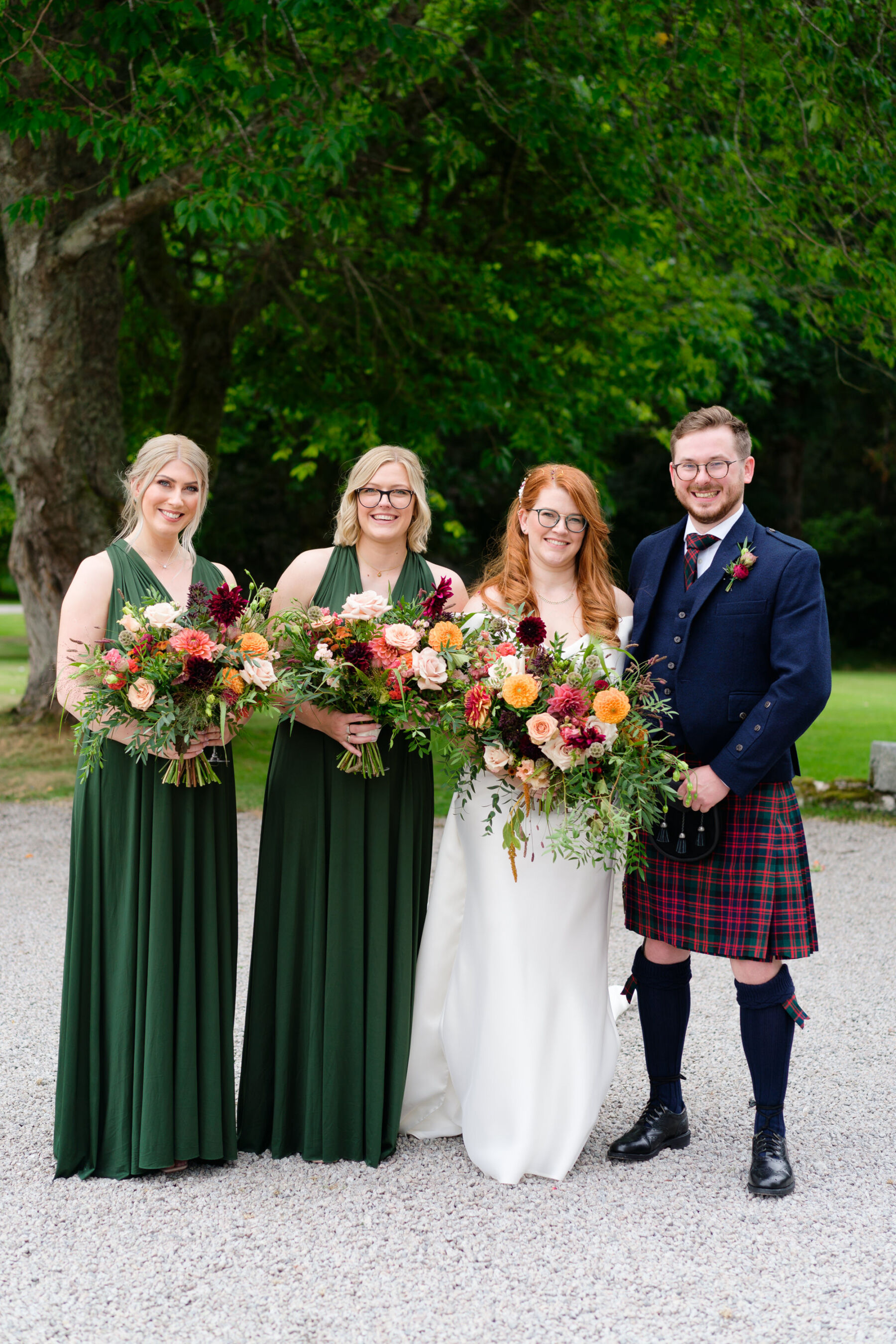 We gave our bridal party flexibility as we wanted them to be comfortable so we let the grooms men pick their own suit with a colour in mind and the waistcoats and I got my bridesmaids multiway dresses from Divine Bridal Shop on Etsy.
I allowed my bridesmaids to wear their own shoes and accessories to style the outfit their way as I wanted them to show their personalities. The multiway dresses allowed for that flexibility to allow them to feel comfortable.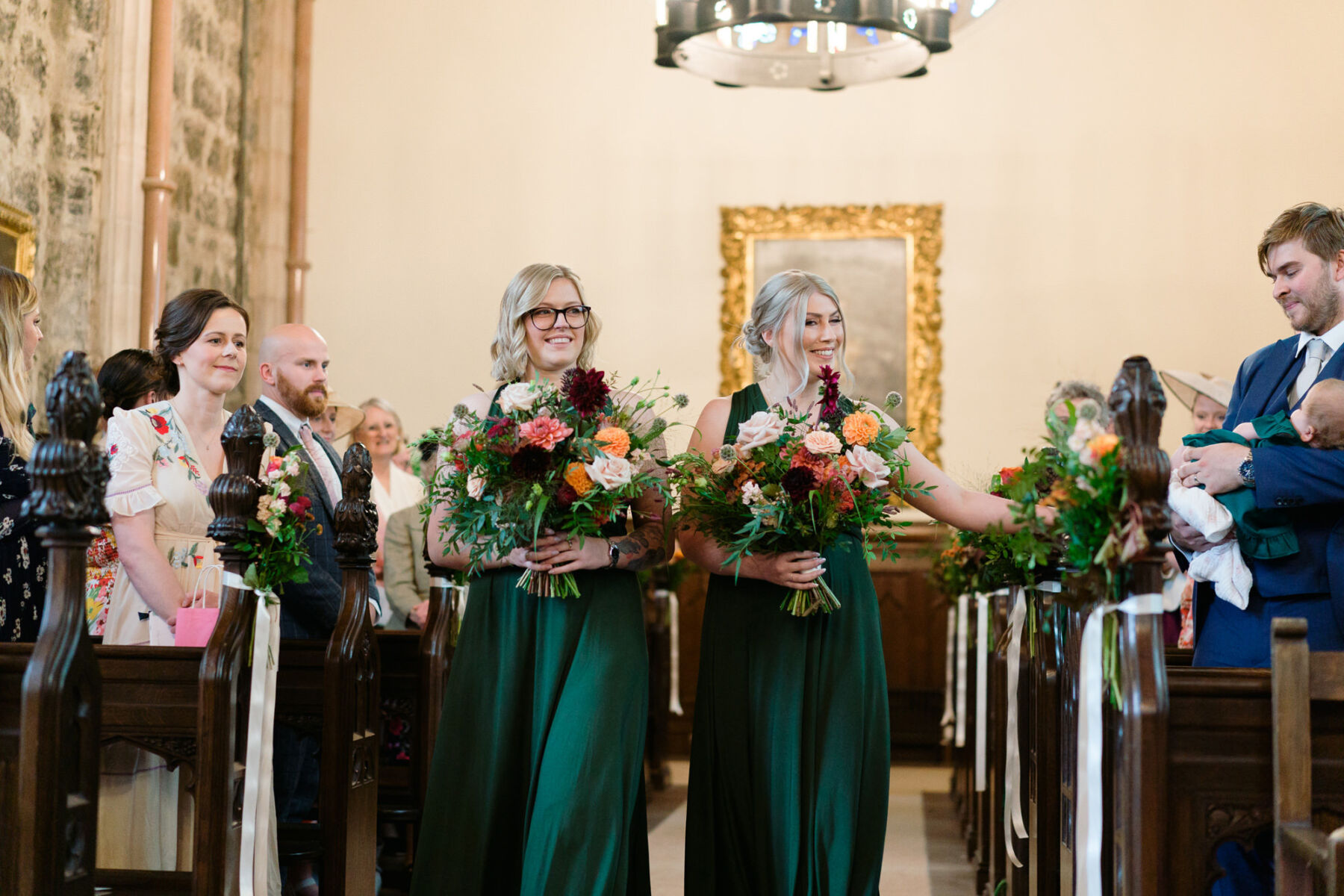 The Groom
Hugh is English but wanted to respect and adopt my Scottish culture and decided the best way to do this was to wear a tartan trew suit, which we got from MacGregor and MacDuff.
They were great in helping Hugh pick a tartan that spoke to him (as he doesn't have a family tartan), they also supplied our ribbons for our hand fasting, using the tartan Hugh chose and my family tartan which was an incredibly special moment for us.
As well as hugh suit and our wedding accessories, we also got our grooms mens waistcoats from here in a matching tartan to Hugh.
Hugh loved the individuality of his outfit, it allowed him to subtly convey that he respects & loves my culture and my home while still feeling confident.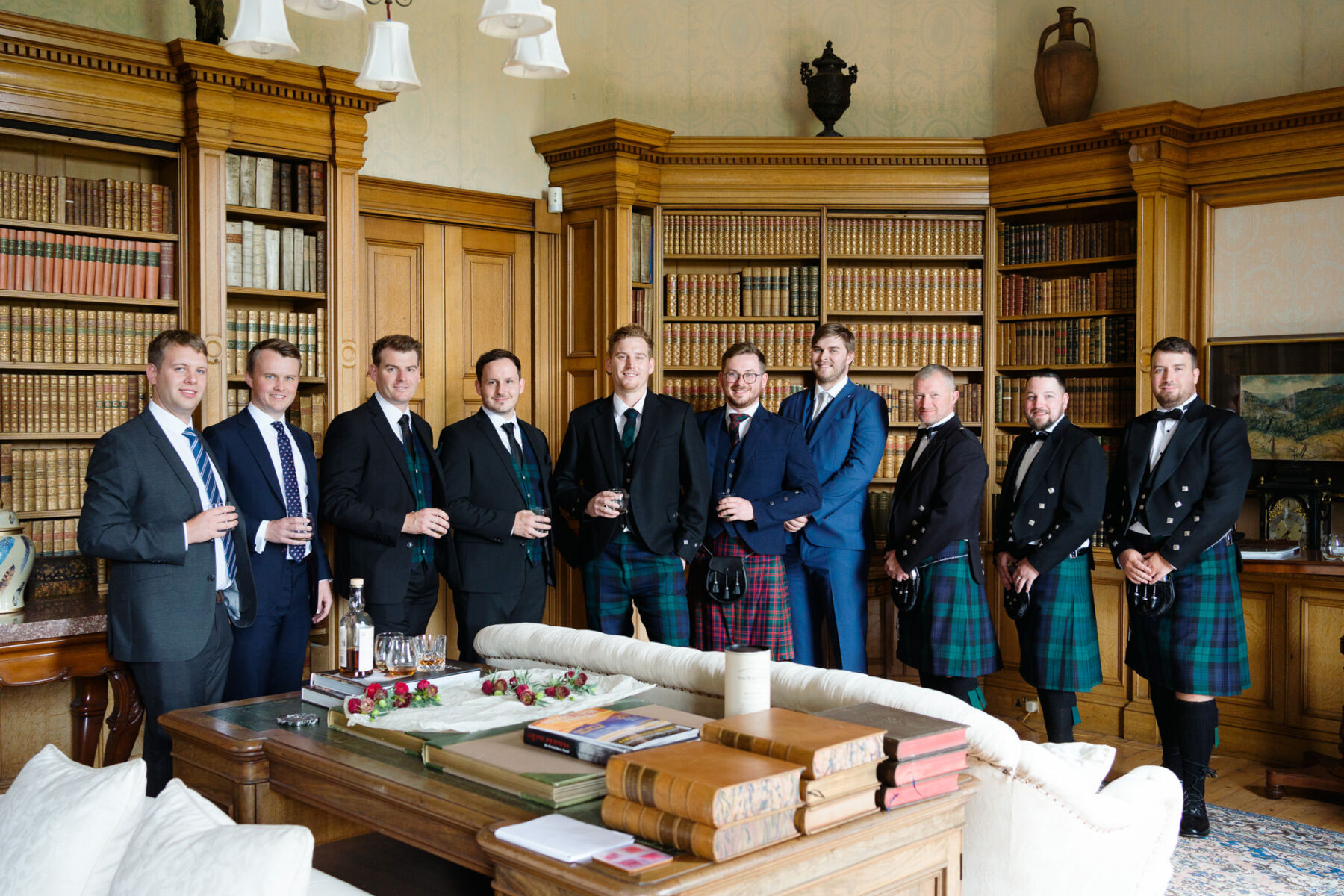 Ceremony
My dad walked me down the aisle. We had the Aurora quartet during our ceremony and drinks reception. For walking down the aisle, they plated 'can't help falling in love' by Elvis – a song close to my heart.
We were actually legally married a couple of months before our wedding and this allowed our friend (who is training to be a reverend) to officiate our service. This allowed us to have an incredibly personal ceremony, it was so special. It was funny and intimate and really captured our commitment to each other, with the added flexibility of combining our faith and cultures with hymns and hand fasting was so special for us.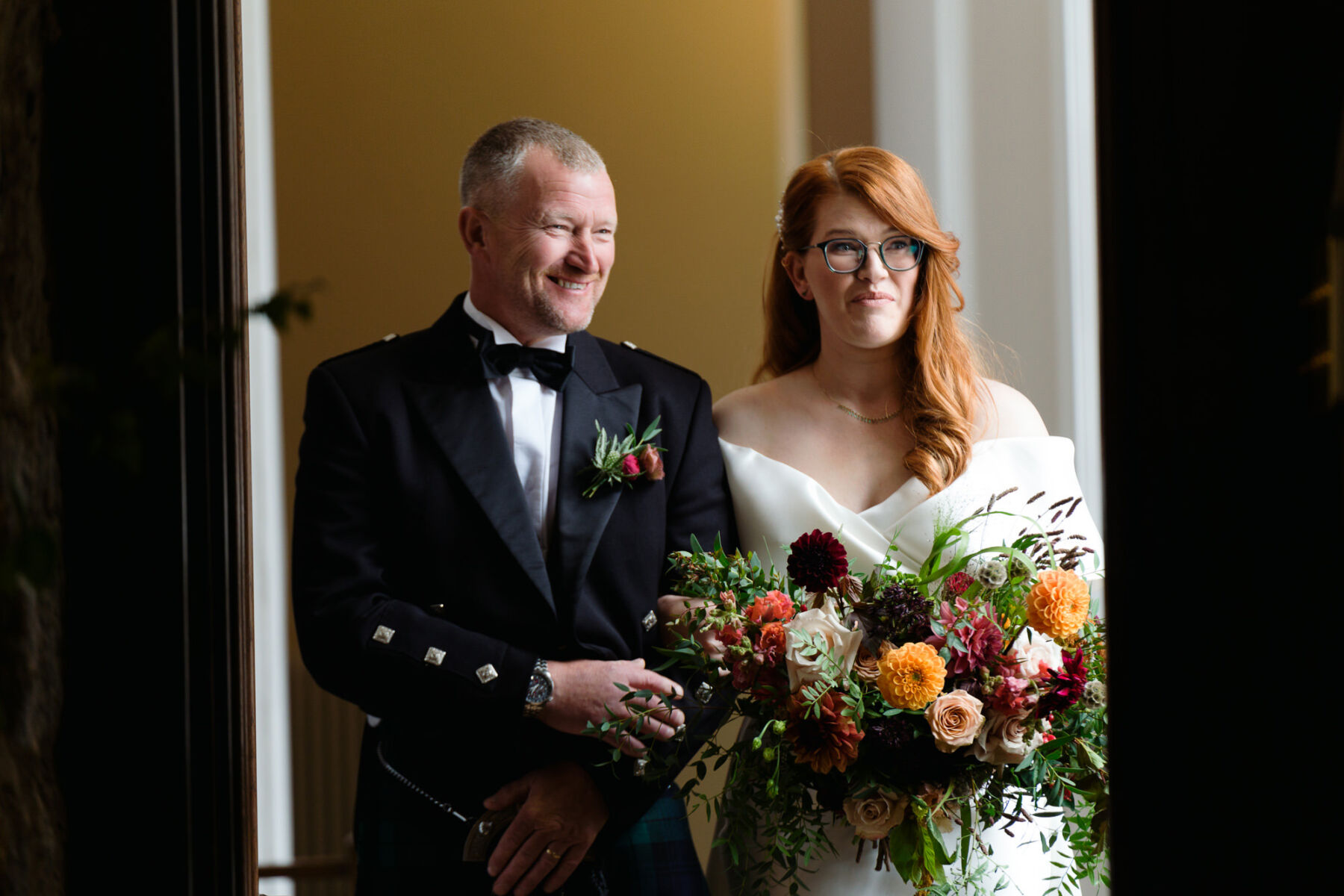 We wouldn't have been able to do this in many other venues so was incredibly special to us, to combine elements of both our cultures while also tailoring the ceremony completely.
We hand fasted at our wedding. This is traditionally performed in Scotland and has been included in many family weddings, so it was really important to us to be able to do this as part of our ceremony.
We used traditional vows as this was something my husband was really passionate about. We had three readings at our ceremony – I have included our order of service that has them detailed in full. The first one chosen by my husband spoke to us when we read it and felt it really resonated with us.
The Second reading was special as we both work in the STEM industry and it was a little piece of us. The final reading was perhaps the most special as our friend wrote it for us, taking our story and turning it into poetry.
We got our rings from Harriet Kelsall Jewellers. My husband designed my engagement ring himself and we used the same company to design our wedding rings. This allowed me to design my ring around my engagement ring and complement it. My husband wanted texture and selected a sand casted ring for himself. Would highly recommend the service.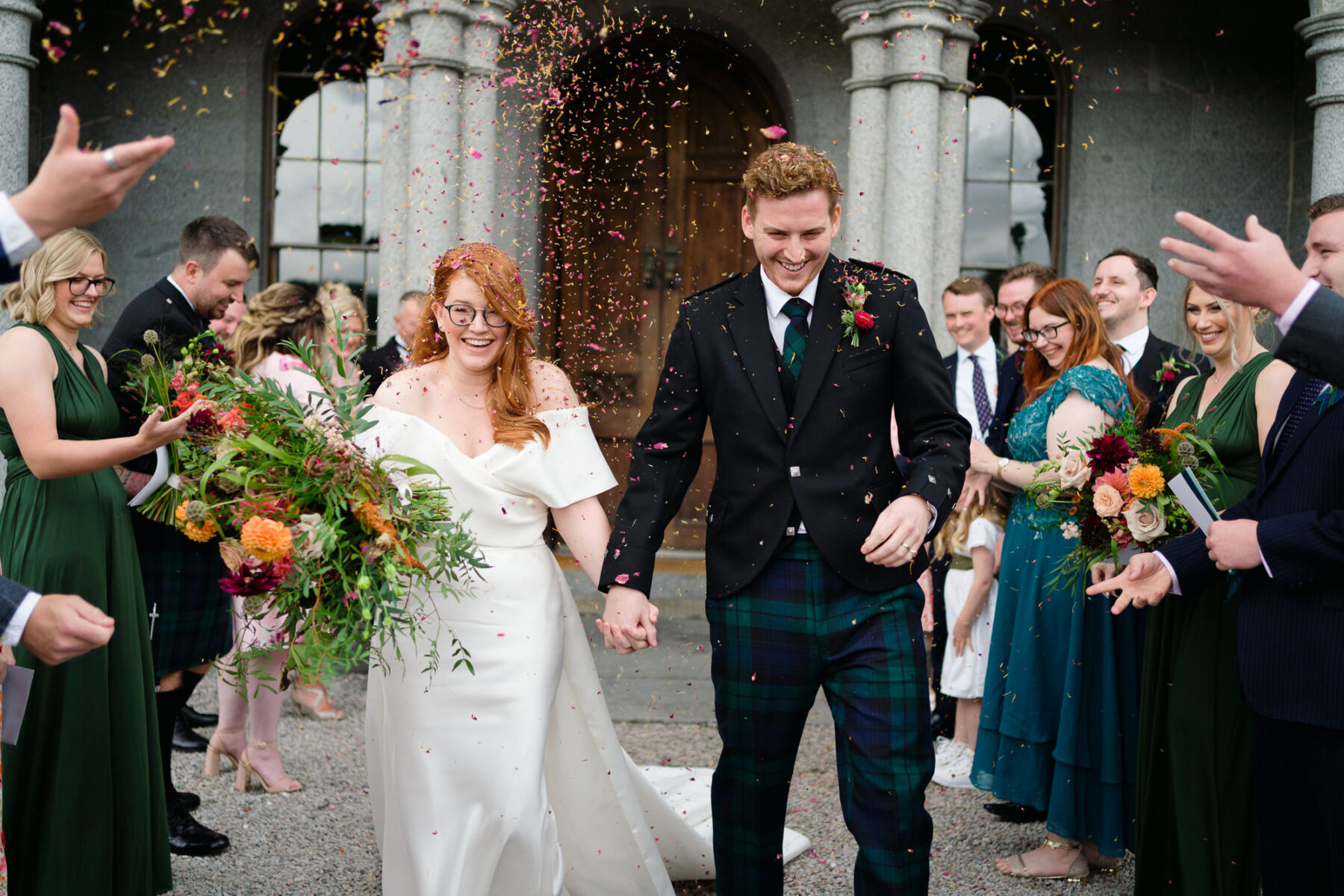 Photography
We hired Chris Henderson as our photographer. Neither Hugh or I are particularly comfortable in front of a camera but he made us feel so at ease.
We didn't want too many staged photos, we really just wanted to capture the day, the fun, the excitement and the moments. Chris really took this brief and captured our day perfectly. We look at our pictures and see moments and memories which are so special to us.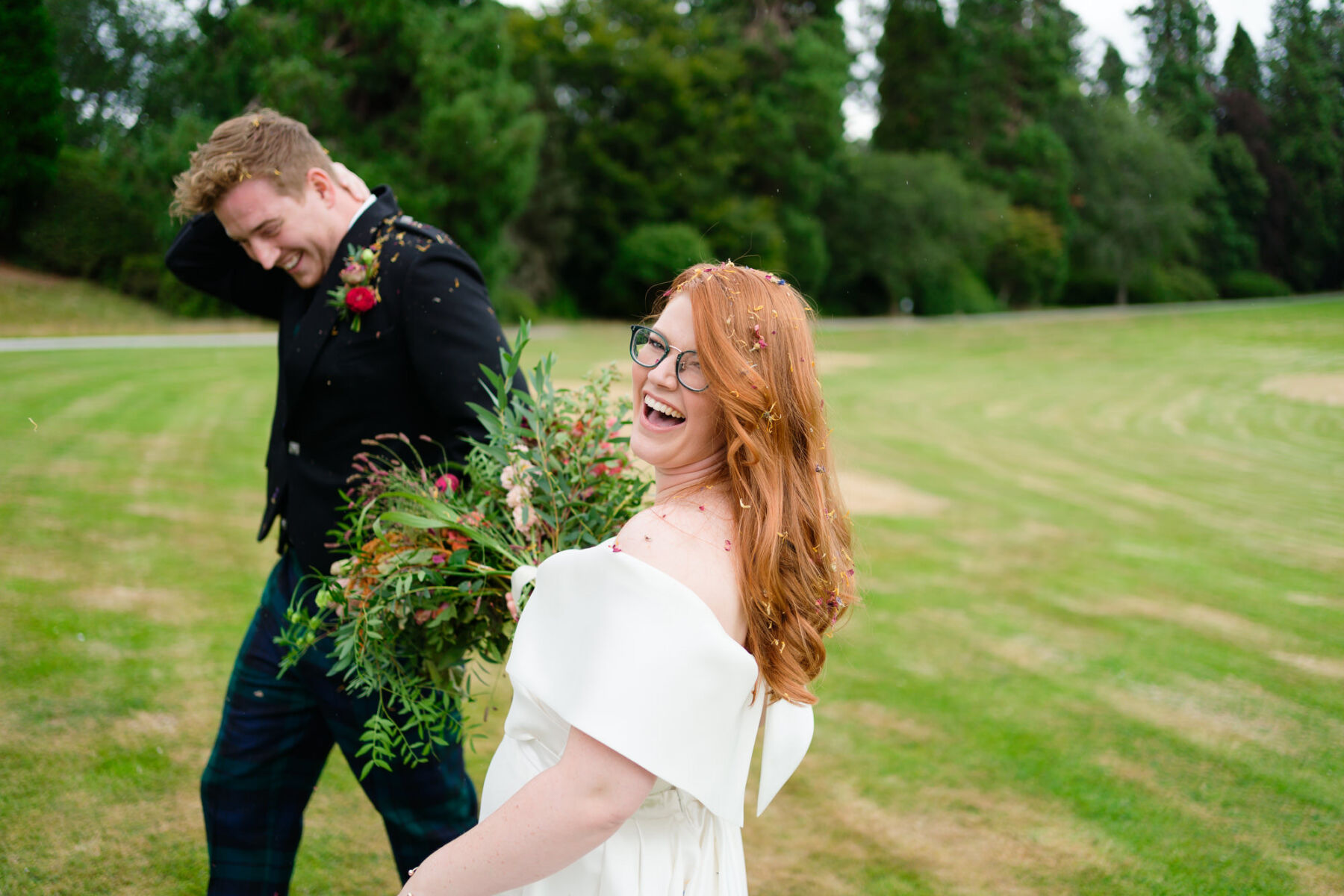 How They Met
Hugh and I both set out on an adventure separately to Tanzania in 2014 where we were to spend three months helping communities with Raleigh International. We were teamed together for training and let's just say first impressions weren't great, but while forced [quite literally] to work together, we started to get to know each other.
We both assumed it was just a holiday romance but after returning home, we kept in contact and visited each other. Hugh made an impressive homemade quiche and our connection grew until we finally decided to make it official.
After two years long distance, I made the big move from Scotland to Peterborough, England where we got our first flat together. A year later we decided to buy our first property and then came Thea – our gorgeous puppy.
After seven years together and several lockdowns, that robbed a proposal in New Zealand that Hugh had planned, I got slightly impatient and asked if we would ever get married to which he replied yes. Rather pragmatically, we decided to start looking into venues as we were aware that it would be a long wait with all the delayed weddings.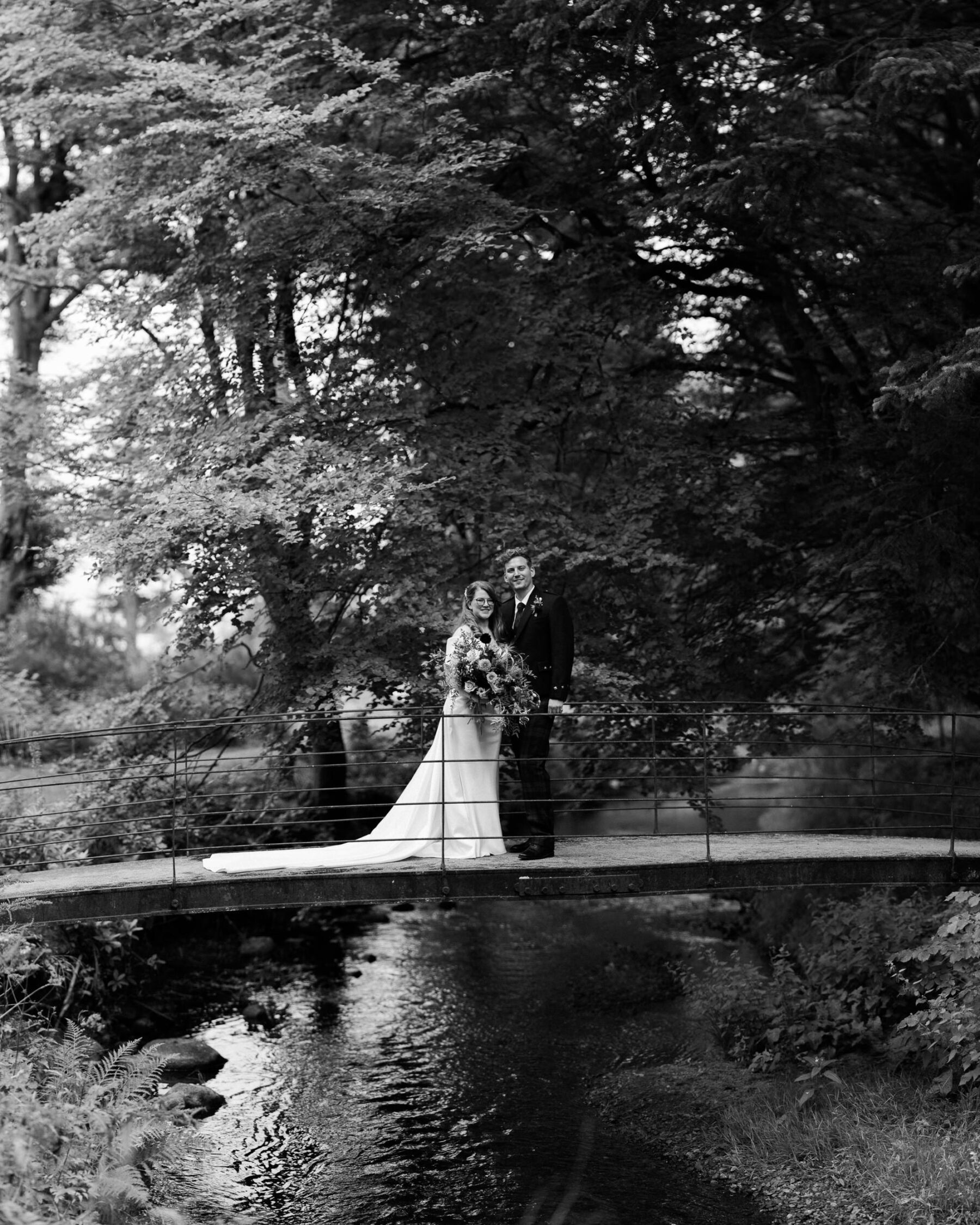 When we came across Cluny Castle we knew and a few months after booking our venue we finally got to visit it in person. On that same trip to Scotland, we climbed Beinn Eighe and Hugh got down on one knee and asked me to be his partner in crime and I couldn't get the ring out of his hand fast enough.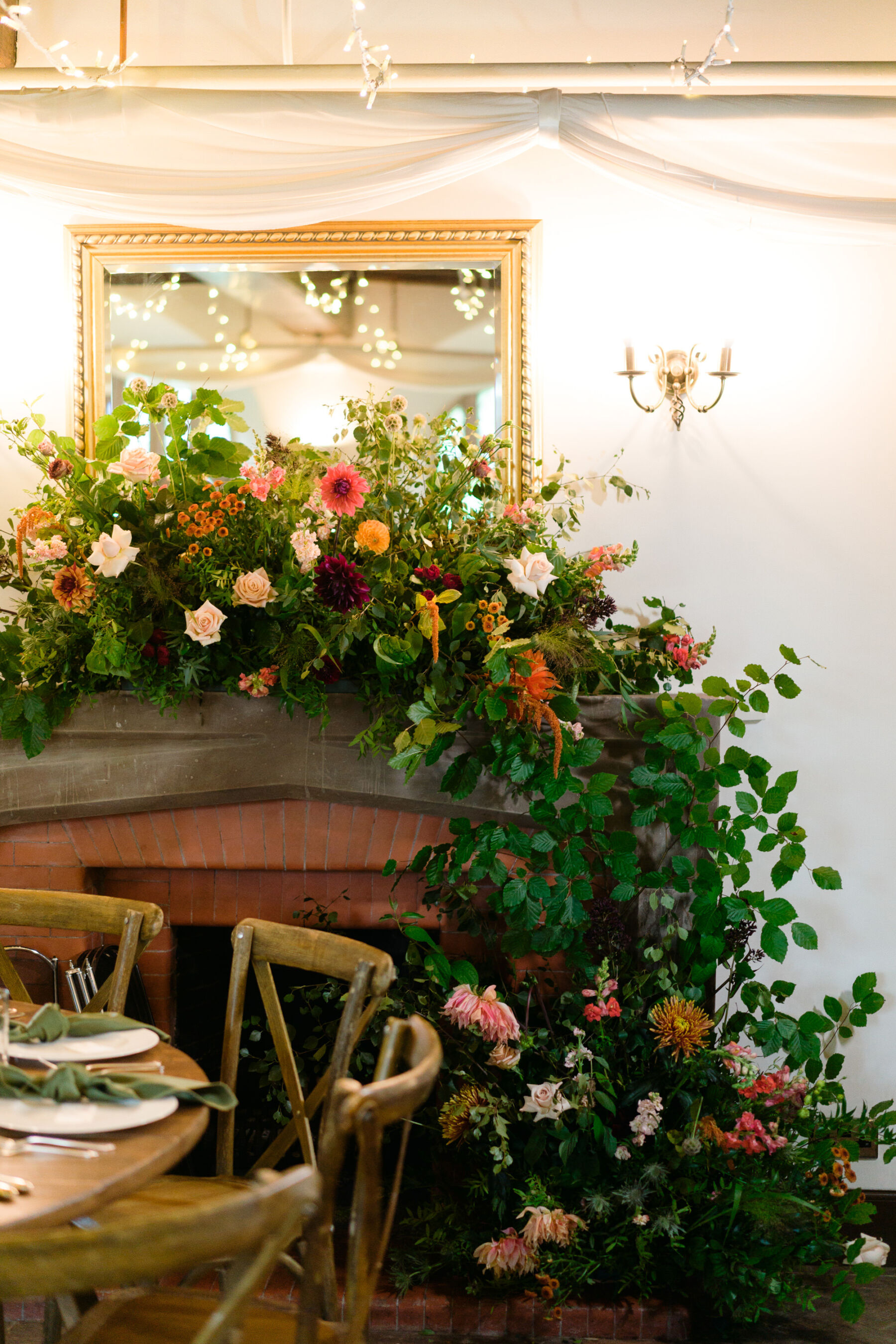 Reception
Detail & Decor
---
Our caterers were Platter and Pop. We really wanted to have intimate and interactive dinner, which Platter and Pop were incredible at helping us execute with a sharing Scot-Cuterie boards, followed by a venison main and a selection of desserts to accommodate all and most importantly celebrating Scottish cuisine.
We had so many compliments about the meal and how delicious it was. Platter and Pop also assisted with the styling and bar service, ensuring the booze flowed.
I really cannot recommend them enough. They were so accommodating and were a huge part of why our day was so memorable.
Platter and pop provided the tables/bar and sofas in our venue and really sung that rustic theme Hugh and I were aiming for. They put in so much effort to source these items for us and it really helped create the space and atmosphere we wanted.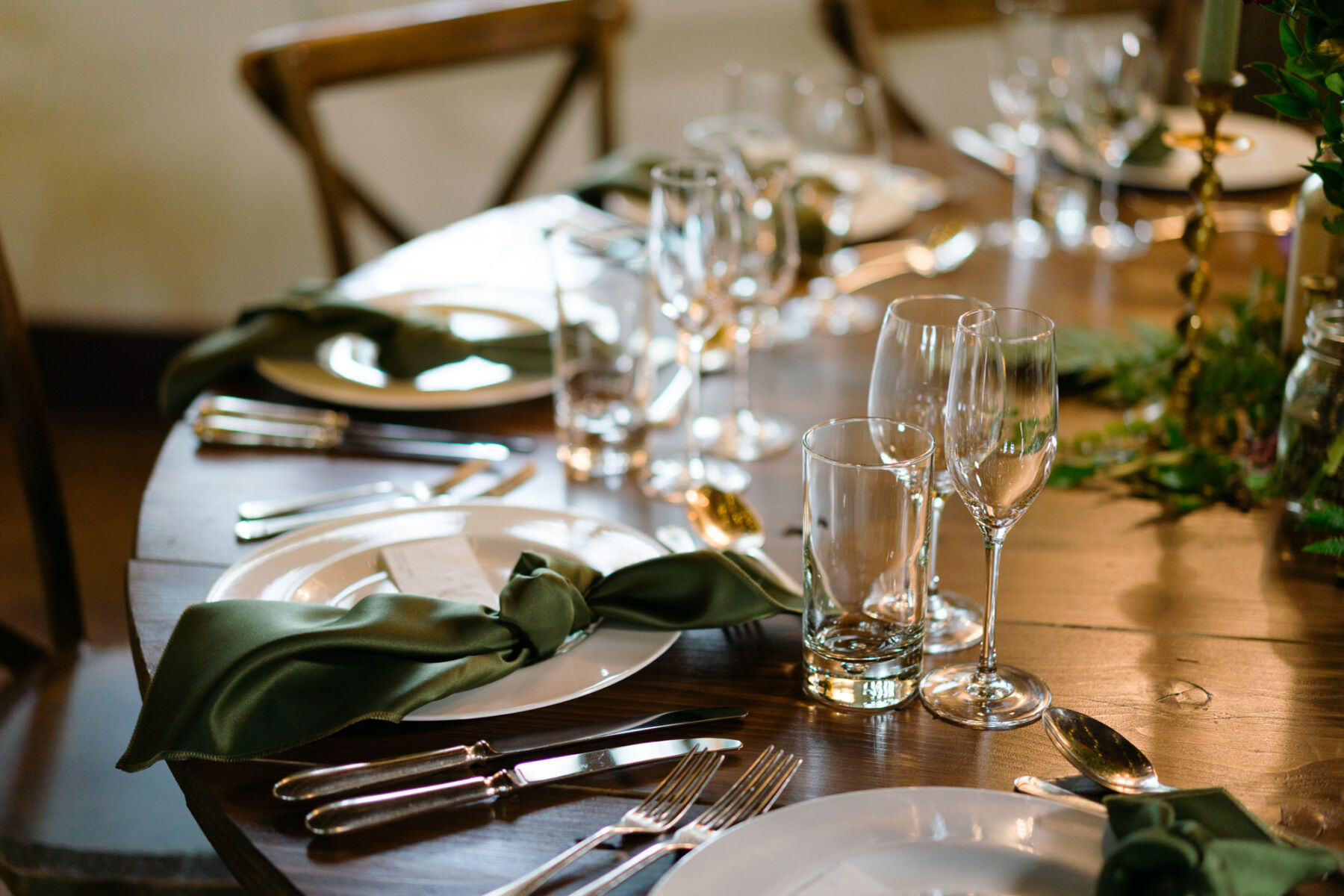 We made homemade limoncello and handed these out as favours.
I designed and printed all the stationery myself, using digital art. I really enjoyed doing this. It allowed me to incorporate important elements to both of us in the stationary, adding another personal level.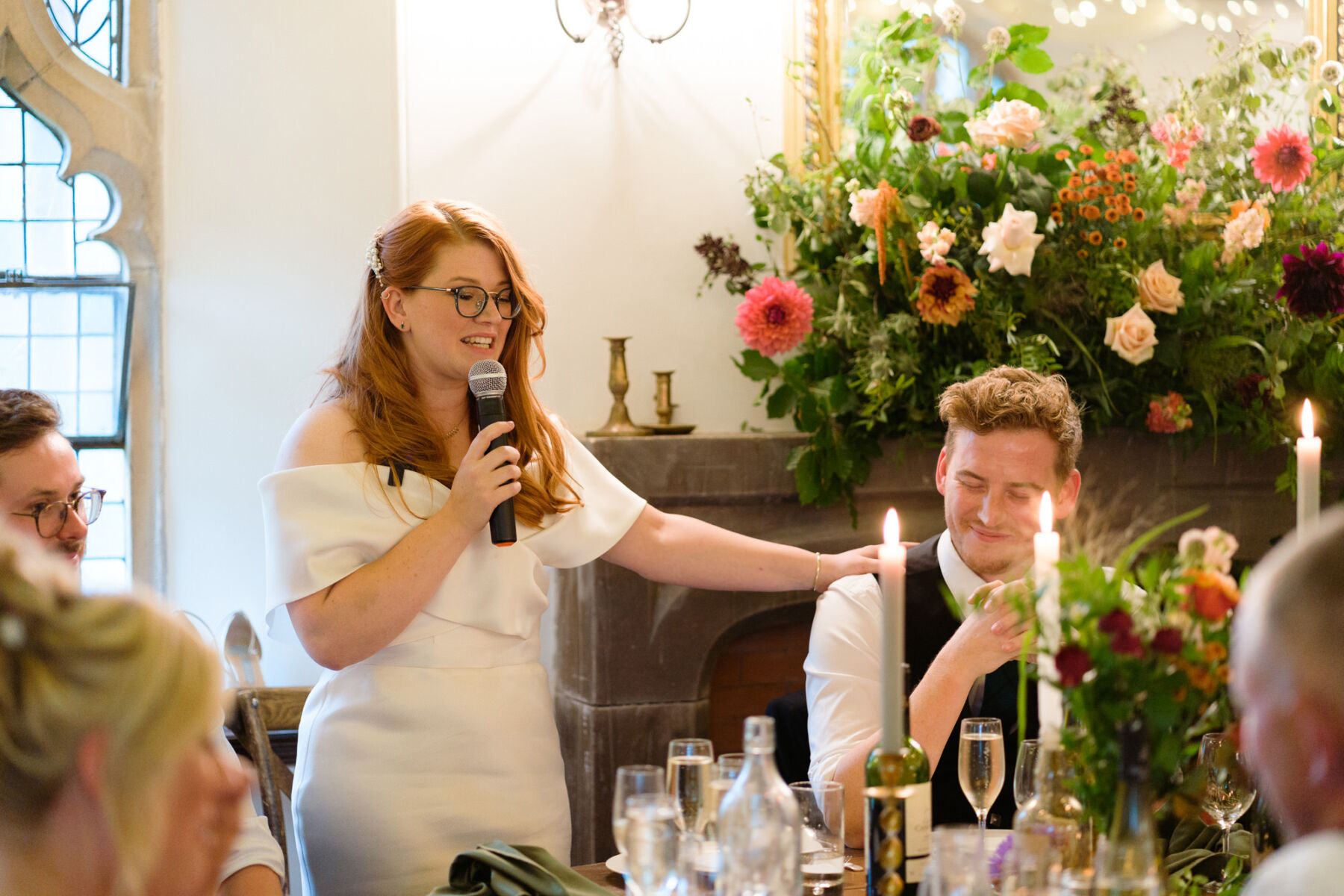 Our marquee team supplied the lighting.
Our cake was made by a family friend and we made the stand ourselves, we tried to be quite thrifty were we could and this was easier to execute with the rustic theme.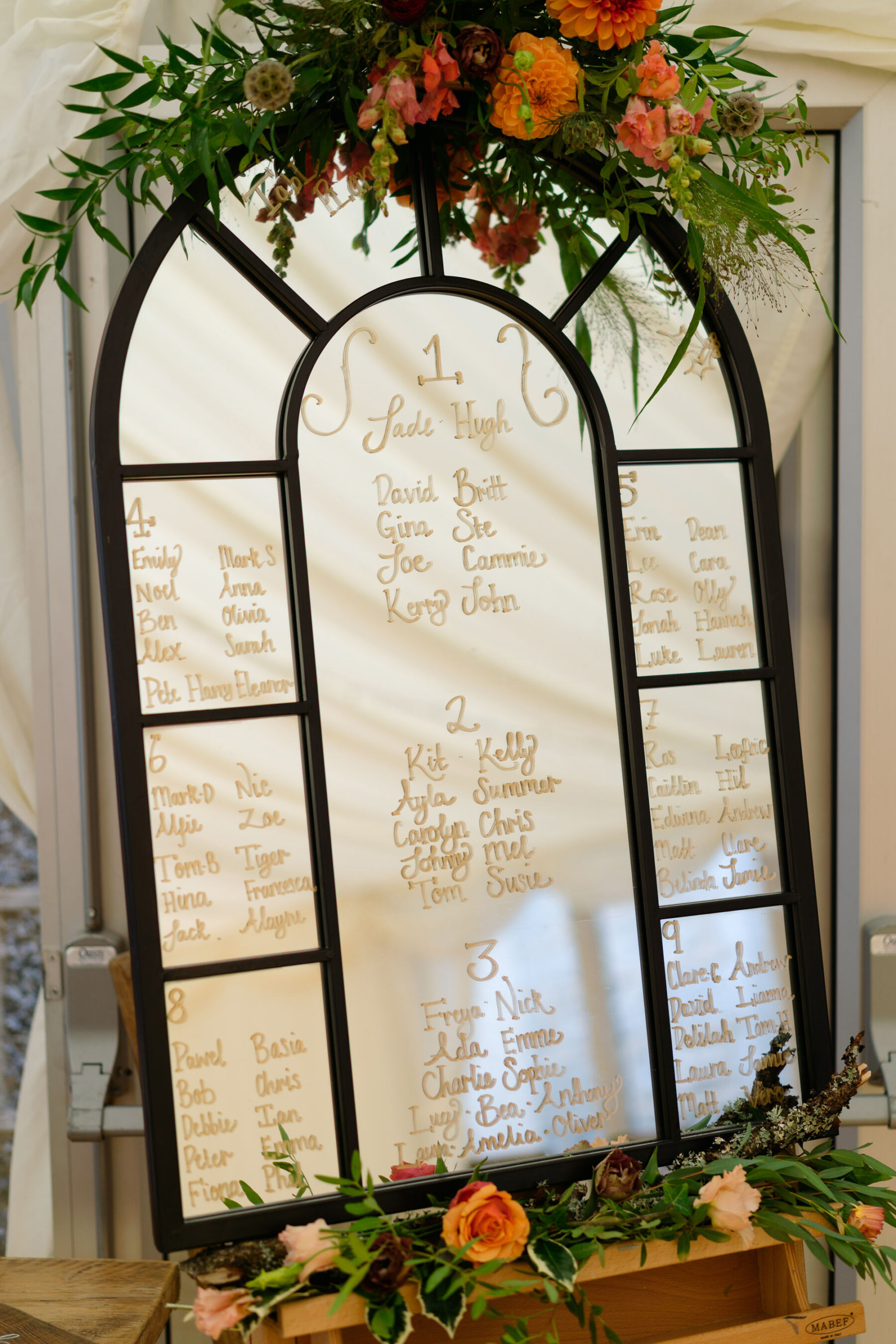 Evening, Dancing & Favourite Moments
Our first dance was to 'You've Got The Love', by Florence And The Machine. We both just really loved the song.
We hired the band Giant for our entertainment. They gave us a set list to suit our music taste mixed in with some ceilidh dances which everyone loved to get involved with. We had a busy dance floor all night, and everyone had a great time.
We envisioned our day being flexible and intimate and it was absolutely that and more. The flexibility of Cluny allowed us to have our ceremony in the chapel with our friend 'officiating', which meant we had complete flexibility with our service. It was intimate and funny, a mixture of culture and tradition. Our main goal was to make sure everyone enjoyed themselves and be completely present. All of our vendors helped us achieve this.
Throughout the day, Hugh and I didn't have to think about anything, the day was organised and run so smoothly thanks to the Cluny team. We look back so fondly and cannot think of a single thing we would change. It's so hard to come up with a singular favourite part as we just loved the entire day, being able to celebrate with the people we love in the intimate and unique way we wanted to.
Words of Wedded Wisdom
Being present in your day is the most special and I think having a wedding planner on the day to organise everyone and make sure the day runs smoothly really helped us be present and enjoy our day without having to worry about food, drinks or setting up the band.
I would also highly recommend hiring a nanny on the day if you have kids there as it really helps the parent relax and enjoy the day too. Finally, remember it's about both of you, bask in that and you'll have the perfect day regardless.