Julita London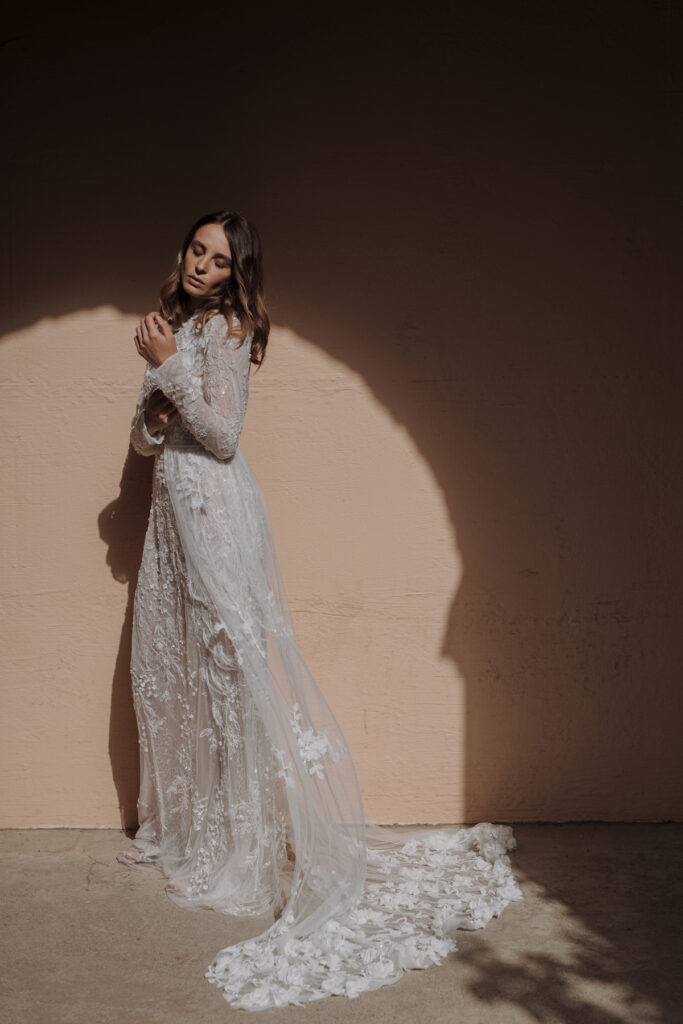 Julita is a British independent wedding dress atelier offering intuitive creations and an intimate bridal experience. All gowns are designed and handmade in London, England. Founder and designer, Jo, will guide and hold space for you through a collaborative dress journey. Embracing individuality, collection gowns are fully customisable with options for couture design adaptions and personal embellishment details. Gowns transcend beyond garments to embody the essence and reflect the unique starlit souls who wear them.
Made of premium quality fabrics, Jo designs each one-off heirloom piece which is then hand crafted through a journey of reflection and exploration. Jo creates from her home studio, offering an intimate experience taking clients on a meaningful journey to design otherworldly pieces. Each and every piece is handmade in London, to order, one dress at a time.
With all our gowns, Julita echoes the holistic artisan sentiment of investing in well-made heirloom pieces which are handed down to future generations with humanity and sustainability at the heart. As we navigate how we can take care of our planet, rather than harm it, we look to plan beyond the ceremony. The idea of sustainability translates as a commitment not only to reduce our impaction the planet, but also the social and economic well being of people. Julita encourages conversation to make mindful and conscious choices when choosing your gown.
Julita continues to be internationally recognised, featured on VOGUE, TATLER and Interview Magazine. Jo's creations have been hand-picked by THE LANE to showcase new season looks for their exclusive bridal runway show and fashion editorials.
Collections sit harmoniously, drawn together with texture, intricacy and an evocative use of fabric. The dance of fluid silks and emotive decadent embellishment captures our enchanted senses and gaze. Gowns adorn the body like an instrument of resonance, making us feel something in the form of self-expression, which cannot be told in words. Modern femininity, with ethereal romance.
Having worked in the wedding industry for over 10 years, I've been lucky enough to work with lots of bridal designers but Jo is truly something else. Her vision is incredible, she understands exactly what you want and works tirelessly to achieve it. The dress Jo created for me was out-of-this world. It was a show stopping gown that fitted my brief to perfection and truly outdid all of my expectations. Working with Jo was an absolute pleasure, she's fun, intelligent, creative, stylish, supportive and really flexible - exactly the kind of girl you want making the dress of your dreams. She's also incredibly modest and so I'll shout from the rooftops on her behalf - Jo is an amazingly talented designer, chose her to design your wedding dress and you'll be blown away!
Fern
From the moment I met Jo, I knew she would bring my vision to life! I had been badly let down by another dress designer and I had less than a month to create a dress I would be happy with for my big day. Jo put me immediately at ease and I was so impressed with her knowledge of the latest contemporary bridal brands and styles that I wanted to emulate! I had been toying with a beaded, glistening 'mermaid' dress to complement our island venue and Jo got to work straight away, finding the PERFECT material and worked hard to source the beautiful details and trims which make her dresses so incredibly special. Jo is a total perfectionist and works incredibly hard to create the dress you have dreamed of, she is creative, friendly, on trend and just honestly a pleasure to work with.
Helen
A huge thank you for everything that you have done for me. Your friendliness and professionalism is second to none and I couldn't have asked for anything more. The wedding dress you designed for me is perfect and I received so many compliments! You are so talented in what you do and I am so grateful I found you! I would recommend you to anyone!
Sarah
I never thought I would get my wedding dress made. I am hopeless at making decisions and second-guess every choice I make. I definitely could not have done it without Jo. She made the whole experience easy from start to finish. Not only is she an amazing designer with impeccable attention to detail and exquisite taste, she also acted as a source of support throughout the decision making process. She knew when to let me take the lead and when to step in to make sure I didn't make the wrong decision (and she was always right!). The end result was the most beautiful dress that I loved more than anything. It was just how I pictured it. It was so unique and the lace detail Jo put on the back was just gorgeous. The dress got so many compliments and Jo deserved every one of them. As a designer, she goes over every detail and does not stop until it looks perfect. There are not enough words to describe how brilliant she is. I would recommend her to anyone who wants a bespoke wedding dress that's made with love and care. To top it off, you also have a great experience and a brand new friend at the end of it.
Samantha
How do I love thee? Let me count the ways...Weddings are characterised by seeming overstatement; 'best day ever,' best man and on and on. However, not only can I now say that my wedding was my very 'best day ever,' I can also state, categorically, that having my top and cape designed by Jo was one of the best experiences of my life. From the minute we met to discuss possibilities and design ideas I knew that Jo understood my taste and style and would be able to transform my vague, sometimes contradictory, ideas into a beautiful reality and, importantly, that I would enjoy her company through that realisation. What I didn't know was how much more she would bring. Jo is so creative and talented, her intuitive understanding of my ideas alongside her intimate knowledge of fabric and design meant that as the garments moved from imagination into fabric she was able to suggest little touches, divine little details, that made my outfit not only beautiful to look at but heaven to wear. When you go bespoke your don't have the comfort of a known outcome, but working with Jo you do have the thrill of creating and then wearing something perfectly beautiful and unique to you.
Esther
I knew the moment I stepped into Jo's gorgeous home studio, and saw a floor to ceiling mirror to die for, set off with a killer rug only a great designer could hand pick for such a space - that we would be in for a treat. All before enjoying the sacred handmade pieces adorning the rails. Jo's gorgeous dresses, kimonos, capes hairpieces and veils are just exquisite. And wearing Jo's spectacular dress - 'Ekaterini Rose' was a real treat. With the softness in her cape and the glamour in her jewels and sparkle, I felt everything from elegant to sexy and Ekaterini perfectly highlighted all these elements of our shoot. Then came, the perfect accessory to feeling and showing that side of pure strength, in the form of Julita's Moss Cape - floor length and incredible all over sequins -giving me feels in the realms of 'goddess' and 'a super woman', and I felt like one for the day! Aside from her design talents Jo is a beautiful, calm presence, the perfect temperament that you want around on a potentially stressful day. We chatted like old friends, and whilst we shot - she'd find the perfect time to quietly slide over and fix a nic, or jump in to hold the train and flowers... even subtly capturing the best BTS footage and photos. Really, what a joy you are to work with. Thank you! If only there had been more time, I'd have begged to be photographed in more of Jo's pieces and sit in them like said goddess - chatting about how we ended up here over cups of tea and biscuits. It was a real gift to be dressed by Julita, I really hope I get yet another special opportunity!
Jen
Where are you located?
The Julita atelier is based in Oakwood, North London N14, England. The nearest tube is Oakwood station, on the Piccadilly line, which is an 8 minute walk from the studio. Alternatively there is a taxi office within the station. If visiting by car there is plenty of free street parking available for you and your guests.
How do initial appointments work?
The process begins with an appointment in person or via video call to meet with Julita's designer and founder, Jo, who will guide you through the collection. Your vision will be discussed in detail to understand whether your dream is a collection piece, a customised collection gown or a purely bespoke creation. During this first meeting we will absorb your inspiration and guide you to a gown infused with your love story. It's a creative process where we work collaboratively, threading in elements to make your gown unique to you.
Can I make any design changes or add personal details to collection gowns?
Yes, the collection is fully customisable and personalised embellishment details can be added, with the belief that your uniqueness is honoured. Customisable options include changes to the silhouette, colour and fabric.
What is the recommended timeframe for ordering?
We recommend you begin looking for your dress 9-12 months before your wedding date. Depending on your gown choice, please allow 6-9 months to secure your order and the creative timeline required to create your gown. If your wedding day is closer than this, we may be able to accommodate a shorter turnaround time with a priority order service. Please get in touch and we can discuss your options.
I am unable to come to London, can I still purchase a dress from you?
Yes! We create for brides-to-be remotely worldwide. Regardless of your location, you will receive the same detailed design journey and intimate experience via video calls and emails.
​