Morning everyone!
Today, I'd like to introduce you to one of the Sponsors I'm really very proud to have on board Love My Dress – the Dessy Group.
The Dessy Group are a leading manufacturer of bridesmaid, social occasion, & flower girl dresses & destination wedding gowns under the labels Cynthia Rowley, Dessy Collection, After Six, Alfred Sung, Lela Rose and Sandals Destination Wedding Dresses.
I'm a really big fan of Dessy – I adore the choice they offer in their dresses, only a miniscule number of which are featured on this page today. 
You see, the wonder with Dessy is, you visit their website to browse through their full range of collections – making use of their clever online Pantone colour selector to view dress designs in different colours or to gain colour inspiration for your wedding, all at the click of a mouse! Then, when you've decided which size dress you'd like to order (Dessy offers very helpful online sizing guides), you find out where your nearest local retailer is via the Dessy online storefinder.
Dessy turn the process of 'how to find the perfect bridesmaids dress' into an easy, fun and pleasurable one.
Destination wedding dresses, by Dessy…

Pretty Alfred Sung Bridesmaid dresses above.
Founded in 1939 by Margot Rosenthal, A & M Rosentha and got its start designing bridal veils and attendants headpieces. In the 1950s, Margot's daughter Ronnie and her husband Andrew took over the business and added bridesmaid dresses to the Dessy line. Today, the business continues to thrive under the leadership of Alan Dessy and design direction of Vivian Dessy Diamond.
Those Brides anxious about ordering from online can be reassured by Dessy's clear and straightforward returns and exchange policy…
Need to be inspired?  Visit the Dessy online Pantone Gallery for colour inspiration or the website's Planning section for guidance on how to plan your wedding day in style.
The flowergirl dresses availalbe via Dessy (of which there are many different styles) can also be colour matched with the rest of your bridal party colours…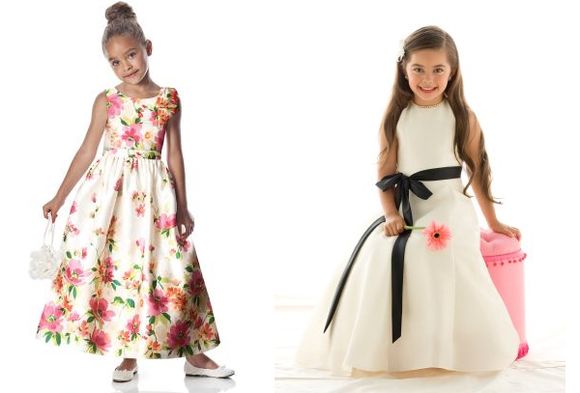 Dessy also offer a beautiful collection of accessories, that include wedding pashmina scarves, jewelery, wedding parasols and umbrellas (available in a range of pantone colours!), men's ties, bow ties and cuff links, tote bags, ballet flats, clutches, etc…
Lots of Dessy Bridemaids have featured on the Love My Dress wedding blog already – take a look at them here:-
♥  Amanda Wakeley Bridal Elegance for a Poolside, French Villa Wedding…
♥  Jenny Packham Wedding Dress Glamour for a Winter Wedding in Wirral…
♥  A 1950s Prom Dress for a Pretty Scottish Bride…
♥  1950s Elegance and 1960s Fun ~ Two Decades Collide to Inspire a Beautiful Scottish Bride…
♥  A Beautiful Autumn, Scottish Wedding…
♥  A Brighton Beach Bride And Her Polka Dot Veil…
♥  A Snow White, Wonderful Winter Wedding…
♥  Peacock Blue for a Barefoot Bride and her Grecian Vision…
♥  An Outdoor, Lakeside, Vintage Wedding…
♥  Bugsy Malone Style Matrimony! A Roaring 20s of a Wedding Day…
…or browse through all of the above in the 'Dessy' category of this wedding blog…
And don't forget to visit the Dessy menswear section of the site too…
For further information and to be inspired by a huge range of beautiful bridesmaids dresses that cater for most tastes, visit the Dessy website.
Will your maids be wearing Dessy?
Annabel xXx
♥
This is a sponsored wedding blog feature.