You know, a dress is a powerful thing.  As I write in my new book, Style Me Vintage Weddings, 'The feelings a woman experiences on finding the wedding dress are a mix of excitement, exhilaration, wonderment and awe.  If only you could bottle the feeling, you'd be a sure-fire millionaire.' 
What we wear defines us – the clothes we step in to every day are a visual representation of who we are, what we like, the way we feel, how we perceive ourselves and how we want to be perceived.   It's a subject that fascinates me, but never more so than when it comes to bridal wear.   It's safe to say, I'm pretty obsessed with bridal wear – in the healthiest of ways, of course.
Love My Dress Wedding Blog – Imagery Copyright (c) 2013, Halfpenny London
When I look at a wedding dress, I find myself in awe at the process behind it's construction; all those hours drawing shapes and creating a silhouette, measuring intricate patterns that will be laid over fabric, shapes cut out and sewn together. I see intricate beading and embellishment and wonder how long it took to apply by hand. 
The whole process of conceiving a design in mind and seeing it through to fastening up the last button, or securing the zip is something that blows my mind a little bit. Those designers are clever people you know – I wish more people would appreciate fine craftsmanship and good garment construction – a well made dress is something of pure beauty.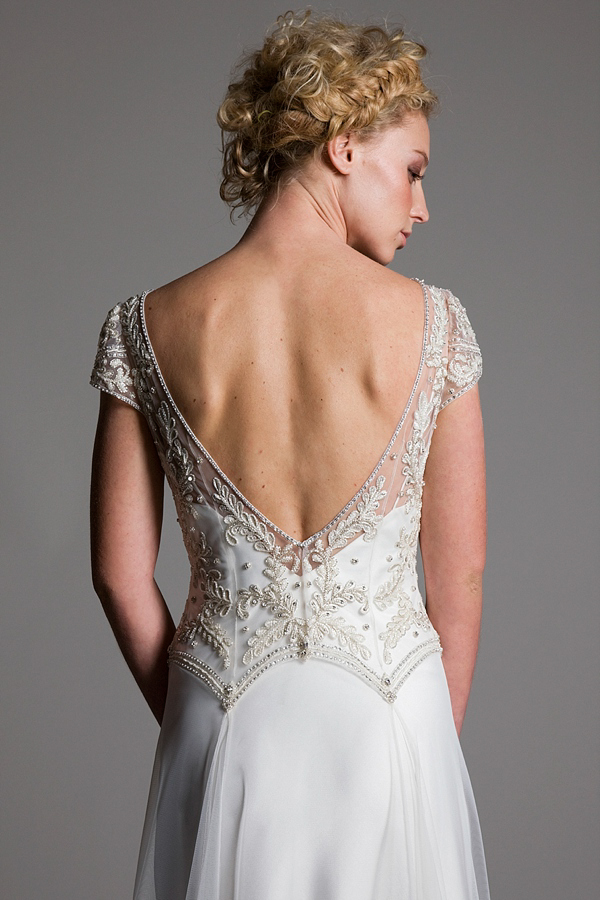 It's exciting to be amongst the first to view a brand new collection in bridal wear, and especially so if it's from a designer you've been keeping your eye on for a while.  I've been blogging now for 3 years and 7 months, and one of the very first designers I featured on Love My Dress was Kate Halfpenny and her brand Halfpenny London.
I liked Kate Halfpenny right away.  Forgive me for saying, but it's often the case that designers can be a touch aloof – difficult to connect with directly – always away working on the important matter of, well, designing. Understandably.  There are exceptions though, and it's always refreshing when a designer takes time to connect and listen and share your enthusiasm for something.  And especially so when they clearly value the role of the blogger.  Kate is one of those people – even back in 2010, she was happy to take time to email me and tell me all about her collection of divine gowns.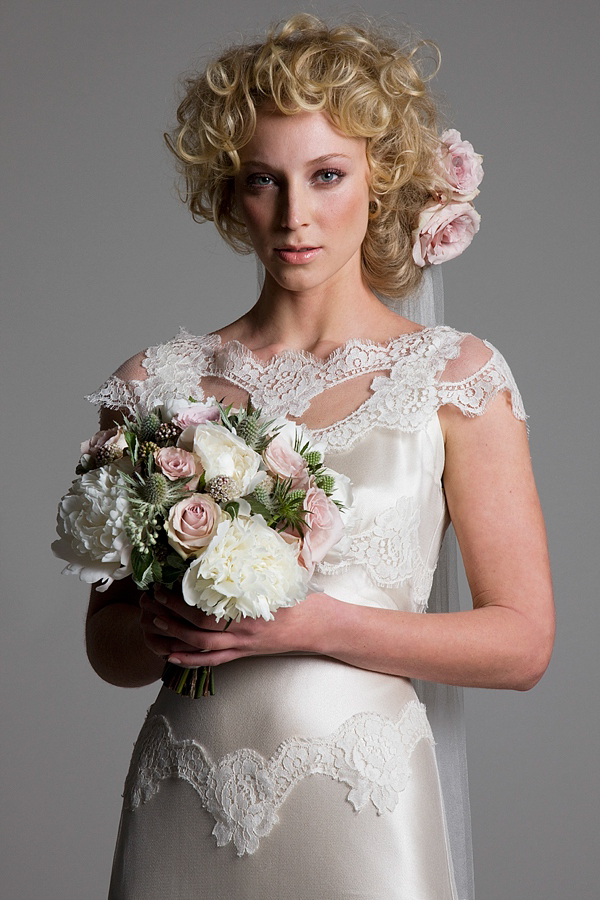 Having gained a Masters from St. Martins University, Kate's foray in to bridal wear began in 2005, after actress Emilia Fox wore two couture bridal gowns designed by Kate to her wedding. Since then, Kate has been busy fulfilling her role as one of the British fashion industry's 'best kept secrets', creating the kind of show-stopping, red carpet gowns that have adorned the likes of Rihanna and Kate Moss. 
This Summer however sees a big change for the Halfpenny London brand, as Kate launches a breathtaking new collection and opens up her very own flagship store – perfectly located in Bloomsbury's Woburn Walk; a pedestrianised street of beautifully preserved bow-fronted buildings built by the architect Thomas Cubitt dating back to the 1800s.
This remarkable glimpse into London's past sets the tone for entering the boutique; Farrow and Ball signature Downpipe Grey graces panelled walls, mid-century glass chandeliers hang from above and an array of antique furniture compliment the original fabric of the early 19th century building. A stylish bride's haven indeed.  Encompassing the ground floor, the 1000 square foot space showcases Halfpenny London's bridal creations hanging from copper rails set amongst the late Georgian structural details and original floorboards. The basement is home to the design studio and couture atelier, where on site fitting and alterations take place.
"Woburn Walk is a dream backdrop to showcase – our beautiful collection of bridal gowns. It was important for us to find a location and space that stayed true to the Halfpenny identity, quintessentially British!"
The opening of this beautiful new boutique will see Kate's visionary bridal creations split into four entirely British made collections, each with their own unique aesthetic and Halfpenny signature style running throughout. Alongside the collections are a selection of carefully curated bridal accessories to compliment the look.
"We try to wake up the inner sleeping beauty in all our brides,  our collection is diverse and exciting, there is something for everyone, it has a signature vintage handwriting throughout, which really gives us the opportunity to use wonderful fabrics and amazing cuts.  It's Paris Chic with a boho vibe."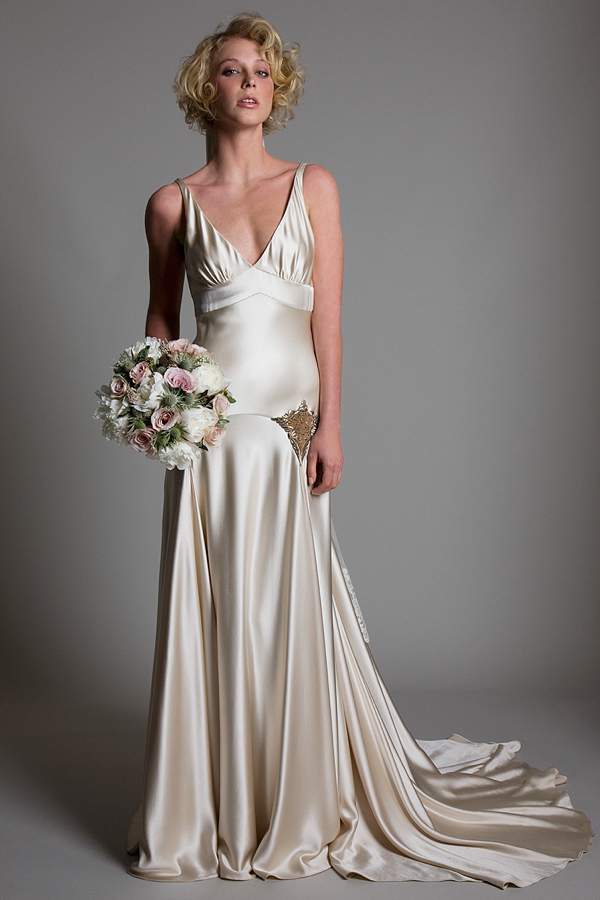 The four new Halfpenny London collections are as follows:-
Halfpenny London Boutique
A collection of elegant ready-to-wear key Halfpenny styles. This collection will be available on a select number of other bridal boutiques too.  Prices start from £2,250
Halfpenny London
Exclusive to the boutique, a semi-bespoke collection of exquisite Halfpenny signature dresses, where design alterations and additions can be made to enhance silhouette deeming the dress unique. Prices start from £3,750
Halfpenny London Couture
The bespoke service allows you to work closely with Kate to design a couture gown to your brief, taking full advantage of Kate's experience and skill in the perfect cut and silhouette using
the finest silks, laces and beading. Prices start from £5,000.
Halfpenny London Vintage
A small collection of vintage pieces sourced from around the globe that can simply be altered to fit or used as inspiration for a totally unique dress when using the complete bespoke design service. Prices from £1,500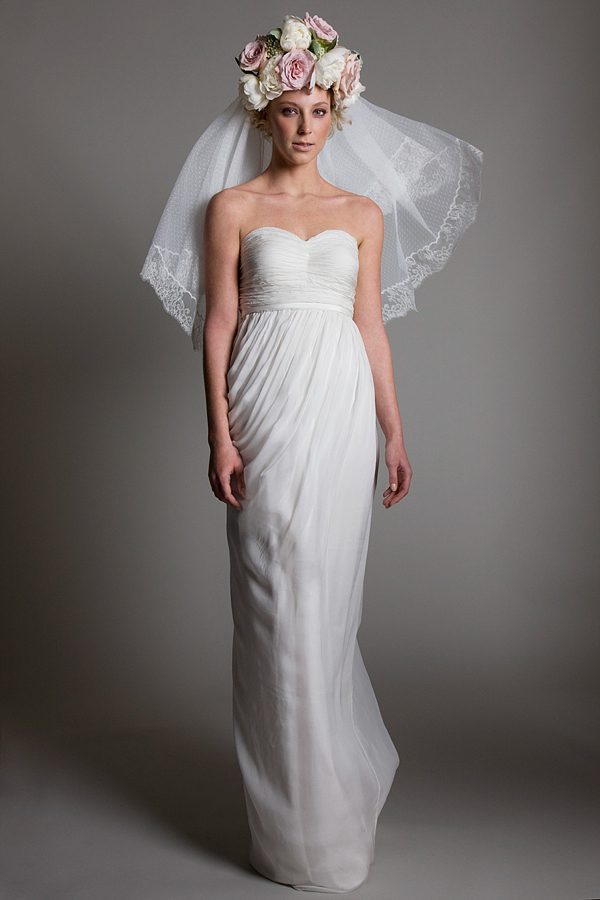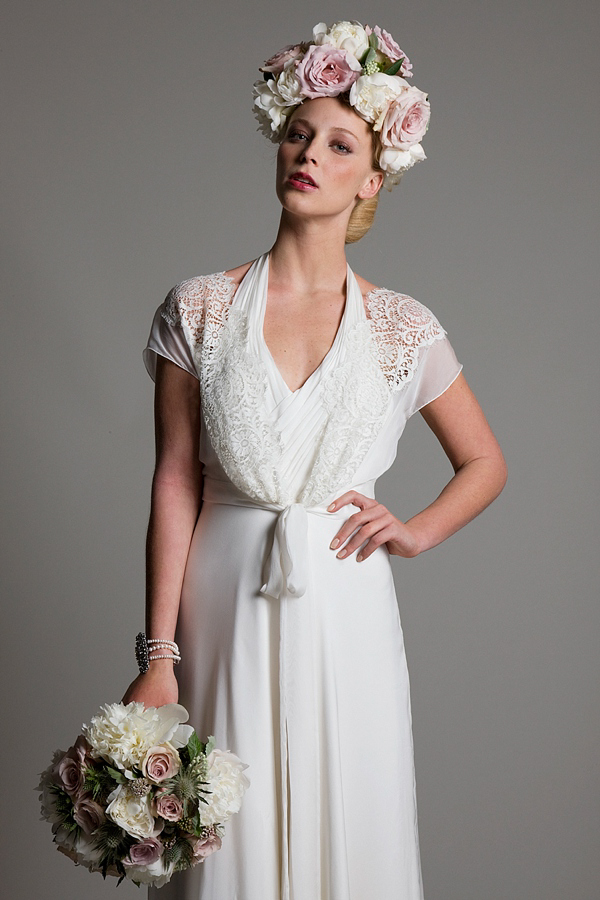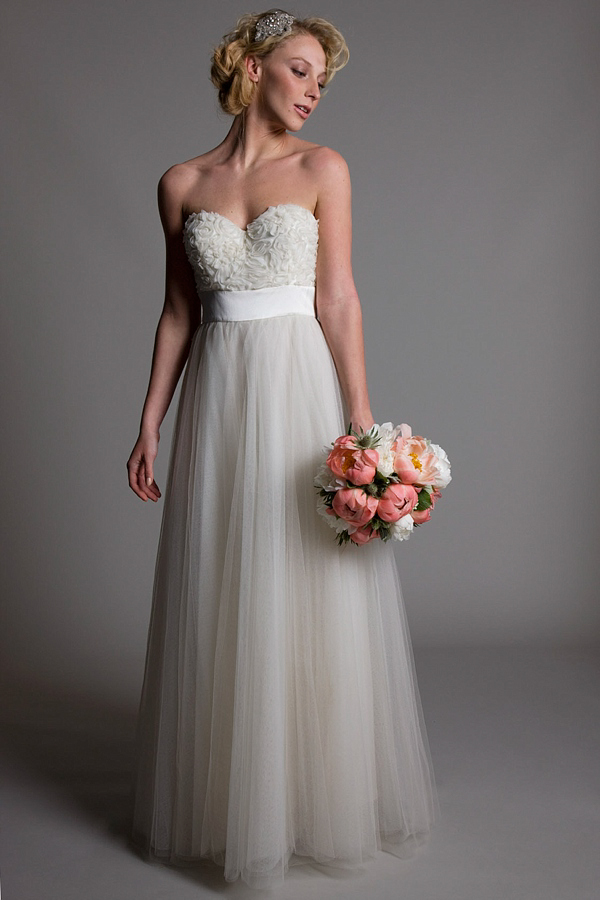 Tempted? You ought be. These dresses are breathtaking in design and beautifully constructed.  I'd hazard a guess that shopping for your wedding dress without going to Halfpenny London's new
store might well be denying yourself a chance to find an incredible wedding
dress - the one.
To book an appointment at the new Halfpenny London flagship store, or for any further information, please visit the Halfpenny London website, telephone 07976 761166, or email [email protected].  The nearest tube stations to the boutique are Euston or Kingscross
St.Pancras.
I'm so organising a visit to the boutique to hang out with these gorgeous gowns. If fashion defines you, and if we do ever renew our vows, I'd like to be a Kate Halfpenny bride please.
*You can download a PDF file with all the designs above by name right here.  Which is your favourite, leave a comment below to let us know.*
Much love all,
Annabel