Happy Wednesday! As spring inches closer and new collections of bright colours fill our wish lists it's nice to be transported to high summer – a reminder that this cold weather will finally disappear. Marketing Manager Kirsty married Flight Operations Officer Alistair on the 12th of July 2014. Planned in just 12 months from their home in Bahrain, as soon as they had found their venue Old Alresford House in Hampshire it was clear that a midsummer wedding would suit their vision for a colourful, happy day. The trampoline and zip wire tree house provided entertainment for both adults and children and pretty details like ribbon hanging from trees and LED lights in the garden make this a country house wedding with a difference. The English countryside provided the biggest inspiration and the floral arrangements by Jay Archer are completely amazing, bringing each room to life and there is no missing Kirsty's enormous (and gorgeous) wildflower bouquet.
"A lot of our engagement was spent planning our wedding from Bahrain and we certainly felt nostalgia for the beautiful English countryside and cottage gardens of Derbyshire. When we initially started planning the wedding, we wanted a yellow theme but this developed into yellows, greens and peaches – happy colours, progressing further to a colourful 'English Garden' theme."
Photography Copyright (c) 2015, Paul Joseph Photography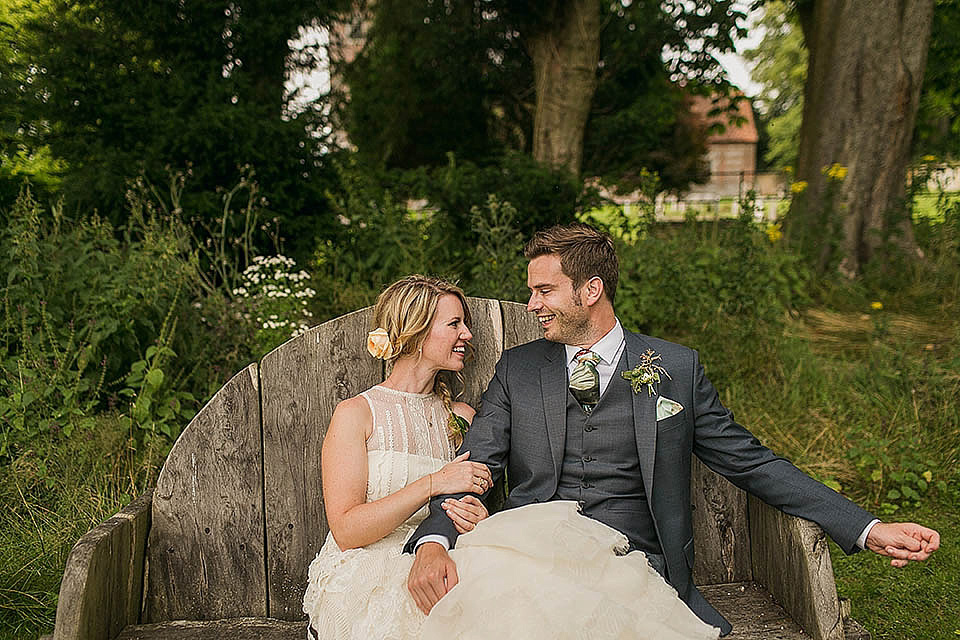 "We met in Newquay in July 2009 but I didn't expect to see Alistair again as I lived in London and he lived in Derbyshire, so was happily surprised when Alistair made a surprise call one day when he was 'in the area'.   Four years later, Alistair got down on one knee after watching the sunset while walking along a private beach in Bahrain."
Kirsty purchased her 'Nigeria' dress and single layer veil directly from YolanCris in Barcelona. Despite almost buying a Stewart Parvin number from Brides of Winchester (Kirsty was bowled over by the staff and had a wonderful experience there), she just couldn't get the designs of YolanCris out of her head. Weighing up visiting a UK stockist carrying limited styles with a trip directly to the designer in Spain, she plumped to see the full collection and didn't look back.
"YolanCris' designs really stood out for me as they were less traditional, not too boho and not perfectly polished… yet hardly any UK store stocked them. I believe your wedding dress should reflect your personality as much as it suits your figure and with this in mind, what I love about my dress is the perfection in its imperfections. I love the mixed textures and layers, with its somewhat "unfinished" look (although believe me, the designers worked extremely hard on perfecting the dress – even balancing the lace to accommodate for my slight scoliosis in the shoulders!).
My biggest fear was to wear a dress which made me feel like I was acting or playing a role on my wedding day… instead, thanks to the wonderful team at YolanCris, I felt so genuine in my dress, and 'naturally me'."
In keeping with the 'garden' theme Kirsty stumbled upon a Renaissance-printed fabric of Botticelli's "Birth of Venus" painting and spurred on by an image of this Vivienne Westwood dress created a unique dress for each of her 4 bridesmaids taking into account their different personalities and body-types. The bridesmaids then selected their own jewellery and metallic shoes. The girls, despite their initial reservations, were delighted with the result which is beautiful and works incredibly well with the mass of flowers in Kirsty's bouquet.
The younger girls Poppy and Daisy wore an ivory crochet dress with matching lace shoes and flowers in their hair to match their floral names!
"We were so incredibly lucky to have Jay Archer Floral Design creating the floral arrangements. Jay knew exactly how to implement our ideas of cottage gardens and happy colours. It was very much "the more the merrier" as long as the flowers looked natural, thankfully Jay really knew how to rein our ideas in, while displaying a wild mix in a beautifully natural fashion. She also had fabulous ideas to make the most of the flowers by repositioning them throughout the day."
Kirsty and Alistair were inspired to choose Gifted Heart Cakes because of Emma's graphic design background and her obvious delight at designing such a creative cake! All of the macarons were made individually by hand and painted with botanical images. The large flower on top ensured the cake represented their garden them perfectly.
Paul and Kelly of Paul Joseph Photography were on hand to record the day.
"We absolutely loved Paul & Kelly's modern, candid, documentary-style photography. Their relaxed and approachable attitude meant they were fantastic guests at our wedding, mingling with everyone brilliantly and we're convinced they managed to see much more of our own wedding than we did… which is great, because we have so many brilliant photos!
We wanted photos that were going to remind us of our special day rather than remind us of posing all day. Looking at the final images, we really couldn't be any happier, especially as they even thoughtfully put together a fantastic slideshow film for us to enjoy."
With friends and family travelling from all over the country the couple found it difficult to choose a conveniently located venue. A search that started with small, intimate venues ended with a grand stately home but as Kirsty explains Old Alresford House ticked all of the boxes and more…
"What we loved about Old Alresford House was that the place is a family home. We had a wonderfully decorated annex to stay in and were free to roam throughout the grounds, which really made the whole weekend feel so enjoyable and relaxed. Mike the owner was a very welcoming character and happy to assist not only as Master of Ceremony but he prepared and served the most delicious breakfasts! The family dog Ginger was also a very welcome guest on the day. What really made our day special was the variety of fun facilities for our guests to enjoy, including a zip-wire tree house, swimming pool, trampoline and a gorgeous English country garden."
Kirsty wore her everyday jewellery and her signature scent Coco Mademoiselle. A few flowers with foliage were added into the texture of her side plait.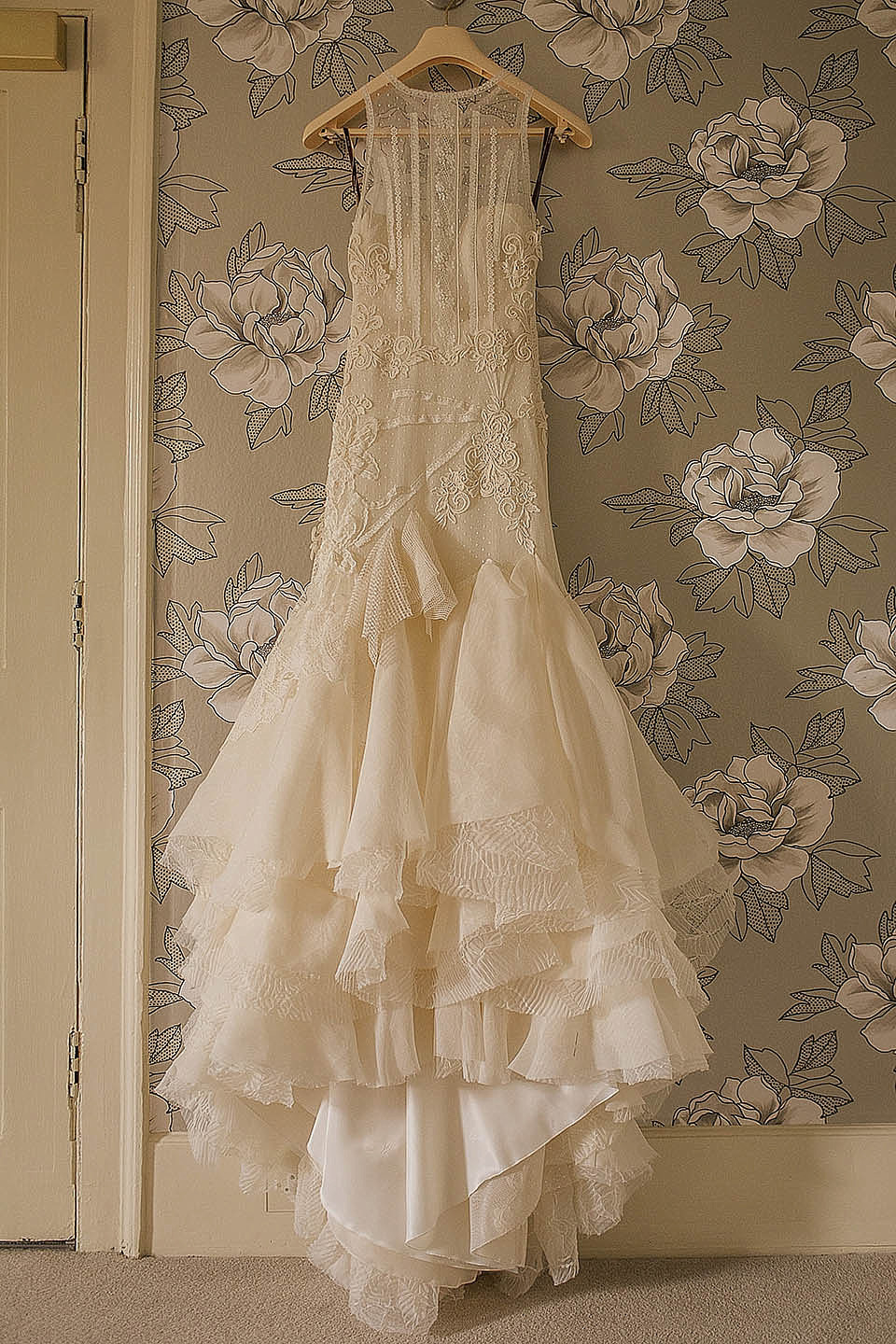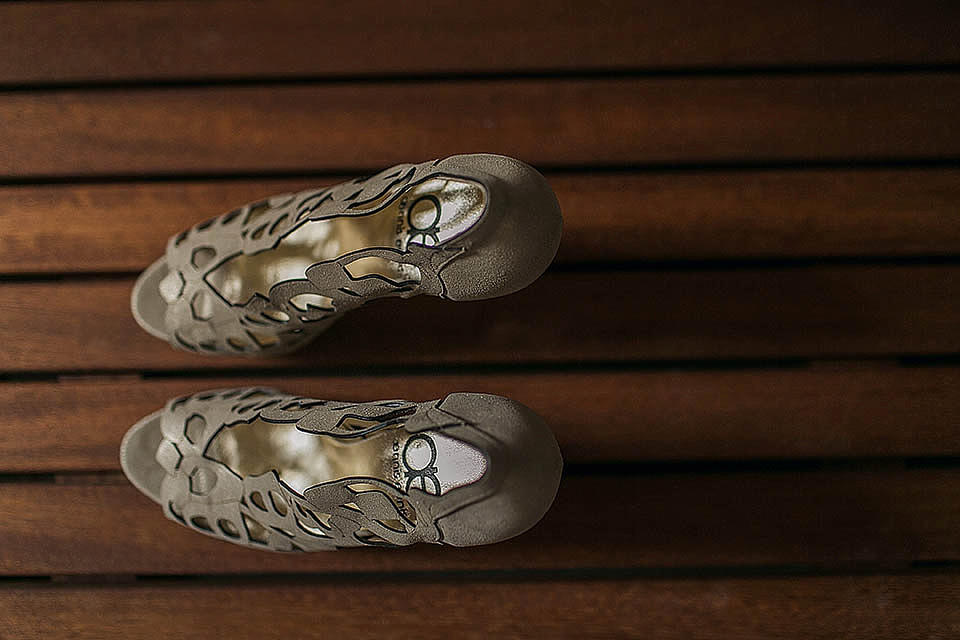 Kirsty and Alistair wrote their own vows, it was important for them to articulate what their marriage would mean to them as a couple and growing older together. They chose a reading from 'The Secret Garden', one of Kirsty's favourite childhood novels an extract from Dr Seuss.
Kirsty's dad walked her down the aisle to an instrumental of Paolo Nutini's 'Candy' and the newlyweds left the ceremony to 'Happy Together' by The Turtles.
Alistair had his suit tailor-made in Bahrain by Hilton tailors and paired it up with hand-grade Crockett & Jones shoes. With his tie and a pocket cloth in the Botticelli fabric to match the groomsmen, he looks every inch the handsome groom.
"We particularly loved the playful moments of the day – we have some very fond memories of jumping on the trampoline (in my wedding dress!), exploring the rope-bridge and zip-line, the flower girls jumping in the pool and the guys setting up a football game at sunset… these were the best memories for us."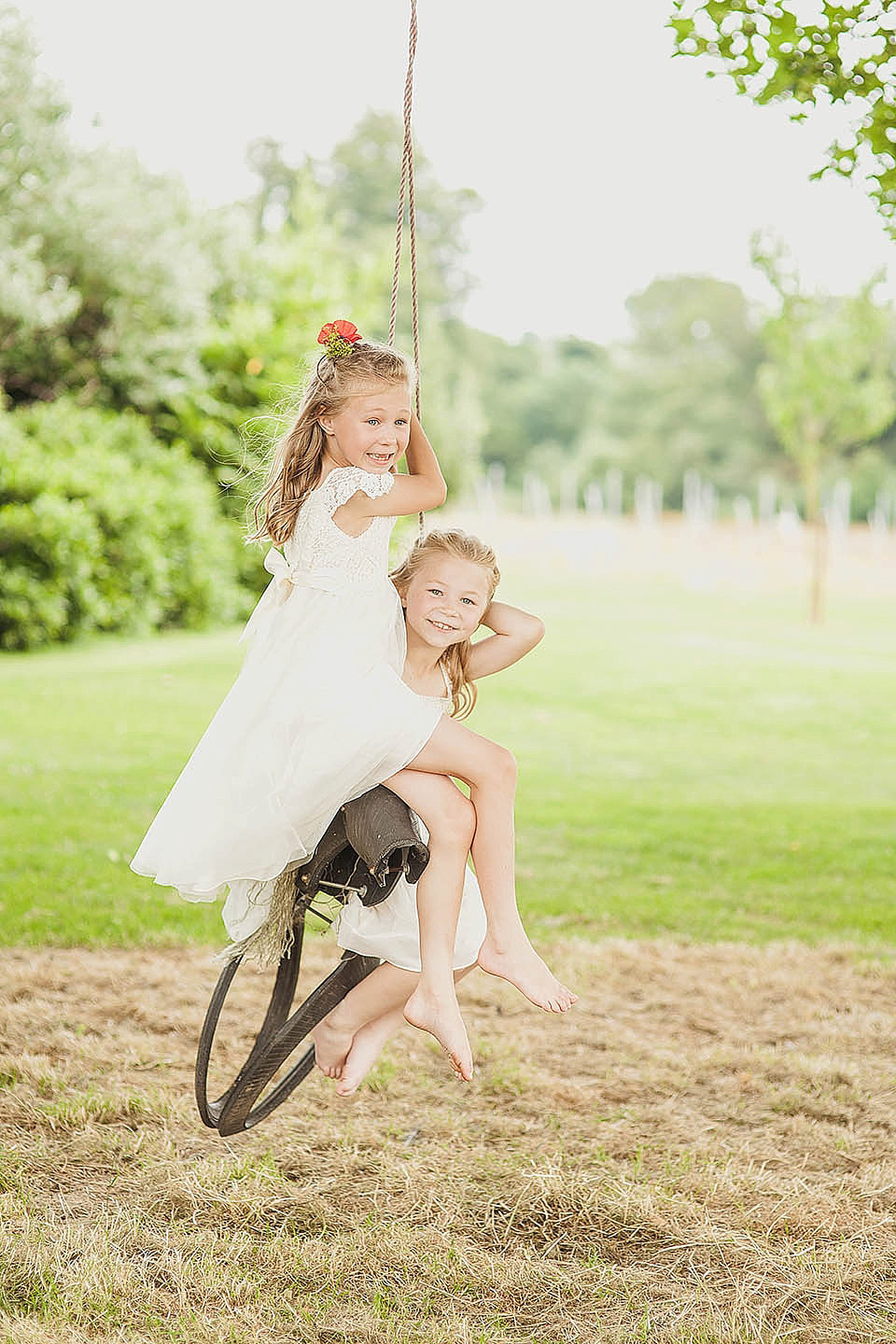 Liz Jeal created the couple's beautiful illustrated stationery. She designed two emblems used throughout as well as a colour-in postcard for each guest based on the 'special location' table plan which then doubled up as a fun guestbook afterwards!
Cellist and pianist duo, The Celliano Ensemble, played a selection of requested songs through the day and after a choreographed Argentine Tango to Axwell 'I Found U', DJ Jon Saunders took the party into the late hours.
Words of Wedded Wisdom
"Just do what feels right for you as a couple. I used to think only divas end up in "it's my day" scenarios, however we endured a surprising number of contrary and varied opinions from family members assuming correct "etiquette" and "tradition". Just remember that the day really does belong to you as a couple. Accommodate opinions where possible (does anyone really remember who the invite is officially from?), but don't be bullied into changing your day to fit someone else's vision."
Thank you so much Kirsty and Alistair for allowing us see your beautiful wedding and to Paul and Kelly for capturing such wonderful images for us to share.
Love Caoimhe xx
Photographer – Paul Joseph Photography
Venue – Old Alresford House, Hampshire
Wedding Dress + Veil – YolanCris
Shoes – Aennis Eunis
Accessories – Tiffany & Co.+ Damas Jewellery
Bride's Scent/perfume – Coco Mademoiselle by Chanel
Groom – Hilton tailors, Bahrain + Shoes Crockett & Jones
Groomsmen – Own Suits with Tie – John Lewis + Pocket Cloth Artscow
Bridesmaids – Fabric from MacCulloch & Wallis
Flowergirls – Monsoon
Florist – Jay Archer Floral Design
Cake – Gifted Heart Cakes
Entertainment – The Celliano Ensemble + Jon Saunders
Rings – Jeremy France Jewellers + Souq in Dubai
Catering – Vanilla Catering
Stationery – Liz Jeal
Hair Stylist and Makeup Artist –Helena Larsen
Favours – Tea, Empty tea-bags, Cotton bags