Hello all, did you have a lovely bank holiday?  I spent the weekend camping at a castle in Northumberland (yes really) and had a lovely time with family and friends.  I hope you did something equally fun.  As today is effectively Monday, we felt you might need something especially lovely and spirited to lift your mood this morning, and this cool but pretty urban wedding is just the ticket- the flowers are particularly gorgeous, and the venue utterly stunning.
Let me introduce Ellie, who works in PR, and her husband Matt, a doctor, whose wedding took place at the beautiful Birmingham Oratory, with the reception at The Church Inn; also in Birmingham, where Ellie grew up.  (If you think the bride and groom look familiar then you're right, as we featured their 1960's themed engagement shoot back in December).
"We were very inspired by Brooklyn factory weddings- that whole 'grungy but gorgeous' aesthetic.  We decided not to have a colour palette or be at all strict with things matching, but as it turned out, everything fit together amazingly well and did fit into a broad colour spectrum of dark green, maroon, pale blue, blush and off whites! Maybe it was an accident but I suppose people tend to be fairly consistent in their choices, so maybe not! Clothing wise, there was a definite nod to the 1960s."
Photography by Ella Ormerod Photography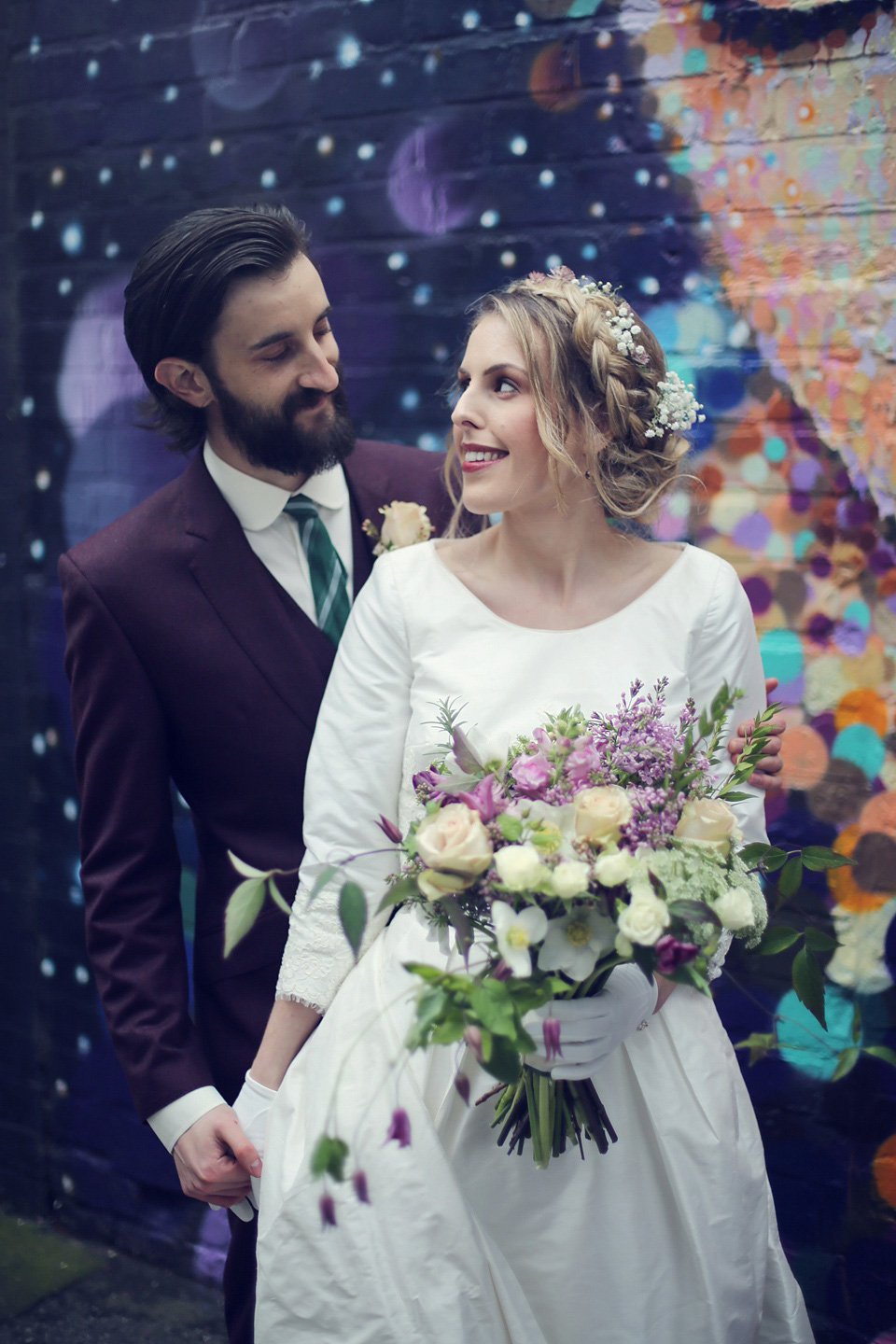 "We met during Fresher's Week University, at St Andrews, in Scotland. It was at a party, but we realised we actually lived almost next door to one another. The flats were separated into boys and girls, so the girls from my flat would often hang out with the boys from Matthew's.  He was very straightforward that he liked me but I tried to play it cool. He spoke to me in French and made me Tarte Tatin (although I later found out that he was actually passing off his father's tarts as his own, but that's a whole other story!)
Even though I tried to pretend I wasn't that into him, there's actually a picture of us sitting on the couch, the first week we met. Matthew is playing the guitar and singing to me and I'm sat looking so dreamily at him. It such a funny picture and something his brother Paul brought out to embarrass me with when it was time for his best man speech!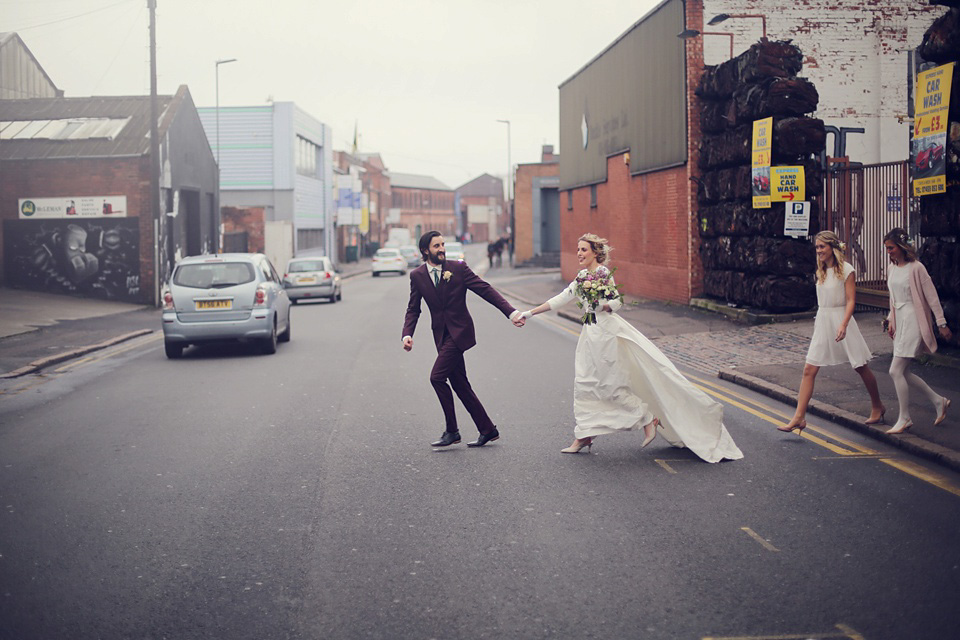 Ellie's simple, but very beautiful dress was custom made for her by Sarah Willard Couture.  I love the elegant line of buttons down the back of the over-jacket and the fresh crisp lines of the dress, complimented by the floatyness of the veil.
"I had a reference picture of a dress from the 1960s that I'd seen on Pinterest and I knew as soon as I saw it that it was 'the one'.  I didn't try on one wedding dress as I knew I'd never find anything similar, so I went straight to Sara and asked her to make it for me."
Ellie's veil was a simple, cathedral-length piece of tulle with no trim or edging, also from Sarah, and her hair accessories were flowers chosen by their florist, Karen, which were woven into her hair.  "They included little blue buds – which were my something blue, although Sarah also sewed a blue ribbon on the inside of my dress just so I was covered!"
The day was captured on film by Ella Ormerod Photography, a new photographer to Love My Dress (with the exception of Ellie and Matt's engagement shoot which we featured last year).
"Ella took our engagement pictures and was also one of our best friends at University so it was perfect that she should take the wedding pictures too."
I do love flowers, and those chosen by Ellie and Matt are absolutely beautiful, don't you agree? The colours are so rich and I love the way texture has been used to add interest.
"We loved Karen of Passion for Flowers relaxed style as we wanted the flowers to look thrown together, as though they were just a happy accident.  No one does that kind of thing as beautifully as Karen!"
"The bridesmaids picked their own dresses and shoes. I didn't see them until the morning the girls arrived for the wedding. They live in Switzerland and Sweden so it was impractical to try and purchase something in England and send measurements back and forth. More than that though, I wanted them to feel happy in what they were wearing and have it be their own style.
I asked them to choose something in the white family (my mother and mother in law also wore white), but gave them total leeway other than that. I think they picked well!"
To compliment Ellie's look, bridesmaids Marielle and Flurina finished their look with gorgeous half flower crowns, made by florist Karen from Passion for Flowers, and, instead of bouquets, wore sweet little corsages- very delicate and extremely pretty.  I love this idea as it means the bridesmaids bouquets don't get left around the venue while your maids socialise, and they can still eat and drink while wearing them!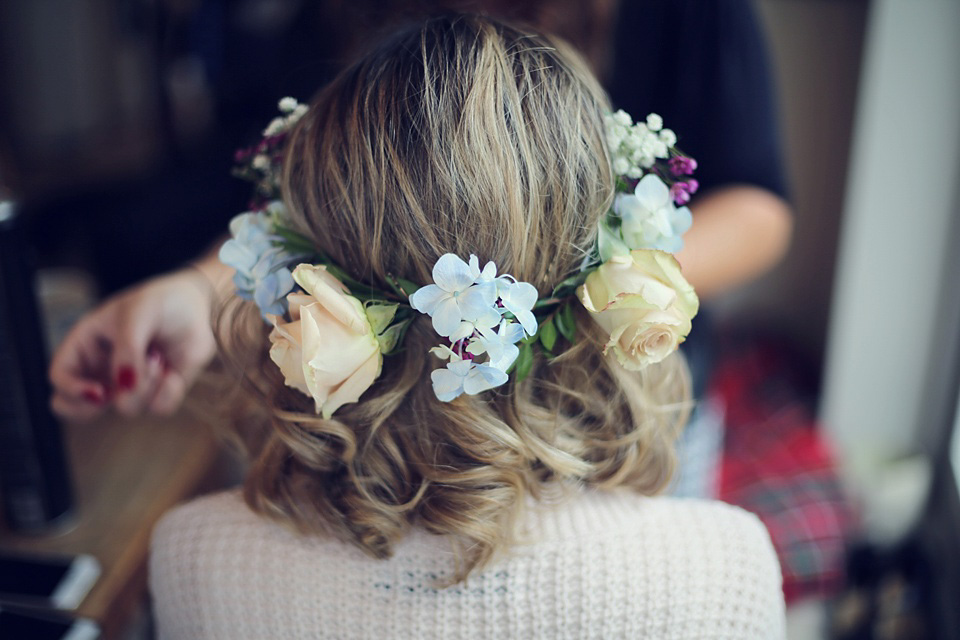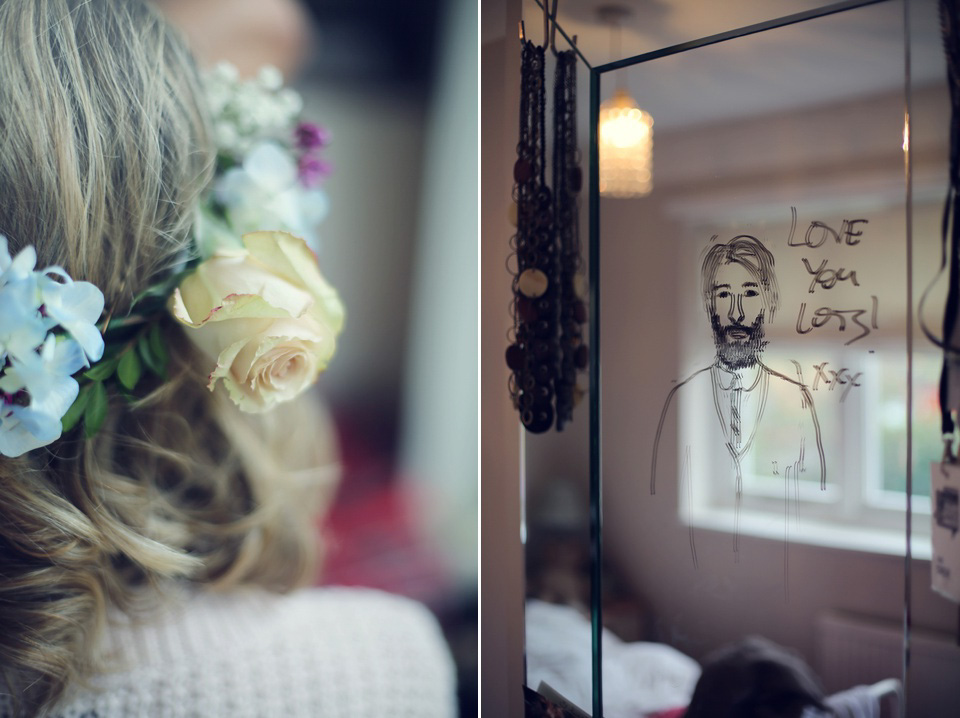 Ellie 'confessed' to us that she isn't a shoe person, but I think her choice is perfect.  Her kitten heeled sparkly slingbacks were a BHS find, and go beautifully with the rest of the outfit.  Her jewellery was borrowed from her mother and Grandmother.
"I wore by grandmother's wedding band on my right hand (my something old) and borrowed my mother's ruby earrings. The flowers in my hair were my something blue and my dress was my something new."
The look was completed with a squirt of Pomegranate Noir by Jo Malone– a gorgeous perfume, and one of my own personal favourite brands.
"I love 'rich', 'heavy' scents. This smell wraps you up. I like to burn candles in this scent and home. It always makes me feel warm, happy and comforted."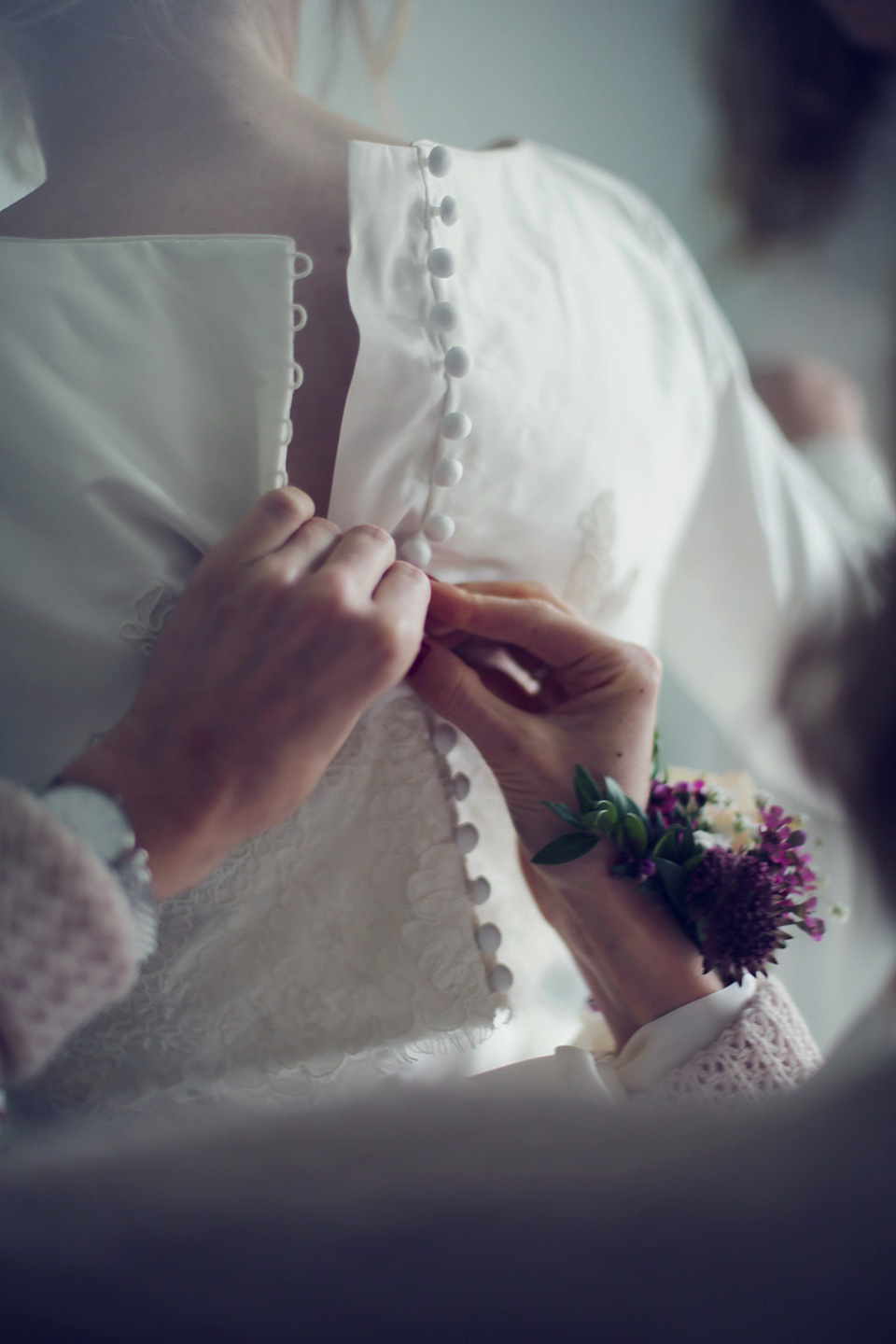 Matthew looked most dashing in a tailored burgundy three-piece suit from Marc Wallace, worn with a crisp white shirt and green striped tie.  Lovely to see a chap in an unusual colour, and very in-keeping with the 1960's vibe.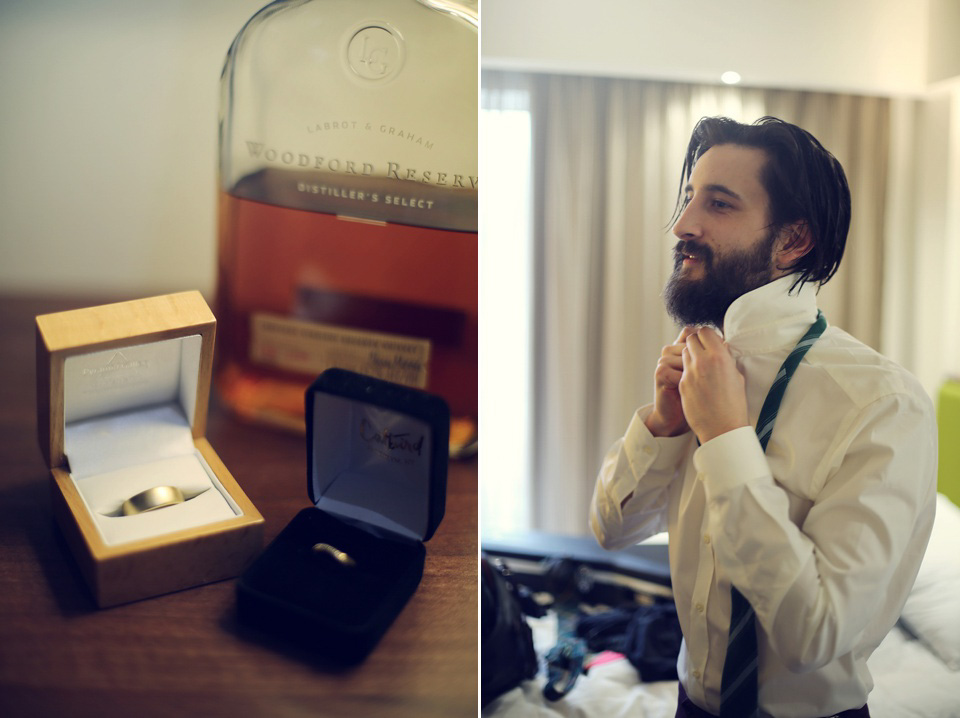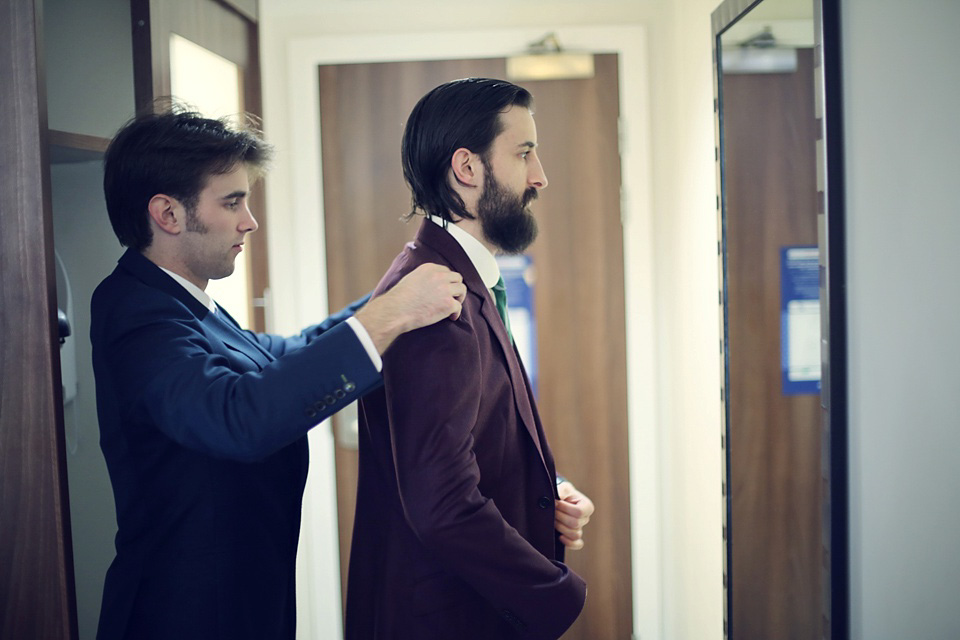 Ellie walked down the aisle of the dramatic beauty of the Oratory with her father, Brendan, to the sound of Alla Breve by J S Bach, played on a solo organ and chosen for her mother who loves Bach.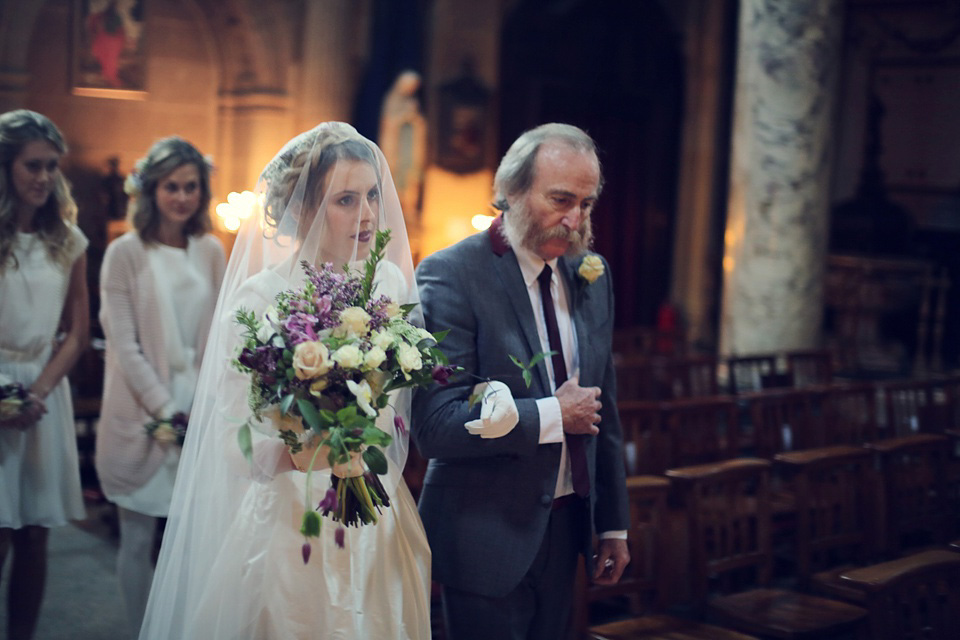 "We used the old traditional wording for our vows and for the exchange of the rings.  As you take your partner's hand you say "With this Ring I thee wed, with my body I thee worship, with all my worldly goods I thee endow." Then you touch the ring to their index finger "In the name of the Father", middle finger "and of the Son", forefinger "and of the Holy Ghost. Amen." It's very meaningful and very solemn."
For readings, the couple chose, Corinthians  12:31-13:8.  Ellie's favourite line is; 'Love bears all things, believes all things, hopes all things, endures all things.'  Beautiful.
"We had to pick readings that were in the Catholic marriage handbook, so the choice was limited. This passage spoke to us though. It doesn't talk about one's duty to God or the place of marriage in the Catholic faith, like so many other readings. It's a simple, universal reflection on what it means to love openly, honestly and fully.
One way we made the ceremony personal was by having our family and friends sing the hymns. Matthew's family is half French and half Scottish, so we had one song – a duet, sung by his aunt and his God Mother in French and another, Thairis air a' Ghleann, sung in Gaelic by his aunt and two uncles. It's hauntingly beautiful."
"In the end, for me the ceremony was the most special part of the day.  In the middle of wedding planning it can be easy to forget the actual marriage part – you're worried about how things will look, what food to have, where everyone's going to sit and so on.  I wouldn't say that I'm traditionally Catholic, but there's something very special and very momentous about standing in a spiritual place, where thousands of couples have stood before you, speaking vows that have been said for generations.  Though they were not our own words, we both felt their weight – like a tiny thread of communion with those who had gone before and those who would come after; almost like a blessing."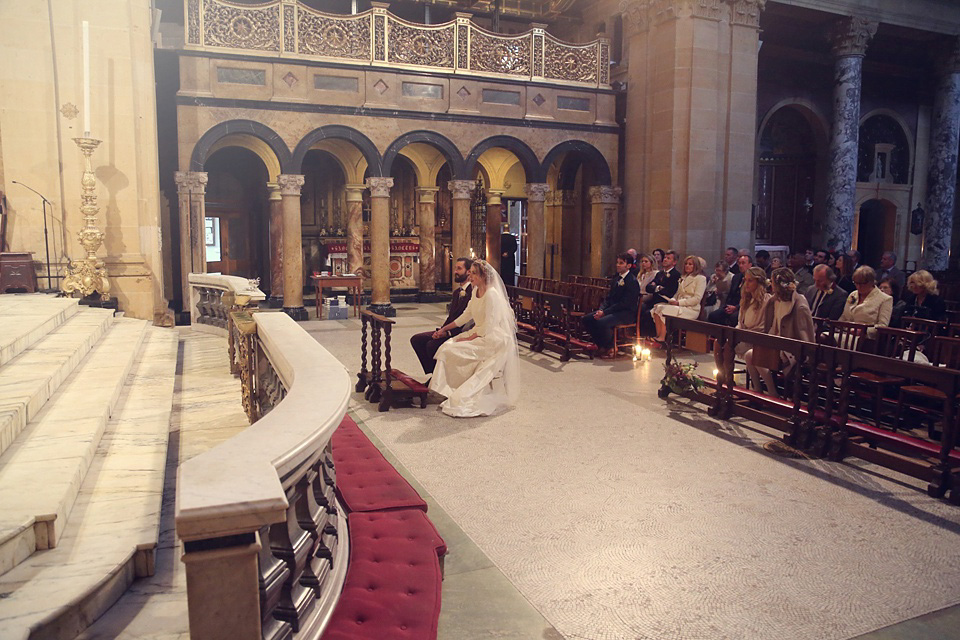 I absolutely love that wedding ceremonies are becoming so much more flexible these days, and marriages can take place in a huge range of locations (we've had boats, castles, woods, tents and all sorts of wonderful places here on Love My Dress) but a church or chapel wedding is still a popular choice, whether for religious or spiritual reasons, or family/ emotional connections to the place.  Ellie and Matt's rationale for choosing their ceremony venue, Birmingham Oratory, is very lovely…
"Originally, we were planning on having a non-religious ceremony. But it became apparent during the planning process that getting married in church would mean a lot to our grandparents and would be a nice way to honour my nana, who died when I was 14 and who loved the Oratory very much."
How utterly stunning is this interior?
"The ceremony was very special. We learned the wording so were able to go the entire ceremony without having to repeat after the priest, which I think was nice and something the guests commented on afterwards. When the Byrnes sang Thairis air a' Ghleann though, it was beyond magical. I felt like everyone was caught up in this wave of emotion and the reverential hush when they finished was something I'll never forget."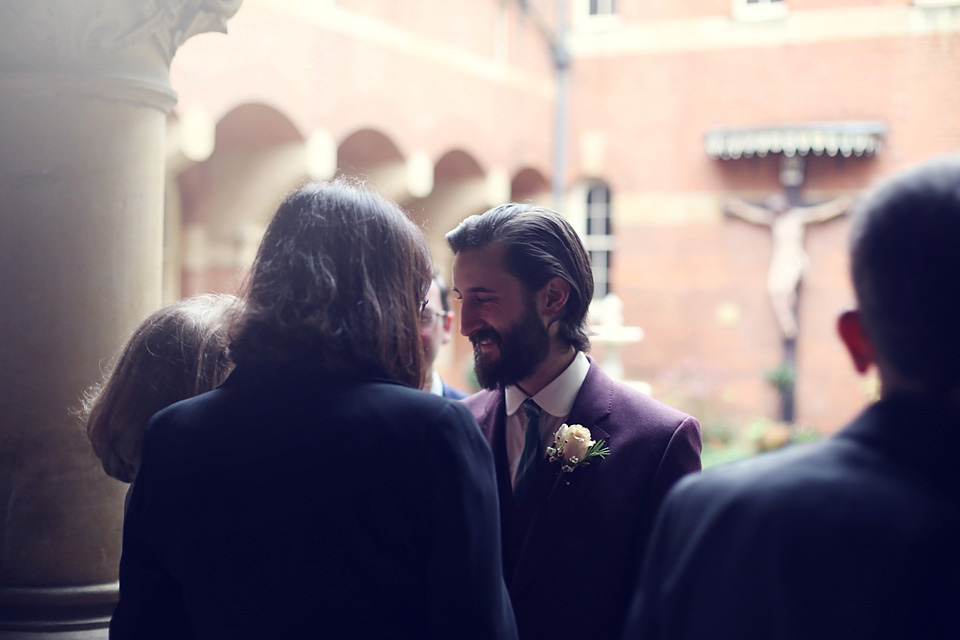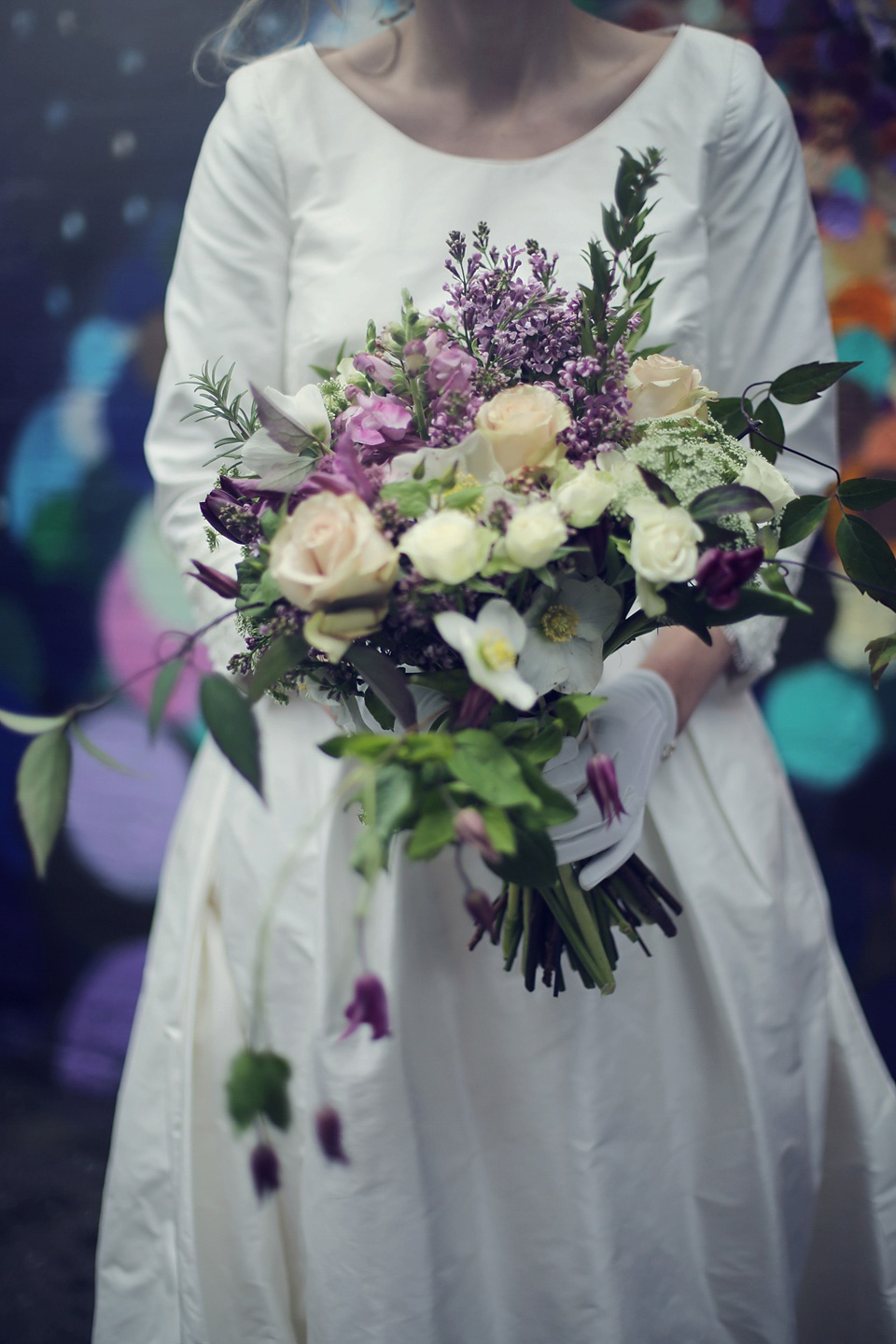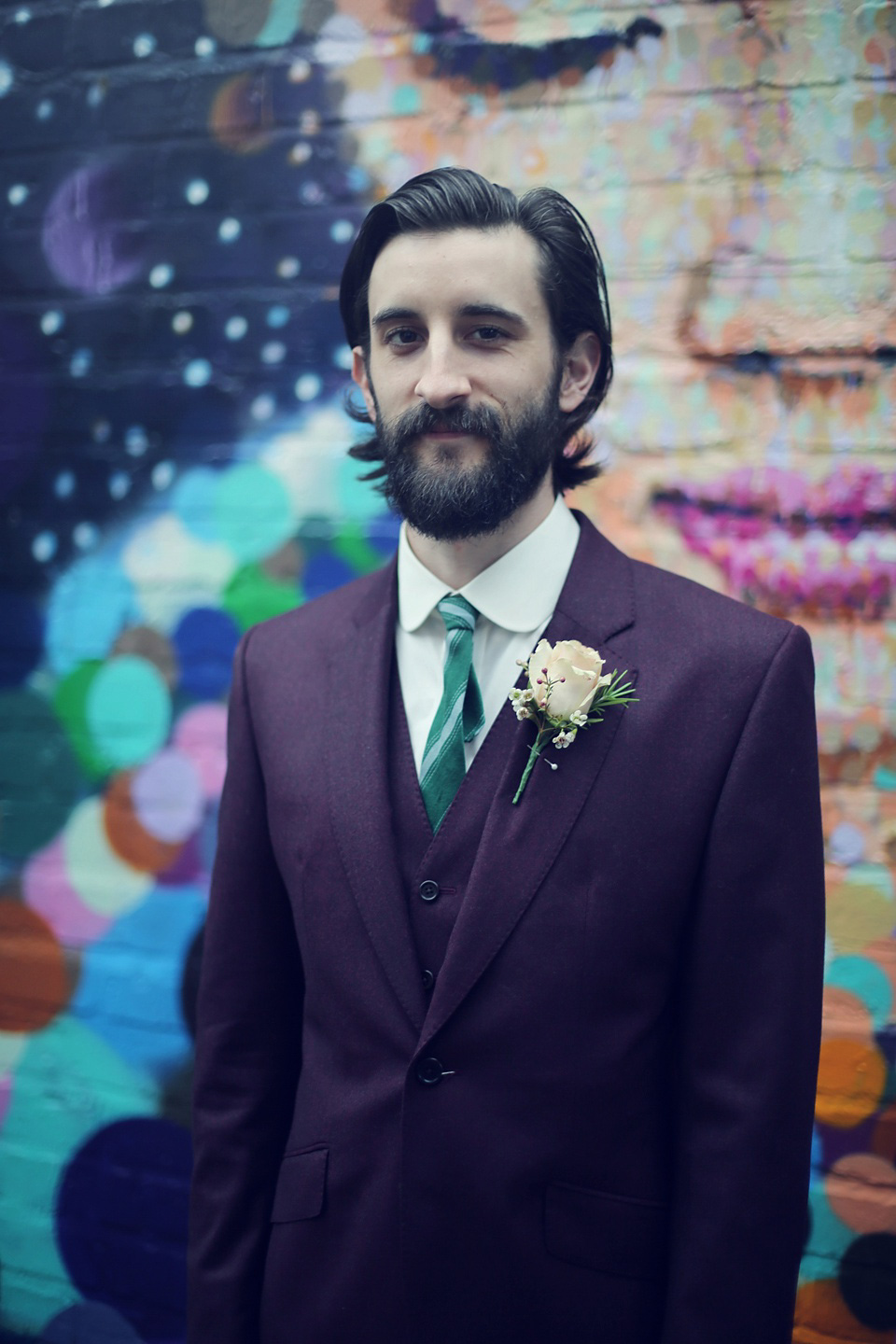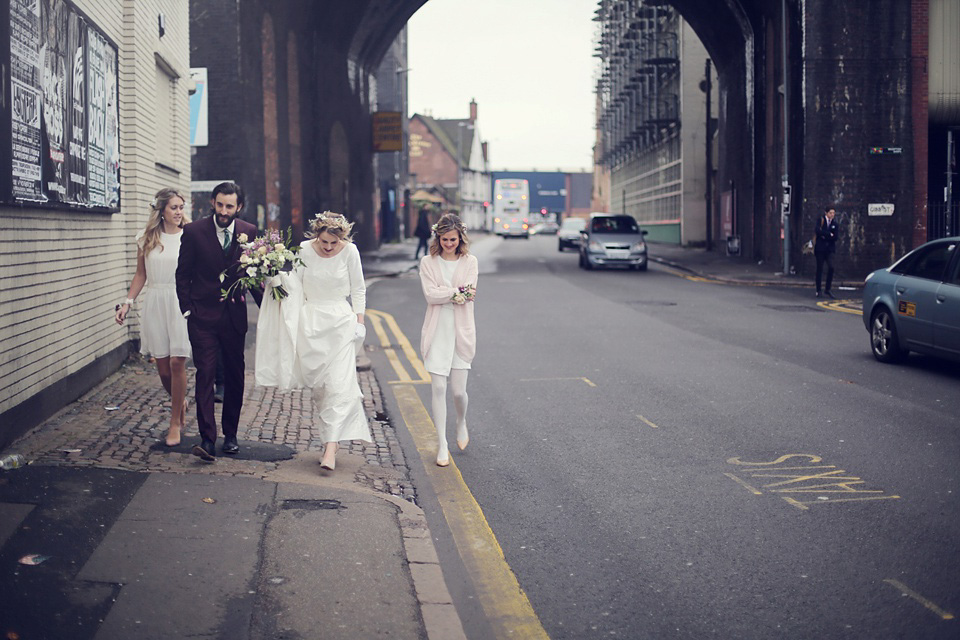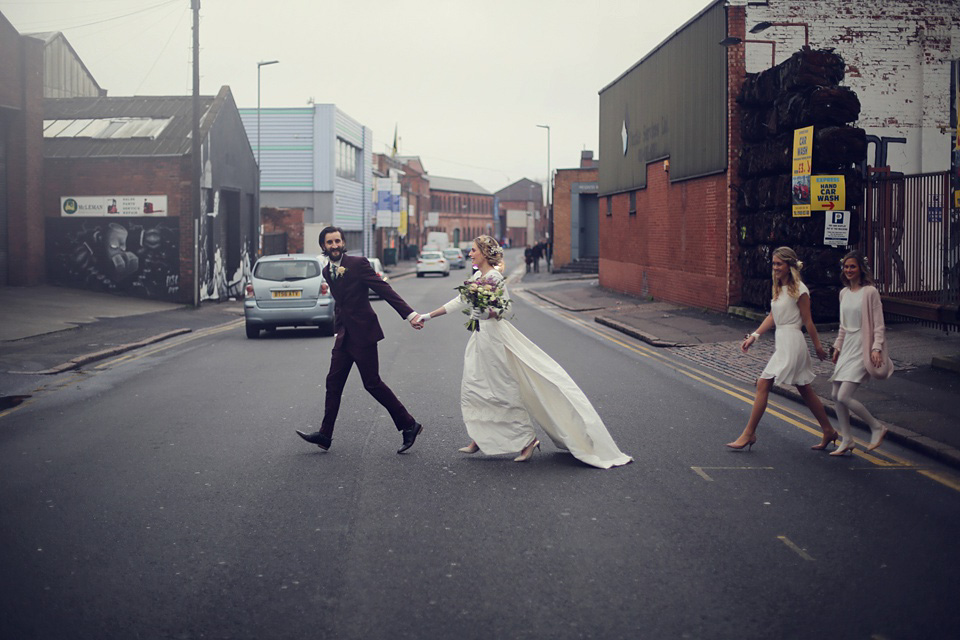 For their reception, the couple chose a very different, but complementary space, taking their guests to The Church Inn for a relaxed afternoon and evening.
"For the reception venue, we wanted a total contrast to The Oratory, which was very peaceful and reverential.  We chose a place we that was unfussy and informal. Somewhere we could fill with music and laughter."
The couple made all arrangements for the day themselves, and sourced and designed all the decor and stationary, to reflect their own taste.
"We wanted it all to be really personal and reflect our style as a couple.  Our florist Karen was a big help pointing us in the direction of suppliers for things like sofa hire."
"I designed the invitations and order of service and had them printed. We went with a simple postcard design for the invitation and simple typography for the orders of service. I also had a few posters with my favourite quotes about life and relationships made up to hide around the place."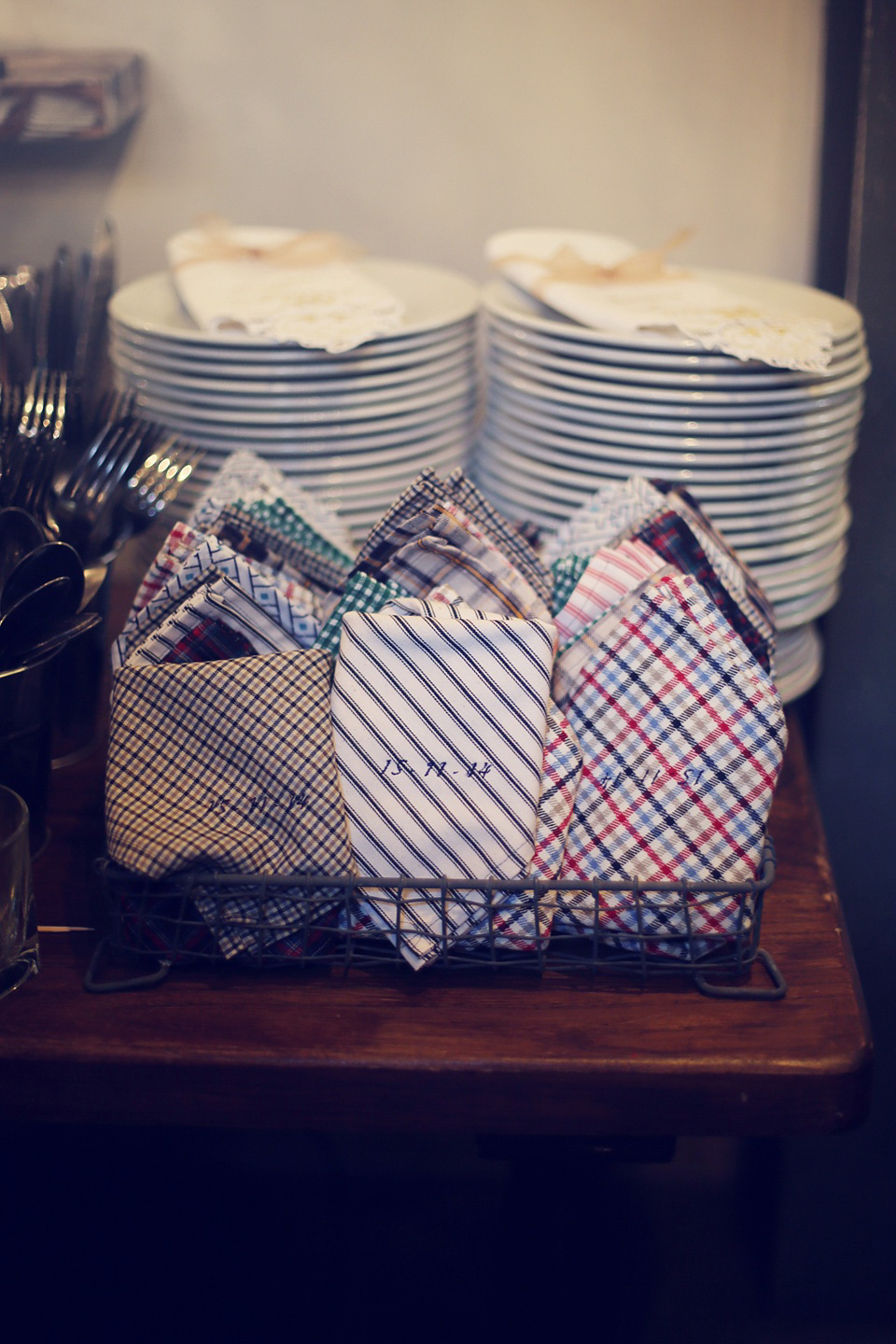 "A lot of the things we needed for the wedding were handmade. We weren't allowed to throw confetti in the grounds of the church, so instead, the day before, my bridesmaids and I made two arched bowers. I wrote little calligraphy signs that said, 'One for joy' on one and 'Two for luck' on the other, and the guests held them up as we ran through as an exit from the ceremony.
At the reception, Matthews's Grampa turned the wooden cake stands and made some lovely candlesticks to dot around tables.  In addition, Matthew's Mum sewed beautiful napkins for everyone in mismatched fabrics and embroidered the date on the corner of each one- they were all different and became a bit of a collector's item among the guests!"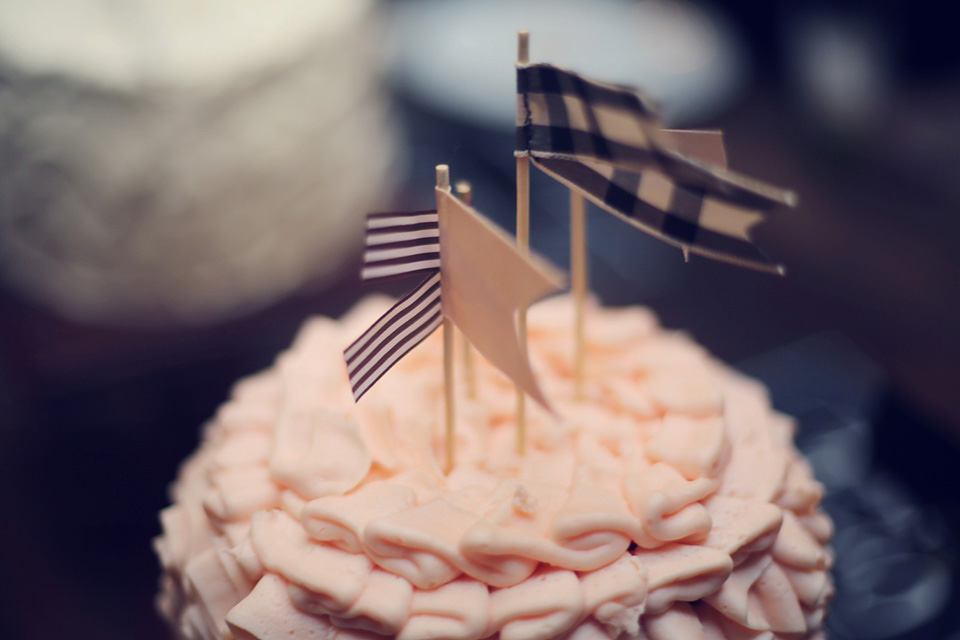 The reception meal was relaxed and informal, with a family-dinner feel.
"The food was served on one big table in the middle of the room on sharing platters.  We wanted dishes to be passed around for it to feel like a relaxed family meal. The chefs [at the venue] are so great and known for the most wonderful array of Tex-Mex inspired comfort foods.  We had pulled pork, sweet potato fries and these awesome croquet-like things called hush-puppies (look them up – they're amazing) which we served as a welcome snack when everyone arrived.
Oh, and the drinks!  We had hot mulled cider to start [served in mugs Ellie decorated herself!] and then an open bar with a selection of art-house ales and classic cocktails like whiskey sours and mojitos.  There is a wonderful artisan bakery called Peel & Stone which is owned by the same people who run the pub.  They made us a selection of filled breads for the wedding buffet and also hosted a brunch for us the morning after in the back room of their bakery, in the arch of an old railway bridge."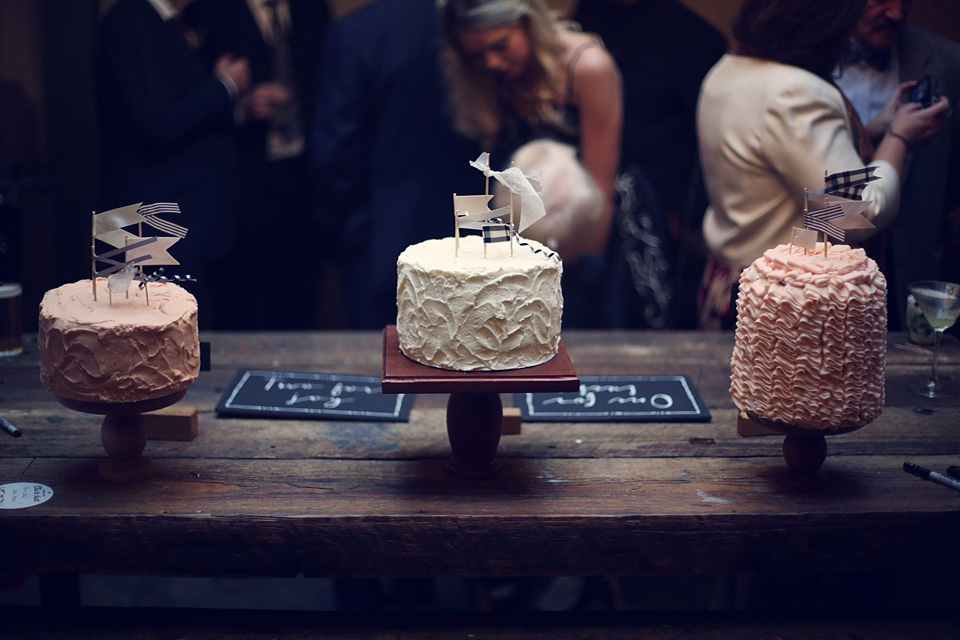 A couple after my own heart, Ellie and Matthew had three wedding cakes, all  from Buttercream and Dreams and all exquisitely lovely and utterly delicious looking.
"We had three cakes – carrot cake, lemon drizzle and white chocolate and raspberry: all with butter cream icing.  We asked for them to be different heights and colours- nothing too matchy matchy. We just loved the way they looked and the taste was out of this world."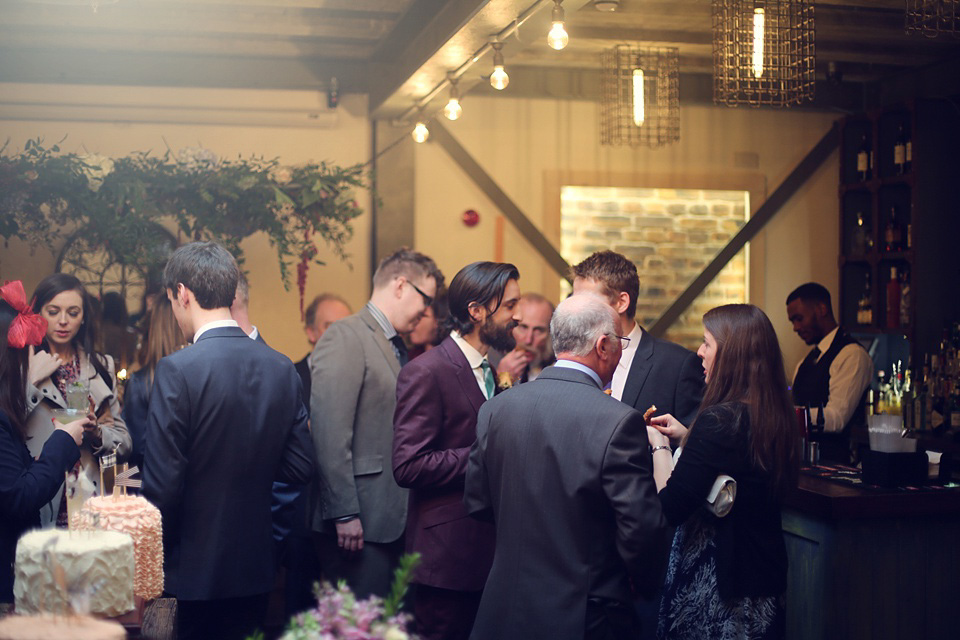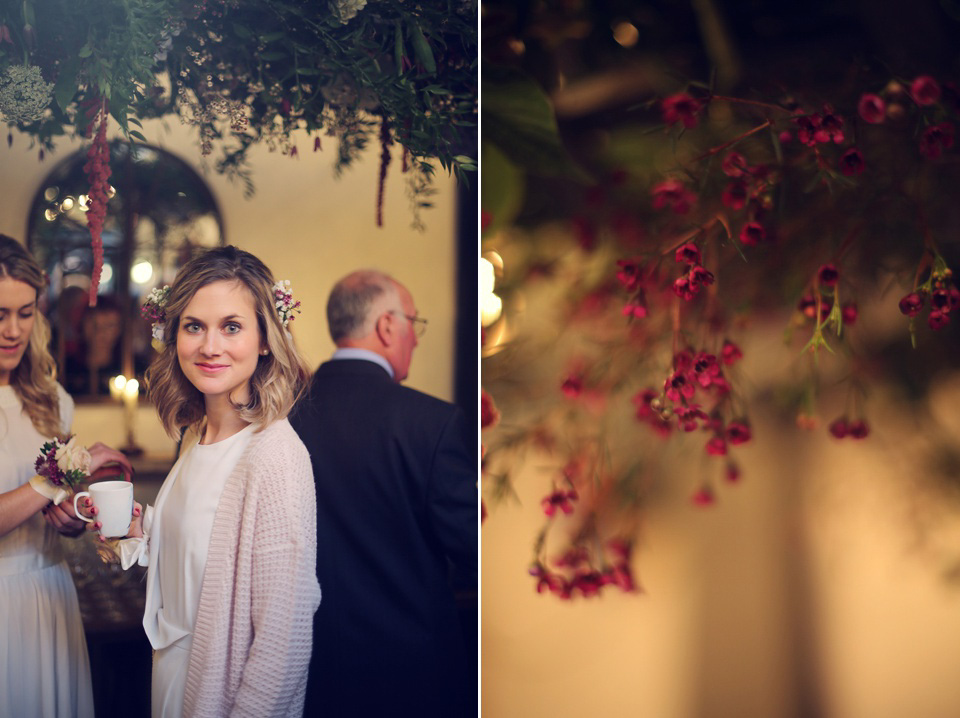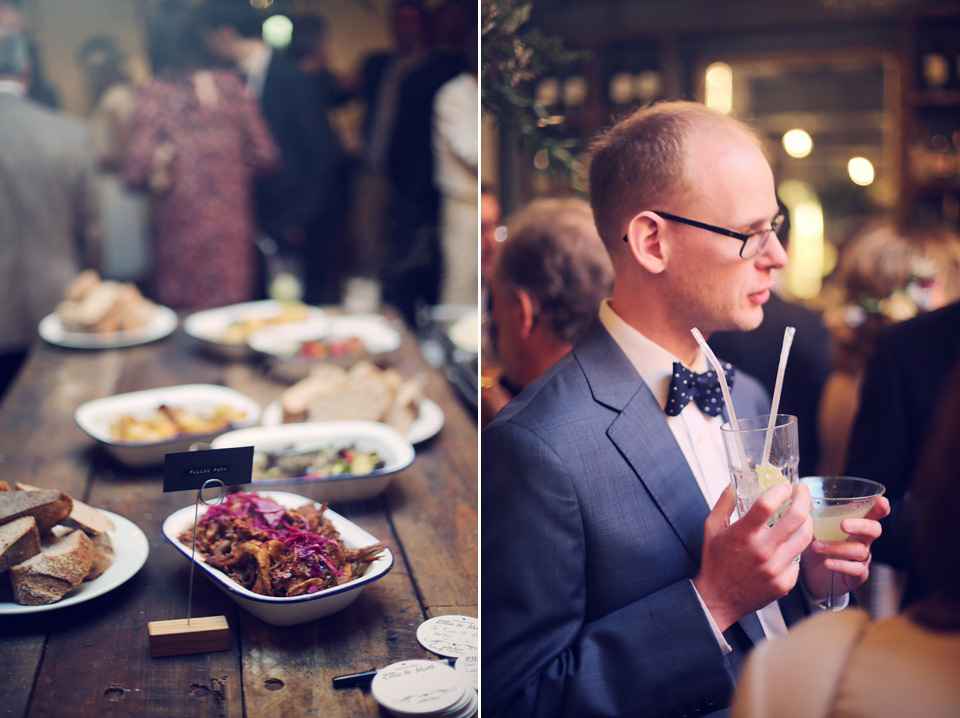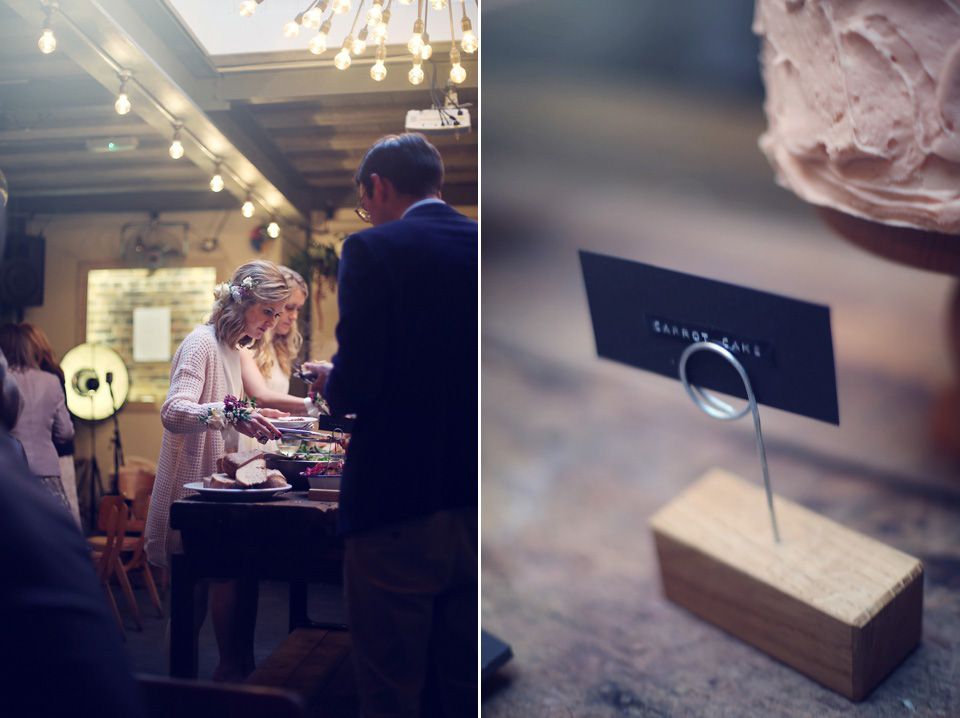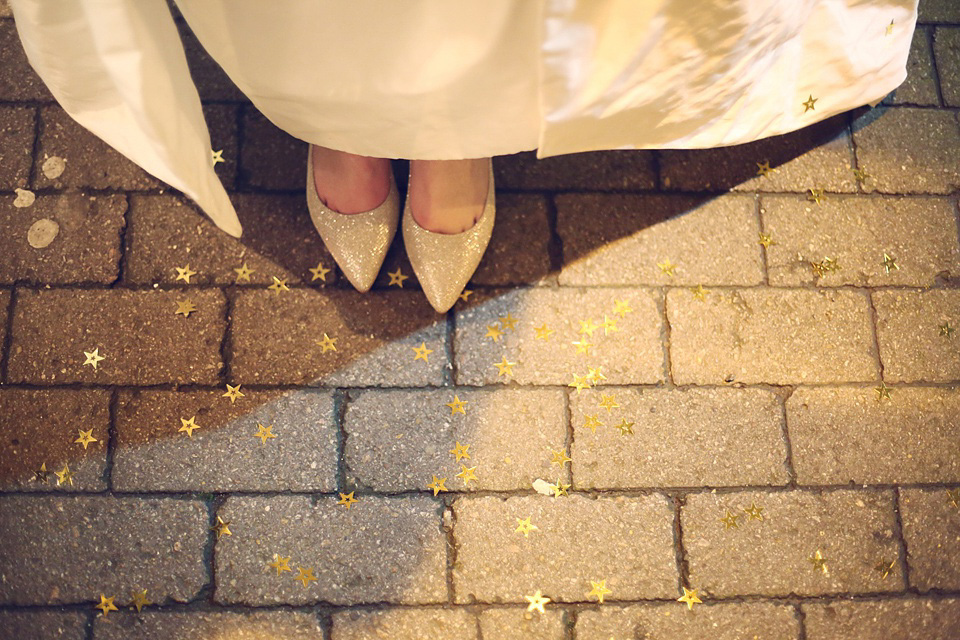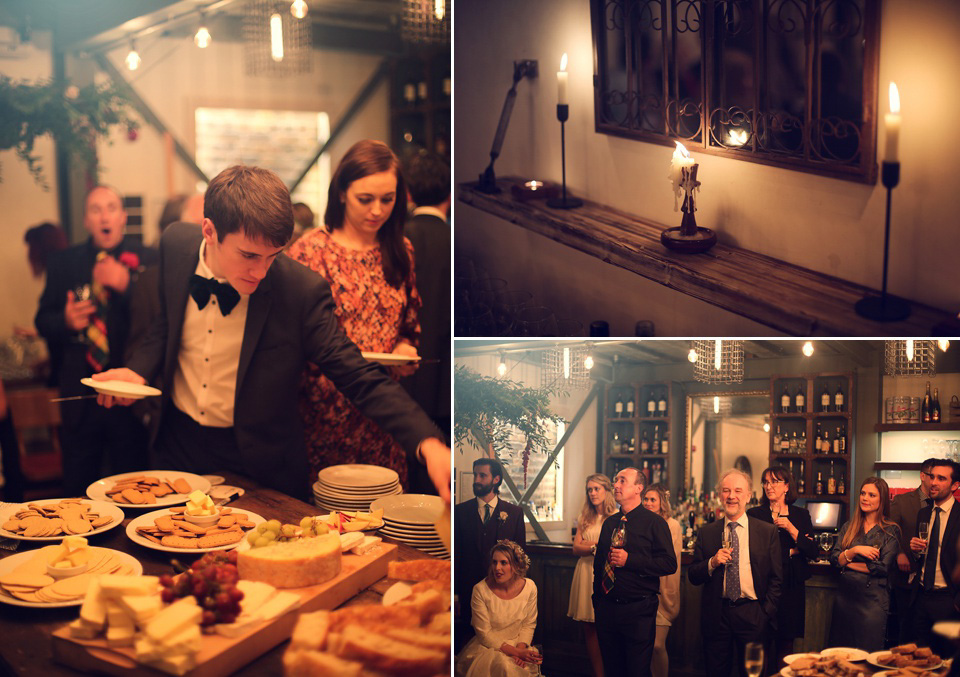 The majority of the evening's entertainment was undertaken by Ellie and Matt's talented families and friends, and Matt even gave a performance of his own.
"The Byrnes sang at the ceremony and then others chipped in at the reception – including Matthew and his brother. Everyone in Matthew's family is very musical so we set up a little stage area with some rugs, a mic, amps and series of instruments and people just came up and played during the evening or jammed together. It was super relaxed and really wonderful.
We didn't have a first dance. I am a horrible dancer and we set the reception up the way we did so as to avoid that! Matthew and his brother sang though, which was a surprise to me!  They'd worked out the music and timing the night before in the early hours of the morning over a glass of whiskey and they played it complete with harmonica and everything. I was very impressed."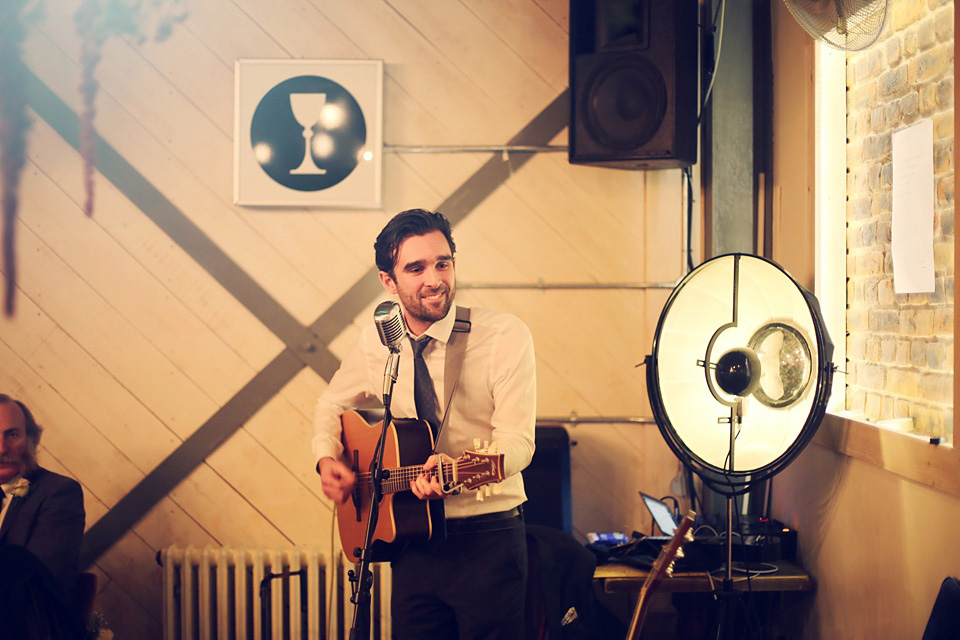 Words of Wedded Wisdom
"Above all, I would say, have the day you want. It was important to us to be respectful of our families' wishes and we were nervous that they would question our choices, but no-one did. At the end of the day all anyone wanted was to support us and be there to bear witness to the promises we were making to each other.
On the practical side I would say pick suppliers you trust and give them as much freedom as possible. Everyone we chose to work with, we picked because we loved their work. It was a joy to be able to tell them to use their artistic licence to 'go for it' and be confident that we'd love whatever they came up with.
If I were to do things differently, I probably wouldn't have stressed so much beforehand.  So many things went wrong on the day, the best man left his suit in Glasgow (he swapped with my father in law who rushed out the morning of the wedding, bought a suit and had it tailored all by 8am!); some of the decorations didn't turn up, I lost my gloves at one point the night before and only found them again in the morning – I could go on.
So many things were not according to plan, but it didn't matter – the day was still wonderful and no-one noticed a thing. I wish I would have trusted a bit more that everything would work out and that I did not have to invest my heart and soul in every little thing."
Thank you so much to Ellie and Matthew for sharing their beautiful day and to Ella Ormerod Photography for the gorgeous images- I hope to see more of Ella's work on Love My Dress in the future.  I'm confident this lovely wedding will have inspired many of our readers; I know I have happily pinned several images myself on my Pinterest boards!
With love,
Shona x
Photographer – Ella Ormerod Photography
Venue – The Oratory, with the reception at The Church Inn in Birmingham,
Wedding Dress + Veil – Sarah Willard Couture
Floral Crown + Flowers – Passion for Flowers
Shoes – BHS
Accessories – Family jewellery
Bride's Scent/perfume – Pomegranate Noir by Jo Malone
Groom – Suit, Marc Wallace; Watch: Danish Design
Bridesmaids – Bought in Sweden
Cake – Buttercream and Dreams
Transport – TOA taxis
Entertainment – The Byrnes, plus other family and friends
Rings – Matthew: Pyramid Gallery, York, Ellie: Catbird
Stationery – By Ellie herself
Hair Stylist – Natalie at Bridal Hair Specialists
Makeup Artist – Claire Salter