Hands up if you are a big fan of the very brilliant designer Jenny Packham? Here at Love My Dress we feature her beautiful creations regularly and today's wedding stars the delightful 'Esme'. And for those hopeless romantics you are going to *love* the unique meaning behind one of the ceremony readings written by poet Edgar Allan Poe. So take some time out right now with a tasty beverage, relax, and soak up today's little love story, with gorgeous images by Lily Sawyer Photography.
Meet pharmacist Sarah and Edgar, a sales leader, who married on 30th August 2014 on a lovely summer's day in Stoke Newington, London – a place that holds many special memories for the couple. Their ceremony was at the magnificent St Mary's Church, with the reception at Stoke Newington Town Hall.
"We had our first flat together in Stoke Newington, and both loved the area.  We both knew that we wanted to get married in Stoke Newington, and loved the church anyway.  We looked at several venues in Stoke Newington, but the Town Hall held enough guests and Ed was sold on his first viewing of the place. The venue ticked all of the boxes for us. It was a reasonably blank canvas to decorate, had a stage for a live band, big kitchen area, plus Europe's biggest disco ball! Also it was in walking distance of the church and Clissold Park where we had our group photos taken."
Photography by Lily Sawyer Photography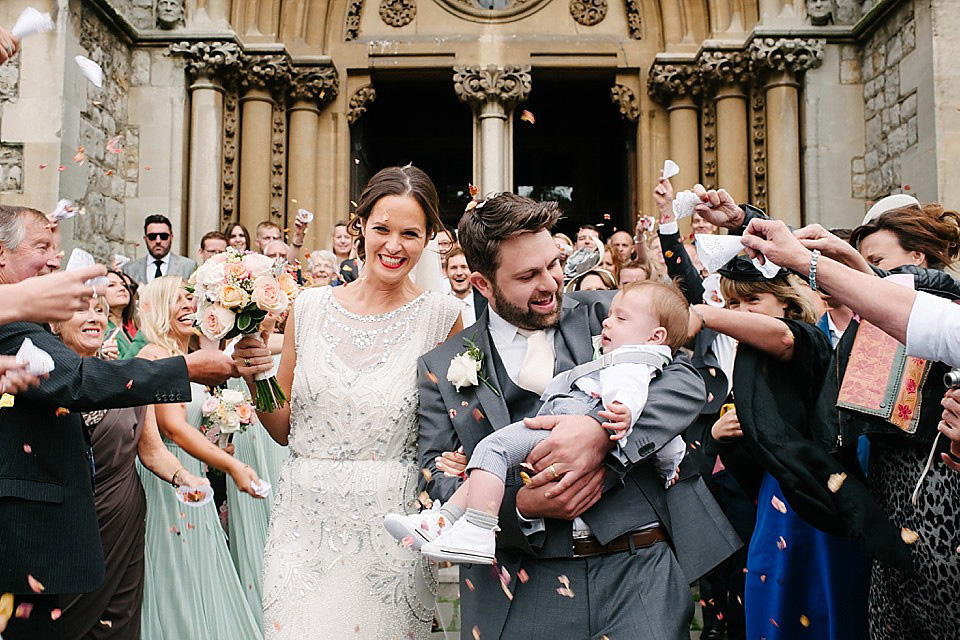 When it came to finding her dress, Sarah knew it would be a Jenny Packham design, but she almost chose a different style from Esme.
"I've always loved Jenny Packham wedding dresses. I'd pretty much decided I wanted Esme before trying it on, but then I also tried on Eden, and almost changed my mind. But when my mum saw me in Esme, she cried and said that it suited my shape better. I tried it on a final time and agreed with her. I loved the open back and the intricate beading. I felt amazing in such a glamorous dress, and I knew that I didn't want a traditional dress. I loved its vintage feel as well."
Sarah, your mum is very wise. The open back and stunning sparkles of the beading are just so striking and the style suits you perfectly. You look exquisite! Esme was found via Morgan Davies, along with the veil and hair accessories. And to top off the look, a glitzy pair of Jimmy Choo's. Wow, just wow!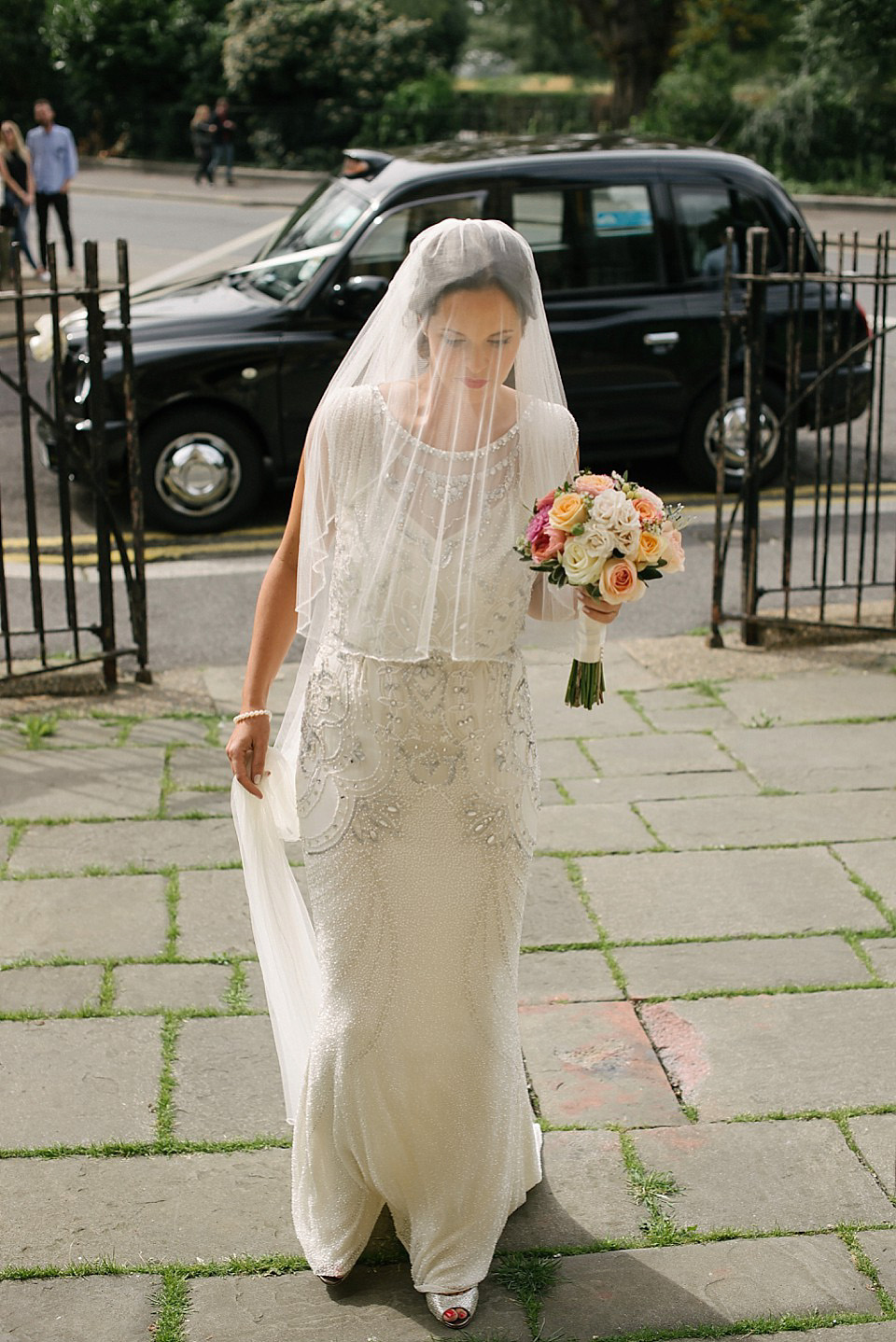 Sarah's four beautiful maids donned maxi pleated mint green dresses from Ted Baker, their own shoes and earrings by Pamela Dickinson (Edgar's mum!), which were given as a gift. All other accessories were their own. Don't you just love mint green? It's such a fresh colour and works so well with the dusty pinks and the colourful bunting.
The couple's photographer Lily Sawyer Photography provided an engagement photo session with Sarah and Edgar, which is a brilliant idea as a 'getting to know' session for both parties and ensures everyone feeling relaxed on the big day when it comes to photo time.
"Lily was a great photographer. We had the full wedding package that meant we had an engagement session with her so that we all got to know each other before the day. We used the first photo session to also get some nice family pictures. It was a good idea to have the session before as it meant that on the wedding day you knew the photographer and were at ease. Lily listened to what we wanted and we had decided to have more natural pictures and not too many posed ones, and the end results were fab."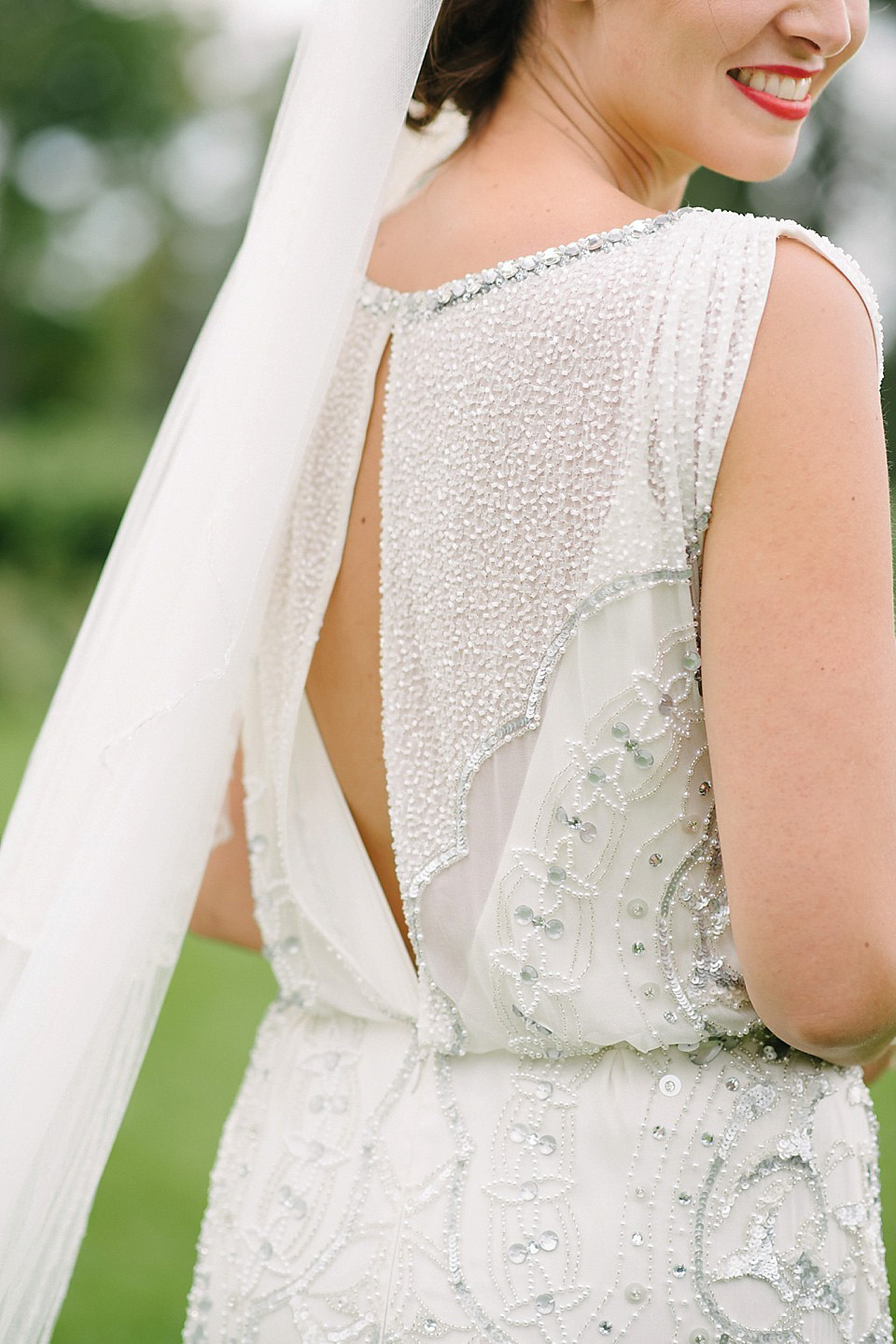 The flowers were prepared for Sarah and Edgar by Pip Lowe Flowers and I'm sure you'll agree with me that the result is sensational…
"We went with pastel colours and vintage pinks. The buttonholes were white roses, as Ed is from Yorkshire. We had jars of flowers lining the aisle in the church which we then had the groomsmen take across to the venue to decorate some of the tables. The bride and bridesmaid bouquets were similar, but there was more colour in the bride's bouquet. The centrepieces were flowers in a mixture of kilner jars and apothecary bottles."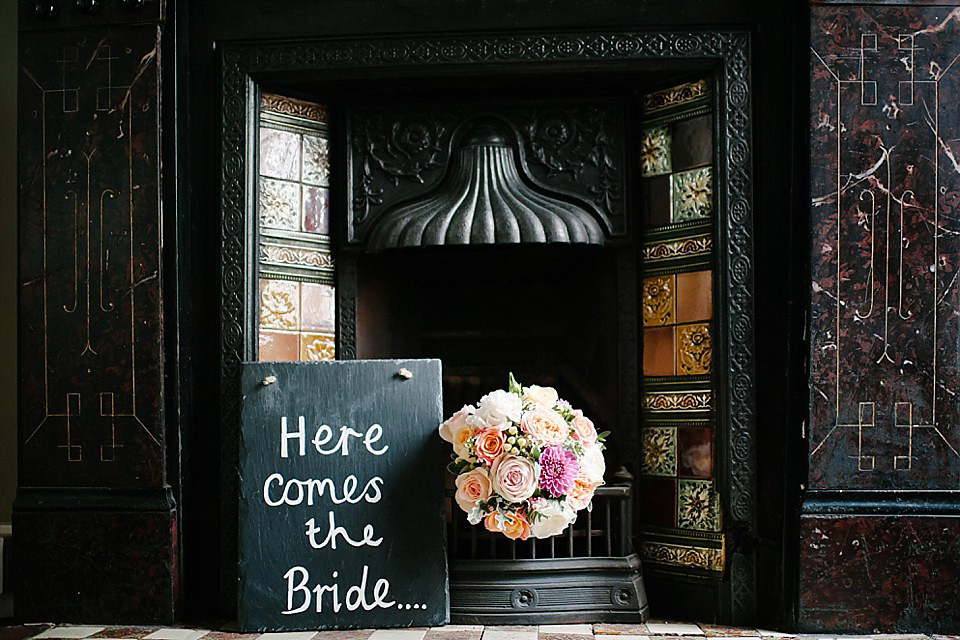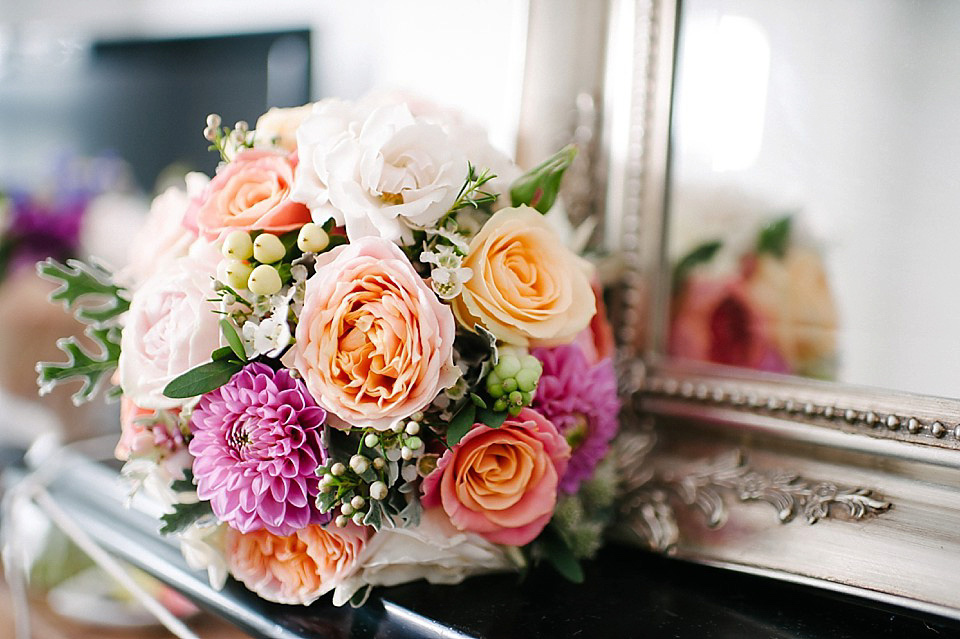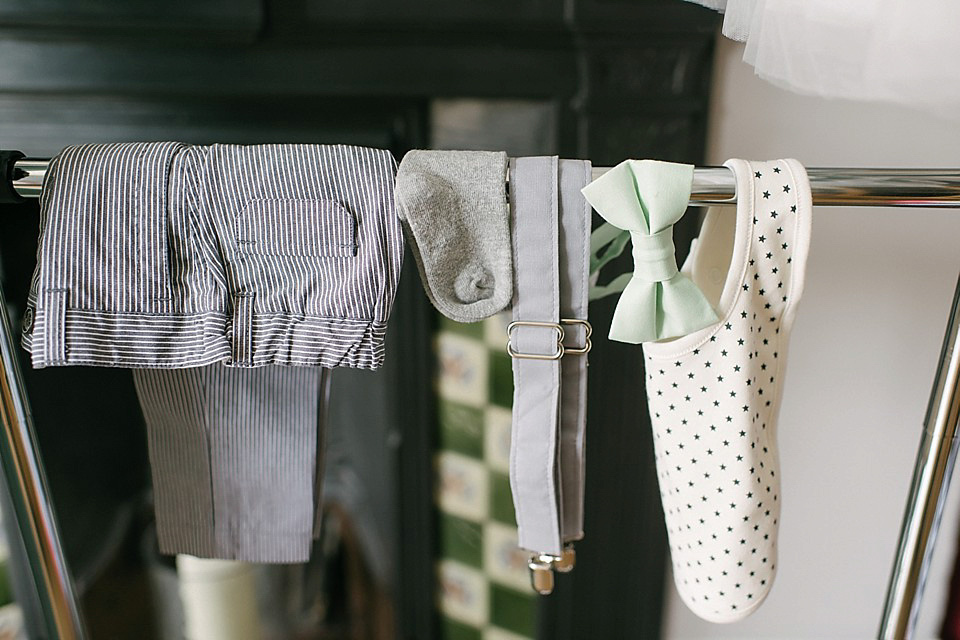 =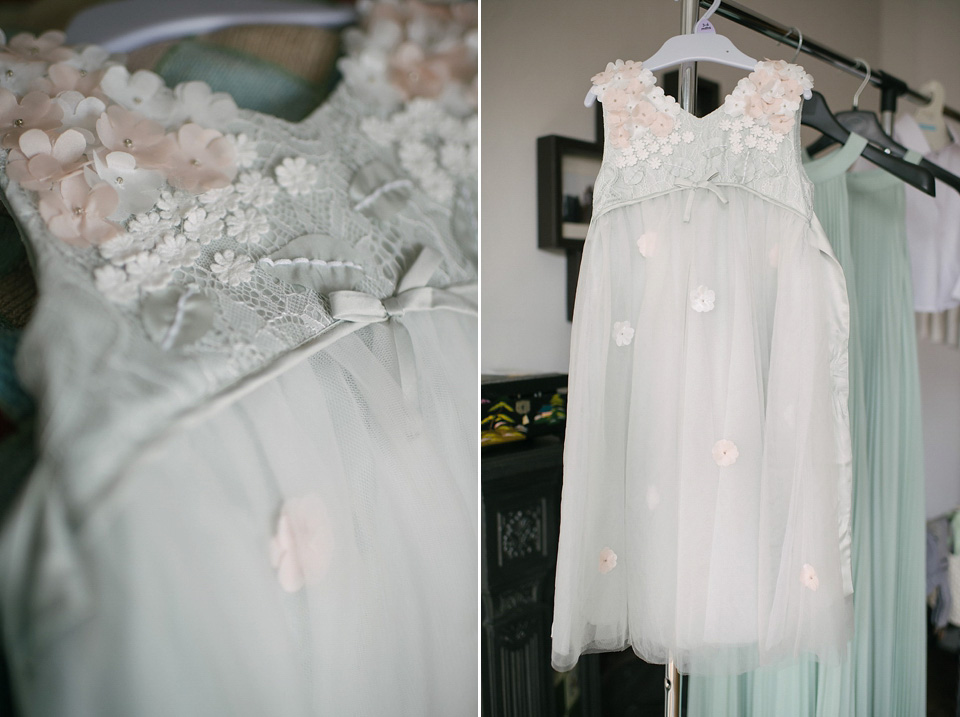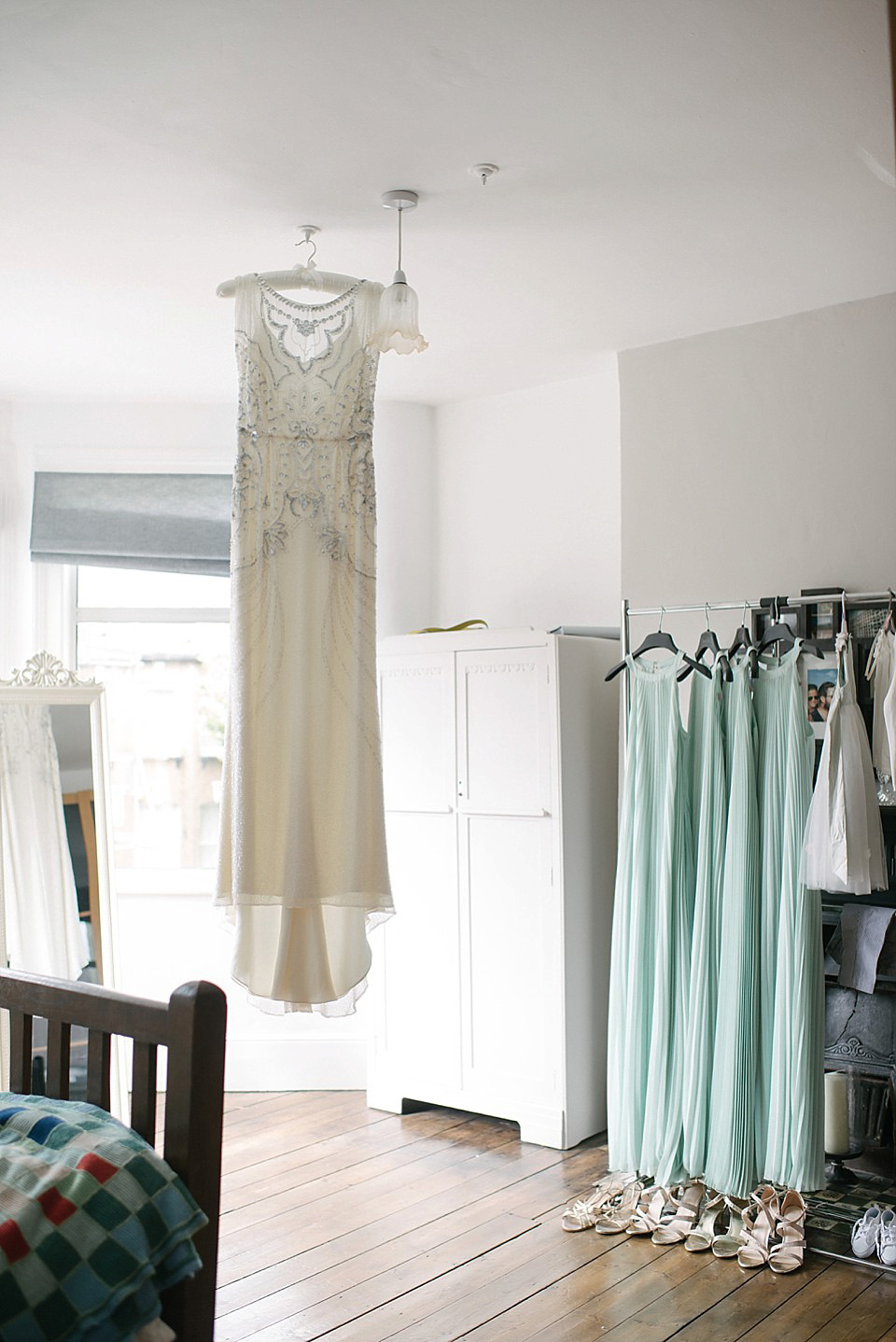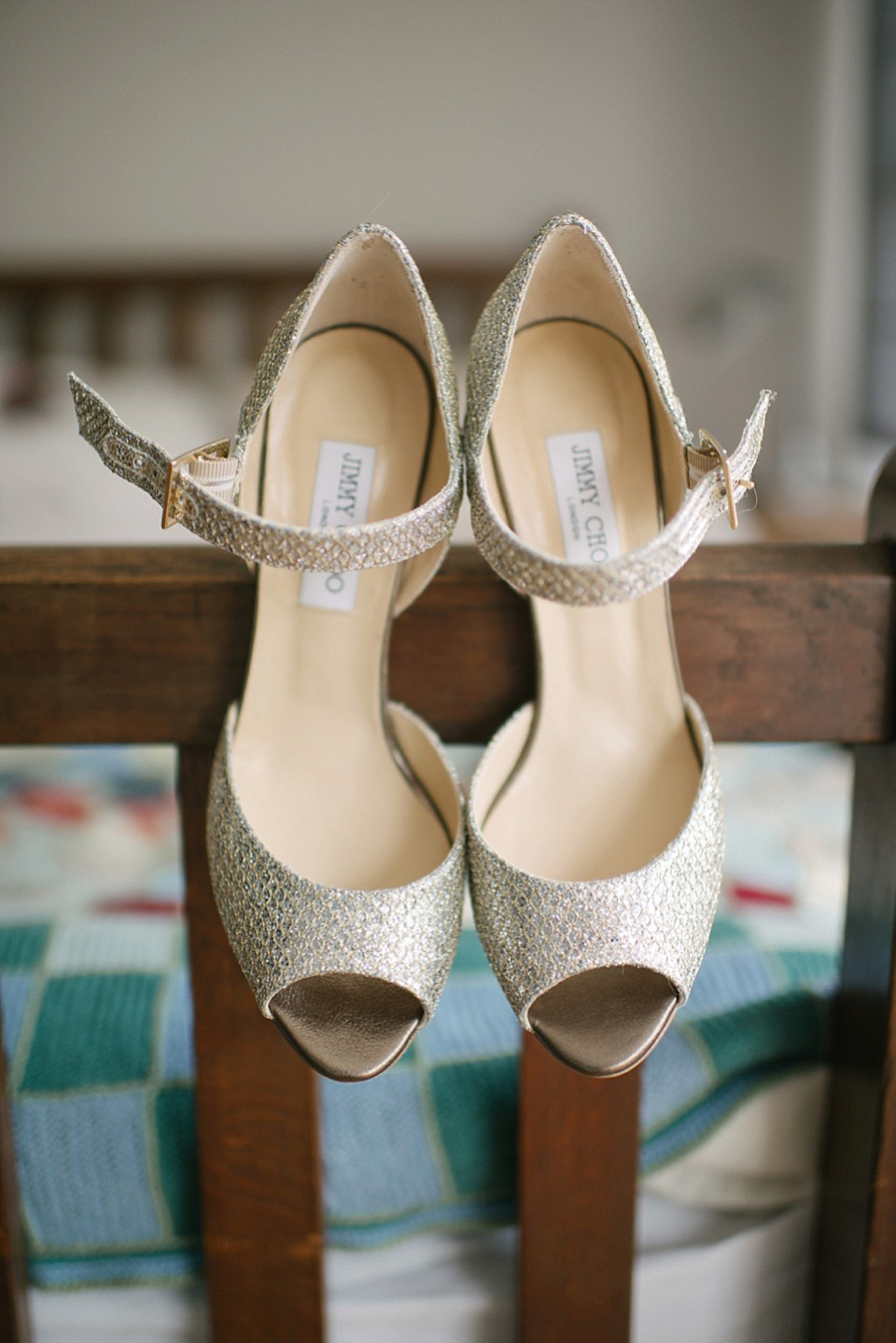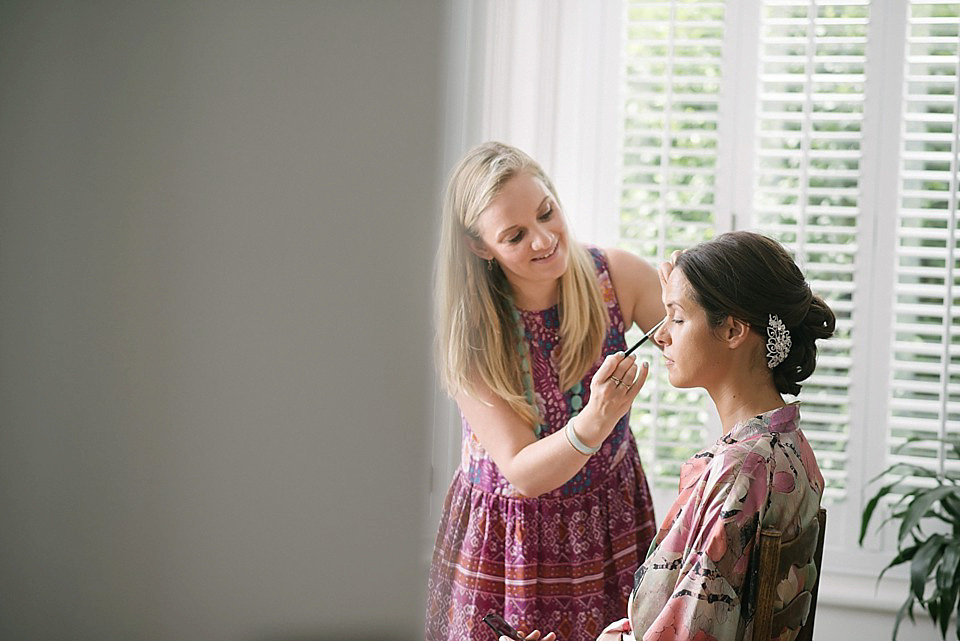 Will you be wearing a scent on your wedding day?  We blogged a piece last year about how to find the perfect wedding day perfume, but we've also covered topic of scenting your wedding day quite extensively here.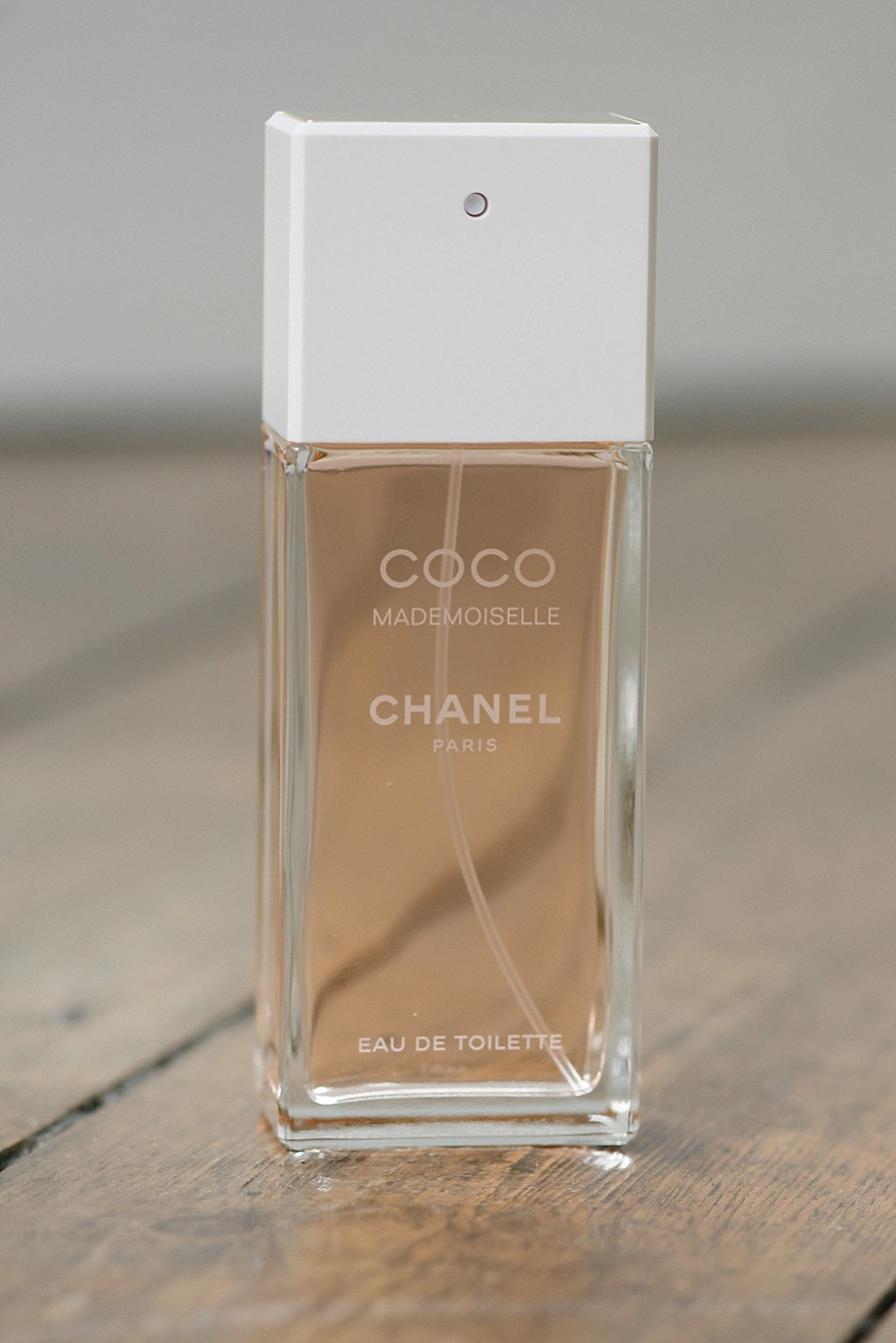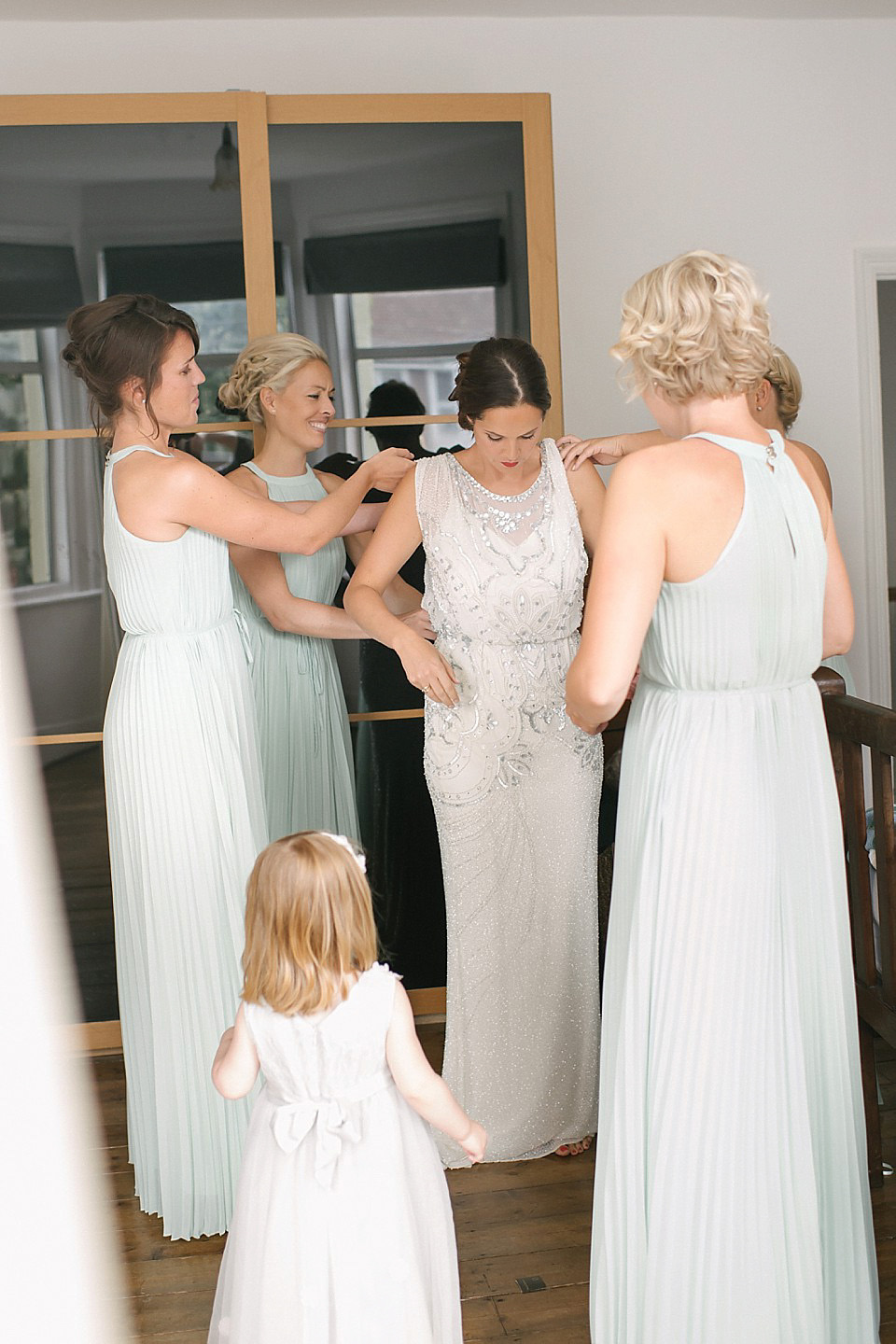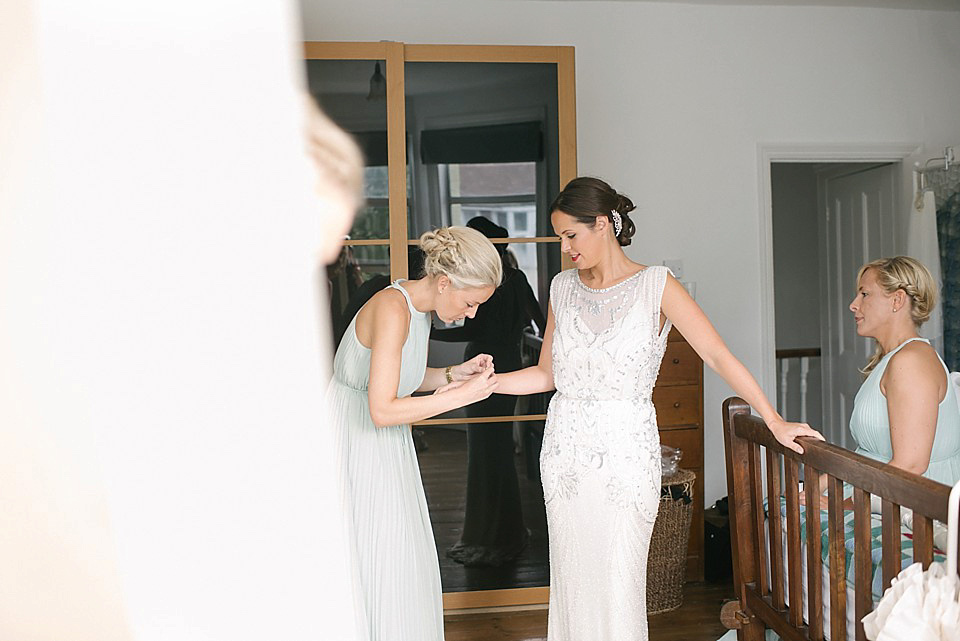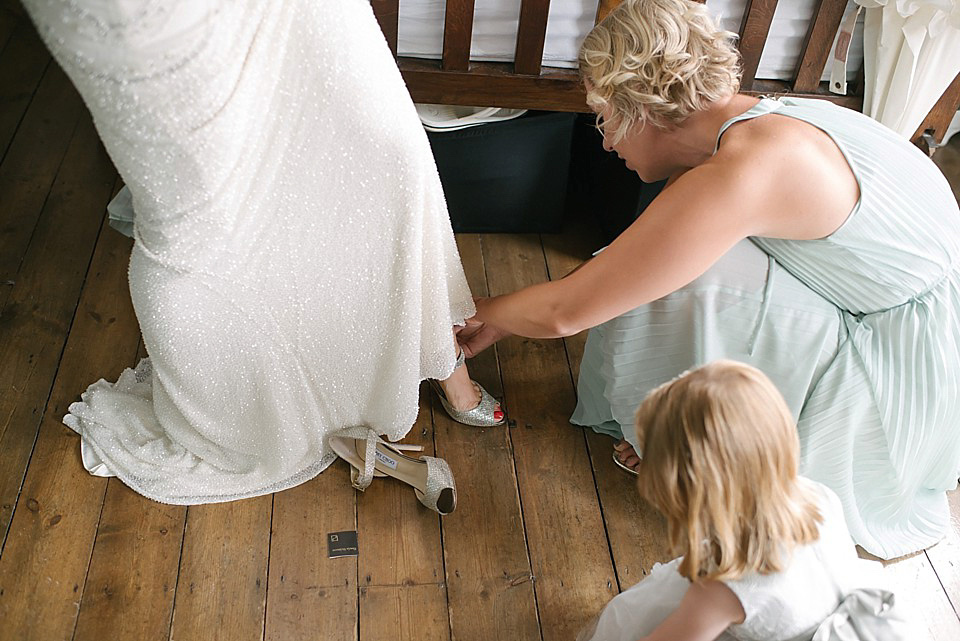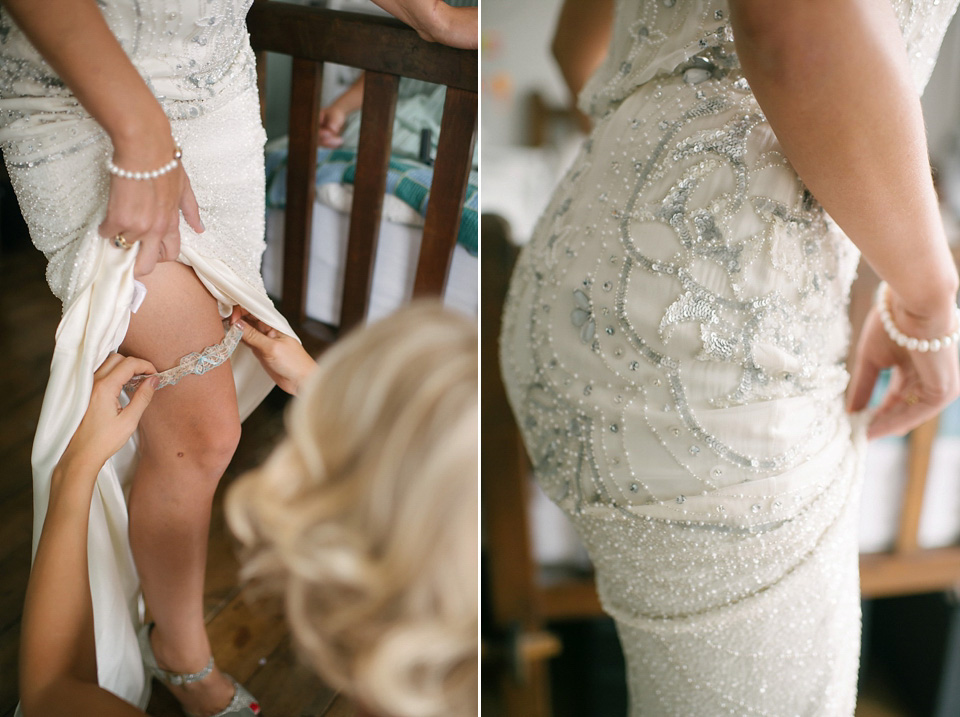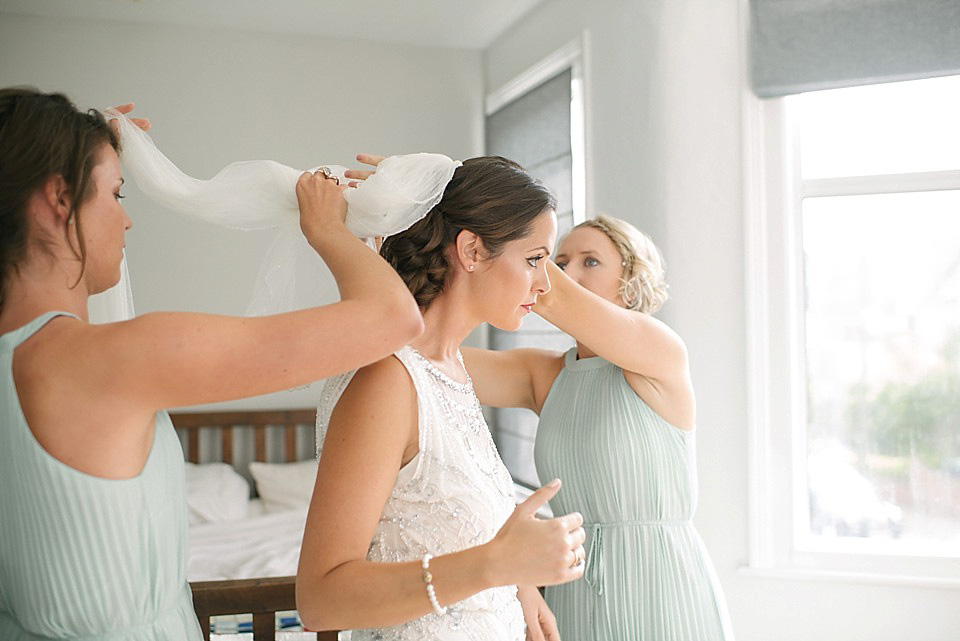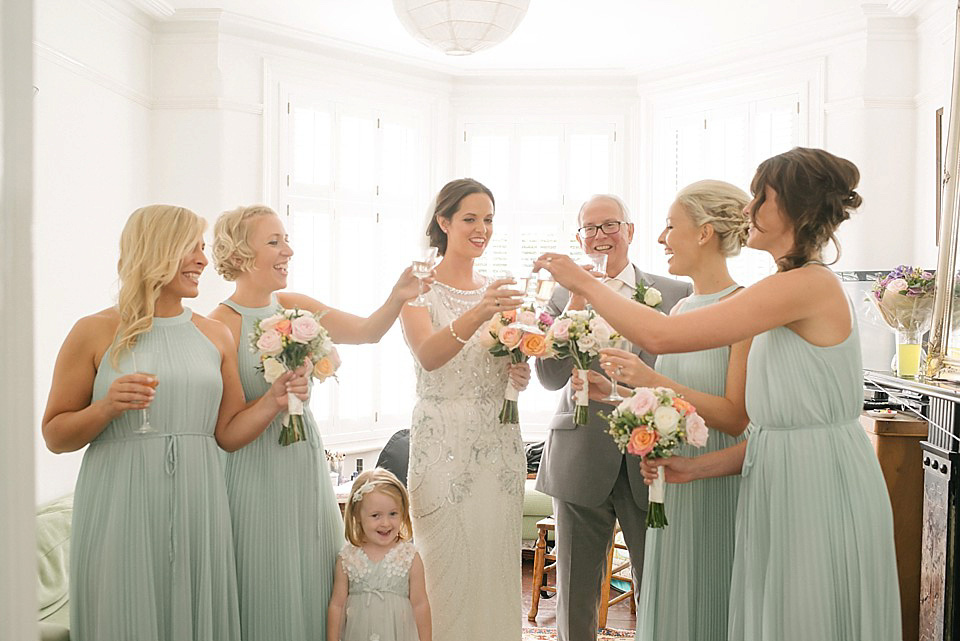 The sweet little flowergirls wore pretty Monsoon dresses, Next shoes and a headband from Mothercare. And for the pageboys, they sported shirts and trousers from Monsoon and braces/bow tie from Etsy – how adorable!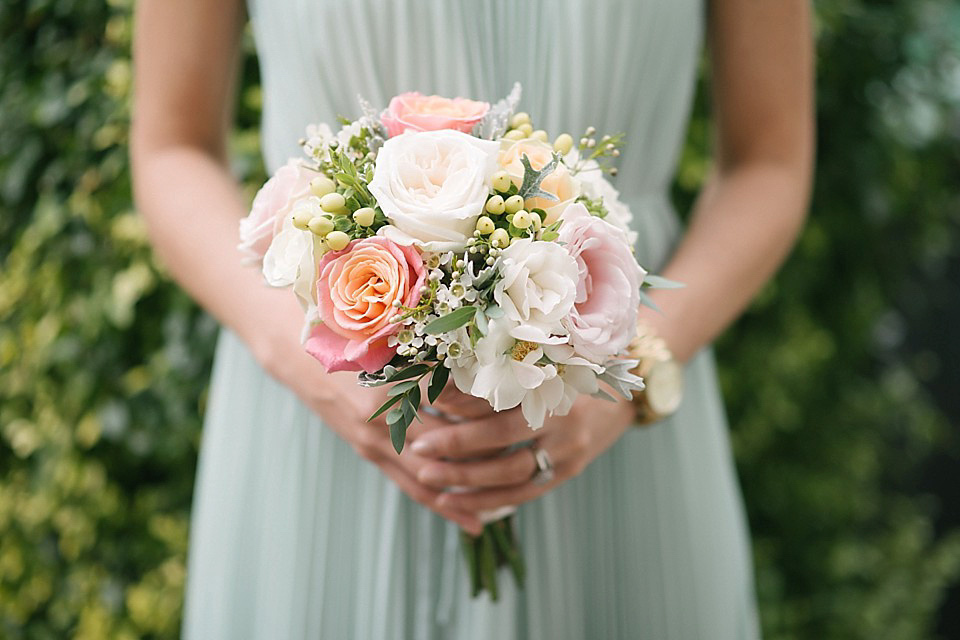 The romantic groom surprised his bride with a present of diamond earrings to wear on their day.
"I wore vintage stud diamond earrings, which Ed had sent to me on the wedding morning. I had arranged to borrow some earrings, so it threw me as didn't have my something borrowed… therefore I borrowed a pearl bracelet from my mum."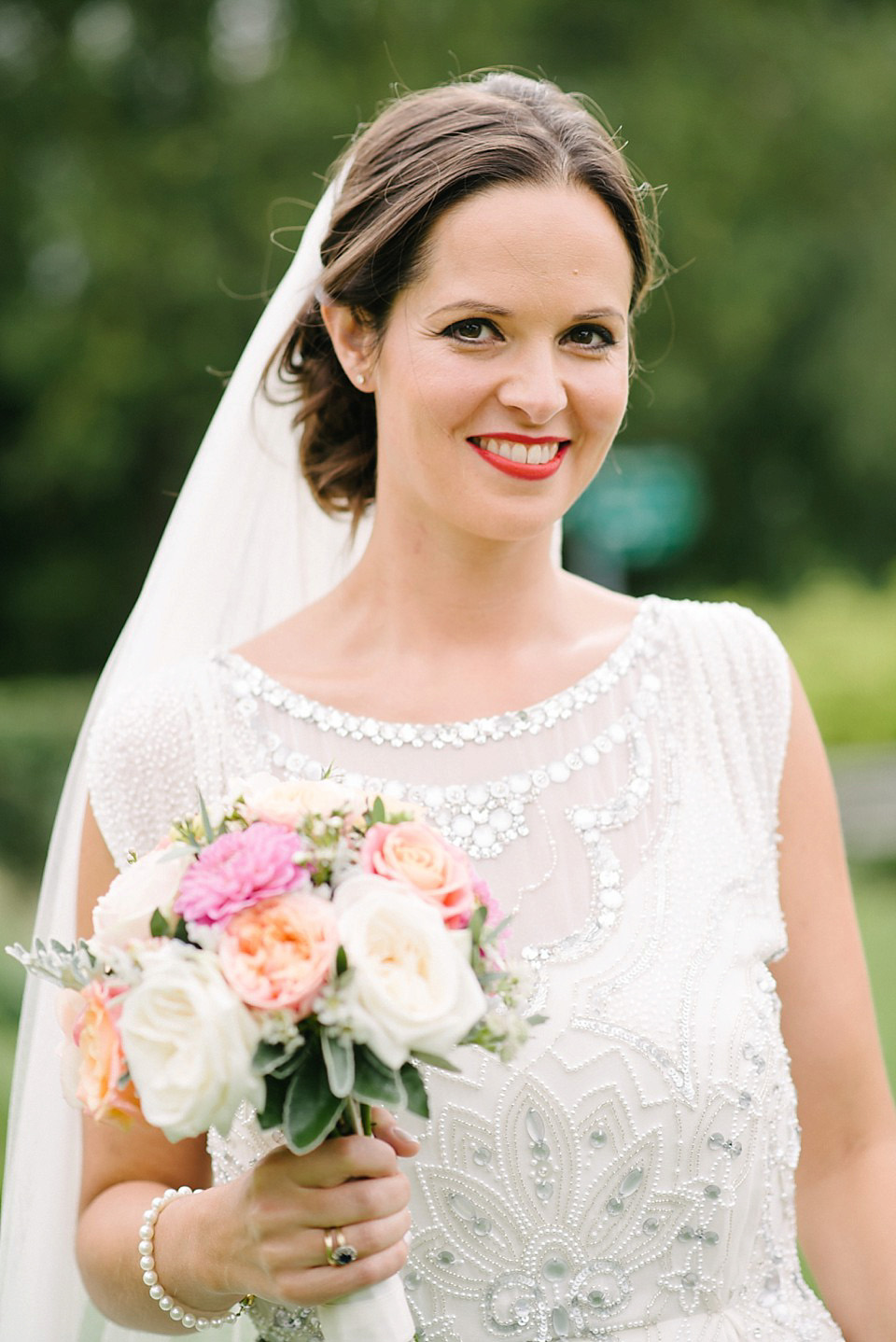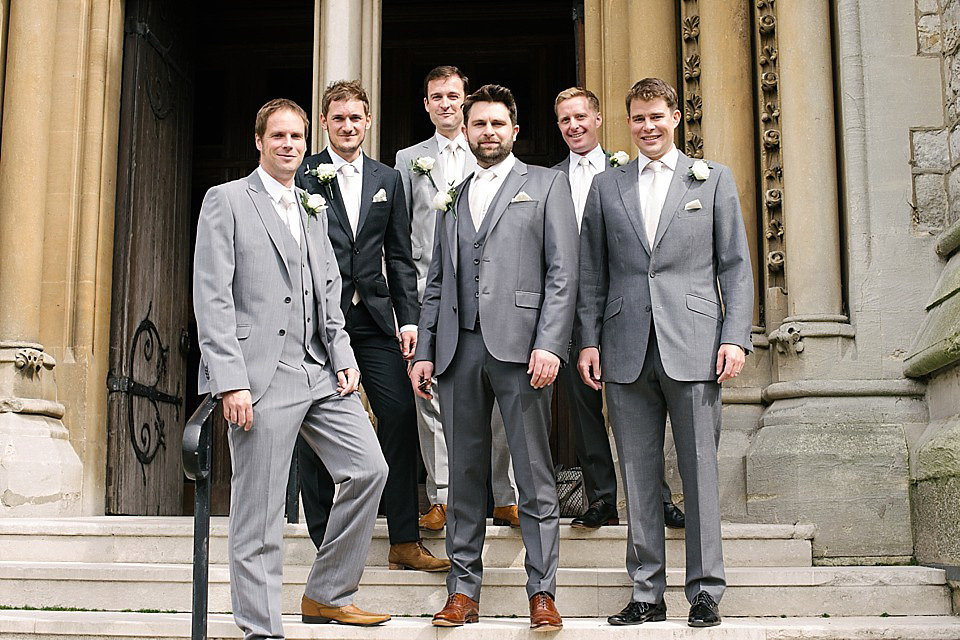 The groom and his boys cut fine figures, with Edgar wearing a Hugo Boss shirt, Loake shoes and cufflinks via notonthehighstreet.com. The groomsmen all wore their own grey suits and a champagne tie from Hawes and Curtis.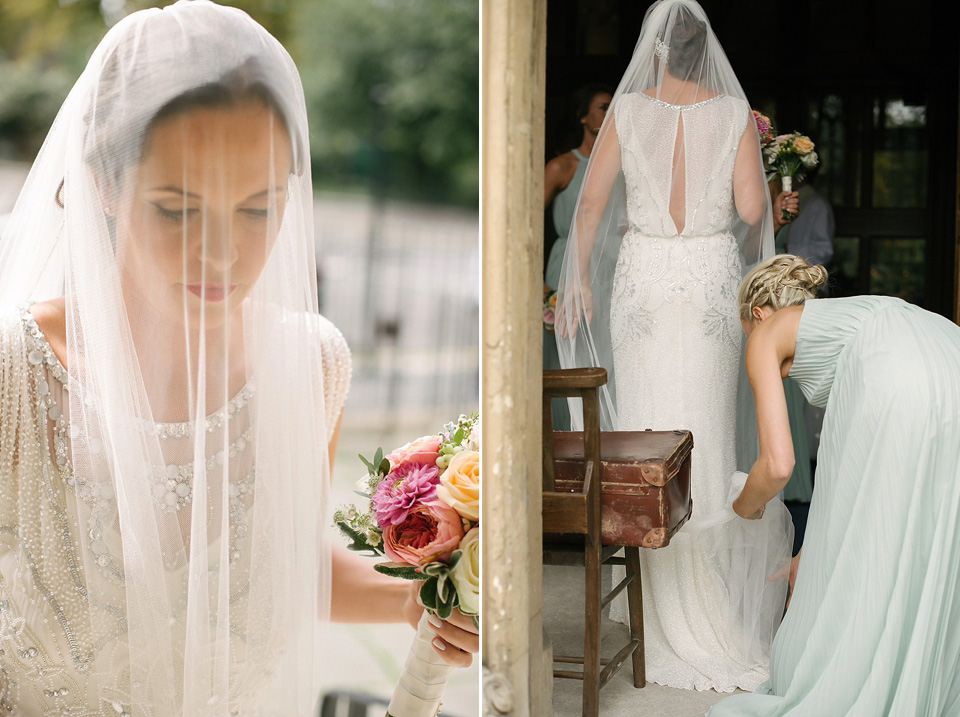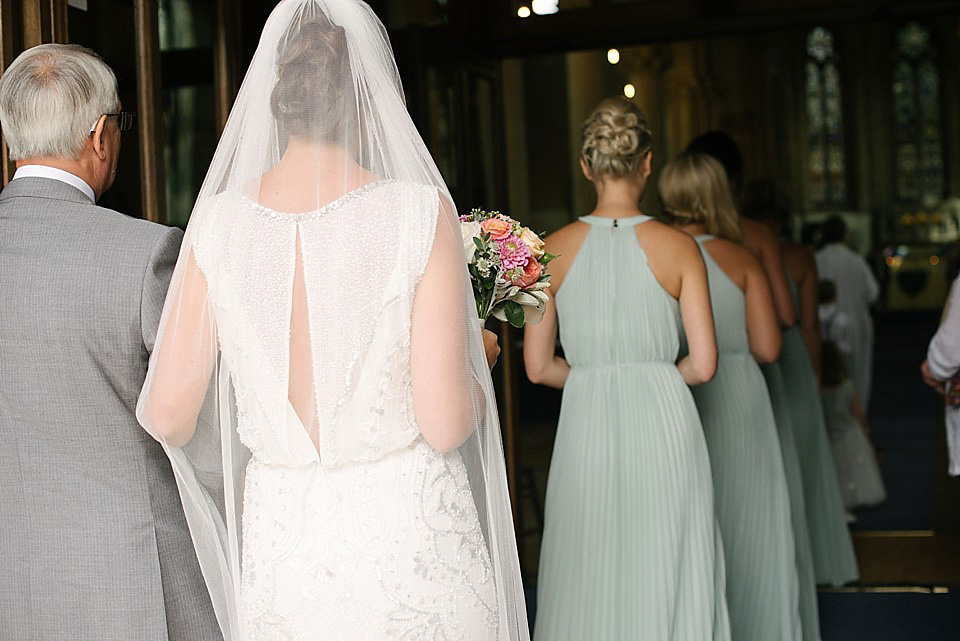 Sarah travelled to the church in a black cab from London Wedding Taxis, a cool tribute to the London locale, and was walked down the aisle by her dad to Pachelbel's 'Canon in D major', which was played on the church organ.
The couple adhered to traditional wedding vows in church and for the readings they had 1 Corinthians 13, and the following verse from 'The Bells, by Edgar Allan Poe:
'Hear the mellow wedding bells,
Golden bells!
What a world of happiness their harmony foretells!
Through the balmy air of night
How they ring out their delight!
From the molten-golden notes,
And an in tune,
What a liquid ditty floats
To the turtle-dove that listens, while she gloats
On the moon!
Oh, from out the sounding cells,
What a gush of euphony voluminously wells!
How it swells!
How it dwells
On the Future! how it tells
Of the rapture that impels
To the swinging and the ringing
Of the bells, bells, bells,
Of the bells, bells, bells, bells,
Bells, bells, bells-
To the rhyming and the chiming of the bells.'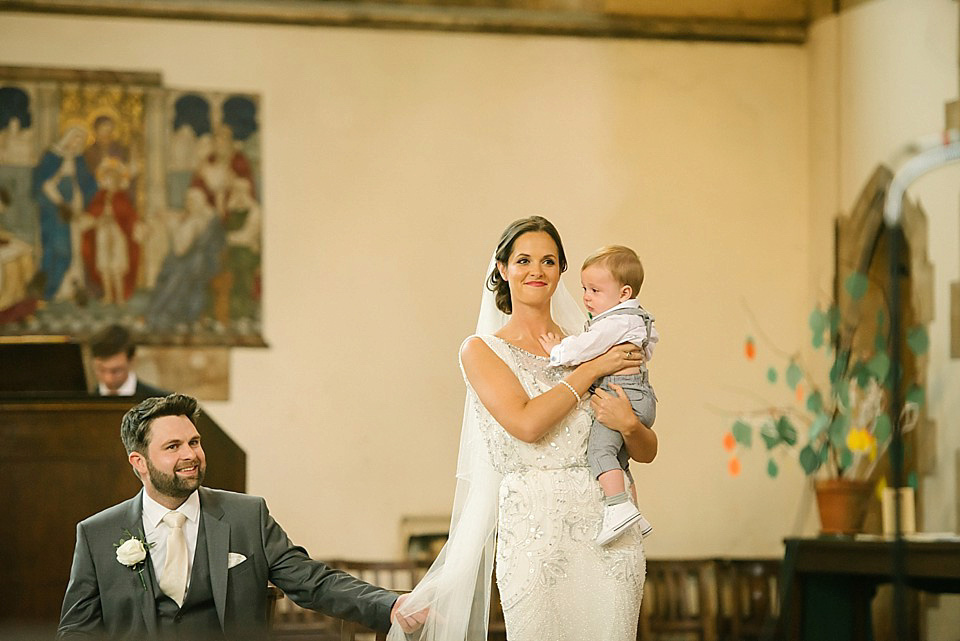 Here at Love My Dress we are so lucky to hear about all the little things that make the couples tick and what's special to their relationship. Just you wait until you read about the reason Sarah and Edgar chose 'The Bells' reading…
"Slightly random, but we wrote this on the inside cover of our order of service about why we chose this reading:
'Edgar Allan Poe, our Groom's namesake went to school a few doors away from this church, very near to where Ed and Sarah used to live. It just so happens, that Edgar's sweetheart was also called Sarah.'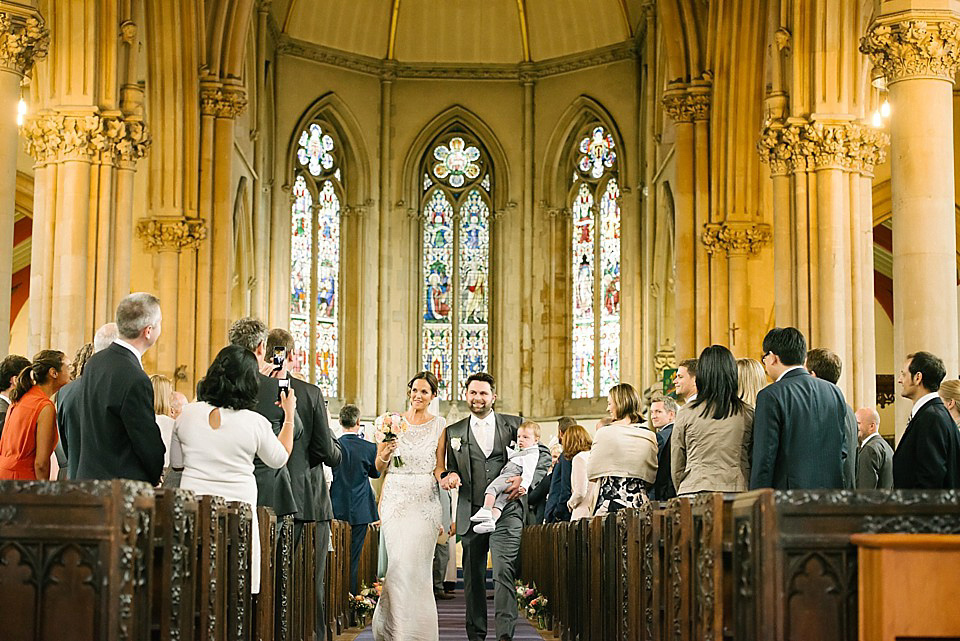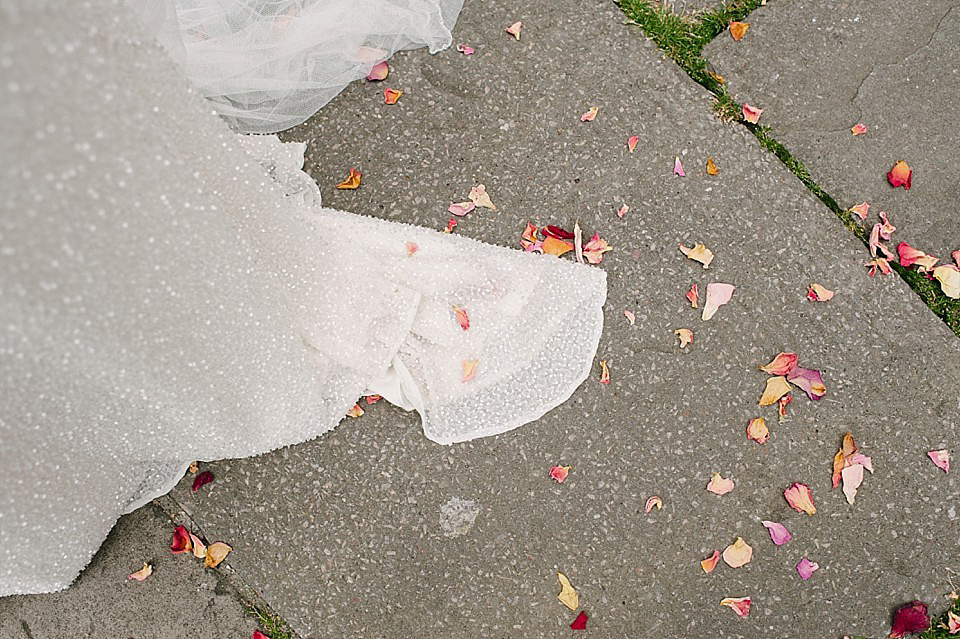 Sarah's antique gold wedding band with sapphires (to match her engagement ring) was found via Andrew R Ullman of Hatton Garden, whilst Ed's ring was created by Pamela Dickinson, his clever jeweller mum.
"I had always said I wanted a traditional solitaire for my engagement ring, Ed actually proposed with an African beaded ring, as his mum was a jeweller he wasn't sure if I'd like to design my own or have a traditional one. We went to Hatton Garden for inspiration and I tried on my sapphire and diamond engagement ring and instantly fell in love with it. The same happened with my wedding ring; I thought I wanted a slim plain wedding band. I went to the same shop looking for inspiration, tried on the wedding ring with my engagement ring, and knew I had to have it. The sapphires in the band complimented my engagement ring perfectly. I absolutely love them both.
Ed had an idea of a honeycomb pattern on his ring and Pamela designed and made it especially for him. It's nice that he has a unique ring…. it helps having a jeweller in the family!"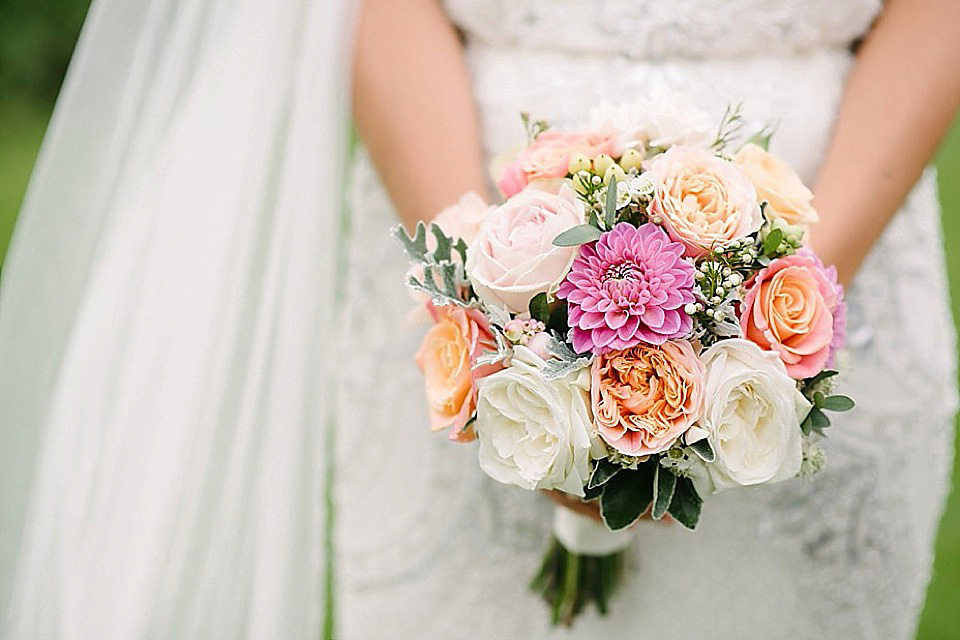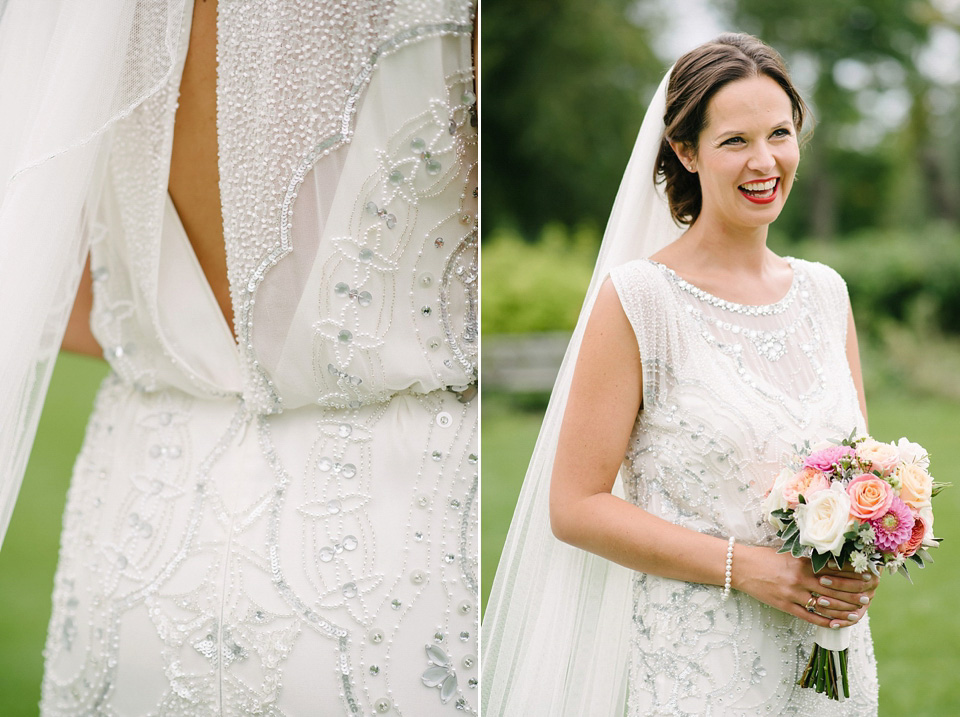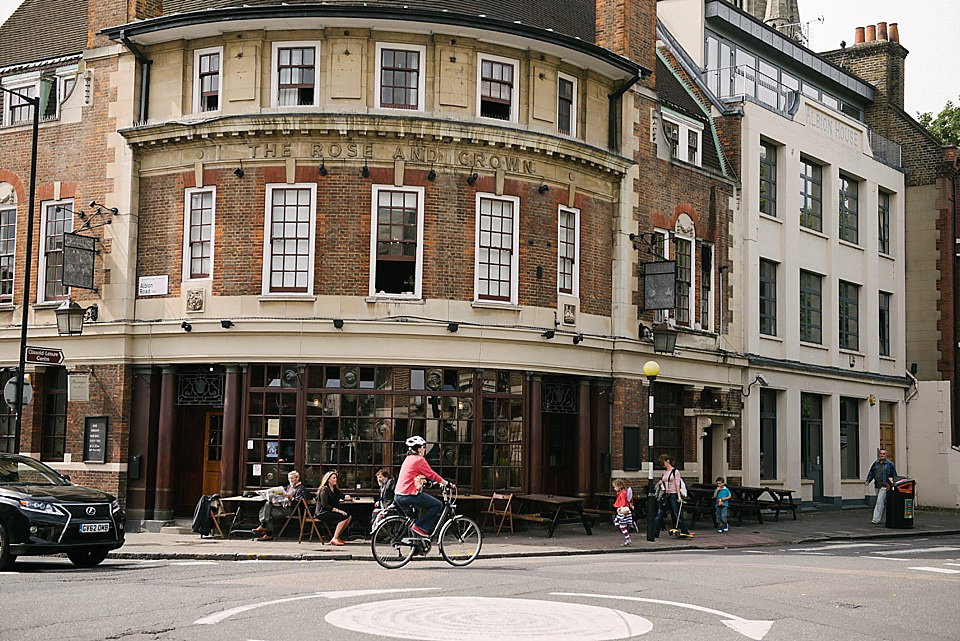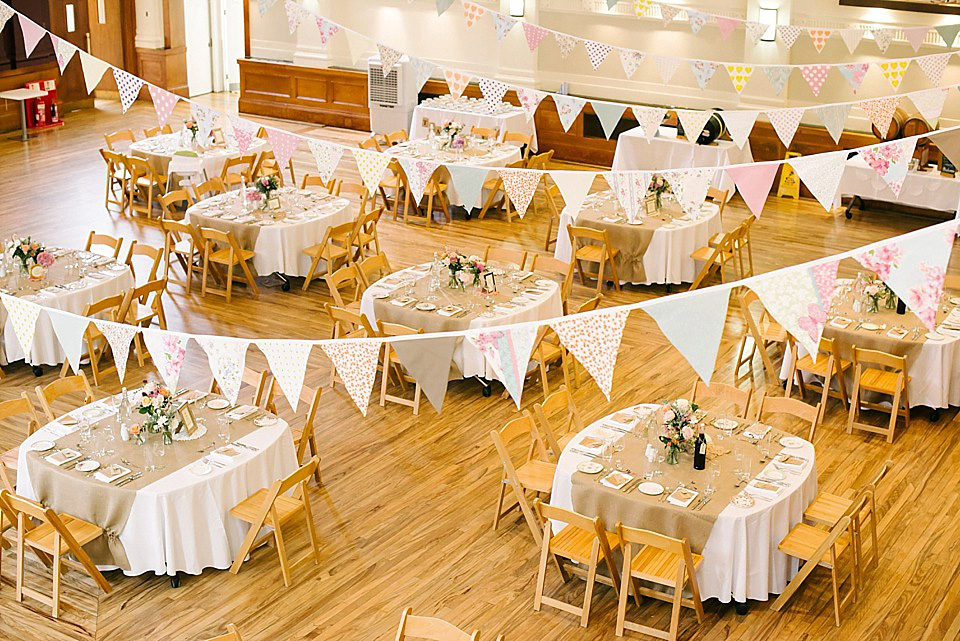 Sold by the church and reception venue, Sarah then found inspiration from Pinterest and help from her crafty mum to start creating their laid-back wedding.
"I knew for the reception I didn't want a traditional white room i.e. all white table cloths and white chair covers with bows on them. We wanted a relaxed feel to the wedding reception, and wanted to ensure our guests felt relaxed and have fun. 
I did a lot of research on Pinterest and basically pinched lots of ideas! I didn't have a particular colour theme in mind, I just chose dresses that suited all of the bridesmaids early on and that set my colour code. My mum made metres and metres of hand sewn bunting to match the dresses, we settled on pastel colours, with dusky pinks and a vintage feel."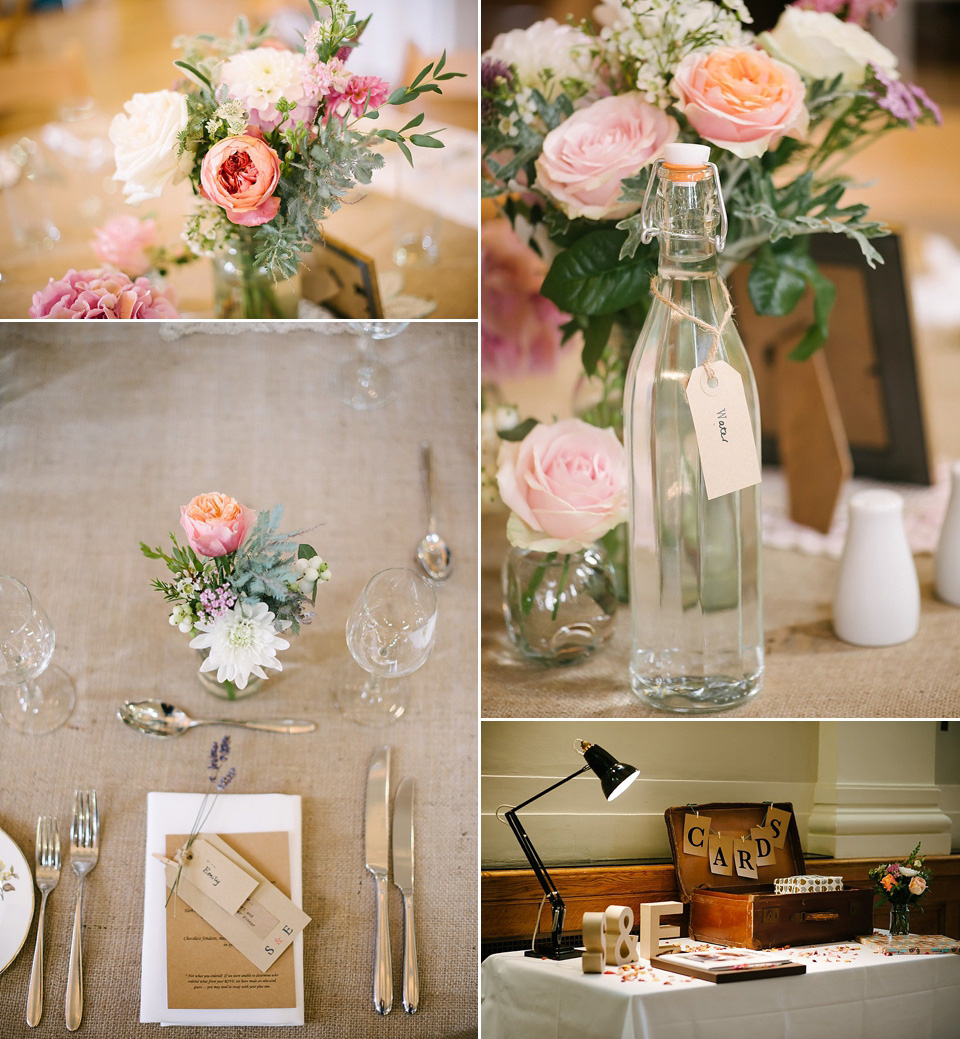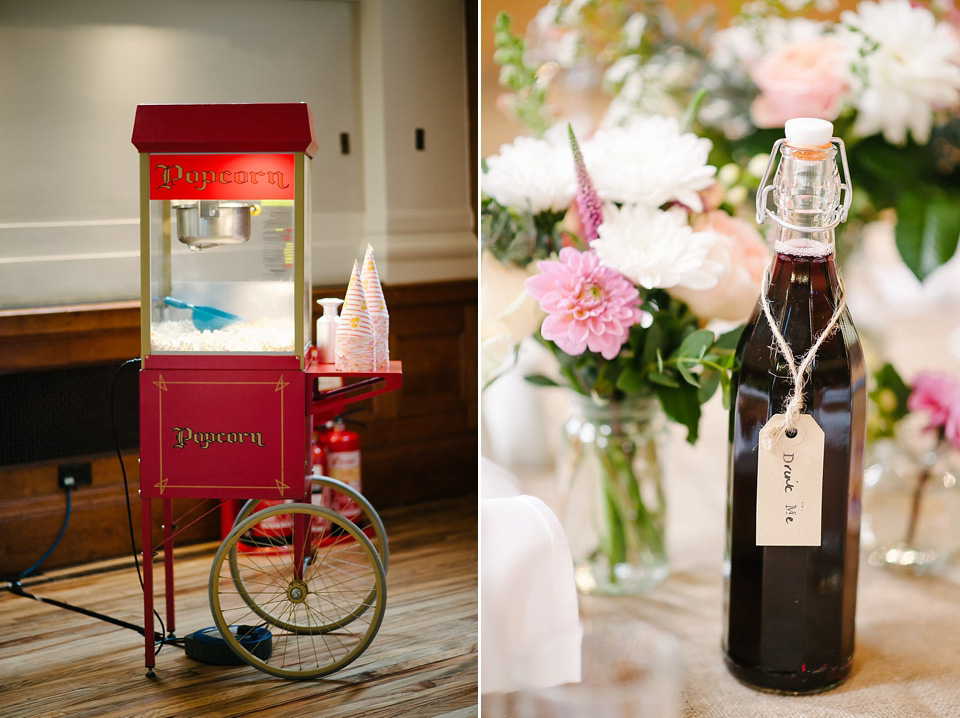 "I'd highly recommend Budding Tastes; Bunmi the caterer is amazing and lovely. The food was incredible, and we got loads of compliments about how good the food was."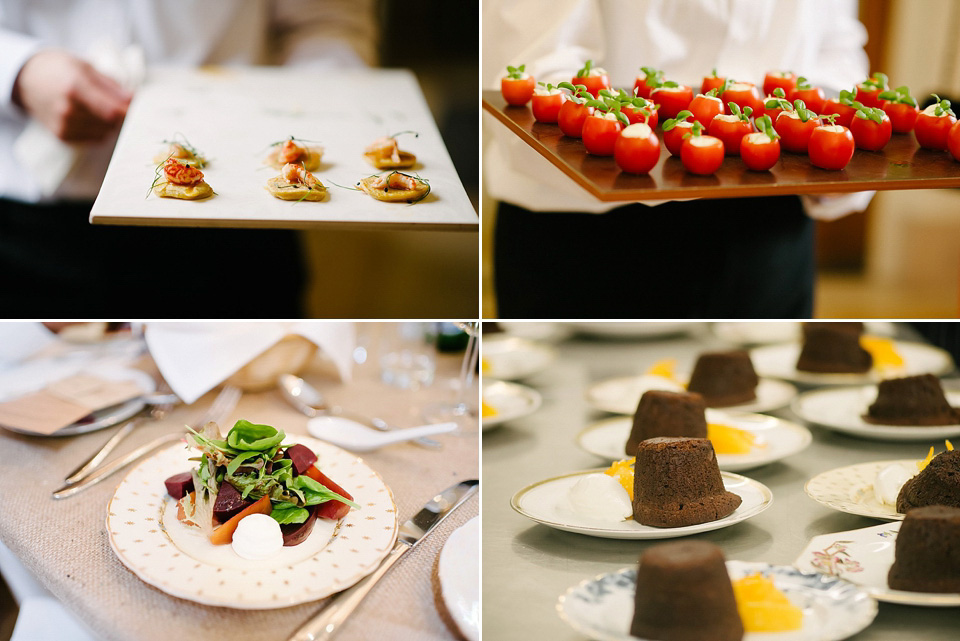 Sarah made all of the stationery herself (after pinching a lot of ideas from Pinterest!) and for the favours, the couple put on sweet and popcorn carts. And the relaxed feel of the couple's delightful decor was evident from the handmade crafting by Sarah's mum. Can I cheekily ask if you would consider hiring out the bunting for my next party?! I love it!
"My mum hand-sewed metres and metres of bunting. She made 6 strings of 25metres for inside, and then another 2 strings of about 30 metres each for outside.  She also made our table runners out of hessian. They looked incredible. My mum was amazing in the whole run up to our wedding. We also used paper pompoms to decorate the hallways and toilets, and as mentioned, the flowers from the church were brought over."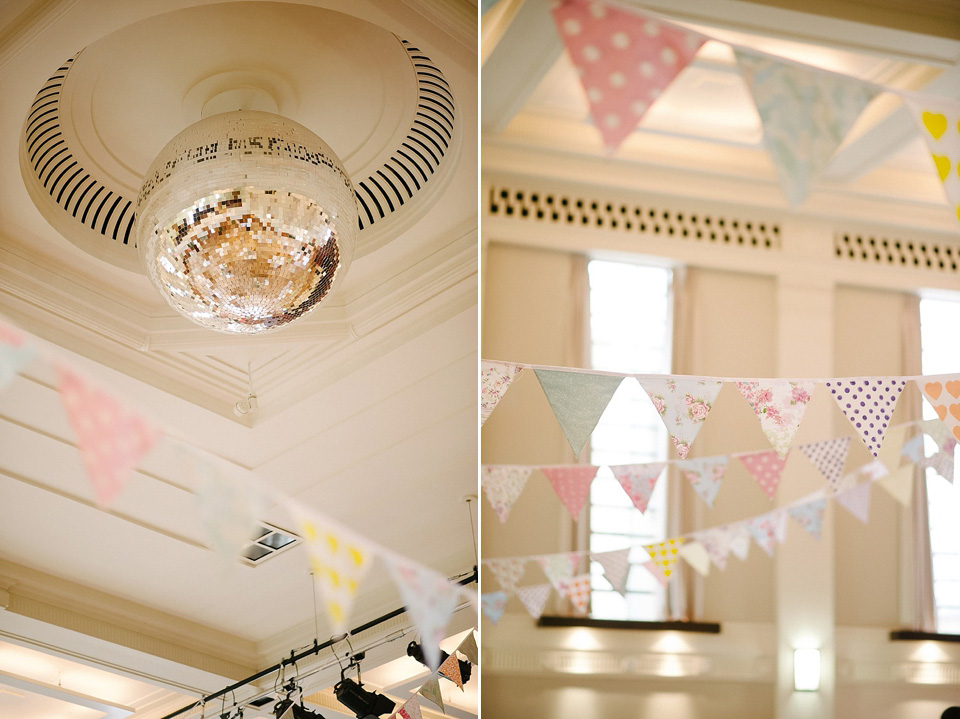 "For the bar area I bought a crate and filled it with limes and lemons, drinks dispensers filled with nicely coloured drinks. We hired casks of wine from Borough Wine and people could fill up their empty bottles up themselves. We also had beer casks from the London Fields Brewery, to give the wedding a more relaxed village fete feel. They also looked great and we bought tin buckets as drip trays."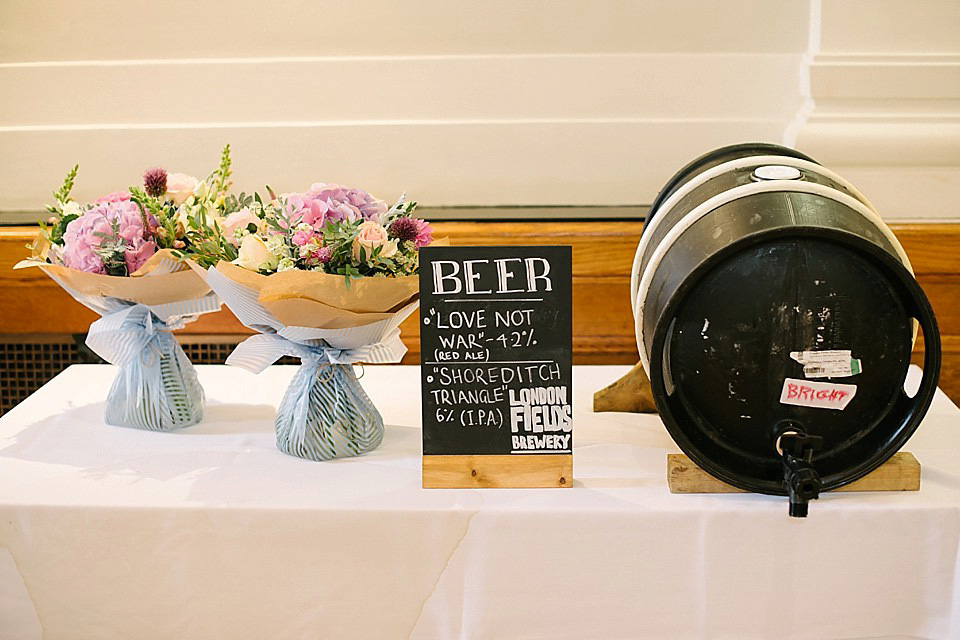 "We had an old suitcase for the confetti and cards.  My good friend and I dried rose petals for months up to the wedding and she kindly made cones out of paper doilies to hold the confetti. I also bought lace coloured doilies to add colour to the tables and made the table names using picture frames, some of which I bought in charity shops.  I also made banners for the cake table and the tea and coffee table. 
I spent months collecting vintage crockery, we bought a job lot from someone else who had bought for their wedding and then topped it up with more from charity shops. It was a lot of effort, but looked incredible on the day, especially the tea cups and saucers. We used blackboards to describe the wine and beer, and write the bar menu." 
The décor is amazing, don't you agree? One of my personal favourite touches to the décor is naming the tables after English pubs …. check out these brilliant table name tags!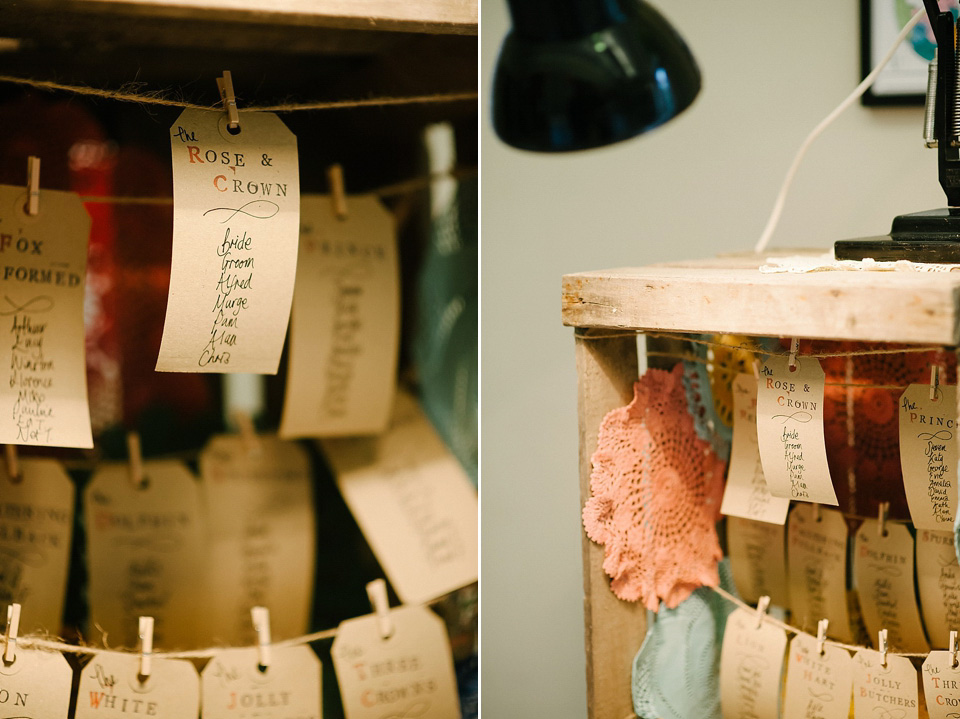 The sumptuous and most delicious-looking naked cake was created by Katie Ward. And a cake bake-off is another fantastic way to get help from friends and make them feel a part of the day.
"Our caterer recommended Katie Ward, and she made a beautiful 'naked' cake. To go with the décor, I didn't want a traditional white iced cake. I wanted a nice rustic looking cake. It was a delicious, limoncello cake with lemon curd butter icing. We decorated it with flowers to match the bouquets and wedding flowers. I also got a few of my close friends to bake some cakes, as originally planned to have a village fete themed wedding, so we made the table look like a cake competition, we labelled each cake and decorated the table with rosettes as though it were a real competition."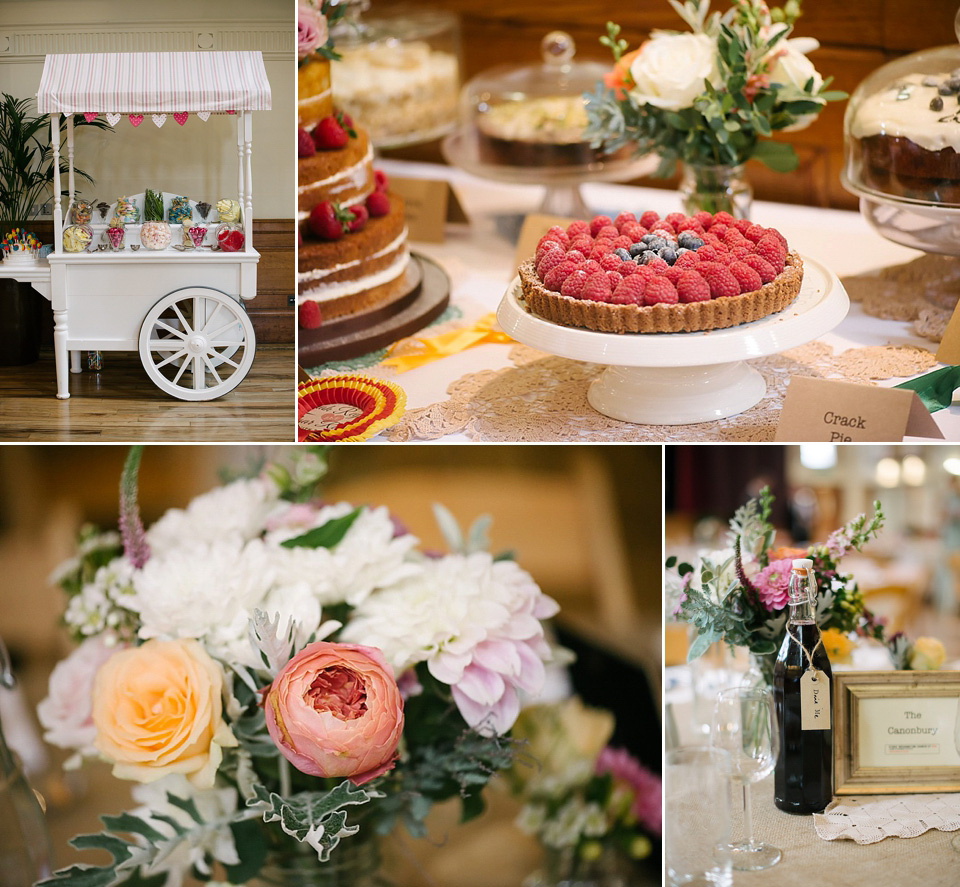 Sarah shares her favourite moment of the big day…"This is a tough question! So many happy memories… I think just after the first dance, the band played 'You've Got The Love' by Florence and the Machine and everyone was dancing, Ed and I were dancing with Alfred, and everyone seemed happy. I also loved singing the hymns in the church as I looked around and everyone was singing and looking happy."
But sometimes things go wrong on the day and I do feel for Sarah and Edgar with what happened on the morning of the wedding!
"We ordered an Asda delivery for our soft drinks and spirits; annoyingly they decided to take the payment at 3am the morning of the wedding. My credit card company thought it was strange behaviour spending almost £1k at Asda at 3am, so didn't allow the payment to go through as thought was fraudulent. Asda cancelled my delivery and I received a text message at 9am saying it was cancelled when I was in the hairdressers. I tried ringing Asda immediately, but they said they couldn't do anything or deliver still. The groomsmen and Ed's parents had to go and do a supermarket shop and I had to try to remember everything that I had ordered.  It was pretty stressful on the morning of the wedding."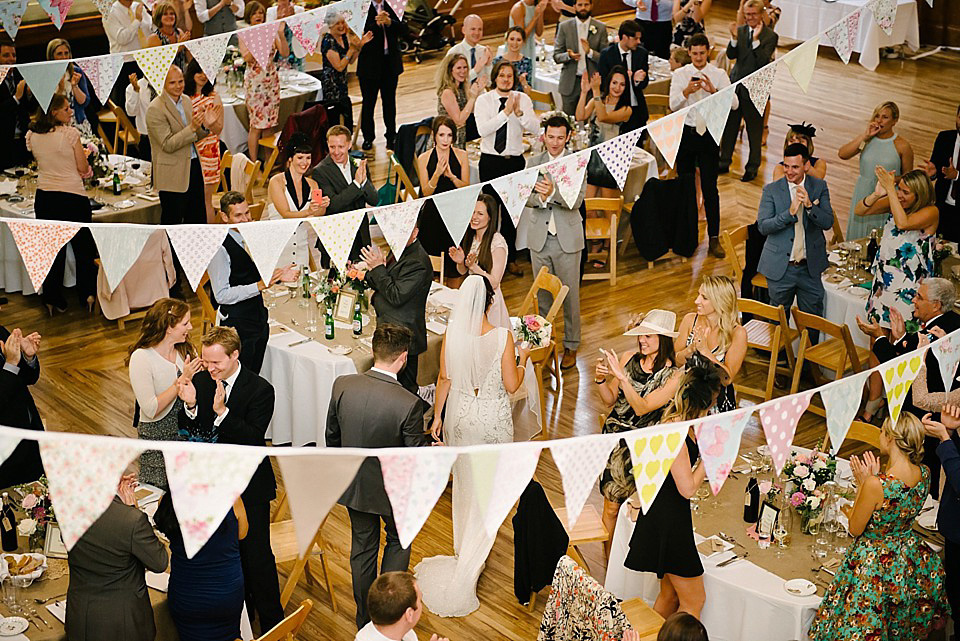 Soulshine Band entertained the guests, proving to be a huge hit, whilst two friends helped out with a DJ set.
"The lead singer was awesome. She came into the crowd and got everyone dancing.  We even had a dance off. They were so professional and laid back. They really made our wedding, and I danced all night. Once the band had finished two of my close friends, Dan and Steve DJ'd for us. They put together an amazing set list and I am eternally grateful for them for doing this.
Our band played 'Happy' by Pharrell Williams. We wanted something we could dance to, and not a slow song that we would have to slow dance to for 3 minutes.  We grabbed Alfred about 1 minute in so had a family first dance!"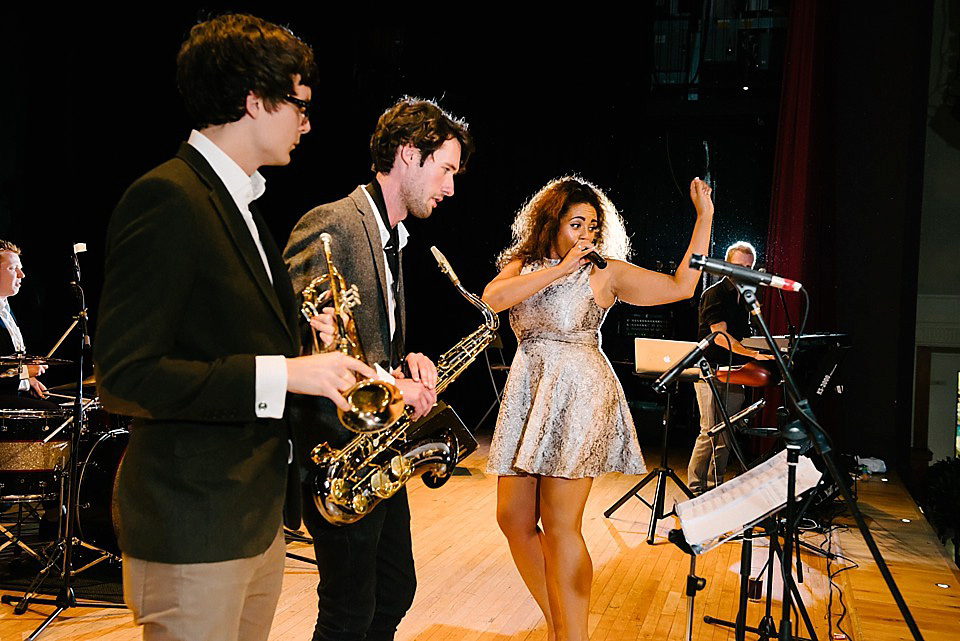 Words of Wedded Wisdom
"The personal touches really make a day to remember, and everyone speaks about them for months to come. Personal touches make the day memorable for everyone, plus make it different to other people's weddings."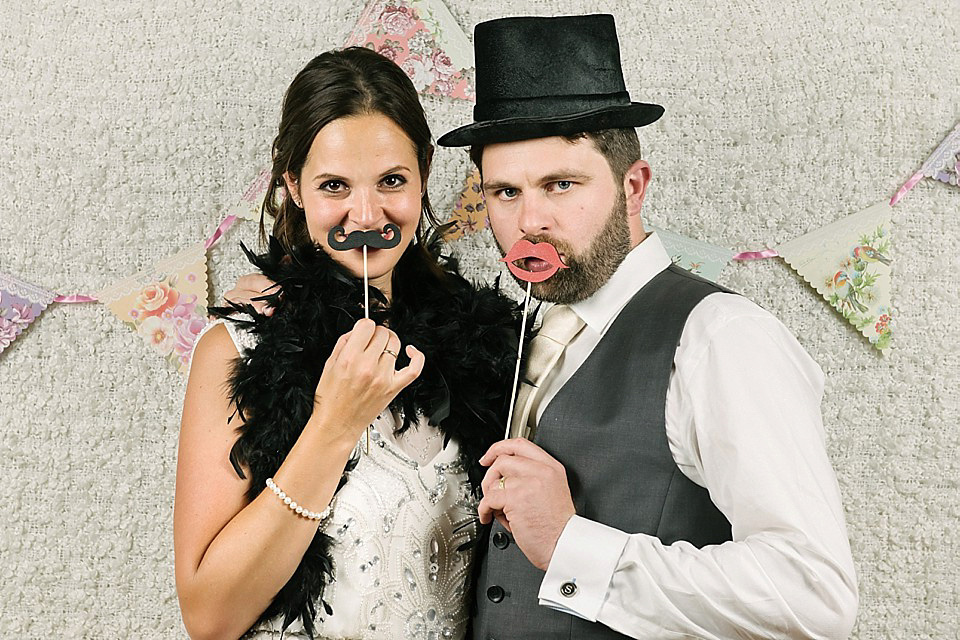 Ohhh yes, all these little touches certainly tugged at my heartstrings! Thank you so much for sharing your wonderful memories with us Sarah and Edgar. And a big thankyou to Lily for these magical images that are filled to the brim with such joy.
If you've fallen for the Esme design by Jenny Packham, see here and here for previous blog posts where we've showcased this stunning design.
Have a lovely rest of week,
Love Jo -xxx-
Photographer – Lily Sawyer Photography
Venue – Stoke Newington Town Hall, London
Bride's Dress – Jenny Packham via Morgan Davies
Bride's Veil and Hair Accessory – Morgan Davies
Bride's Shoes – Jimmy Choo
Bridesmaid's Dresses – Ted Baker
Bridesmaid's Shoes – Own
Bridesmaid's Jewellery – Earrings by Pamela Dickinson
Groom – Shirt by Hugo Boss, shoes by Loake and cufflinks via notonthehighstreet.com
Groomsmen – Own grey suits and ties via Hawes and Curtis
Flowergirls – Dresses by Monsoon, shoes from Next and headband from Mothercare
Pageboys – Shirt and trousers from Monsoon and braces/bow tie from Etsy
Florist –Pip Lowe Flowers
Catering – Budding Tastes
Cake – Katie Ward
Rings – Pamela Dickinson and Andrew R Ullman
Hair Artist – Kaizo
Make up Artist – Sian Duke
Entertainment – Soulshine Band
Transport – London Wedding Taxis