Good day readers, I hope you had a lovely, sunshine filled, but most of all relaxing and enjoyable Bank Holiday weekend. Inspired by the Art Deco era and our couple's Scottish and Irish roots, today's wedding is a blissful fusion of Celtic spirit and classic elegance. Siobhan, who works in fashion production, married Mark, a project manager, on the 5th of September 2014 at St Mary Magdalene's Church in Hitchin, Hertfordshire, followed by a reception at Offley Place, a historic country house hotel, just down the road.
Husband and wife team Pen and Cam of  Story Catchers Wedding Films and McKinley Rodgers were on hand to capture this elegant wedding in film and images.  We love the truly elegant nature of Siobhan's gown, by award winning London based bridal fashion designer Halfpenny London.
Film by Story Catchers Wedding Films
"We both love the Art Deco era, so chose this as our main theme. We purchased various vintage knick – knacks from charity shops, car boot sales and eBay. To reflect our Irish and Scottish roots the men wore red check kilts and we had white and green flowers and an Irish rock band!"
Photography by McKinley Rodgers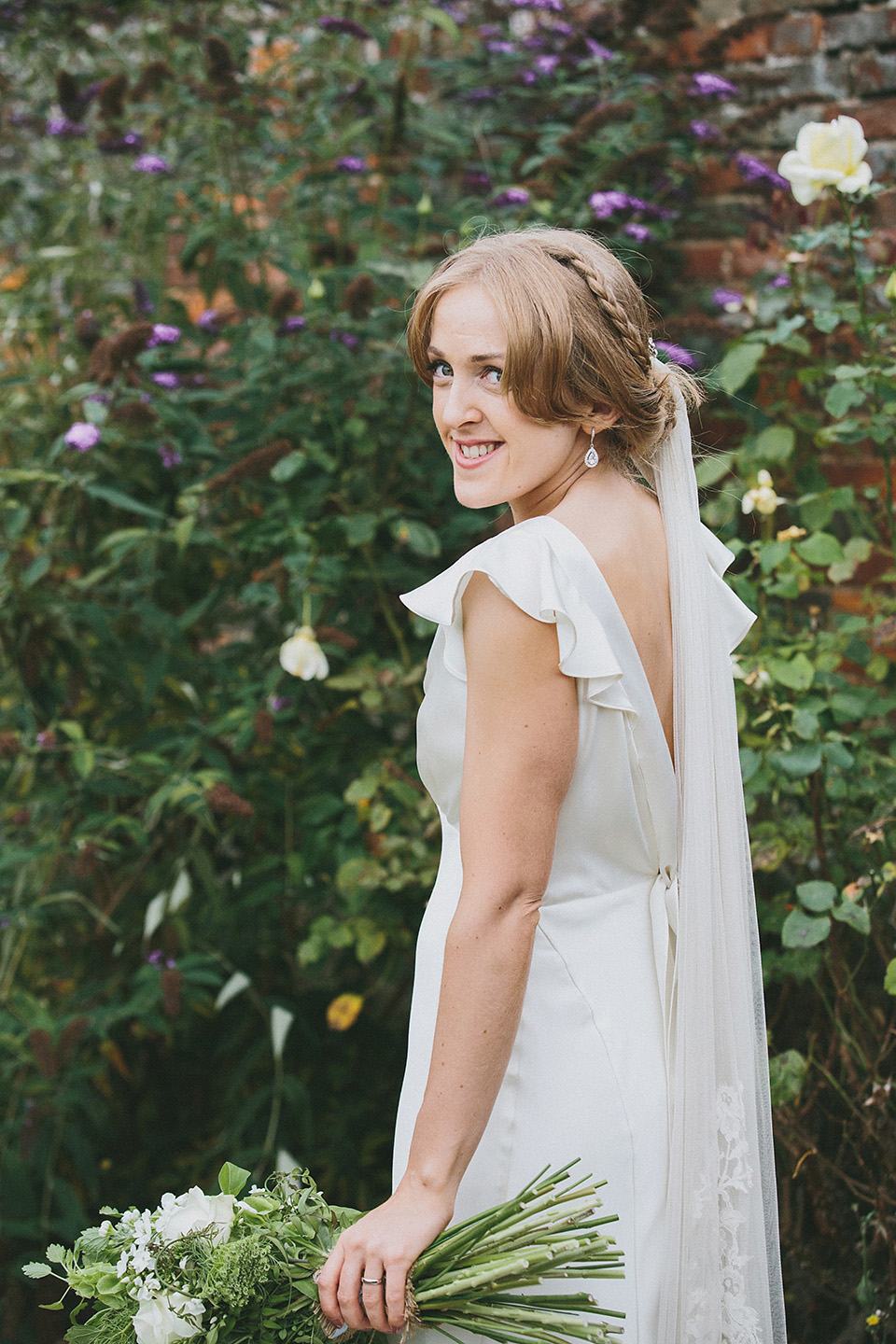 Siobhan and Mark's wedding was captured by the wonderful husband and wife duo, Pen and Cam McKinley Rodgers.
"We had already booked another photographer but we were concerned their style of photography might be too staged; my frozen smile is officially scary! So we swallowed the deposit and hunted Pen and Cam down – thank god they were available!"
"Booking McKinley Rodgers was the best decision we could have made; they were our heroes for the day, such a wonderful couple and truly genuine. They arrived early on the day and wanted to start as soon as they arrived. Cam charmed the socks off of my Nan and they captured some amazing moments that we only remembered on seeing the photos. Pen and Cam's preview shots were an amazing start to our honeymoon and I couldn't praise them enough."
"Offley Place is a beautiful and historic manor house set in a cute little village in Hertfordshire and within walking distance of the church. Offley's conservatory, which is filled with light, was the perfect place to hold our reception."
Siobhan wore her gown with a gorgeous pair of ivory and gold Benjamin Adams heels and a lovely art deco inspired brooch (purchased on Etsy) which she wore on the back of her gown.
Siobhan looked the epitome of vintage Hollywood glamour in her beautiful art deco inspired Halfpenny London gown and veil, purchased from a trunk sale in Knightsbridge.
"I went to visit Kate Halfpenny at her Halfpenny London boutique and fell in love with her gowns.  Kate is a fantastic designer with so much individuality. Unfortunately her designs were coming in over budget. When I mentioned this to Kate, she kindly suggested I visit a trunk sale in Knightsbridge. My dress was the second one I tried on (in a room with several other naked women with armfuls of dresses…champagne wasn't an option!) and I fell in love with it instantly.
It is so in keeping with my love of everything art deco, plus the quality of the dress is incredible (you could wear it inside out without anyone knowing!). I had my dress altered by Agatha and her team at The Bridal Gallery.  Their level of expertise was amazing and made my finished dress a dream!"
"Mark and I used to work together in Marks and Spencer. We got together when a mutual friend organised joint birthday drinks for us (Mark's birthday is on the 12th of October and mine is on the 13th!).Six years later, in 2012, Mark took us away to Cornwall as an anniversary surprise and proposed during an amazing multiple course meal."
"I remember wondering why there weren't any other diners and why Mark was sitting so awkwardly (the ring was in his back pocket!). My response wasn't traditional tears, it was more 'what are you doing?!', followed by nervous laughter and then a definite 'yes!' We decided to marry in September 2014 to give us enough time to save up and to guarantee dry weather."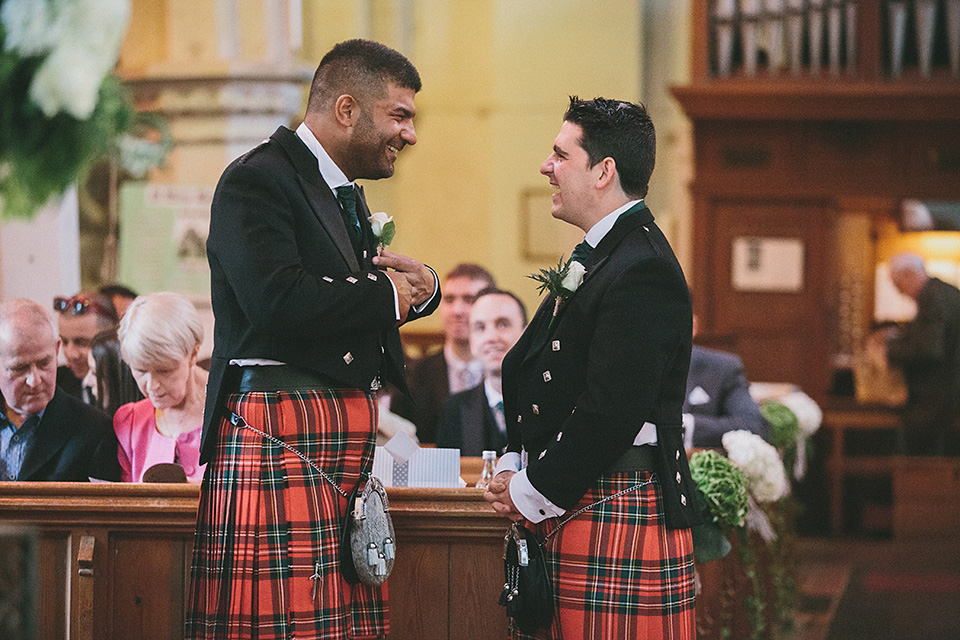 Mark looked very smart in a red kilt and double breasted jacket hired from Slaters.
"Like Mark, his groomsmen were kitted out in the whole shebang from the sporran to the Ghillie Brogues. As the groom, Mark got to wear a kilt pin tucked into his socks!"
Our bride walked down the aisle accompanied by her beloved mum.
"Mum is my rock, she is my best friend and a real role model. As such there would be no one else I would have asked to walk me down the aisle. We walked down the aisle to the Bridal March, which we felt was in keeping with the setting and something I've always dreamed of."
Siobhan and Mark opted for floral arrangements in greens and ivory, inspired by our bride's Irish roots and lovingly put together by Gilly Bean Flowers.
"Our florist Gilly was recommended to us by Offley Place; she is truly talented and the results were just brilliant. I really wanted our flowers to look natural with an Irish feel to them and Gilly achieved this; each arrangement was stunning and unique. Gilly accommodated all my queries about Irish flowers as well as my last minute 'something blue' request."
"Pen and Cam gave us the idea to make one another's wedding rings. It sounded like a pretty cool process, so we searched for someone local and found Rachel Jeffrey, based in the lovely town of St Albans. We started with a plain piece of silver and formed it into a perfect shiny wedding band that holds a lot of sentiment. It was such fun working alongside other couples who were getting married."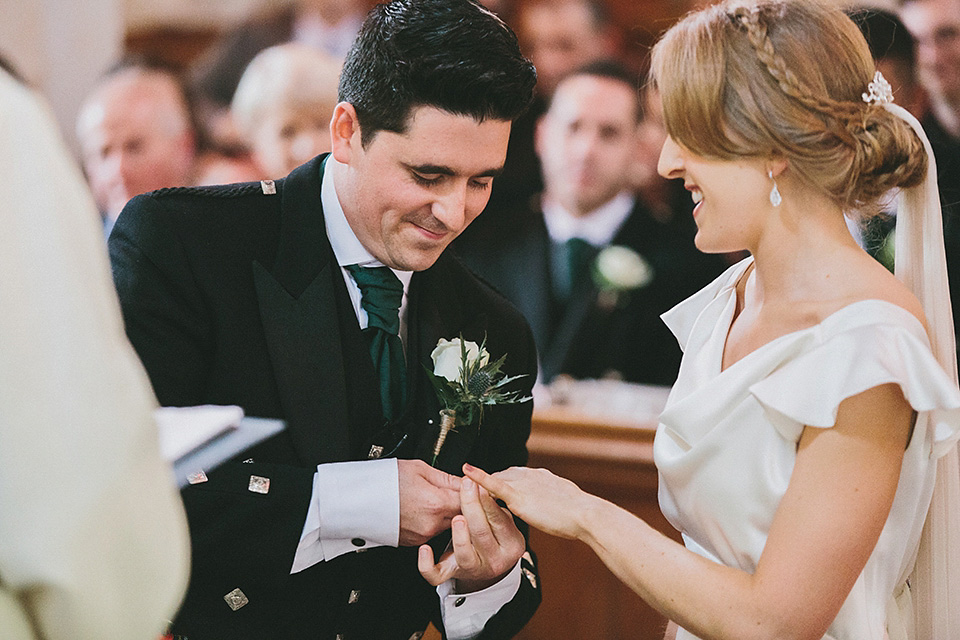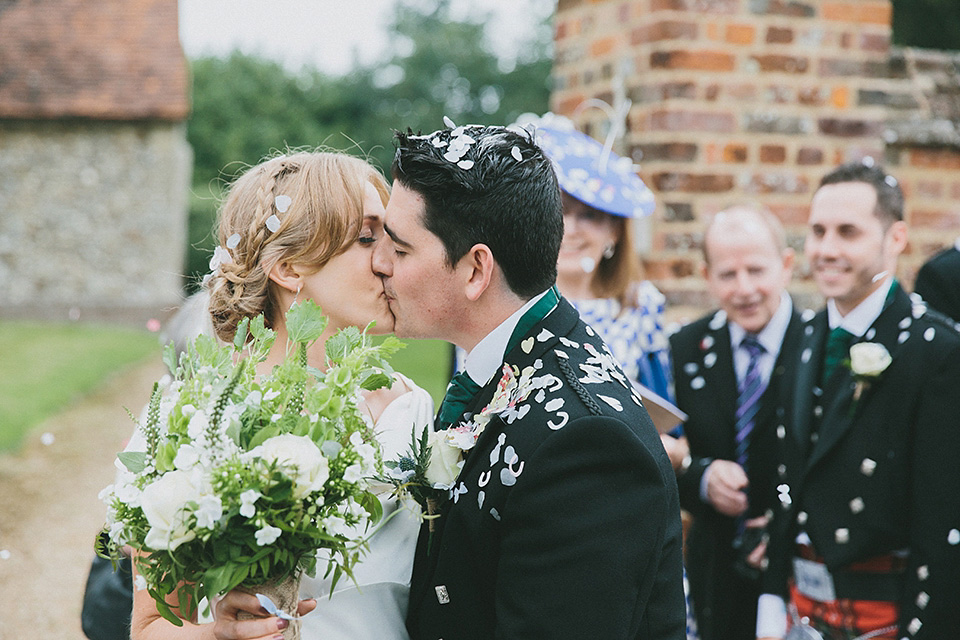 "I purchased my maid of honour's skirt from Ted Baker, where I was working at the time. I was fortunate enough to be able to request the fabric the skirt was made from in order to have a separate dress made for my flower girl."
"It's so hard to pinpoint my favourite part of the day, but should I have to select it would come down to three, breakfast with my Mum in the morning, during which the reality of getting married hit me, seeing Mark at the top of the aisle waiting for me to arrive beside him before he turned around and finally the small segment of alone time we got outside the church whilst Pen and Cam were organising the guests to throw confetti, where we laughed with disbelief that we were actually married!"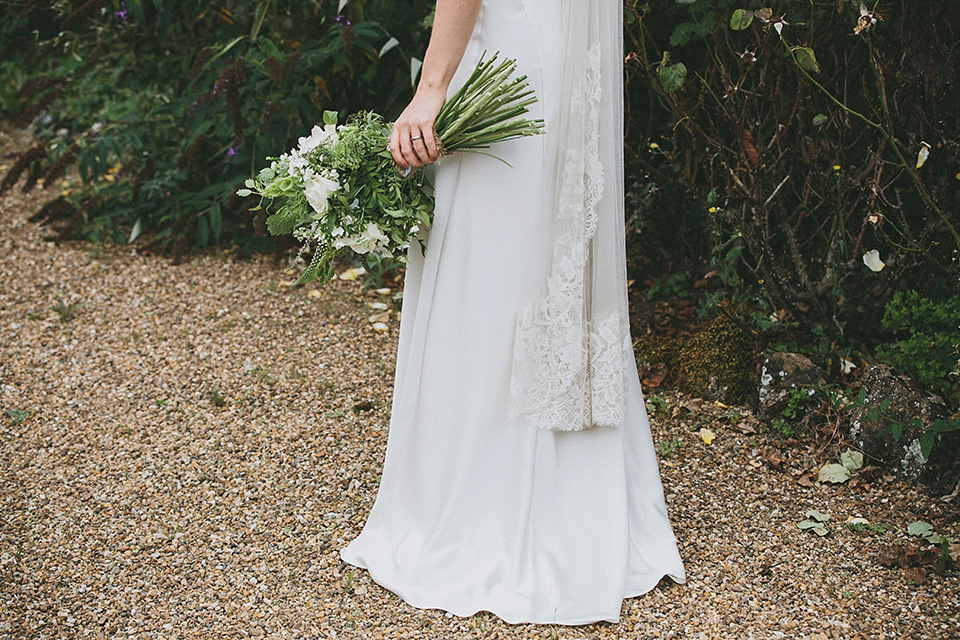 "For our decorations we spray painted and then rubbed down A LOT of photo frames! We also used lots of hessian trim and vintage hardback books from car boot sales and charity shops to create the desired art deco effect. I spotted the inspiration for our seating plan on Love My Dress – I loved the idea of gold chicken wire attached to an ornate photo frame. It was a task finding the right frame and setting it up, but the overall result was so worthwhile!"
Siobhan's mum baked the couple a beautiful three tiered 'naked' cake for their big day, ringed with fresh berries and fruits. Siobhan and Mark were more than happy to be guinea pigs in the run up to wedding, eagerly testing trial cakes when requested!
"I have always loved the idea of having a 'naked' cake, having admired them at wedding shows and on blogs etc. My talented mum created an amazing three tiered cake with two different fillings and various fruits. We were open to testing the multiple fillings, ingredients, and cake shapes as part of her preparation for our big day!"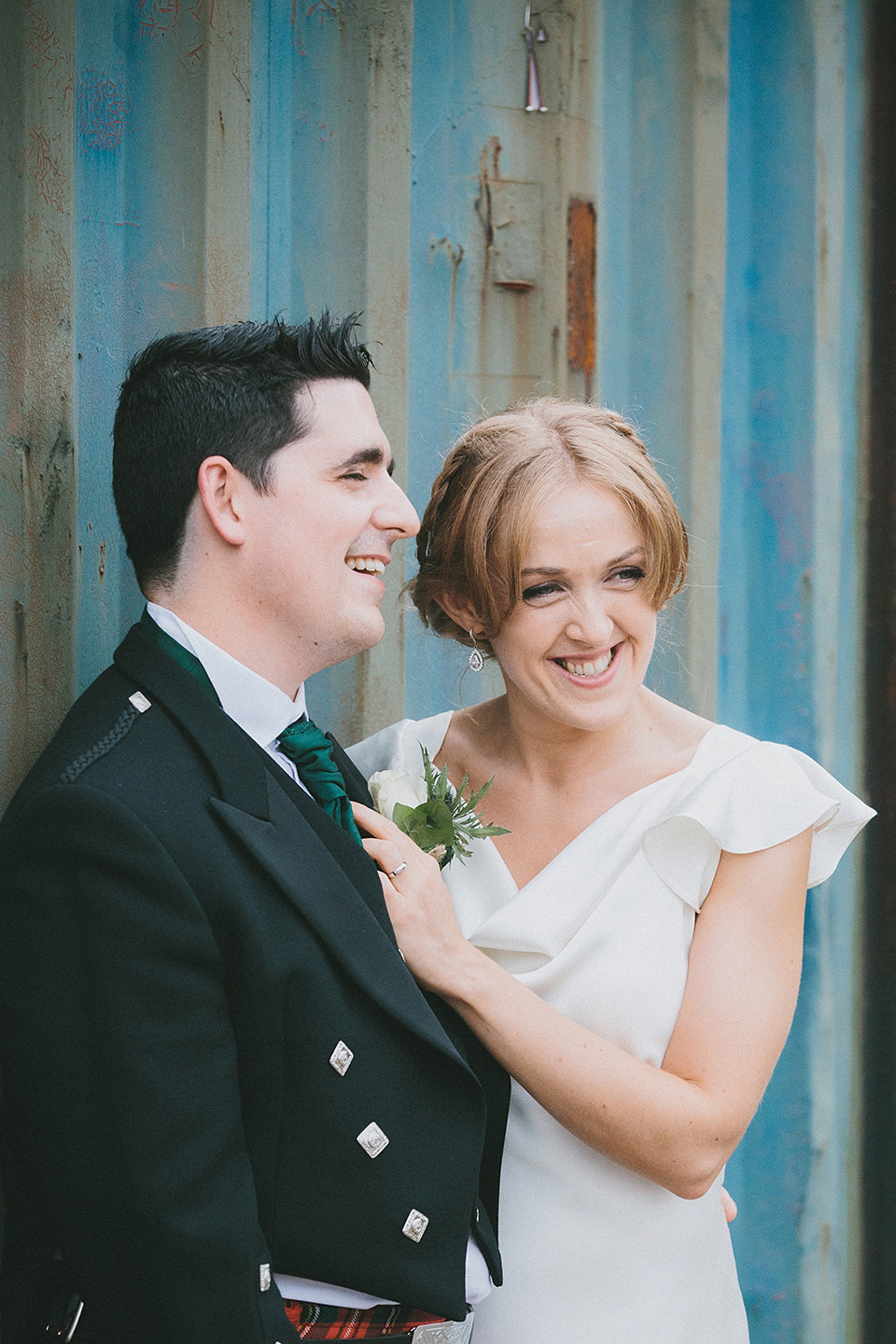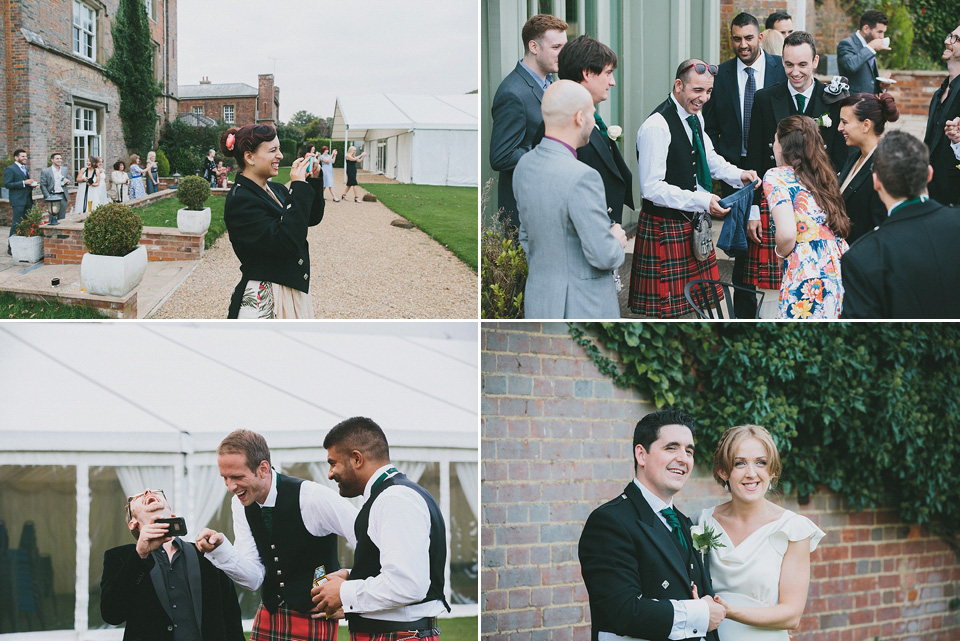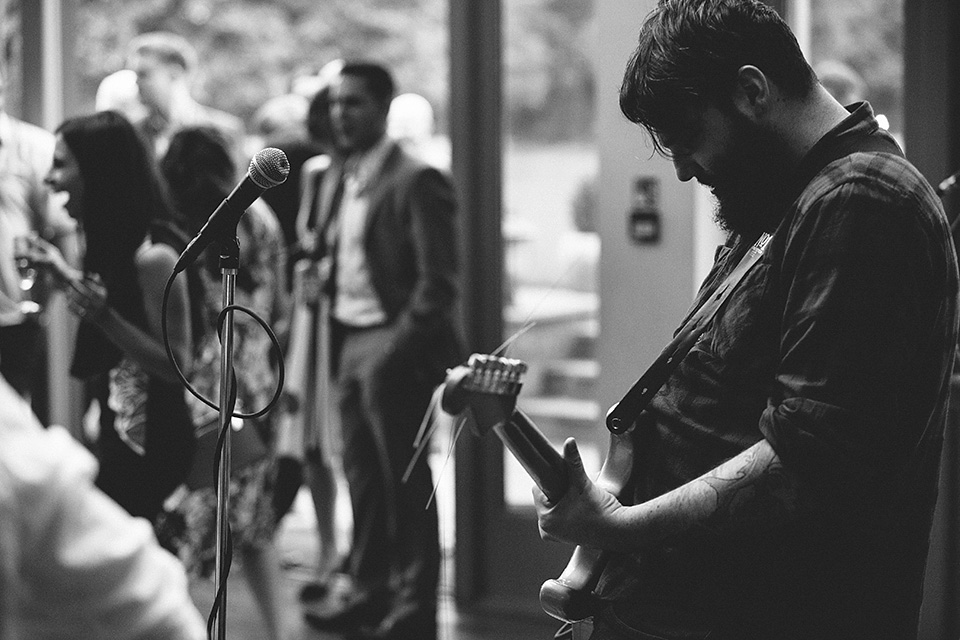 "We wanted an Irish twist to our evening entertainment but we also wanted something a bit different. With this in mind we booked Sons of Kildonan, an amazing Irish rock band who played some brilliant tracks that got everyone up and dancing – our guests loved them!"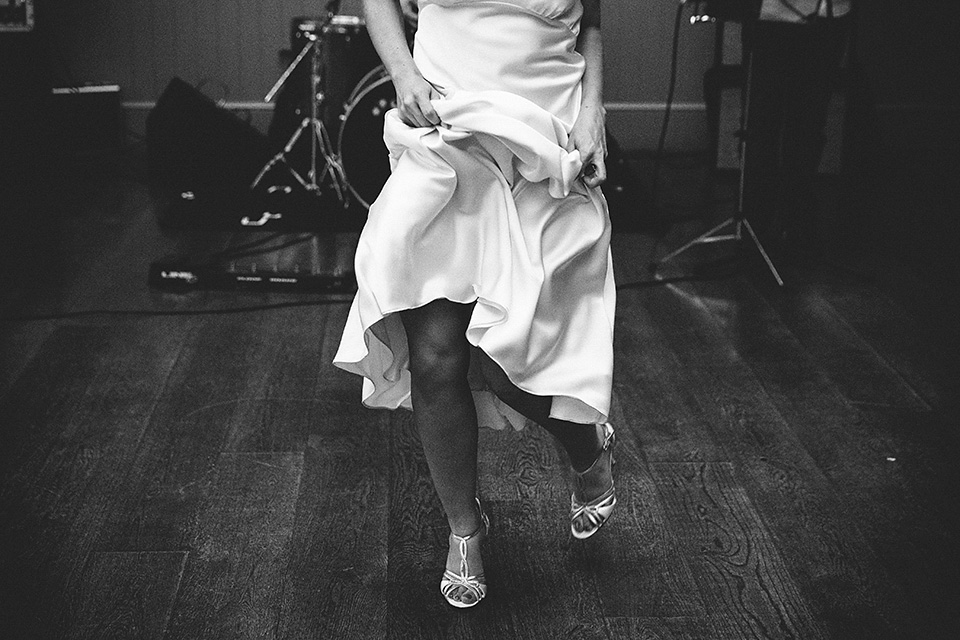 Words of wedded wisdom
"Ensure you choose a good photographer and try to meet them before the day in order to build a relationship so that you feel comfortable in front of the lens. Photos are the keepers of your memories and can tell such amazing stories.
Also, I have found Love My Dress really helpful for finding advice and inspiration; the weddings featured on the blog have really contributed to our own day, providing reliable sources and key tips."
Thanks so much Siobhan and Mark for sharing your story and to Pen and Cam Mckinley Rodgers for capturing it on film so beautifully. For more lovely Kate Halfpenny brides, including Kate's own wonderful wedding, click here. You can find further weddings inspired by the art deco era here.
Wishing you a great rest of your week,
Annora x
Photographer – McKinley Rodgers
Videographer – Story Catchers Wedding Films
Venue + Catering – Offley Place in Hitchin, Hertfordshire
Wedding Dress – Halfpenny London
Veil – Kate Halfpenny
Hair clip – The Bridal Gallery
Shoes – Benjamin Adams
Accessories – Brooch from Etsy
Bride's Scent/perfume – Karl Lagerfeld
Groom – Kilt hired from Slaters
Bridesmaids – Ted Baker
Flowergirls – Dress made using Ted Baker fabric
Florist – Gilly Bean Flowers
Cake – Bride's mother
Transport – Friend of groom's Aston Martin
Entertainment – Sons of Kildonan
Rings – Rachel Jeffrey
Hair + Makeup – Suki Miles