Oh readers, I am so excited to share this wedding with you today- it's gorgeous, it's glamourous, it's rural and in Yorkshire to boot- is there any better way to start a Monday?  I think this has to be on my all time favourites list (which is ever growing…)…
Meet Laura, a journalist, and her husband Oliver, who works the family farm, where the pair held their wedding reception on the 20th of December 2014 following their ceremony at St James's Church, Bilbrough, York.  The farm has played host to a number of family weddings over the years, and from spring 2016 will be opening its doors to other couples as a North Yorkshire farm wedding location.
"We were inspired by our love of Christmas, the farm and the glamorous 1920's.  We fused the three together for a really sparkling event (think Gatsby's Christmas party in the country!)"
Photography by Kate Gray Photography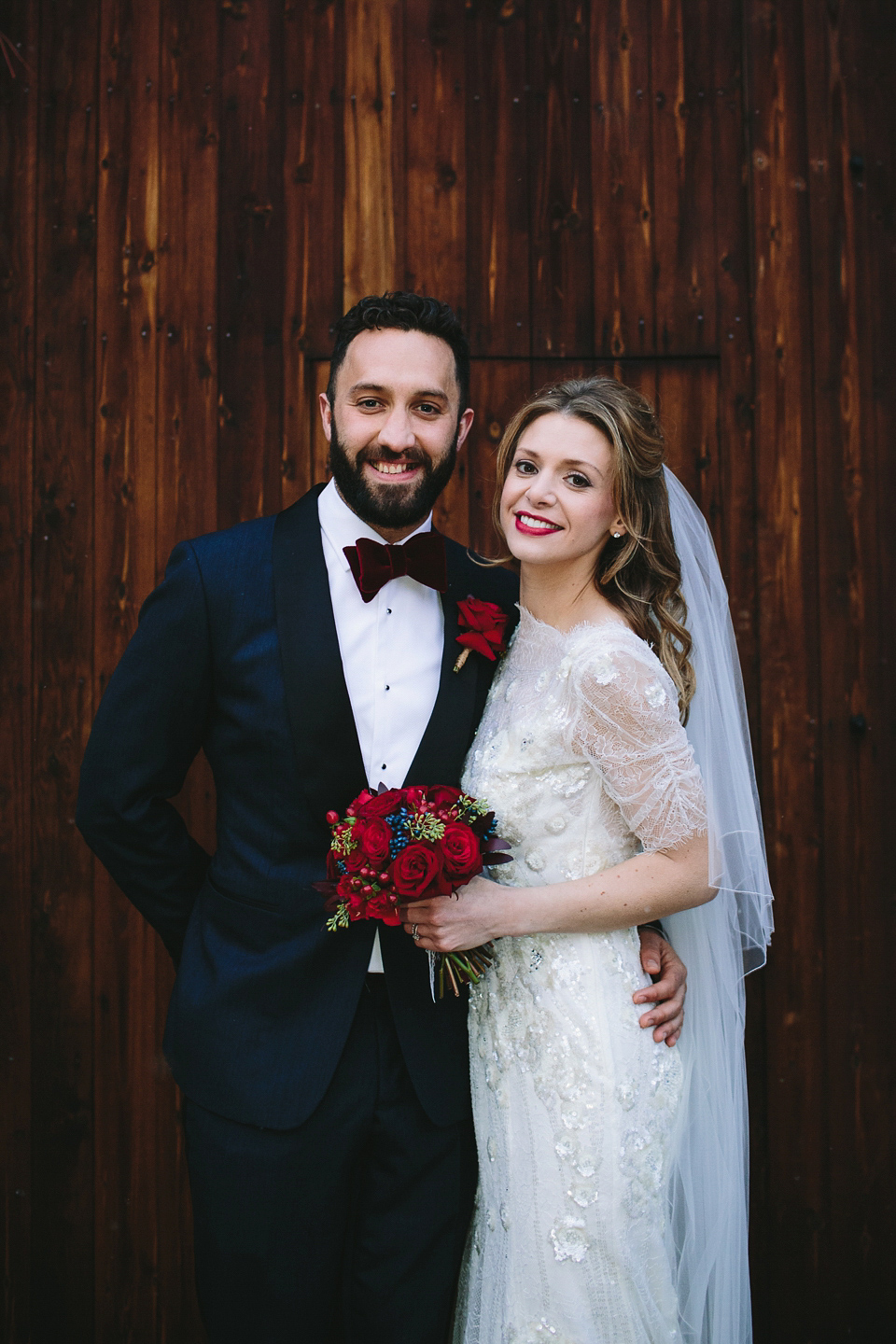 Laura chose to wear the sparkling and beautiful 'Mimosa' by Jenny Packham, purchased from The Wedding Shop in Colchester.  A perfect choice for a glamorous 1920's inspired day.  I also adore the complimentary wrap!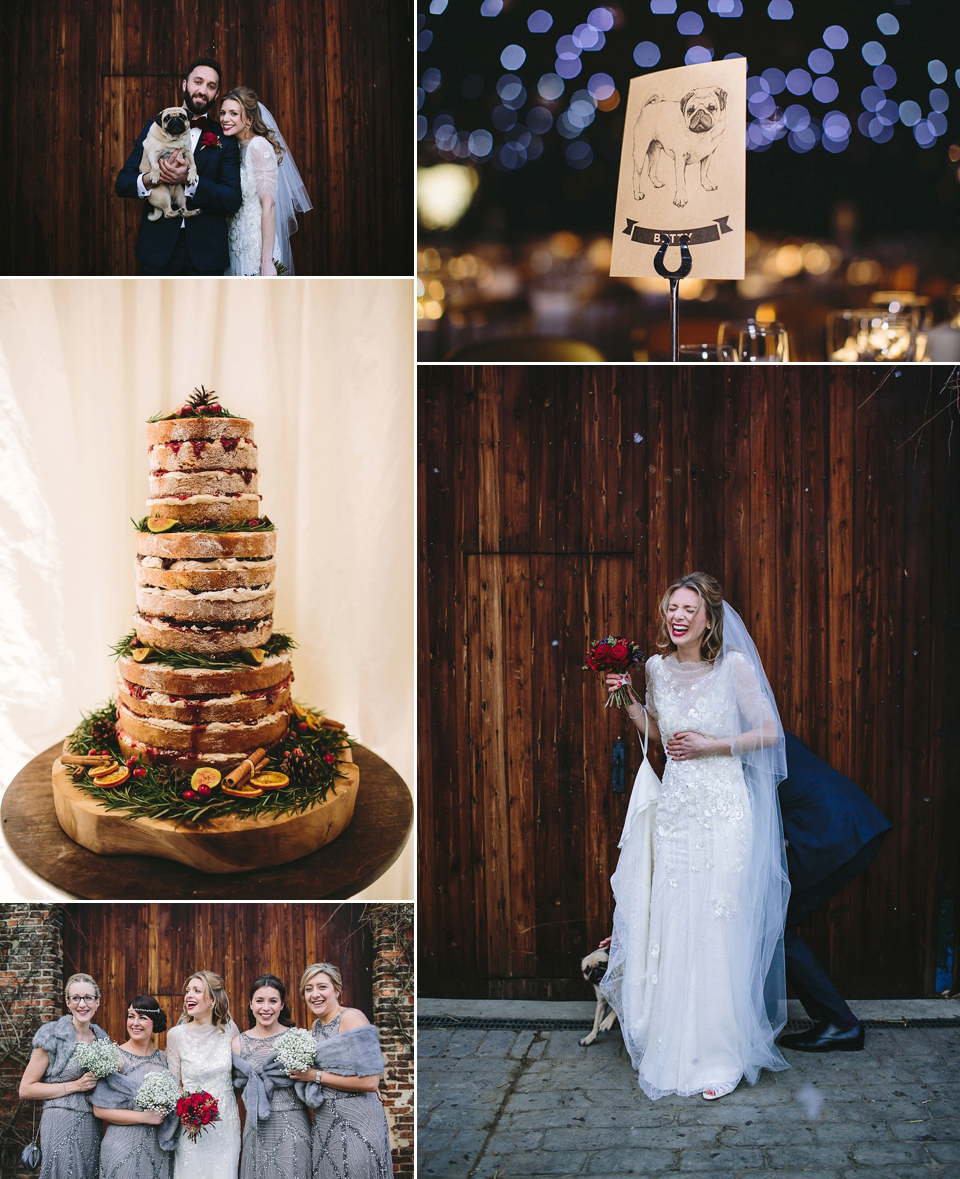 "From the word go I knew I wanted a Jenny Packham gown as I love the evening feel her designs have and the fact they're not so typically bridal. A Packham was the only way to go for me!"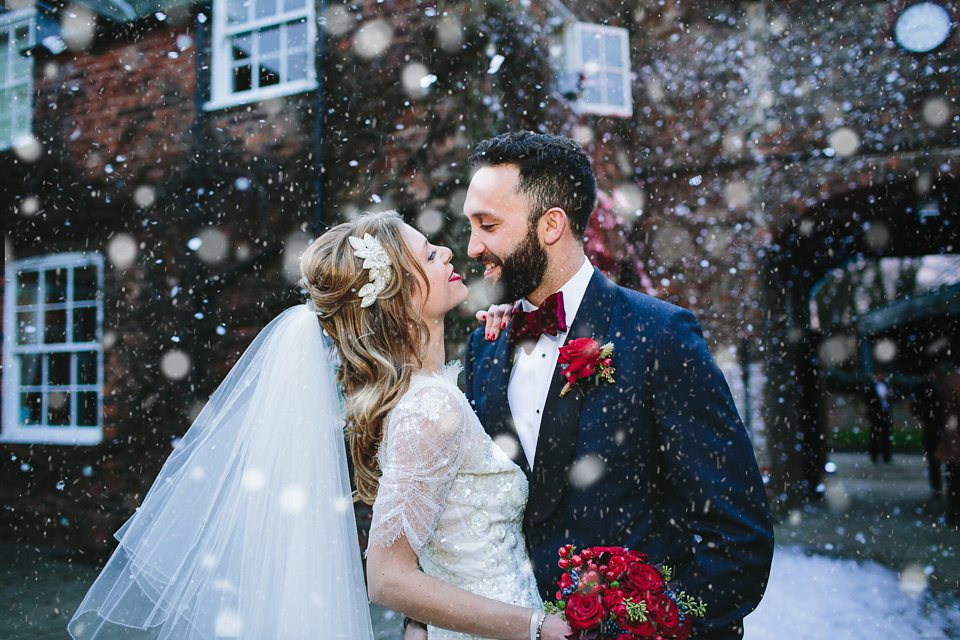 "Oli and I were both living and working in Dubai as magazine journalists and our paths crossed on a work night out.  After 3 years together in Dubai we made a huge lifestyle change and swapped the bright city lights for mud and wellies in North Yorkshire, with Oli learning the ropes of his family farm."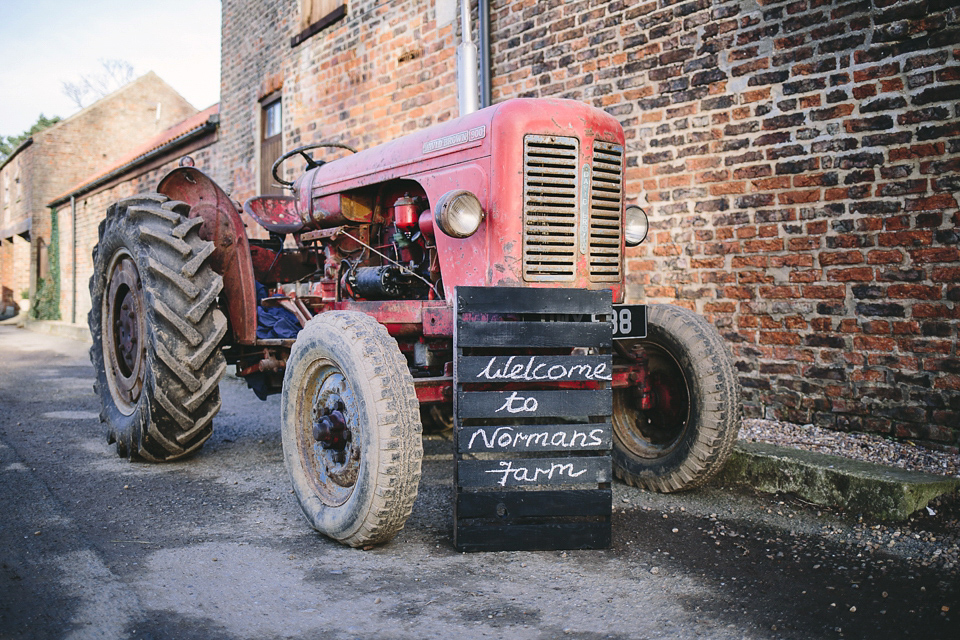 "It was on a country walk with our pug Betty (a rescue dog that we brought back with us all the way from Dubai) that Oli got down on one knee in the mud and popped the question – with a herd of cows looking on!  That was in October 2013 and we quickly set a festive date, 20 December 2014 – the weekend before Christmas."
"I loved Mimosa's slim fit and delicate lace, which was embroidered all over in sequins and tiny jewels that sparkled in the light. Its high neck and three-quarter-length sleeves were a fab fit for our festive wedding.  I teamed it with an ostrich feather wrap, also by Jenny Packham, for an Old Hollywood touch."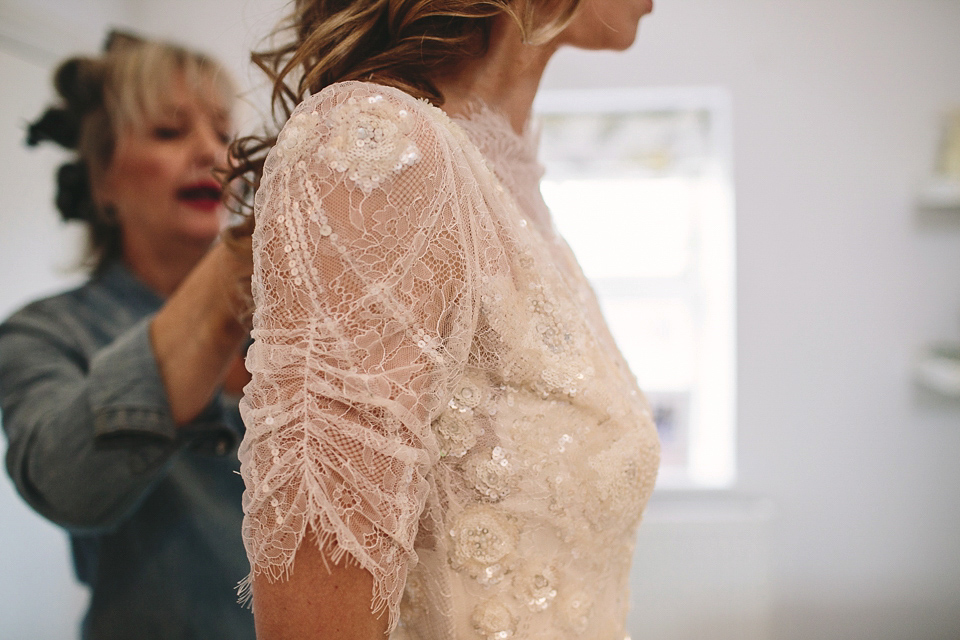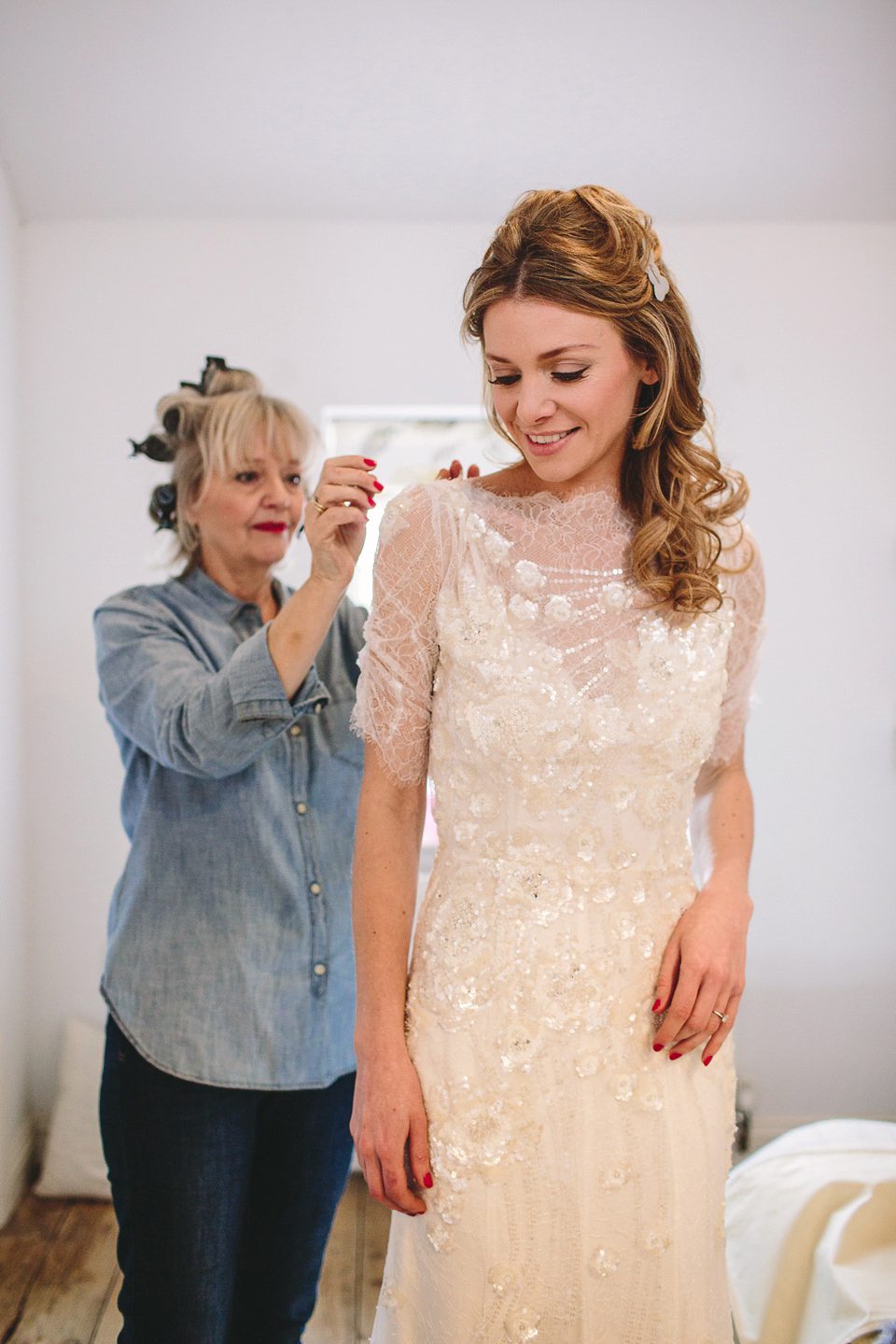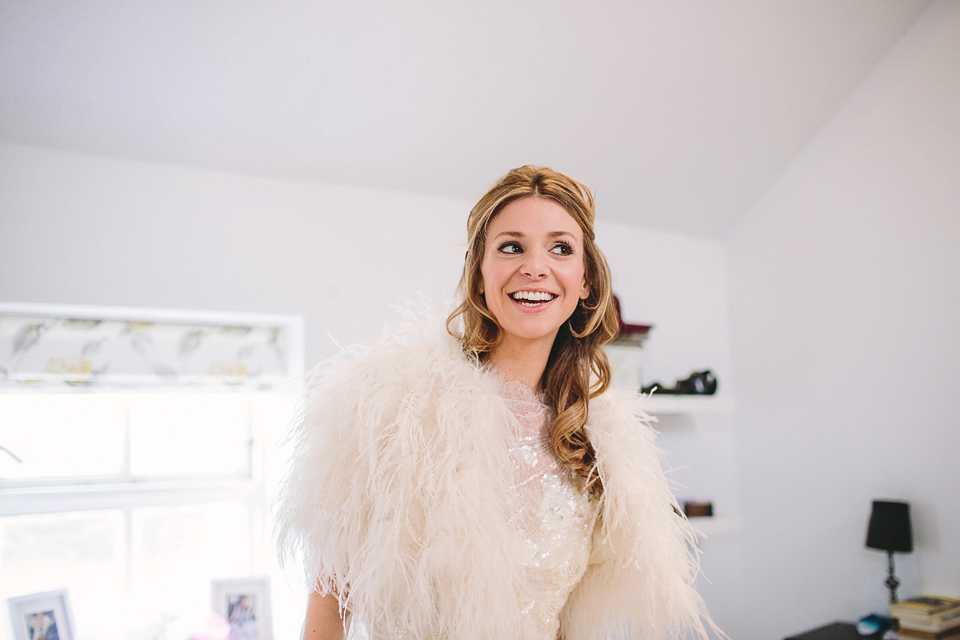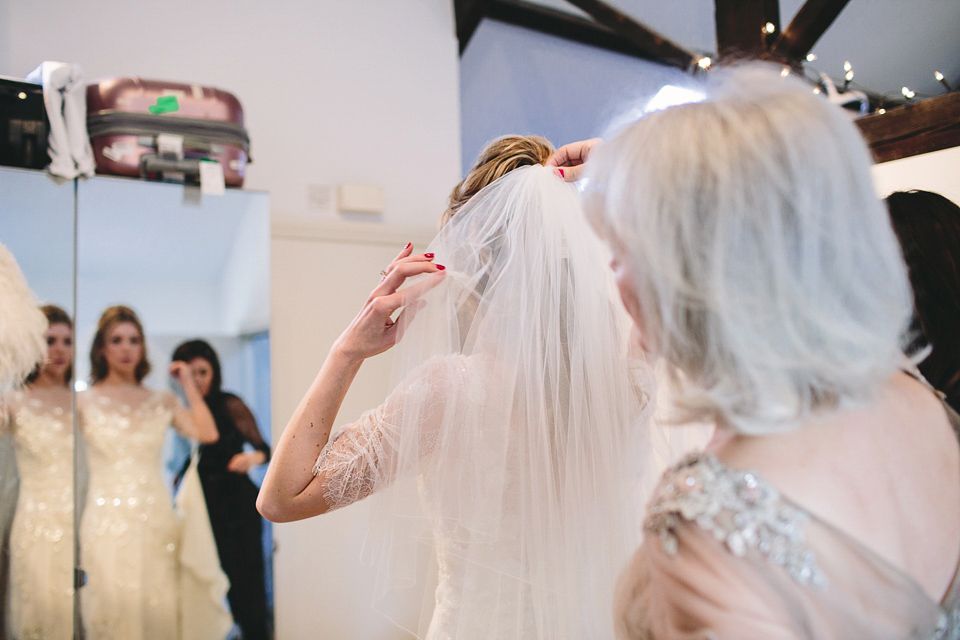 To compliment her dress, Laura chose shoes by Emmy, London, a long delicate veil from The Wedding Shop in Colchester and a spray of CoCo Chanel Mademoiselle and sweep of dark red lipstick to complete her Old-Hollywood look.  Gorgeous!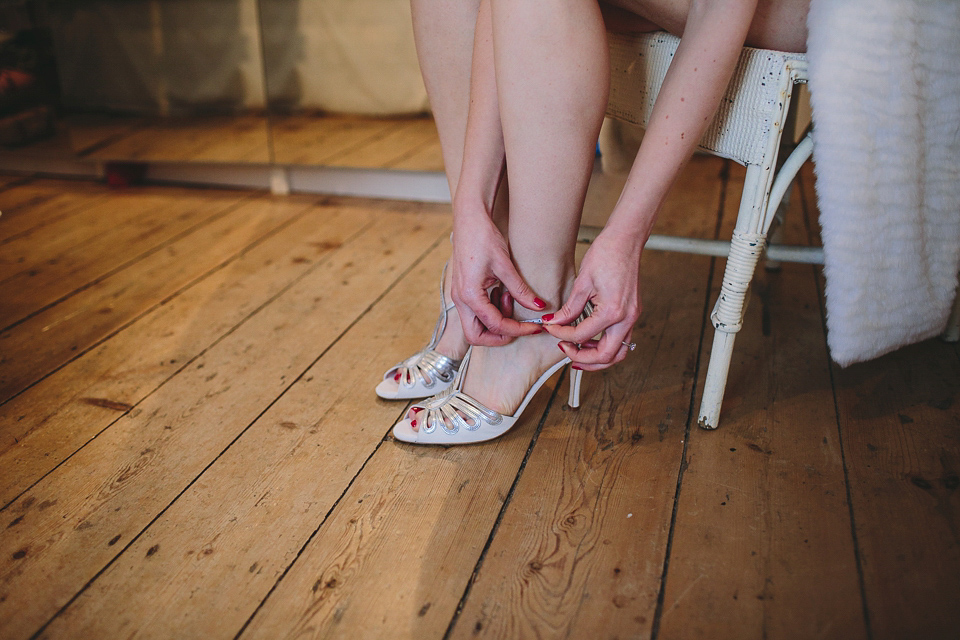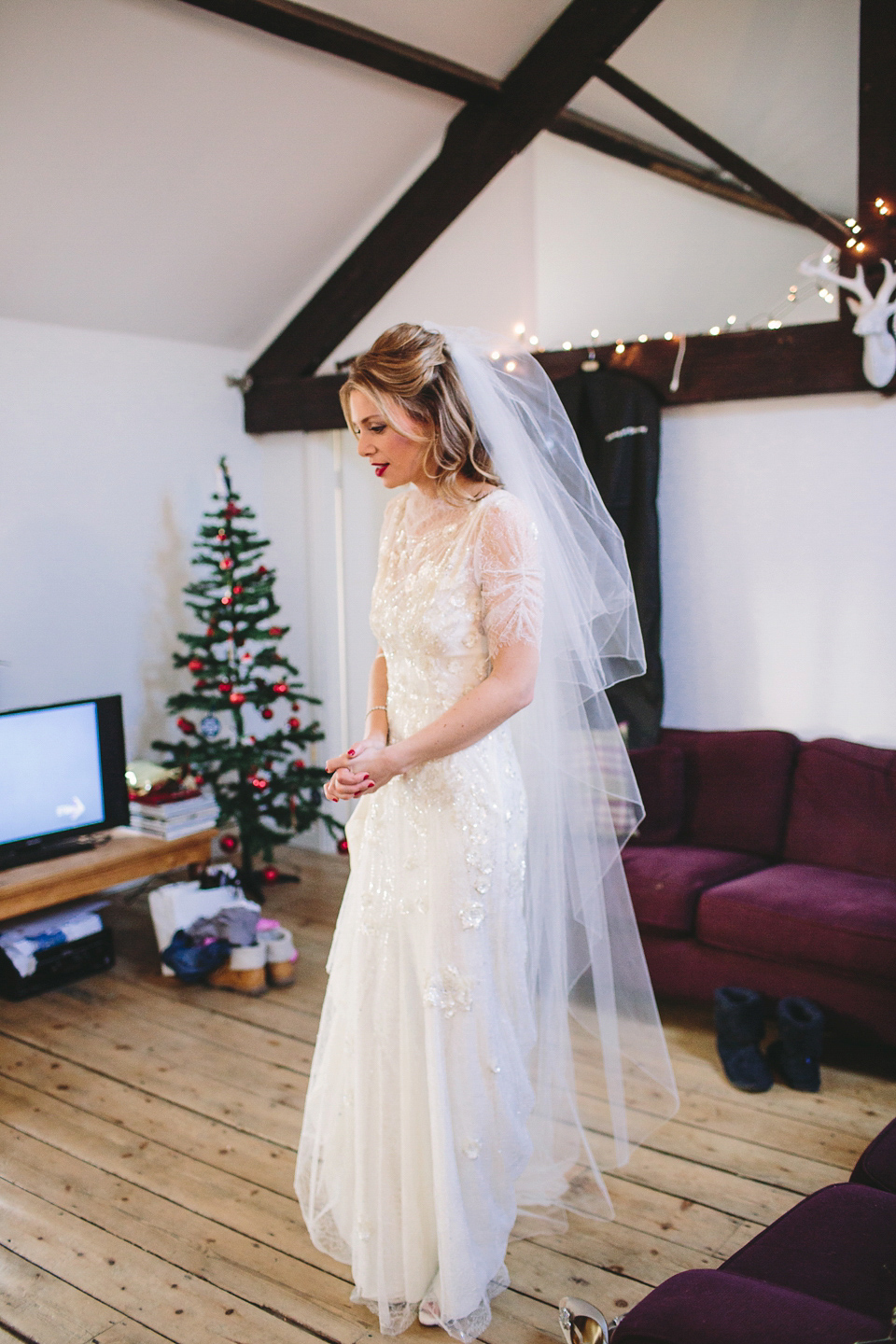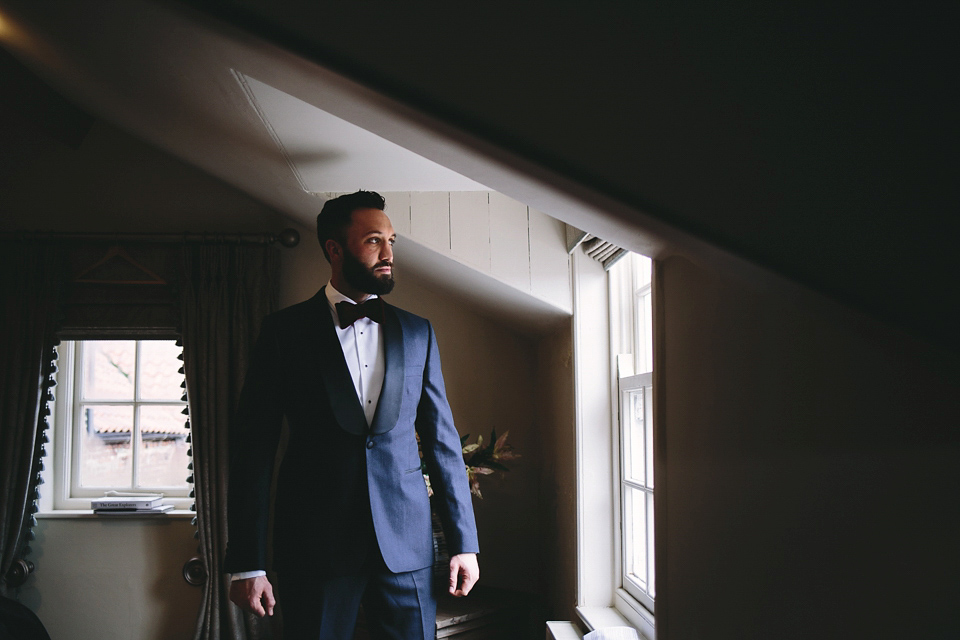 "We set a black tie dress code as we wanted everyone to dress up in their festive finest!  Oliver opted for a twist on the theme and had a midnight-blue tuxedo with black lapels tailor made, which he paired with a burgundy velvet bow tie.  His ushers wore classic black tie with burgundy bow ties and socks to stand out from the guests and tie in with Oli."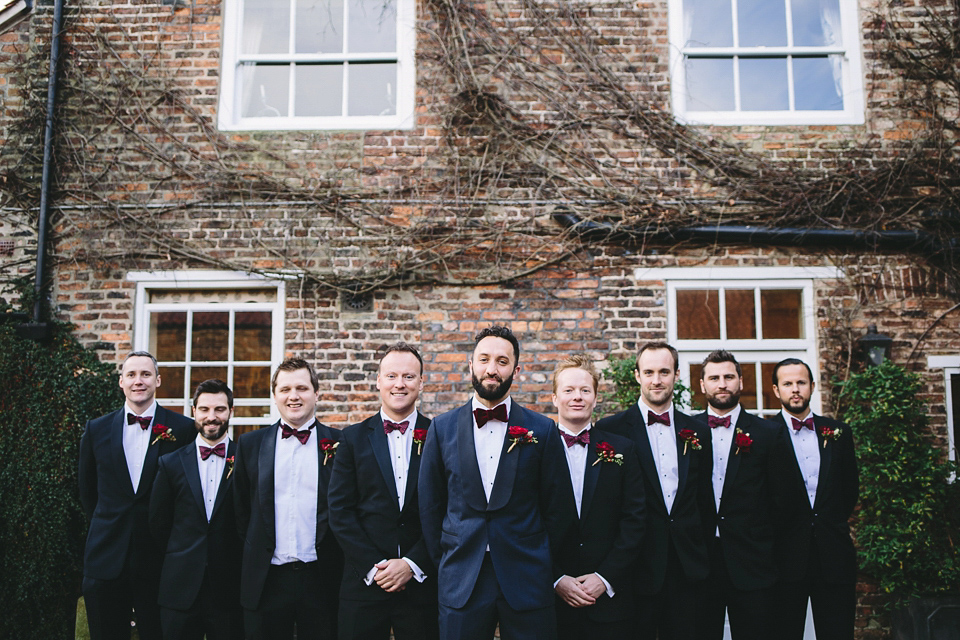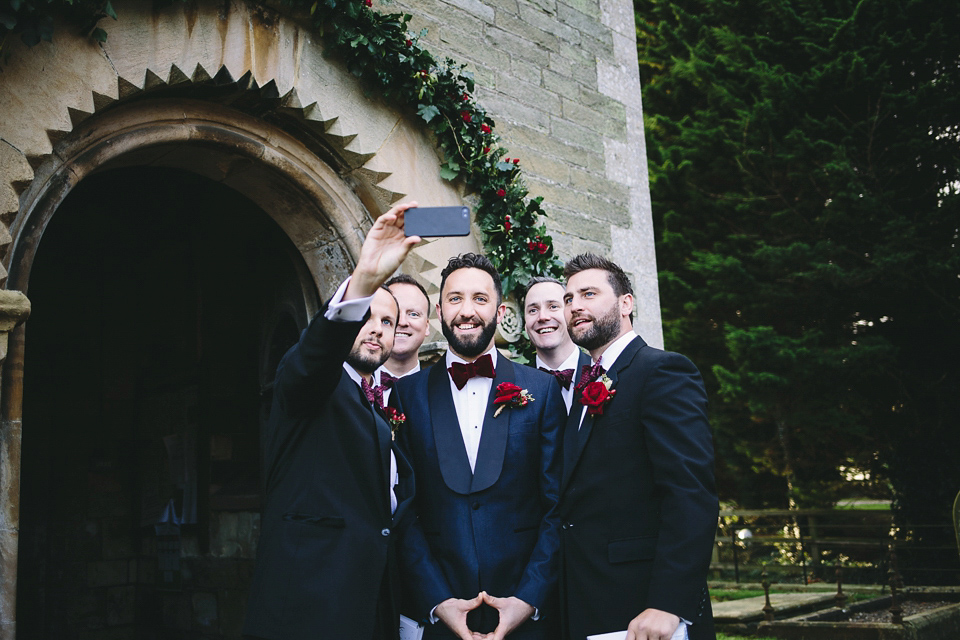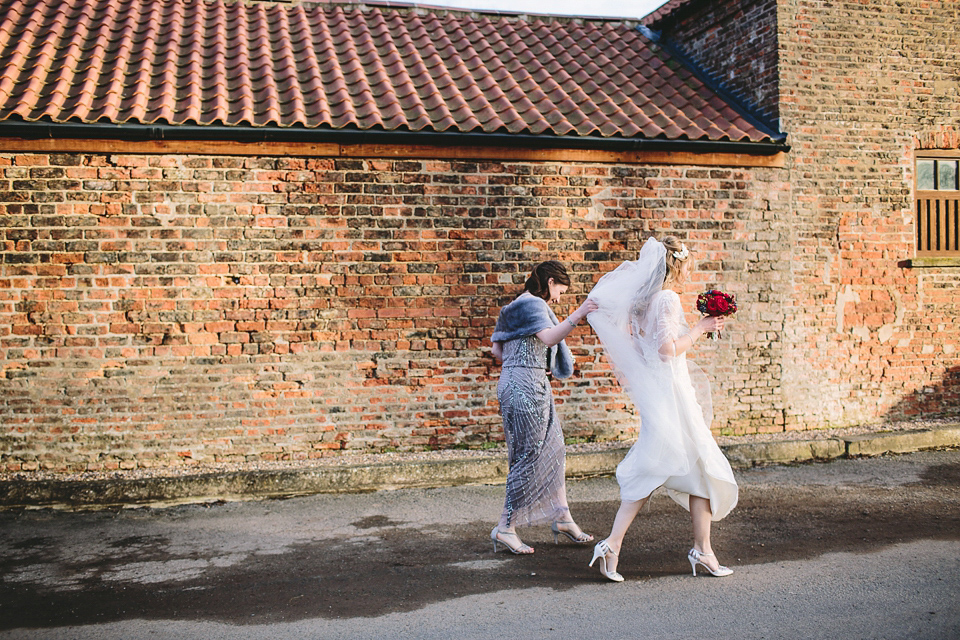 "My bridesmaids wore floor-length steel-grey dresses covered in silver sequins from Coast.  They had a 1920s feel and we teamed them with fake fur grey wraps.  I also had a 'bridesman', Alan, who looked very dapper dressed the same as Oli's ushers."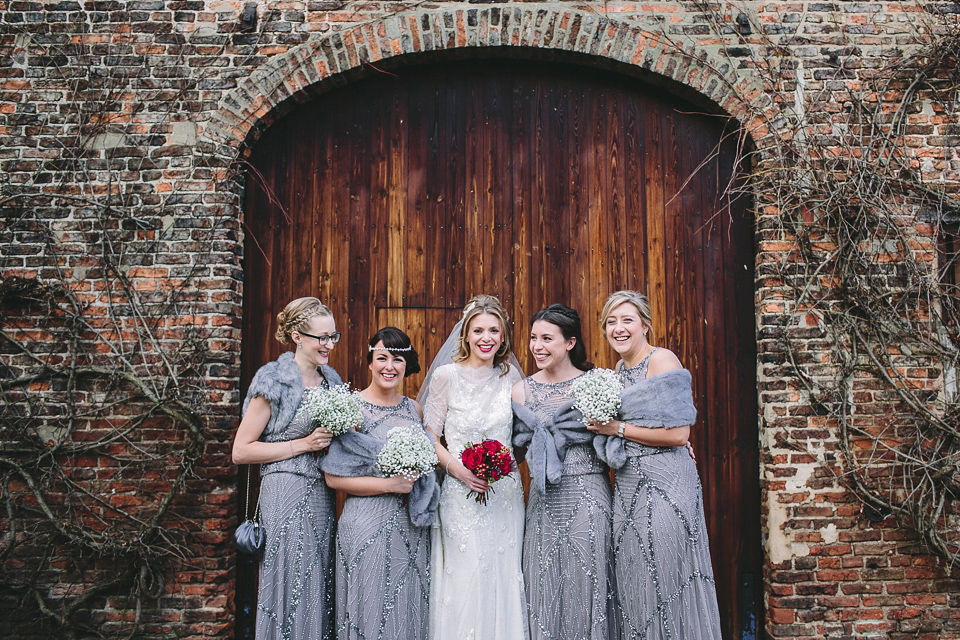 The fabulous seasonal flowers were the work of A Vintage Wedding.  If you're a winter bride don't let anyone tell you that you won't be able to have amazing flowers- this wedding is proof of that!
"Rosie at A Vintage Wedding totally grasped our style and had fantastic ideas so I was happy for her to have free reign on flowers. We chose Red Naomi roses, red hypericum berries, blue vibernum berries and seeded eucalyptus for my bouquet, while the boys' buttonholes were a red Naomi rose, eucalyptus and berries and a touch of corn to tie in with the farm theme.  Pew ends were bunches of mistletoe, tied with burgundy velvet ribbon."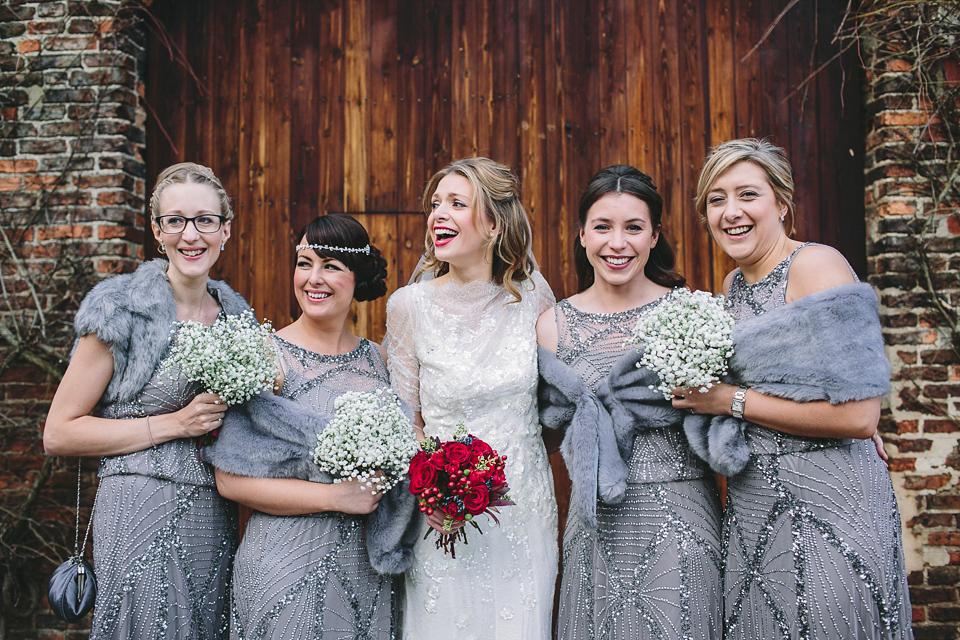 "Over the church door we had the most fabulous green and red garland of holly, ivy, eucalyptus and red Naomi roses – it really framed our just-wed photos."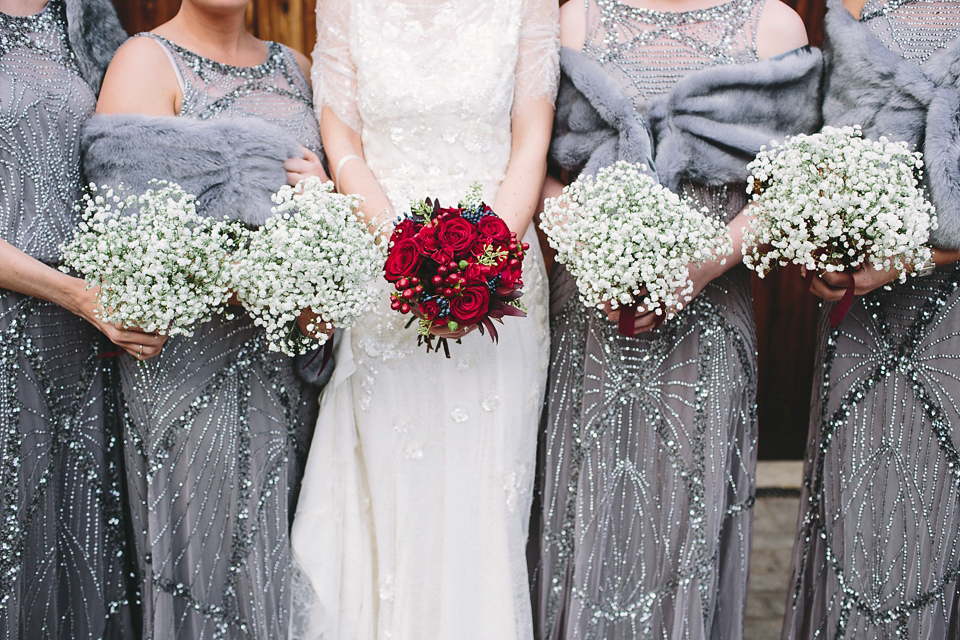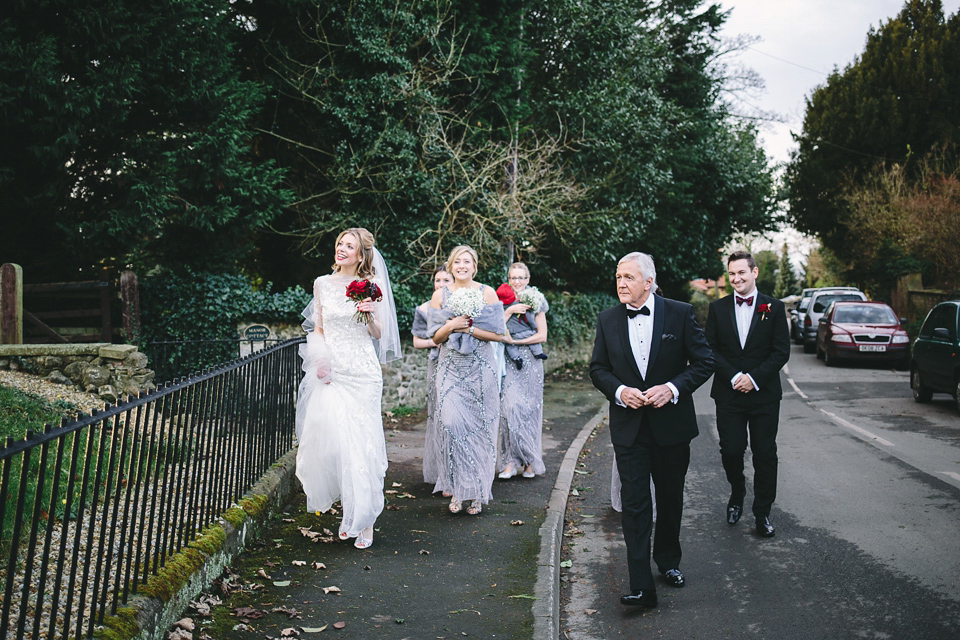 Laura walked down the pretty church aisle on the arm of her father George, to some perfectly seasonal music.
"As it was Christmas we were really excited to have Christmas carols instead of hymns – I walked down the aisle to Deck the Halls, played on the church organ!"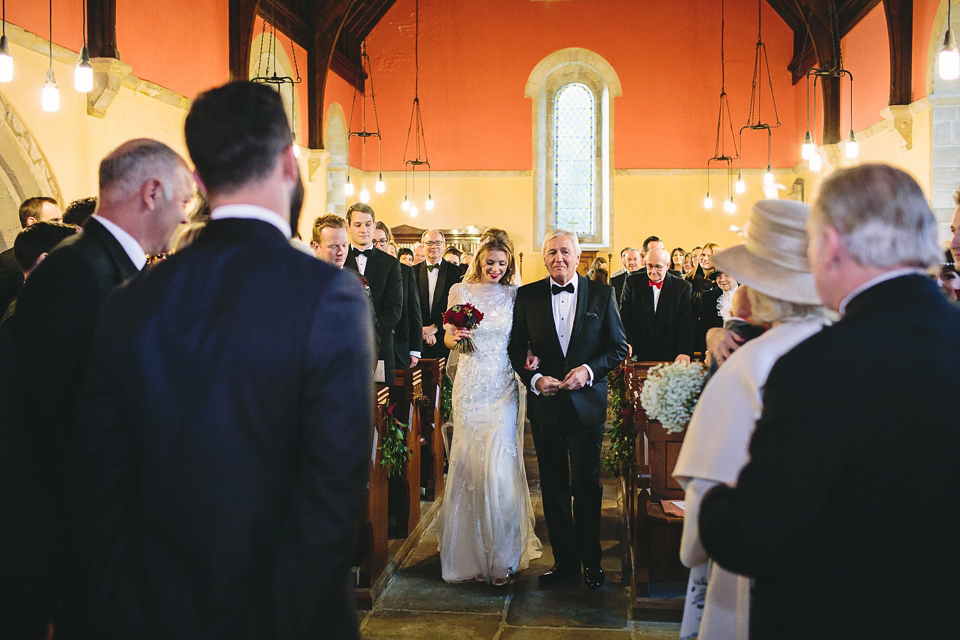 "As readings we chose 'Us Two' by A.A. Milne from Winnie the Pooh, read by my two best friends and bridesmaids, Alan and Rosie – a really sweet reading about Pooh and Piglet not being able to be without one another…"
So wherever I am, there's always Pooh,
There's always Pooh and Me.
'What would I do?' I said to Pooh,
'If it wasn't for you' and Pooh said: "True,
It isn't much fun for One, but Two,
Can stick together, says Pooh, says he.
'That's how it is', says Pooh.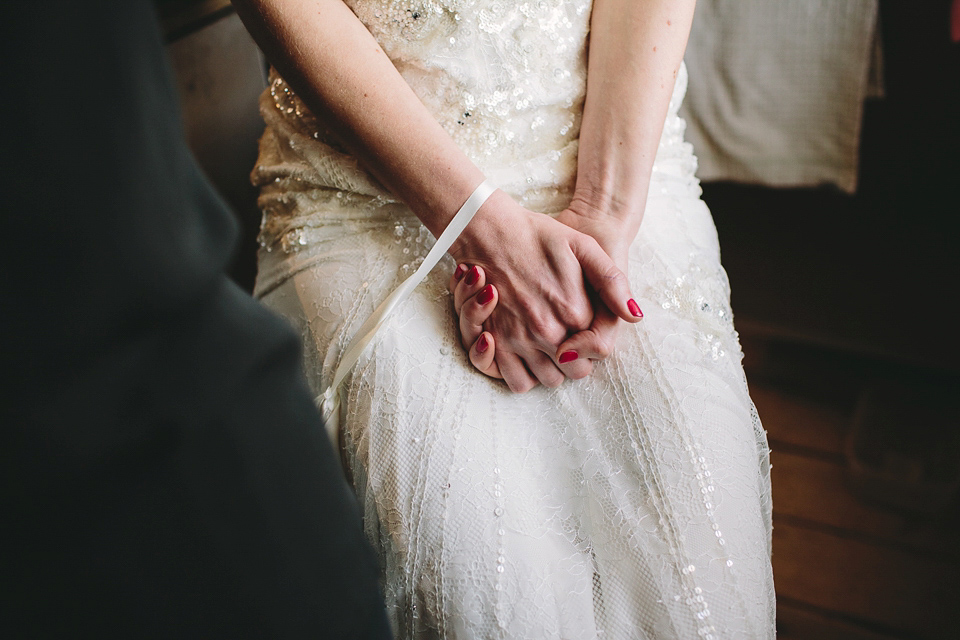 "Our religious reading was Sirach 26: 1-4, 13-16  We struggled to pick a religious reading we enjoyed and this one was a rather tongue-in-cheek option as it spoke about the traditional qualities a wife has to please her husband, such as 'putting flesh on his bones', presumably with her cooking skills – something I seriously lack!"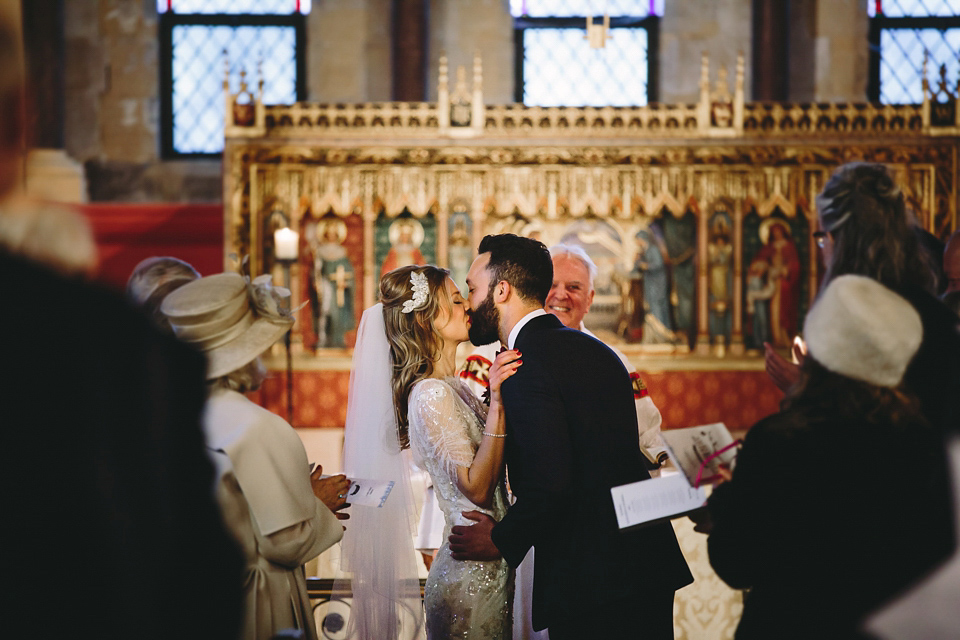 We had a York university choir singing our favourite Christmas carols as guests arrived and during our signing of the register – I'd spotted them busking in York just two weeks before the big day and booked them on the spot!"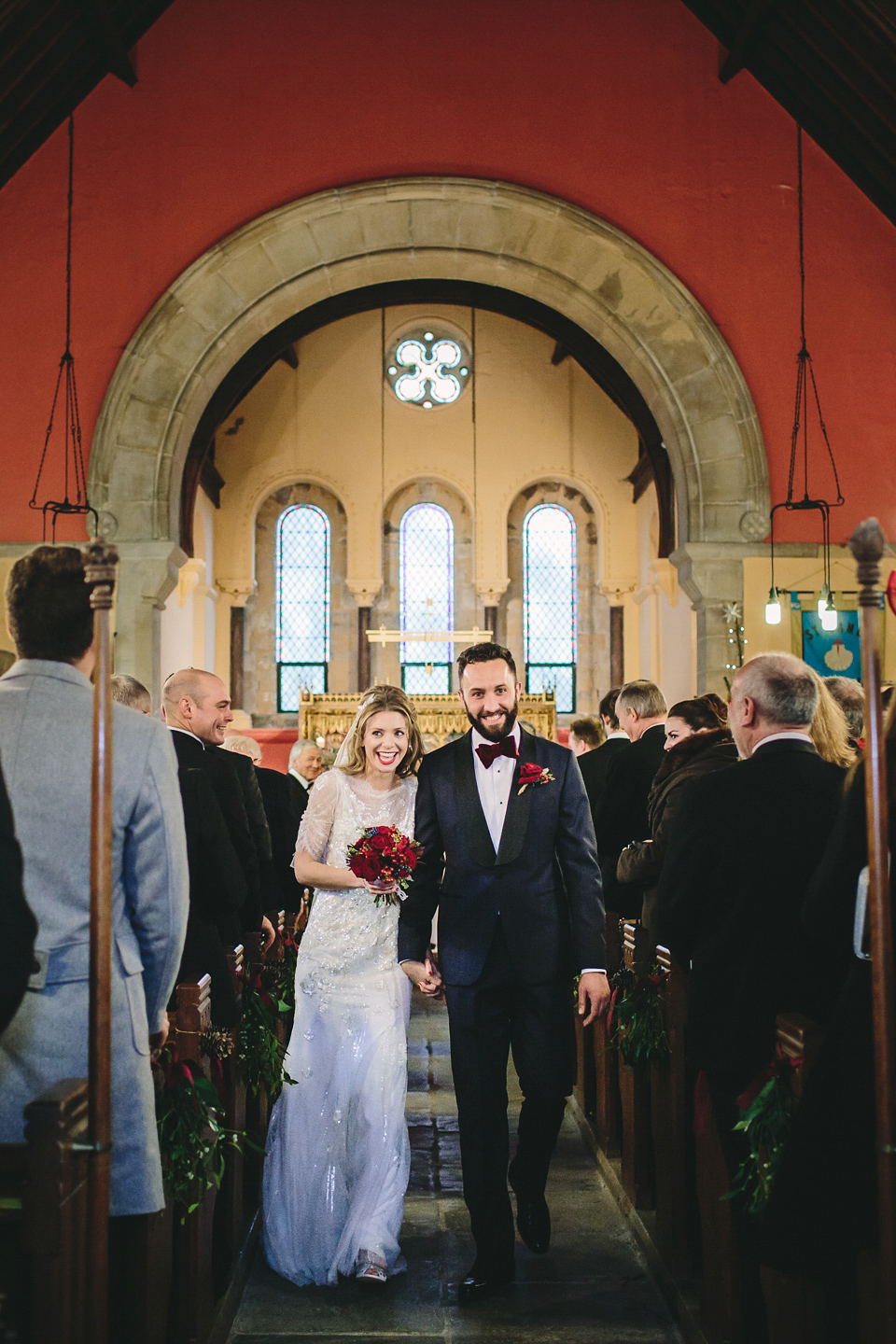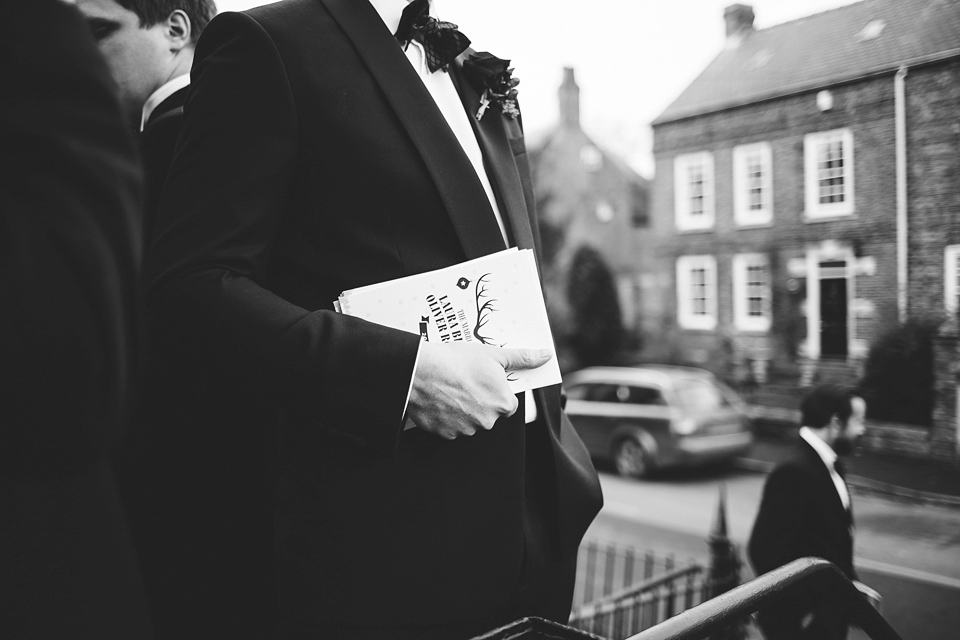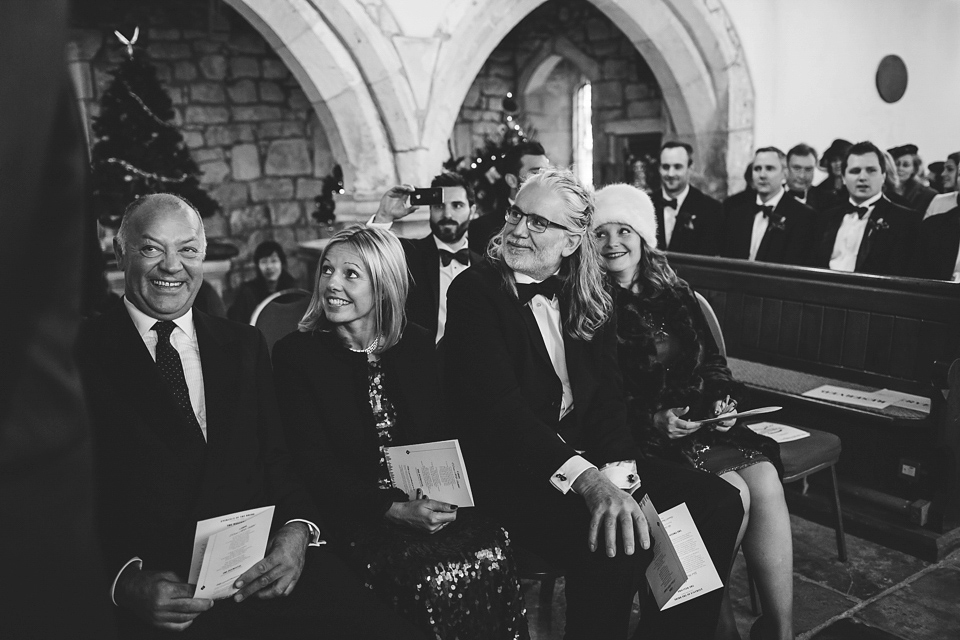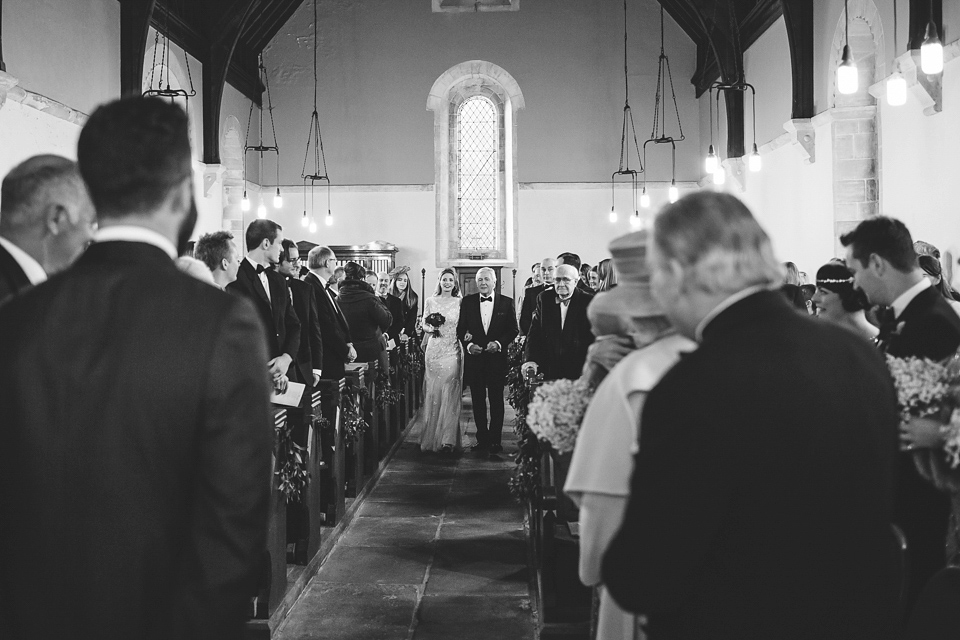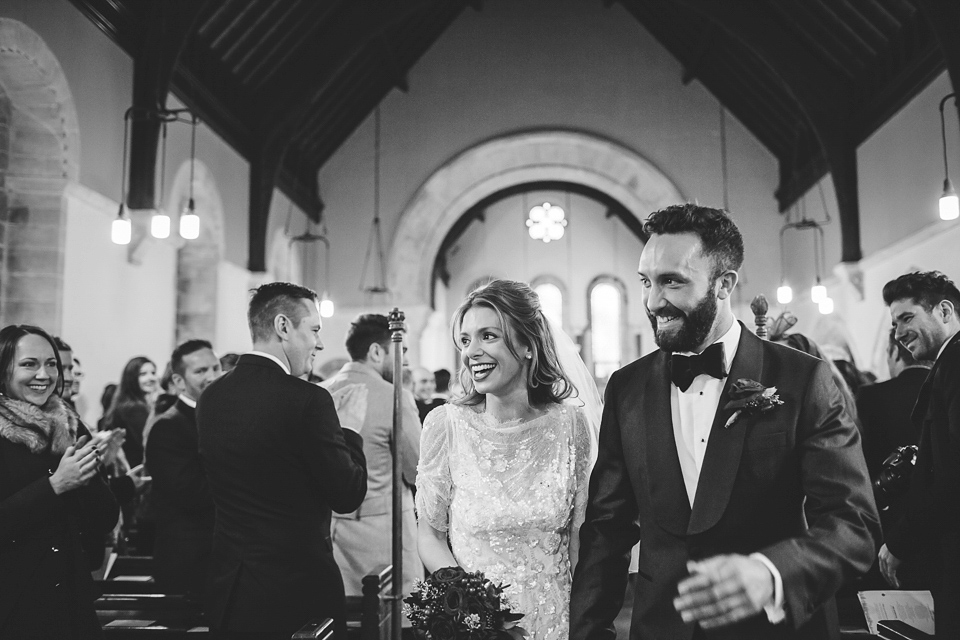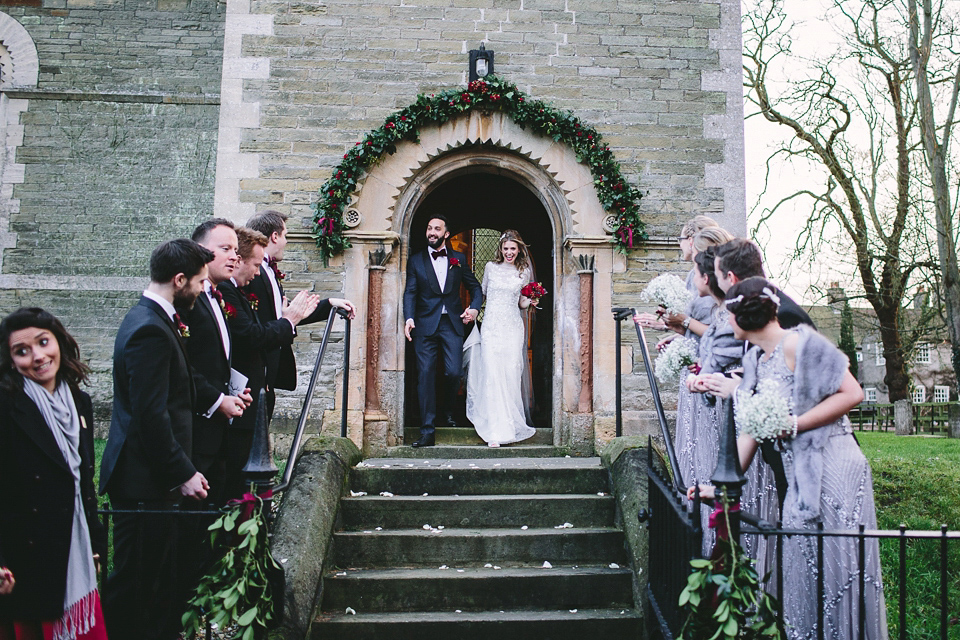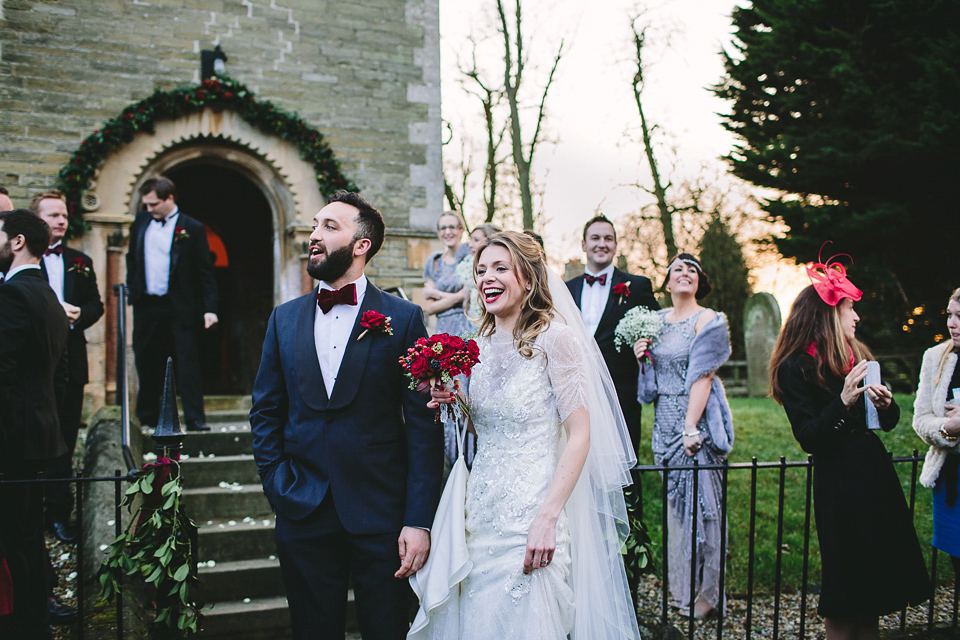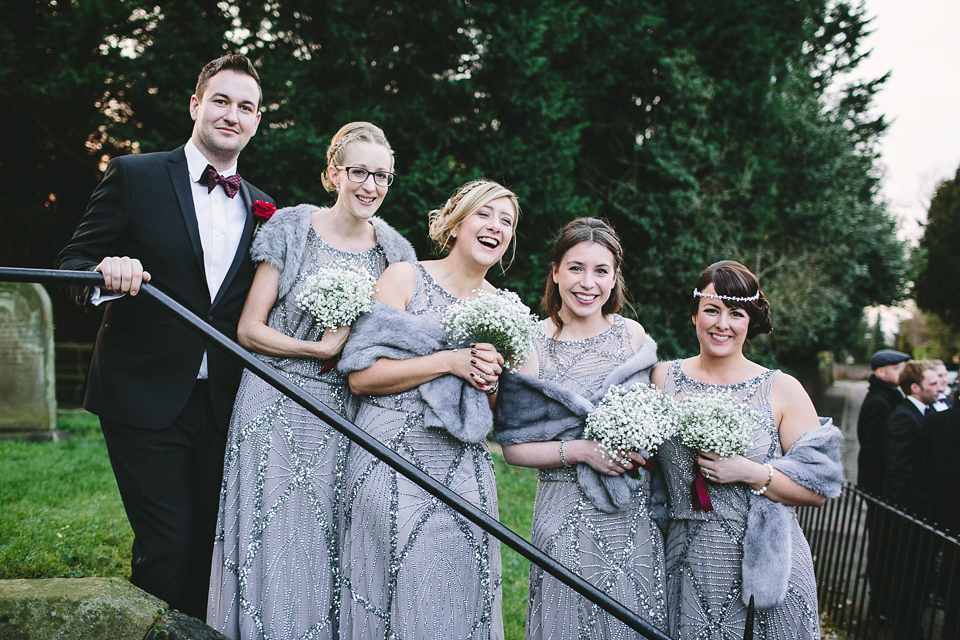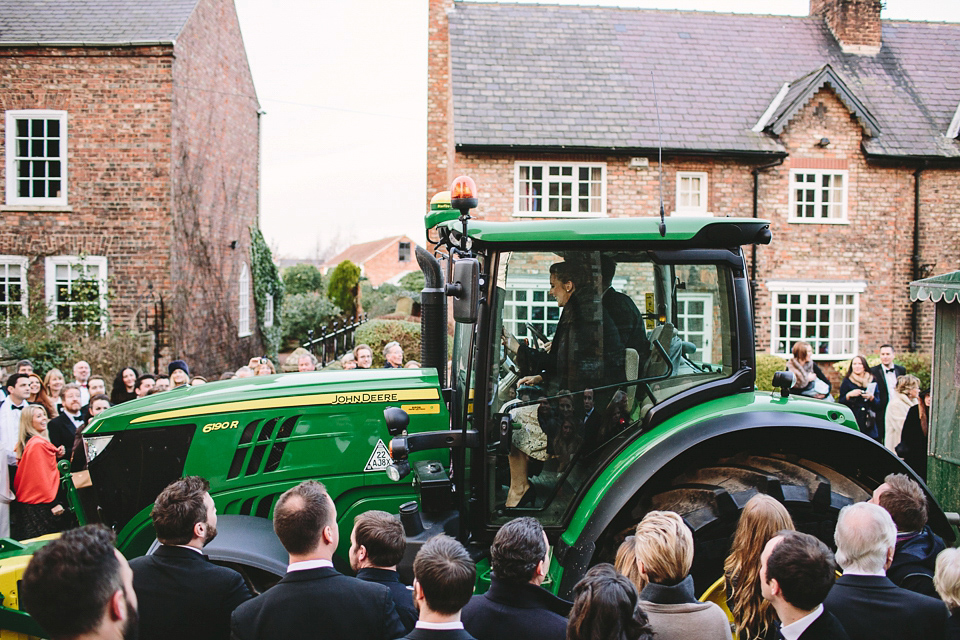 The wonderful Kate Gray Photography was Laura and Oliver's photographer of choice, and what a set of memories she took… Her work creates such a sense of place and the level of detail is incredible.  Plus, it takes some serious skill to take such a large selection of the photographs in the dark and with complicated (but beautiful) lighting such as that chosen by our couple, so the skill in these images really shines through.
"Husband and wife team Kate and Jon are uber-talented and captured our day in the most amazing way! We really didn't want typical posed traditional pics and the pair captured everything in a reportage style – we literally didn't know they were there at times."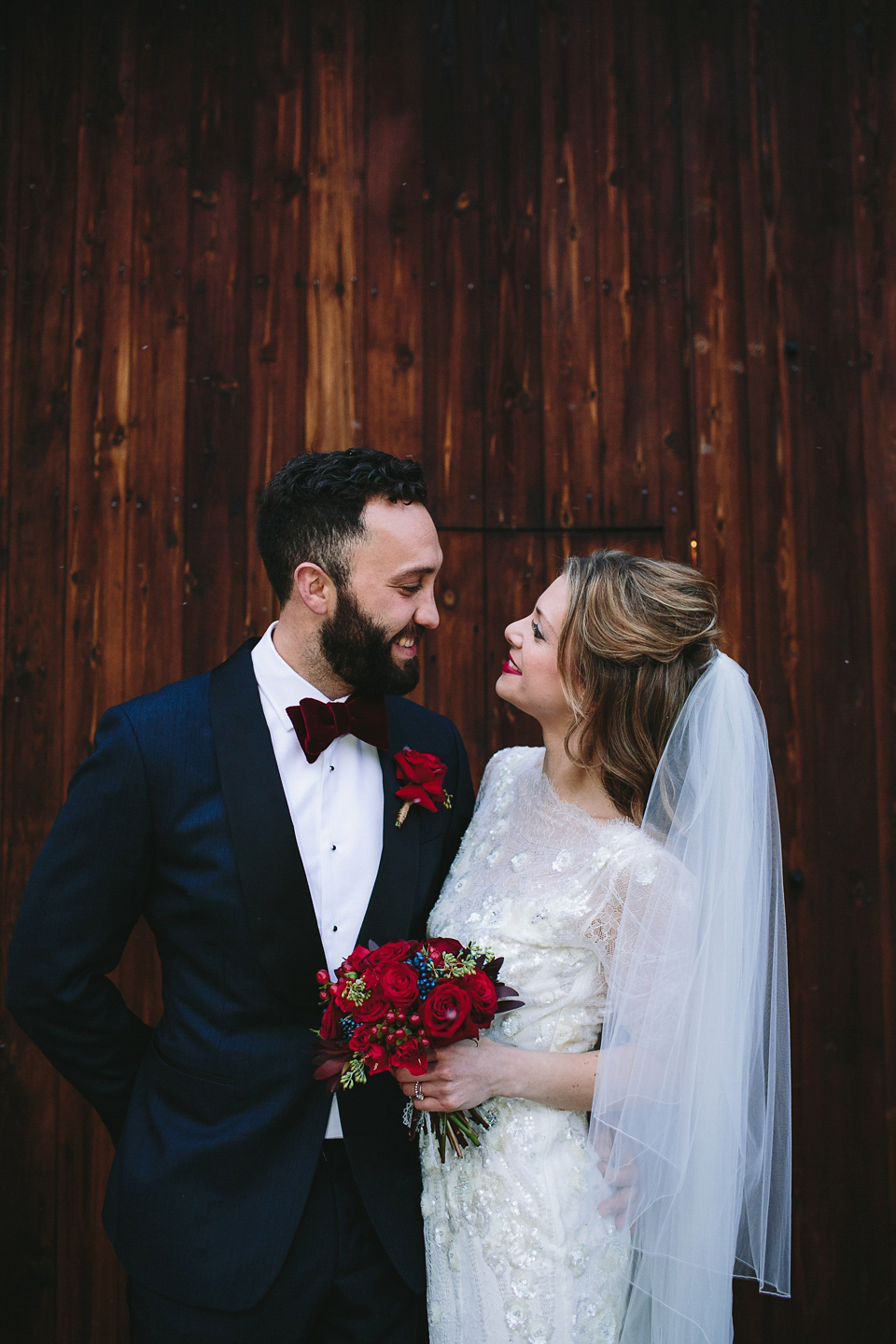 "Looking at the photos afterwards was a real thrill as it allowed us to live the event all over again – and will do for years to come, I couldn't recommend them enough."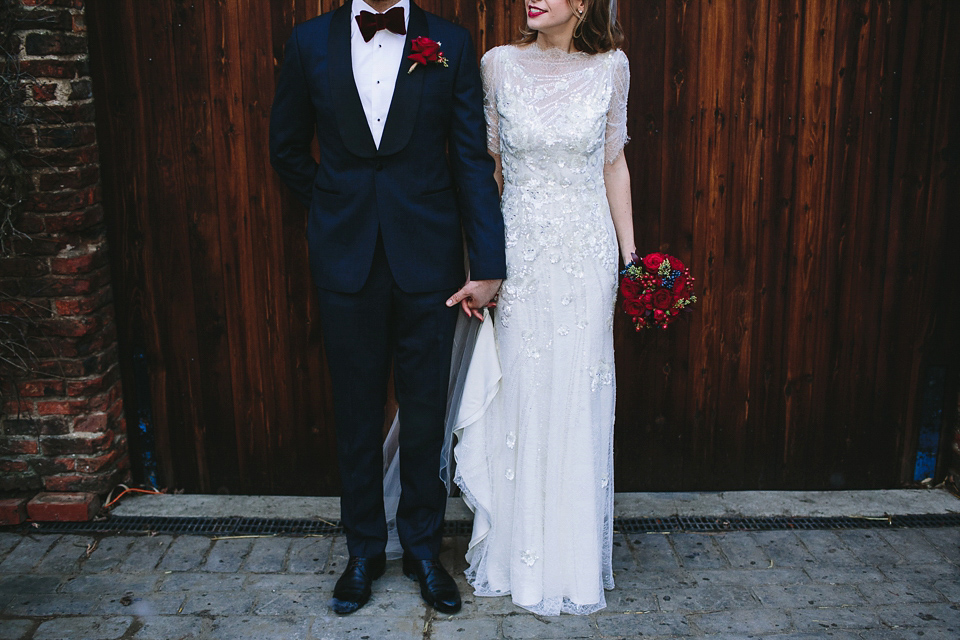 "Our pug Betty also made an appearance for the photos wearing a Baby's Breath wreath around her neck to tie in with the girls' posies."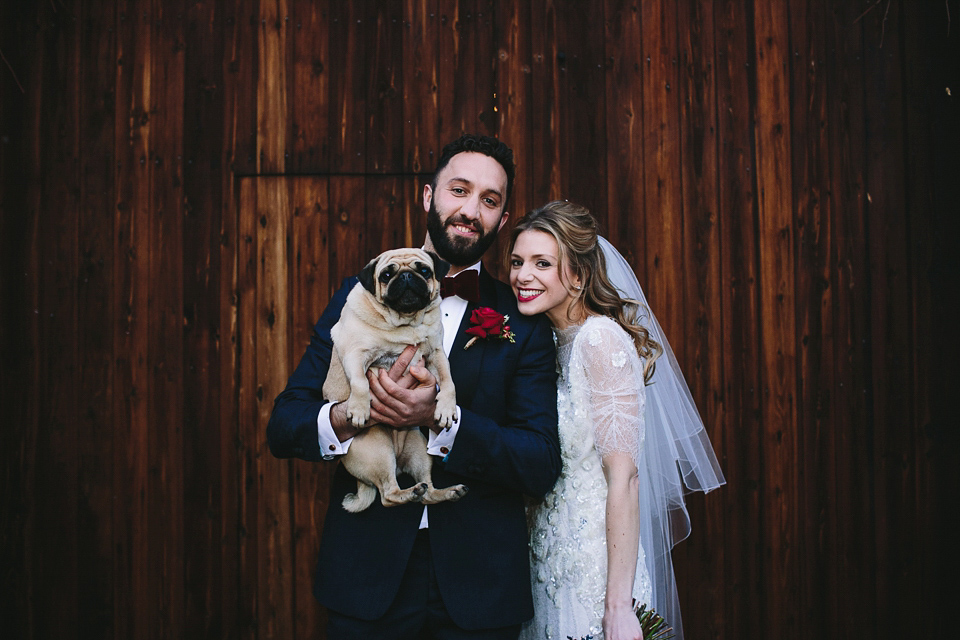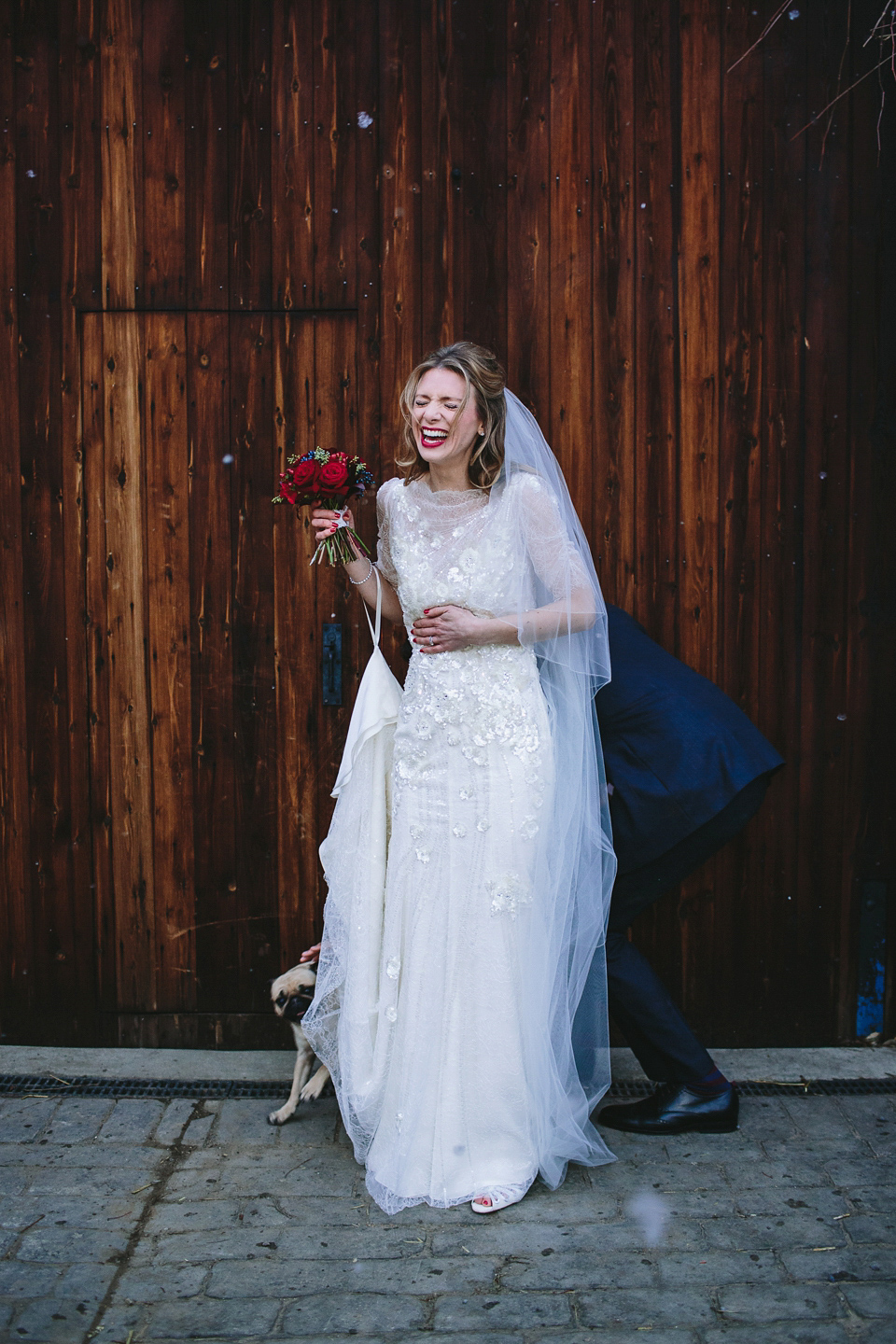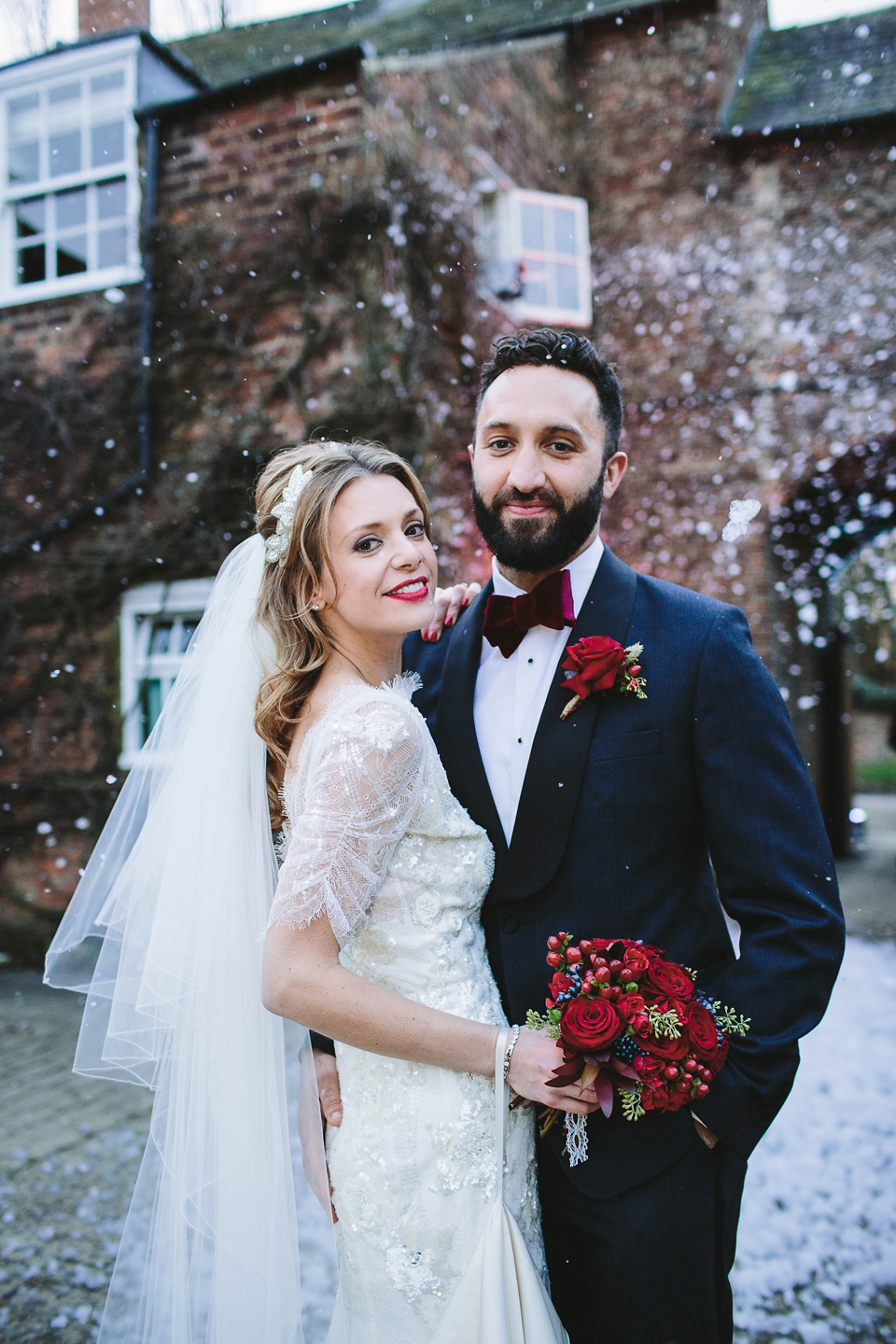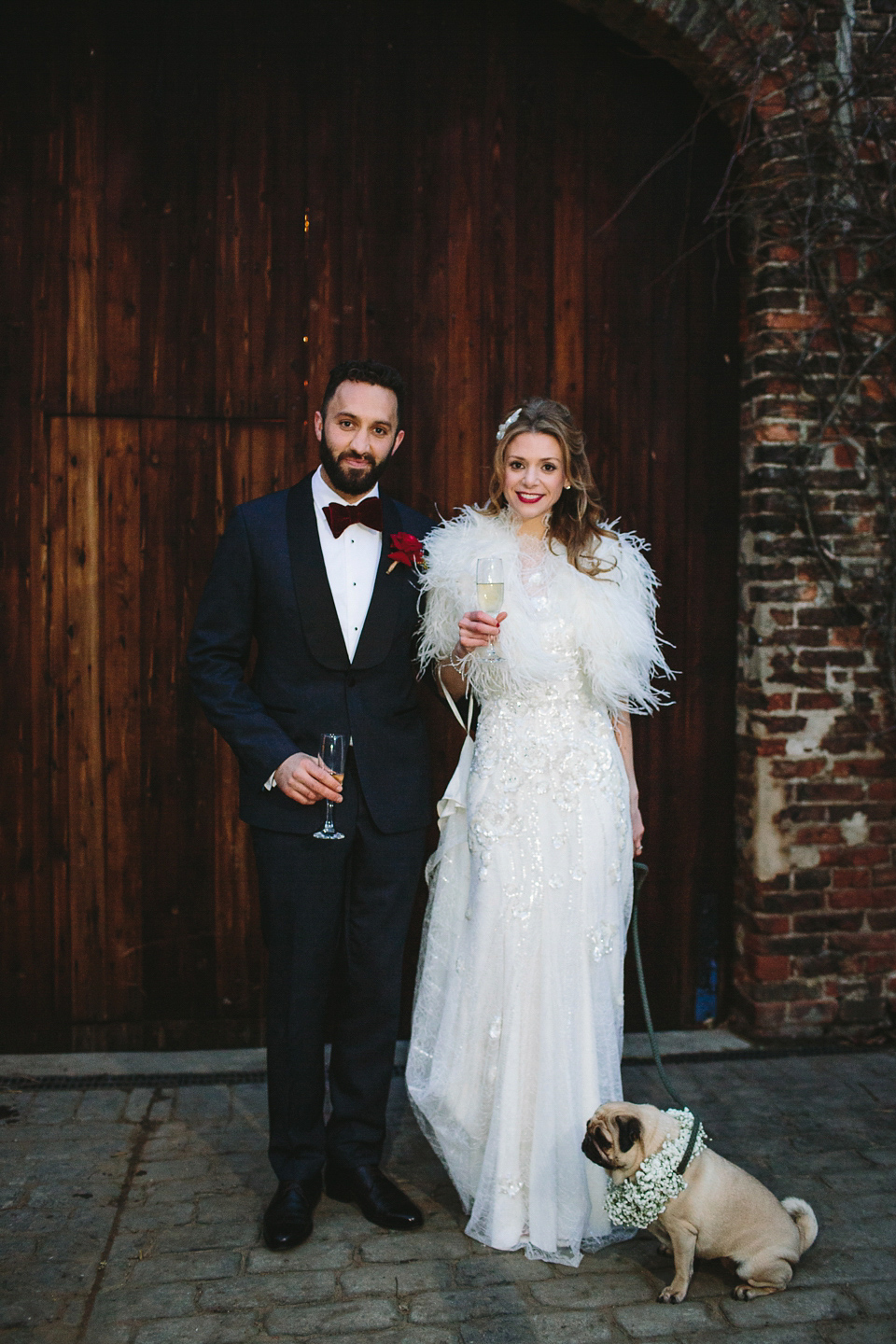 "As it was December and dark by 4pm, we made a decorative theme out of lighting, including endless fairylights, rustic globes, hanging lanterns, candles and hundreds of glass baubles containing tea-lights. It created a magical warmth on a winter's day and a real wow-factor for our guests: one commented it was like walking into Narnia!"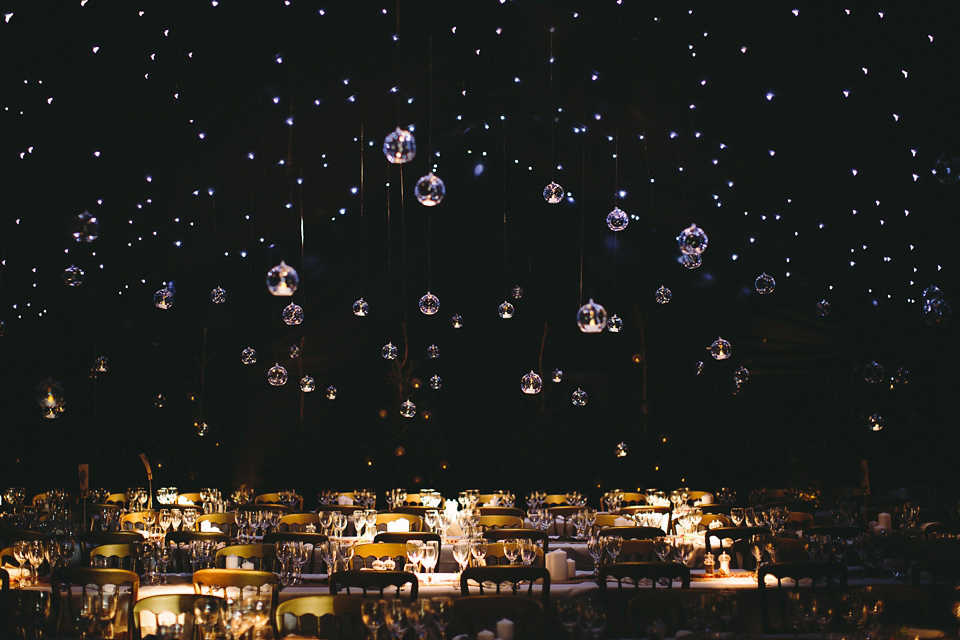 "For the festive factor, we used stacks of Christmas trees, fir cones and berries rather than the usual wedding flowers. Real pine trees lined the entire perimeter of our marquee so it was like eating in a festive forest."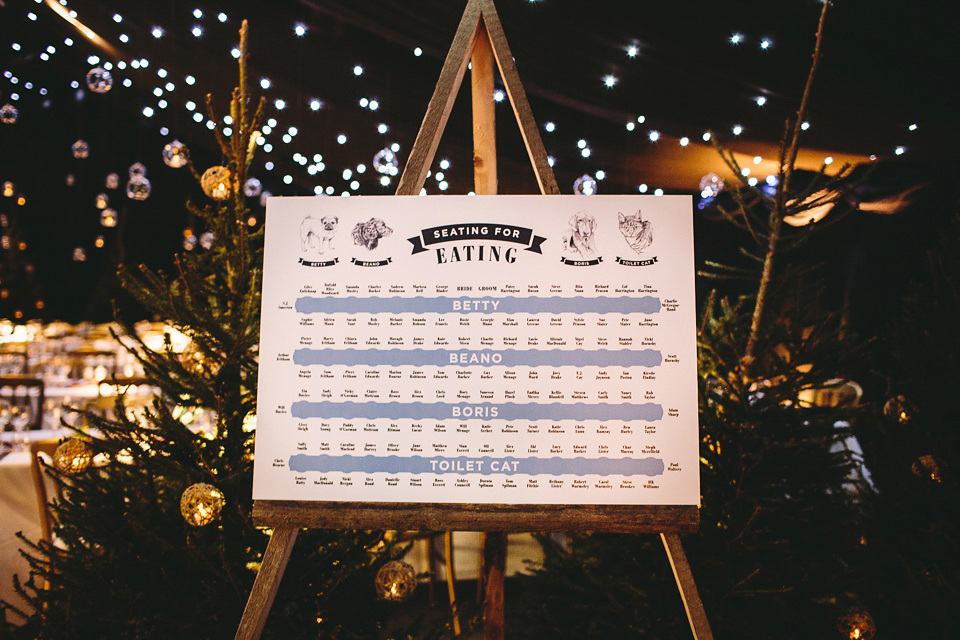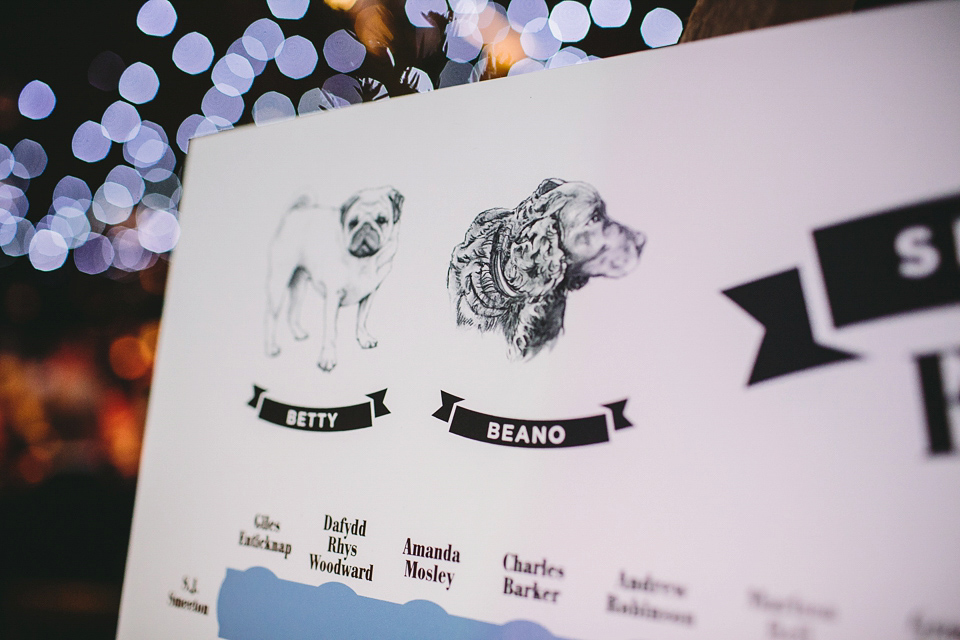 "For an authentic farm feel we turned a block of Cow Stalls into a seating area for guests with its straw mangers adorned in hanging jars, lanterns and tea-lights. We also had cool features like overturned tractor wheels used as tables for guests to perch on."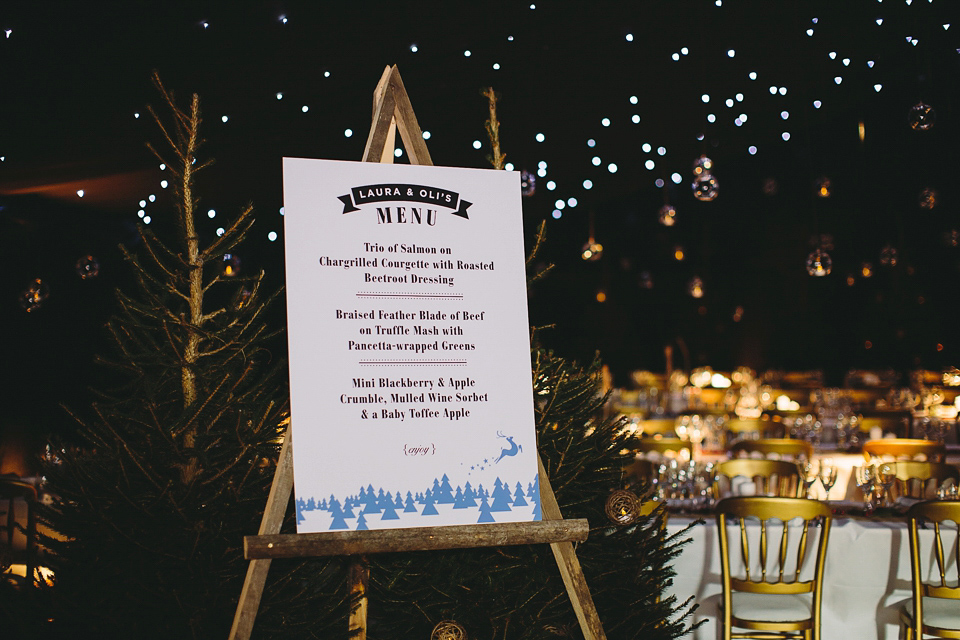 "In our Disco Barn, huge globes were made from chicken wire, wrapped in fairylights and hung from the beams, so it was like dancing under huge rustic Christmas baubles."  
As it was winter we didn't want to arrange any outdoor activities in case the weather was horrible, so instead we arranged for a snow machine to be in full flow when guests arrived back from the church. Everyone loved it and the flurries of fake snow made for great photos!  Extra touches included whiskey and champagne cocktails, roasted chestnuts, a hot chocolate stand, and a 1920s band- the Charleston Charlies."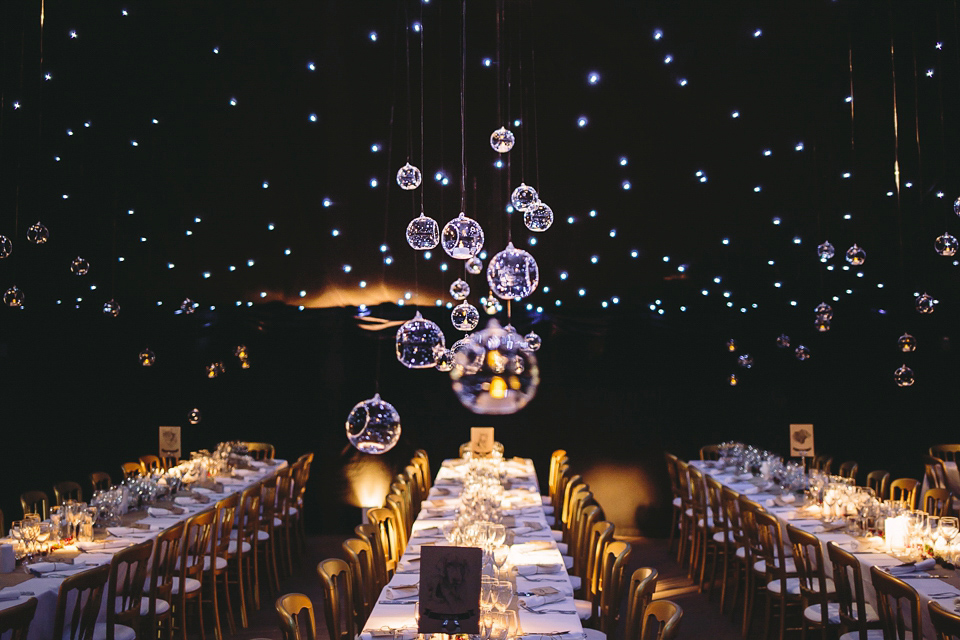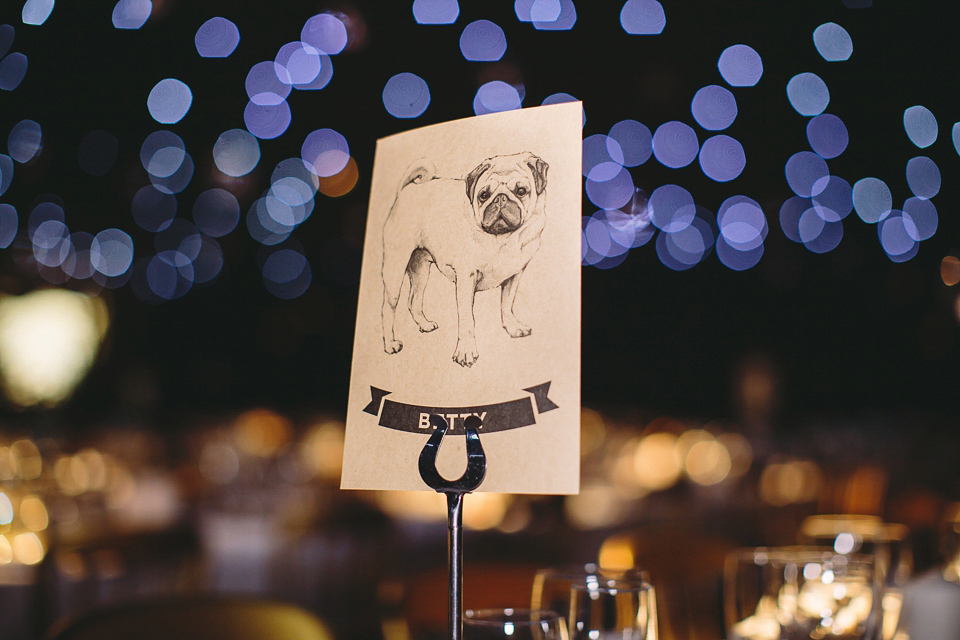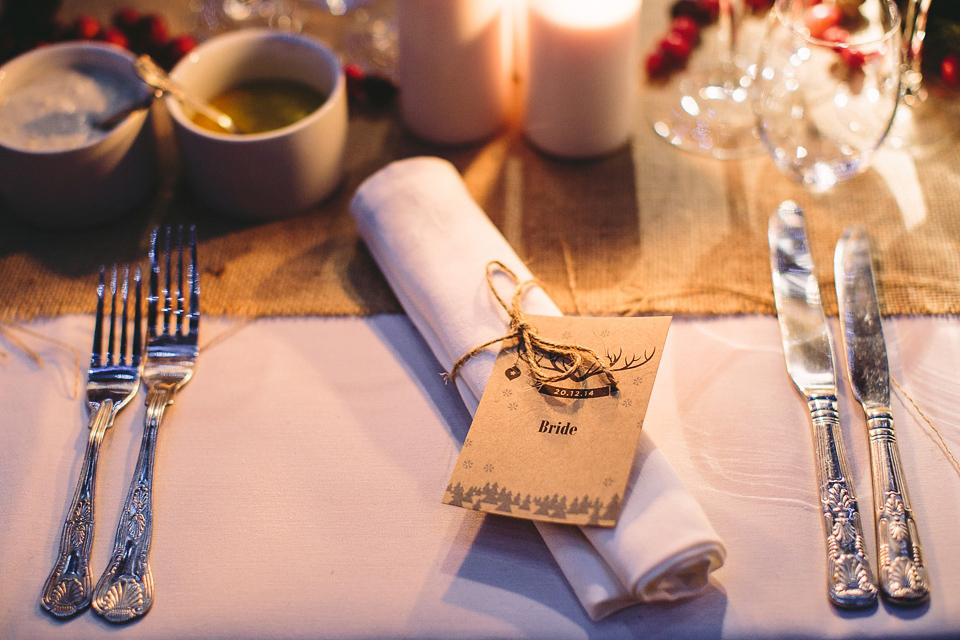 The wonderfully wintery naked cake was the work of Patsy's Pantry.  I just love the dried oranges and cinnamon sticks surrounding it, replacing the usual berries and summer fruits.
"We wanted a cake that fitted with our theme without being a traditional iced wedding cake. We opted for a three-tiered festive naked cake, full of boozy, seasonal flavours: vanilla buttercream with strawberry and champagne jam on one tier; cinnamon buttercream with plum jam on the second and orange buttercream with cranberry and Cointreau jam on the top.  Delicious!"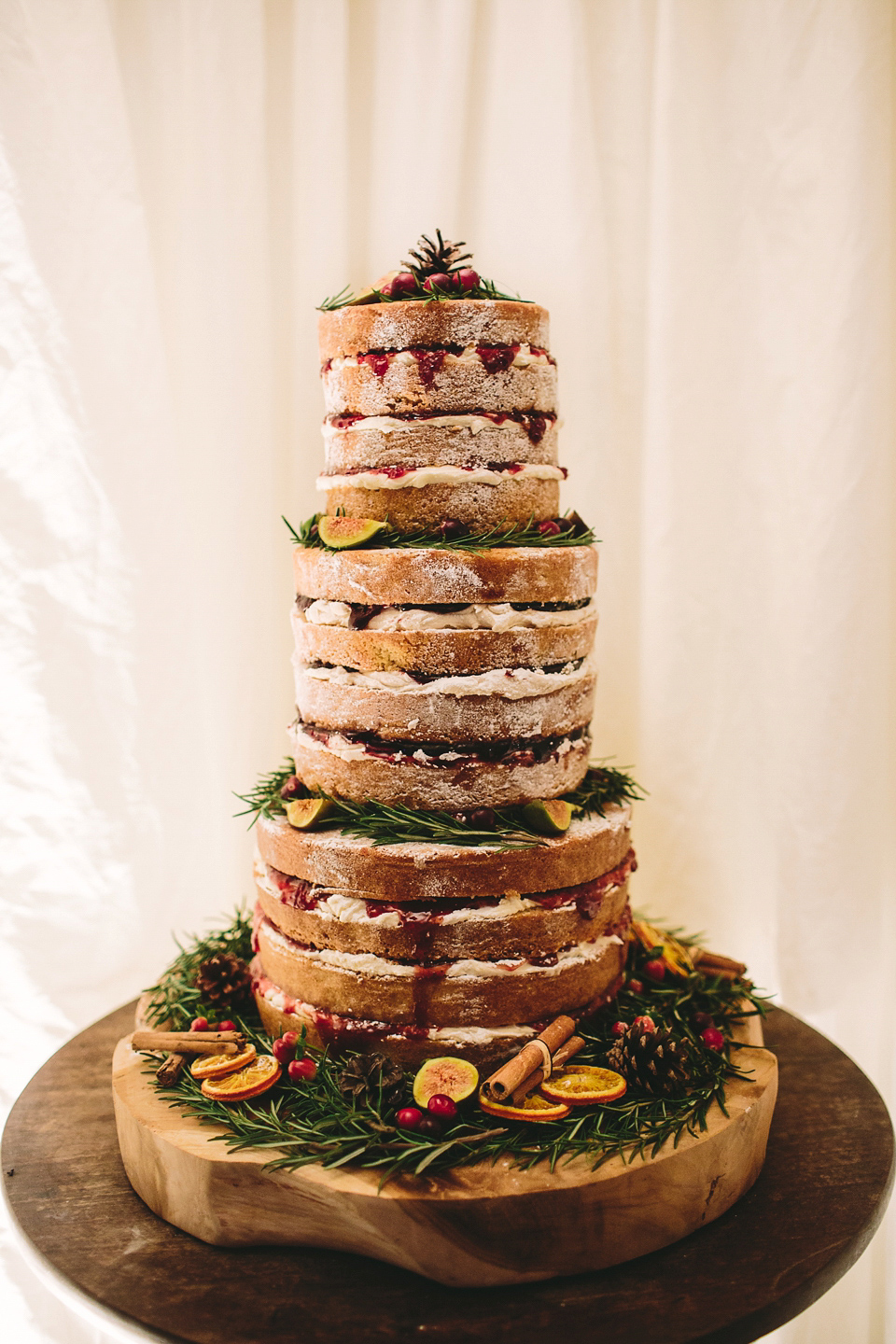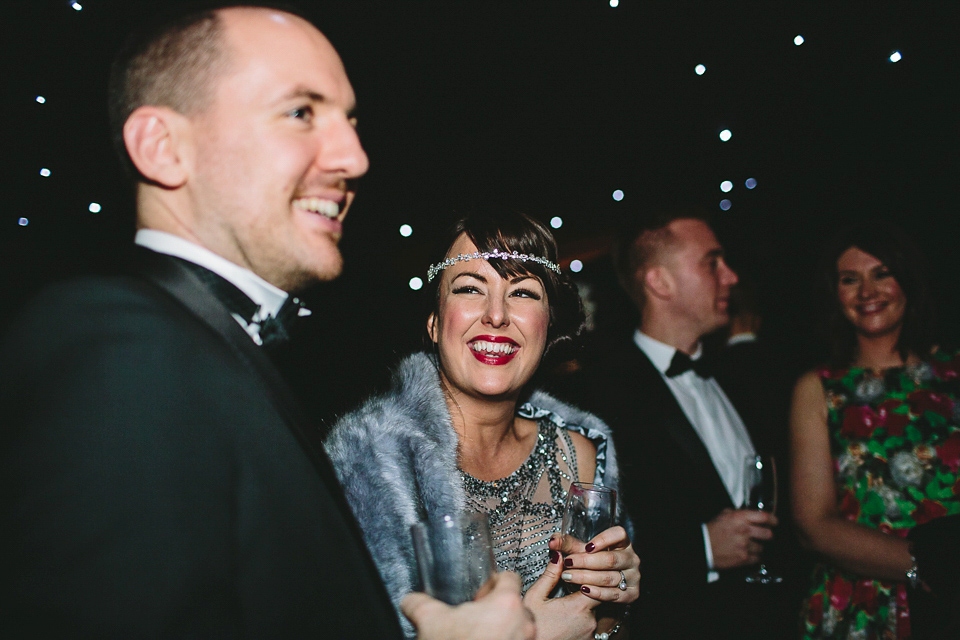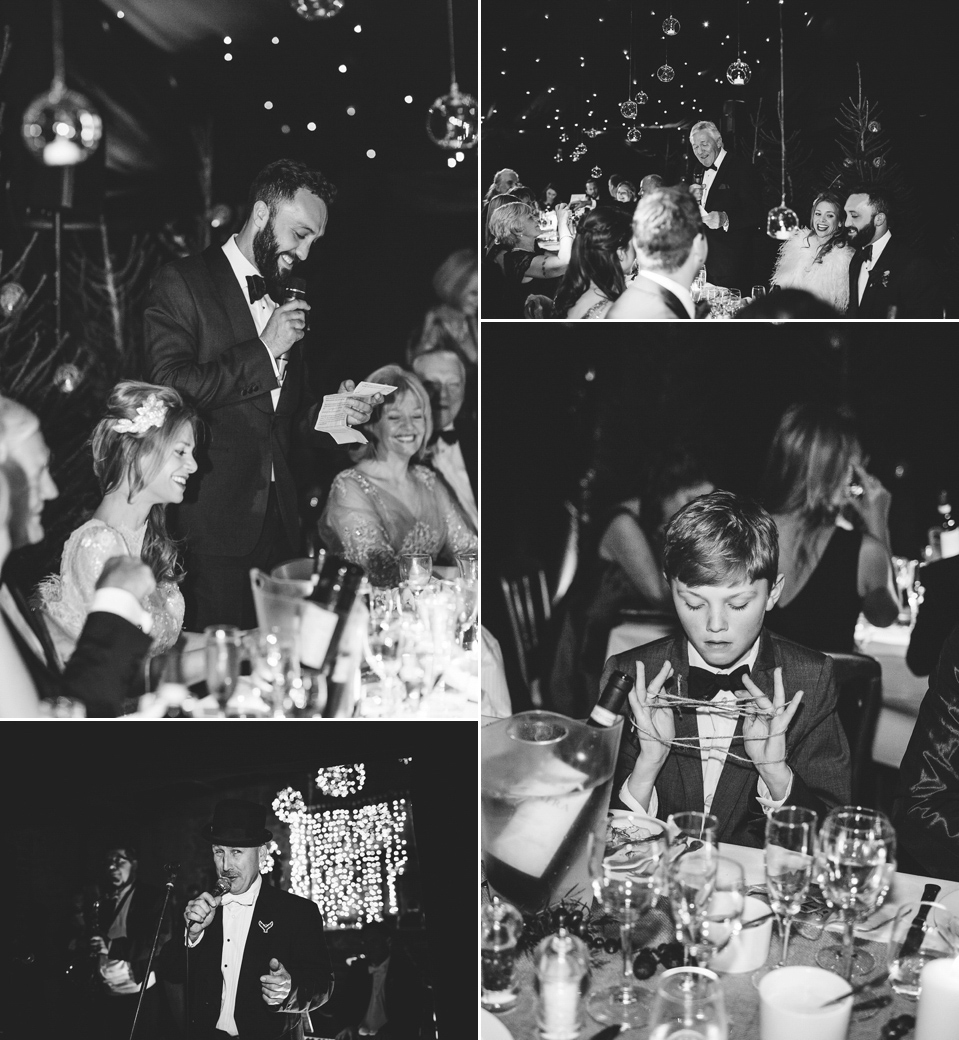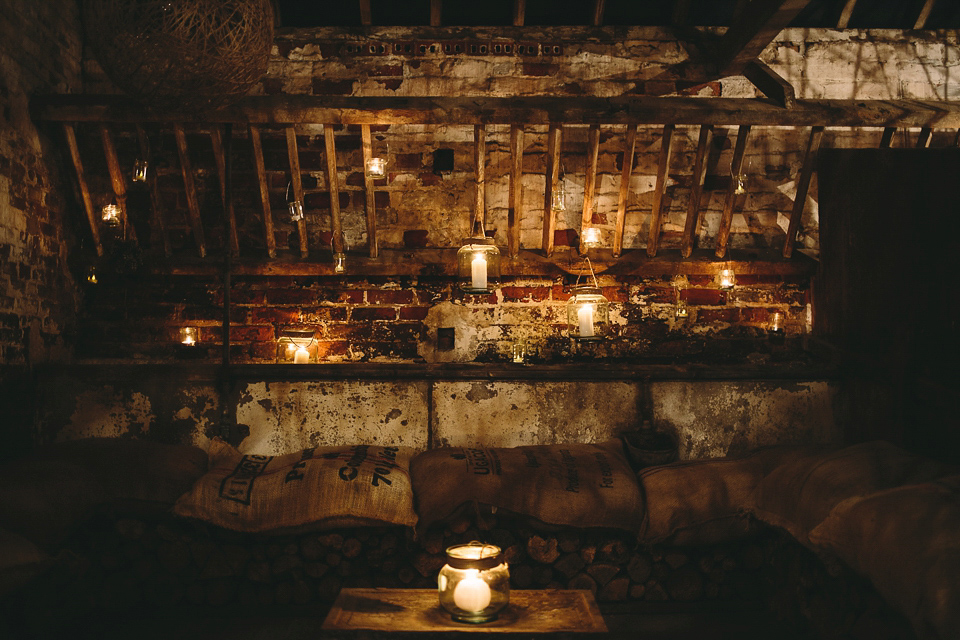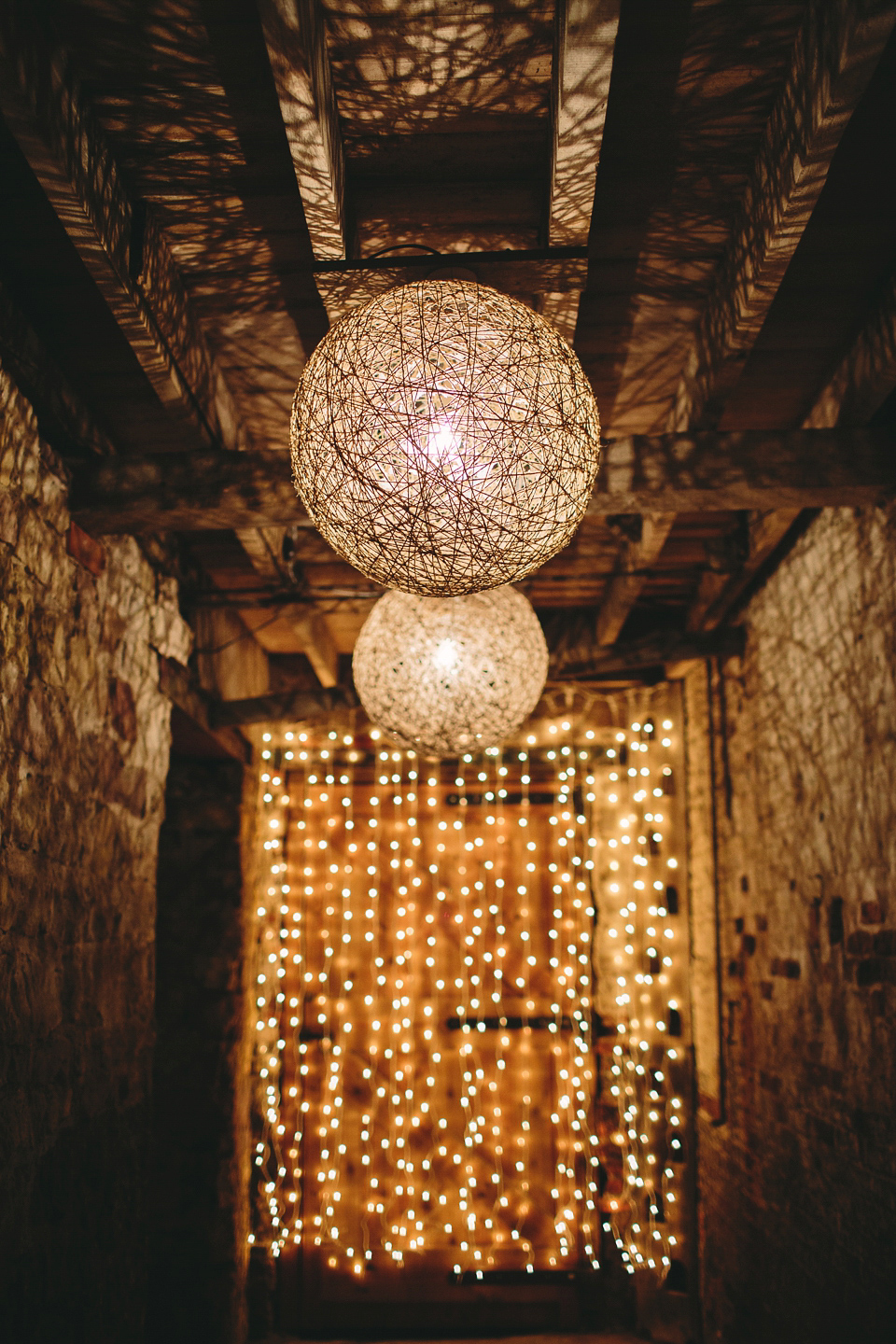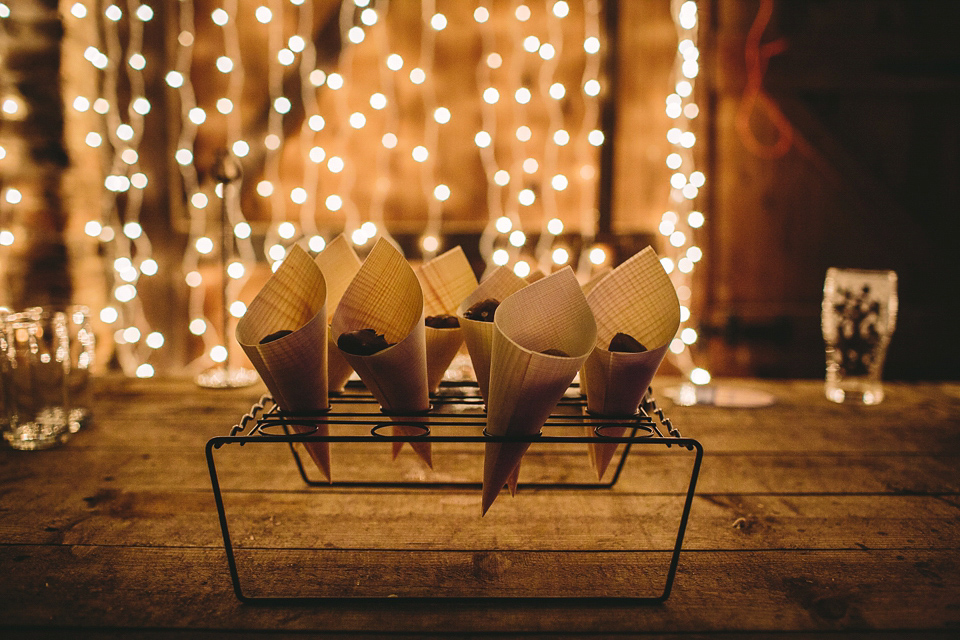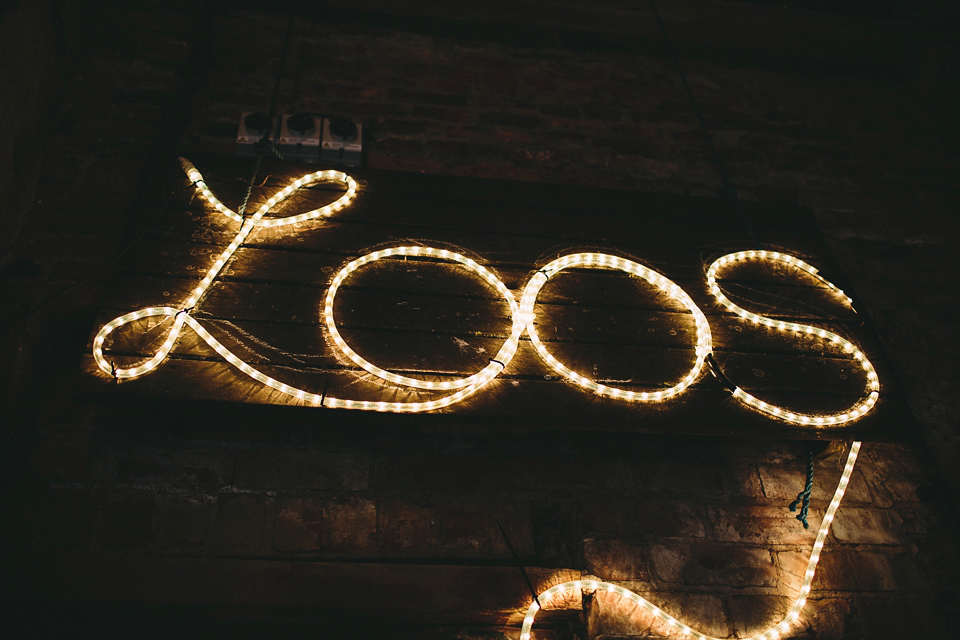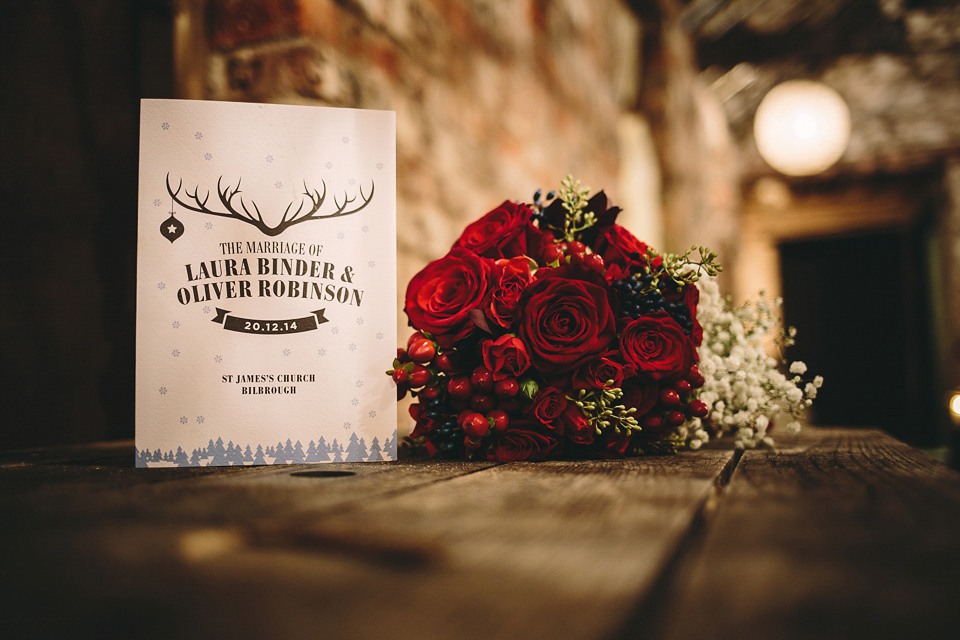 "It's almost impossible to choose a favourite moment – we genuinely loved every second, from the carols at the church to heading back with our guests on the tractor, to arriving at the farm to flurries of snow in the courtyard and drinking sloe gin and whiskey cocktails, to seeing everyone's reaction to our 'Narnia' style reception and, of course, dancing the night away – it was an epic disco!"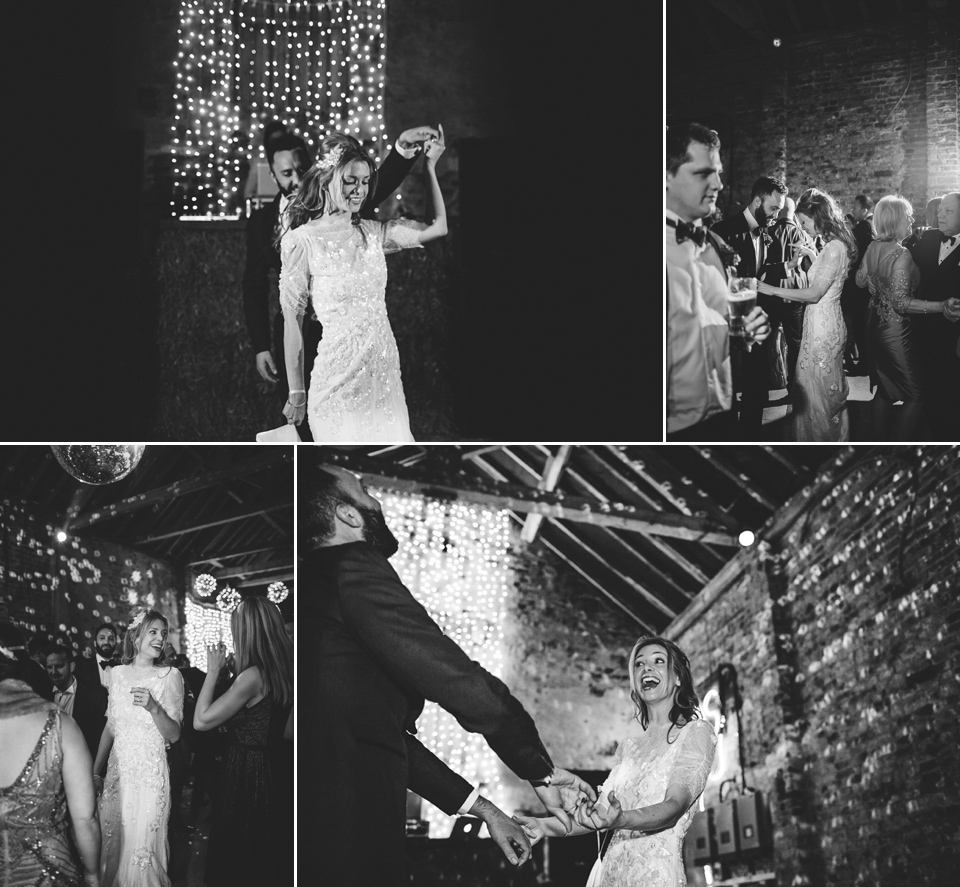 Words of Wedded Wisdom
"Another couple told us to stick together and not get split up at the reception otherwise you don't spend any quality time together. We made an effort to be hand-in-hand and experienced it all together as a result."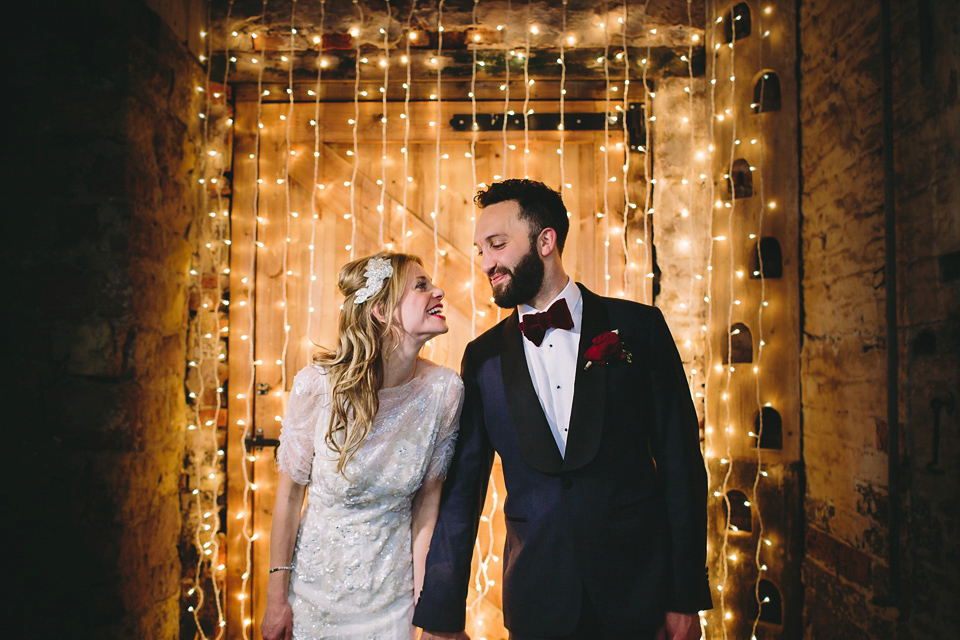 How wonderful – and now, a small afterword; "We jetted off to the States for our honeymoon with Christmas in New York, New Year in Vegas, Boxing Day in Boston then on to LA and Texas.  Some weeks after returning to the UK we realised we'd returned with rather more than we bargained for – I was pregnant!  We had our 'honeymoon baby' on October 8th, 2015 – a baby girl called Ivy."
Fantastic! So many thanks to Oliver and Laura for sharing their incredible day- I wish you every happiness as a family, and the best of luck with your venue opening this spring!  Many thanks also to Kate Gray Photography for the stunning set of images.
I really am envious of those of you choosing venues for your own weddings at the moment- the quality and variety improves month on month and there are so many wonderful places to chose from- enjoy every moment!
Much love,
Shona x
Photographer – Kate Gray Photography
Film – Kate Gray Photography
Venue – The Normans, Bilbrough, York
Wedding dress – Jenny Packham, 'Mimosa', purchased from The Wedding Shop, Colchester
Veil – The Wedding Shop, Colchester, Essex
Hair accessories – Emmy, London
Shoes – Emmy, London
Perfume – CoCo Chanel Mademoiselle
Bridesmaid dresses – Coast
Groom – Suit, Mullen & Mullen, Bow Tie, Reiss
Florist – A Vintage Wedding
Cake – Patsy's Pantry
Rings – WERK by TCJ Designs
Catering – CWC events
Hair stylist – Zoe, Director of Silhouette Du Barry
Makeup artist – Julia Jeckell
Entertainment – The Charleston Charlies (1920s band) and DJ Jonny Ross