Oh ladies, I can't tell you how happy I am to be back on our favourite blog this morning! As much as returning to reality after the giddy heights of getting married has been challenging to say the least, returning to the comfort of our bridal community feels right. And I have much to report from the other side (more on that later). I'm sure I'm not the only one who is turning to autumnal joys at present; I'm just about to make an Apple Crumble and have purchased this year's stripey jumpers and check shirts to turn my post honeymoon frown upside down. Cue muchos leaf kicking in new ankle boots (and Instagram posts about these leaves and boots).
Today I have the honour of sharing a springtime celebration that has an atmosphere all of its own. Spring often feels like autumn's bouncier twin; transitional, oh so welcome and possessed with its own unique beauty and this has been captured perfectly by Craig and Eva Sanders Photography. The crisp skies over Rowallan Castle, Scotland framed Lisa, a Nurse and Asim, a Surgeon proudly declaring their love for each other on 23rd April 2016. And Lisa looked utterly beautiful in that divine Claire Pettibone gown.
"We knew we wanted to get married in Scotland; its Asim's home and I loved the idea of having a fairytale wedding in a castle. We wanted styling that had a rustic and vintage feel and our venue in many ways reflected that."
"We also chose colours and flowers that complimented this. We incorporated some Scottish themes throughout the day including a Celtic handfasting during the ceremony and naming tables after our favourite whiskeys."Rowallan Castle in Kilmaurs, Scotland is truly spectacular, evocative of fairytale princesses and happily ever after. Lisa and Asim were sold as soon as they visited, and who can blame them – turrets, a moat and a blimin' wedding tree!
"As soon as we viewed this venue we knew straight away it was the one for us! The grounds leading up to the castle were beautiful. The castle and gardens were the perfect size for an intimate wedding and it had traditional and well as quirky features; there is a library with a hidden passageway and a special tree in the garden where Lords and Ladies would exchange vows. Combined with random appearances from deer, it was truly magical!"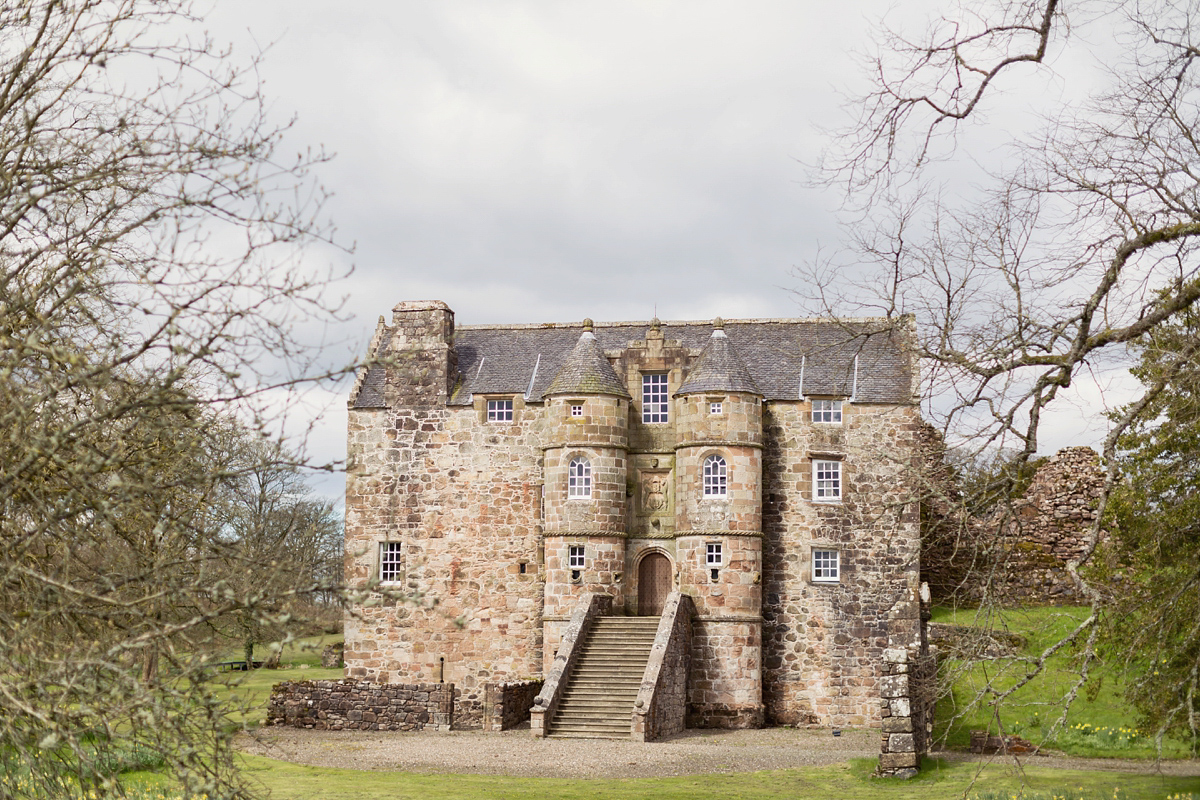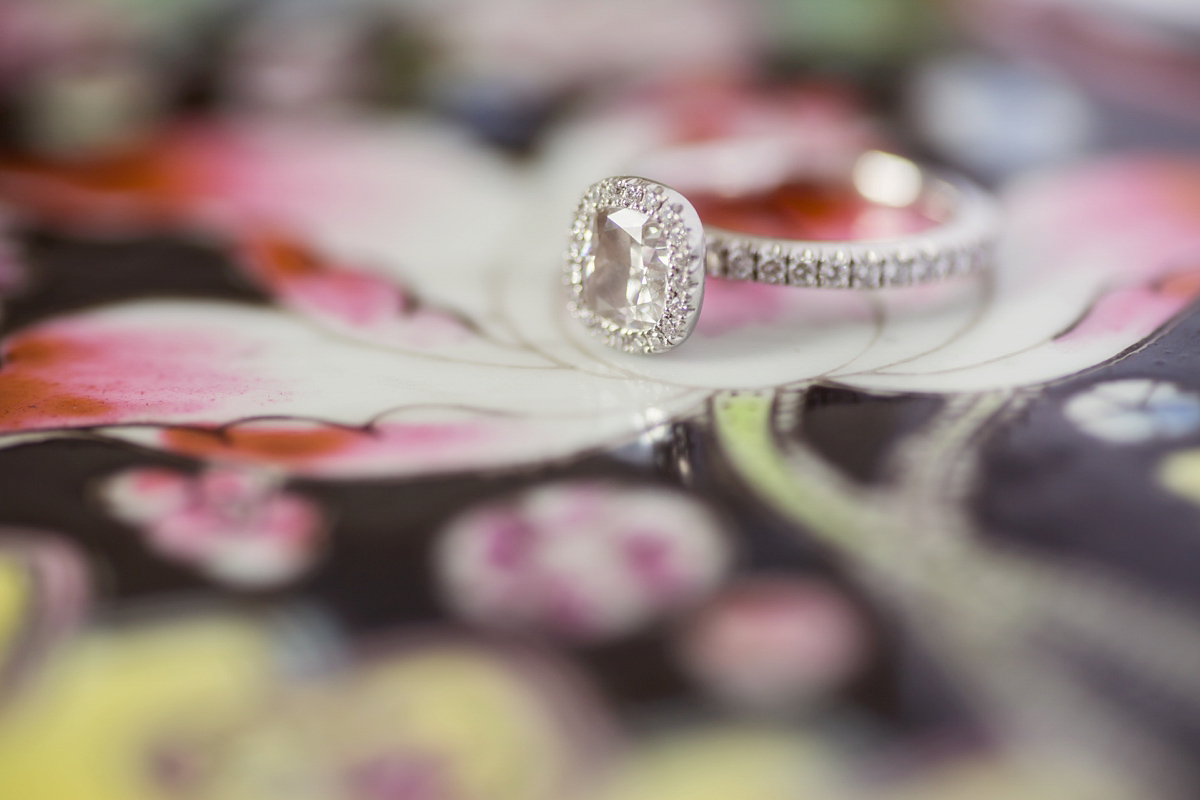 Julie and Anne-Marie from Anne-Marie McElroy ensured Lisa was I-do ready with a cascade of bouncing curls and smoky eyes that made those beautiful blues pop. Bride Lisa was impressed with not only their beautifying skills but also their readiness to top up a champagne glass – recommendation enough!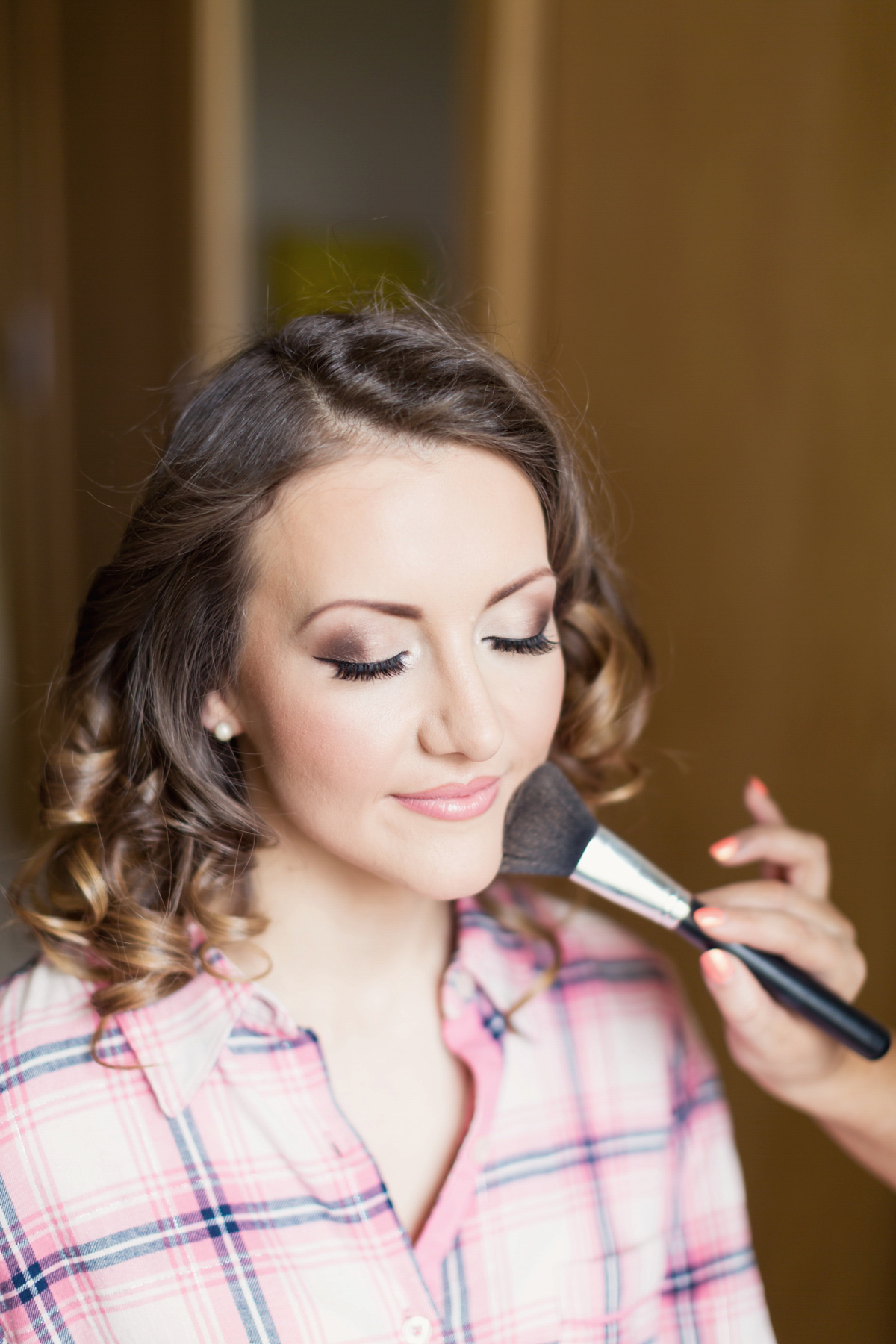 Who else spotted a Claire Pettibone gown straight away? I'm looking at you Emily D! Oh and did you spot Claire Pettibone's beautiful new collection gracing our wedding blog pages yesterday?  This divine gown, named Patchouli, was purchased from the Romantique Collection at Blackburn Bridal, London.
Total romantic sigh fodder, this long sleeved number includes the signature detailed back and uniquely modern and traditional lace loveliness we expect from the wonder of Claire Pettibone.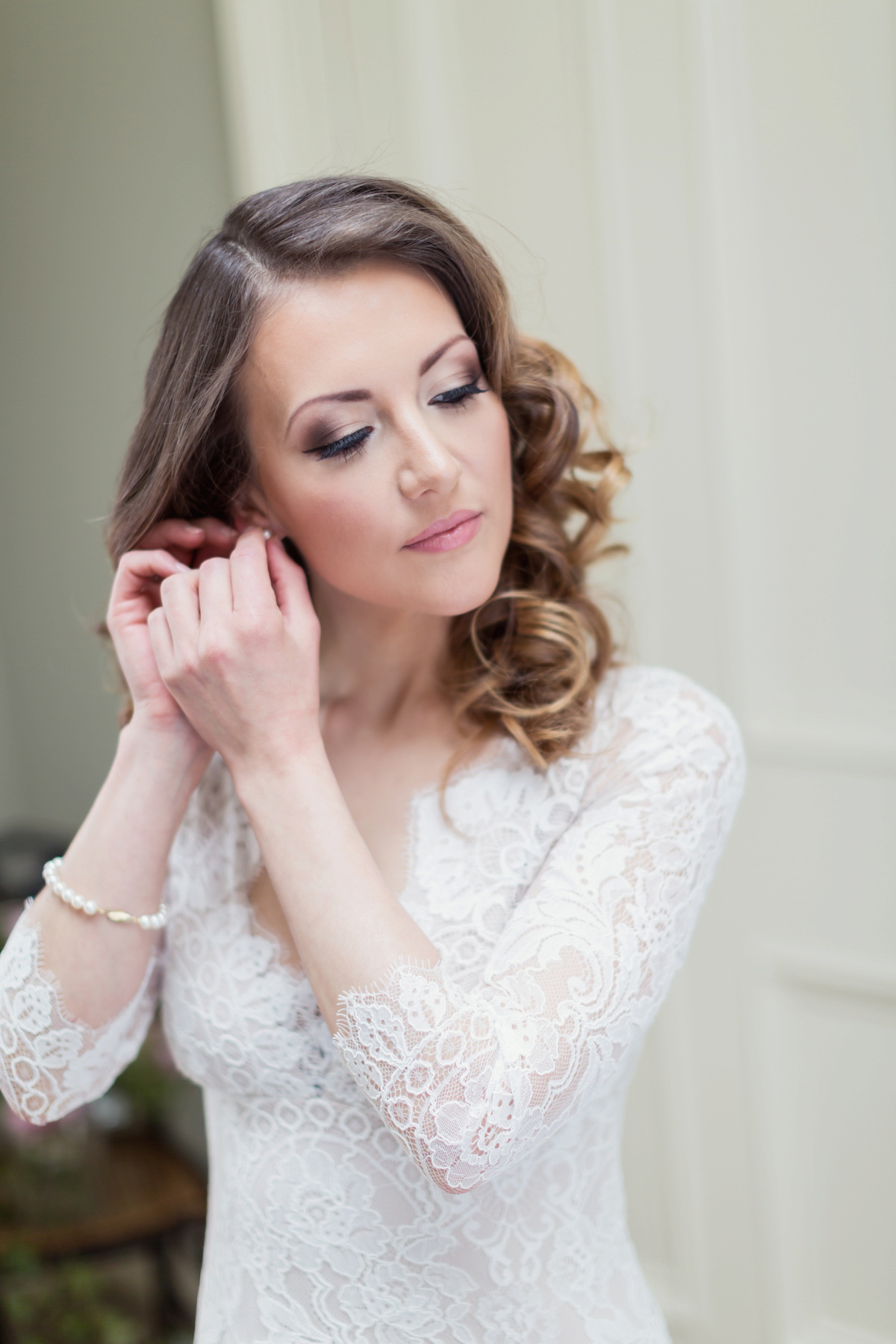 Our Little Book for Brides Bridal Fashion line up wouldn't be complete without these exquisite designs, you can see more beaming brides wearing them here.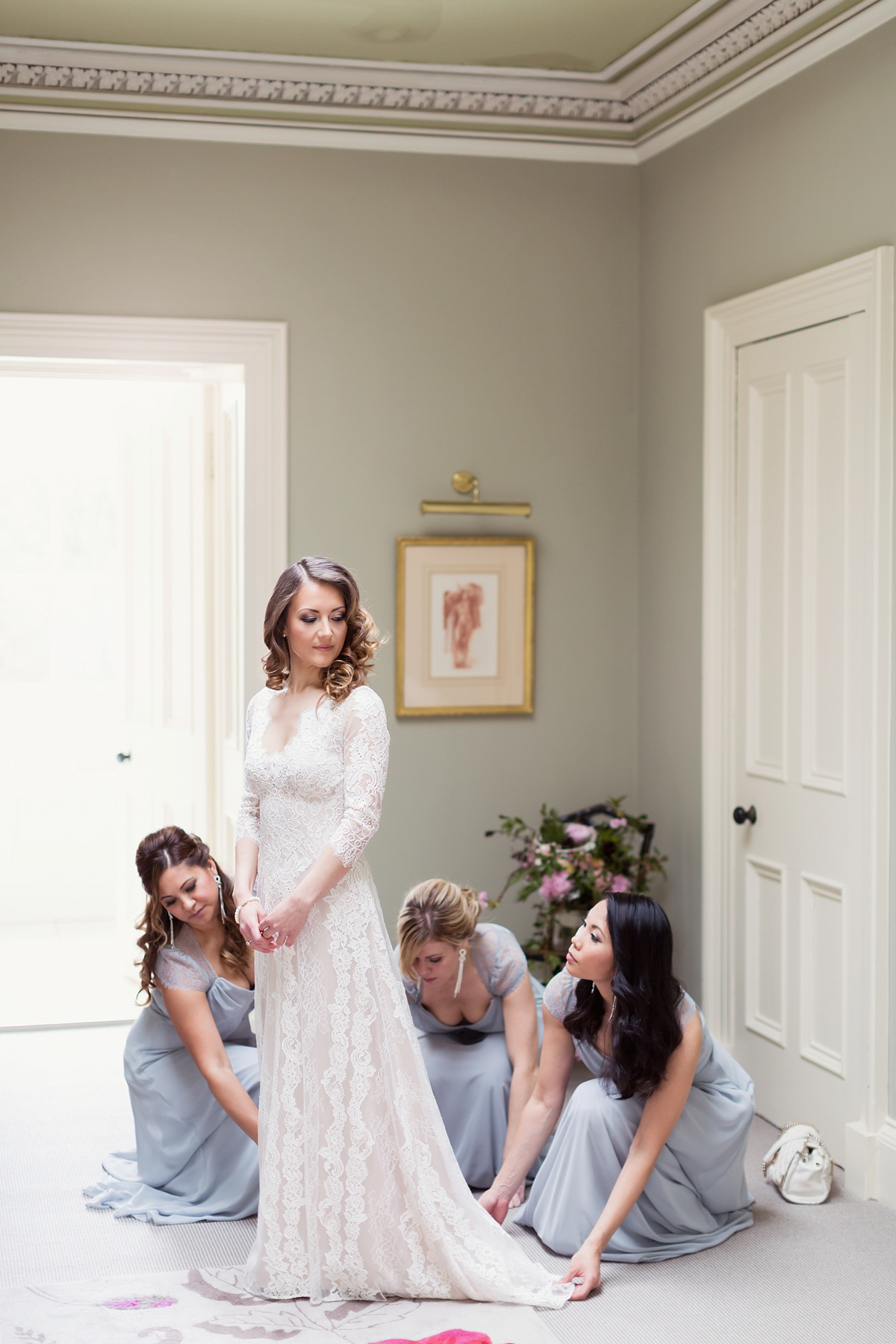 Lisa added an Emmy headpiece for extra glamour and it just works so very well. Another Little Book for Brides staple (brownie points Lisa!), Emmy offer that extra sprinkling of luxury with timeless bridal accessories.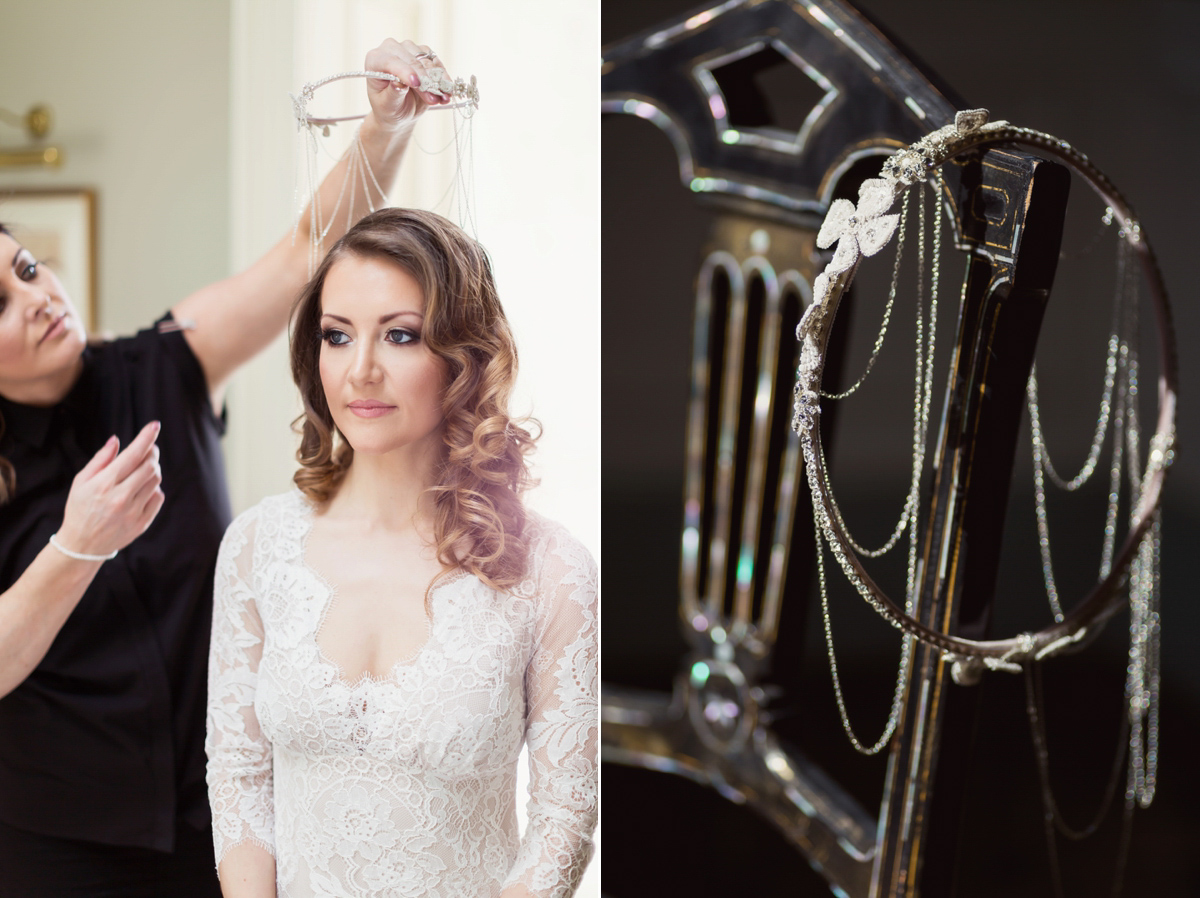 "I loved my dress so much! It had a romantic and bohemian feel and I felt that it was true to my style. I loved the scalloped detailing on the neckline as well as the nude lining, which complimented my skin tone and really brought out the pretty floral lace pattern."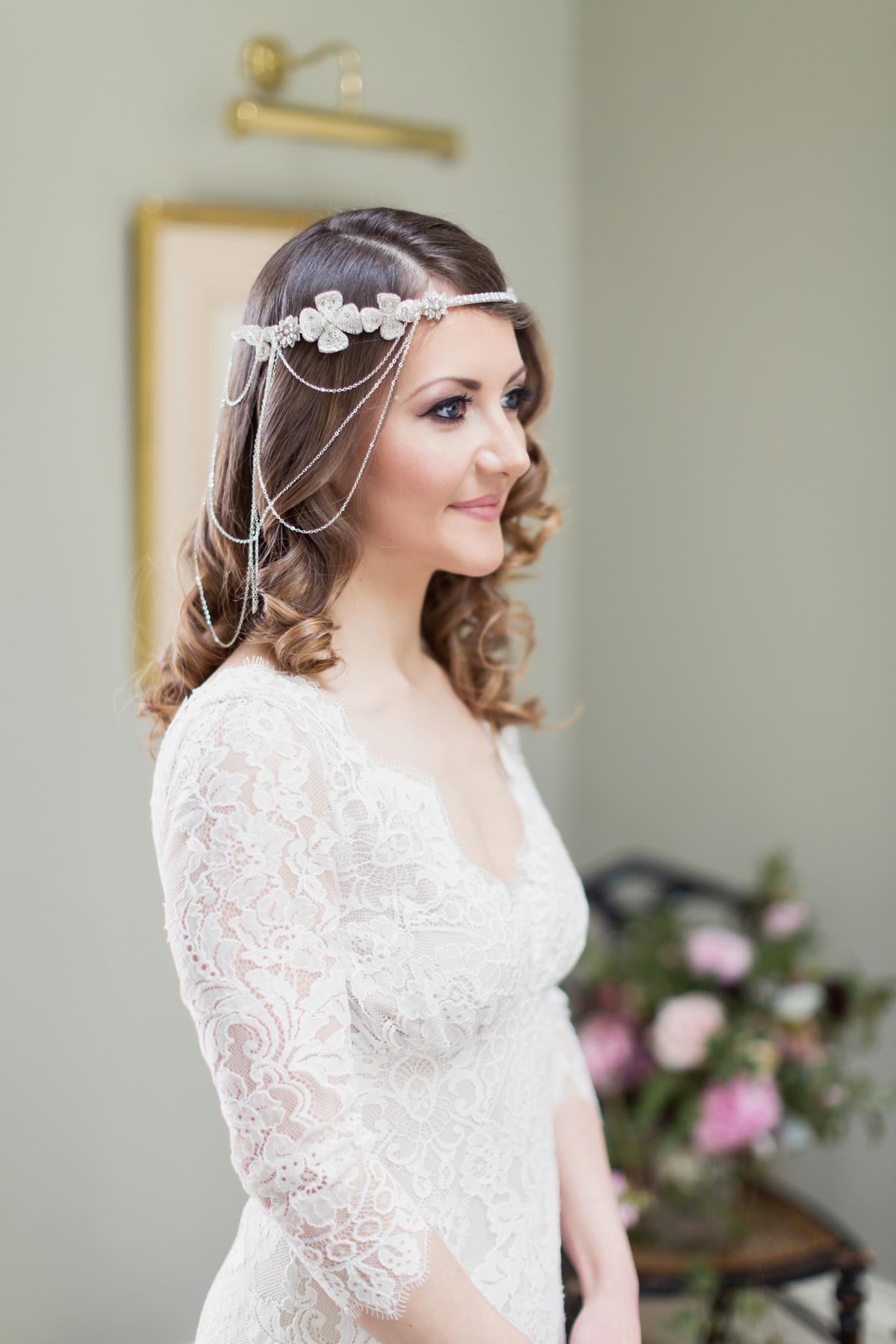 "As my headpiece was quite ornate, I kept my other accessories to a minimum. I wore pearl earrings and matching pearl bracelet that was given to me as a gift from my father when I moved from Canada to the UK , so it had sentimental value. My shoes were Dune and so pretty! I loved the crystal brooch detailing and I felt they complimented the vintage look I was going for."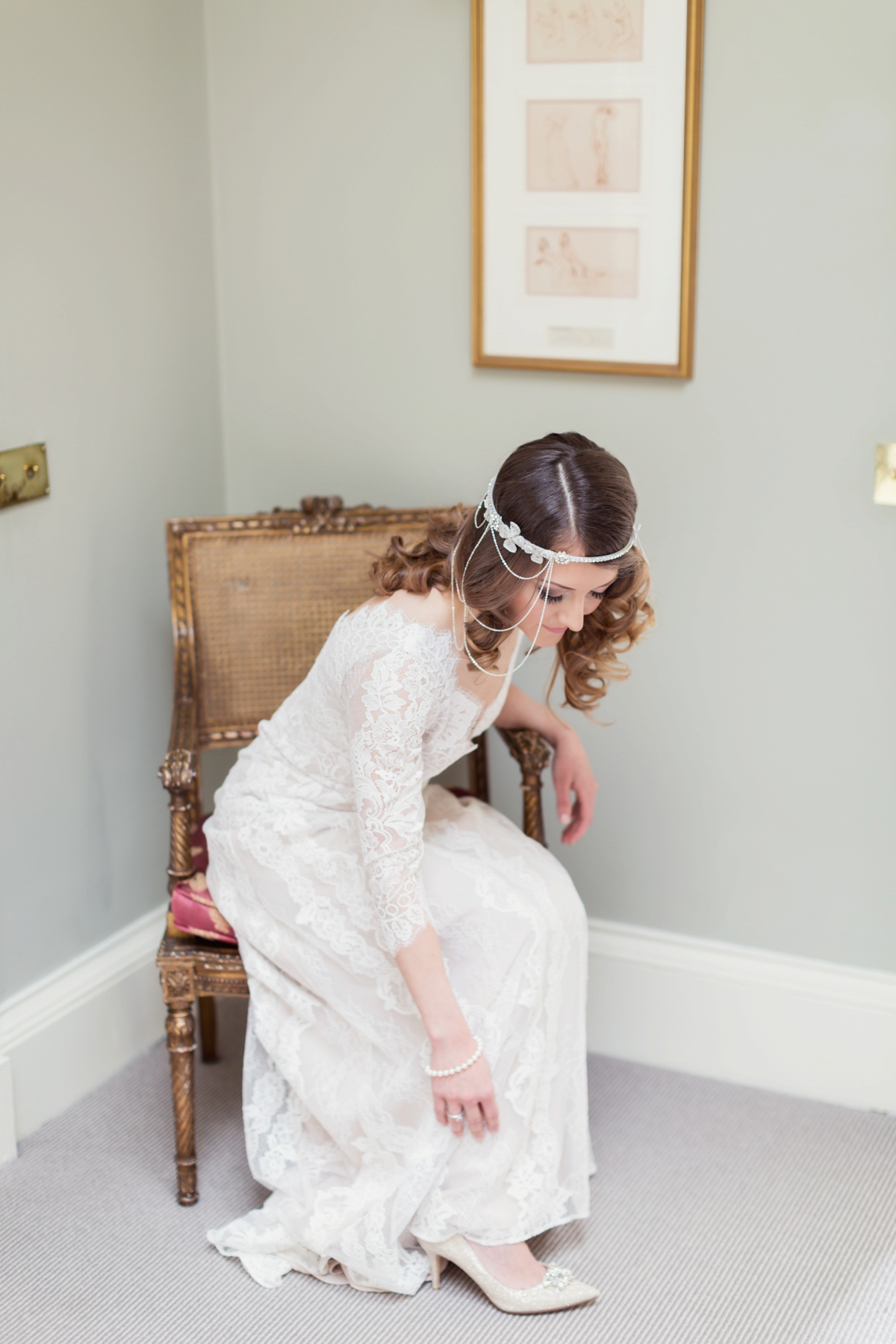 Bridesmaids matched Lisa's elegance in ice grey ASOS dresses, with pretty lace details and long crystal earrings adding further touches of enchantment. The presence and softness of the grey works exceptionally well with the loose, wild pinks and sprawling, epic foliage from florist Myrtle & Bracken.
These bouquets are exceptionally beautiful and I'm sure will be serving as huge inspiration for brides looking for undone, impactful floral inspiration.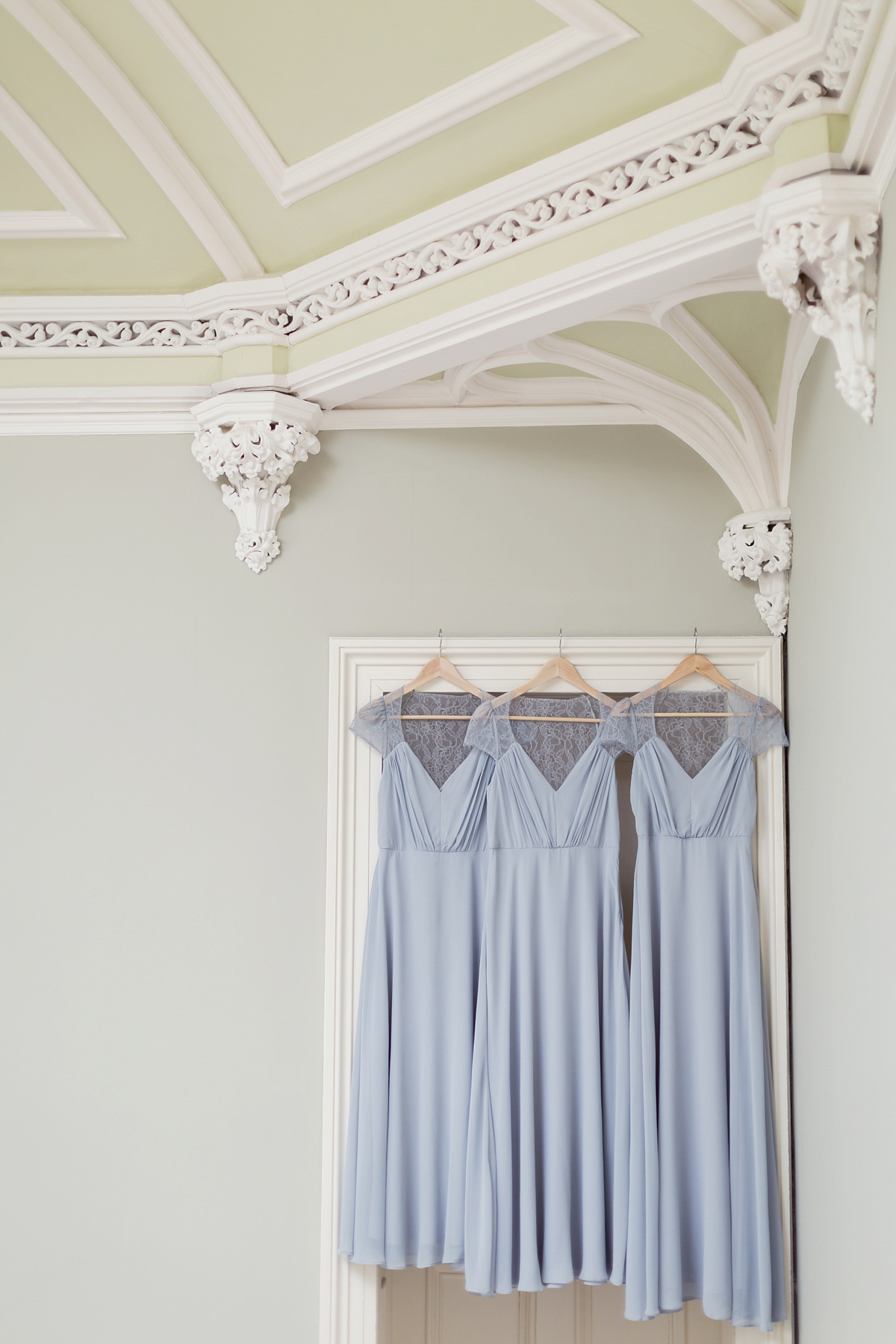 "I was blown away by the work of our florist Myrtle & Bracken. She knew exactly what we wanted, and really considered everything about the venue and styling we were going for. The grounds of the castle had a beautiful, haunting quality and I feel she made sure to incorporate this into the flower arrangements. My bouquet was beautiful and had a wild feel to the way it cascaded down. The flowers used were peonies, ranuculus, magnolia, tulips and narciccus."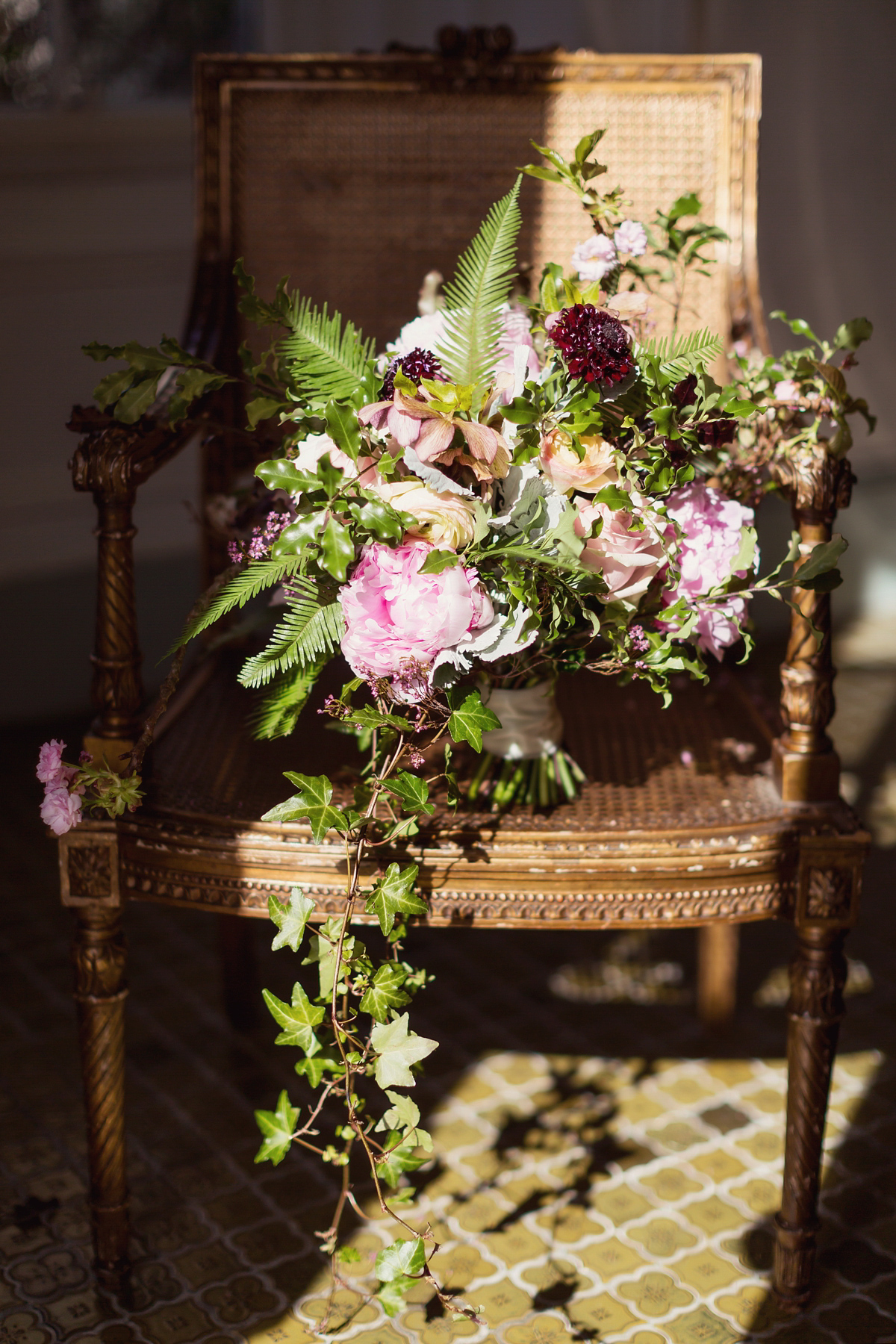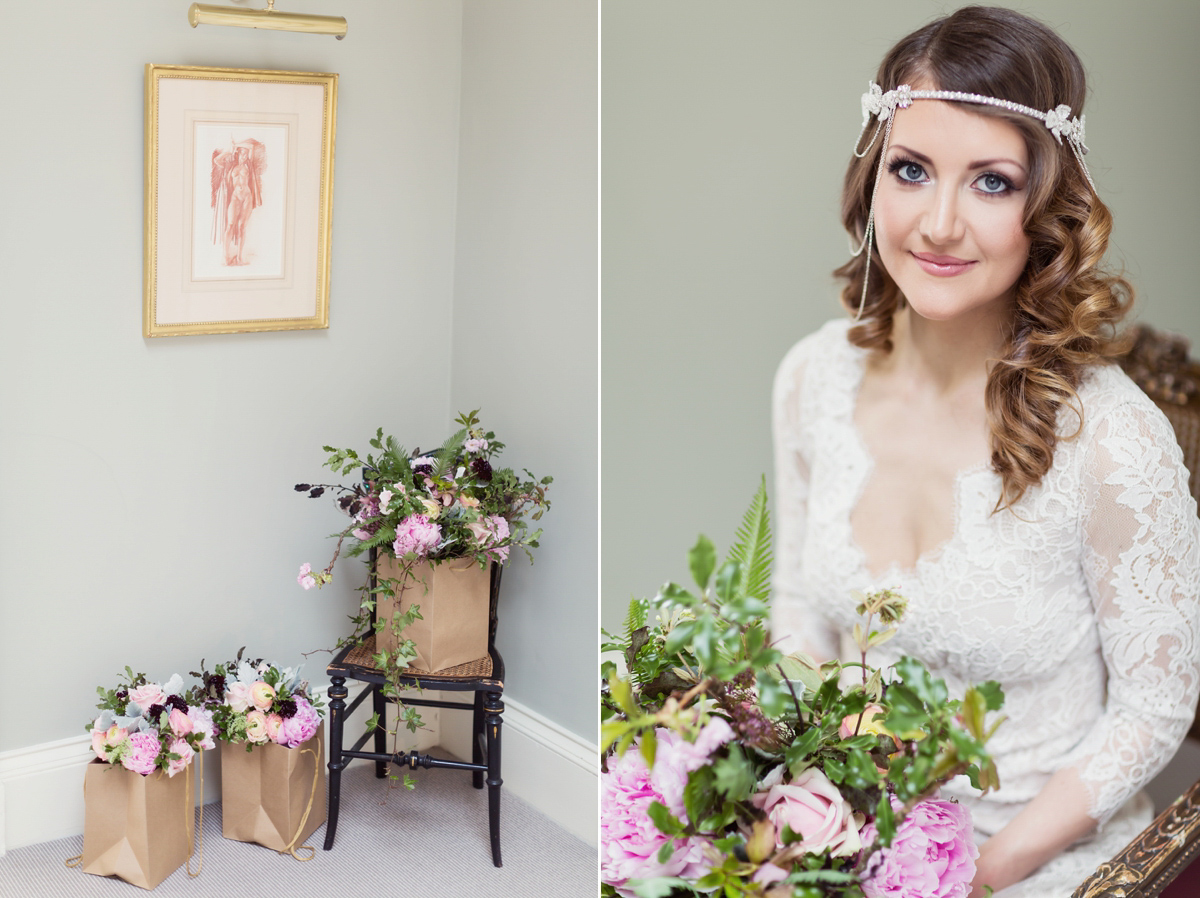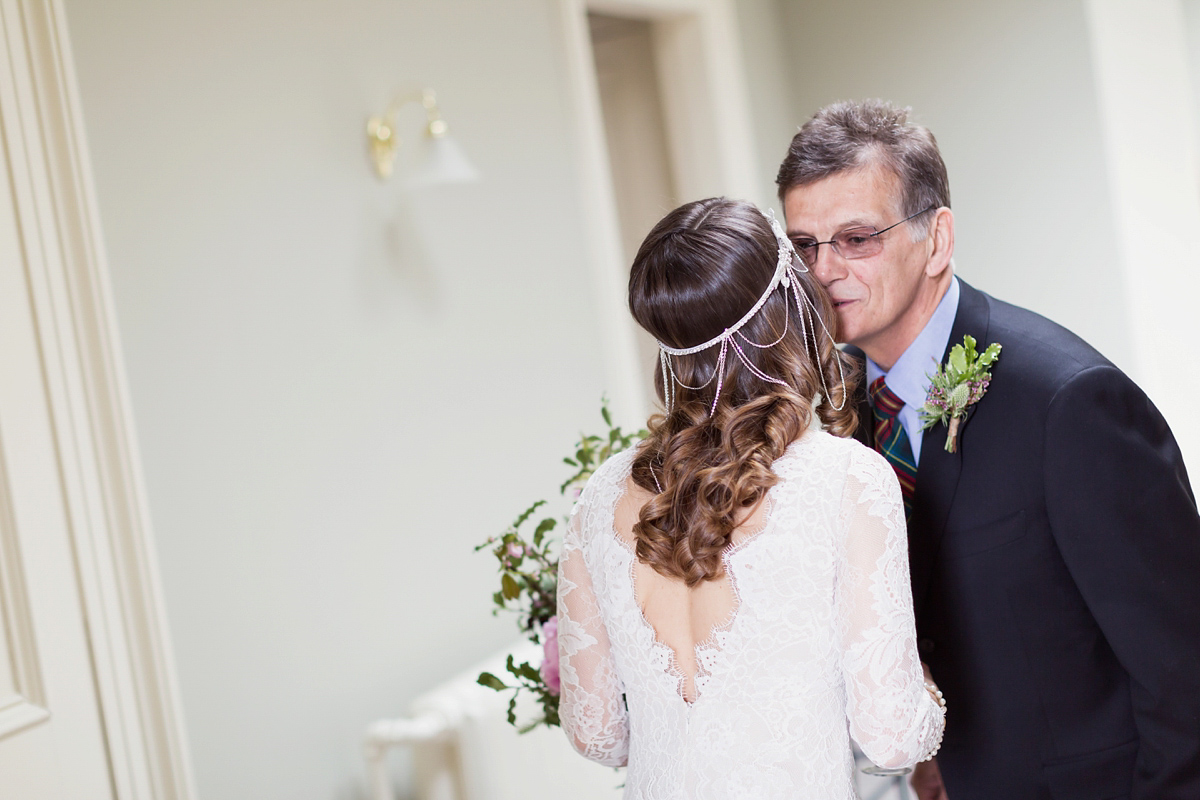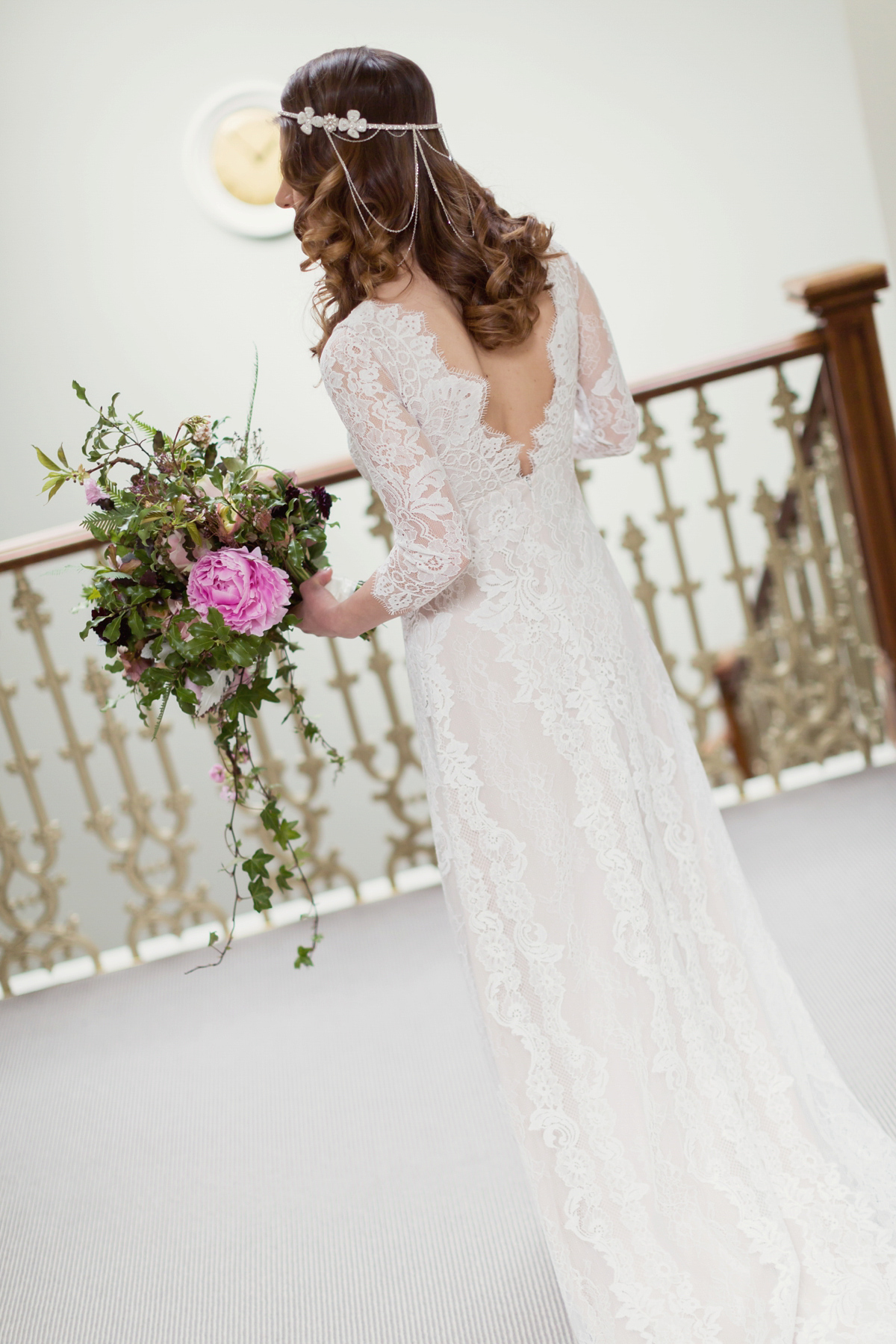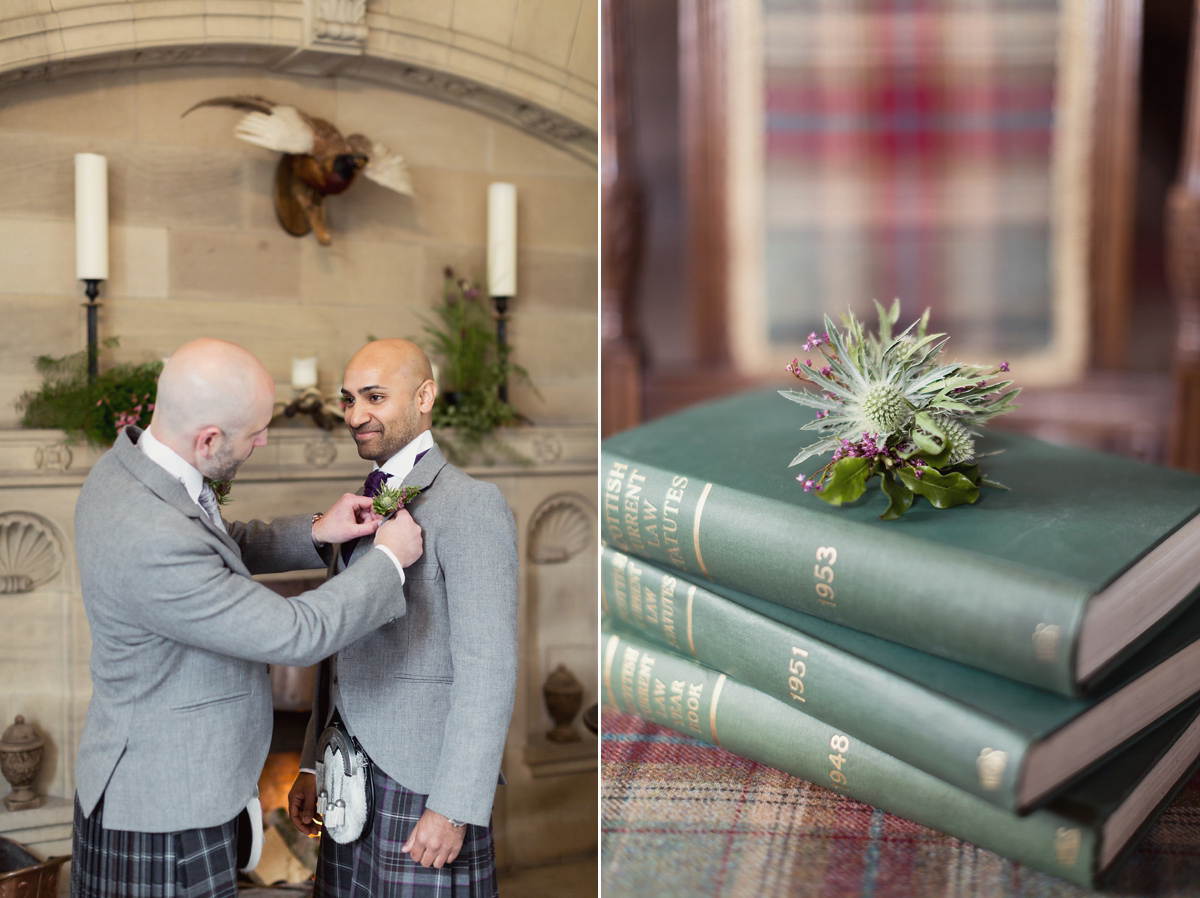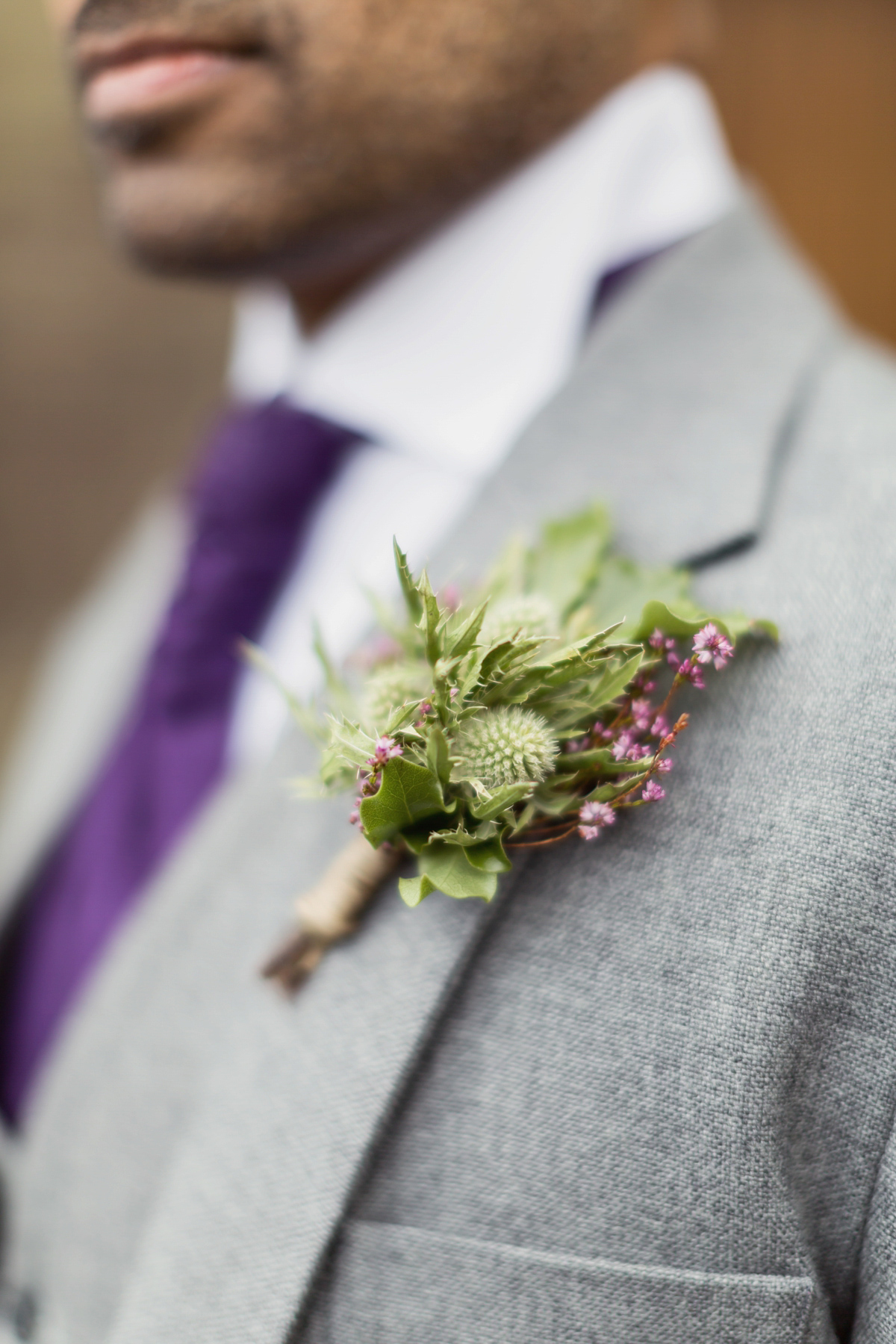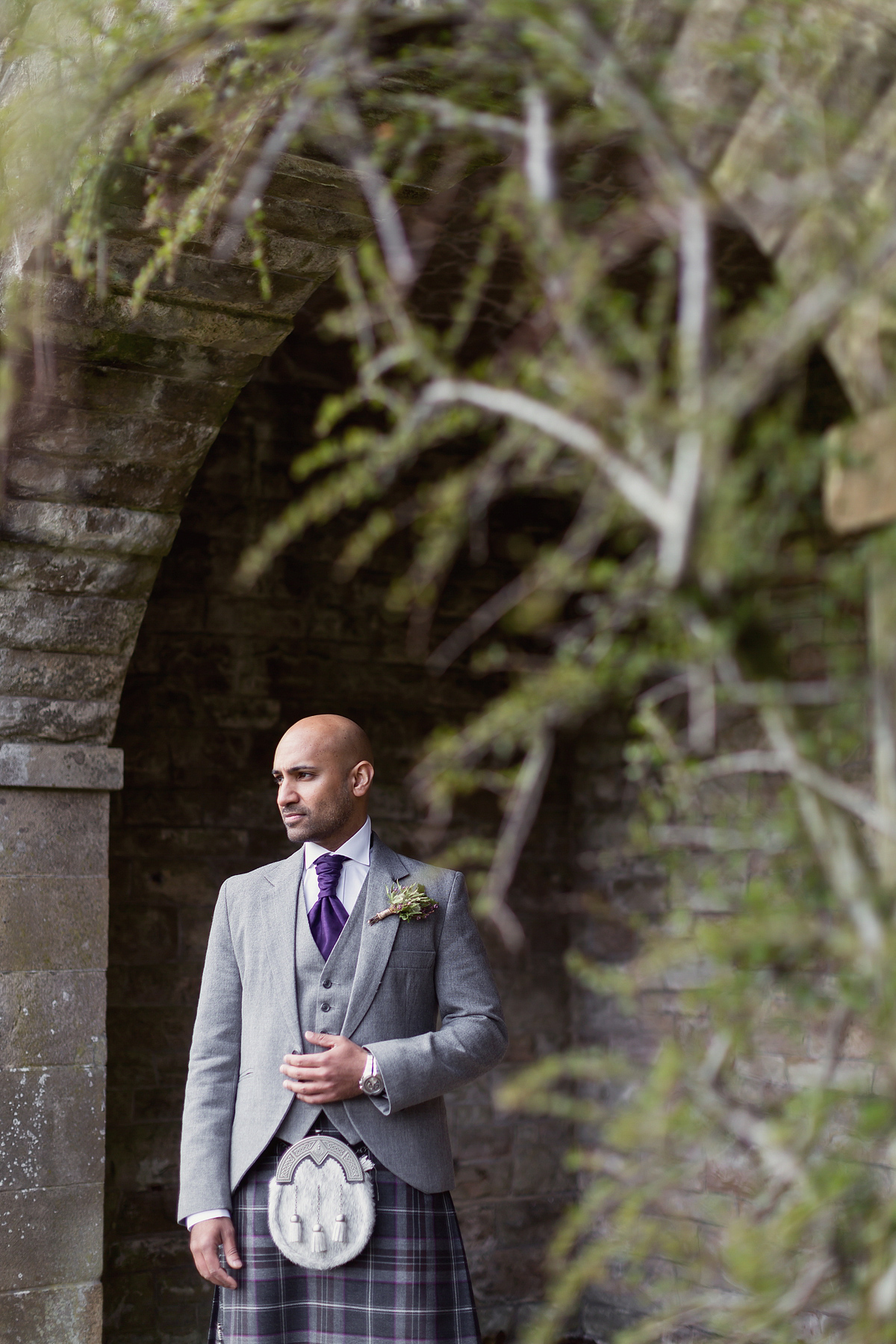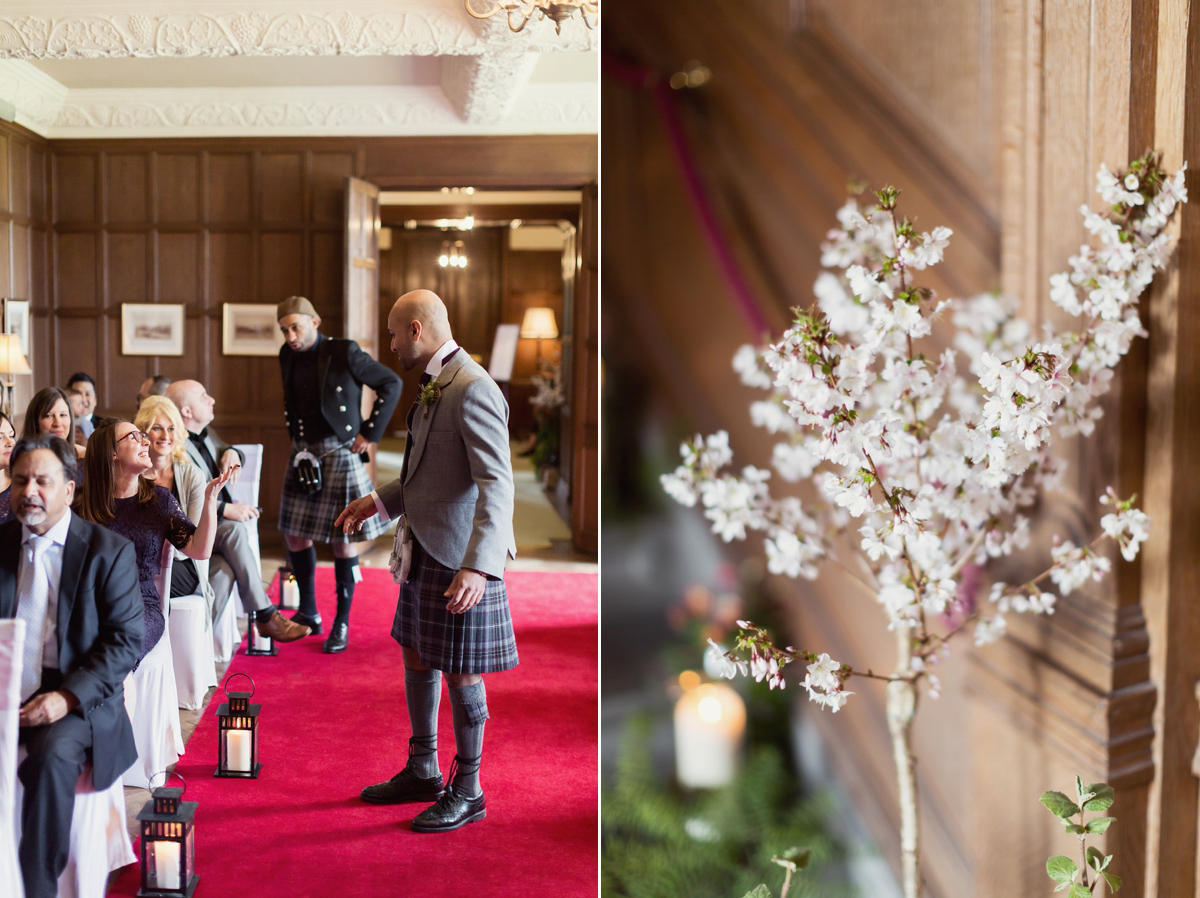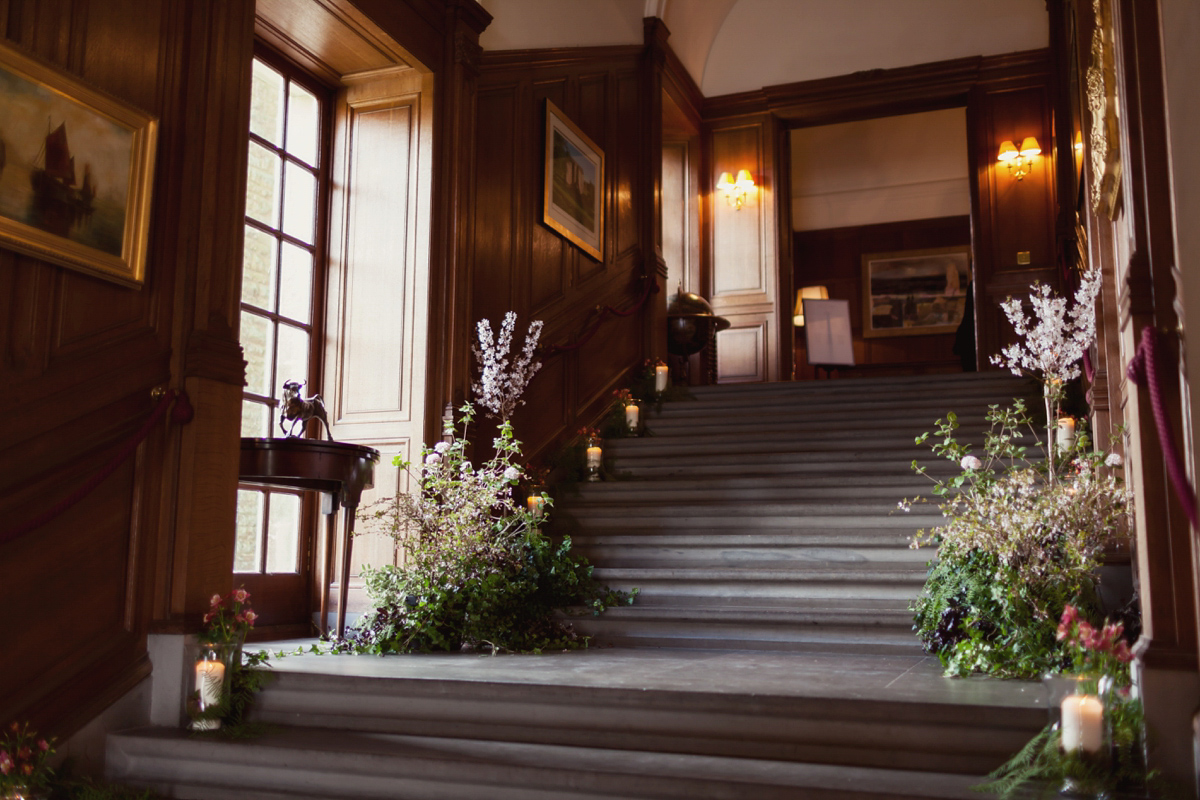 With a fairytale wedding taking place in a jaw-dropping castle setting, it was only right that our bride travelled to meet her Prince Charming in style; a vintage silver Beaufort to be precise. Lisa remembers feeling like royalty driving through the countryside in this gleaming relic, all very dreamlike. Walking down the aisle with her father, Lisa considered his viewpoint on this huge life event.
I have to admit that the following thought made me shed a little tear, its all still too fresh for me!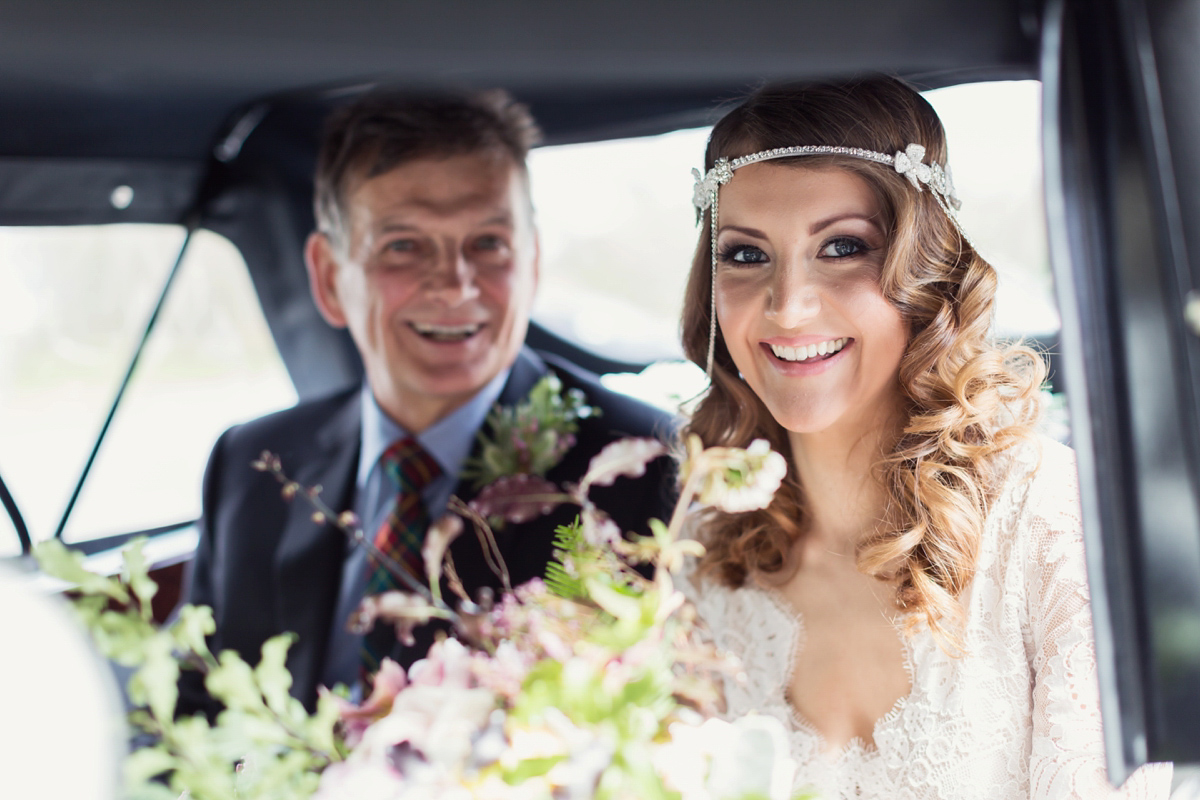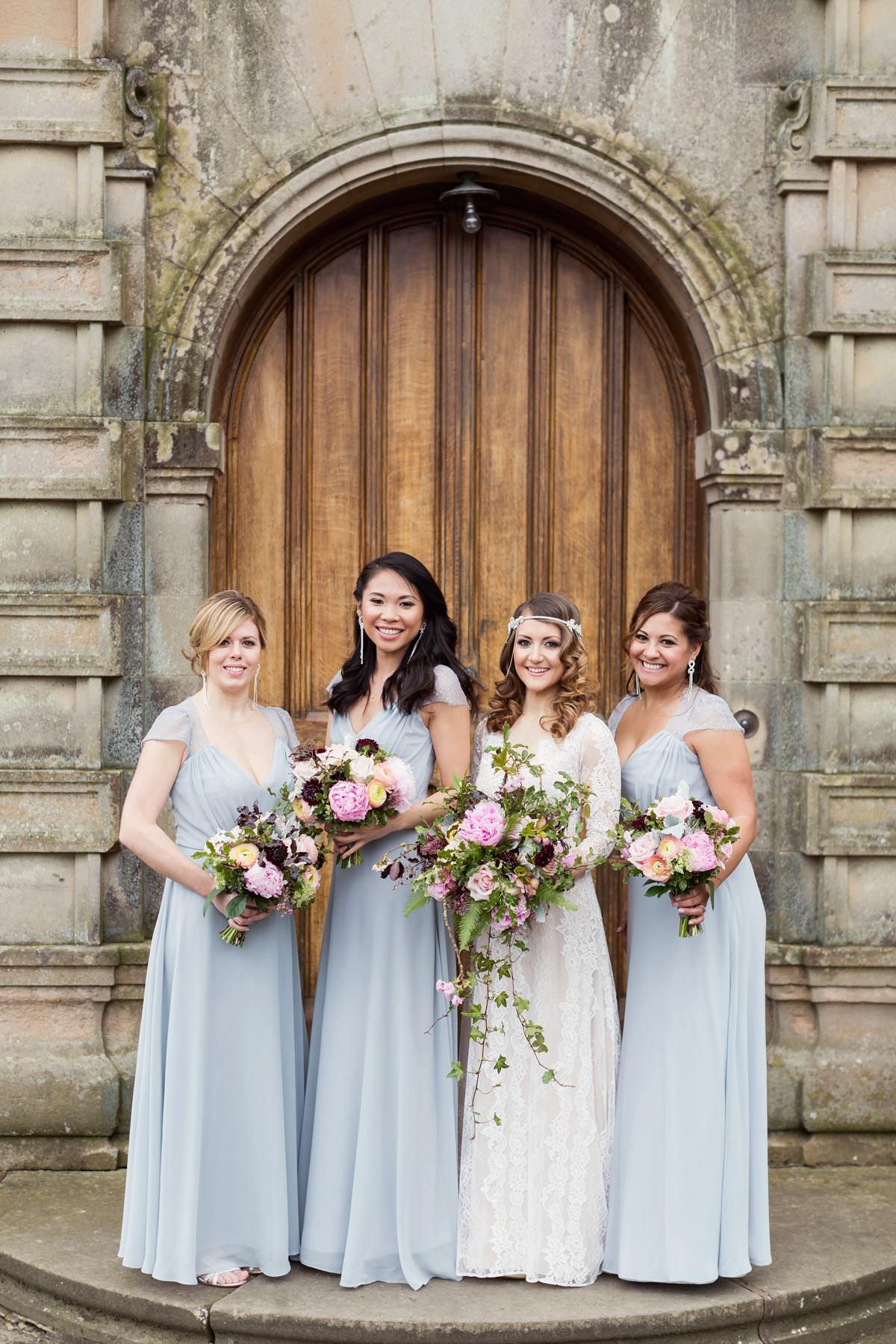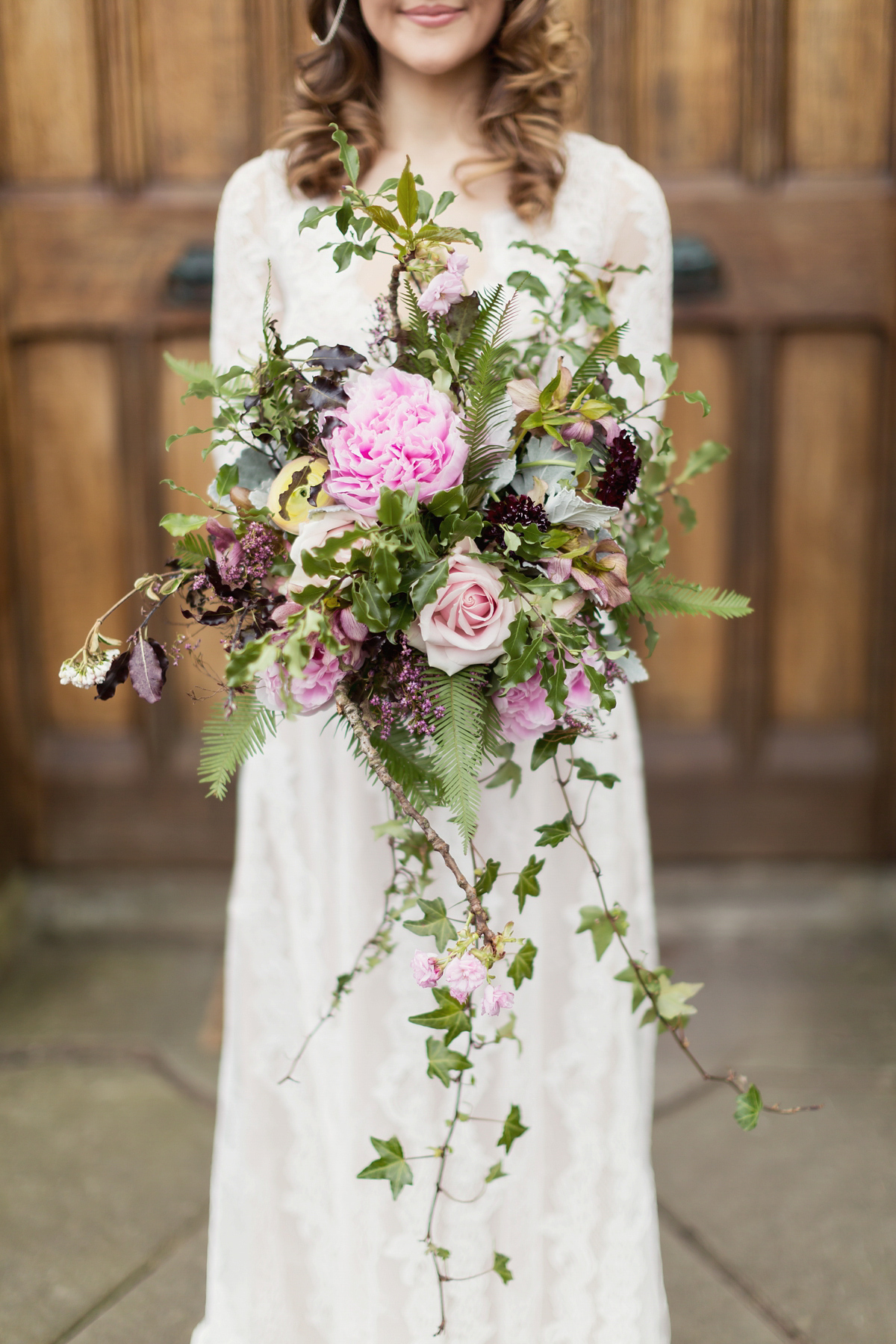 "My father walked me down the aisle. It was amazing to have him by my side. He's always been so protective of me and to see him so calm about giving his only daughter away only served to reassure me. I already knew that I was marrying my perfect man but now I could see just how much my family loved him too."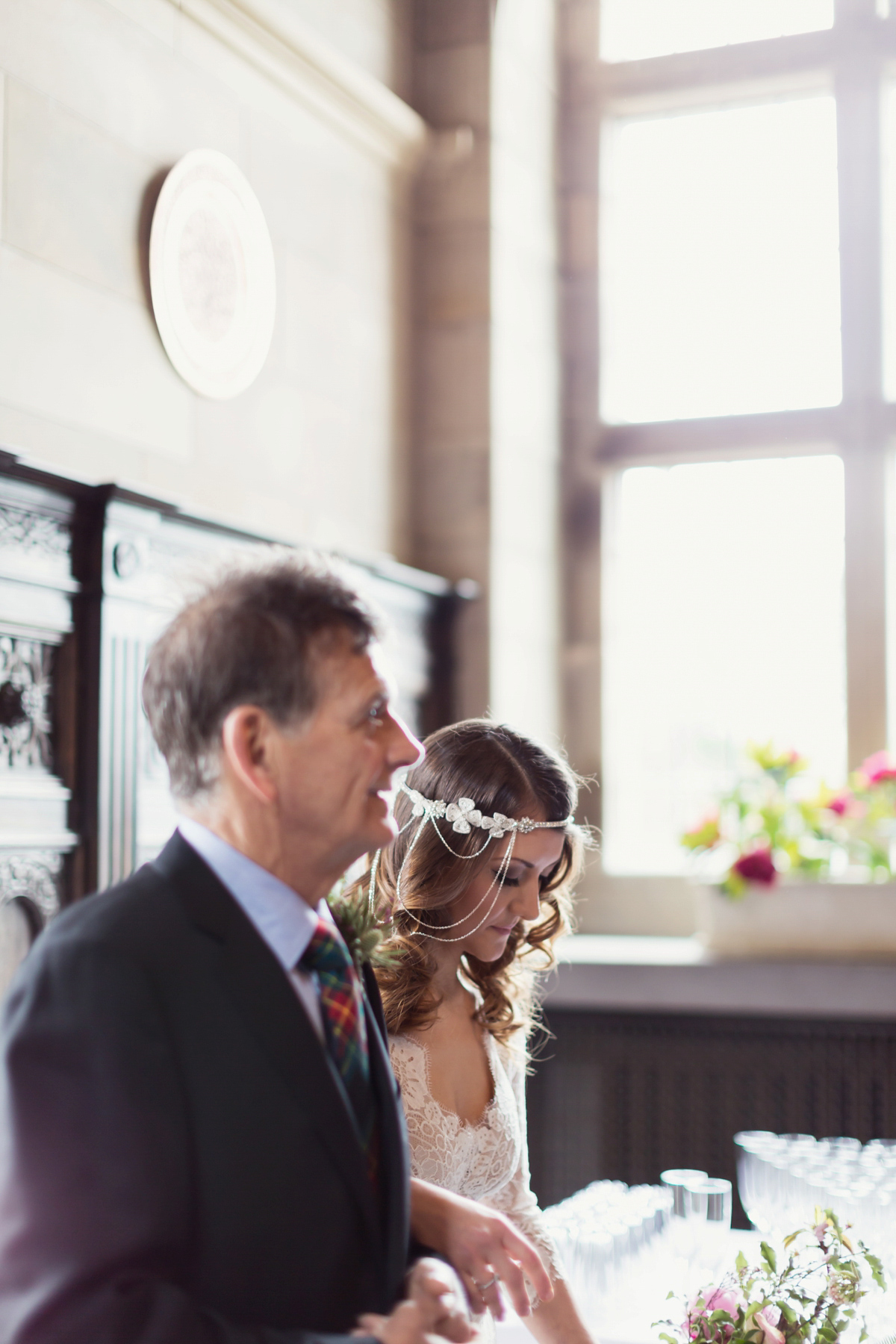 The softness of Ruth Mackay playing Canon in D on the harp accompanied this moving moment and a reading from Captain Corelli's Mandolin was chosen as a reminder of a romantic getaway to Kefalonia. Love jolt time.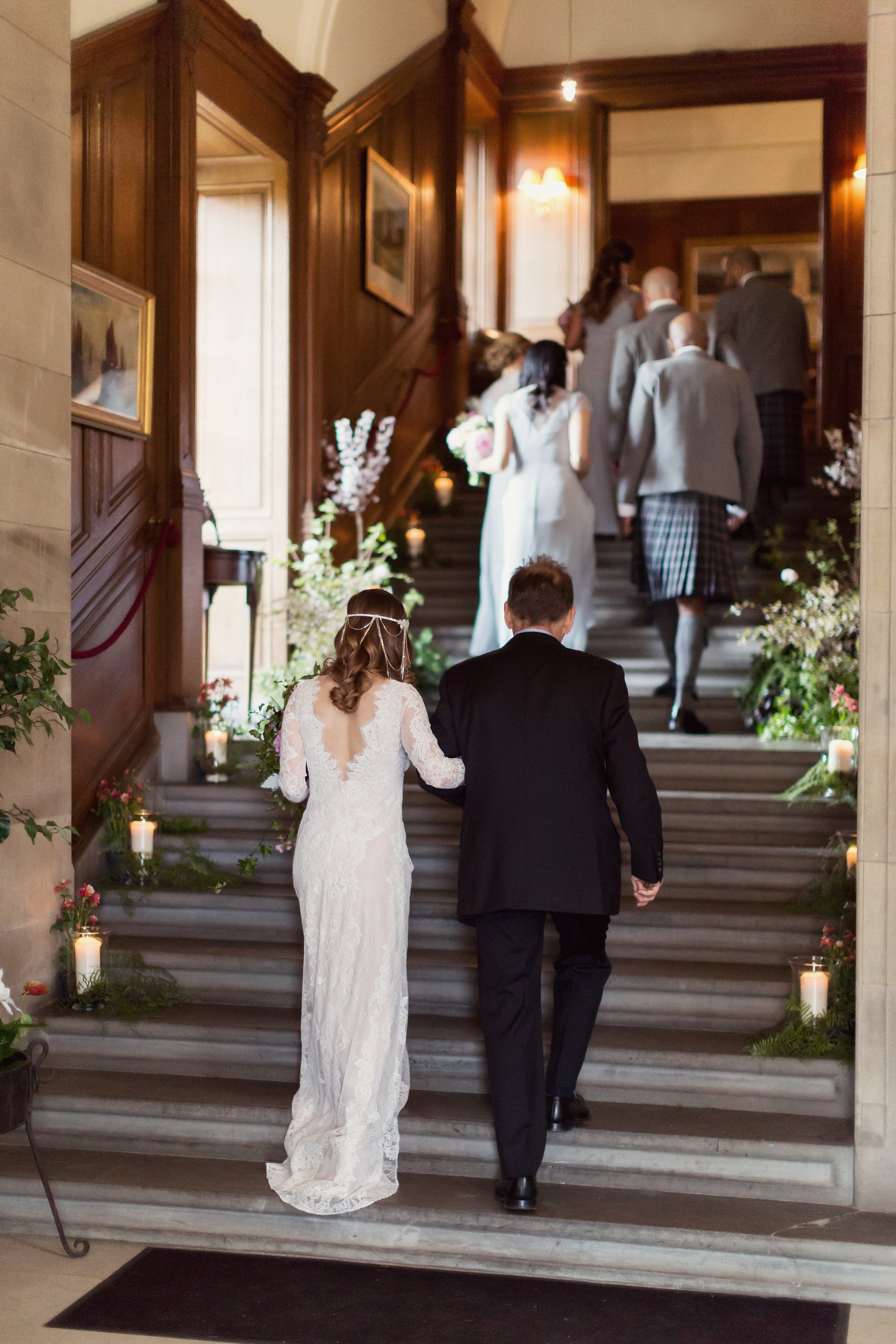 Asim looked dapper in his grey toned outfit with splashes of plum. His kilt was from Macgregor and Macduff in their 'Lomond Mist' tartan. This held special significance as the first time Asim brought Lisa to Scotland they stayed near Loch Lomond in the beautiful town of Drymen. Groomsmen complimented the bridesmaids in 'Oban Mist' tartan kilts.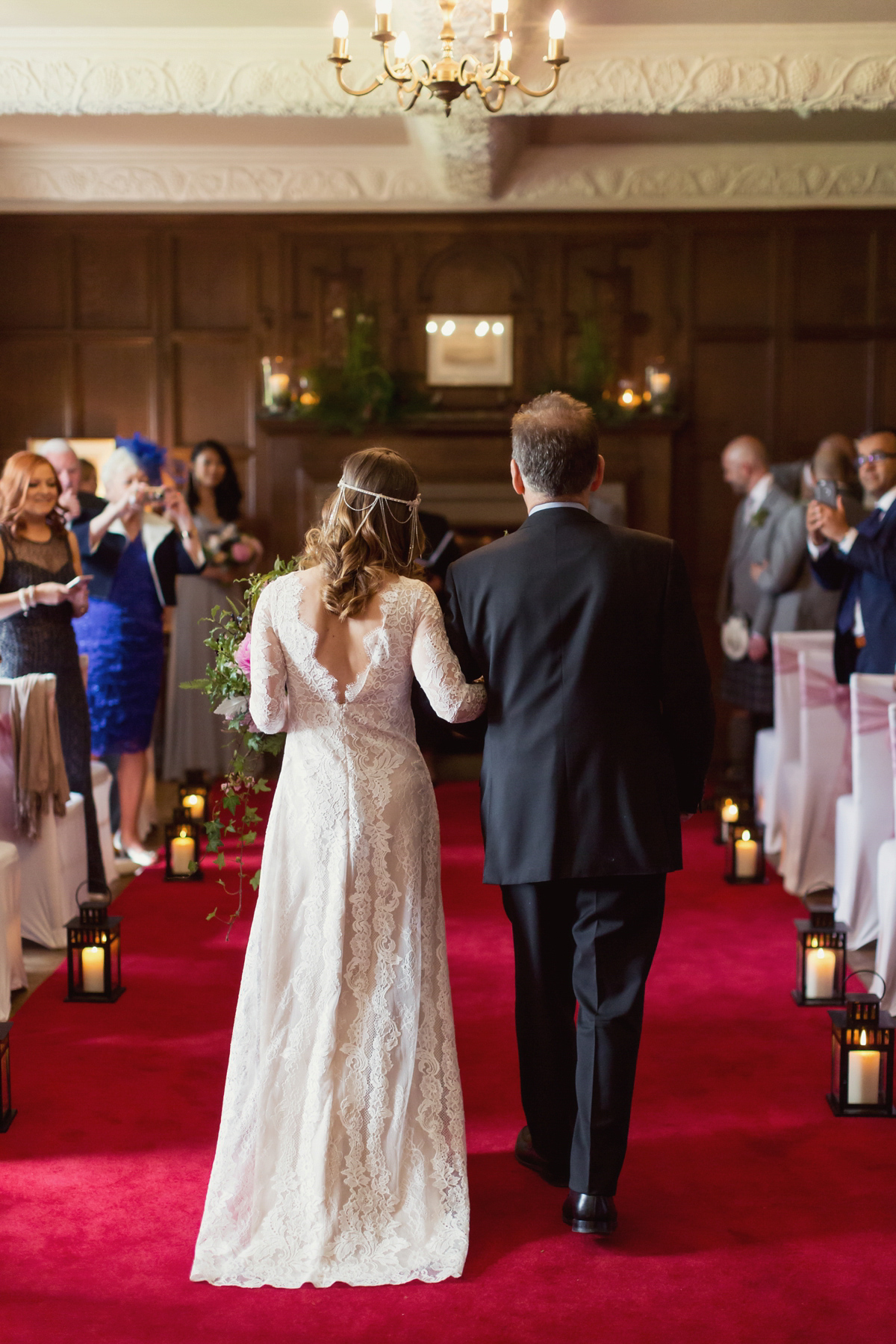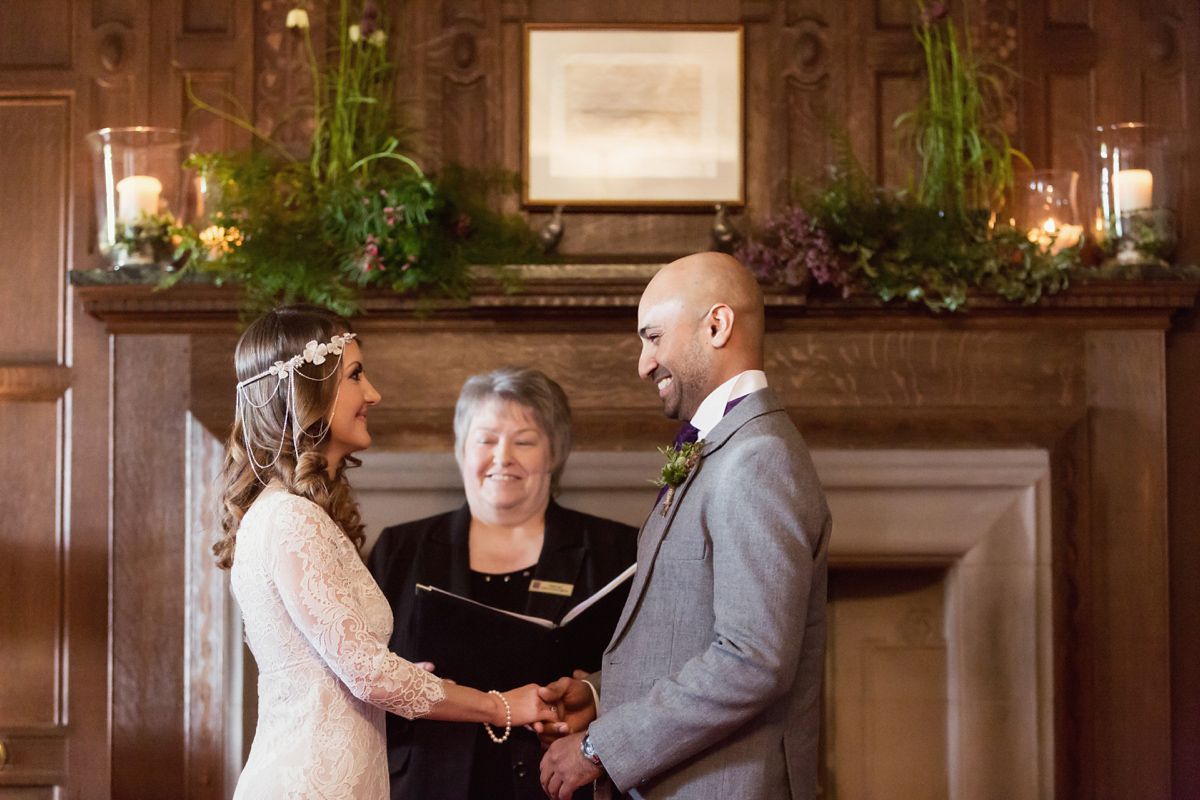 The couple's rings were from De Beers…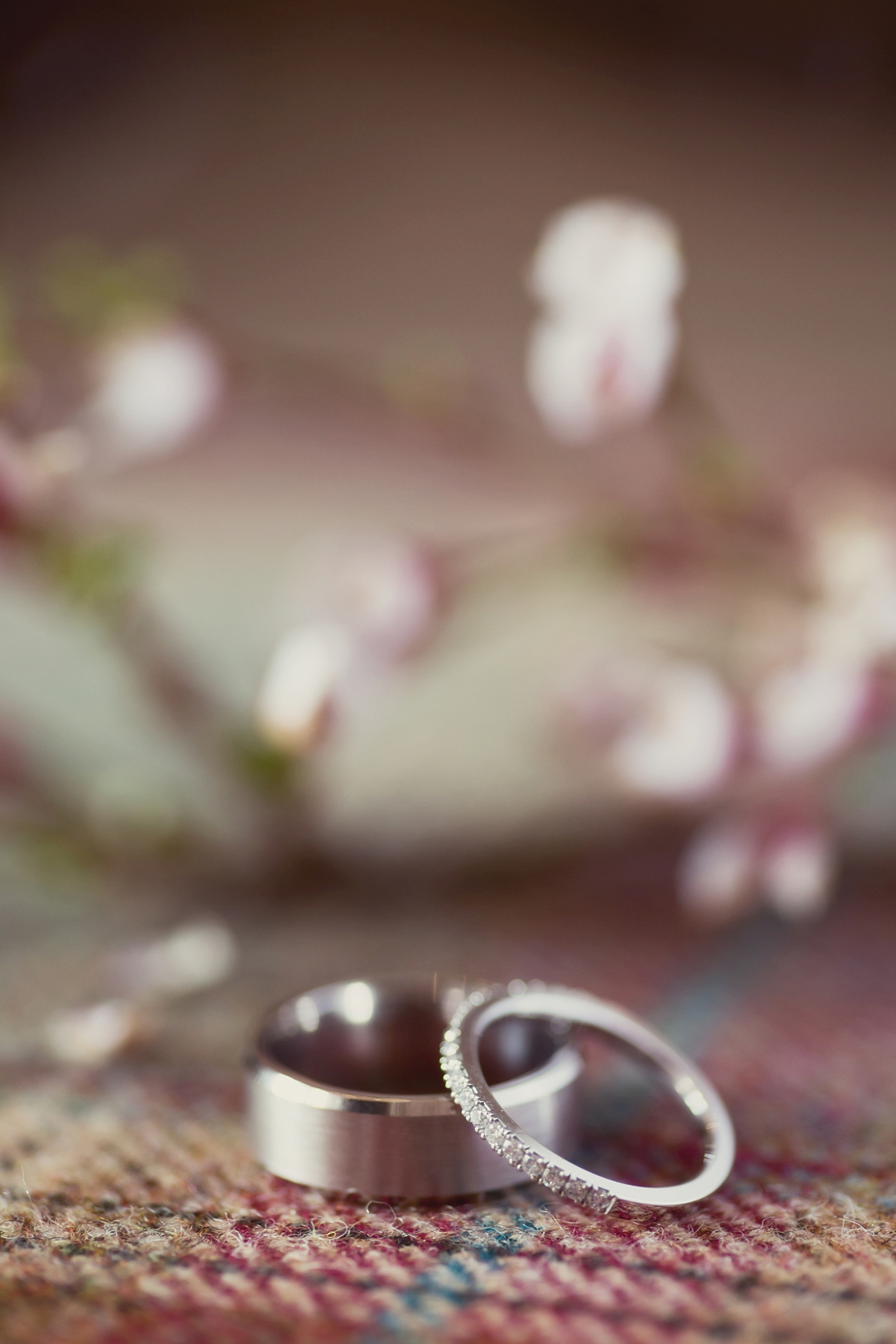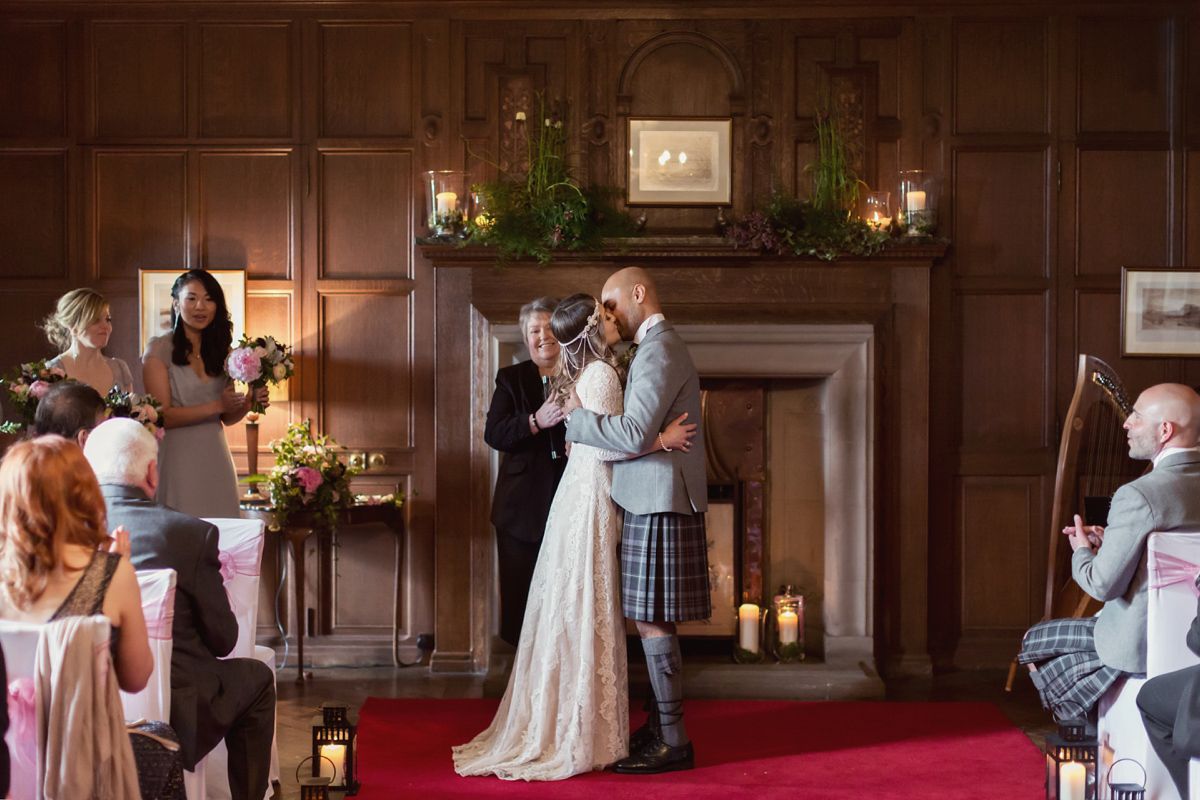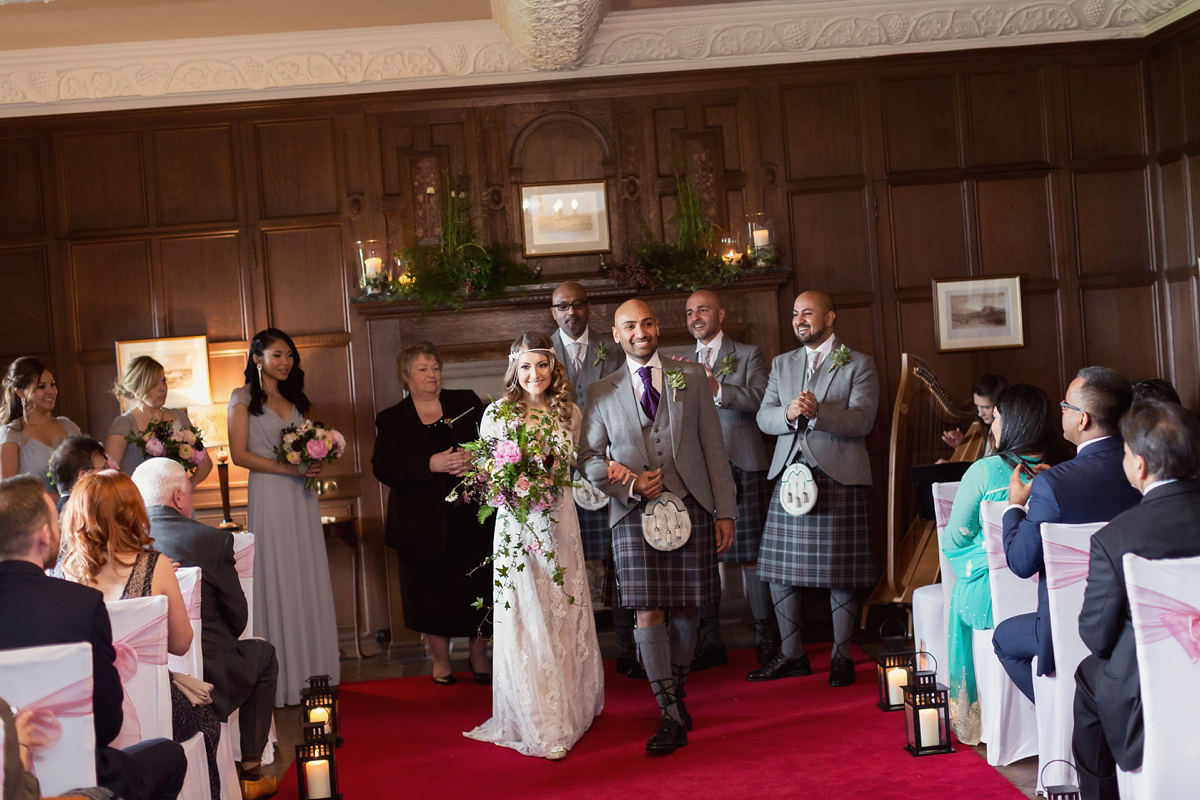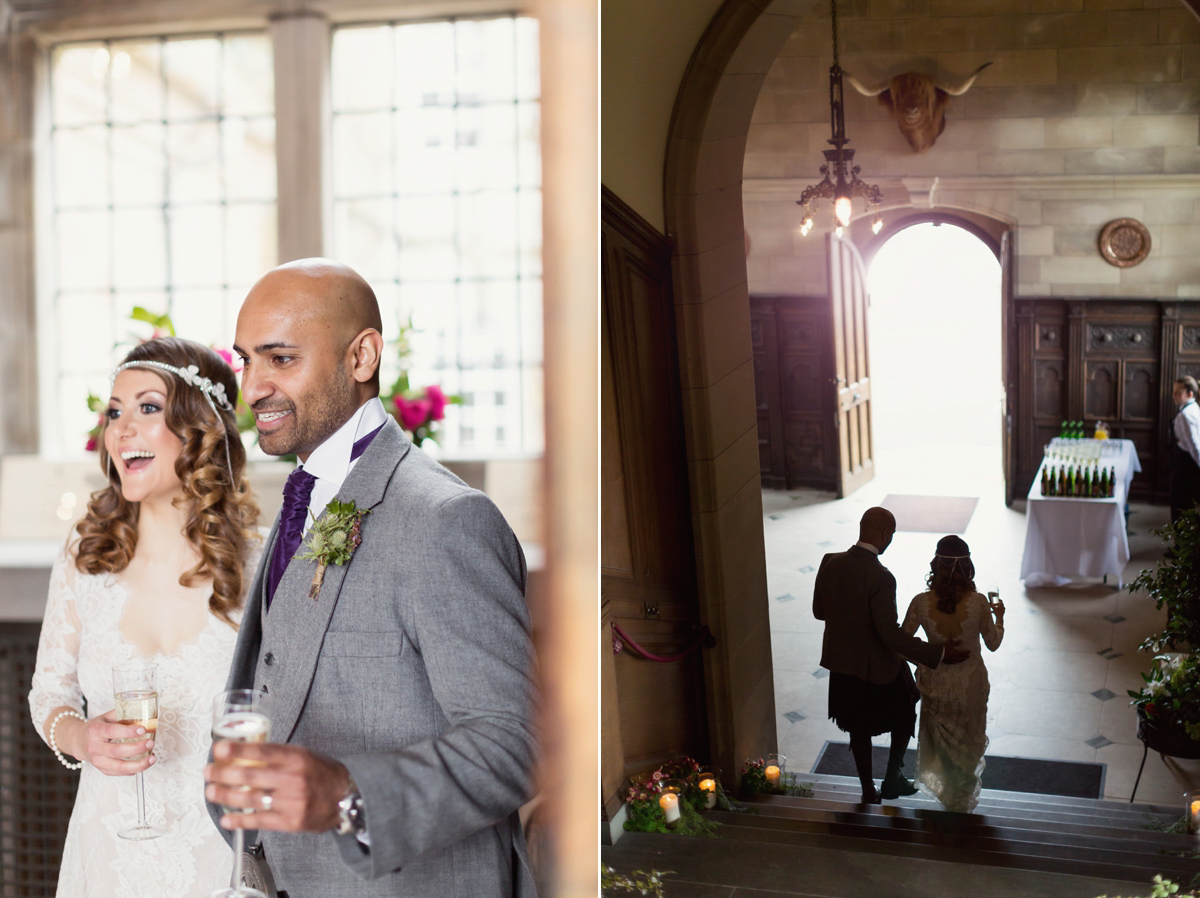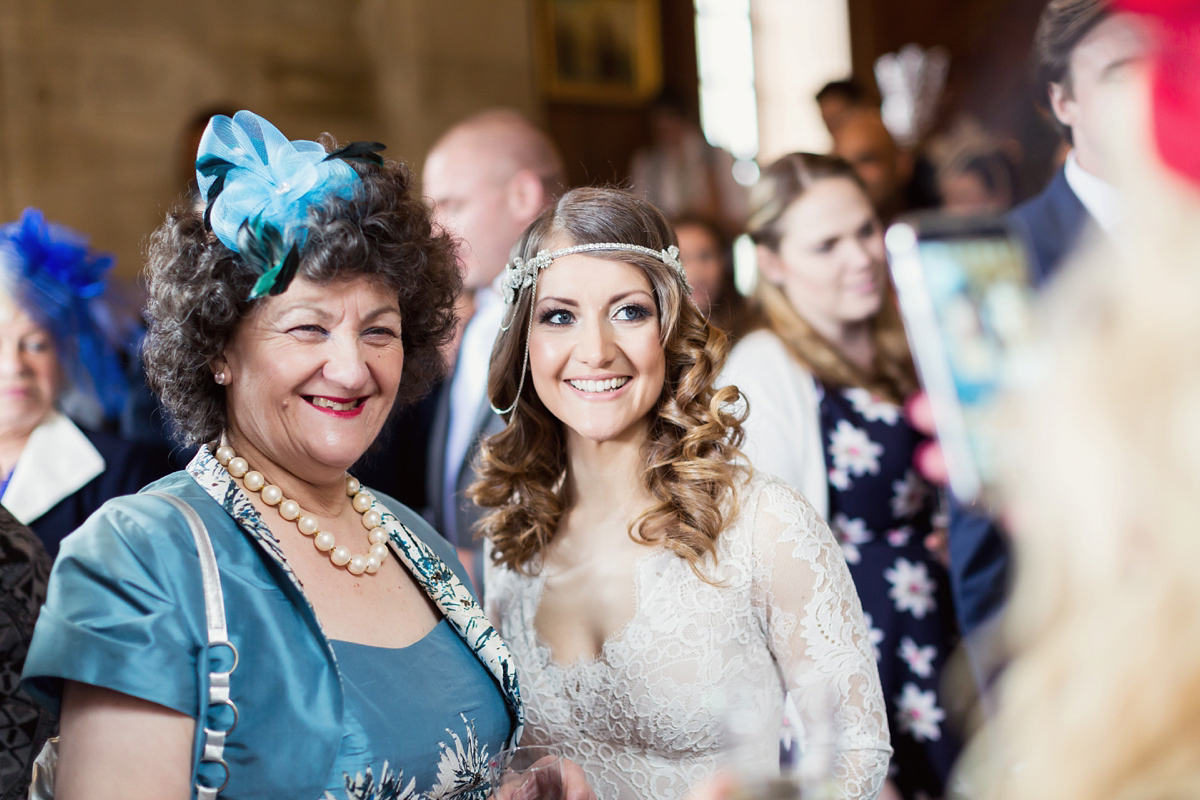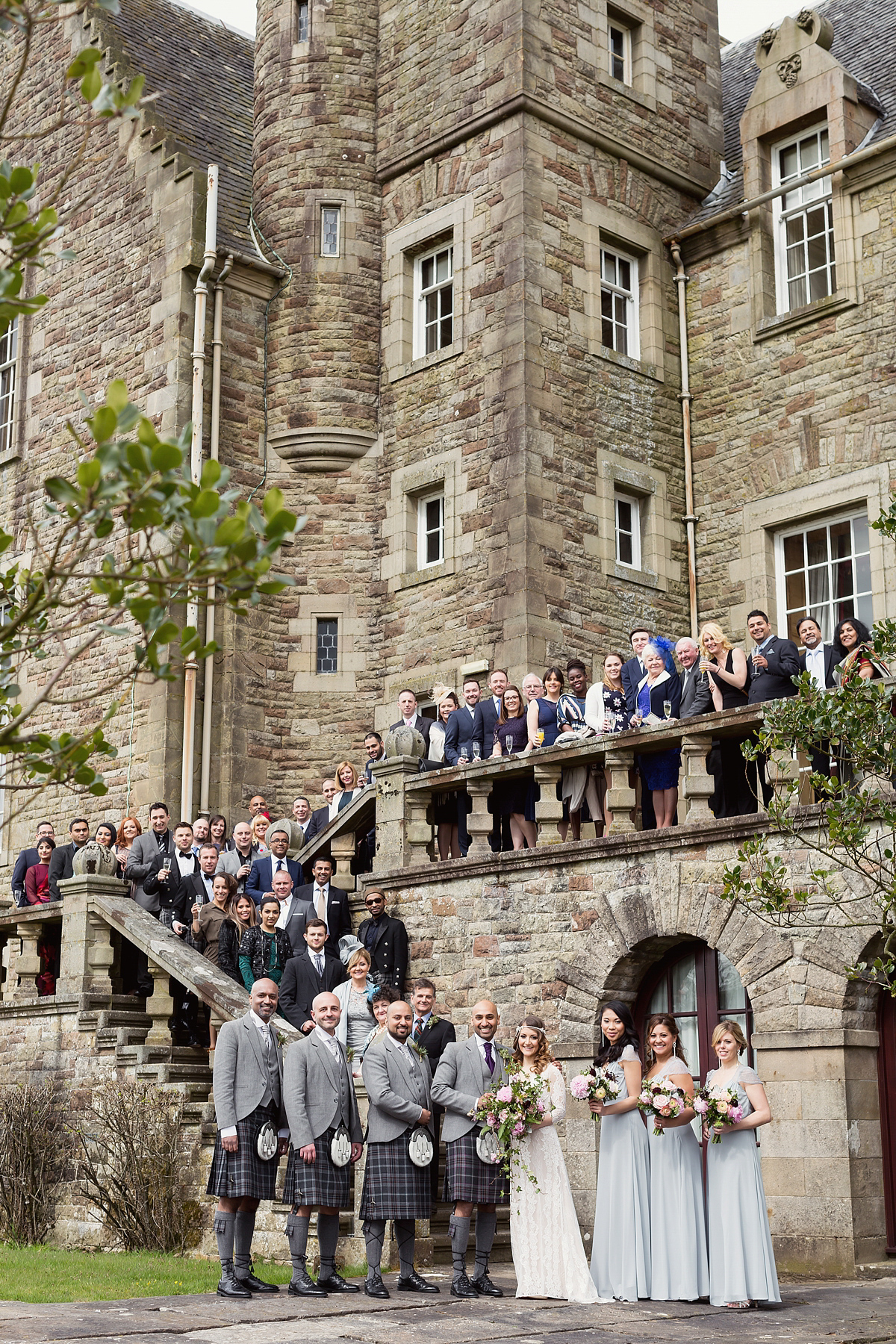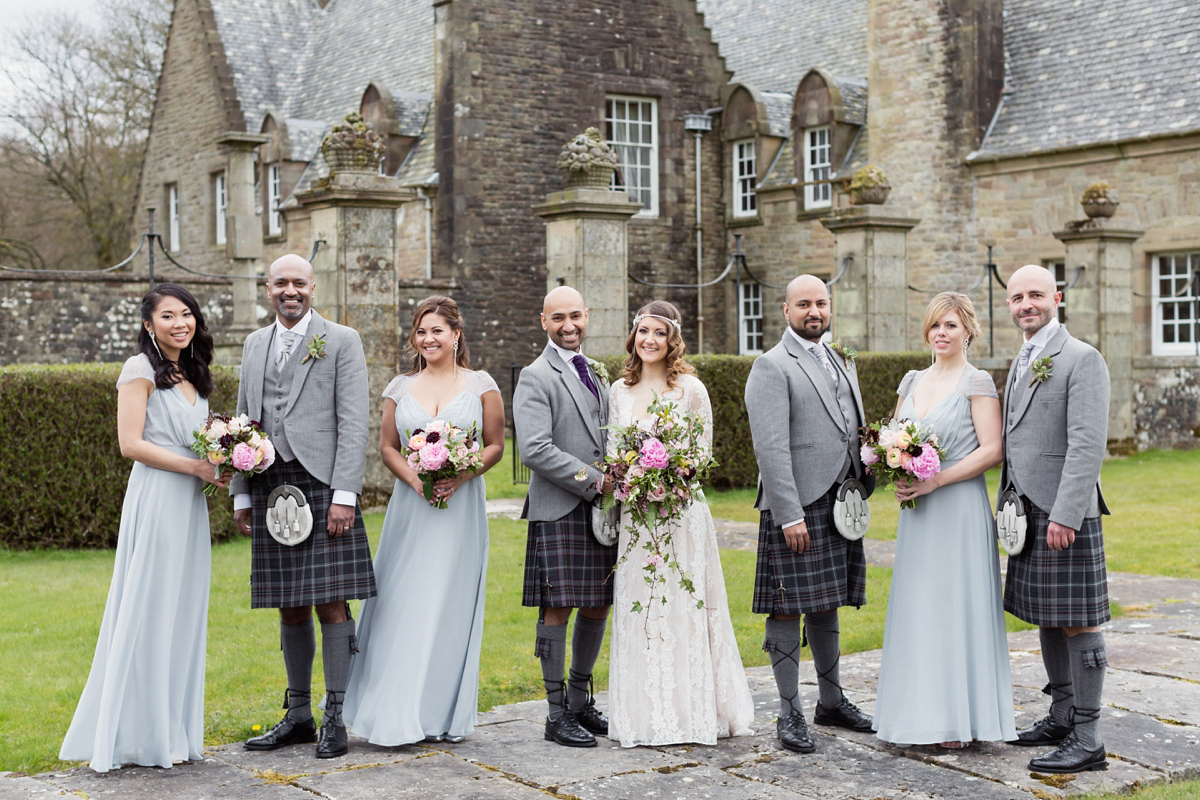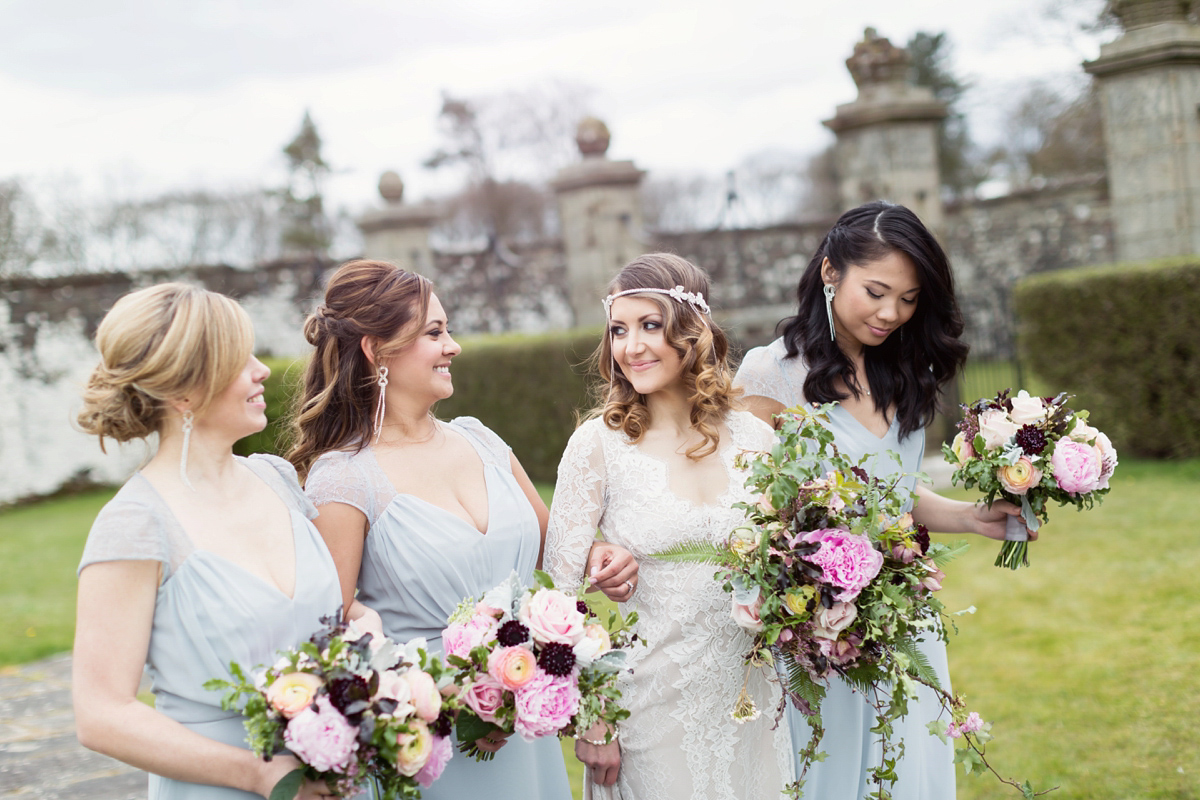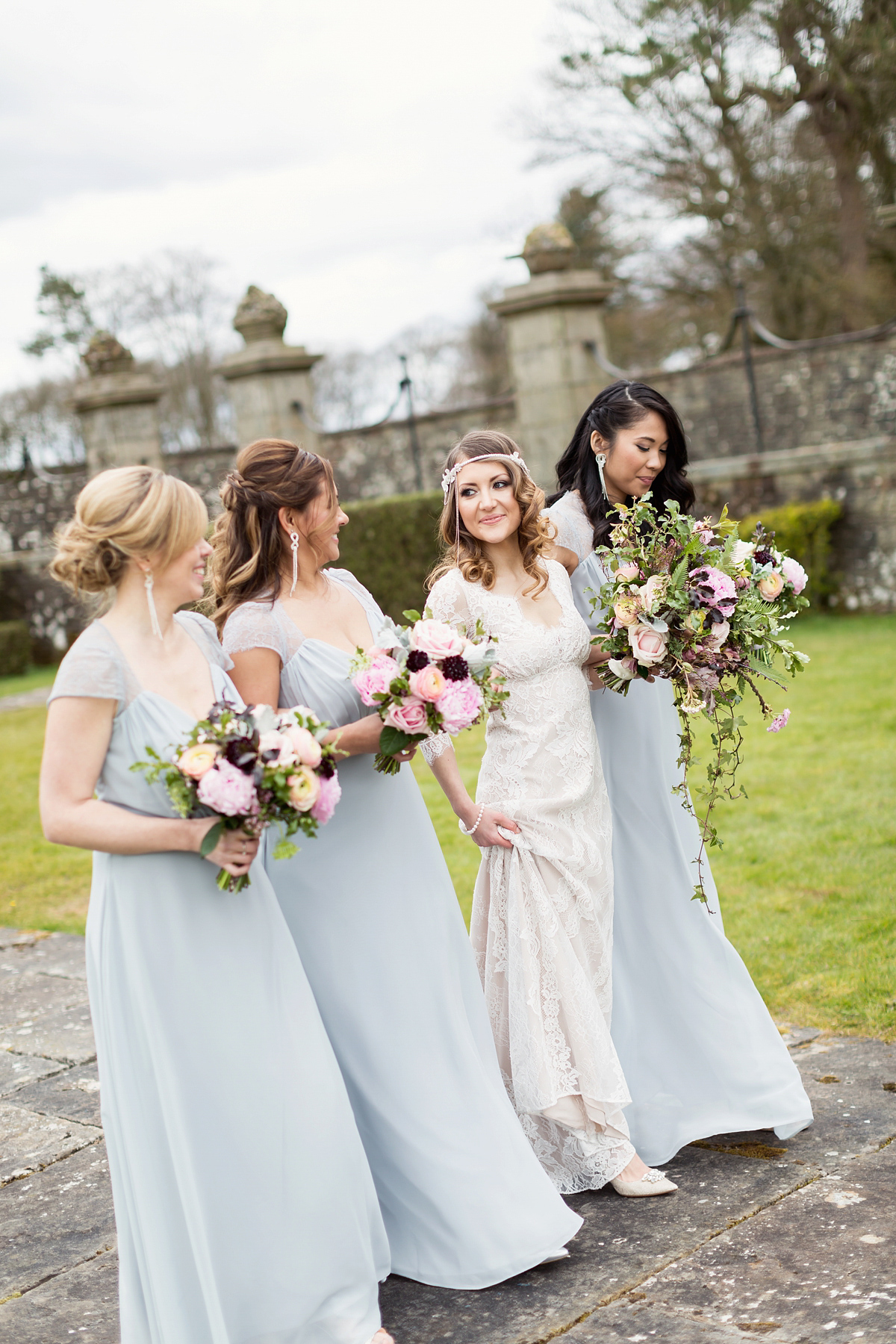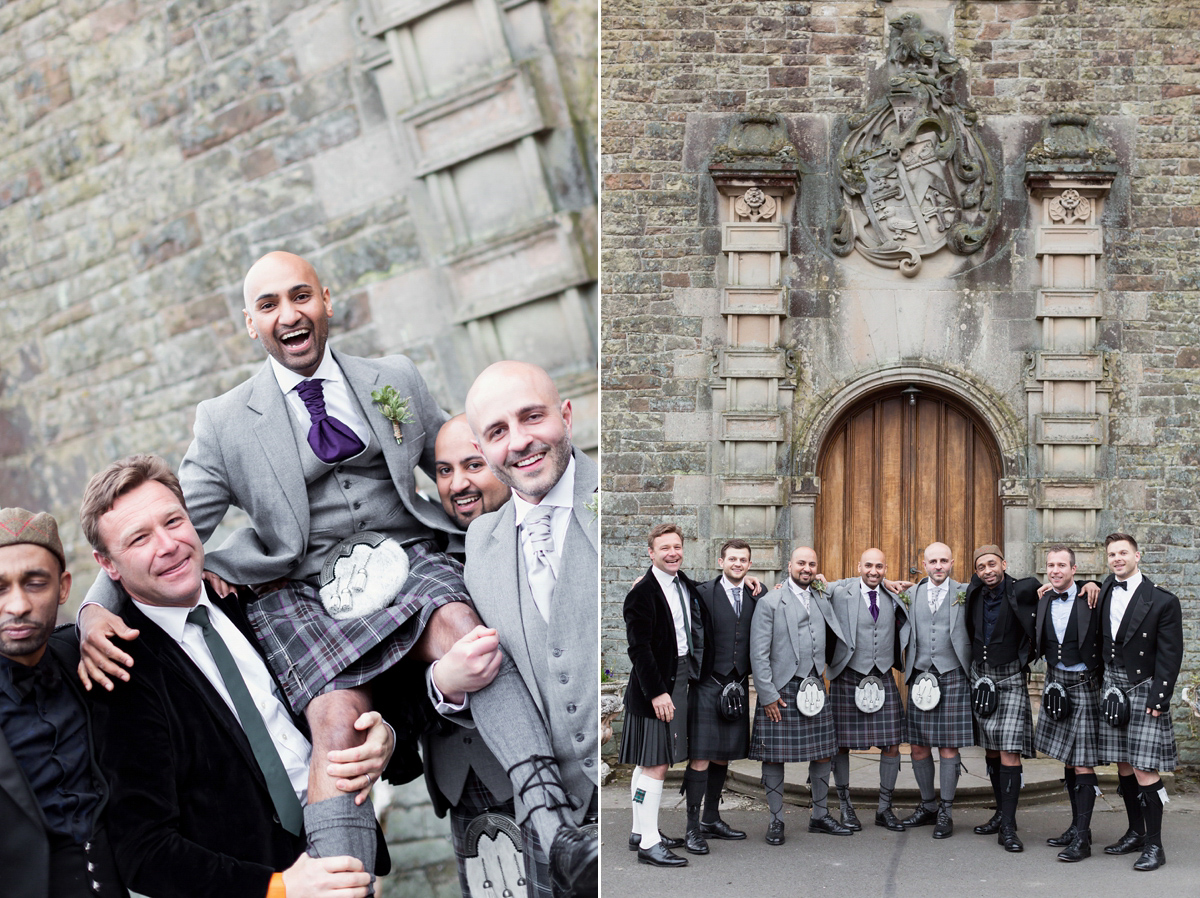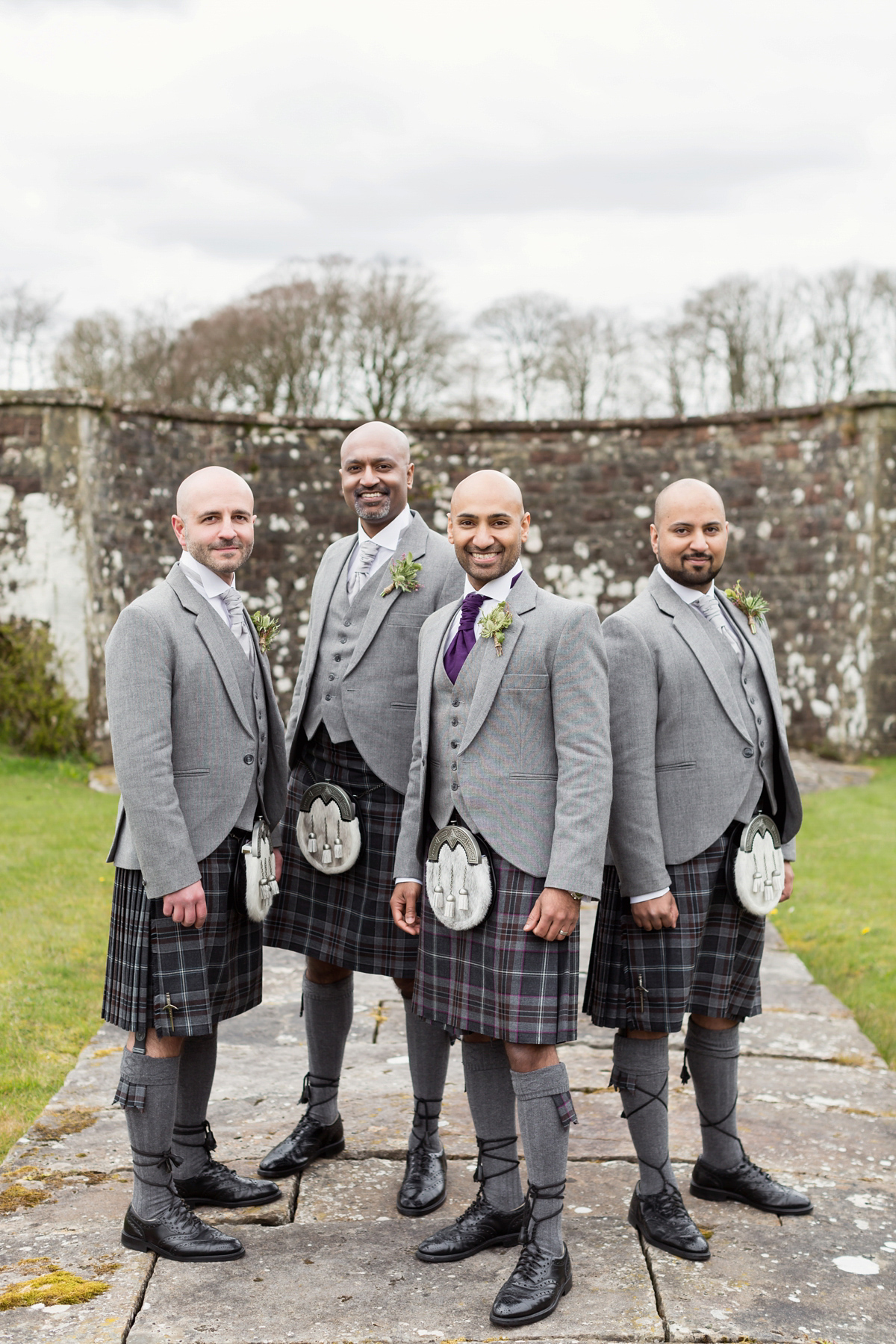 Looking through these images, what struck me first was the style of Craig at Craig and Eva Sanders Photography; dramatic and light-filled with a unique tone. The ambience of the April day has been captured; I can feel the warmth and love in the wood panelled interior of Rowallan Castle as well as the biting sunshine tumbling through the awakening branches outside.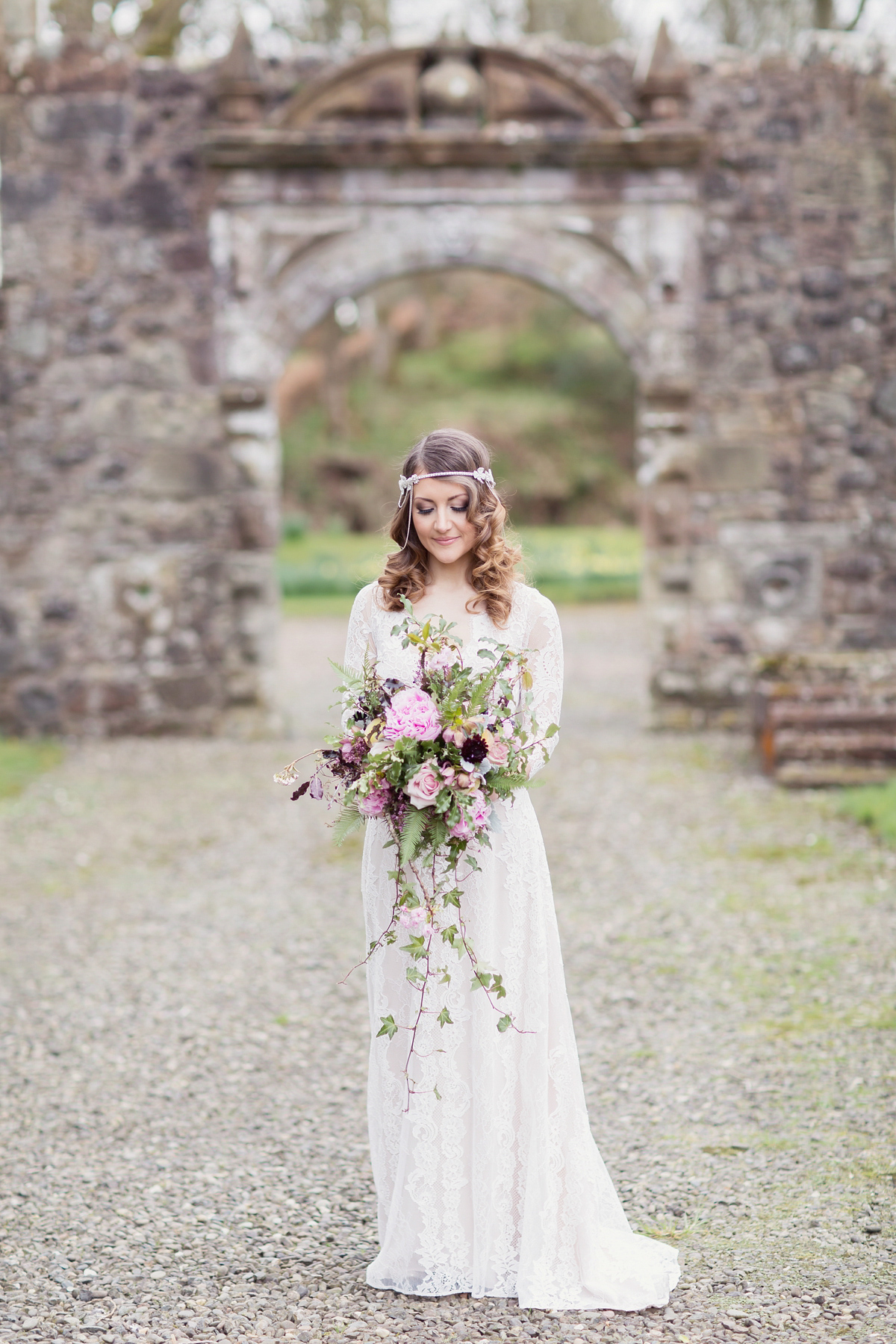 Good photography will resurrect moments and feelings; we have said it so many times on this blog but it truly pays to have the best photographer possible. Obviously, you can count on our Little Book for Brides site to recommend only the very best wedding additions and you can find Craig and Eva Sanders in pride of place in our Photography section.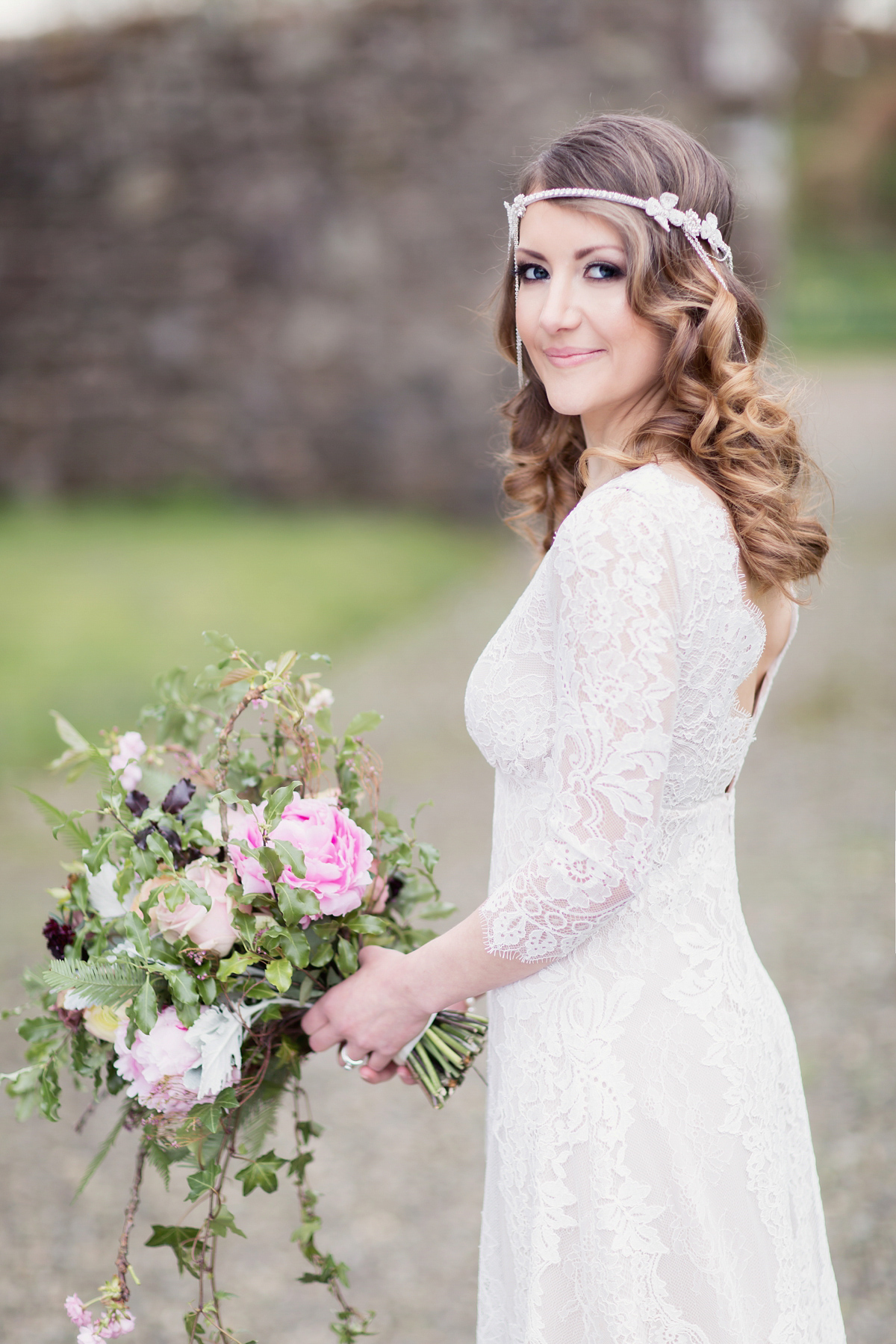 Why not enjoy a rummage through further wedding imagery we have featured by these talented pair here.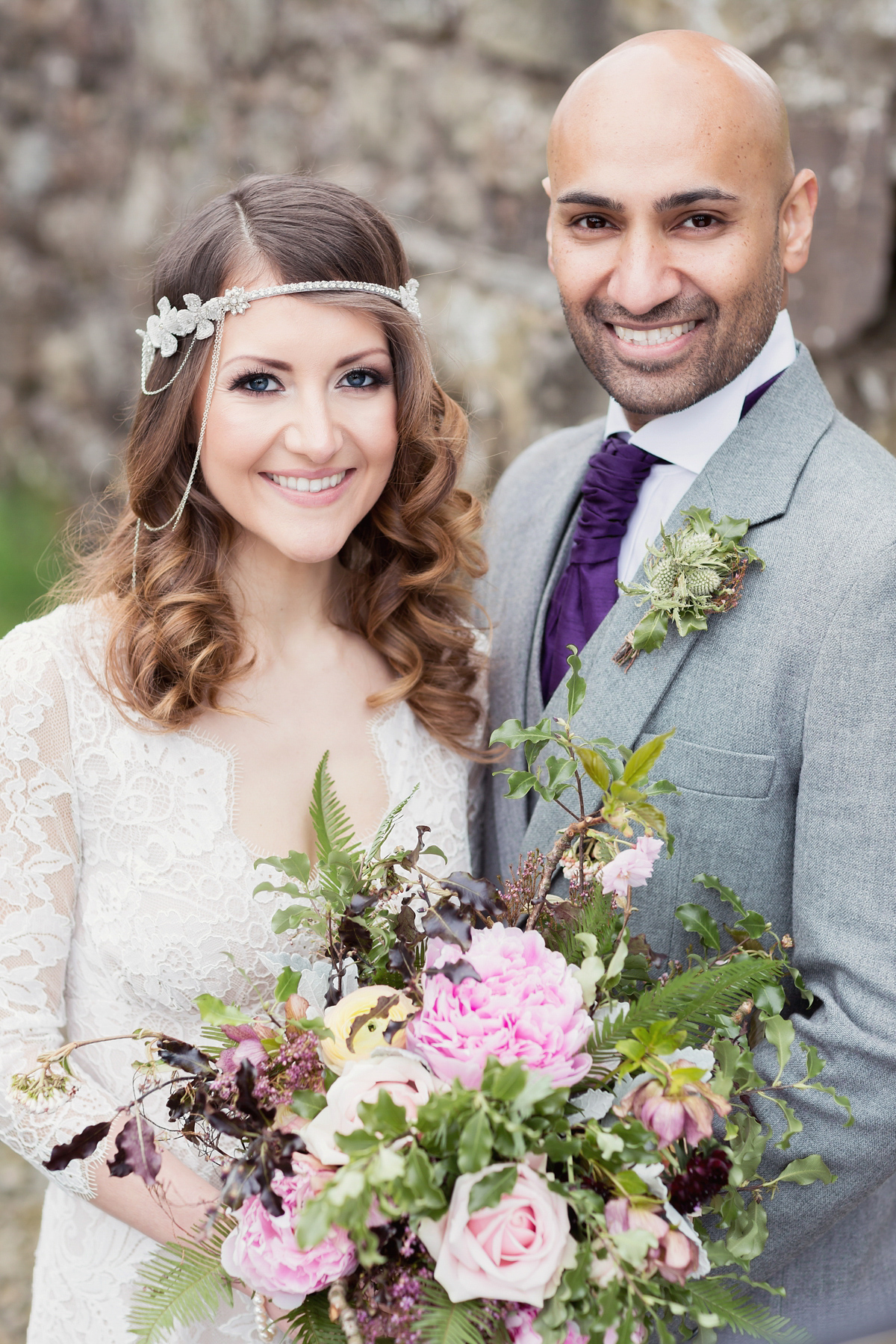 "Our photographer was Craig from Craig and Eva Sanders Photography and he was amazing. He kept us all laughing throughout the day, which really helped everyone to relax and feel at ease in front of the camera. It was such a fun experience being photographed by him and we couldn't be happier with the pictures. I love the style of photography and felt he really captured the mood of the day and beauty of the surroundings."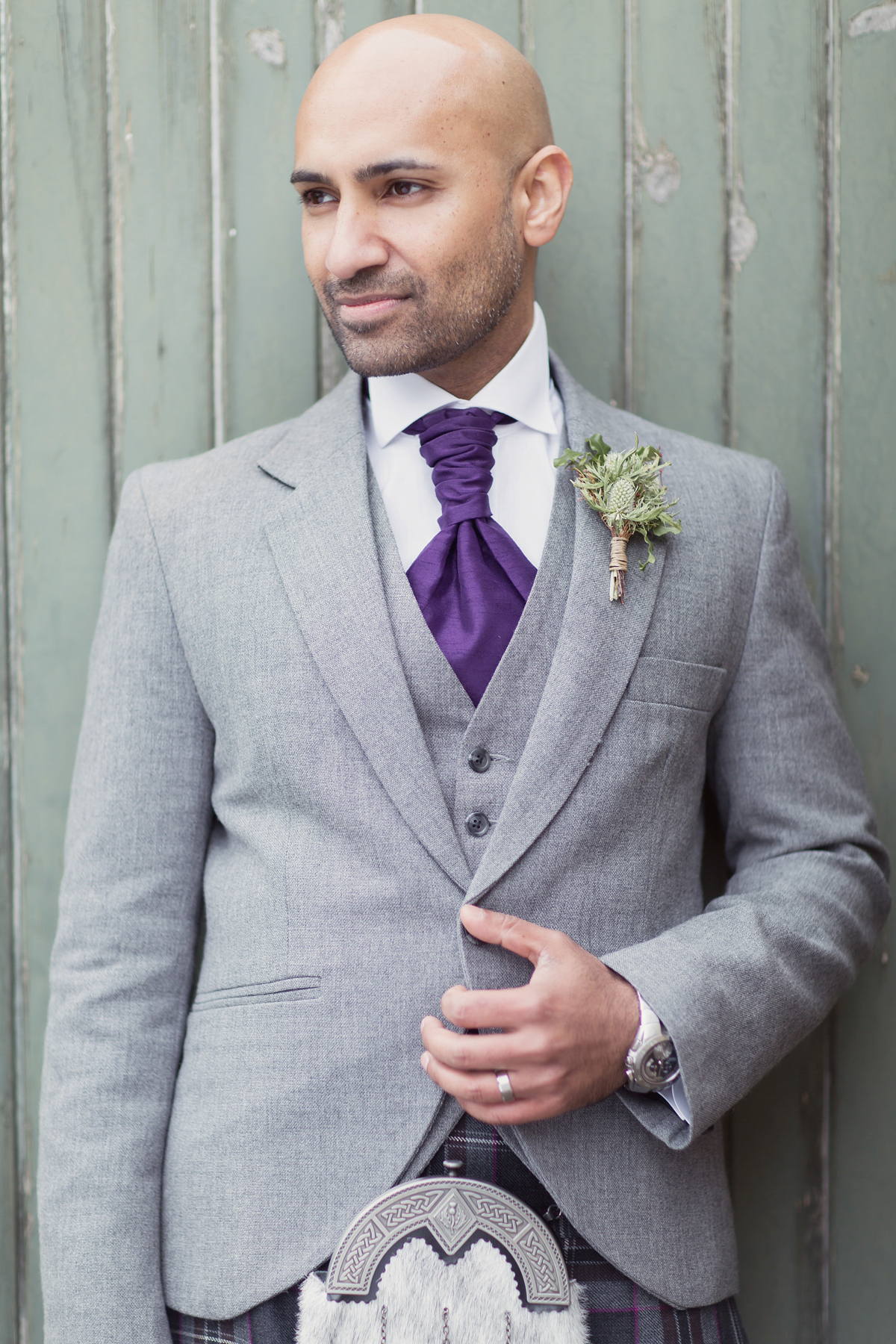 What struck me about this wedding is how much effort has gone into truly reflecting Asim and Lisa's journeys, both together and separately. Their respective upbringings and unique cultures have been celebrated, along with holidays, interests and moments enjoyed together. Truly embodying the very nature of a union and togetherness.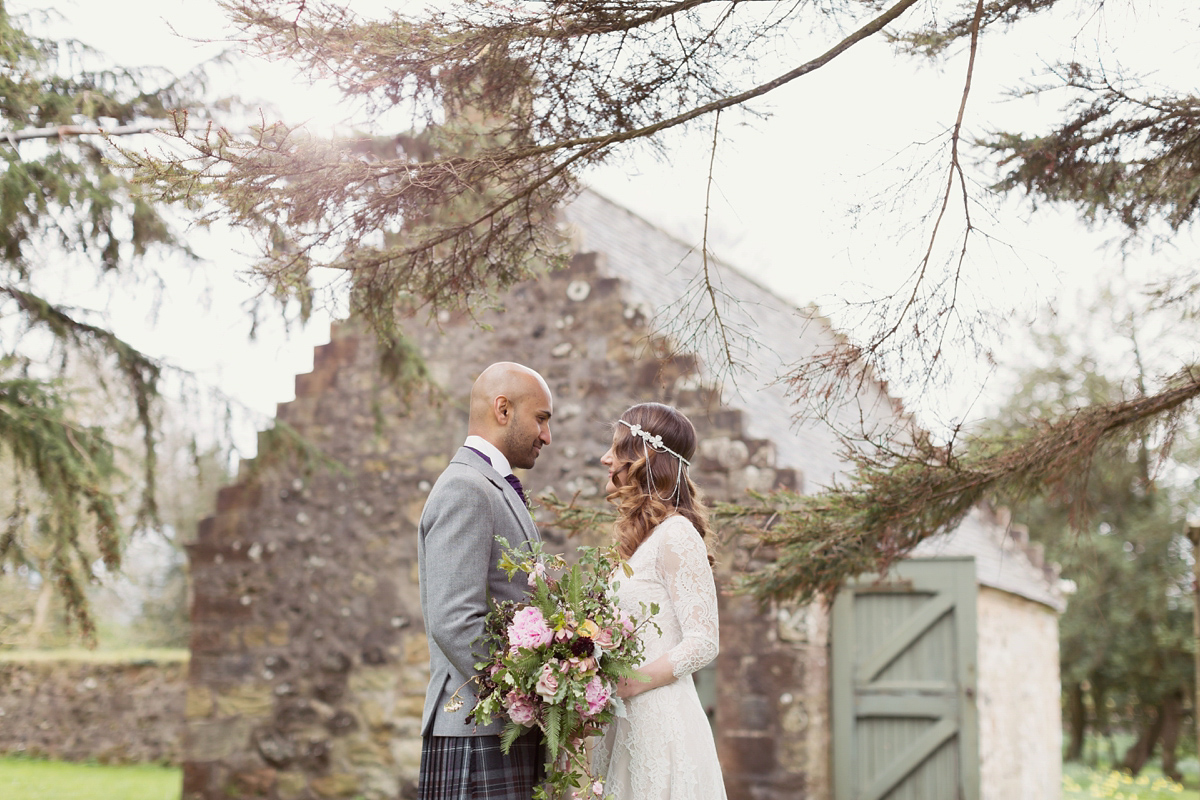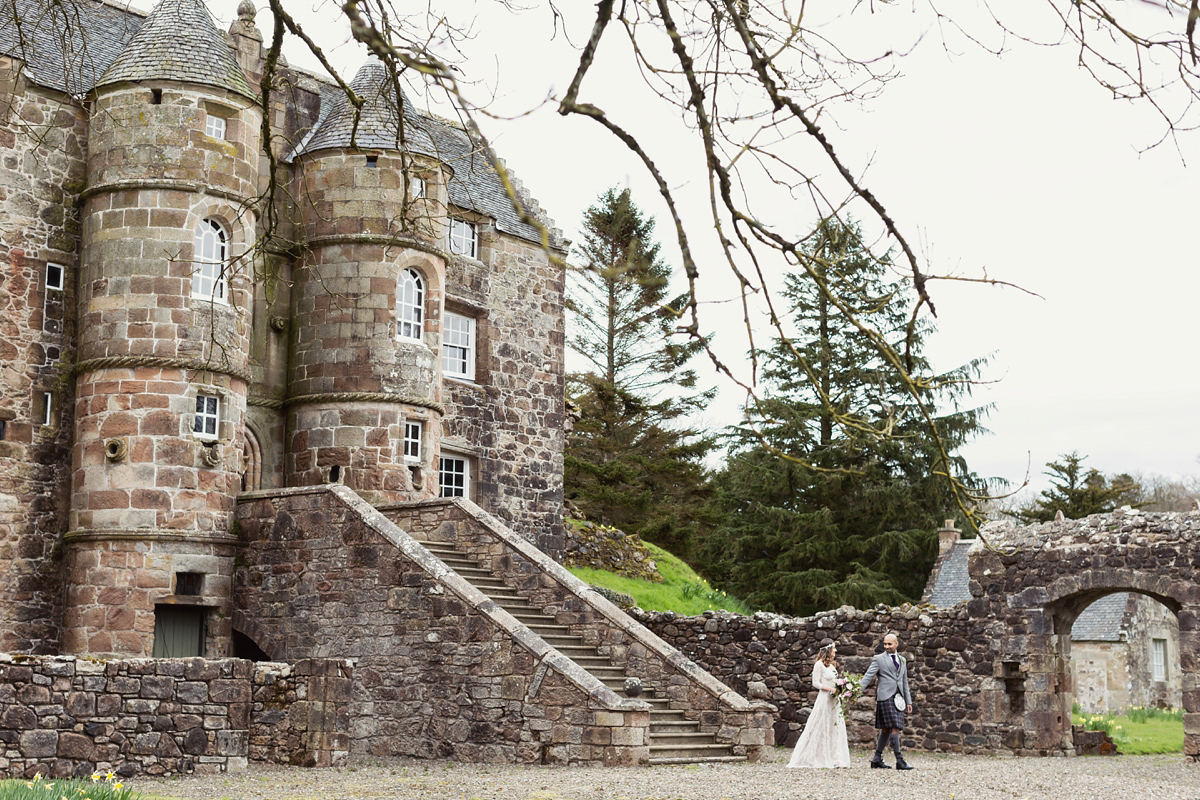 "We used vintage look metal birdcages to decorate the tables, which our florist adorned with lots of beautiful flowers and leaves. We also sourced vintage suitcases which we used for our wishing well. Miniature bottles of tea leaves and champagne flavoured lollipops were given as wedding favours which were sourced from Not On The High Street."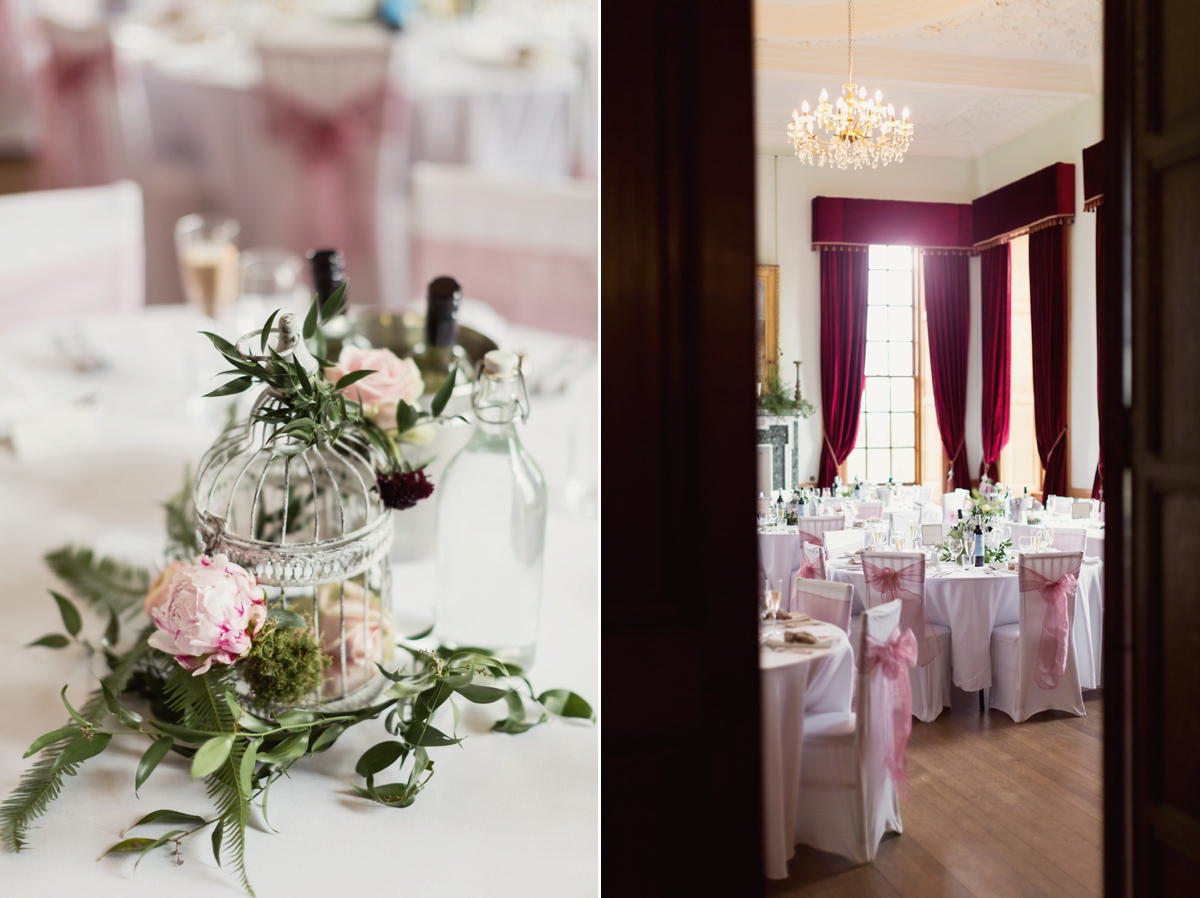 "George from Rowallan Castle managed all of the catering, which all tasted amazing. He even managed to create a bespoke bar food menu which was tailored to our multicultural backgrounds. They made poutine, which is a French Candian dish, goat cheese and pumpkin peorgogies for my Polish family members and haggis samosas for Asim's Pakistani-Scottish family."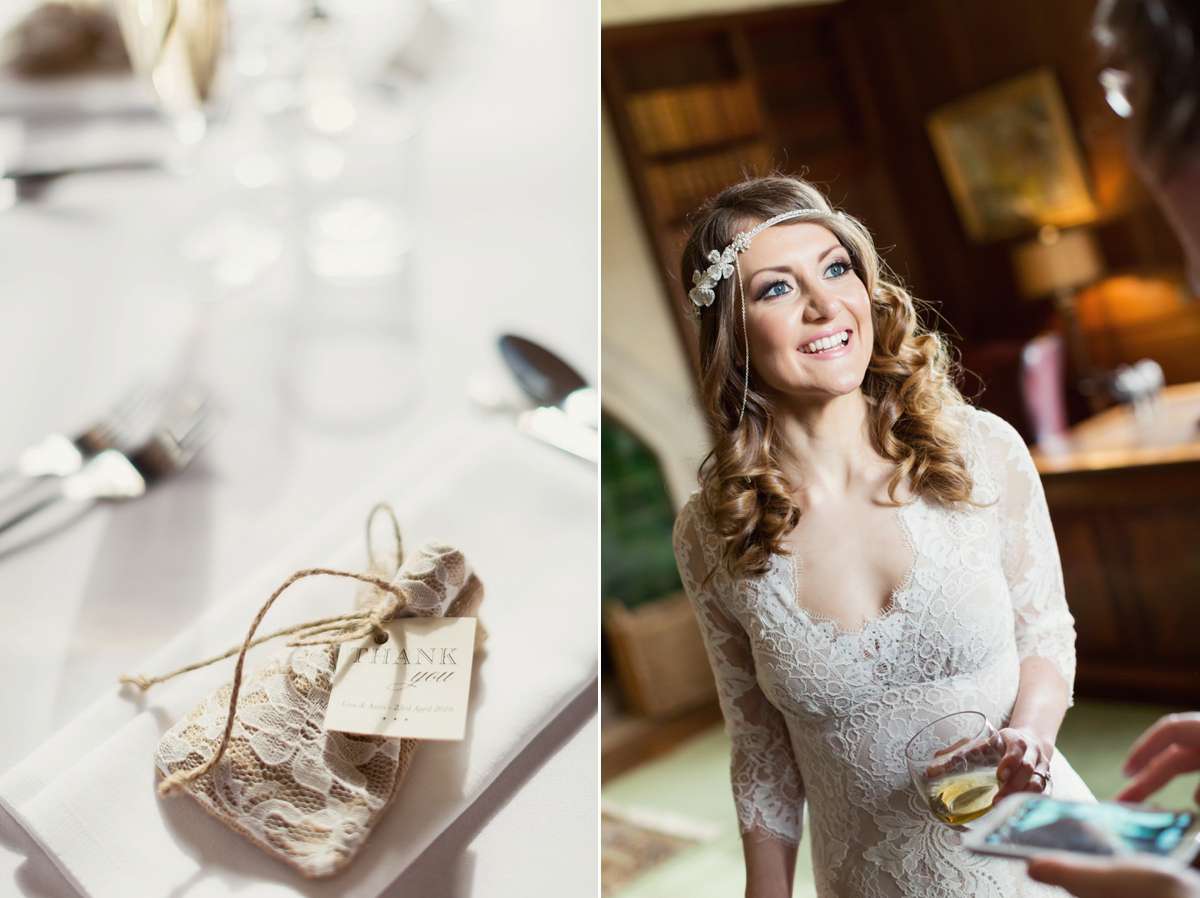 This beautiful cake was created by Emily at Happyhills, who fulfilled the brief for simple, pretty and in keeping with the wildness of the floral arrangements  in style. I can report that the mouth-watering flavours  were Black Forest, Red Velvet and White Chocolate and Raspberry.
Even writing those words had the same effect as watching Bake Off – I'm now in desperate need of freshly baked sugary goodness.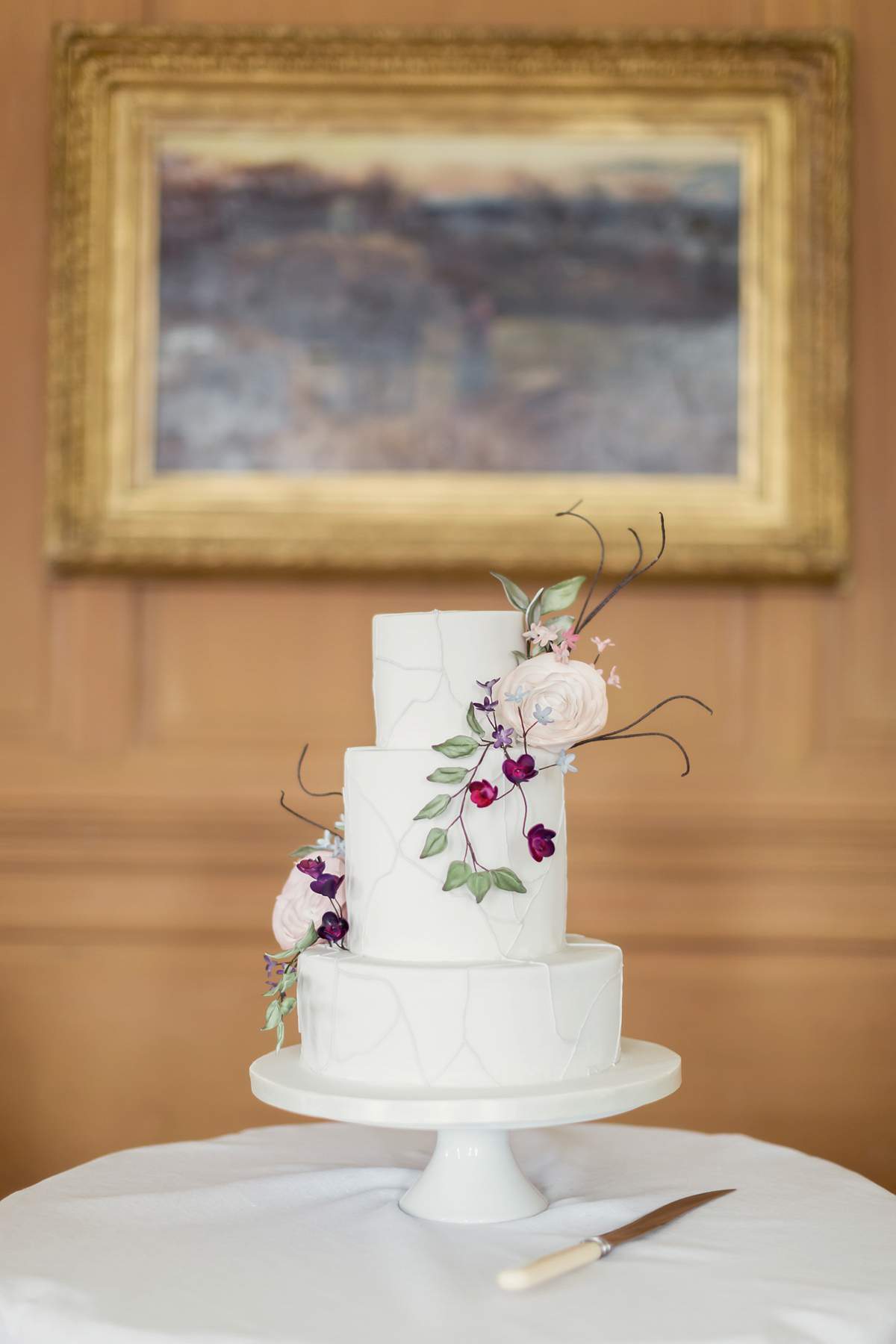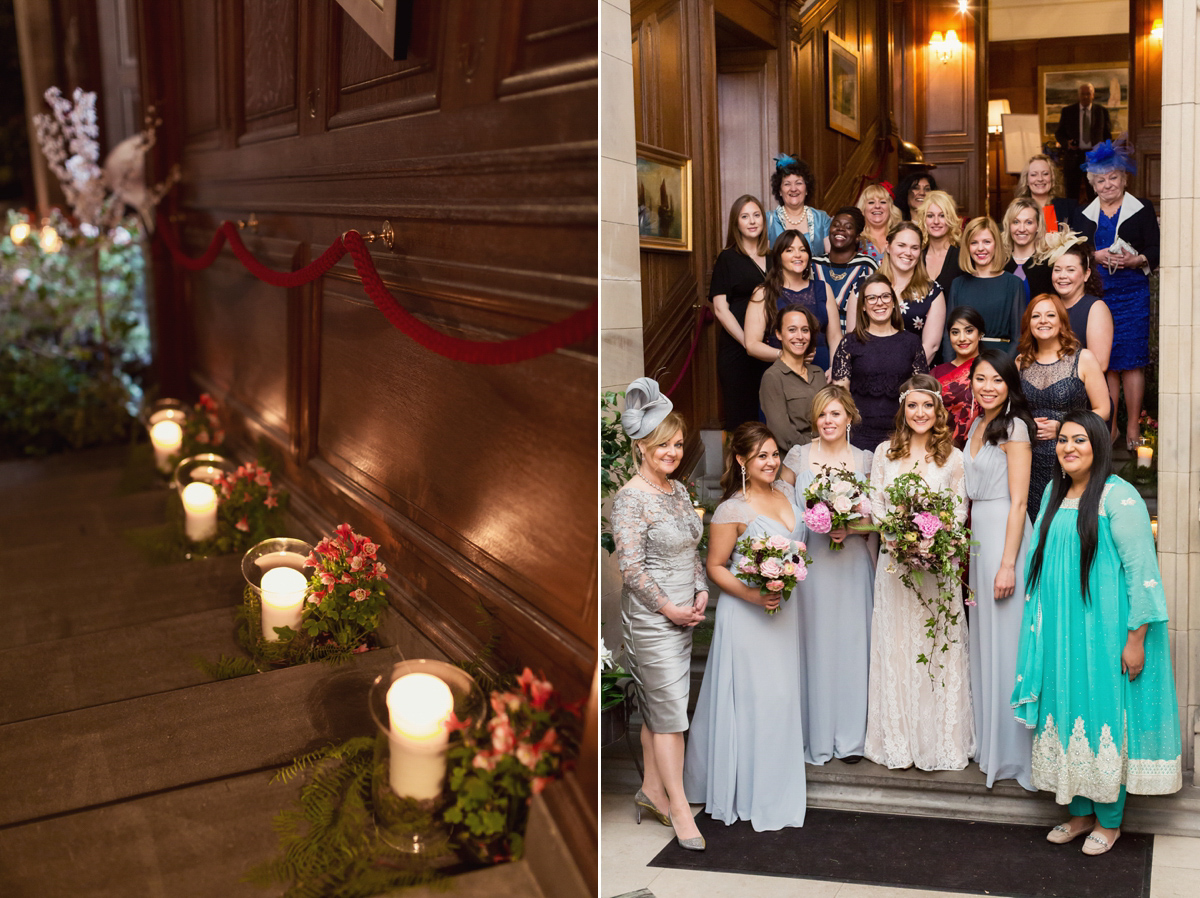 Guests were kept entertained with caricatures drawn by The Pencil Lady, such a fabulously fun idea! A deerhunter photo booth provided hilarity (and deer antlers) for the guestbook and Brightside keep the dancing going all night with their relentless energy.
"Our first dance was to a beautiful song by an artist based in Brooklyn, New York. His name is Nick Hakim and the song was called 'The Light'. Its an unusual and unique song, and as you would expect the lyrics hold a special meaning to us. It has a dream like quality and coupled with our magical venue, it made those four minutes feel like a perfect moment in time."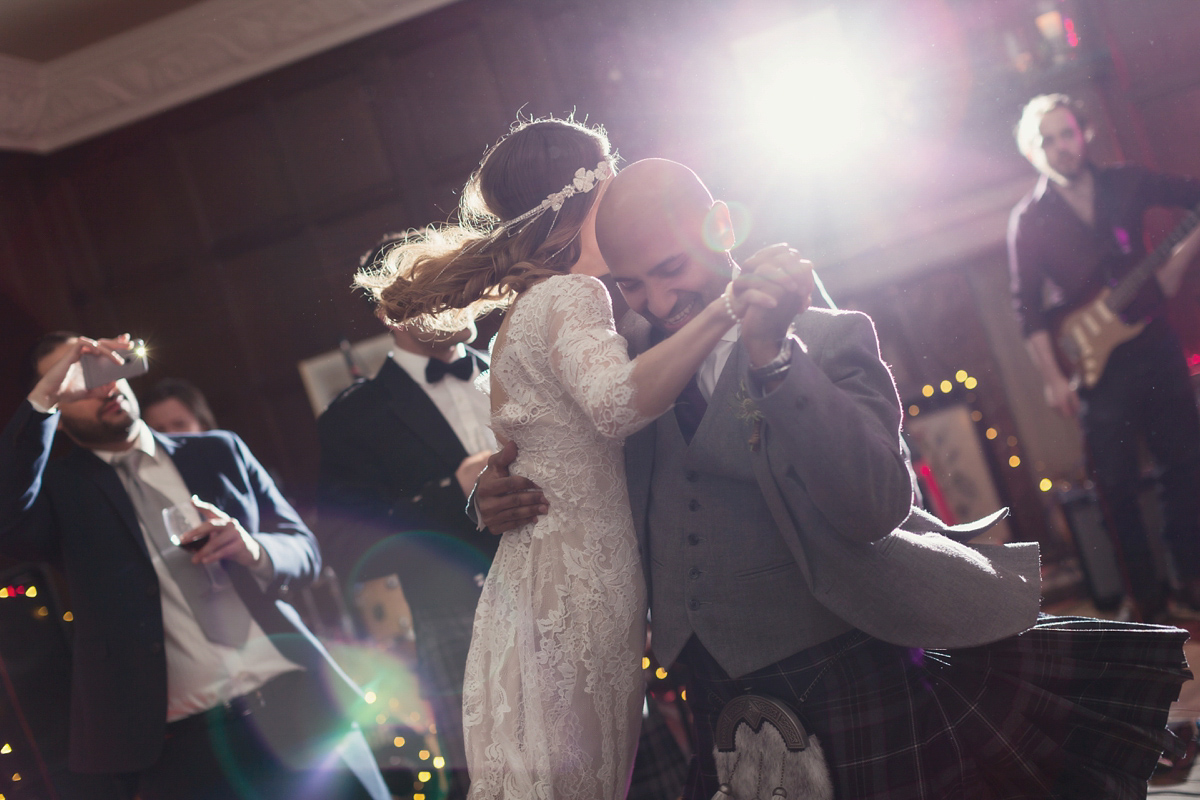 Words of Wedded Wisdom
"I'll start with the obvious: don't get too stressed! Everything will come together in the end. Nobody will notice any small hiccups that may occur, and believe me it wont be enough to ruin your day; they just become little insignificant moments of hilarity. Just have fun with the planning and styling of your wedding and make it uniquely yours. Remember that the tiny details are not what makes your day perfect. On reflection, one thing we might have done differently would have been to not go too crazy on the favours.
They were lovely but costs for a wedding can add up and I don't think it would have mattered to our guests. For one day in your life you will marry the person you love and everyone who loves and cares for you will be there to celebrate your special day, that's what makes it perfect."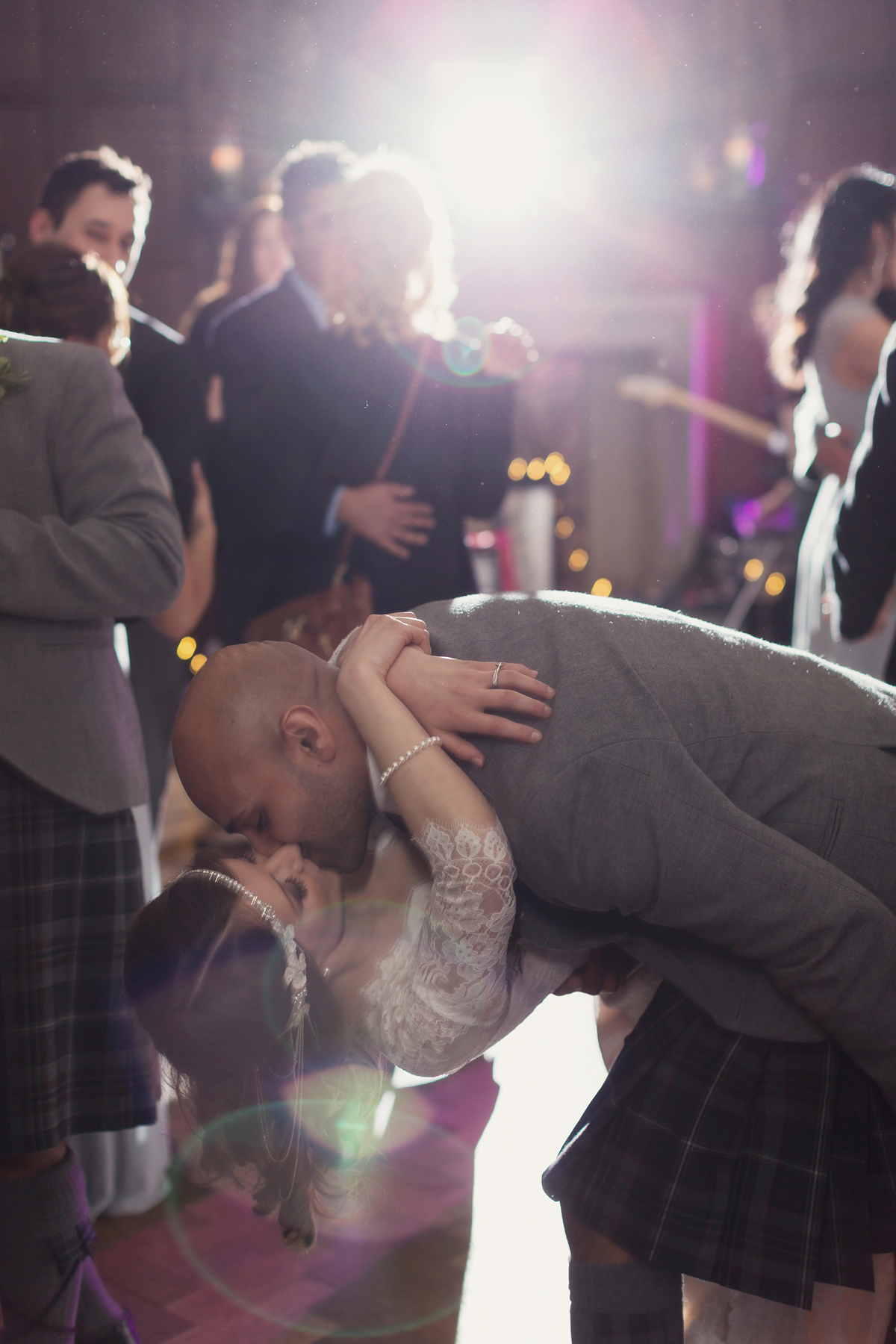 Blubbing again. Do schedule a few weeks of highly emotional time post wedding ladies! Truly an honour to ease myself back into the wedding world with this love story. Thank you to Asim and Lisa for sharing, and to Craig and Eva Sanders Photography for bringing the day to life for all of us to enjoy (and capturing so many daffodils, never fail to make me smile).
So, without pouring every part of the emotional whirlwind of getting married onto your Monday toast, I'll share a few thoughts from the other side (and save some for my words of wedded wisdom when I get to share my own day with you lovely lot). The main point is to not put too many expectations onto how you will feel. Time flies, things don't happen how you thought they would, all of the people you have ever met want to talk to you and it feels totally SURREAL that its actually, finally, really, bloody happening. During the speeches my brain checked out; it had filled its emotional capacity and I felt totally overwhelmed. No tears, just white noise and a slightly blank stare (a glass of Prosecco and some fresh air worked wonders).
So, no pressure on yourselves guys, stay present and ride the wedding wave (on the day, and for that matter, in life). That's the main point I wanted to share with those of you about to leap into wedded bliss with a statement lip and a carefully planned itinerary. Oh, and its totally, epically, giddily WONDERFUL and everything you will want it to be. Bathe in all of that love and hold it with you forever.
So, confusingly, I shall sign off for the first time as Mrs Emily C!
Stay wonderful ladies,
Emily x