I'm so excited it's finally February – however much I try January always feels so grey and gloomy. Spring suddenly feels like it's not so very far away and I'm so looking forward to escaping to a little cottage in Norfolk next weekend with my fiancé to bid this  non-snowy winter goodbye. I'm dreaming of long walks on the beach, log fires and wearing pyjamas pretty much exclusively.
Today we're fast-forwarding to long summer days full of wild, colourful flowers, glitter and prosecco – seriously, does it get any better? The very cool Zoë, a designer for Free People, wed her husband Craig, a small business consultant, on July 4th 2016 at St Audries Park in Somerset. Their photographer, Maureen Du Preez, compiled this charming little edit of film and stills as a gift for the newlyweds.
Film + Photography by  Maureen Du Preez
"We love colour, so we knew we wanted our flowers to be bursting with every colour of the rainbow. We're very laid back so we just wanted it to feel natural, romantic and organic. We had all wild seasonal flowers and ferns and then neutral colours for the wedding party. We just wanted everyone to feel comfortable, so it wasn't too formal. Just nice, laid-back and boho. I am a big fan of sparkles so we had to have copious amounts of glitter, twinkling lights, prosecco, sparklers and unicorns. It was fantastic to see everyone shimmering like little fairies by the end of the night."
These two lovebirds are based in America, so finding suppliers who were truly excellent communicators was key. St Audries Park provided a wonderful manager who kept everything running smoothly as well as providing catering onsite.
"We chose St Audries Park because Zoë is from England and we have always loved the southwest of England for its natural beauty. We wanted a beautiful surrounding to give us that magical fairytale backdrop. We live in Philadelphia so it was hard finding a place from across the ocean, but after stumbling across pictures of the venue online we instantly knew this had to be the place."
Zoë wore a divine tulle-skirted couture creation from Daalarna, purchased from Schone Bride in Brooklyn. She wanted something simple, romantic and delicate, which was light and comfortable too. This gorgeously unstructured dress, with dainty spaghetti straps and a lace bodice, was complemented with a veil the bride made herself and shoes from BHS, picked up in a clearance sale.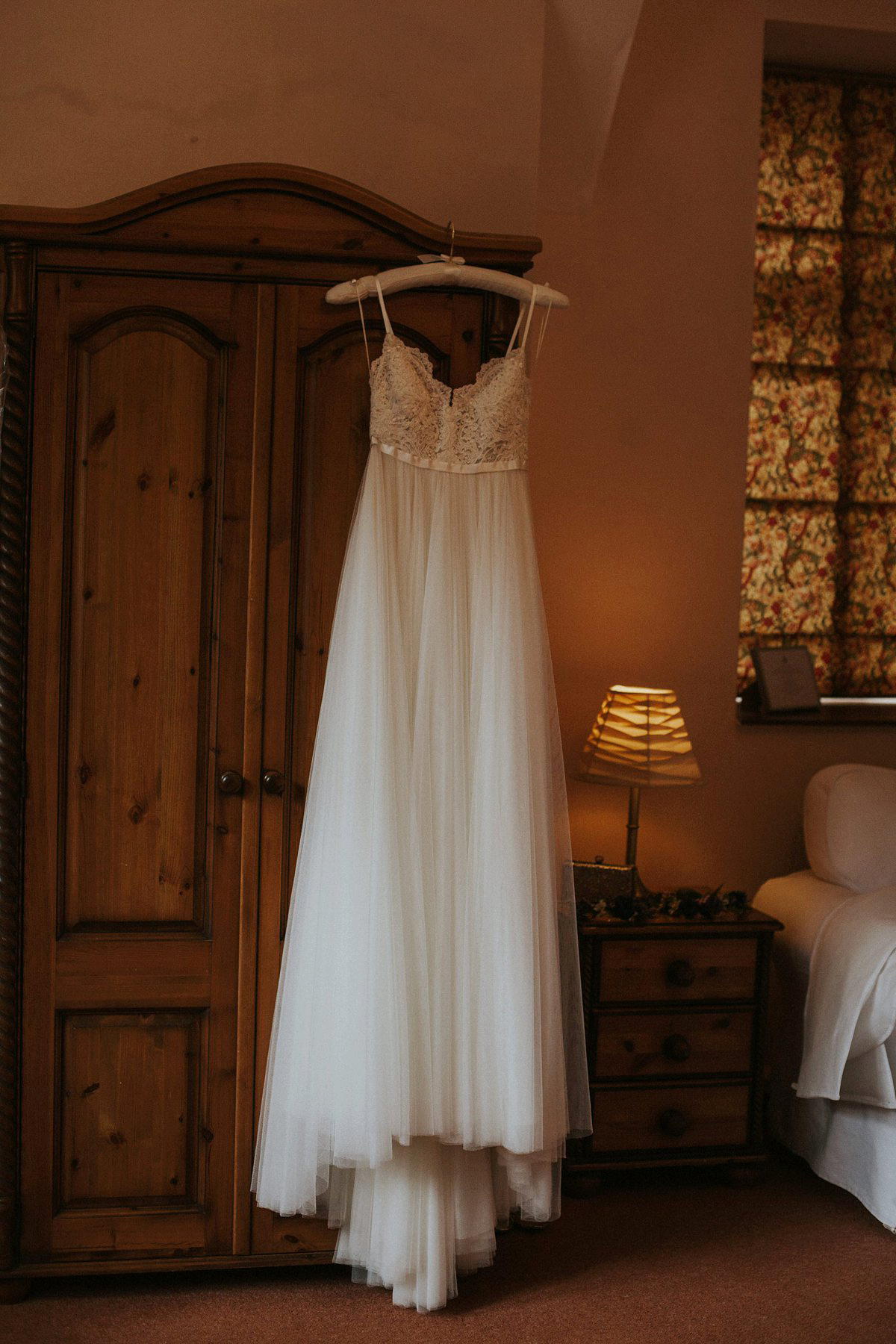 "My hair was done by Claire Pickering of The Salon in Ripley and I did my own make-up, with help from my lovely bridesmaids. I made two flower crowns myself, one sparkly one for the ceremony and then a more fern-y one for the reception."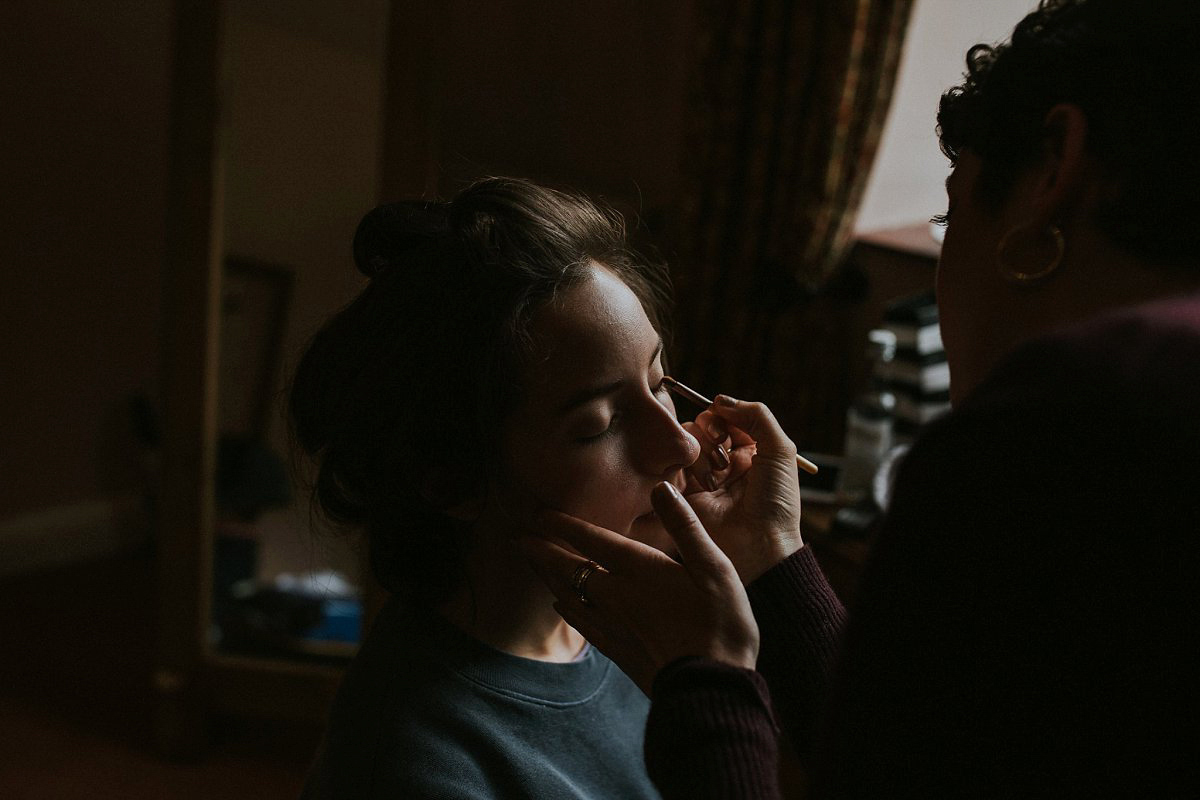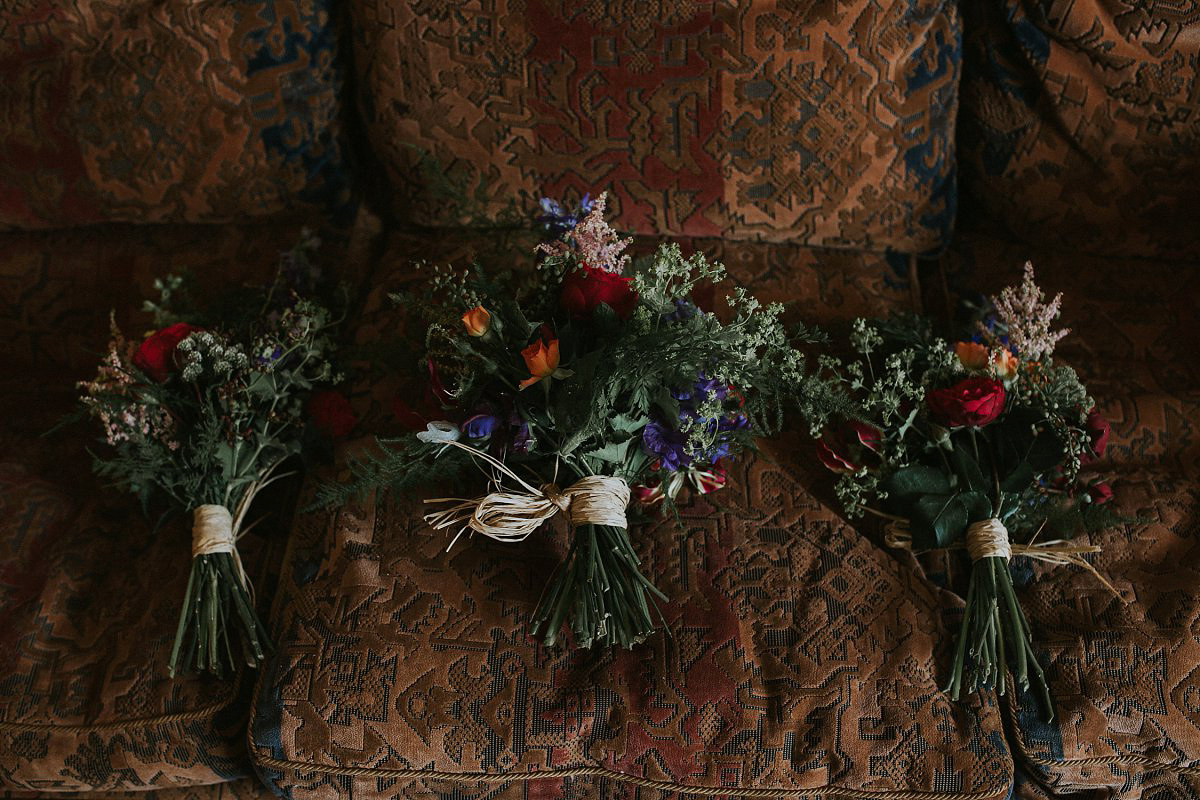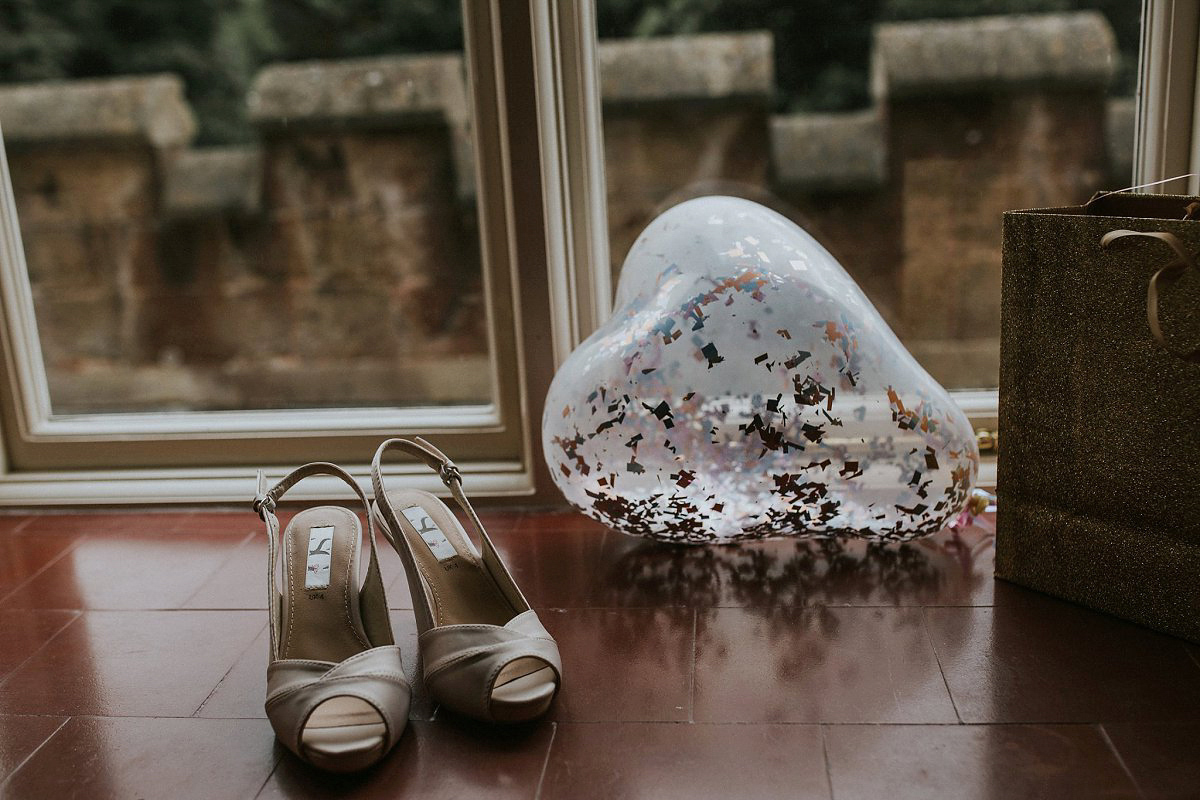 "One of the bridesmaids dresses was from Adriana Papell and one was Needle & Thread bought from ASOS. They wore their own choice of jewellery and a range of chains and rings, plus a bracelet I bought for each of them. My niece, the flower girl, wore a dress from John Lewis."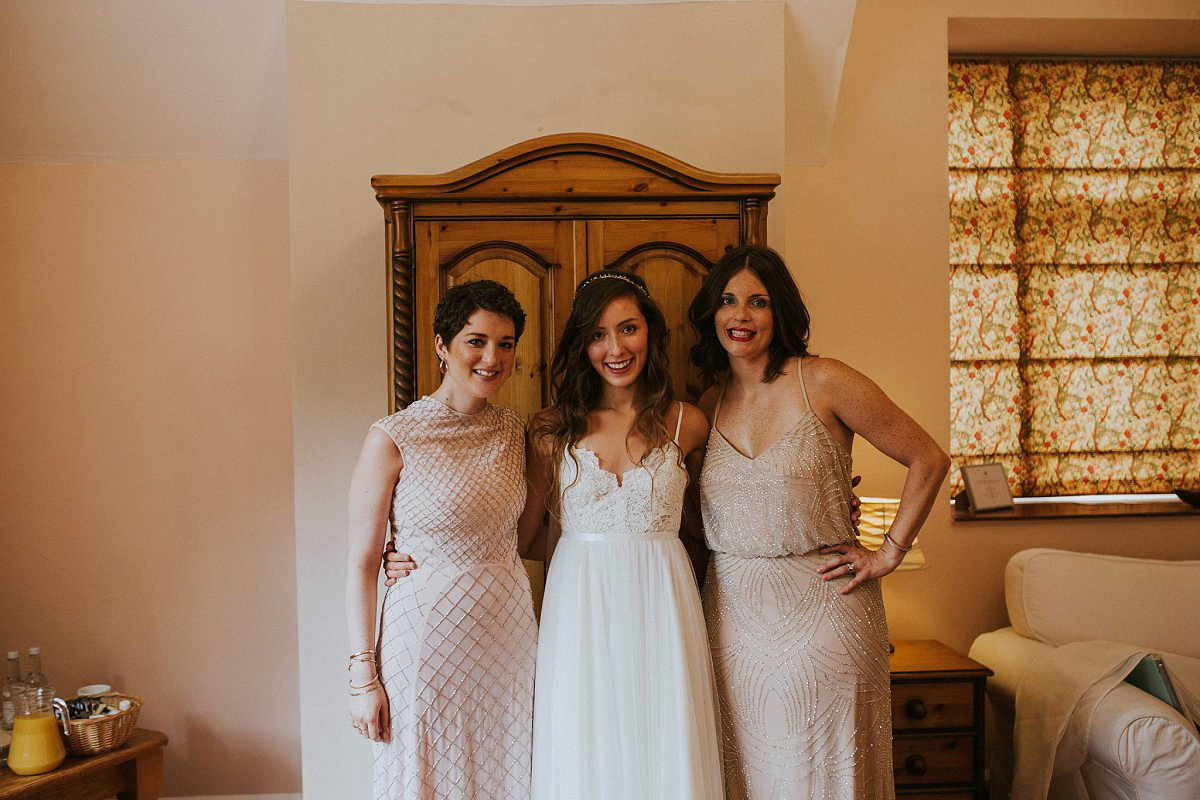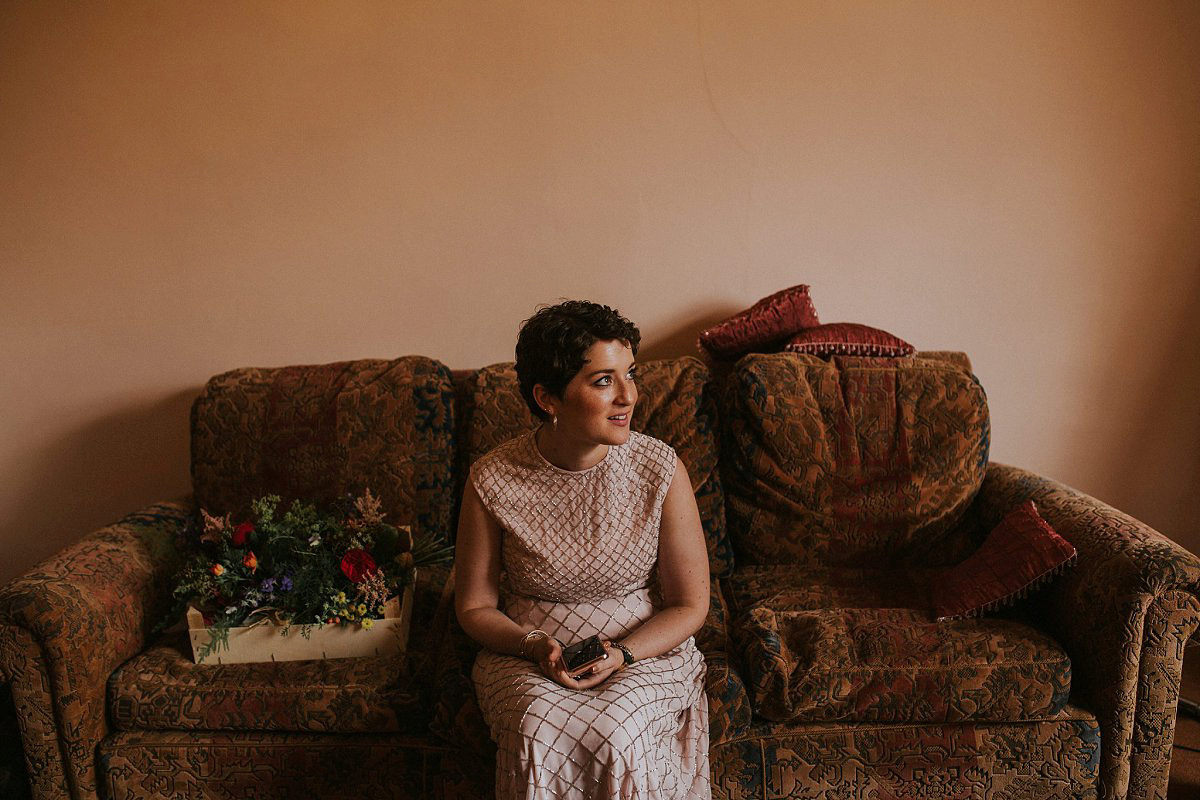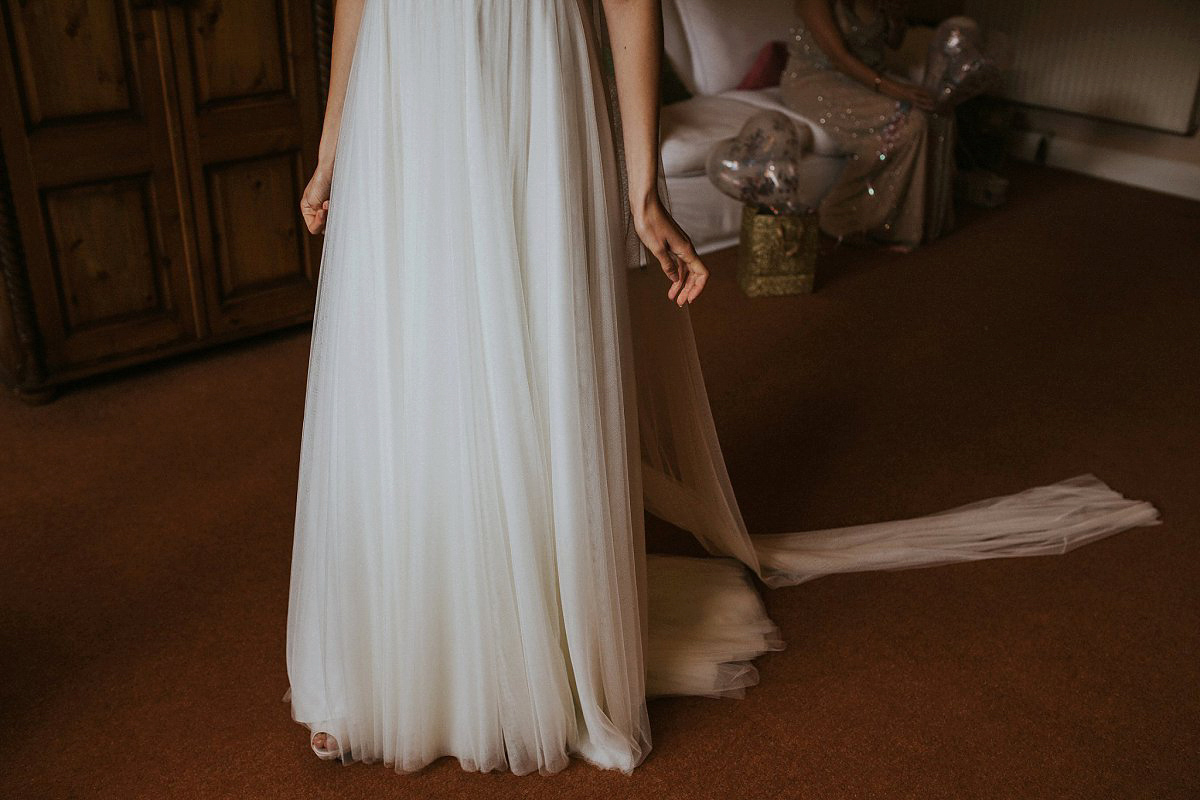 "My parents visited the St Audries Park for us and confirmed it was the real deal. It's just got a magical feeling there. Everyone at the venue was so lovely and helpful too, it just felt right. The venue provides wonderful wedding managers who are complete superstars."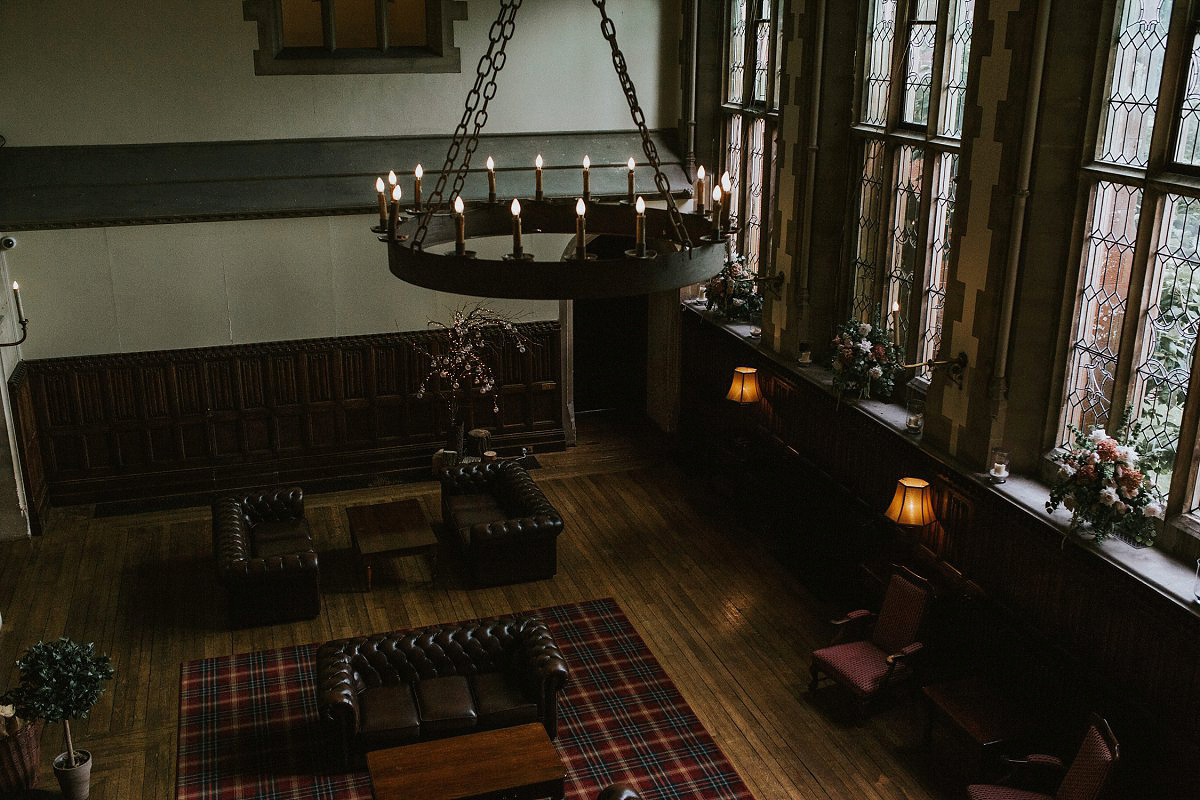 "Our manager, Becca, was incredible every step of the way. It was exactly what we needed, being so far away we relied heavily upon her organisation and fantastic communication skills. She's brilliant."
"We met in a dive bar in Fort Myers, Florida back in 2010. Craig is from Fort Myers and I was working down there at the time. We just kept crossing paths with one another and eventually got together, almost a year after meeting. We moved up to Philly in 2014 and Craig popped the question on our trip to California in April 2015."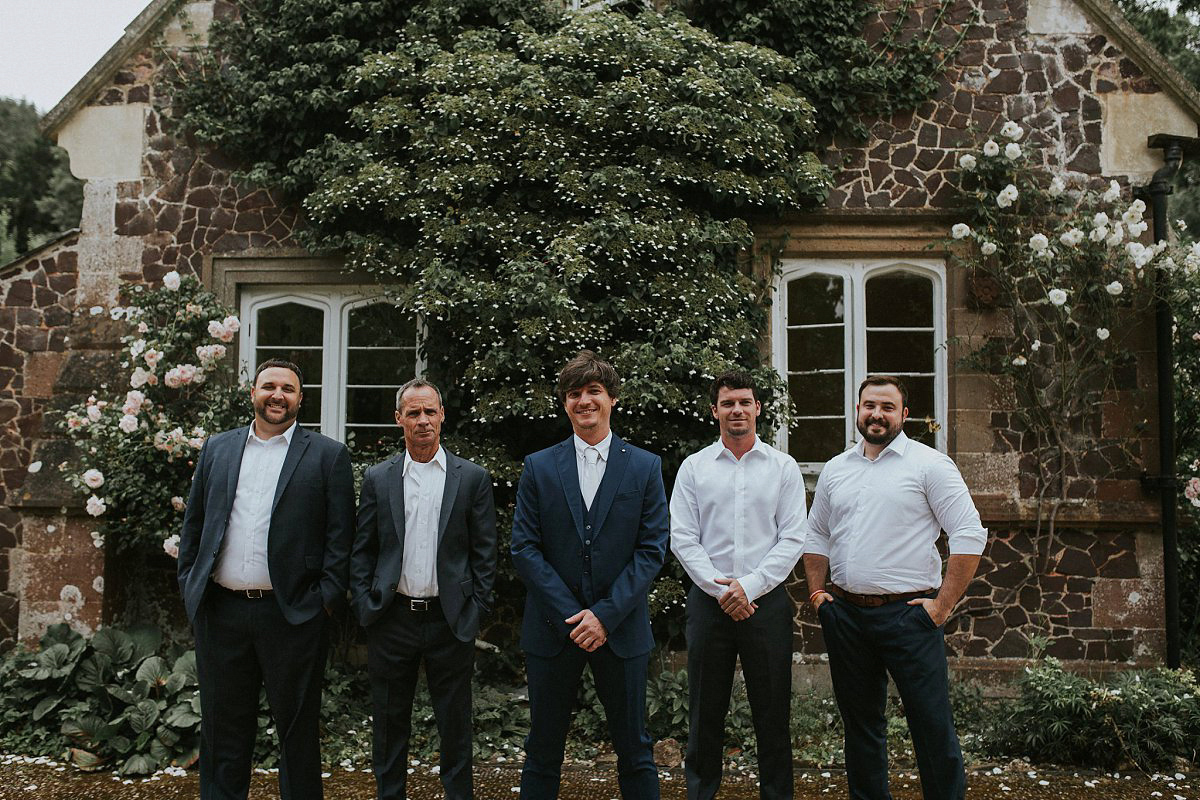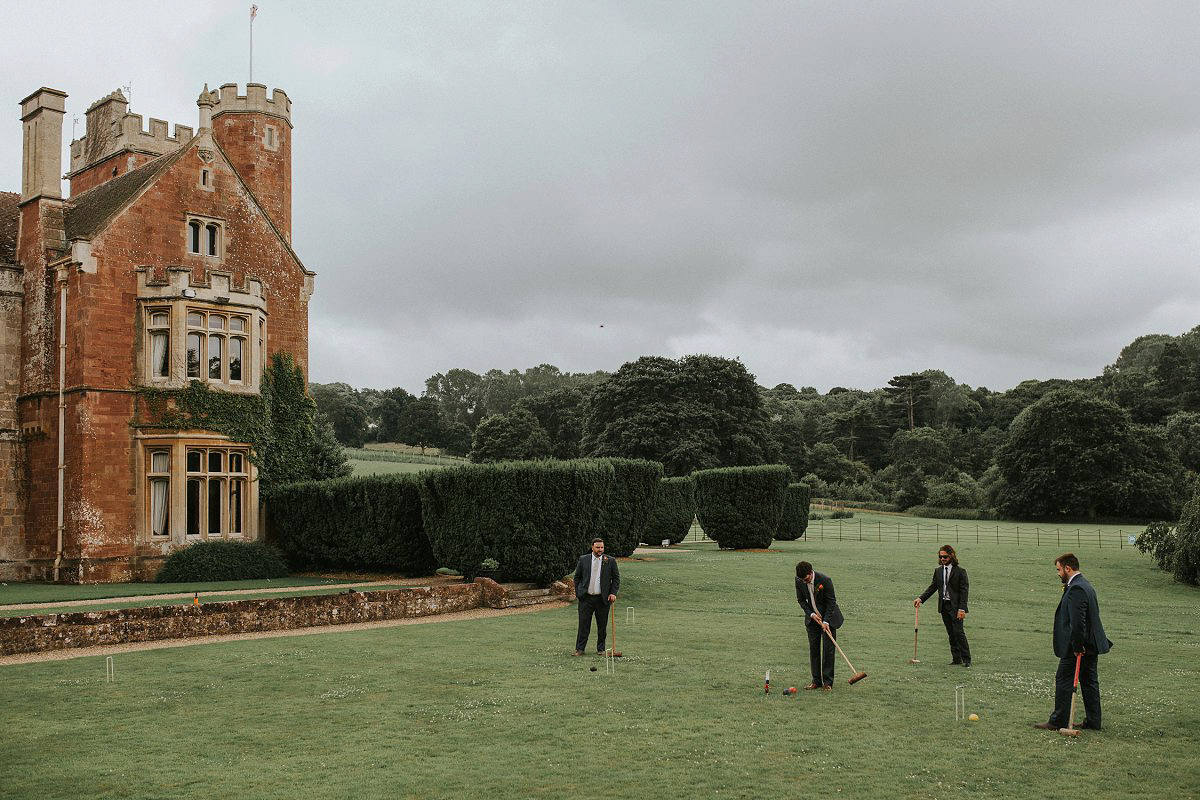 Craig wore a suit from Zara, paired with a tie from Calvin Klein and a watch from Nixon. I adore the bright orange pop of his buttonhole against the sharp navy tone of his ensemble.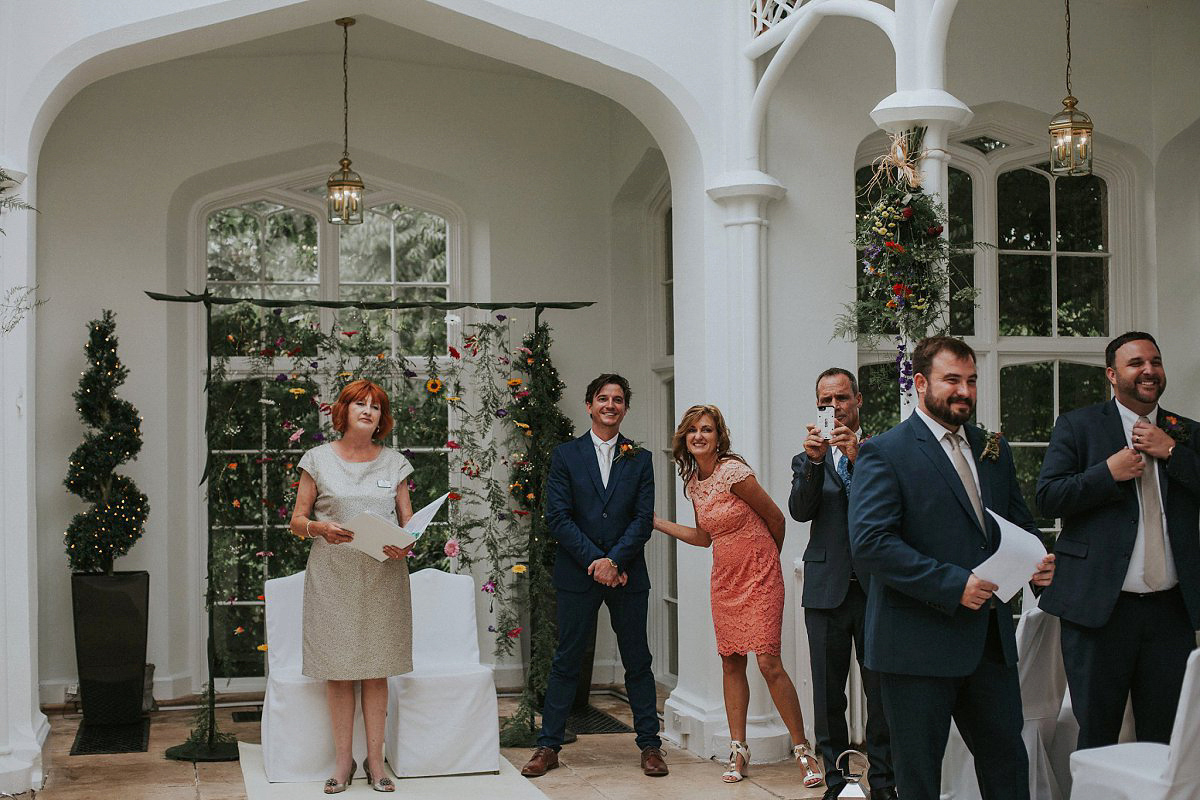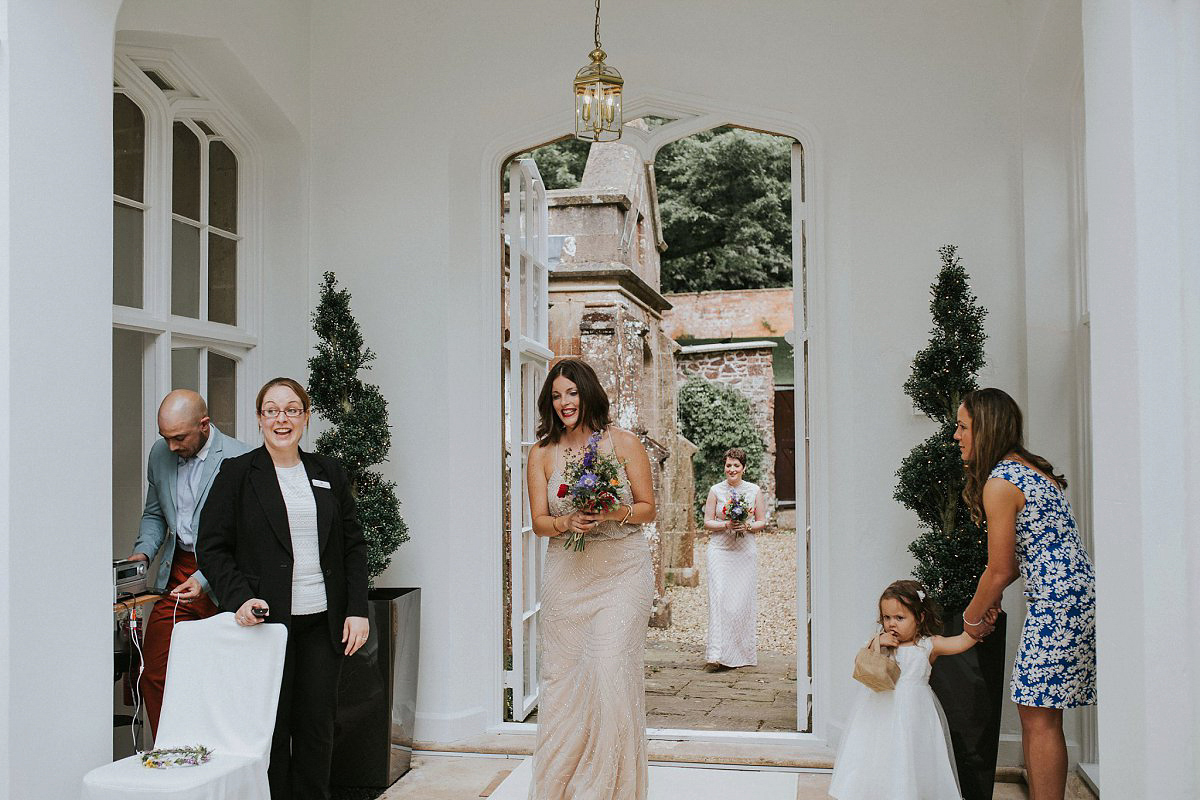 Zoë walked down the aisle towards her love on the arm of her father to the sounds of Stay With Me by Sam Smith, performed by Brooklyn Duo.
"Brooklyn Duo do some brilliant covers of modern songs which was great for our ceremony; it kept it all from getting too serious. We also included their version of the Jurassic Park song for the background music before the ceremony. We each chose vows in secret for one another. It made it a lovely surprise on the day to hear what the other had chosen."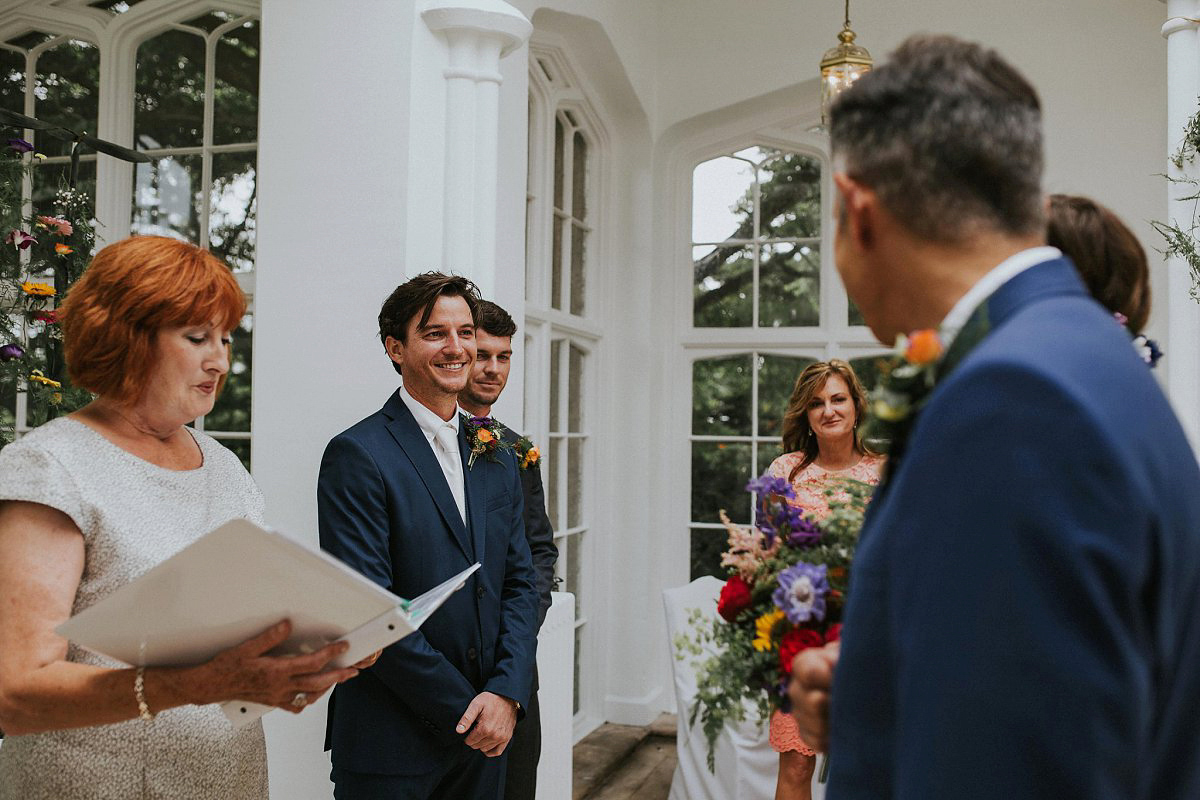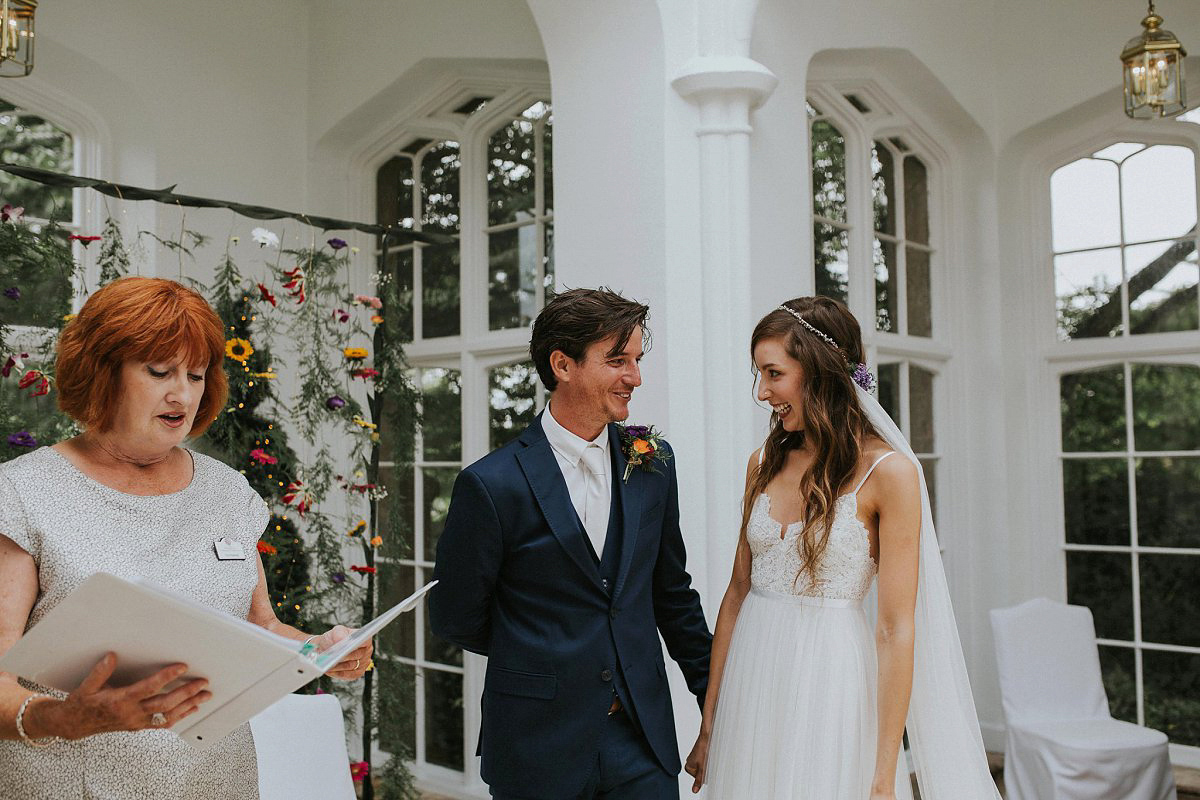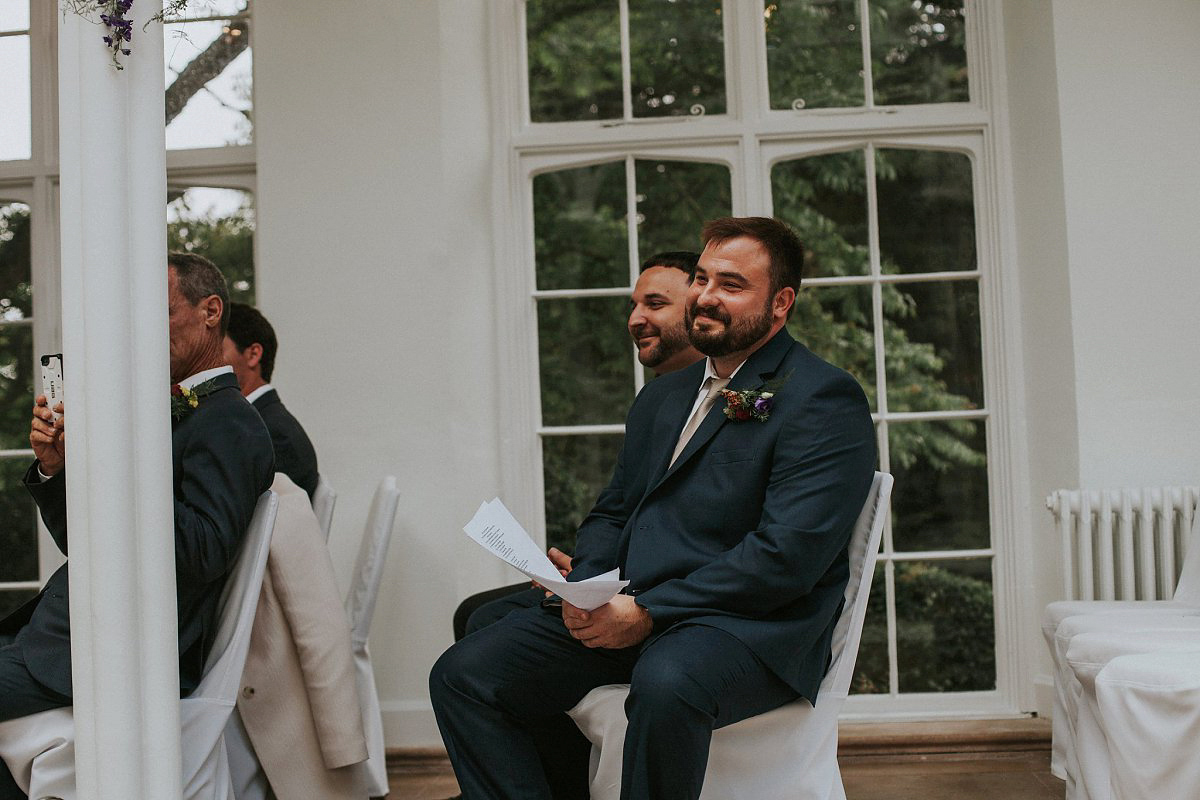 "Our friend read part of a book that I had gifted to Craig early on in our relationship. The wording is just perfect for us and even has a mention of the 4th of July, so it was very fitting. The book is 'I Like You' by Sandol Stoddard Warburg. It's really cute and charming and sweet and makes us laugh – and we like to laugh a lot."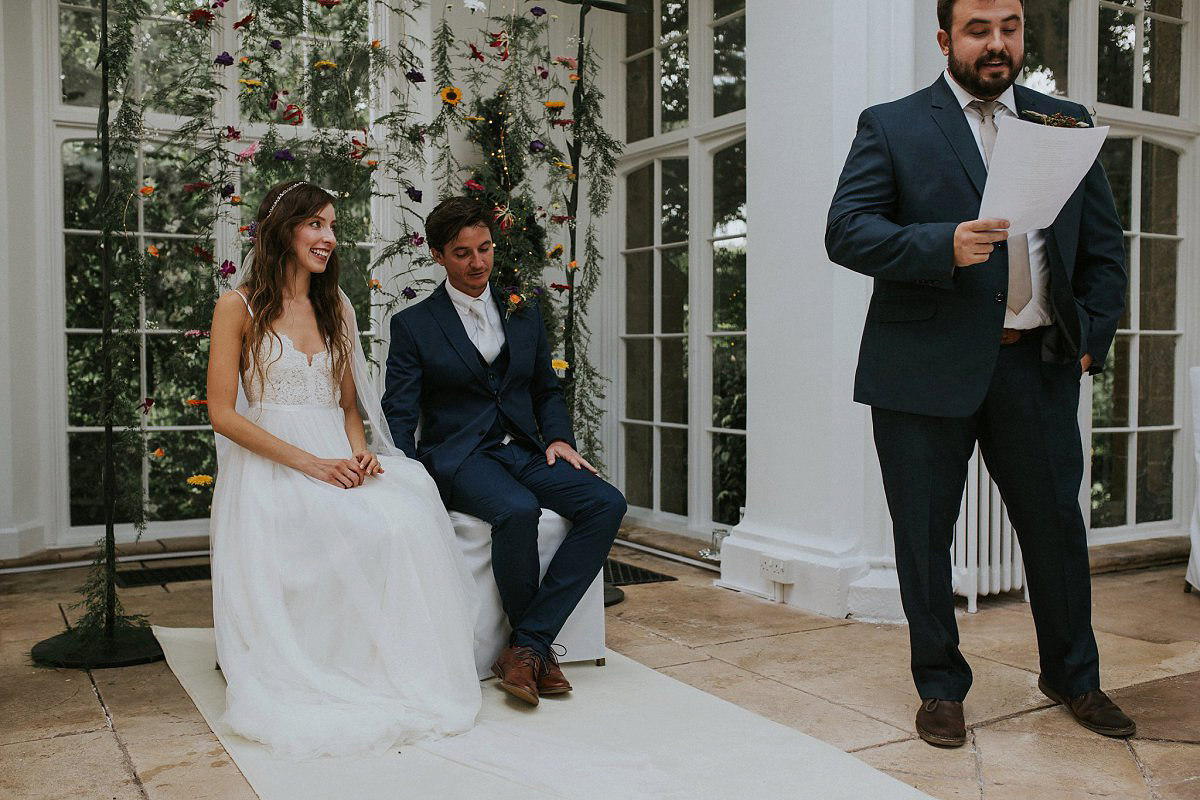 The beaming newlyweds exchanged simple rings from Bario Neal in Philadelphia before exiting their light-filled ceremony space into the warm summer sunshine.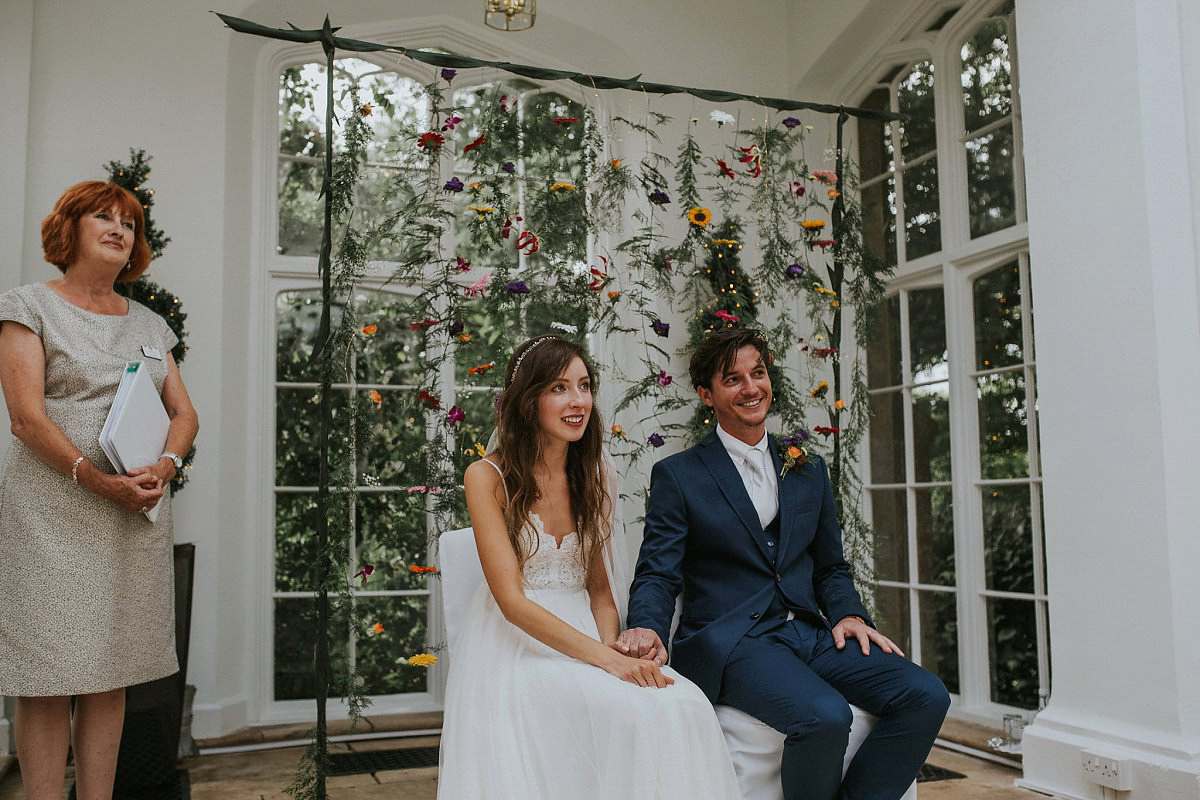 Maureen Du Preez has captured such moments of joy and touching interaction between the happy guests. Maureen's fine art style is just lovely – these images have such a delightfully warm tone.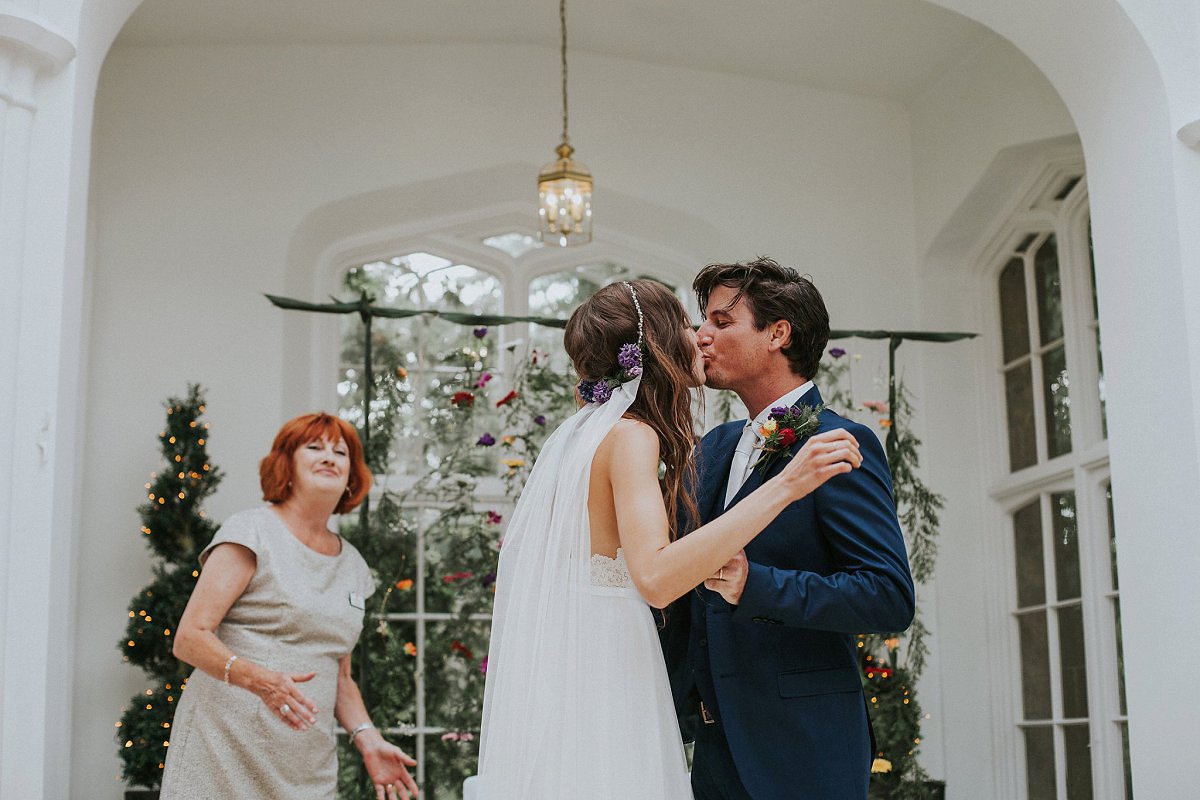 "Maureen is absolutely amazing! The loveliest person ever and such a talented photographer. We wanted natural, relaxed pictures and Maureen was the perfect girl for the job."
"She captured the day perfectly. She magically filmed snippets of the day without us really knowing about it. When we saw the video we were completely blown away. It is so gorgeous and all the memories come flooding back every time we watch it."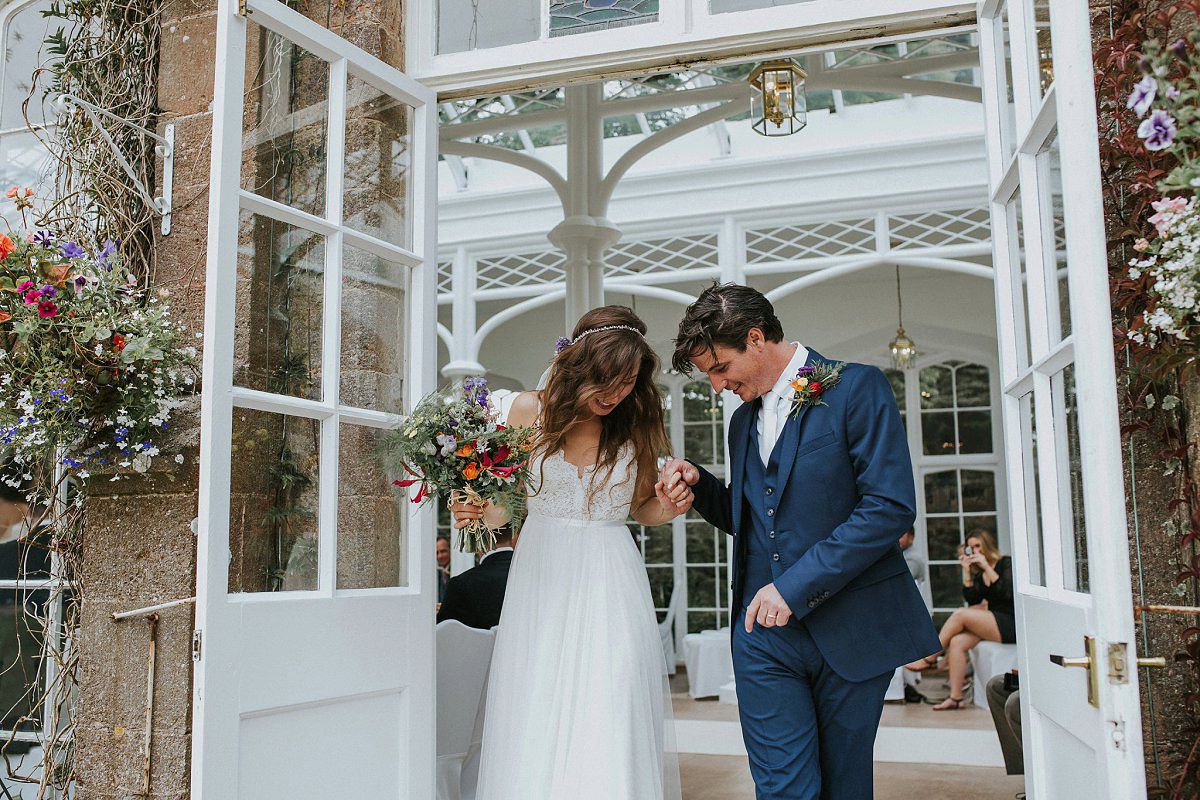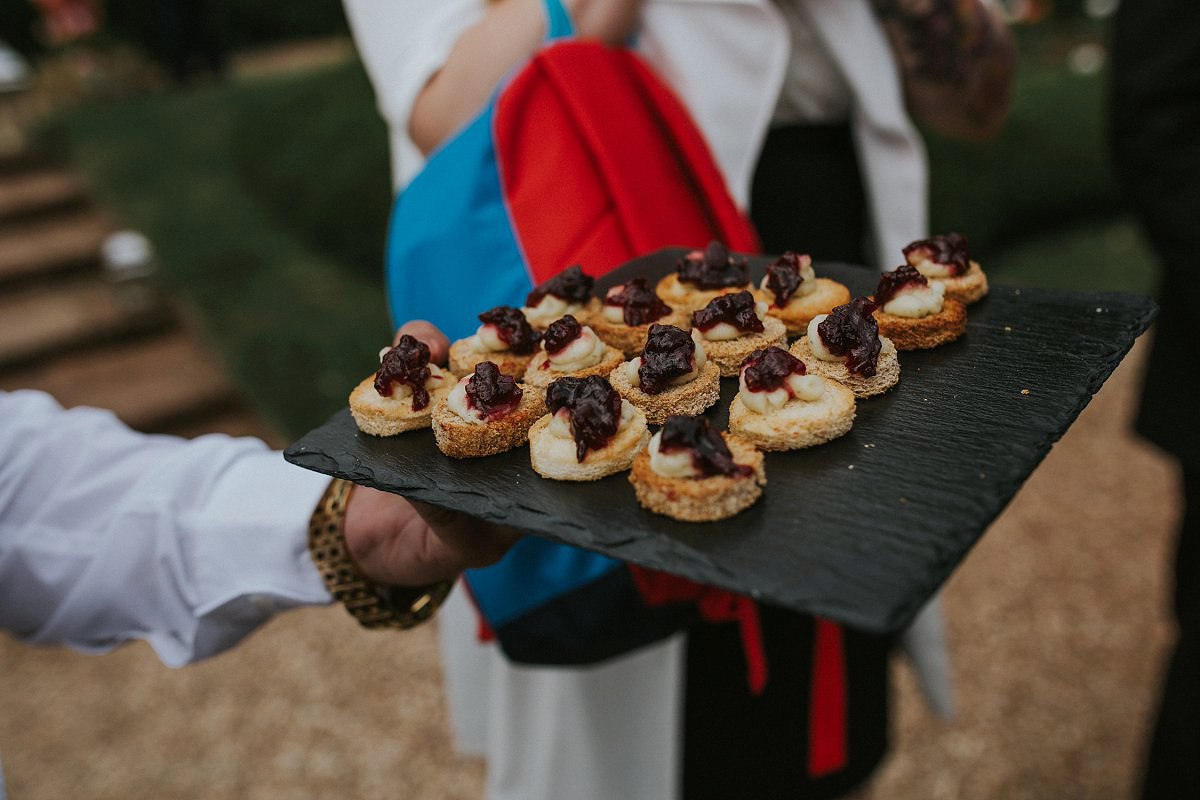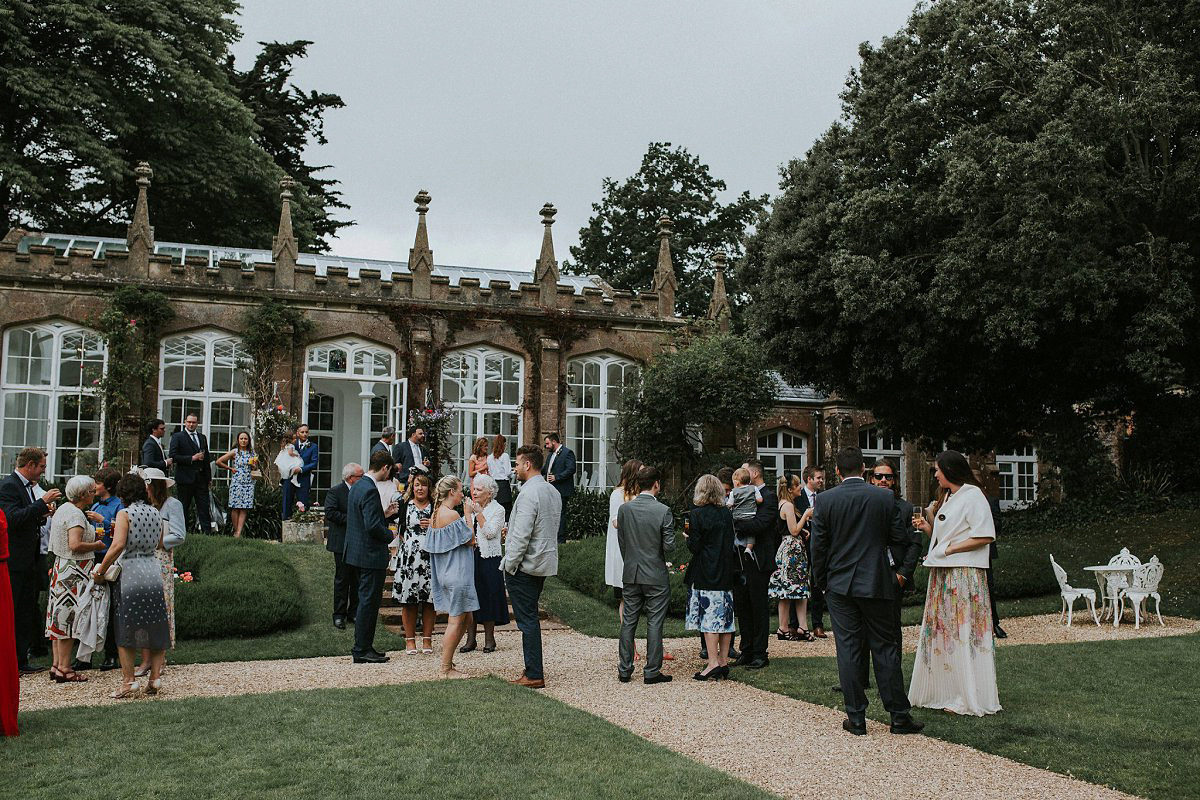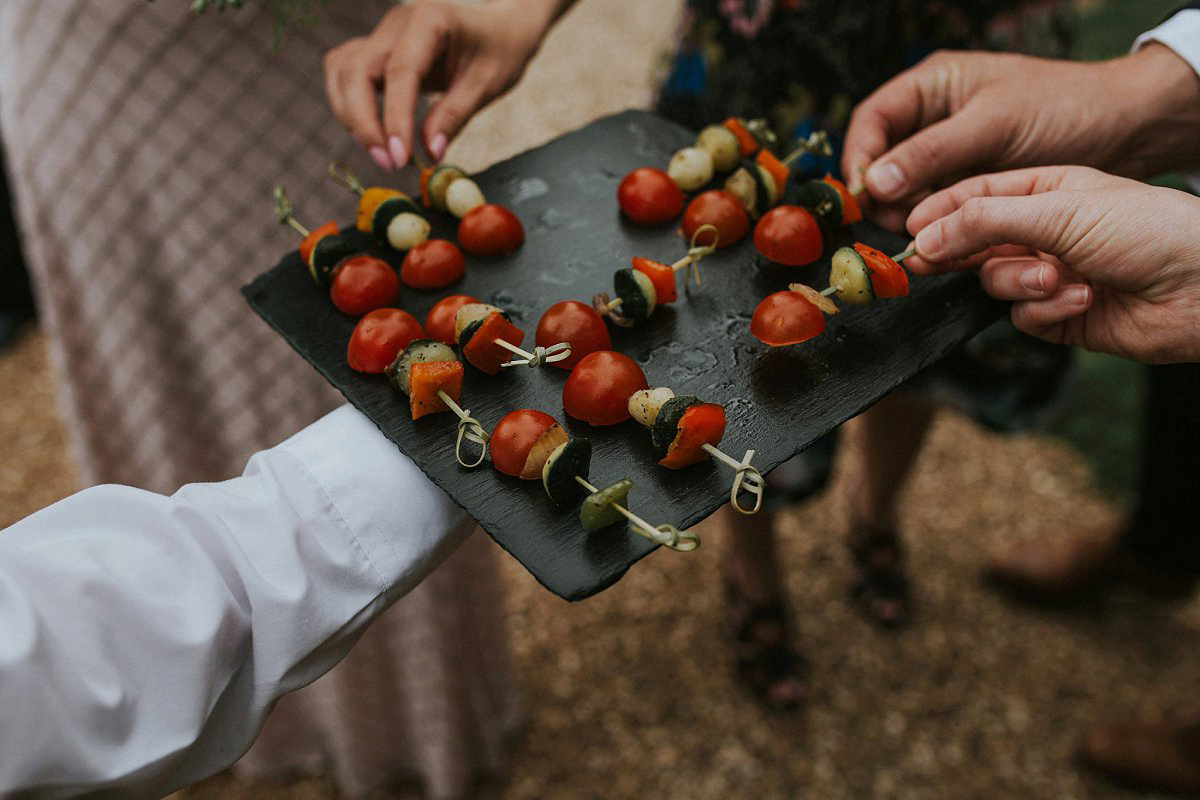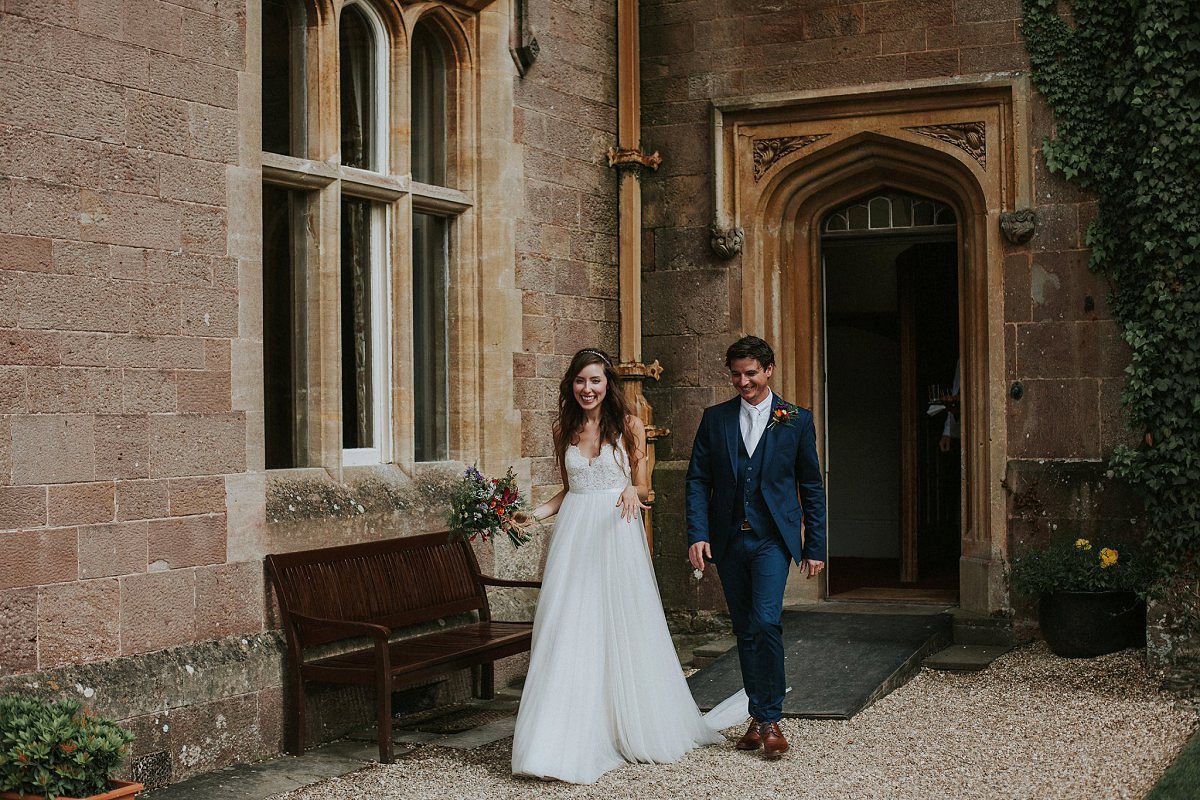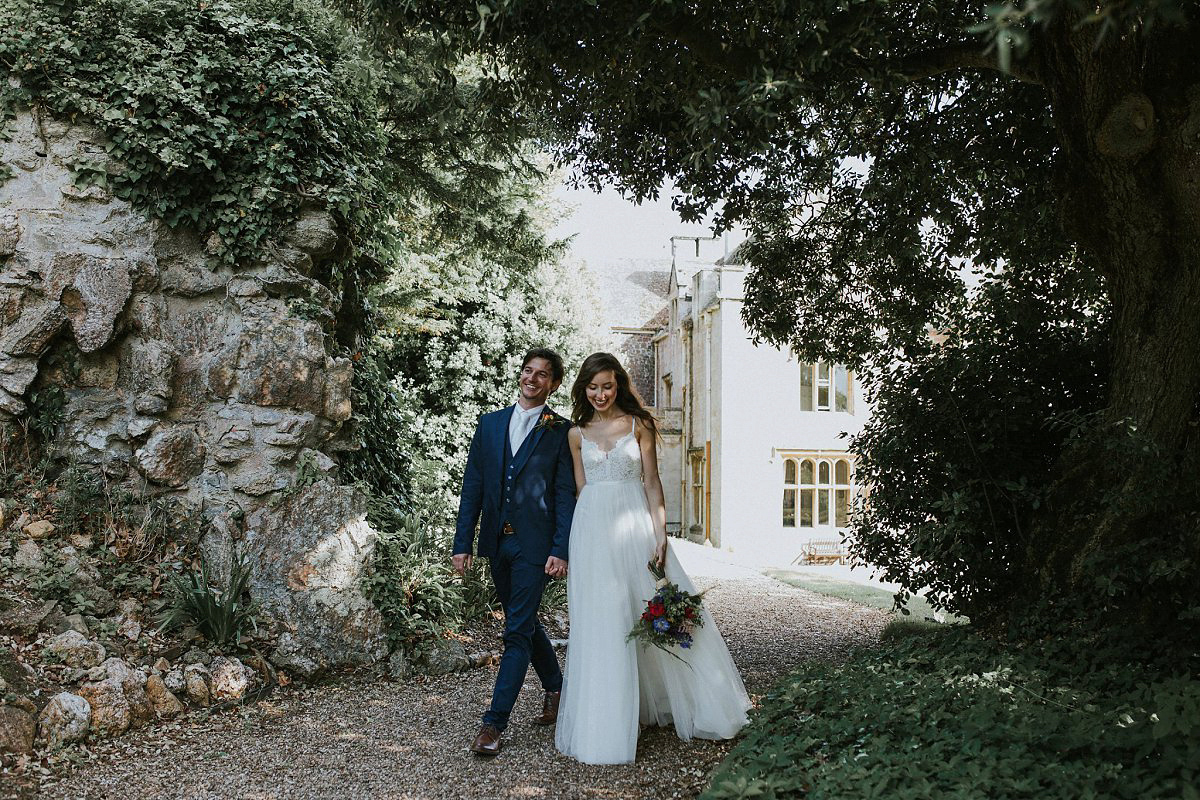 Eden Floral Design created some of the most beautifully unstructured blooms I've seen – colourful, relaxed arrangements and bouquets interspersed with luscious foliage and rustic raffia. Zoë and her maids stayed in the beautiful grounds of St Audries Park the night before the wedding; I can only imagine the excitement and sense of occasion they must have experienced during that epic build-up.
"We wanted English summer, natural, unstructured, wild countryside feel. Eden Floral Design were brilliant at interpreting exactly what we wanted. Jane was so lovely and easy to contact. We did everything over email, sending inspiration pictures and she completely nailed the vibe we were after."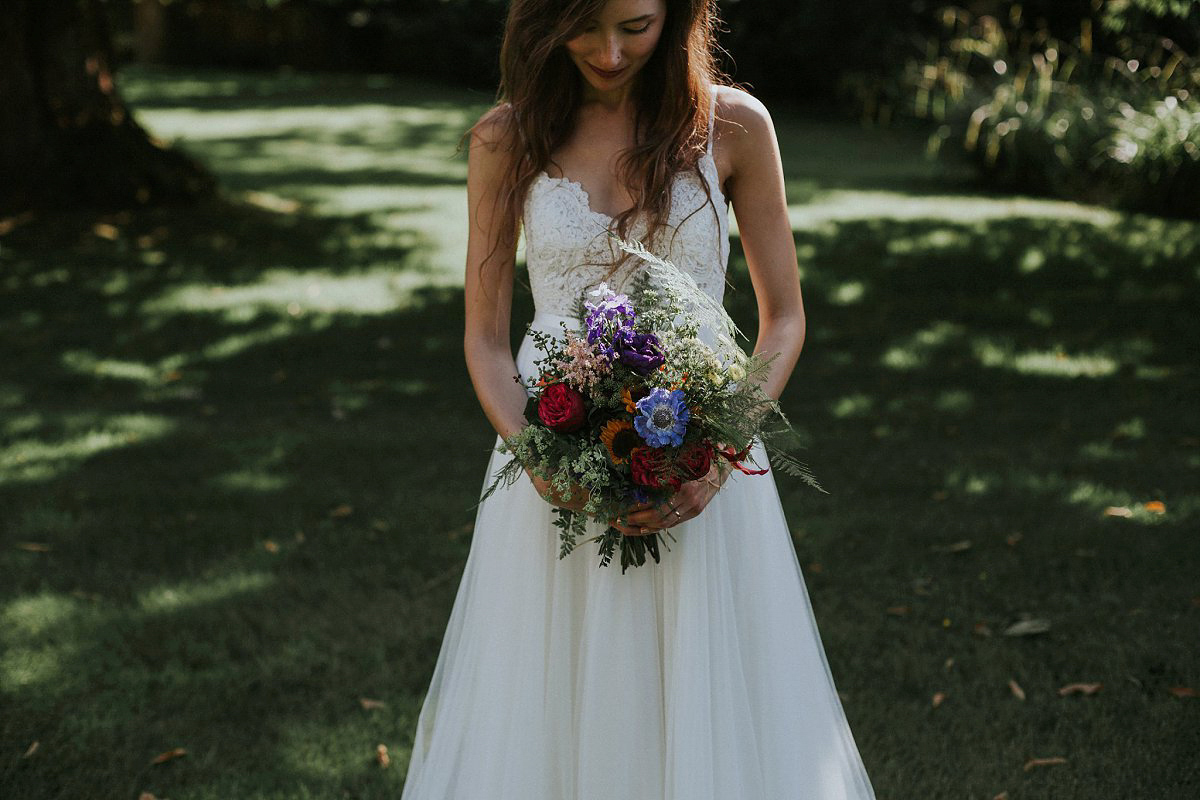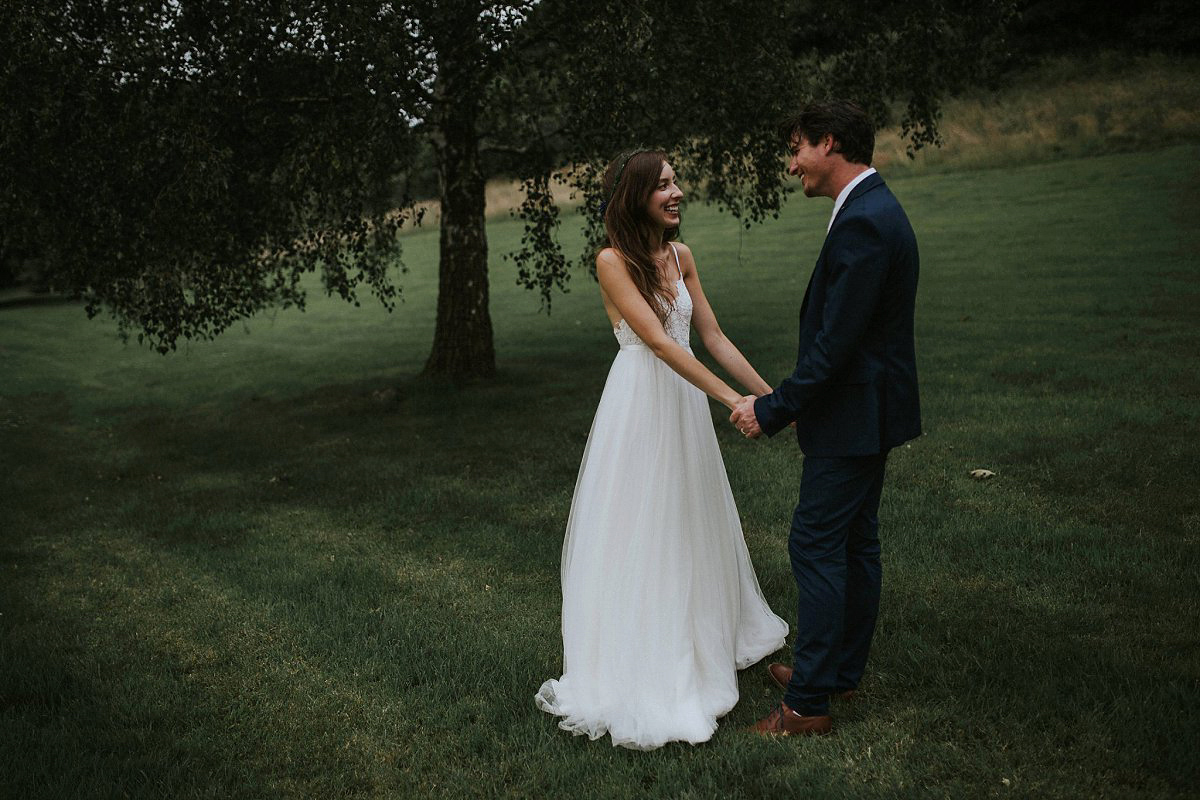 Zoë and Craig designed their own invitations and table plan, and printed them locally. The bride wrote out Hobbycraft place cards with her mum and also crafted messages in glittery bottles as favours for their guests.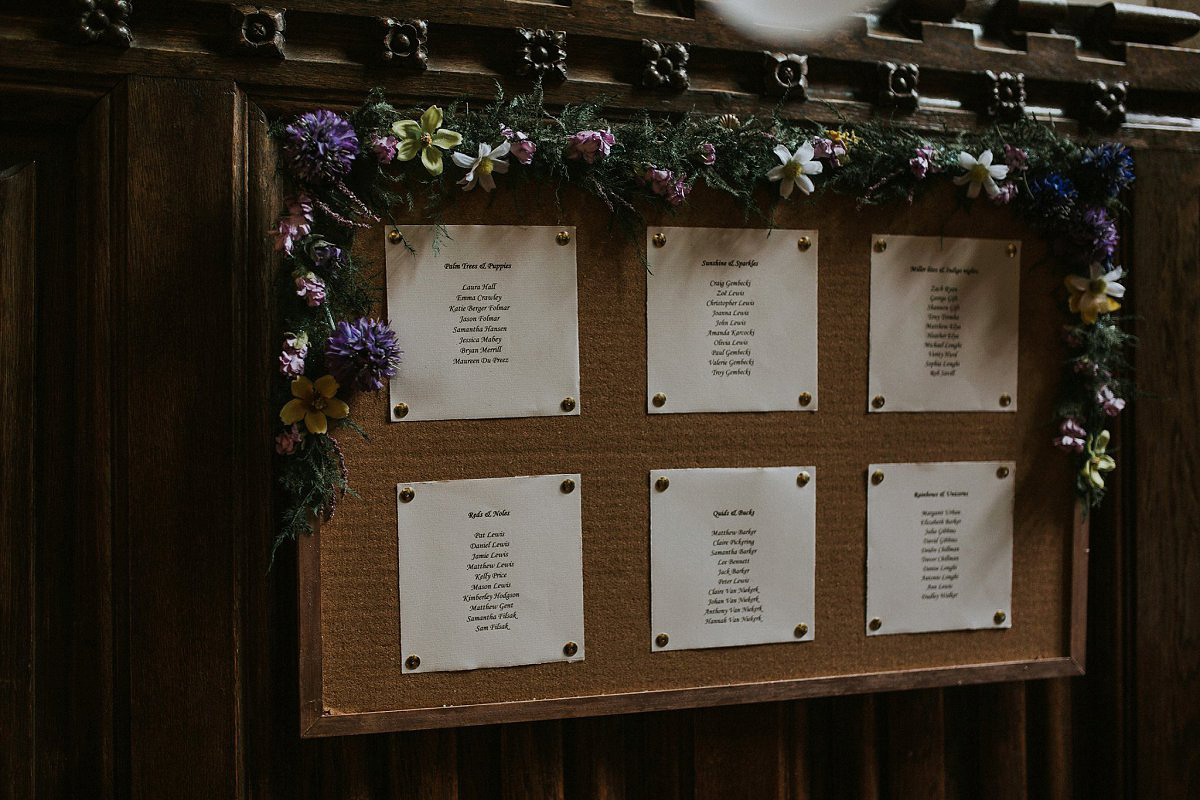 "Food was provided by St Audries Park. The chef also made our cake. I sent them a photo for inspiration and he got it bang on, it was the best cake we have ever tasted. The food at St Audries Park was absolutely amazing, everyone thought it was perfect and so delicious."
"Our first dance was Chris Malinchak's 'So Good To Me' We're not into slow dancing (we're too awkward!) so we chose something happy and upbeat with lovely words. It's one of our favourite songs; it makes you feel warm inside. The whole day was so magical and full of love, we were completely overwhelmed."
Words of Wedded Wisdom
"It's going to be the most magical, amazing day of your life so whatever happens, don't stress about anything. You've got to be relaxed and enjoy every second, because it will go by so so quickly."
"Do everything that you want to do; it's your day and it's important for it to feel like your day. Don't get too hung up on things, people won't even notice the little things that you're probably obsessing over, and everything will fall into place. Don't be afraid to ask people for help too, you don't want to be working hard on your day, you'll want to enjoy everything about it."
That just leaves me to say a huge thank you to Zoë and Craig, and of course to Maureen Du Preez Photography for sharing this wonderful day with us. I'll just leave a little something here for you to explore more weddings shot by this photography wizz in our glorious archives.
Happy weekend lovelies,
Em x