My goodness, I am SO excited about this feature and we're breaking into the usual schedule to be able to share this exclusive with you. In fact, we're exceptionally proud to be the first to showcase these particular images of the brand new, utterly exquisite 2018 'Celebrating Romance' collection by Caroline Castigliano (which we introduced you to very recently on Love My Dress).
Caroline Castigliano has been one of the biggest names in bridal design for more than 25 years now, which is pretty impressive. After initially opening a bridal boutique in Surrey stocking gowns from other designers, her future husband then persuaded her to use her obvious passion and skills to design her own bridal wear collection.
Since then, the name Caroline Castigliano has come to represent refined and stylish wedding gowns and bridal couture at it's finest. We adore this collection and thoroughly recommend that those of you who are drawn to timeless, elegant, couture bridal style familiarise yourselves with Caroline and her work.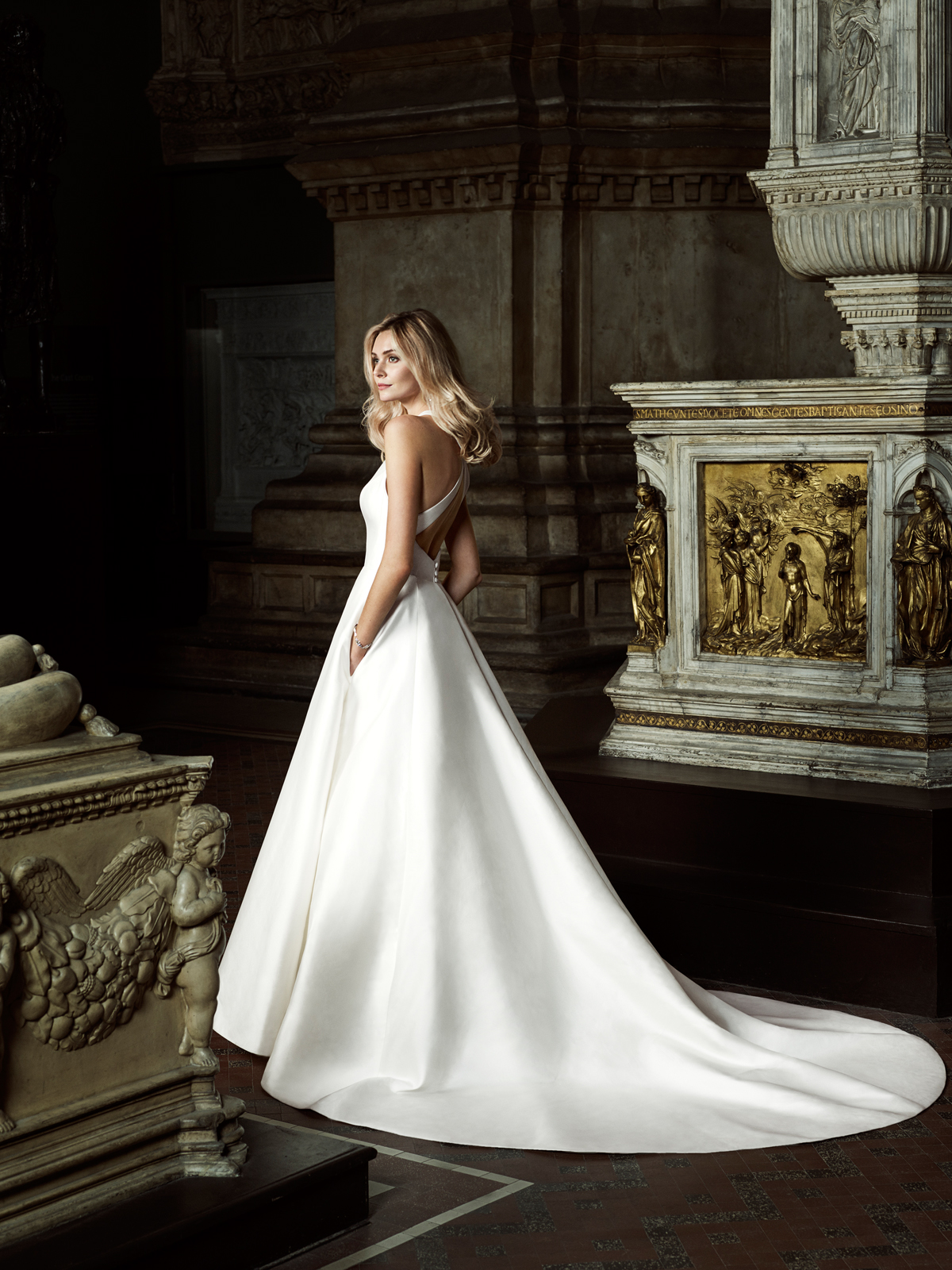 "My signature style is classic and feminine with exquisite fabrics and a great cut," says Caroline. "I would say the Caroline Castigliano brand is synonymous with understated chic and classic pieces and we're known for contemporary design styles with a modern twist. A Caroline Castigliano creation is designed to provoke impact from the moment you walk into a room."And the 2018 'Celebrating Love' collection does just that. It's beyond stunning and pretty much redefines elegant, luxurious design.
The collection of twenty gowns is full of luscious silk organza skirts alongside corset bodices. The movement in the dresses is simply beautiful and every design creates the powerful silhouette that Caroline Castigliano has become famous for. I simply adore these timeless designs with their super feminine twists not to mention the delicious combinations of textures and incredibly luxurious accents and details.
Alongside the designs, the fabric selections are stunning too. Think guipure lace, hand appliqued over Chantilly lace on intricately designed stretch corsets, fused with crepe fitted skirts that follow your curves to perfection. Also, don't be afraid of the word corset here because a Caroline Castigliano corset is easy to wear and it will give you absolute confidence in your shape.
"I am so excited about the response to the collection," says Caroline. "It's understated yet powerful, feminine and glamorous."
As you might have guessed from these exclusive first look images, the collection shoot took place at the iconic Victoria & Albert museum in London with photography by Jonas Brennan and art direction by Tom Usher. The images are outstanding and perfectly capture the beauty of these gowns.
"I chose to shoot our advertising campaign at the V&A as this is an institution of British history and one of the most iconic museums in the world. I feel inspired the minute I step into the V&A."
As we've come to expect from Caroline, these gowns are confident, a little bit sexy and they all have an innate style about them that's just fantastic. 'Celebrating Romance' definitely requires a celebration of its own and we're very happy to be a part of it.
To find out more about the collection, stockists and the Caroline Castigliano brand or to book your appointment at the flagship atelier in London's Knightsbridge, simply visit the website.
Love,
Tamryn x
There are no photos with those IDs or post 681415 does not have any attached images!