I've been chomping at the bit to share today's gorgeously informal celebration with you, a truly relaxed and love-filled union focussed around family and fun with – proof beyond doubt that informal weddings can be just as beautiful and meaningful as the more luxurious affairs.
Nimali, who works in leisure marketing, wed Graham, an artist and business administrator on 15th June 2017, though their celebrations spanned several days. I'll start by letting the lovely bride tell you a little about their intimate ceremony at Morden Park House, in South London.
"The type of ceremony and celebration we had was completely geared around the fact that we had 2 small children – a 3-year old and 4-month old. We wanted things to be a celebration of our family and something the boys would very much be part of. We didn't want any of the traditional wedding formality, speeches or ceremony; we wanted something unfussy, relaxed and to have fun with our friends and family."
Images by Annelie Eddy Photography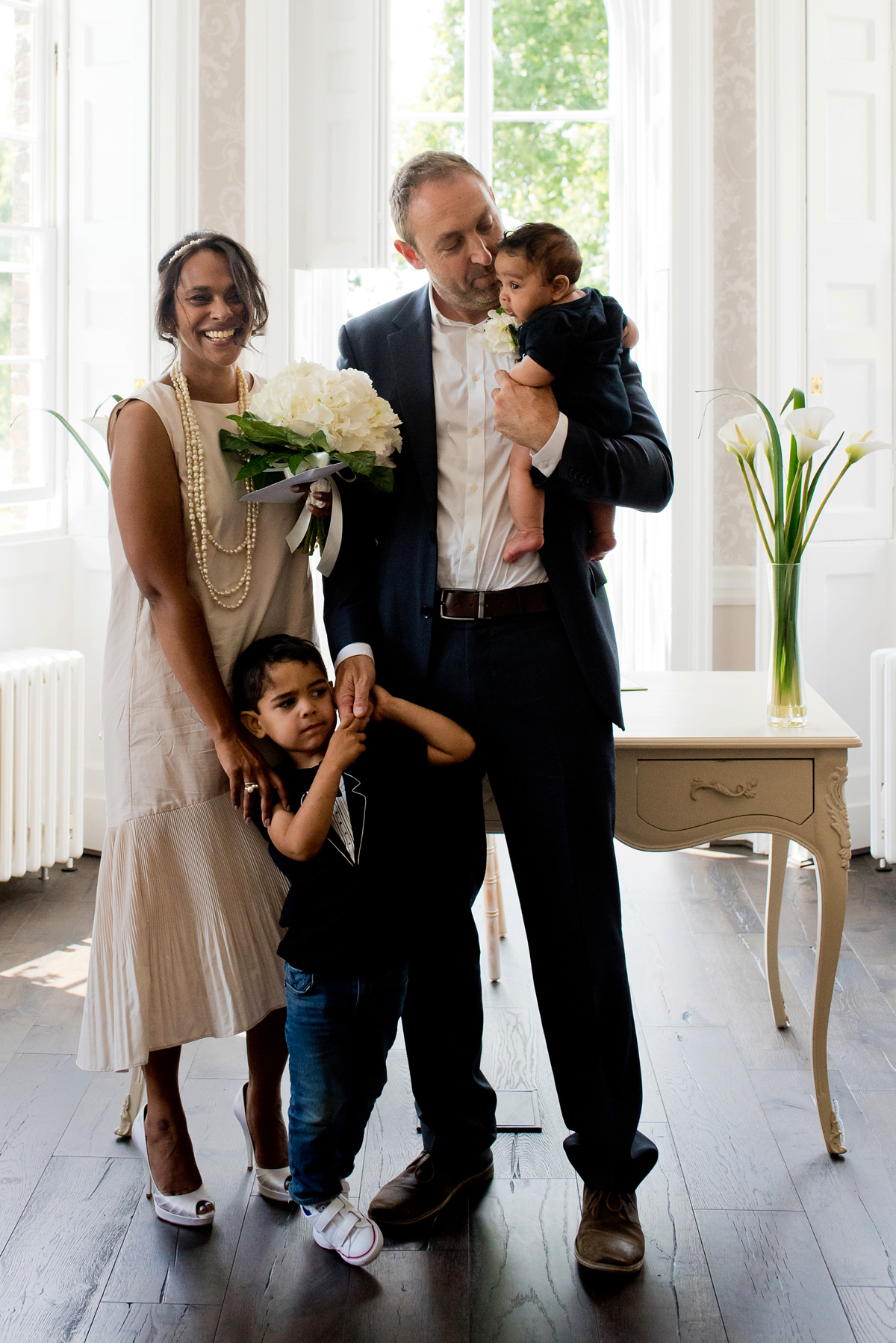 "We wanted a small unfussy registry ceremony, a pretty setting and ideally somewhere that would hold our toddler's interest. Morden Park House was perfect. The building looks like a stately home – it's surrounded by courtyard gardens, all set within a beautiful park. The ceremony itself was in a beautiful room with French Doors opening onto the park."
"After the ceremony we all headed into the park, had strawberries and drank champagne, whilst our 3-year old ran around playing football with his cousin and blew bubbles. We then took over a private room at The Rosendale Pub in West Dulwich (which has a kids play area in the garden and great kids menu) for a chilled out scrumptious pub lunch."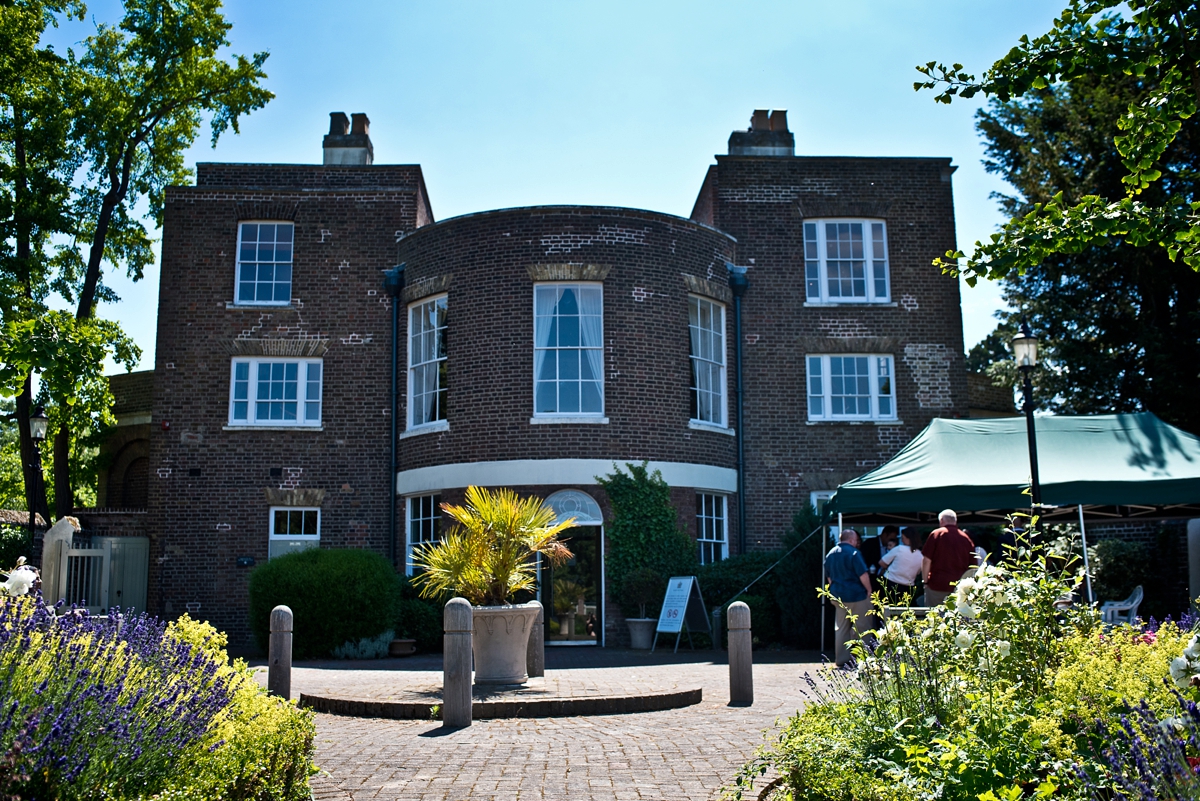 I'll backtrack a little now to tell you about Nimali's gorgeous wedding ensemble, focussing of course on her softly-hued COS gown. I'm something of a COS fan girl and recognised the modern, simple silhouette as soon as I looked at these images. Our bride paired her gown with a pair of Oscar de la Renta shoes, found on eBay for the bargain price of £45, and a stunning Chanel pearl necklace and bracelet, borrowed from her stylish sister-in-law. It meant a lot to Nimali to be able to wear these pieces as her sister-in-law wasn't able to make it over from Singapore for the wedding.
"With a new baby and a toddler, I didn't have the time to browse designers or stores; I did a lot of online browsing during night feeds and took advantage of next day delivery and free returns to help me find a style that suited me. As a new mum my body wasn't the one I was used to. I didn't know what styles suited me or even what size I was!"
"I scoured high street bridal ranges (which are quite fabulous), ASOS and Net a Porter and I spent a couple of hours in Selfridges running around trying things on in between feeding and getting the baby to sleep so my mum could look after him. I ended up with a beautifully simple pink dress from COS. I loved the asymmetric hemline, the floaty frills of the skirt and the 1920s feel of it. The cut was flattering, it made me feel beautiful and very 'me'. I also liked that it wasn't white."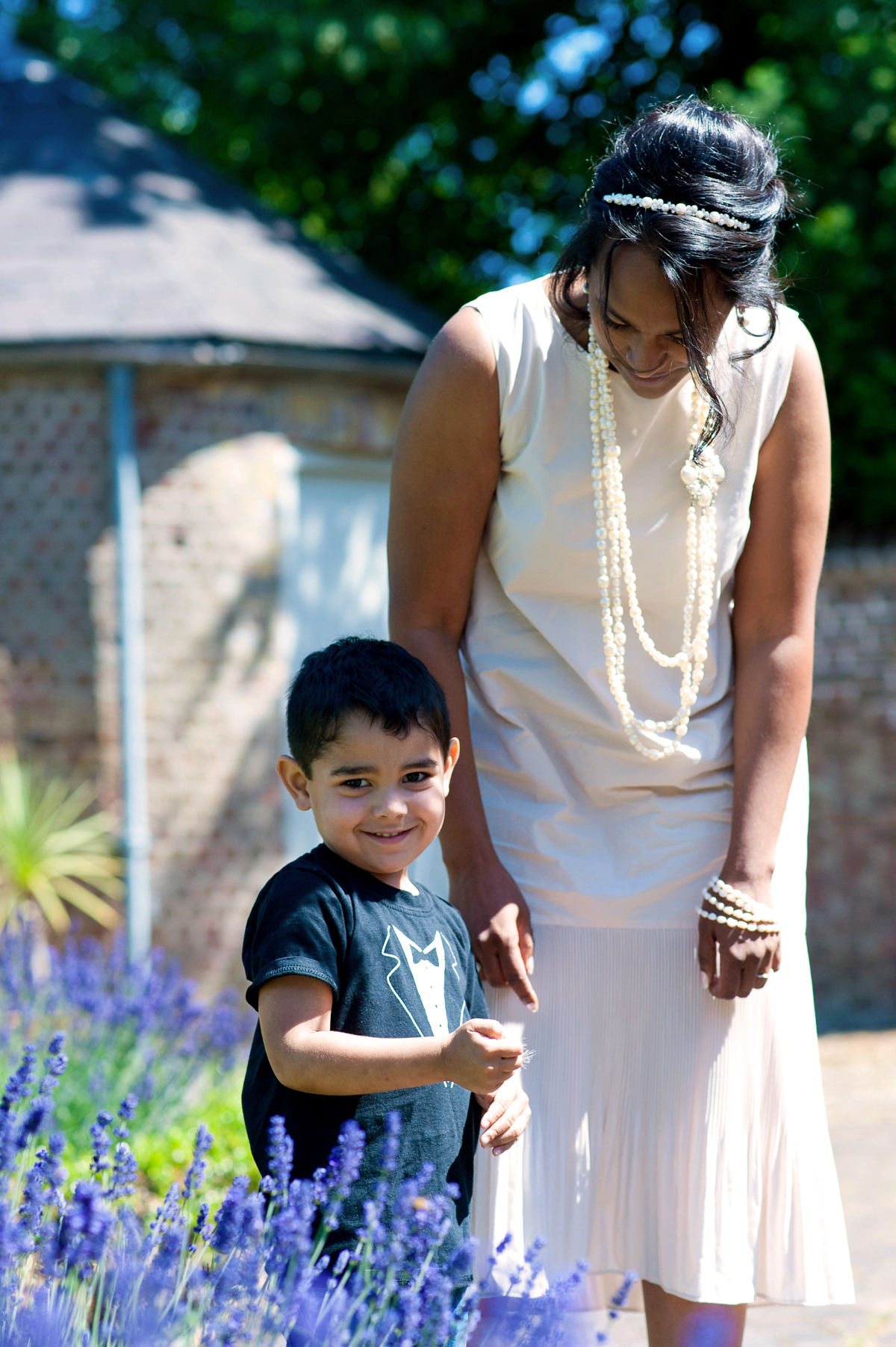 On the day of their wedding ceremony, Nimali's brother, who had flown over from Singapore, walked her down the aisle to the sounds of As by Stevie Wonder. She carried blousy white hydrangeas for her bouquet, supplied along with a single buttonhole by Chestermans in Purley.
"My engagement ring from Monica Vinader was asymmetric, so we had a bespoke rose gold wedding ring made for me by Wedding Rings Direct, an online retailer. They were great, offering a helpful sample service and they responded quickly to all my email and telephone enquiries. Graham's ring was my dad's, which we had resized. My dad only wore it the once on his wedding day (he was an electrician, always working with his hands and didn't like wearing a ring). He passed away 10 years ago. Having lost our fathers was one of the shared experiences that bonded Graham and I when dating. Graham wearing dad's ring is very special and made us feel like he was with us in spirit."
"Saying the vows with our sons there and close family and friends present was our favourite moment. We've got 2 children and already honour all the things written in the vows, but it was beautiful to hold each other's hands, look at each other and make those declarations about our future together. We don't get to say these things to each other very often in the day to day of family life. It was also lovely to go out for dinner together on the day of the ceremony in the evening. We don't get date nights very often – and especially not at that stage with such a young baby at home."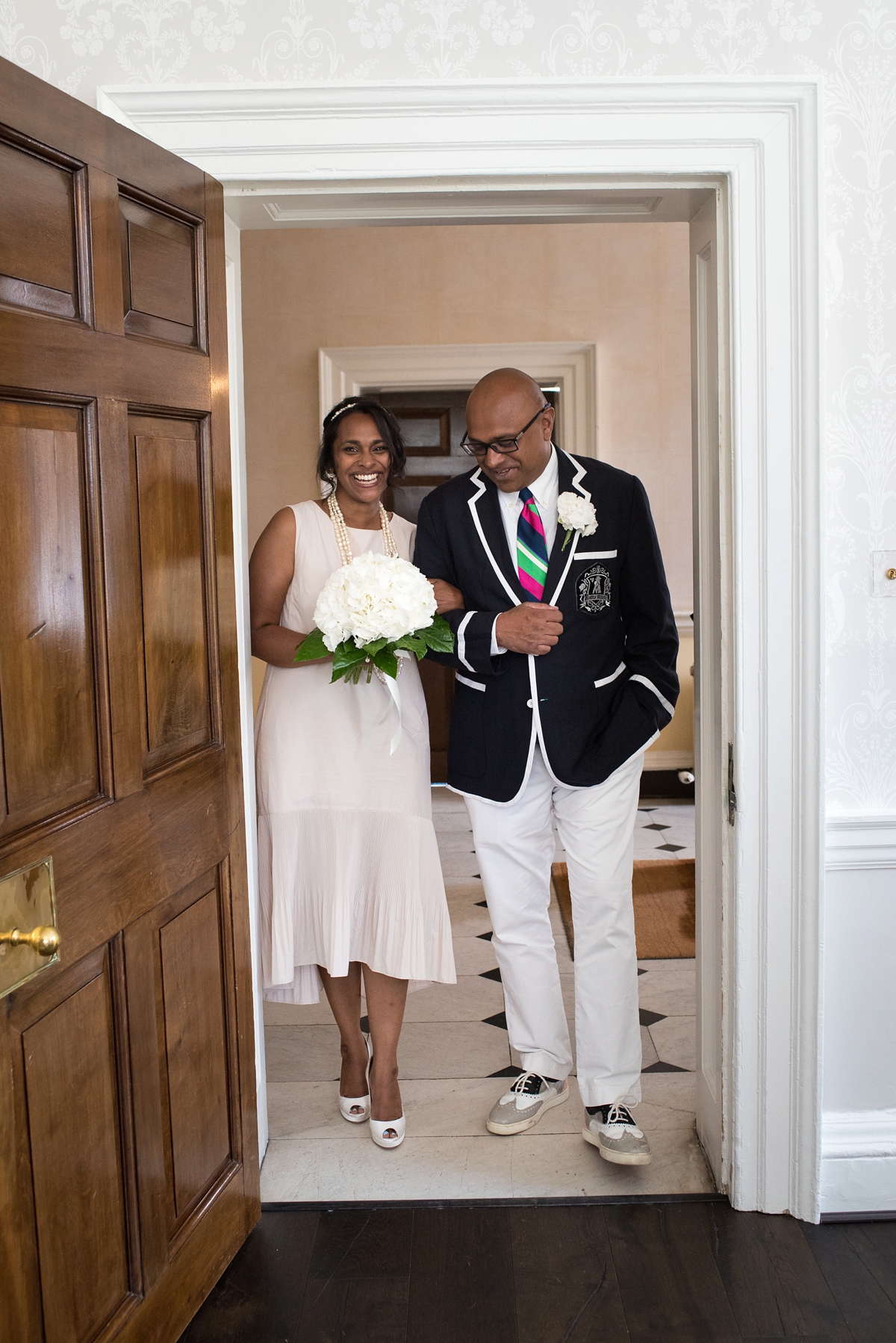 Nimali accessorised with faux pearl hair pins and a pearl and diamanté hair band, finishing off with pearl earrings and a ring from Dior. I love the luminous glow of these pieces against the soft shade of her COS dress. Graham also sourced his shirt from COS, paired un-fussily with a suit from his wardrobe.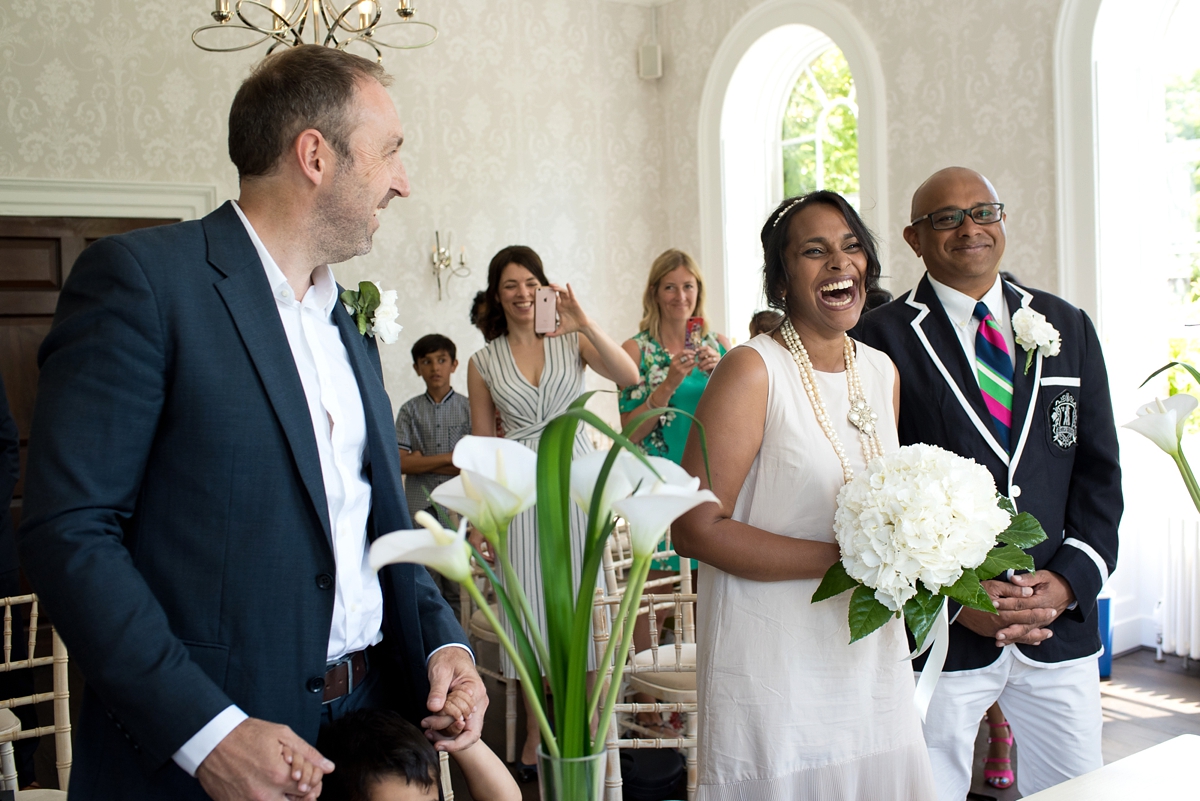 "I ran into a MAC store whilst my baby was sleeping in the sling and asked the assistant for some quick advice on colours. I did my own make up in 5 minutes at the hairdressers before leaving as we were running late for our cab to get to the venue! My hair was by Arya Hair Boutique in Purley. They were amazing, colouring my hair with a baby in tow (we didn't manage to get it cut as he had a crying fit after the colour, was inconsolable and I had to calm him down and take him home). They styled my hair on both days."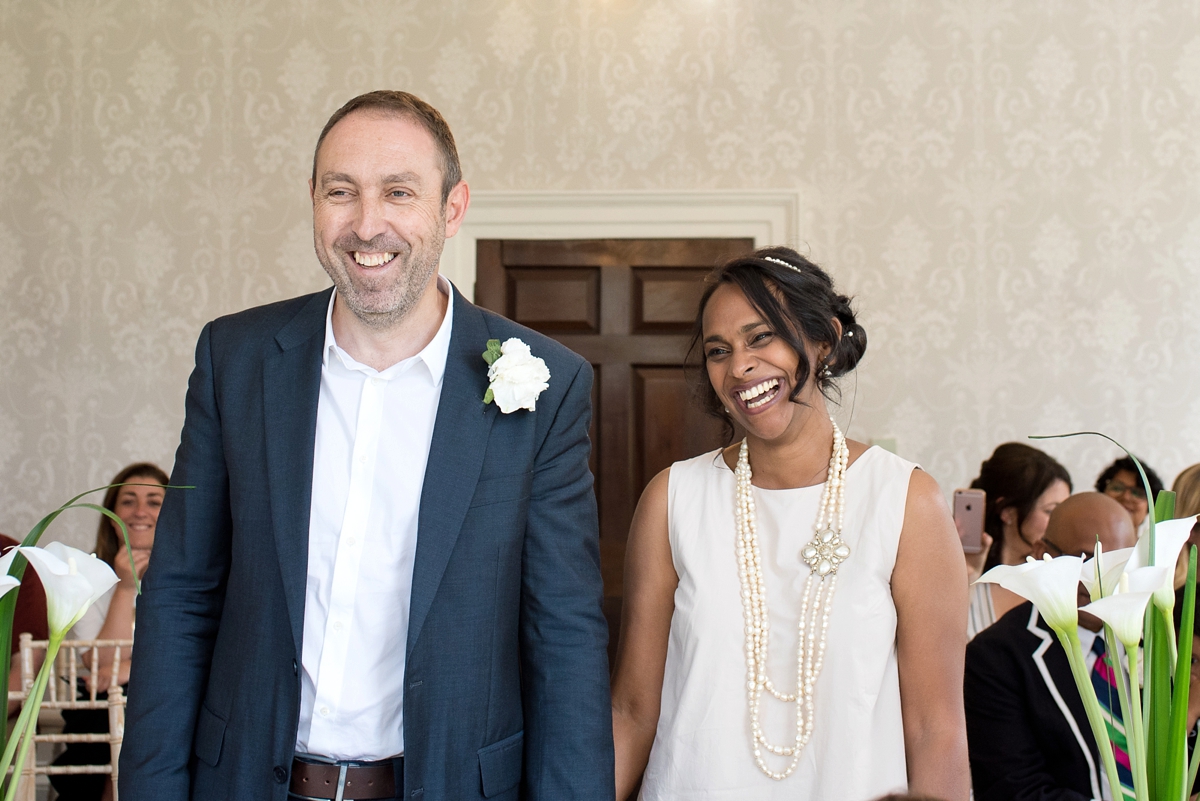 "Graham and I met through mysinglefriend.com. Graham was my first date on the site and we often say it was the best £30 we've ever spent. We moved in together after a year and had our first child after 3 years. Graham proposed in March 2017, 6 weeks after the birth of our second child, on Graham's birthday – as he said there's nothing he wanted more for his birthday than for us to be married."
"He proposed in the morning in our living room. I was wearing my pyjamas, I hadn't been able to wash my hair for days, I'd just changed both boys' dirty nappies, was feeding our new born and I must've smelled like cheese. That's real life and true love for you! He got down on one knee and asked me to marry him in front of both our boys, which was a total surprise and so beautiful."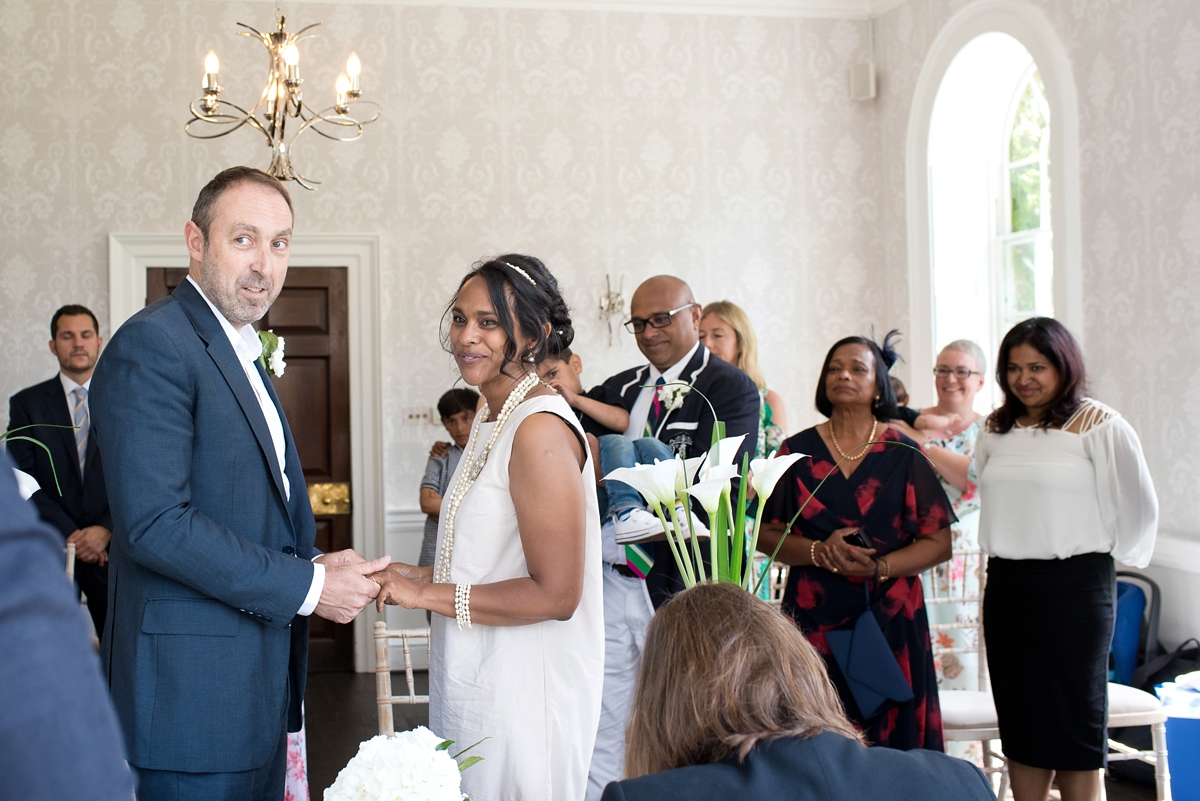 "We would've just gone to a registry office and married that weekend if we could, but of course that wasn't possible, so we set the date for 3 months later, in June. We just wanted to be married to each other, to cement and celebrate our family and we didn't see the need to wait."
I absolutely love the raw and very real way in which Nimali describes Graham's proposal and their subsequent wedding planning – so very honest and beautiful. And simple too – the couple designed their own invites and sent them out by email.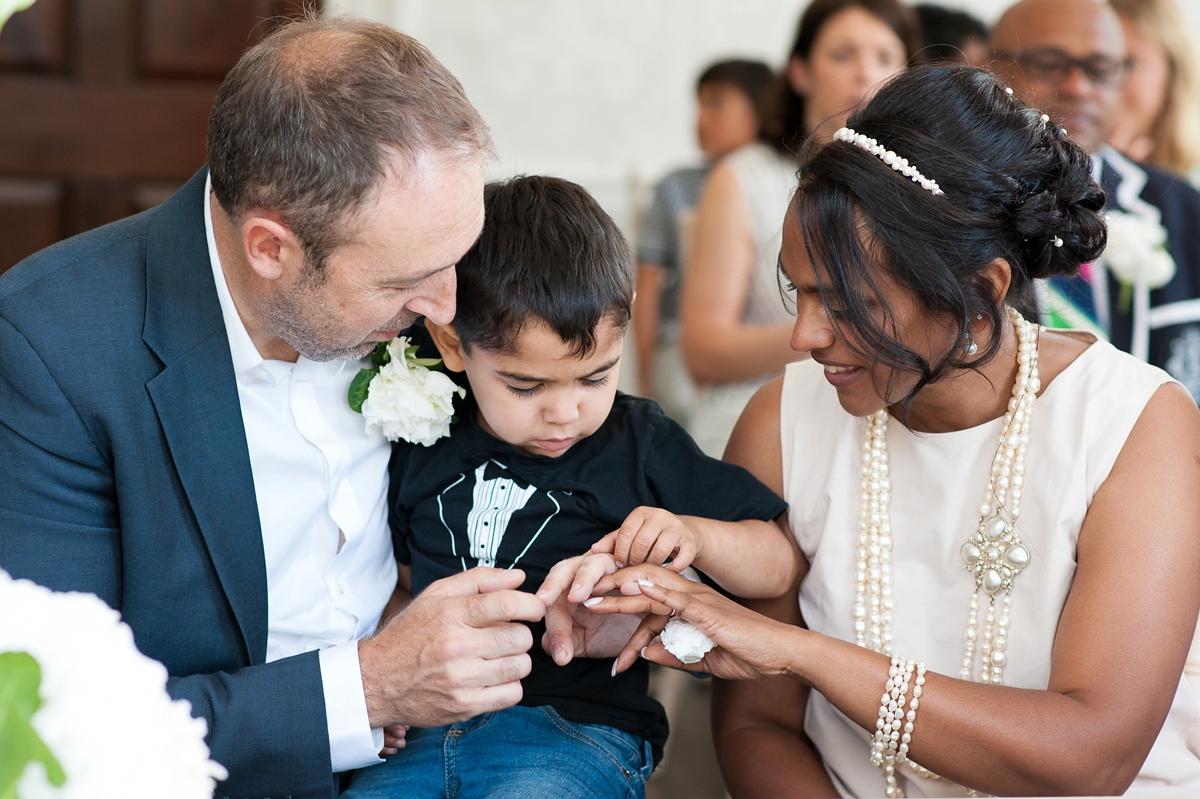 Nimali and Graham danced their way out of the registry office to the sounds of Good Thing Going by Sugar Minot and the joy of the union and the following party was captured beautifully on camera by Annelie Eddy. I love the beautiful idea of the ordinary being elevated to the extraordinary – family life and bonds of friendship documented so sensitively, without pomp or circumstance – just so beautifully real and special.
"We didn't want staged photos and with the kids we knew we wouldn't have time to hang around having photos taken anyway. We were so lucky and delighted that Annelie was able to photograph both days of our wedding celebration. Her documentary and reportage style was perfect for us – we wanted lots of natural photos, and for her to capture moments between us, our family and friends. She did such a beautiful job, capturing moments which serve as memories that we'll cherish forever."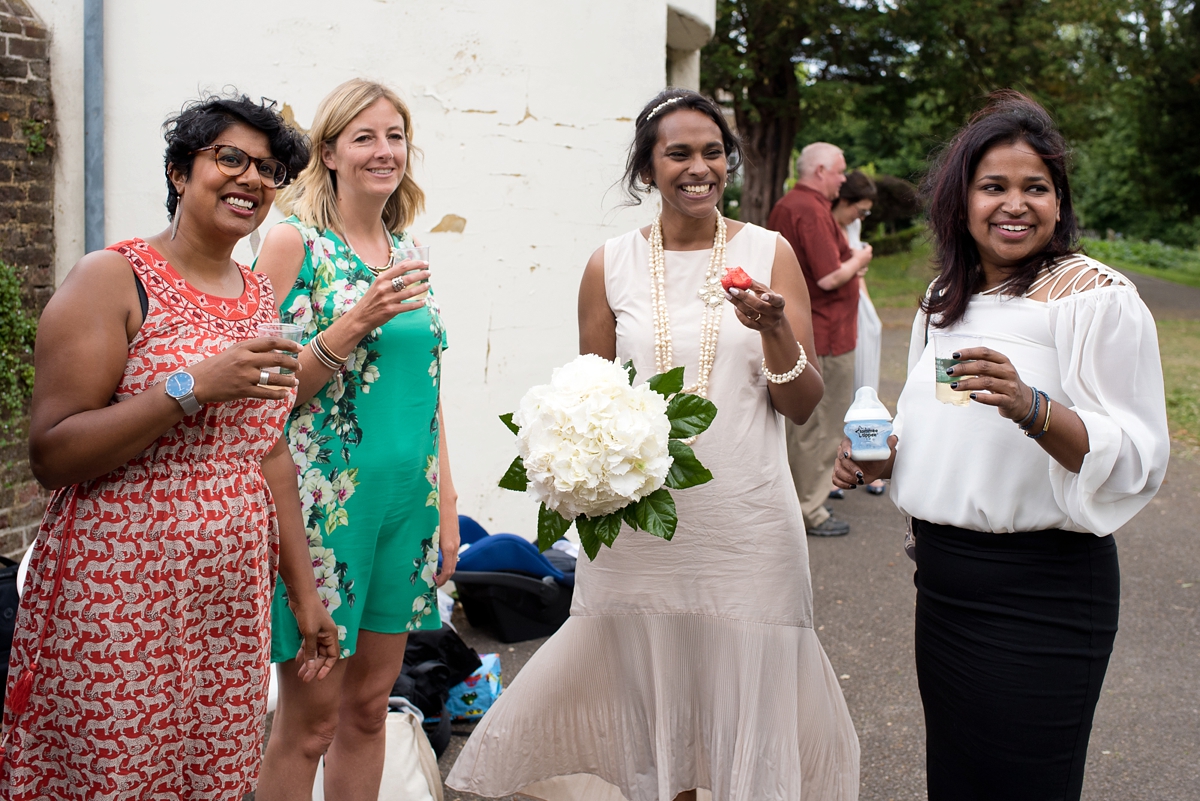 The Rosedale Pub catered the meal immediately after the newlywed's ceremony, while at their garden party a few days later, Nimali and Graham turned to their favourite local takeaway, Blue Mountain, to provide a delicious array of Caribbean food including jerk chicken, sweet potato and chick pea curry, and pineapple and mango coleslaw with rice and peas.
"For dinner we had the team from the Hopper Hut in West London cook up traditional Sri Lankan hoppers, with dhall, chicken and mutton curries. And cake is important to us – we like lots of types of cakes so we had a table full of mini cakes and desserts; cup cakes, fairy cakes, Madeleines, lemon meringues, chocolate brownies, cheese cakes, mini muffins, and a few bigger cakes; salted caramel, chocolate and a Victoria sponge, which is our favourite and the one we chose to cut."
"The kids loved it and were talking about the 'cake room' for weeks afterwards. The adults seemed to like the choice and variety too. All the cakes were from Waitrose online, and we also were lucky enough to have a load home baked by one of our best friends – a true gift of love."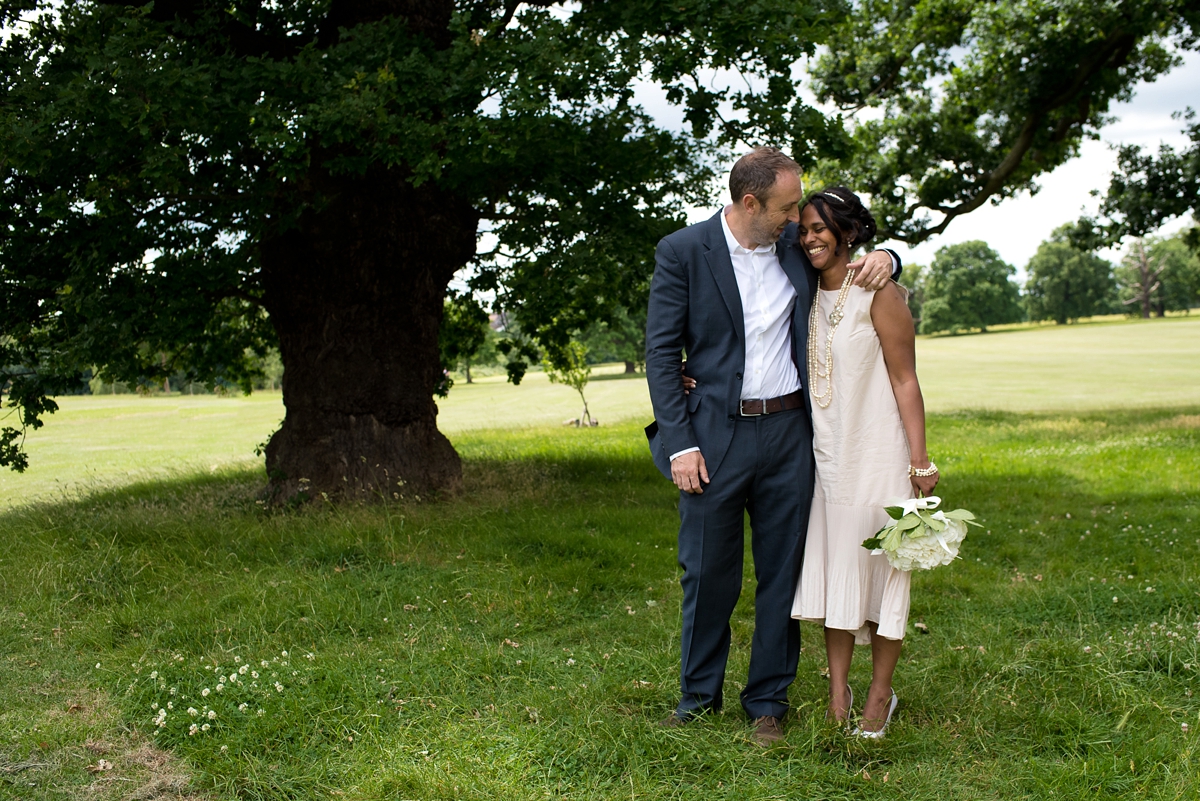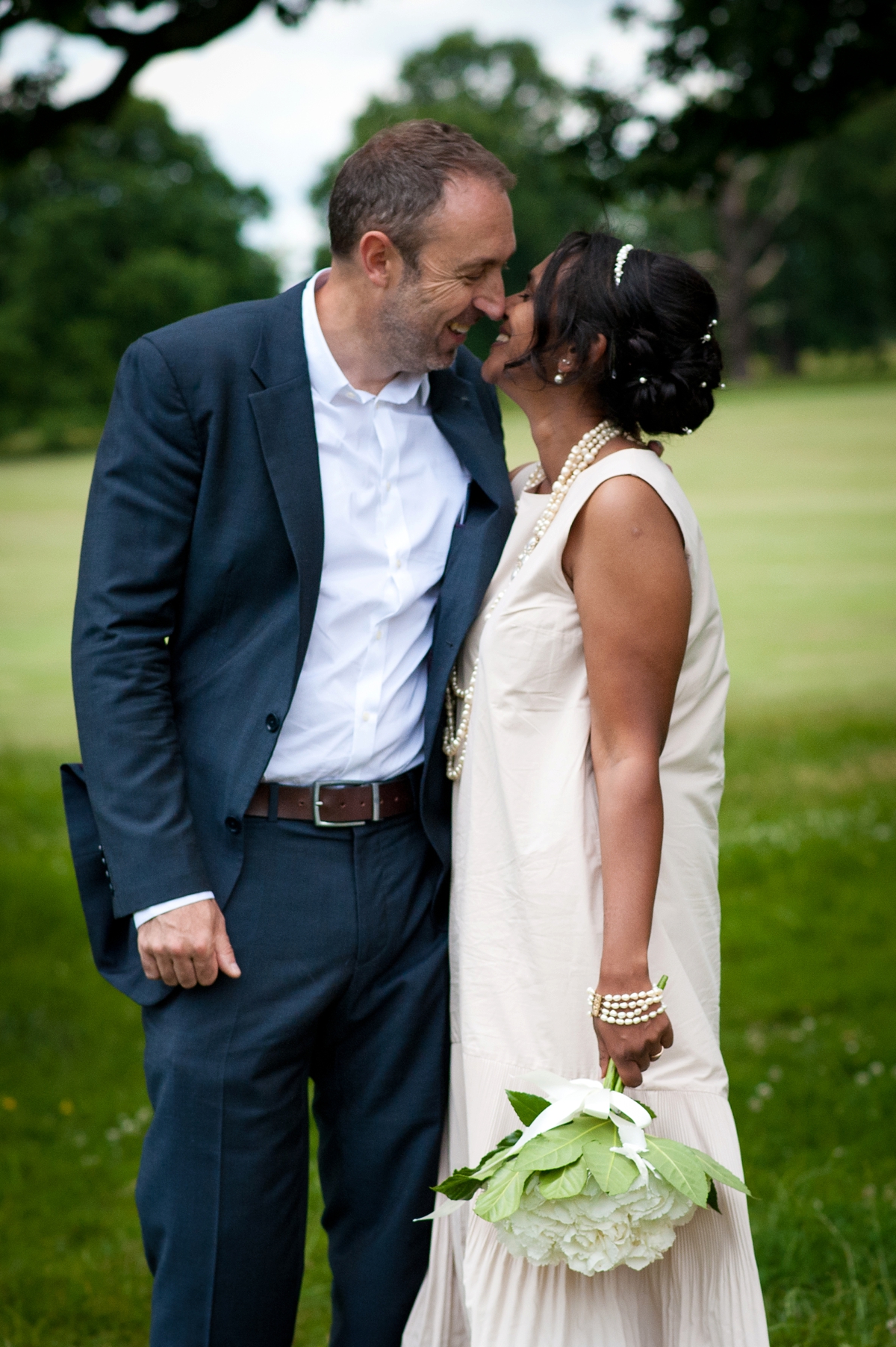 Nimali, Graham and their loved ones then enjoyed a second celebration a few days later in Nimali's mum's garden. It seemed so right and natural to our bride that this be the location for their festivities, with so many parties having been hosted in that very space throughout her life. Throwing a shindig at home also made the day relaxed, stress and fuss-free – perfect for the couple and their two small children.
"Mum's garden was decked in fairy lights and we had paper pom poms and white ribbon hanging from trees in the garden. The weather that day was incredibly hot so we also had a kids paddling pool set up. With the kids paddling pool, play tents, the marquee and bubbles, it felt like our own mini festival, which is exactly what we had hoped for."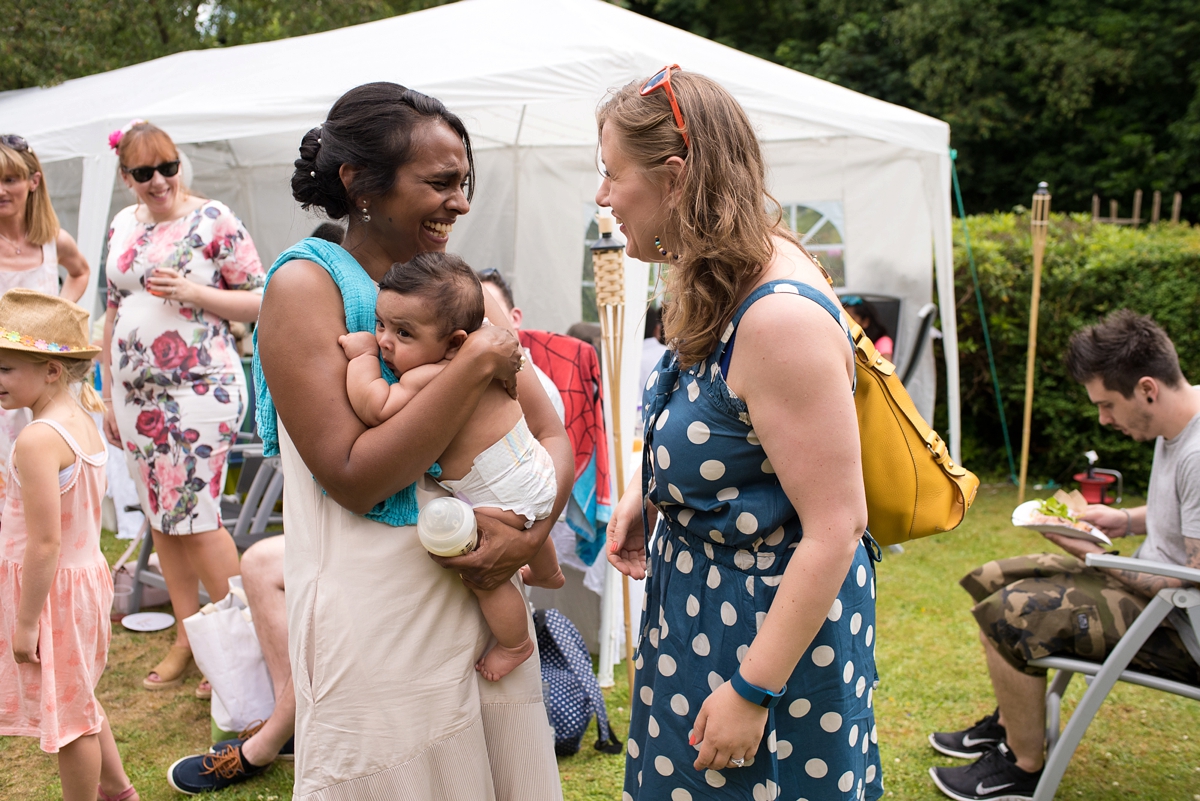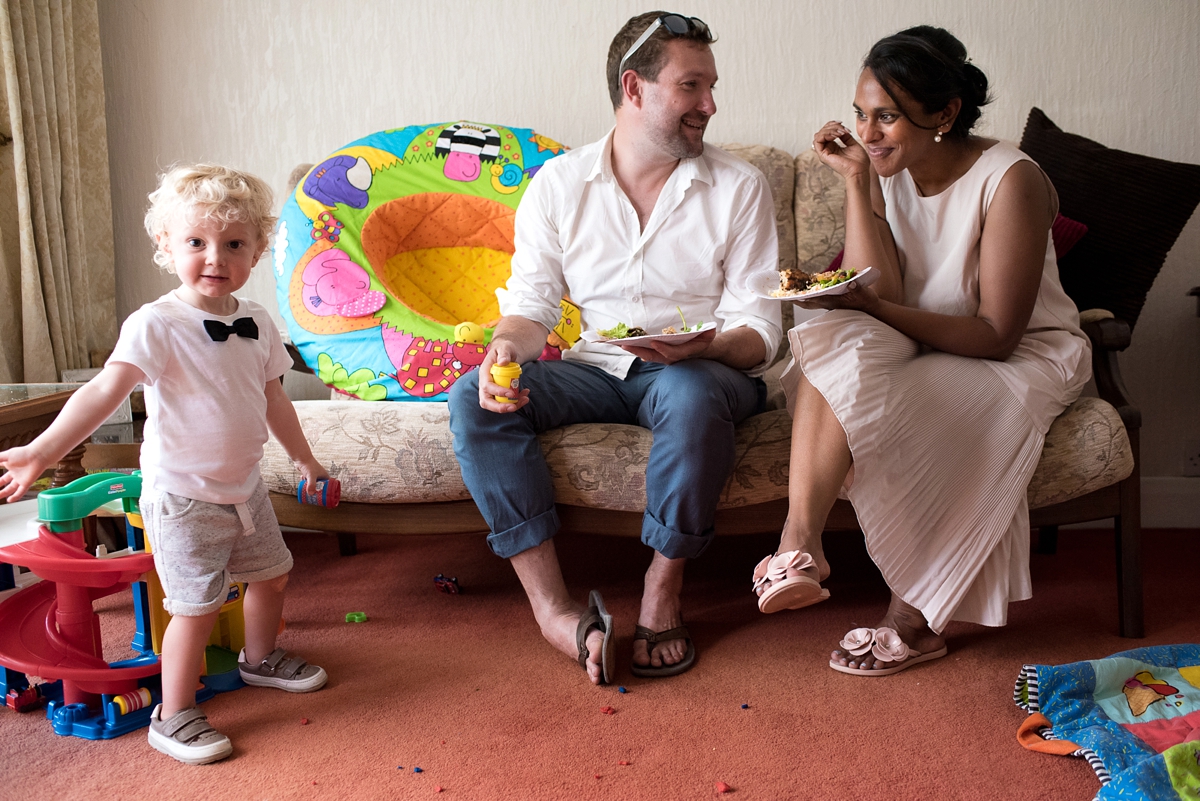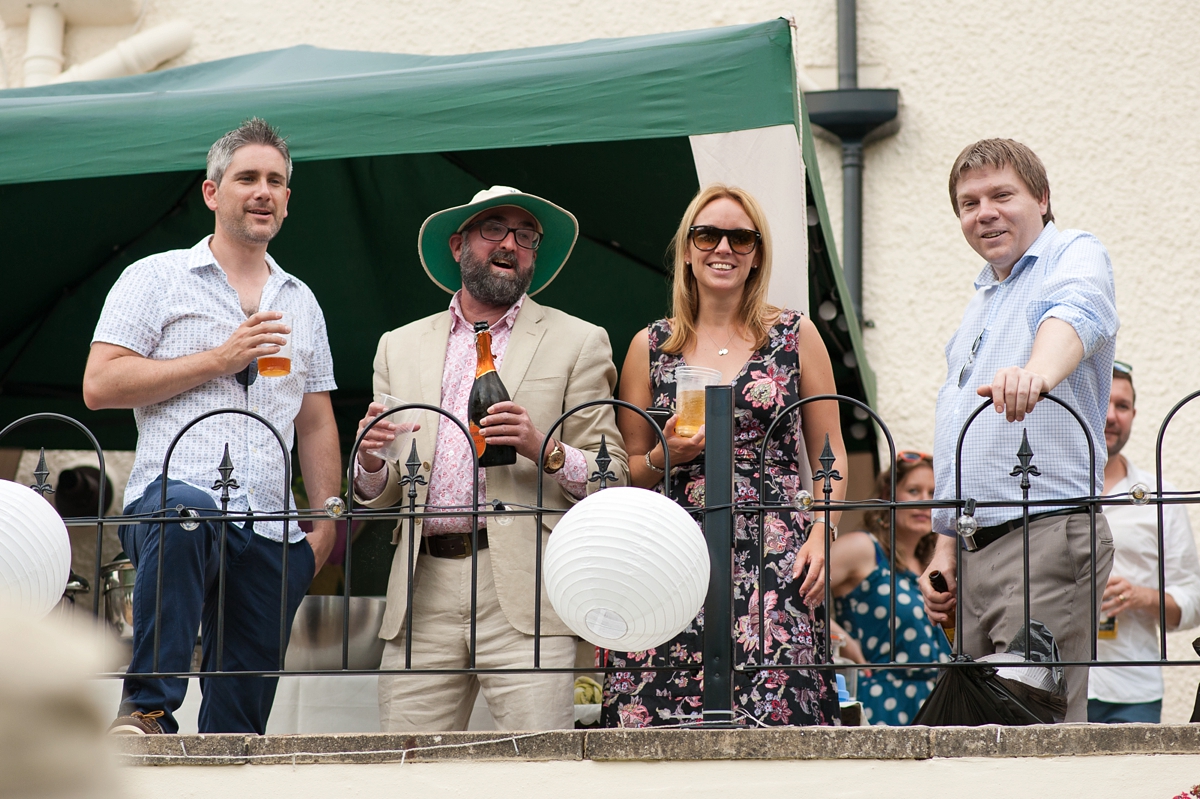 I was delighted to read that Nimali and Graham turned to family-run Prezola for their gift registry, one of our most beloved Little Book for Brides suppliers. Prezola are a complete pleasure to work with and have worked hard to create a pleasurable experience for couples looking to create and manage wedding gift list. If you haven't already seen it, you must take a look at our editor Annabel's piece on gifting the modern way with our lovely partner.
Words of Wedded Wisdom
"All in the total cost of our wedding was around £8k – don't skimp on your wedding photographer or get a student to take your pictures; these are memories you'll have forever and it's worth spending money on someone who will capture the day in style you want."
"Don't overthink things, don't get carried away in the planning/stress of the event and don't be swayed by opinions of well-meaning friends and family. It's your day as a couple, let the day reflect who you are and make sure you take time to enjoy it and the meaning of it all, together."
Thank you so much to Nimali and Graham for allowing us such a privileged insight into their intimate and beautiful day. And of course our thanks also go to Annelie Eddy Photography for these love-filled images.
Em x