Are you in the mood for an utterly charming farm wedding, full of hand-painted design, blowsy florals and a boho-inspired gown from Love My Dress favourite Indiebride London, not to mention a host of farmyard animals?
Well, you're in the right place today so come with me to the green fields of Cambridgeshire. Please meet Abby, a senior designer at Red, Good Housekeeping and Prima magazines and Matt, a housing officer, who invited their family and friends to South Farm, Royston, Cambridgeshire for their marriage on 27 April 2018. The couple fell in love with the farm for its unique and beautiful grounds, working farm atmosphere and fantastic food.
It also worked well as a blank canvas for their wedding decor which designer Abby created, incorporating hints of vintage against a romantic, soft colour palette of gold, peach and green.
We've been lucky enough to feature this wonderful couple on our pages before, as they shared their engagement story with us back in 2016. They had a two-year engagement, which allowed them to save up and have the spring wedding they'd always wanted.
Photography Emma Case Photography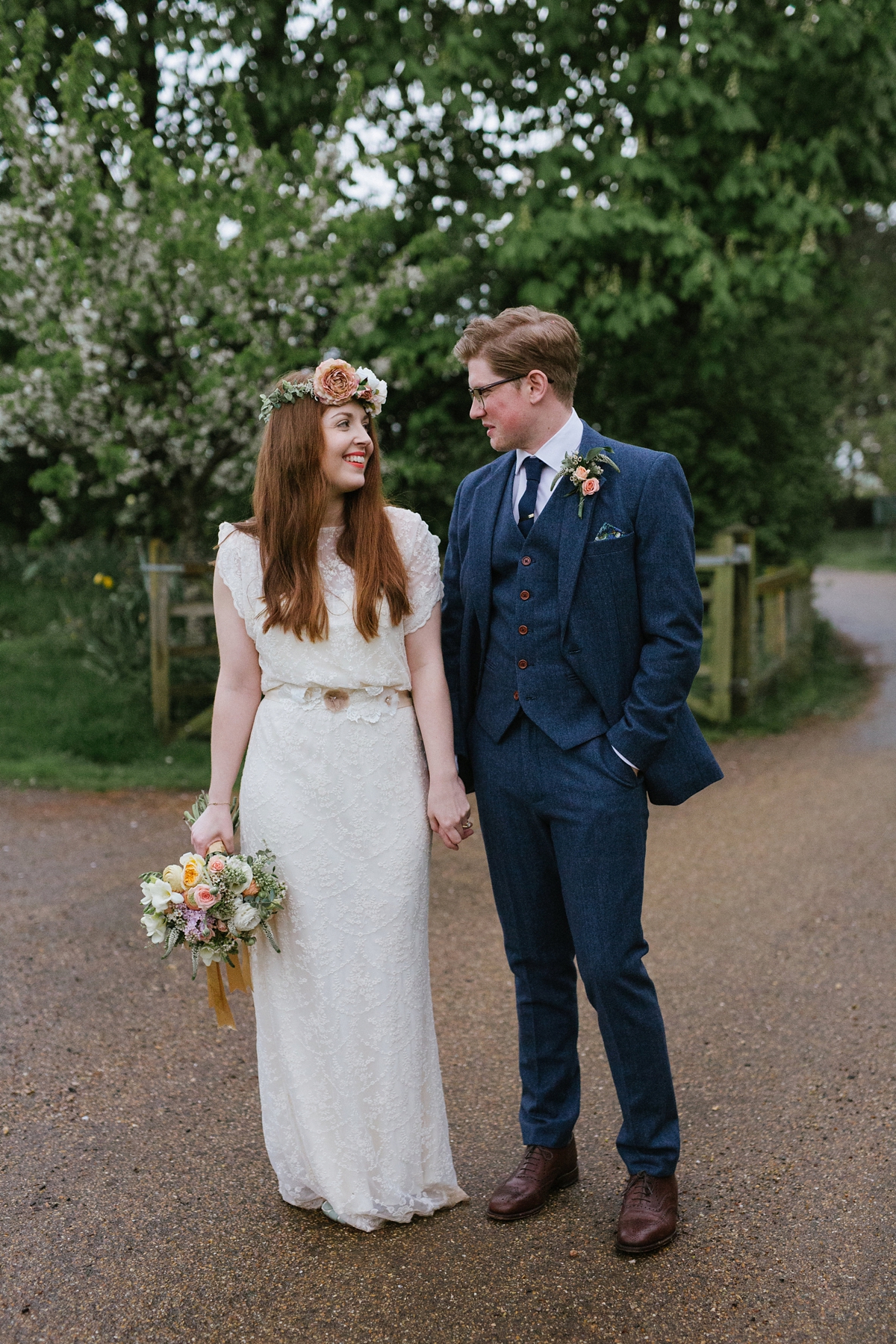 "We met at school, and have been together since we were sixteen. Thankfully we grew together rather than apart in our late teens and early twenties and we both feel so lucky to have shared so many key life moments together; leaving school, graduating university, getting our first jobs."
"I knew I wanted to marry Matt quite early on and had pretty much planned the wedding in my head about 5 years before we were engaged. He finally asked me to marry him in May 2016 after 9.5 years together. It was worth the wait!"
"South Farm was the only venue we viewed; I just knew it was where we'd get married, long before we were engaged! It was everything we wanted in a venue, beautiful grounds, quirky features, exclusive hire with onsite rooms, and only an hour drive from most of our family and friends. It even has piglets. The main selling point though, was the incredible food."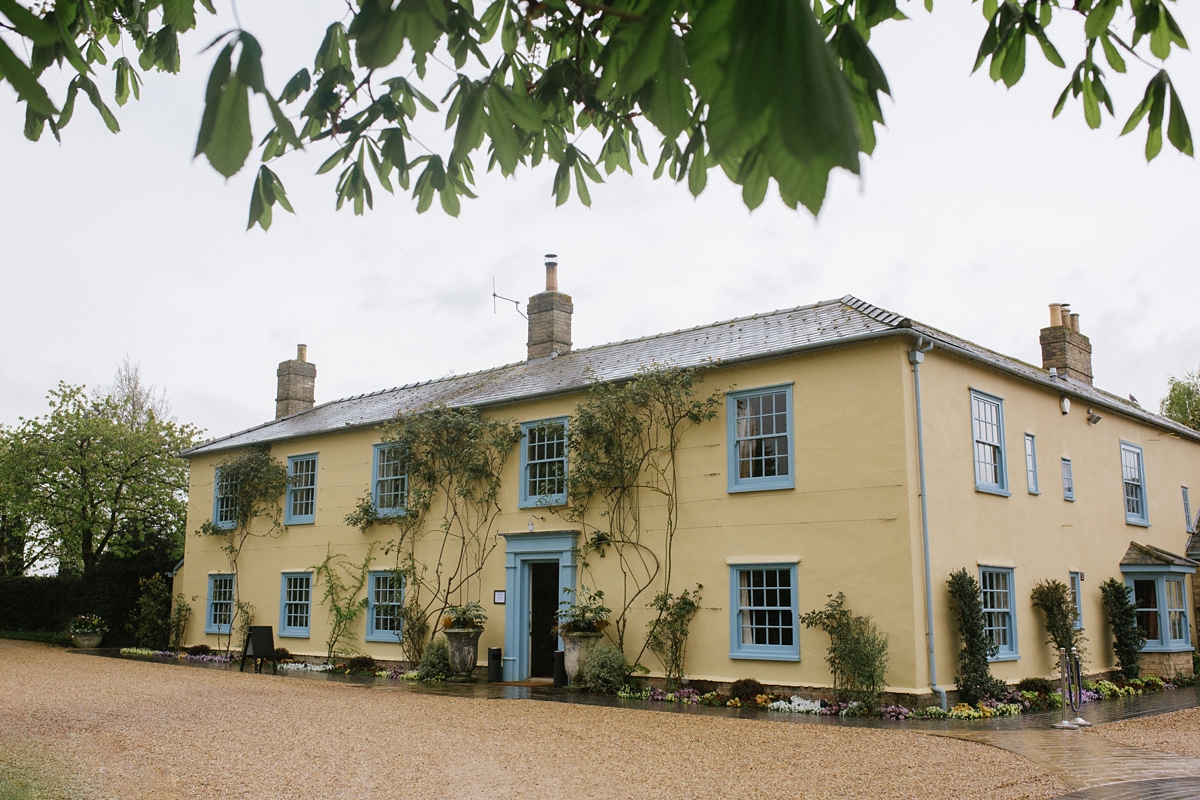 "We're both massive foodies so choosing somewhere with good food was a must. Being a working farm, they grow a lot of their own produce, and their onsite catering team does such an amazing job! The weather was pretty atrocious on the day and it was a shame that our guests didn't get to explore the gardens but thankfully the inside of the venue is just as lovely as the outside."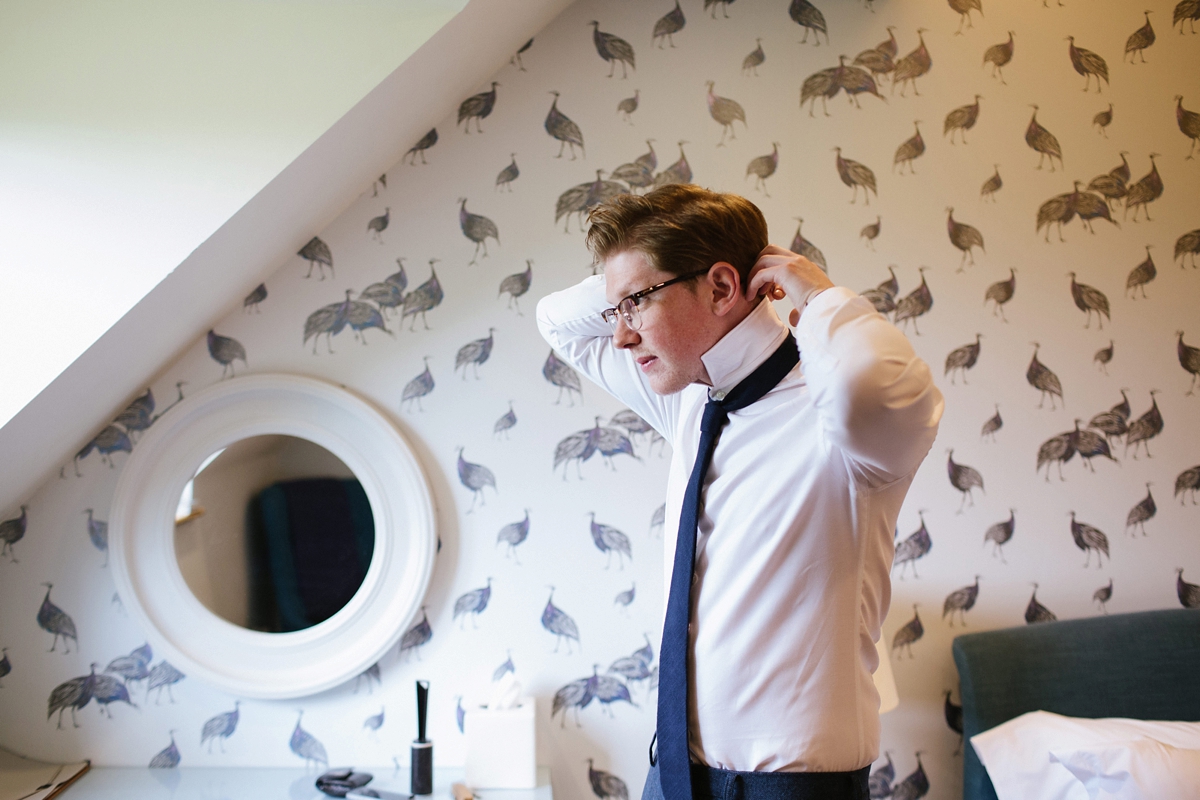 The style for the day was set by the stationery suite, which Abby and Matt created themselves. Together they run A Little Brush, creating prints of wedding venues painted by Matt and managed and marketed by Abby. You can see their charming work in this watercolour of South Farm which featured on the order of service.
[JP-VIDEO]
"Being a magazine designer in my day job, it made sense for me to create our invites, and it's something I've really enjoyed doing in the past for friends and family. I felt there was a bit of pressure there so I started initial designs quite early, and quickly became overwhelmed with the possibilities and really agonised over making a decision. I eventually decided on a sage green, floral design (based on our flowers) with gold foil, which gave it a really special touch. I also created all the on-the-day stationery including a welcome sign and an order of service featuring Matt's painting of South Farm and a watercolour timeline of the day."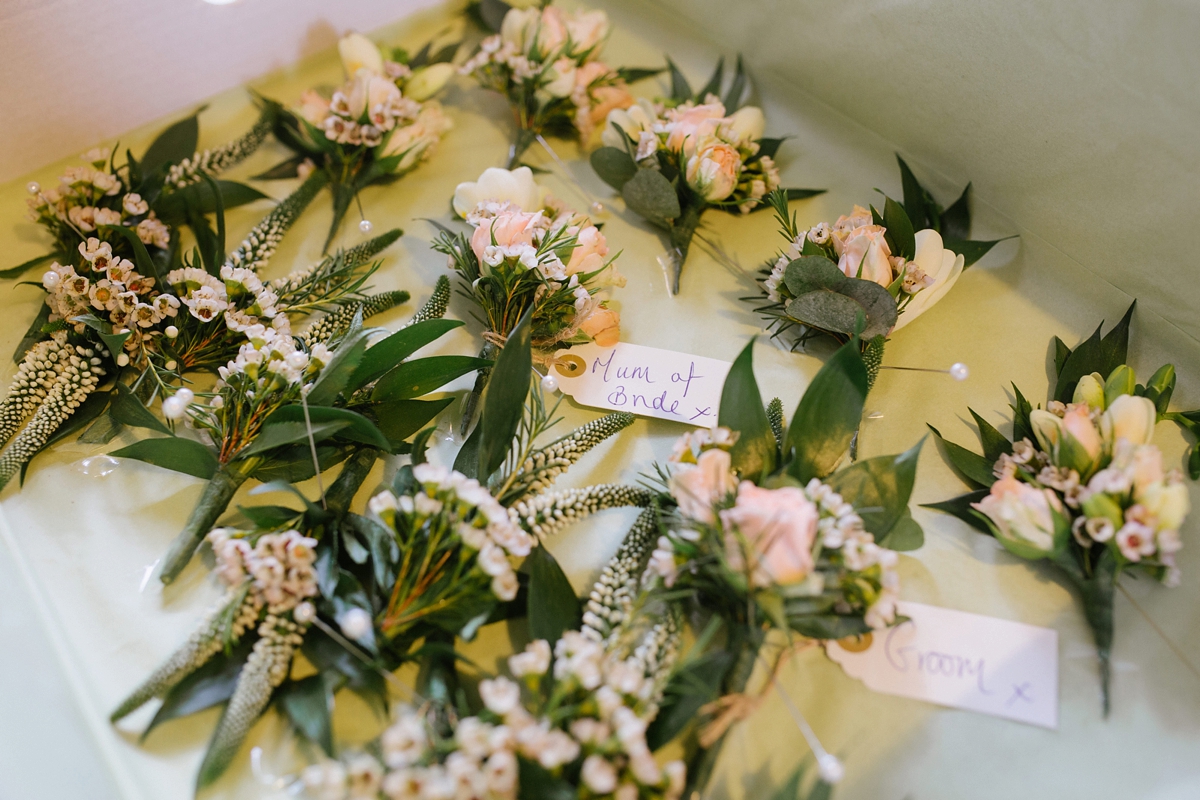 "We didn't have a wedding 'theme' as such; we just chose to go with what felt like us. Our home has a lot of mid-century touches and we do tend to gravitate towards vintage rather than modern, and I think our wedding reflected that. Gold was key in the décor and table settings, and peaches and greens featured in the stationery and flowers."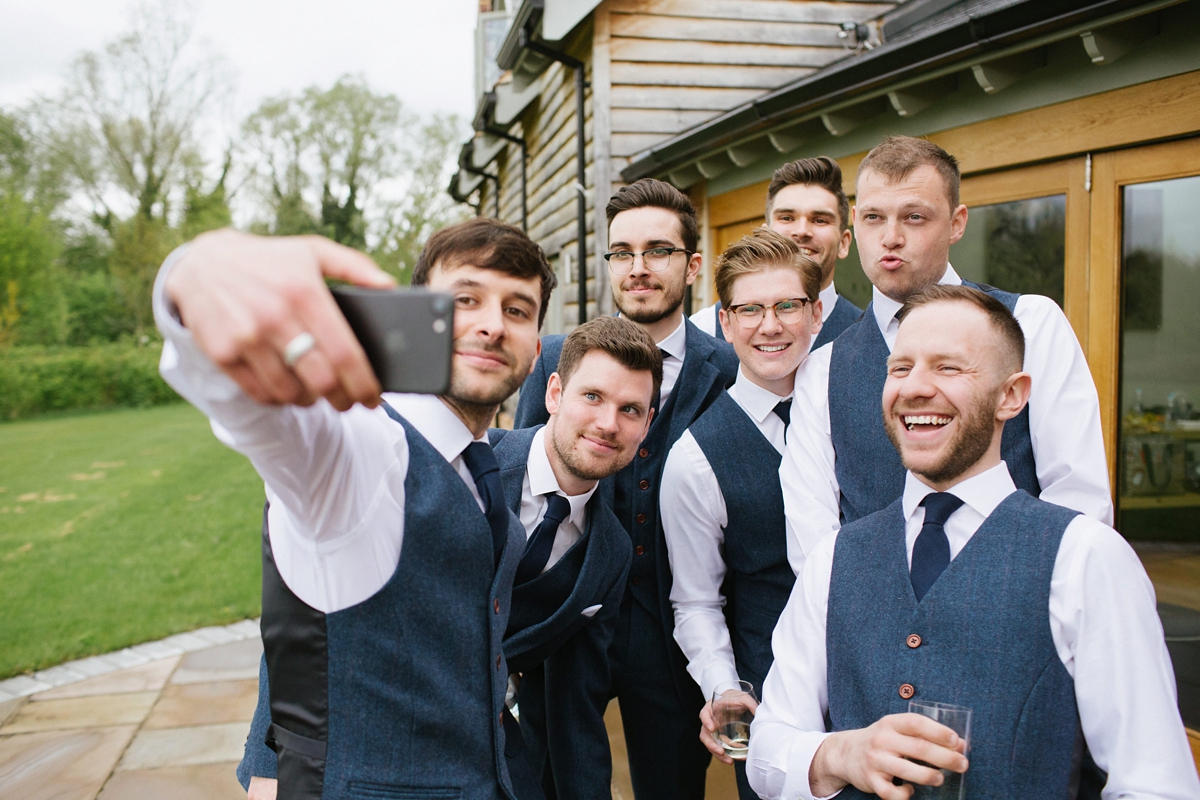 Abby visited these pages regularly to get inspiration for her day, even coming across her wedding dress designer here.
"Love My Dress was the only blog I visited regularly during our planning (and for quite a few years prior to our engagement too!). The real weddings were where I got most of my inspiration; I don't think I'll ever tire of seeing such beautiful images."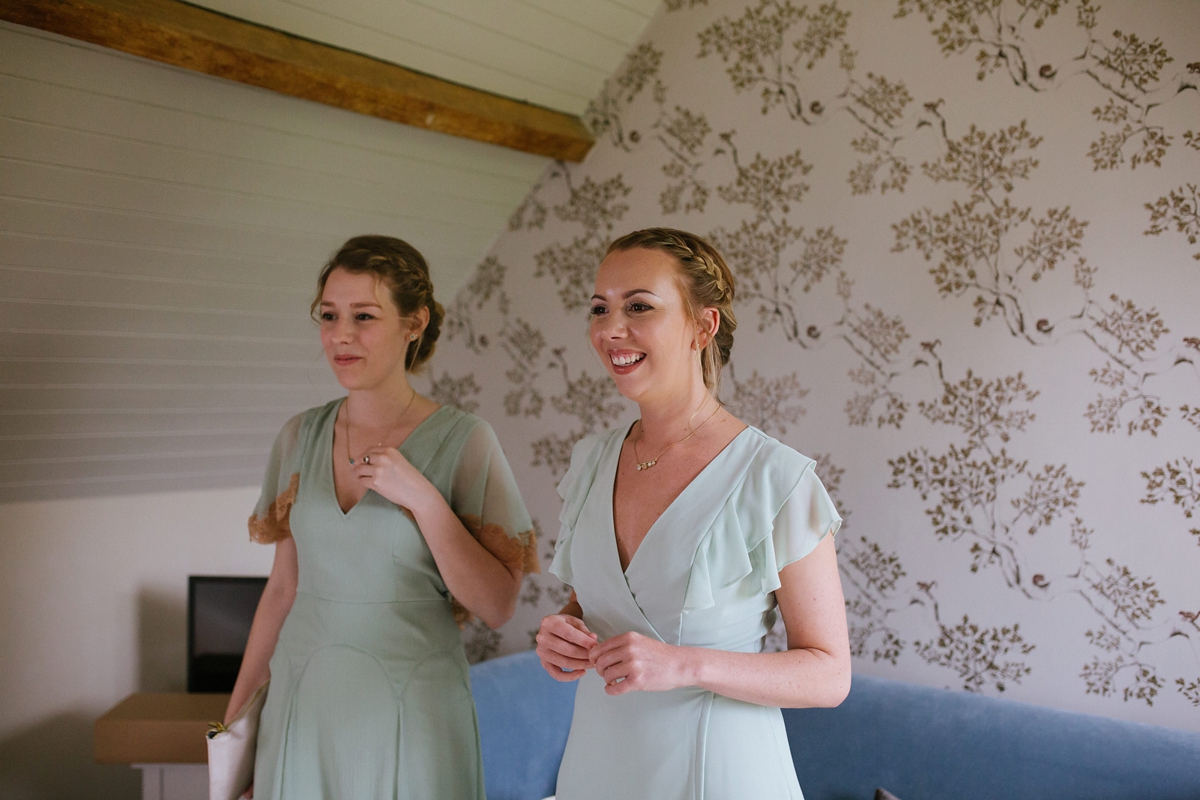 One of our favourite brands, Indiebride London, is behind Abby's gloriously floaty gown. Her dresses are perfect for those looking for an unstructured, unfussy, vintage-inspired look, and we're so proud to present her on our Style Files here and our Little Book of recommended wedding suppliers.
I love how Abby caught in the flowing material of the gown with a lacy belt to emphasise her waist, and enhanced the simple lines of the skirt with a veil from another of our Little Book suppliers, Blossom & Bluebird.
"I bought my veil on Etsy from the wonderful Sian at Blossom & Bluebird. I just wanted something simple to tuck in to my flower crown, and went for a ballet-length, ivory, single tier veil. My dress wasn't overly 'bridal' so I thought adding a veil would be a nice traditional touch."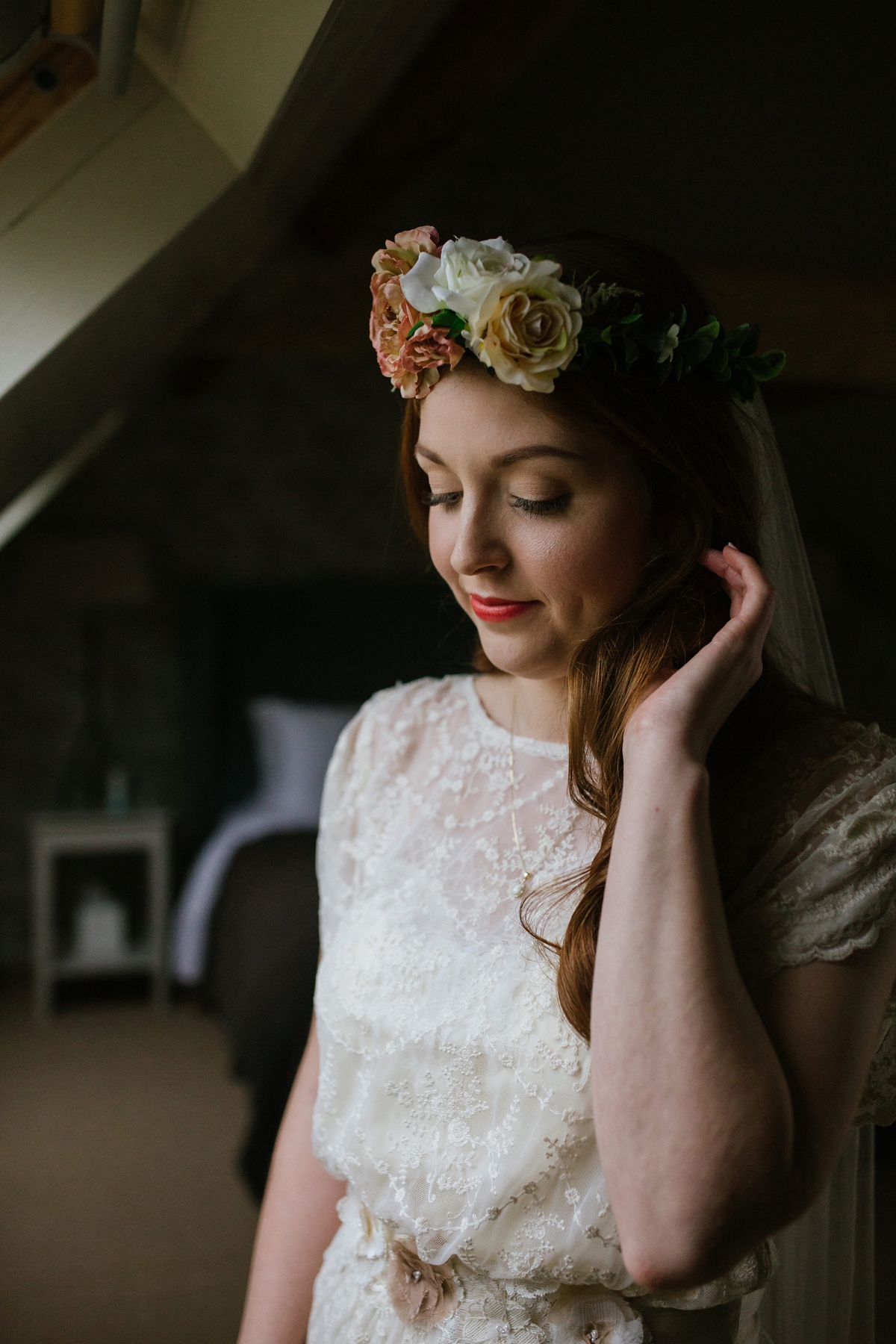 "I actually found my dress designer, Indiebride London,  through Love My Dress, and even got a 20% discount through a promotion I saw on the blog.  My dress was the Effie dress by Minna, and I purchased it from their beautiful showroom in Oval, South London. Their studio is on the top floor of a church, and during my first visit there we heard the gospel choir practising downstairs; such a unique experience!"
"I had about eight dresses on my list that I wanted to try on and really wasn't expecting to fall in love with the one I did. My belt was bought along with my dress from Indiebride London, it was made using scraps of leftover material and it complemented the dress so perfectly."

"As soon as I put the dress on it just felt really comfortable, the lightweight fabric meant I could move around freely, there was no long train to worry about, the lace was just beautiful, and it had that vintage touch I was after."
"I loved the little sleeves, and decided to have the back of the dress customised to button at the top and open down to the waist, giving it more of a unique feel. All of Indiebride London dresses are made onsite and it was really special to know my dress was created by the same person who was there at all my appointments."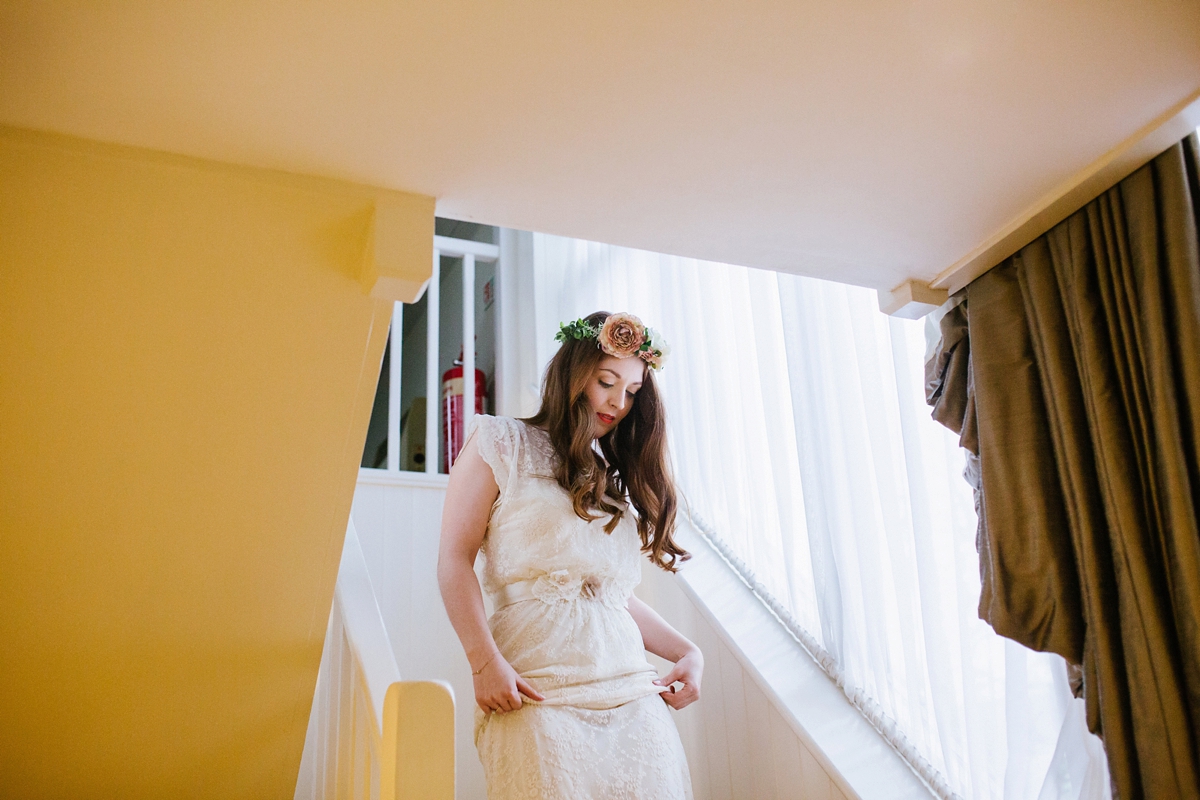 The green theme continued with the bridesmaids' gowns; a mismatched selection of sage and mint green dresses from ASOS, New Look and Simply Be that look so, so pretty together.
"They were all bought at different times but looked so good together; they even had the same floaty sleeves. I wanted the girls to feel comfortable in a dress they really liked and to be able to wear it again. My bridesmaids all wore the same gold shoes from H&M. I spotted them with one of my bridesmaids during some shopping on our lunch break. The girls all said how comfy they were and easily wearable for other occasions."
"The girls wore their own jewellery but I gifted them all an Anthropologie necklace on the morning of the wedding, which they all decided to wear on the day. They were all slightly different colours based on the stones of their birth month."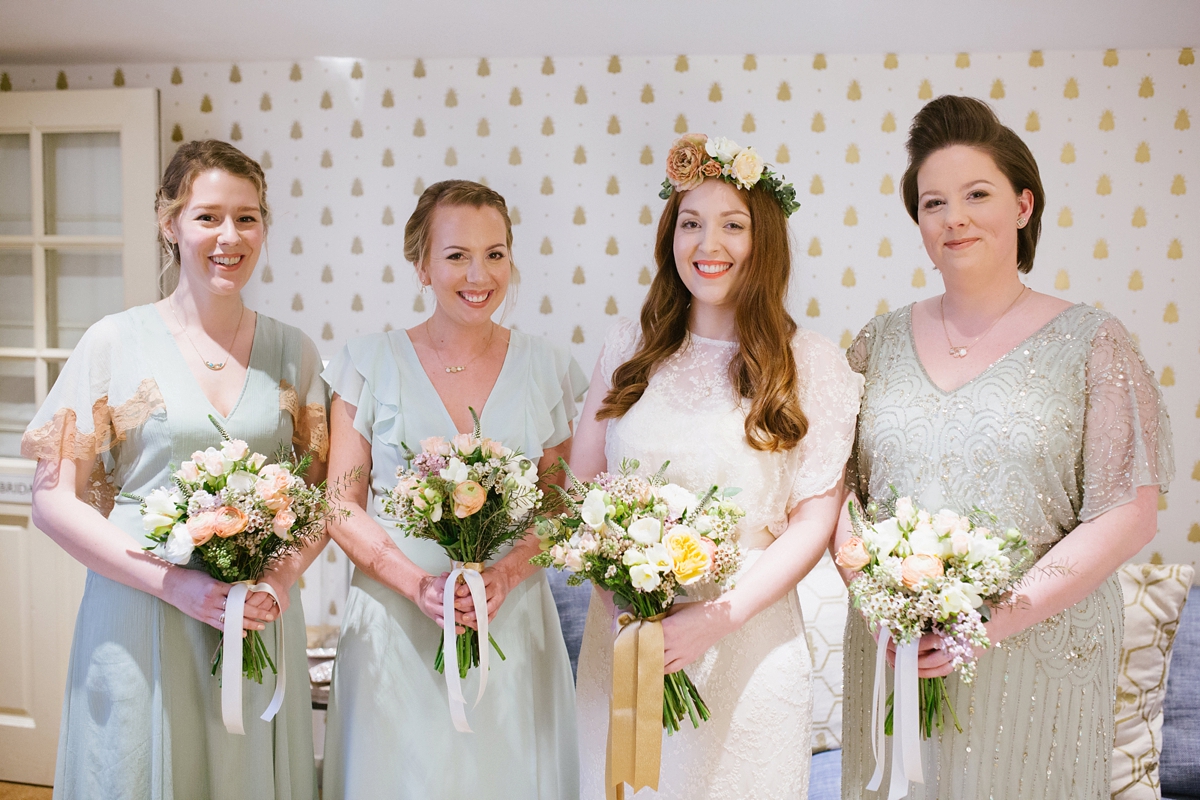 the venue ourselves on the morning of the wedding and being the perfectionist I am, I wanted one last look over everything when it was all done and time just flew by!"
Once ready, Abby braved the drizzly weather to walk to the barn and enter on the arm of her father.
"My dad accompanied me down the aisle to 'Songbird' by Eva Cassidy. My bridesmaids walked in just before me, and in that brief moment before I walked in, I just felt an overwhelming sense of calm and happiness, even though my dad was an emotional wreck! I grinned like a Cheshire cat throughout the whole ceremony. In fact, I didn't stop grinning all day!"
South Farm's barn was transformed for the ceremony with hundreds of full-blown flowers for a fresh, springtime look. The bride's florist sister Hayley created this breathtaking look; how talented she is!
"Having a florist as a sister is pretty great, but especially amazing during wedding planning! A year before the wedding we did a trial to see what was in season which was so helpful in guiding the colour palette for the rest of the day. My wedding flowers were the most stunning flowers I've ever seen, and everyone was in awe of our incredible top table arrangement! In the ceremony room at South Farm we kept it simple with flowers tied to the end of the chairs."
Whilst the girls got ready, Matt and his groomsmen had fun relaxing and getting ready in custom-made suits.
"Matt, all of his groomsmen, and both dads got their made to measure three-piece suits from The Vintage Suit Hire Company. We found them at a local wedding fair and the suits were great quality and such a good price. Matt and the boys went for the blue tweed 'Southwold' suits, and the dads wore the grey 'Harrogate' suit. The groomsmen all wore brown leather shoes, blue braces and white pocket squares, while Matt had a blue, Liberty-print pocket square."
I love how Abby and Matt chose many suppliers who they'd met and liked personally, including their wedding ring designers.
"Our wedding rings were made by Hyde Park Design in Hatton Garden. I met them at a wedding fair and they were so friendly and helpful. I knew I'd need to get a bespoke ring to fit around my engagement ring, and during our visit to their studio they mocked up a silver ring for me in the shape I was after before ordering the gold one. Matt went for a plain gold band and I still love seeing him wearing it everyday."
The ceremony included a reading from the bride's brother Mark.
"He did a really special reading during our ceremony that we heard for the first time on the day. He has a fantastic way with words, and it was really emotional for everyone."
I'm so in love with these post-ceremony shots of the newly-weds relaxing with their guests… and the gorgeously cute farmyard animals. I wonder how long it took to compose these wonderful photographs? It looks like the newly-weds really embraced the rainy day, and the umbrella shots are so special.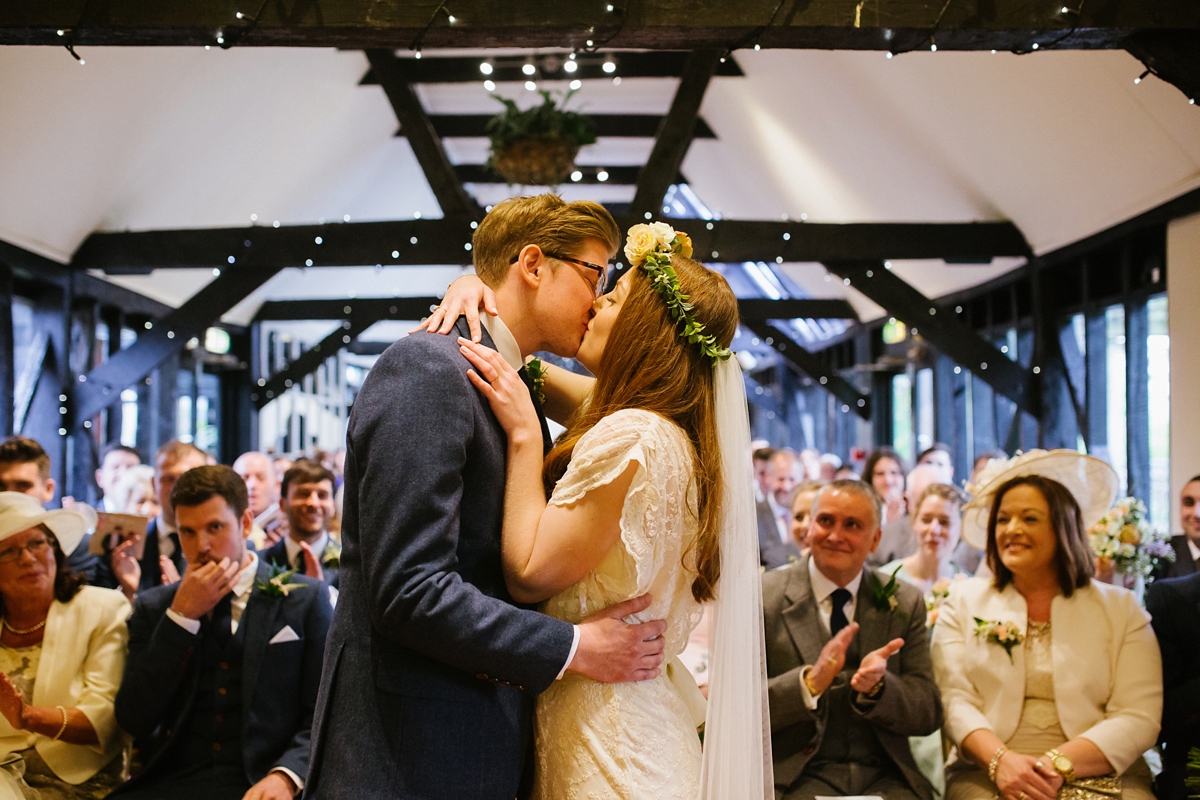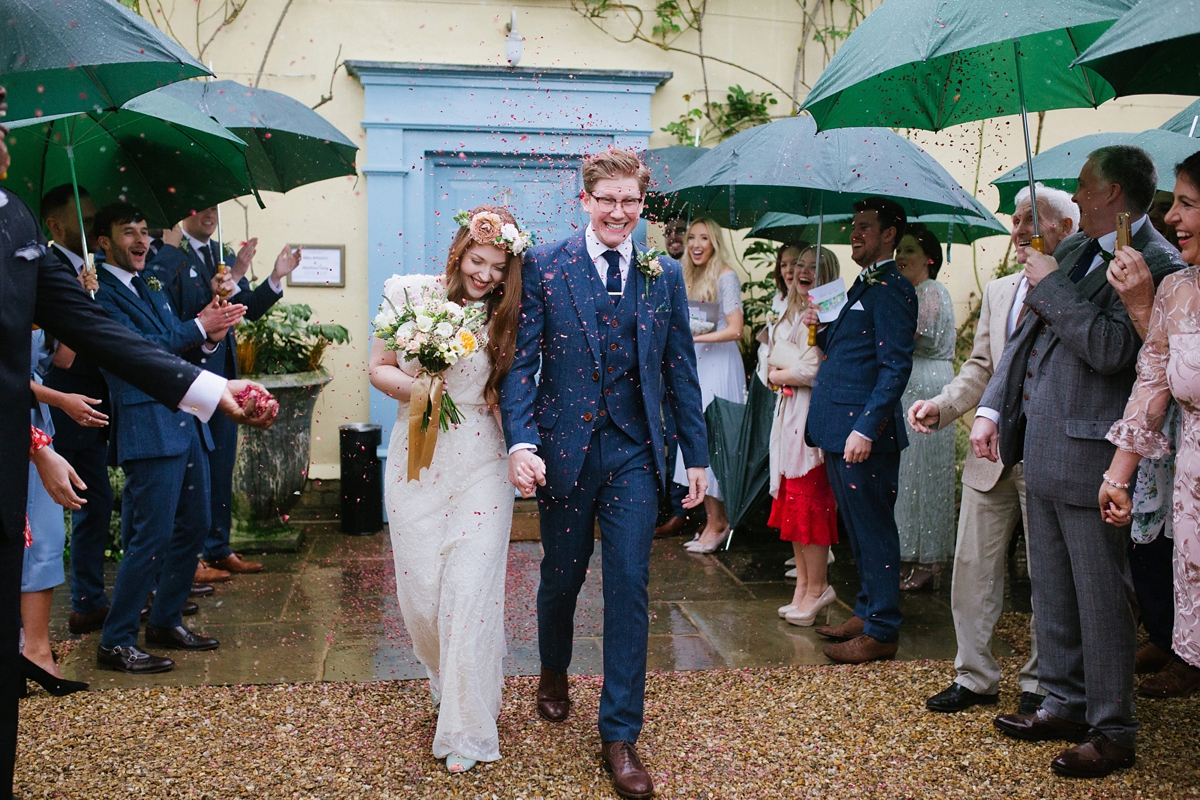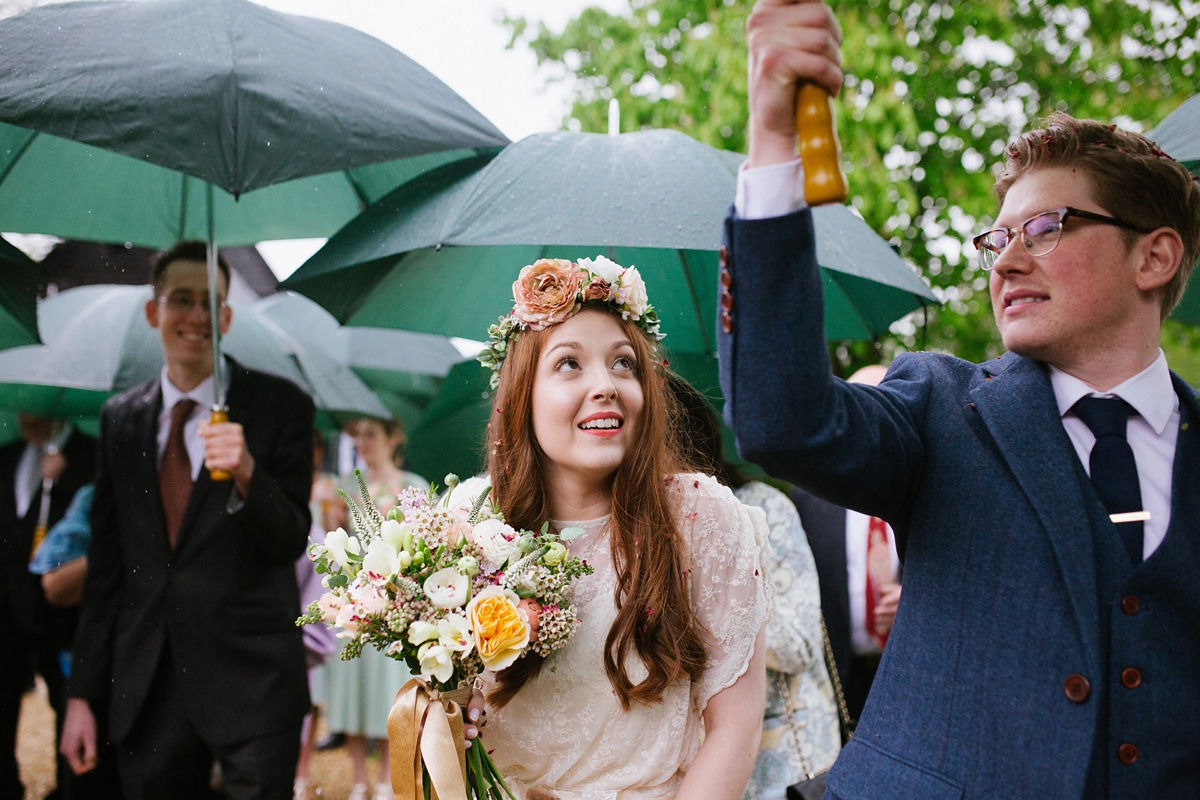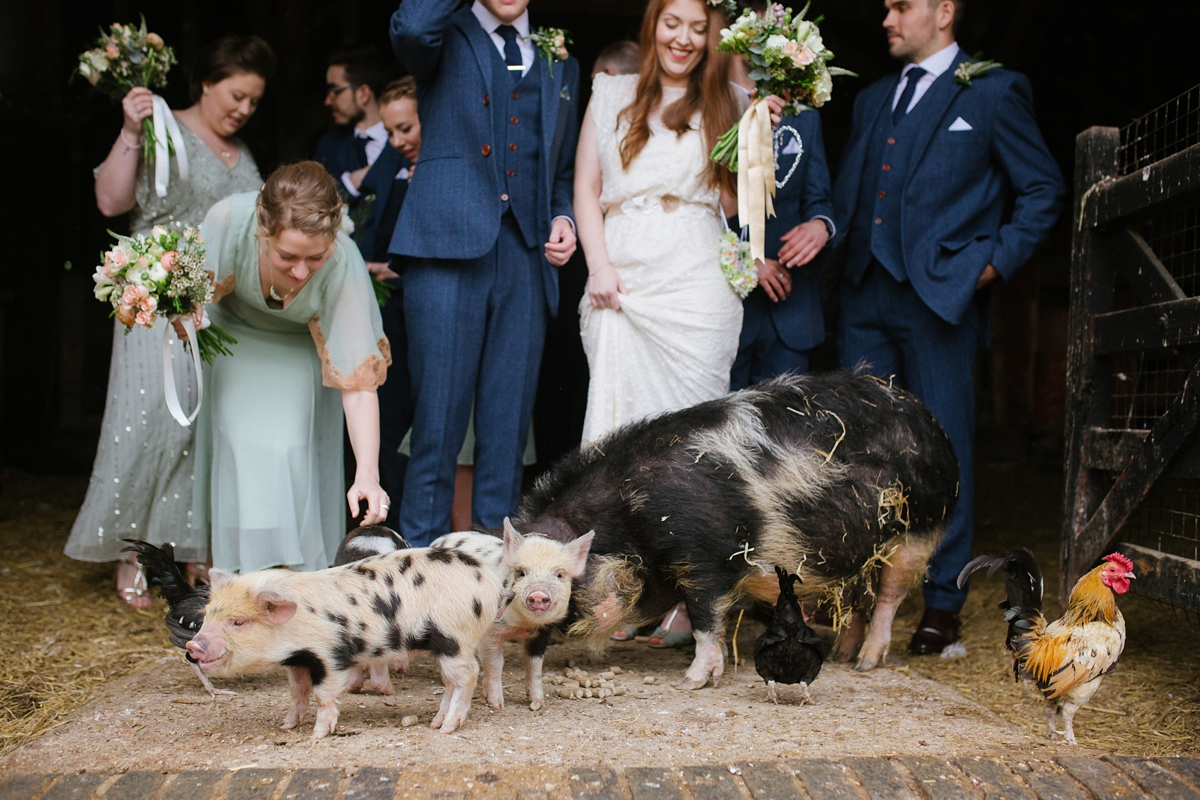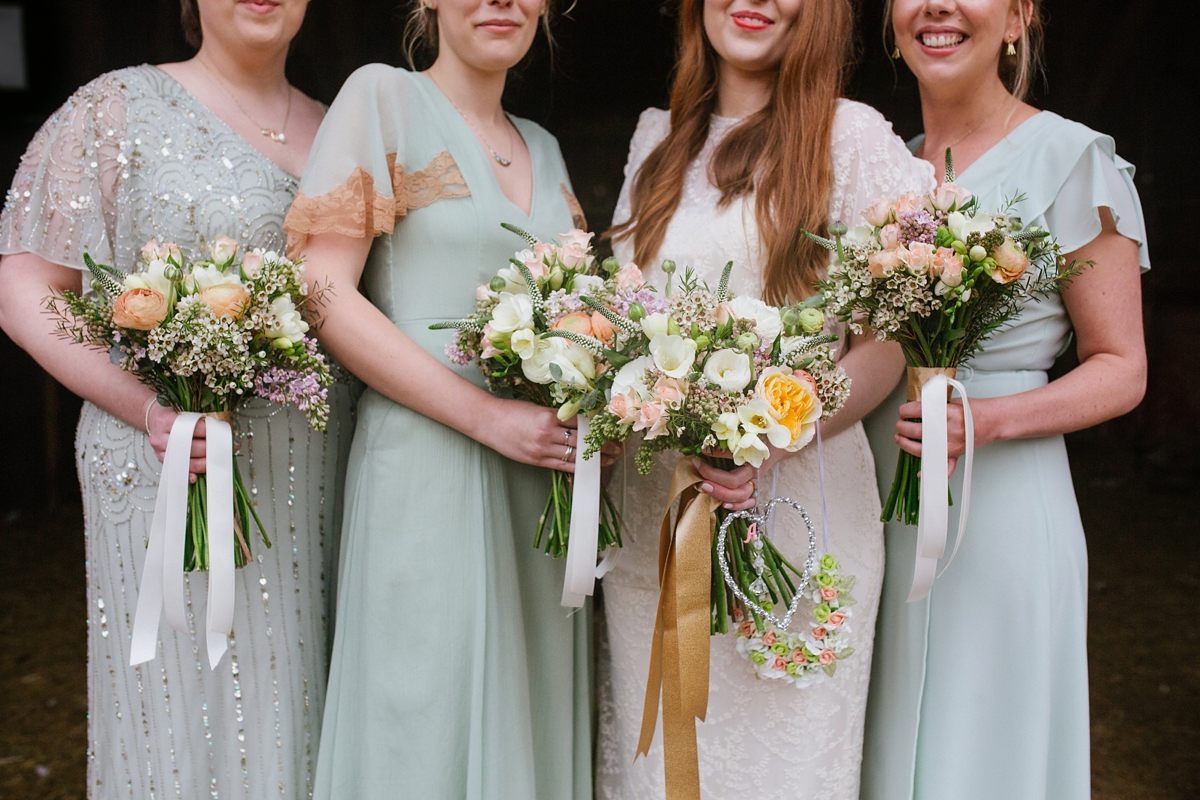 The crowning glory, quite literally, was this lush faux flower crown in peach and cream, custom-made by Innocent Chaos on Etsy.
"It was based on the colours and flowers I'd be having in my bouquet. I initially thought I'd have a fresh flower crown but having trialled this a year before the wedding, it felt so heavy and wilted really quickly so I we decided that faux flowers were the best option. I was so pleased with the end product – it fit so well with my whole look, and now I get to keep it forever."
On her feet, a pair of mint green Mimosa shoes by Rachel Simpson Shoes added another touch of vintage.
"I bought my beautiful Rachel Simpson mint Mimosas before I even had a dress! I stumbled across them in an Anthropologie sale, the only pair left, my size, it was meant to be! I took them to all the dress shops I visited and thankfully my dress suited them perfectly. On the day they were super-comfy but I ended up accidentally trashing them by getting the heel stuck in a grate during our photos, and then covering them in mud when we went into the field. Thankfully I had a pair of gold ballet shoes for dancing in the evening  and my lovely mum got my Mimosas re-heeled for me when I was on honeymoon so I can wear them again."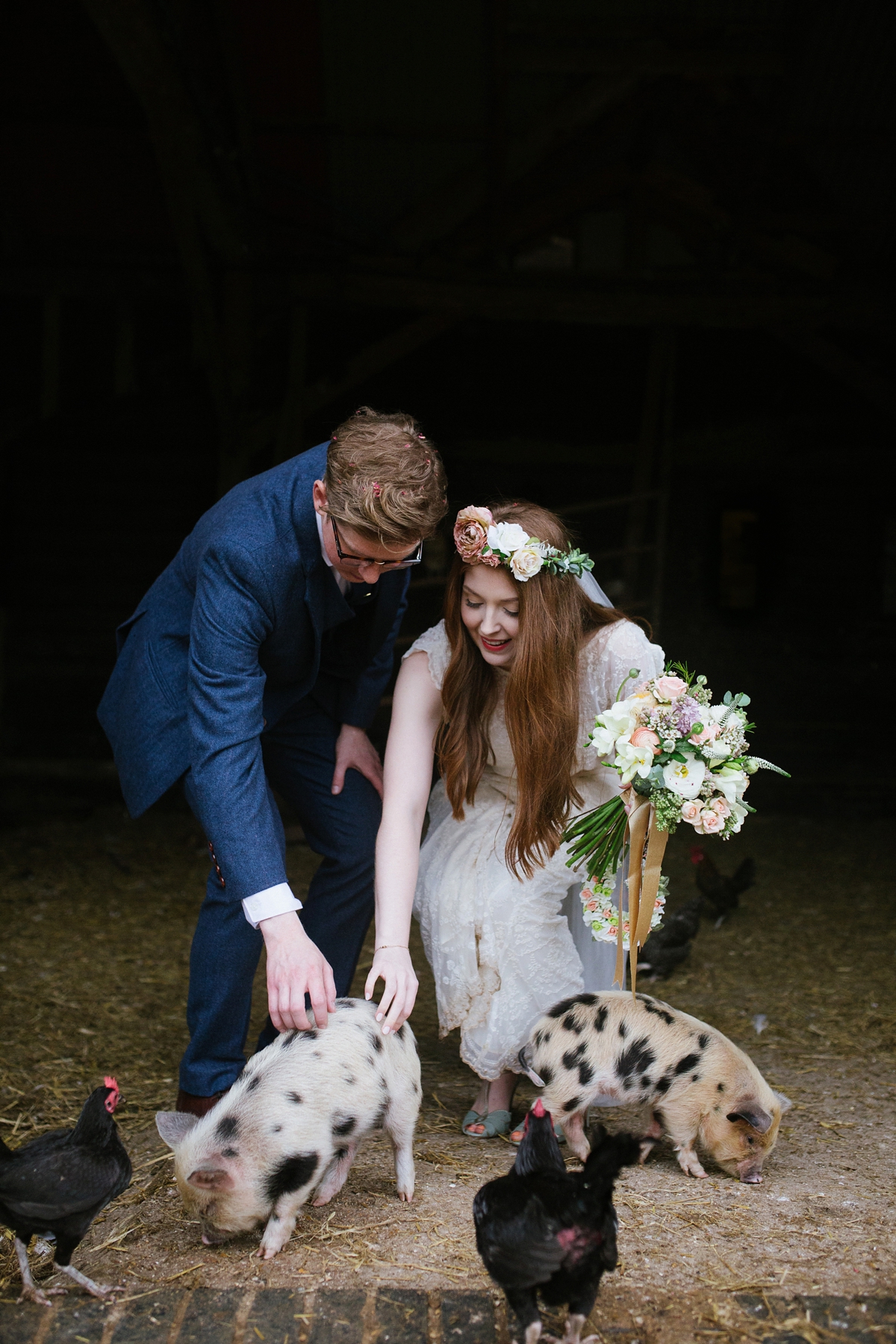 Abby honoured her family roots, and wore her favourite gem, opal, in her choice of jewellery for the day.
"My 'something borrowed' was a pair of beautiful opal earrings that my grandad gave to my nan; they matched my engagement ring perfectly. I'd also bought an opal pendant on holiday in Croatia which I wore with a thin gold chain. Matt surprised me on the morning of the wedding with a stunning bespoke gold bracelet with a single opal (that he chose himself) by Rachel Jeffrey Jewellery – I really do love opals!"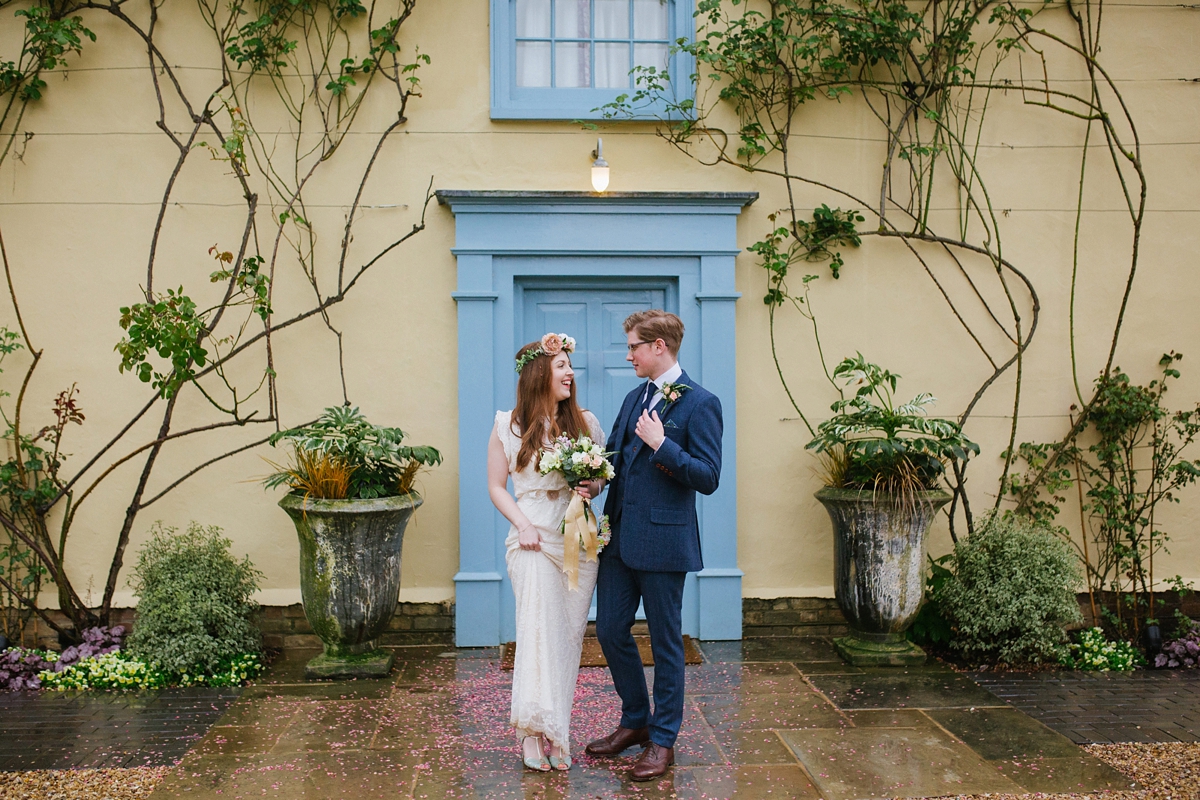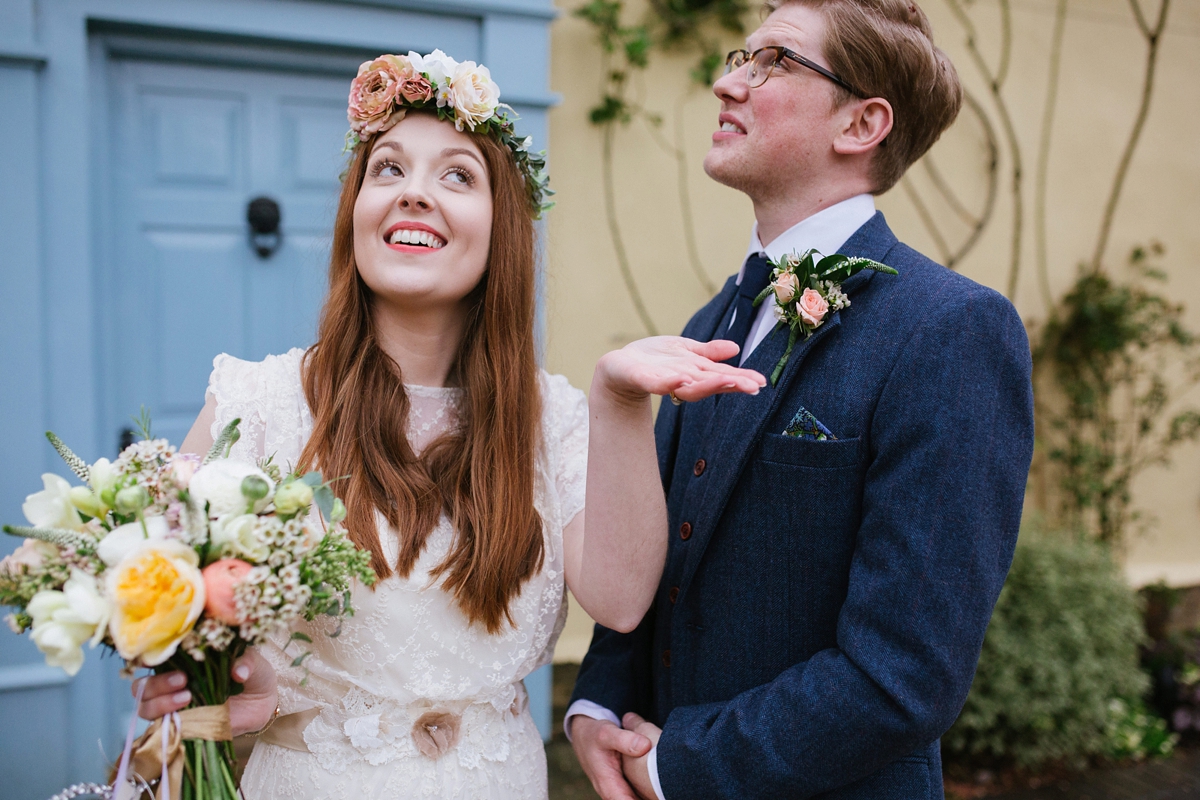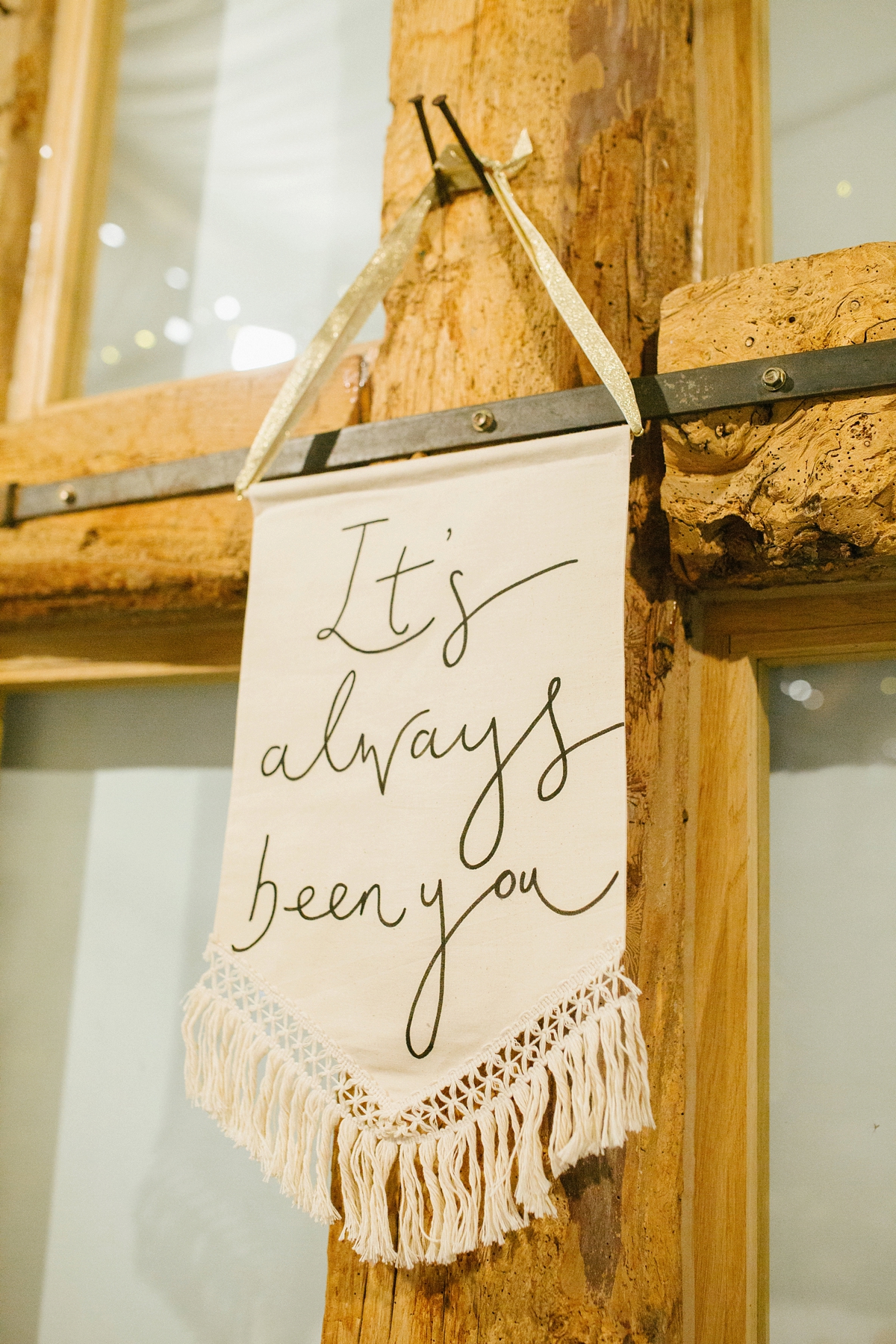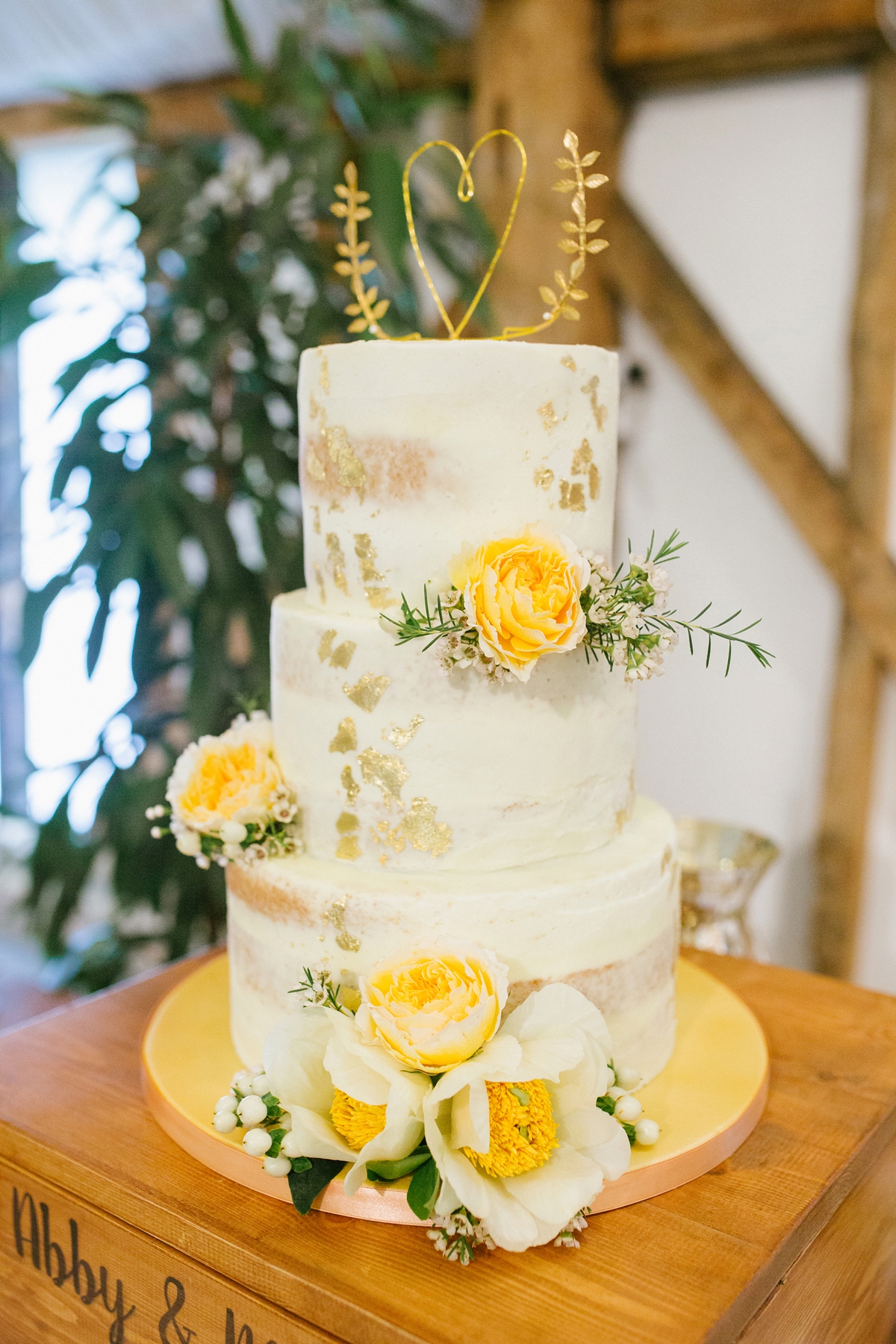 Back in the barn, the South Farm team had rustled up a gourmet wedding breakfast. A few words about the barn's decor, first, though which was full of touches of gold.
"In the main barn we booked Alice of Fleur de Lace to create a fairy light canopy on the ceiling, which was really beautiful in the evening. We hung banners by Oh Squirrel and May Contain Glitter on the walls, plus rows of photos of us over the years. Our table plan was a DIY creation by Matt – the mini frames turning to reveal where our guests were sitting."
"Our table arrangements consisted of two years worth of gold teapot and jug collecting by my mum, which my sister filled with flowers. The wooden stands that the teapots stood on were handcrafted by my cousin Lewis. We also chose to scatter mini succulents in gold tealight holders on each table, which we gave away to our guests."
"We wanted to do something to represent my grandad and his Maltese heritage on the day and decided to give our guests a little bag of Maltese nougat as a favour – a huge thanks to my nan for lugging fifty bars of nougat home in her hand luggage! Our gold wooden place names from Confetti Print also doubled up as an extra little favour too; everyone took theirs home."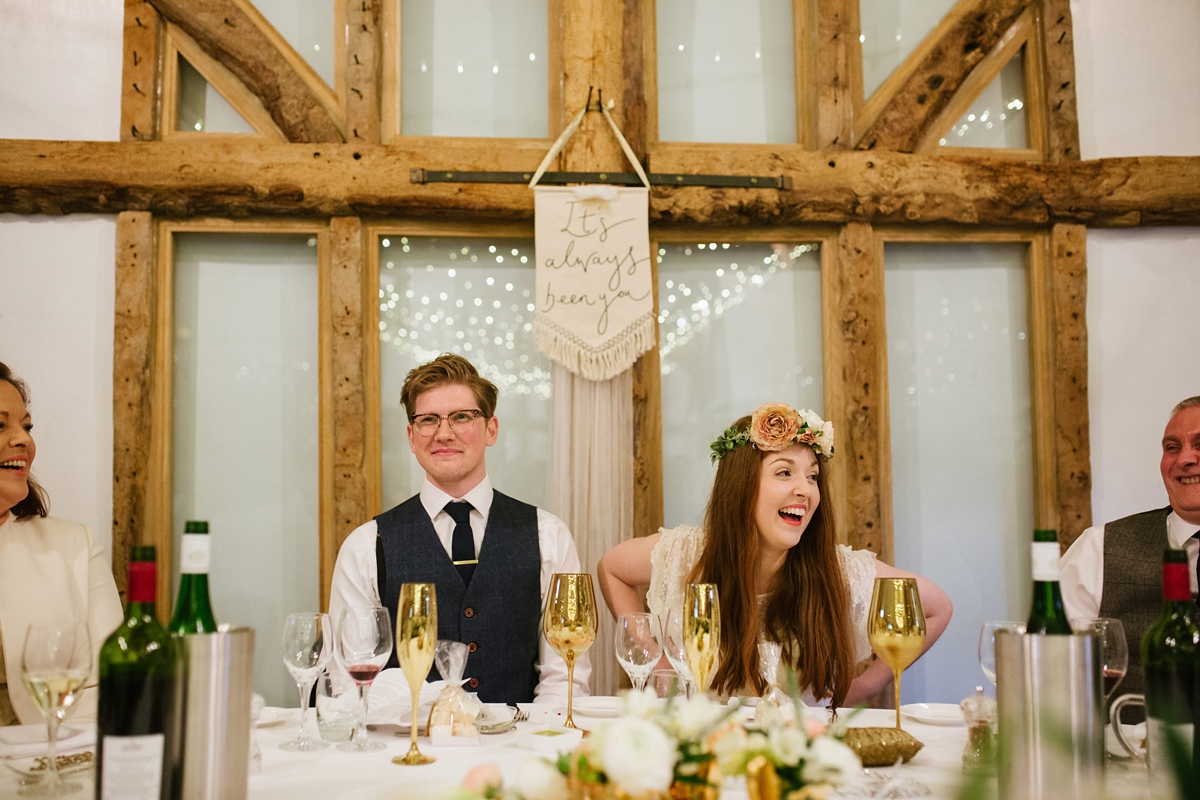 The dinner was enjoyed to a chilled-out guitar soundtrack.
"During dinner we booked guitarist Ed Peczek who played lots of classic songs and created a really relaxed atmosphere. During after-dinner coffee my cousins The Valaitis Brothers performed some songs for us, which was one of my favourite parts of the whole day. Having listened to their songs for many years now, we wanted to show them off to Matt's family and all of our friends, and everyone was absolutely blown away by them."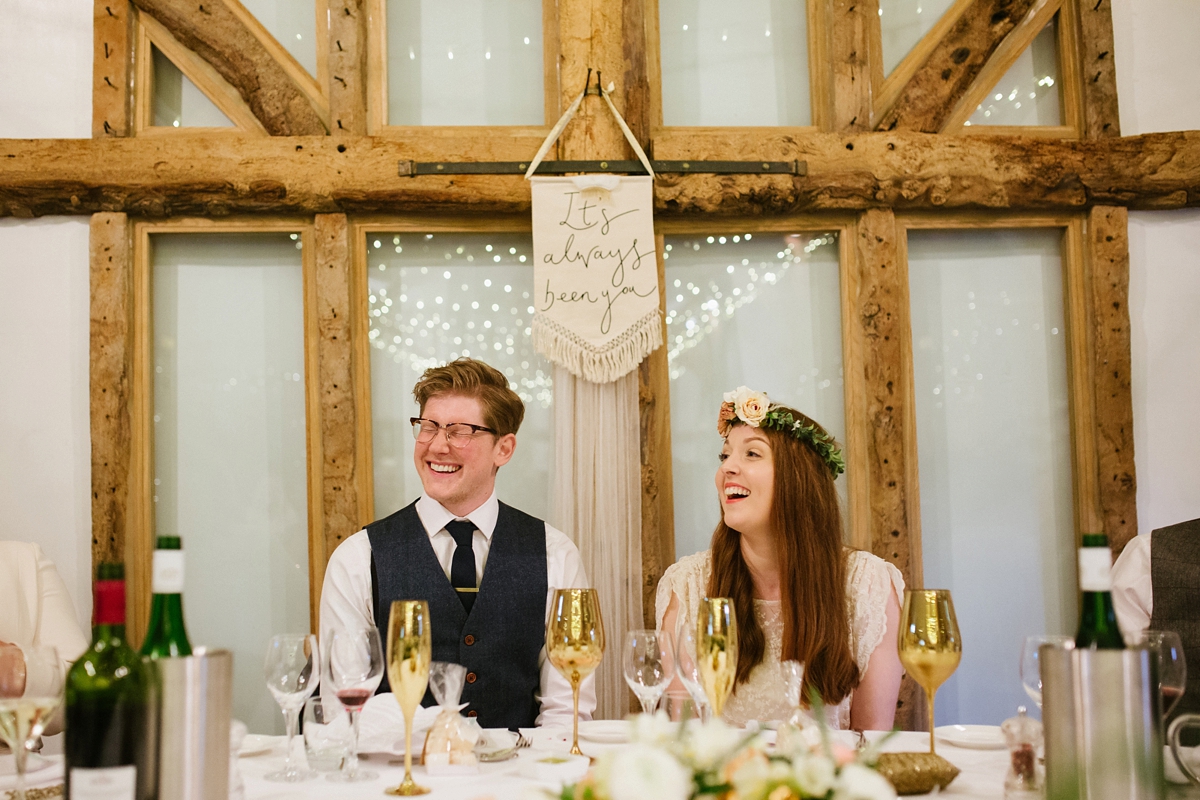 The bride asked her cousin Keeley Samantha MUA to apply her make-up on the day; going for a flawless finish with a pretty glow and a pop of pink red lipstick.
"My lovely cousin Keeley did our make up on the day. I was very aware that I still wanted to look like 'me' and she did an amazing job of making me a more polished version of myself. Our hair was done by my regular hairdresser Becki, who had a very difficult job fighting against the rain to keep my hair wavy."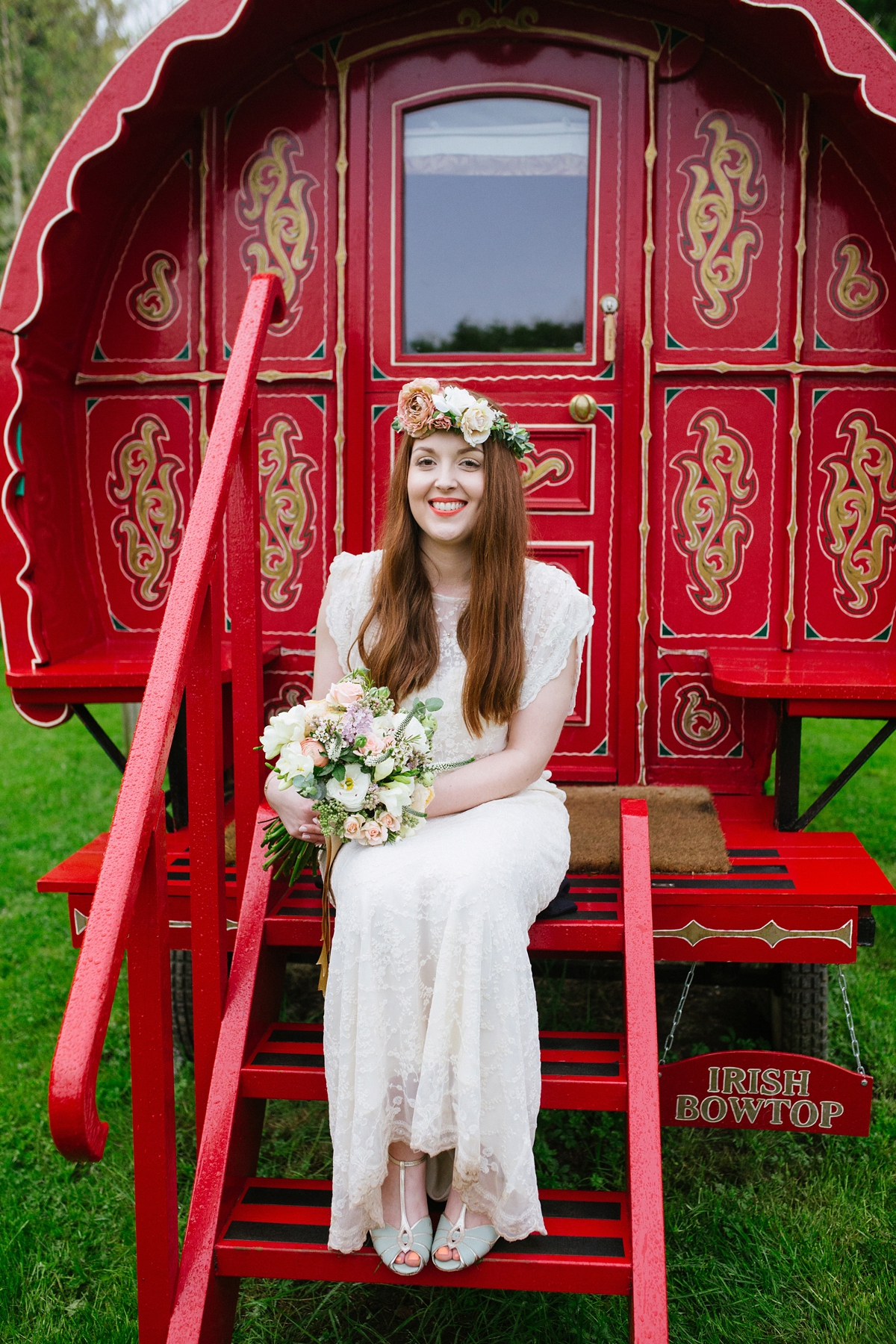 "I thought it would be nice to have a new scent for the wedding and decided on Rituals Fleurs de l'Himalaya, which Matt bought for my birthday a couple of weeks before the day. I also treated myself to a Rituals gift box containing shower oil and body cream with a similar scent that I used on the morning of the wedding.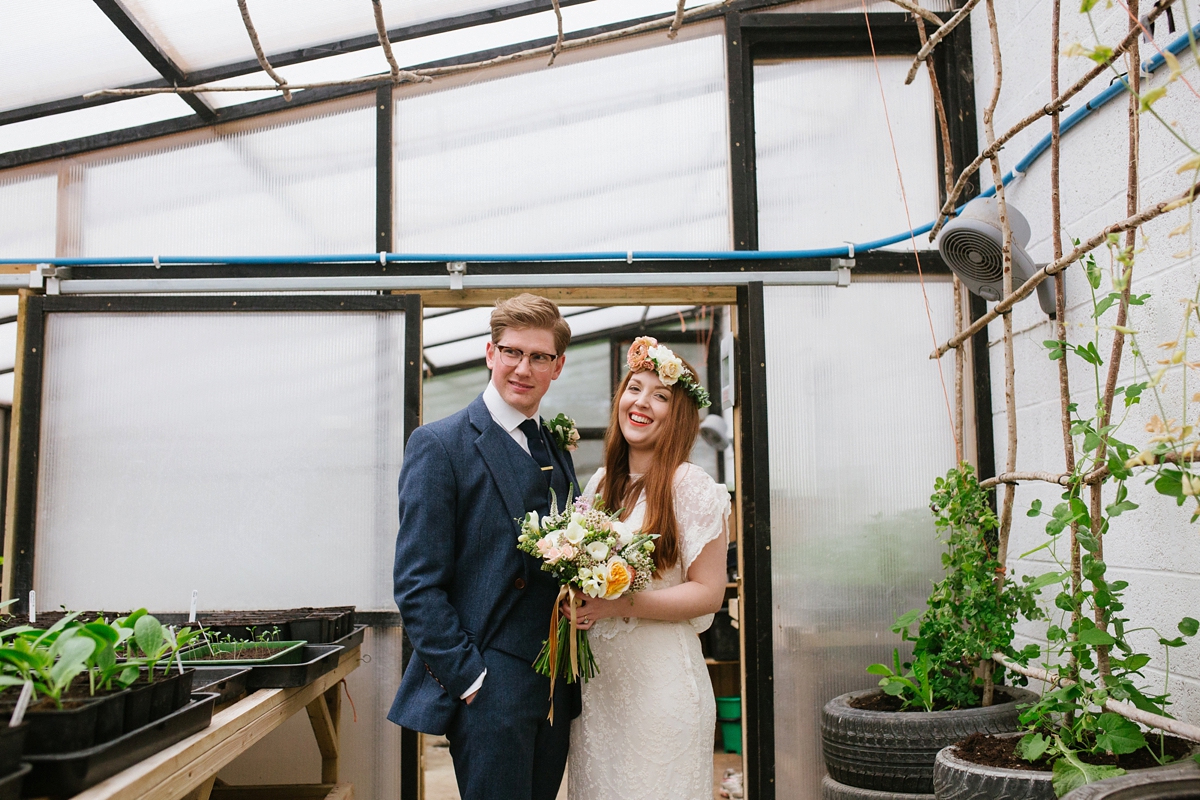 Emma Case Photography has a style full of clarity and light, and has captured some really lovely, spontaneous images of the bride and the girls getting ready, which look so relaxed and effortless.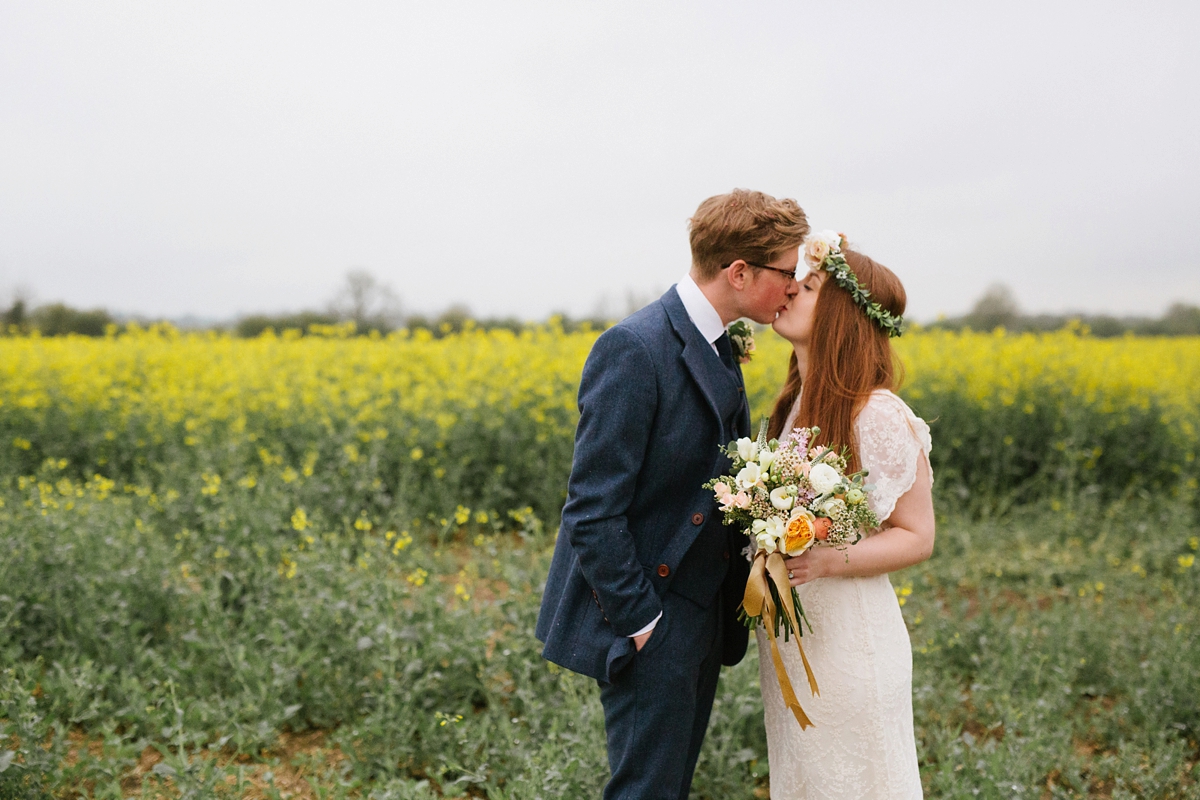 What strikes me is the joy and happiness that emanate from each and every photo, especially in the light-hearted rainy images, as well as Abby and Matt's constant smiles.
"Choosing a photographer was the easiest decision we made in the whole of our planning, in fact it was decided long before we were engaged. I've been a massive fan of Emma and Pete for many years. After Matt and I attended one of their workshops back in 2013, we knew from then on that they'd photograph our wedding one day."
"Emma and Pete were there with us when we got engaged, they've become so special to us, and having them there at the wedding was just a dream. They are the loveliest people ever, and we are so, so in love with our photos. We honestly couldn't wish for anything more."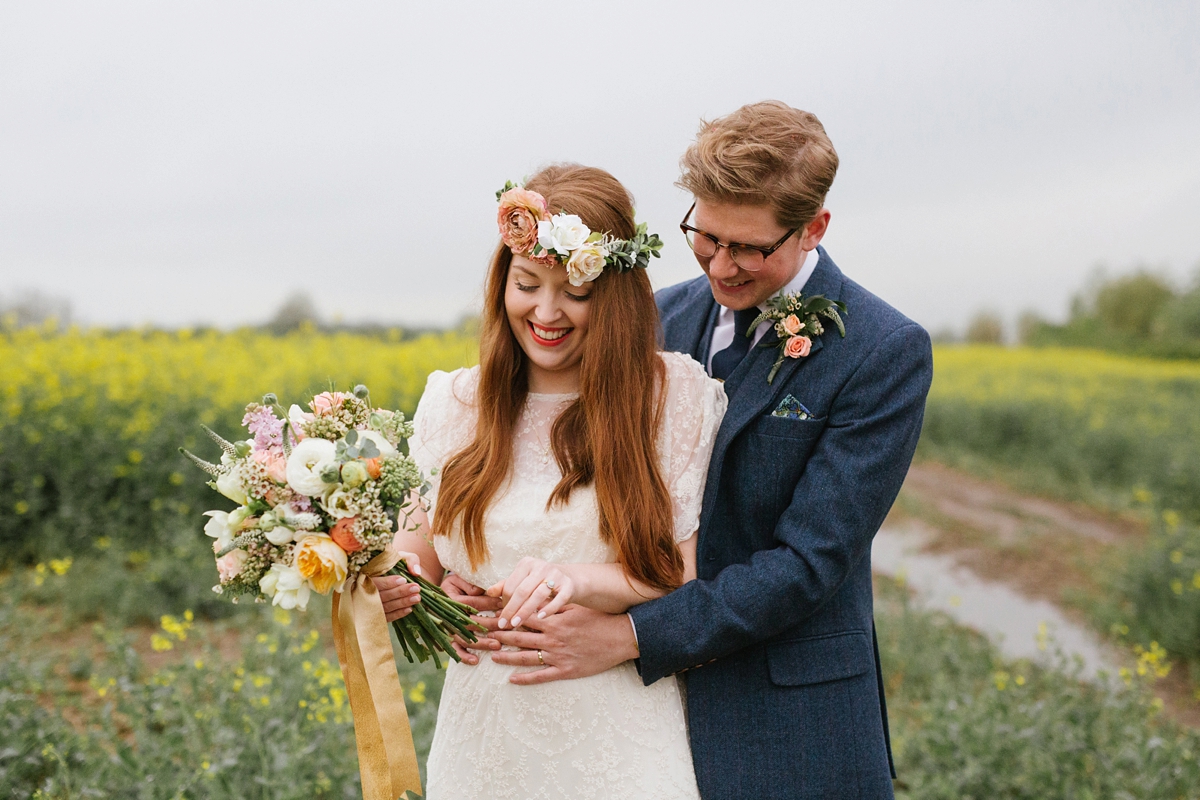 The Love My Dress Facebook group (have you joined yet?) was where Abby found Molly Jane Lewis Films, who created this delightful wedding film.
"We wanted to document our wedding with a short 'highlight' style film that we could watch over and over again. I discovered Molly's work through the Love My Dress Facebook group, and her style fit perfectly with what we had in mind; high energy, subtle vintage effects, and all cut to a song rather than having to hear our own voices. Molly was such a joy to be around, and we're so pleased with the final film. It captures so many little moments that we missed on the day and it makes us so happy every time we watch it."
The traditional tiered wedding cake was given a modern, and very special, flourish with flecks of gold leaf. It was created by the bride's friend Helena of Crumbs the Word.
"She created a delicious three-tier semi-naked sponge cake decorated with flowers and edible gold leaf. We went for classic Victoria sponge, vanilla sponge with mango and passionfruit curd, and coconut sponge with coconut icing. They went down a treat."
Before the evening party got started with music from the South Farm's resident DJ Gary, Abby and Matt danced to 'Baby I'm Yours' by Arctic Monkeys.
"We chose it mainly for its sweet lyrics and because it's quite a short song!"
"There were so many standout moments of the day. The whole day just had an incredible aura, and it was so surreal to have everyone we love all in one place. Knowing everyone was there to celebrate us as a couple was such a humbling feeling, and one I'm so sad I'll never feel again."
Words of Wedded Wisdom
The barn was set up on the morning of the wedding, and Abby has a word of warning for all brides considering this approach.
"In hindsight, I wish I'd given myself a little longer to get ready, as it was a bit of a rush and I didn't have the chance to chill and take it all in for very long before the ceremony. My parents, bridesmaids and I set up
"My only other words of wisdom would be to enjoy the build up to the wedding as much as possible, as the day itself goes so fast. Planning a wedding is a really special time, and it's something you're (hopefully) only going to do once, so really make the most of it."
"Involve those close to you as much as you can, and cherish all the key moments prior to the day; from announcing your engagement to your friends, viewing venues with your partner, to dress shopping with your mum. If possible, try to extend the celebrations the day after by getting together with family to open your cards and share all the memories from the wedding."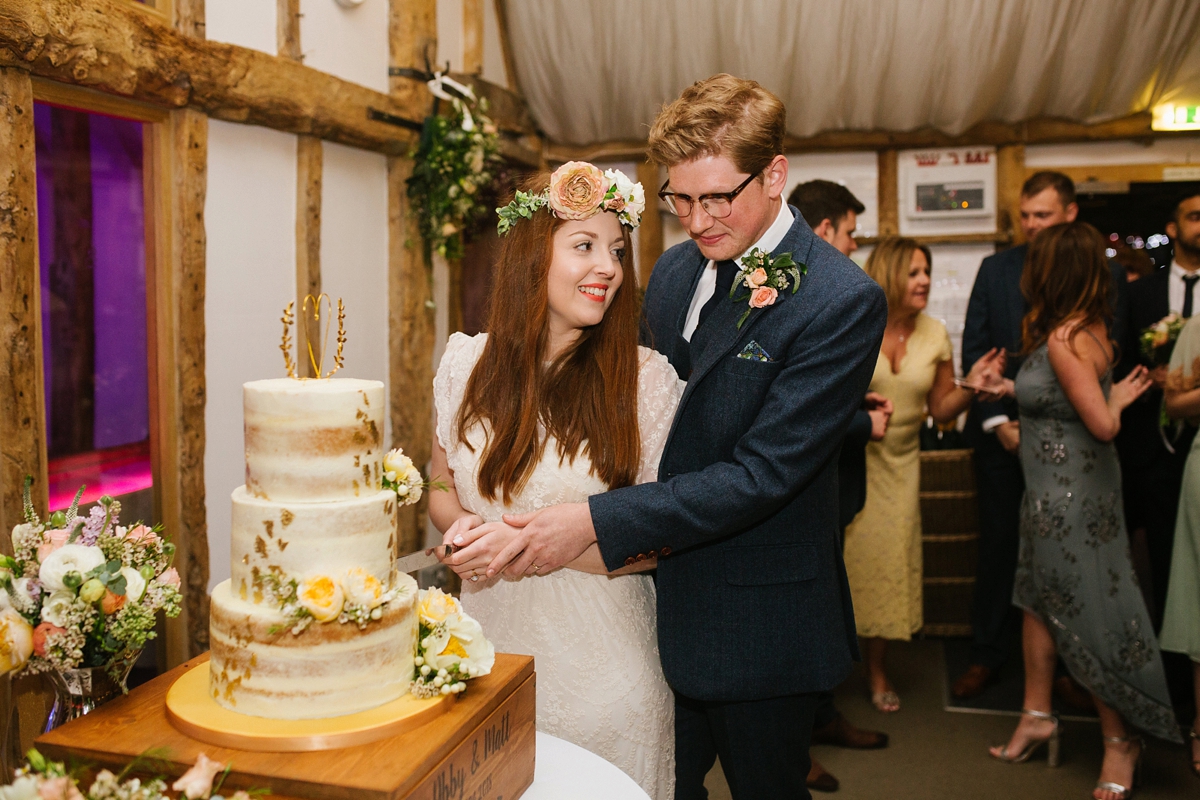 How wonderful to see this couple again after sharing their engagement story a couple of years ago. I really like the freshness and the gorgeous flowers you chose, and can't stop looking at the cute farmyard animal photographs. So. Cute.
Thank you so much for letting us feature your special day, and thanks also Emma Case Photography for your fresh, colourful and modern images. If you haven't already, please nip over to join our Love My Dress Facebook group, which Abby found so useful for planning.
Ele xx