Hello lovelies! I'm off on my summer holidays tomorrow and looking forward to some warm sun and the fresh sea air. But before I go, I've got a truly gorgeous castle wedding up my sleeve to share with you today, and seeing as I've got a plane to catch, we better get to it and meet the happy couple.
Actors Kirsi and Oliver were wed on 11th August 2018 at Hulne Abbey, followed by a reception at the iconic Alnwick Castle in Northumberland. Their day was full of effortless, elegant touches and subtle pink hues. We hope you love this occasion as much as we do. It's also wonderful to spot the design talents of our Little Book directory member, EYI Love, in that beautiful table plan!
"The main inspiration for the day was the story of marriage from The Scotsman in Oliver's family history and the 1920s. We both love Art Deco and I decided on my dress style pretty early on, so it all fit together nicely."
"The dress I chose was the Dixie Gown from Jenny Packham. Before I walked into the shop, I'd already decided which dress I wanted and went through the elimination of other choices and stuck with it. Until I was told there could possibly be one more I might like. The moment I tried it on, that was it. It was simple, even though it was covered in beads, and it felt comfortable yet special. I knew it was my dress."
[RELATED]
"I also wore a two-tier cathedral length veil from David's Bridal and a pair of Nicholas Kirkwood shoes. Coco Mademoiselle by Chanel has been my perfume for the past 9 years so I wore that on the day. It's a scent I feel most comfortable with and very uncomfortable when I'm not wearing it."
"Oliver and I met at drama school whilst on stage playing opposite each other. The proposal he planned years ago as a skeleton idea. Having promised me a puppy for my 30th birthday, he had the idea to propose presenting the ring in one hand and the puppy wearing a name tag reading 'will you marry me' in the other."
The day came when we brought Joey the puppy home and after letting him get used to his new home, Oliver offered to get his new collar he'd bought in advance."
"Whilst I had the dog on my knee Olivier got down on his knee and gave me the collar and popped the ring box open. I was busy texting a friend and told him to hang on a minute and after 30 seconds of awkward silence from Oliver, he slowly covered the ring box I hadn't noticed and decided to try again another time."
"I then gave him my full attention and presented it again, though I hadn't noticed what the collar read and thought he had just missed off the dogs name. Eventually I got my head around what was actually happening and, trying my best to stay calm, said to him, 'of course I will!'".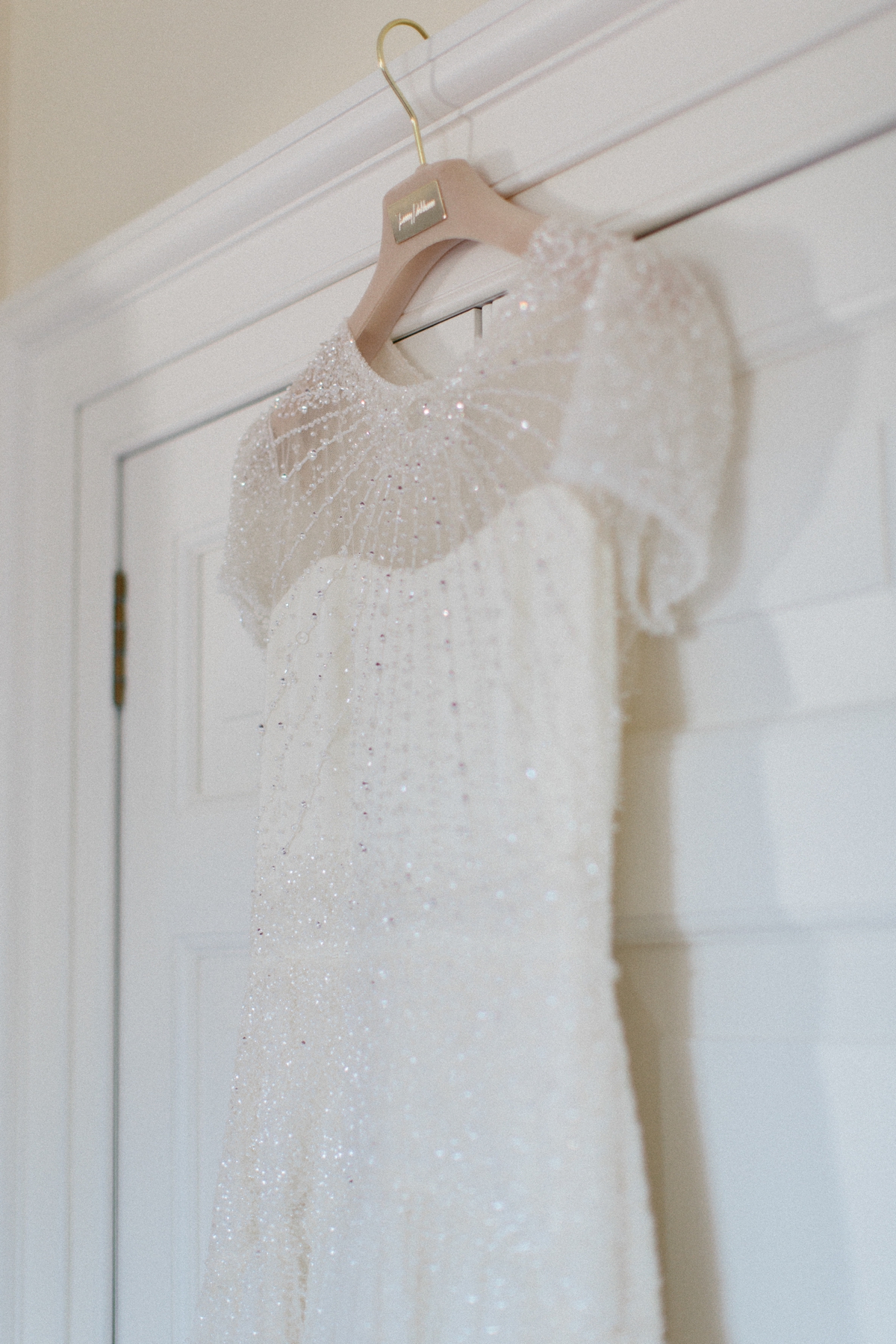 "After drama school I spent many years organising events so I was very excited to have the wedding as a project for Oliver and I to do together, so we didn't hire a planner. However, on the Friday night before the wedding I did hand the running of the day over to my maids who all ran the day beautifully."
"Other accessories included a 1920s silver Myrtle tiara, Dior tribales earrings and a Monica Vinader ring, which was a pre wedding gift from Oliver and my something blue."
Kirsi's gorgeous bridesbabes each wore their own pale pink full length dresses, accessorised with a gypsophila hair piece provided by florist Harriet from Flowers Unlimited who also provided the bouquets and rest of the wedding flowers.
"Harriet was an amazing support. I was looking for rustic and simple arrangements. I wanted something that would compliment the venue and highlight the day. I wished for baby's breath everywhere (it was my replacement for Lily of the Valley, which wasn't in season unfortunately) and also wanted to include an Estonian native flower, blue cornflower, a Scottish thistle and a rose."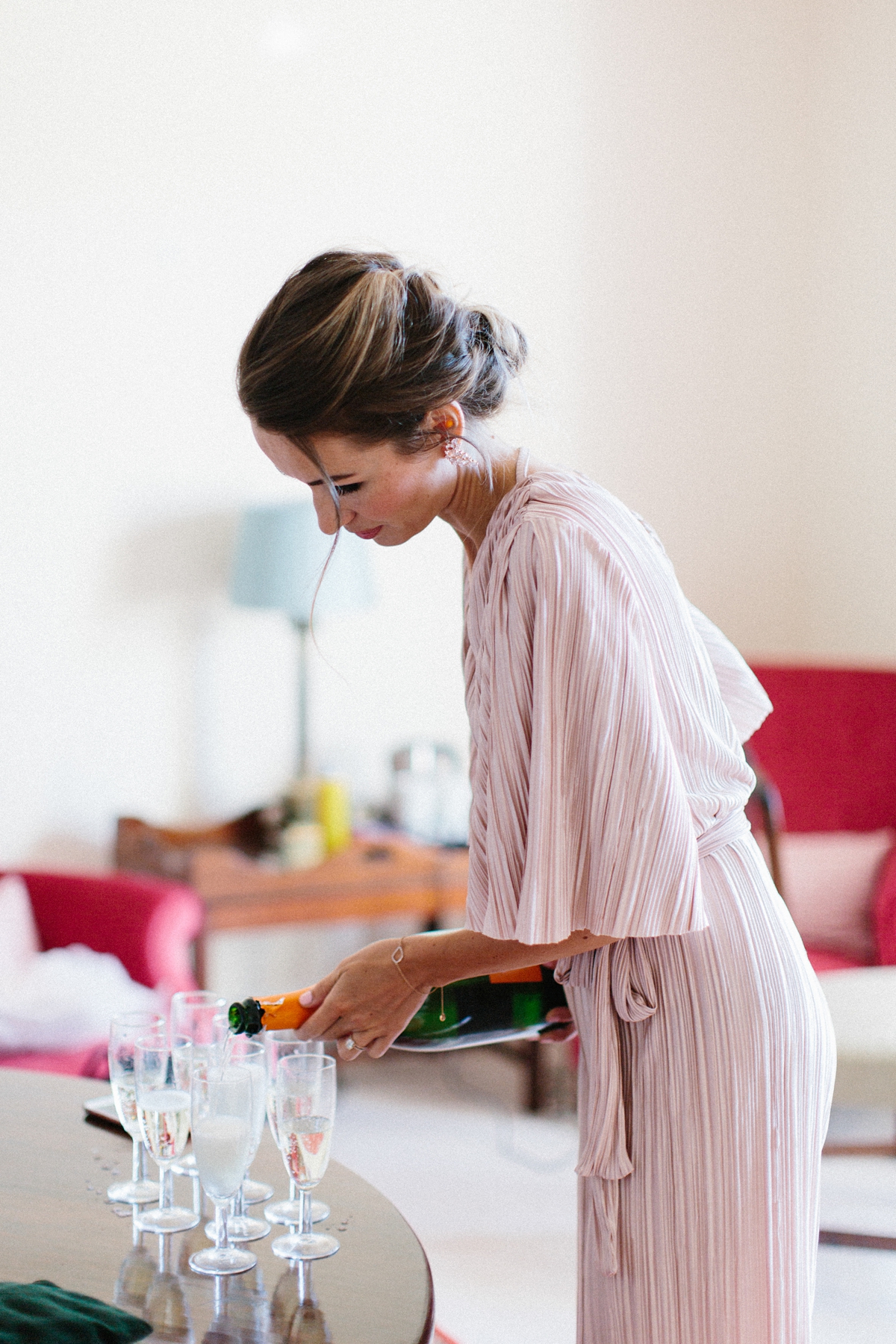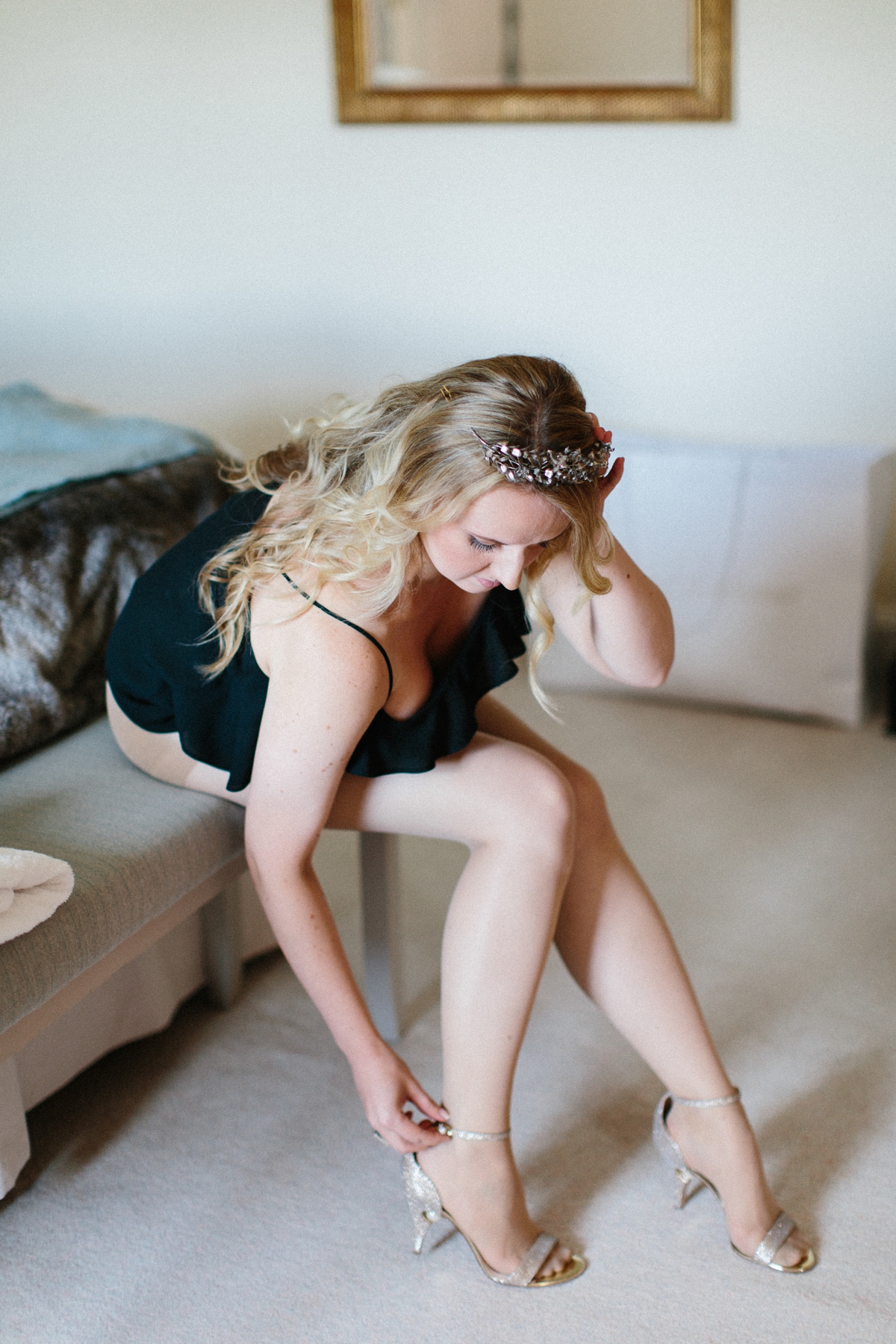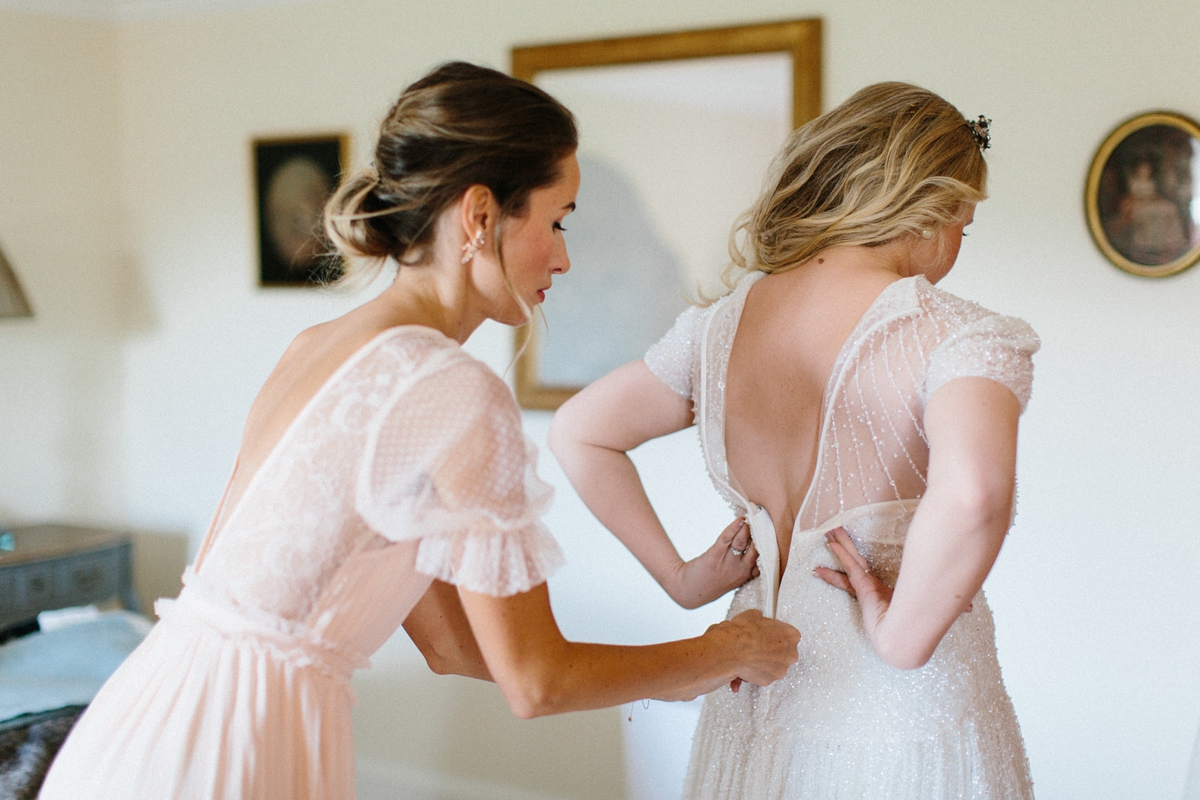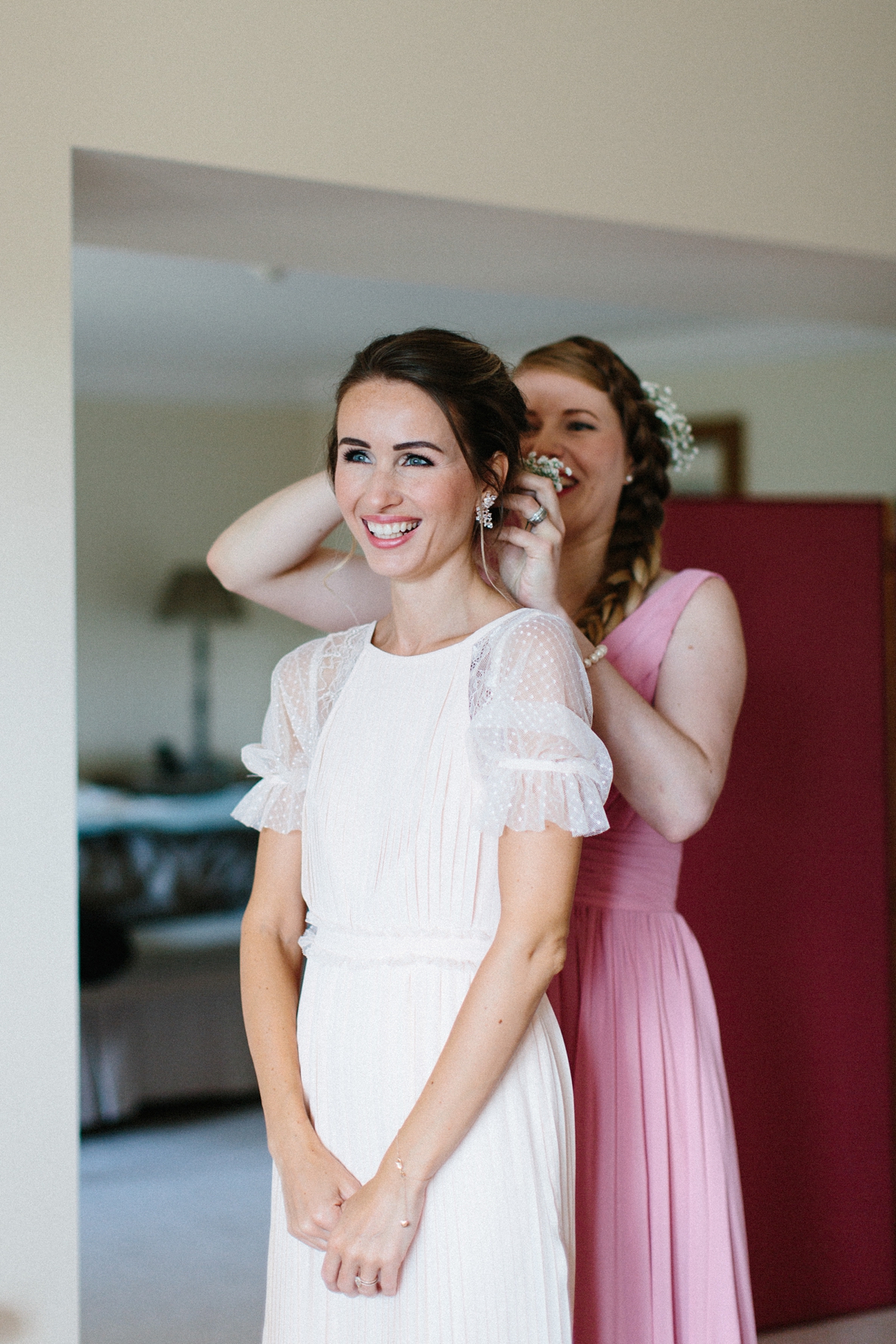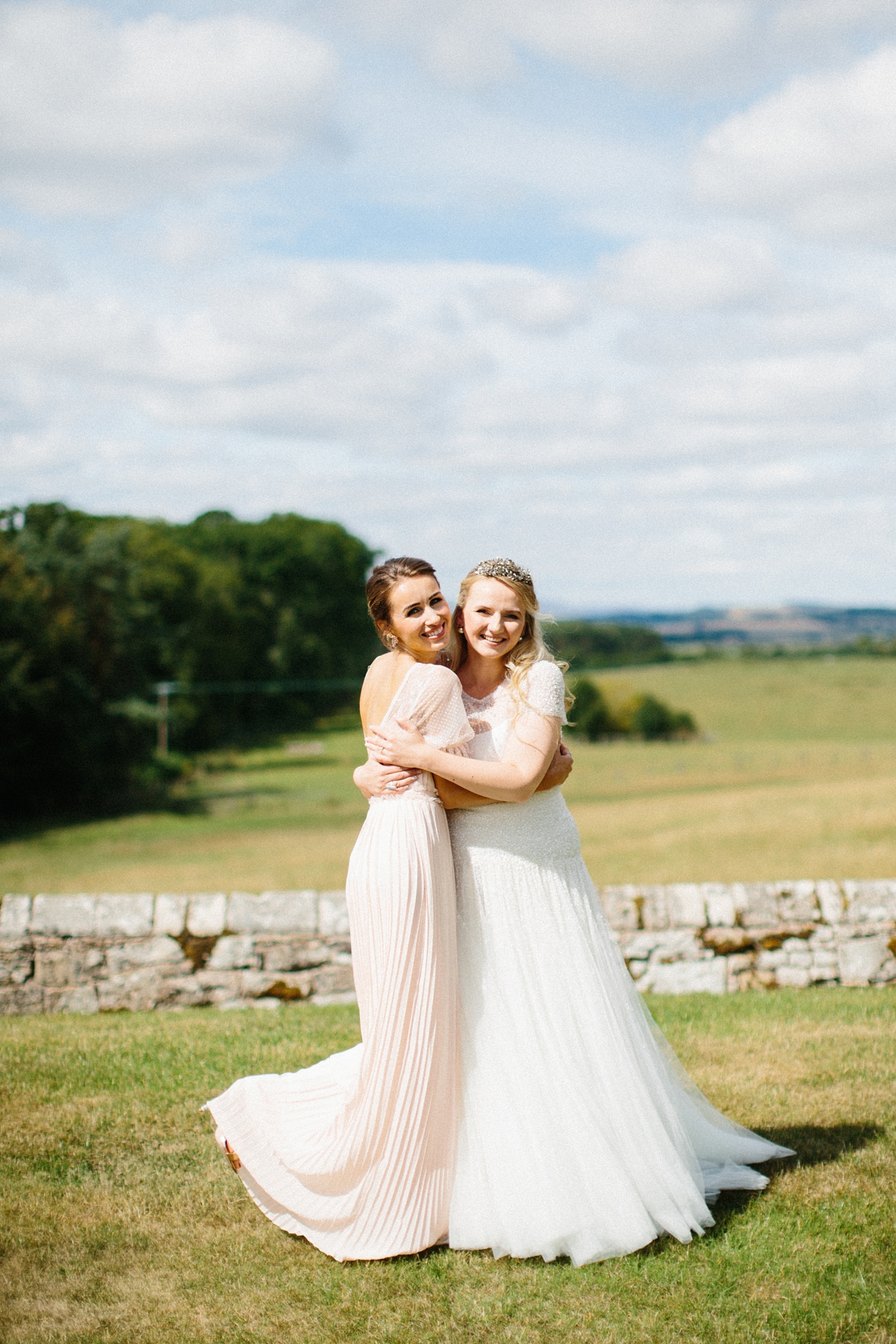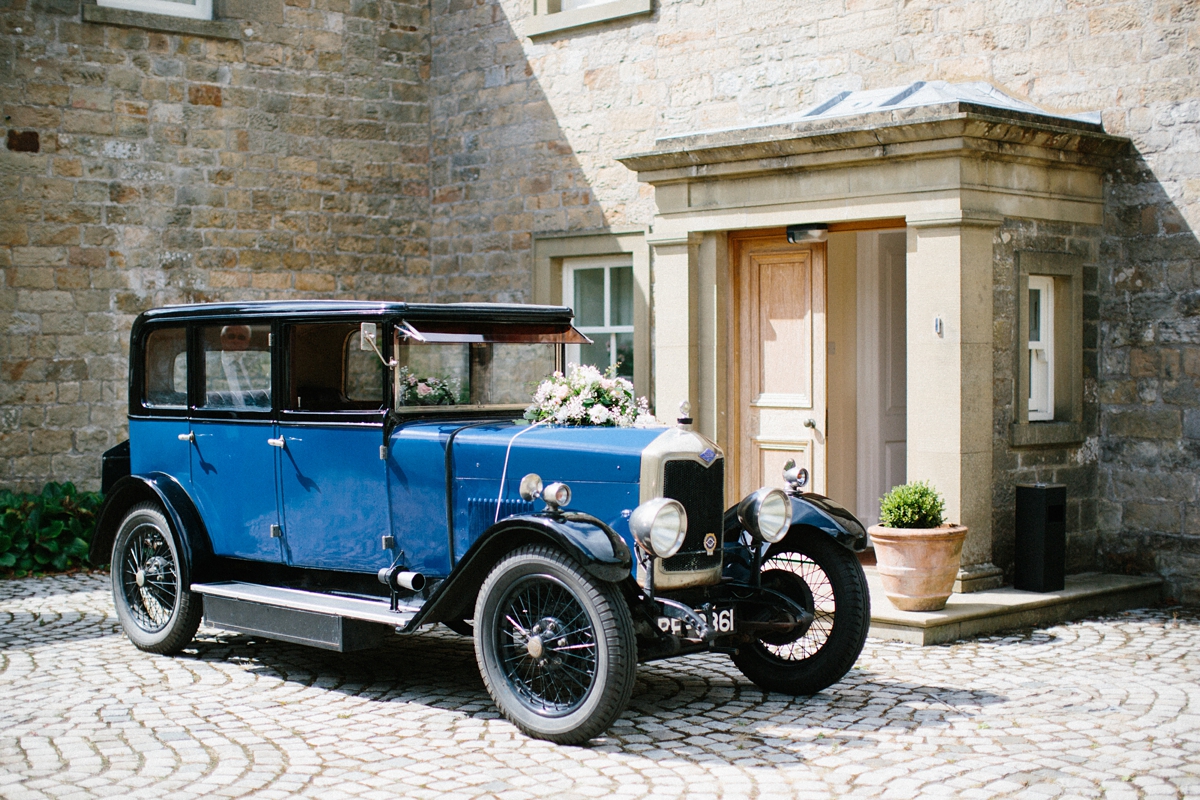 "During our search for a venue, it was important to us to get married somewhere that had a connection to history and family. Oliver's great aunt had married Lord William Richard Percy, the son of the 7th Duke of Northumberland, at Alnwick Castle, so it played a special role in the lives of his family."
"The place also oozes magic and we felt it would be the perfect place to start our married life together. The current Duke was also kind enough to share a beautiful story that was published in 1922 in The Scotsman, celebrating Mary and William's wedding day. It created the perfect image of a perfect day and we also used it as one of our readings to again bring together the sense of history, love and family."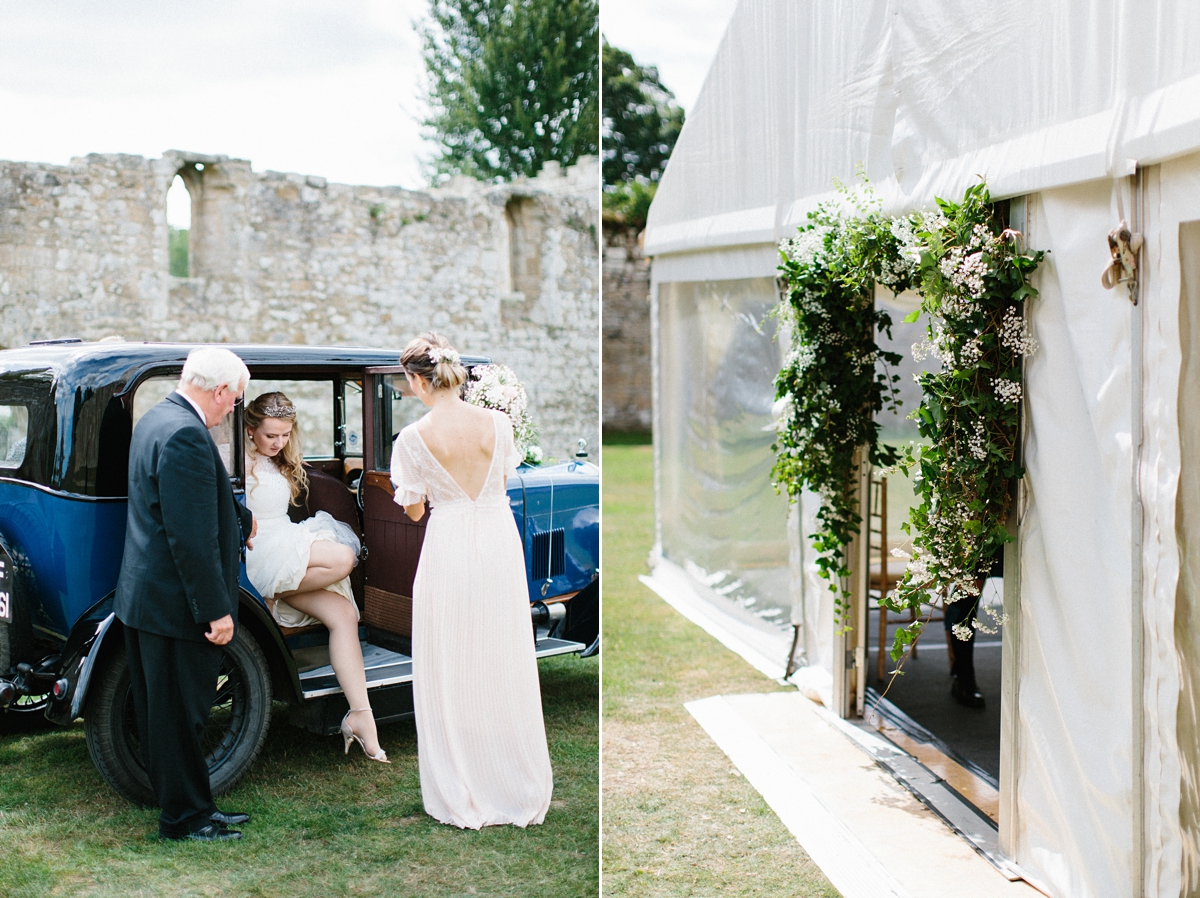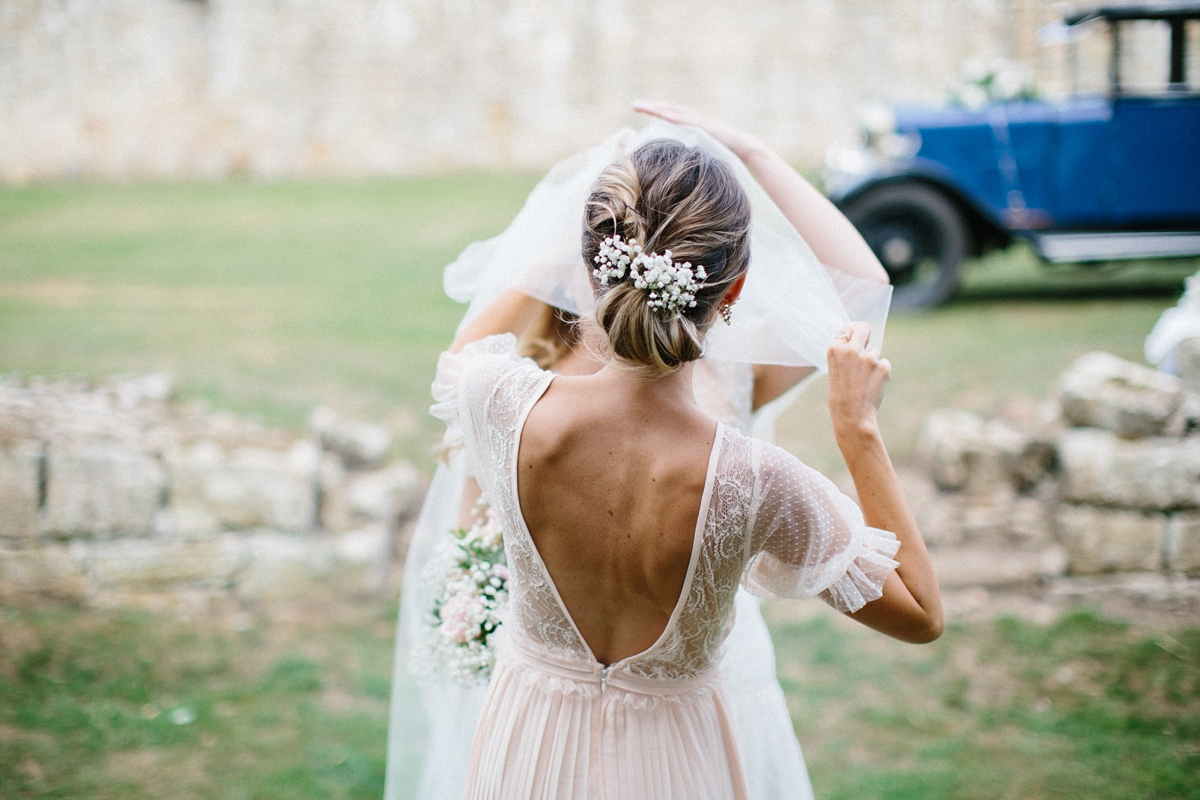 "My father passed away when I was young and I have always been rather independent. I moved to the UK on my own and have faced up to most things on my own, so it felt right to walk down the aisle on the wedding day alone too."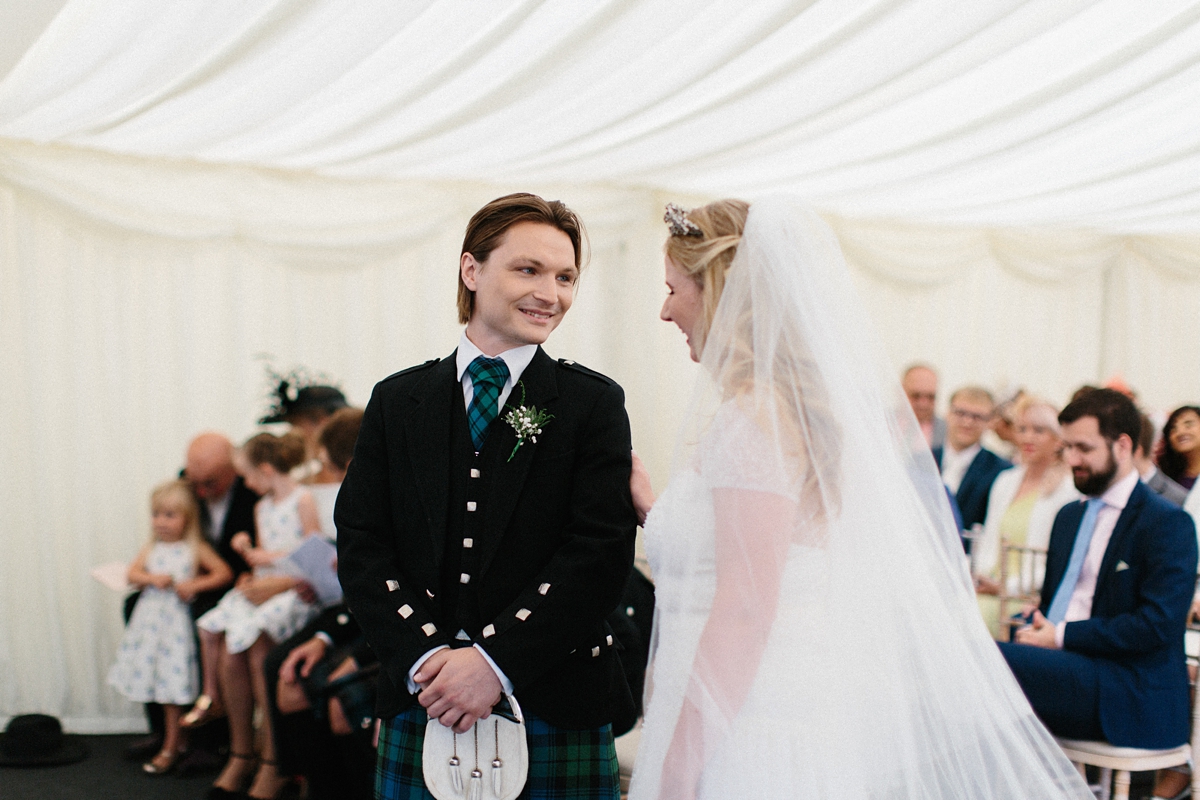 "Our fantastic musicians String and Silver rearranged The Skye Boat Song for flute and guitar for me to walk down the aisle to. It's a beautiful song that I've loved for may years, and it was also connected to Oliver's Scottish heritage."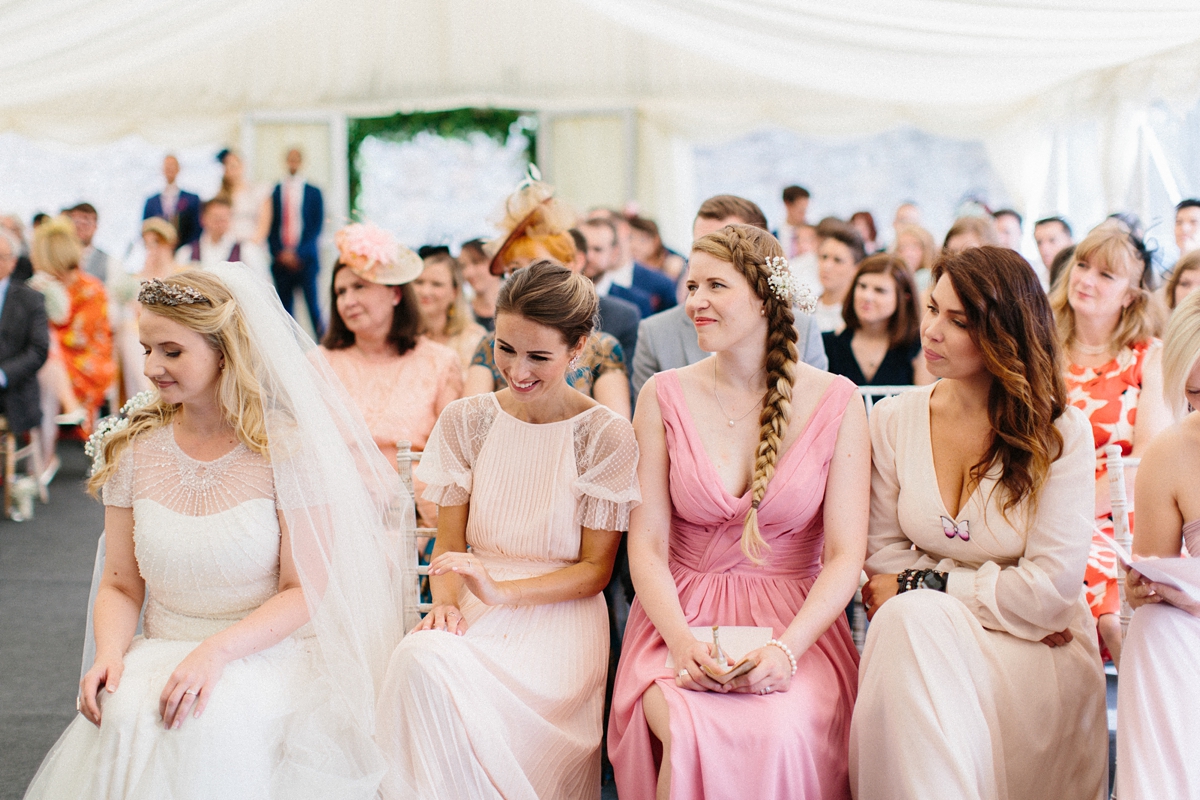 "My wedding ring was a 1936 antique ring from John Joseph, and Oliver chose a simple gold wedding band from House of Williams."
"Our registrar was provided by Northumberland Council and they also sent us different versions of vows to choose from prior to the day. We both chose one that connected with us the most and then delivered our own personal take on it. We also included two readings within the ceremony."
"The first reading was Ancient Enmity and Orange Blossoms which was important to us as it connected us to the venue and painted a beautiful picture of how families come together. The second reading was an extract from Plato's Symposium. We found it hard to connect to a specific piece of poetry, but this was a lovely story of human nature and love that we wanted to share on the day."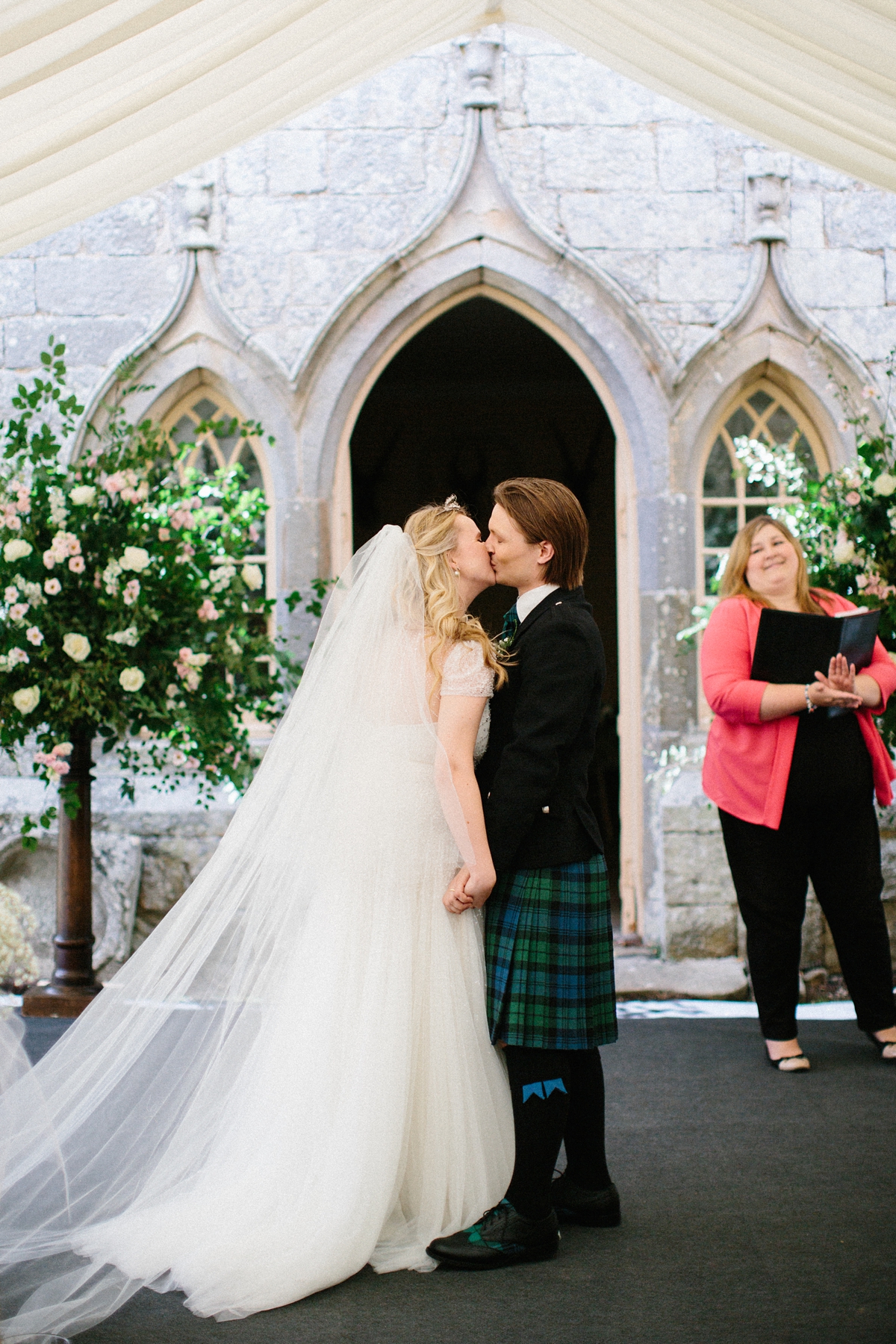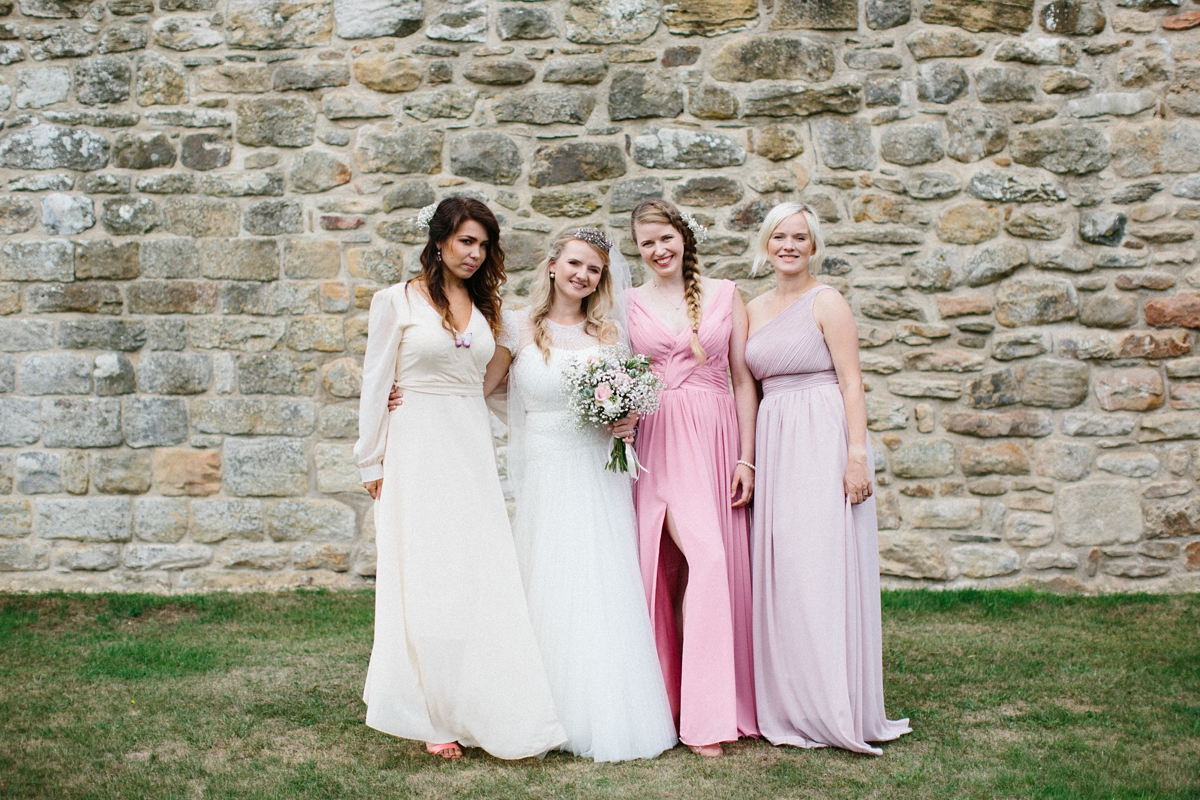 "Melissa Beattie shot our wedding and she was so lovely and accommodating. We had a pre wedding shoot a few days before the wedding, which gave us a wonderful chance to really get to know each other before the big day. She did an amazing job in capturing the day."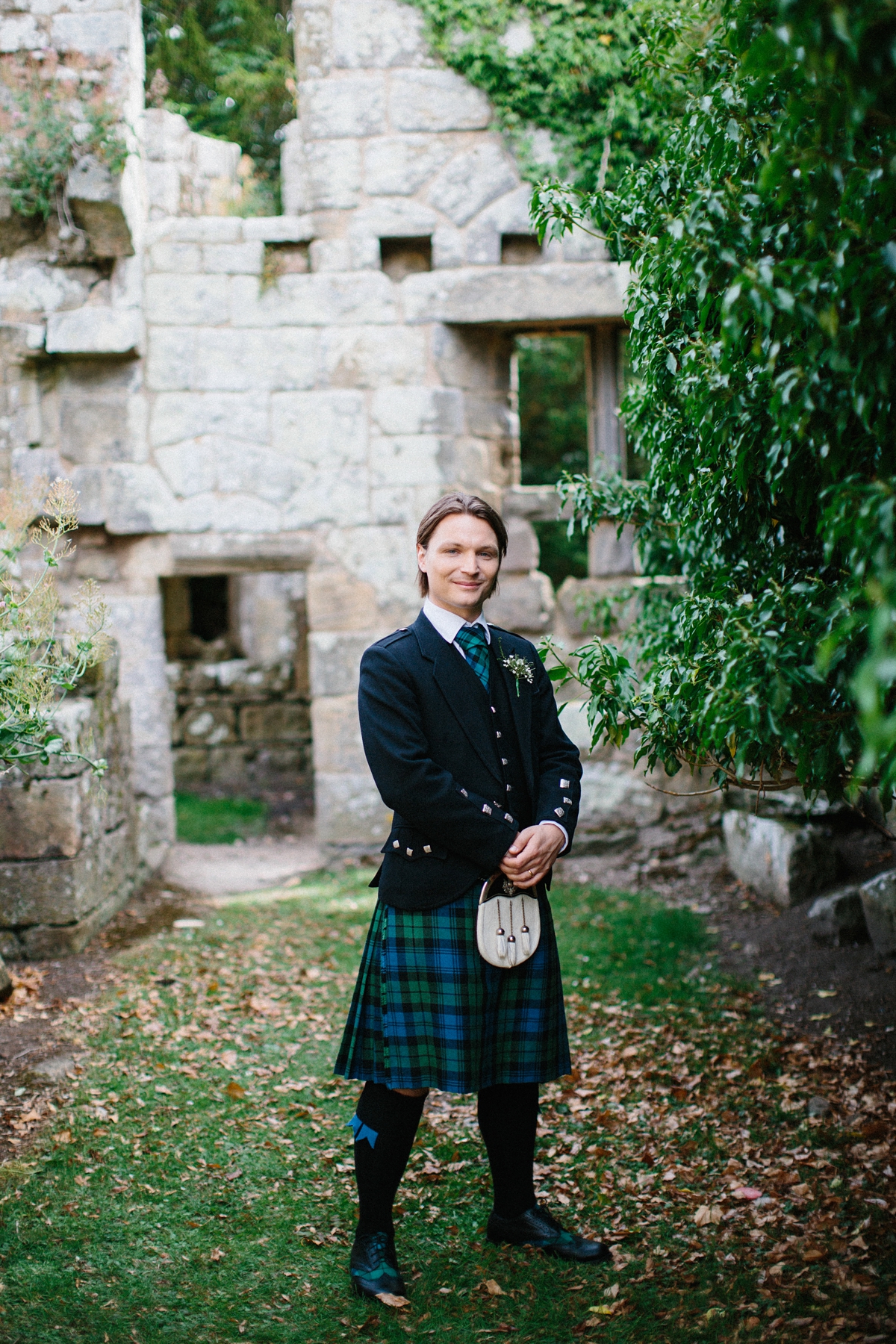 "Oliver wore a Campbell kilt and a jacket he rented from Geoffrey Kilts. His shoes were custom made by Buchanan Bespoke using the same tartan as his kilt to match."
Following the stunning marquee ceremony, guests headed to the reception where on arrival, were wow-ed by the location and hundreds of candles all shapes and sizes placed in candle holders and hurricane lamps around the venue.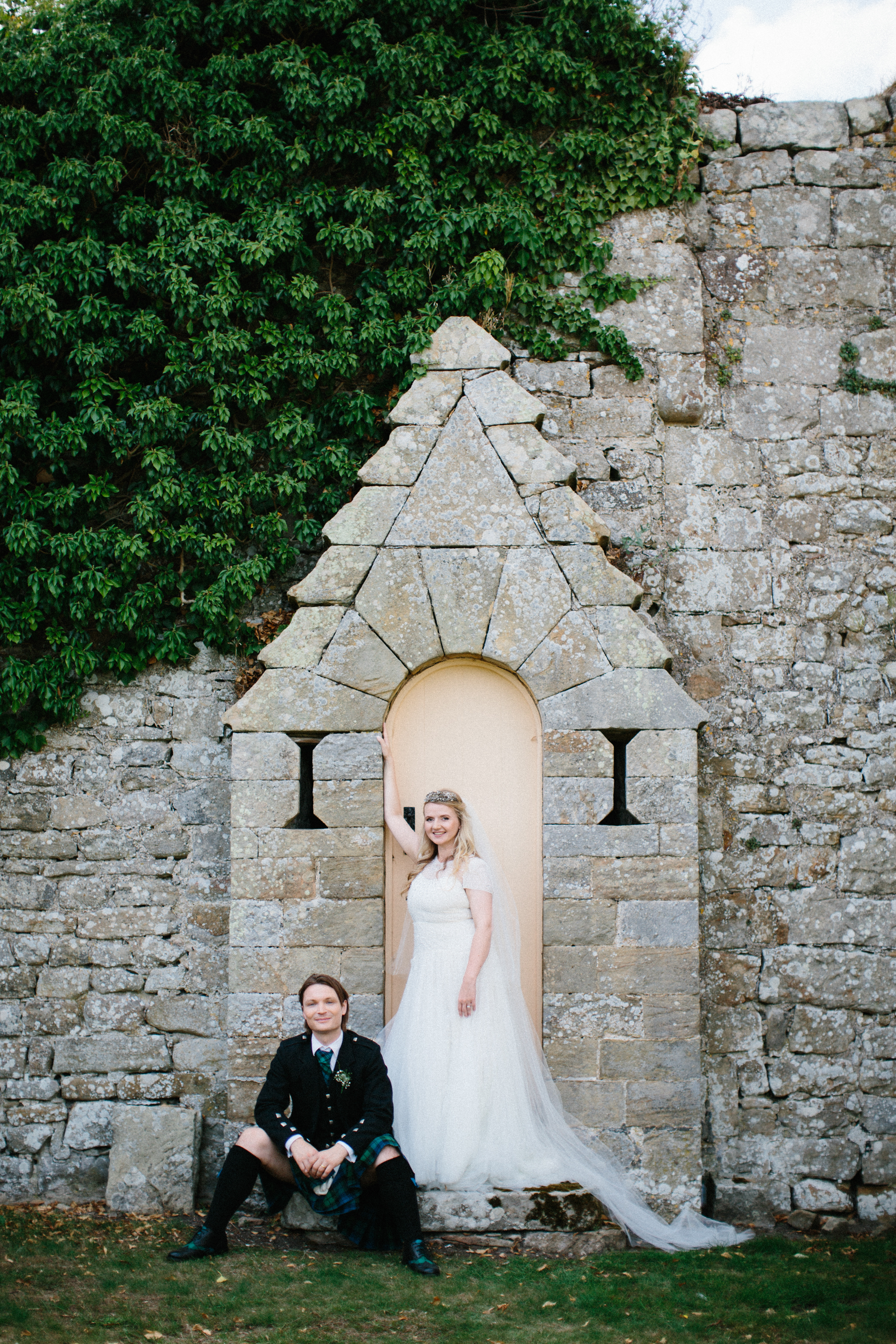 "We found Jack from EYI Love via The Little Book wedding directory on Love My Dress. He created our table plan, personalised menus (which also doubled up as place names), and the order of the day booklets, which included a beautiful drawing of Alnwick Castle on them. Oliver and I love animals so we wanted to mark the tables with relevant animal themes."
"For example, Jack arranged a picture to be drawn of our dog Joey, which we used as a table name for our table. On the card it said 'dog' in English and 'koer' in Estonian (were I'm originally from). As we had 9 different cards, we decided that once we have kids, we will have all the lovely drawings framed and displayed in the kids room as a memory of the day for them. They can then learn the animal names in both languages!"
"Our invites were made by Gee Brothers and they also created our monogram – a K and an O with a small wild boar head, an homage to Oliver's family crest."
"I stumbled upon Dreamworld Cakes via an Internet search and we thought we'd try them when we were in Newcastle. Bernadett from Dreamworld arranged a lovely tasting session and we decided there and then it was the cake for us! We chose a carrot cake tier, a morello cherries and white chocolate tier, a salted caramel and biscuit tier, and a lemon tier."
"It was then covered in icing, with a layer of chocolate underneath. I'd seen a cake on Pinterest I really loved but didn't know where it was from. I shoed the idea to Bernadett and she walked me to the front to show me that it was actually her cake all along! We decided to adapt the design and use the flowers that were also in my wedding bouquet as decoration."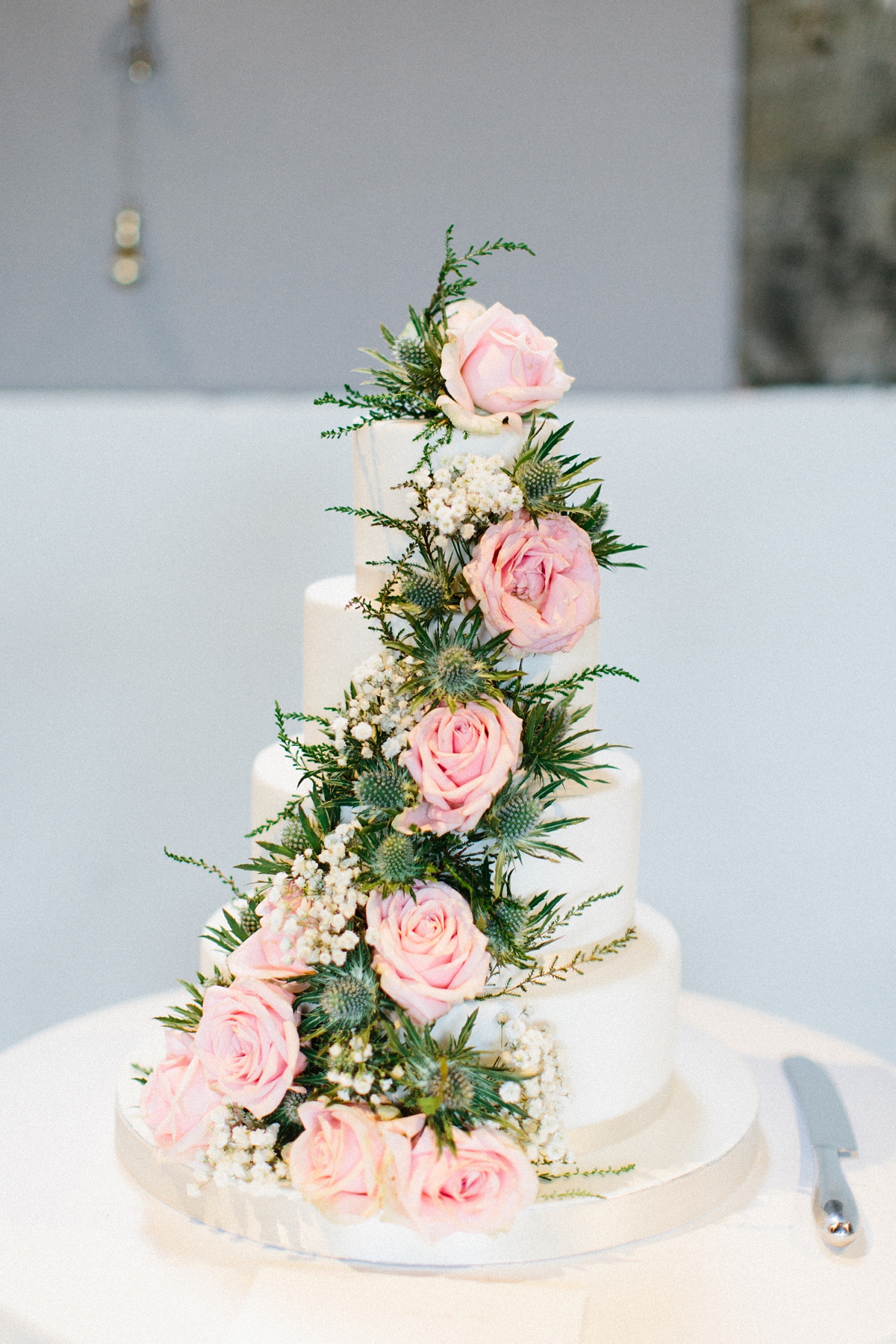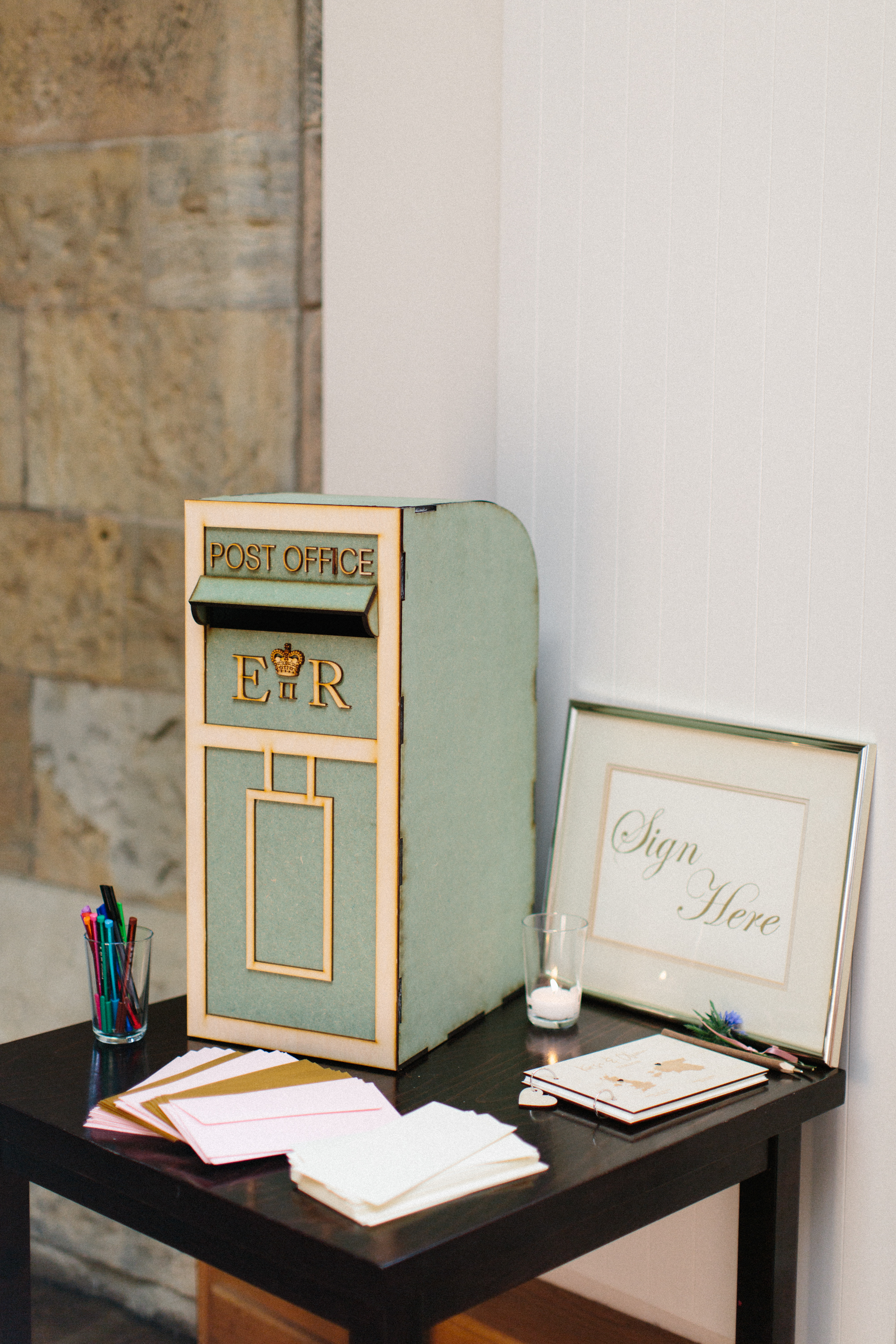 "The whole day time and evening was ran by master of ceremony Leho Lukas. He was also from Estonia and brought my traditions and games to the day."
"The catering was all provided by Alnwick Castle, and their head chef was incredibly flexible and accommodating for us. During the reception and wedding breakfast we had String and Silver play to guests and also had live painter Stephanie Paints Things there too. Having Stephanie there to capture our day was one of the best ideas we had! We love the painting and it always takes us back to that fantastic day."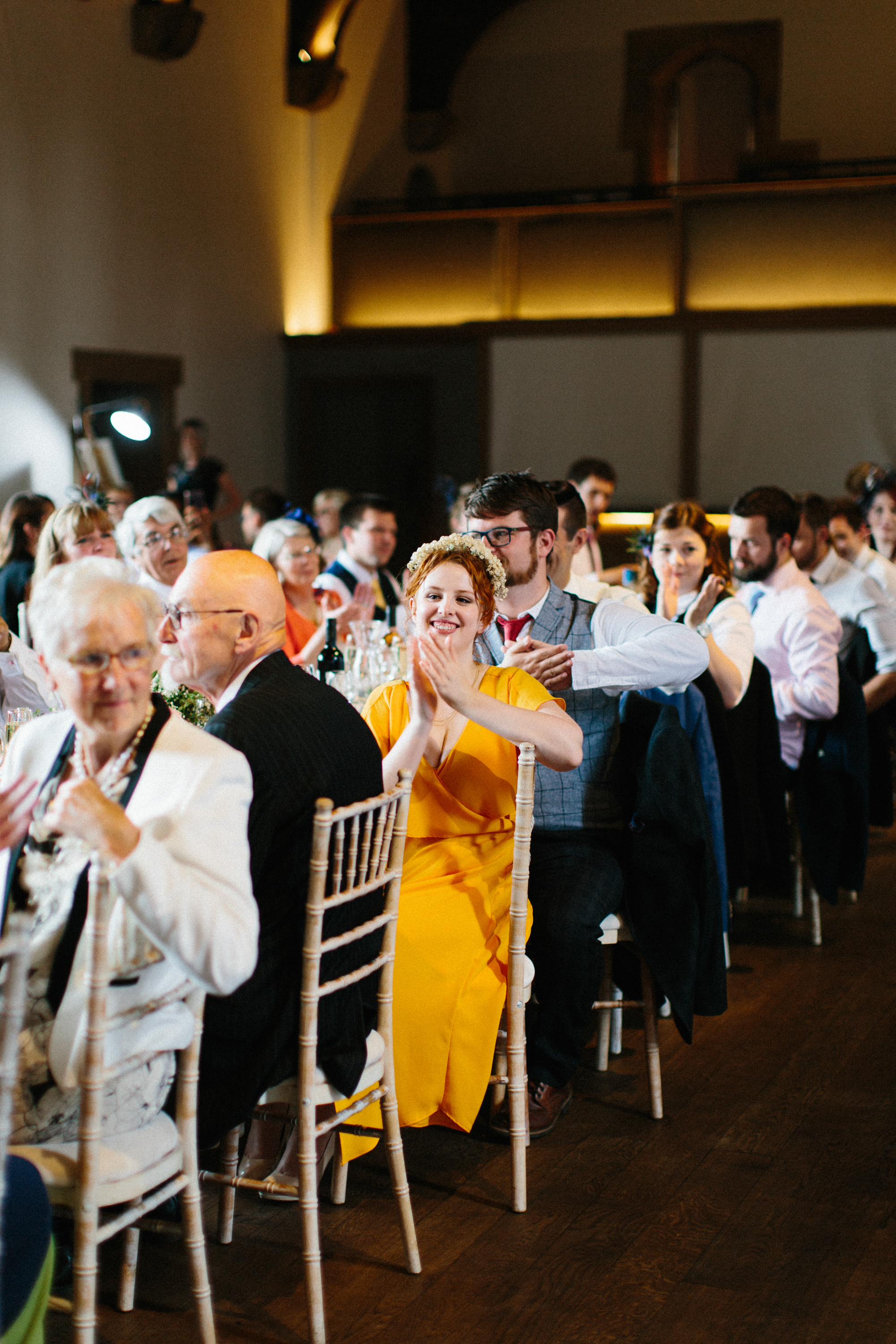 "One thing we definitely didn't want to do was a 'first dance' so we chose a Ceilidh band to run the evening's entertainment. They were amazing and gave us a chance to all dance together with our friends and family."
"Towards the end of the evening we decided to walk away from all the dancing and the party itself and walked down to the castle entrance gate where there was a bench. We just sat there surrounded by the warm summer evening, with the people who were there to celebrate with us all enjoying themselves."
"It was so lovely to take that time out and soak up the day and it was one of my favourite moments of the whole day. I still remember the smell, the warmth, the distant sounds, the feeling…it was the first time all evening I could truly take it all in."
"It really was a fantastic day that went without a hitch. I wouldn't change anything apart from possibly starting it earlier to have more time to enjoy it all!"
Words Of Wedded Wisdom
"First of all, work with your husband to make it happen. Don't overthink things and trust that your first feeling is probably the right one. Don't take it personally if someone who you expected to be there on the day won't be able to come after all. Focus on everyone who is there to spend this day with you."
"Think carefully about you want your bridesmaids to be. On the day they'll need to be action team to support, help  and party with you – your wedding is not to feed their Instagram! Have a plan A, B and C and finally, take 5 minutes to separate yourself and your groom from the party. Take it all in together and just spend a moment together enjoying the moment."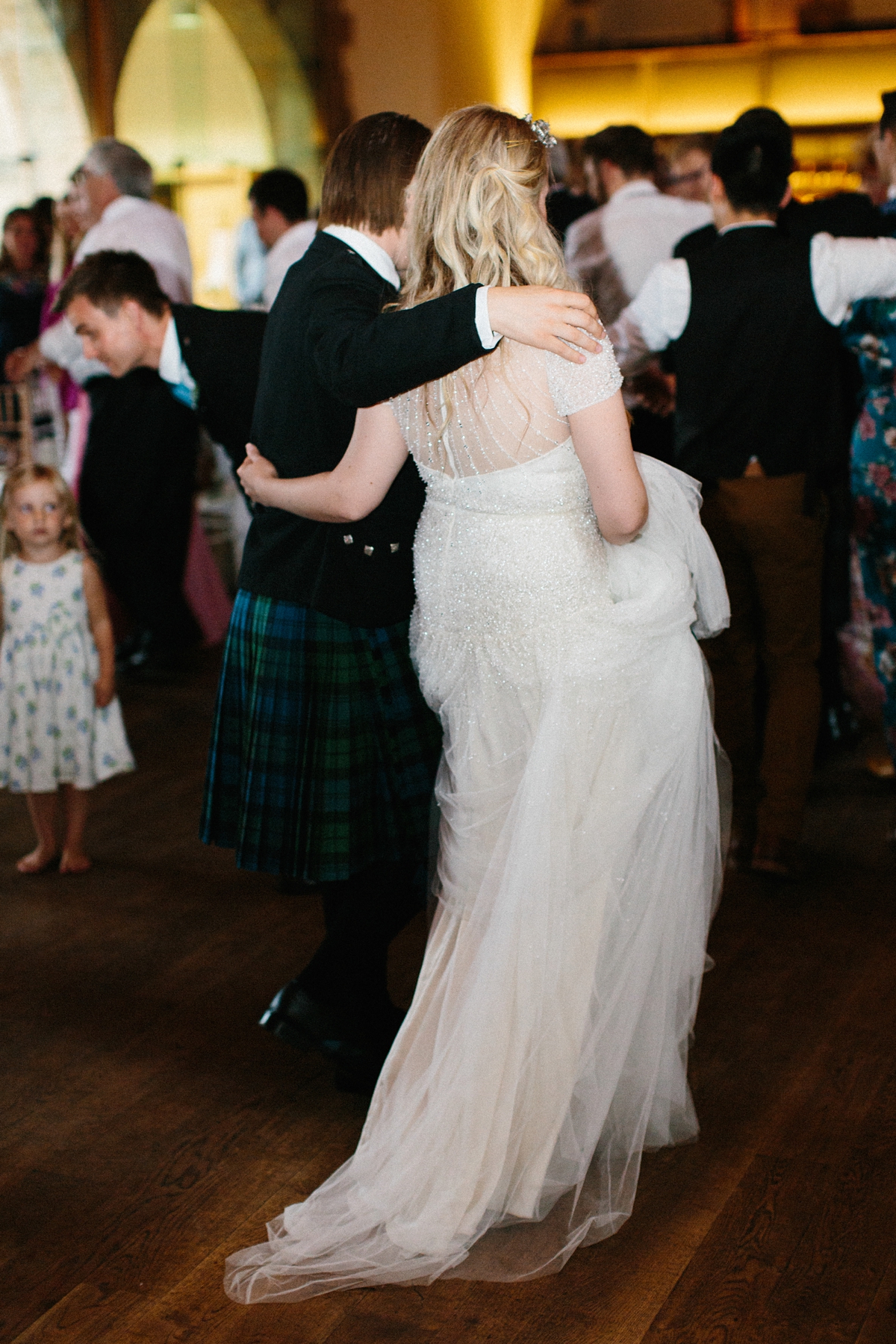 What a truly gorgeous day! A big thank you to the gorgeous newlyweds, and to Melissa Beattie for capturing it all so beautifully on camera.
Until next time…
Much love,
Holly x