Lovelies, have you discovered our Love My Dress Wedding Directory yet? It's full of amazing, inspiring suppliers and it is a delight to showcase just two of them here today; the fine art photography talent that is Jade Osborne Photography and the breathtaking Iscoyd Park.
This is the wedding of banking adviser Erin and electrician Ryan, whose wedding at Iscoyd Park near Wrexham, Wales was held on 7 July 2021.
Film by Perfect Wedding Videos
The traditional, classic setting played backdrop to a personal day with modern touches to reflect the couple: think whimsical, full-blown floral displays of roses and gypsophila and a relaxed, elegant vibe.
Photography Jade Osborne Photography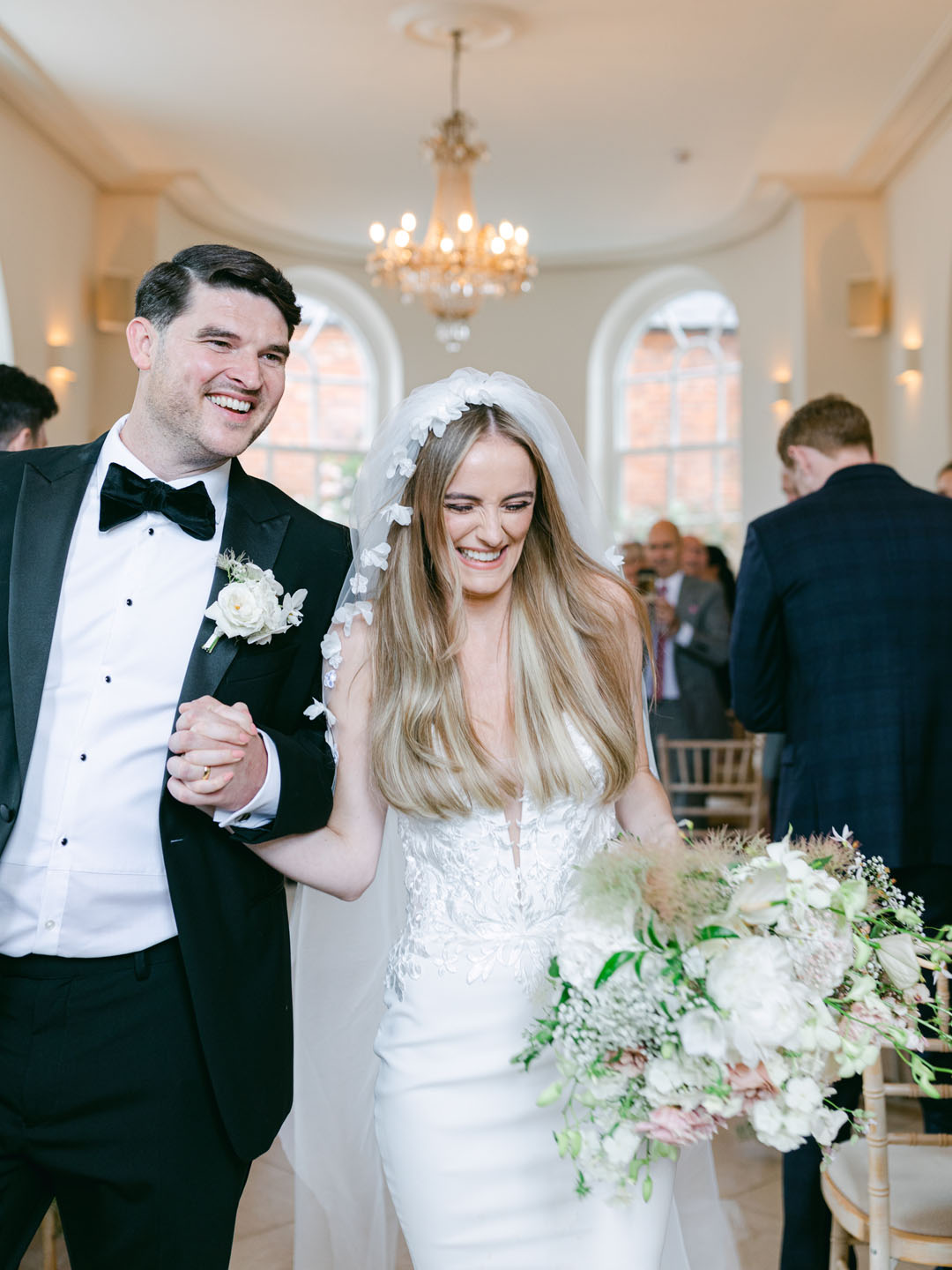 "We loved everything about Iscoyd Park since coming across it in a magazine shoot a few years ago. The drive up to the house and stunning grounds really blow you away."
The couple have known each other for twenty-five years, having met at their local swimming club.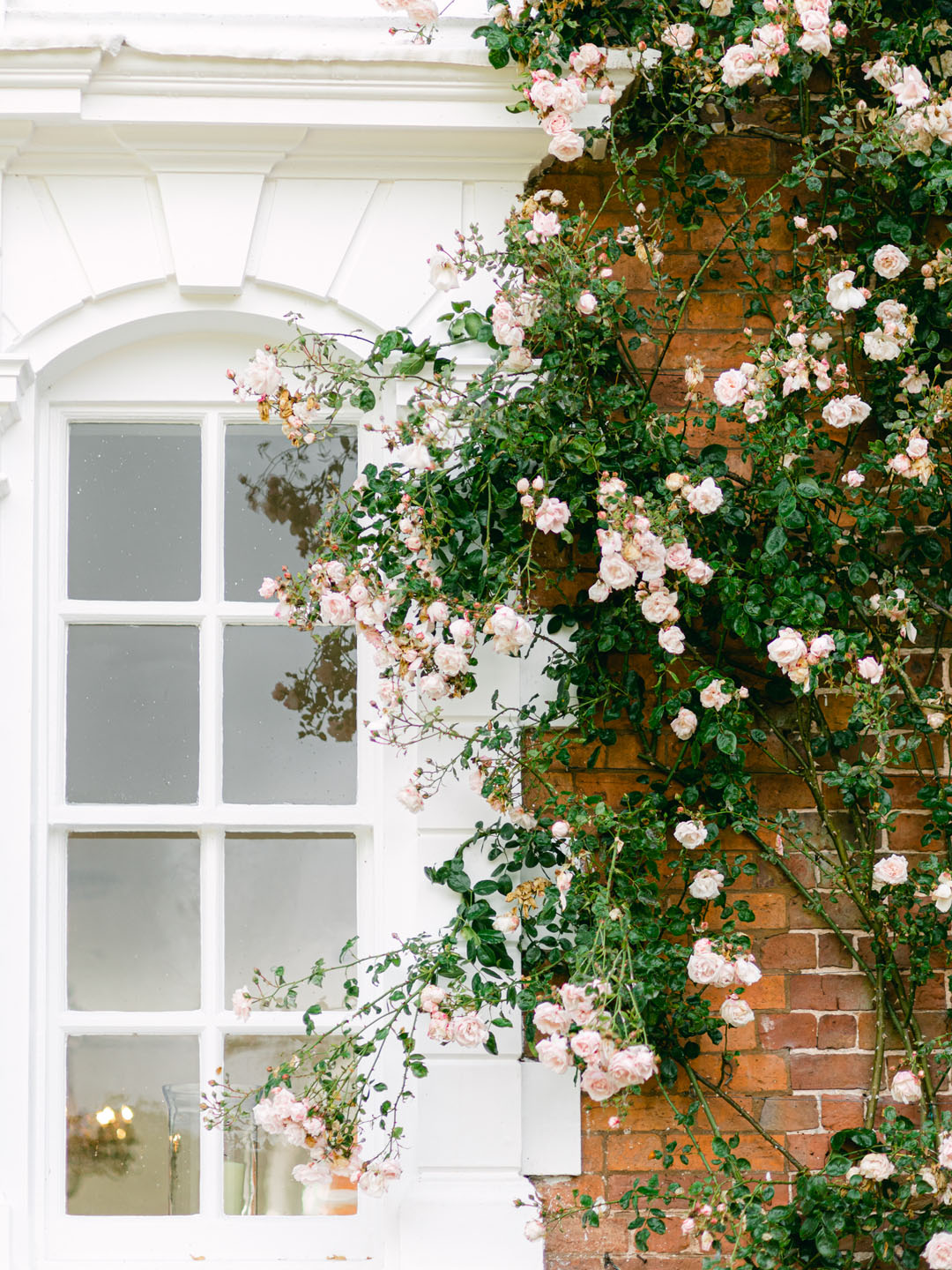 "We never actually spoke until a house party a few years later when we were both fourteen. We stayed together through school until finally getting engaged on Christmas Eve 2015, surrounded by all our friends."
The couple's original wedding date was 27 August 2020 but with the uncertainty surrounding Covid-19 and restrictions, they made the decision in March 2020 to postpone to 2021.
"Iscoyd Park was amazing helping us find a new date. We were so glad we did, considering that 'normal weddings' were not permitted until the following year."
"As we made the choice early on to postpone, we were lucky that all our other suppliers were also available so in that respect everything ran smoothly."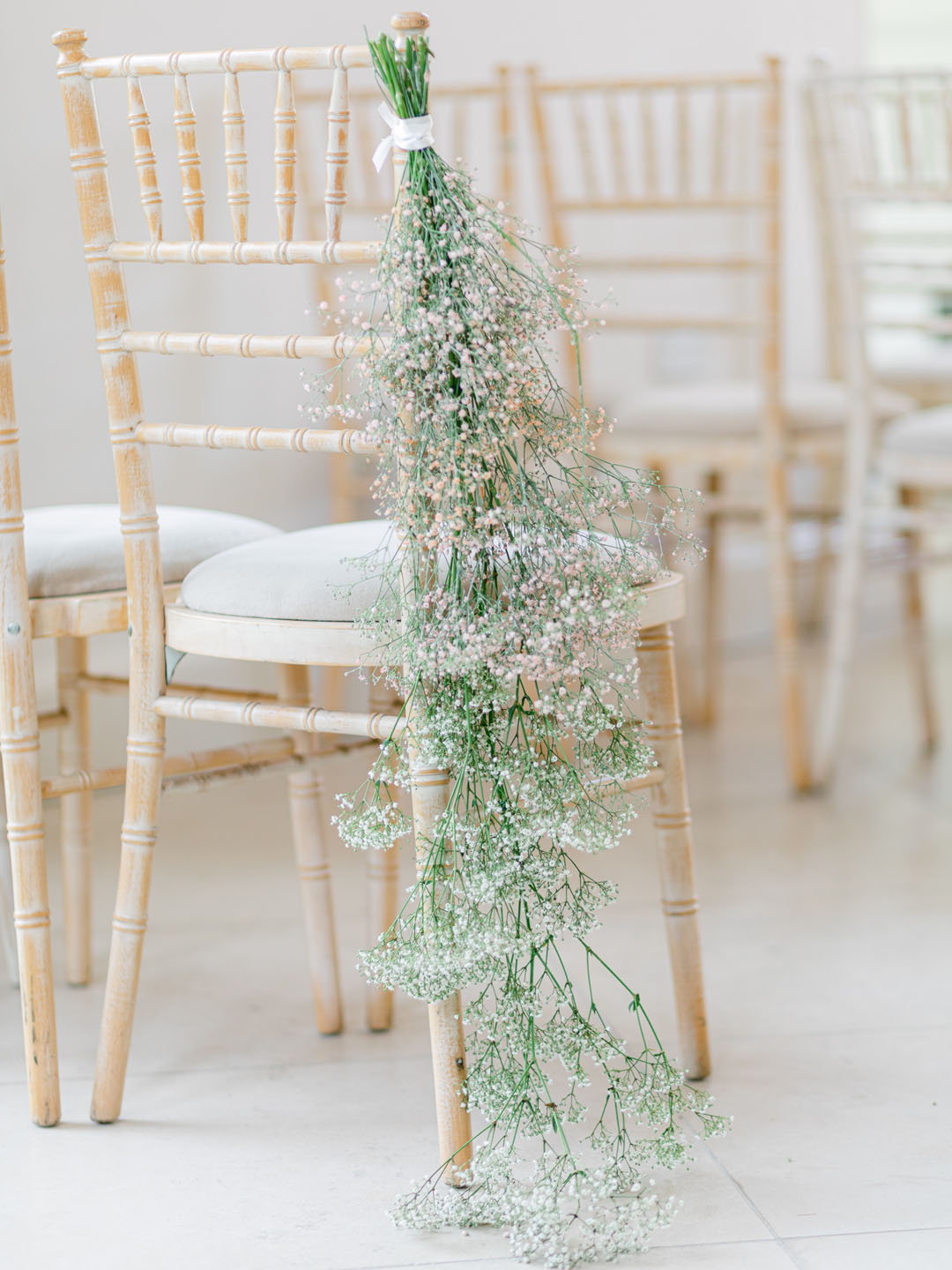 "The difficulty began in the run-up to our new date as at that point, the rules were ever-changing which made it impossible to plan properly."
"As Iscoyd Park is in Wales, we were under their guidelines (updated fortnightly) meaning we had less than ten days to the date before we were told the exact numbers we were permitted to have."
"All our friends and family were so understanding, especially those on the 'stand-by' list. Iscoyd Park was amazing and did everything in their power to ensure our day felt as normal as possible."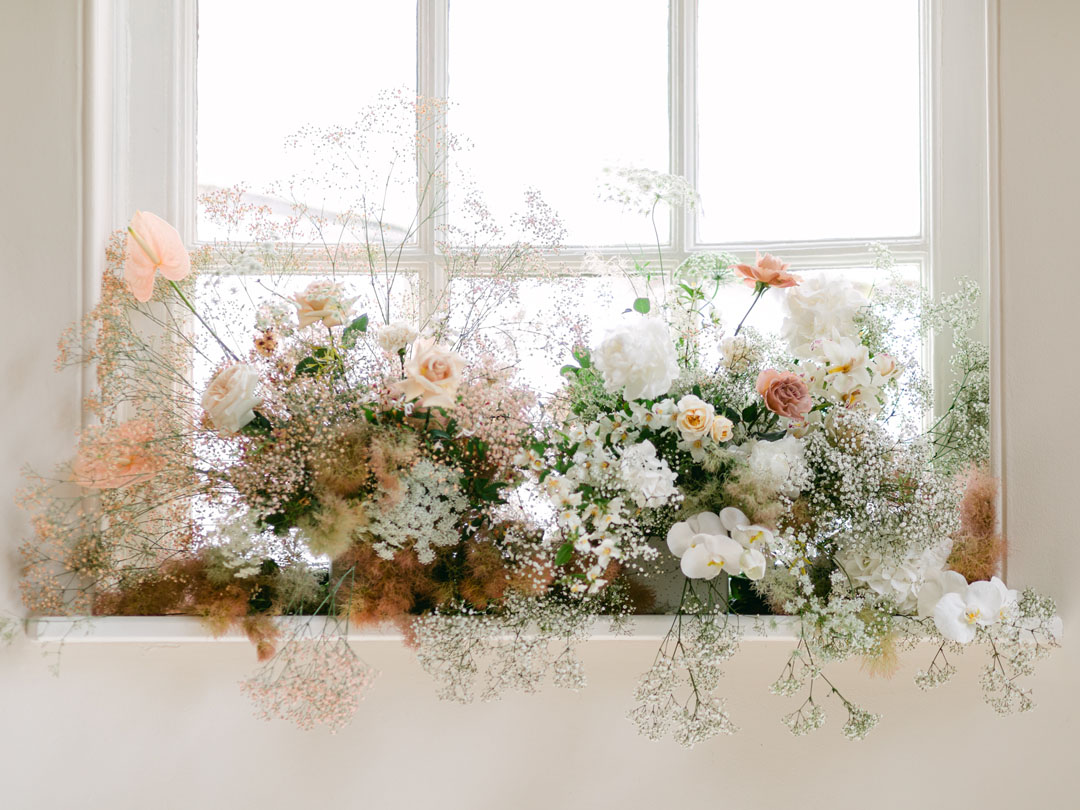 The couple added pillar candles and beautiful floral displays from Sass Flower to the interiors for a romantic and modern feel.
"Iscoyd Park is such a beautiful space with lots of traditional and period touches, but we were still able to give our day a more modern feel, with little nods to our own personal style in the table settings and décor."
"It was really important to us that the whole day had a relaxed, celebratory feel. The team at Iscoyd Park helped us create just that."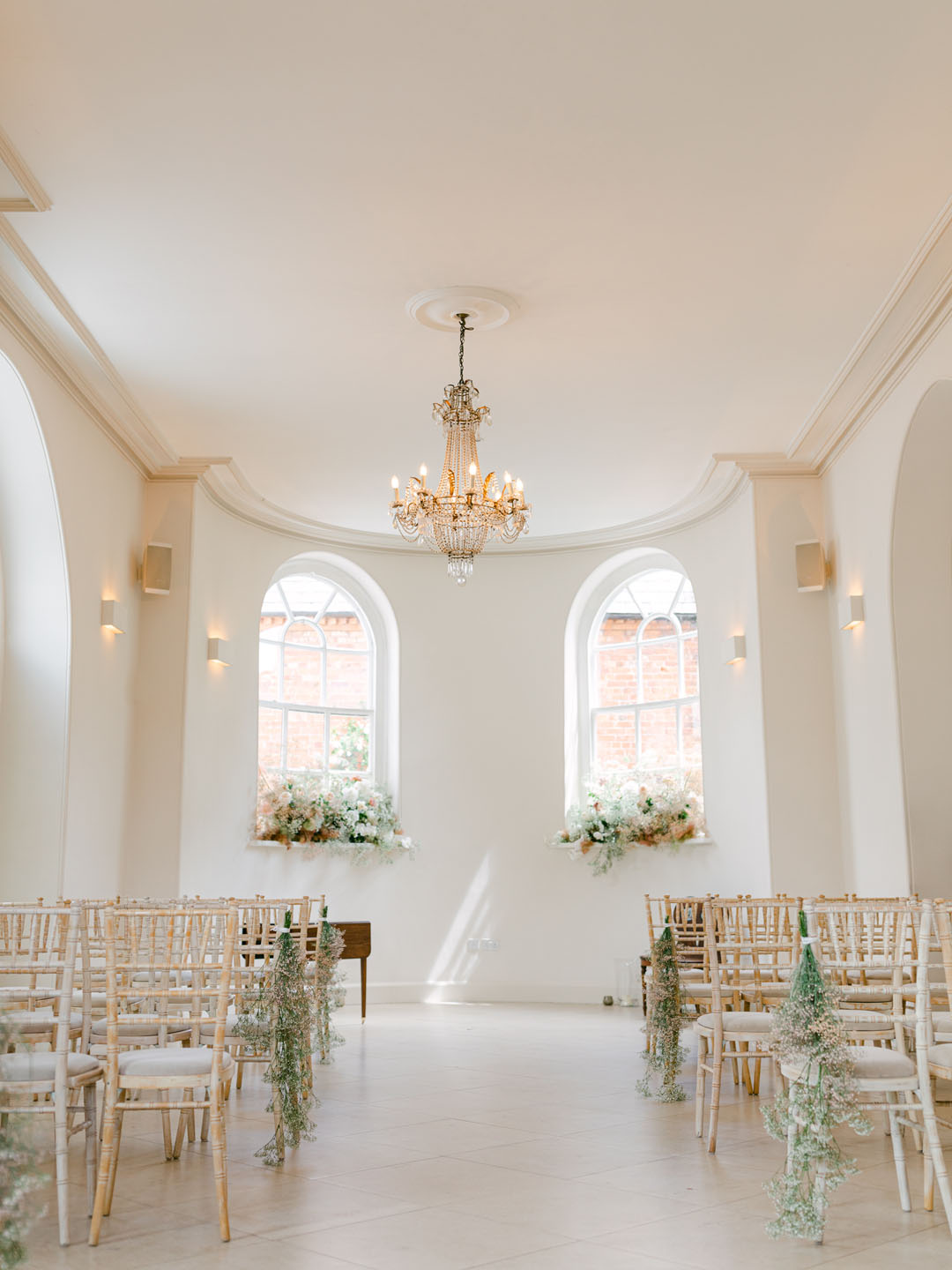 "After having to postpone, our initial choices and colour palette completely changed. In my original flower quote, I asked for a lot of green foliage. However, after spending an extra year scrolling Instagram and hundreds of wedding accounts I decided to move away from a traditional theme and opt for a more whimsical style, with neutral tones."
"Sasha at Sass Flower created amazing, fluffy, cloud-like bouquets and centrepieces scattered with candles. Just gorgeous."
Erin selected her fitted, strapless Enzoani gown at the Liverpool Bridal Boutique, using the extra time from the wedding day's postponement to make it uniquely hers. 
"All the girls at Liverpool Bridal Boutique were amazing. I originally bought my dress in 2019 but twelve months down the line, I had completely gone off it."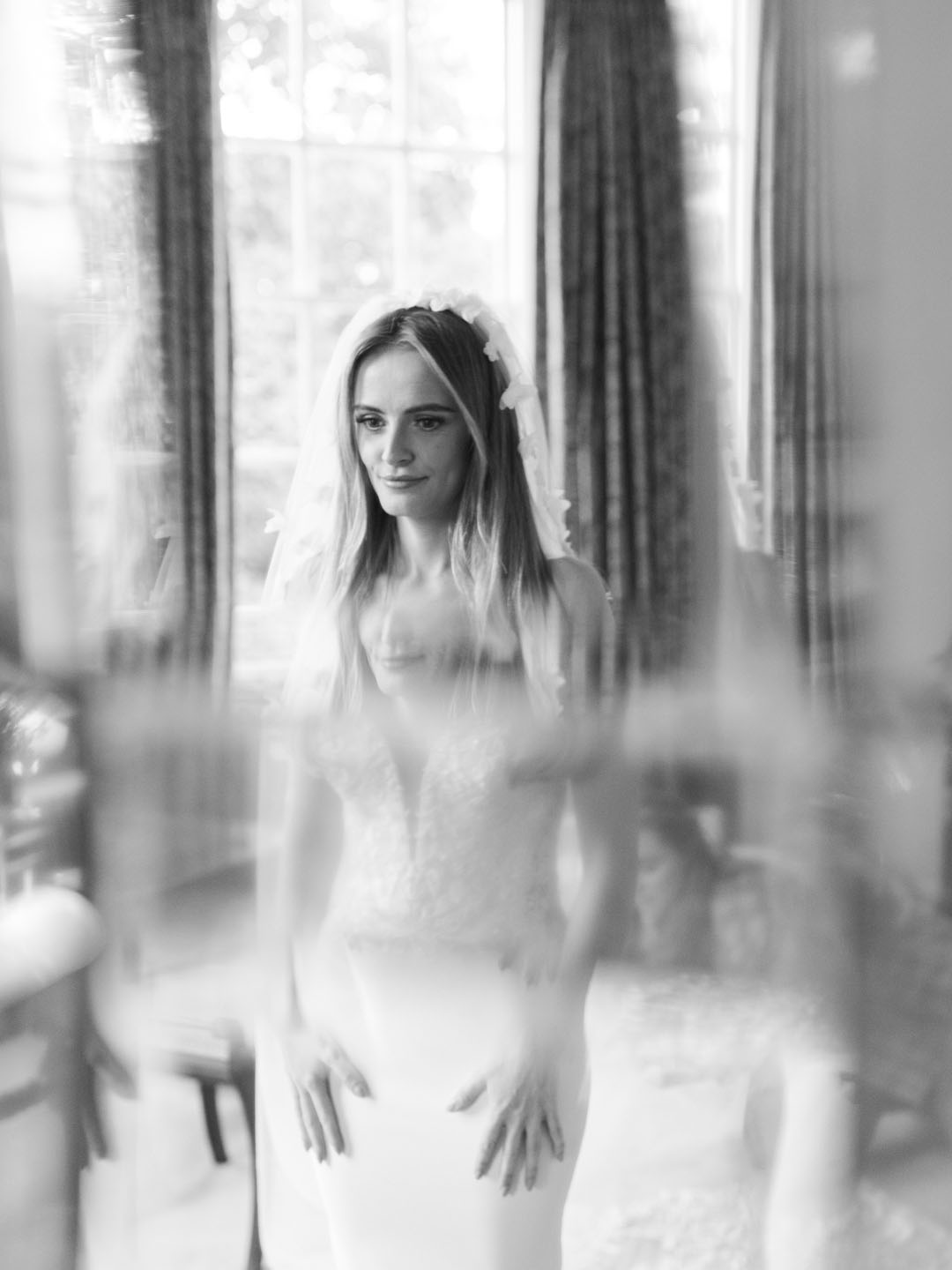 "After a lot of backwards and forwards-ing, I decided I would shop around for something else."
"We went into the second lockdown not long after and non-essential shops closed. By the time they re-opened, I knew I was getting pushed for time."
"I went back to the shop and met with the seamstress, taking along some photos of dresses I'd seen online. After throwing around some ideas, the girls and amazing seamstresses managed to customise my dress."
"They altered the fit and added detailed embellishments to the bodice, giving me a unique dress that I knew no-body else would have."
The bride added a veil scattered with flowers, custom-made by She Shea for softness and romance. Her shoes were Jimmy Choo and she wore perfume from Jo Malone.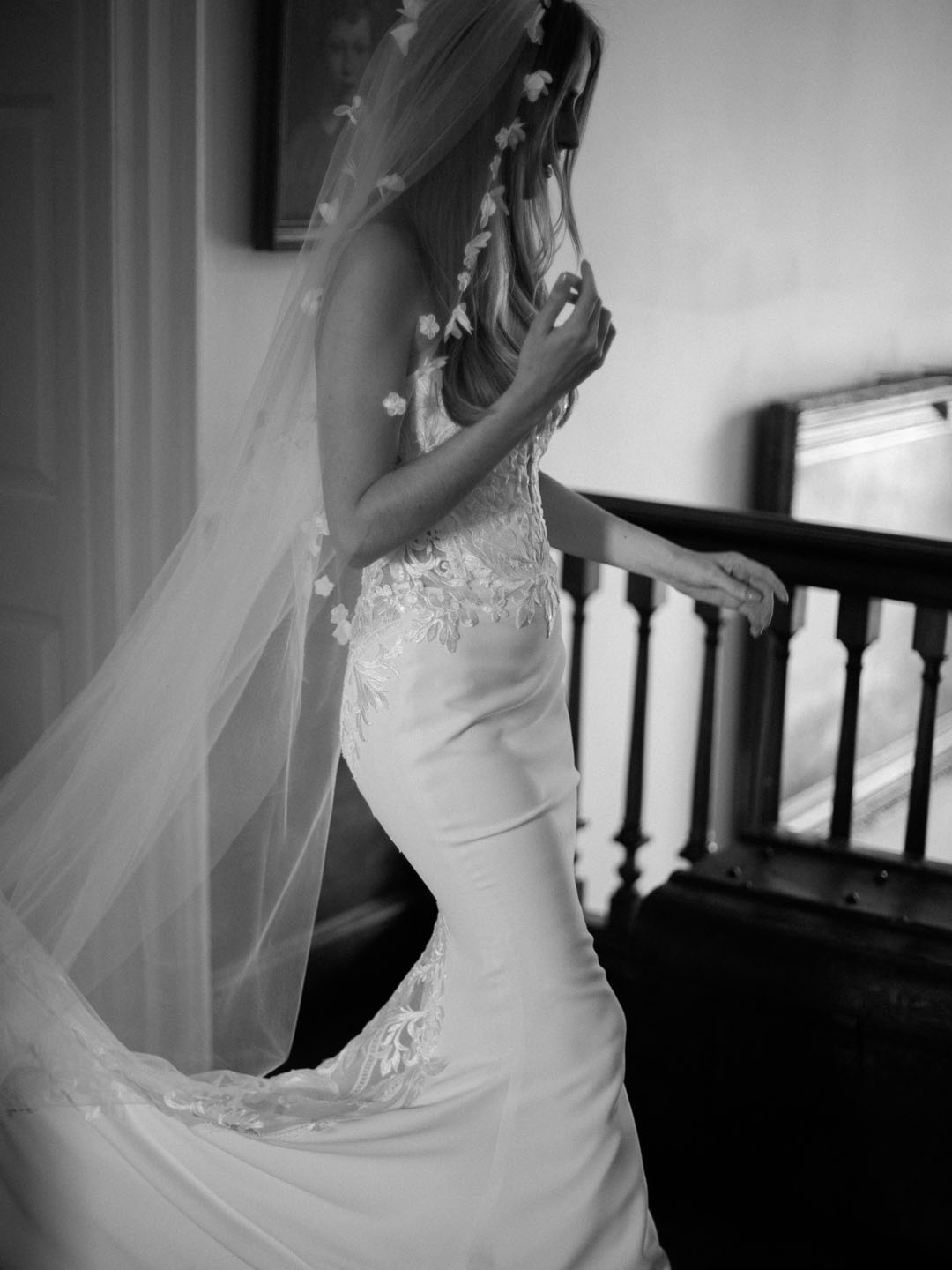 "I wore Peony & Blush Suede. This was a gift from my sister, given to me as I was getting ready that morning."
Erin's long hair was left down in soft waves, styled by Hair By Sophie Rochford and her make-up was applied by Savannah Doran at Kiss & Make Up.
The bridesmaids wore fitted, lilac gowns that were custom-made by She Shea in Liverpool.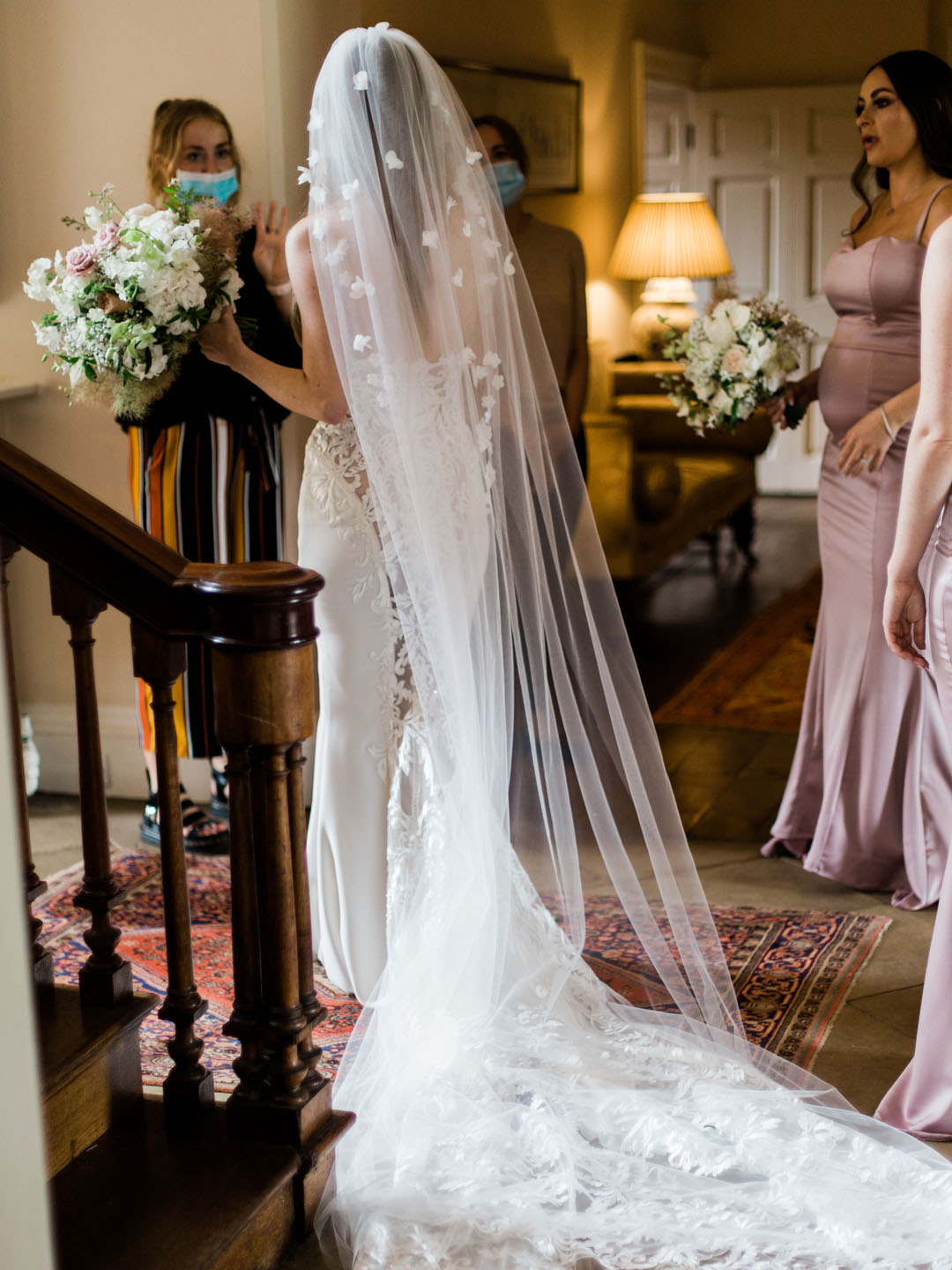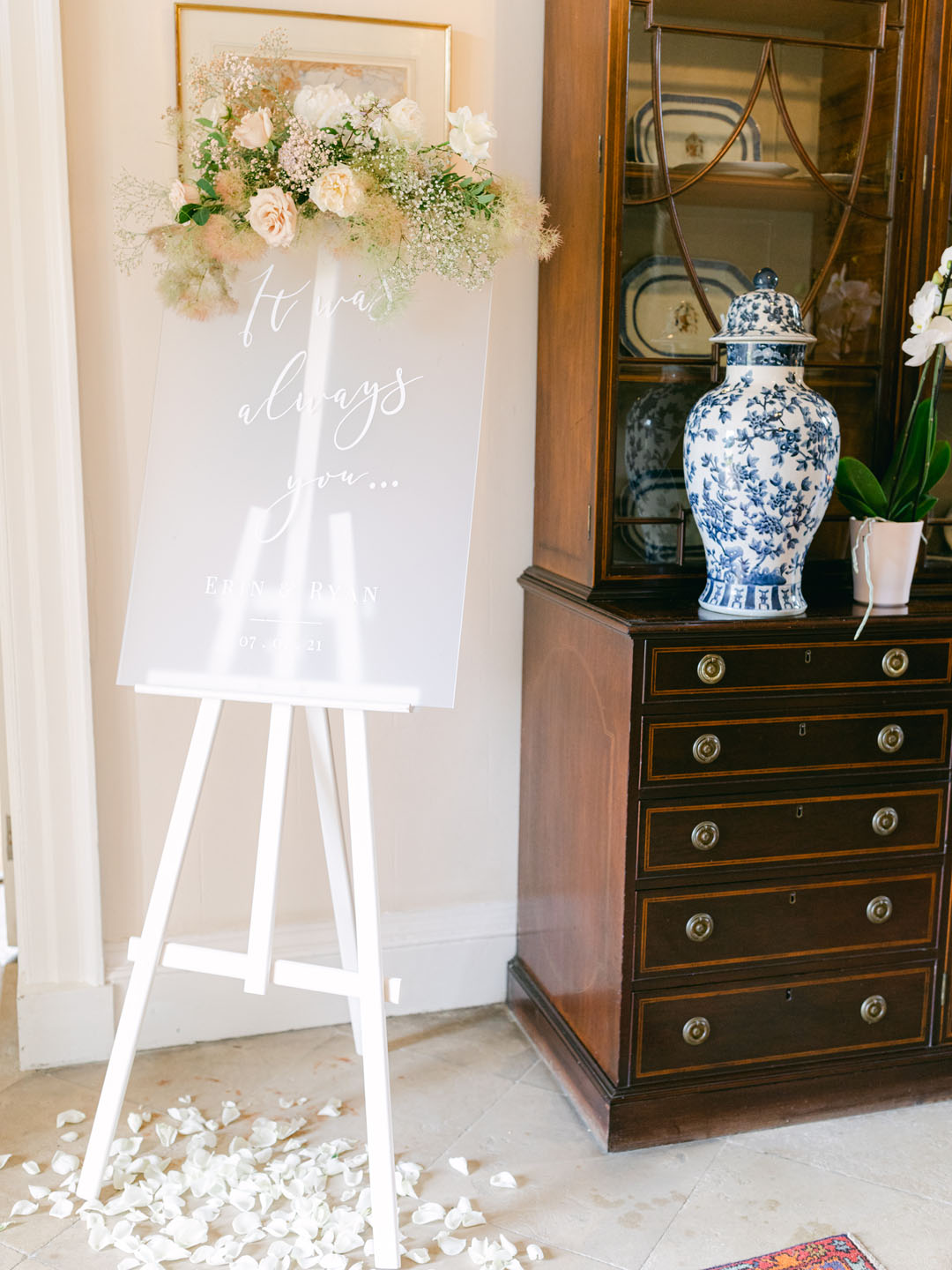 Ryan and Erin preferred a glam, black-tie day, with the groom wearing a classic tux from Moss Bros and Reiss.
As the bride walked down the aisle with her father, Martin, Nero String Quartet played 'Into The Mystic' by Van Morrison.
The wedding ceremony was led by Wrexham Registrars and Erin and Ryan exchanged their wedding bands.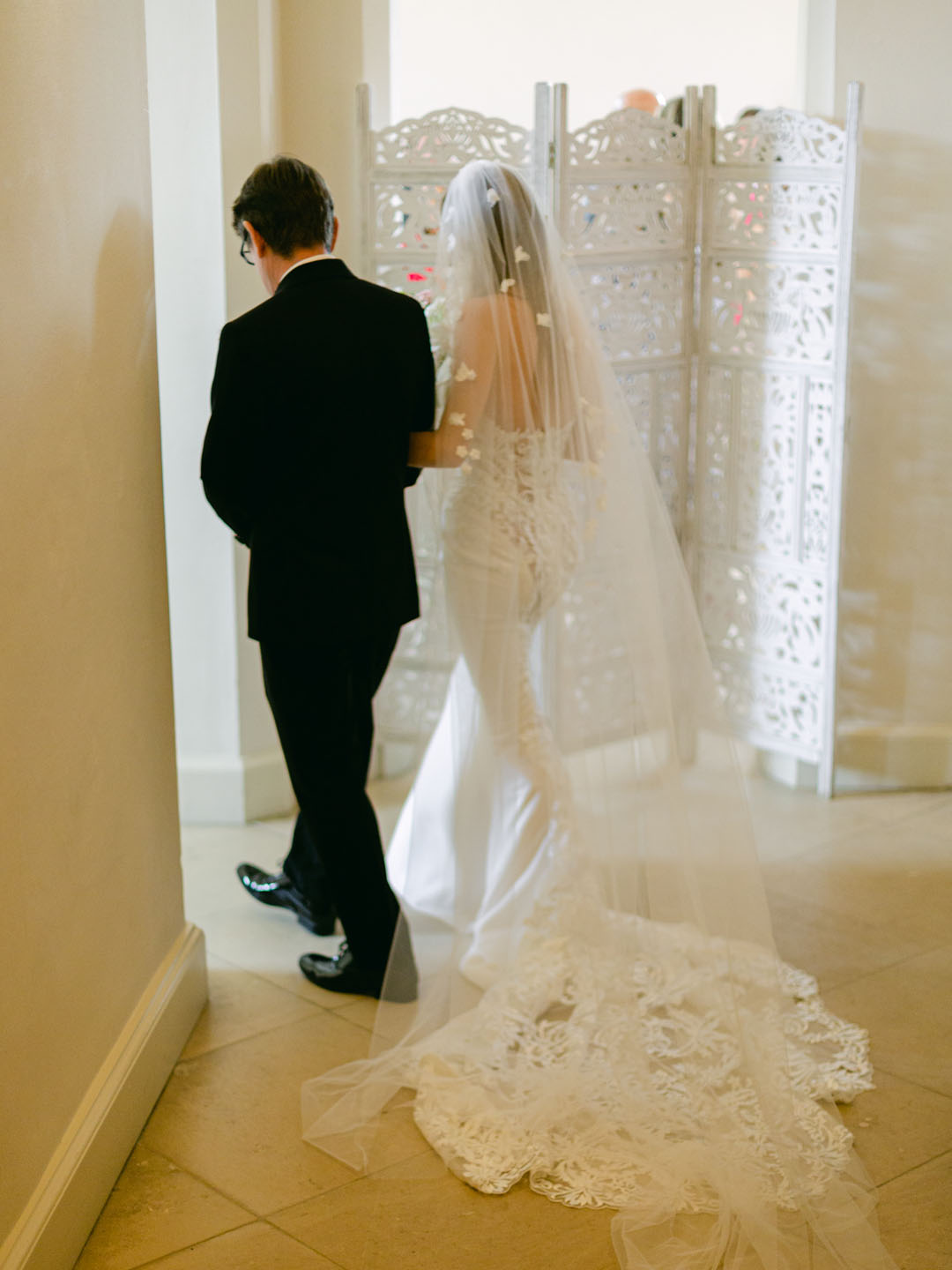 "They were custom-made by a jeweller in Dubai. Ryan's dad lives there so arranged this for us as a gift."
"My favourite moment was walking back down the aisle, finally married, to a well-needed glass of Champagne."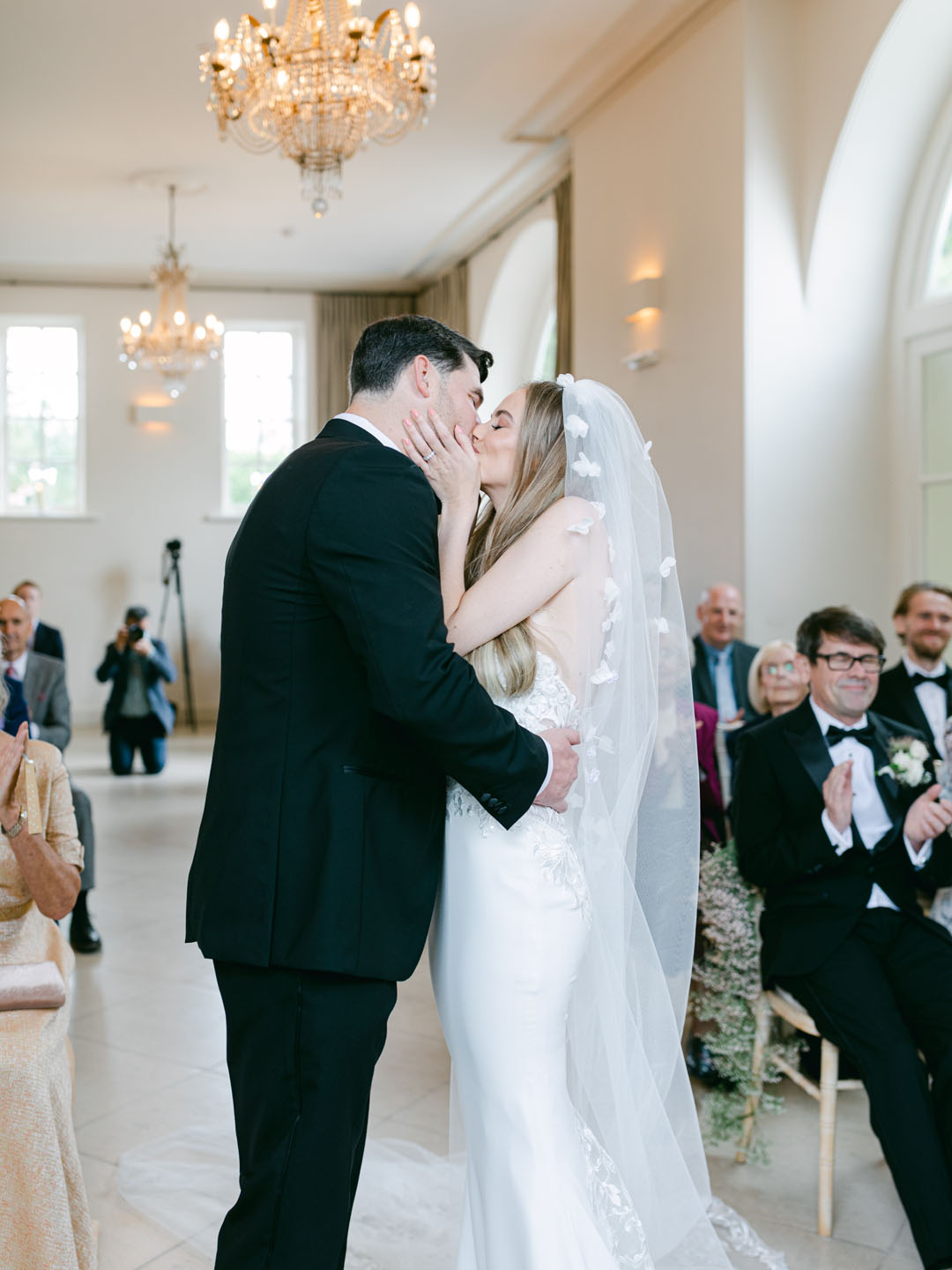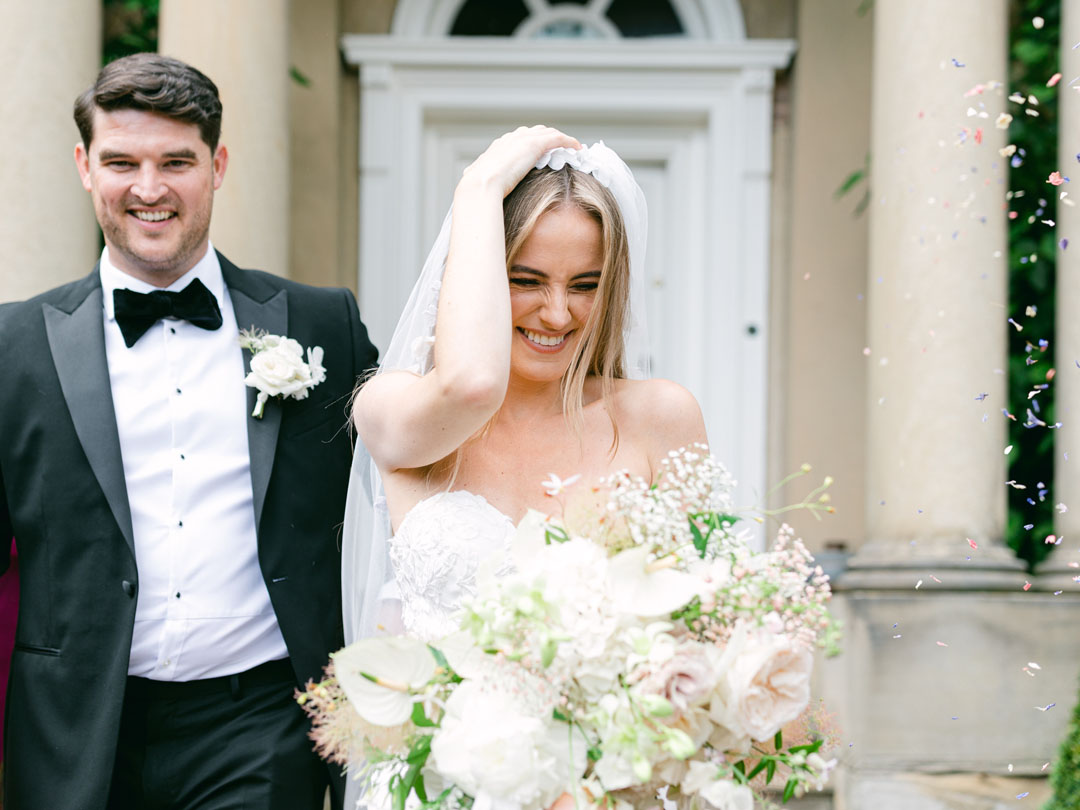 As the newly-weds' guests relaxed over drinks and music from Nero String Quartet, they escaped into Iscoyd Park's green grounds for some portrait shots with photographer Jade Osborne Photography.
We love her fine art, documentary style and encourage you to discover more about her on her Love My Dress Wedding Directory listing here.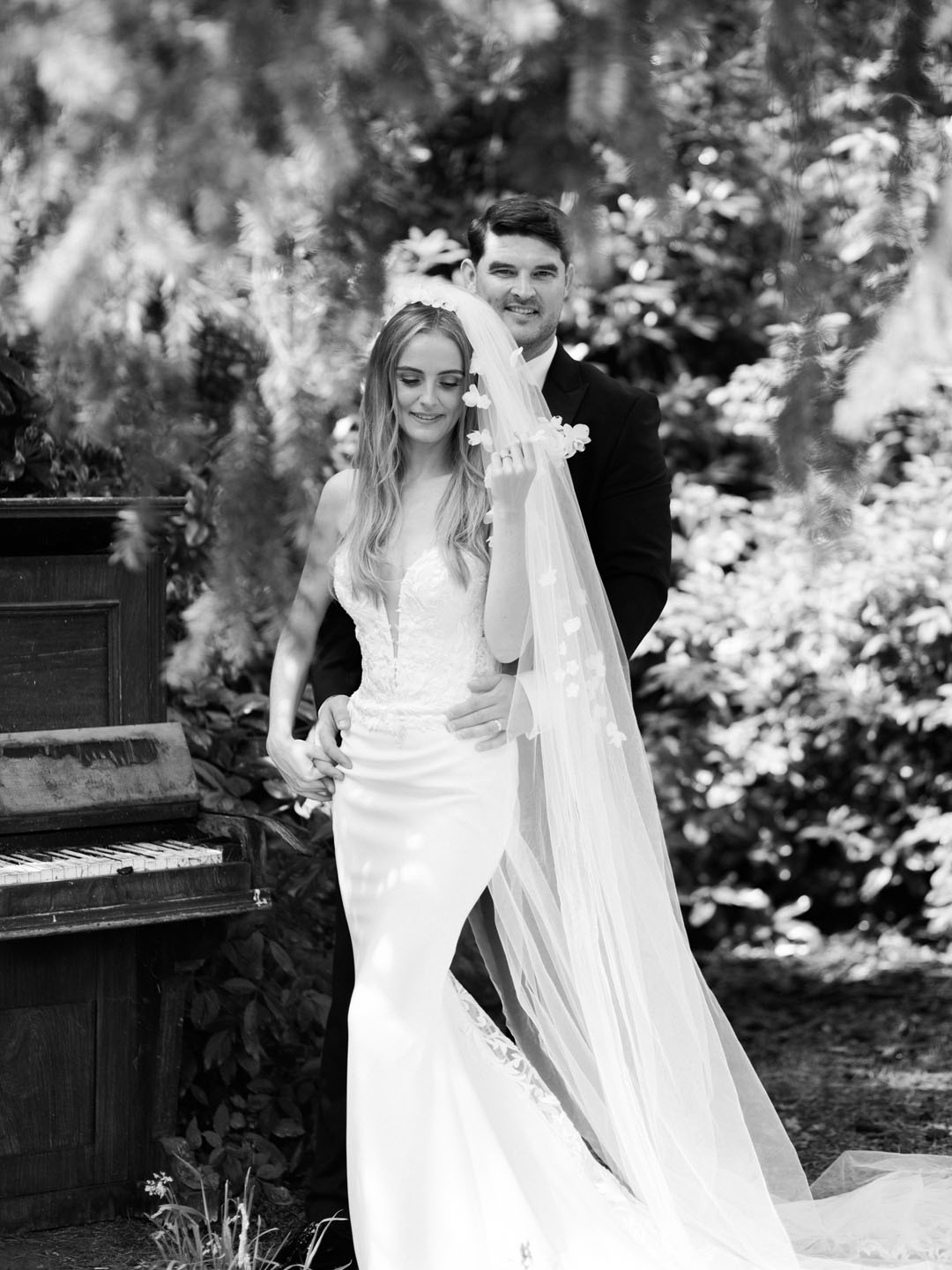 "After seeing Jade's pictures on Instagram and how she was able to capture the more intimate details, we knew we wanted to work with her. "
"he spent lots of time getting to know us ensuring we were comfortable on the day. We've recently received our album and love it!"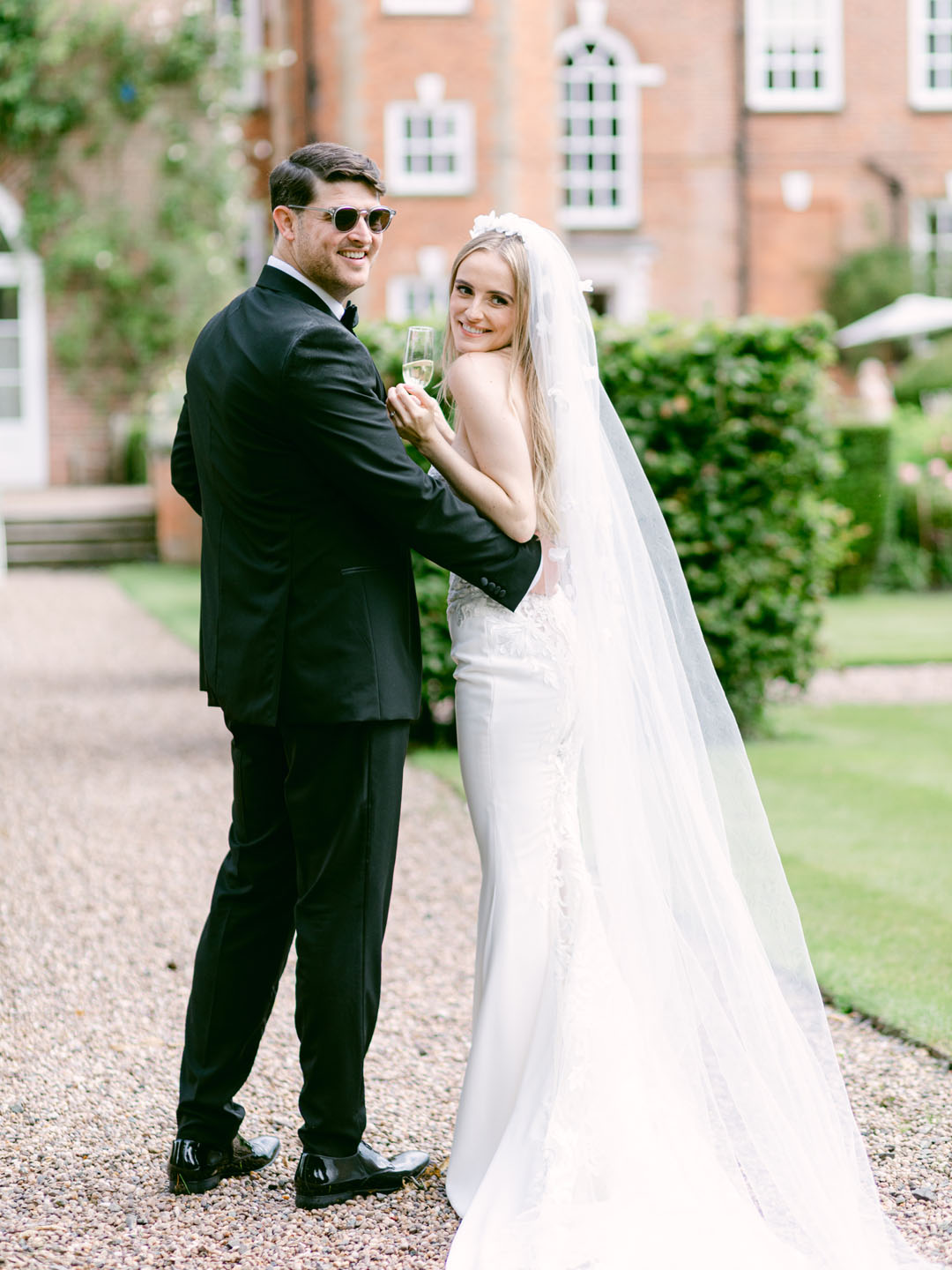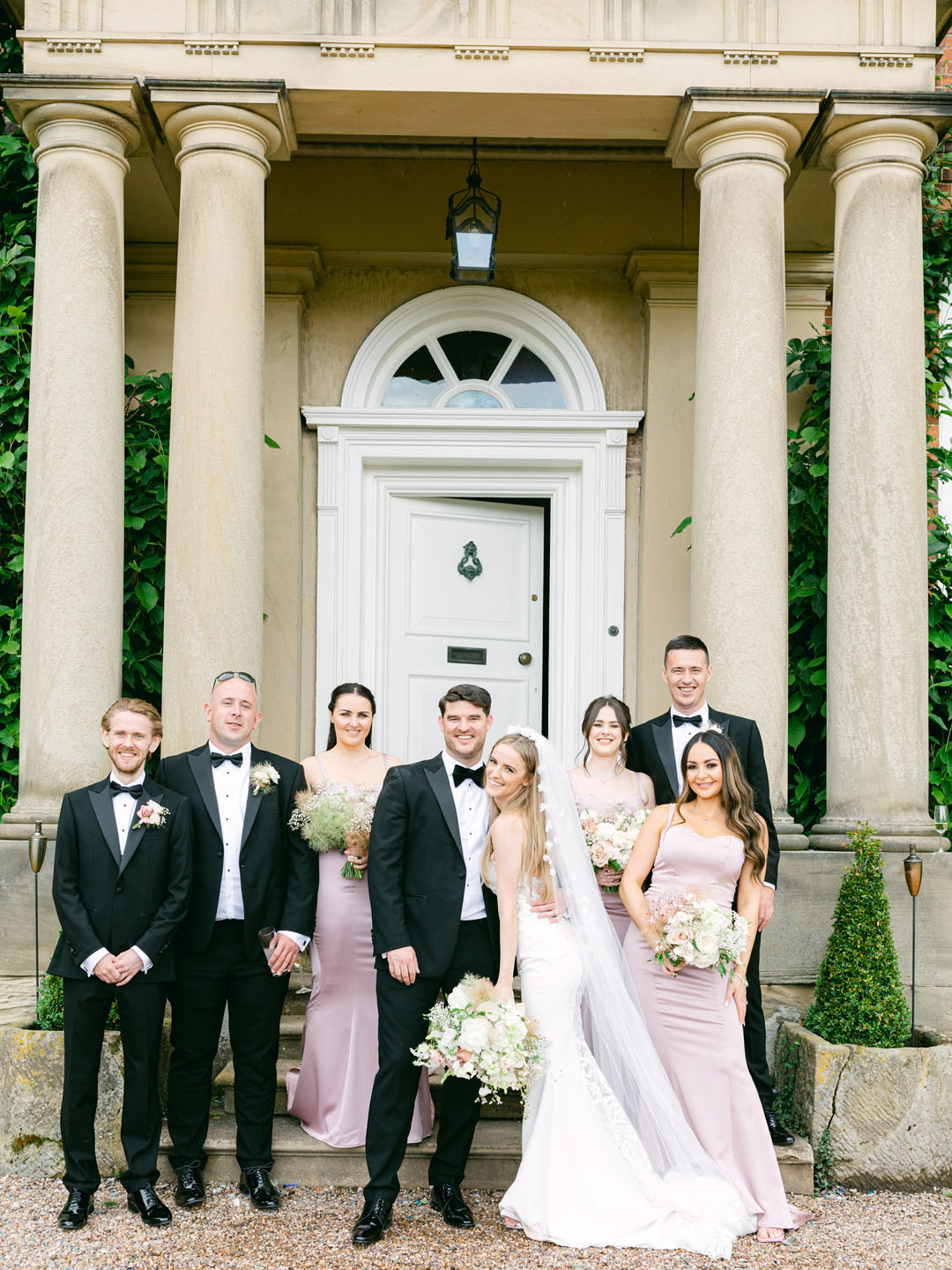 Iscoyd Park's in-house catering team provided the wedding dinner and the gold-embellished, tiered wedding cake was by Laura's Little Bakery.
After dinner, there were after dinner drinks with music from Soul Campbell Music before the evening party began.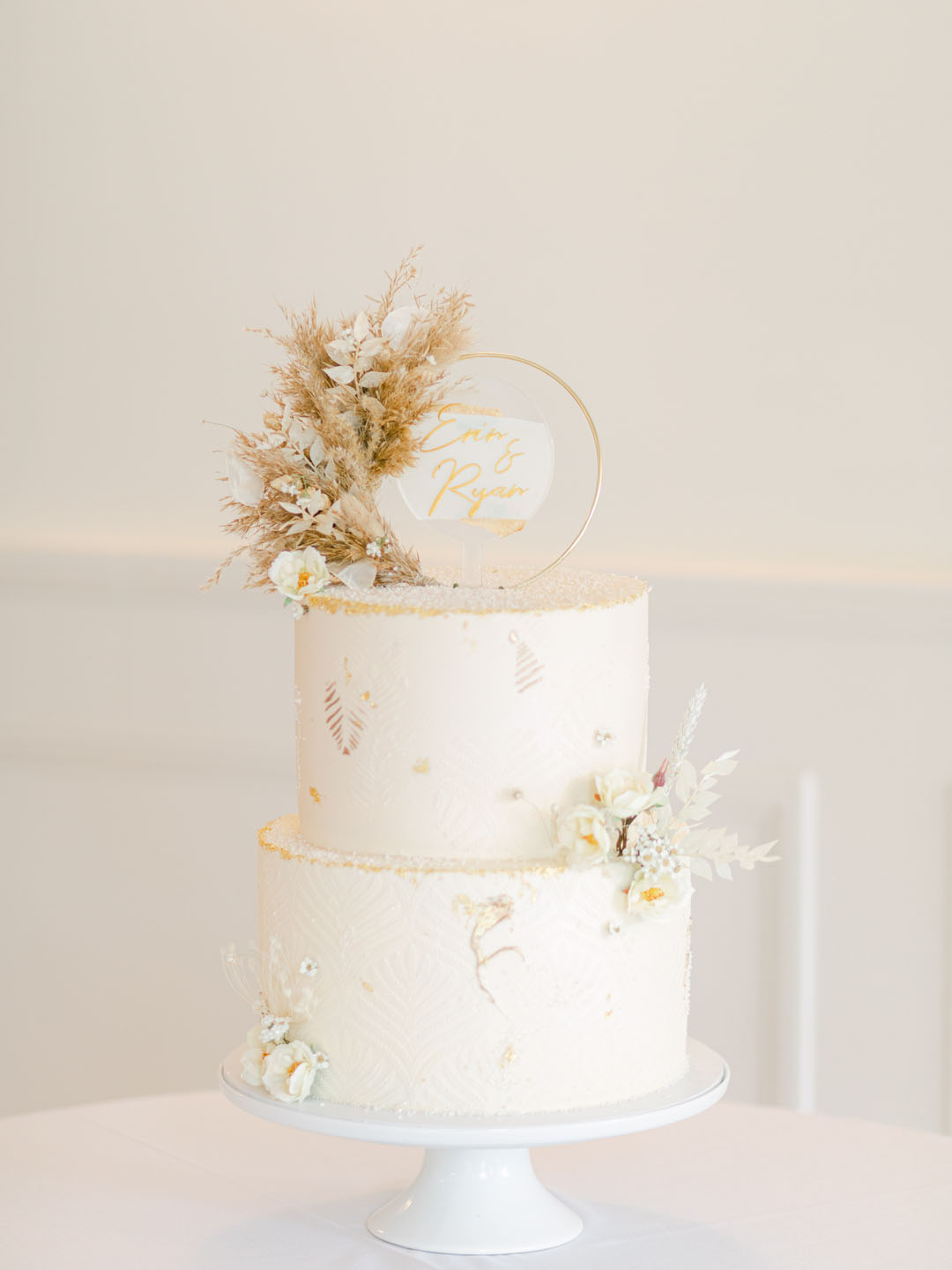 If your wedding has been affected by Covid, Erin has these words of advice.
"You really don't realise at the time how quick the new date comes around. At the time, it feels like ten months is ten years away but time really does pass quickly."
"Take that extra time to add some additional touches to your day that you may have not had the time or budget to do previously."
Erin was a frequent visitor of our What About Weddings campaign for support through her planning.
"What About Weddings was amazing in the run-up to our day, streaming Q&As with local councils and suppliers, and helping get clarification on the ever-changing rules."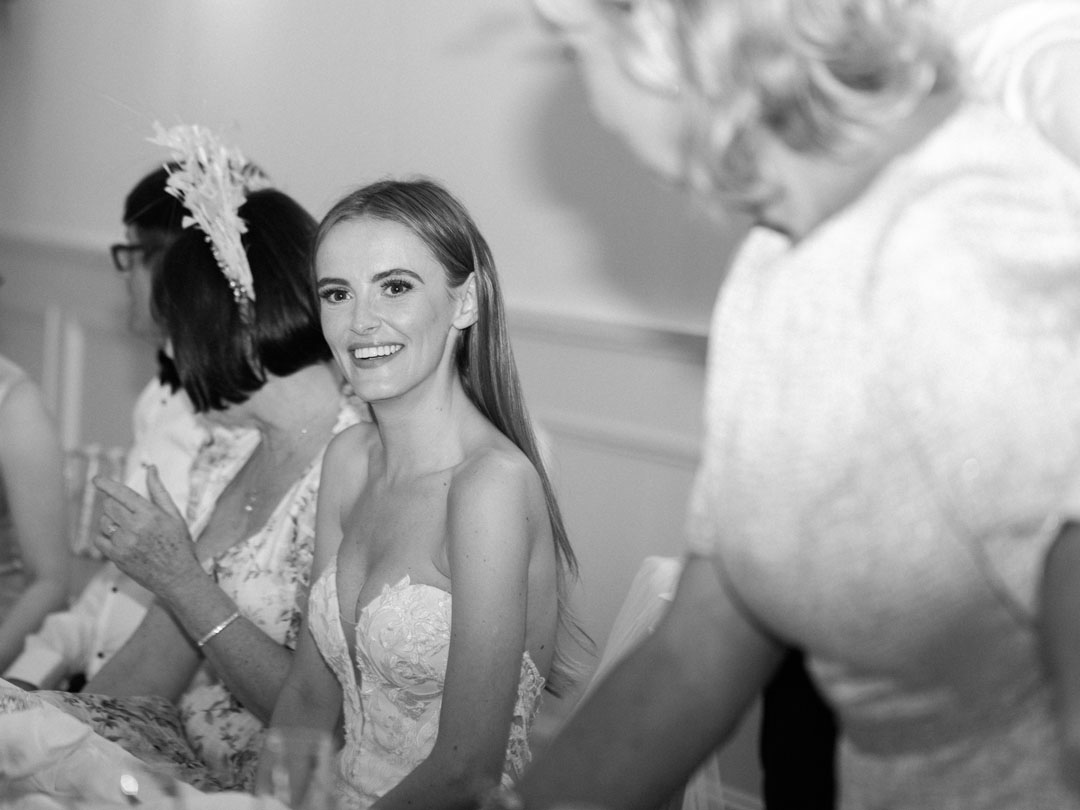 The evening's DJ was Jonny Ross Music and Erin and Ryan took to the dance-floor for a first dance to 'I Love You Baby'.
"We didn't plan for a first dance. It kind of just happened. I didn't even realise at the time it was our first dance until a few days after the wedding when it was mentioned by our family."
Words of Wedded Wisdom
"Do everything you can to make sure your day is unique to you and don't feel pressure to follow traditions just for the sake of it."
"When planning the day's itinerary, try and set aside some time away with just you and your partner, away from everyone else and preferably somewhere quiet."
"Grab a drink, sit down and take it all in."
You can see more beautiful Iscoyd Park weddings here and more photography from the talent that is Jade Osbourne here.
Ele x