As part of my themed 'Laid Bare' week, I'm bringing you another discussion post which considers the issue of body image.  Only this time, author Emma Woodhouse looks at things from a perspective that is not often given the spotlight in today's media, and asks, if 'real/normal women' have curves, what does that mean for those of us who don't?
♥     ♥     ♥
Whichever end of the spectrum you're at and even if you sit happily, inconspicuously in the middle, you will almost certainly at some point in your life have been made to feel that you are somehow not good enough. The media may have perpetrated the myth that there is an ideal size, but it is we, the knowing public who continue to reinforce it, sometimes even when we think we're doing the opposite.
It is not right that we are being fed an unattainable image of the perfect woman who is all toned abs and glistening skin, the concept of spanx being only a kinky bedroom activity to the Adonis of the feminine body.
But it is also not right that in the subsequent backlash, females who are all shoulders and elbows, tinny ribs and gangly legs are being made to apologise for how they look by the activists campaigning for more realistic body images.
The sudden trend that compares pin-ups of the 1950s against modern 'image icons' may have a valid point about the distortion of body image during the last century, but they do equally as much damage by targeting skinny girls.
I recently saw this being frantically reposted on Facebook:-
Image Source Unknown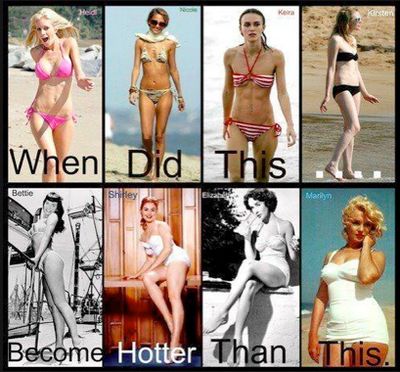 And posted this by way of reply:-
I don't have breast augmentations or eating disorders. I don't do exercise. I don't expect anyone to feel 'sympathy' for me because I'm petite, but by the same token, I don't want to feel like my body or body shape is being devalued because of what it's not.
I have of course heard it all before: been told to eat some more pies, frequently quizzed on my assumed issues with food and even, on the eve of my wedding, been told by my own mother that I'm too skinny and need to put on weight. It sucks to be told you need to change, whether you're 7 stone or 27 stone.
But that inverted snobbery is not my problem here. My problem with these types of images is the comparison. I fundamentally believe that we are not all meant to be identikit humans. We are all different shapes and sizes and I do not for one second believe that any one of those shapes and sizes is any better than the rest.
Whilst you might think you're crusading for a more acceptable 'ideal image' by reposting these wry little graphics, you're just hurting someone else along the way. You're fuelling the nasty, manipulative media message that we must compete to prove ourselves better than our sisters, friends and colleagues. You're making it worse.
The real crusade is learning to understand that there is no ideal image; there's just you. And me. And the other 3 billion women in the world.
We as women have more than enough other issues to be dealing with, so how about we all just give each other a break and instead of genuflecting our issues to the opposite end of the spectrum, embrace our individuality and get on with our lives, regardless of what we look like? If you're a giant or a borrower, pigeon-toed or a hunchback, black, white, polka-dotted or otherwise, you are not more or less inferior to the next person. You are just different.
♥     ♥     ♥
Ladies, gents, please discuss…