Given that Love My Dress has an appeal to brides all over the globe, it's natural that occasionally we'll want to feature a wedding from outside the UK. We've featured incredible weddings in Iceland, Canada, France and Italy recently, but today, we're turning our focus to Sweden, where Johanna, a freelance journalist and editor, and Jacob, a hedge fund manager, tied the knot in May this year at Rånäs Slott – just an hour outside of Stockholm.
"I decided on a vintage inspired wedding pretty quickly after
finding the venue. I wanted the old Hollywood-feel to make it all a bit
glamorous, and the roaring 20's to set the tone of a fabulous party."
Photography Copyright (c) 2013, Jane (&) Haglund Photography
"Jacob and I chose to get married at Rånäs Slott
an hour outside of Stockholm, Sweden. We live in Stockholm and wanted a
venue close by that still gave you a feeling of being in the
countryside. We fell in love with Rånäs Slott after our first visit,
everything felt just right!
The beautiful scenery, the castle with its
amazing dining room and reception rooms, the terrace – and best of all –
the perfect spot in the garden for the ceremony."
"Those seconds just before walking down the aisle. My heart was
beating so fast! Jacob held my hand and told me not to cry yet and to
walk slower so that I could savour the moment. I saw my son walking a
few meters ahead holding my sisters hand, all our friends and family,
the piano was playing… It was all so unreal.
Our son Gabriel was actually our 'flowerboy'. He was fourteen months old at the time and wore an outfit from Elegant Kids."
"We first met in 2004, both of us studying journalism and media at
the University of Stockholm. Jacob was the president of the students'
union and I was the party planner. We dated for a few years, moved in
together and in 2009 Jacob proposed on a trip to South America. I had no
clue what so ever!
 On a visit to Machu Picchu in
Peru, we took a lunch break just below the ruins. It started pouring
down outside, but Jacob insisted we'd go back up for another visit just
the two of us without the guide. At 2430 meters height, overlooking one
of the seven wonders of the world, the rain stopped for a second and I
turned around to reach for my camera. Turning back, there was Jacob on
one knee telling me I was the eighth wonder of the world and asking if I
would spend the rest of my life with him. I couldn't stop the tears!
 It
took me a few years to convince Jacob to go ahead with the kind of
wedding I dreamed of since I was a little girl (If he got his way, we
would have eloped!). But three and a half years after the engagement, he
gave me the best day of my life."
"My veil was made by Caroline Risberg at Atelje stass.  I was so happy to
find a lace trimming that was just matched the lace I found for the
dress.
 One of the first pieces that I bought for the wedding was the hairpiece. I had it custom made by Yaneth & Company through Etsy. I can strongly recommend her beautiful hairpieces and fascinators for all future brides!"
"I found inspiration in Jenny Packhams amazing vintage-like dresses, but decided to have a seamstress help me make the dress even more me. Caroline Risberg at Atelje stass was attentive, crafty and determined to make the dress fit my body perfectly.
I
loved everything about it! The mixture of lace and chiffon, the short
sleeves, the perfect amount of cleavage and the way the dress moved as I
walked. The back is probably the most beautiful part though. And the
bling-piece in the front."
"I did a lot of the decorations myself. Being a control freak I
handed Rånäs Slott a long list of how to place them all, and when the
time came I was so in the moment that I didn't even see a lot of them.
But the photos show they turned out pretty good.
I had made a few signs that we placed in the garden, and in the
hallway we put our birdcage wedding card box from Etsy as a centrepiece of the
gift table. We also had a photo booth where people could take polaroid's
and  hang them up in cherry branches, and a candy bar with vintage jars
full of sweet stuff. Very appreciated!"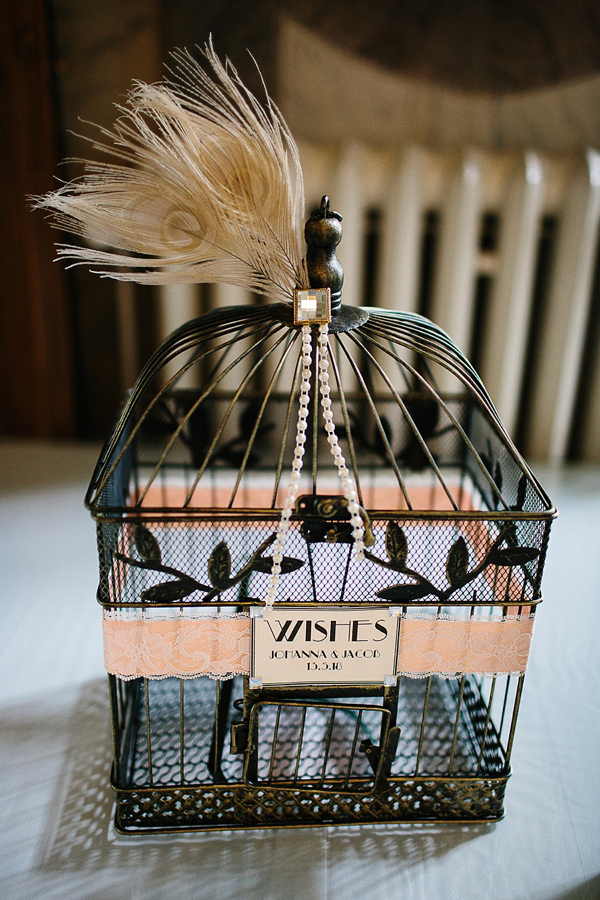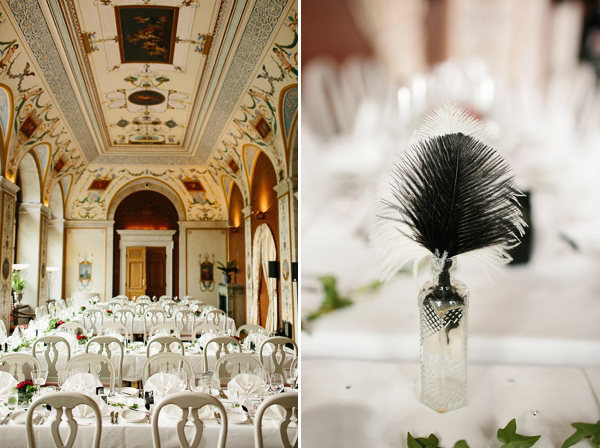 "I ordered my silver satin 20's style shoes from Rachel Simpson online. The model Tilly had just the right height and the look that I wanted."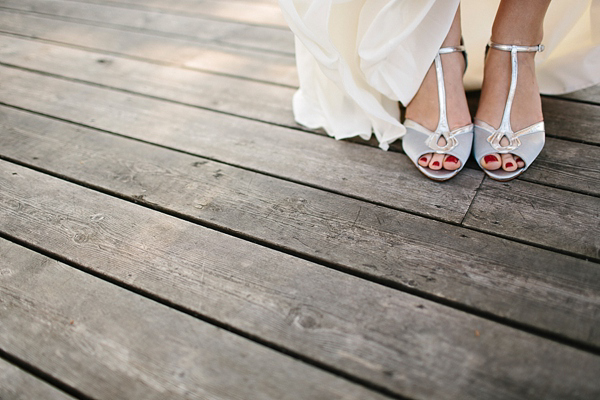 "Jacob
wore a tux from Hugo Boss, a shirt from Eton and a hand tied bow tie from Dako,
which he practised to tie for weeks!"
"The wedding ceremony took place on a small island in the garden, in
front of an old archive building. We had banners and flowers and old
glass bottles with lace ribbons hanging along the red carpet. The
dining-room was so beautifully painted we did not need much other decor,
but I had prepared vases with feathers and flowers and lots of ivy for
the tables, as well as place cards and favours.
We had a civil wedding, with politician Fredrick Federley as our
official. He made the ceremony so personal and funny, giving his own
advice on love and reading parts of our love story that made the crowd
both laugh and get teary-eyed. We had also asked my sister read a poem
on love by a Swedish poet. 
The essence of the poem,
called 'You…' in Swedish (by Sigrid Renklint), is about being able to
make a fool of yourself in front of the person you love. That suited
us."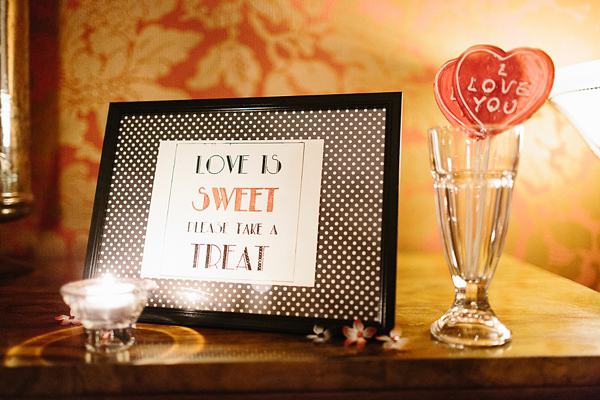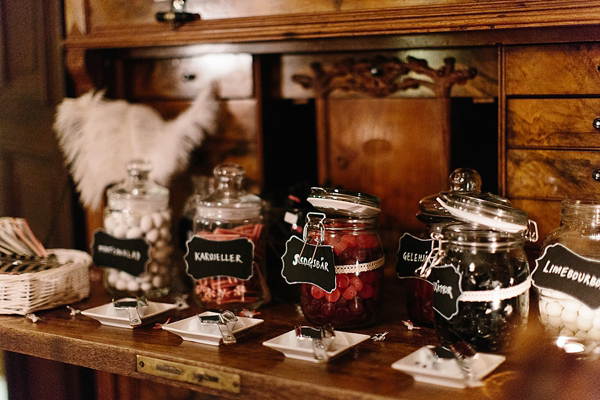 "I knew before I even went to the cake-tasting that I wanted
chocolate. A girl can never have too much chocolate, especially on her
wedding day. So, a trio of chocolate mousse it was, with a slightly
salted mud cake as a base. I searched a while for the perfect cake
topper and finally found this vintage one from Wilton ornaments on Etsy
(what a surprise!)."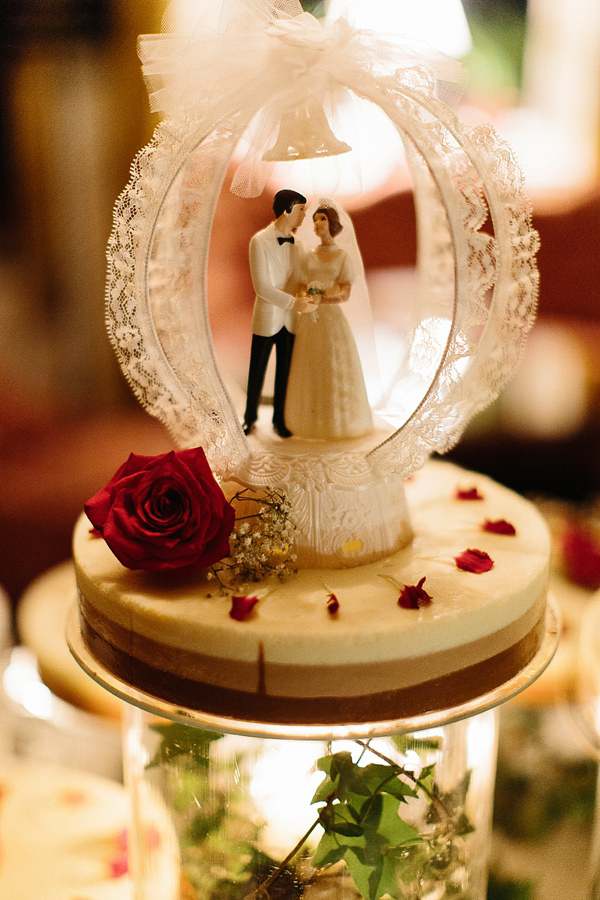 "Our photographers were a husband and wife-team, Jane and Robin Haglund of Jane (&) Haglund Photography
and we could not have made a better choice. From the start they were
set out to be not only extremely professional, but as warm and
understanding as any friend could be.
Having two photographers there on
the day was a great luxury, they didn't miss a thing and went around
talking to each other through headsets! If felt so natural to have them
with us every step of the way, and of course the pictures turned out
just as gorgeous as we hoped.
I love the way they work with details and
are so passionate about what they do."
"Vintage-experts Madelin Downey and Karolina Olson Haglund
work as a hairstylist + makeup-team for weddings and were able to
create just the look I wanted for me and my bridesmaids. They came out
to the castle and we all got ready in the bridal suite. We had
champagne, listened to jazz and laughed a lot."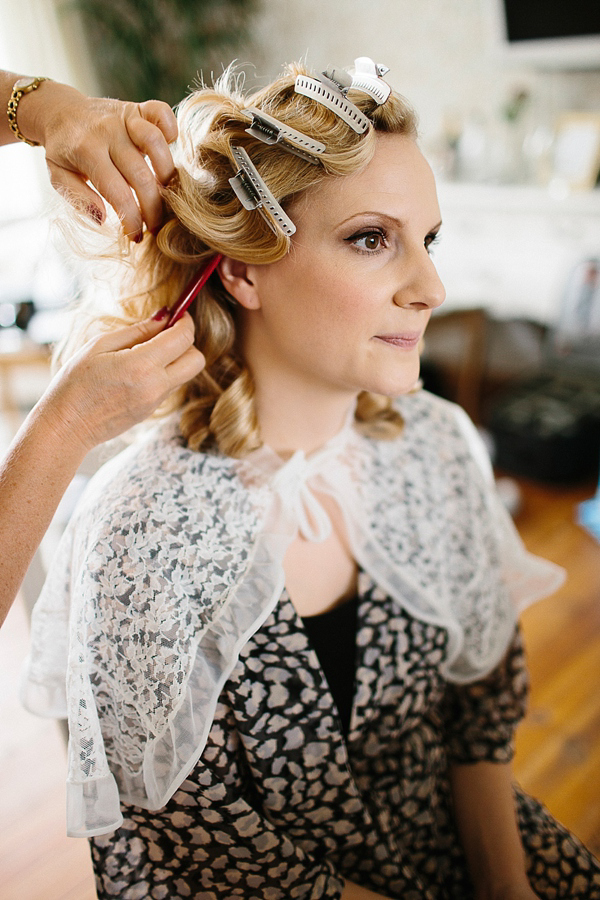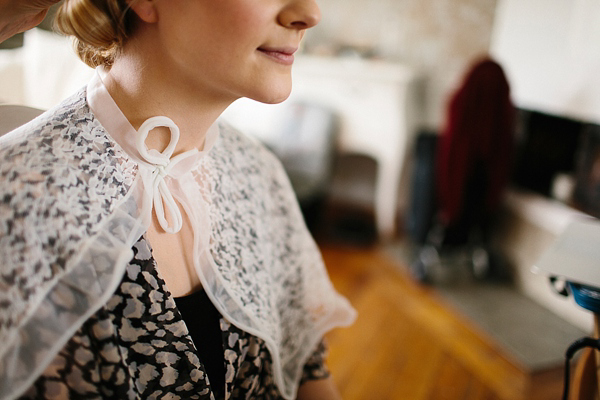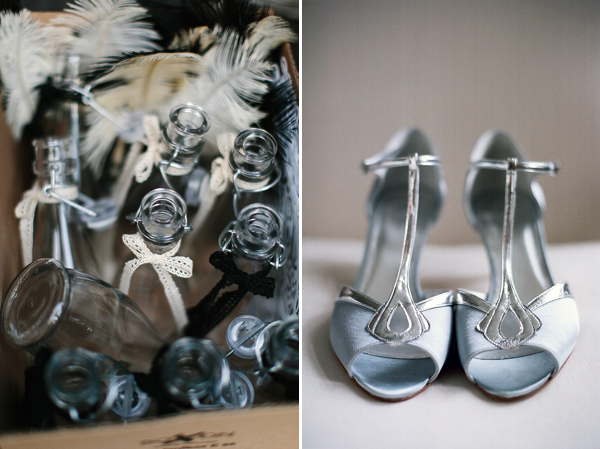 "It was
important to me that the bridesmaids felt comfortable in their dresses.
I gave them each a different colour (black, silver and deep red) and
all I asked was that the dress would have a vintage feel to it.
They
found them all in different shops and vintage boutiques, and I was so
happy with how well they all came together! I ordered these lovely feather hairpins from Pomp & Plumage on Etsy as gifts for my bridesmaids"
"They were made to match the colours of the dresses and turned out lovely!  I actually found Etsy to be a great source of vintage accessories. My necklace, bracelet, earrings and purse all came from different shops there."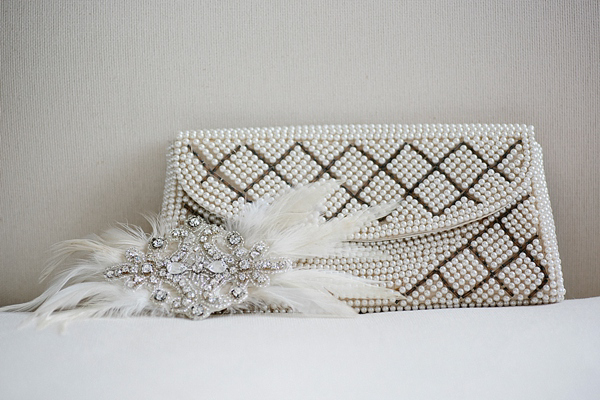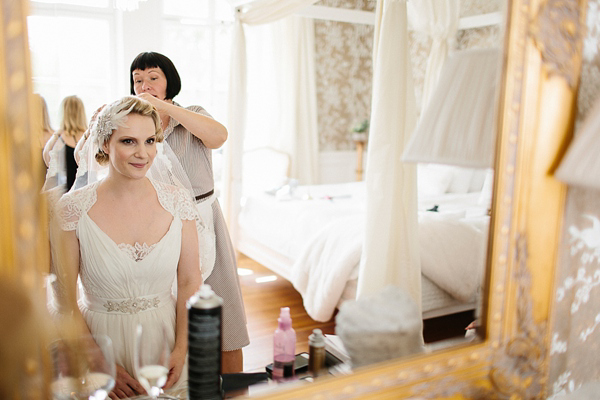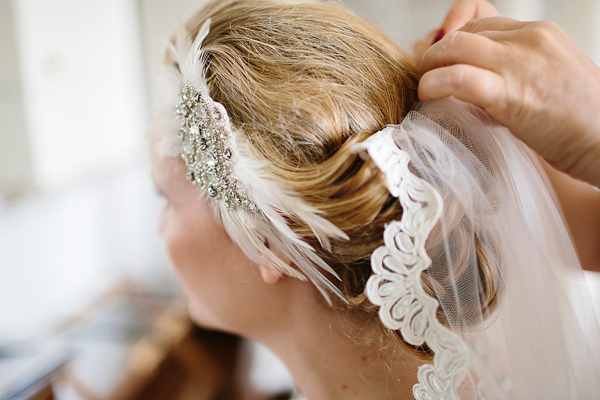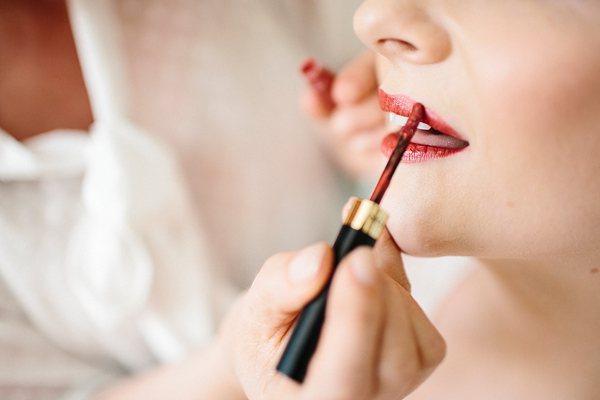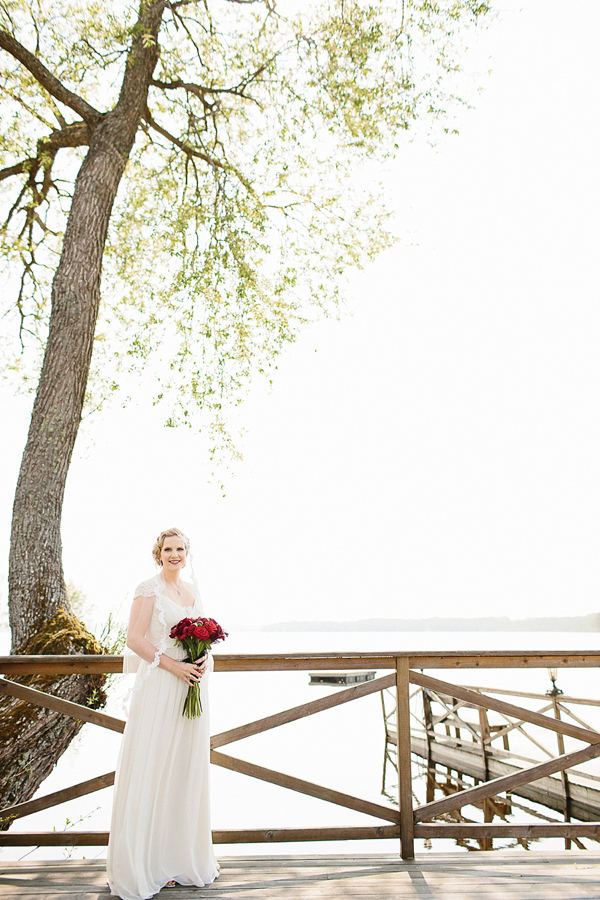 "We had all our flowers delivered from florist Fröken Knopp
from nearby town Norrtälje. I wanted flowers in our wedding colours
red, white and black for the overall decorations, but ended up with a
perfect deep red bridal bouquet of roses, peonies and calla lilies. I
also incorporated some feathers to make it more interesting, as we used
feathers in many of our decorations."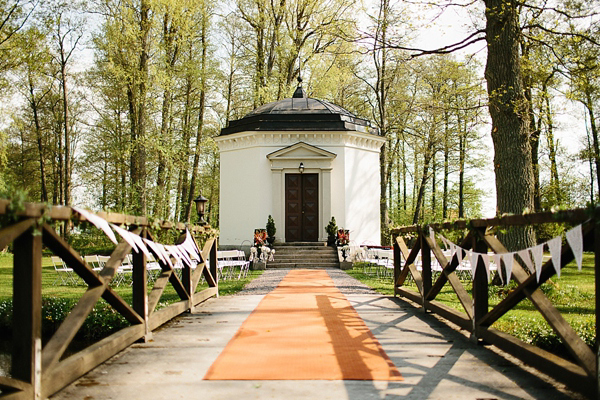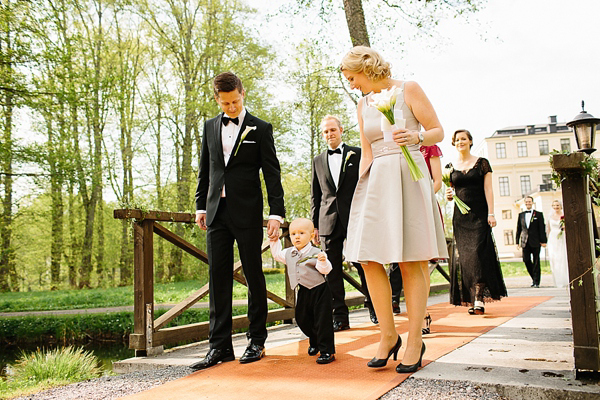 "The Swedish way is to walk in together, as a statement that both
bride and groom are choosing each other by free will.  We asked some
musical friends to play and sing during the ceremony, a lovely personal
touch. As our entrance track we choose Yirumas 'River flows in you'. We
also listened to our friends sing Adele's version of 'Make you feel my
love', John Denvers 'Annies song' and walked out to Natalie Coles 'This
will be (an everlasting love)'.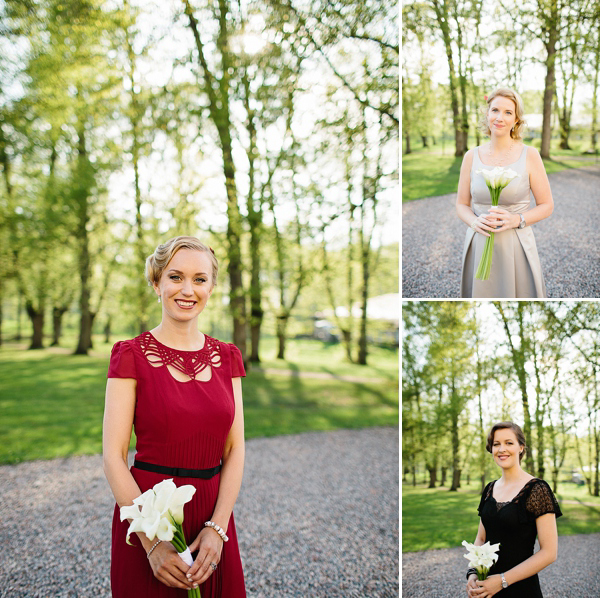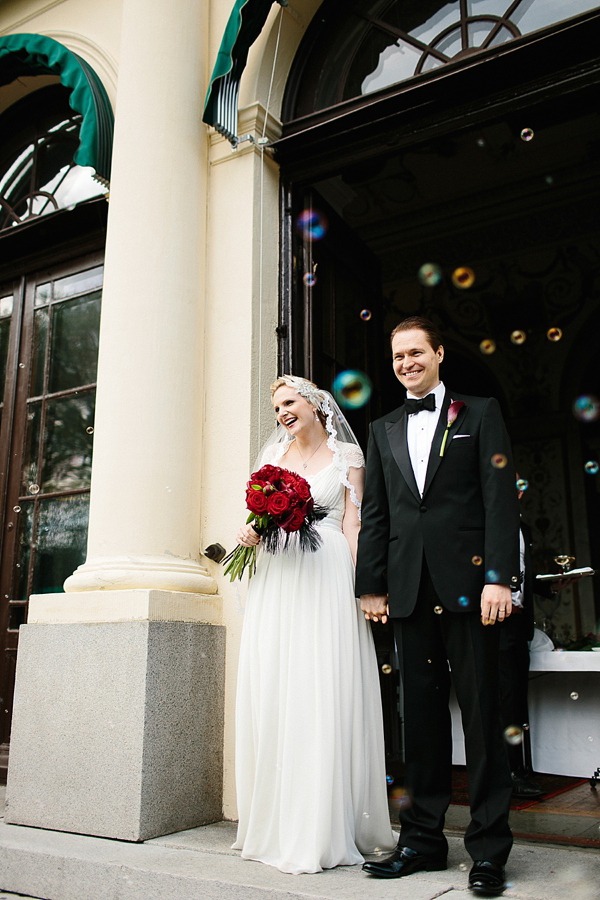 "We hired this cover band called POPnonSTOP
who played a rat pack/jazz-set during the mingle and a proper party-set
at night. After the band stopped playing we had prepared a spotify-list
so the dance floor could keep going."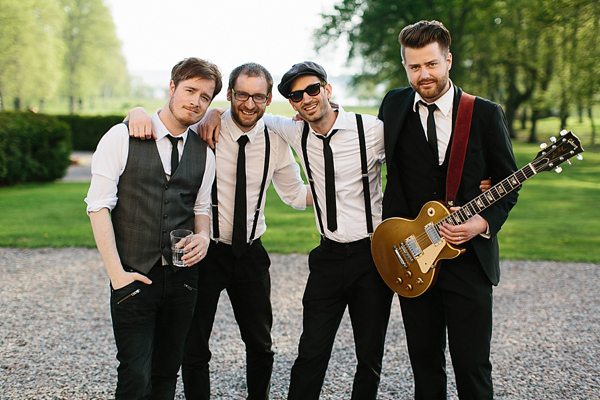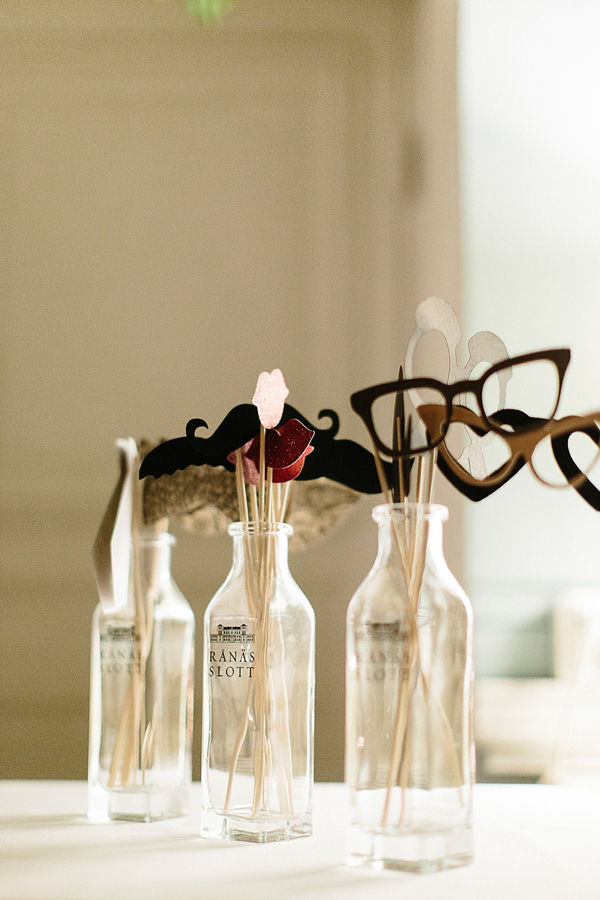 Words of Wedded Wisdom… 
"Your
wedding day is about You and the person you are marrying. Don't lose
sleep and think you have to compromise on what you want your day to be
like just because you think someone might not like it.   Involve
friends and family and hand out tasks that you need help with before,
during and after the wedding.
Make a list and check it – who hands out
the wedding bubbles, who is in charge of moving speakers from room to
room and who helps with packing the gifts after?  And I know it is hard to do, but once the day has arrived there
is nothing more you can do than to go with the flow. The best way to
enjoy it is to let yourself be in the moment and step out of control.
Let people take care of you and do their job and you will be fine. 
 Take a moment here and there during the day to just
hold on to each other. Look into the other persons eyes, squeeze their
hand, give a quick kiss… It is so easy to get caught up in all that's
going on, but a small pause and a giggle can ease the nerves and remind
the two of you that this day is for you.  Oh, and hire a real good
photographer to help you create all the beautiful memories!"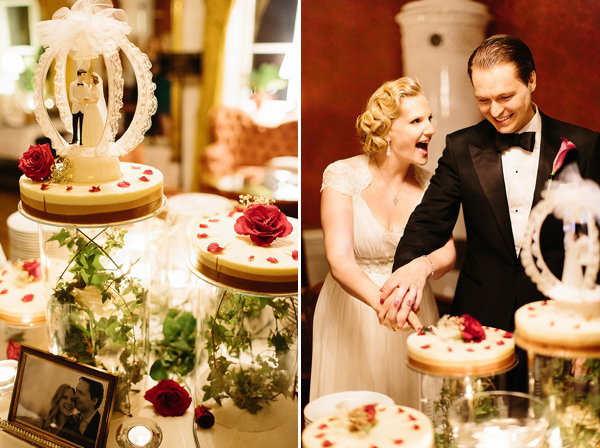 "We were so lucky to have everything work out just as planned on
the day. Everyone showed up and put their hearts into giving us the best
day ever. Even the sun came out!
Our toastmaster and toastmadame did the best
performance I've ever seen at a wedding, and all the speeches still get
me sentimental. Everyone who was there will be a part of our memory and
we are truly grateful. 
Since I was opting for a vintage feel those kinds of blogs were
the ones I searched for.  I visited Love My Dress and there is just so
much inspiration here. You are doing an amazing job – keep it up!"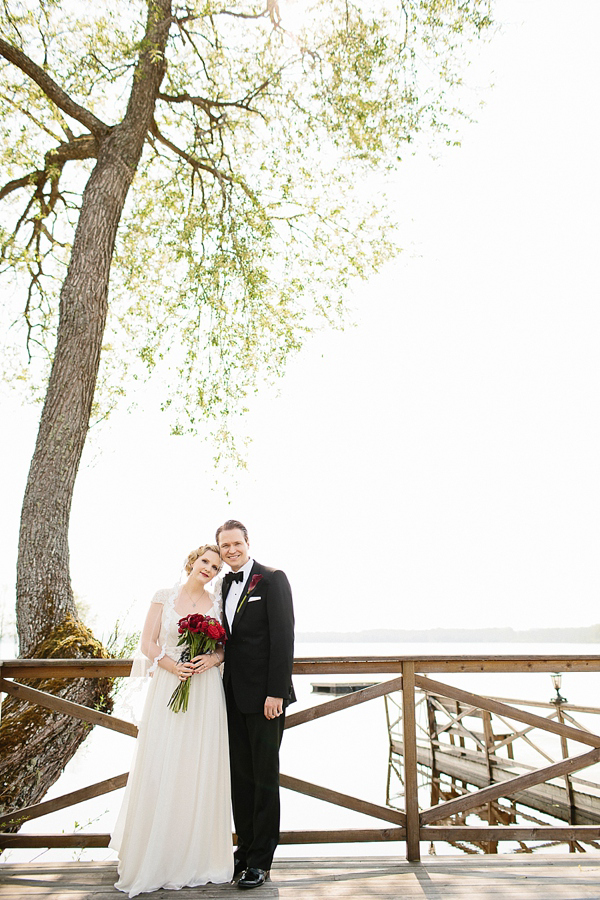 What a spectacularly classy and elegant affair, huge congratulations to you Johanna and Jacob, thank you so very much for sharing your beautiful day wtih us.  And huge thanks also to Haglund Photography for submitting this wedding to be featured on Love My Dress.
There are lots of fabulous inspirational ideas here for any bride planning a 1920's inspired wedding – Go Enjoy!  Are you going to be incorporating any 20's/art-deco style in to your wedding day?
With much love,
Annabel

Photographer – Jane (&) Haglund Photography
Venue + Catering – Rånäs Slott (nr. Stolkholm, Sweden)
Wedding Dress – Jenny Packhams via Atelje stass
Veil/Headpiece – Yaneth & Company through Etsy
Brides' shoes – Rachel Simpson
Groom's Attire – Hugo Boss
Bridesmaids – Vintage dresses all own choice + Pomp & Plumage on Etsy hair pieces
Page Boys – Elegant Kids
Flowers – Fröken Knopp
Entertainment – POPnonSTOP
Additional Styling –
Rings – Kaplans Jeweller
Hair Stylist – Madelin Downey
Makeup Artist – Karolina Olson Haglund