Good Morning lovely ones – we have snow!  Do you? No snow in this morning's feature however, we have sunshine and details inspired by nature for this charming back garden wedding, which I hope you'll love.   Laura, a relationship manager and her long-time beau George, a carpenter, tied the knot on the 24th of May last year. Laura's parents hosted the reception in their back garden and the ceremony was held in a lovely village church. Torrential rain in the middle of the day threatened to derail the plans but manoeuvring the band inside and an impromptu photo session before the wedding breakfast meant that the day worked out perfectly.
"We never really had any set ideas about style – we just wanted a really relaxed and happy day with all of our favourite people.  My parent's garden gave us the perfect backdrop for the atmosphere we were looking to create. The garden has the ruins of an old paper mill within it, a river running through it and is a really quiet, laid back space. It was perfect! The garden, alongside lots of handmade/personal touches and many wooden contributions and creations from George gave us our 'handmade, rustic, garden party'."
Photography Copyright (c) 2015, Fiona Kelly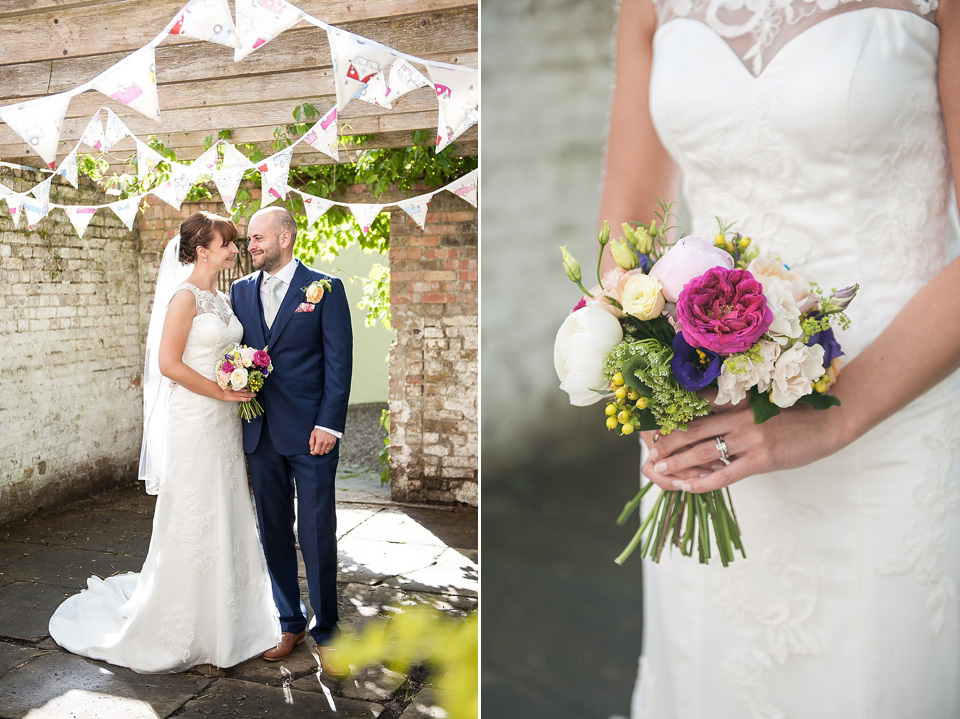 "I fell in love with a sparkly pair of Kate Spade shoes I saw featured in a wedding on Love My Dress.  I found a pair of ivory sandals with silver glittery heel when I went to the London store and bought them there and then! A few days later I got a note from the lady that had assisted me, saying how happy she'd been to help me find my wedding shoes and wishing us luck for the big day."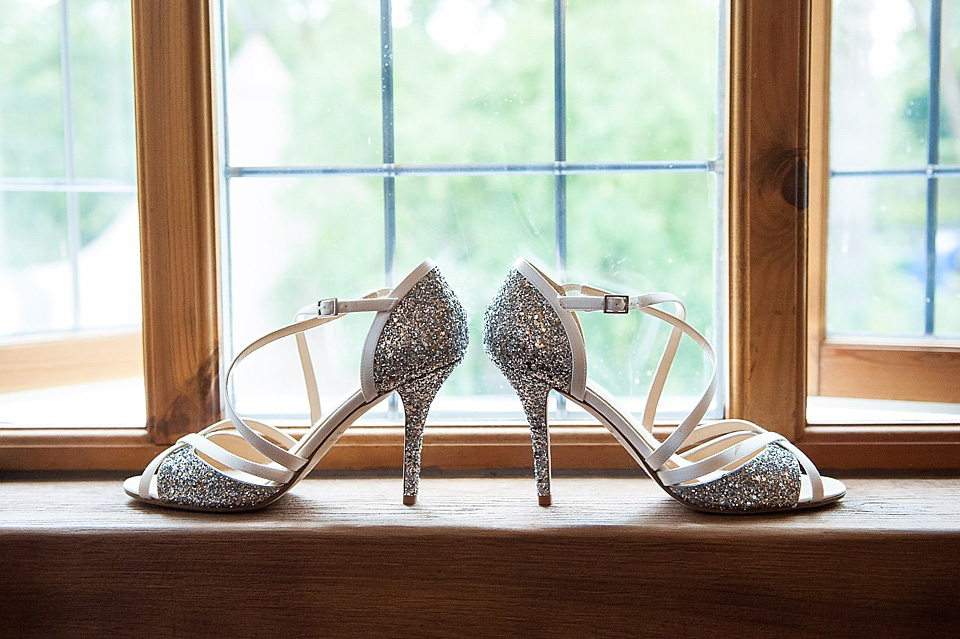 Laura wore the stunning Clematis dress from the MiaMia collection by Alan Hannah with a sheer veil. With such dramatic detailing she kept her jewellery to a minimum only wearing her Nan's wedding ring and Tiffany drop earrings. A colourful bouquet of David Austin roses contrasted perfectly.
Many of you will identify with Laura's struggles in finding her wedding dress, in fact we had a discussion post about finding 'the one' earlier this month that was hugely popular with readers!
"I tried on about 50 dresses before I found 'the one' and even then it wasn't the typical 'that's it!' moment. My mum knew before I did  I loved the whole process of trying on the gorgeous gowns, champagne and days out with my mum and bridesmaids but I felt a lot of pressure to 'know for certain' or 'break down with tears of joy' that I didn't know if I'd ever make a final decision.  
I went to Isabella Grace and had such a wonderful experience – I tried my dress on and completely loved it but continued the search, just in case.  We went to a few other shops and I realised that I kept describing the dress I'd already tried on! I knew for sure when I went back for a second appointment. I LOVED the gorgeous lace back detail and that it was simple and elegant but not too fussy! I knew I'd be comfortable and be able to dance the night away."
With the ruins of an old paper mill and a river running through Laura's parent's garden was the perfect backdrop for their relaxed garden party.
"My parents worked tirelessly to get the garden looking amazing so we didn't need much decoration. A couple of my talented bridesmaids made paper birds and woollen pom poms which we strung up around the tipis with paper lanterns and fairy lights. George built a wooden arch which everyone walked through to get to the reception. The archway in our own garden now as a lovely reminder of our big day!"
The gorgeous orchid print dresses from Ted Baker worn by the bridesmaids were Laura's first wedding purchase and set the nature inspired tone for the day. Vibrant cerise pink shoes from Oasis and a wooden bangle accessorised the look perfectly. Nine year old Marnie wore a pretty white flowergirl dress from John Lewis with a sash to match the older girls while the boys had pocket squares in the same fabric.
Continuing the floral theme, Laura treated both her and George to scents from Jo Malone to wear on the day – chosen especially so that the scent can be used in the future to help evoke memories of their beautiful wedding in the future.
Have you thought about scenting your wedding day? We've a feature coming up later following a trip our team member Tamryn made to the Jo Malone studio earlier this week. You might also want to read this feature on how to find the perfect wedding day perfume too.
"George and I met when we were 13 years old. We went to different schools but had quite a few mutual friends and always got on well but it wasn't until we were 17 that we officially got together… over the next 9 years we took some fantastic holidays, worked hard and bought our first house. George proposed in July 2012, telling me we were going for dinner as a birthday treat, I stepped off the train and his brother Jon was waiting for me. Jon handed me an envelope, the first of 7 notes from George directing me to places we'd spent time together or shared special memories during the 13 years we'd known each other.
The final note sent me to the top of the North Downs with a view stretching across the area where we'd grown up together. George was waiting with a picnic rug, drinks, and a small wooden box which he'd made from the wood of an apple tree in our back garden. Inside the box was a little wooden ring which he also made, it fitted perfectly!"
"I literally had no idea about flowers when I wandered into Hunkerdown Daisy but Sara was a star – she was so knowledgeable and helpful and I was really happy with how everything turned out! We also used Blooming Green Flowers for our church flowers. They grow their flowers organically grown and you go along to pick as many flowers as you can fit in a bucket for £50! It's a really nice experience just wandering around picking your own flowers."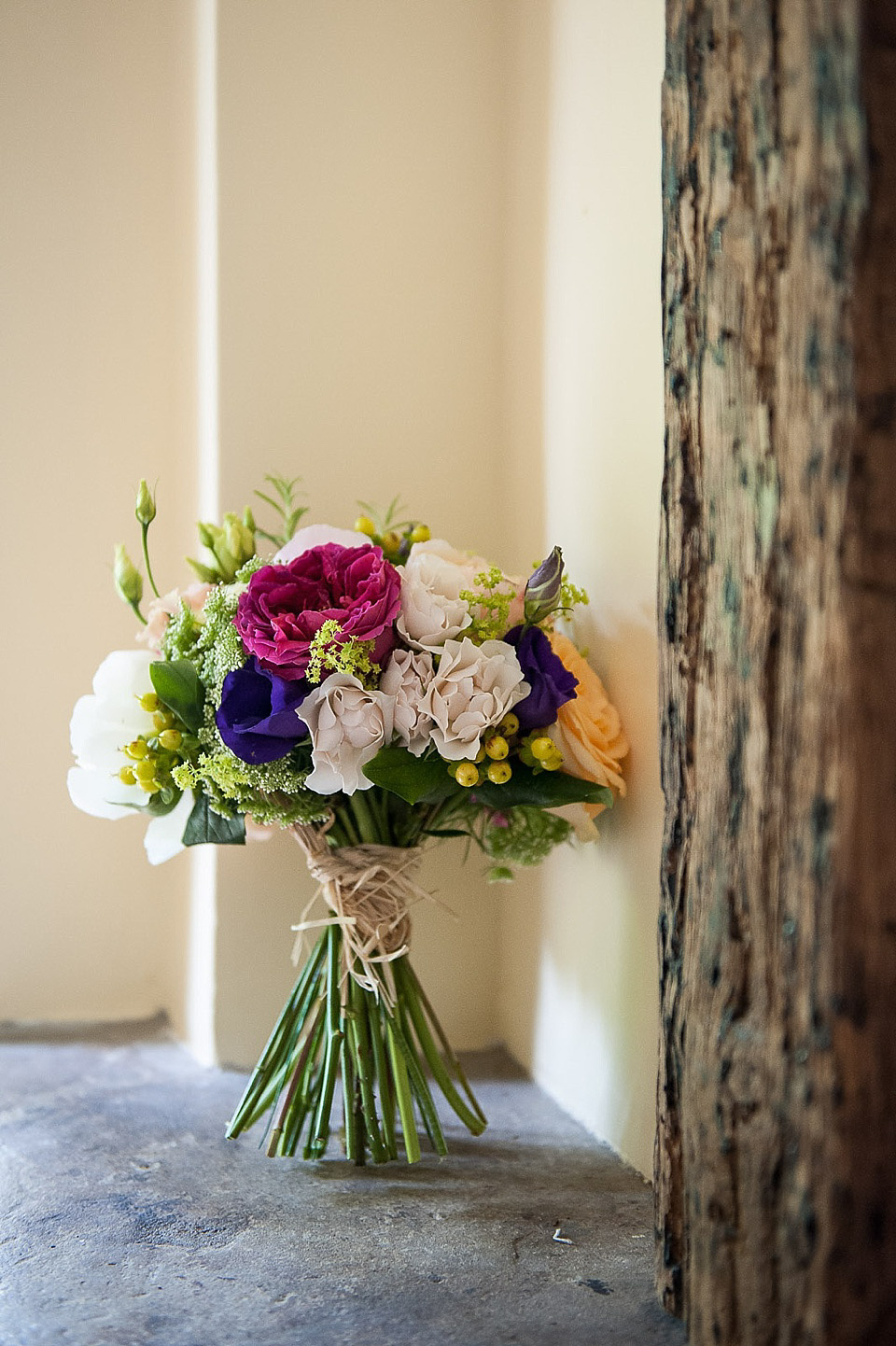 "I entered a competition on Love My Dress to win wedding photography with Fiona Kelly, then happened to coincidently bump into Fiona at a wedding fair just after we'd been shortlisted – and we hit it off straight away. Unfortunately we didn't win the competition,  but I loved Fiona's photos so much that I wanted her to capture our day anyway.  She was brilliant from start to finish and her photos really are so special! We had to completely rearrange our photo schedule due to a torrential downpour but Fiona worked so hard to make sure she still captured everything I'd asked her for – what could have been a real disaster just worked perfectly thanks to Fiona! I couldn't have asked for more!"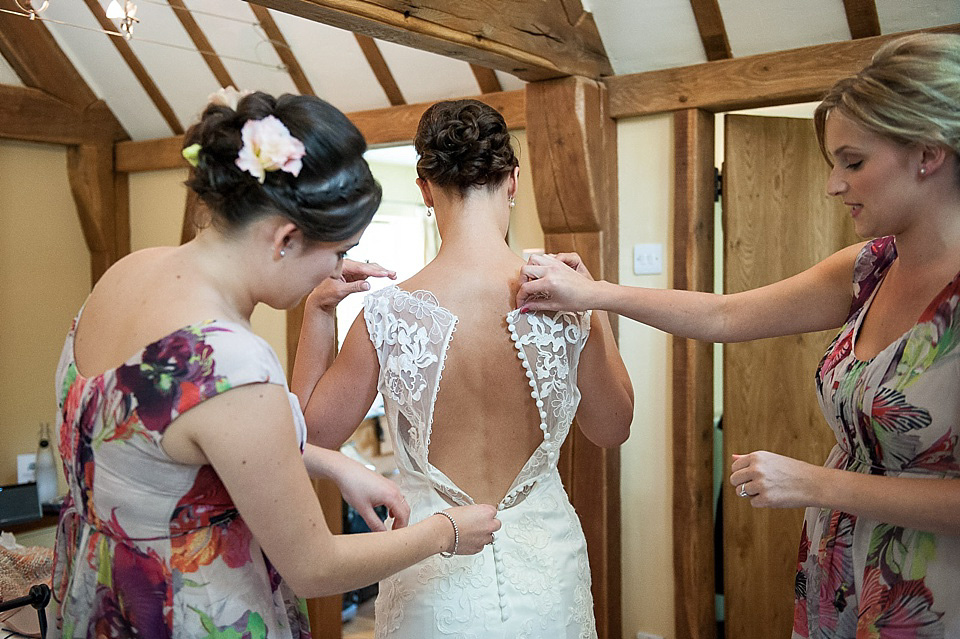 "My dad walked me down the aisle to 'Old Pine' by Ben Howard. We're very close and we were both quite emotional but it meant the world to me to have him by my side.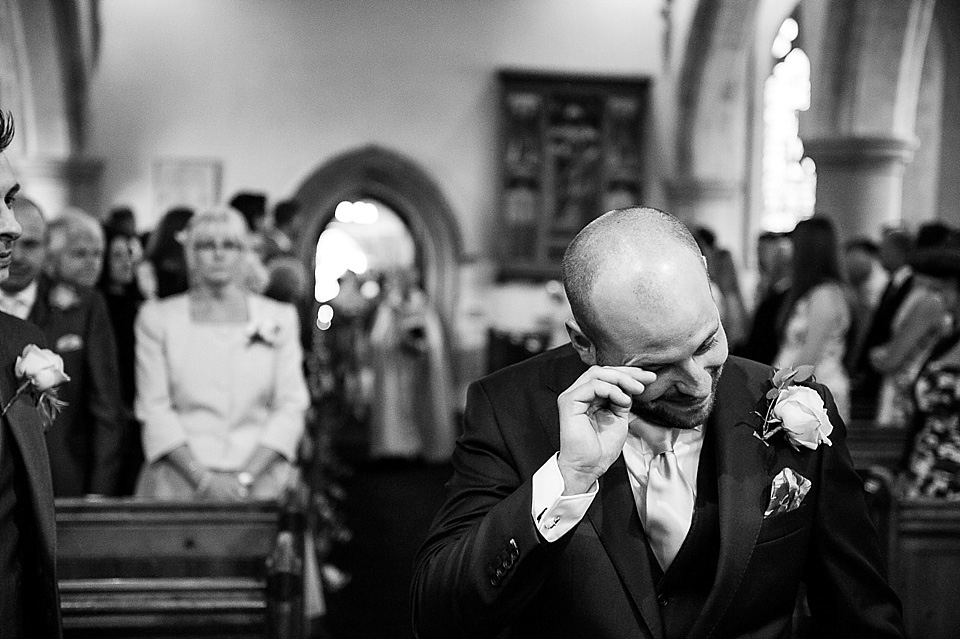 "The readings were really important to me so I did a lot of research before we settled on 'Colossians 3 v 12-17' and 'Union' by Robert Fulghum. My auntie and George's mum were our readers and they both did such an amazing job."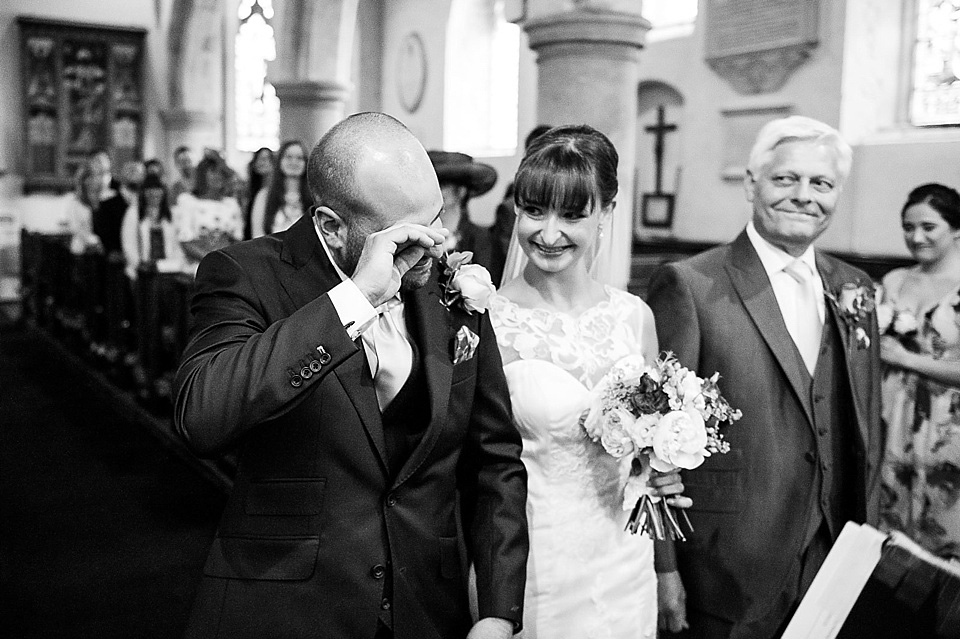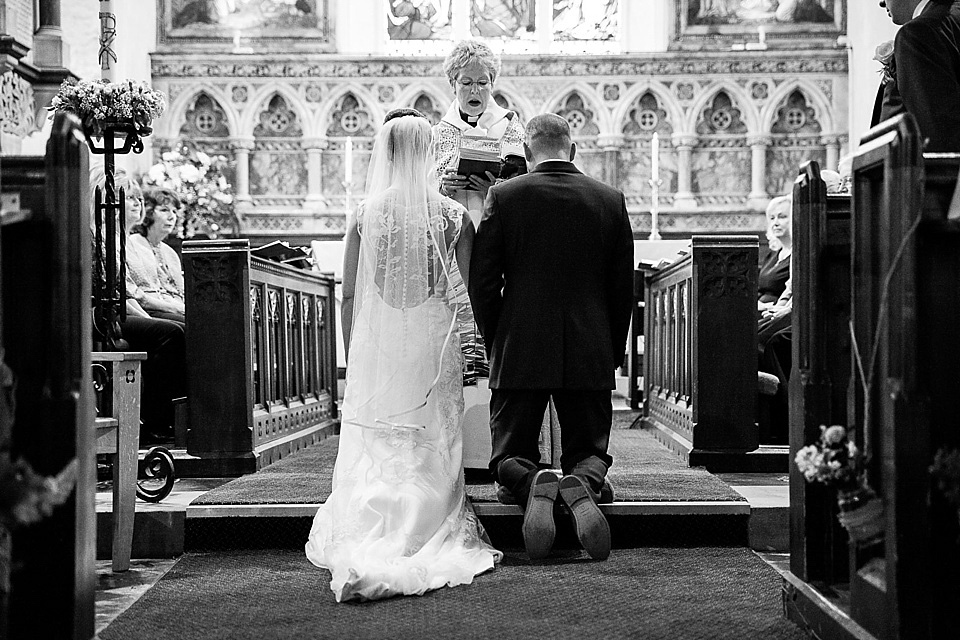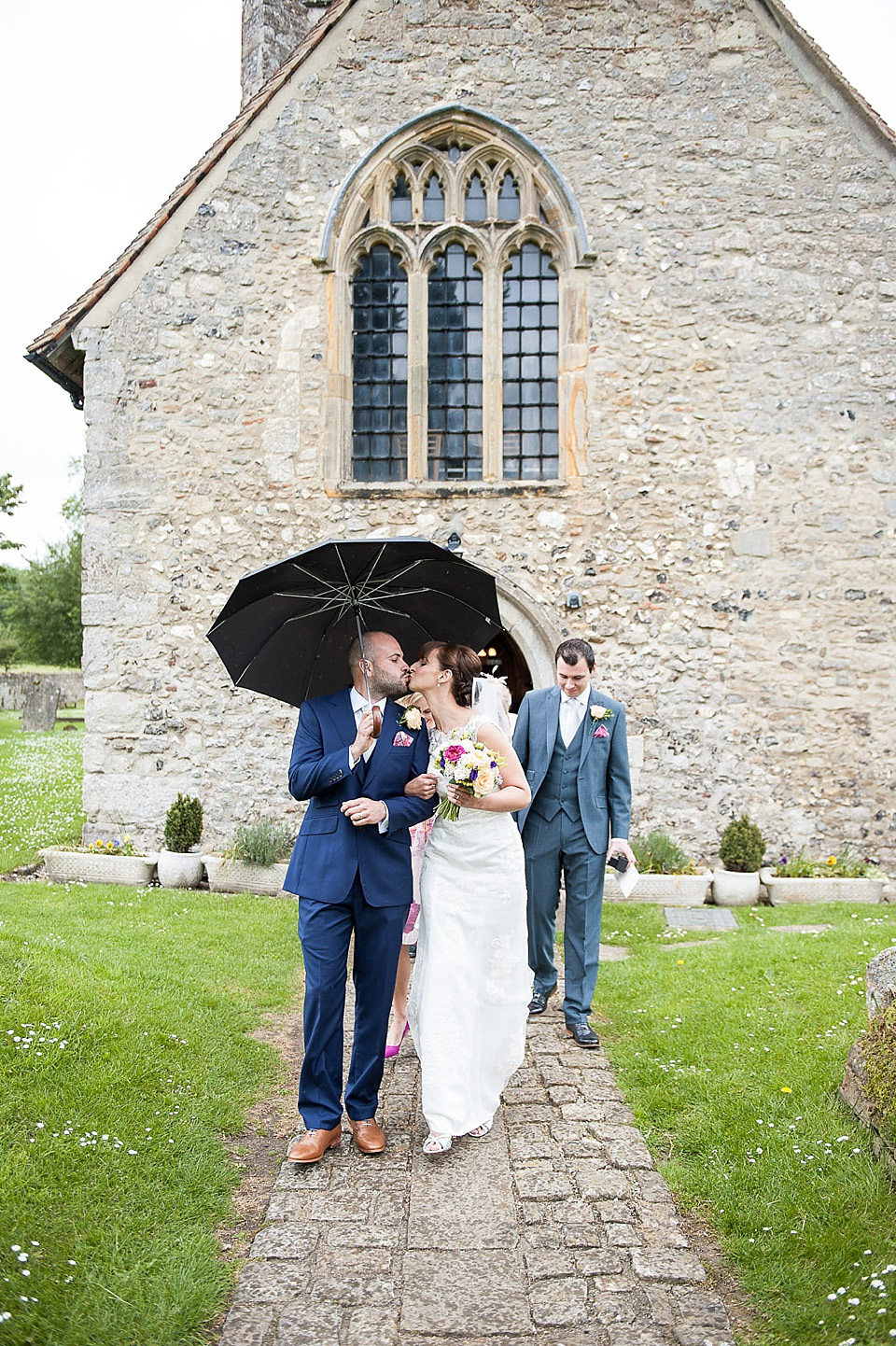 "George was going to buy a suit but when we went to hire the Usher's suits he offered to make George a bespoke suit. It actually ended up being cheaper than buying one and fitted him perfectly! He hates wearing suits normally but he absolutely loved this!
We were really struggling to find a good quality lounge suit for hire. Lapel Men's Hire was literally my last hope and when we arrived Mark the owner was an absolute superstar! His suits are top quality, he was so helpful and measured everyone up properly so they all looked great on the day."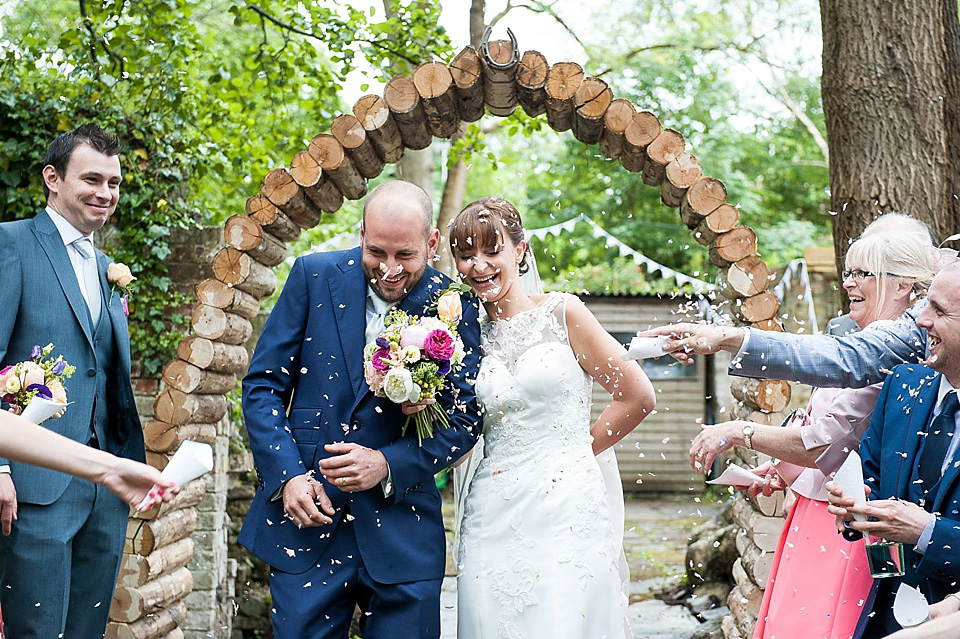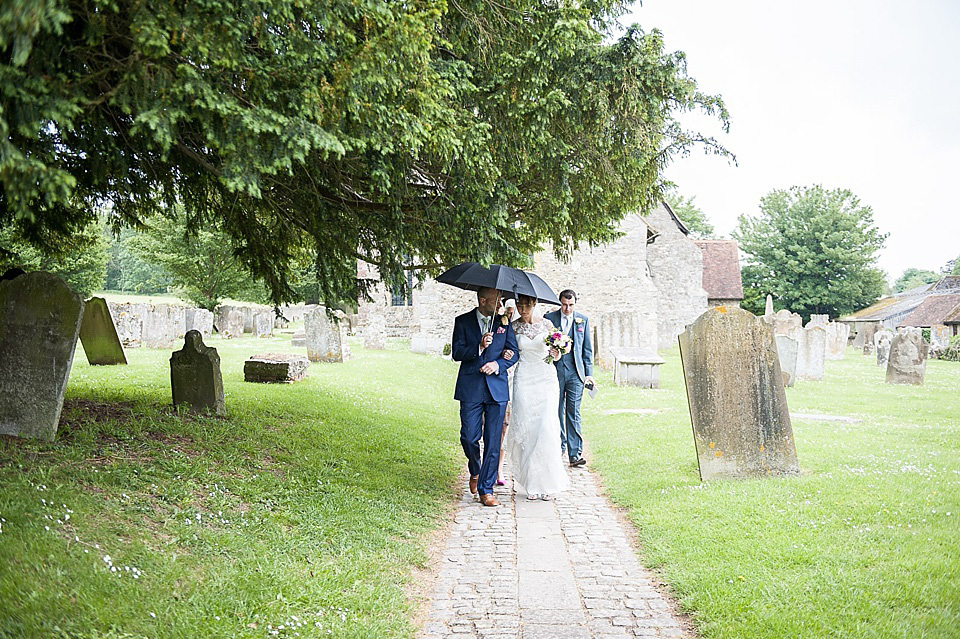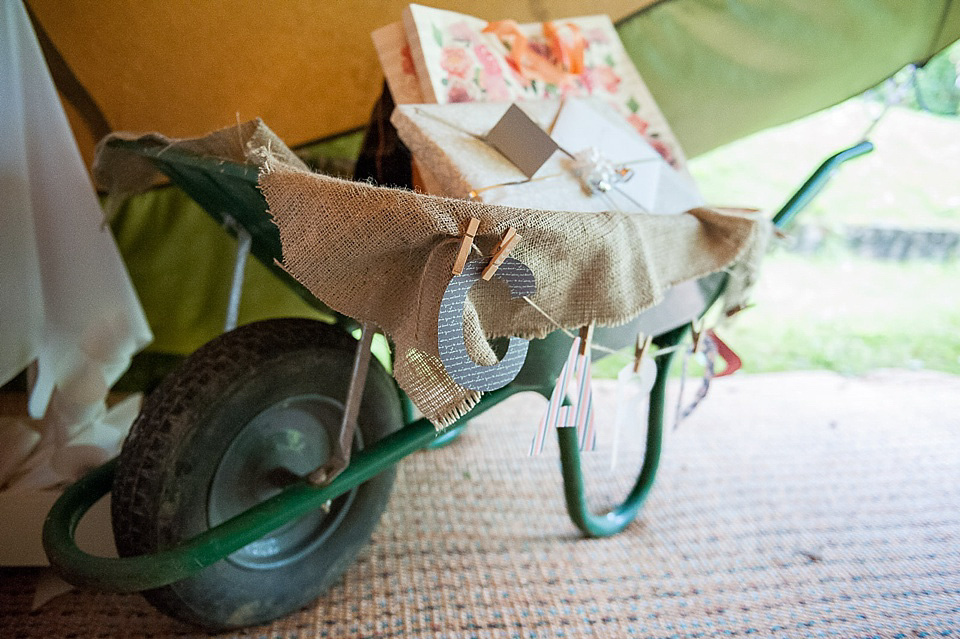 Laura designed all of the beautiful wedding stationery herself. Using a wood burning pen she wrote on wooden disks salvaged from a cherry tree from the garden which had to cut down to make way for the tipi tents. The wooden disks were used for 'Save the Date' magnets and the hanging table plan. Instead of a guest book the wood theme was continued with 'Jenga' style blocks as place names which guests to write a message on.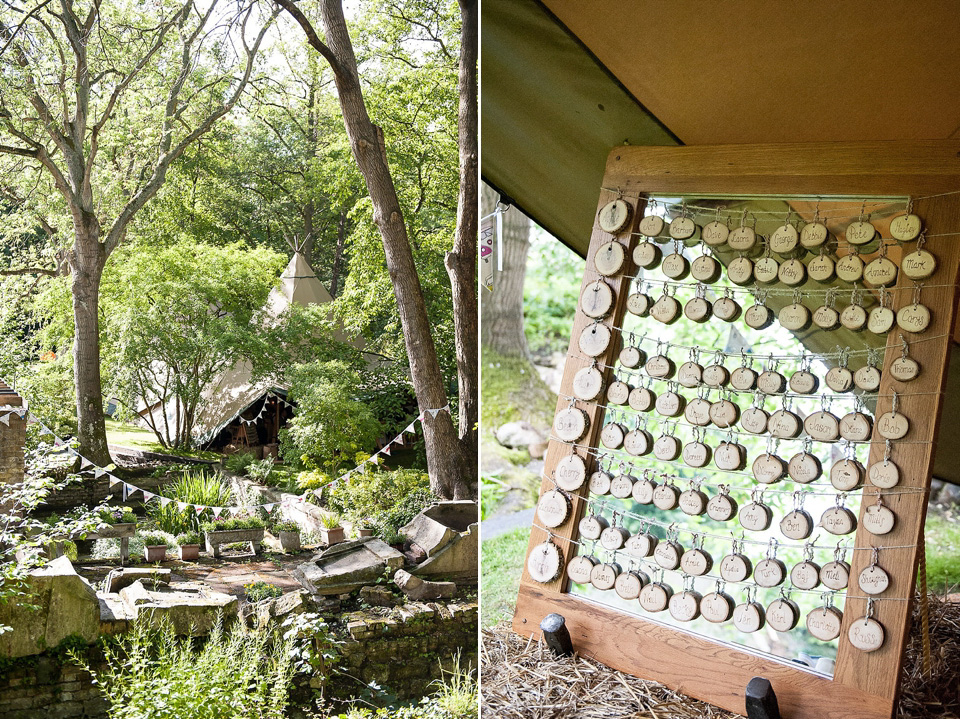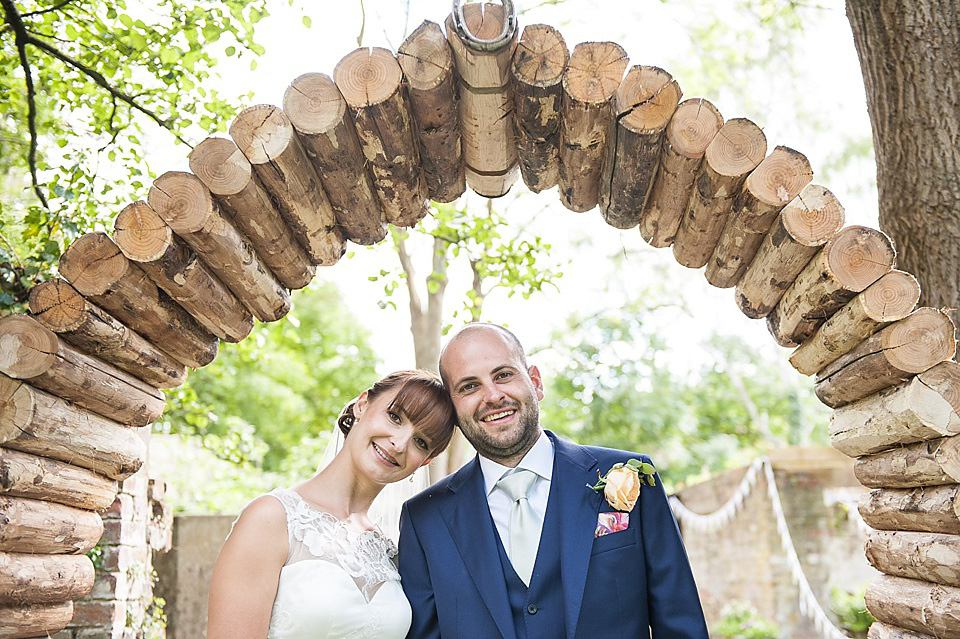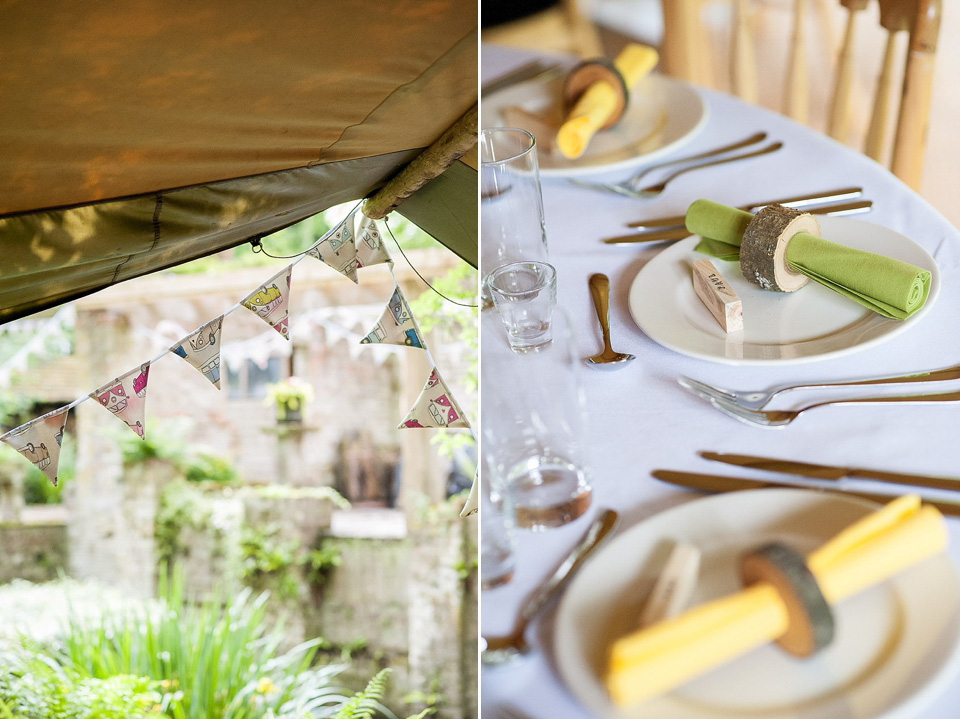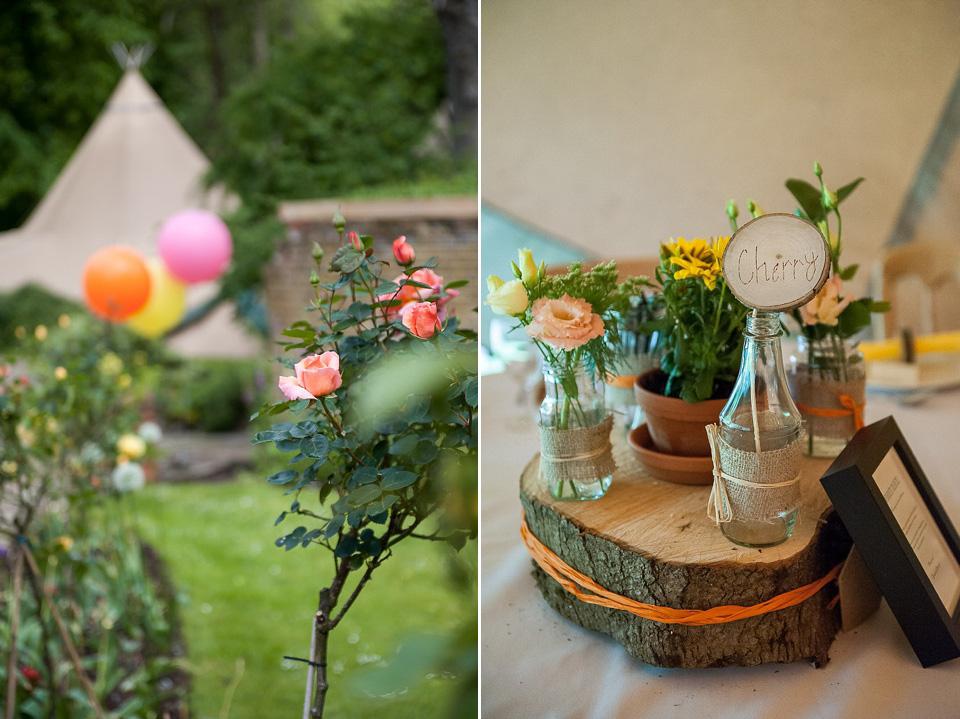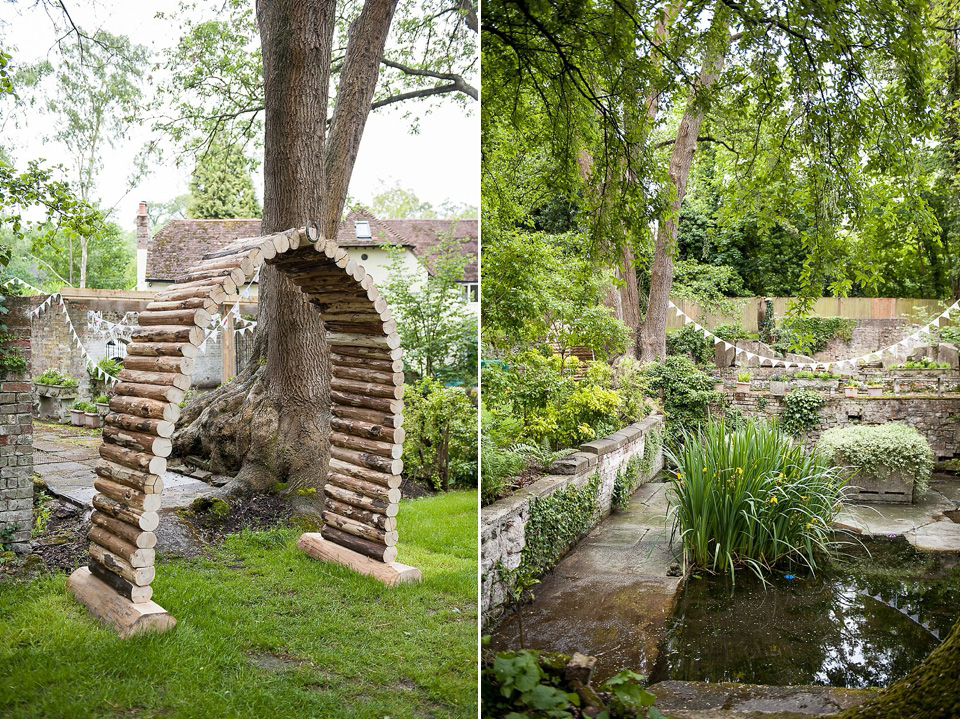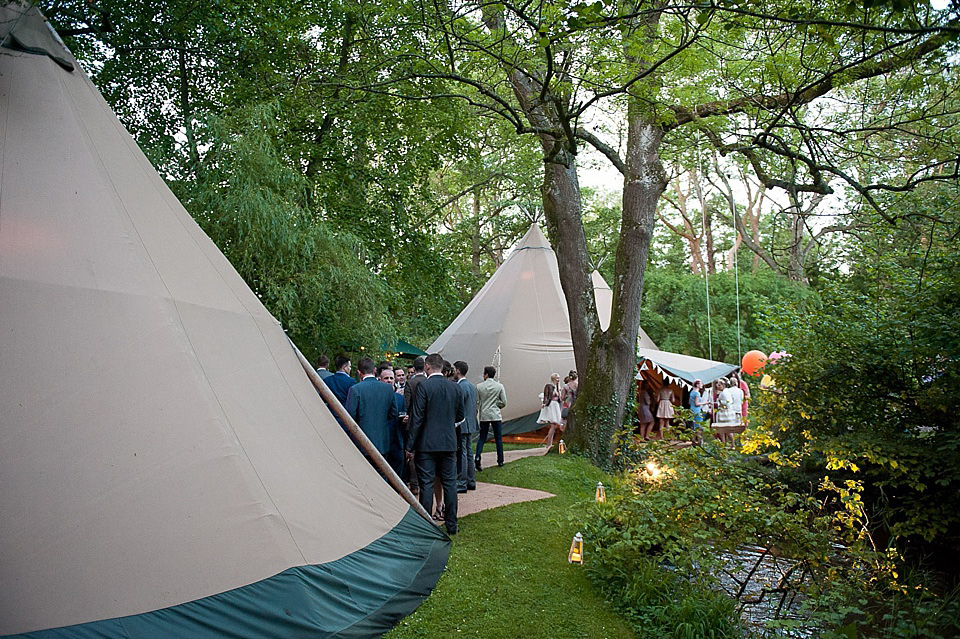 "Our catering was all done by Ed Clarke of The Swine Waiter he was fantastic! Ed immediately understood what we were after and was brilliant at keeping track of all my various requests and random emails! He sourced all of our cutlery, dinnerware, table cloths, tea & coffee urns and provided the most delicious food ever!"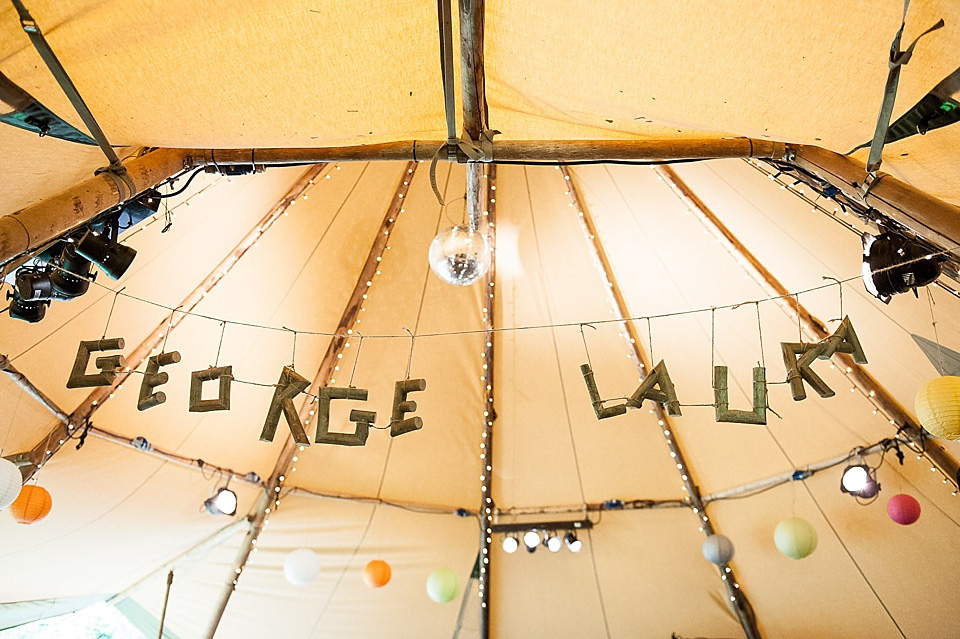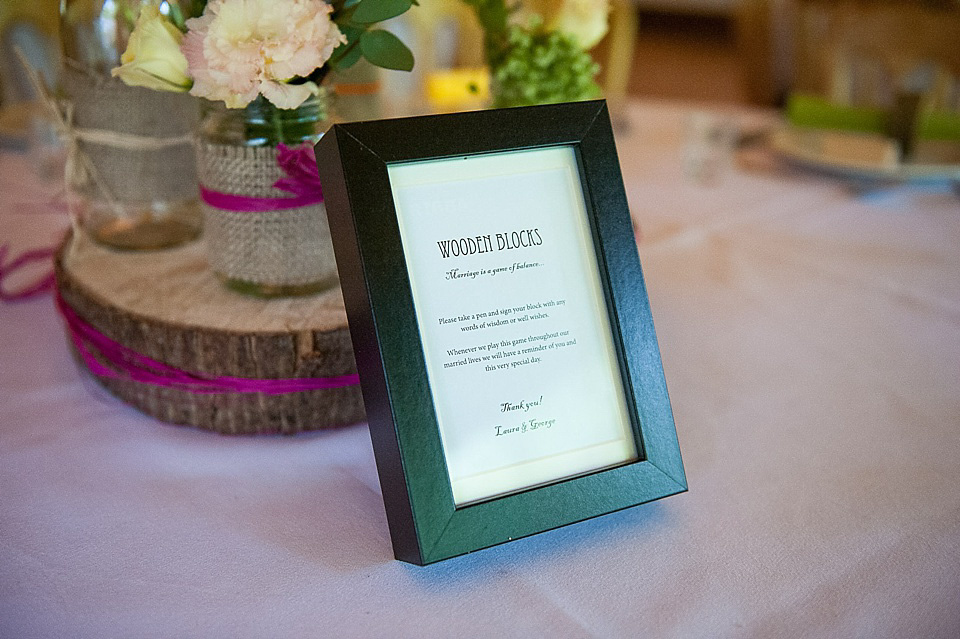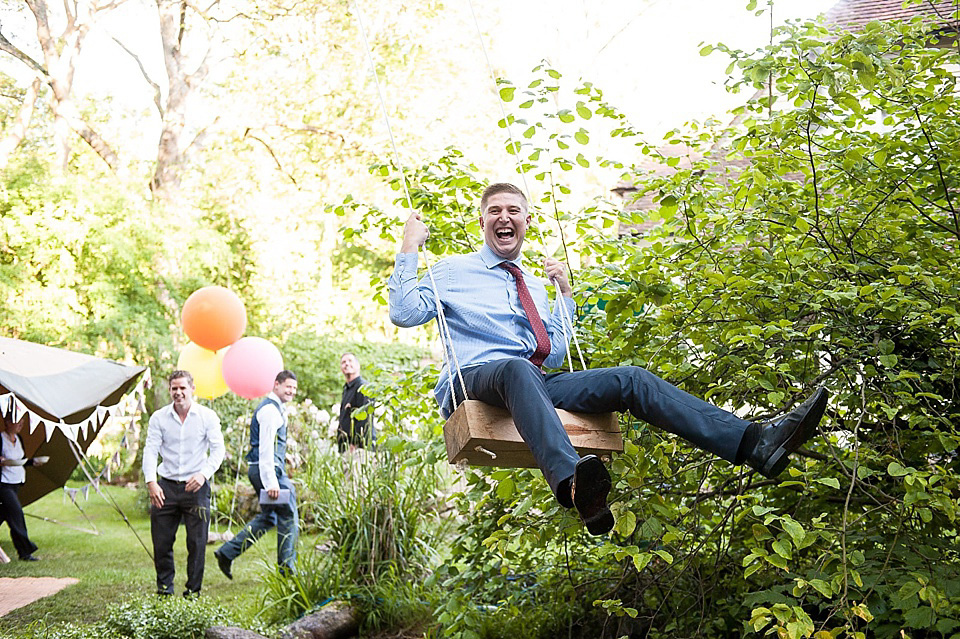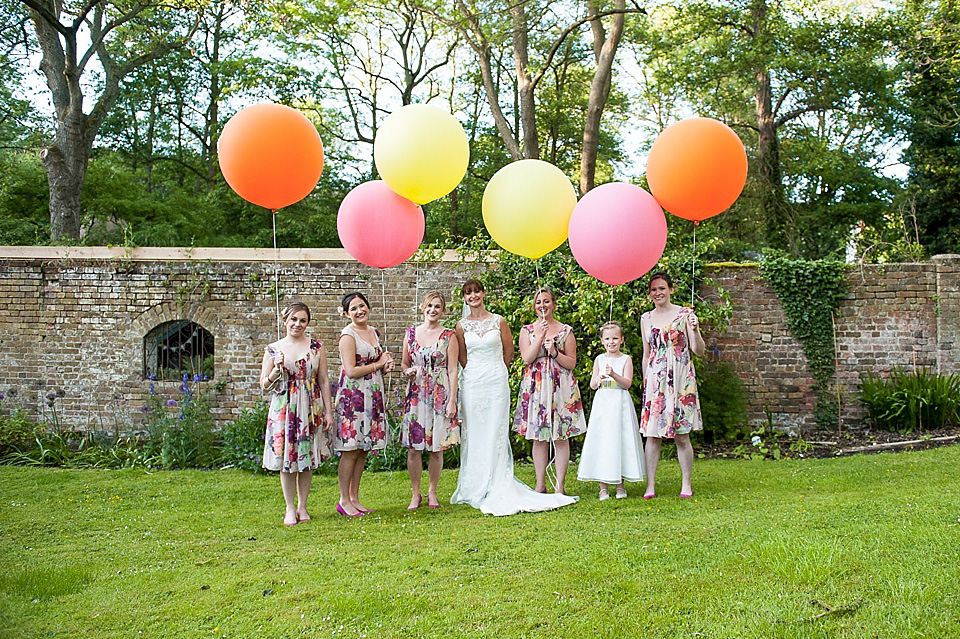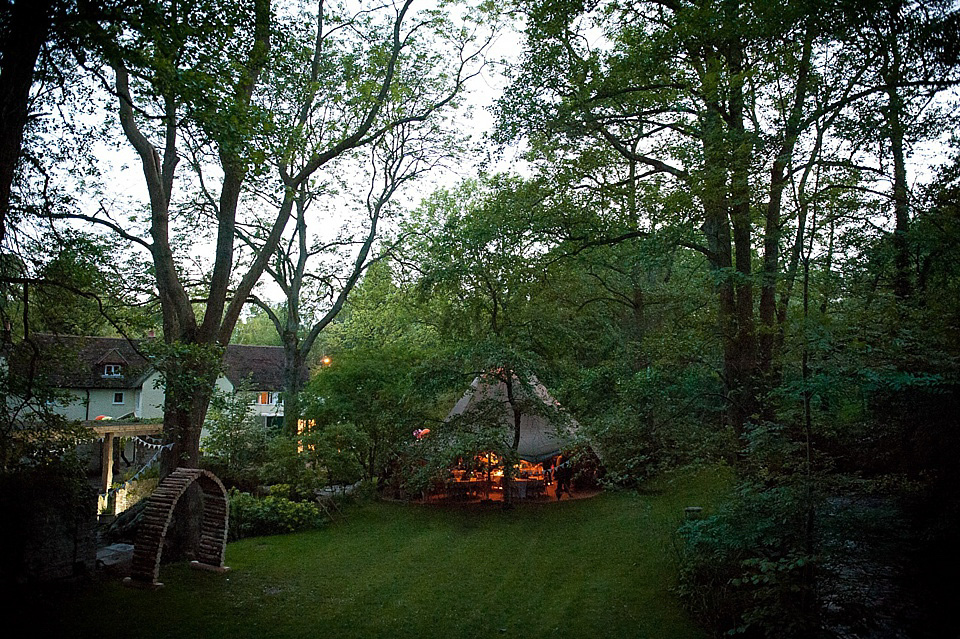 "My favourite part of our wedding day was seeing everyone we love in one place having the time of their lives! From the moment we woke up right the way through until everyone left at the end of the night – It was honestly such a happy day, full of fun and laughter."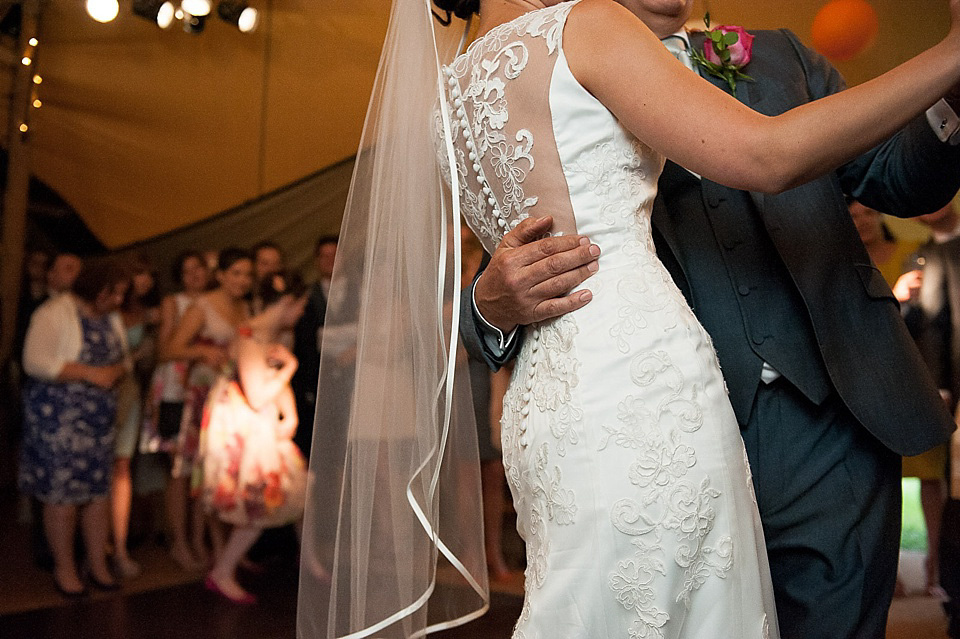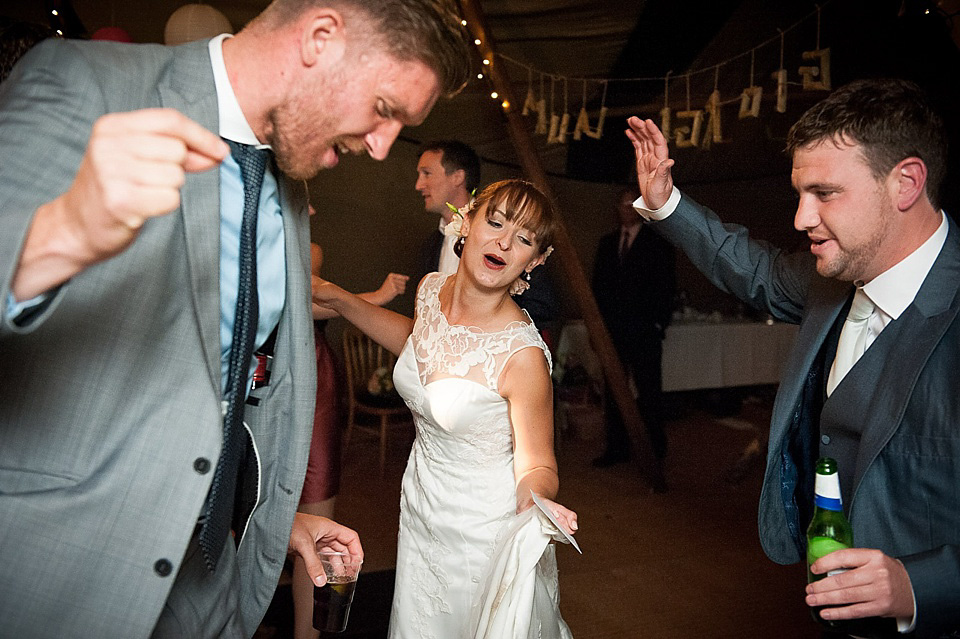 Words of Wedded Wisdom
"Make it personal! In my opinion, this is the most important thing… people really do appreciate those little touches. Even if you're not 'arty' or 'creative' yourself there will be people around you who are and they'll be more than happy to help out, people love to be involved and feel like they've played a part in your day.
Make sure you can release the reins before the big day arrives. If you're planning a wedding in a space which isn't your 'typical wedding venue' hire someone to coordinate the day so that you don't have to! I'm a complete control freak but even I didn't want to be worried about whether the band were on time or people were parking in the right place. It was so nice after all the hard work and planning to just be able to let it all go and enjoy the day.
Finally, invest in a good photographer! When the day is all over, your photos are what help you remember it all!"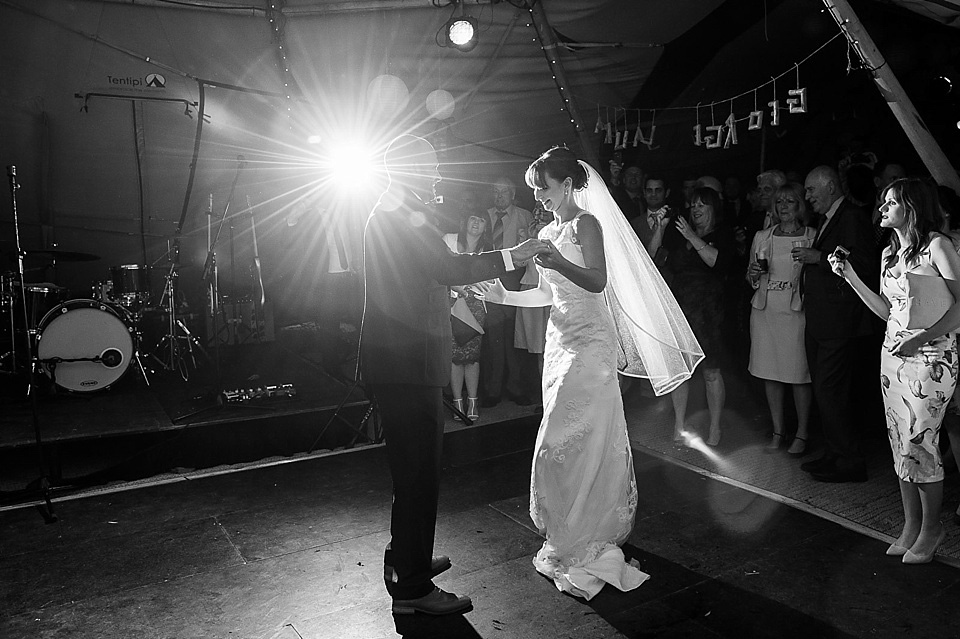 Thank you so much to Laura and George for sharing your beautiful wedding with us. Fiona Kelly did an absolutely wonderful job of the photography, there's always a relaxed feel to a wedding hosted at home which shines through the images.
Love Caoimhe xx
Photographer – Fiona Kelly
Venue – Boxley Church, Boxley Village, Kent + Stunning Tents
Wedding Dress – Clematis by MiaMia + Veil from Isabella Grace, Tunbridge Wells
Shoes – Kate Spade
Bride and Groom's Scent – Jo Malone
Groom – Lapel Men's Hire + Shoes from Reiss
Groomsmen – Lapel Men's Hire
Bridesmaids – Ted Baker
Flowergirl – John Lewis
Florist – Hunkerdown Daisy + Blooming Green Flowers
Cake – The Cheese Shed
Transport – VdubmyWedding
Entertainment – The Swinging Little Big Band +The Rocksmiths
Rings – Bedazzle, Hatton Garden + Ernest Jones
Catering – The Swine Waiter
Bar – The Great Mobile Bar Company
Stationery – Tea Towels
Makeup Artist – Harriet Rainbow 
Favours – Shot Glasses