It's the 1st of September which can only mean one thing… summer is over?  With such a wet and windy end to August however, I'm hoping for a sunny British Autumn – not too much to ask for, right?! Sending you all love whatever you're up to today – extended 'Summer' holidays or work.
The bride and groom in the wedding we're featuring on our beautiful blog this morning, Nadia and Kamal, did things a little differently. And I love it. Nadia wore a stunning green gown and had her male best friend Hugo as a bridesmaid. In her own words, 'nothing in this wedding was traditional'.
Photography by Olliver Photography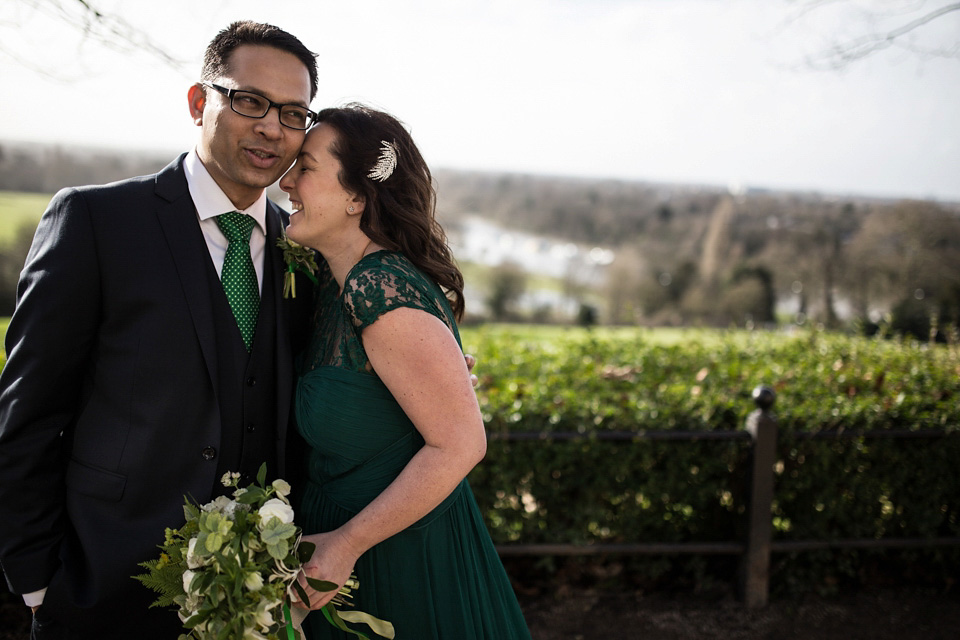 Like so many of our gorgeous Love My Dress romances, Nadia and Kamal met on an online dating website (did you see our Tinder wedding at the weekend?). They were engaged at the Taj Mahal in 2013, and were wed 11 months later on 8th February 2014.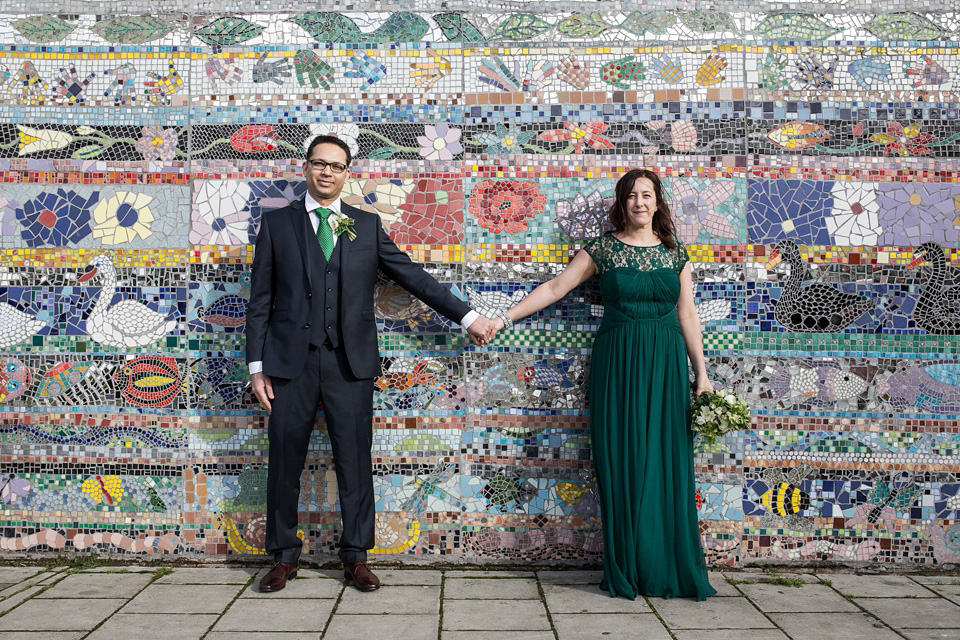 Nadia looks stunning in her green gown from Coast. Some of my favourite Love My Dress brides have worn green – see there, here and here – and Nadia has now been added to that list! Such a beautiful alternative for brides stepping away from traditional white or ivory.
"As a young girl I had always said that I would not get married in white, back in those days brown was my favourite colour. After months of trying on dress I finally choose a white dress, but deep down it wasn't what I really wanted and it was hard to find a green dress, especially when that colour wasn't in season. One night I started searching for coloured wedding dress and found lots of great inspiration online on wedding blogs."
Olliver Photography, a husband and wife team based in East London, took these truly exquisite images.
"Being a graphic designer photos were very important to me. We chose Oliver photography because they had a look eye for composition, angles, the photo look very natural and they capture people in their natural form. l love that when you look at all the photos together they tell the story of the day, we were extremely pleased with the photos."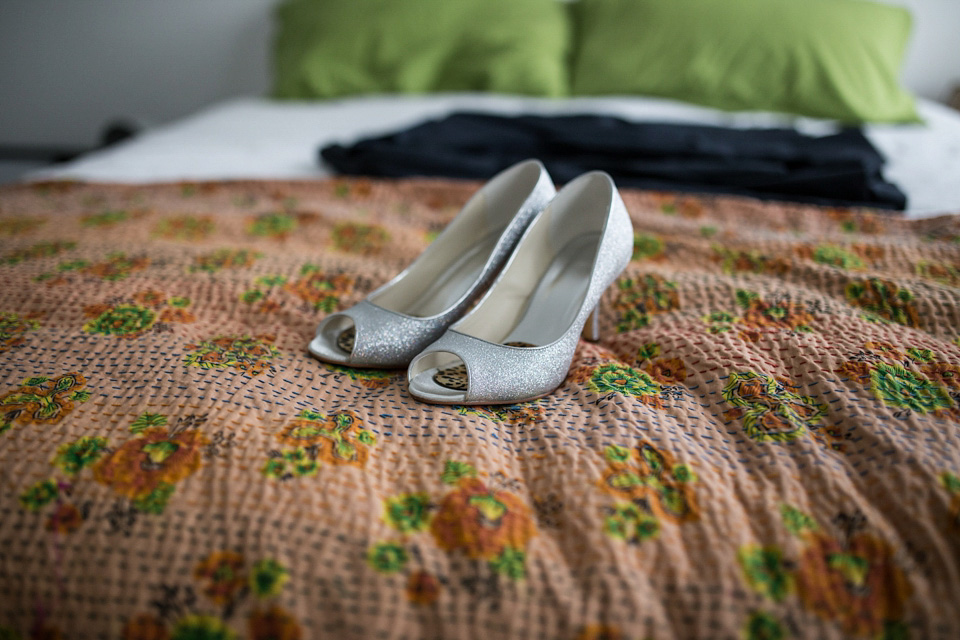 "Kamal is from India and I am from Australia, there was much debate if we should have three weddings (UK, India and Australia) or one big wedding. The biggest problem in having one wedding was location and who would organise it, so we decided that we would do three weddings. We did the UK first, a low key day of 50 of our friends and some family. I wanted it to be a fun, relaxed, low key but stylish day."
Fabulous wedding favour idea alert…
"We had tea towels printed by Bryan Franks as our wedding favours, which I designed. The design was based on the wedding invites."
Two weeks before the wedding I happened to be at Westfield shopping centre and walked in to Coast just as the shop was closing for the evening. I had spotted a green dress, which I tried on, loved it and walked away. After a week of this dress playing on my mind, I tried on the white wedding dress late one evening and decided this was not for me, so I hopped in the car, returned the white dress, went to Coast and purchased the green dress. It was the best decision I had made, I was over the moon, it just felt right.
Being a larger size I felt the dress really fitted me well, the colour green was the right shade of green, full length, with a bit of lace, perfect."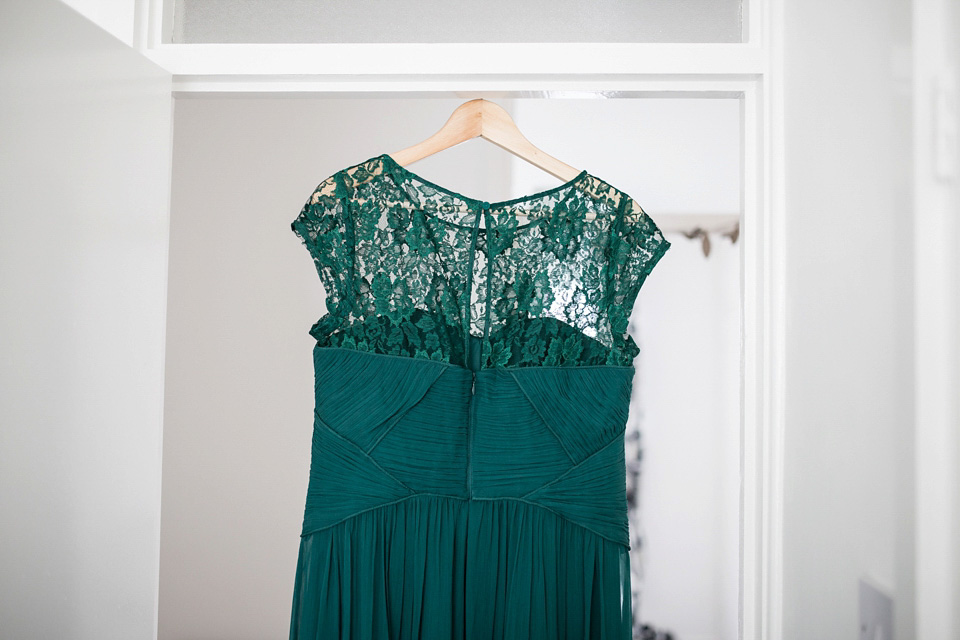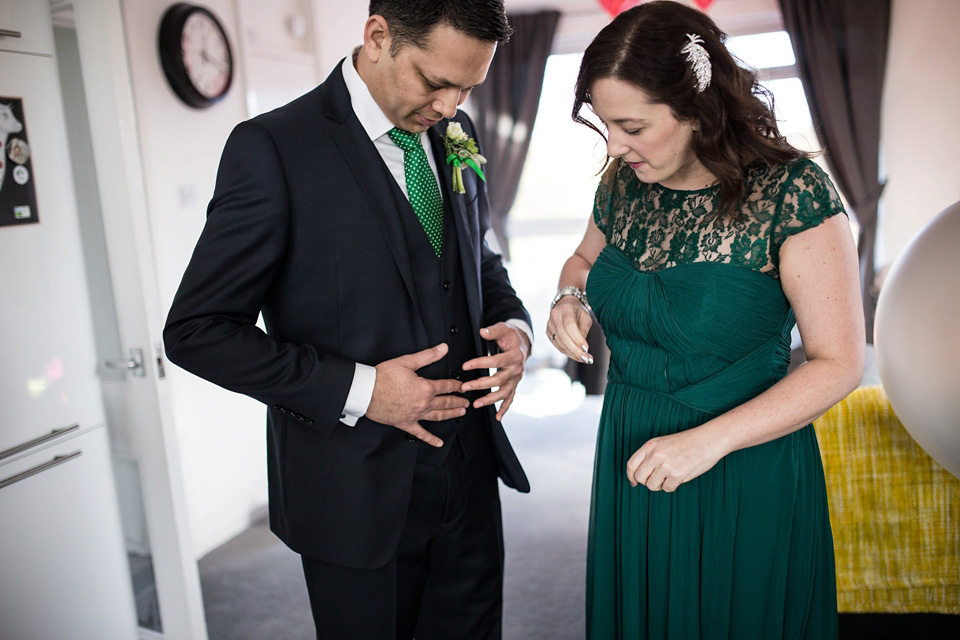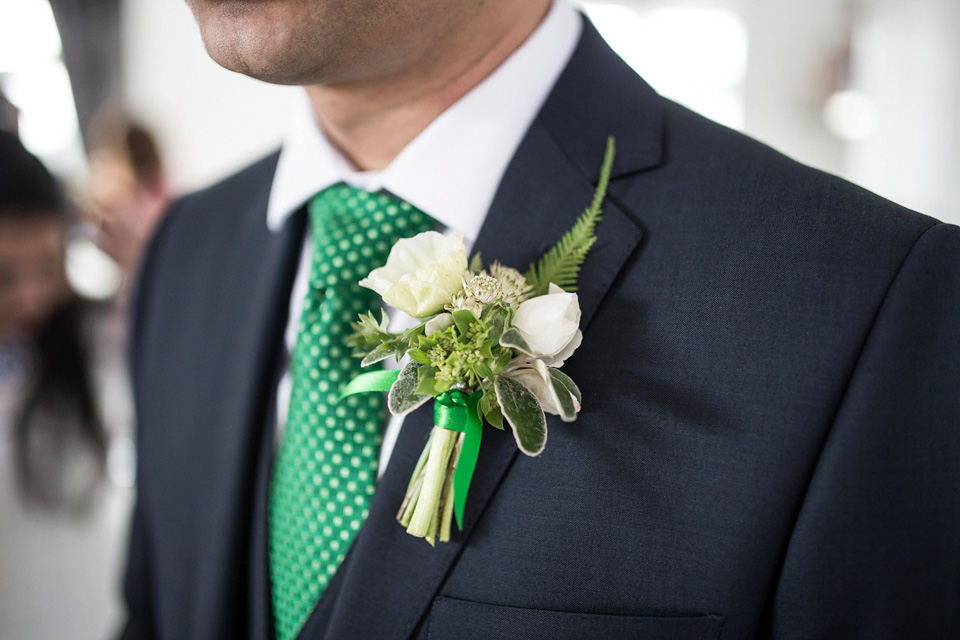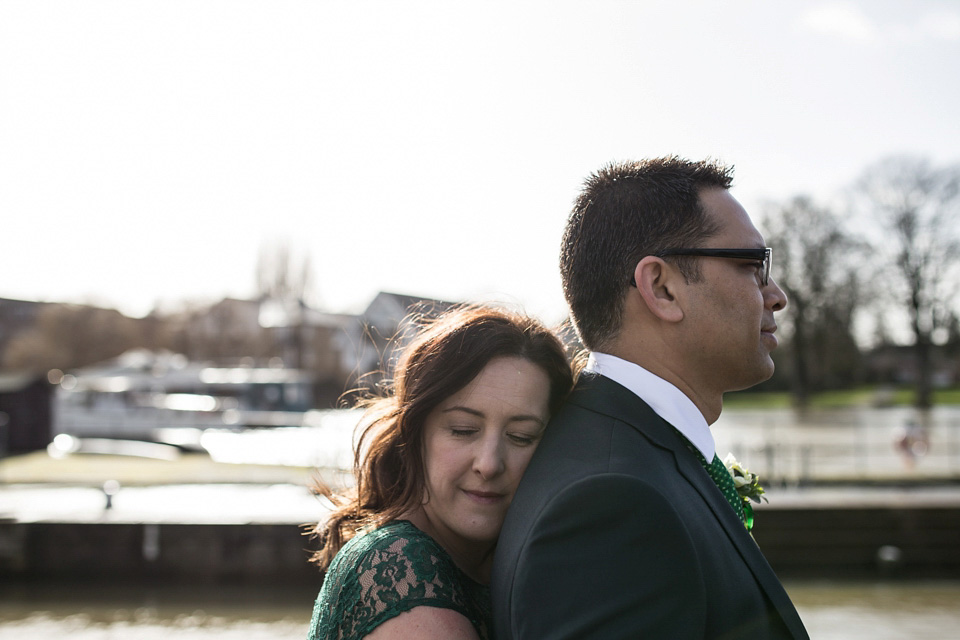 Blue Lavender florist in Barnes put together these gorgeous green and white bouquets.
"I love green combined with white, they look very natural, clean and fresh."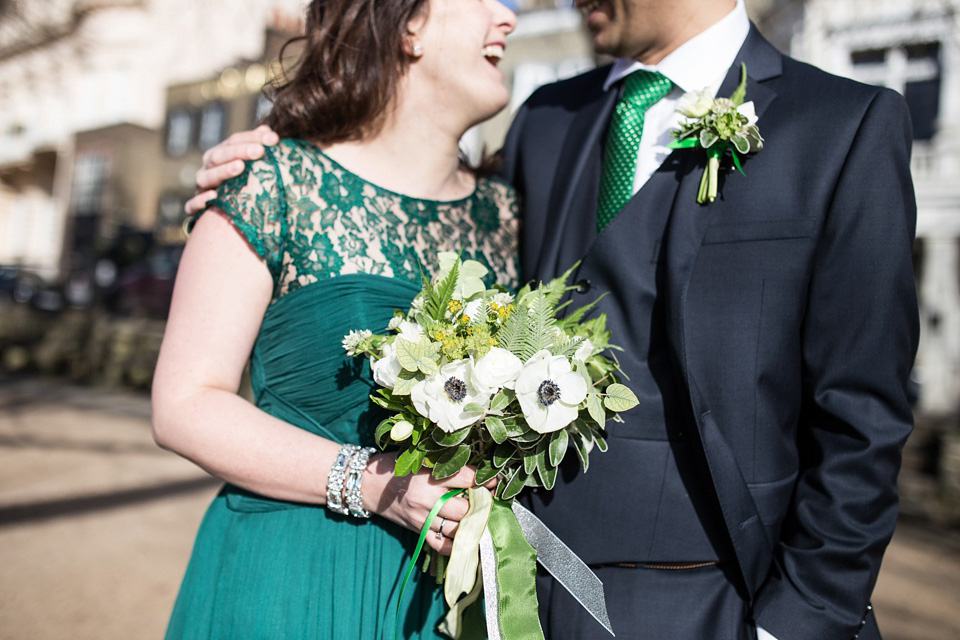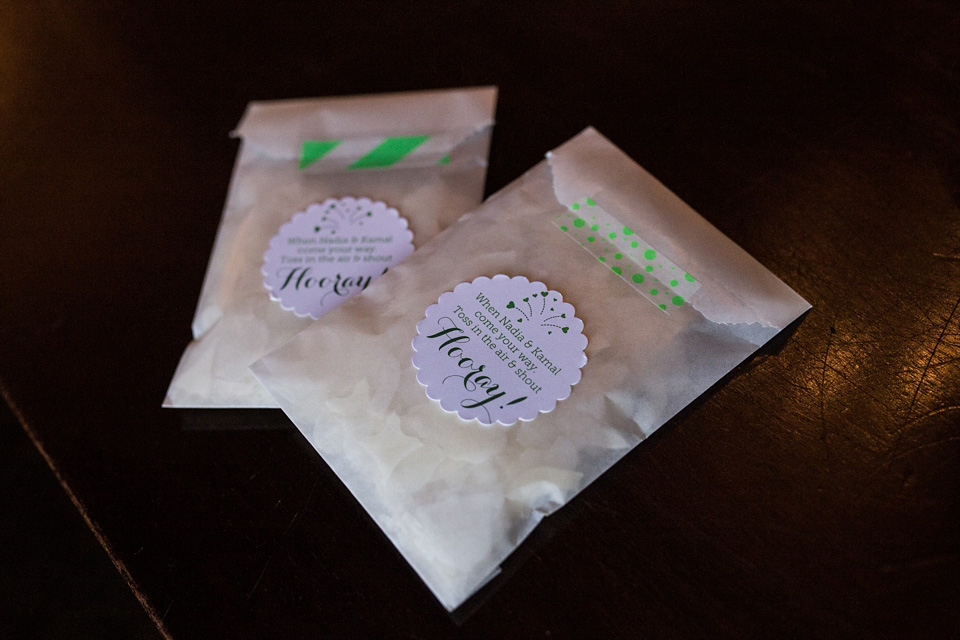 "My cousin Daniella who lives in the UK walked me down the aisle.
Our rings were from Hatton Gardens, I chose this ring because I have always loved my mother wedding ring, simple but elegant, 3 square cut diamonds."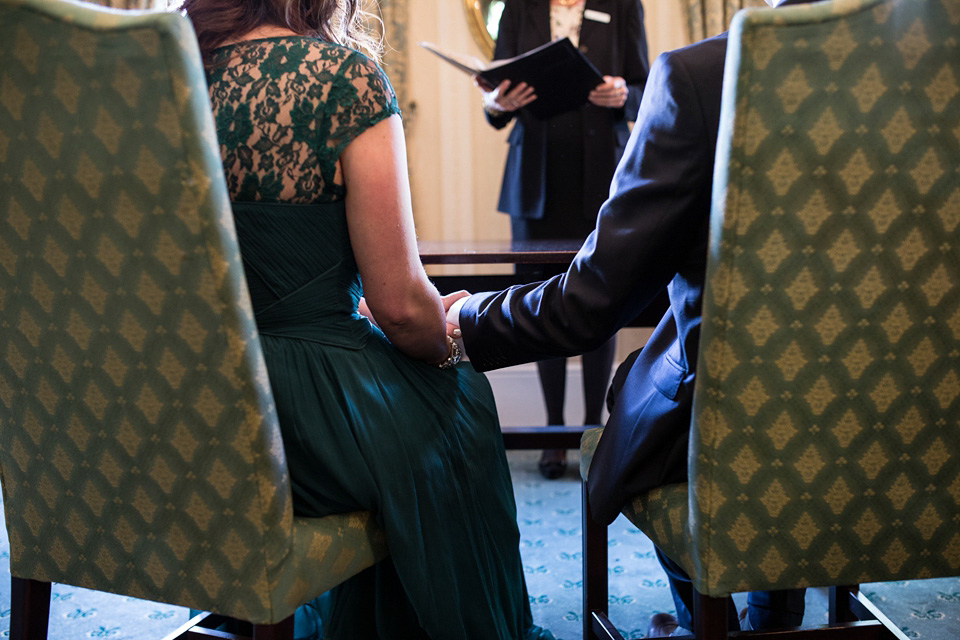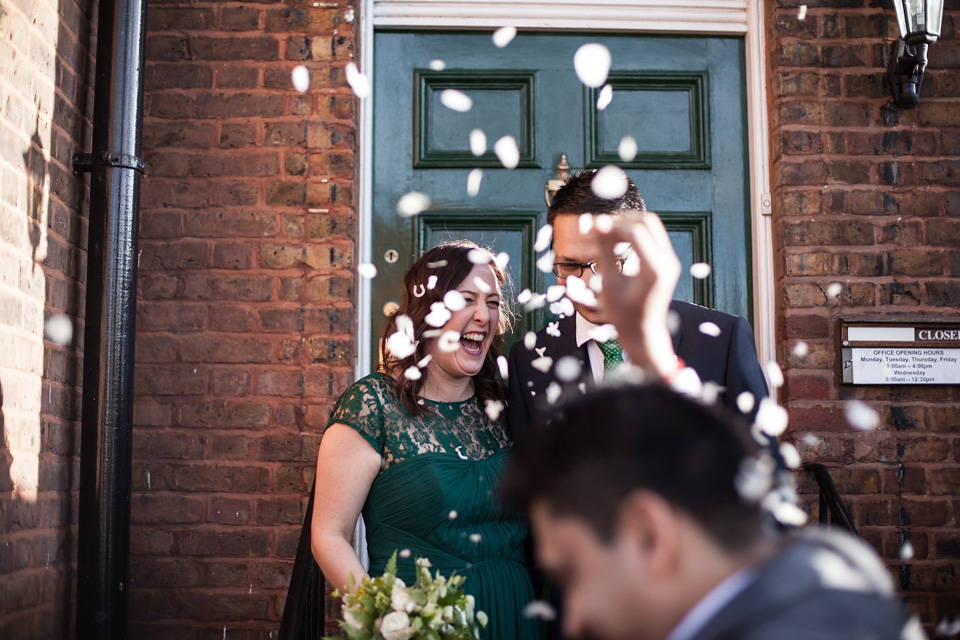 The couple chose a pub venue in South West London for their reception.
"After looking at many wedding blog sites I had seen some wedding in pubs so my search began looking for a venue in the Richmond area. Tap on the Line at Kew Gardens Station had loads of character, charm and combines the vintage with the modern look. The pub is set right on the platform at Kew garden station, the main eating room is all glass and looks so pretty at night."
"Everything was green and white and I wanted to bring a bit of India into the decor as well. I purchased paper mache elephants which were covered in silver glitter. I made the metallic silver table runners from some fabric with an Indian pattern on them.
We had loads of clear helium balloons attached to the chairs and I made loads of my own bunting to be hung around the room."
"The reception was the best part, we both felt more relaxed, had nothing more to worry about but have a great night. The reception was very relaxed, the food was nice, we danced a lot and had loads of fun. Just like old time with friends. We also hired a cartoonist who was there for two hours at the start of the reception, it was great fun seeing the results."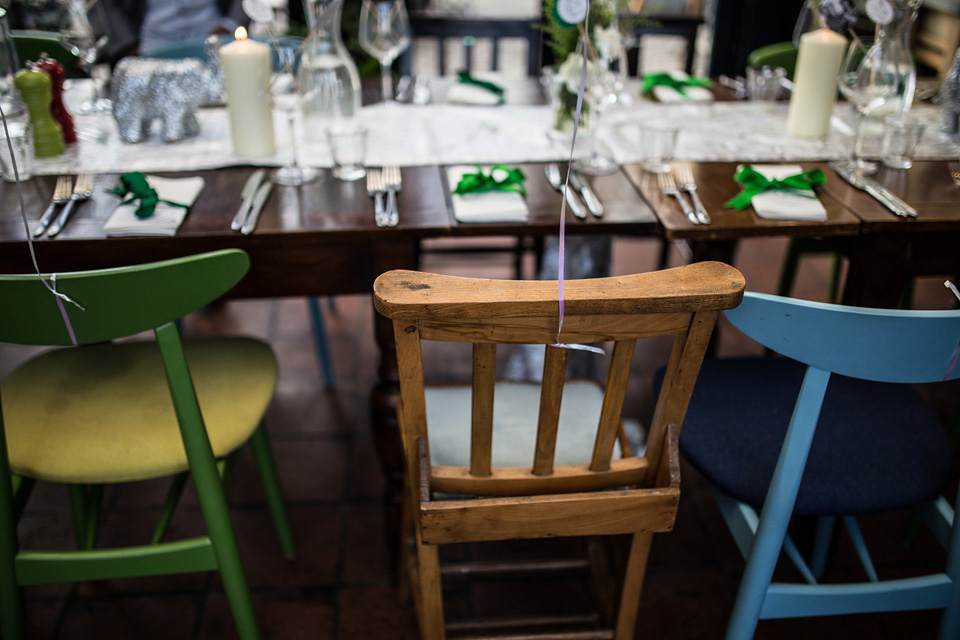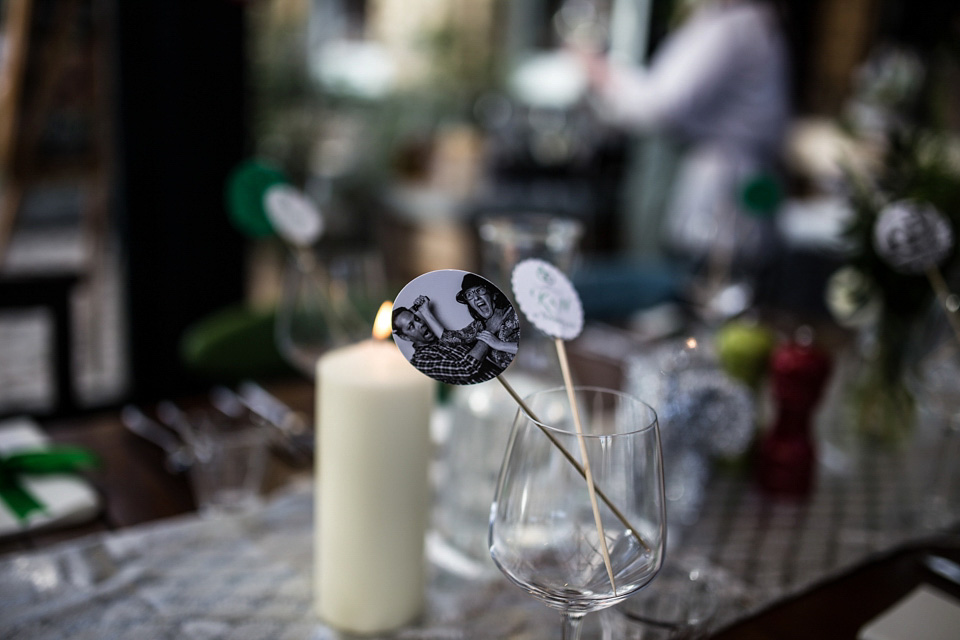 "We went for a naked cake by Andi Freeman Cakes. I like this style – it looked fun, less formal and I loved the hand-made look of them. We had a 3 tiered cake, chocolate and lemon. The cake was delicious, it was all eaten!"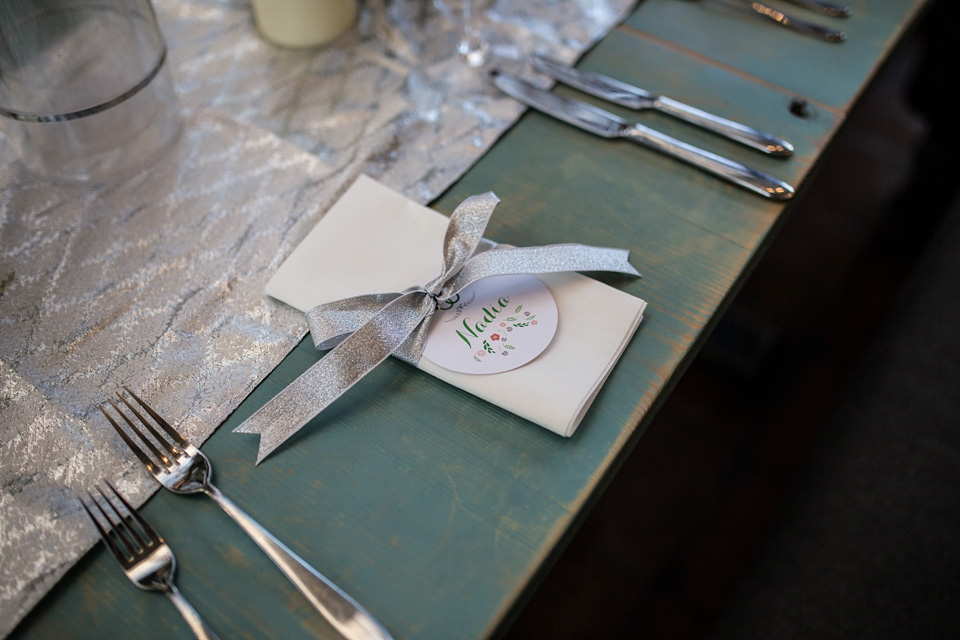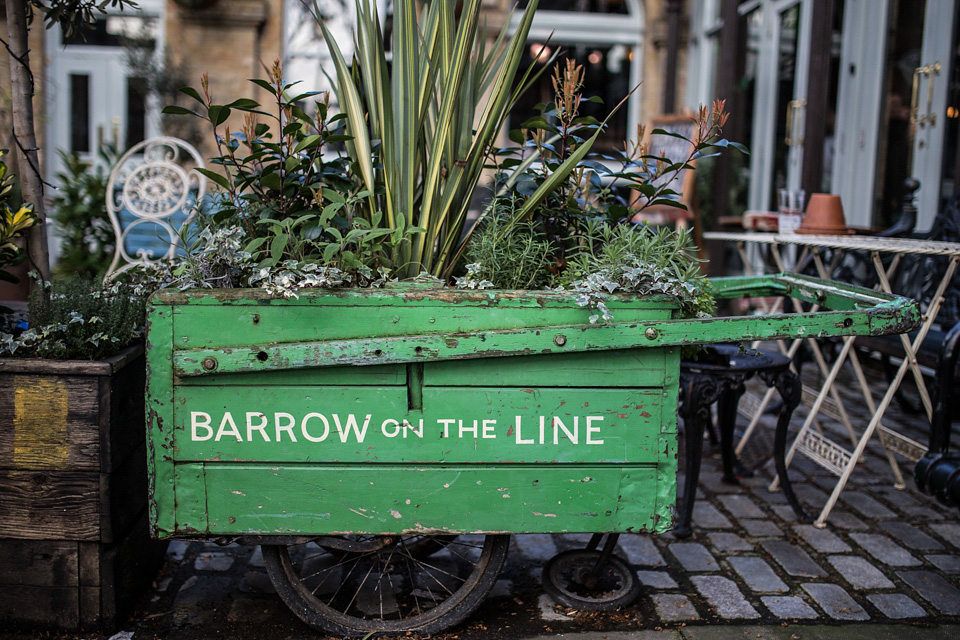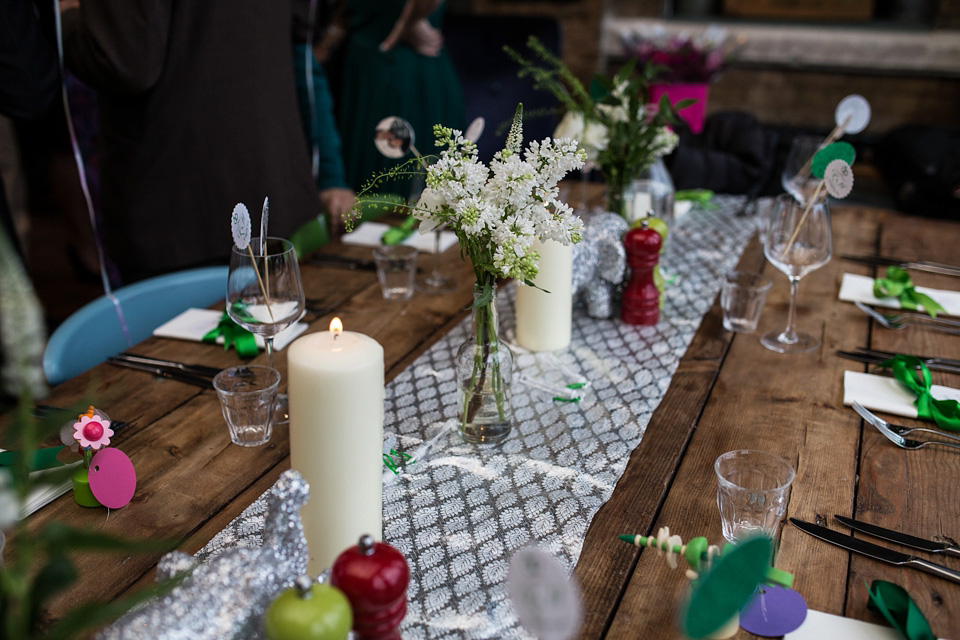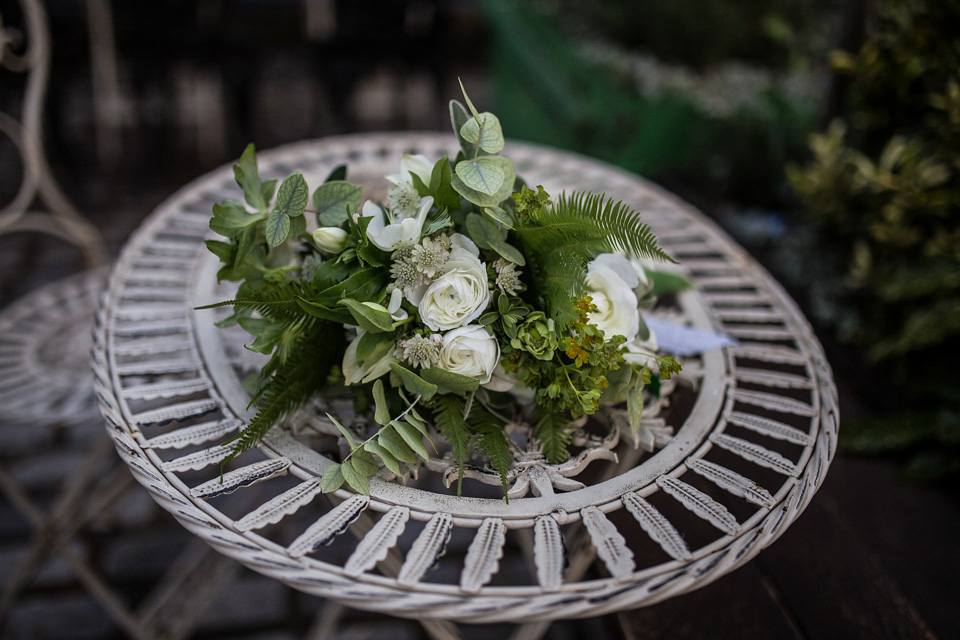 Words of Wedding Wisdom
"Enjoy the experience, make it fun not stressful. Look around on wedding blogs and Pinterest and get a mood board clear in your mind on the theme and shop around."
Congratulations Nadia and Kamal – I've loved writing about your joyously relaxed day – and thank you so much for letting us share your wedding with our readers! Thank you also to Olliver Photography for the beautiful photography – simply wonderful. Are there any other brides out there wearing a different colour on their wedding day? Please do share your plans below, I would love to hear about your dress!
Louisa x
Photographer – Olliver Photography
Venue – Tap on the Line at Kew Gardens Station
Wedding dress – Coast
Bride's hair accessories – Monsoon
Groom's suit – Marks and Spencer
Florist – Blue Lavender florist
Favours – Bryan Franks
Cake – Andi Freeman Cakes
Hair and make up – The Bridal Stylists