Happy Sunday darlings, may you still be resting in bed as you read this, hot cup of tea nearby and no plans to get up anytime soon.
This morning's wedding is a total beaut and one I know you'll love. I'm always so drawn to those weddings that involve children (the couple have a little girl) but the gown worn by the bride was created by one of my absolute favourite designers ever, the heaven-sent Hermione de Paula, who is killing it with her divine embroidered bridal creations right now. Gemma and Jack's wedding was held on 20th August 2016 at The Museum of the Order of St John, London.
"My Hermione de Paula wedding dress was insanely beautiful – as is Hermione and Lucy. I could write endlessly about how much I love these girls. They created the most dreamiest gown and the most gorgeously attentive voyage to bridal heaven. I still find myself longing for fitting dates and the emotional first look at my gown; I long to do it all again."
Photography by Emilie White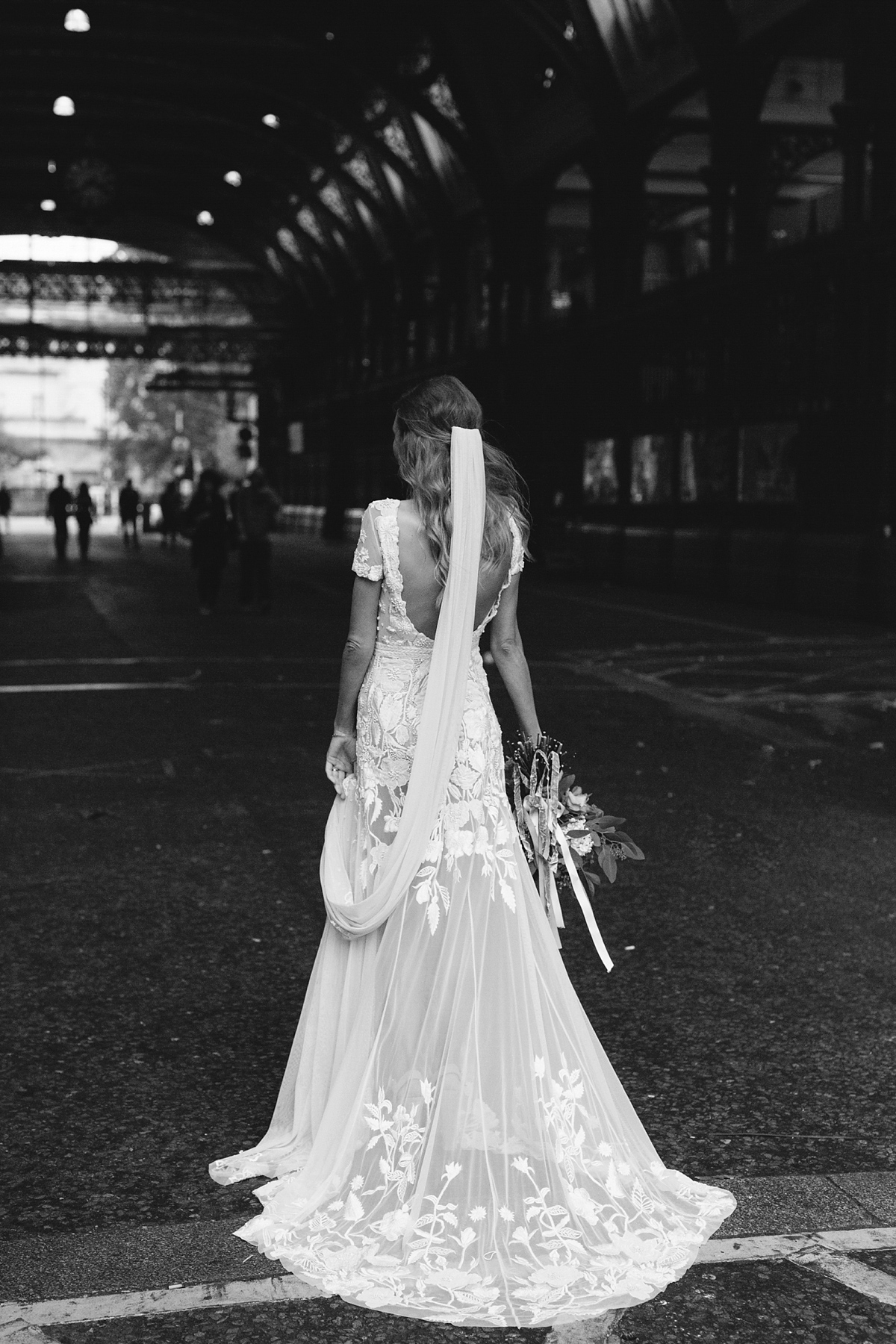 "Whenever I think about wearing her on our wedding day, I always hope I did her justice and showed her the best time. I enjoyed every second of wearing their beautiful creation, life has never been the same since, I can't thank them enough."
Film footage by a friend, film created by the groom
"Our video footage as filmed by Leo – a friend from Jack's work, and the video was made by my very talented, Jack."
"Jack and I met in The Metro – a grubby little club in Soho, on a Friday night (which has since been squashed in the Cross Rail bulldoze!). I believe Jack's chat up line was 'Where do you live?, and 'How do I get home from there?'"
"We loved it there so much that we went every week, and were at the front of the queue the night it closed. It has been 7 years ago since our last dance at The Metro… So who better to play our first dance than the very same DJ we pestered every week for our favourite songs?!"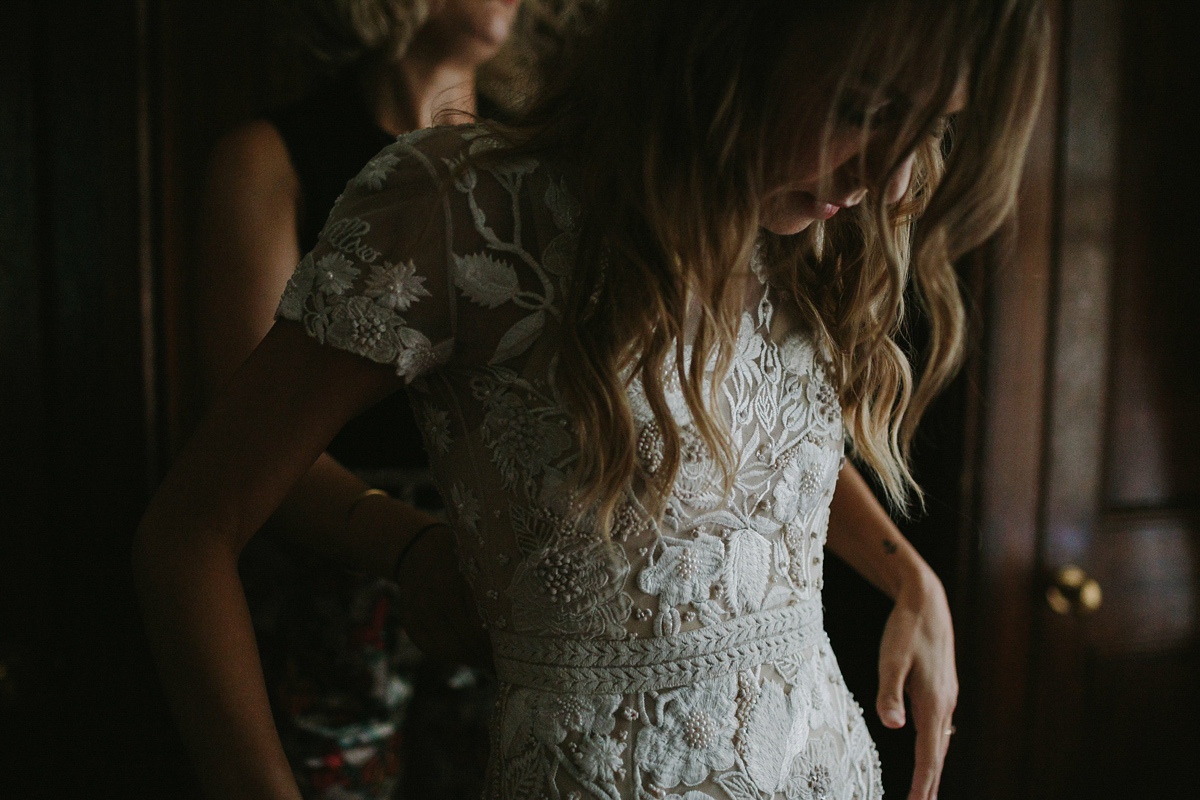 "I managed to track Little Chris down (it wasn't easy) and he was more than happy to be our wedding DJ – We were so excited about this, and he didn't disappoint; the dance floor was full all night long, just as we hoped it would be."
"There is no big proposal story to tell; after eight years, a beautiful daughter, one very stressful first house purchase, two cats (now four!), many laughs and a few tears, there was little left for us to do – so I put it to Jack one November evening 'we could do the bathroom and garden next year, or we could get married instead…?'. His reply, 'yeah, alright then'. And suddenly we were propelled into the world of weddings."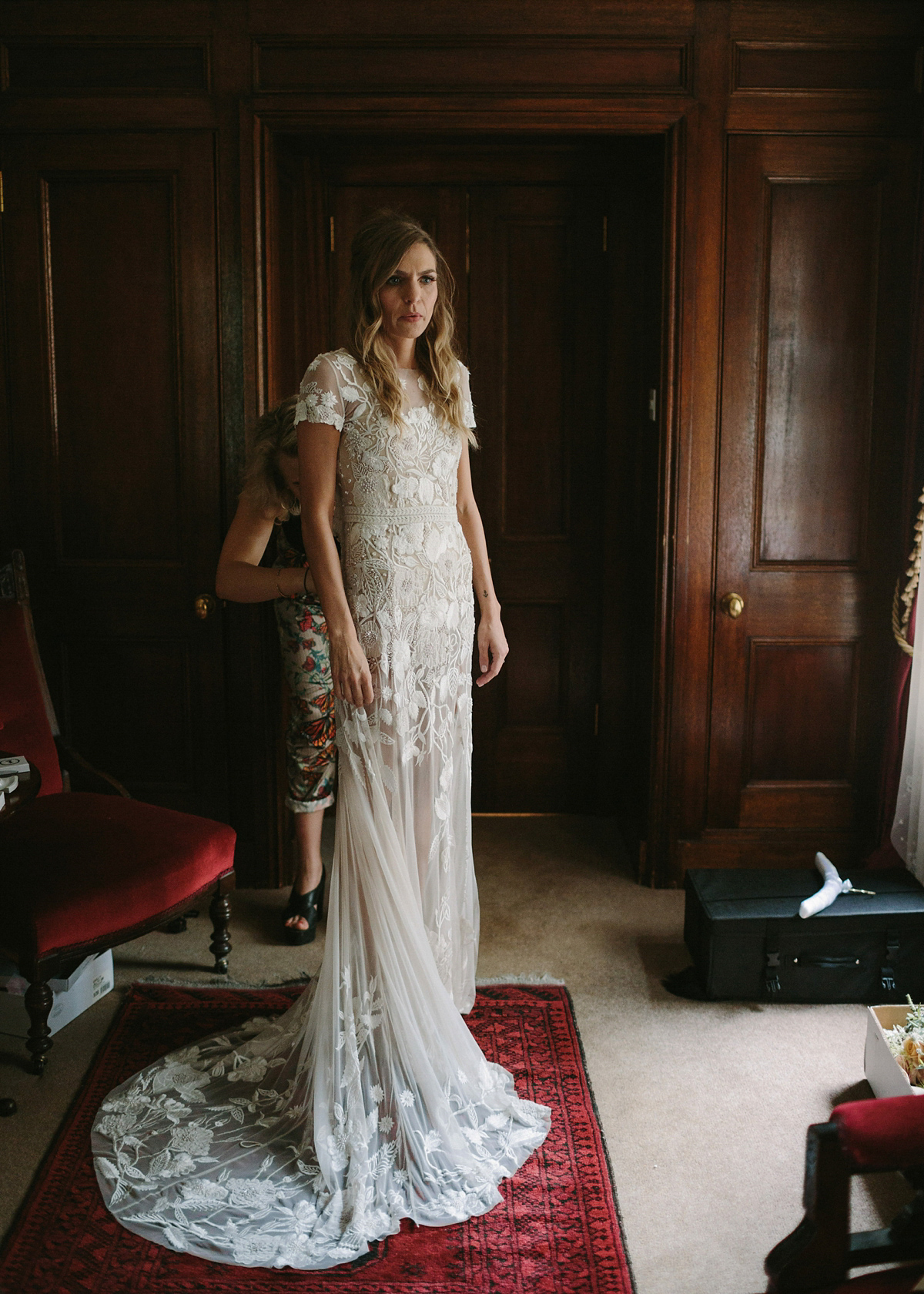 The gorgeous little flower girls dresses were from another personal favourite brand of mine, Wild & Gorgeous (formerly 'I Love Gorgeous').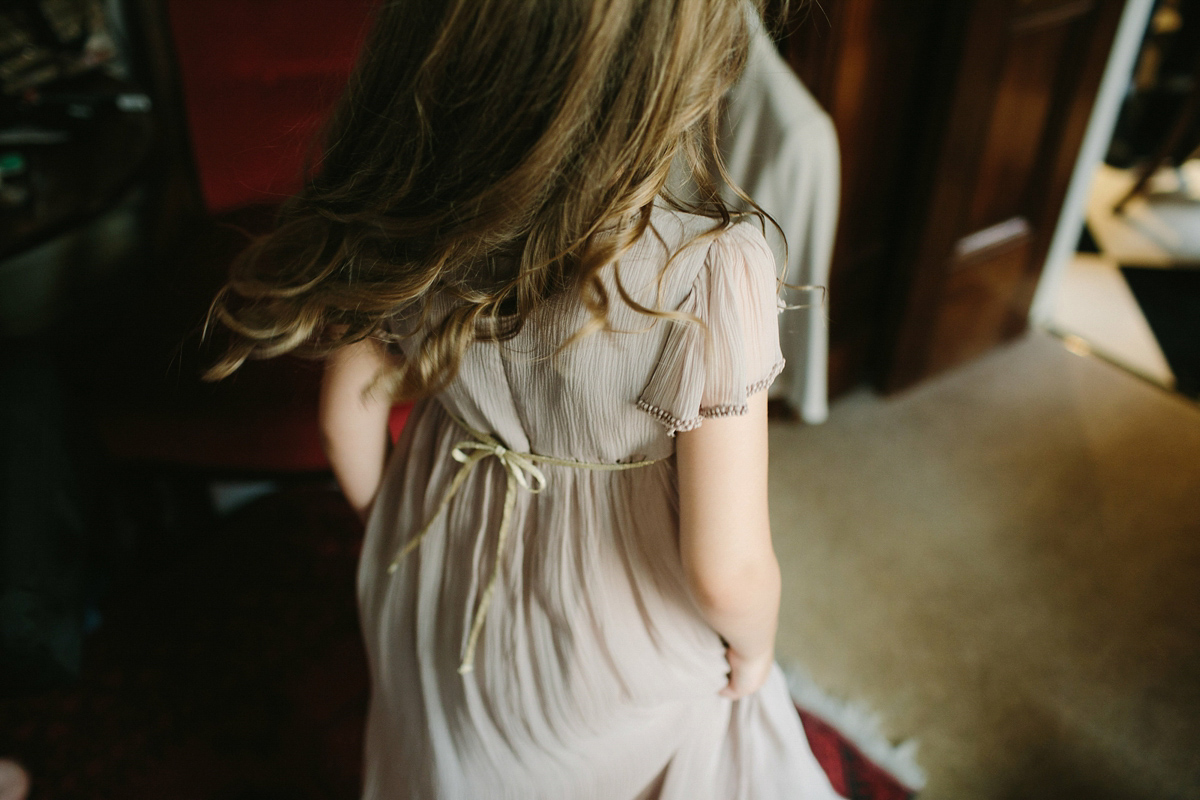 "My veil has a line from our first dance embroidered on it too; 'I leave my love between the stars"'. We danced awkwardly – Jack is six foot six and I am a tiny five foot three; the only dancing we ever do is silly and fun, we have never attempted to slow dance together before and we really shouldn't have at our wedding either!"
"But in my head, I had always fantasised about the ballroom scene from the Labyrinth where the Goblin King swirls Sarah around the room as the look deeply into each other's eyes and that was what I knew I would dance to with Jack. It didn't quite go to plan, but we giggled through the embarrassment and twirled as best we could."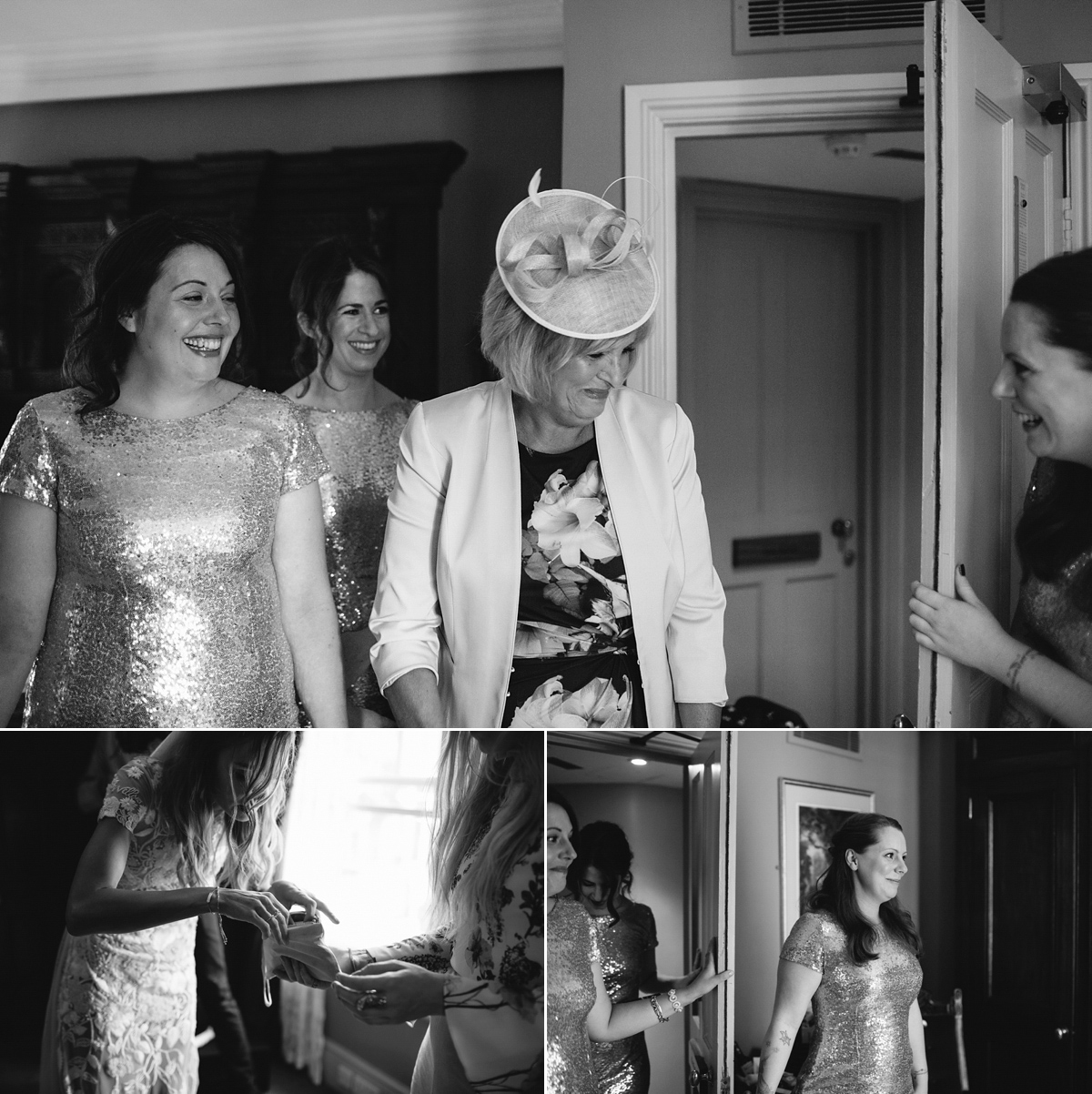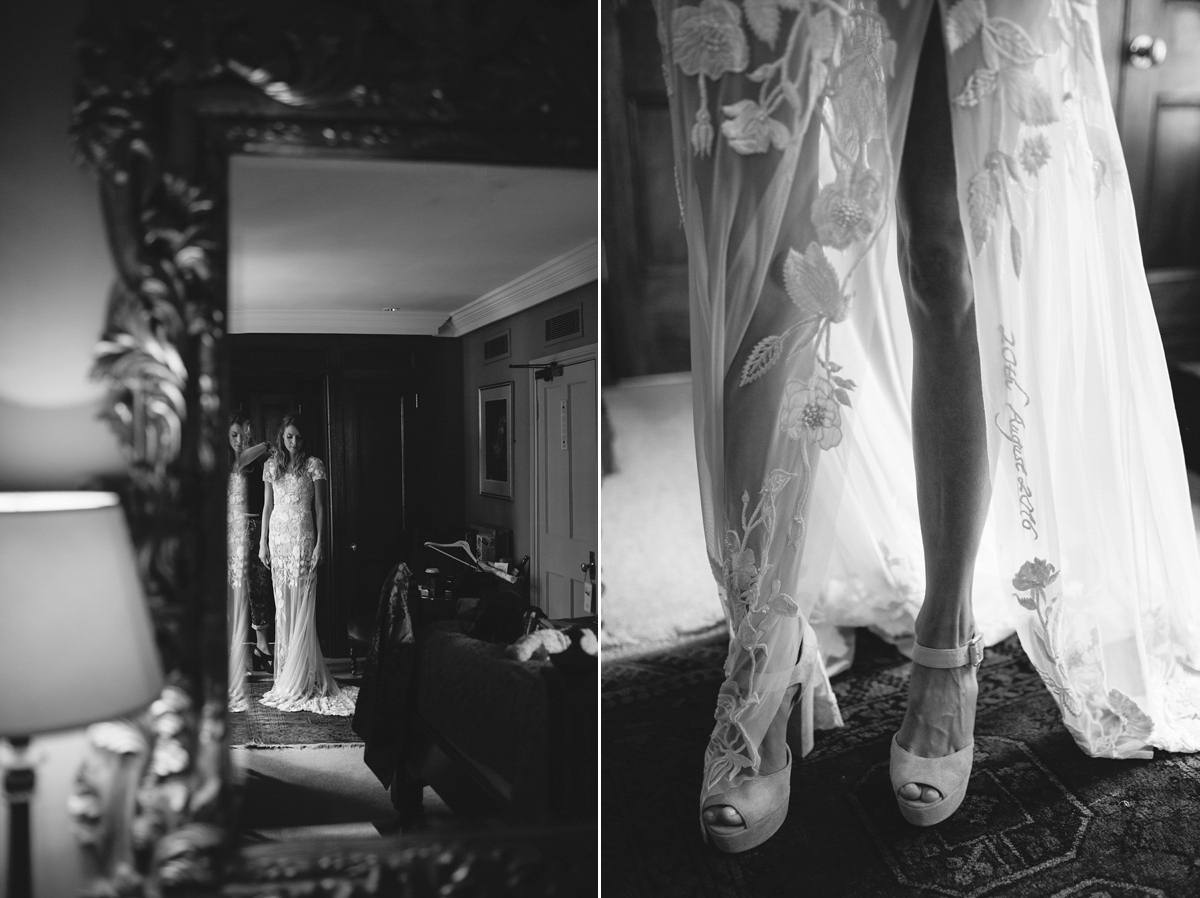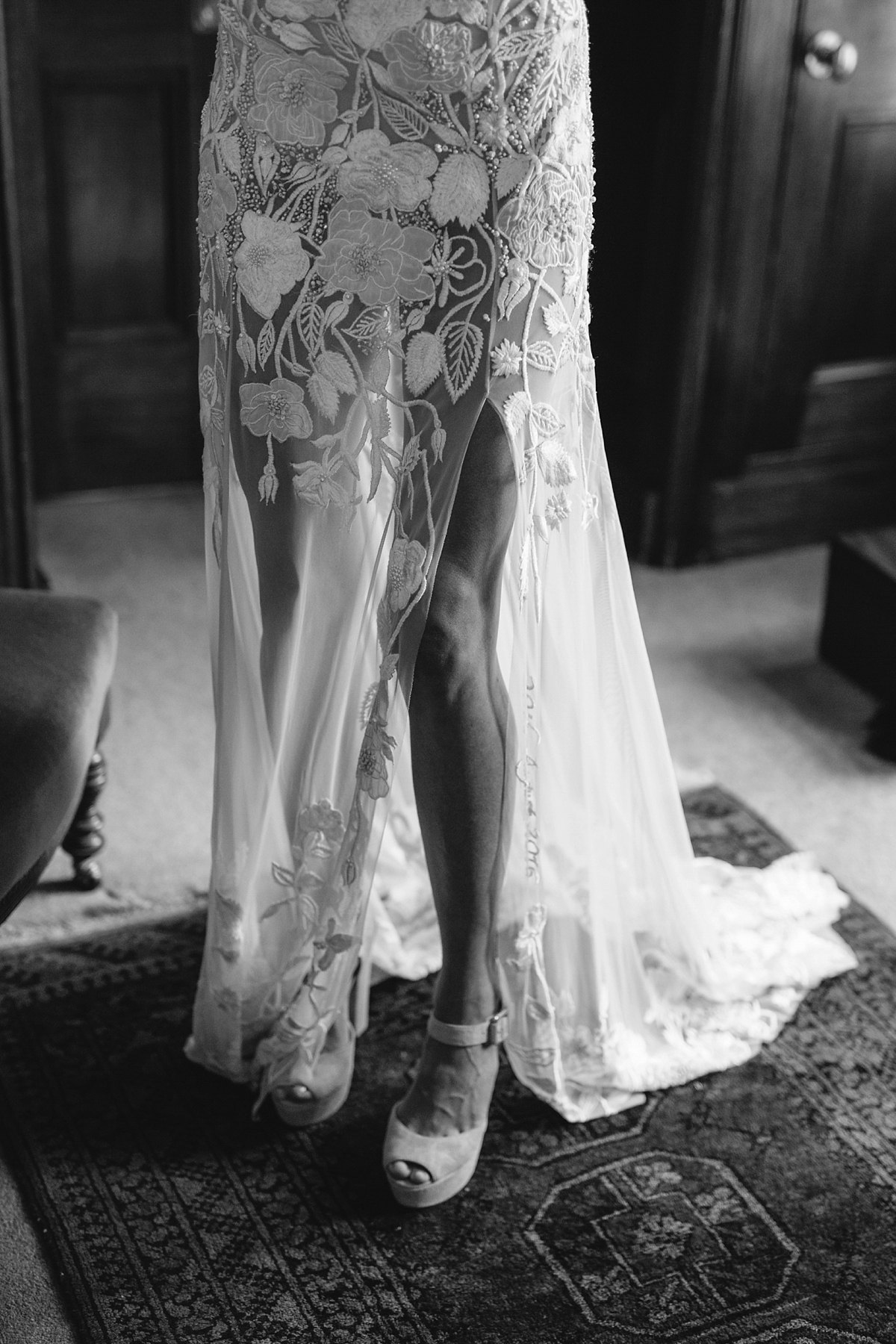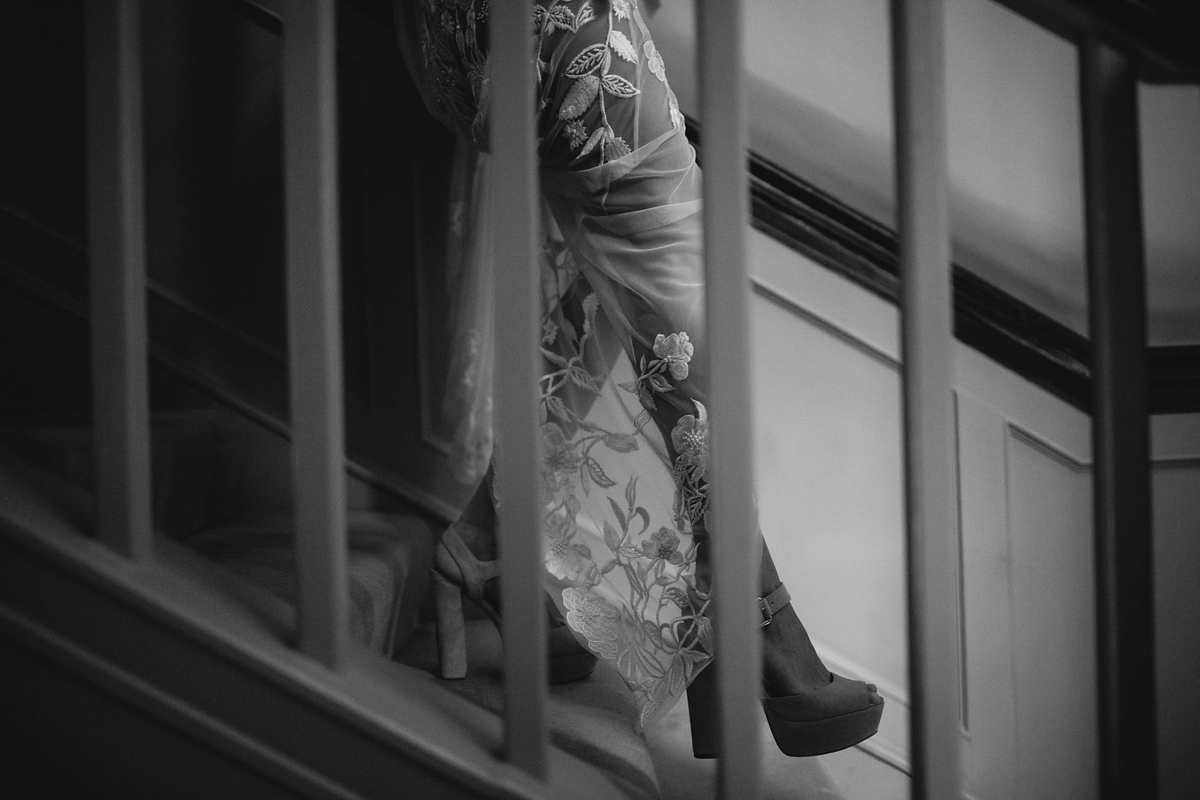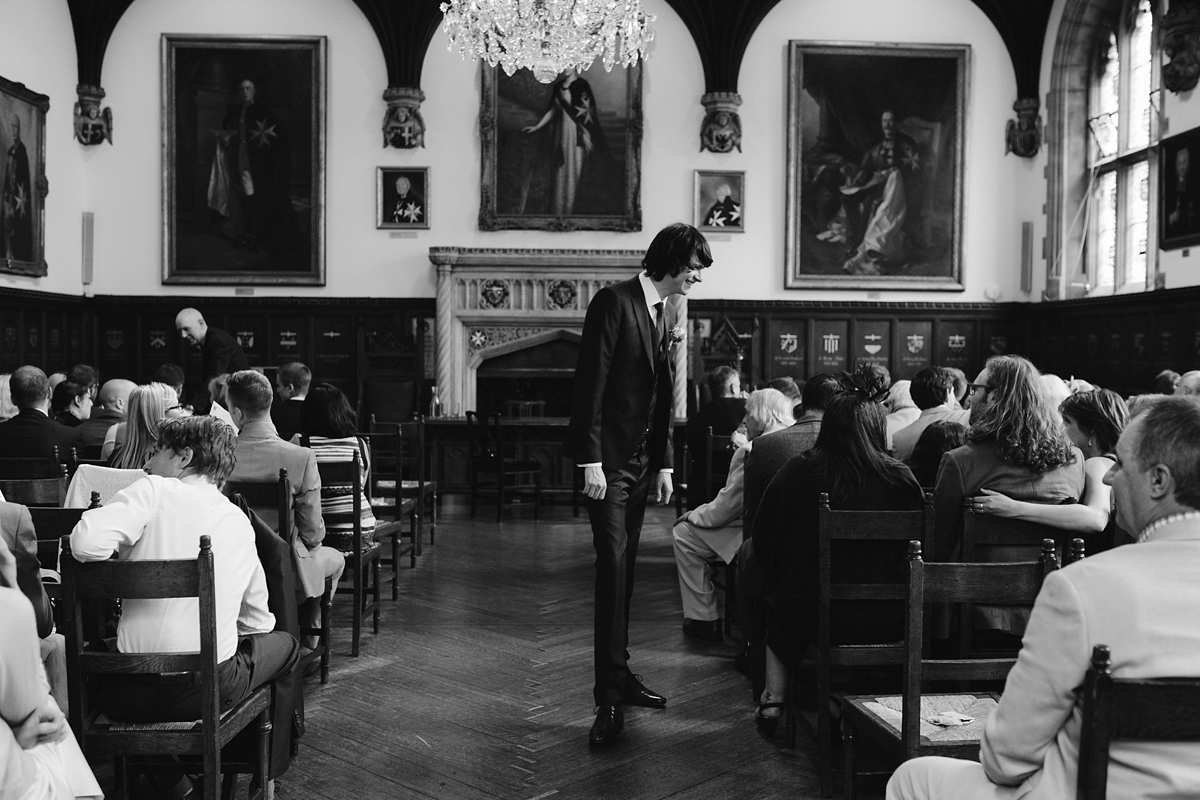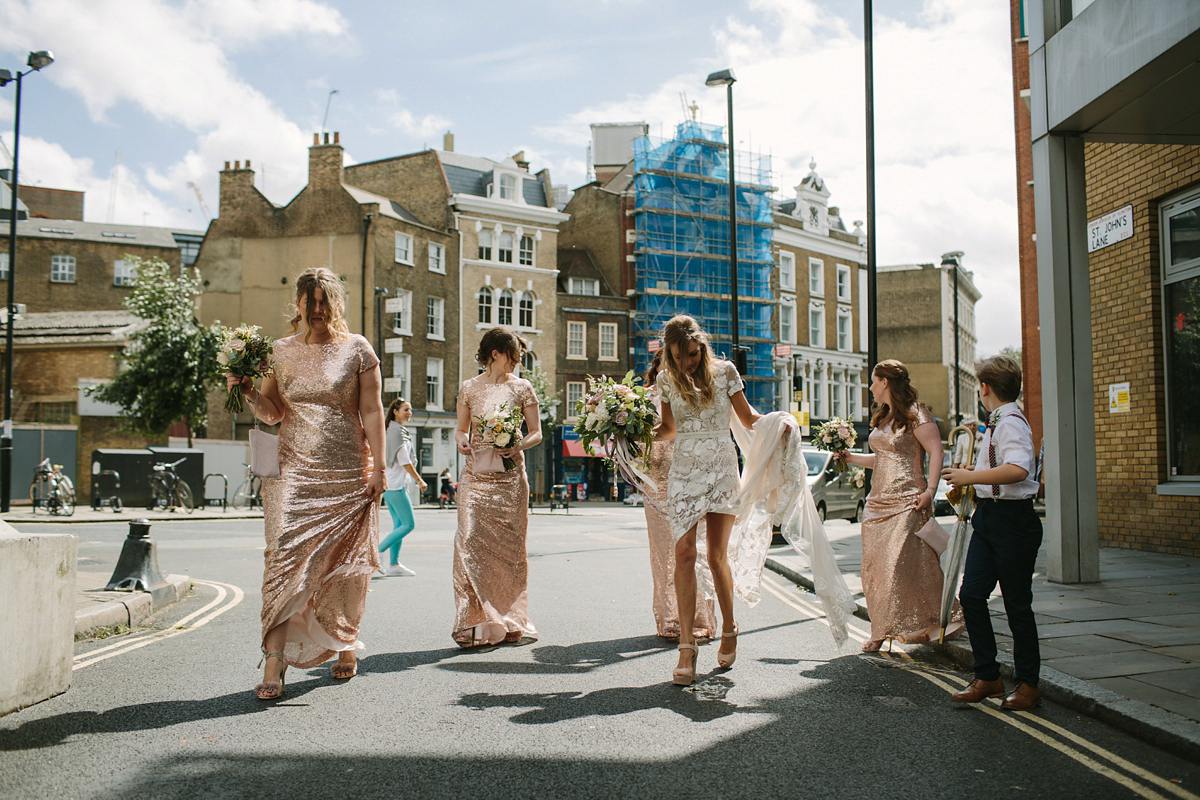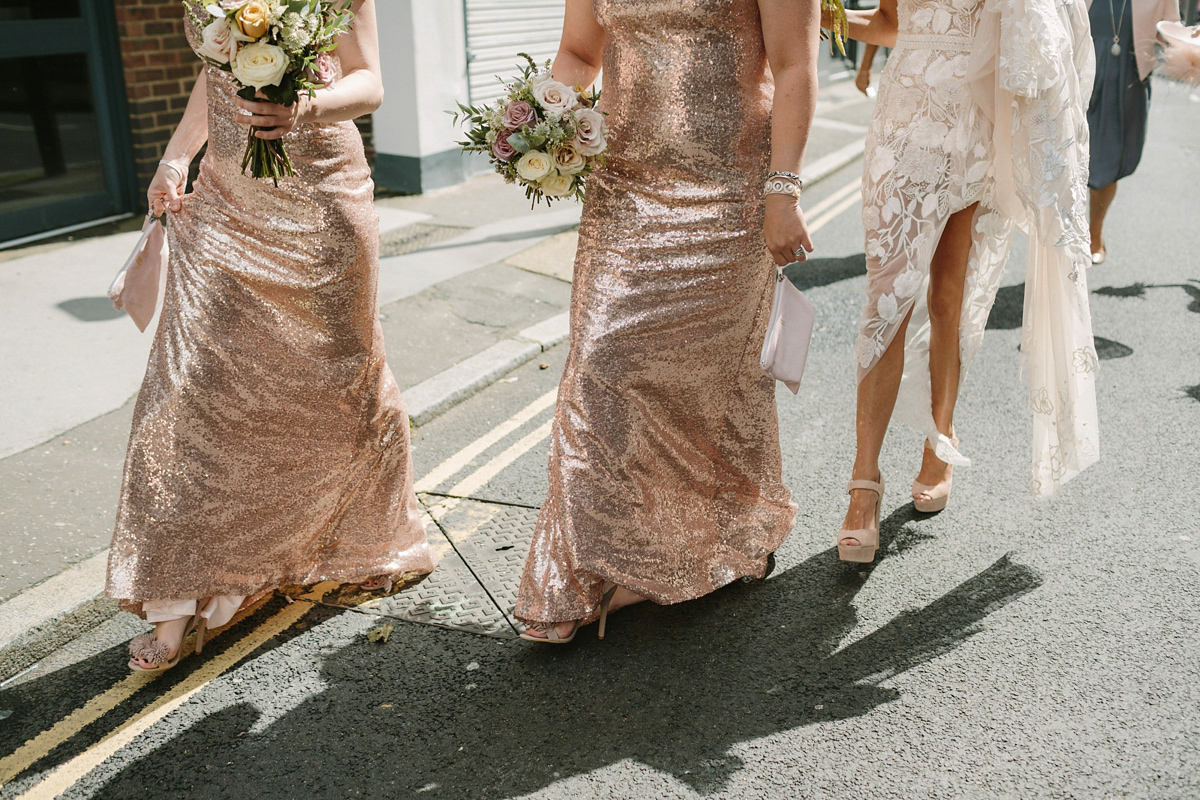 "The flowergirls each wore a bracelet gifted from us to them, by Lily & Rose."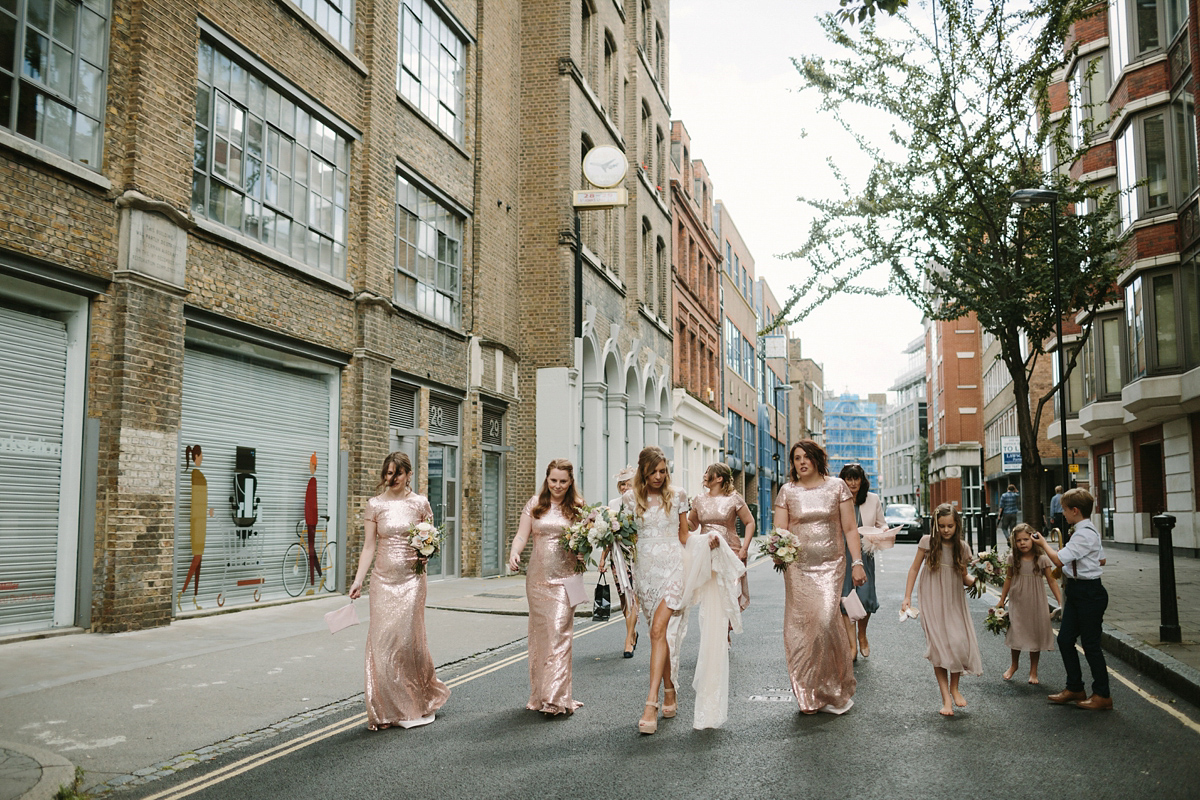 Our bridesmaid's bags were also a gift from us, via Suede & Co.  Designer Dee is a genius – her bags are exquisite and she makes them all with such attentive craftsmanship. Each one was individually personalised with the bridesmaid's initials, and mine with 'Mrs Blake'. I originally chose to have a gold bag, but when I received them I wanted a pink one too, so I got one!"
"It has been a real honour to have played a small part in the success of Dee's business; I was her first bridal order, and now she's packed up her job, got herself a little studio and does this full time – mostly bridal orders! Such an inspiration, I'm so proud of her."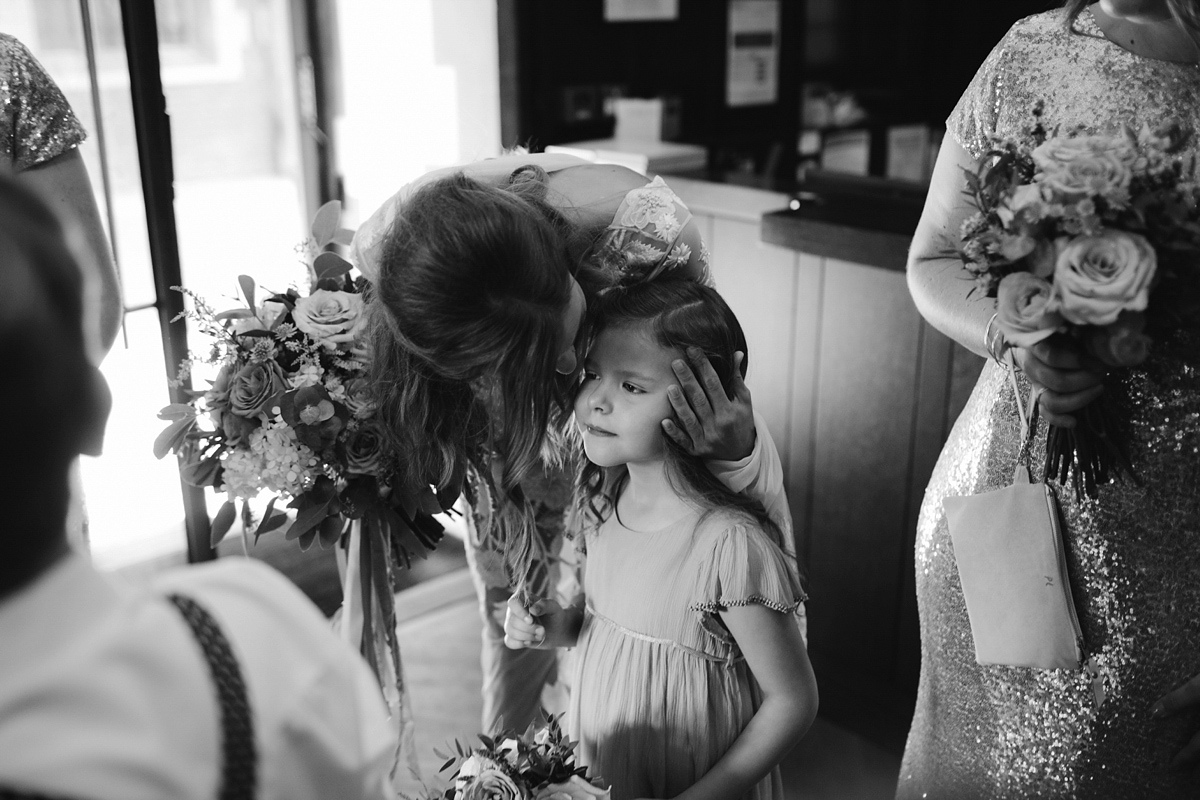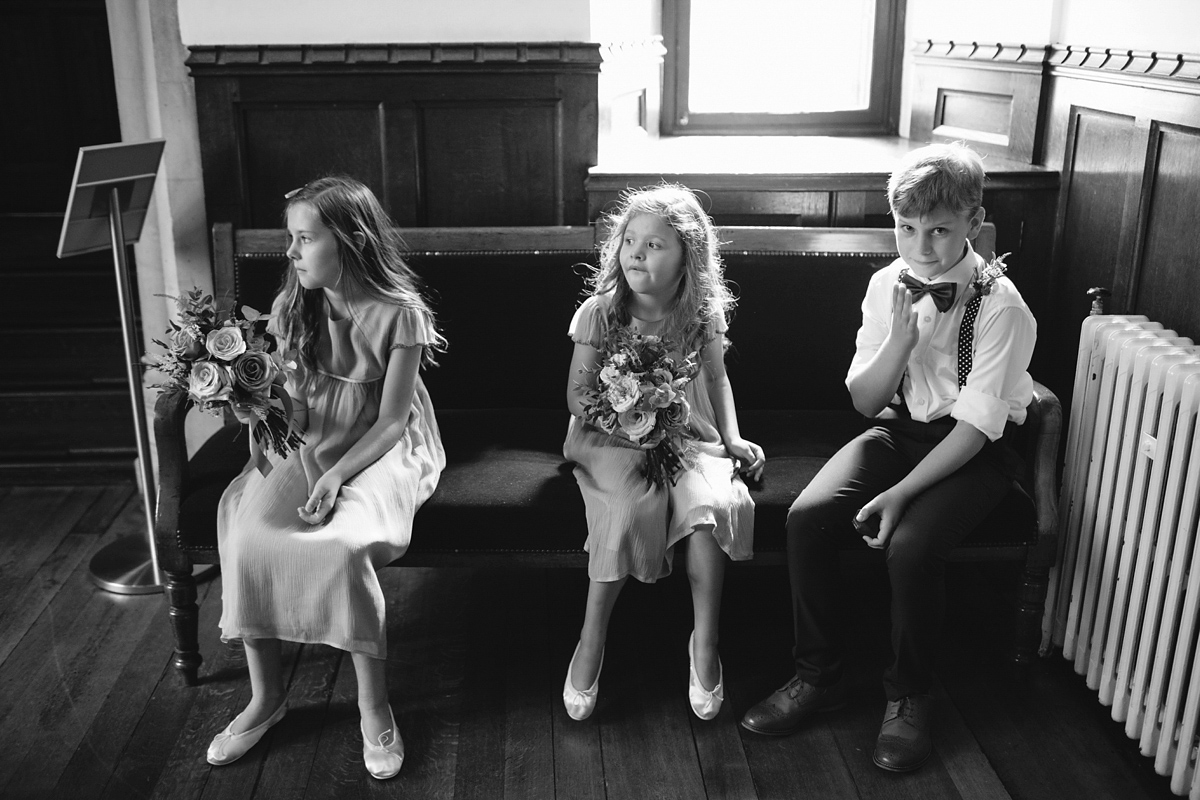 "Our daughter, Willow, walked me down the aisle. I couldn't think of anyone more fitting for the job – I've held her little hands since the moment she was born, so who else would I choose to hold mine for the second most important event in our lives?! Just remembering that moment brings tears to my eyes and a lump in my throat as I write this, I will treasure that moment forever."
"We are huge David Bowie fans; all three of us adore him. I walked down the aisle to Soul Love."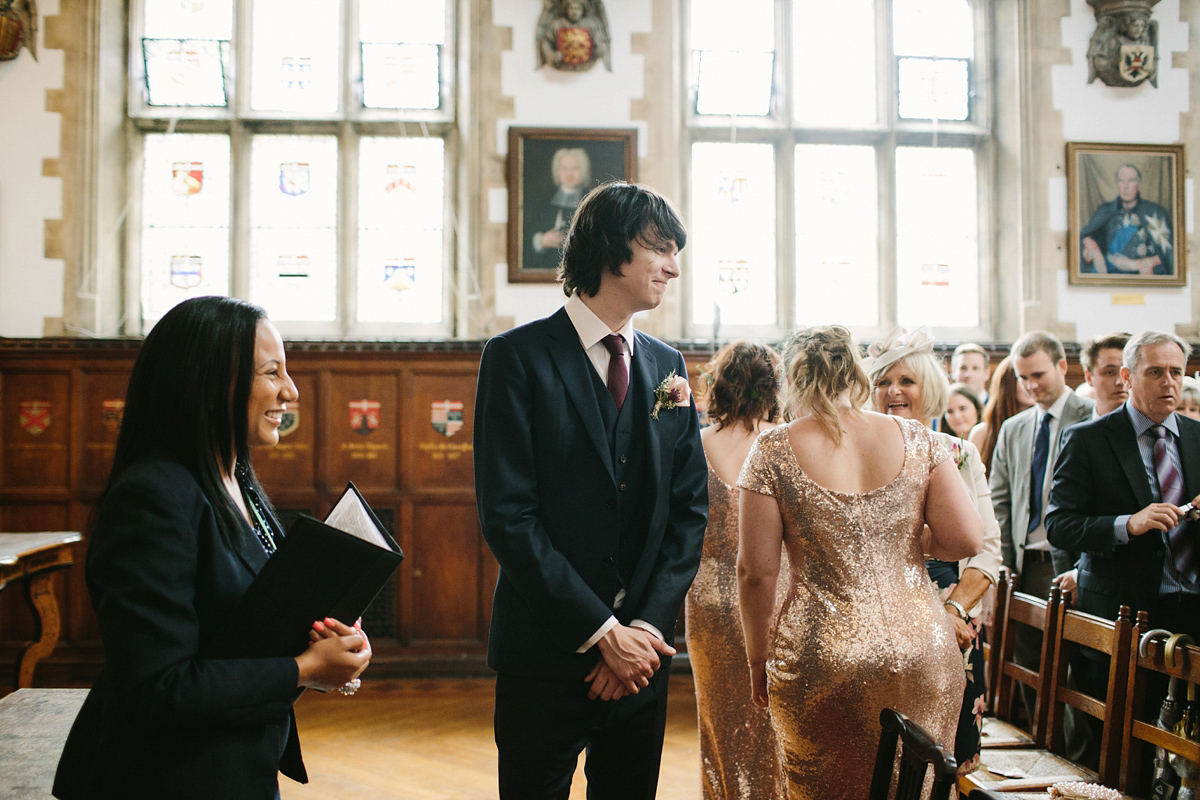 "We chose two readings; an extract from Danny the Champion of the World, (a book my dad started reading to me when I was small, but never finished)…"
On this Thursday, on this particular walk to school, there was an old frog croaking in the stream behind the hedge as we went by.
'Can you hear him, Danny?'
'Yes,' I said,
'That is a bullfrog calling to his wife. He does it by blowing out his dewlap and letting it go with a burp.'
'What is a dewlap?' I asked.
'It's the loose skin on his throat. He can blow it up just like a balloon.'
'What happens when his wife hears him?'
'She goes hopping over to him. She is very happy to have been invited. But I'll tell you something very funny about the old bullfrog. He often becomes so pleased with the sound of his own voice that his wife has to nudge him several times before he'll stop his burping and turn round to hug her.'
That made me laugh.
'Dont laugh too loud,' he said, twinkling at me with his eyes. 'We men are not so very different from the bullfrog."
― Roald Dahl, Danny the Champion of the World.
"We also chose I Wanna Be Yours, by John Cooper Clarke."
"Jack can play the guitar and sing – though he won't tell you this as he's a modest man. But I managed to persuade him to sing at our ceremony! He sang 'Hope There's Someone', by Antony and the Johnsons. That was one of my favourite memories of the ceremony."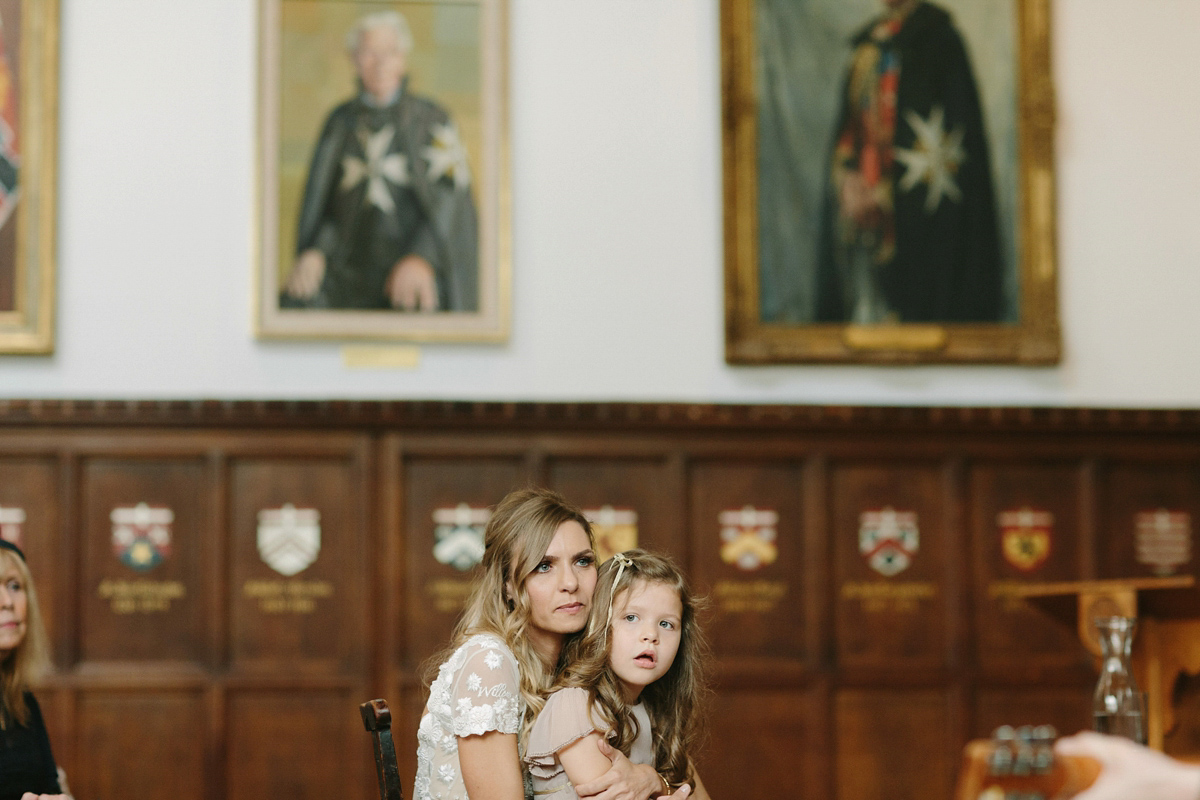 "As I mentioned, we are huge Bowie fans – not only did I walk down the aisle to a Bowie track, our wedding rings are engraved with lines from that song; Jack's with 'Love descends on those defenceless', mine with "Idiot love will spark the fusion". Our first dance was also a Bowie track, As The World falls Down from the Labyrinth; this is our absolute favourite film, Willow's too."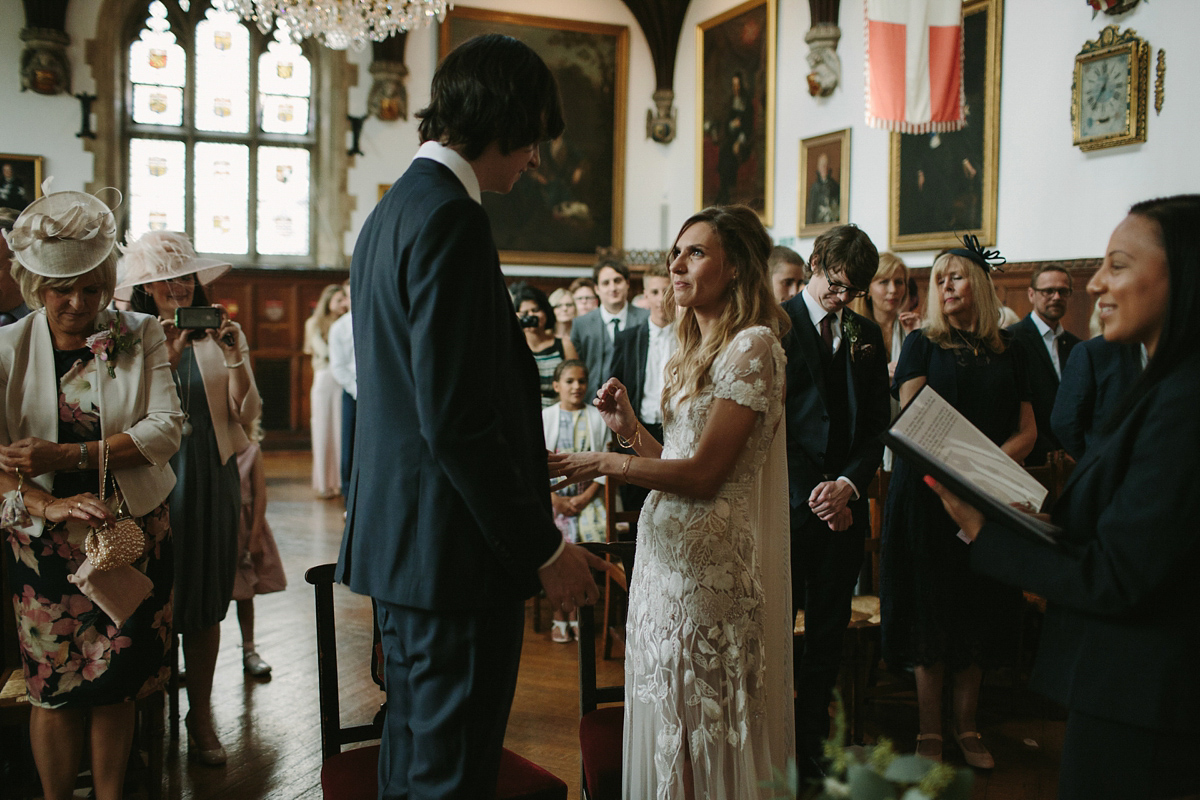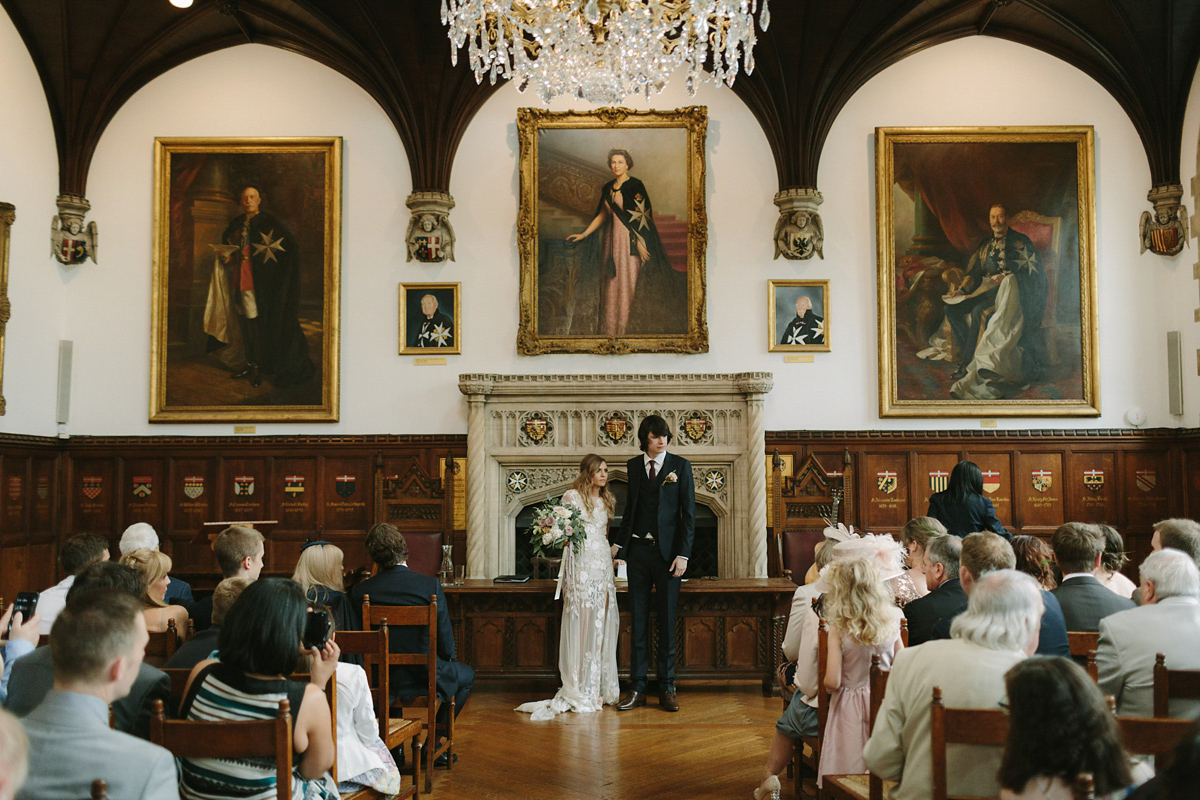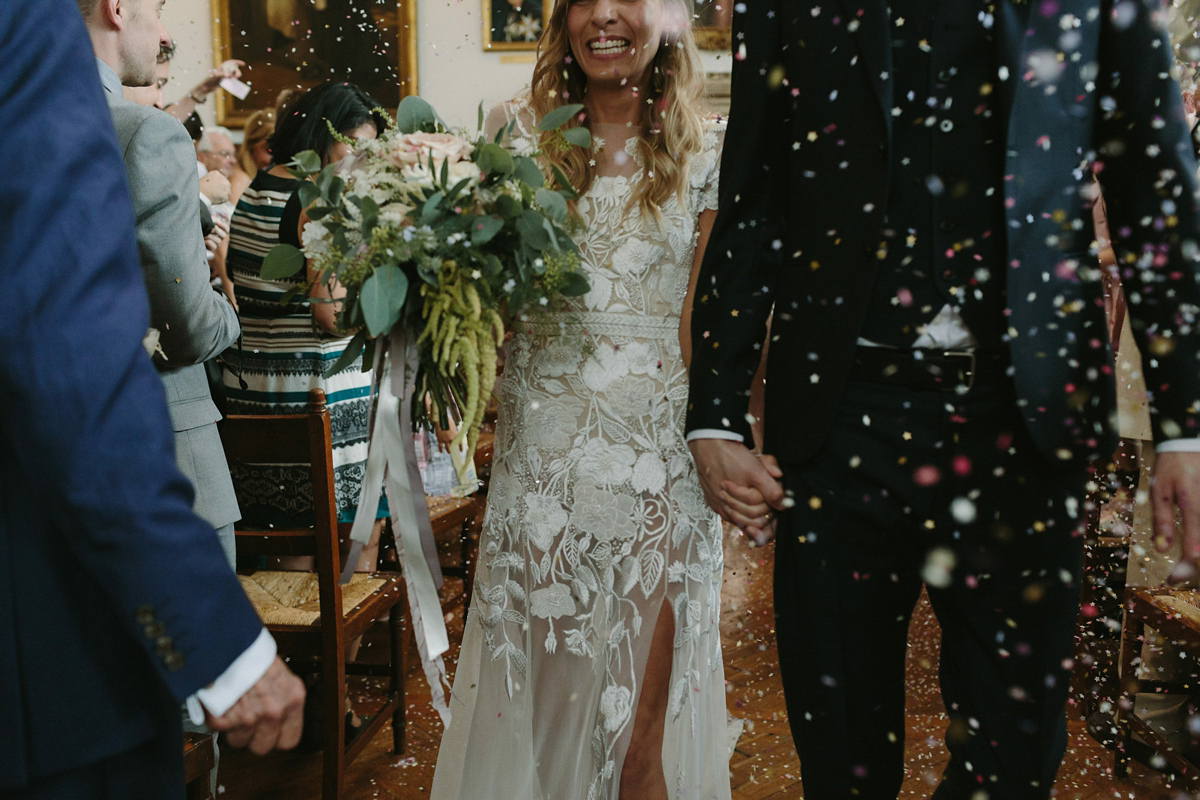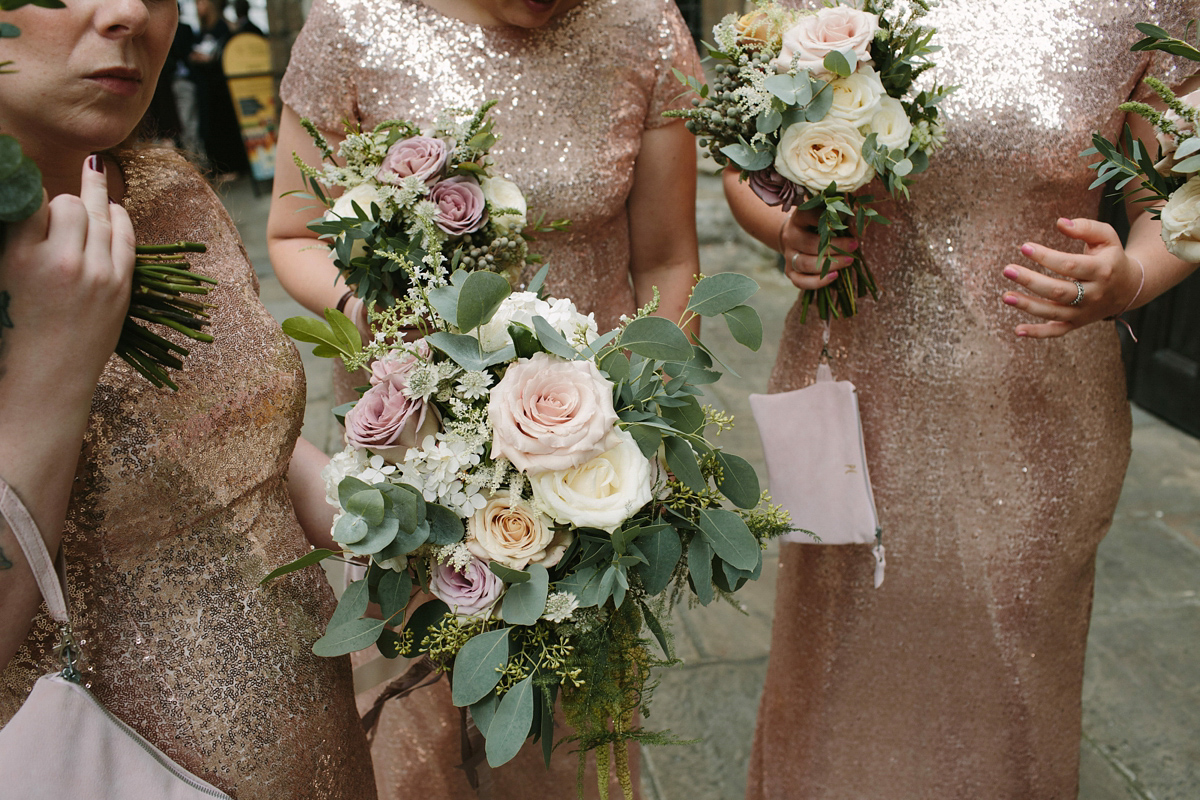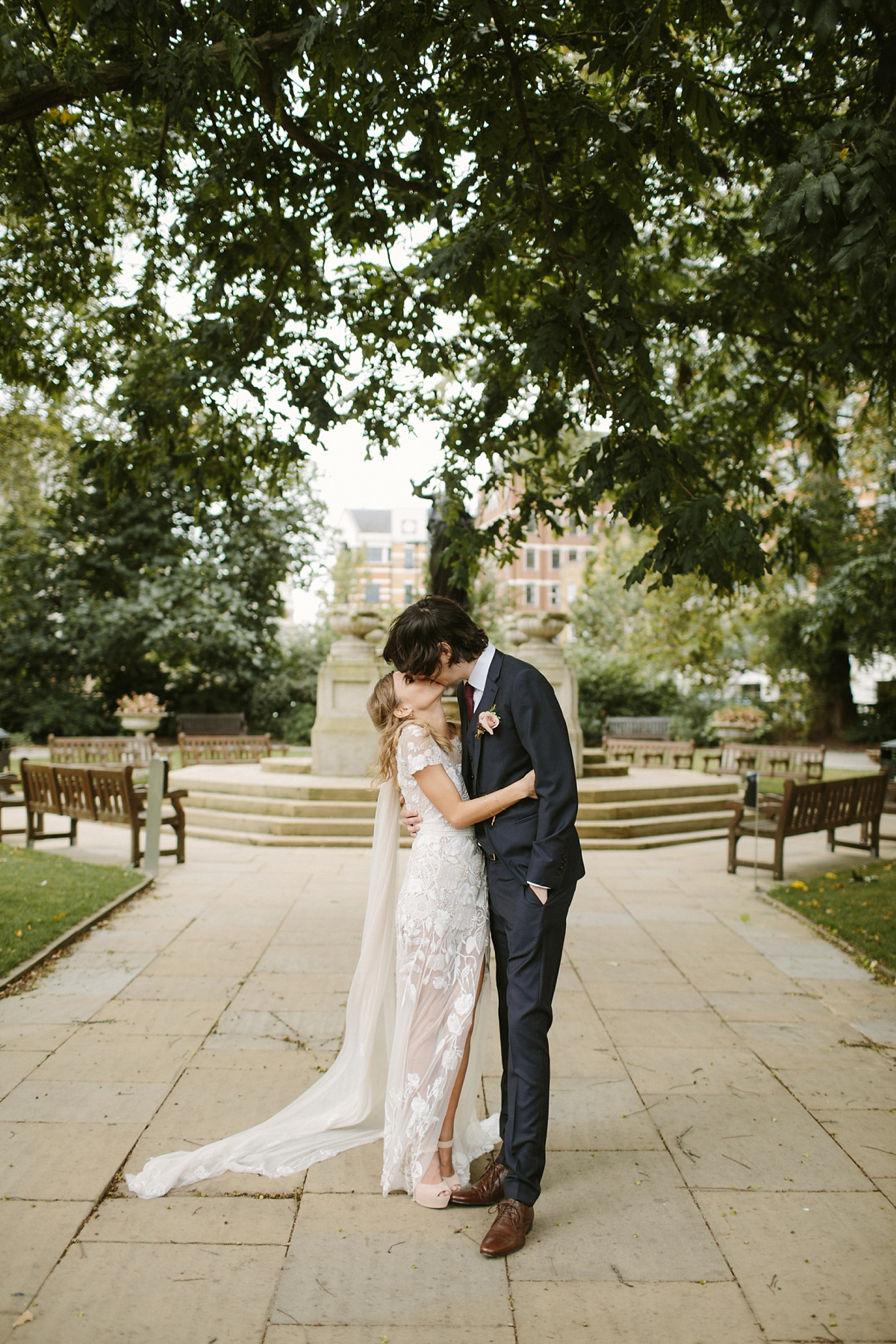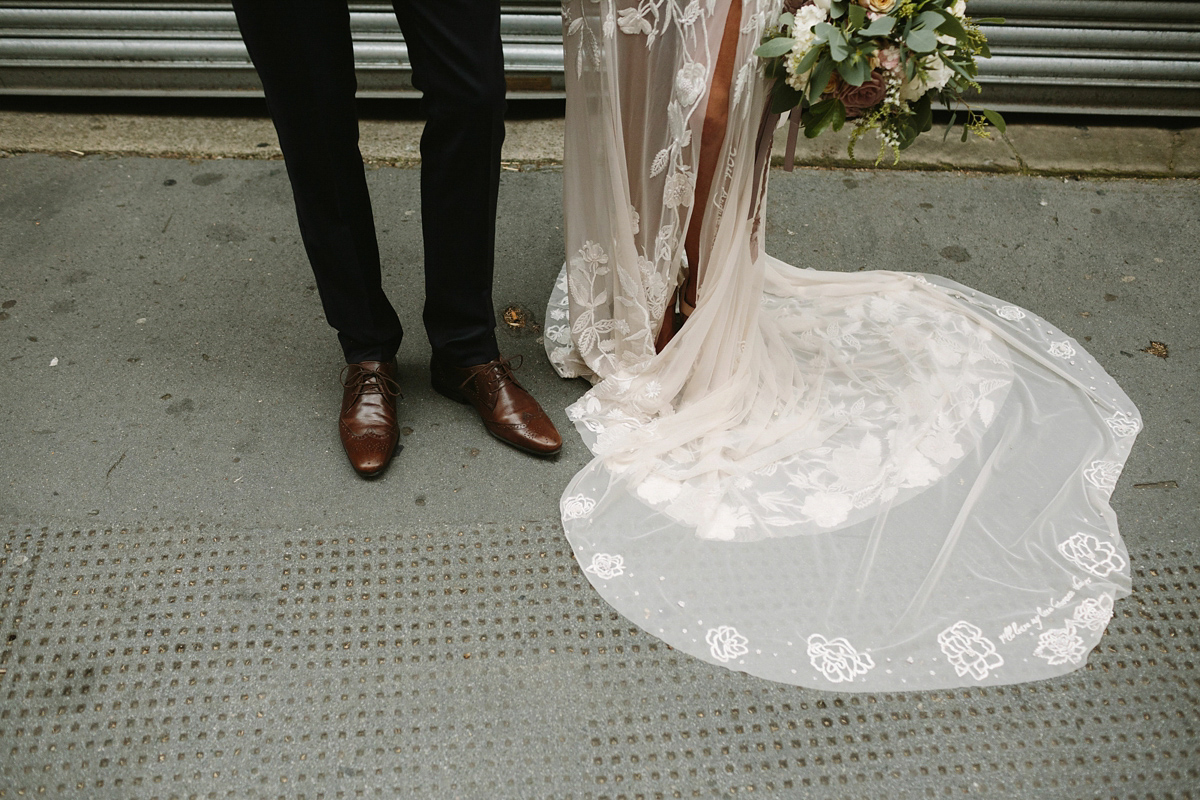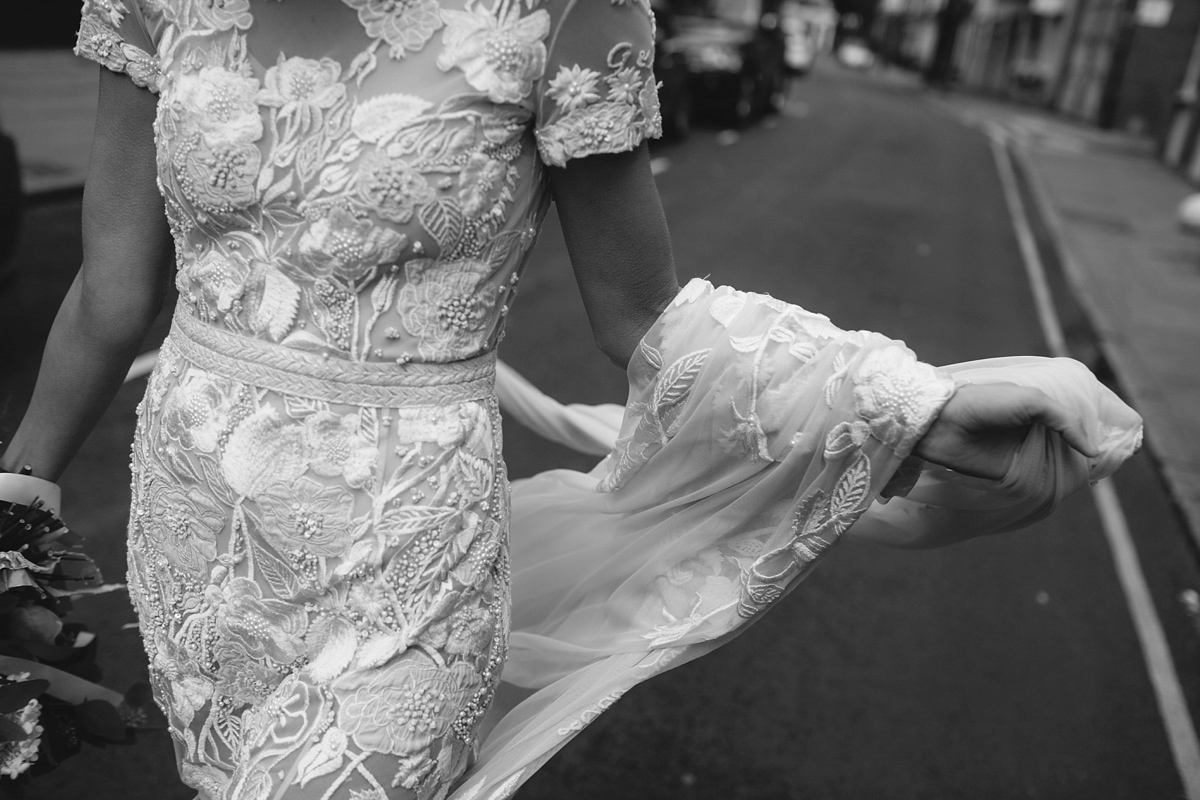 "Our wonderful photographer was  Emilie White. We will be forever grateful for the outrageously stunning photographs she took, and for being the most delightful person to be around."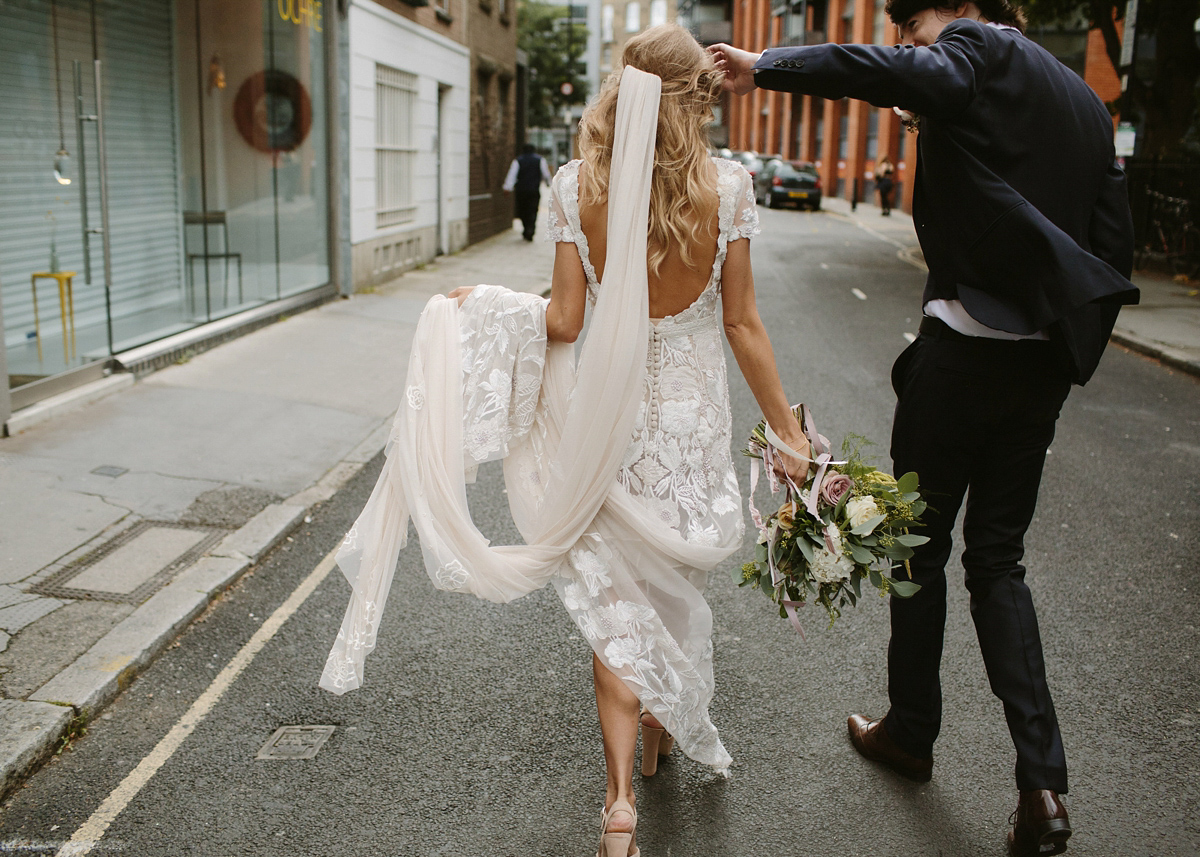 "I do not like having my photo taken, I feel silly and self-conscious, and I always manage to pull a stupid face – there are very few photos in existence that I can honestly say that I even like myself… until Emilie that was. Now I have a whole collection where I look truly beautiful."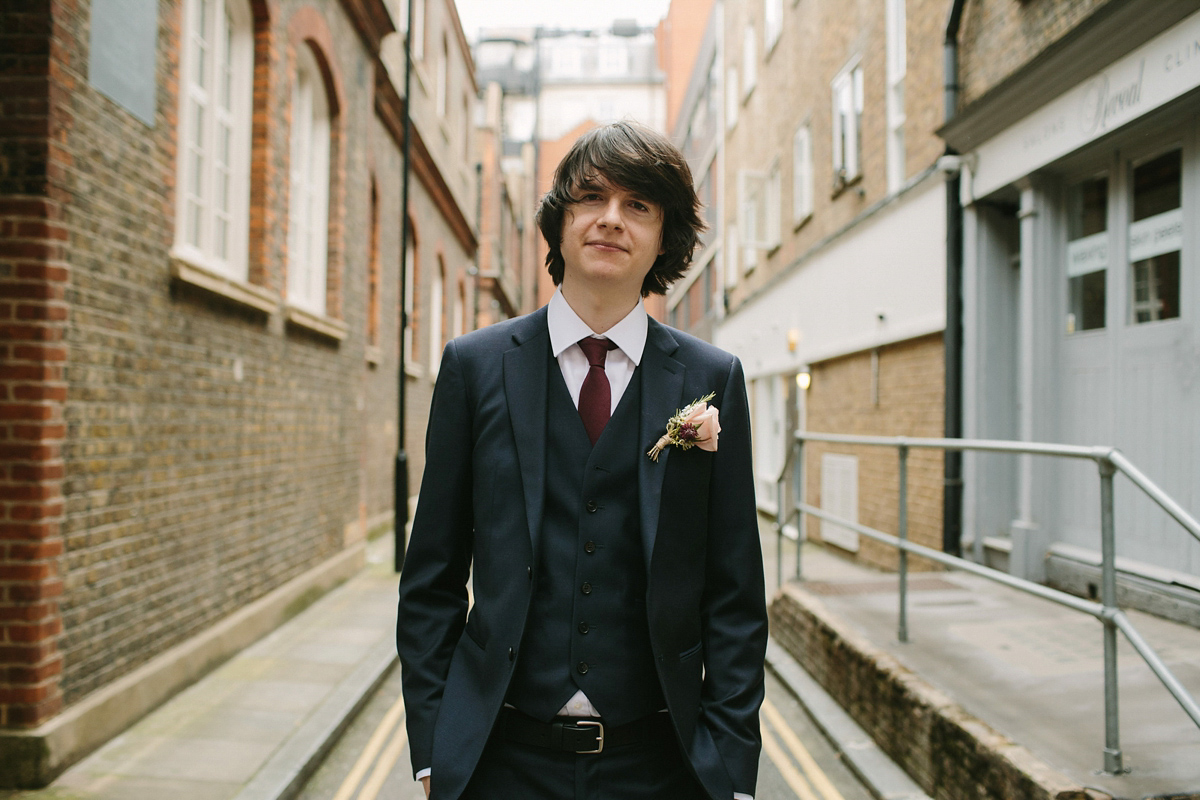 "She managed to capture moments that would, at best, be feint glimmers of memories already. We didn't want traditional wedding template pictures that we've seen so many times before; overly posed and unnatural. Emilie's work is simply beautiful."
"She made us feel so comfortable, it was like having an old friend with us; we laughed our way round the back streets of London, searching for the perfect little backdrops as we fought with the icy wind and the threat of more rain."
"I have never cried so much happiness as I did when we received all the photographs, Emilie completely took my breath away. Just magical."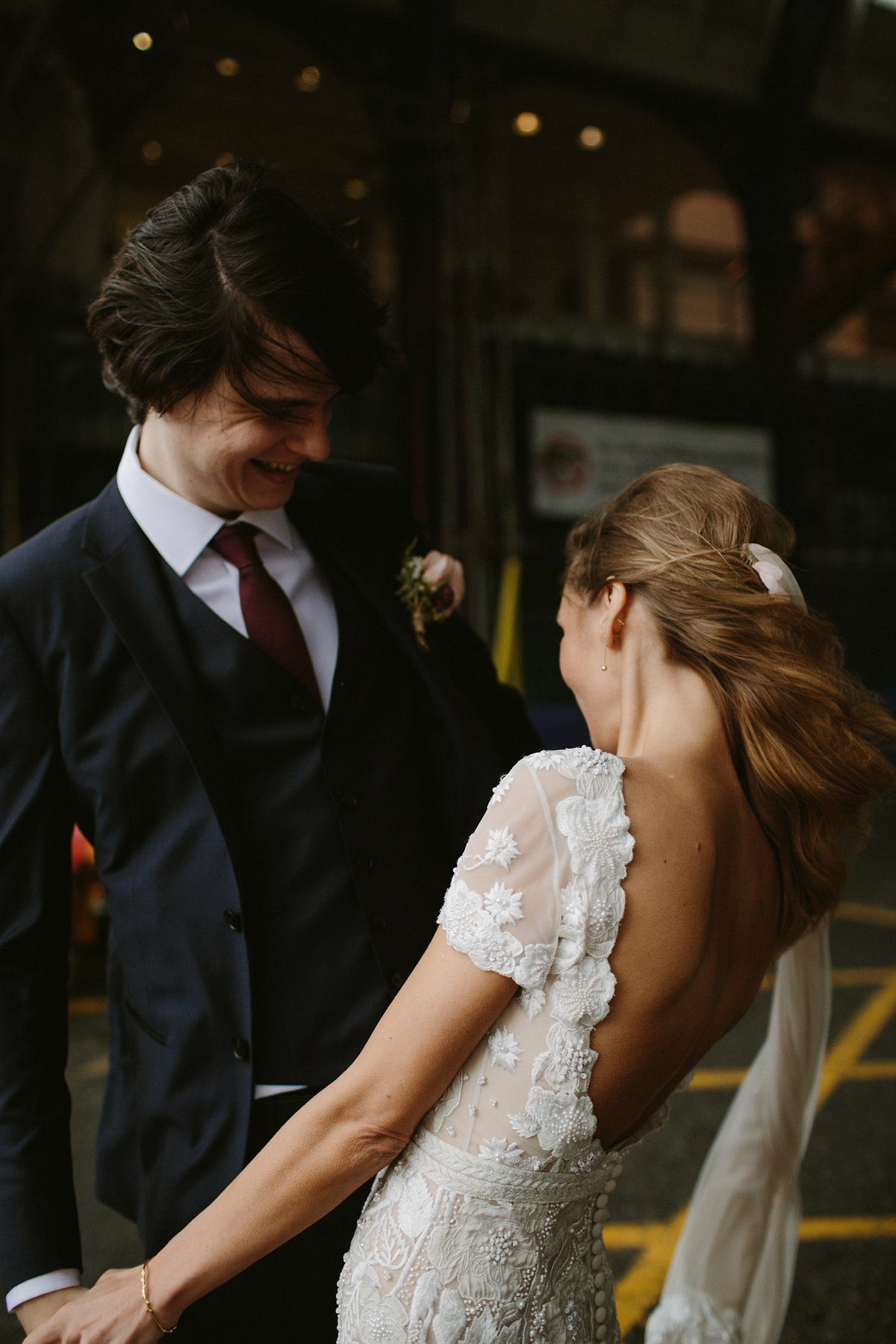 "I lost my dad and my grandma eighteen years ago, and they were so dear to me – I would have given anything for them to be with us on our wedding day, so I did the next best thing and found a beautiful little antique locket and carried their photographs around my bouquet."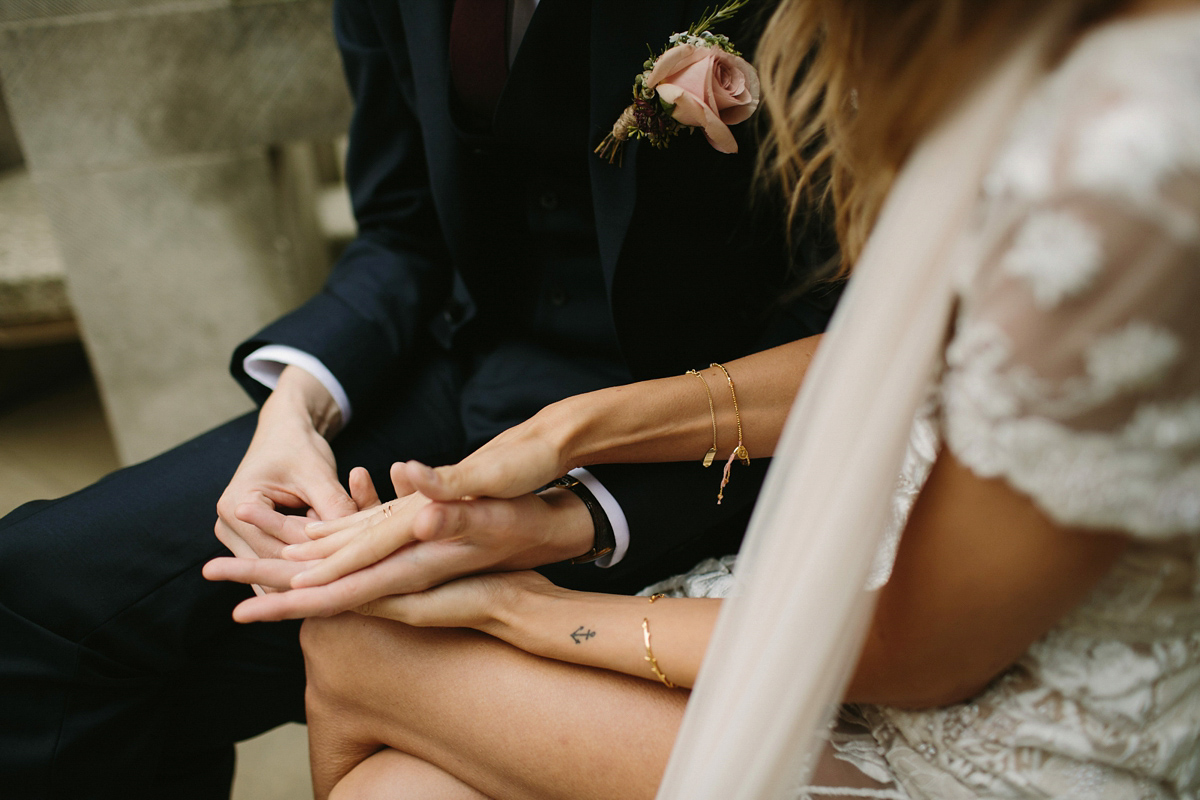 "I also had a small anchor tattooed on my left wrist (my dad was a merchant seaman and loved the sea) to remember his arm around mine."
"My grandma also lived by the seaside; I spent every summer at Margate as a child –which is where I also had my little hen do with my bridesmaids."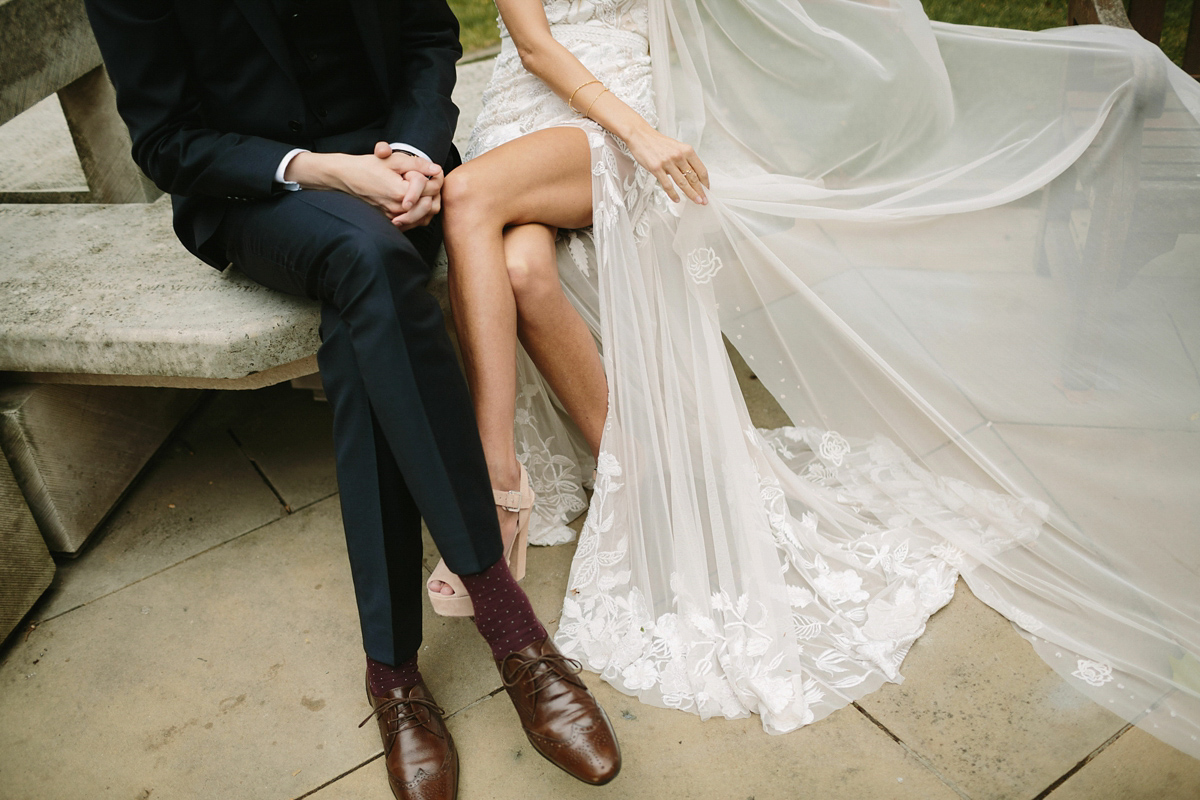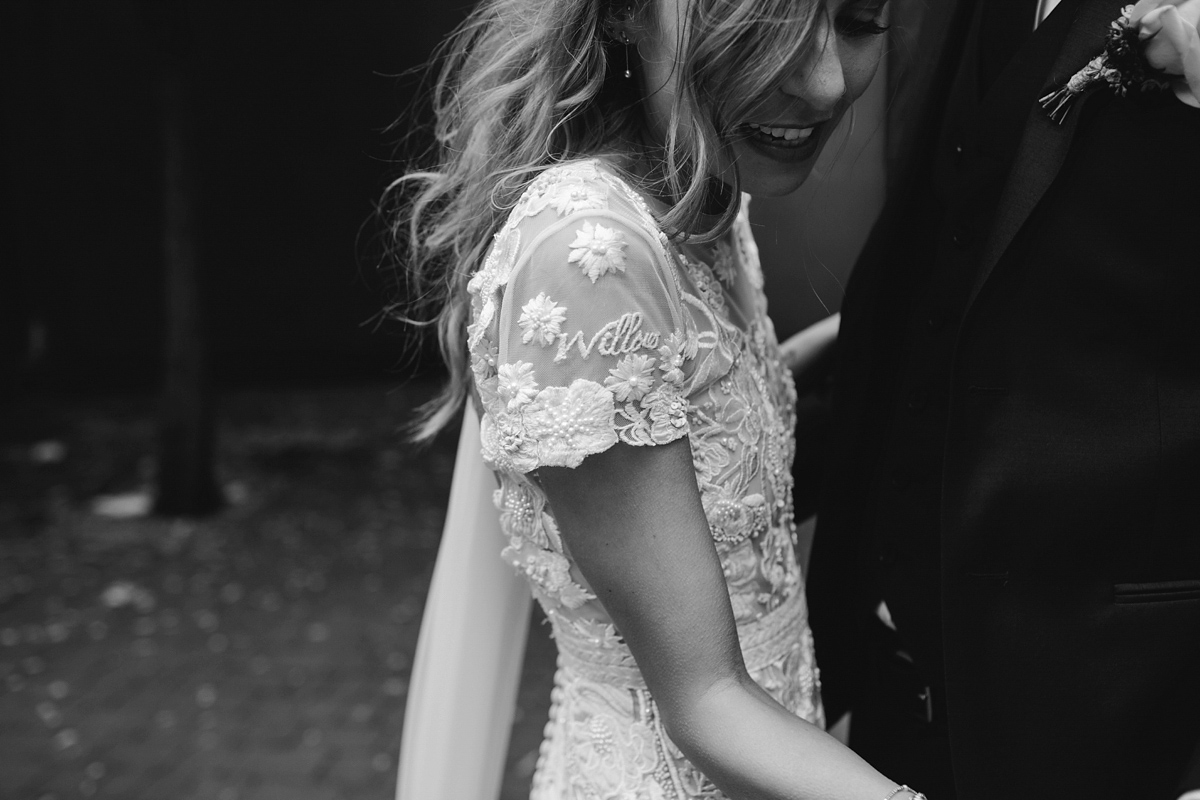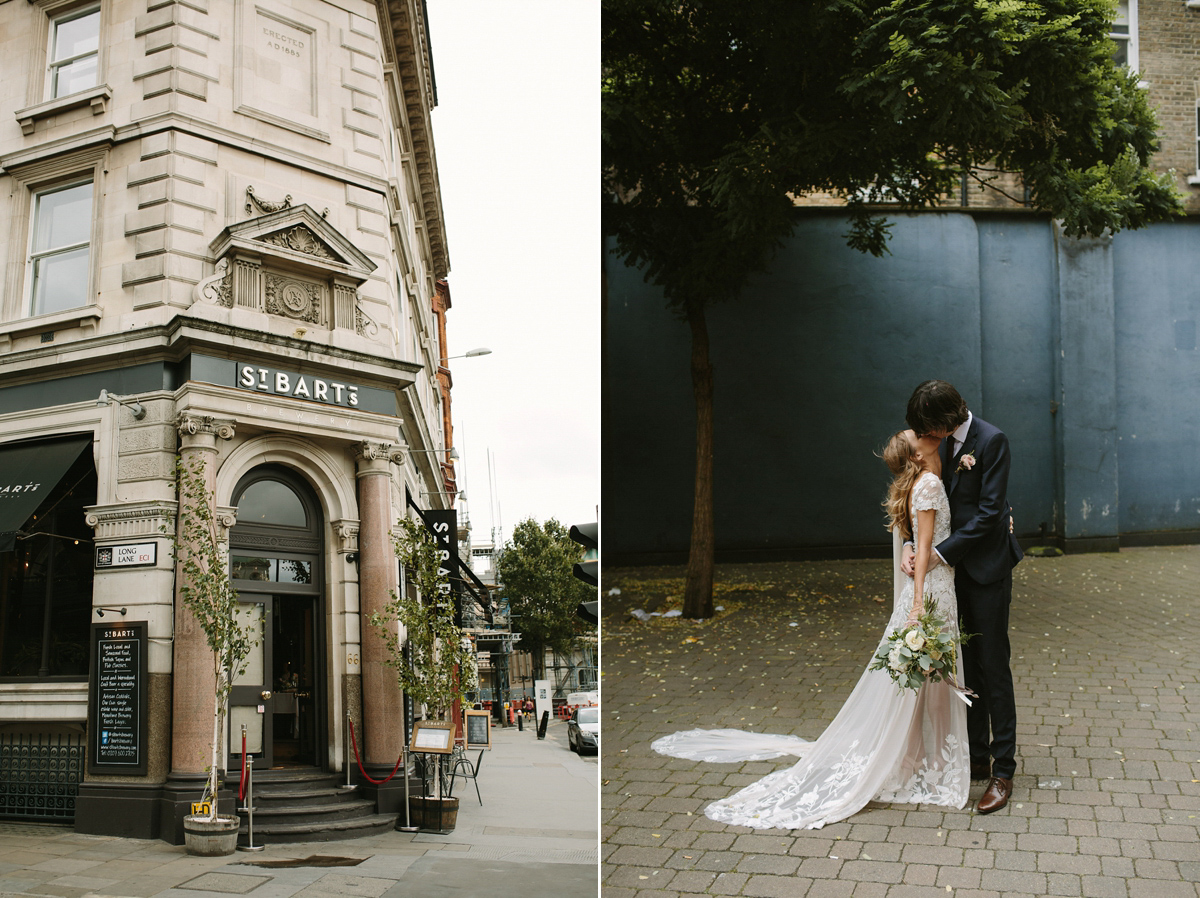 "Amelia Rynkowska of Cult of Treehouse is an absolute beauty of a genius, an inspiring talent. She created a bespoke Kombucca drink in flavours to compliment my dress; Rose & Hibiscus and Palm of Violets, with carefully sourced and blended natural ingredients, she brewed a drink that is totally out of this world – so wonderfully unique."
"This was served mixed with prosecco with the canapes and then again with for the toasts. In fact, I drank it all day!"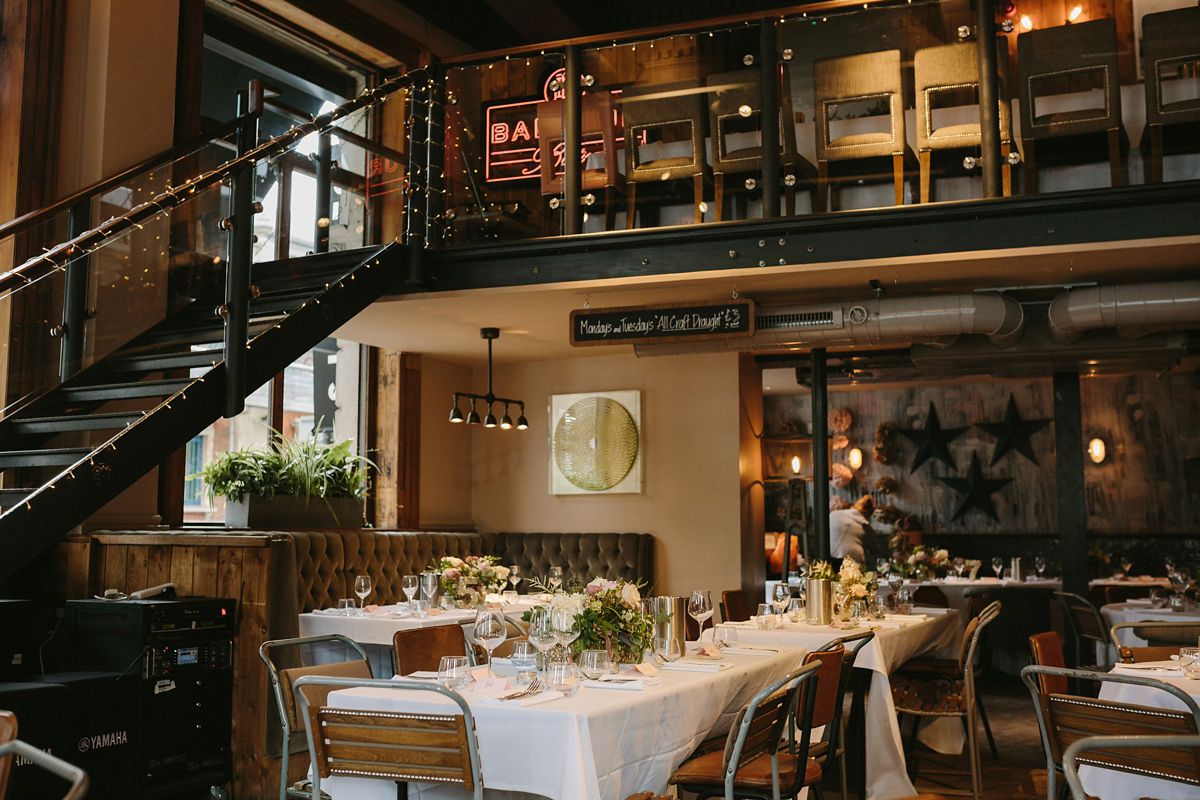 "The table numbers and confetti were a real labour of love; I spent many evenings punching tiny stars from tissue paper, and Jack covered in gold glitter from covering the numbers. It was more than worth the effort as the effects were just what we'd hoped for on the day."
"With the help of two of my very best friends, Sarah and Linda, I arranged the table flowers myself, in the kitchen two days before the wedding. A job I really enjoyed, and so glad I did."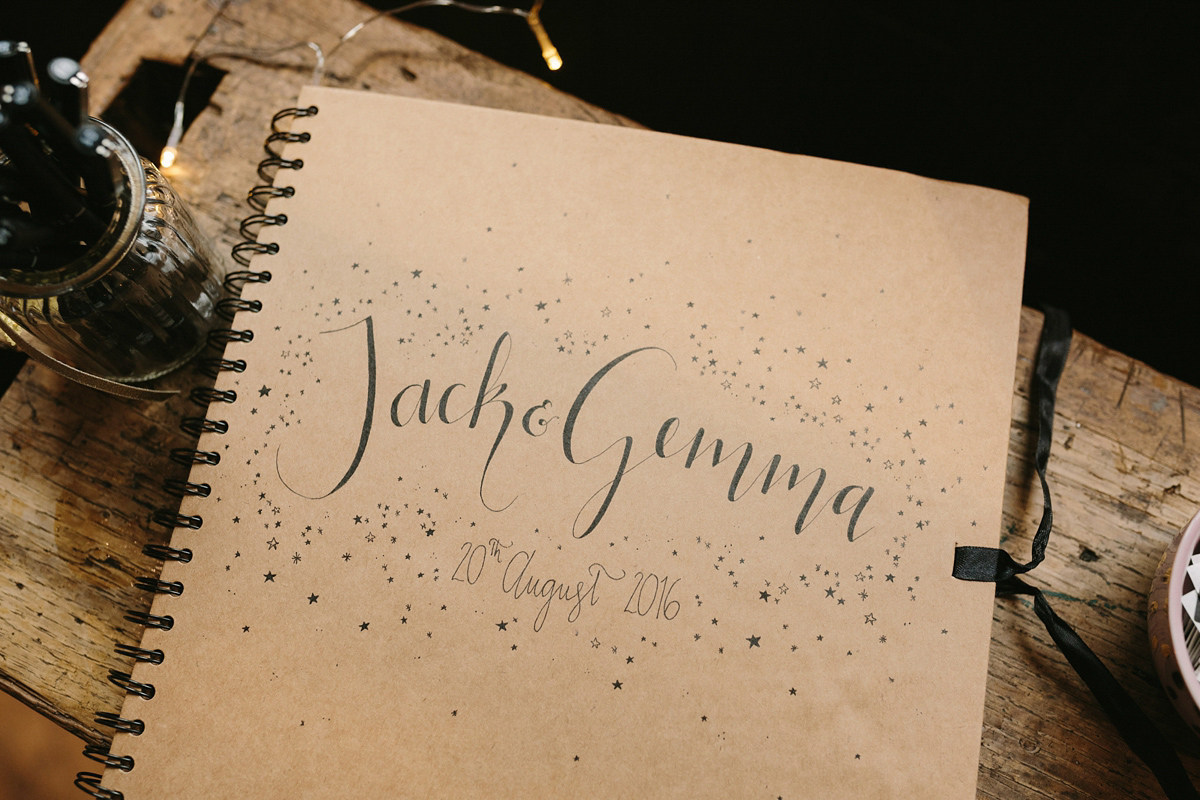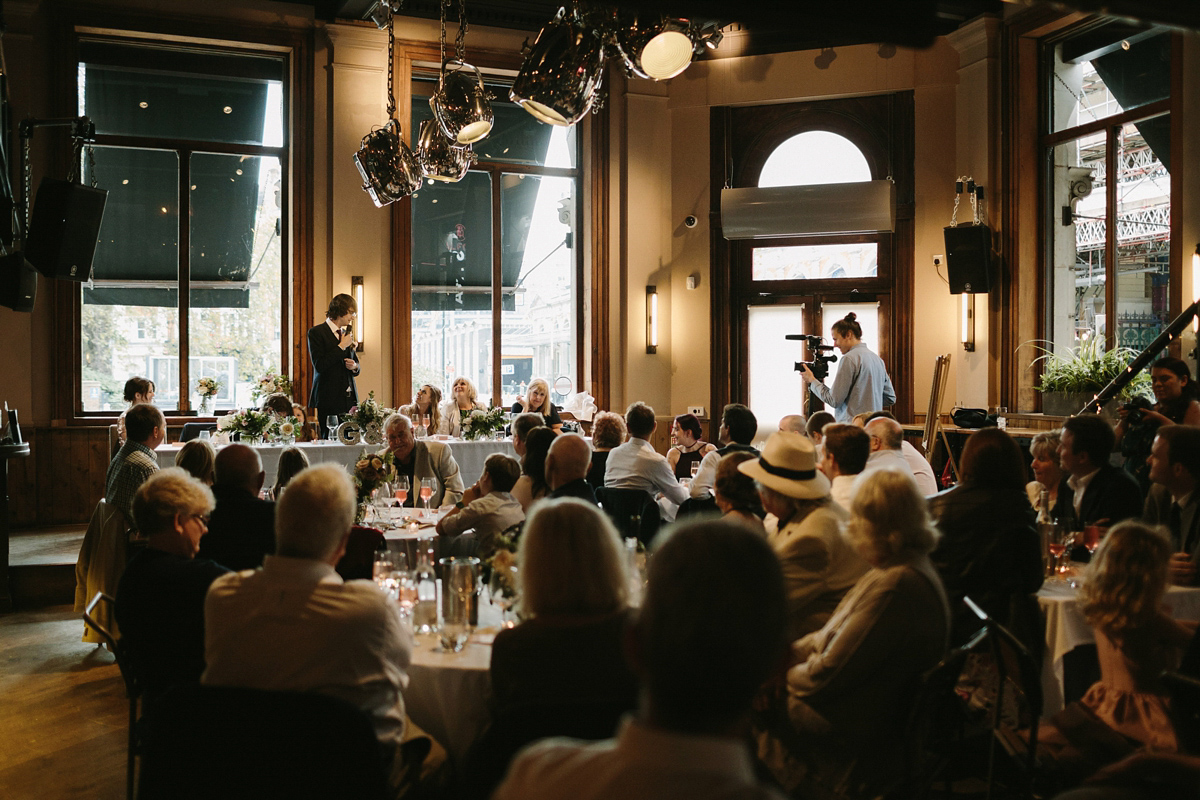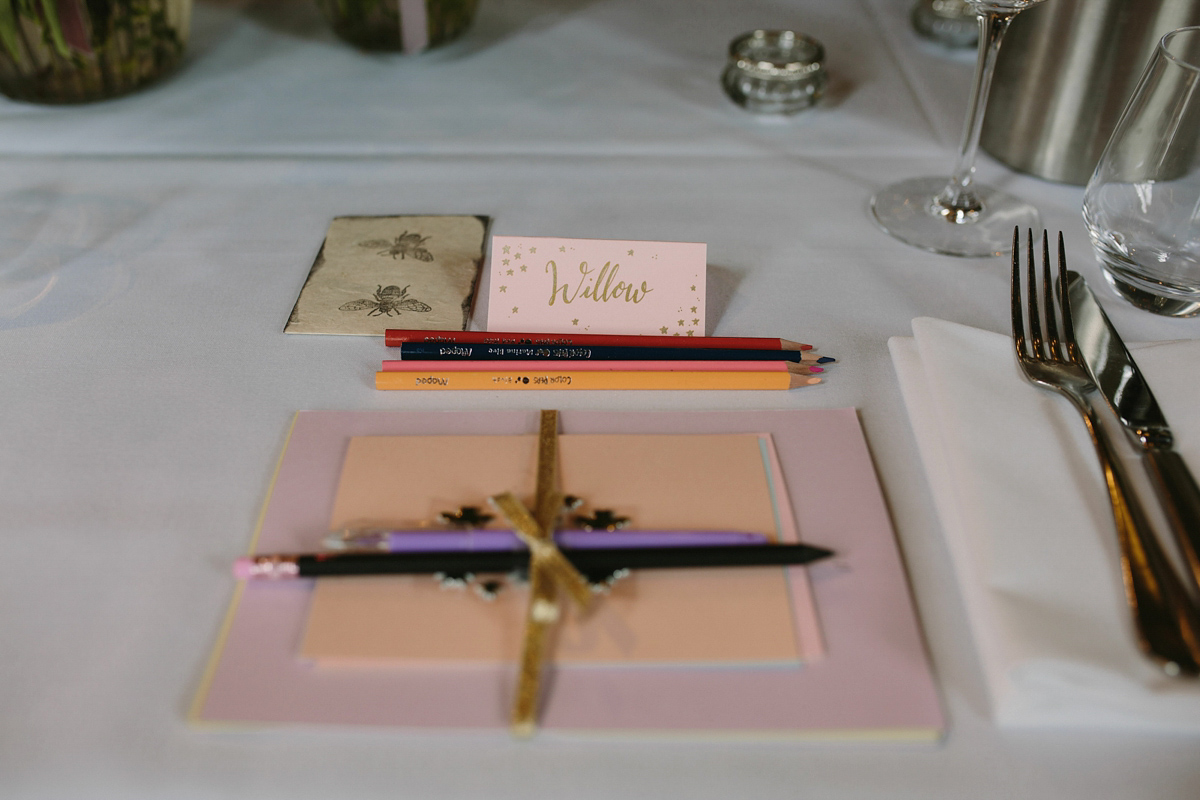 "A very talented girl at work offered to make our cake, though I'm not quite sure she knew what she was taking on… I had a vision of what I wanted the cake to look like, and how it should taste – red velvet texture, without the colouring, with raspberries, rose flavoured jam and vanilla cream."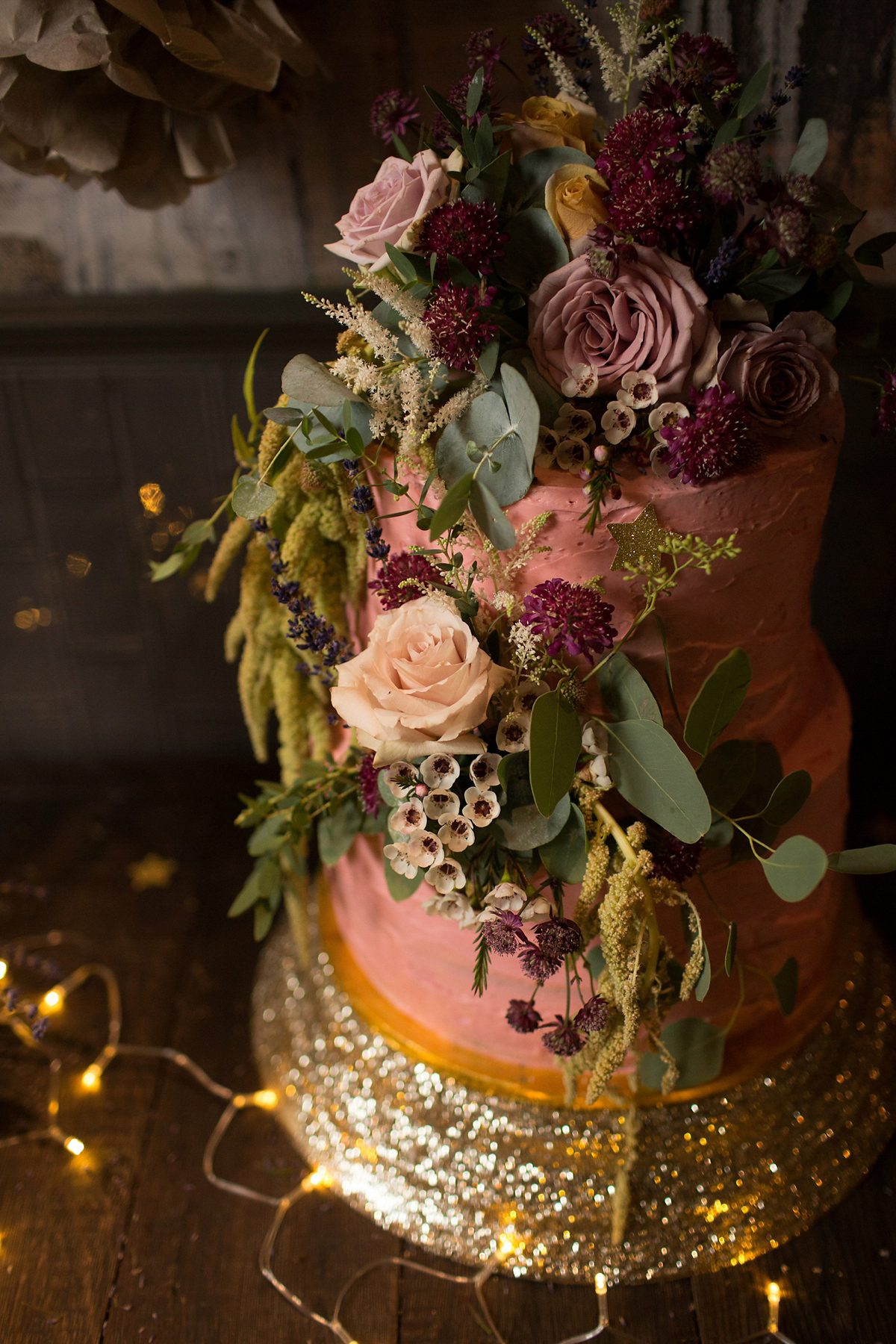 "The icing was to be pink and messy and rose flavoured too. Our florist took care of the flower decoration, and oh my, it was the best cake I think I have ever seen and it tasted divine. It was so good we had it for breakfast the next morning."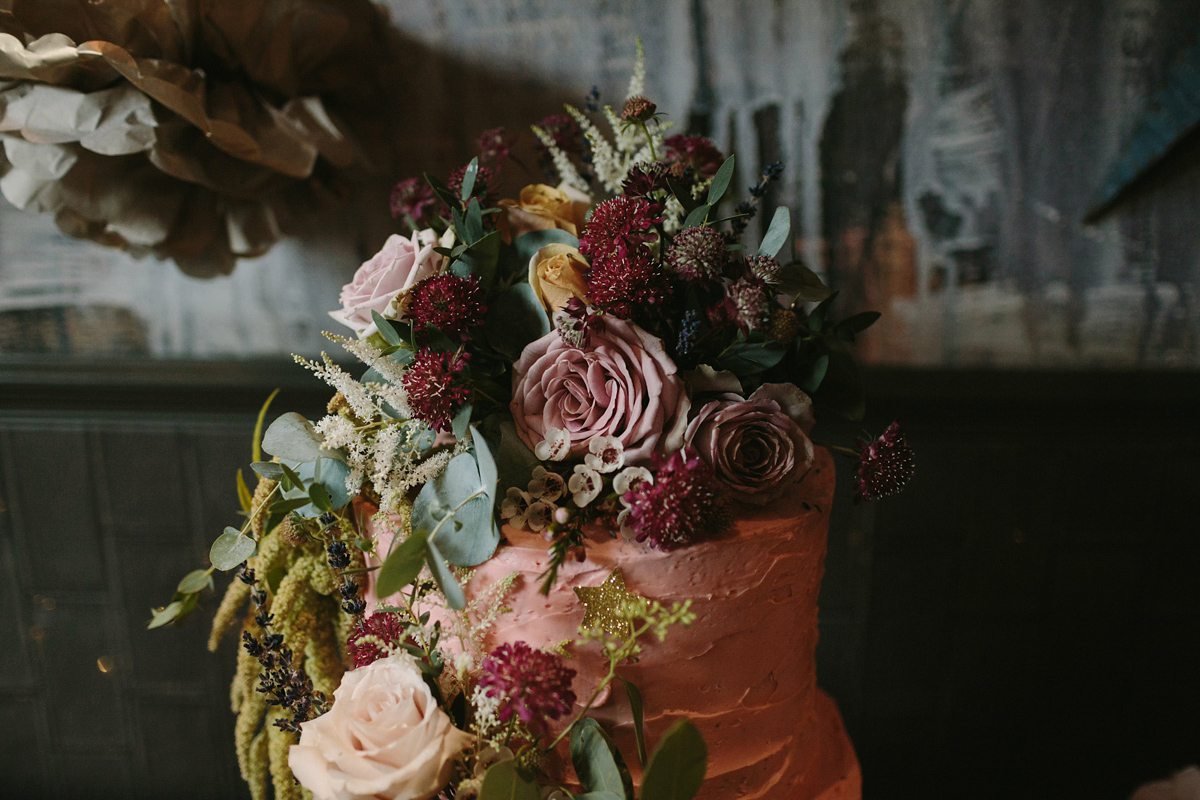 "I cannot tell you what my favourite part of the day was – it was all my favourite. It went way way too fast and I am only just beginning to come to terms with the fact that it is all over and I don't have a wedding to plan anymore."
Words of Wedded Wisdom
"I don't want to detract from how magnificent our wedding was and how utterly over the moon I am to be married to my best friend; weddings are amazing, but I wasn't prepared for how hard I'd hit the floor afterwards – I can only compare the feeling to that of grief, and, unfortunately, I know that feeling all too well. It may sound so completely absurd and I was in two minds about writing about this, but I think that I should be honest and let people know that this emotion may well be heading their way soon."
"I guess I spent so many hours thinking about nothing else, and planning every tiny detail, daydreaming about putting on that dress, walking down the aisle, seeing Jack's face, saying our vows, dancing to our favourite songs and seeing family and friends who we'd not seen for years, that when it was all over, I woke up the next day feeling totally lost**."
** Readers, there is an excellent post on Love My Dress that discusses the 'post wedding blues' here.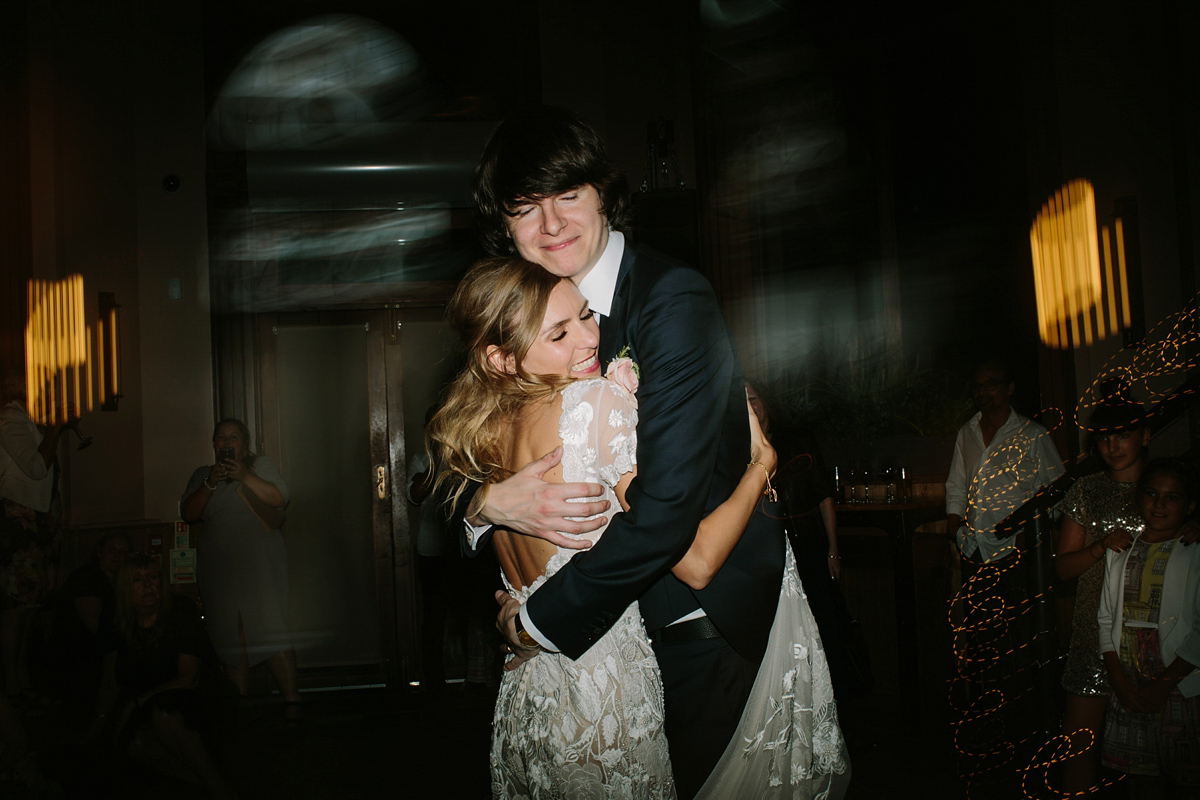 "I have only recently started listening to music again and not feeling like bursting into tears when I hear 'our' wedding songs. I now have nothing but happiness fill my heart when I think of the incredibly cherished time we had on our wedding day and I would relive it all again, in a heartbeat."
"Best thing of all to come out of this whole experience, is all the beautiful new friendships I have made with some of the most talented and inspiring young women I have ever met.
Sharing our day with all those we love, was the most important and special part for us. I could not write this without thanking all those who came, helped, listened and shared this experience with us – they are the ones who made it a truly memorable day; we love you all.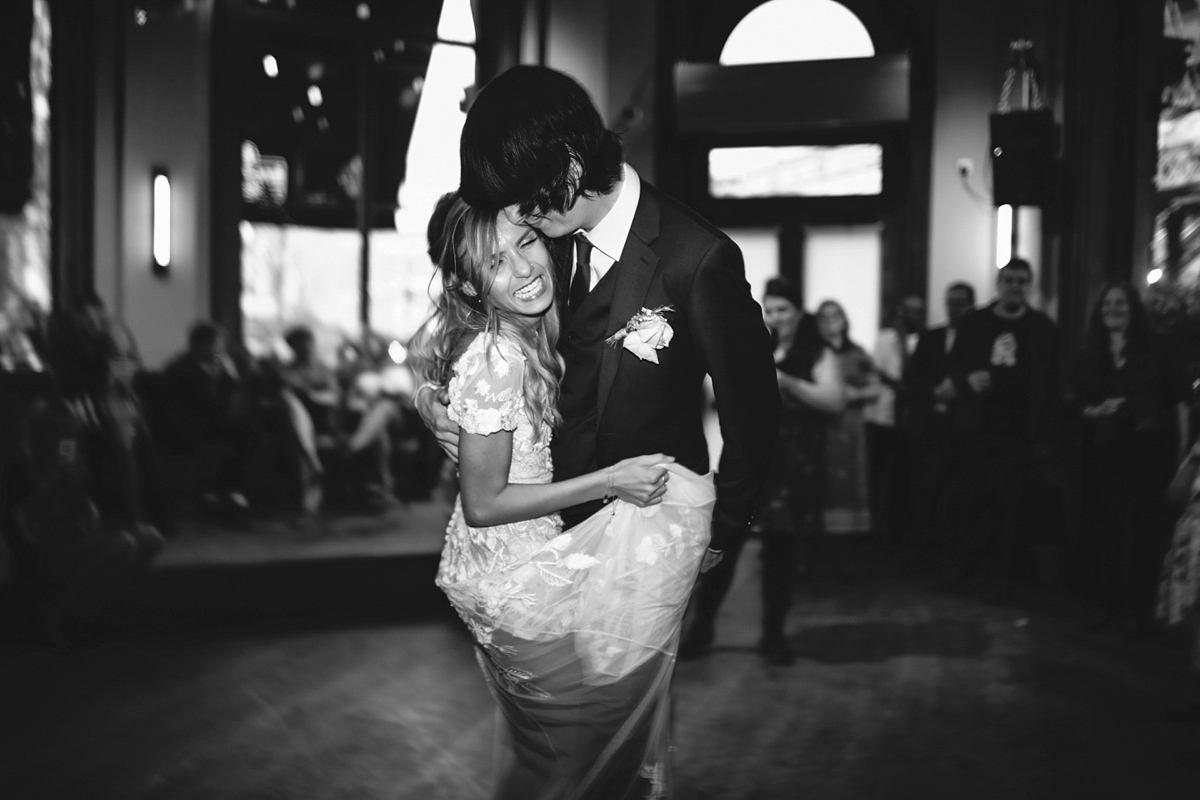 Thank you darling Gemma for sharing your beautiful day, you looked completely amazing and your wonderful photographs capture the joy beautifully.
Love Annabel x