This year, Jenny Packham celebrates 30 years as a designer at the head of her game. A leader in her field of high-fashion ready to wear and bridal fashion.
I am so proud and delighted to have been a Jenny Packham bride when I tied the knot back in 2009 – the event that inspired the creation of this much-loved wedding blog and turned my head forever to the beautiful and creative world of weddings. I saved hard for my Jenny Packham dress and felt like a Queen on my wedding day. I have genuinely never felt as glamorous as I did that day, stepping into and stepping out in my sublime 'Celine' wedding dress.
I've been a fully fledged Jenny Packham fan ever since and given my line of work these days, it's such a pleasure to see Jenny's brand continue to flourish and thrive.
I'm really keen to get a little up close and personal with my idol and inspiration, to reveal a little more about the designer behind the brand. This exclusive interview provides a delicious peek into Jenny's world and what makes her tic. I hope you enjoy it.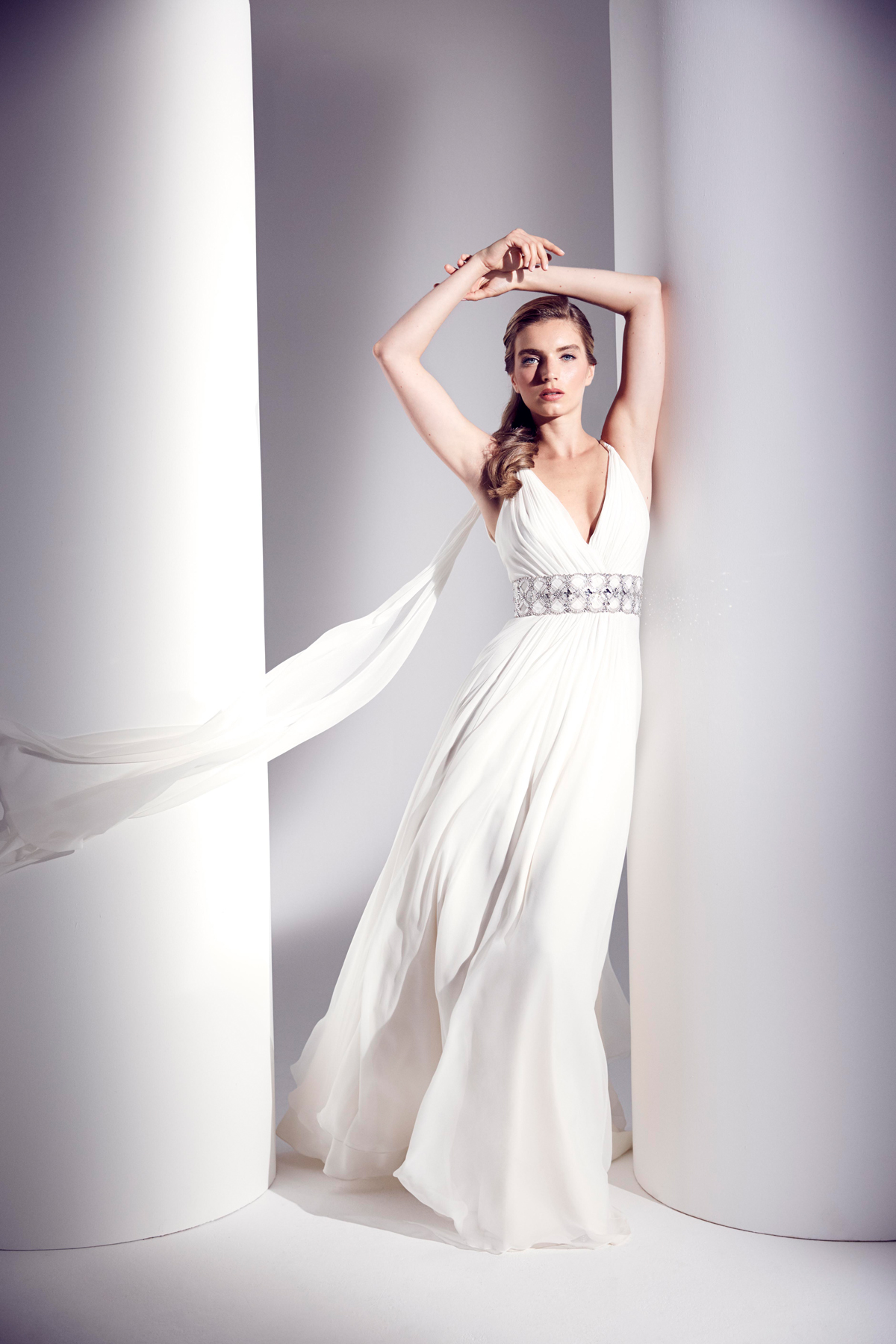 Angelica from Jenny's 2019 bridal collection
Now before we continue, I want to mention this wonderful opportunity that is available for THIS MONTH ONLY (and there isn't much of this month left ladies, so, perhaps make a trip to Jenny's flagship a special treat ahead of 25th, combined with a little Christmas shopping in London?
How has the world of bridal fashion changed in the 15 years since you first launched your bridal collection? And what, as a designer, are you doing now that you weren't back then?
I love looking through the archive; from our first bridal catwalk show to the latest 2019 salon presentation at The Ritz, London. From ballerina length skirts and nipped in waists of the 50's to the come-back beautiful ball gown styles – designs and trends are constantly evolving.
The bridal landscape is changing, brides are now looking to social media and other brides to find their wedding inspiration.
Juniper from Jenny's 2019 bridal collection
I think that there is now a lot more variety and that brides have become more trend led– capes and slinkier silhouettes are having a moment. Whilst I think it is important to take trends into account when I'm designing, I also think it's important to be true to the brand's signature style. This season I introduced crystal embellished and embroidered tulle capes – Meadow and Crystal feature crystal star constellations and can be teamed with a silk slip or embellished gown for added glamour!
[instagram url=https://www.instagram.com/p/Bq8T3xMBixH/ hidecaption=true]
Your signature aesthetic is so instantly recognisable, how would you describe it yourself?
The signature Jenny Packham style is soft and romantic with delicate embellishments. The Jenny Packham bride is feminine and fashion forward, her bridal look is modern romantic.
I'd love to know what a typical working day is like for you – how does a couture designer behind one of the worlds most recognisable and successful fashion brands spend her days?
Each day is so different! A typical day would start with a coffee and working in the studio with my design team sketching and developing new collections. I spend time in Mayfair, meeting with stylists and journalists and I am frequently out of the country, visiting our International flagships, stockists, customers and manufacturers.
https://player.vimeo.com/video/279426707
I sometimes feel like I am constantly in the air…I am currently writing this on a plane back from Deli following a 2 week trip around India – It is such a beautiful country, awash with the most vibrant of colours. I love visiting and catching up with our teams in Deli and Mumbai – I never tire of seeing our beautiful garments being hand beaded and sewn.
I am so inspired by travel and can't wait to get back to the atelier to develop all the sketches I have done on my travels.
Indigo from Jenny's 2019 bridal collection
What do you do to relax?
A walk through Hampstead Heath with my Sprocker Byron, or for the ultimate treat an afternoon at The Aman spa at The Connaught Hotel in Mayfair is time well spent!
What is your dream destination and why?
A 3 week trip to explore The Galápagos has always been a dream of mine – I'd love to see the giant tortoises and blue-footed booby.
See this full wedding on Love My Dress
Photography by Ruth Atkinson
Favourite flower?
A superstar rose – a beautiful vermillion rose that brings back the happiest memories of a sunny day spent in the garden as a child.
Favourite scent?
Frederic Malle Carnal Flower created by Dominic Ropion.
Favourite movie?
Moonflower from Jenny's 2019 bridal collection
Restaurant recommendation?
Scott's on Mount Street for the best seafood in town.
What's on your current playlist?
Anything by Brett Anderson.
Latest/current book you're reading?
I recently read, Jean Harlow's intimate biography titled 'Today is Tonight' following a visit to The Hollywood Museum in Los Angeles. I became enchanted by Hollywood's iconic IT girl, so much so that she was the inspiration behind our SS19 collection. I hoped to capture her radiance, vibrancy and wit and create a collection of contemporary styles from the rich and scandalous archives of Jean's short-lived life.
See this full wedding on Love My Dress
Images by Beatrici Photography + Chris Barber Photography
Coffee table books in your home?
There's quite a large variety – from a wonderful book on Elizabeth Taylor's legendary and private jewellery collection to books on far-way exotic travel destinations, Hollywood's Leading Ladies and Art Nouveau painter and decorative artist Alphonse Mucha.
Your brand has two very popular Instagram accounts. Are you an active Instagram user yourself? If so, can you name 5 of your favourite Instagram accounts to follow and please briefly explain why?
Florence Pugh
The V&A Museum
David Downton
Dita Von Teese
Battersea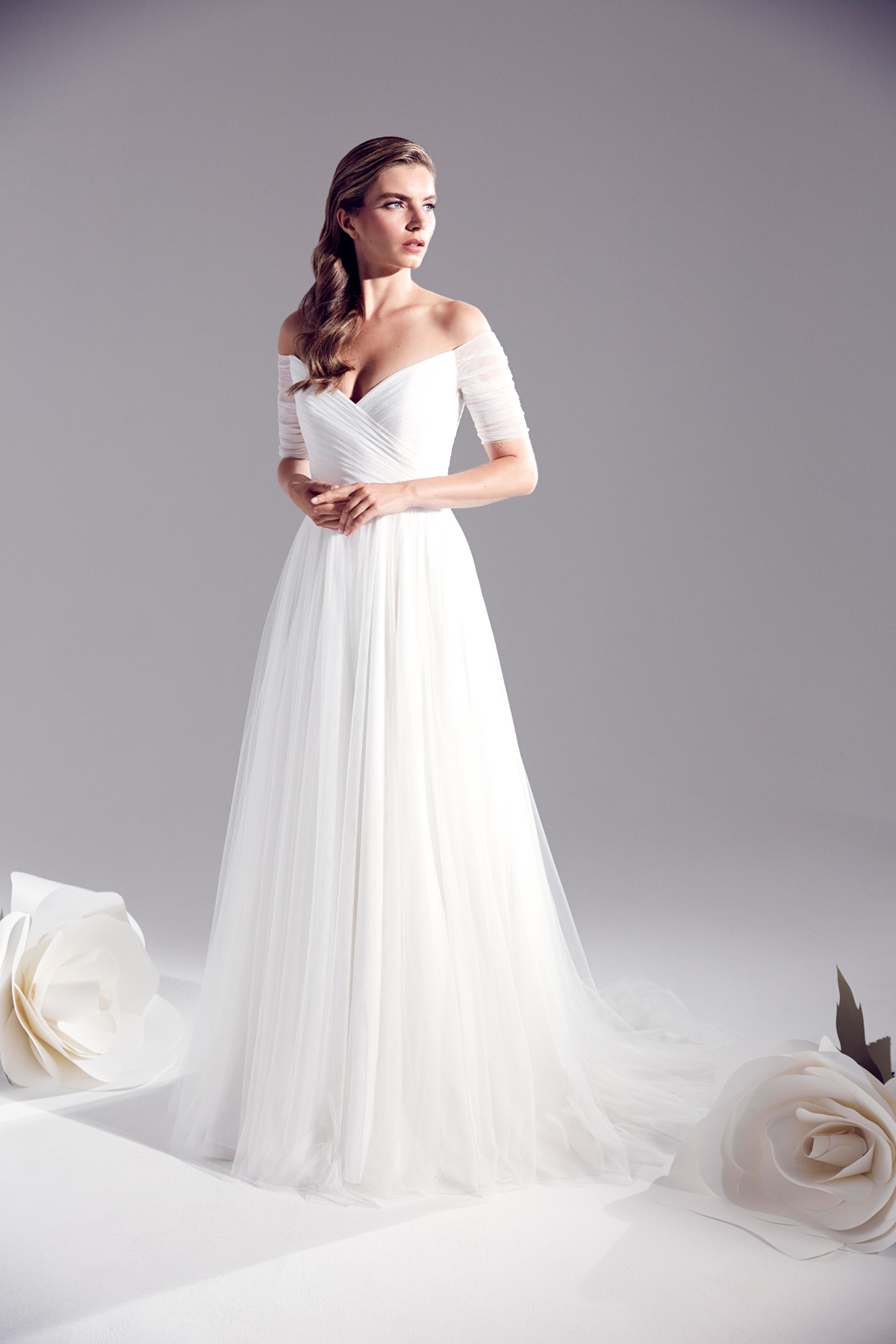 Thistle from Jenny's 2019 bridal collection
Can you describe your home to us? And do you have a favourite room?
It is very colourful and a hive of activity – the kitchen has and always will be the heart of our home.
London is your home, what is your favourite London spot and why?
London, Hampstead is home – our atelier is here and I find it the most inspiring and creative city! On a hot summer's day there is nowhere better than the Hampstead Ponds. It was a saviour during last Summer's heatwave.
See this full wedding on Love My Dress
Photography by Nick Tucker
Do you have a preferred/favourite designer yourself?
I am a huge fan of Dries Van Noten, Celine, Lanvin and Christian Louboutin for shoes all topped off with a little Jenny Packham sparkle of course!
Talk to us about your current collection – what is the inspiration behind the 2019 gowns?
The 2019 Bridal Collection was inspired by a F. Scott Fitzgerald quote and the hedonism of the 1930's.
'Men and girls
came and went
like moths among the whisperings
and the champagne
and the stars.'  (F. S Fitzgerald)
I love the novels of F. Scott Fitzgerald and often return to the perceived romanticism of this elegant age.
Lucille from Jenny's 2019 bridal collection
Do you have a favourite gown in the collection?
I love incorporating a variety of different styles and trends into the collections. Our bride varies across each of our major markets so it is important that our collections cater to each market, accommodating different traditions and style preferences.
One of my all-time favourite styles is the Rapunzel gown which features a Swarovski crystal and opal embellished bodice and train – it is available exclusively at our London Flagship in Mayfair and is a truly spectacular piece.
See this full wedding on Love My Dress
Photography Benjamin Stuart Photography
I'm keen to know more about your collaboration with Goldsmiths and your jewellery line – tell us a little more about this?
I had dreamt of this project for years and my love of sparkle is no secret! Designing our bridal and RTW collections has always given me great personal reward. I love the entire creative process from my initial sketch to sourcing fabrics and the process is the same for my fine jewellery collection.
Like Jenny Packham, Goldsmiths is a British brand with integrity and heritage. Both accessible and contemporary, the synergies between the two brands made it the perfect collaboration and I greatly enjoy collaborating with the team. The combination of established quality and the Jenny Packham aesthetic has been inspiring, resulting in a collection that is both beautiful and desirable.

May from Jenny's 2019 bridal collection
What's next for the Jenny Packham brand?
I am delighted to announce the launch of the Jenny Packham Apartment in Paris. Located in the 8th Arrondisement, the apartment will be by appointment only. Offering an exclusive edit of evening wear and bridal collections, our first private atelier will offer a unique brand experience and will be opening in January next year. Paris is one of my favourite cities and we are very excited!
_______
If you are interested in trying on some Jenny Packham gowns, we recommend a visit to either the Jenny Packham flagship boutique, or any one of these UK and international stockists. Jenny's flagship boutique is located below – we've even included a helpful Google map for you 🙂
Jenny Packham London
3a Carolos Place
Mount Street
Mayfair
London
W1K 3AN
Opening Hours
Monday to Saturday: 10am – 6pm
Thursday: 10am – 7pm
Sunday – Closed
Telephone: +44 (0) 207 493 6295
Email: [email protected]
For further enquiries on the launch fo the Paris Apartment, please contact [email protected].
You can see all our Jenny Packham brides on Love My Dress here.