If you're looking for beauty, for escapism or for a little extra insight into the world of design, take a moment out with us here. I am beyond happy to welcome accessories designer Hermione Harbutt to Love My Dress today because Hermione is just wonderful.
Our first meeting was years ago now but I'll always remember being struck by her warm, her passion for her craft and her utterly joyous personality.
Quite simply, we need more Hermiones in the world right now. She joins us today to showcase her new collection and to give us a little insight into her design process and everything that's going on right now. Read on and feel a little better.
Hermione Harbutt

+ Follow
So, let me introduce you to the brilliant Hermione Harbutt. She's an artisan accessory designer, specialising in handcrafting beautiful, intricate headpieces and jewellery for stylish brides. She lives in Bristol with her husband, her daughter (and their little black cat) and she has two showrooms, one in Clifton in Bristol and one in Kensington, London. If you're able to visit I urge you too because they are absolutely perfect – tranquil, inspiring, beautiful and welcoming.
"I have always been a maker, ever since I was a child, with a particular fascination for delicate and intricate things," explains Hermione. "I first started making jewellery when I was still at university in 2008, creating pieces for friends and family. I usually created pieces in pearls – a favourite medium of mine – which drew me into the bridal world."
"I started to create pieces for brides and friends encouraged me to try designing pieces for the hair. At the time pieces on offer in the wedding industry were quite heavy looking and very much tiara centred, which wasn't really something that excited me."
"So I decided to create a capsule collection of headpieces that I would myself love to wear. They were so well received by brides and the industry alike, but more than that, I had absolutely found my creative passion."
I adored designing these intricate pieces, I found them creatively liberating – they could be so delicate and such an unusual shape. I also loved working closely with brides and clients seeking special, bespoke designs to be treasured as an heirloom for years to come. This artisan working alongside the wonderful, intimate nature of the wedding industry cemented my love affair with headpieces and remains what I am best known for."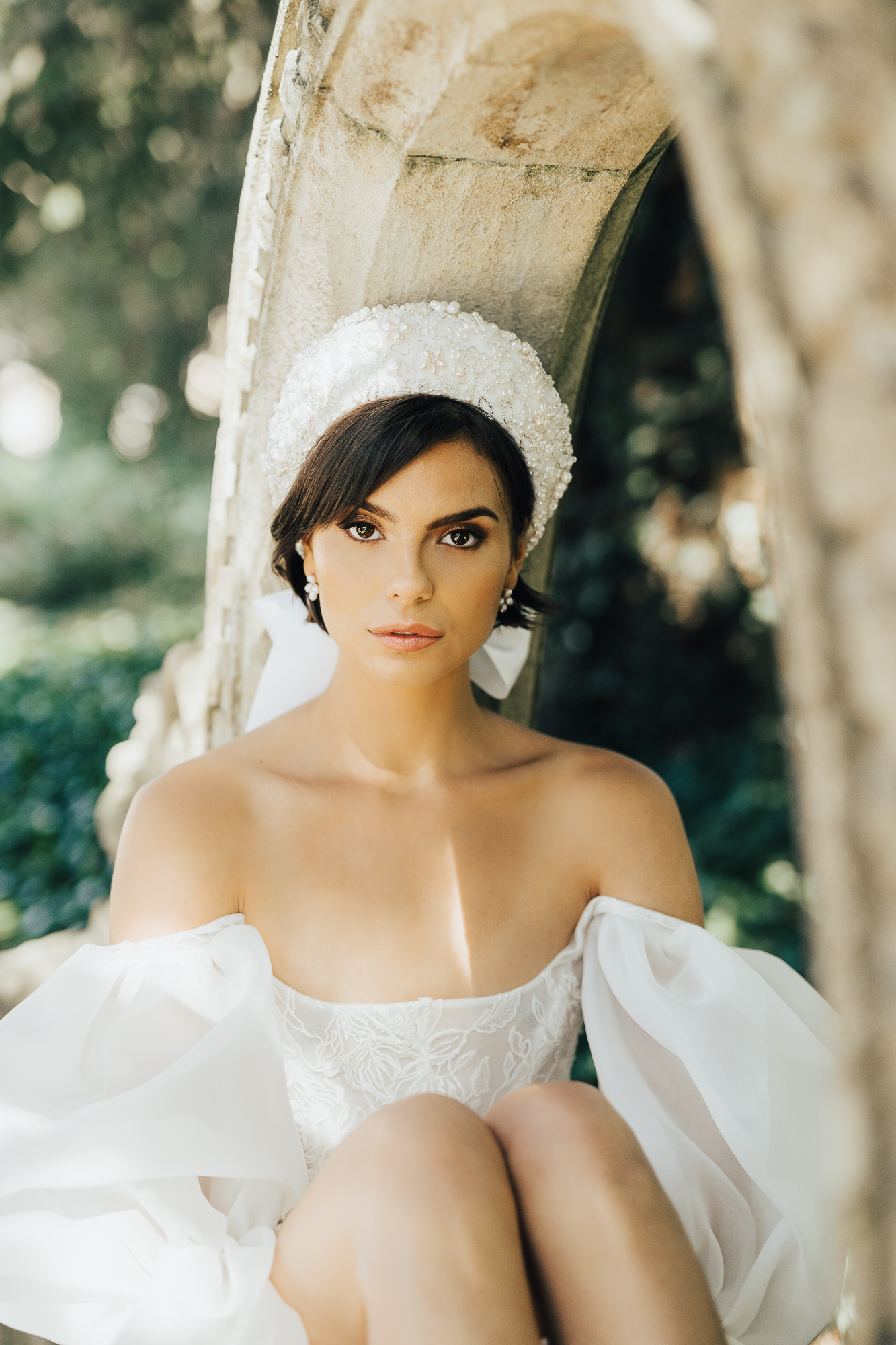 Hermione's instantly recognisable signature style is luxurious, intricate and feminine. The vast majority of the designs feature her signature wirework and have a natural, organic form but the collections themselves are wide-ranging and there are styles and shapes to suit all everyone.
The new wedding accessory collection from Hermione Harbutt showcases a fabulous variety of styles and aesthetics. There are colours, shapes and forms that you don't often see in wedding designs and there are also soft florals, celestial touches and modern millinery pieces for a fresh look.
Jewelled Alice bands and unexpected, meandering garland styles offer a transformative look alongside modern hairstyles and gowns and the colours are just heaven – traditional bridal tones, dusky pinks and navy blues. I also have to mention the millinery pieces that feature gold and pearl details, embellished crescent crowns and luxurious, oversized bows. Pure bliss.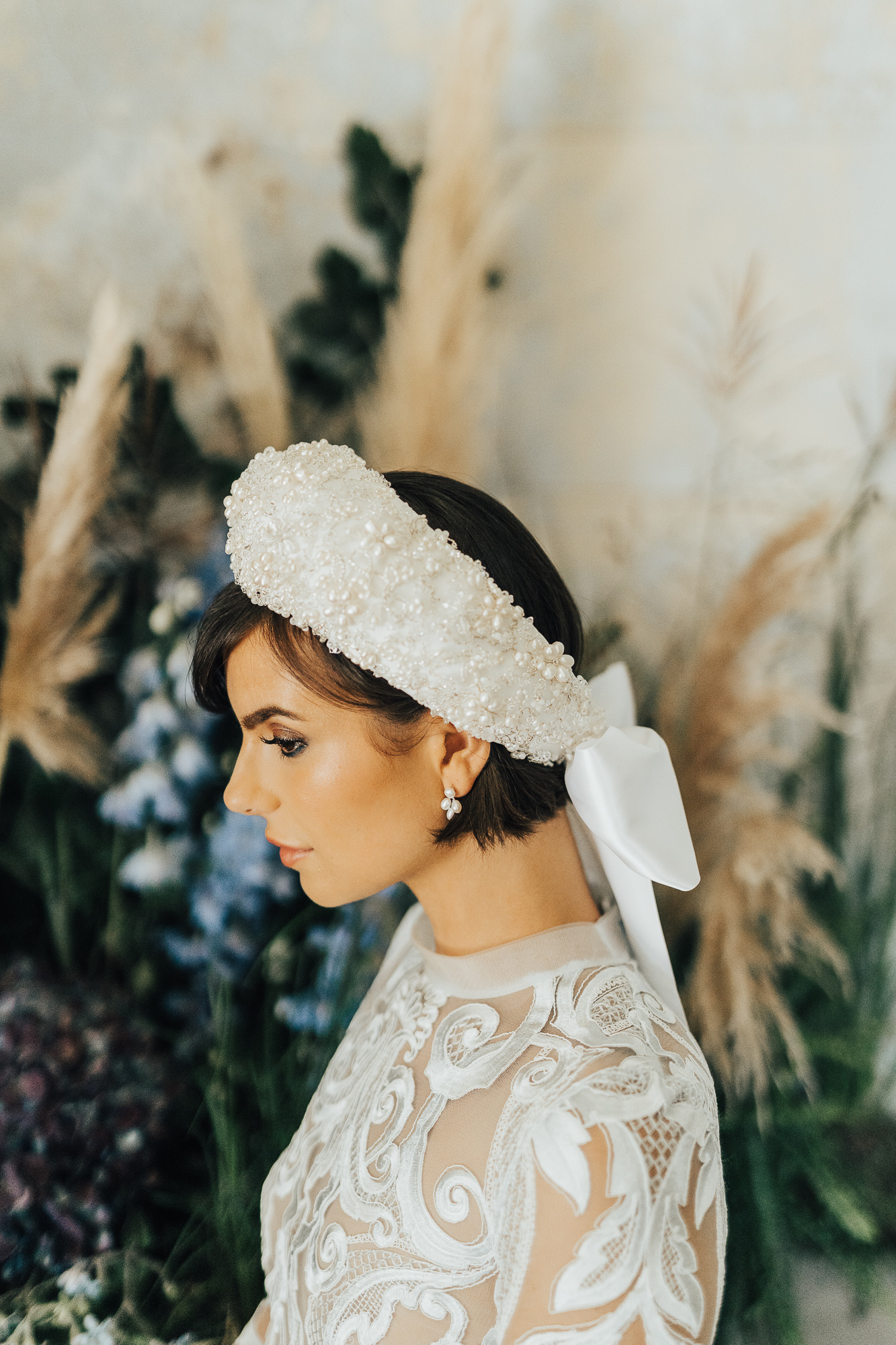 "I find designing to a collection 'brief' particularly challenging for my creative design style. I love to meander, starting pieces when feeling inspired, allowing the collection to flow in the direction of whatever is held in my mind. This tends to result in a wonderfully diverse set of designs within each collection, but with some connected styles running throughout.
Often some of my most statement pieces are made in the last few days before the new collection photoshoot. At this time I am fully immersed in the images and aesthetic I am envisioning and new designs continue to creep to the surface and demand to be made!"
"In this collection, there are a couple of pieces which really do make my heart soar. I absolutely adore Anastasia. Regal and utterly divine, this stunning piece features pearl and crystal details mounted onto an indulgent silk base and finished with a luxurious oversize bow. Guaranteed to make you feel like Grace Kelly!"
"I also love the Artemis pieces. They feel so modern and contemporary, adding wow factor in their many forms. Another favourite is Wild Rose tiara. The perfect combination of modern elegance and floral statement." 
"I have always focussed on working with the most beautiful materials; real pearls, Swarovski crystals and gemstones. This new collection also sees me embark into the world of crescent halos and silk covered bands, embellished with delicate jewels for a regal feel. It gives me such pleasure to create pieces that have a true sense of being precious, not just in their materials, but also in the intricate work that has been devoted to its creation."
"Weddings come in such a huge variety of celebrations, both in size, style and cultural influence."
"As such, my accessories feature a really diverse set of designs, from the most simple and elegant garland for an intimate garden wedding, to a statement celestial Swarovski piece for a city chic celebration of hundreds."
"Brides can further choose to suit their own style through my bespoke service, allowing them the chance to have a favourite design created in a smaller or larger version, incorporating different elements or materials, to exactly suit their own celebration." 
Since the lockdown announcement back in March, it's fair to say that Hermione has been rather busy, from carrying out online consultations with brides, juggling childcare at home and raising £2400 for NHS Charities Together and Refuge through designing a number of new pieces including a hairpin and matching earrings.
"I'm really missing hugging family and friends and being in my showroom with brides. I love my job and I love hosting appointments and seeing the emotions of brides and their loved ones as we discover the perfect together."
"I love the excitement and the joy of working with brides. I love being able to create something that someone might have been imagining for all of their life. It's such a personal and lovely process to work with someone to create a precious piece to be treasured."
"Most of all my brides are all amazing, many of whom stay in touch for years and feel like friends. Last year one of my brides, who wore Florrie Headdress for her wedding, popped into the Bristol showroom to introduce me to her beautiful baby girl. She told me that she had named her Florence, but that she would be known as Florrie, just like her headdress. So lovely!"
"We will be here on the other side of this challenging time to welcome our brides back into the showrooms and we hope to make their appointments as special as ever. And, if you've had to postpone your day or change your plans, your lovely celebrations will come, they will happen, it just might not be when you hoped it would be. It must feel so hard and disappointing but hopefully it will feel all the sweeter once the day finally comes. Because love wins after all."
To find out more about the new collection or to book your appointment at the Bristol or London showroom, do visit Hermione's glorious website for all the details.