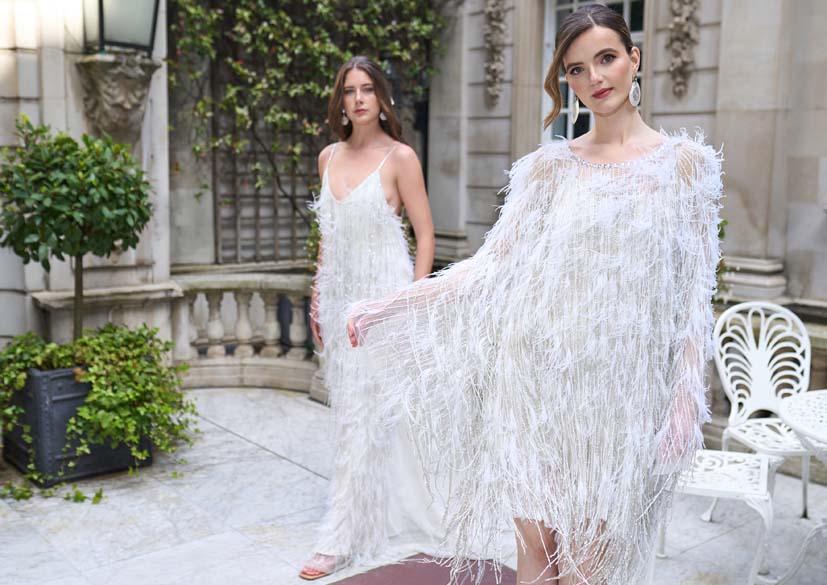 About Eliza Jane Howell
Eliza Jane Howell create glamorous, sequin wedding dresses and capes inspired by the 1920s and 1930s, for brides who appreciate timeless elegance and vintage glamour.
Designer Gill Harvey brought together her years of experience to create the Eliza Jane Howell Bridal Collection.
A graduate of the Royal College of Art in London, Gill Harvey was originally known for her Medici knitwear collection. Most recently it was her collaborations for the labels Invite and After Six that kept her to the forefront of the occasion wear industry designing for both mother of the bride and special red carpet gowns. And so born from a feeling of luxury and Gill's love of glamorous dressing, evolved The Eliza Jane Howell Bridal Collection. The label was named after Gill's grandmother who was also a fashion designer from Wales. Gill's ethos behind the collection is to design a dress for the modern day bride who would love to wear a wedding dress that oozes the glamour and sophistication.
In 2022, Eliza Jane Howell celebrated 10 years of glamorous bridal fashion and launched it's Perfect 10 collection.
"We wanted to showcase the artistry and hand-beading skills which have become the creative signature of Eliza Jane Howell. Each gown is named after a significant member of the team past and present who helped build our brand. On your special day, you will look and feel like a perfect 10. These gowns are a modern-day heirloom for today's bride. We love our Perfect 10 collection and we hope you will too."
Boutique
Eliza Jane Howell, Connaught Street, London, UK
By appointment only, please contact us for details
Videos
Articles featuring Eliza Jane Howell