I'm absolutely delighted today to be publishing a feature that I was supported in writing by a new Guest Blogger who'll be making regular appearances here on Love My Dress. Her name is Jemma, and she is already familiar with our readers and knows just what makes them tick, for her own wedding was featured on Love My Dress on 16 June – click here to view!
Jemma has written a piece about that the bird cage veil – and there is lots of lovely information below about where you can buy, how to wear and where they originated from.  From anyone into the vintage Bride look – this is a must read, so without further ado, I shall hand you over to Jemma…
"The Birdcage Veil is a trend that is gathering pace and rapidly gaining popularity in place of traditional longer chapel, cathedral and shoulder length veils.
The birdcage veil harks back to the 1940's/1950's where the classic merry widow netting was attached to pillbox, hair discs and top hats. This glamorous look back in the day has now evolved into the unstructured look we are seeing now with the netting being worn with feather and flower fascinators, vintage hair brooches and hair clips." 
Left: Twigs & Honey (US) and Right: William Chambers (UK)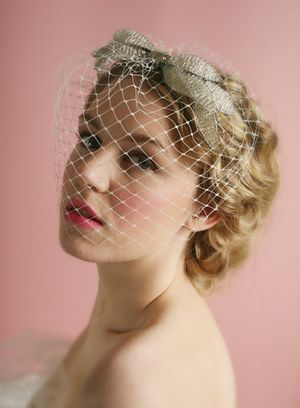 The appeal of this classic look is the versatility, with net options from fine French net, bold Russian large net and silk tulle with added options such as pearls, rhinestone crystals and sequins. The world is your oyster when it comes to accessories for the veil, you can be as dramatic as a cabaret show girl with fabulous feathers and blooms or go understated with vintage or faux vintage jewelled hair accessories and be a silver screen starlet.
Below: Baba-C Designs, Photography Copyright (c) 2010, Archibald Photography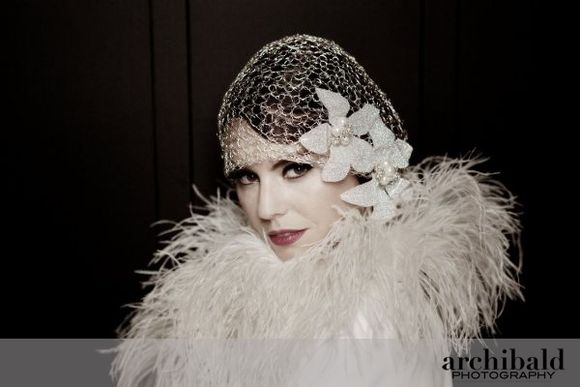 As with many bridal trends in the UK this stylish look has hopped across the pond from the US. Over there the look has been favoured by many a bride for several years now, you may have seen the beautiful Reese Witherspoon in the US comedy film 'Sweet Home Alabama' – her simple dress was set off beautifully by a full birdcage veil with a flower accessory. 
There are many suppliers online in America to source a birdcage veil for your wedding, sadly in comparison, there are much fewer over here in the UK, though most of the images on this page are from UK designers (indicated with a 'UK' where so). 
British Milliner Pip Hackett working on one of her own birdcage veil creations…
Many brides wonder if the birdcage look will go with their chosen dress – there are no hard and fast rules as to which dress types suit this hair accessory particularly as there are so many types of birdcage veil but as a general rule of thumb simple dresses work very well with them as the veil adds that extra edge to the bridal look, 1950's tea dresses look beautiful with the birdcage for a splash of Hollywood glamour. I would recommend that you try a simple piece of net with a flower clip with your dress during the fitting sessions to see what you think, I did exactly this and whilst I adore Birdcage veils it didn't work with my dress, the lace design was too delicate to go with the large net of the veil.  However delicate silk tulle would work with beautifully with delicate vintage 1920's/1930's dresses so there are options for all dresses and all style preferences.
Left Below: Ban.do Bride, and right, Sheena Holland (UK)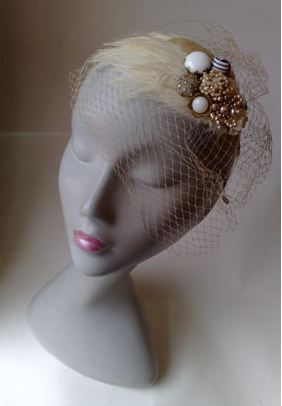 How to Wear a Birdcage Veil…

We consulted Couture Milliner Beth Morgan for advice on how Brides can best sport their birdcage veils.  Here's what she had to say…
"Birdcage veils are back in vogue in a big way. The small, short-netted veils are sexy and cute yet elegant all at the same time.  Simple, chic, less expansive than full veils, and pretty much fuss-free, there are so many ways to wear this veil…the list goes on and on….but as a rule I would always say to wear it as far forward and to the side or centre of your head as you dare for optimum impact!

Below: Beth Morgan Couture Millinery (UK), Photography Copyright (c) 2010, Archibald Photography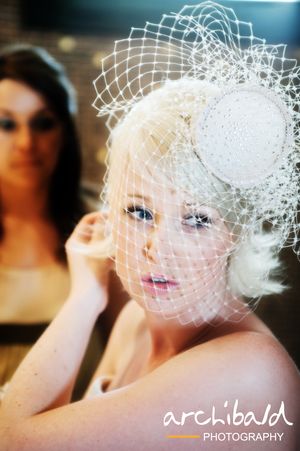 "Some brides like to wear the veiling from the back of the head so that it falls over the face…this is a look favoured by quite a few stylists in magazines……this can work too but the veiling will only cover perhaps down to the tip of your nose and often can either squash a full up- do or for some, because of the close fitting nature of the style, loose the height and softness created by veils which you need to ultimately balance out the shape/length of your dress.
 
Another thing to consider is how close you would like to wear the veil to your face. Again many magazines show a really close fitting veil, which believe me looks great for pictures but not so good when it come to blinking…think of long eyelashes…kissing….or make up smudges! Give yourself a little space to move!!"
"Add a fascinator over the top of the veiling. This can be a small but perfectly formed jewelled head piece,…..a vintage style brooch…… a sequin and bead appliqué…a collection of flowers…or one striking large one….feathers! Any thing goes…..it all works and can be a brilliant way to compliment details on your dress. Plus if and when the time comes that really you just have to loose the veil…you can still shine as the bride in the gorgeous in the fascinator!!
Below: Beth Morgan Couture Millinery (UK), Photography Copyright (c) 2010, Archibald Photoraphy
In a nut shell the great thing about these veils are…… 
♥  They work with pretty much any style of dress
♥  Most can be put on a comb a band or a clip…which ever you prefer
♥  You can embellish them beautifully and to great effect with crystals, beads, sequins etc etc
♥  Add a fascinator. add feathers, add flowers, add jewels, add a small tiara…..add personality!!
 
Made in the right way with the right materials, positioned towards the hair line or to the back of the head…its just a case of sliding in the comb and off you go! Chic, simple, perfect!"
Above left & right Jayne Taylor Millinery (UK) and Below left & right  Pearls & Swine (UK)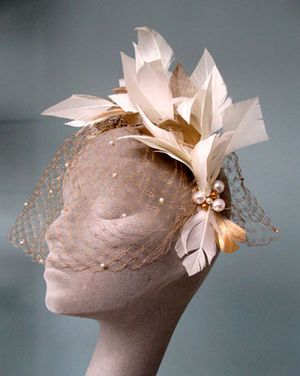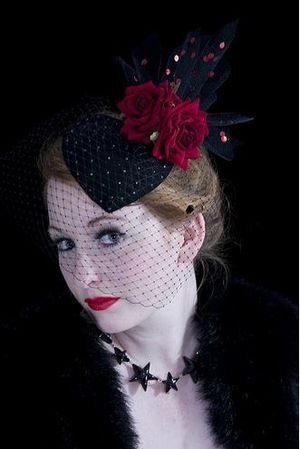 Make Your Own?
With the lack of UK suppliers many brides have taken to making their own birdcage veils with accessories to complete the look. They are surprisingly easy to make and the benefit of making your own is that your imagination is the only limitation – any colour, accessory and net goes!
A simple hairclip (left)  can be transformed with a little netting (right) – this original vintage French birdcage veil from the 1940s ($50/£34), and Daisy Fascinator Hairclip, also vintage 1940s ($45/£30) would look absolutely stunning on any Bride wanting to go vintage…
Below: Kat Swank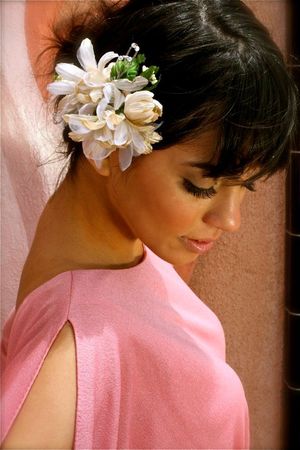 Here are some of the better 'DIY Tutorials' we've found on the web…
♥  How to DIY Your Own Birdcage Veil… 
 ♥  Birdcage Veil Tutorial
 ♥  Birdcage Veils and How to Make One…
♥  Making Your Own Birdcage Veil…
Where to Buy…
But if the DIY route is all a bit much for you, here are some recommended links (in no particular order) for purchasing your own beautiful birdcage veil online.
♥  Kat Swank ~ US based Etsy seller, creating divine birdcage veils & accessories using vintage finds…
♥  Pearls & Swine ~ Hugely talented designer Bink can make ANY birdcage veil you desire – just describe what you want…
♥  Beth Morgan ~ UK Milliner, creating bespoke accessories…
♥  Baba-C Designs ~ Gorgeous art-deco inspired designs…
♥  Jayne Taylor ~ UK Milliner, creating beautifully crafted bespoke bridal and vintage style hats…
♥  Pip Hackett ~ Bespoke bridal vintage hats and couture milliner, London…
♥  Sheena Holland ~  Unique, made-to-order headbands from London based Milliner…
♥  Edwina Ibbotson ~ one of the UK's most highly regarded Couture Milliners…
♥  William Chambers ~ Award winning Scottish Milliner who regularly features in Vogue…
♥  Twigs & Honey ~ Us based Myra creates the most beautiful headpieces…
♥  TessaKim, on Etsy ~ Birdcage Veils, Tulle Birdcage Veils and Bridal Accessories…
♥  Mikiye Creations ~ on Etsy ~ beautiful hand-crafted creations…
♥  Imogen's Imagination ~ Sheffield based bespoke Millinery, for all occasions…
♥  www.birdcageveils.com – US site to purchase birdcage veils…
♥  www.unveiledbridaldesigns.com  US site to purchase birdcage veils…
♥  www.dream-veils.co.uk UK Veils including birdcage veils…
♥  www.vintageheadresses.com Vintage headdresses including birdcage veils…
♥  www.byharriet.co.uk – UK supplier/bespoke hair accessories including birdcage veils…
Below, Mikiye Creations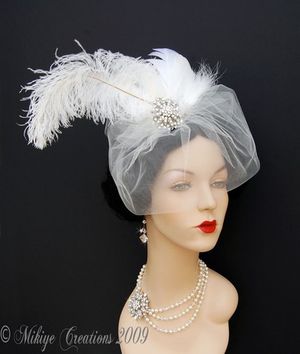 Real Brides in Birdcage Veils…
And finally, some of the 'real brides' who have featured on Love My Dress, sporting their own beautiful birdcage veils…
From the real wedding feature 'A Perfect and Elegant Wedding, Against All Odds'…
Photography Copyright (c) 2010, David Jenkins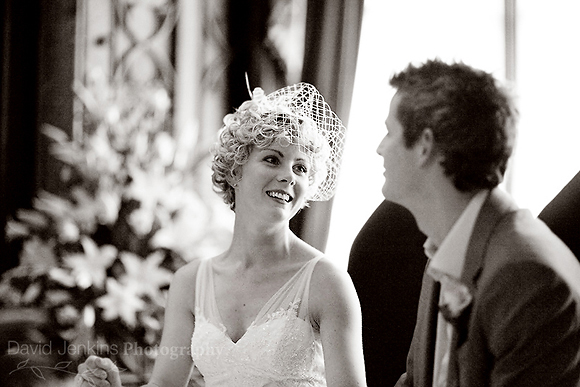 From the real wedding feature 'A Classicly Elegant Wedding with a Nod to Vintage Style'…
Photography Copyright (c) 2010, Anna Hardy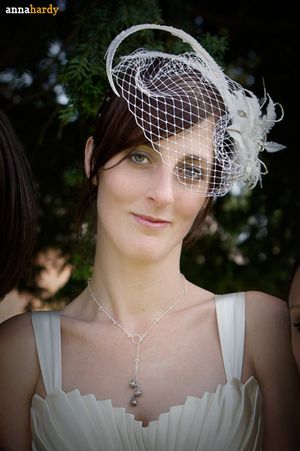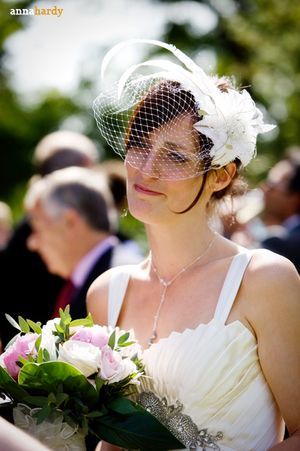 From the real wedding feature 'A Backless Wedding Dress, A Birdcage Veil and a Touch of Art Deco'…
Photography Copyright (c) 2010, Lily & Frank Photography
From the real wedding feature 'An American Swedish Love Affair'…
Photography Copyright (c) 2010, OttossonPhoto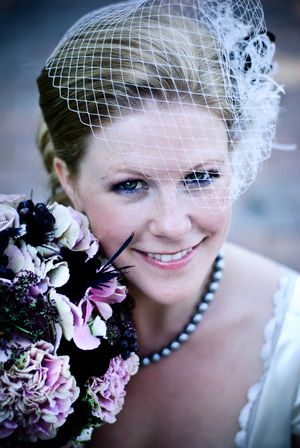 From the real wedding feature 'A Midsummer Nights Dream Wedding'…
Photography Copyright (c) 2010, Life Between Blinks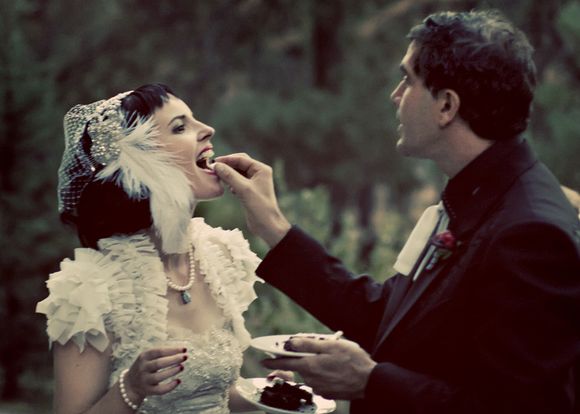 From the real wedding feature 'A Rock n Roll Wedding in the Emerald Green City!'…
Imagery Copyright (c) 2008 – 2010, French Connection Photography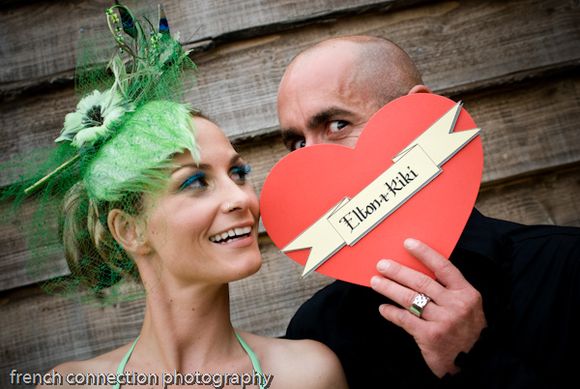 From the real wedding feature 'Simple, Natural, Elegant ~ The Wedding of Mary and Opie"…
Photography Copyright (c) 2009, Jenna Cole
Will you be wearing a birdcage veil or do you have any recommendations for suppliers and DIY tutorials that you could share with us?
Many thanks to Jemma for her input into this article.  Jemma is a Guest Blogger for Love My Dress and can be contacted by email with any freelance feature writing enquiries.
♥