Whilst Love My Dress is mostly dedicated to featuring UK weddings, we do have a very much global appeal and so every once in a while, we like to treat our readers to a wedding from overseas – some of the most spectacular overseas weddings we featured were set in Canada, California (fell in love with this), Iceland (and just adored this one),  Italy, Cyprus, France, Spain, Sweden, Crete, and we recently shared this beautiful editorial shoot set in the Caribbean featuring dresses on loan from one of the UK's leading bridal boutiques, Luellas Boudoir.  Today, I'm really delighted to be sharing O'Neil and Cindy Warner's wedding with you that took place on 11 August last year at The Kirkland House in Delta, British Columbia, Canada – I place I would very much love to visit one of these days.
Cindy, a make-up artist and O'Neil, a graphic designer and owner of Warner Creative, wanted a relaxed, affair with lots of DIY touches – think miniature homemade apple pies nad burlap bunting. Their wedding was wonderfully fun and fuss-free, and captured on camera by the very talented international creative team over at Nordica Photography. But what I love most about this whole wedding is this gorgeous little film – though I strongly suggest you read through this feature first to learn about the couple's 'My Space' story before you watch. Then go fetch some tissues to dab your eyes!
"We met on MySpace after O'Neil sent me a random message about my giant cat. Conversation ensued with no expectation but amusing exchanges with a friendly stranger. We never spoke on the phone or emailed, everything was through MySpace.  Quick messages turned into letters and soon months had passed and we decided it would be nice to finally meet in person. We met for lunch and have been together ever since.
Six years later, O'Neil proposed out of the blue in the middle of the day, on a Thursday, under a beautiful tree in Coal Harbour. I was in shock. Little did I know this was only the first surprise O'Neil had in store for me."
Film Production by Hera Films
"The way we met was so random and meant to be, and the fact that we were lucky enough to have access to every word exchanged in our courtship was so special to us that losing it was heartbreaking. It was after a last ditch effort tweet to Justin Timberlake (part owner of MySpace) about our lost messages that I finally realised they were gone for good. After being engaged just over a year, we married at Kirkland house in Delta, British Columbia, Canada.
While planning our August wedding, we noticed that there had been some changes to MySpace. In their big rebranding effort they decided to go with a new look and wipe all massages and blogs clean. Without notice, all of our messages were gone. Our plans to print them all into a book as our love story were dashed and I was devastated."
Photography Copyright (c) 2014, Nordica Photography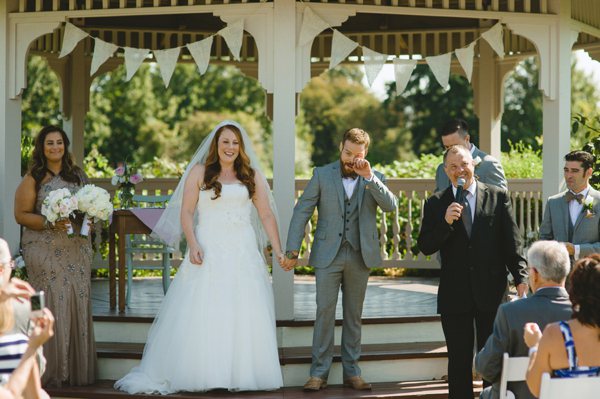 O'Neil is a graphic designer at Warner Creative, and created all the couple's wedding stationery.
"We loved our venue so much and it was definitely already rustic, being a heritage farm. We kept it simple with touches of burlap, mason jars and lots of candles. We definitely wanted to keep it relaxed and fun and having things like Moms Grilled Cheese food truck do the catering and carnival games upstairs in the barn mezzanine helped add to the casual feel.
I bought grey, natural and ivory burlap online and used it to make the huge grey burlap wreaths that hung on the outside barn doors, we cut strips of it for the backdrop, used some for the head table and cut ALL the ivory pennants and strung  them across the barn and at the ceremony site."
"Margaret Williamson, a family friend and legendary home baker crafted a delicious coconut cake with coconut buttercream frosting. She also made two different flavours of cupcakes; chocolate with sea salted caramel buttercream frosting and lemon cupcake with lemon buttercream frosting. Guests also enjoyed homemade mini apple pies and an ice cream sundae bar with all the toppings even including bacon strips!"
"We searched for a long time to find photographers for the wedding and spoke to a few in the process. I was impressed with Cole and Jakob's work but I knew that they were the obvious choice when we met them in person. We're happy to say that we made the right choice and have some amazing photos as evidence. Nordica Photography are kings at what they do and they do it well. Check out and you'll see what we mean."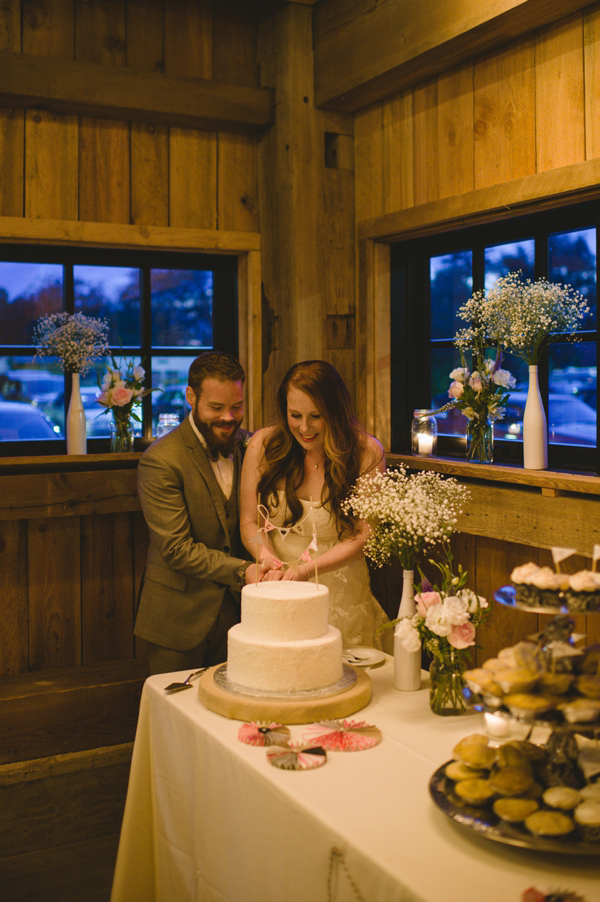 "What I love most is the overall look that came together for my wedding attire.  My dress, from David's Bridal, was a big part of it but it was perfected by the accessories.  Without them, the look was completely different. The dress had all the elements I was looking for: romantic, soft with a subtle lace detail. I added a crinoline underneath to fill out the skirt slightly creating a different silhouette."
"My dad, Don Leyland walked me down the aisle, to the sound of U2's 'Beautiful Day', being performed by the Vitamin String Quartet.  For our wedding ceremony – we wrote our own vows and kept things light and fun.
O'Neil designed both of our rings and had them made at a local jeweller."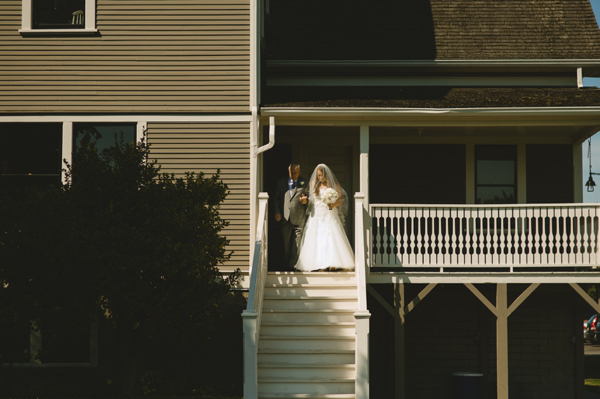 "We hired Laura of Kits Market to provide our flowers.  Laura had been recommended to me a few times by industry insiders. She is located in the back of a neighbourhood corner store and has an impressive list of high end clientele including top hotels and restaurants. Her work is amazing , she is great to work with and she is half the price of other florists. We wanted laid back flower arrangements, almost wildflower like but slightly more elegant.  We provided the mason jars and white spray painted wine bottles for the flowers. 
The brides bouquet was all white to continue the uniform softness of the look. Bridesmaids carried white and blush pink roses."
"We had many touching moments throughout our day. One very notable was being serenaded by my bridesmaids Tina and Alisha.  They rewrote the words to 'We Belong' by Pat Benetar (a group karaoke favourite) and performed it for us. So touching and very funny!  My favourite part of the day was the end. We really enjoyed relaxing in luxury at our hotel and sharing our memories and reliving the day from each of our perspectives."
Words of Wedded Wisdom…
"Definitely get professional planning help. Whether it is to hold your hand through the whole process and help make decisions or if it is just for day of coordination, get help. They are great as a go to problem solver and can often times pay for themselves with professional discounts and connections they may have. It really does help alleviate the stress on the day of.   If you can do it now, do it. Don't procrastinate, things pile up very quickly.
I would probably tackle some more of the tasks earlier on. The lead up to the wedding day gets frantic and to do lists get very long so I wish I had taken care of more details ahead of time instead of in a big rush right at the end.
Finally, don't sweat the small stuff. The only person who knows that things aren't absolutely perfect is you."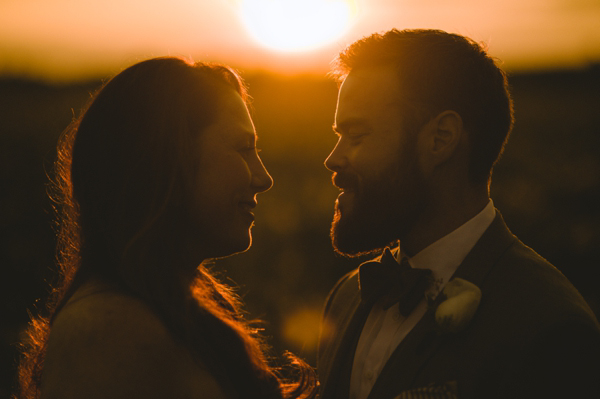 Did you see the film yet?! You must go and watch it now if not.
I've so enjoyed this wedding – thank you so much O'Neil and Cindy for sharing your day with us, and a big thank you to Cole and Jakob over at Nordica Photography and Hera Films too.
Love Annabel
Photographer – Nordica Photography
Film Production – Hera Films
Wedding Planner/Stylist – Filosophi Events (on the day planning)
Venue – The Kirkland House in Delta
Wedding Dress – David's Bridal
Veil/Headpiece – Vera Wang
Brides' shoes – Spring Shoes
Accessories – Tiffany Pearl Drop Necklace (Jazz Age Collection)
Grooms Suit – Indochino Custom + cufflinks by Dyrberg Kern + shoes by Aldo
Bridesmaids Dresses – Adrainna Papell from Nordstrom
Flowergirl Dresses – Dress by Tip Top, hairband from Claire's Accessories
Pageboy – The Hudson Bay Co + Baxter & Co (Etsy) + Hat belonged to a great, great Uncle Wilfred Leyland
Florist – Kits Market
Cake – Friend
Cars/Transport – Time Limo
Entertainment – Vitamin String Quartet + Girls on Wax-DJ Freelance
Catering Company – Moms Grilled Cheese Food Truck
Stationery – Warner Creative (Groom's company)
Hair and make-up Artist – Cindy Leyland (the bride) Alisha Noon
Follow Love My Dress® on Google+