Hello darling wedding belles, how are you this morning? Thank you so much for popping by our much loved wedding blog. Before I move on to our wedding feature, are you following Love My Dress on Snapchat and Instagram yet? Have you taken time lately to read through our latest more informative discussion posts? If you're very newly engaged, we've written about 10 common wedding planning mistakes and how to avoid them. and we've also addressed the hugely important issue of transparency, honesty and clarity in the wedding industry (an epic post that comes in two parts – you'll find part I here and part II here). And this piece about building successful working relationships with your wedding suppliers is definitely one for bookmarking. We have almost 7 years of beautiful, inspirational, informative archived content – use our drop down menus and our search function to find what you're looking for.
So on to today's most beautiful wedding. Kathryn and Daryl tied the knot on 13th June at the Grand Chamber at Wandsworth Town Hall registry office, followed by a reception at The Antelope pub in Tooting, London.
"We wanted a relaxed, fun, informal, intimate London wedding, we aren't religious so opted for a civil ceremony. We loved the 1930's style of Wandsworth Town Hall all it's original period features (marble, wooden panelling, light fittings) and the grandness of the 'Grand Chamber' and stairway entrance as well as the pretty courtyard. Breaking from tradition, It was very important to Daryl and I that we walked down the aisle together. We find the whole idea of being 'given away' a very archaic thing. Some of our guests found it odd but others loved the concept. It felt right for us and I'm so happy we didn't conform to tradition."
Photography by On Love & Photography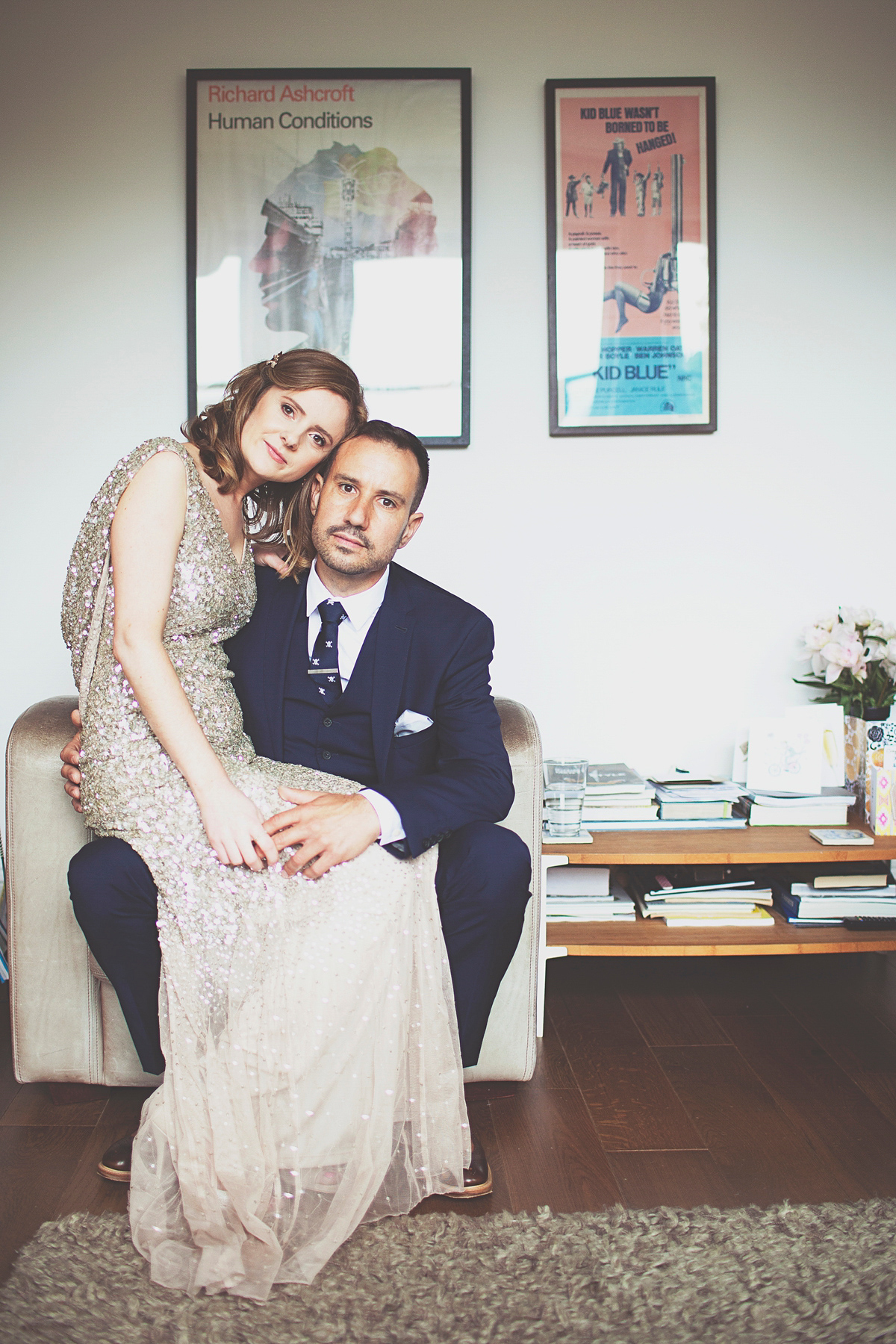 "For us the most important thing was that both us and our guests had fun on the day. We wanted it relaxed and personal to us, we strayed away from many traditions. For example, the bridesmaids wore white, and Daryl and I met before the ceremony and walked down the aisle together."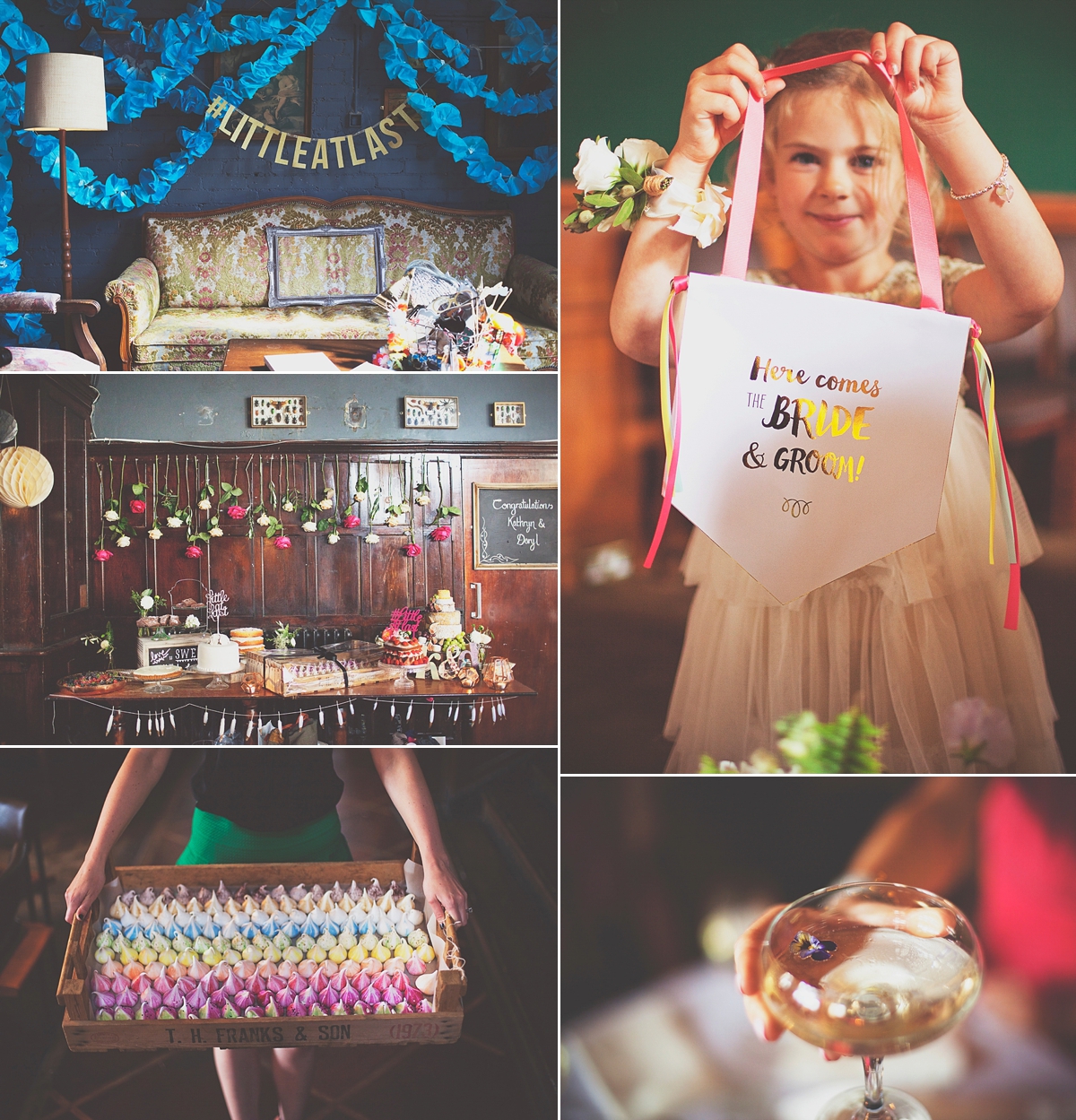 Meringues by The Meringue Girls
"I wanted the bridesmaid to wear what they felt comfortable in and suited their shape and style. I specifically didn't want them matching. I gave them a budget and let them choose their dresses themselves with the only request that they be white. Rowan's shift dress with long sleeves was from Biba.  Julia, my sister's jewelled floaty dress was from French Collection."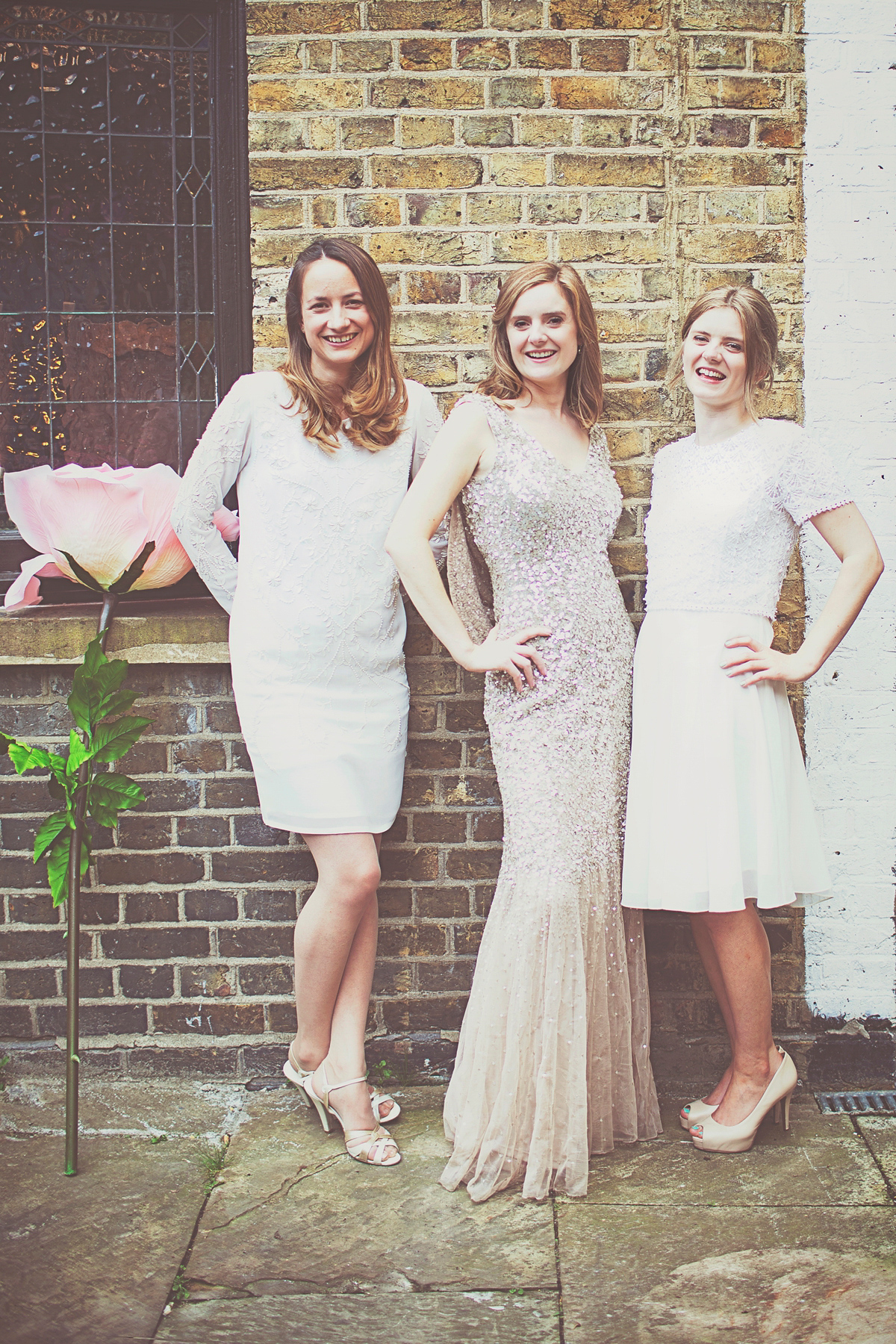 "We met ten years before we got married, in a local bar.  We were engaged for 2 and half years before we got married but only spent 6months planning the big day. Daryl proposed on the banks of Loch Lomond (whilst on holiday), it was very romantic on a jetty with a beautiful back drop and no one else around.
We weren't fussed on particular colours (apart from bits of gold and glitter here and there). We wanted the venue and day to match our personalities and taste."
Kathryn wore the Luna gown from Phase Eight…
"I knew exactly want I wanted, I'm very pale so always knew white wouldn't suit me. I wanted to go against tradition and find a glamorous gold dress with low back. I couldn't believe my luck when I found the exact thing I had imagined in Phase 8, I wasn't even 'dress shopping', and it was the first and last dress I tried. I knew instantly it was the 'one'. It was an evening dress with head to toe shimmering oyster coloured sequins and a statement low cowl back. It had the wow-factor and was also friendly on the wallet!"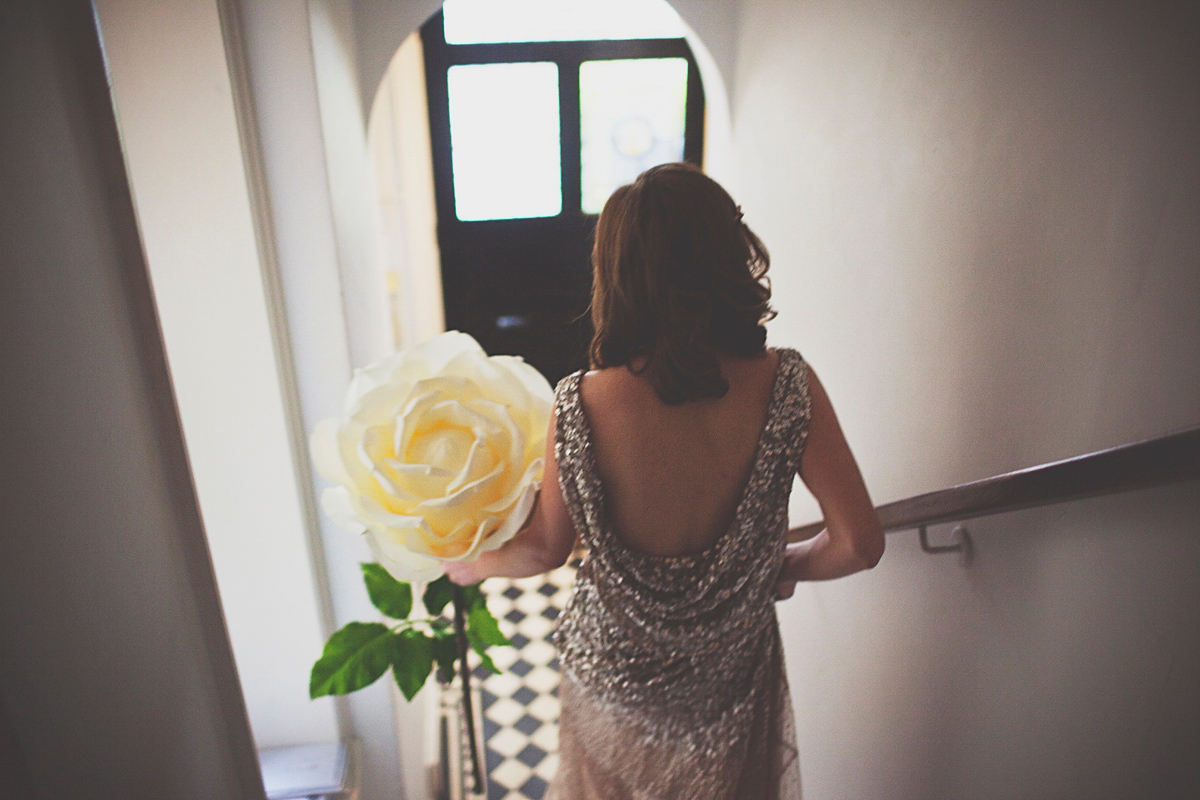 "The most favourite part of the day was Daryl picking me up before the wedding, for the first look, photo session and driving to the ceremony together. My morning felt very rushed and stressful (my make up artist was late) but as soon as he picked me up I relaxed instantly. It was so special to spend that time beforehand just being the two of us, it also meant that we didn't need to leave our guests later in the day for photos.
People are very superstitious about seeing the groom beforehand but it felt so wrong to us to do it any other way. Lots of people found the idea odd, but I'm so glad we kept to our decision."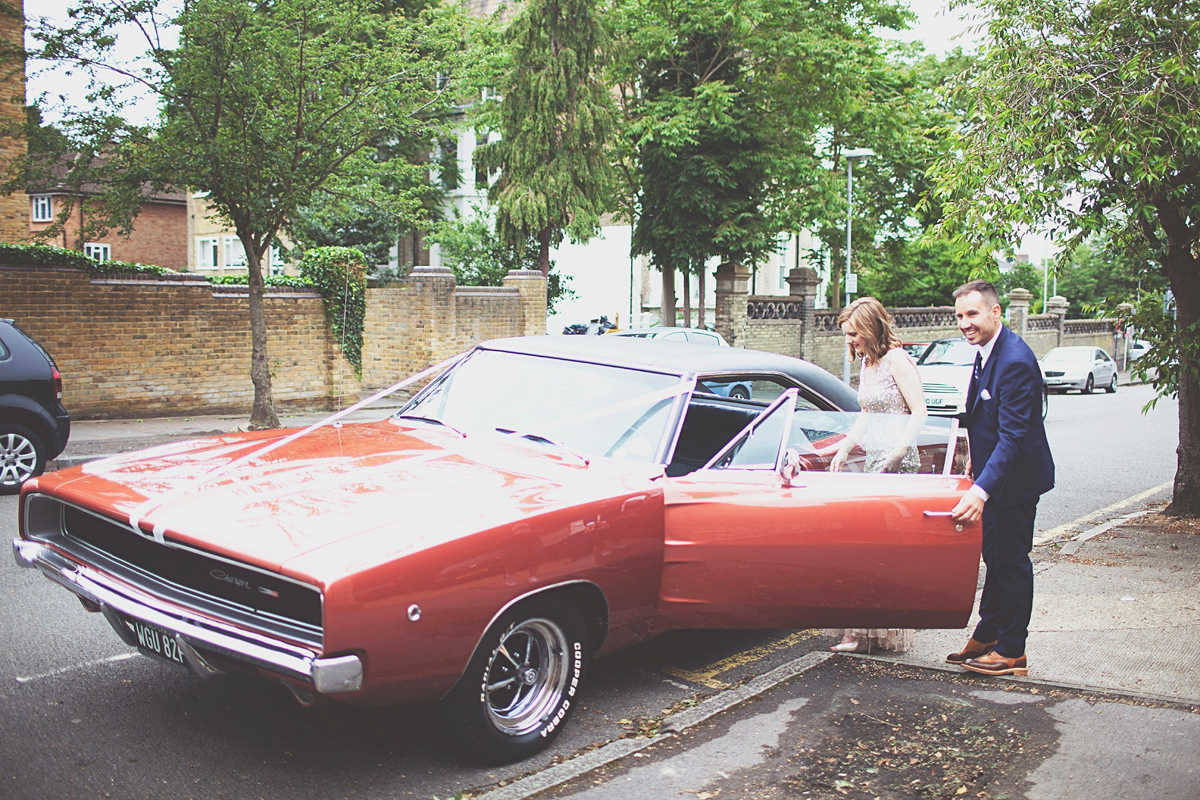 "I wore Coco mademoiselle by Chanel – my very generous work colleagues bought it for me as a pre-wedding gift.
I kept my jewellery very minimal, the dress was enough bling. Just wore a pair of teardrop earrings from Accessorize."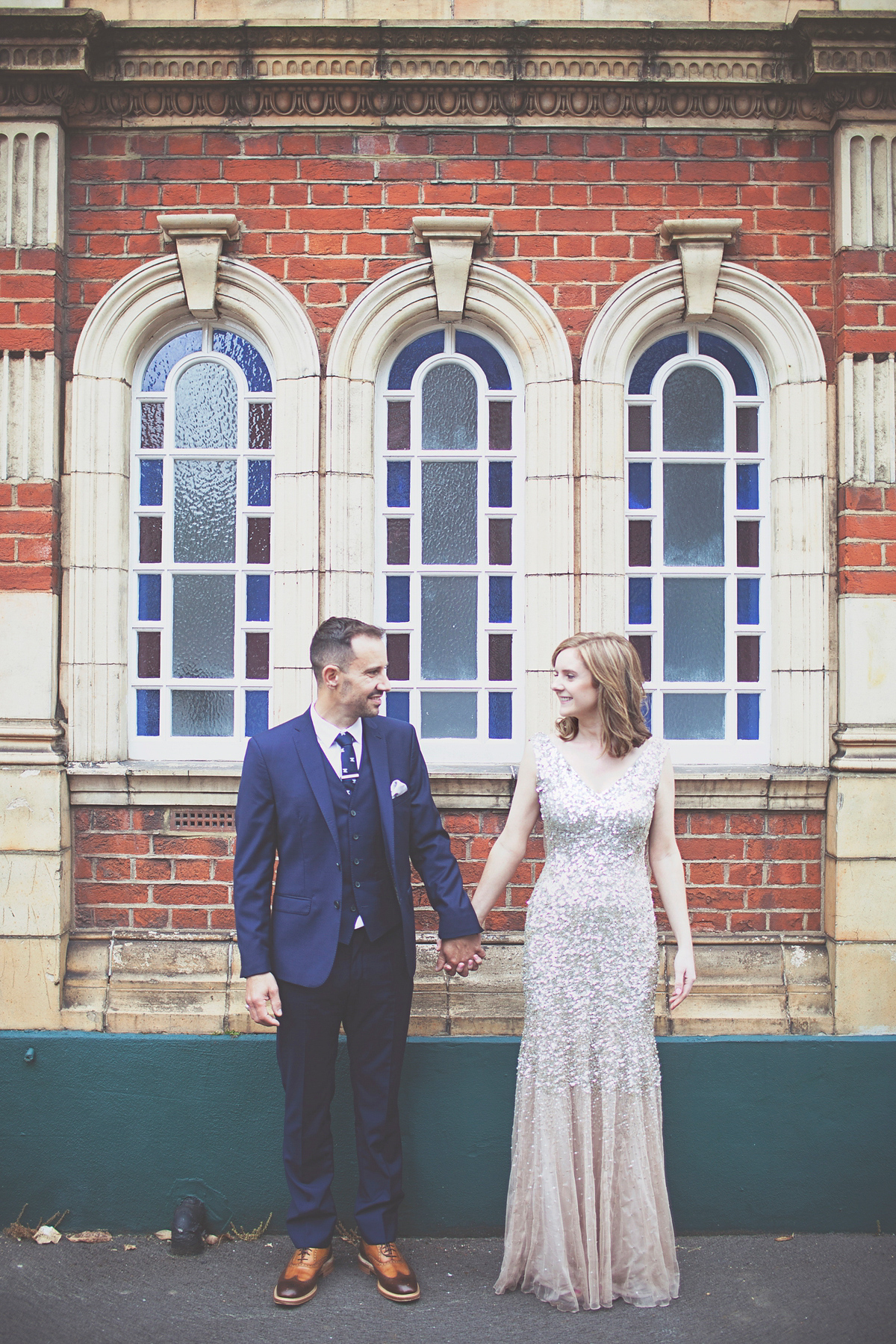 The couple turned to On Love & Photography to capture their day in images.
"Sophia and Anita were so very friendly, relaxed, flexible and amazingly talented. We were blown away by the photographs, their style is simply beautiful they captured the day and atmosphere perfectly, with little interference. Having two photographers meant nothing was missed, they captured every special moment. They felt like old friends and mingled in as part of the wedding party."
"Our florist, Kirsty, is a friend of my bridesmaid and a very talented florist, she is very creative and keen to try new things, she totally understood our vision and also gave us some great ideas that worked within our budget. She is flexible, adaptable and really friendly. In tune with the latest trends she delivered the most beautiful flowers better than I could have imagined."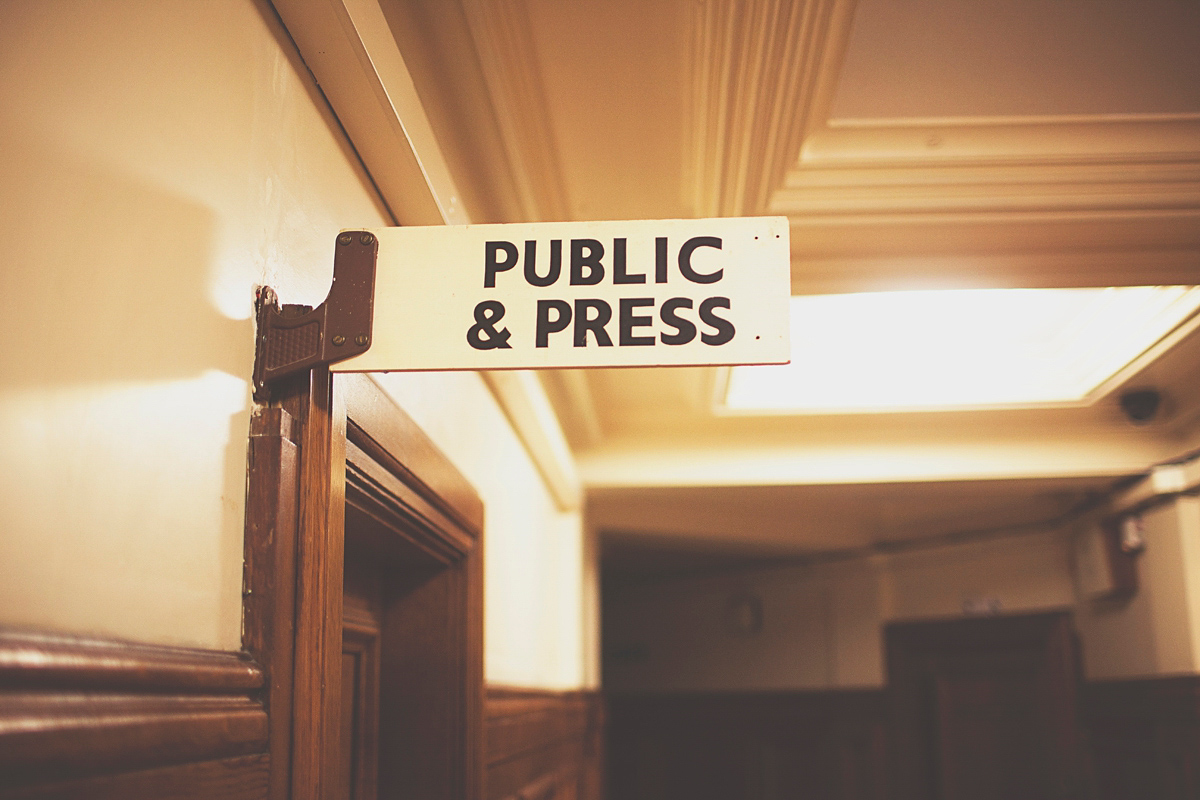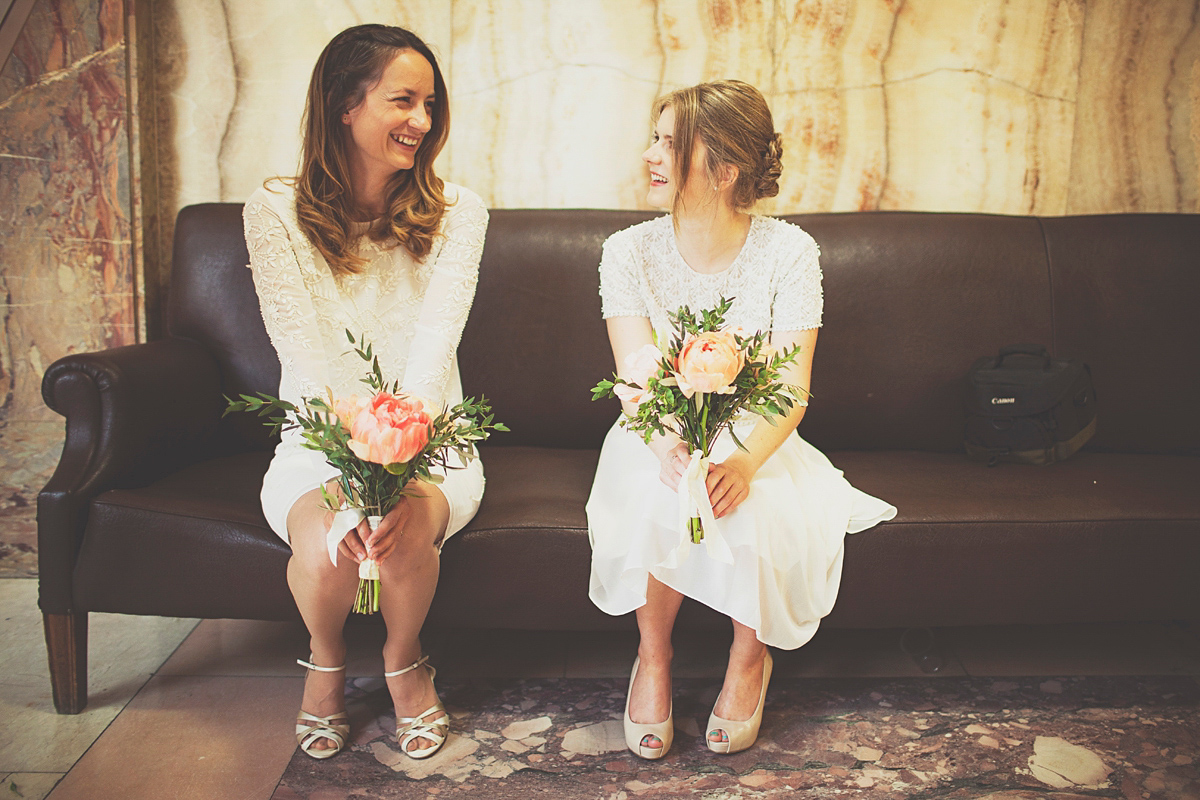 "I designed all the stationery, I did an illustration degree so wanted to add my own creativity and personal touch where I could. I designed the order of the day 'fans' (which came in useful later in the evening when it got hot on the dance floor), confetti packing, honey jar labels, menu's, table plan, feather name settings."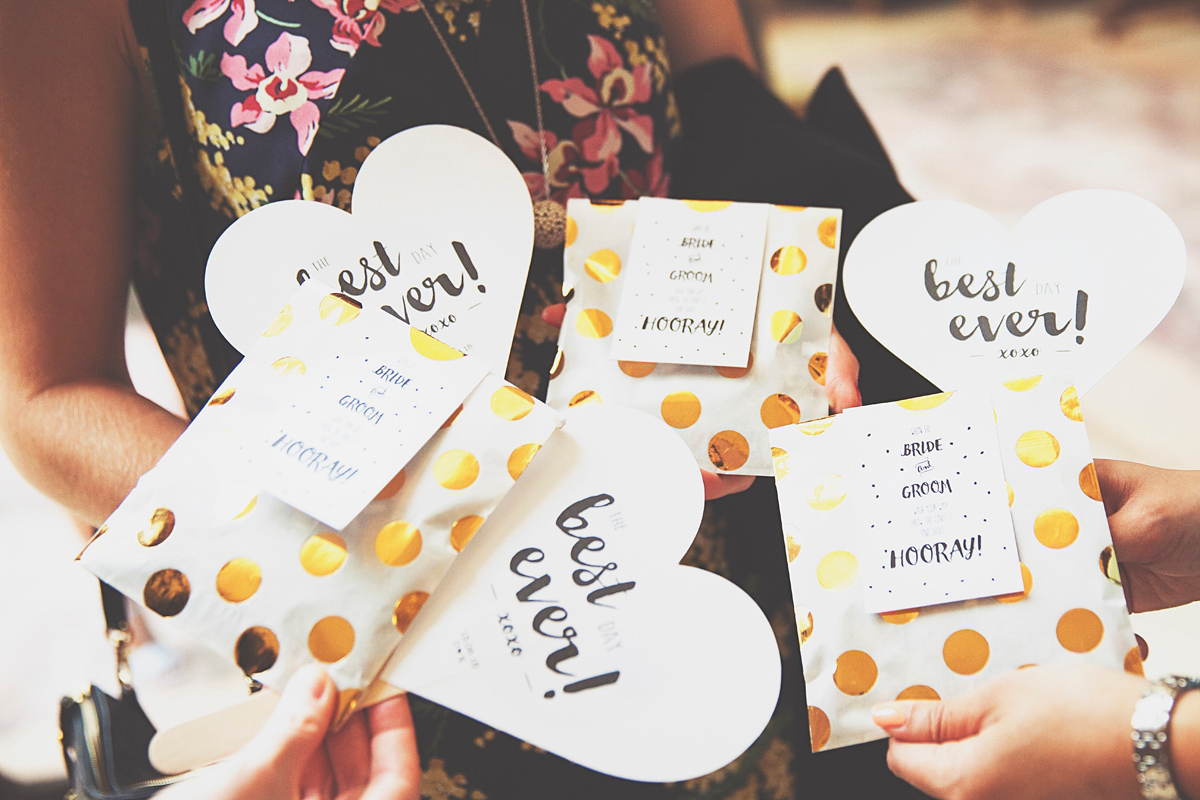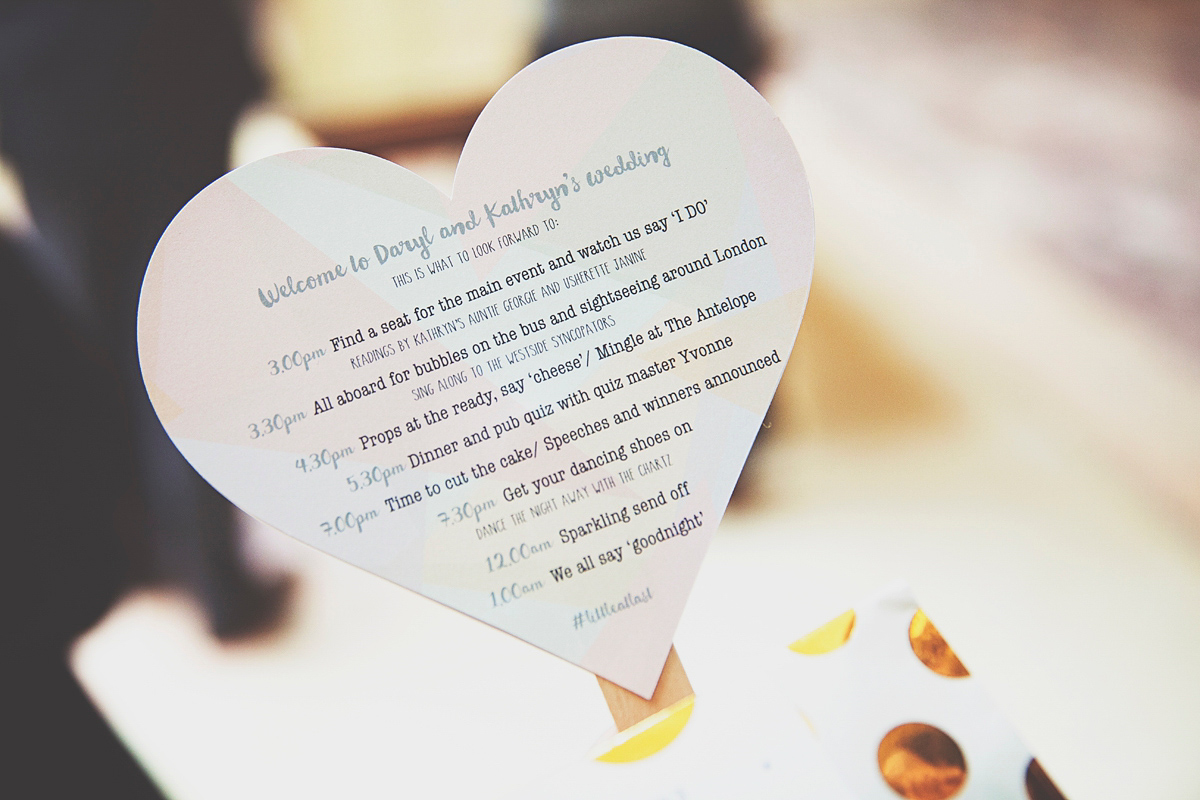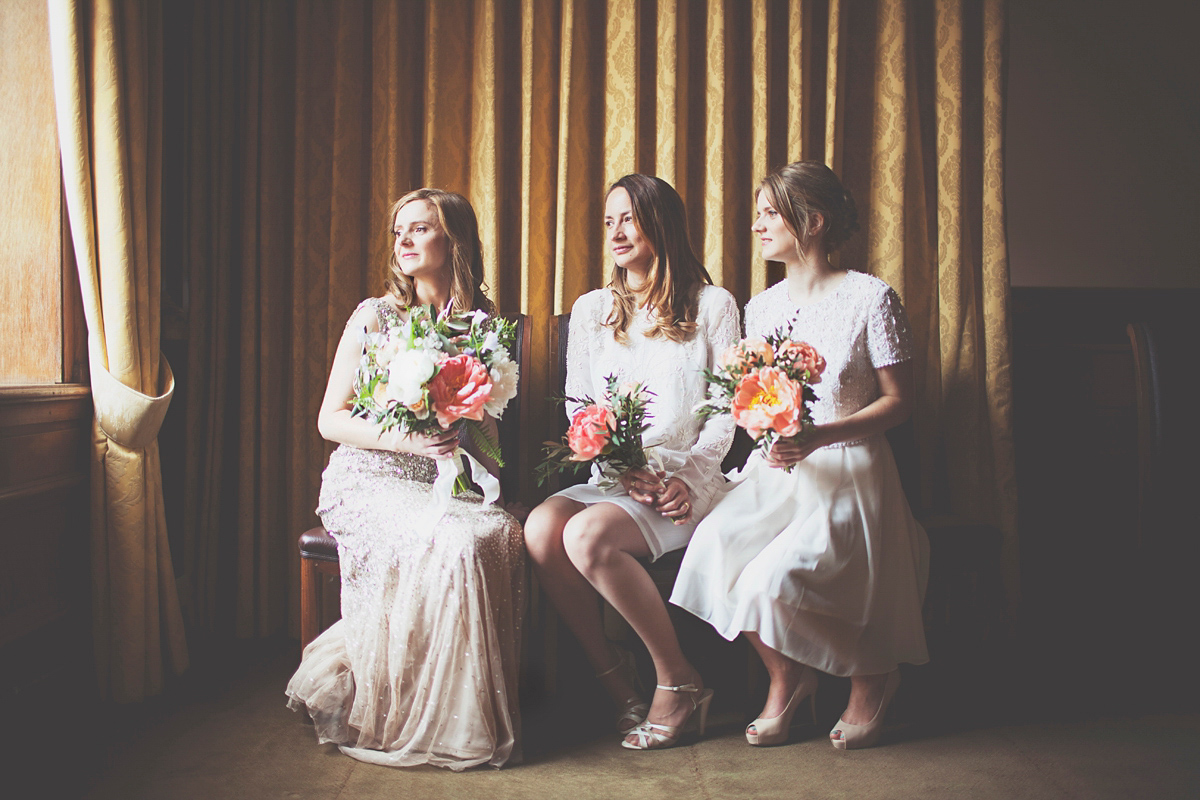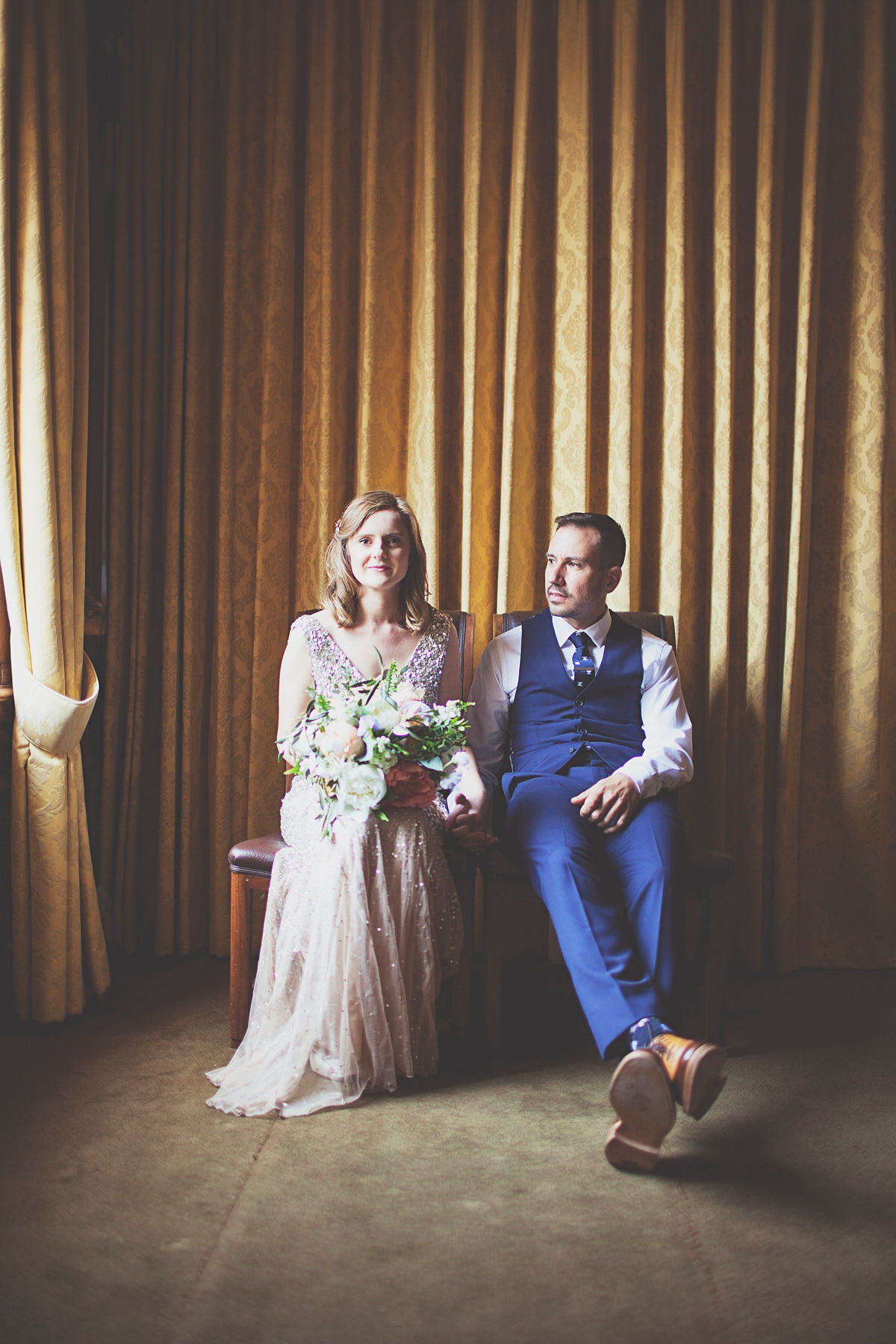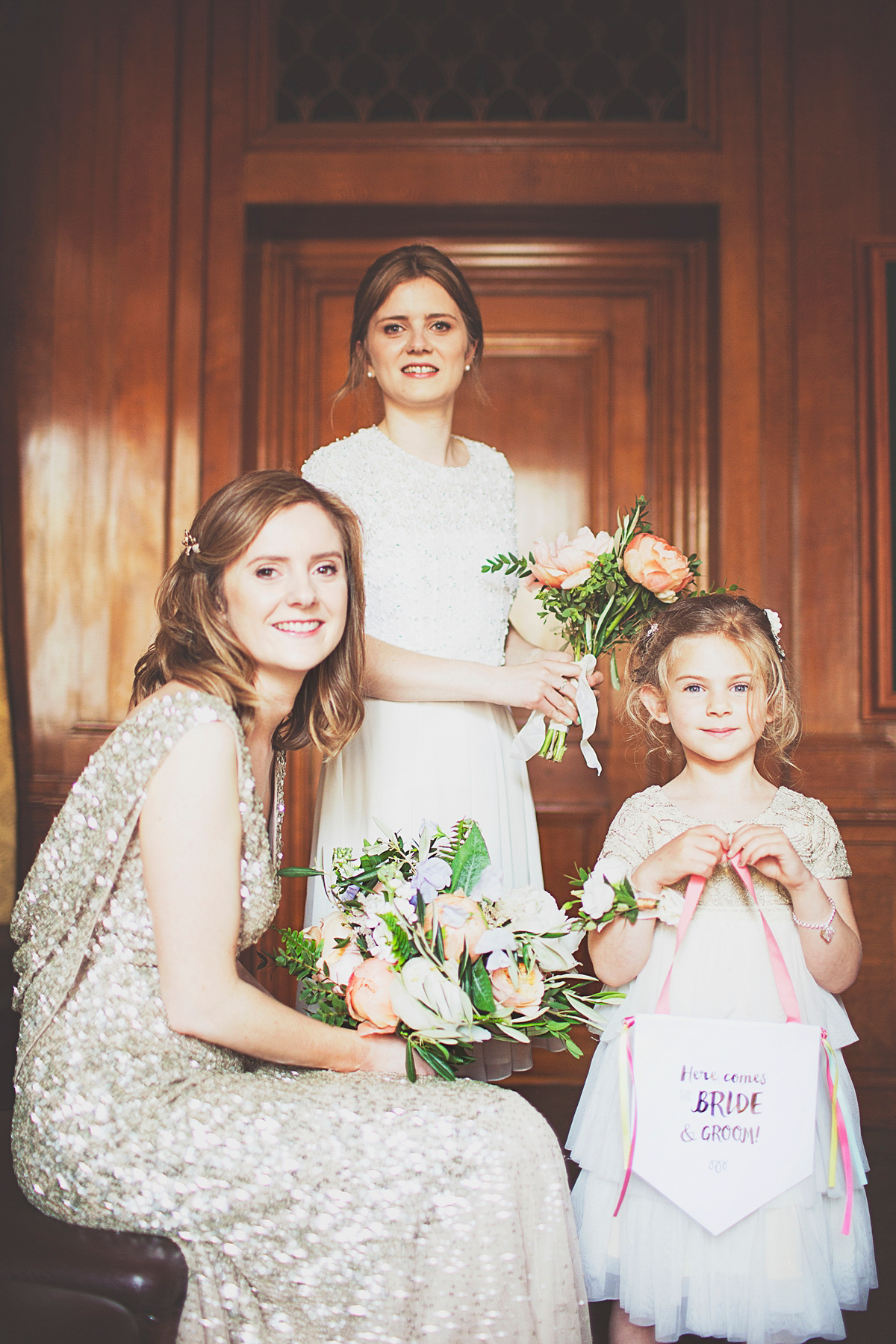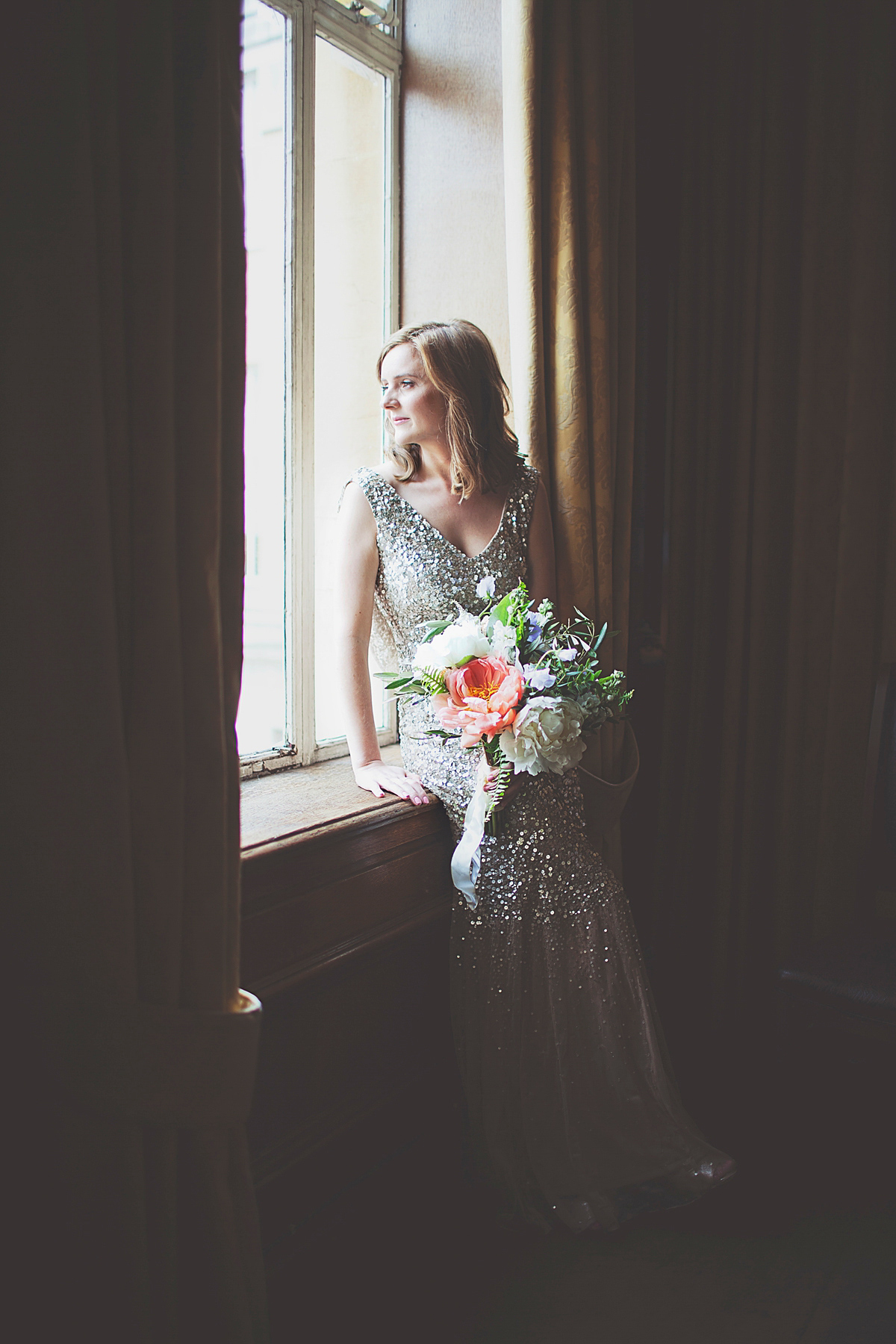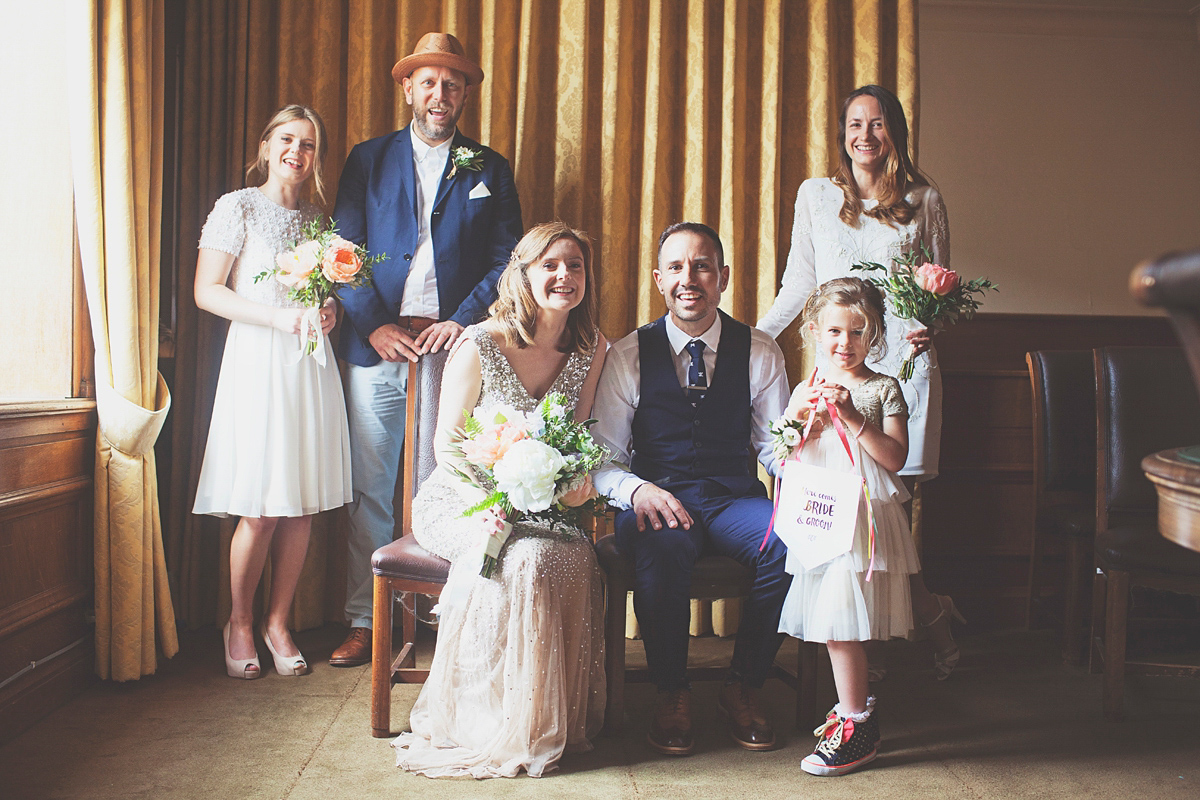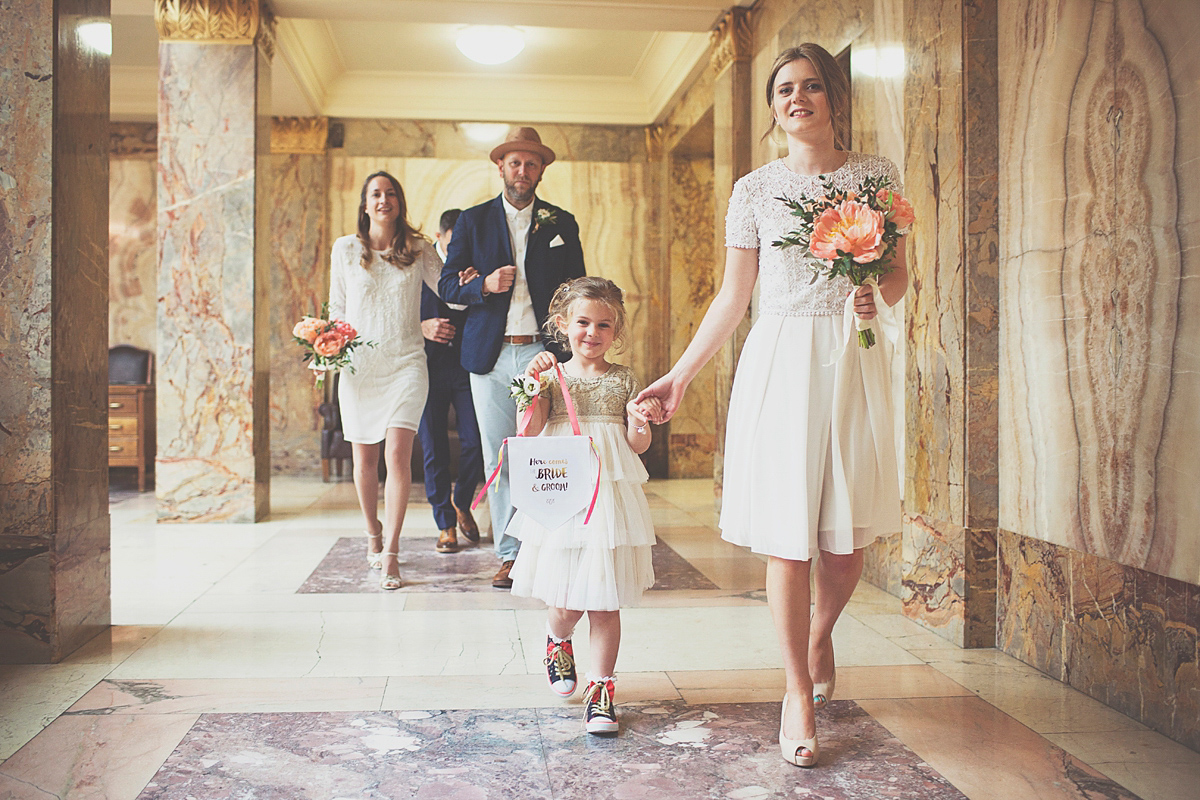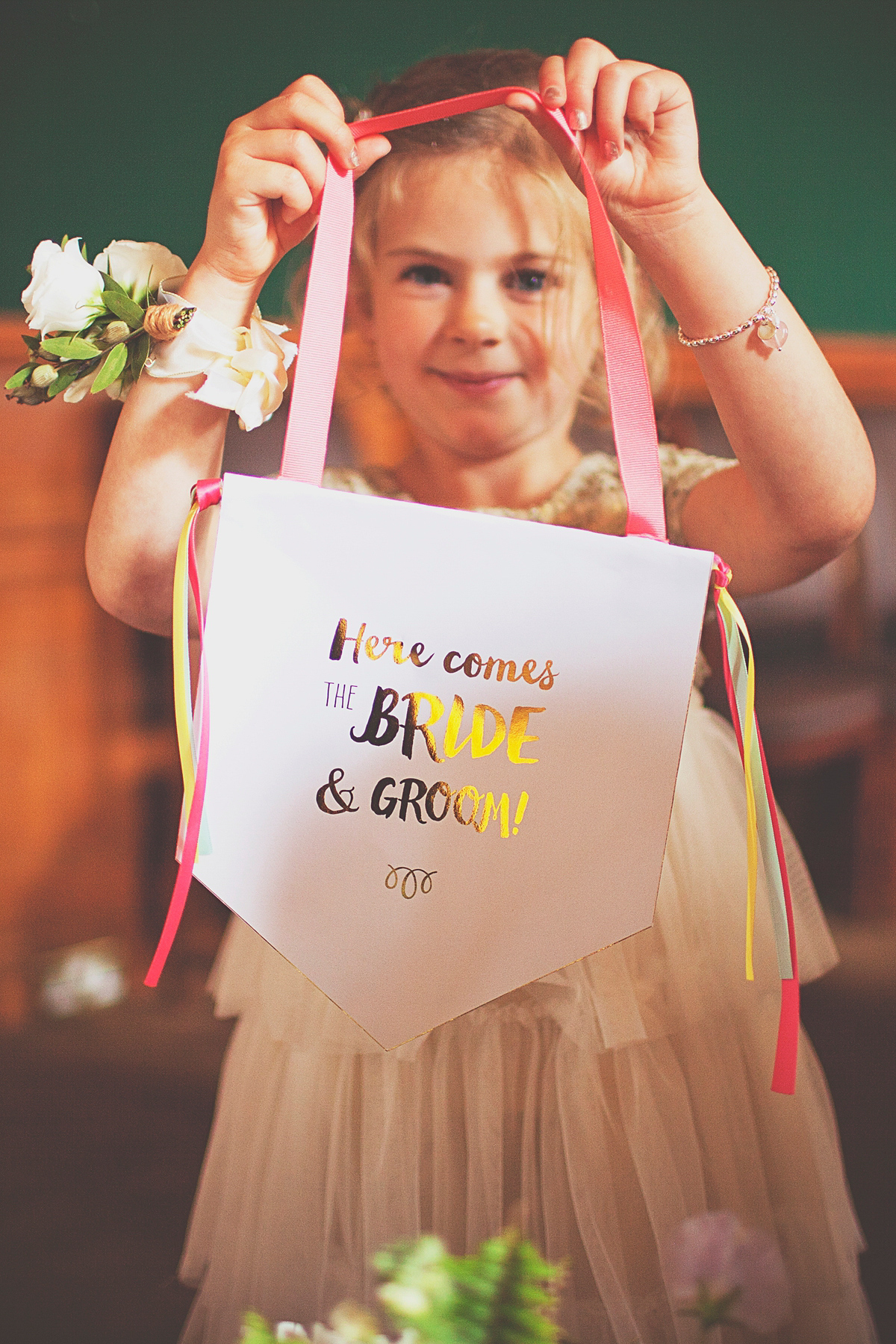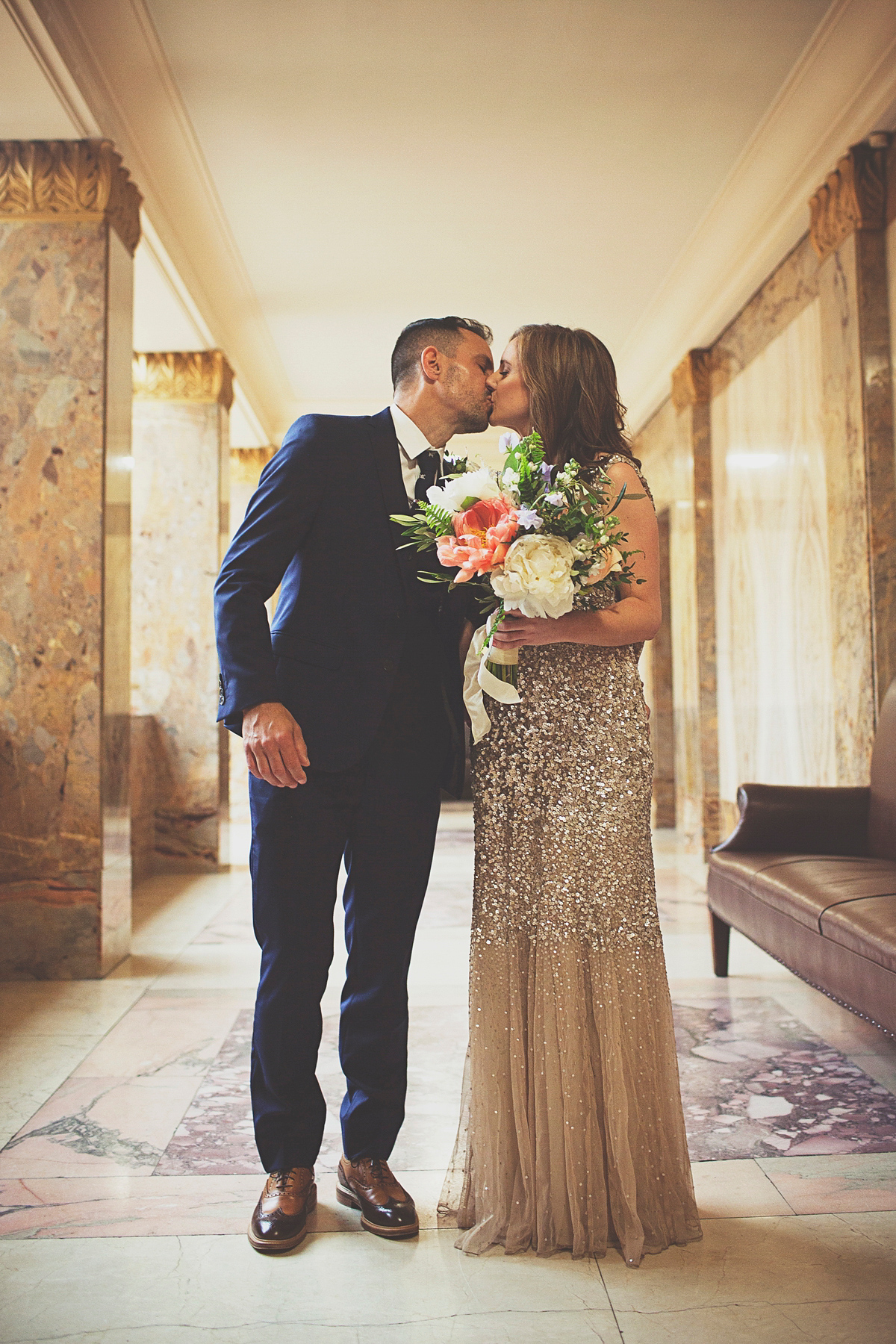 "We walked down the aisle together to the sound of Ludivico's 'Reveire'. We have seen him perform live a couple of times, his music gives us both goosebumps every time."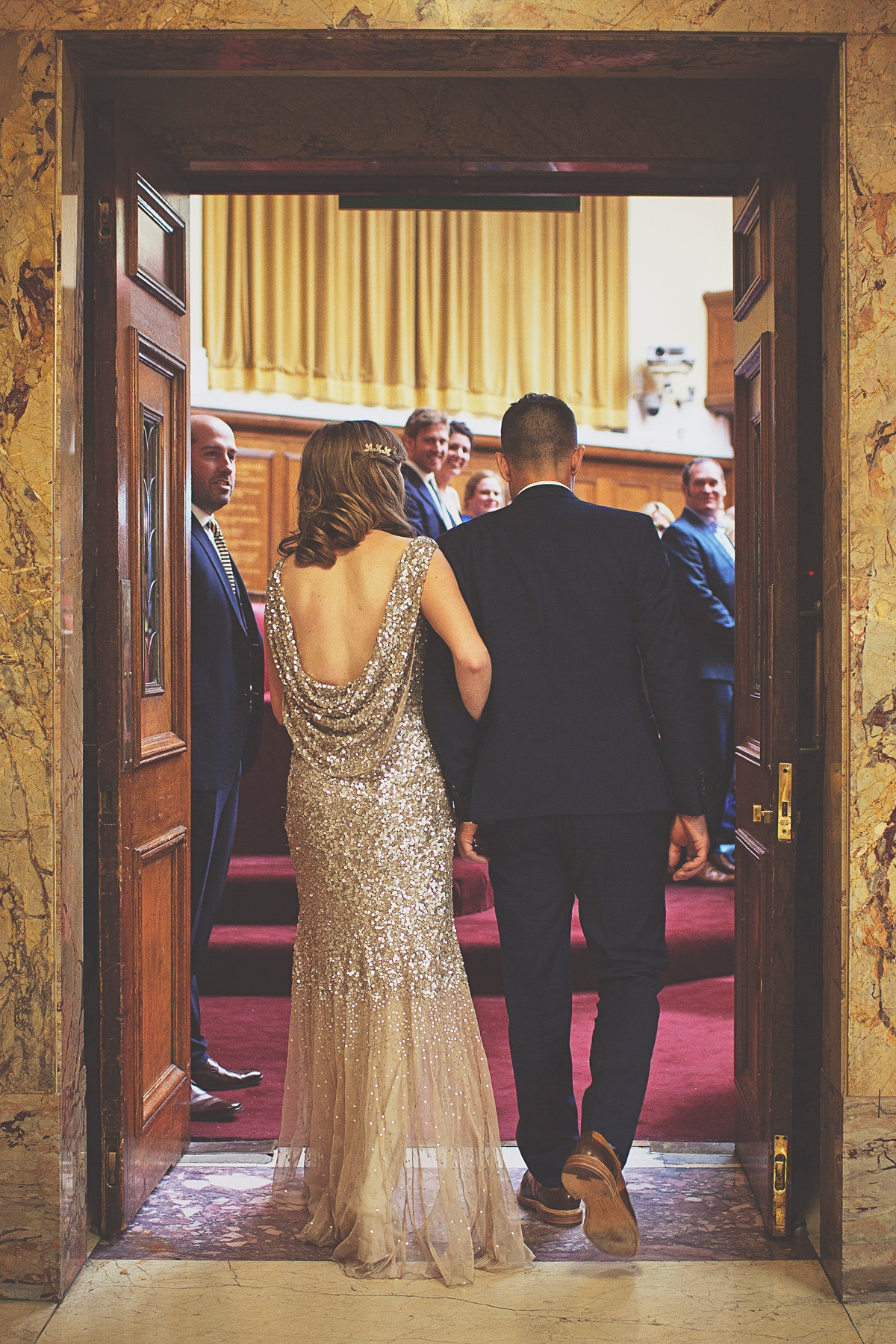 "Our first ceremony reading was delivered by my Aunty, it was 'The One'."
The one – author unknown

When the one whose hand you're holding
Is the one one who holds your heart
When the one whose eyes you gaze into
Gives your hopes and dreams their start,
When the one you think of first and last
Is the one who holds you tight,
And the things you plan together
Make the whole world seem just right,
When the one whom you believe in
puts their faith and trust in you,
You've found the one and only love
You'll share your whole life through.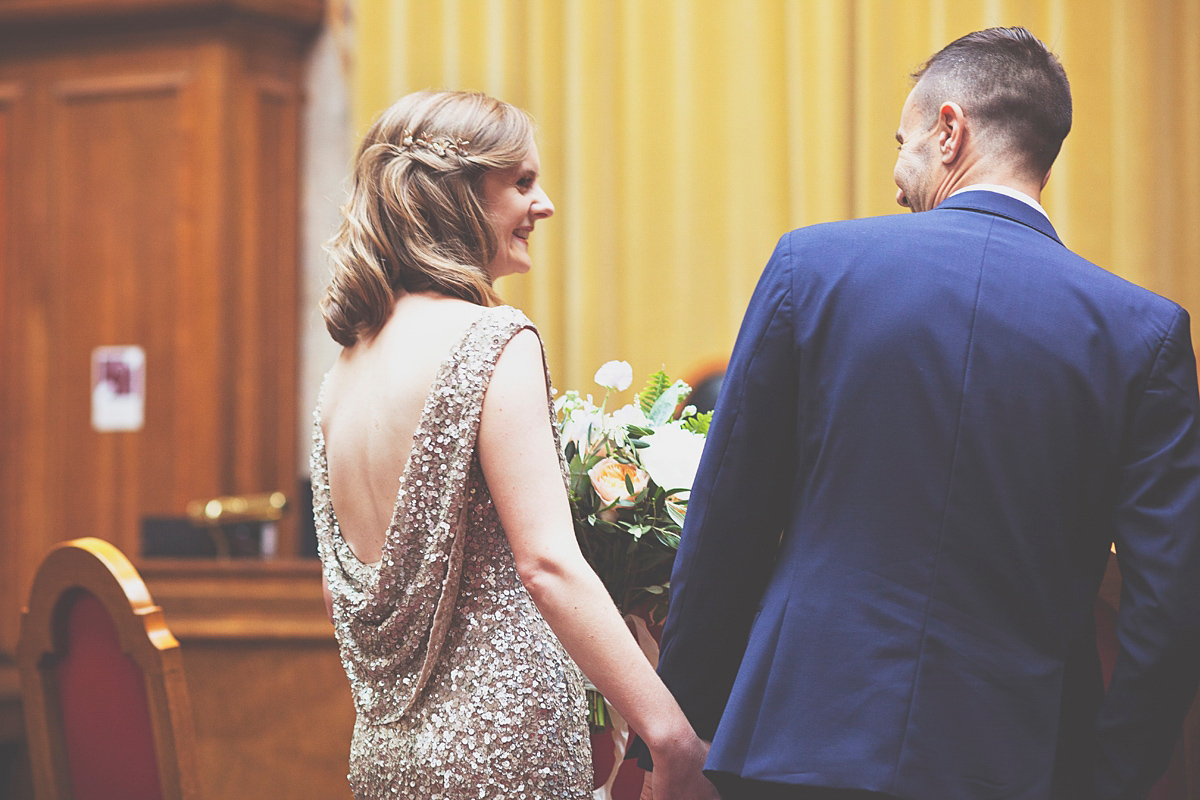 "Our second reading was delivered by my dear friend and usherette, Janine,  and was an excerpt from Captain Corelli's Mandolin by Louis de Bernieres."
Love is a temporary madness, it erupts like volcanoes and then subsides. And when it subsides, you have to make a decision. You have to work out whether your roots have so entwined together that it is inconceivable that you should ever part. Because this is what love is. Love is not breathlessness, it is not excitement, it is not the promulgation of promises of eternal passion, it is not the desire to mate every second minute of the day, it is not lying awake at night imagining that he is kissing every cranny of your body. No, don't blush, I am telling you some truths. That is just being 'in love', which any fool can do. Love itself is what is left over when being in love has burned away, and this is both an art and a fortunate accident.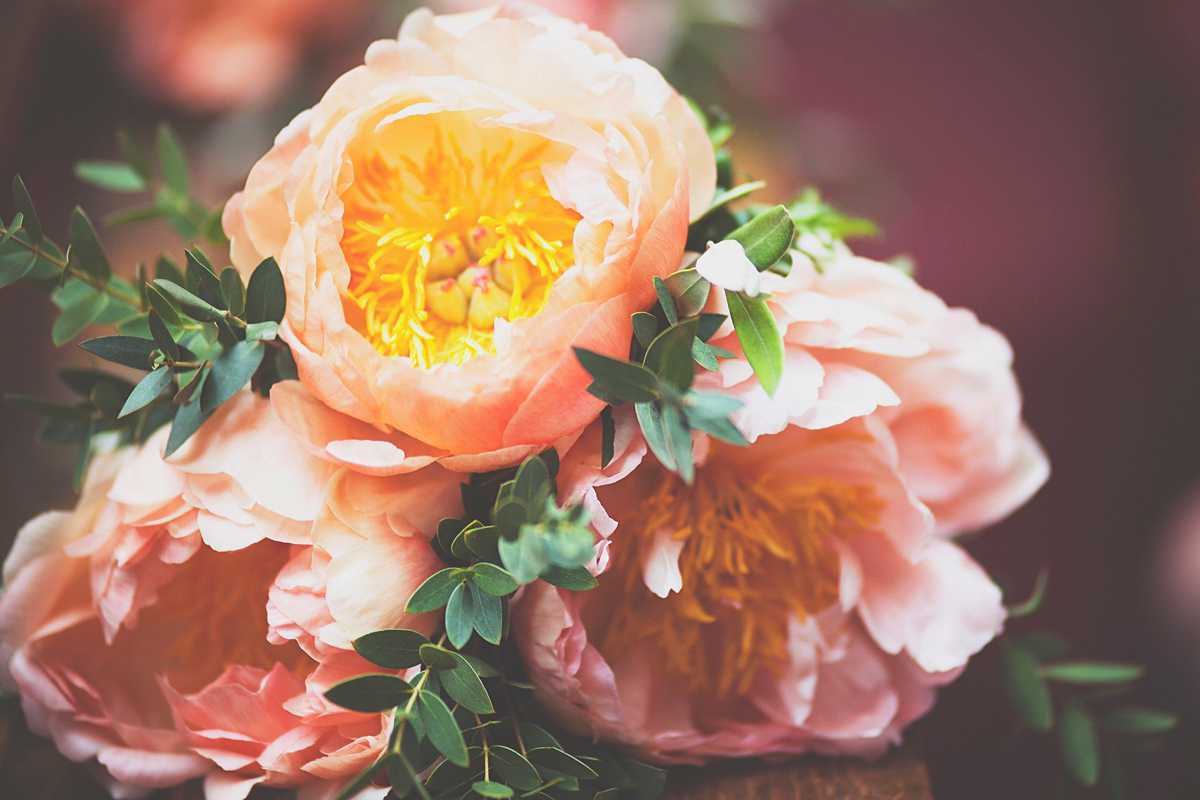 "Our rings were from Hatton Gardens in London. We had the engagement ring made bespoke and went for simple bands for the wedding rings."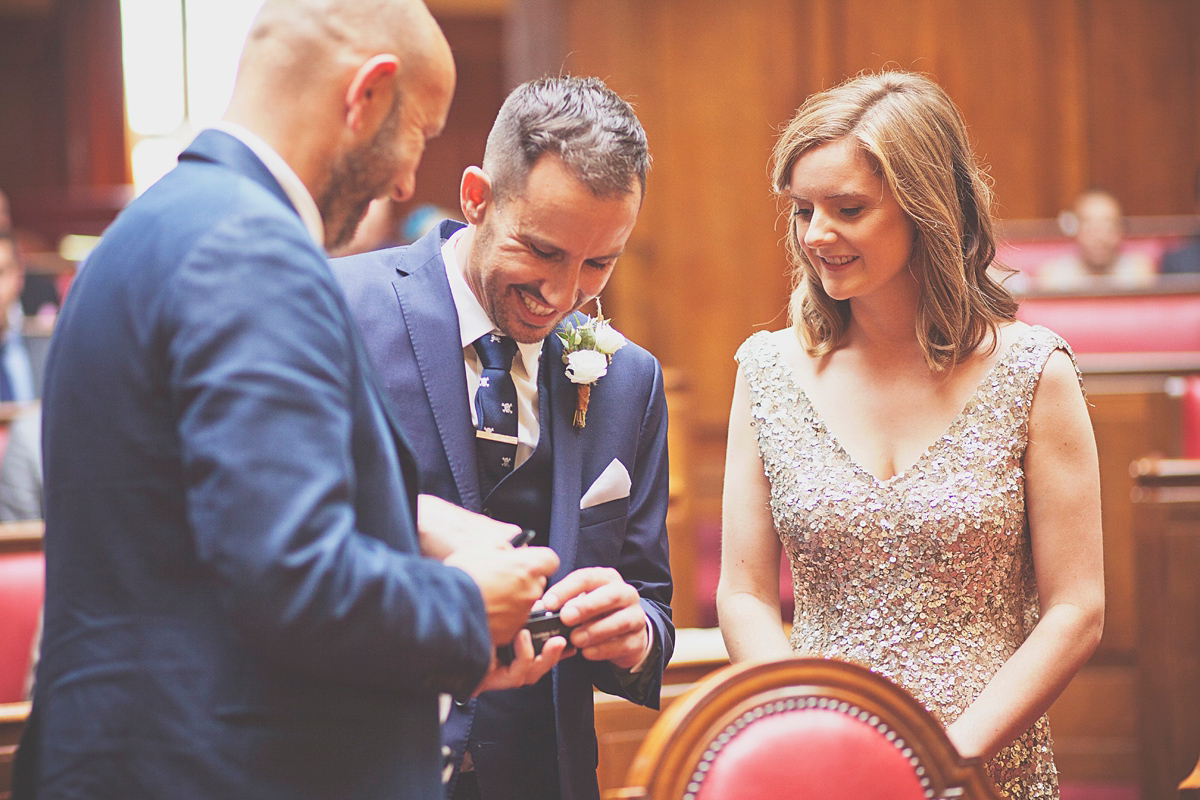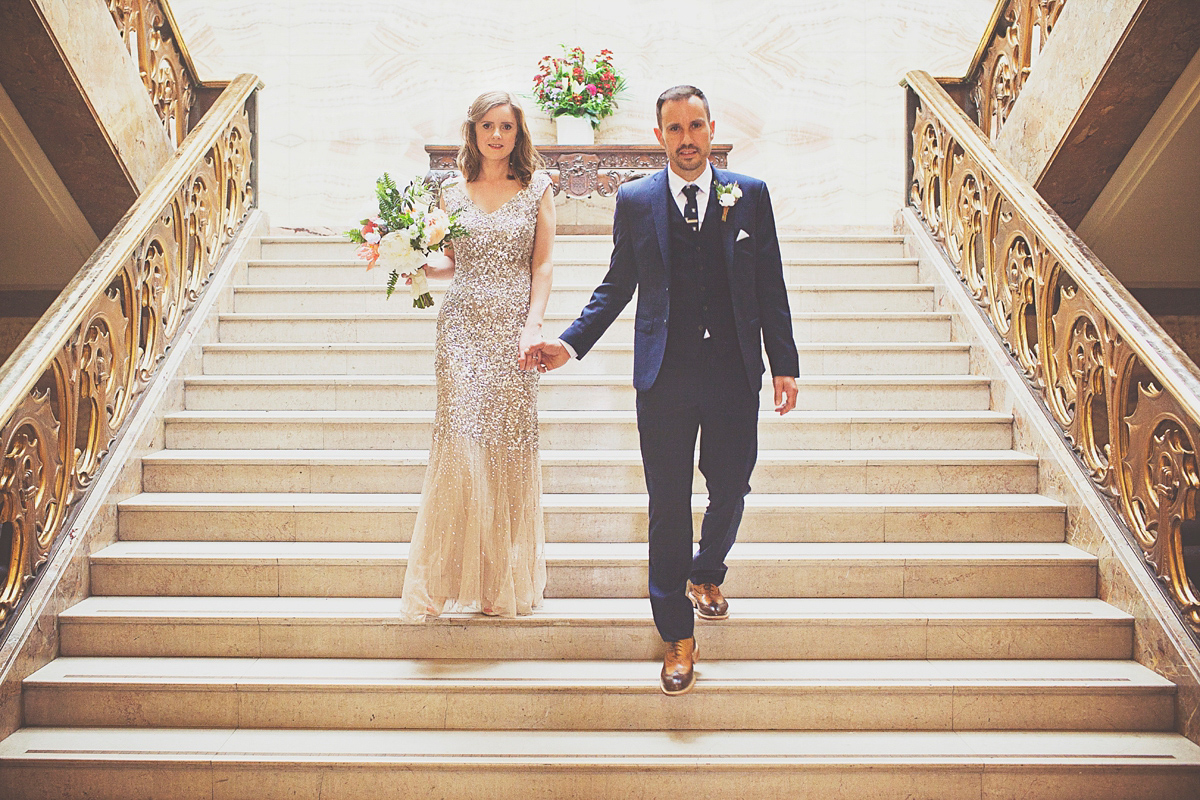 "Wandsworth registry office were very flexible and helpful in letting us tailor our vows so ceremony could feel personal to us."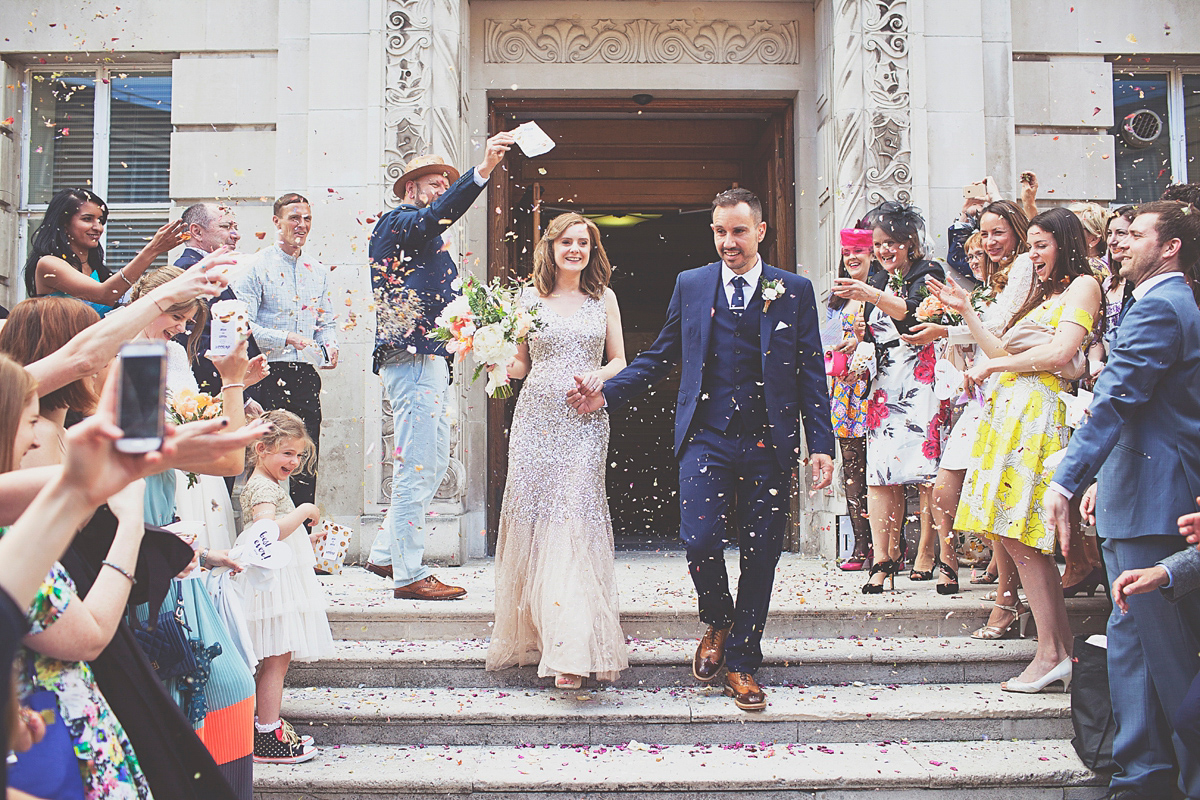 "We also really enjoyed the bus ride from the ceremony to the reception (again another time for Daryl and I to reflect) and our impromptu 'first' dance infront of the bus where our jazz band were playing whilst everyone was boarding. We took great delight in seeing our guests enjoying themselves during the bus ride."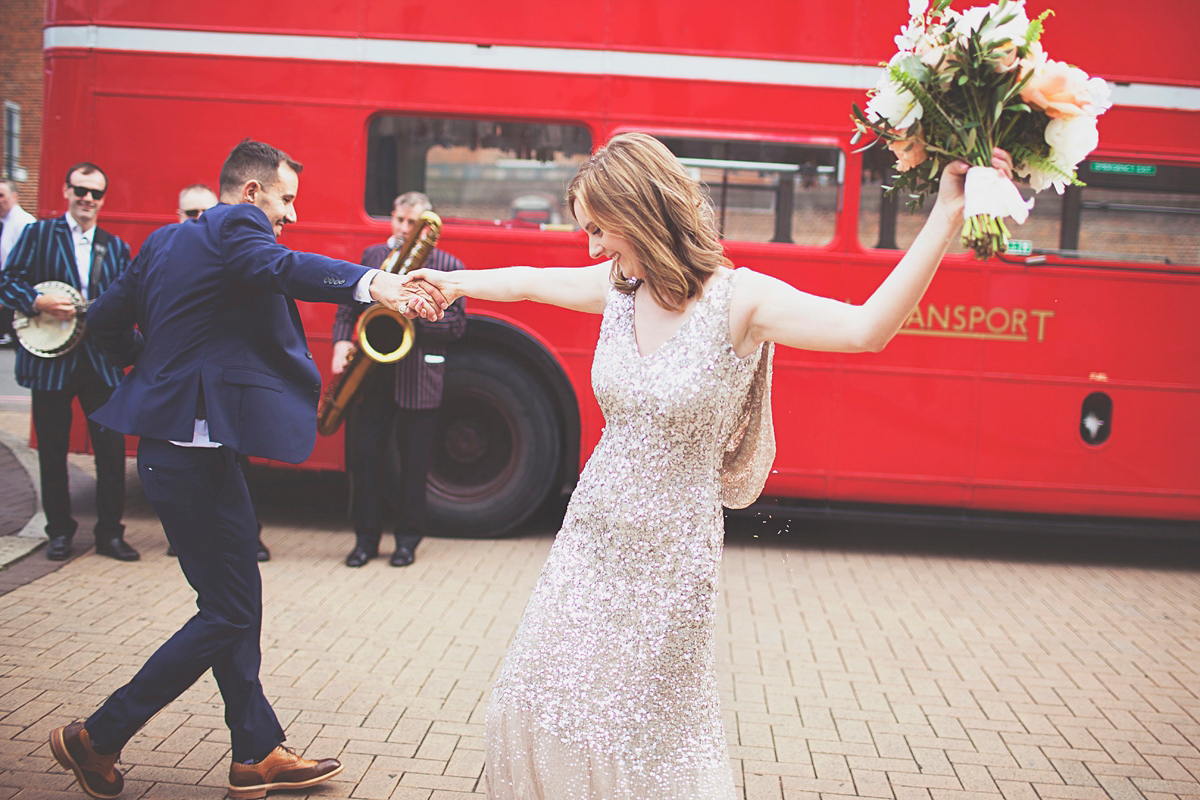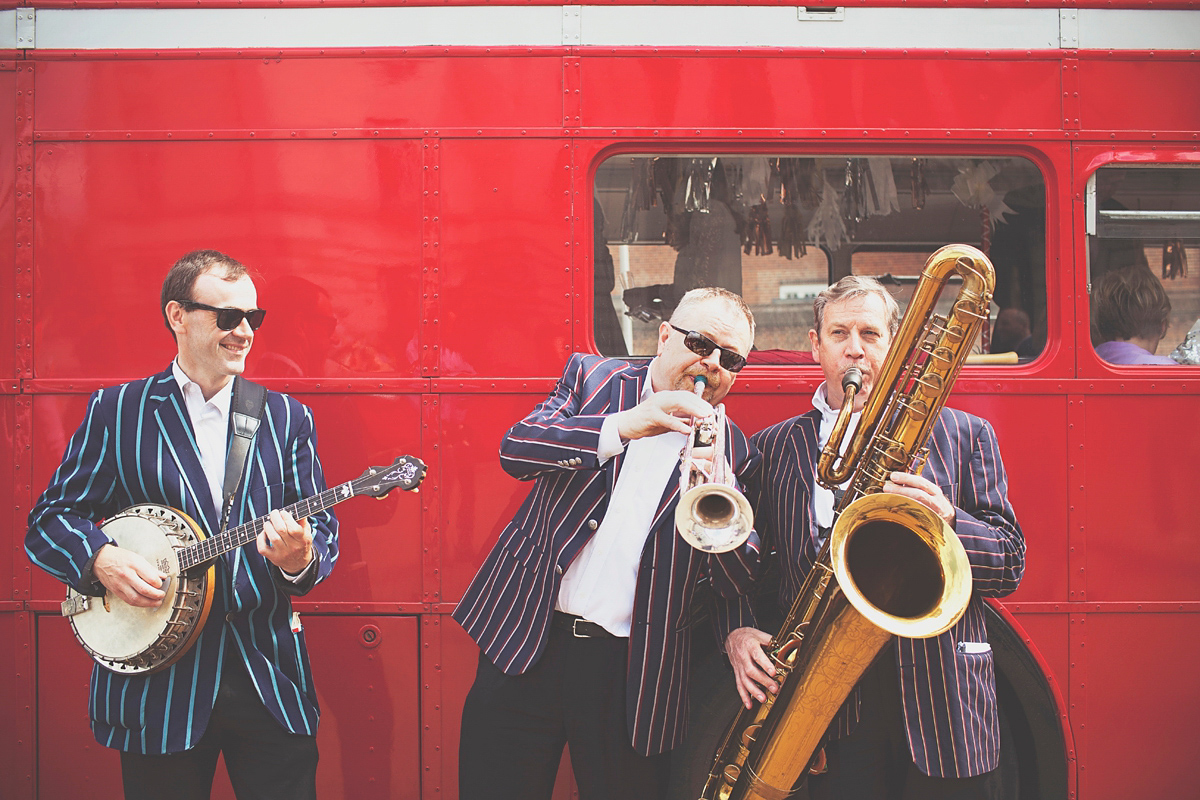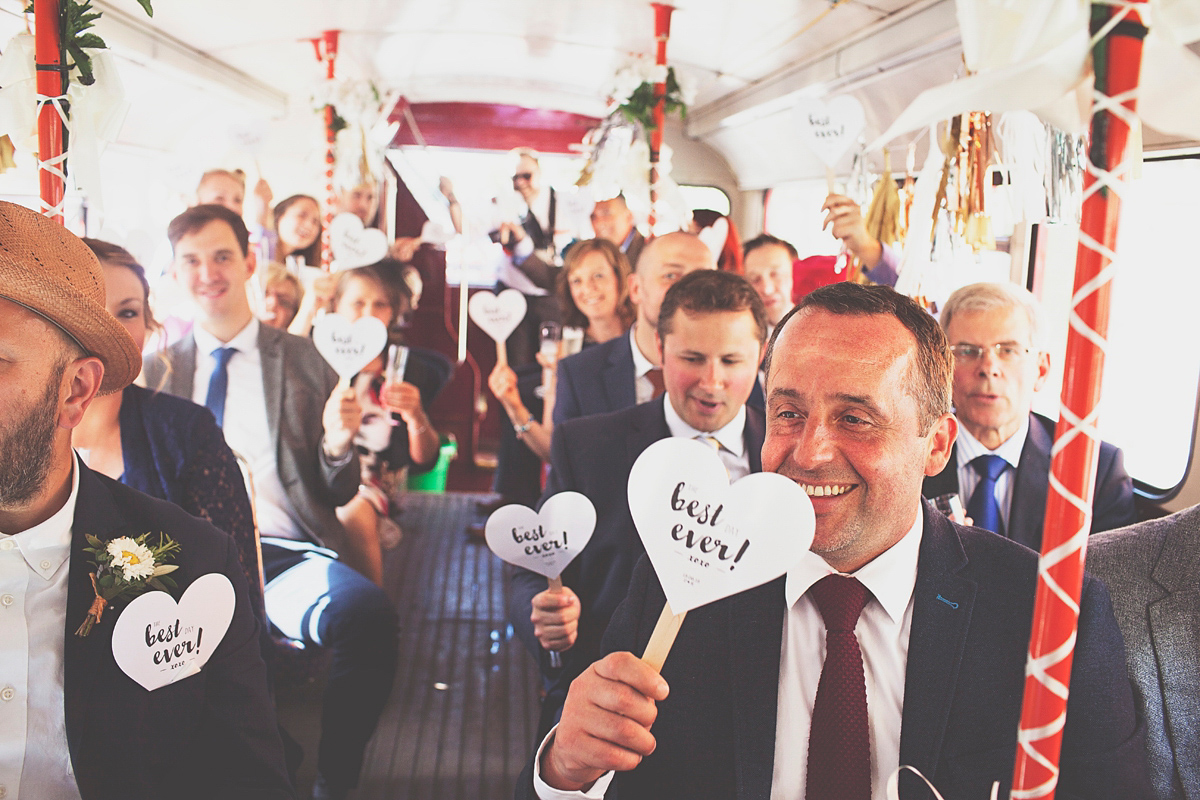 "For the reception originally we liked the idea of The Tram in Tooting (an old tram shelter converted into a pub) but our wedding party would have been dwarfed by the size of the venue, so we were very excited when we found out that the same group owned The Antelope Pub which had a smaller private venue hire area. We knew it was perfect as soon as we went to visit, from the eclectic mix of vintage furnishings, with mini sitting areas it felt like going into your granny's living room (a winning relaxed atmosphere for our wedding backdrop) to the flexibility of the staff and possibilities available – the food was also very delicious. It ticked every box and no venue hire (only min. spend was a bonus)."
"Working for Talking Tables, a partywear company,  means I have access to some amazing trendy decorations, props and accessories e.g honeycombs, lights, jars, treat bags, garlands, confetti canons. The room also had some quirky décor and some lovely twinkling hanging fairy lights so didn't need much extra but I was able to add extra personally and fun with some key pieces."
"Our floral backdrop behind the dessert table was a lovely decorative talking feature and the succulents which came in pots with gold stone and moss have become lovely keepsakes and reminders of the special day. The flowers that she used for the table settings complimented the gold glitter jars which I sent to her beautifully (available from Talking Tables). She was also happy to incorporate the gold dipped white feathers which I made into each buttonhole."
"We also did some DIY – Daryl is very creative and was his job to make the 'LOVE' letter lights, which made a lovely backdrop to the dancefloor. My usherette Janine and I also spent a day dyeing lots of coffee filters to create the decorative backdrop to the photobooth area. It didn't turn out the exact colour I wanted but Emma (a fellow stylist who helped set the room up in the morning) did an amazing job putting it up."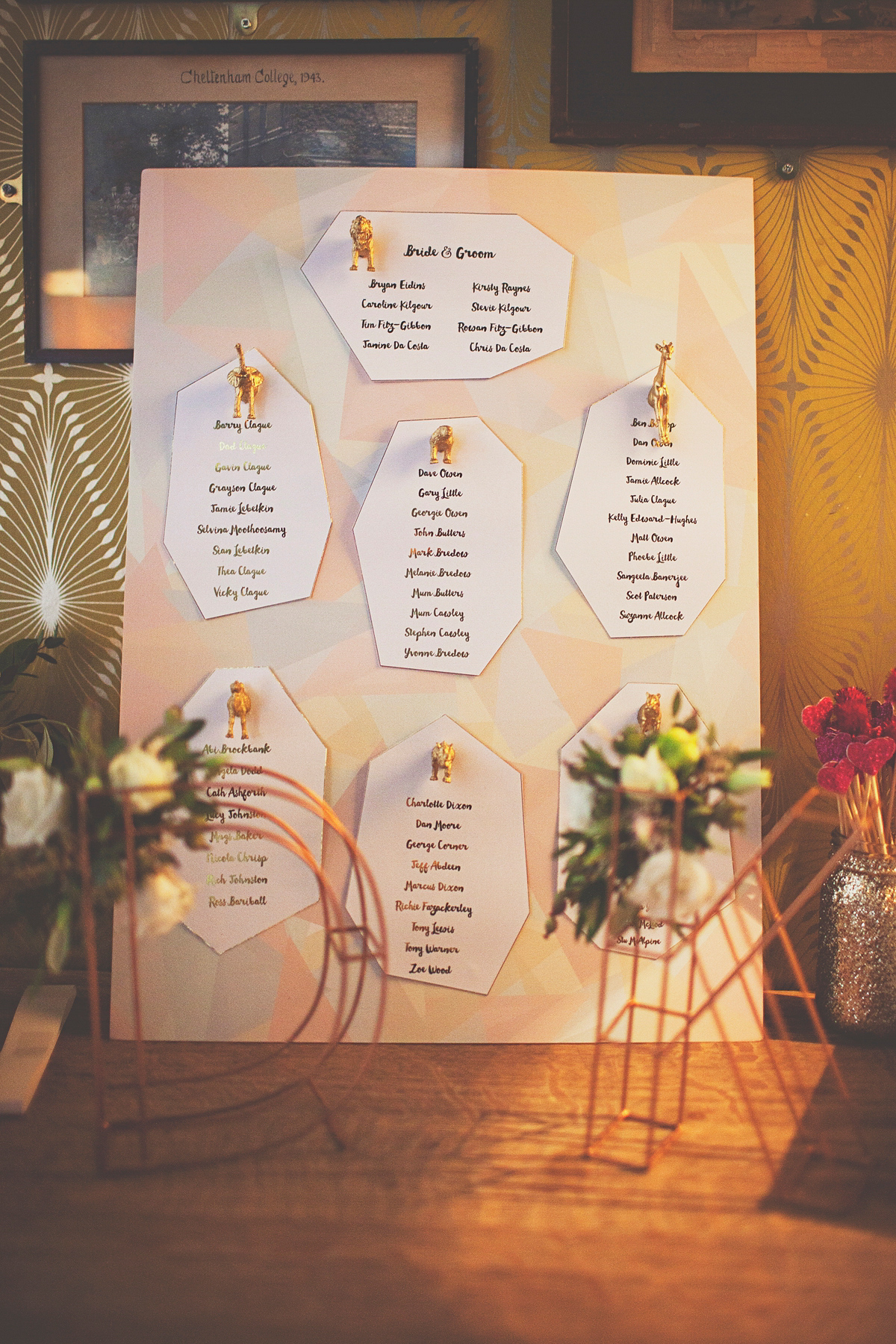 "We decided to avoid a traditional top table layout as we didn't want to separate couples and wanted everyone to feel relaxed so we sat with our bridesmaids, bestman, Usher and usherettes and their partners."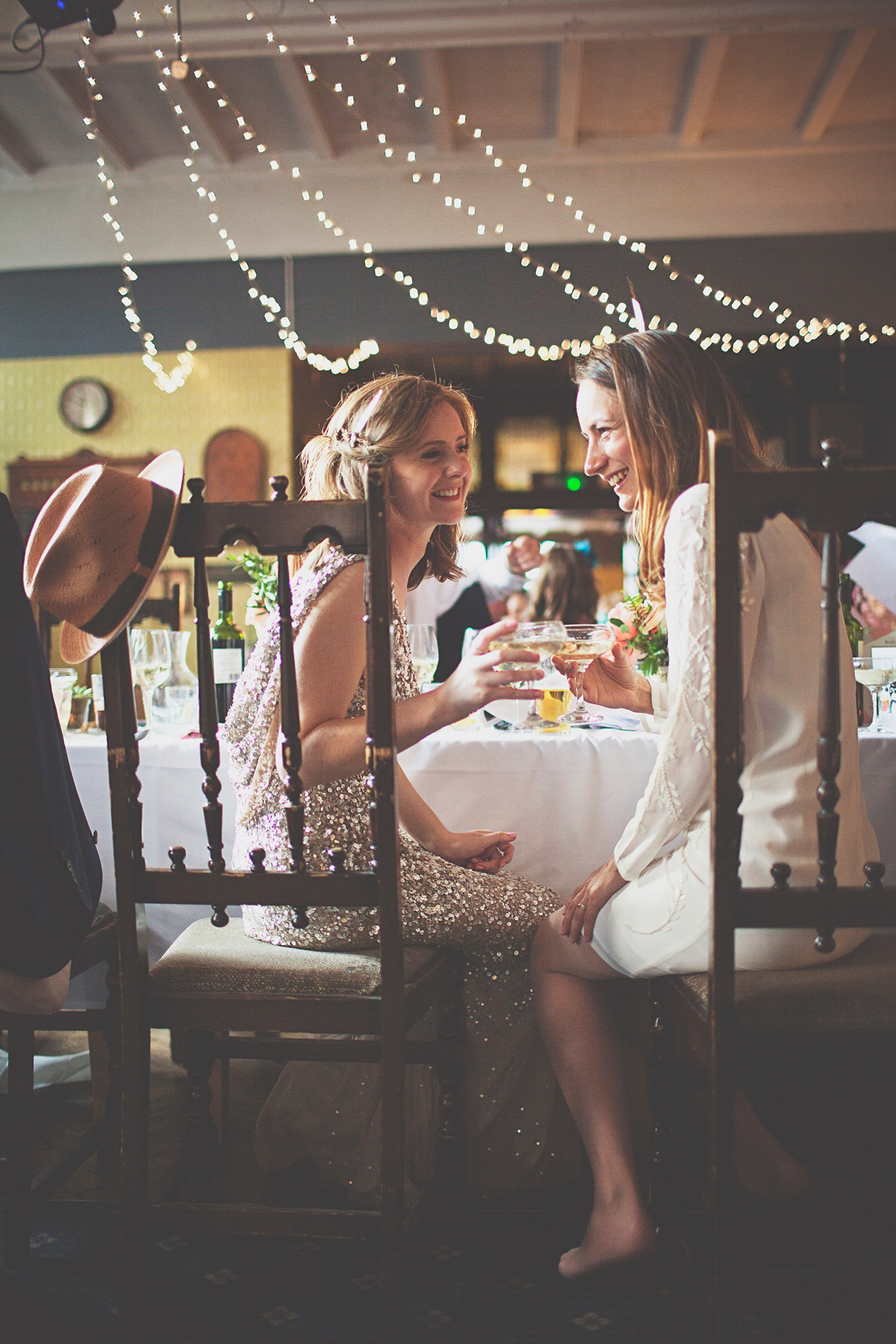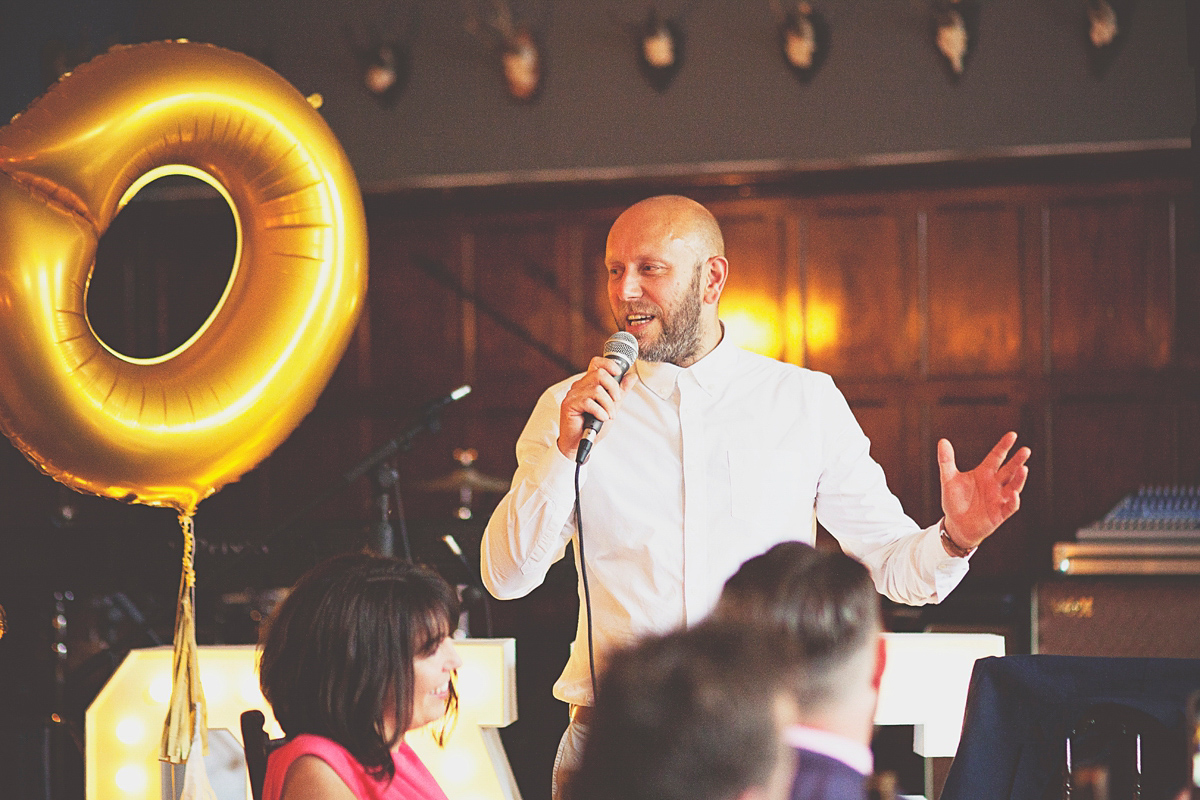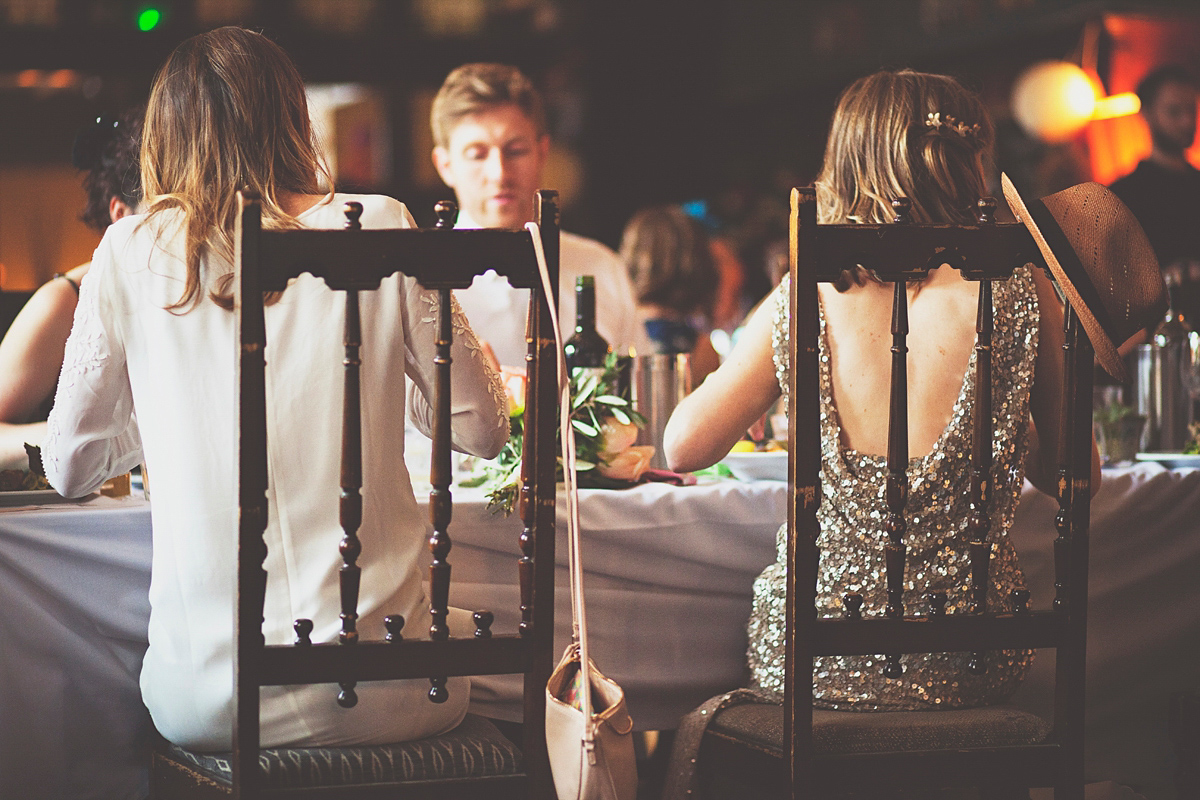 "We couldn't afford an open bar so opted for a drink token for each of the guests. We also gave each guest a small pot of honey. My mother-in-laws keeps bees so jarred the honey for us and I designed the labels, it tasted lovely and was nice to personal touch to share with our guests."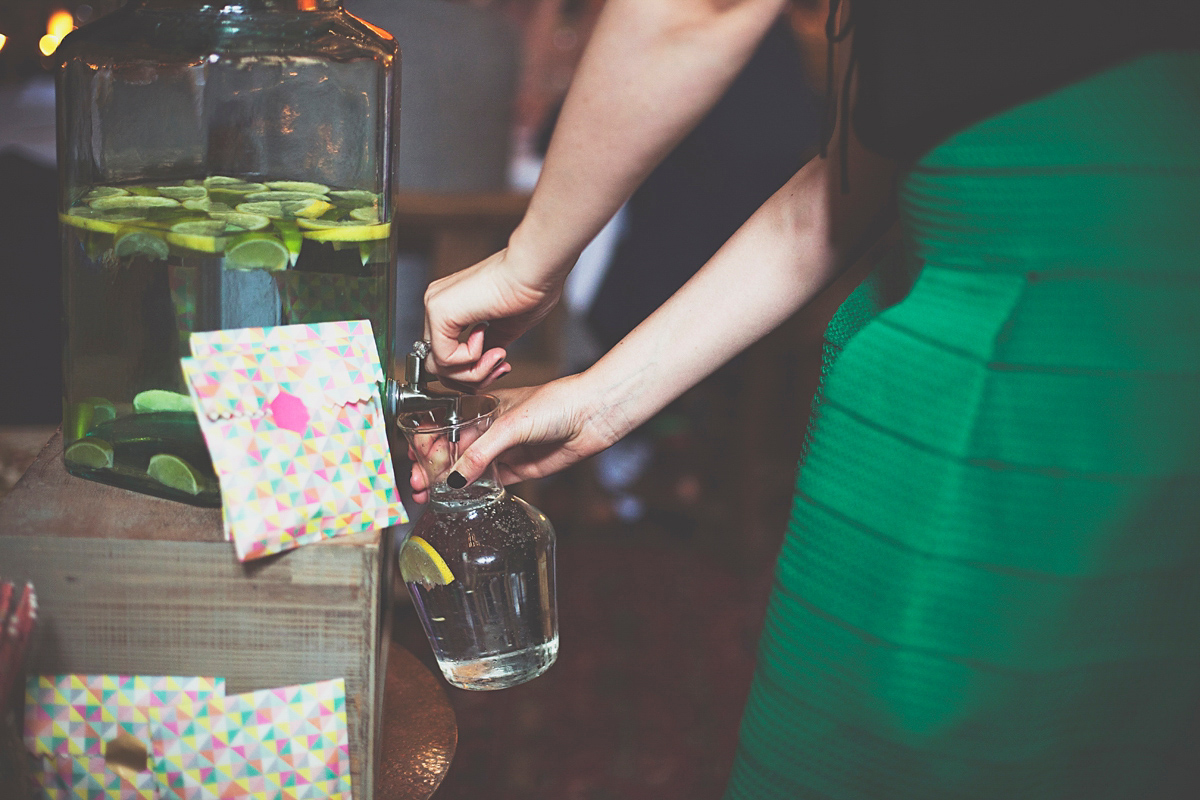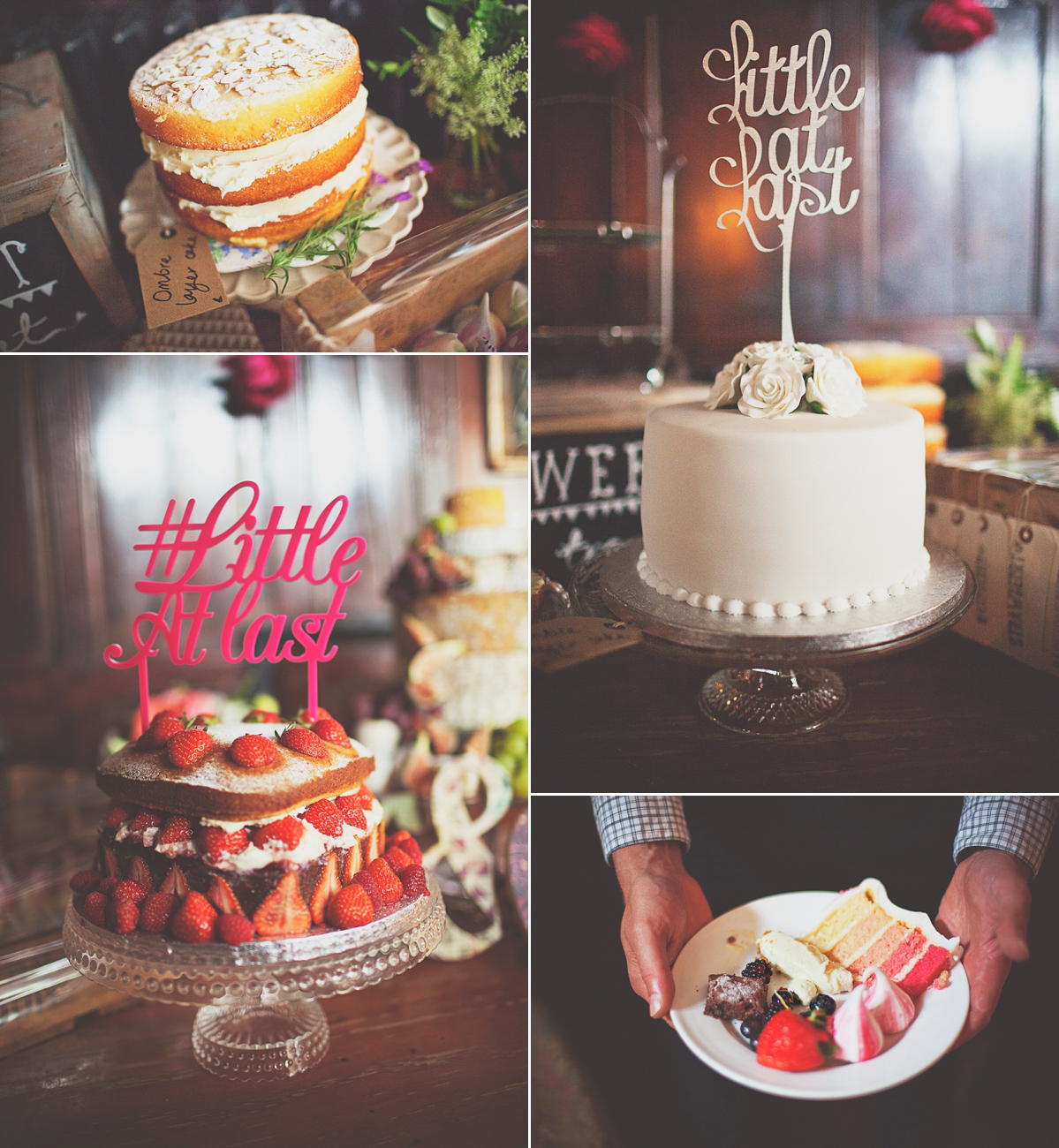 "We had a layered cheese wedding cake from Teddington Cheese. Daryl and I both love cheese and wanted something different for our wedding cake, having cheese 'cake' also doubled up as the guests 4th course and evening snack."
We are always keen to support local companies and this little cheese shop not far from us is incredible a little Aladdin's cave of cheese delights! The tasting sessions was one of the best parts of the wedding planning process.
The tailored each layer to our respect, each layer meaning something to us e.g. An Italian one because Daryl is half Italian and the top one because it had 'petit' in the name (our surname being 'Little').
We had so much cheese leftover we were able to share it with at our wedding picnic the next day with close family and friends and even take some on our honeymoon with us (we spent our honeymoon in a treehouse in Somerset).
Our wedding dessert was made up of cakes made by our family and friends displayed on our dessert table and was served with the antelopes homemade ice cream."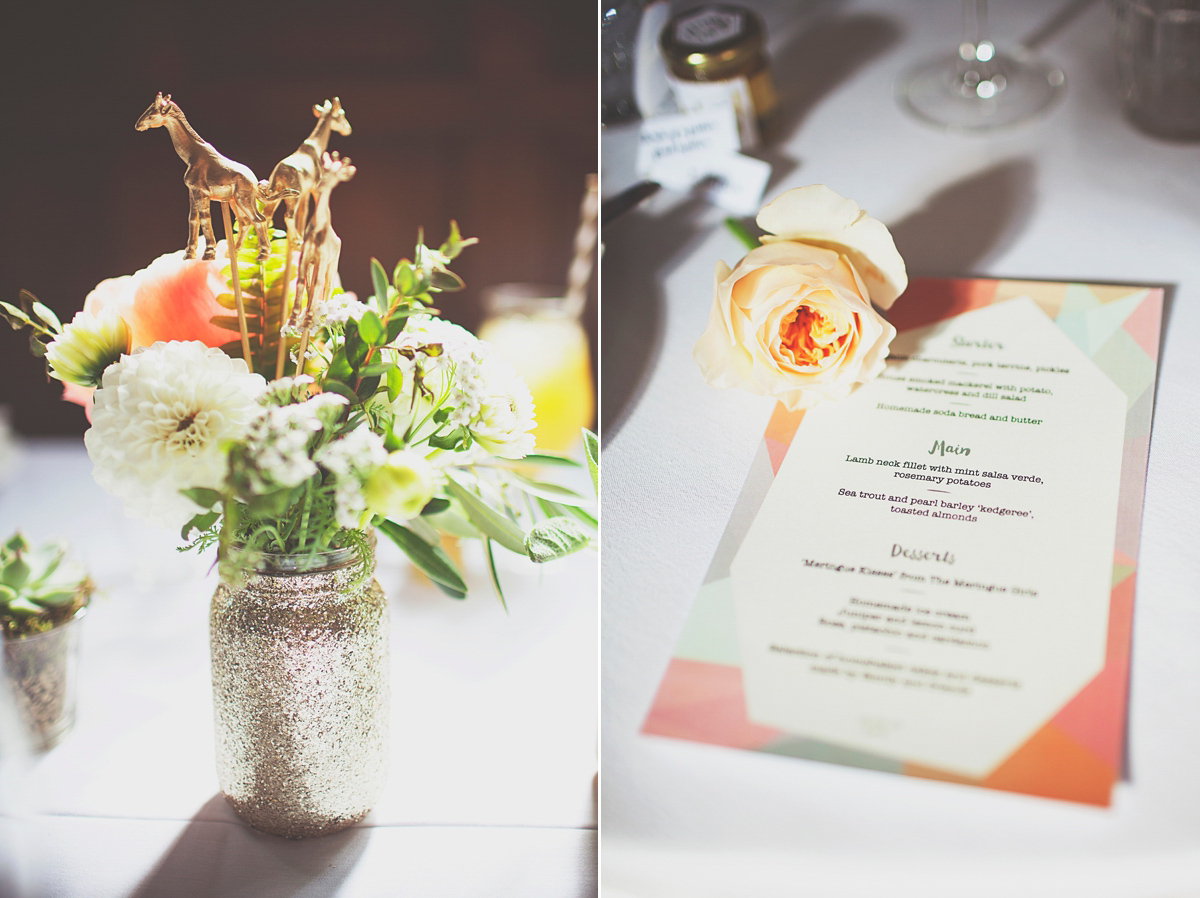 "We also ordered a Rainbow Meringue crate from The Meringue Girls."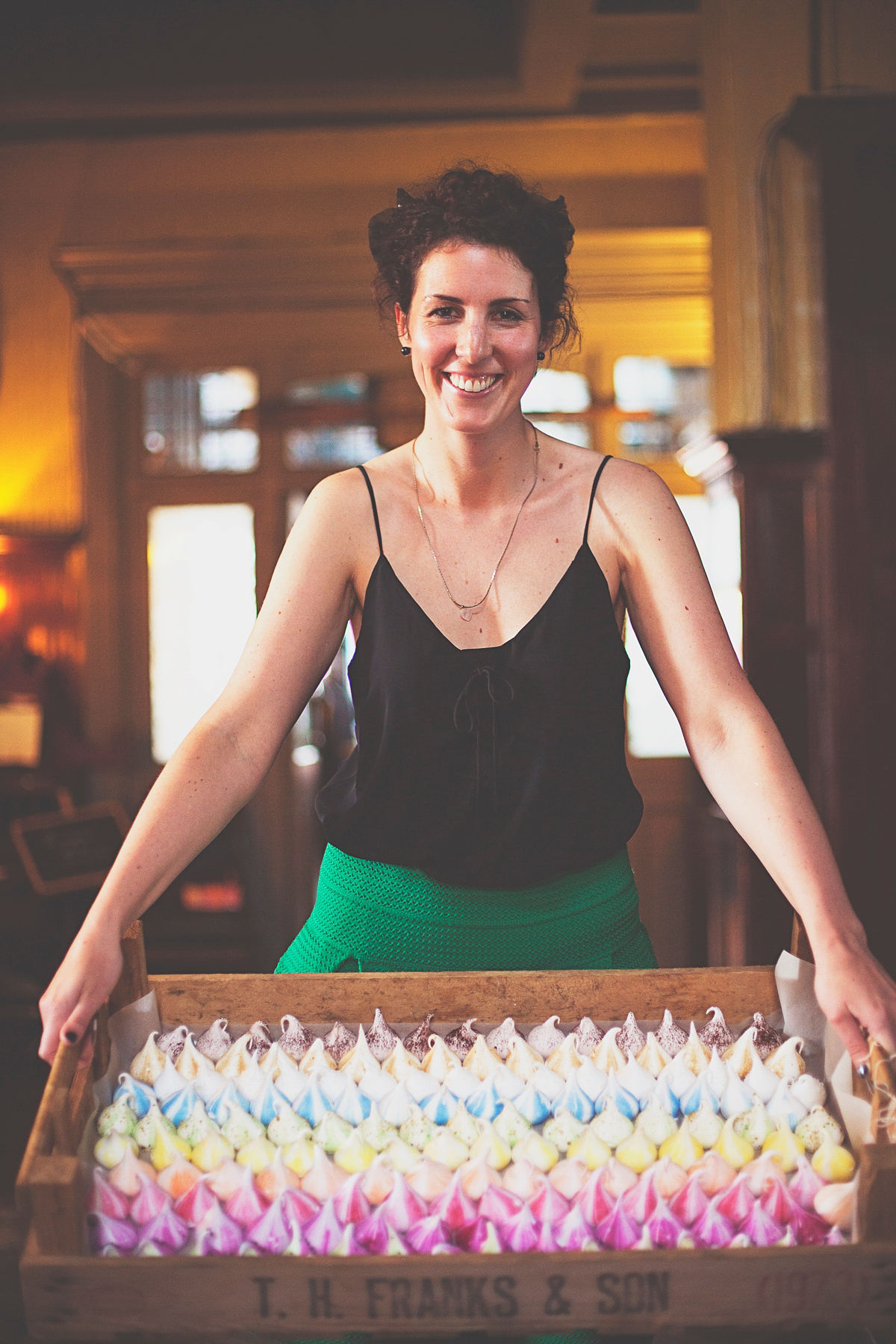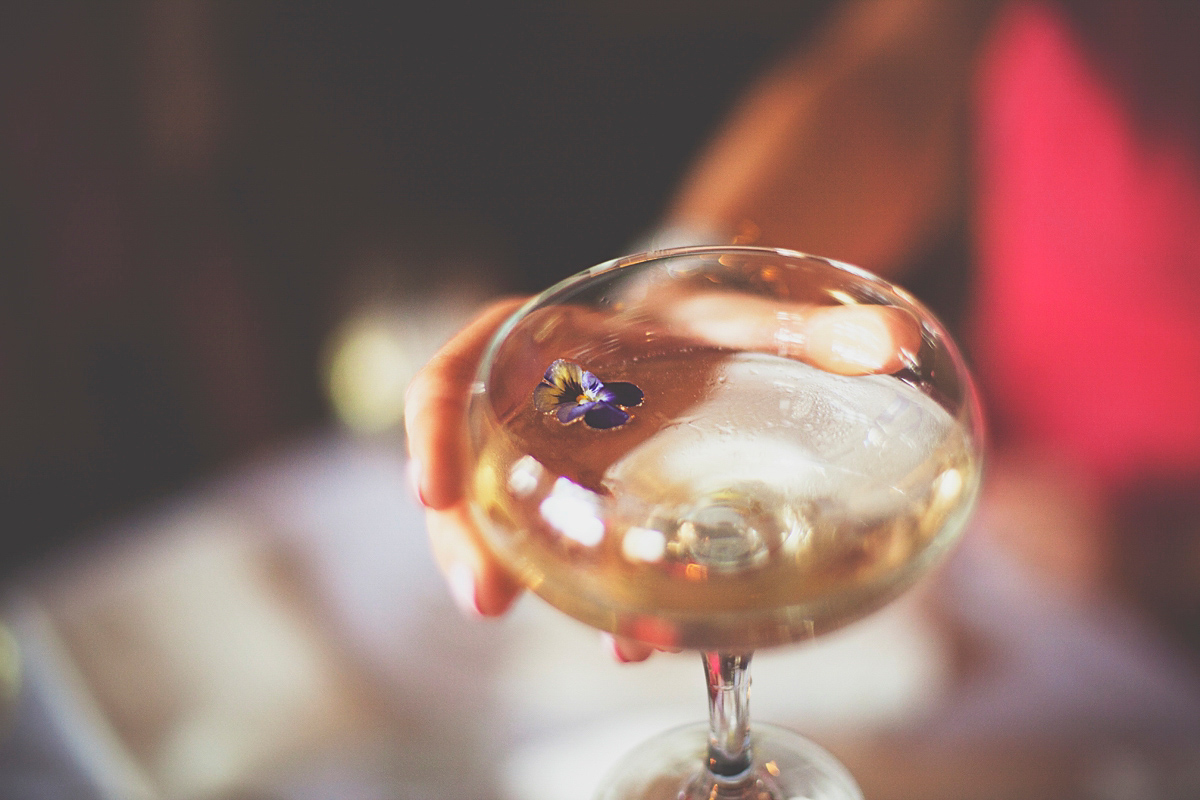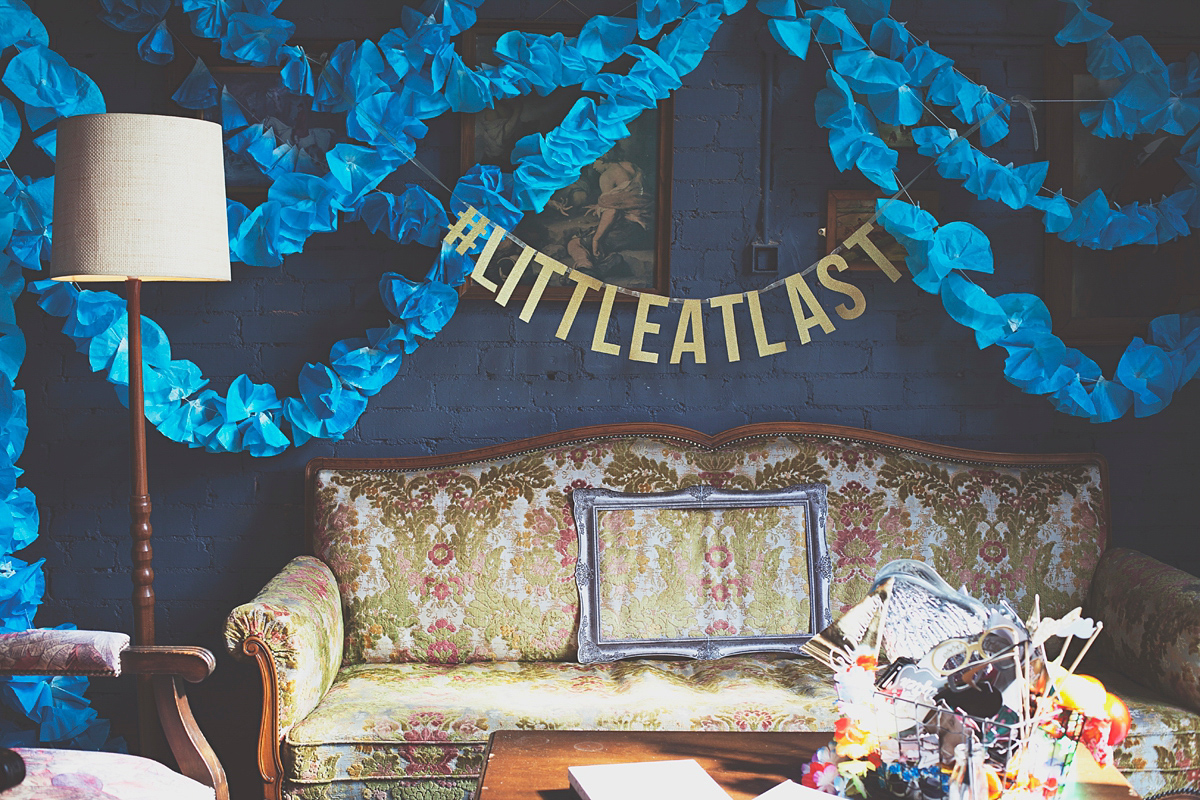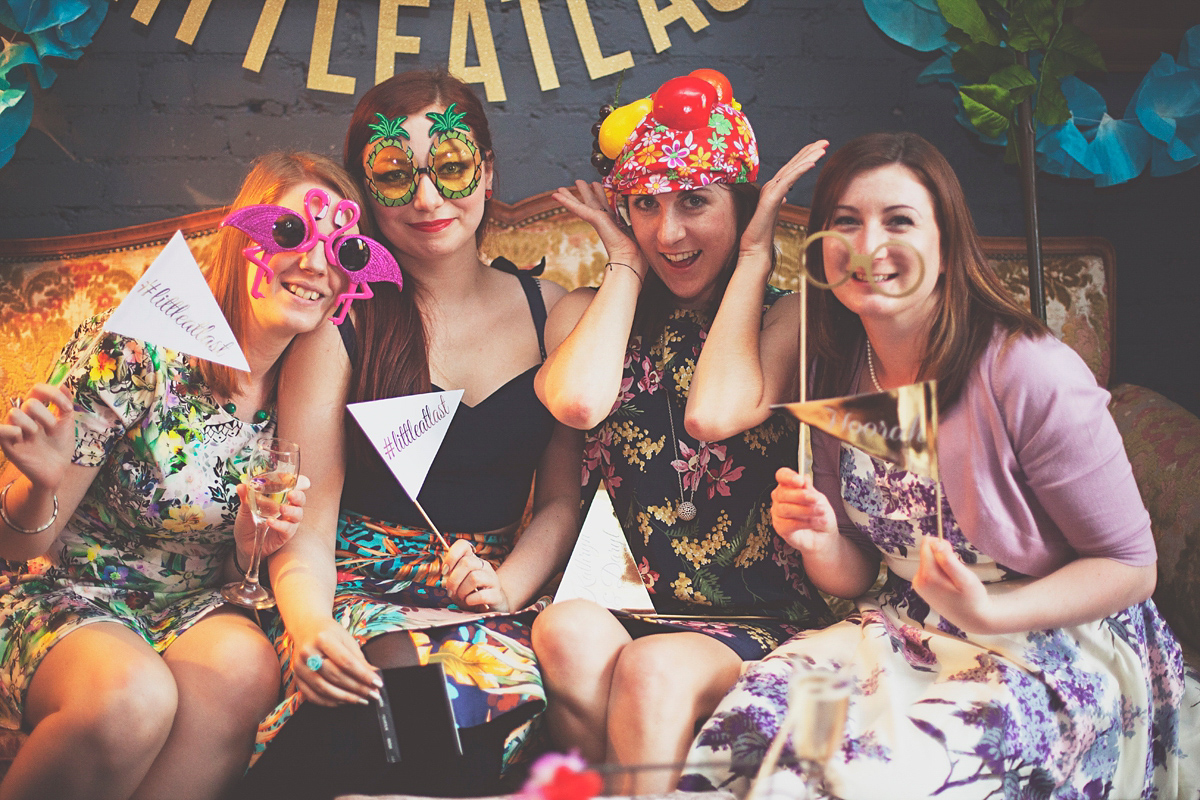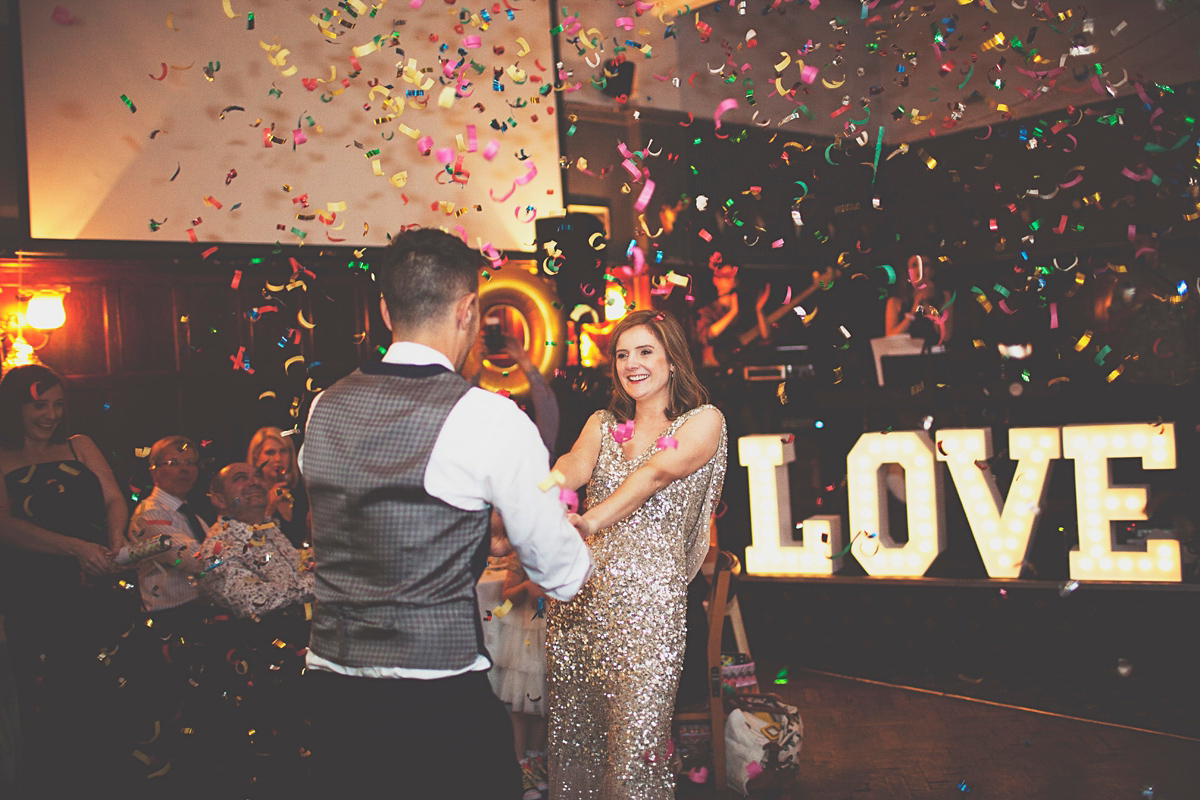 Words of Wedded Wisdom
"Have fun and enjoy every stage from the planning to the big day, don't get too stressed about little things they all come together in the end.
Don't let others or traditions sway your decisions, go with what is right for you as a couple.
The day goes very quickly, take a moment or two during the day just to stand, look around and absorb it.
Delegation is key, get as much help as you can from friends and family during the run up, set up and most importantly on the day.
We chose to have an informal post wedding Picnic the next day with close family and friends. It was a lovely chance to extend the celebrations and catch up before we went off on our honeymoon. It was also a lovely chance for Sophia our talented photography to take some more lovely photographs."
Thank you so much to photographers On Love & Photography and to newlywed couple Kathryn and Daryl for sharing their beautiful day with us. I'd love to hear from other brides wearing Phase Eight – if you'd like to see more brides wearing wedding dresses from this high street favourite, click here.
Love Annabel x