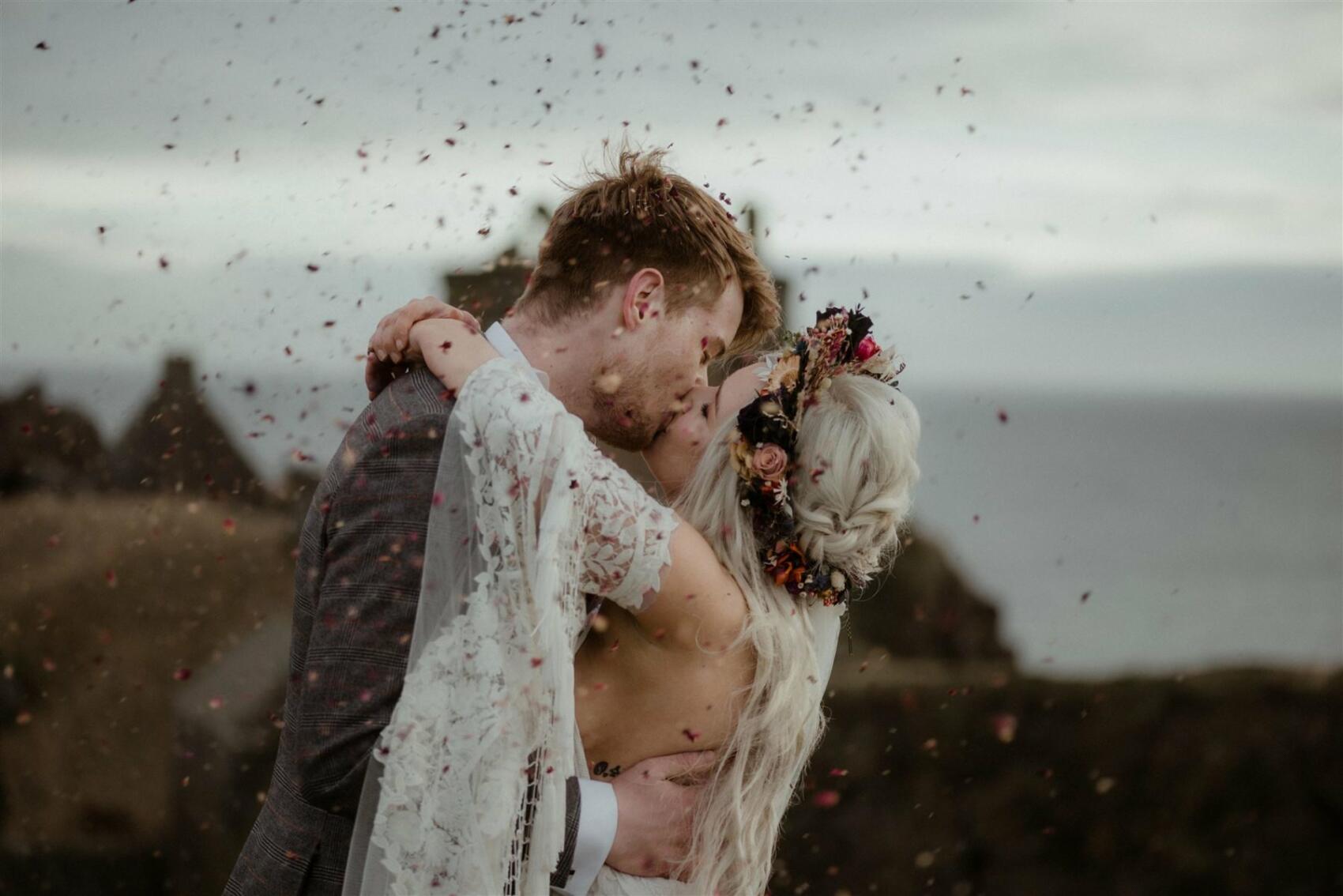 About The Caryls Photography
The Caryls are a husband and wife photography team specialising in intimate weddings and elopements throughout the UK, Europe and beyond.
Storytelling is at the heart of what we do. We're all about documenting the full story of your day from beginning to end: all the big, important moments and all the small fleeting ones too. We're here to capture your personalities, your unique and special connection, and your love.
We enjoy getting get to know the couples we work with on a personal level, so that we arrive at your special day as friends – enabling you to feel relaxed and natural in front of our cameras. Our approach is thoughtful, unobtrusive and fun–we'll blend into the background and document the beautiful moments as they unfold. We'll offer a little light direction to capture you at your natural, spontaneous best…but with no awkward posing! Whether the backdrop for your special day is a beach or a forest; a chateau or a tipi; a family home or a hip city hang-out, we would love to hear about your plans!
Reviews
The dark, moody, and romantic yet light filled scenic images is what drew us in. Meeting Katy and Jim via facetime and initially talking to them is what solidified our decision in choosing them to photograph our wedding. We quickly realized these two are the most friendly, caring, and talented team. Better yet, they were willing to adventure internationally to shoot our Big Sur Destination wedding, which, in itself, was HUGE and an amazing gesture. From the get go, including the pre-wedding chats leading up to the weekend following through to the goodbyes post celebration, Katy and Jim were super organized and communicated efficiently ensuring that they knew exactly what was important to us in terms of style, moments, and individuals that we wanted captured. Katy and Jim were a huge part of our wedding weekend and seemed to seamlessly blend into the intimate moments so well from the pre morning getting ready traditions to the end of the night partying. We were able to adventure with Katy and Jim to some very scenic areas in Big Sur to capture the most incredible landscape back drops that they took the time to scout out prior to our wedding weekend. Thanks to Katy and Jim, we not only had the opportunity to hang out with two awesome individuals during our wedding weekend, who were so caring and kind to our family and friends, but we also have the most stunning images and keepsakes that will be memories that we look back on for years and years. Many of our friends and family members commented on how friendly and great our photographers were after the fact, they definitely were one of the main highlights discussed! I highly recommend The Caryls for their professionalism, their ease in making you feel comfortable in front of the camera, for their ability to get the most amazing scenic shots, for their moody and romantic documentary style, and most importantly, for their friendly and easy going vibe. When we look at our photos, we are immediately taken back to the emotions that we felt, as Katy and Jim have the ability to capture that intimacy and those moments so incredibly well.
Christina & Alen
The Caryls did an amazing job! We absolutely loved going through our elopement wedding photos, and reliving every moment of the day! Our families were so thrilled with the photos, and said that it felt like they were there - which was exactly what we were hoping for. Everyone has been blown away by the beauty that you managed to capture - at least one person even said the pictures moved them to tears! Honestly, you did such a perfect job and we are so grateful to have had you there with us :) THANK YOU!!
Lauren & Mat
We found The Caryls through instagram. We were so excited when they were available to join us on our wedding. We fell in love with their style and vision and swooned over their images hoping that might be us. We felt a real connection when we spoke and very comfortable to be around on the day. They knew exactly what they wanted to achieve, when to move in and when to fall back. They created quiet moments of reflection for us during the day, which kept us grounded and present, this has left us with incredible memories. They worked seamlessly and showed a real commitment to providing an outstanding service. They had bags of enthusiasm and seemed to be very at home in the environment. We are very grateful for such incredible artistic images they have produced for us. We cannot thank them enough and we whole heartedly recommend them to others.
Hannah & John
"An elopement wedding abroad is always a challenge, and finding the right photographer was a crucial part of our preparations. We considered a lot of candidates, but we finally selected at The Caryls. And never regretted our choice. From the earliest stages of our preparations, they provided us with support and assistance with the ceremony site selection, legal and financial formalities. We've been constantly in touch and they were ready to reply any of our questions. We felt this support both during our wedding preparations and on the elopement day, and even after it. From the very beginning, we felt it that we were embarking on an incredibly crazy adventure, and right up until the very last moment everything seemed unreal. But in the end, our elopement day has become one of the best of our lives. The Caryls have not only been our photographers and witnesses, they've become our friends and we would be happy to stay in touch with them. As to their professional skills, they are beyond praise. Their selection of perspective, light and their photo processing made each shot unique; disclosing the place, event and the participants in a very unexpected and deep way, while still retaining the atmosphere and our memories of the day. Every time look through our photos again, we return to that day. These guys really captured the atmosphere. They are true artists! Respect! Cristine and Alex from Russia"
Cristine & Alex
"The Caryls- the loveliest couple and amazing photographers! They captured so many special moments on the day that I either hadn't been able to see first hand or had forgotten! We hired them because we had seen the photos they had taken for friends of ours and absolutely loved how they captured them. We would 100000% recommend them to others- you will not be disappointed!! They specialize in elopements out in the wild but don't hesitate to hire them for something more traditional! Our wedding was somewhere between traditional and not so traditional and they just captured everything so beautifully. On the day, they made us feel so relaxed and they almost just blended into the background. Not intrusive or demanding, they just let us be and captured the day as it unfolded. They whisked us away for a romantic quiet session in the woods right after we were married, and it was so special to have that time together. I will cherish that moment and those photos forever. Can not recommend them enough! "
Adriana & Neil
"The Caryls were one of the major reasons for us picking Scotland for our elopement wedding. We fell in love with the moody vibes and dramatic landscapes of their work. On the day of they were fantastic. They had scoped-out Killiehuntly (our Cairngorms wedding venue) a few weeks earlier and found the perfect spot for our ceremony, as well as some other places nearby for additional couples photos. We absolutely loved our wedding photographs - and we couldn't recommend them highly enough."
Mallory & Will
Articles featuring The Caryls Photography