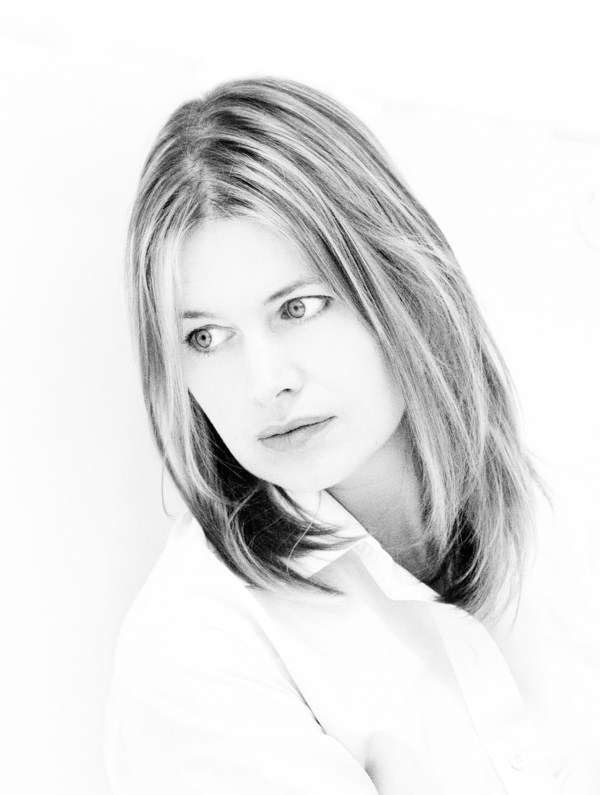 Anyone who knows me, or who has gotten to know a little about me throught this blog, probably knows that I'm a huge Jenny Packham fan.
It was when I was on the hunt for my perfect wedding dress that I discovered Jenny.  I recall turning the page of one of my many wedding magazines and being greeted by  one of the Jenny Packham full page spread adverts.  And as soon as I saw it, I was smitten.  
Everyone has their preferred style of wedding dress; sleeveless, backless, concealed corset, floaty chiffon, long short etc, etc.  For me, all the aspects of Jenny's designs were exactly what I was looking for in my wedding dress; something fairly unstructured, something floaty, something with a touch of the most exquisite embellishment, but not too much ~ something light and beautiful to wear all day that would make me feel comfortable and look the part.  When I found Jenny's 'Selene' design (you can see me wearing it below on my wedding day), I felt I'd found a dress that had been made especially for me.  Perhaps that was my 'I've found THE one!' moment 🙂
So it was with great excitement recently when I got to meet Jenny's Head of Accessories at the Absolutely Beautiful Weddings Event. We talked about Jenny's new website development (did you know you can now purchase Jenny's beautiful accessories online?) and the plans to launch the new wedding collection in Milan (a hugely successful runway show took place last week).  We also had a really interesting chat  about the increasing influence of the 'Wedding Blog' – a subject that my talking partner took great interest in. 
Campaign images from Jenny's latest Spring/Summer 2010 collection…
All Images Copyright (c) 2010, Jenny Packham…

And so our conversation soon turned to Jenny and I asked my acquaintance if it would be possible for her to connect me with Jenny, so that I could interview my wedding dress designer idol and ask her a few questions on behalf of my readers.  "Yes, of course" came the reply 🙂
And so here is my little interview with Jenny Packham, where I get to learn a little more about one of Britiain's most celebrated Bridal Wear Designers, and the very talented lady behind the brand name now synonymous with red-carpet glamour and wedding day elegance…
An Interview with Jenny Packham…
How and when did you start out in fashion design and bridal wear?…"After I graduated from Central St.Martins I began my own label.  Young, naive and arrogant!"
Was there a defining point in your career that set the Jenny Packham Brand on to the path of success? If so, what/when was your big break?..."The brand has been built carefully throughout the years but when I began showing the collection on the catwalk during London Fashion Week, it catapulted us into the global arena and elevated our international status."
Your bridal wear signature style is very evocative of 1930's Hollywood glamour – what influences you about this particular era?…"I love the decadence of this era, the opulence and lavish approach to design. Unfortunately the war brought an end to the decadence that defined it."
What inspired your latest collection of bridal wear? …"This collection was inspired by the Ballet Russes and 1930s Paris.  Balletic silhouettes, tiers of diaphanous tulle and unbridled decadence."
Do you have a personal favourite style of bridal gown, and if so, why?…"I love the 1930s silhouette but I've recently designed some more structured pieces which are beautifully feminine and sculptured."
Runway shots from the Jenny Packham Spring/Summer 2010 catwalk show…
What motivates you when it comes to designing? Where do you seek your inspiration/what inspires you?…"Every season is different,  I spend a lot of time in Paris which I find one of the world's most inspirational cities, so I draw a lot of creativity from there.  I have also recently returned from a trip to Africa where I found some incredible prints.  I have based collections on pieces I have found in vintage markets, a piece of art, places I have travelled to.  I try to immerse myself in inspirational things and places."
What type of fabric and embellishment feature in the latest collection?…"French silks, silk tulle and delicate French lace.  The embellishment has more of an antiqued appearance with champagne golds and tarnished silver on molten liquid satins."
Do you have a (design) Muse?  How would you describe the Jenny Packham Bride?..."I don't have a muse but the Jenny Packham bride is confident, style aware and international."
Some of the Jenny Pachkam Brides that have featured on Love My Dress (for a list of links to the full features, please refer to the end of this article)…
Left, Photography Copyright (c) 2010, Polly Alexandre ~ Right, Photography Copyright (c) 2010, Emily Quinton

Left, Photography Copyright (c) 2010, Anna Hardy ~ Right, Photography Copyright (c) 2010, Karen McGowran
Left, Photography Copyright (c) 2010, Nikole Ramsay ~ Right, Photography Copyright (c) 2010, Candysnaps
Below, Photography Copyright (c) 2009-2010, Steve Gerrard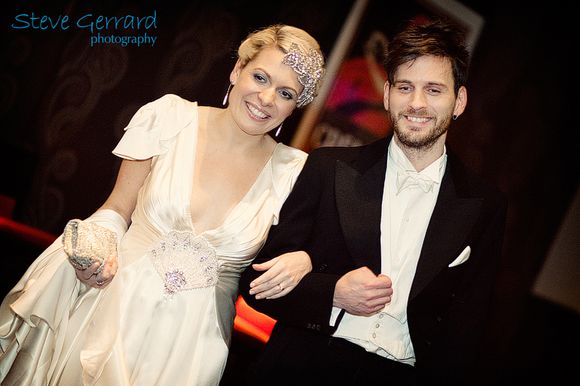 …and me in my Jenny Packham 'Selene' wedding dress 🙂 …
Photography Copyright (c) 2010, Karen McGowran
Your website is currently sporting a beautiful line of bridal accessories – can you tell me more about the accessories and the inspiration behind the collection?..."It all started with a beautiful campaign shoot I did in Miami.  I had this beautiful piece of beading which I placed in the models hair.  The whole look was just beautiful and we found that brides wanted that specific look and piece, so it escalated from there.  Brides love a complete look on their wedding day and by designing accessories that are inspired by the dresses makes the girls look like they have stepped out of one of my campaigns.  It creates instant glamour."  
Headpiece/hair accessory or veil?  Or both?!?…"It depends on the bride's personality and the look she is trying to achieve.  I think a hair accessory is a more contemporary approach but you can now get some beautiful veils and shorter veils that can look stunning."
Can you provide a retail price guide for both your bridal wear, and your line of accessories?..."Dresses start from approximately £1200 and accessories start from £90" 
By the way, there is a list of UK stockists available on the Jenny Packham website.  For anyone living in or willing to travel to the North East of England, I highly recommend Poppy Bridal in Darlington – this is where I purchased my Jenny Packham wedding gown from, and the customer service there is outstanding.
 
 Which other designers inspire you the most, and why?…"I tend to wear Dries Van Noten and a lot of vintage.  For evening, I wear Prada and my own designs."
What do you like to do when you're not designing?…"Travelling, spending time with my daughters and visiting art galleries in Paris."
Jenny, during one of her recent travelling trips to Gambia…
In terms of the Jenny Packham Bridal wear brand and accessories line, what are your plans for the future?..."The collection is growing, as is our retail so hopefully you will see more stores internationally.  We are selling the collection on-line now.  I have also designed a beautiful collection of luxurious lingerie and lounge-wear which is perfect for your wedding night and honeymoon or just for self indulgence."
Some of the exquisite lingerie designs now available to purchase on the Jenny Packham website…
Finally, if you had any words of wisdom to pass on to a Bride-to-be looking for the perfect wedding dress, what would they be?…"Be yourself!"
Advice you hear time and time again – and I couldn't agree more.  And THAT means, if short and sassy is your style, do it! If sexy, sultry and backless is your style, then be proud to show off your figure and go for it!

Thank you so much to Jenny for sparing time in what I can imagine is an extremely busy schedule, to talk to Love My Dress.
We've lots of Jenny Packham Brides here on Love My Dress, here are a few…
♥  Jenny Packham + Flo & Percy = Timeless Elegance…
♥  A Classicly Elegant Wedding with a Nod to Vintage Style…
♥  A City Wedding in Style ~ And Some Jenny Packham Perfection!…
♥  Art Deco Divine & Jenny Packham Perfection…
♥  A Divine Dress for a Splendid Scottish Wedding…
♥  Vintage Summer Love ~ An Old Fashioned Country Garden Wedding…
♥  A Beautiful Beamish Hall Wedding of Simple, Chic Elegance…
 ♥  Jenny Packham Papillion, Pretty as a Butterfly…
♥ ….and finally, my very own wedding in Whitby (and my 1st anniversary feature)…
Were you a Jenny Packham Bride, or are you planning on wearing one of Jenny's beautiful designs on your wedding day?
You can see other exlusive designer interviews on the Love My Dress Wedding Blog here.
Dreamy dress love…
Annabel xXx
♥