Hello lovely ones, my oh my, January is flying by so fast already. I'm trying to mentally slow this year right down because 2018 was over in a flash.
2019 is a big year for us at Love My Dress. In November, it will be 10 years since we published our first blog article. A whole decade! If you'd had said to me that freezing cold November morning back in 2009 that in 10 years time, you'd be running a business you love, living a life you love, have met so many amazing and interesting and creative people and be helping, reassuring and inspiring brides all over the world – all down to this blog adventure you're about to embark on, I simply would never, ever, ever have believed you.
But here we are – and today I've this enormous smile spread across my face as I recall the one thing that inspired it all; my exquisite and beautiful wedding dress.
Philip and I celebrate our 10th wedding anniversary in March. We tied the knot on 20th March 2009 on one sunny day in Whitby, North Yorkshire (I share some photos at the end of this feature, but bear with me). It was the first day of Spring that year and the wedding itself was beautiful in every way. I wouldn't change a single element of every delicious and vivid memory I have of it. It was an event that would change my life, literally and completely. And the the one thing that brought it all together was my sublime Jenny Packham gown.
**For promotion mentioned in the title, please see end of article**
Moonflower from Jenny's 2019 bridal collection

I will never, ever forget the day I discovered my beautiful 'Selene' dress – the natural high I felt as I drove back from Poppy bridal boutique in Darlington to my then home in Gateshead. I was beyond ecstatic and belting out the loudest singing voice I could to the radio.
I became engaged on Christmas Eve, 2007 and working with my fiance, spent 15 months planning our wedding. After we had secured our venue, the next most important thing for me was my dress.  There was much less dress choice back then compared to now,  but choice did exist – it absolutely wasn't just all about the much maligned strapless gown, you just needed to know where to look. Though admittedly, the resources were limited. Back then, inspiration and 'influence' as we are familiar with it today simply didn't exist. Pinterest, Instagram, wedding blogs – they had yet to happen – only Facebook and Twitter were in their infancy and personally, I'd yet to get my head around either of them.
https://player.vimeo.com/video/279426707
No, for me, I found my inspiration (and a whole new world of visual creativity) in the glossy bridal magazines. I'd spend hours and hours pouring through pages of beautifully styled and curated editorial shoots and adverts, tearing out images to add to my already overflowing inspiration folder. But it was this experience that made me realise almost from the off that I was drawn like a magnet to the aesthetic of Jenny Packham. And there wasn't a strapless gown in site – instead, I saw sensuous silhouettes inspired by old Hollywood glamour, gowns that oozed the kind of red carpet worthy effortless elegance I wanted to pull off as I walked down the aisle, and I saw the most sensational embellishment and sparkle that I was just completely, instantly smitten with.
Jenny Packham gowns were like an absolute dream to me, capable of transforming the every day girl into a 24 hour starlet. They truly were the most beautiful dresses I had ever seen in the world. To this day, Jenny's gowns have the same impact on me. They are breathtakingly beautiful gowns, constructed to such perfection that when you step inside a Jenny Packham gown, you feel like you have experienced an actual little slice of magic.
Indigo from Jenny's 2019 bridal collection
Last year, I had the sheer pleasure of meeting Jenny Packham for the first time. We were beyond lucky to be invited to view the launch of Jenny's latest bridalwear collection at The Ritz Hotel in London. I had to work hard to play my cool at this one – holy shining diamonds, this was a HUGE opportunity for me to meet the lady responsible for ultimately changing my life so much and say thank you! Instead, I bottled it a little on the day, my fangirl nerves getting the better of me, and opted for a quiet, inner THANK YOU UNIVERSE moment. But in all seriousness, I don't think Jenny truly realised what a milestone moment that was for me and how hugely thankful I was.
I am immensely proud to have had the opportunity to support and work with Jenny and her team for around 18 months now and it has been the best experience. Jenny has cultivated a team around her who are absolute professionals – and yet utterly lovely, down to earth individuals like you and I. It's been a dream to work with her helpful and responsive (and always so incredibly polite!) team. It has also served as a big reminder of why I love and adore doing what I do so much. The British bridal fashion design industry is something I'm immensely proud to stand behind. We've so much talent going on.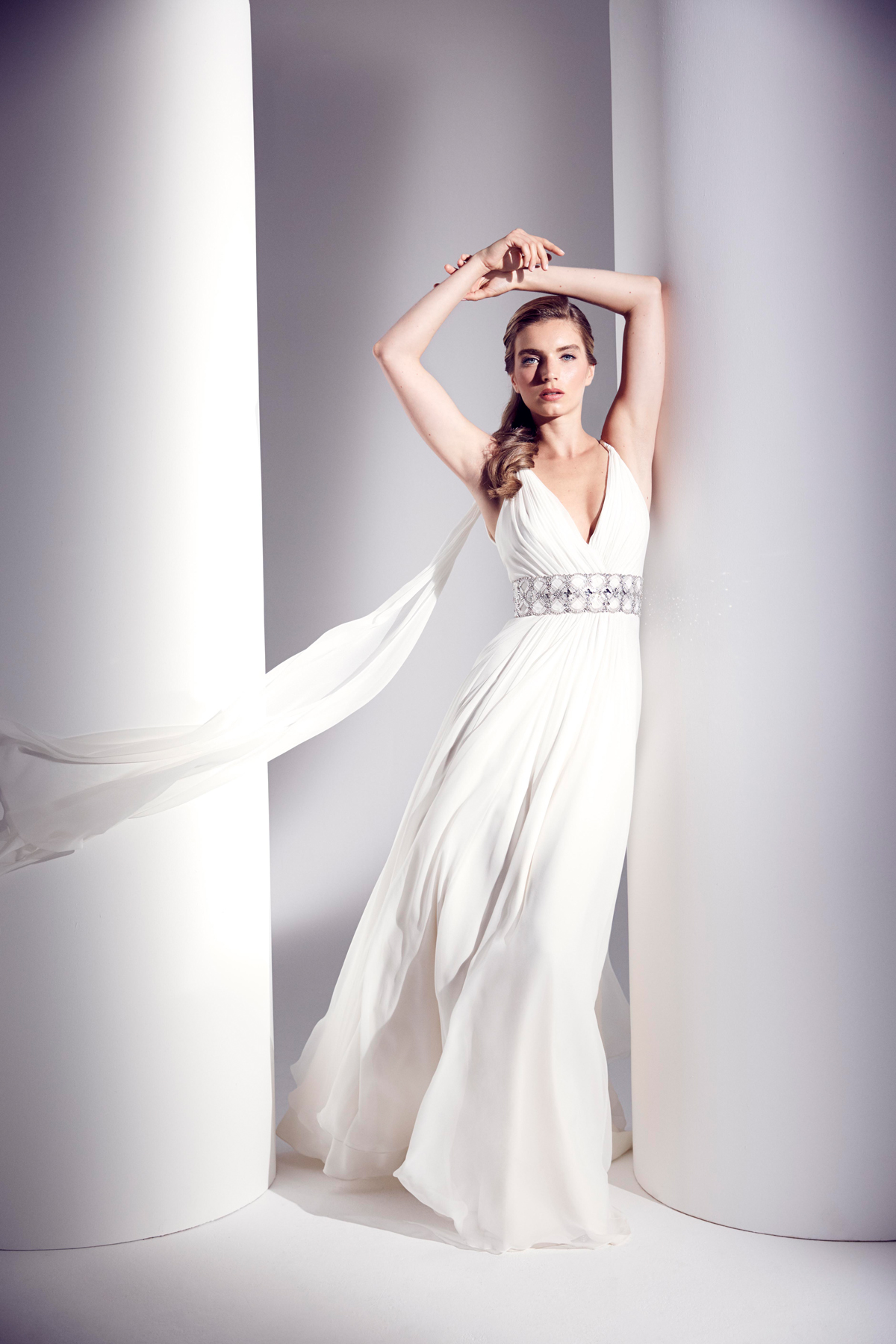 Angelica from Jenny's 2019 bridal collection
This article is a dedication to Jenny Packham and the hugely significant role she has played in not just changing my life, but helping bring into existence this much loved wedding blog – a resource that has inspired many, many thousands of brides over the past 10 (almost) years.
Jenny's brand is still, for me, an exemplary one in the industry. Her dresses like works of art, and I take the biggest of pleasure in telling the world all about them.
By the way, did you know that in 2018, Jenny teamed up with one of my very fave shoe designers, L.K.Bennett, to collaborate on a shoe collection for brides? The L.K.Bennett x Jenny Packham collection is available now in selected L.K.Bennett stores globally and via lkbennett.com. To find out more, simply visit the website.
I'm the biggest Jenny Packham fan girl and am so honoured I was able to wear the beautiful Selene gown on my wedding day.
In homage to one of my very favourite designers, I thought it would be lovely to share  some of my personal favourite Jenny Packham brides featured on Love My Dress, and link back to their weddings. You will find all Jenny Packham brides/weddings on Love My Dress here.
Kat & Pierre
Images by Richard Skins Photography
"My dress was actually the second one I tried on and I instantly knew it was the one!  I had my heart set on it. Wanting to make sure I wasn't rushing in to anything I made an appointment at Pantiles boutique a few weeks later and mentioned the Aspen to the owner. She helped me hunt down a brand new sample in a smaller size and I will be eternally grateful!"
View more here.
Helen & Scott
Images by Kate Gray Photography
"From the word go I knew I wanted a Jenny Packham gown as I love the evening feel her designs have and the fact they're not so typically bridal. A Packham was the only way to go for me!"
View more here.

Helen & Scott
Images by Nick Tucker
"My best friend Katie had booked some dress appointments for the week after we got engaged so we could make those happy memories before she flew home to Hong Kong.  It was all a bit of a whirlwind and we definitely didn't expect to find 'the' dress but Jenny Packham was our first stop and we picked out a few a bohemian, romantic styles to try, while my Mum snuck in the Fern dress as a wildcard.  Mum's choice was the second one I tried on and as soon as I slipped into it, that was it.  Nothing else came close. I loved the simplicity and the glamour of 'Fern' and I also loved how easy and comfortable it was so I didn't need to worry about sitting down to eat or dancing later in the evening."
View more here.
Lineka & James
Film by Happy Wedding Films
"My tattoos are a part of me and I didn't feel I should have to cover them up. My 'Laurel' by Jenny Packham dress framed my tattoos perfectly, it complemented them and therefore I was sold!'
View more here.
Sammy & Anaël
Images by Aki Akiwumi
"For the dinner and dance I changed into a 1920's inspired beaded dress. Sleek sophisticated with plenty of sparkle. This was possibly my easiest purchase as it was 100% me with no interference (sorry mum). I wanted to feel chic and dare I say it comfortable when I (pretended to eat) and got my groove on the dancefloor and this dress spoke volumes in the evening light."
View more here.
Hannah & Tom
Images by Marshal Gray Photography
"Where do I begin with the best shopping experience of all? I know there are some brides out there who do not have the experience I did, but my gosh I LOVED wedding dress shopping! Each trip turned into such a special and memorable occasion even when the visit ended 'unsuccessfully' in the search for 'the one'. As soon as that beautiful ring slipped on my engagement finger, my Pinterest board was instantly filled with Jenny Packham and something always told me she would be the designer for me. Miss Bush are the most local stockist for me and after a glowing recommendation from a friend, I booked an appointment. I couldn't wait to go and my expectations were exceeded at every level from the moment I stepped through the Miss Bush entrance to the day I collected my very own Daphne."
"The legendary Emma Meek (Managing Director of Miss Bush Bridal) was my Miss Bush angel, advisor and dream shopping partner. From the moment I met Emma, I knew she would be the one to find the dress for me. She carefully selected some Jenny Packham gems and the first I tried was Daphne herself. Fresh from her cellophane wrapping, and straight out of the delivery truck I was the first Miss Bush bride to ever try on Daphne and that was that.  I had the butterfly moment and I knew instantly she was the one! I would never have chosen her from the rail (too low-cut, too bling, too glam were my first impressions) and I would actively encourage all brides reading this to go out of their comfort zone and just go for it.
View more here.
Georgie & Dave
Images by Ruth Atkinson
"When I put on the Bardot gown by Jenny Packham, I knew it was the dress for me. I felt like 1920's Hollywood glamour and the dress sparkled like a glass of champagne. I felt amazing!"
View more here.
Leyla & Sam
Images by Eddie Judd
"I have always loved the old school, Hollywood glamour of Jenny Packham's designs. Her bridal dresses were therefore always going to be top of my list to try. I first saw 'Cynthia' over a year before I chose it when we went sample buying for the shop. I instantly fell in love with it as it reminded me of an Ossie Clarke dress my Mum had worn back in the 70s. Although we ended up buying the dress as a shop sample, it wasn't until I actually got engaged that I first tried it on – I didn't want to jinx anything after all! It felt so 'me', was extremely comfortable to wear and the heavy, satin crepe moved beautifully when I walked. It also fitted my shape perfectly so it filled me with confidence."
View more here.
Charlotte & Harry
Images by M&J Photography
"I purchased my dress from the Jenny Packham flagship bride boutique in London.  I loved dress shopping! I am such a girly girl and choosing my dress was something I was very much looking forward to. I spent nearly a year looking at websites and blogs in order to narrow down which shops I wanted to go to. I knew I wanted a dress with sleeves, which was a little bit different."
View more here.
Me & Philip
Images by Karen McGowran
My dress was 'Selene'. It wasn't my first dress. I'd actually purchased another Jenny Packham gown, 'Papillion', but on visiting another boutique and seeing and trying on this dress, I knew I couldn't wear anything else.
I felt like a million dollars. It was and will always remain the most beautiful dress I ever wore in my life.
View more here.
I hope that those of you who have been maybe considering a Jenny Packham gown might be swayed to go and book that boutique appointment after reading this. You'll find your nearest stockist here. Jenny also has her own flagship boutique in London located at:-
3a Carlos Place, Mount Street, Mayfair, London, W1K 3AN
Opening Hours
Monday – Saturday 10AM – 6PM
Thursday – 10AM – 7PM
Sunday – Closed
Visits are by appointment only.  Email [email protected] or telephone 44 (0) 207 493 6295. You can also view a map here.
And if this is the first time you've been introduced to Jenny, then I am delighted to have introduced you, perhaps, to your wedding dress designer.
We shared a little interview with Jenny in the run up to Christmas. If you missed it, you can catch it here.
Annabel x