Well hello there beautiful, may this first Sunday blog post of 2014 on Love My Dress find you relaxing somewhere nice and warm, preferably within your bed, with a cup of tea nearby.
Did you know, we featured almost 300 real weddings in 2013.  300 unique, wonderful, inspirational weddings that influenced literally thousands of you.  We simply couldn't let 2013 pass by without celebrating some of the loveliest of these wedding days and so we've been working hard behind the scenes, trawling our statistics and looking into our reader feedback to bring this blog post full of your favourite Love My Dress weddings of 2013.
We've not listed the weddings in order of popularity – we'd rather simply share images and links to those weddings that really hit the mark with our readers last year, who proved more than ever that they are looking for glamorous, gorgeous, chic and elegant wedding styling ideas – inspiration for their modern-vintage celebrations.  They told us that they are loving original vintage as well as modern day elegance and that they are keen to look to all the key fashion eras of the past century, from the Edwardian era right through to the 1970s.  They also proved to us that they are a beautifully creative bunch, prepared to break with tradition to have a wedding that really suits their personal sense of style and taste, like bride Zoe who chose to wear a show-stopping red lace wedding dress for her quirky and colourful London wedding.

Image Credit Christopher Currie
One thing I adore seeing on Love My Dress are the happy, joyful smiling faces.  Just look at these beauties below! From top left clockwise, that's Sarah and Oliver on their fabulously fun 1920s Gatsby inspired London wedding, Steyn and Daniele, who wore a gorgeous long sleeved wedding dress by Joyce Young for her delightful 1930's inspired East London wedding celebration.
Rhianne and Cameron who tied the knot with the most fantastic  classic Hollywood movie inspired wedding (doesn't Rhianne look glamoros?) and Jade and Matt had the most glorious 1920s and 1930s American Literature and Golden age of Hollywood inspired wedding.  I just loved this wedding day, everything about it was so beuatifully planned out and the way that Jade shared her wedding day memories inspired so many of our readers – she's a wonderful writer too.
Then we have Amanda and Antony with a fabulous confetti shot on their bright, colourful and 1950's inspired Devon wedding day, and Chloe and Stuart who got married in Chloe's parents garden – Chloe wore a beautiful 1960's inspired gown and pretty flower crown.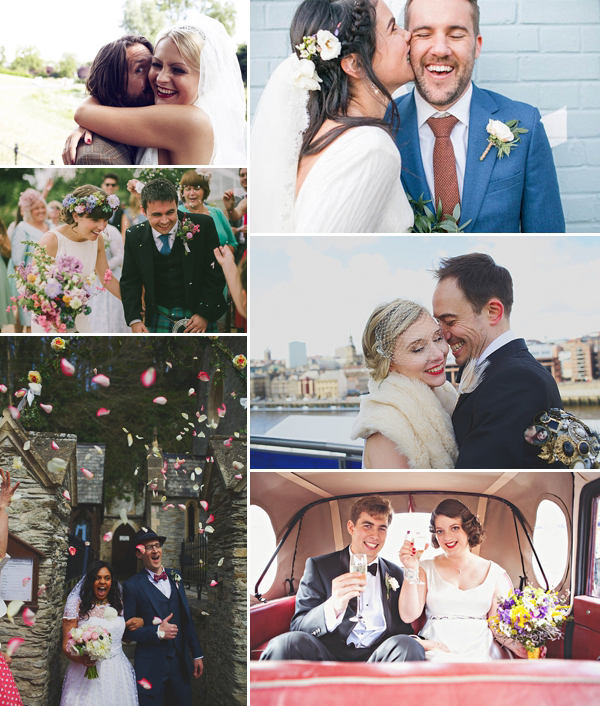 Image credits clockwise from top left, Gabrielle Robbins, Emma Case, Hannah Millard, Laura McCluskey, Camera Hannah, Kitchener Photography
Some eagle-eyed readers recognised the celebrity groom in the East London wedding below.  David's bride Ellie wore the most chic and elegant Elizabeth Fillmore gown.  And I adore her hair.
The beautiful family shot below was from a rock n roll inspired wedding.  Bride Lynsey wore a fabulous vintage lace dress and she and her husband Ross tied the knot via a Humanist ceremony in Edinburgh.  Isn't that family shot brilliant? We love children at weddings here at Love My Dress.
Image credits top Emma Case and Solen Photography

Four beautiful shots below of four beautiful brides, each of them had very different but effortlessly glamorous weddings.  From the top going clockwise, that's Alli, who married Rúnar with the dramatic landscape of Iceland as the backdrop for their day.  She wore the most beautiful J Crew Gown.  Vicky married Scott back in July and the colours mint green and gold featured heavily in their wedding day. Vicky wore Erin Fetherston's gold Monique wedding dress. And you should SEE her husband's gold wedding shoes!
Nicoletta wore a faux fur and beautifully designed Alan Hannah gown from Teokath in Elys for her contemporary, cool, East London wedding.
Fi and David got hitched in the Highlands and had a most splendid 1960s, Edwardian and whimsical inspired wedding.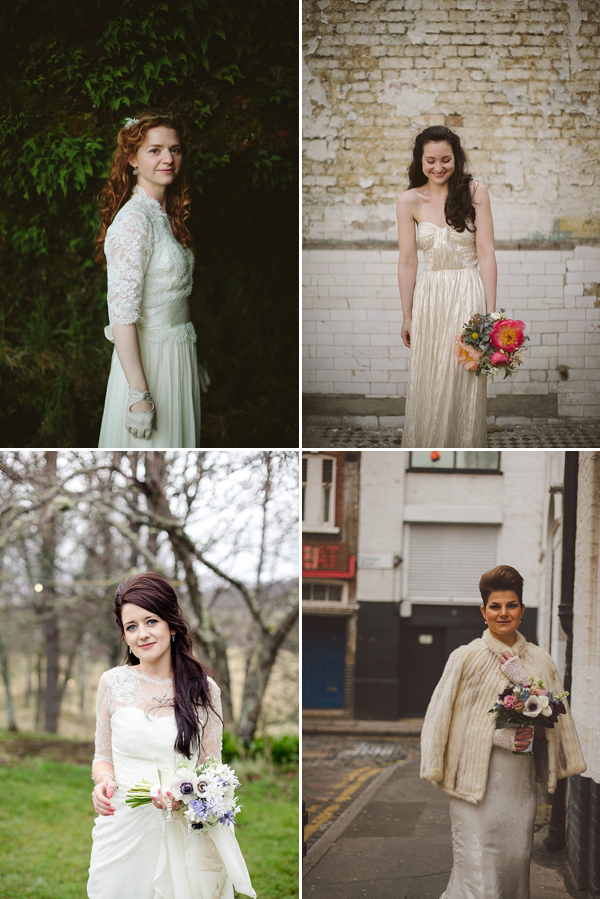 Image credits clockwise from top left, Levi Tijerina, Tom Ravenshear, Nabeel Khan, Helen Abraham
Glamour is the watch word at Love My Dress.  Natural, effortless, glamorous style. Usually involving lots of red lipstick, as sported here by Claire on her supremely glamorous wedding day to Eamon a The Caves in Edinburgh.
Stylish London bride Saria wore a Chloe Skirt, blouse and shoes for her wedding to Owen – we loved her flower crown designed by The Fresh Flower Company of East Dulwich too.
Proving yet again that not all brides want to marry in white, Caroline chose to wear a blue Biba dress for her 1940s vintage inspired wedding day to Anthony and that beautiful confetti shot is of Harriet and Tom, whose wedding was full of tweed, antlers and fabulous charity shop finds.
Image credits, Caro Weiss, McKinley Rodgers (middle left) Sam Gibson (middle right), Richard Skins

One of the prettiest weddings we featured all year was this retro inspired bride, who chose to wear an original vintage 1970's 'Annabelinda' wedding dress and style her day in shades of peach.  Simply divine.
"I wore a vintage Annabelinda dress, bought at the Annabelinda shop in Oxford. Sadly, Belinda retired after forty years in May 2012, closing the business.  So I got in just in time!  My five bridesmaids chose their own dresses and cardigans within a broad set of colours (creams and pale pinks, peaches, nude, a little gold if they wanted). They wound up wearing a mix of things, from a mix of places: Elkin, Anthropologie and Alice McCall."
Image Credit, Rachelle Simoneau
This beautiful wedding in France featured a bride wearing wild flower in her hair that she had picked herself on the morning of her rustic and intimate countryside wedding.
Bride Rachel took inspiration from screen legend Rita Hayworth Inspired Bride when it came to finding her wedding style.  Shohreh had her Katya Katya Shehurina wedding dress altered to become backless and aside from designing her own wedding dress, artist Candida wore the most incredible dahlia flower crown for her English Tea and Moroccan Buffet inspired eclectic and colourful museum wedding.
Tim and Veryan tied the knot at Belvoir Castle in Leicestershire.  Veryan wore the most beautiful heirloom veil and floral crown; "I knew because I was wearing flowers in my hair, and because I love and wear quite a bit of vintage, that I wanted an old fashioned veil that sat across the crown of my head with no lace or sparkles.  I was describing to my Mum what I wanted, and she said 'I have Grandma's veil somewhere, and it's just like that.'  It had a few holes, but all the more special for it! My Grandma was too ill to be at the wedding, it was like having her there, and I love that it can now become a family heirloom.'
Image credits Tom Ravenshear, Tub Of Jelly Photography, Rebecca Goddard, Camilla Arnhold, McKinley Rodgers
There were tipis and a whole bell tent village for this colourful polka dot wedding, where bride Leanne wore a Candy Anthony gown.
Emma and Jordan, who found their wedding photographer Danielle Benbow through Love My Dress, tied the knot in August.  Emma looked out of this world in her David Fielden wedding dress and our readers adored this couple's charming rustic barn setting; "Find time during the day to take your husband to one side, stand back and take everything in. There won't be many opportunities to be alone on the day and these moments will be just as important as the group ones. One of my most special memories was the journey we spent in the Morris Minor from the church to the reception, it was such a happy moment and one I will remember forever. Cherish every minute because the day goes so fast and as soon as it's over you will want to live it all again.
Love My Dress was one of my favourite blogs.  I am still a regular visitor now, even after my wedding – I love looking through Love My Dress  and find it really interesting to see what other bride's have chosen for their own weddings.  When I was planning my wedding, what I found most useful was reading about real bride's experiences, looking at their photos for inspiration and clicking on the links to the many different stockists and designers. Love My Dress  focuses on the details, which really helped, and I like how this blog features different photographers, dress designers and stationery ideas etc. I found that Annabel and Franky brought it all together in a very clear way that was easy to read and understand. I will definitely recommend to all of my friends!"
Image credits Lisa Jane Photography, Danielle Benbow
That's Emma again below looking just wonderful in her David Fielden wedding dress, and next to her is Reena with her husband Matt – they had the most beautiful 1970s, bohemian inspired whimsical woodland wedding; "I am a big fan of vintage and I had recently set up a vintage business with one my closest friends. We sold mainly clothes but we had also collected masses of vintage china so I had always planned on using the china at my wedding.  I also love the 70's and love bohemian fashion and that vibe and I adore flowers. I didn't want a set colour scheme I wanted this dominated by the flowers and the décor. I wanted for us to have flowers everywhere!  My muse was Pamela Love, I just loved her rustic, bohemian and wild flower wedding!  The ceremony and setting for our wedding was just so beautiful.  I loved being outdoors – you could hear the stream running, and the birds singing in the trees."
It was all about glittery heels, bunny ears and bow ties for this glamorous Glasgow Wedding and I personally fell head over heels for this bride in her sweet knitted wedding cape, worn at her Swallows and Amazons inspired English country wedding; "We had quite a traditional wedding in some respects with a church ceremony and a sit down meal with speeches followed by dancing, but we felt it was important that both us and our guests felt relaxed throughout. There were some nostalgic and whimsical elements to the day with inspiration taken from some of my favourite childhood books: Swallows and Amazons for the table centres and Winnie the Pooh for the quotes."
Image credits Danielle Benbow, Aled Garfield, Craig & Eva Sanders, Sacco & Sacco
We love it when a bride wears the reddest of red lipsticks that she can find. By the way, did you know we created our own beauty tutorials, including this post dedicated entirely to red lipstick.
This gorgeous Tadashi Shoji pale pink wedding dress too, as was this elegant pale green silk wedding dress that bride Alison wore for her incredibly styled 1920s Art Deco Inspired Wedding.
Image credits Dottie Photography (top two) and Tobiah Tayo (bottom)
Image credits, one, two, three
Love My Dress readers love to explore original vintage and express their own, individual, unique pesona style, just like Grace, who was inspired by Brigitte Bardot and fashioned her look around Edwardian bridal fashion with a splash of 1970s Glamour. Amazing!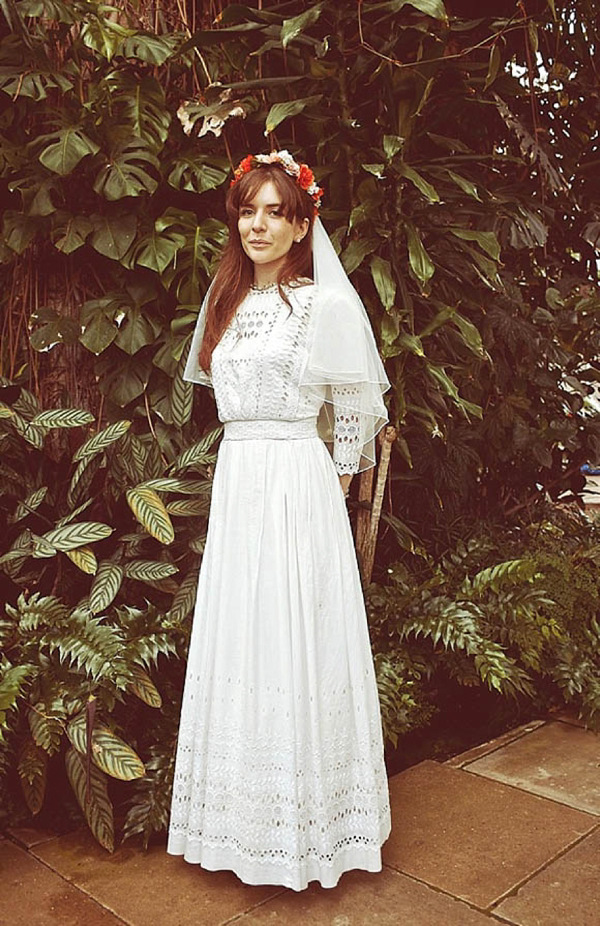 Image credit Karolina Paczkowska
Our readers really enjoyed styling their weddings with huge props in 2013 and these huge light up letters by Vowed & Amazed were a major hit! This is Sarah and Sam on their sweet September 1930s glamour inspired wedding day.
This elegant 50's retro inspired wedding was so much fun and fashion blogger Jen chose to wear Alfred Angelo for her elegant 1940s vintage and forgotten treasures inspired wedding; "I love old things, so it was always going to be vintage! I'm a big charity shop and car boot sale fan and love collecting classic cameras, old books and vintage suitcases etc. I wanted the wedding to reflect my slight obsession with forgotten treasures.  I looked at a lot of 1940s imagery to inspire the style of the day, too. I love the simple, refined and elegant look of the 40s."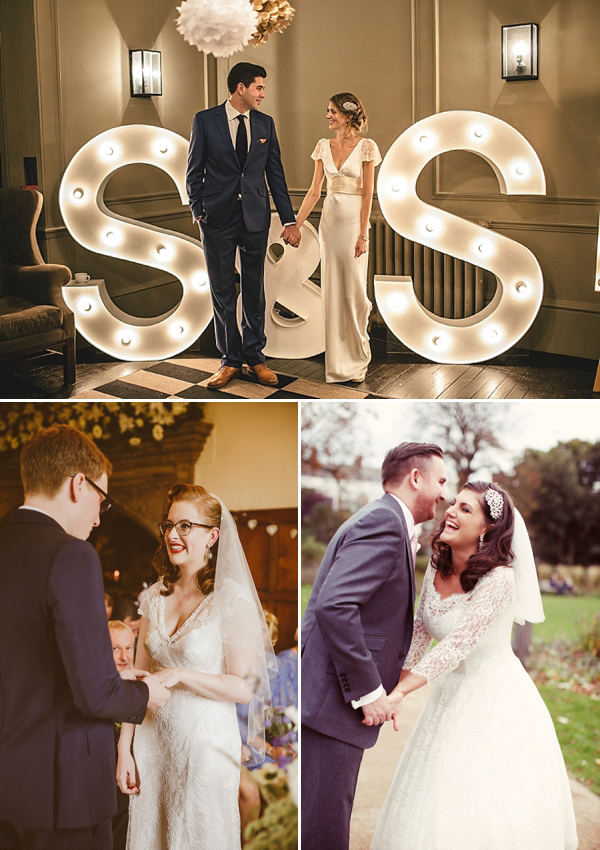 Image credits Kat Hill, Rebecca Wedding Photography, Phil Drinkwater
Louise and Chris tied the knot on 1 June 2013 with a Great British Seaside Wedding (you'll have to click here to find out where that pink umbrella is from!).  Peach used to be such an old fashioned wedding colour didn't it? Associated with brash 80's style weddings. No more! Peach featured heavily in our 2013 featured weddings, including Jessica and James' prettiest of peach weddings. Jessica wore a Pronovias Finisterre and her look was completed to perfection with the addition of a floral crown created by her florist Linda Masters.
International Contributing Editor for Oivia Palermo, Sarah Leigh, who also has her own fashion and style blog, married her beau Ryan at Hill Place in Hampshire.  The couple had a 1920's and 30's inspired wedding and Sarah wore the exquisite Wallis Simpson inspired dress by David Fielden.
Kate and Jonathan tied the knot with a 1950s and 1960's inspired, polka dot and pale blue wedding and knitting enthusiast bride Becky wore the coolest pair of green wedding shoes for her DIY and Lifeboat inspired wedding to Matt.
Hamish and Sara married under Tuscan skies.  Sara wore the most glorious floral wedding dress for her rustic, outdoor Italian Summer Garden Party wedding, by designer Wendy Makin.
Image credits Jacqui Mcsweeney, Marie Wootton, Angela Ward-Brown, Eliza Claire, Big Bouquet, Cladia Rose Carter
Victoria wore the gorgeous 'Eden' by Jenny Packham for her wedding to Diego in April…
"I was looking for an unusual dress as I couldn't picture myself in a traditional bridal dress. I loved the embellishments of the Eden Dress and also the metallic tones struck me as being just a little bit different. It was cut beautifully and had a relaxed elegance to it which complemented the small intimate wedding we were planning.  Prior to this I had contemplated having my dress made bespoke but I now believe I couldn't have imagined a dress more perfect."

Image credit Emilie White
The Edwardian era was very popular with our readers in 2013.  Kat and Pat tied the knot in the spring time and wanted a relaxed, fuss free day with touches of 1930s vintage throughout; "My dress was from vintage clothing specialists Hope & Harlequin – I fell in love with the simplicity of it, and the long sleeves.  The whole shape and silhouette represents a bygone era where the body was celebrated through the cut of the dress, not the amount of flesh on show.  I also wore a waxed orange-blossom flower crown instead, also purchased from Hope & Harlequin – it had been rescued from a Theatre!"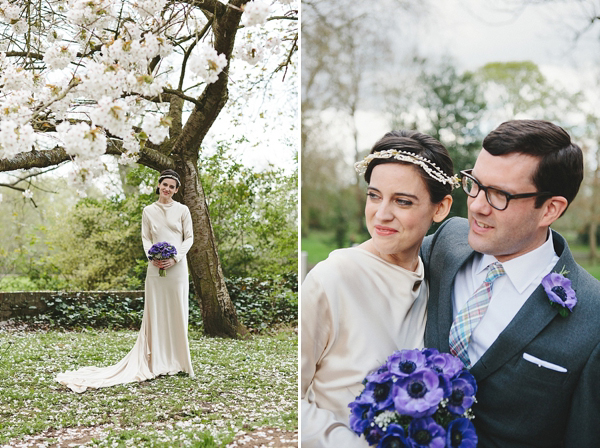 Image credit Emilie White
Nicky, a Textile Designer and Ben, an Investment Banker, tied the knot on 17 August this year at Casa La Siesta in Northern Spain. Nicky wore a beautiful bougainvillea and olive leaf floral crown for her fun and colourful Spanish Fiesta wedding.
"We both decided we didn't want a 'traditional' wedding, instead we wanted a celebration of our relationship, who we were, and what we enjoy doing. It was really important to us to organise something special and fun for all our amazing friends and family to enjoy as they made such an effort to join us in Spain."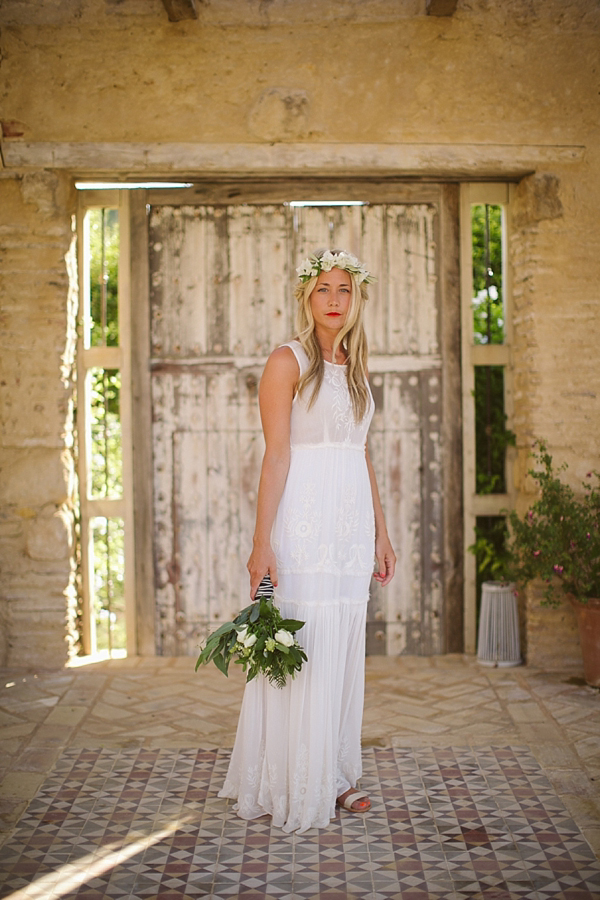 Image credit Tom Ravenshear
Long term Love My Dress reader Chelsea married Chris back in March last year, and chose to wear this pretty original vintage peach lace wedding dress; "I got most of my inspiration from Love my Dress – I loved the personal feel it had.  I guess i felt like it was more than just what was pretty and what wasn't. For me, I think it was the vintage element that gave it that depth – when you're talking vintage its inevitable that people will mention their family and history and Love My Dress really seemed to care about people's stories.
Cate's chic Italian wedding to Robert was a truly elegant affair.  Cate's gorgeous 1930's inspired wedding dress was by Baccini and Hill.
Aspen by Jenny Packham has been such a popular gown with our readers.  Here it is worn beautiful by bride Louise standing with her bridesmaids on her wedding day at The George In Rye.
And the 1950's continued to be the most popular era amongst our readers for seeking bridal style inspiration.  You loved this 1950's style tea length wedding dress worn by Clare; "I worked with dress and costume maker Annie Kelley.  I chose a vintage 50s tea dress pattern (found on Ebay) and then Annie suggested a few modifications in line with what I wanted.   I knew I didn't want a traditional wedding dress. I tried on a couple but they were just not me. I looked at some off the peg dresses in high street shops but nothing felt right."
Image credits Lucy Turnbull, Leila Scarfiotti, Emma-Kate Photography, Alexa Loy
These beautiful blue wedding shoes stole the show for this Scottish beachside wedding.  Just so beautiful; "My shoes were from Emmy and they are amazing. They are incredibly comfortable even for someone not used to wearing heels. The whole experience of buying them was wonderful, Emmy is lovely and they were so great at helping me pick a colour to die them, as I knew from the outset I didn't want to wear white shoes."
Image credit Craig and Eva Sanders
Bella, founder of Kimono inspired wedding dress business 'Good Morning Beautiful' tied the knot with Fiachra last year
"I was really guided in everything by the idea of a summer speakeasy – our guests wandering down a country lane, not knowing what to expect and being surprised by a gorgeous marquee, jazz music, garden games, glasses of bubbly and a hell of a lot of laughter.  We wanted our wedding to be relaxed, yet still have surprise touches – like a home made photo booth – and for it to have a real sense of occasion."
And that's the charming Libby on the right below, whose wedding was inspired by travel, balloons and books when planning her vintage inspired literary adventure of a wedding!  Libby has some truly valuable advice witih regards booking your wedding photographer;
"Book your photographer first and plan everything else around the budget you have left. Nothing can describe the feelings you get when you see your photographs back for the first time and you get to relive the day. The photographs are your memories and the only thing you get to keep forever from a day that rushes by far too fast. You really must book the very best photographer you can find – don't underestimate the amount of time you will actually spend with them on the day and the monopoly they have on the way you remember it. He/she is the most important booking of your day and don't let anybody tell you otherwise."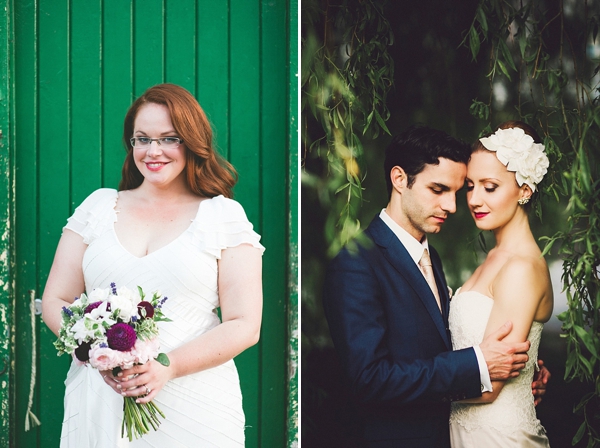 Image credits Peachey Photography and Steve Gerrard
Gabriel and Will tied the knot in September 2012, though we featured their wedding in February last year. The couple had a first look for their wedding day – which meant they saw each other prior to the ceremony taking place.
"Remember that the only thing which really matters is that you celebrate your marriage in a way which makes you and your husband-to-be happy.  Of course there are lots of people's feelings which must be taken into account, but it's usually possible to do this without compromising your on happiness.  We went through a lot of stress at the beginning of the process but as soon as we decided on the key things like the venue and the fact we were going to have a humanist ceremony, all of the opinions of others seemed to change from telling us what they thought we should do, to supporting our decisions.
Love My Dress was also my main go-to blog for wedding inspiration.  I love all elements of the blog, but in particular I enjoy the real wedding features, which are varied in style yet always down to earth.  I also enjoy the designers you feature, which were a great source of inspiration to me and from whom I purchased several items, including my hair decoration for our civil ceremony from Victoria Mary Vintage and my shoes and hair decoration from Emmy."
Image credit Joanna Gourley
Our readers adored he wedding of Alex and Alex, especially as bride Alex got to wear two dresses on her wedding day, made most of the food served to the guests, along with all the cakes and stuck to a sensible budget.
Franky and I fell deeply in love with the wedding of Ed and Kerri.  We loved that Kerri's bridesmaids wore the prettiest skirts and blouses for this couple's colourful, vintage inspired Cotswolds barn wedding.
Image credits Chiron Cole and Nabeel's Camera
Floral crowns continued to be a huge hit with our readers.  Lizz and Terry, who won their wedding photography on Love My Dress, chose to have a  couple won their wedding photography, had a wonderfully fun and elegant 50's inspired Autumn wedding.
Nick and Ashley's 1920s and 1930s, antique and old fashioned style barn wedding took place in the Summer at Gildings Barn in Newdigate.  You loved the Great Gatsby style of this wedding.
Shohreh and Lewis had a magical and whimsical woodland wedding.  We all loved Shohreh's Katya Katya Shehurina wedding dress and Ricky and Laura had the most fabulous 'Wedfest' – Laura looked incredibly beautiful in her original Edwardian vintage wedding dress;  "I love Love My Dress and I still read it now. It helped encourage me to do what I wanted (not that I needed much encouragement) and gave me some great ideas along the way."
In total contrast, Joleen and Luke tied the knot with an urban meets vintage inspired wedding in London; "Luke and I were inspired by living in London and the urban spaces that we work and live in. We love the uncomplicated urban aesthetics with a touch of handmade and vintage thrown in for good measure.  We often search car boots for hidden gems and we styled our wedding with objects found around the theme lead and thread.  We had everyone on the look out for vintage, thread, pencils, Kilner jars, rulers and glass jars with embossed typography. We also had a chinese tea ceremony which is traditional for my side of the family."
Image credits Fiona Kelly, Brighton Photo, Rebecca Goddard, Mike Kelly, Tom Powell
This Canadian horse ranch wedding fearing a bride in an original silk 1950s vintage wedding dress was a big hit with our readers. What an incredible photograph, it looks like something off a fim set.
"My dress was a 1950's original silk gown that I purchased online through My Smitten Vintage on Etsy. It fit me perfectly. My sister-in-law finished the cap sleeves, removed a large bow off the back and hemmed the dress for me and it turned into everything I could have ever imagined and perfectly me. 
I loved the classic lines and the modest nature of the dress. The full skirt and romantic embroidery throughout the dress was just the prefect touch of feminine for this country girl. I also loved that I only paid $250.00 for it, I never tried on any other dresses, nor went dress shopping in the convention way"
Image credit Nordica Photography
Sarah and Adrian's winter wedding was such a stylish affair.  Sarah, who works in fashion, chose to wear a Reem Acra wedding dress – a purchase she made from Browns in London.  Sarah also had some very sensible advice or our readers; "Start planning as soon as possible, so that you can balance it out over the time you have allocated – and remember it is worth it on the day!"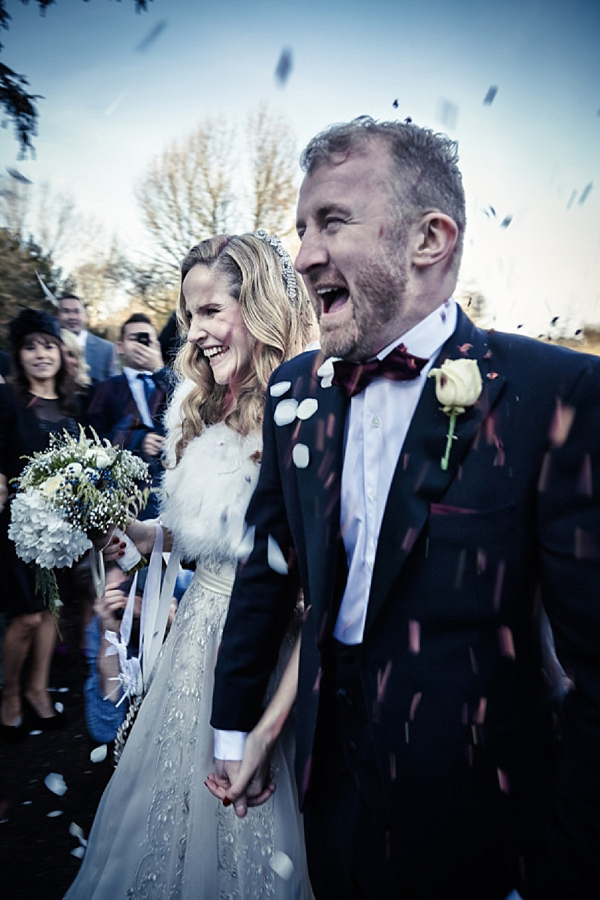 Image credit Contemporary Wedding Photography
So many brides are drawn to Love My Dress to seek ideas for their vintage and era inspired weddings.  One such bride, Lucy, had a beautiful Autumnal and Scandinavian Inspired wedding with Tom, for which she wore an original 1960s vintage wedding dress from the fabulous sisters Rae and Hannah, who run the ivntage wedding dress business, Unforgettable.
One of the truly loveliest weddings we shared last year was that of Amy and James, whose lego rainbow cake and flower crown festival wedding took place at the glorious outdoor wedding venue not far from where I live, Dalby Forest; Love My Dress is unique because it's not just about the 'stuff'. I'm not a 'vintagey' person so on the face of it you'd think I wouldn't find my inspiration here but there is something I love in every wedding Annabel and Franky feature because they always tell the story and show the emotion of the day rather than just focusing on the dress or the shoes.  James and I are basically both big kids, and our flat could probably best be described as 'eclectic' so a theme was never going to work for us. If I had to I'd describe it as 'a lego, rainbows an cake festival'."

Katie looked divine in here trailing floral headpiece and vintage gown for her charming outdoor Humanist wedding to Tim, and we were all completely smitten with Margaret's Claire Pettibone wedding dress and Juliet cap veil by Erica Elizabeth Designs.

Image credits Lucy Stendall, Emma Case, Ellie Gillard, Cat Hepple
And finally, one of the most glorious original vintage wedding dresses, worn by bride Hannah-Marie for her quirky and theatrical style winter wedding to Matt.
"I wasn't even shopping for a wedding dress at the time; I love vintage clothes and was just looking around in the A Vintage Affair shop in Cardiff when I spotted it hidden amongst a load of other dresses. The first thing I saw was the back – all lace and tiered frills – and it was so striking I had to try it on.  Suffice to say, even though it was too big for me at the time, I knew it was perfect. I had it altered and repaired by a family friend; she estimated it was at least as old as the 50's. I loved the fact that it had been worn for weddings before mine and that it was totally individual."
Image credit Helen Lisk
I hope that you've really enjoyed looking at some of our readers favourite weddings of 2013.  Its been a pure joy to pull this post together and remind ourselves of what an exceptional last year we had.
Do you know how easy it is to stay in touch with Love My Dress?  Bookmark us today, and add us to your RSS feed now whilst you have a moment.  If you've got an iPad or handheld device that you like to read blog content on, you might want to download Feedly and add us to your list of favourite blogs.  We're gracing all the major social media channels too, including Facebook, Twitter, Pinterest, Google+ and Instagram.
So that just leaves me to say, have a lovely relaxing Sunday everyone – we'll be back bright eyed and bushy tailed first thing in the morning.
With much love,
Annabel
Follow Love My Dress® on Google+